If someone asks if you'd like to spend a few days in Death Valley, your first reaction might be….Why?
Death Valley is the lowest, driest, and hottest location in the United States, holding the World Record for the hottest temperature ever recorded on the planet (134.1 °F in 1913. Just a few weeks back, a temperature of 130 degrees (well, 129.9 °F) was again reported, which would be the second highest temperature ever recorded on the planet.
This national park sits at 282 feet below sea level, in a desolate area of Eastern California in the Northern Mojave Desert. It has been compared to desert areas in the Middle East and the Sahara, yet it's about halfway between two major US metropolises, Los Angeles and Las Vegas.
There are over 1,000 miles of roads that lead to various areas of the park. However, many of the roads were built in the 1930s, are narrow, and can only be driven at slow speeds.
So, again… the question begs, why visit Death Valley?
Things to Know Before Visiting Death Valley
It (Sometimes) Has Great Weather
Note: This post contains affiliate links, which earn me a small commission at no extra cost to you if you make a purchase using one of these links. Thank you for supporting this free content!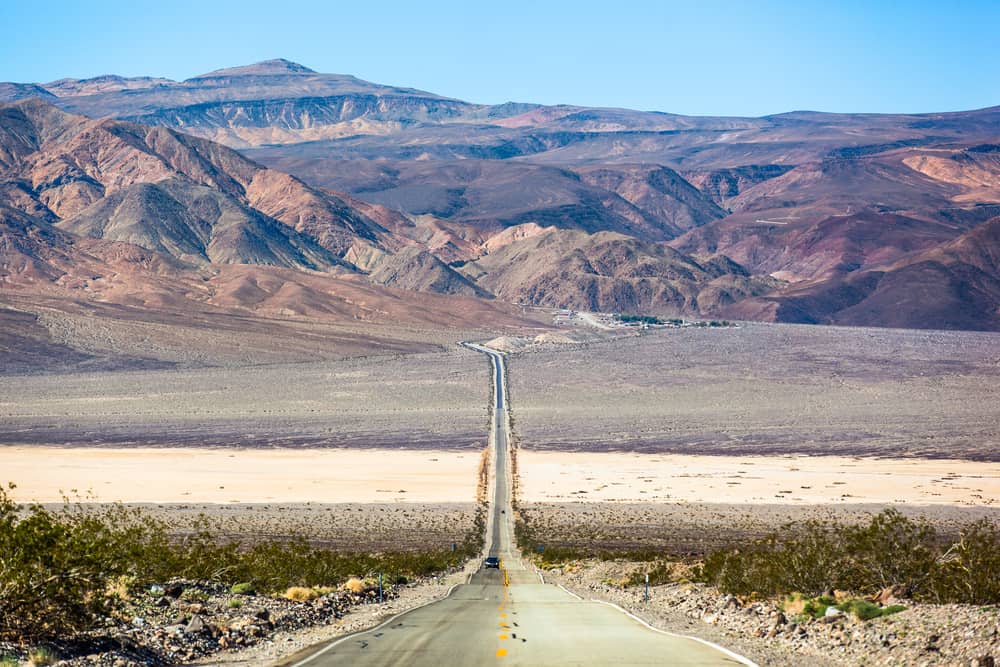 Keep in mind that Death Valley is not always scorching hot. The extreme heat comes only in the summer months — the rest of the year is usually quite nice.
In February and March, the average high temperature ranges from 74 to 82 degrees. The coldest month is December, with an average high of 65 degrees. The best time to visit Death Valley is mid-October to mid-May, months that are often considered the off-season for other parks.
Death Valley has an average of only 20 days of rain with an annual accumulation of 2.4 inches, so you're pretty much guaranteed that rain won't ruin your plans.
As with any travels, check the forecast and road conditions ahead of time. Although rain is not that common, when it does happen, it can cause flash flooding and road closures.
Be Prepared for The Sheer Beauty
Death Valley is the largest national park in the lower 48 states with 3.4 million acres of land.
The sharp contrast of desert, sand dunes, mountains, palm trees, and rock are breathtaking.
If you enjoy photography, you will not be disappointed by the sharp lines, contrasts and light that brings forth a wealth of opportunity for gorgeous images. Fun fact: my aunt was a desert photographer for many years, and most of her landscape shots were taken in Death Valley.
Best Time To Visit Death Valley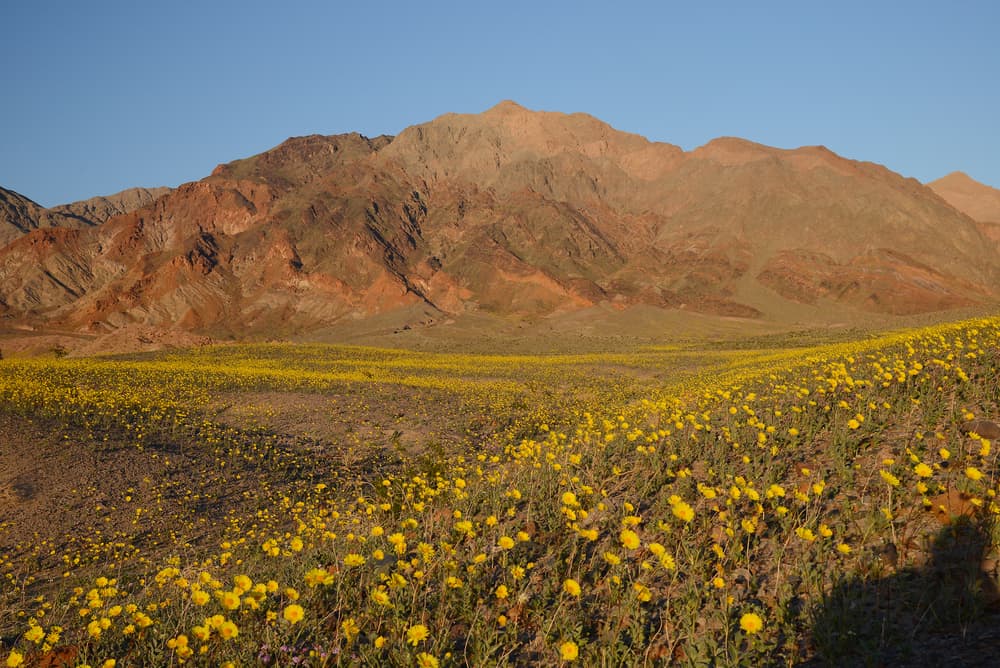 A great time to visit is in March, due to the abundance of wildflowers that emerge spontaneously following the cold winter months.
The contrast of the brightly colored flowers against the backdrop of snowcapped mountains in the distance makes for a brilliant show of nature at its finest.
The flowers also attract large numbers of pollinators such as butterflies, hummingbirds, and bees every spring.
How to Get to Death Valley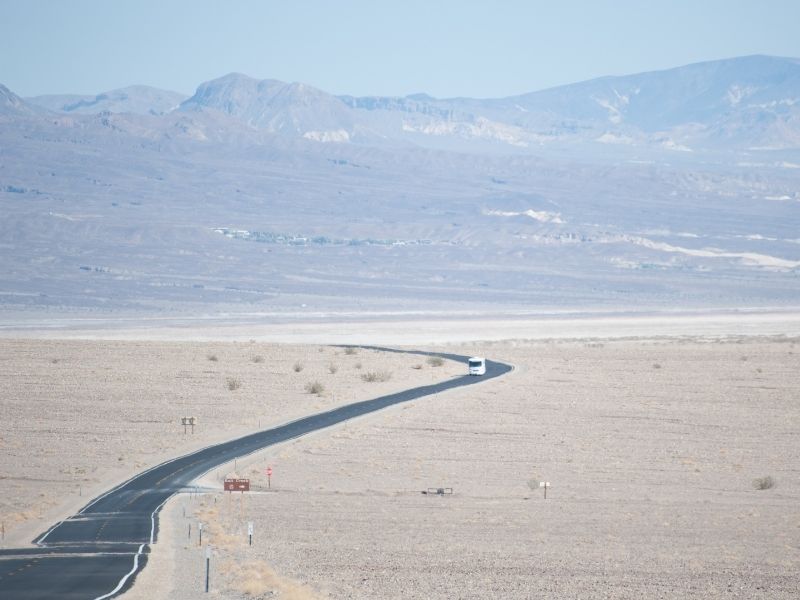 If you are traveling from Las Vegas, NV, the most direct route is through Pahrump and CA Hwy 190.
From Southern California, take I-15 North to Baker, then head north on State Route 127 to Shoshone and Death Valley Junction.
There are connections to the park on State Route 178 from Shoshone and a connection with 190 at Death Valley Junction.
Navigation and Service
You may want to pack an old-fashioned, paper roadmap for the trip. Cell phones do not work in Death Valley.
GPS navigation can also be unreliable due to the remote location of the park. Many GPS users find success by using the street address of the Death Valley Post Office. It is located just south of the Visitor's Center.
The Post Office address is: 328 Greenland Blvd., Death Valley, CA 92328
Drive With Caution
Death Valley National Park isn't your average national park. The landscape is harsher and more unforgiving than any other park I can think of, and the results of being unprepared here are catastrophic.
Always bring several gallons of water in the car with you. Best case scenario, you won't need it. Worst case scenario, it saves your life. Be sure to read up on other driving safety tips for the desert.
Research before you go to see if the places you want to see require a 4×4 car. Never attempt roads that say 4×4 access without one! If renting a car and there's a lot of the remote parts of the park you want to see, you probably want to pick one with 4×4 capability.
Not sure where to get the best deal on your rental? I've rented cars dozens of times through various search engines and have settled on Discover Cars as the best car rental search engine – it searches over 500 trusted rental companies to find the cheapest price for your rental! Compare prices for car rental from Los Angeles Airport here.
Things to Do in Death Valley National Park
Visit the Stunning Badwater Basin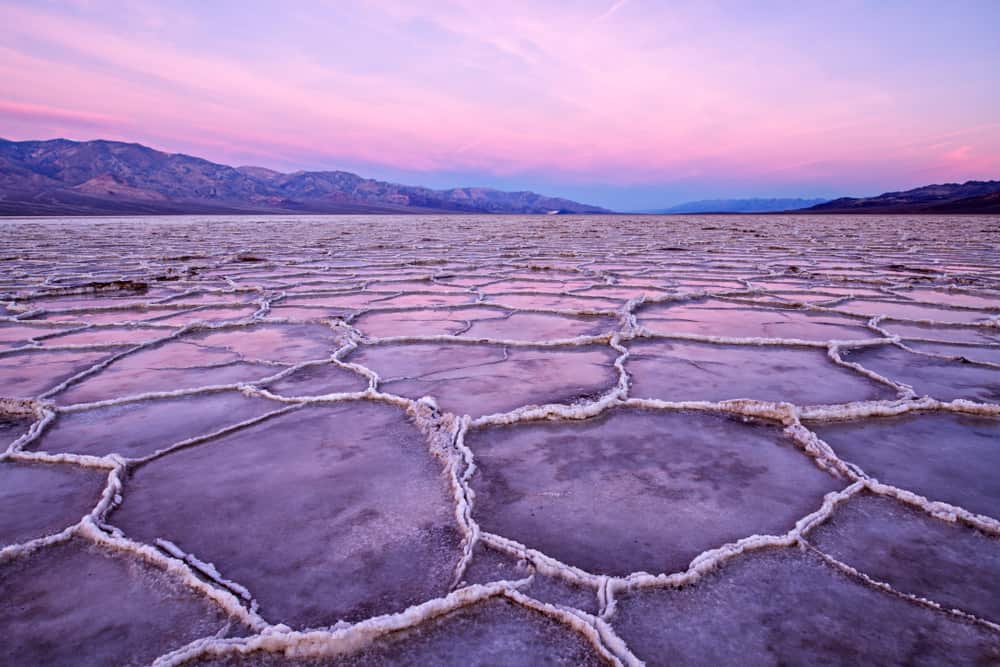 At Badwater Basin, you can take in a surreal landscape that will make you think that there is a covering of snow on the valley floor.
What looks like snow is actually a thick layer of salt created by minerals that have dissolved from rocks. Heavy rains carry the minerals to lower elevations where it settles, and the salts remain.
This lunar-looking landscape is best visited at least twice during your stay in Death Valley National Park: once in the middle of the day to see its white snow-looking illusion, and again at sunrise or sunset to see the white salt reflecting back all the colors of the sky.
This is the lowest point of North America, a whopping 282 feet below sea level. To help you visualize just how low this is, there's a cool sign on the cliff above the basin which marks exactly where the sea level would be!
Drive Around Artist's Palette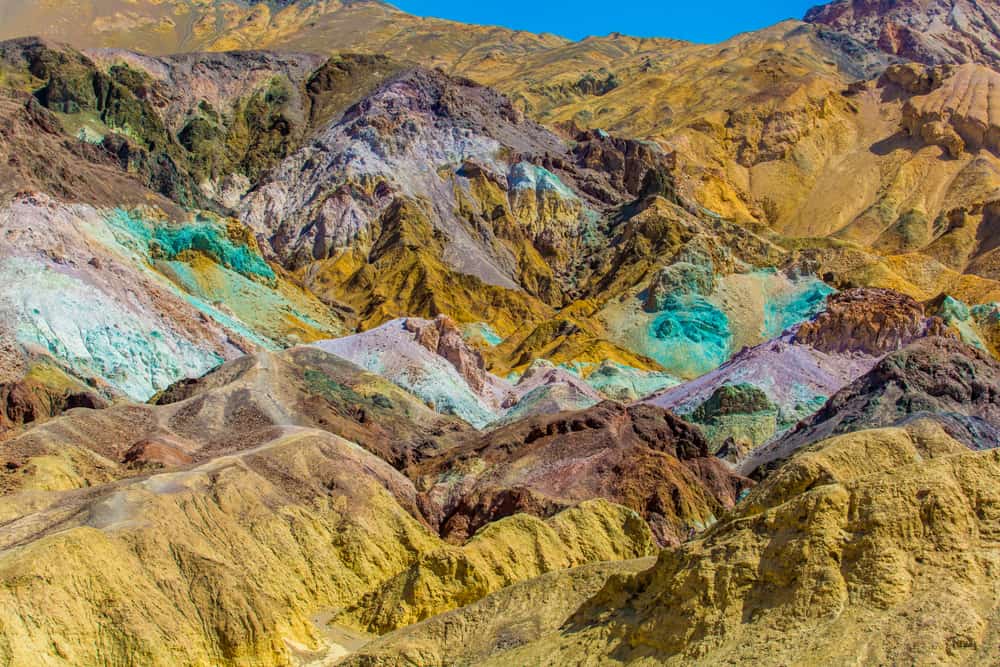 To take in some amazing scenery, you may opt to take a drive around Artist's Palette.
This curvy, one-way scenic loop features volcanic deposits of iron oxides and chlorite that has created a stunning display of colors.
The hues of orange, yellow, red, pink, blue, and green appear to be painted by an artist's brush on to the desert landscape.
On this drive, you can also get a good view of the Black Mountains and the salt flats.
Although this area is beautiful at any time of day, the lighting at sunrise and sunset make it even more spectacular. There are no maintained trails along this loop, but there are several safe areas to pull over and park to get out and explore on foot.
Artist's Palette is located about 11 miles south of Furnace Creek off Badwater Road. There is a vehicle restriction of 25 feet (7.6 m) due to large dips and bends in the road. Your RV won't make the drive
Watch the Sunrise in Zabriskie Point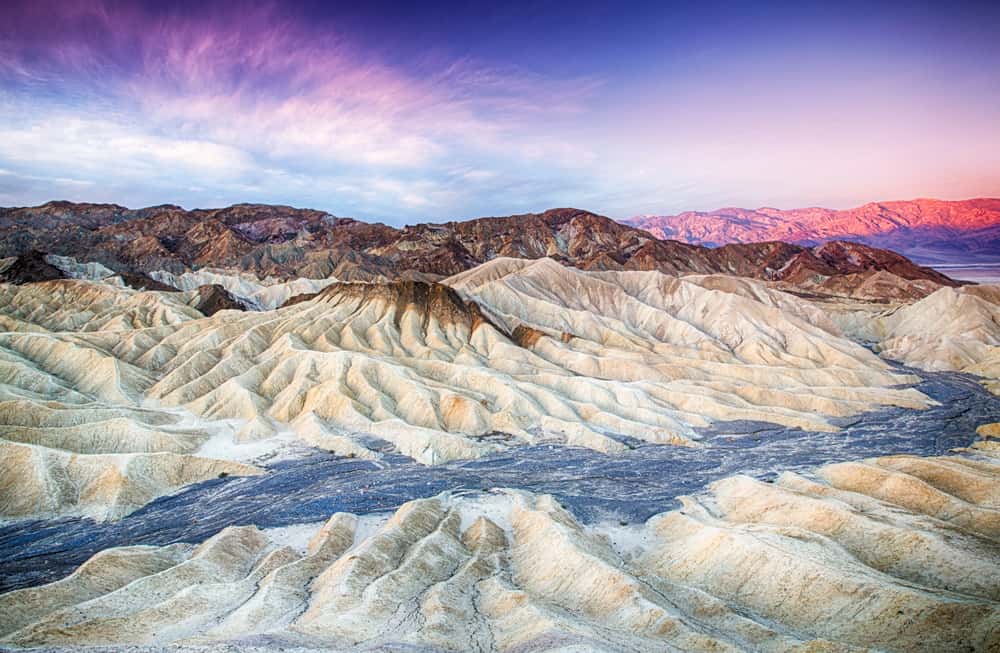 The most show-stopping photos of Death Valley National Park are almost always taken here: Zabriskie Point.
This spectacular place is a favorite for landscape photographers, particularly at sunrise and sunset, when the setting sun hits the red rocks just right and sets them ablaze with gorgeous magenta color contrasted by undulating white rocks.
The beauty of Zabriskie Point is 5 million years in the making: the landscape you see today is formed entirely of sediment from what used to be the Furnace Creek Lake, which was in the spot where this beautiful part of Death Valley now stands.
Zabriskie Point has been a setting for much art throughout the years, and it was a filming location for the 1960 film Spartacus and the 1964 Robinson Crusoe on Mars. It was also featured on the cover of U2's album The Joshua Tree!
See the Landscape from Dante's View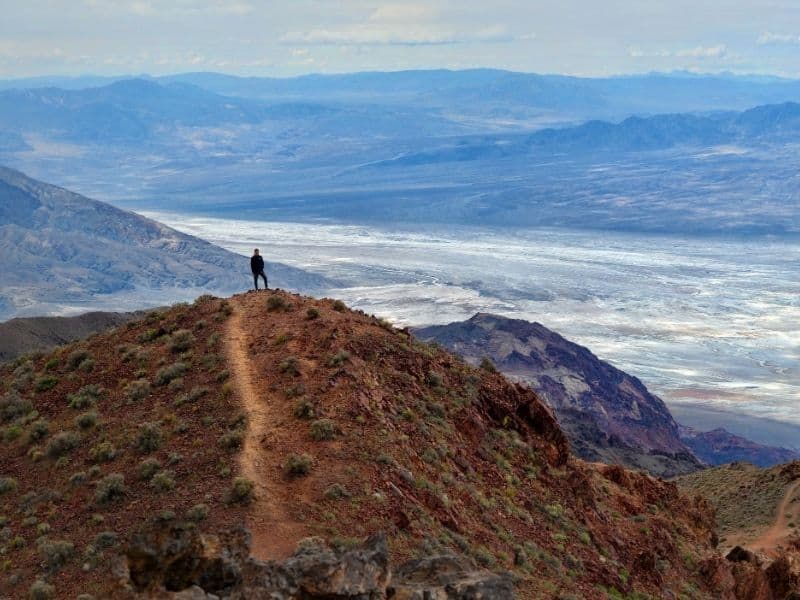 One of the most gorgeous views in Death Valley can be seen from the top of Dante's View.
Located at an altitude of 5,476 feet (1,669 meters), this viewpoint from Coffin Peak shows great views over Death Valley from a vantage point on the region's Black Mountains.
Below the viewpoint is a white slick of salt flats: Badwater Basin, the lowest place of Death Valley. I recommend visiting Badwater Basin first and then Dante's View so you have a greater understanding of the difference in height between these two places so close together!
It's about a 45-minute drive from Furnace Creek, and you can drive all the way up to the viewpoint — no hike needed for these views!
Let Your Inner Child Go Wild at the Mesquite Flat Sand Dunes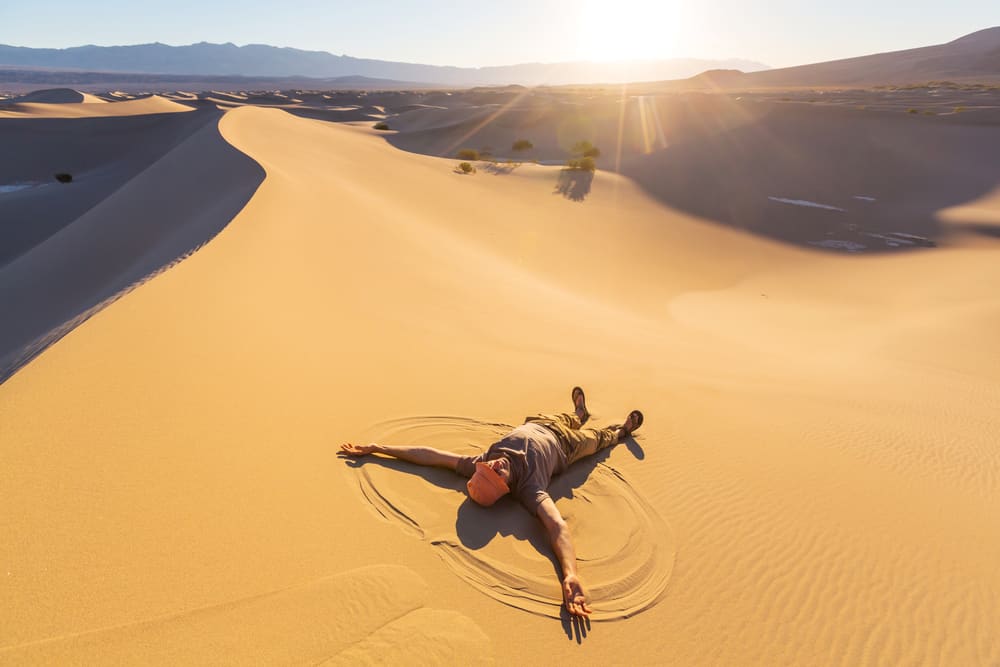 For a slice of the Sahara in California, head to the Mesquite Flat Sand Dunes — a gorgeous undulation of sand dunes with fine pinkish-orange sand.
These sand dunes measure over 100 feet high and are great fun to plop yourself in and make sand angels or just run up and down them like a child!
Beware visiting during the middle of the day when the sun is at its peak — the sand can get hot, hot, hot, and it can be unpleasant to walk in! Better to visit around sunset and watch the sun dip into the horizon from your vantage point on one of these dunes.
Make the Trek to the Eureka Sand Dunes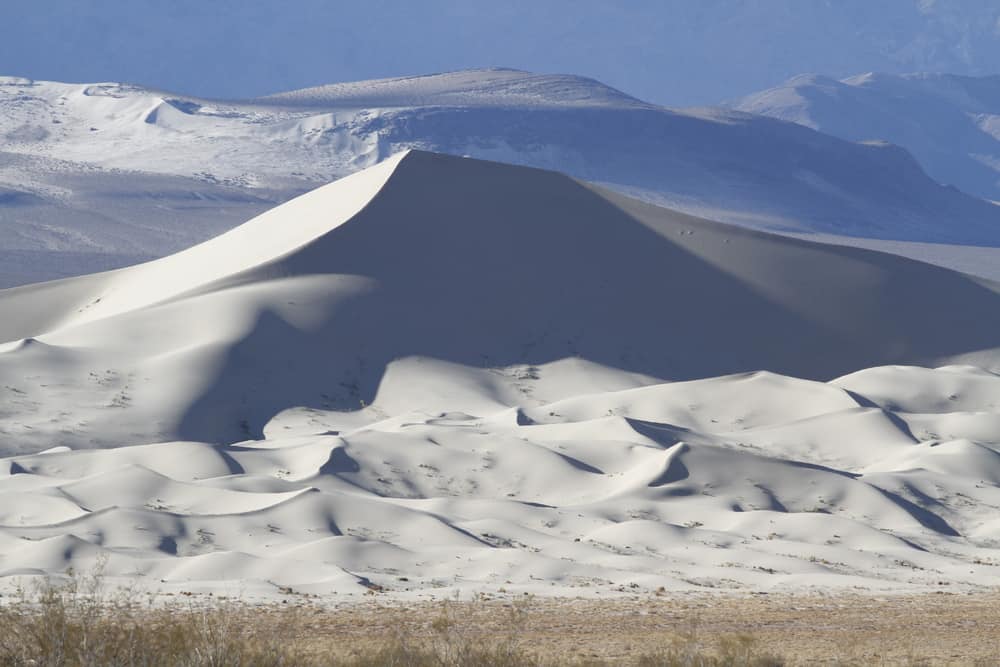 Looking for an even more epic adventure? The Eureka Sand Dunes are the largest in Death Valley National Park and easily one of the coolest things to do in Death Valley… if you can get there!
The Eureka Sand Dunes have a remote location that requires a 4×4 to access. Do not attempt to go here without a 4×4 car!
Unlike the Mesquite Flats sand dunes, these are a soft white color — it almost looks the dunes at White Sands National Park in New Mexico.
The sand dunes are thought to be the tallest dunes in North America at over 600 feet tall at their highest point and have a strange 'singing' phenomenon when dry!
Go Bird Watching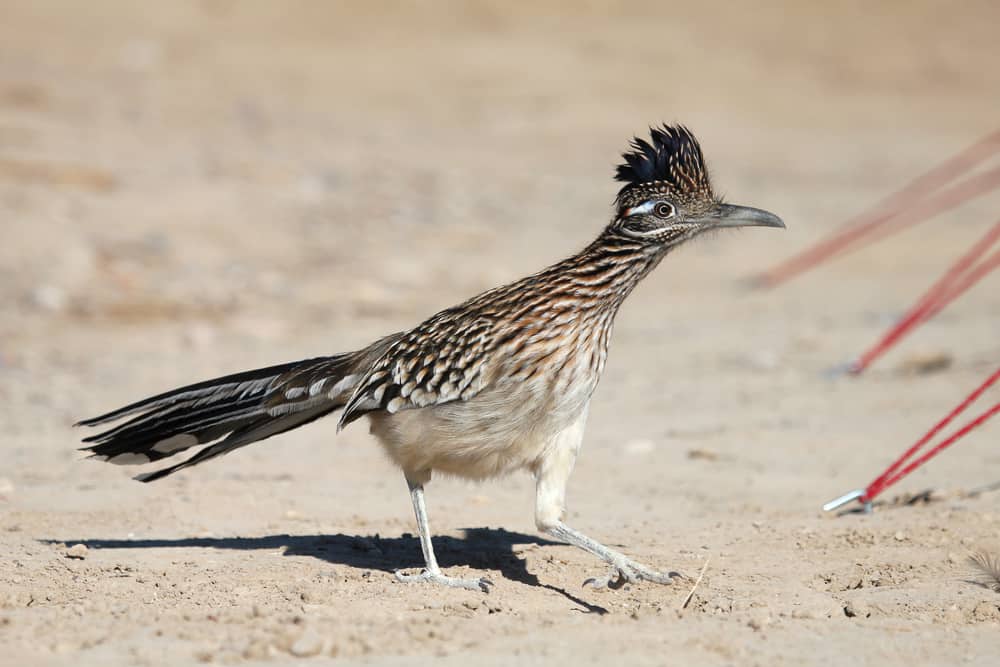 Whether you are a seasoned bird-enthusiast, or just enjoy bird watching, Death Valley is a top spot for finding our feathered friends.
For a few weeks in the spring and again in the fall, hundreds of bird species migrate through this national park.
In fact, Death Valley reports one of the highest numbers of bird species in the National Park System: which may be surprising given its fearful name, but it's true!
According to the Audubon Society, 108 bird species can be found in the summer and 117 bird species can be spotted in the winter. Roadrunners can be spotted year-round… (probably chasing after those pesky coyotes.)
Birding is so popular in Death Valley that a full checklist of "Birds of Death Valley," is available at the visitor center. You can also opt to print out a list ahead of time. It's available online through nps.gov.
A full list of Death Valley birds along with photos can also be found on the Audubon Society website. Look up Birds and National Parks. If you're going, plan to bring a good pair of binoculars for the best viewing.
Visit the Borax Museum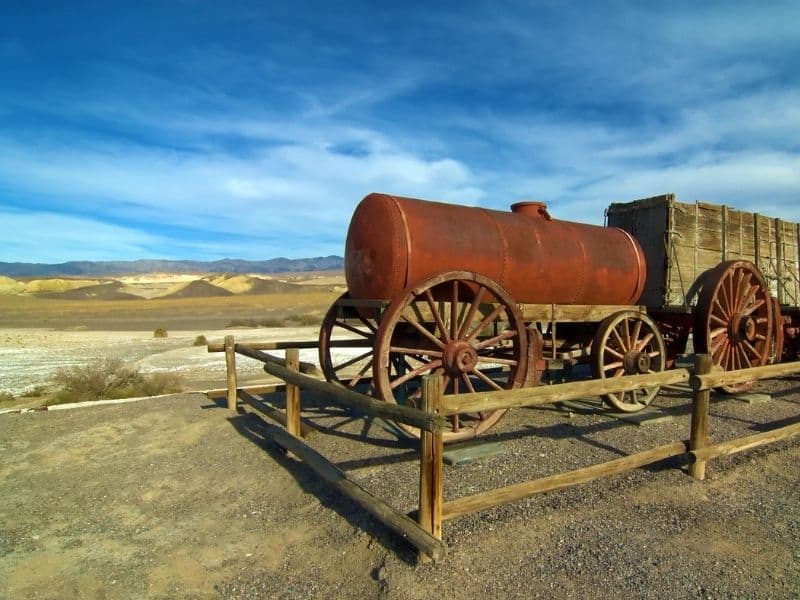 The Borax Museum located in Furnace Creek is a small museum that displays mining artifacts and equipment from the 1800s, when the Pacific Coast Borax Company and its 20 Mule Team brand dominated the borax mining industry in this part of Death Valley.
Borax is a sodium-based compound which is a necessary component in many modern cosmetics, detergents, enamels, fire retardants, fiberglass, and more. It's not as fancy-sounding as gold or silver, but it made borax miners in Death Valley far, far richer than either of these precious metals would have.
The museum is located in what used to be an office and of the Pacific Coast Borax Company, which has morphed into Rio Tinto Borax — the largest borax firm in the world, producing over half of the world's borates.
It's an interesting place to learn about one of the most important parts of Death Valley's history and spend a bit of time outside of the sun in the indoor part of the museum.
Gawk at the Ubehebe Crater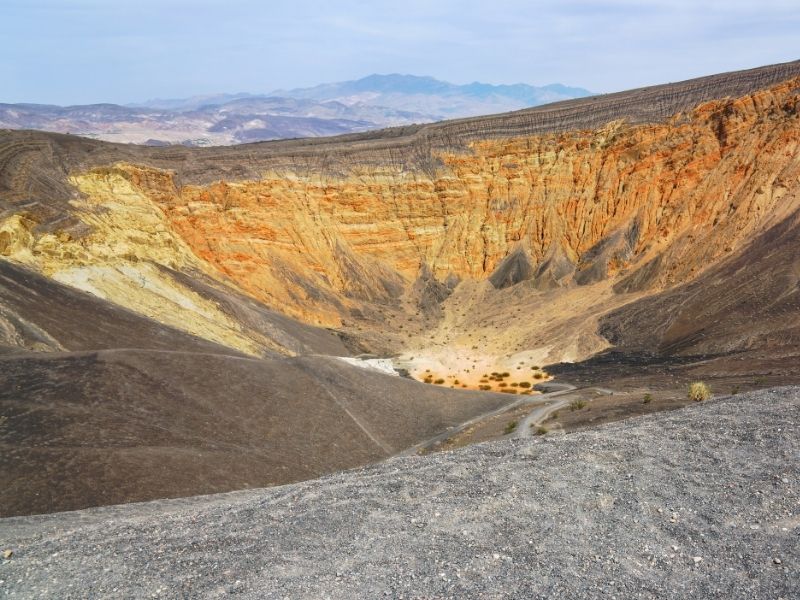 The Ubehebe crater at first looks like it was formed by a meteor, but actually it's volcanic depression formed by a steam eruption: when magma got quite close to the surface and forced out a bunch of water in the form of a steam explosion, leaving behind a kind of carter called a maar.
This crater measures half a mile wide and around 600 feet deep, and it's estimated to have been formed anywhere in the last 800 to 7,000 years.
You can take one of three major trails: one from the parking area to the bottom, one all the way around the crater rim, and one to "Little Hebe," a smaller maar.
There are three major trails at the crater. One trail goes from the parking area to the bottom of Ubehebe, a second circumnavigates the crater rim, while a third trail leads off to Little Hebe on a 2.2-mile loop (recommended!)
Note that it can get really windy at the rim of the crater with gusts up to 50 miles an hour! Be careful!
Play with Rocks on the Racetrack Playa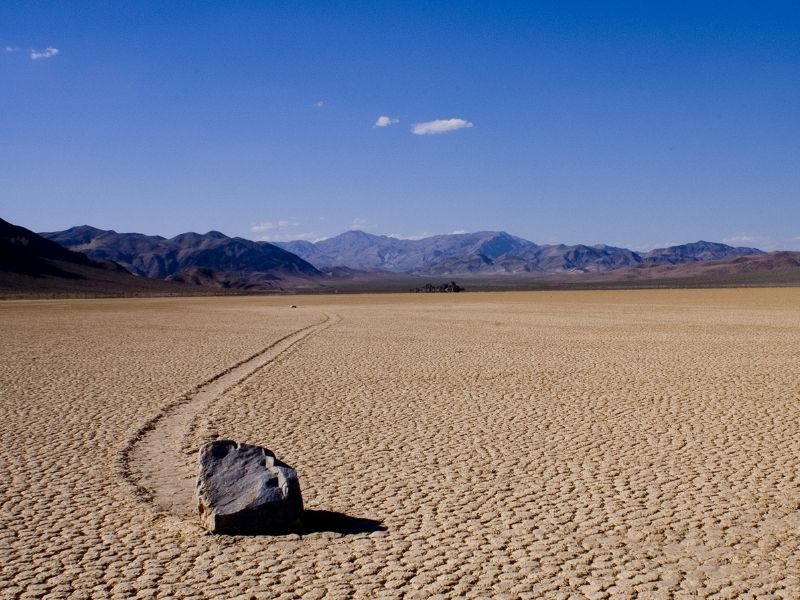 This part of Death Valley is extremely remote but rather interesting, known for its stones which 'mysteriously' scoot across the sandy landscape for hundreds of feet, leaving what look like tire tracks in their wake!
Note that getting here involves several hours of driving on an unpaved road, for which you need a 4×4. Flat tires are common, towing fees are high, and there's zero cell service. Not deterred? Check out this guide to visiting, or, my recommendation, go with a tour.
Go Star Gazing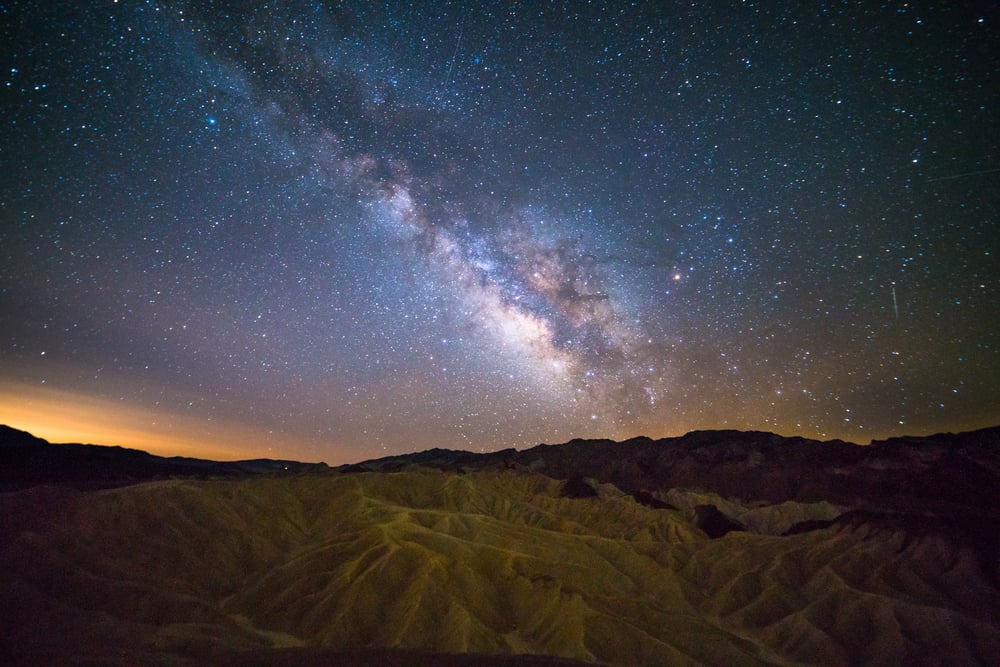 Without much light pollution, Death Valley is one of the best places for stargazing in America.
In fact, the International Dark Sky Association has designated Death Valley National Park as a "Gold Tier Dark Sky Park," the highest rating of darkness.
The Dark-Sky Association holds an annual festival in Death Valley in collaboration with the park, Death Valley Natural History Association, and NASA! The festival features guided hikes, ranger talks, and family-friendly programming.
In the winter months, weekend programs led by park rangers are available to view the night sky. If you are venturing out on your own, plan to bring a telescope or binoculars.
If planning your Death Valley trip around stargazing, try to visit when there is a new moon. This is when the moon is the least visible and the sky is the darkest to see more stars and constellations.
Great places to stargaze in Death Valley include the Harmony Borax Works. It is easily accessible near the Furnace Creek Visitor Center and offers little obstruction from the mountains.
The Mesquite Flat Sand Dunes near Stovepipe Wells is also a great place to view the night sky.
Some people camp in the Death Valley area just for the purpose of stargazing. There is even a Death Valley Stargazing Camp!
It is located outside of Surprise Canyon in Panamint Valley, near the ghost town of Ballarat. This camp is just outside of the National Park on private property.
See the Views from Telescope Peak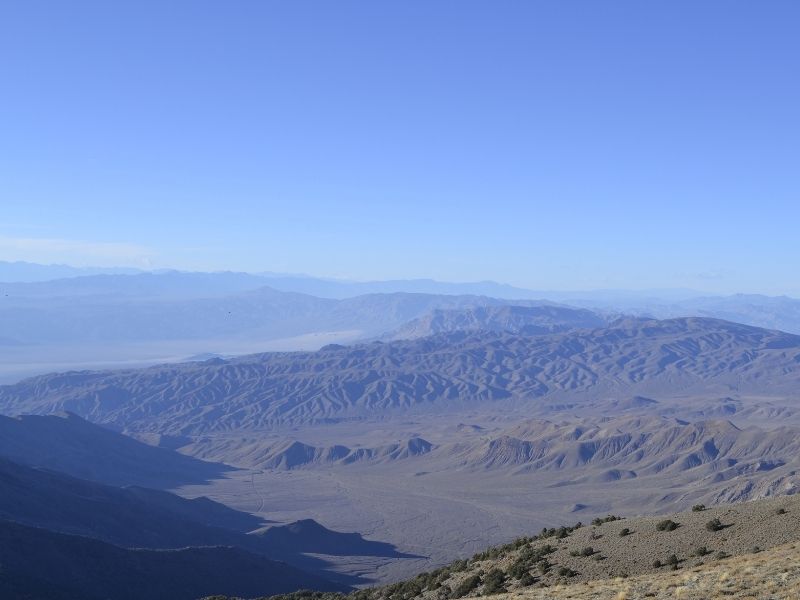 The aptly named Telescope Peak is the highest point in Death Valley, 11,049 feet above sea level. It's a phenomenal place to take in views of the surrounding area — if you're prepared for the hike, that is.
This is a tough one. 14 miles roundtrip on an out-and-back trail, gaining 3,000 feet of elevation in one of the most unforgiving terrains on the planet. Plan for at least 7 hours of difficult hiking.
The trail begins at Mahogany Flat Campground, which is best accessed by a 4×4 as the road to the campground is steep and rough. If your car can't handle it, it's better to park at the Charcoal Kilns and walk to the trailhead, but that'll tack on a decent amount of hiking to your day.
Bring more water than you think you need, as there's no place to refill along the way. Wear plenty of sunscreen, have lots of snacks, and read up on the hike on the park website so you're adequately prepared.
Go Film Location Scouting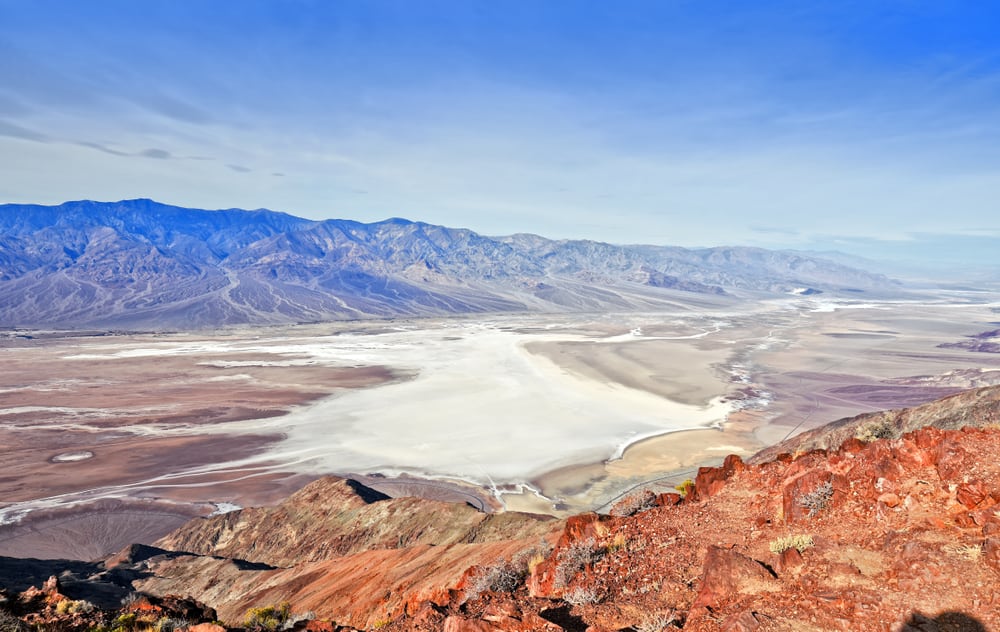 Death Valley has been featured in dozens of film and television projects from 1916 through 1996.
If you are a fan of the Star Wars films, you will be interested that the fictional desert planet of Tatooine was actually shot in Death Valley!
This extra-terrestrial location was featured in the 1980 movie Episode IV: A
New Hope and again in the 1983 Episode VI: Return of the Jedi.
Some of the Star Wars locations include: Dante's View, Twenty Mule Team Canyon, and the Mesquite Flat Sand Dunes.
A television series called Death Valley Days was filmed on location from 1952 – 1965. Other productions that have shot in the area include The Twilight Zone and even Tarzan!
Today, large scale productions are no longer allowed to film in wilderness areas. However, permits can be obtained for professional photography and smaller commercial productions.
Go Golfing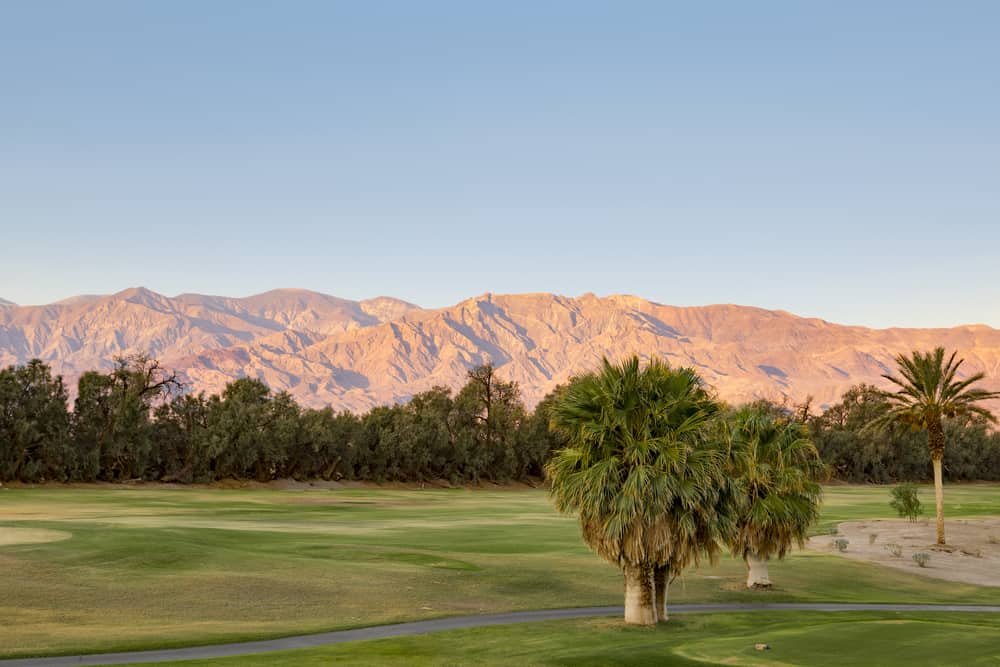 If you are planning a trip to Death Valley, be sure to pack your golf clubs. The Furnace Creek Golf Course is an 18-hole, par-70 course surrounded by tall date palms and beautiful mountain views.
The course was originally constructed back in 1927, but it was redesigned in 1997 and given an update by the famed golf course architect, Perry Dye.
At 214 feet below sea level, Furnace Creek is the lowest golf course in the world!
Keep in mind that the low elevation will affect the flight of your ball. You will get about ten percent less distance every time you hit the ball. So, it's not you, it's science!
Heavier air creates more of a drag on the ball. What this means for you is that if you were going to hit that fairway shot with your seven iron, pull out the six instead. If the rest of your party is not in the know, you will definitely win the round!
Another interesting fact about golfing in Death Valley is the coyotes. They are commonly seen on the golf course, even running across the fairway. The reason they like to hang out there is because of all the delicious dates that fall from the palm trees.
On occasion, they have been known to snag a golf ball. Hey, what dog doesn't want a new toy? Just leave them alone and they won't bother you!
See the Bizarre Landscape of Devil's Golf Course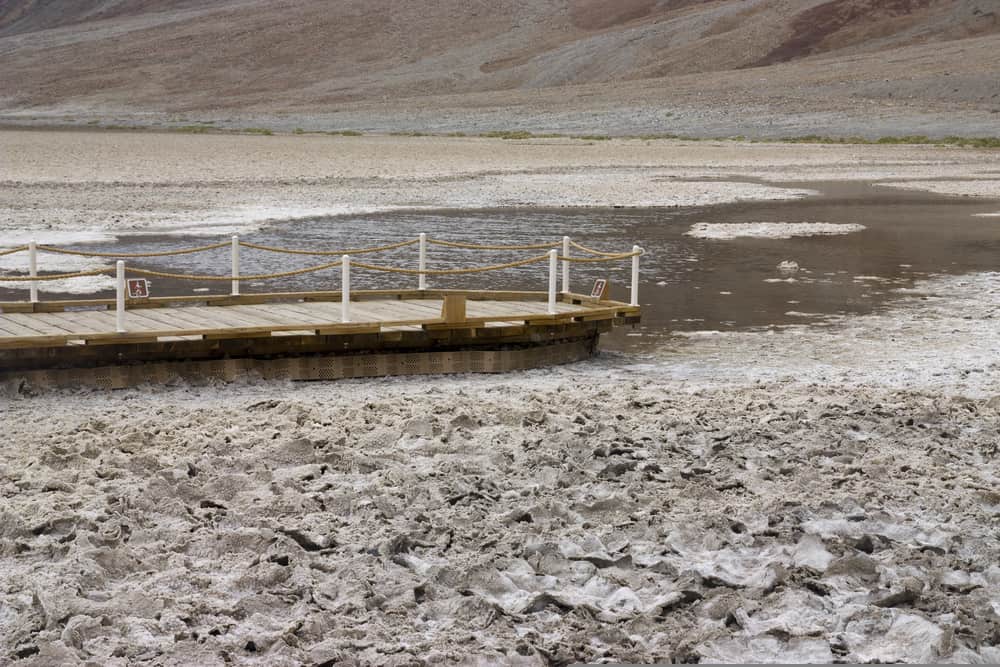 This place is not an actual golf course… luckily!
In fact, it got its name for its wild surface of wind-gnarled salt deposits, of which a guidebook jokingly said "Only the devil could play golf on such a surface" — and the nickname stuck.
You can walk out on a platform and see the crazy landscape for yourself up-close and personal!
Hike the Natural Bridge Trail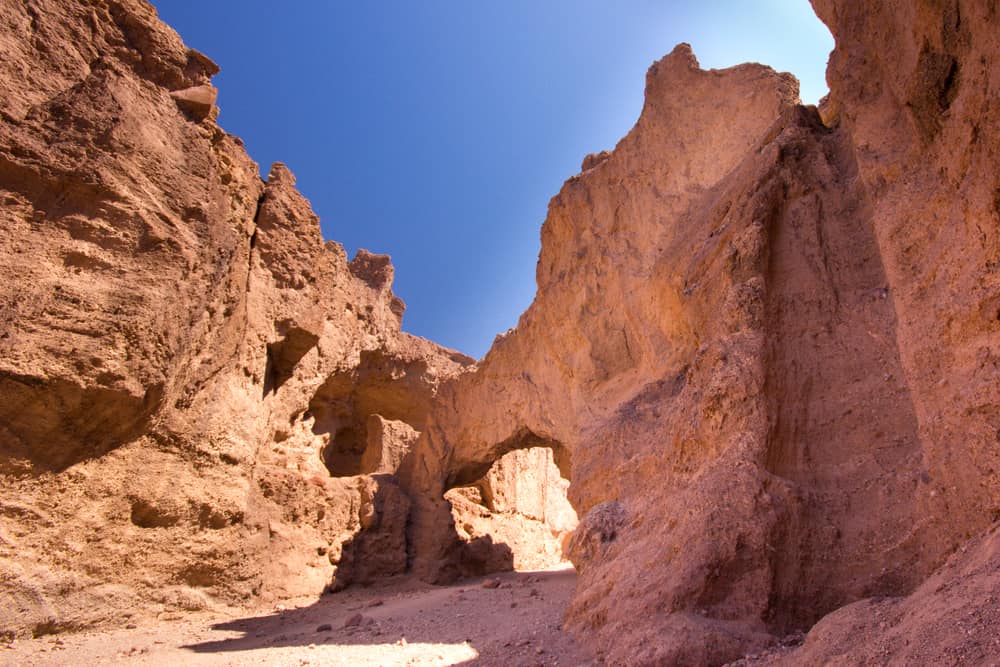 Why should Arches National Park get all the fun?
Death Valley has its own arch, Natural Bridge, which can be visited easily on a hike. It's a 2-mile roundtrip hike and isn't significantly difficult minus the heat conditions (so only go in the morning and bring plenty of water).
The trailhead is located 13 miles south of Furnace Creek down Badwater Road. After 13 miles, turn left on the dirt road which leads to Natural Bridge Canyon, and drive about 1.5 miles until you reach the trailhead.
Hike the Golden Canyon
Another Death Valley hike worth adding to your bucket list is Golden Canyon, which is easily accessible from one of the other best things to do in Death Valley, Zabriskie Point.
I recommend taking the Badlands Loop Trail from Zabriskie Point — it's a 2.7-mile loop that should take no more than 2 hours at a moderate pace.
However, there are other hikes you can do in the vicinity, which you can read about here on the park website.
Relax and Recharge at the Inn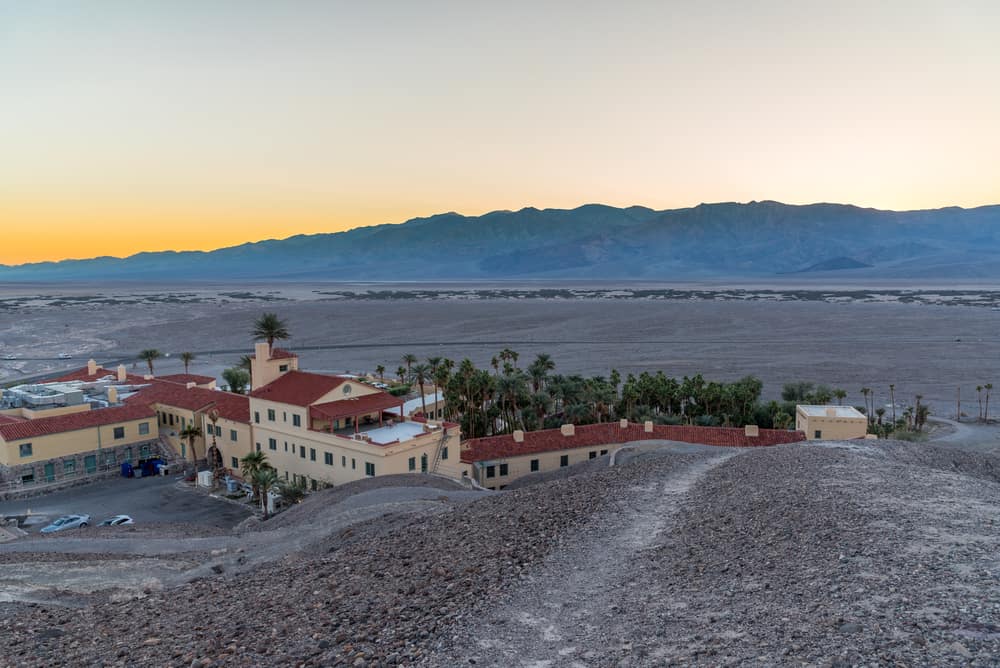 The historic Inn at Death Valley has been referred to as a jewel in the desert. Built in 1927, this four-diamond resort was once a secluded escape for such Hollywood stars as Clark Gable, Marlon Brando, and Carole Lombard.
This upscale property recently underwent a $100 million renovation, so it's even more luxe now. It offers a spring-fed pool kept at 87 degrees Fahrenheit year-round. Here you can swim with the kids or relax with a cocktail poolside.
The Inn also offers tennis, basketball, volleyball, and an exercise room. Massage therapy and a sauna are also available to help you relax and recharge.
Other places to stay include the Ranch at Death Valley. The Ranch is more casual than the Inn. This 224-room hotel was built in 1933, but it has also been recently renovated.
The property offers a spring-fed pool, sports courts, and a playground. Horseback riding and carriage rides are available at the Inn stables. You might want to have drinks and dinner at the Last Kind Words Saloon and pick up a souvenir in the general store.
The Ranch at Death Valley is located along Highway 190 next to the National Park Service Visitor Center.
Other options for lodging in Death Valley include the Stovepipe Wells Village. They offer a small hotel with a pool and restaurant. The Panamint Springs Resort offers lodging, camping, RV services, and a restaurant and bar.
Pin This Guide to Best Things to Do in Death Valley!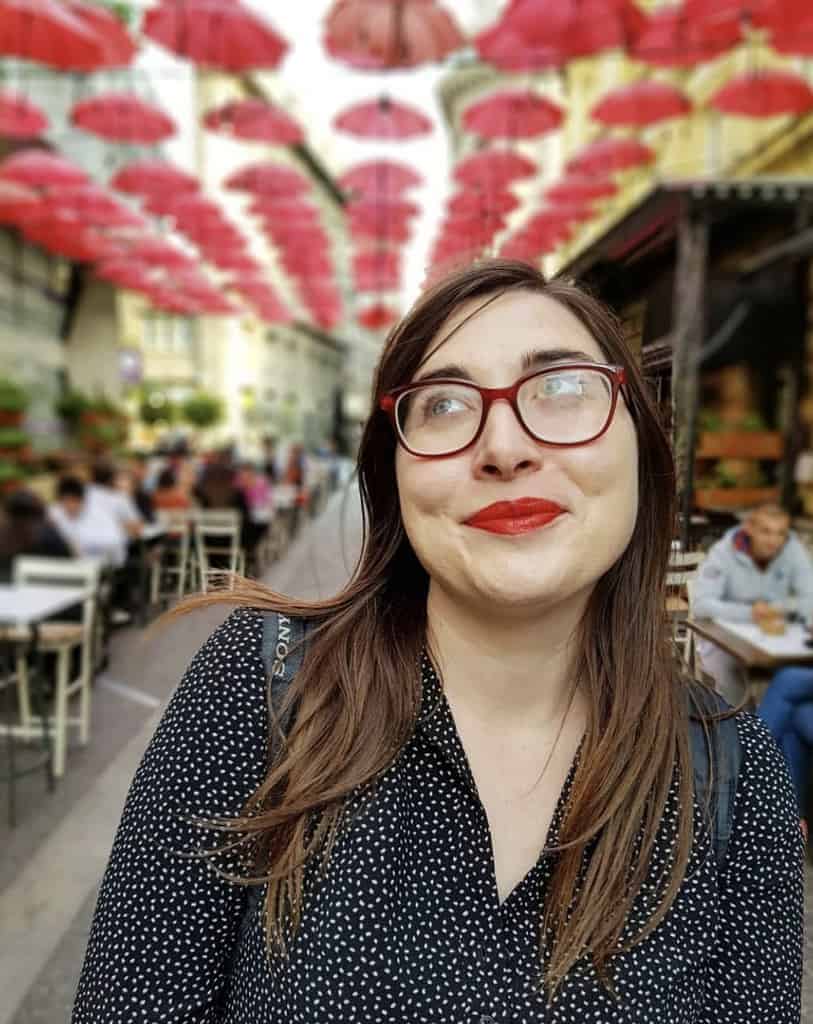 Allison Green is a travel blogger, writer, and podcaster who grew up in the Bay Area of California. She has spent time living in New York, Prague, and Sofia, but has returned to live in the East Bay. She has traveled to 60 countries before the age of 30 while running several digital travel publications. Her writing and podcast have been featured in Forbes, CBC Canada, National Geographic, the Huffington Post, and CNN Arabic, amongst others. She's obsessed with bouldering, houseplants, other people's pets, and anywhere she can see the ocean.