If you're looking to escape to a small coastal town that has all the beachy scenery, cute amenities, and none of the crowds, you're looking to head to Mendocino!
This treasure is located between the beach and the redwoods in Northern California on Highway 1, the much-photographed two-lane road that runs up and down almost the entire length of the California Coast.
Reading through this weekend in Mendocino itinerary will show you some of the best fun to be had in Mendocino, but it is by no means comprehensive.
Every time I go there, I find something new to add to my list of great hikes or even greater food, I'm sure you will too!
Mendocino can be for anyone, really. Visitors include campers and hikers as well as foodies and fun lovers too!
There are several well-known campsites where you can immerse yourself in the woods but if that's not your style? There are a few cute Mendocino cabins and small inns to go to instead.
With any luck, you'll find the right place to stay, and you could be driving with windows down on the coast to Mendocino this weekend for some much-needed rest and relaxation!
Day One of Your Weekend in Mendocino Itinerary
Get your breakfast to go.
Note: This post contains affiliate links, which earn me a small commission at no extra cost to you if you make a purchase using one of these links. Thank you for supporting this free content!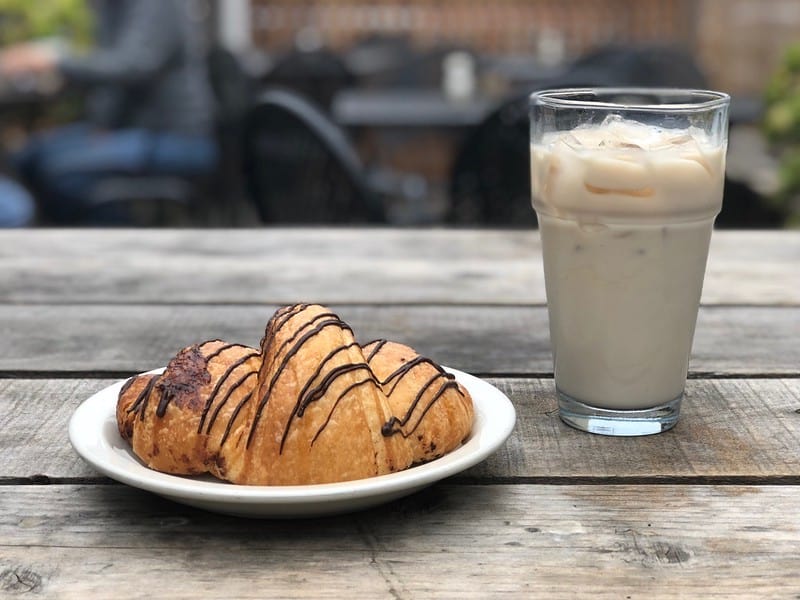 Grab your breakfast to-go from the GoodLife Café and Bakery in town to maximize your time out in the world — and maximize your flavor!
This little spot has all kinds of delicious ways to start your day with many organic breakfast sandwiches, as well as gluten-free options.
Of course, if you're a light snacker in the morning you may just need a jolt of caffeine and perhaps a pastry to get you started!
The baristas at GoodLife Café will hook you up with something full and flavorful that you're sure to enjoy.
Whatever you're getting, get it to go and snack or slurp on your less than a mile walk down to Big River Beach.
Wake up to the waves on the sand.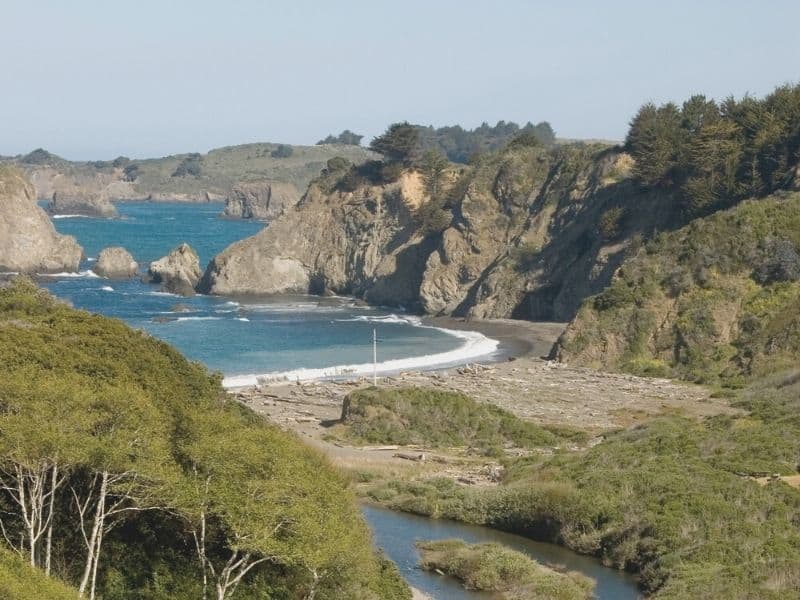 Under the bridge on the way into town, you may have caught a glimpse of a river winding into the sea! That leads you right to Big River Beach.
There is a small dirt road leading down from the highway that leads to accessing the estuary, and that's our next stop.
You can walk along the river to your left or head right and out to the ocean to dip your feet in the waves!
The riverbank and beach sands have all sorts of different layouts given the strength of the river or the movement of the tides, so you might not see exactly what is pictured.
Be prepared for dogs of all shapes and sizes! Although the beach says a leash is required for dogs, many of the locals use the beach for off-leash dog romps in the water!
Wander back to town to refuel.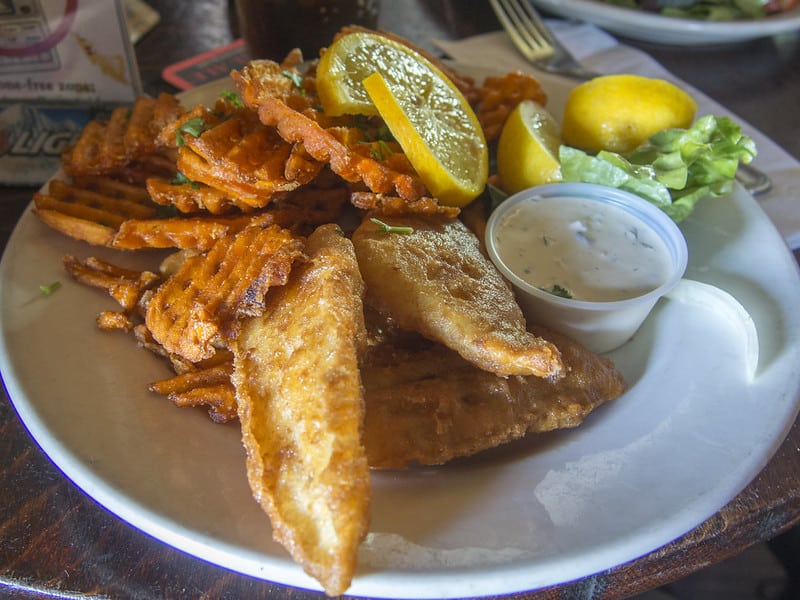 If you get back to town after 11, you're right on time to head into Patterson's Pub.
This restaurant is 21 and over and won't serve minors, but if you need to you can grab some food to go to eat at your lodging, they are more than happy to oblige a take-out order!
Patterson's serves all kinds of hearty bar favorites like burgers and wings, but they also have a range of delicious and filling salad options, from the classic Cobb and Caesar to their own take on the Shrimp Louie salad!
Their fried cod with sweet potato fries are also a great choice: a delightful twist on the English classic fish and chips.
Remember, this is the California coast: when in doubt, go with seafood!
Walk along the cliffs.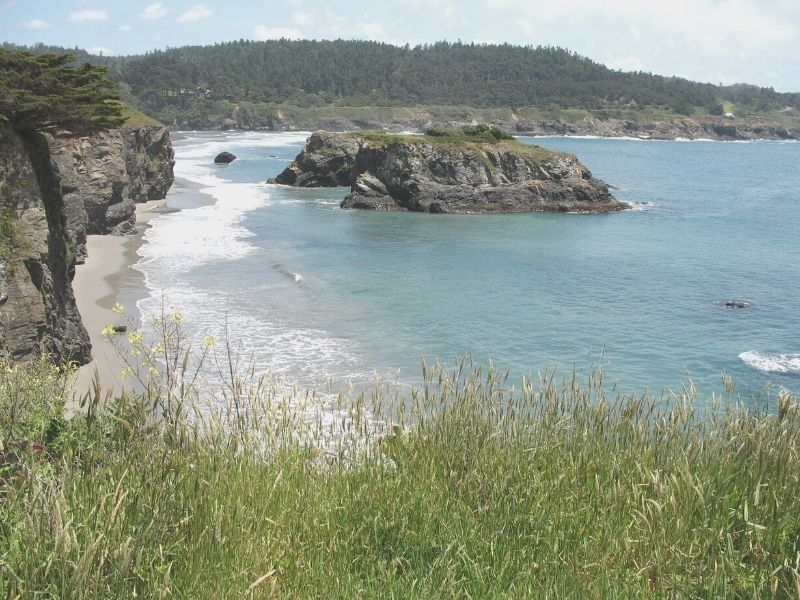 Right next to town, you will find some of the most stunning California coastline that you can imagine — without needing to take a couple of days of hiking the Lost Coast Trail.
The Mendocino Headlands State Park has it all: beaches, wildlife, and views to call home to your mom about!
From the cliffside paths, you will see beautiful rock formations that make big statements against the blue waters.
It's easy to spend the whole afternoon here on the bluff, watching the waters or trying to find hidden beaches.
Depending on the season, you may be able to see whales migrating by, heading up the coast to Alaska or down to Baja California!
Get dressed up to eat out.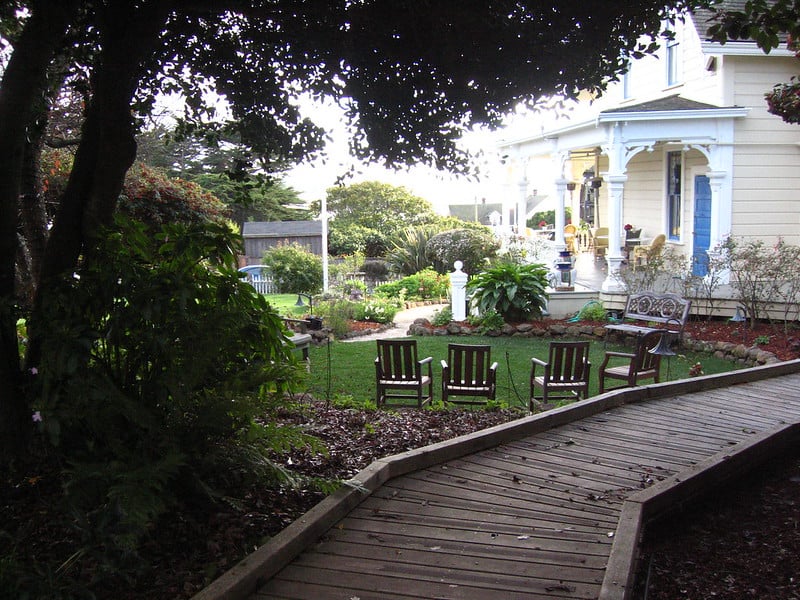 After a day of sand and sun in your beachy best, it can be the perfect contrast to eat out all glammed up!
If that's what you're looking for, MacCallum House Restaurant is the perfect place to dress up and head out too. This gorgeous inn is also a fantastic restaurant!
The menu is small, but it contains almost all seasonal ingredients from local farms and wild-caught fish, to make up a range of blissful and organic flavors you're sure to enjoy!
Be sure to get there after 4:30 when the dinner menu opens for selection, but not so late that you miss the chance to watch the sunset on the beach!
Find a beach and soak up the sunset.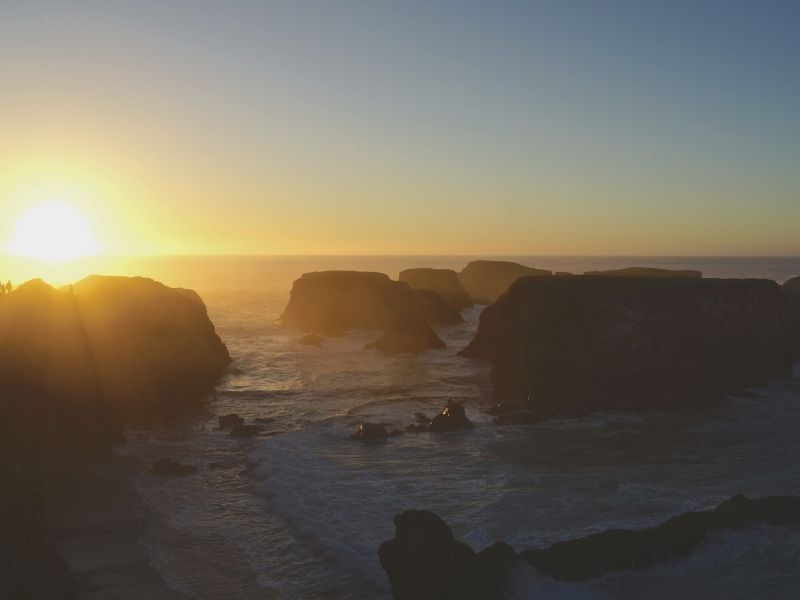 Anyone who lives on or near the coast of California can tell you that there is no limit to the number of times you can watch the sunset from a beach!
Plenty of them would even tell you that no two sunsets are the same on the Golden Coast.
So, you should be able to guess that sitting back and absorbing the last of the day's light as the colors shift and change into darkness is one of the best ways to kick back and wind down in Mendocino!
If you want to stay in town and find one of the many little beaches nestled among the cliffs to set up your camping chairs and watch the sunset that would work just fine. You may even have a favorite by now!
Personally, I drive about 5 minutes out of town to the small Van Damme State Park Beach right on Highway 1.
Usually, there are fewer people, and the view of the ocean is much wider to get the whole scope of the sun sinking below the horizon!
Day Two of Your Weekend in Mendocino Itinerary
Have crab for breakfast.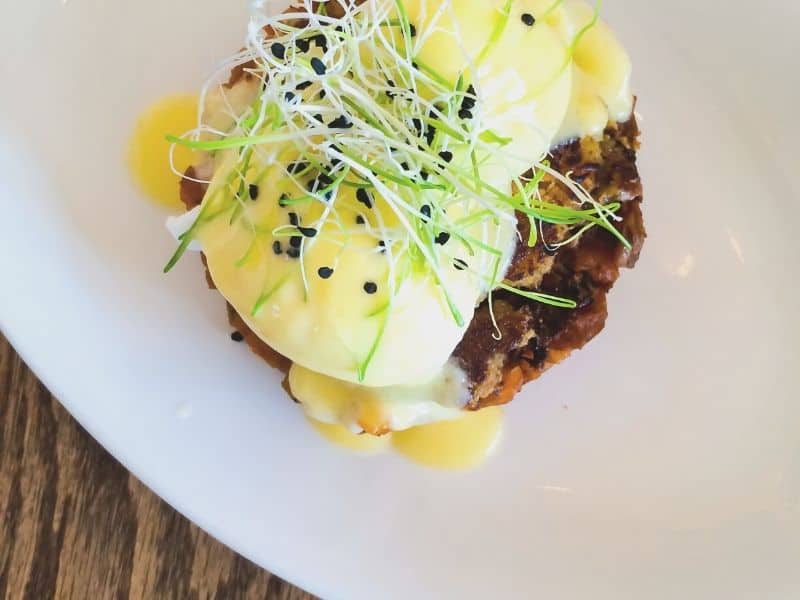 The Mendocino Hotel Restaurant may be just the place to start your morning!
They have many delicious breakfast options but if you want to get something you'll be talking about for years, make sure you order the local Dungeness Crab Benedict! Seafood straight out of the ocean just tastes better!
Of course, the restaurant offers the usual selections including, omelets, parfaits, waffles, and pancakes as well, so anyone will be happy to sit down and eat up there — not just seafood lovers!
Get dirty in the Gulch.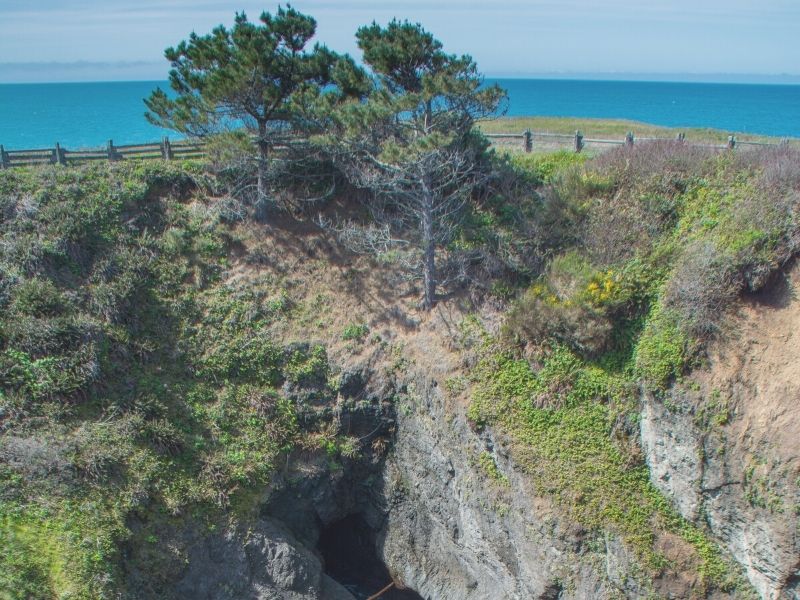 After that nice meal in a beautiful, pristine hotel, it is going to feel so good getting dirty on the hiking trails at Russian Gulch State Park!
This state park is perfectly situated with beach views, grassy knolls, and redwood forests that you could spend the whole day hiking up and down the fifteen miles of trails available to the public.
Walking down the right paths will lead you to creeks and even a waterfall (in season) to round out all the gorgeous water features you can see on this trip!
Sojourn to France for a bit.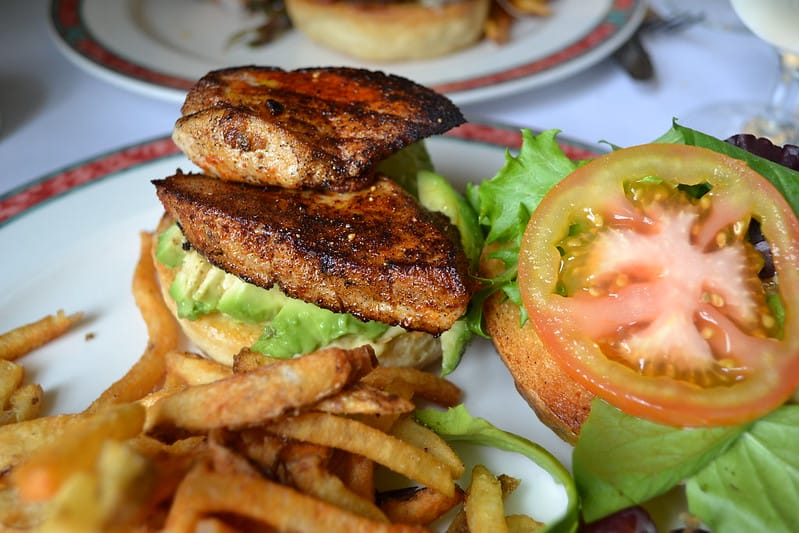 If you're hungry and looking for a little more than the usual burgers and fried, please stop by Café Beaujolais.
This local Mendocino restaurant offers locally sourced meat and vegetables to create some elegant French cuisine!
Of course, craving something more down-to-earth isn't a problem either. Wednesday through Sunday, they serve delicious pizza from a woodfire oven!
Savor the sweet life in downtown Mendocino.
If you don't spend the whole day exploring Russian Gulch State Park, the small downtown area of Mendocino has plenty to offer someone who is need of other ways of relaxing!
For a truly relaxing end to your weekend in Mendocino, you can easily schedule a long massage at one of the local vendors!
Personally, I booked in advance at Mendocino Coast Massage and after every aching muscle was relaxed?
It was a 3-minute walk to Papa Bear's Chocolate Haus where I picked up their famous white chocolate and raspberry bark to snack on as I explored more of downtown!
There are a few other treasures in town to look out for. One local favorite is the Kwan Tai Temple; you might even be able to spot it without searching for it on Google Maps.
Enjoy dinner from the deck as the sun goes down.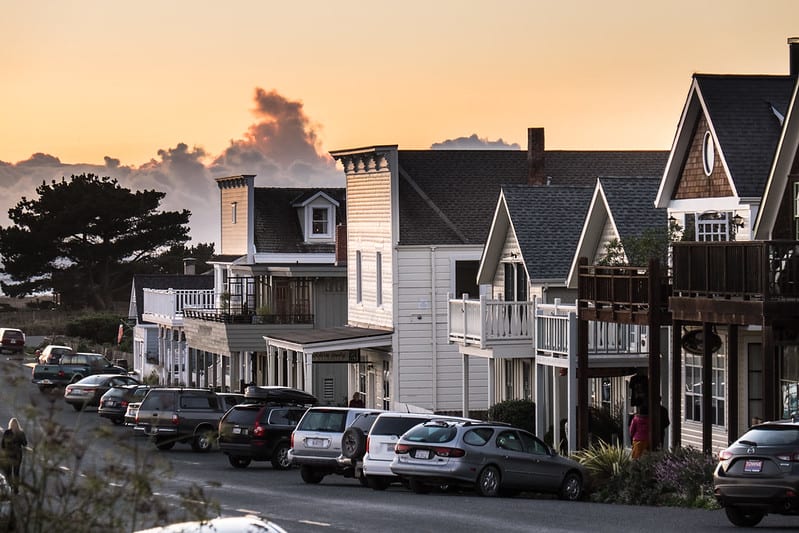 Mendocino Flow Restaurant has been reviewed in Zagat as an essential place to visit if you are in town!
If you packed right, dinner here is when your finest clothes come out of the suitcase. Don't worry: jeans and a nice shirt will work just as well.
The restaurant is known for serving organic, local meats and vegetables with farm-to-table services for most of its menu items.
All those buzzwords typically mean high prices, but here, the prices are not expensive — typically around $15 to $20 a plate.
The main reason you will come here is to watch the sun sink below the horizon from their beautiful deck!
Even if it is a bit chilly outside and you want to dine inside, the large glass windows will let you take in the coast as you enjoy your meal.
Soak up some starlight.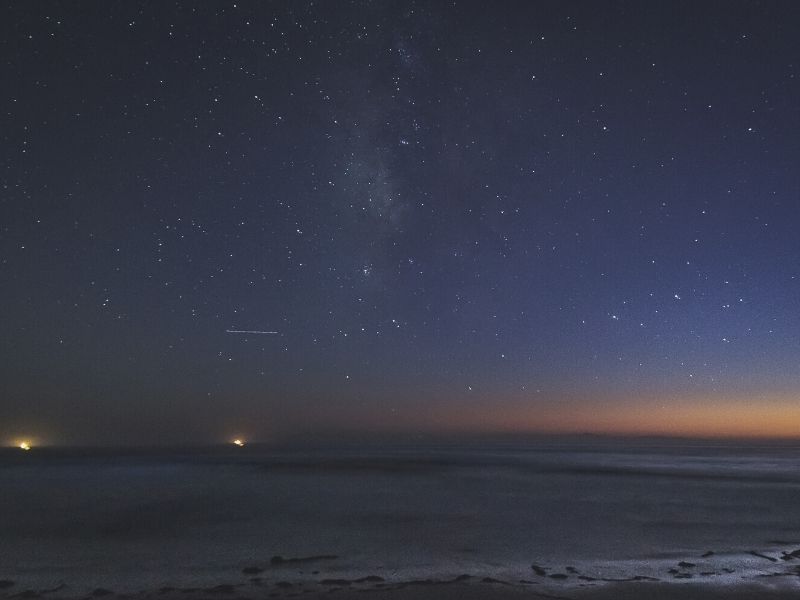 Since you've already had your sunset for the day, it's now time to stargaze by the water!
Nothing beats staring up at the stars with the gentle crashing of waves in the background as a cool breeze placates any sunburned skin.
Any beach will do for watching the night sky, and you may already have a favorite beach that you want to go, to but please be aware that some beaches do close after sunset so please obey posted signs!
Despite this though, you will often find locals having a bonfire on one of the many local beaches.
Personally, I went to Portuguese Beach to soak up the starlight. It is walkable from town, but you will need some finesse and a flashlight to get down the stairs at night!
Once there though, the night is yours to take in. Now that's the way to end your Mendocino weekend trip!