California is often best-known for its beaches. While there is a lot of other fun activities to enjoy in the rest of the state, it seems like we just can't seem to help ourselves from being drawn to the coastline!
And because California is such a large state with miles and miles of coast to enjoy, it is uniquely able to offer special beach town experiences in many, many locations.
If you are planning to go to California for a weekend getaway, or you want to visit every single well-known beach town on this list, you will never be disappointed in your time spent along the California coastline. There's just something about the California coast that is special, moving, and memorable.
I try to make time to visit at least one California beach town each year because I find that there is just no comparison with the California coast anywhere else on earth!
Cute Coastal Towns in Southern California
Malibu
Note: This post contains affiliate links, which earn me a small commission at no extra cost to you if you make a purchase using one of these links. Thank you for supporting this free content!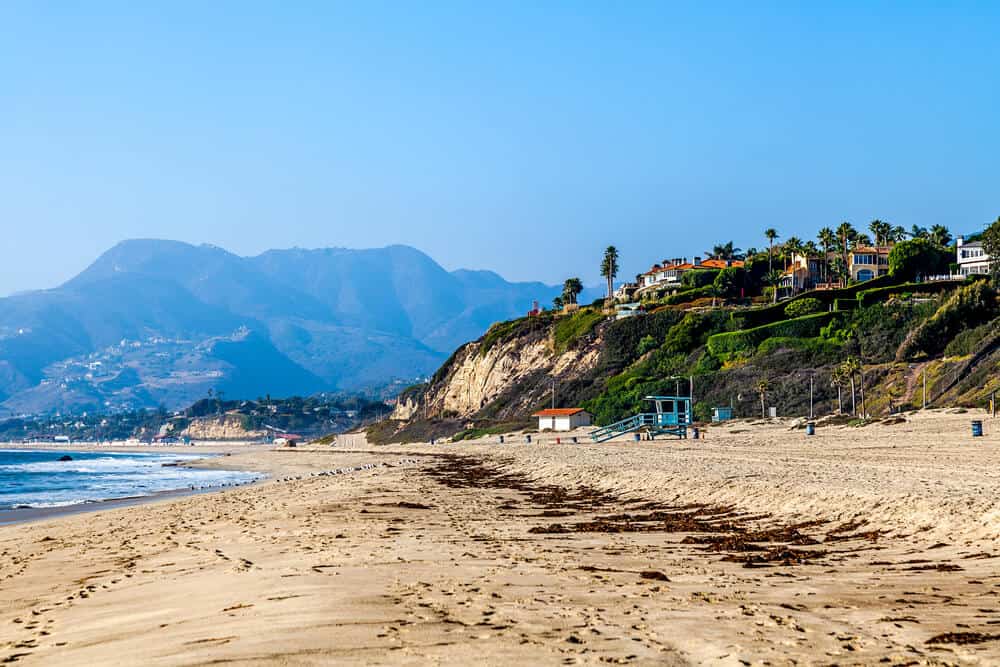 Contrary to popular belief, Malibu is not just a single beach, it's a city as well as a beach region in the state. You can visit 21 miles of beach when you visit the Malibu area, and each square foot is as delightful as the last!
The Malibu area is dotted with state beaches like Topanga State Beach and Pointe Dume Beach, but you can also visit the Malibu Pier and the Malibu Surfrider Beach.
If you visit sites like Surfrider, you can watch the surfers training and catching waves, or you can sit down in the sand and enjoy the weather. Smaller beach locations up and down the Malibu coastline offer a more quiet and serene experience, but one that is no less delightful.
You don't need me to tell you that the shopping is amazing in Malibu and there is any kind of store you can imagine if you head back into town! The shopping in this cute coastal California town can only be beat by large cities like LA and San Francisco.
Insider Tip: Make some time to visit Escondido Falls if you are there in the cooler parts of the year or take a horseback ride through the Zuma Canyon.
Ventura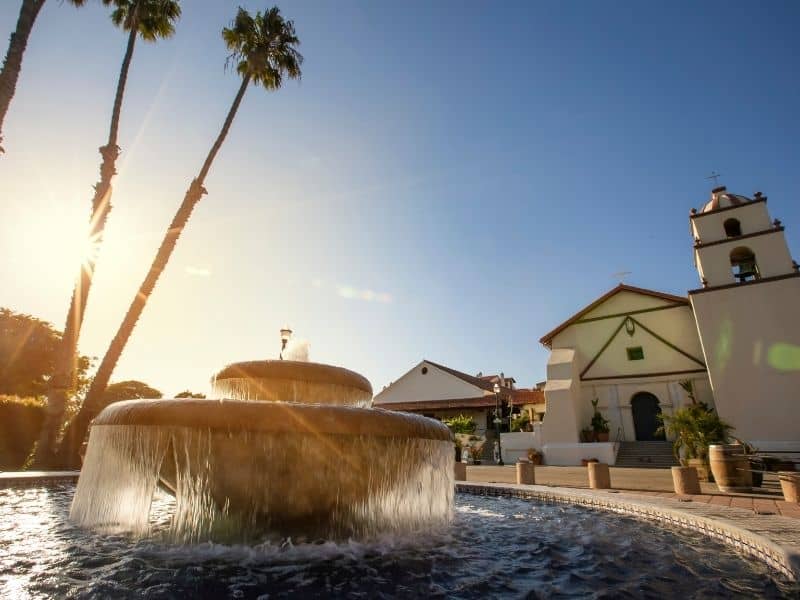 Located near Carpinteria and Oxnard, this famous beach town in Southern California is near a working harbor, a fishing marina, and a delightful shopping area with restaurants and waterfront activities.
You can jet ski, paddleboard, or enjoy a boat trip here — and best of all, your dog is welcome on the beach! This is one of the must-see locations along California's coastal towns for a whole host of reasons.
Enjoy the surf and sand as you sunbathe near the water, or walk along the famous Ventura Pier and catch the views over the water at sunset. This is a truly phenomenal beach town that is famous for both its beauty and serenity.
Montecito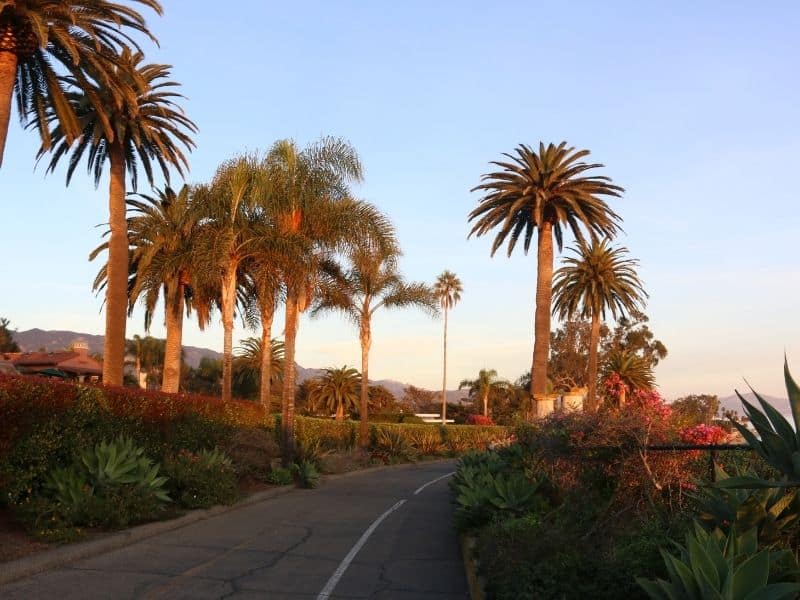 This delightful beach town has enjoyed new fame recently because it has been associated with Megan Markle and Prince Harry as they traveled down the Montecito Coast. But it's no stranger to celebrities: Oprah has been living in Montecito for years.
These ex-royals have taken up residence near Butterfly Beach in Montecito near Santa Barbara, bringing new interest to this little gem of a beach town.
You can stay at the Four Seasons here for a posh getaway, or enjoy a humbler hotel in town. There is a chance that celebrities might be on the beach with you when you plan to visit this delightful beach town!
Encinitas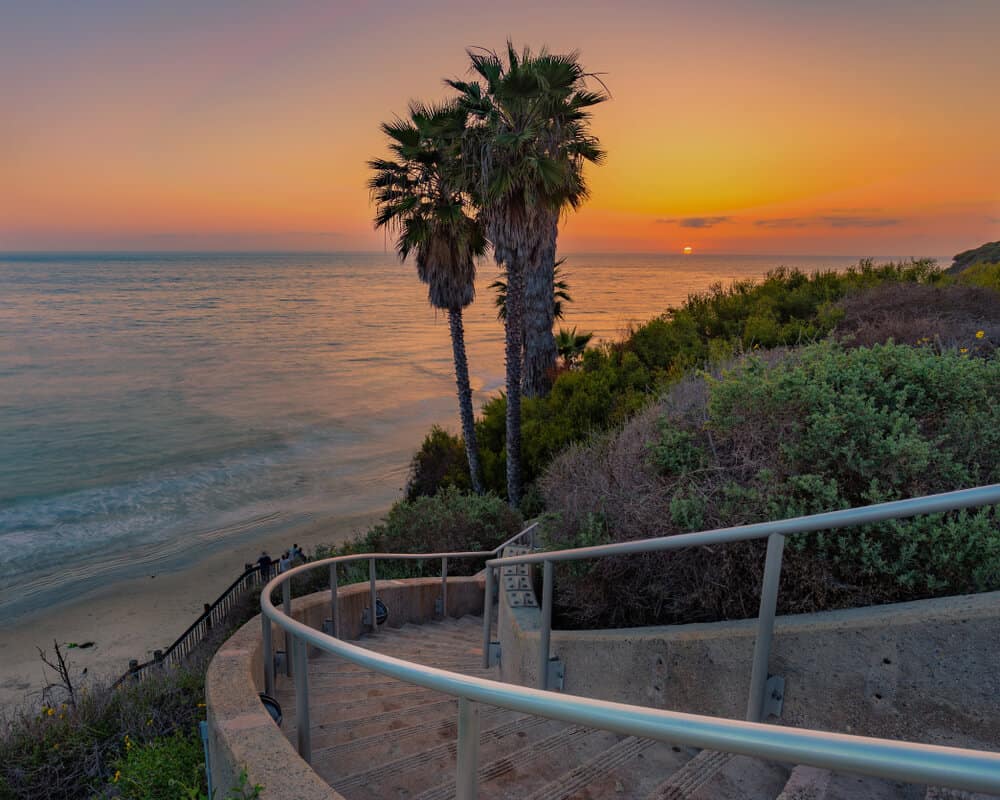 If you are in Encinitas, a charming surf town in California, you have to go see the sunset at Moonlight State Beach!
Visit the local shops and have dinner nearby, then wander down to the beach and enjoy the end of the day with some snacks from the snack bar. There are fire pits and volleyball courts here as well.
For a different experience, head up to Swami's to watch surfers navigate the big waves. You can also head over to Sea Cliff and sit in the shade or at a picnic table and listen to the waves.
D Street is another great option for access to the water and you can sunbathe here. Be aware of possible sunbathers in their birthday suits at D Street beach, especially if you are traveling with children!
La Jolla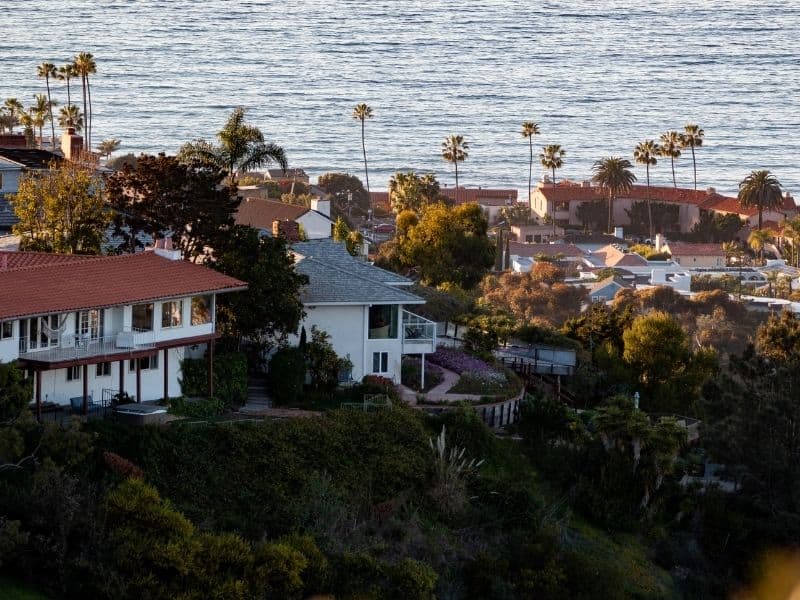 The La Jolla area offers the extremes of rocky cliffs and delightful sandy beaches that you have probably come to expect from California.
You can visit Torrey Pines State Beach to see the 300-foot sea cliffs and rare eponymous Torrey pines (found only in a few places in the world, all of them along small stretch of the California coast) or head down to the long sandy beaches near Black's Beach for some sunbathing.
La Jolla Cove offers access to seas coves and you can sea kayak here or check out the marine life with a snorkel or by diving.
La Jolla is the quintessential California beach town near San Diego, and the surfer vibe of the city puts one in mind of Hawaii. Downtown, or "The Village" to locals, is full of shops, museums, and other fun things to do.
Enjoy the San Diego zoo, or head to Sea World for the day. There is also great hiking near here and you can see the coastline from nearly every hiking trail as you work your way up the hills near the coast.
Seal Beach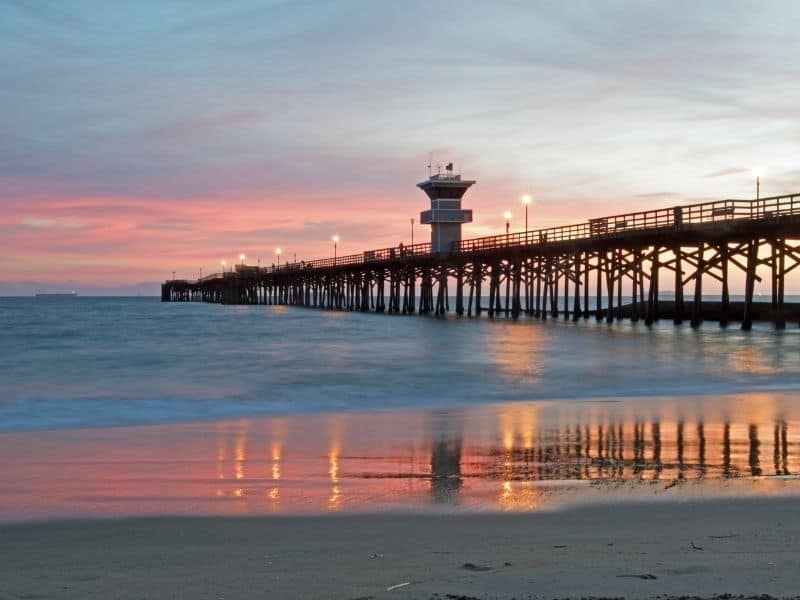 This gorgeous California coastal town is located in Orange County and it retains its small-town feeling despite being near one of the most populous and posh areas in the state!
Visit the Seal Beach Wildlife Refuge or visit the Hyatt Regency for a meal in the delightful downtown area.
Head down to the water to see the second-largest wooden pier in California or pick out a place on the beach itself and sunbathe.
You can watch the surfers or head over to the shady grass park to eat your lunch and listen to the waves — there's no shortage of things to do in Seal Beach!
Newport Beach
Newport Beach is delightfully scenic coastal city in California with its cliffside views and some of the best surfing in the state. Take the ferry to Balboa Island and visit this beautiful little tourist trap for the day. You can even ride the Ferris Wheel or play in an arcade.
Get a frozen banana while you are on Balboa Island (Arrested Development, anyone?), and then head back to visit the shops at Fashion Island which are arranged in an open-air mall.
If you want to see surfers navigating impressive waves, head to The Wedge where waves get as high as 30 feet! If that is too wild for you, there is a whole host of delightful beach locations to take a towel and some sunscreen and catch some rays.
Dana Point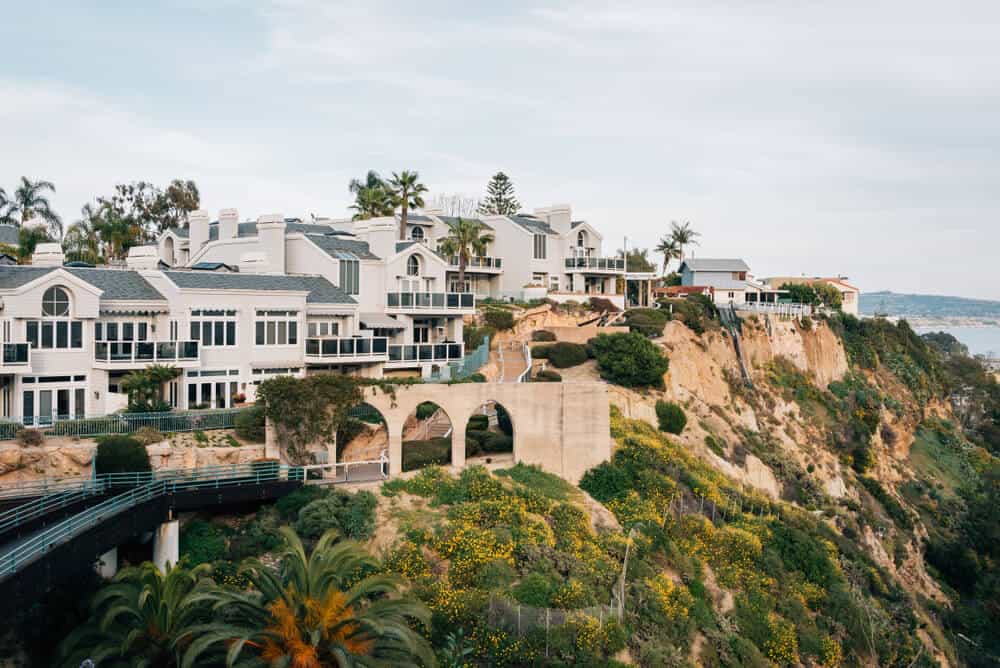 Dana Point is well known by Californians as having some of the best beach locations to enjoy the sun and waves!
One of the best features of a visit to any of the beaches in Dana Point is that you can enjoy year-round whale watching during your visit! Take your small children to Baby Beach where the waves are gentle and the water is shallower or head up to Doheny State Beach for some surfing and swimming.
Stay in style at the Ritz-Carlton Laguna Niguel which offers fantastic dining at its six restaurants, or grab a room at the many hotels that overlook the ocean directly.
If you are visiting in the fall, make a stop at the Tall Ships Festival to see the old sailing ships that are moored there during the event. Round out your trip with a visit to Pirate's Cave near the Ocean Institute and enjoy this amazing natural feature at low tide.
Oceanside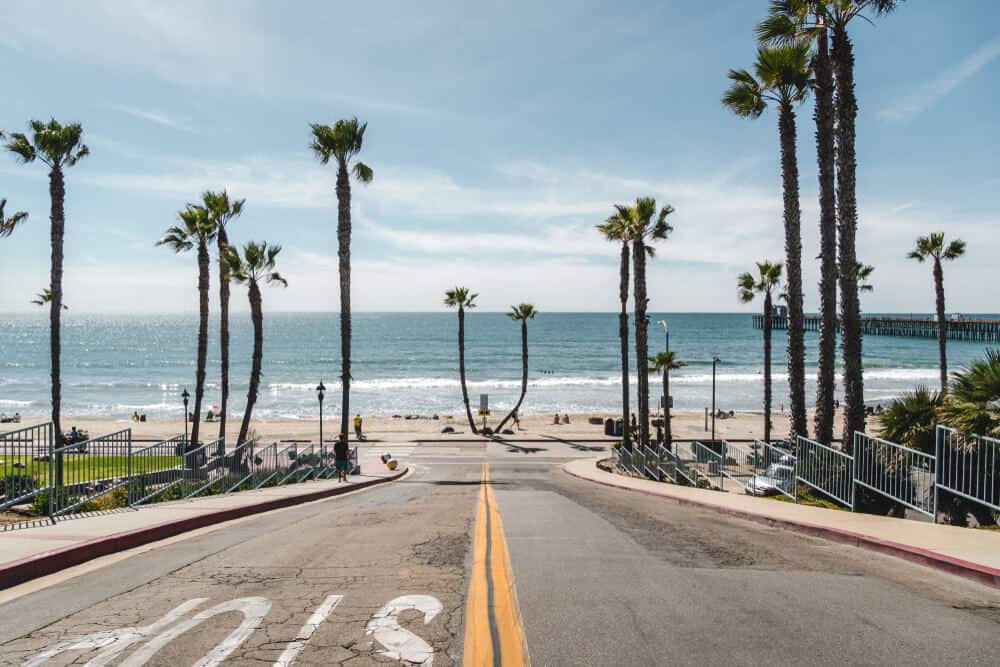 Charming little Oceanside is a truly SoCal beach town and has a great laid-back vibe.
The beaches are phenomenal and make you think you are in Hawaii while the town, called O'side by locals, is home to the California Surf Museum.
Visit the historic pier or the Oceanside Harbor on your way to lounge in the sun at the beach itself.
Take a wine harbor cruise, or enjoy live music at Coomber Craft Wines. This is a young, hip town with a ton of fun activities to do at all times of the year.
The bike trails are well worth a visit, and there are many great natural areas to hike and enjoy scenic views of the entire stretch of beach.
Carpinteria
The Santa Barbara area is one of the prettiest parts of California, and Carpinteria — a charming beach town — is located on the Southeast side of this iconic part of the state.
The beach at Carpinteria offers a gentle slope and soft swells for much of the beach's length. This makes it perfect for sunbathing and strolling. The city is part of the coveted California Riviera that draws tourists each year for its Mediterranean climate.
The Spanish-style architecture of this city offers old-world charm and you can drop in to Teddy's By The Sea for an ocean view meal. Stay at the local smaller hotels near the water and shop along Linden Avenue.
Pop over to the Seaside Gardens to check out art installations and beautiful natural scenery, or buy some cute beachwear at Seastrand.
Cute Beach Towns in Central California
Pismo Beach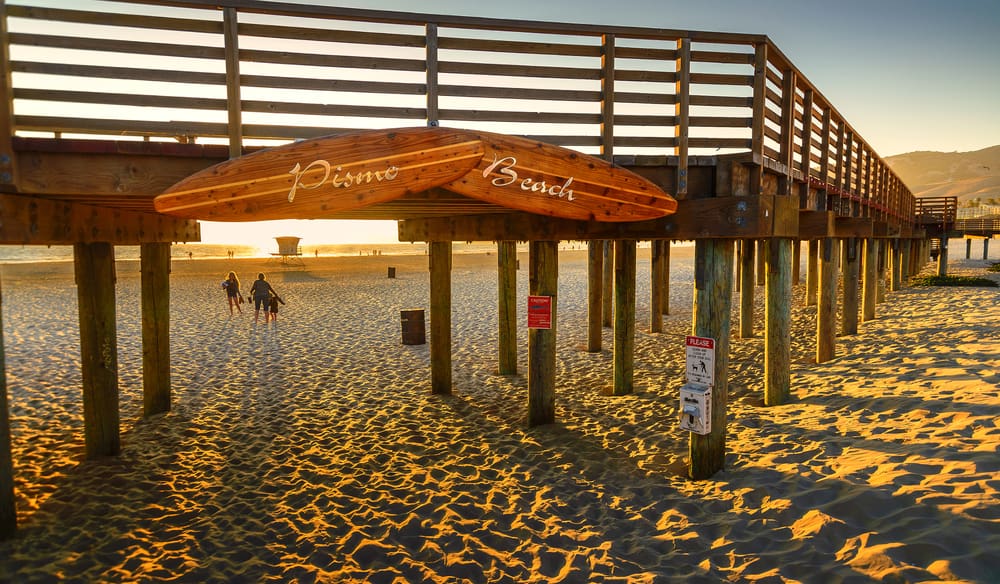 Pismo Beach is one of the best-known beach towns in California, and it is located between San Francisco and Los Angeles along the Pacific Coast Highway.
Stay along the seven miles of oceanfront in a resort like the Vespera on Ocean, or head just south of the town to visit one of the local wineries like Santa Rita Hills.
Stroll along the iconic Pismo Beach Pier, or walk along the long stretch of flat and soft beach sand. You can sunbathe here or you can head over to the Pismo State Beach and Oceano Dunes to see the monarch butterflies which migrate through the area each year.
If you love ATVs and off-roading fun, this is the perfect dunes location to have a blast!
Cayucos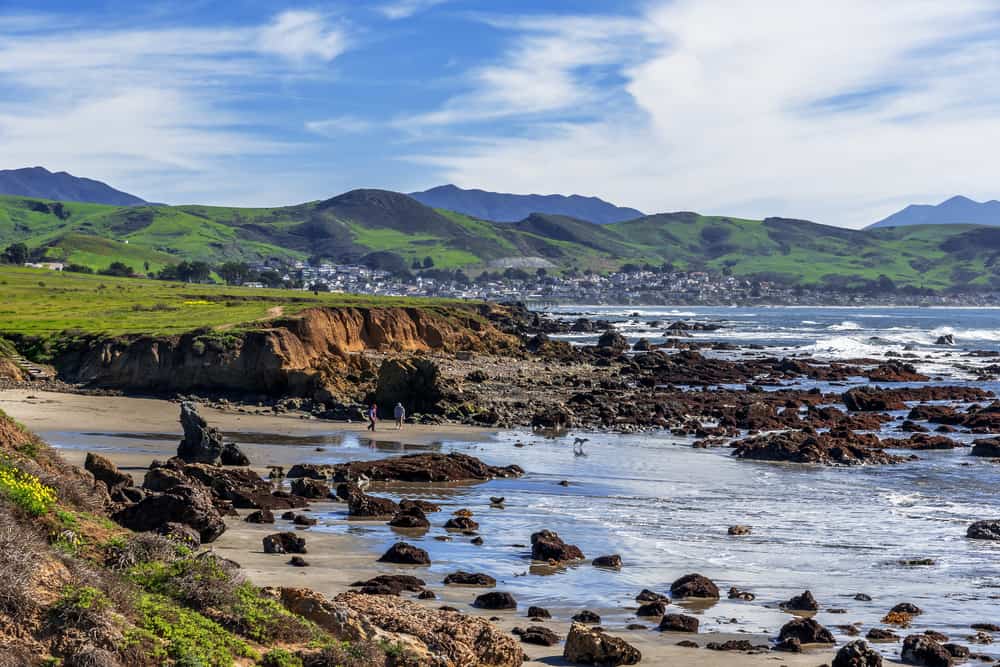 The white sands of Cayucos State Beach are one of the biggest attractions in the cute coastal town of Cayucos.
Cayucos has a well-known pier that dates back to 1872 from the days of this town's past when it was an important commercial port for ships sailing from Los Angeles to San Francisco.
This is a small beach town with a ton of character and lots of delightful shopping and dining.
Cayucos has preserved its Salinan and Chumash history, and visitors can learn more about the land's original inhabitants by visiting Cass House Cayucos.
Learn about the original ranching and shipping families who created the little town before heading out of town to see the impressive Estero Bluffs State Park.
Morro Bay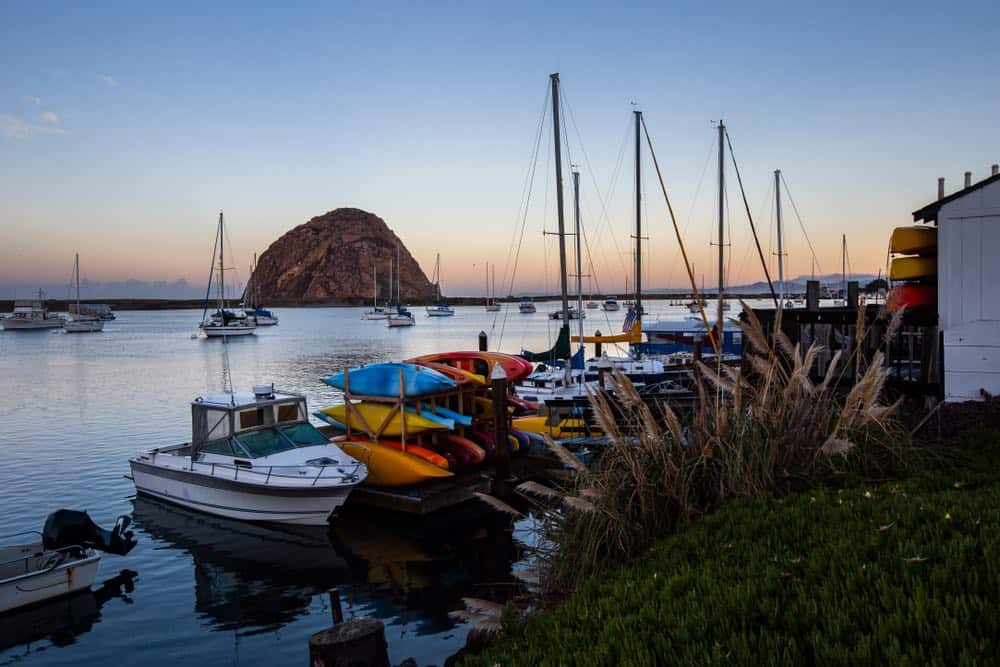 Nearby Morro Bay has a lot to offer from kayaking in the harbor, to biking along the beach, to checking out the daily catch that is locally caught and served in the town's excellent restaurants.
This town is near San Luis Obispo, one of the most beautiful areas in the state.
In Morro Bay, you can visit the Morro Bay Museum of Natural History to learn about the local history and the Chumash people who lived here first.
Take a bay cruise to catch the sunset, or take a stroll along the Embarcadero which is full of activity every day.
Check out the art at the Seven Sister gallery, or get some saltwater taffy at Carousel Taffy. This is a great place to go birding or to see sea life like otters, whales and sea lions as well.
And of course, make sure to set aside some time to see the famous Morro Rock at Morro Strand State Beach, the most significant landmark of this cute California beach town.
Cambria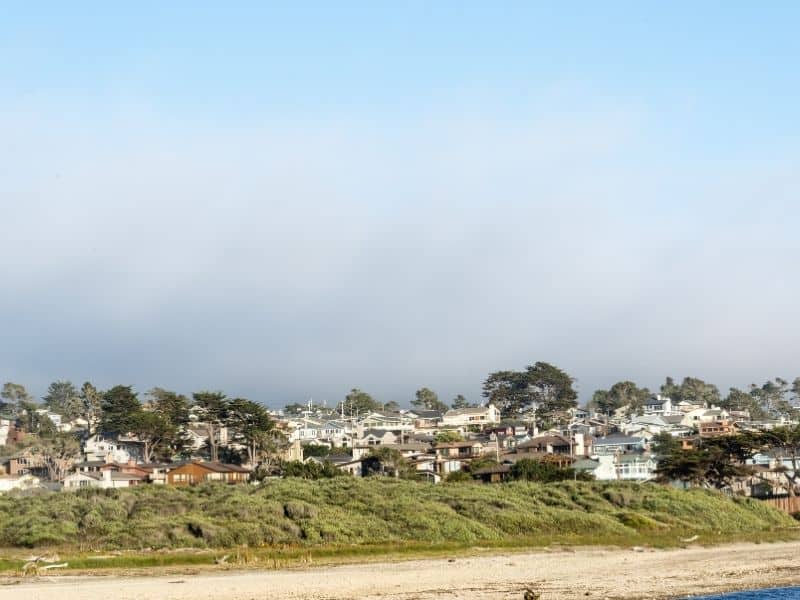 Cambria is more correctly classified as a village and comes complete with local charm and seaside activities and hotels.
The beach is large and smooth, making it perfect for a stroll or for laying out on a sunny day, and you can enjoy views of the beach from almost every downtown café that might invite you in for lunch or dinner.
Moonstone Beach and the Moonstone Boardwalk are a mile long and are a great place to walk if you want to see dolphins and whales.
If you come during the right season, you should head to the Piedras Blancas Elephant Seal rookery to see elephant seal pups and their parents.
Hearst Castle is just ten miles from Cambria and is well worth the visit to see the art collection as well as the house itself. Consider staying at Cambria Pines Lodge or the picturesque Fogcatcher Inn.
Carmel-by-the-Sea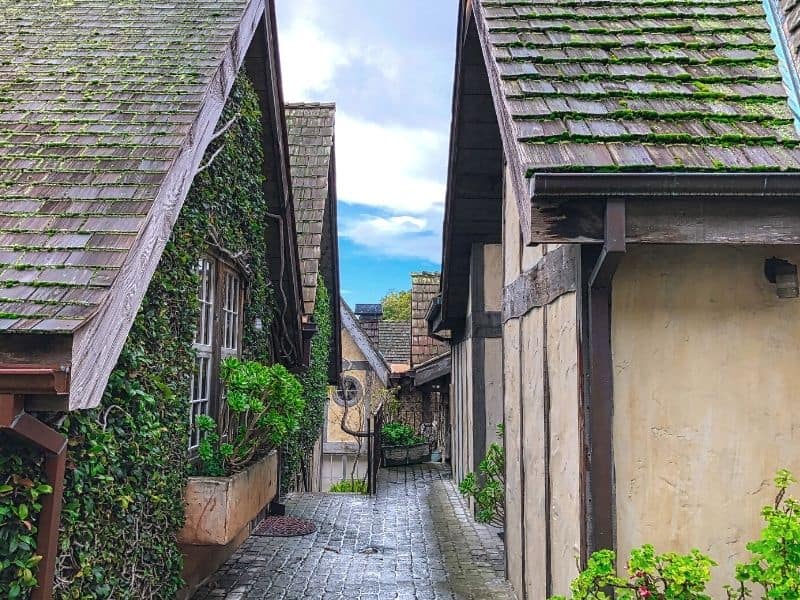 This California beach town was well-known before Clint Eastwood served as its mayor — but that certainly helped!
This beautiful seaside town offers a blend of galleries, boutiques, hotels, and shops, and the styling of the whole area is full of whimsy and romantic architecture, like something out of a fairytale.
Contrasting with the beautiful architecture, the coastline offers up rugged cliffs as well as soft, sandy beaches. Truly, there are not many places on earth that are this beautiful.
Visit Point Lobos State Reserve which is famous for being one of the most stunning protected lands in California, or head to the Carmel River State Beach for ocean swimming, kayaking, surfing, or just enjoying the sun and the waves.
Monterey County is one of the prettiest places anywhere in the US, and Carmel-By-The-Sea is one of the jewels in its crown.
Capitola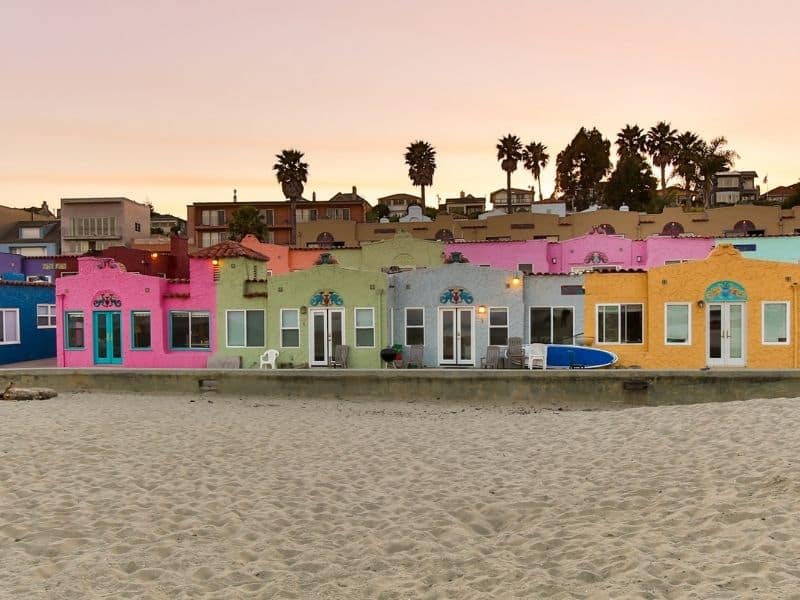 Although not one of the better-known beaches along the California coast, this bustling and fun city offers visitors the lovely Capitola beach, its colorful rows of beach houses, and the Esplanade park that is located nearby.
This is the location of a bandstand that comes to life during the hotter parts of the year and there are free movie screenings during summer nights right by the beach.
Shop at the cute little shops in town or dine at famous Zelda's on the Beach to enjoy live music and a great torch-lit patio that overlooks the beach.
Snag a room at the colorful and picturesque Capitola Venetian Hotel right on the beach and walk out onto the sand each day, or into town for your breakfast and coffee each morning.
Best Coastal Towns in Northern California
Davenport
Located near Half Moon Bay, this delightful little town is sometimes referred to as part of the "slow coast" of California. This is a historic area with a ton of charm and the city dates back to 1867, making it a good place to stop if you love to visit museums and learn about local history.
Visit the famous "Davenport Crack" in the surrounding hills near Davenport Beach or go see the unique rock formations like Shark Fin Cove.
If you want to visit some more rugged coastal areas, head over to walk Bonny Doon Beach and visit the cliffs and rock shelves near this scenic stretch of beach.
Half Moon Bay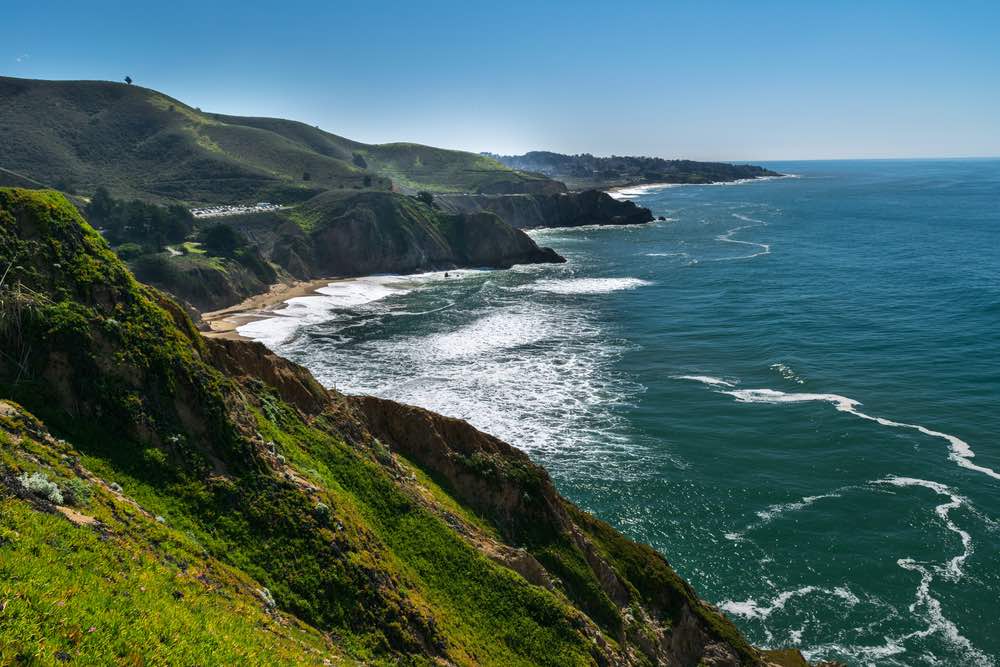 Half Moon Bay is one of the best-known places towns on the California Coast and for good reason!
This is a much larger city than some of the others on this list and it boasts the Pillar Point Harbor area as well as the unincorporated Princeton-by-the-Sea.
This a great place to visit any kind of beach that you want to see, from Half Moon Bay State Beach with its cliffs and sea rocks, to Dunes Beach and Miramar Beach which offer up rugged sections of cost with large waves.
This beach town is close enough to San Francisco to get daily fog during certain parts of the year and those who have visited the Oregon Coast will feel right at home here.
The town is full of cute bed-and-breakfasts (and some ritzy options, including the literal Ritz Carlton) as well as yummy dining and quaint shops, as it's a favorite beach getaway from San Francisco.
Pacifica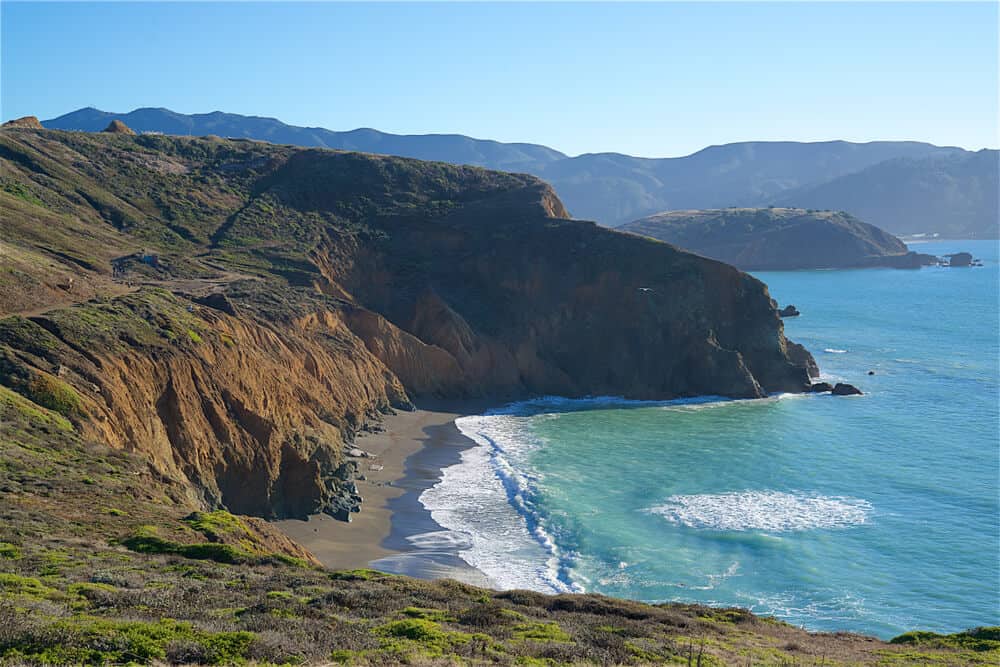 Another beautiful beach town near San Francisco, Pacifica is well-loved by locals for good reason. There are great hiking trails here (Mori Point is a real stunner) and the beach allows dogs.
This also is a great place to learn to surf, and the University of Surfing will help you learn to catch a wave.
Stay at the Pacifica Beach Hotel or the Lighthouse Hotel and head to the Moonraker for a delightful meal, or walk into town for some snacks and take them down onto the beach. This is a casual and friendly beach town that makes for a fun getaway, whether you are planning a day trip or a longer stay.
Sea Ranch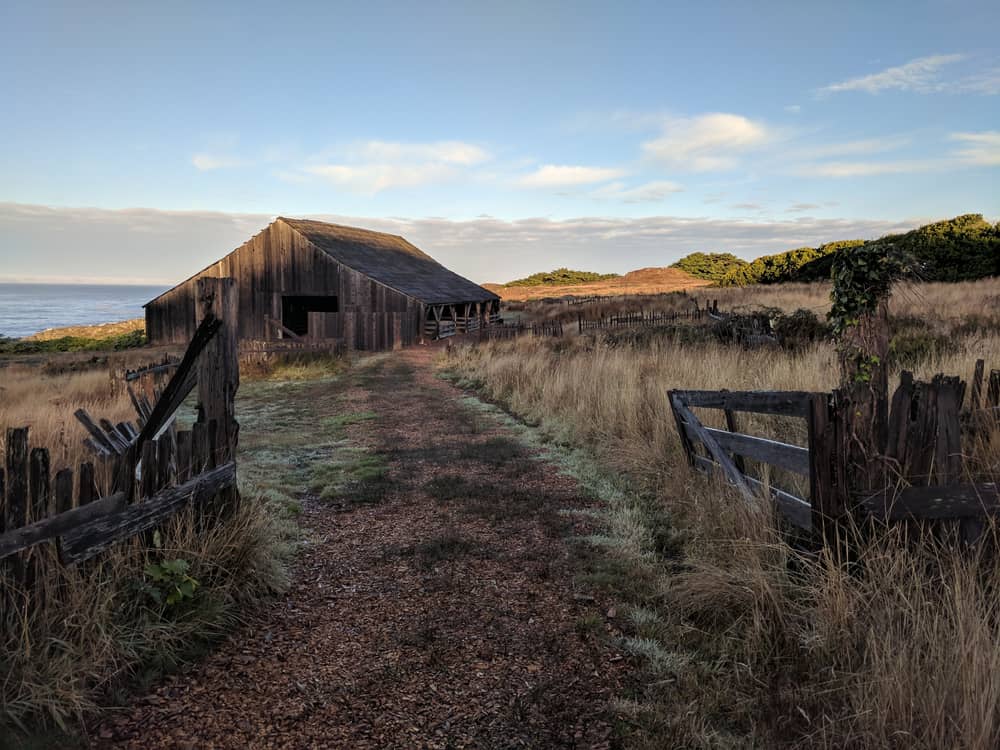 This town is best known for its distinctive back-to-nature architecture and its scenic golf course, but it is also a great location for whale watching and hiking on the public access trails near Gualala Point Regional Park.
Make time to stop and see the Sea Ranch Chapel, or to visit the Greater Farallones National Marine Sanctuary.
This is a great jumping-off point to head into Sonoma for some wine tasting or to stay and hang out for a weekend!
Gualala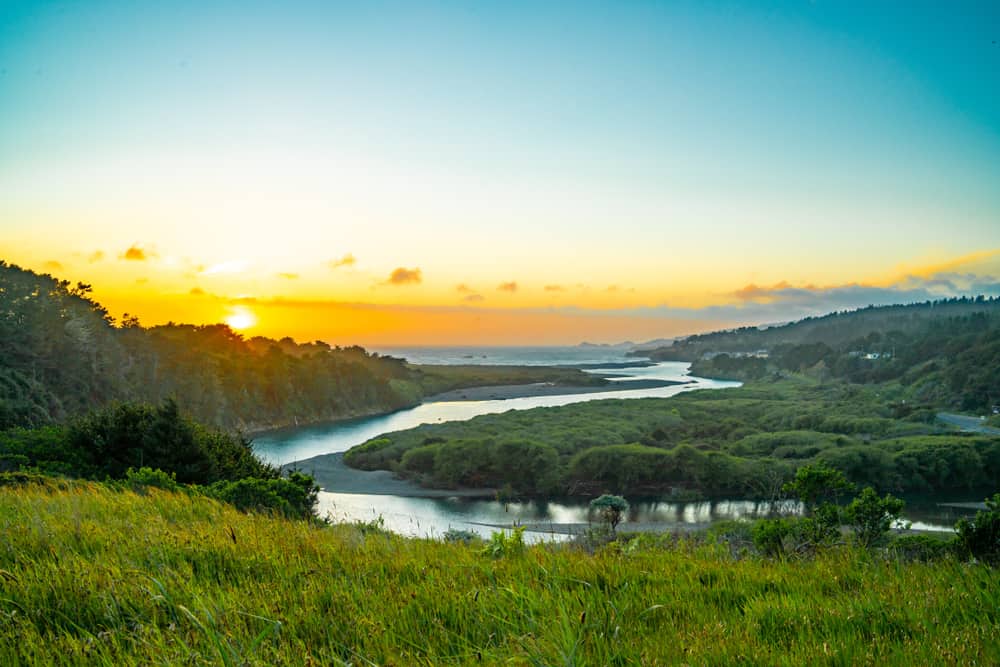 This little town is nestled into the bluffs along the Gualala River in the "banana belt" of the California coast. This area has a unique micro-climate, and you might experience foggy beach days along with sunny days.
This is the perfect place to go if you love hiking, whale watching, and sport fishing. You can golf, head out to see the Kruse Rhododendron State Natural Reserve, or buy some art at one of the galleries in town.
This is a beach town that is best enjoyed when you rent a beach house and stay for a few days.
Elk
Elk is a tiny town and not well-known, but it is well worth a visit. This is a secluded stretch of beach near the Navarro River and the coastline is surrounded by hilly pasture and redwood forest on one side and the shoreline on the other.
This is a great place for a quiet seaside lunch as well as a great place to buy some local art. From Queenie's Roadhouse Café to the Elk Store, local charm is everywhere in this little town.
Well-known by Californians for being an artistic community, locals come here often to buy art and enjoy the unique community feeling of this little town.
San Francisco residents view this as a local getaway, but the town was originally a logging settlement and there are plenty of opportunities to learn about the late 19th century and California's logging history.
This tiny California coastal town with its two-hundred-fifty residents is always a great place to choose for your beach trip in California if you want to get a bit artsy and off-the-beaten-path.
Mendocino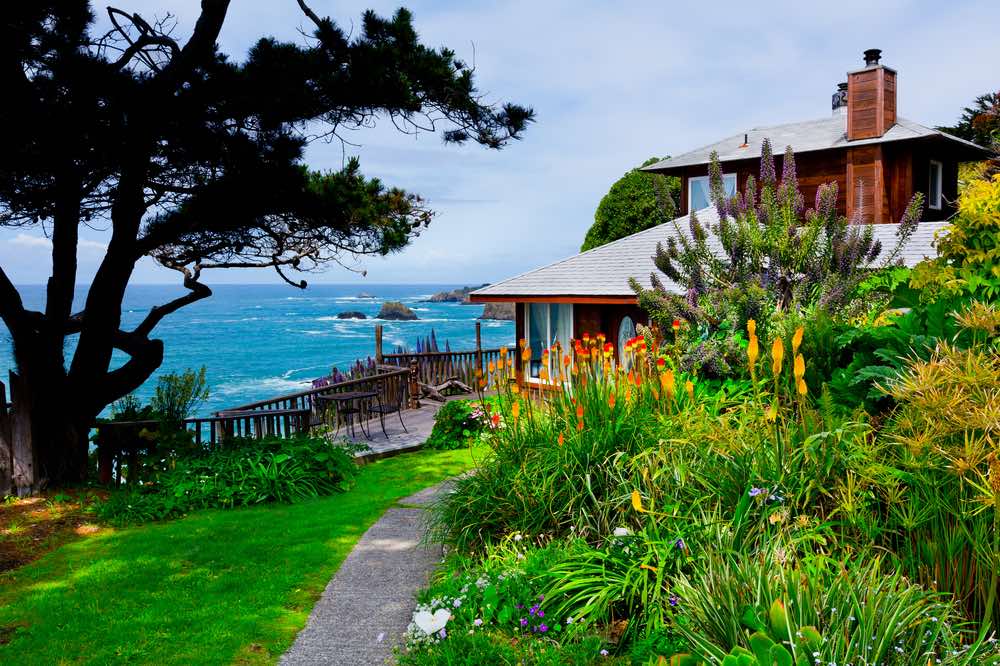 Famous for its unspoiled scenery and local charm, this area is adjacent to the famous Redwood trees and known for its oceanfront botanical gardens and stunning wines.
The town is also well-known for being connected to a cluster of charming Victorian villages!
You can go wine tasting here or ride the Skunk Train through the redwoods. There is a whale festival that is held locally each year in March and a series of wine and food-related events are put on throughout the year.
Having to travel Highway 1 on the way to Mendocino can be a bit tedious owing to the twists and turns in the road, but the views are phenomenal.
This little town was made famous when it was used for filming "Murder She Wrote" and the homes in the town still demonstrate the old-world charm that was made famous during the run of the TV show.
Fort Bragg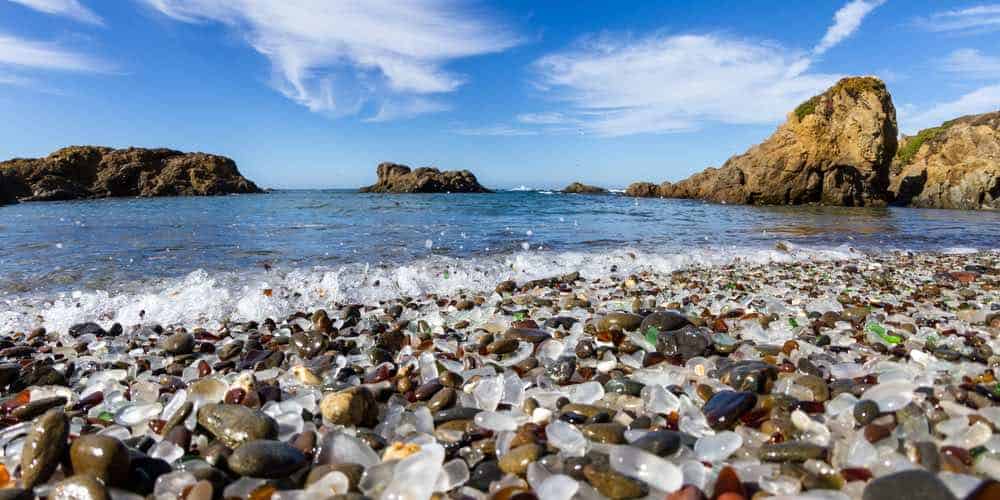 Fort Bragg offers some truly charming and comfortable beach hotels like the Shoreline Cottages, and the tiny beach town is full of beautiful beach areas connected to downtown.
Visit Glass Beach and admire pieces of colorful sea glass (though don't take any home!), or go scuba diving and snorkeling to see the beautiful glass beneath the waves.
Look for whales from the headlands, or head into town to see the historic downtown with its vibrant murals and to learn history related to the 1906 earthquake which destroyed San Francisco.
Kayak the Noyo River and look for sea lions, otters, or sea birds. It is also well worth heading up to Ten Mile beach to see the Cypress Tree Tunnel on California Highway 1.
Shelter Cove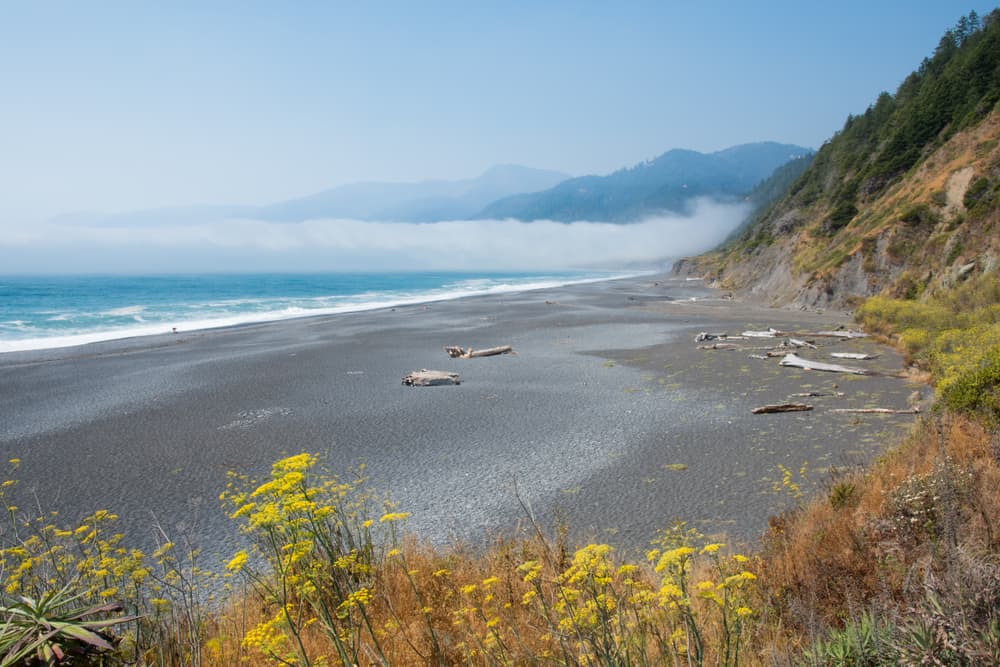 This is a great remote area that offers access to hike the Lost Coast or to visit the King Range Conservation Area. You can enjoy fishing or visit the tidepools and Black Sands Beach.
There are some local B&B options for your stay that should not be missed out on!
The town feels like a time capsule by intention, and you can see how the history of this little city was impacted when it was cut off from the major highway system when the Pacific Coast Highway was diverted further inland.
Crescent City
Crescent City is a beautiful place to visit on the Redwoods Coast. The town is full of great stretches of beach to go beachcombing and it is also a perfect place to look at tidepools. Kellogg Beach is a hidden gem near town and nestled right by Tolowa Dunes Park. This is a great place for sand camping as well.
Go to Castle Rock Wildlife Refuge for a safari experience blended with a sanctuary trip. Take a sea kayaking tour with Redwood Rides, or head into town and enjoy some fresh-caught seafood at Elk Valley Casino.
It is also well worth making time to head to Rumiano's Cheese Factory to try the offerings that are crafted by this family-run business. There is no shortage of outdoorsy and indoorsy adventures here in Crescent City.
***
California beach towns are some of the most picturesque and fantastic places to take a day trip or to go for an extended stay.
The California coast blends all the rugged splendor of the coastline to the north with the sunny weather of SoCal with its almost tropical-feeling locations.
There is no wrong way to spend a day at a California beach town and you will be so glad that you decided to travel to California's coast from the moment that you step out onto the warm sands!
Pin This Guide to Cute California Coastal Towns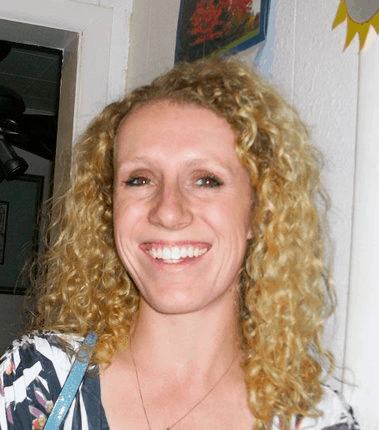 Brianna York has spent many years of her life traveling for work and pleasure, and grew up in Oregon in the gorgeous Pacific Northwest. She embraces each new place she visits and makes the most of seeing all the best that each city or place has to offer.  She is a published author and competes with her Arabian Show horses all over the United States. She embraces each day like a new adventure and is always ready for new experiences!