While Tuolumne Meadows does, indeed, center around a large meadow, it also has roaring waterfalls, rushing rivers, and huge granite peaks and domes: Yosemite in miniature!
Yosemite Valley's slightly lesser-known cousin, Tuolumne Meadows offers similar scenery to the Valley itself, but with more of an alpine feel and best of all — with fewer crowds!
Tuolumne Meadows is officially part of Yosemite National Park, but it feels a bit more rugged than Yosemite Valley, as it is almost 5,000 feet higher!
Tuolumne can be accessed by car on Tioga Pass Road, either coming through Yosemite Valley from the west, or over Tioga Pass in the east.
The winding mountain road is only open seasonally, so be sure to check for snow conditions before you go (and check my guide for visiting Yosemite in winter before planning a winter trip).
Like Yosemite Valley, Tuolumne offers a seasonal free shuttle service that stops at many different trailheads, as well as the small general store. There is also a bus into Yosemite Valley, which makes day trips simple if you're staying near Tuolumne.
Many visitors go to Tuolumne for a day trip, but the area has so many hiking options that you could easily spend weeks there (and many do, including John Muir Trail thru-hikers celebrating the end of the trail!)
Whether you're there for a single afternoon or a few weeks, this guide will help you get the best of what Tuolumne Meadows hikes have to offer.
Best Hikes in Tuolumne Meadows
Lyell Canyon
Note: This post contains affiliate links, which earn me a small commission at no extra cost to you if you make a purchase using one of these links. Thank you for supporting this free content!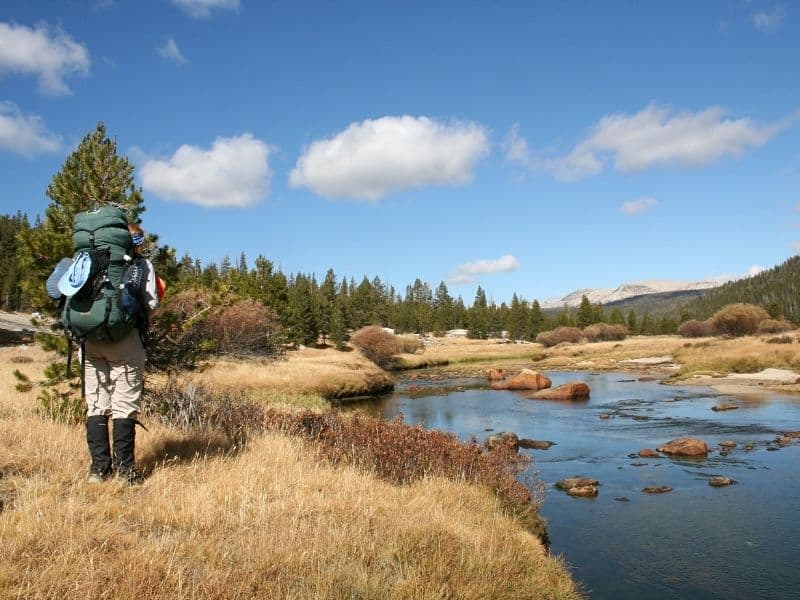 Distance: 1.4-24 miles round trip
Difficulty: Easy to hard, depending on where you turn around
Total Elevation Gain: 200 feet
Lyell Canyon is a wonderful way to meander through idyllic meadows and forests while always having the option to turn around!
This fairly flat Tuolumne Meadows hike takes you along the floor of Lyell Canyon, where you're sure to find beautiful views and perfect river-side picnic spots.
Starting on Tioga Road, head towards Tuolumne Meadows Lodge. This trail begins at the Lodge parking area, but parking is available for non-guests at the Dog Lake parking lot a short walk up the road (you'll pass this parking lot on your way in).
Following the John Muir Trail, look for signs for Lyell Canyon, and take a left at your first fork. About three-quarters of a mile from your trailhead, you'll reach a beautiful bridge over the Dana Fork of the Tuolumne River. You can look out into a lush meadow from here. This is a great turnaround spot for an easier 1.5-mile hike.
If you continue for a bit less than a mile from the first bridge, you'll reach another bridge over Rafferty Creek. At around 3 miles, you'll start to leave the woods and walk through a series of smaller meadows next to the Tuolumne River.
At 8 miles, there is a small waterfall, which is a popular place to turnaround.
However, if you're really looking for a challenge, you could climb all the way up (2,500 feet) to the top of Donahue Pass for a peek into the valley on the other side. Hiking to Donahue Pass brings your round trip distance to a whopping 24 miles!
Gaylor Lakes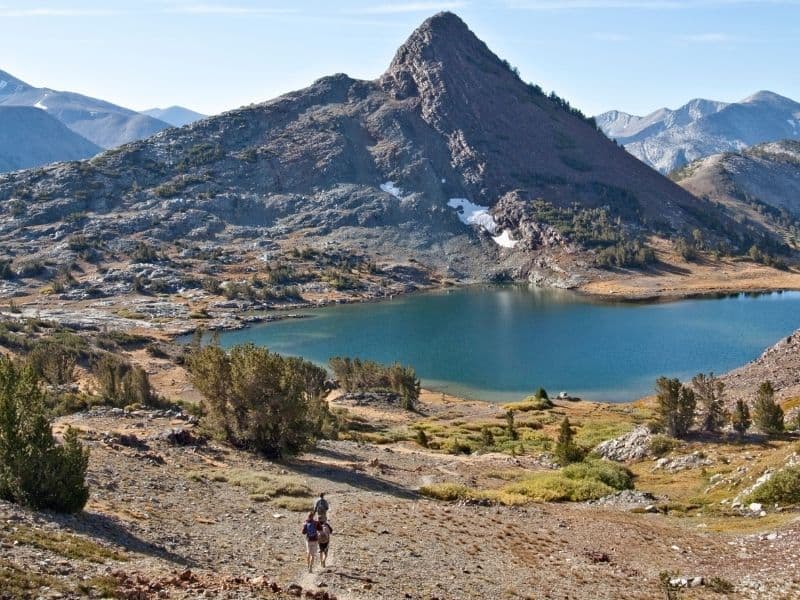 Distance: 2 miles round trip
Difficulty: Easy
Total Elevation Gain: 500 feet
Gaylor Lakes feel like they're on the edge of the world, as you can look over the lakes into Tuolumne Meadows below.
This higher elevation hike in Tuolumne Meadows is also less popular than many similar Yosemite hikes, so you're almost sure to find some peaceful solitude up there.
The hike begins at the Tioga Pass entrance gate, where there is a parking lot. The first part of the trail is a steep climb, but it's very short. After you hit the pass, you'll see the first lake. Stop here, or continue wandering through meadows and boulder fields to the second lake.
You'll get views of Sierra Nevada mountains Dana, Mammoth, and Gibbs, as well as the smaller peaks around Tuolumne Meadows.
Lembert Dome and Dog Lake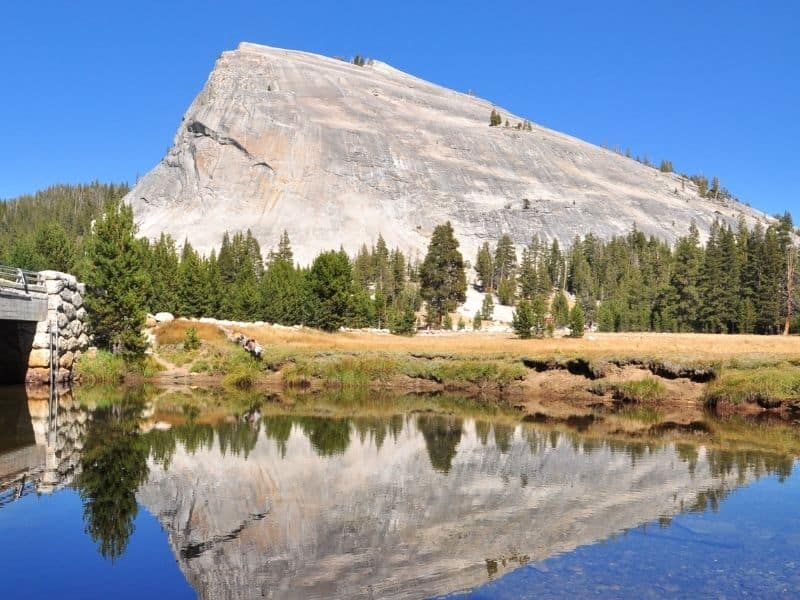 Distance: 4 miles round trip
Difficulty: Moderate
Total Elevation Gain: approx. 1000 feet
Lembert Dome, a large granite dome that looms above Tuolumne Meadows, cannot be missed!
This hike offers the opportunity to climb to the top of the dome, as well as to lounge by sparkling Dog Lake. For a short hike, this Tuolumne Meadows trail is quite exciting!
Park at Lembert Dome, where you'll find the trailhead at the northern edge of the lot. You'll start in the forest, but will soon exit onto a large slab of granite. Follow cairns across the granite, then follow the trail across a small meadow until you begin climbing steeply upward.
Continue east on the trail toward Lembert Dome and take a short side trip to Dog Lake. Relax by the lake before returning to the junction and heading toward the dome.
You'll skirt the side of the dome, where you'll find a side trail that leads to your right. Follow this side trail through a forest and finally, up to the top of Lembert Dome.
The 360-degree views from the top can't be beaten, making this one of the best hikes in Tuolumne Meadows. Look out for Tuolumne Peak, Cathedral Peak, Unicorn Peak, as well as Donahue and Mono Passes.
Sunrise Lakes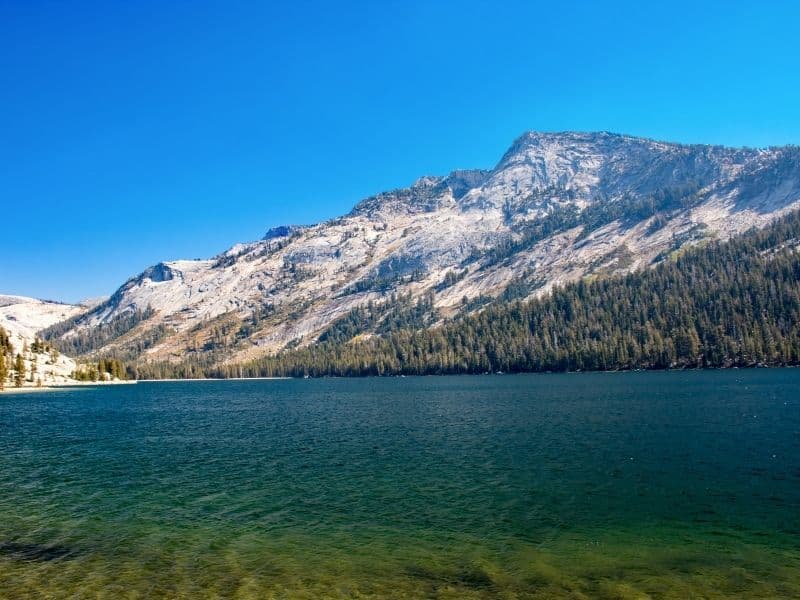 Distance: 6.4 miles round trip to the first lake, 8.8 to see all three lakes
Difficulty: Hard
Total Elevation Gain: 1,300 feet
The Sunrise Lakes hike is a less crowded hike that brings you to not one, not two, but three beautiful, granite-surrounded lakes! While much of the hike is relatively flat, you will have a steep, one-mile climb up about 1000 feet, which makes this hike pretty difficult.
Park at the west end of large Tenaya Lake, off of Tioga Pass Road, at the Sunrise trailhead. This hike is near the eastern side of Yosemite Valley, meaning the hike is Tuolumne's most accessible trailhead outside of Yosemite Valley.
After a little over 2.5 miles of switchbacks, you'll hit a fork in the trail. Turn left towards the Sunrise High Sierra Camp, and you'll hit the first lake after only half a mile. Make sure to look out for the second lake, as it's not right on trail like the other two. Relax by any one of the lakes (or all three!) after your big climb.
Cathedral Lakes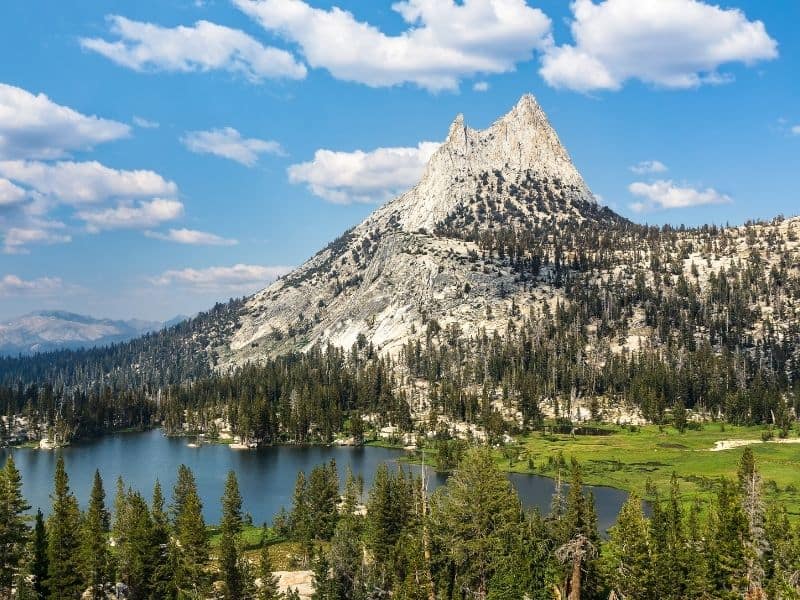 Distance: 7 miles round trip
Difficulty: Moderate
Total Elevation Gain: 1000 feet
The Cathedral Lakes hike is a crowning gem of Tuolumne, as Lower Cathedral Lake is right below sharp and jagged Cathedral Peak.
Begin at the trailhead on Tioga Road. This hike is deservedly crowded (although still not as crowded as the Valley), so you may need to park on the shoulder of the road if the lot is full.
As you begin hiking, your first half mile will be a steady uphill. This hike mainly follows the John Muir Trail, but at about 3 miles, you'll need to pick whether to continue on the JMT towards Upper Cathedral Lake, or to take the fork a half mile to Lower Cathedral Lake.
Most hikers would recommend Lower Cathedral Lake, as it is larger and has stunning views. Lower Cathedral Lake also has a large granite "beach" that makes for perfect warm rock sunbathing.
If you're looking for solitude though, most day hikers will stop at Lower Cathedral, so you've got a better shot at some alone time at the upper lake.
Glen Aulin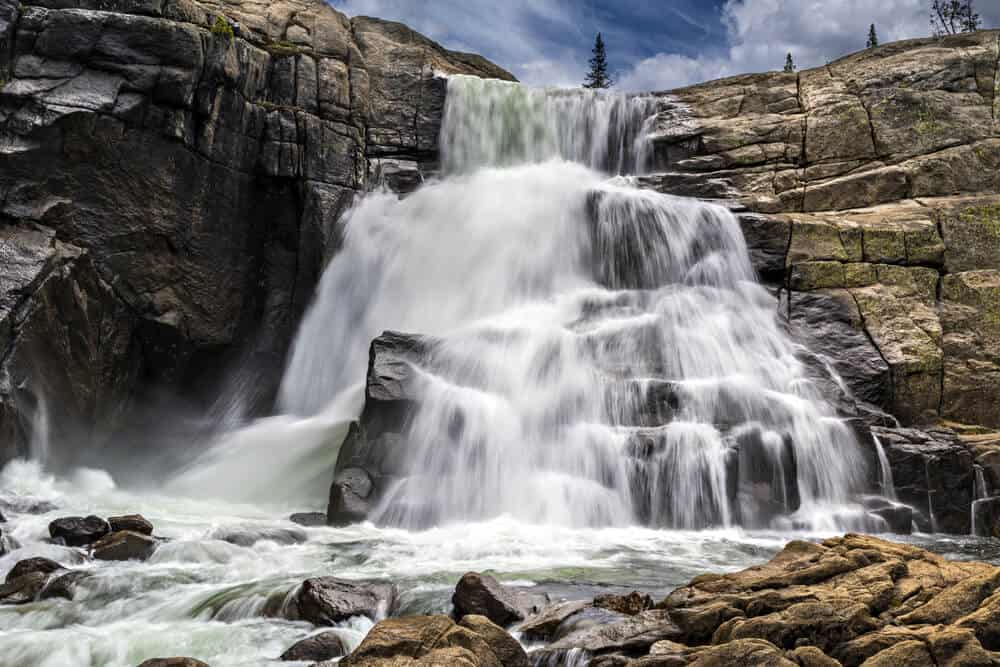 Distance: 11 miles round trip
Difficulty: Moderate (Hard if you continue on)
Total Elevation Gain: 800 feet
Glen Aulin is a classic Tuolumne Meadows hike that takes you to a High Sierra Camp and a rushing waterfall. You'll follow the Tuolumne River all the way through meadows and across granite slabs to White Cascade.
The hike begins at the Parsons Lodge trailhead, but you can also park at the Dog Lake/Lembert Dome trailhead and walk through the meadow to the same trailhead.
This hike is nice and predictable. The first half of the hike is quite flat, and then begins descending through rocks. Because the hike is out and back, you'll only have to climb back up what you just came down!
Don't forget to bring a bathing suit, since you may want to cool off in the pool below White Cascade.
If you still haven't had enough, you can continue heading downstream towards a great swimming beach about 1.5 miles away, or continue even further to California Falls, Le Conte Falls, and Waterwheel Falls (which makes your round trip hike over 20 miles).
Mono Pass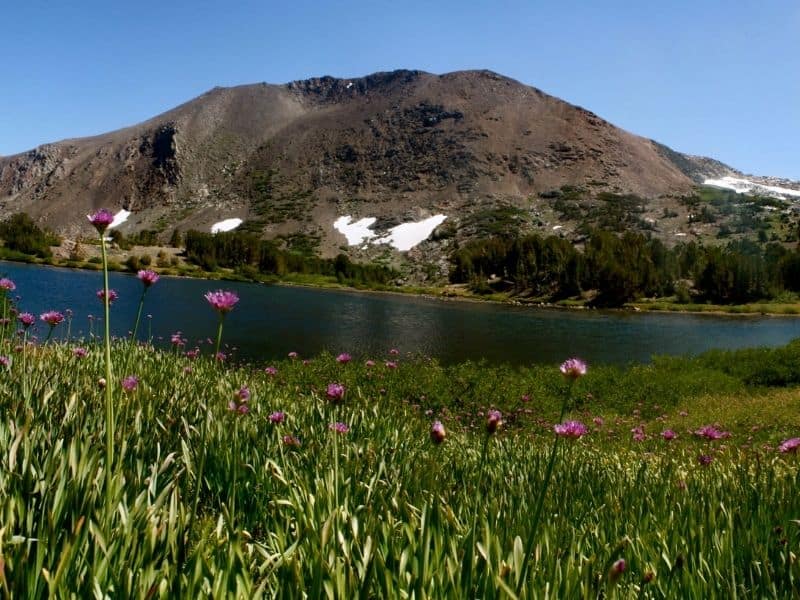 Distance: 8 miles round trip
Difficulty: Moderate
Total Elevation Gain: 1,000 feet
This hike takes you to Mono Pass, a 10,600-foot pass that offers views back into Tuolumne, as well as eastward to Mono Lake and the Eastern Sierras.
Despite the high-elevation destination, this is a nice long hike in Tuolumne Meadows that doesn't have any terribly long or steep climbs.
The Mono Pass trailhead is only about a mile away from the Tioga Pass entrance. Parking is available but you can also take the shuttle here.
Due to the trail's high elevation, it is only open when snow is melted. Make sure to check with a ranger for snow and river-crossing conditions.
This hike is not a great day trip from Yosemite Valley because it is farthest away, and also is a 6,000-foot elevation jump. It is recommended that you take some time to acclimate before attempting this hike.
Hike nearly 4 miles up to Mono Pass along meadows and across rivers. Once you take in the views from the pass (can you spot Mono Lake's famous tufa from the top?), you can continue about a quarter of a mile on to views of Upper Sardine Lake, where you will have officially left Yosemite National Park!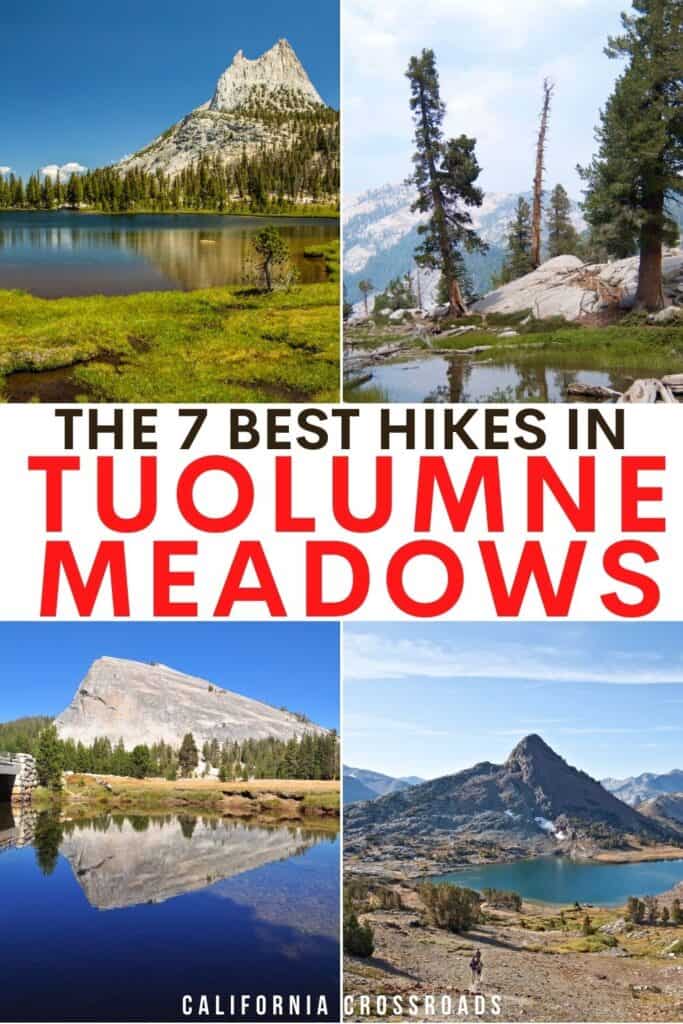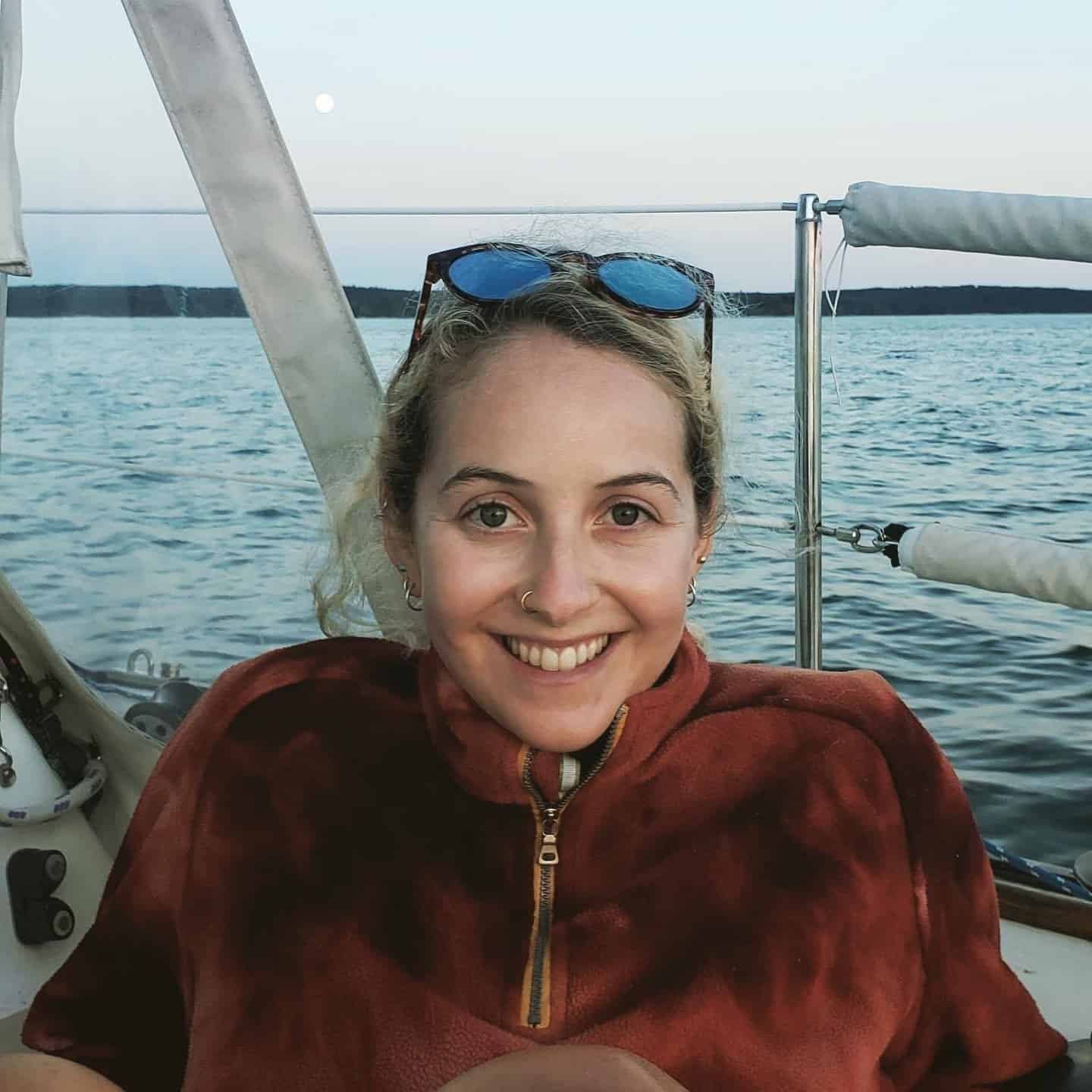 Lena is an outdoor recreation enthusiast born and raised in the San Francisco Bay Area. After going on her first camping trip at 3 months old, she hasn't stopped since. While her backpacking adventures have taken her to wilderness destination across the country, California's mountains and deserts will always be her favorite.