Yosemite National Park is a place so special that famed California conservationist John Muir himself said "It is by far the grandest of all the special temples of Nature I was ever permitted to enter."
Truly, everywhere you look in Yosemite National Park greets you with a jaw-dropping view, and it's near impossible to find a bad view in Yosemite.
But there are a few places that sparkle just a little brighter than the others, places which have drawn photographers from practically every country around the world to capture the magnificent beauty of the first federally protected land in the nation.
Whether you're a photographer looking for a great place to set up your tripod for some of the best photography spots in Yosemite or you're an Instagrammer looking for the best views of Yosemite for your feed, here's where to find the best of Yosemite.
Where to Stay in Yosemite
Note: This post contains affiliate links, which earn me a small commission at no extra cost to you if you make a purchase using one of these links. Thank you for supporting this free content!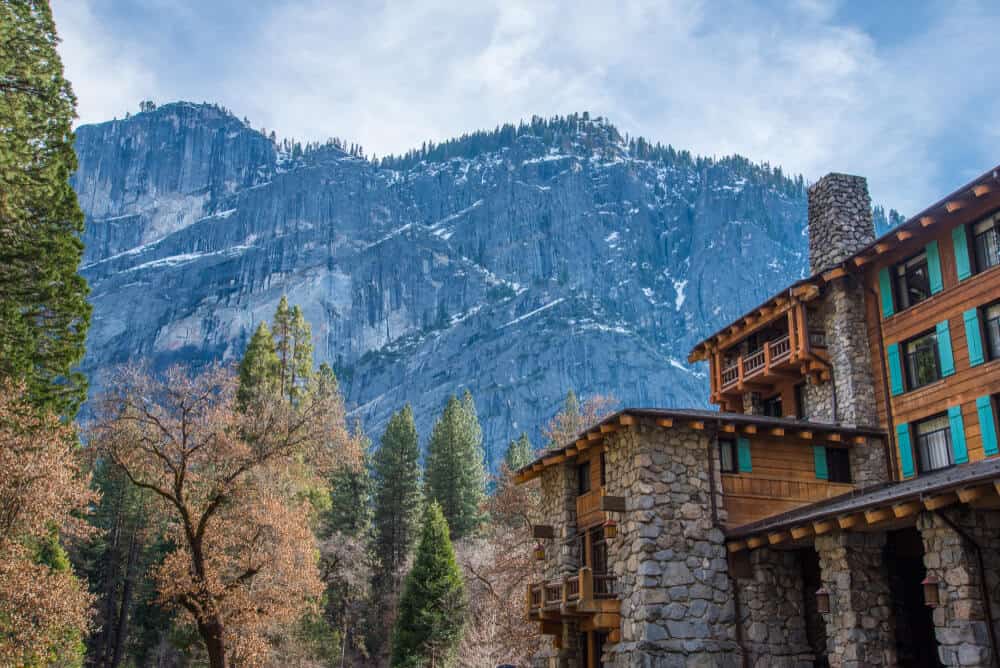 While in an ideal world, we'd all stay in the Ahwahnee Hotel, let's be real: you have to plan that like, a year in advance for peak times (and 6 months out for off-peak).
Plus it costs like, $800 a night at a minimum even in off-peak times, which is pretty cost-prohibitive for most people.
I've picked two affordably-priced options: one more ideal for people heading in from Southern California and another better suited for people heading in from Northern California.
Yosemite has five entrances and they can be up to 2.5 hours between them so you will want to be careful when you book!
Coming from the South (LA/San Diego): Tenaya Lodge
Located right by the South Entrance, the Tenaya Lodge in Fish Camp is a great place to stay — especially if you're coming from Southern California, as it couldn't be more convenient.
Tenaya Lodge has all the amenities you want in a comfortable mountain lodge: A/C rooms, an on-site restaurant (a luxury near national parks!), a fitness center (if those Yosemite hikes weren't enough), and a spa if you want to soothe tired and achy muscles.
The rooms are clean and spacious. They also offer private deluxe cabins with small kitchenettes if you'd like to cook your own meals and have more space to yourself — or they're a great choice for families.
Check availability, prices, and photos of Tenaya Lodge here!
Coming from the North (San Francisco Bay Area): The Groveland Hotel
Located by the West Entrance — perfect for those coming from the San Francisco Bay Area — The Groveland Hotel is a great home base during your trip to Yosemite, just 24 miles away.
While not in the park per se, it's a short drive, and Groveland is a really cute California Gold Country town!
The Groveland Hotel's rooms all offer A/C, seating areas, and Keurig coffee-makers (so you can pack that morning coffee bright and early!).
Some suites have spa baths or even fireplaces — perfect for a cozy, romantic Yosemite getaway!
Best of all, the hotel is pet-friendly and it also has its own electric vehicle charging station in case you are bringing an electric car to Yosemite!
Check availability, reviews, and photos of the Groveland hotel here!
Map of the Best Yosemite Viewpoints
The Best Yosemite Views
Tunnel View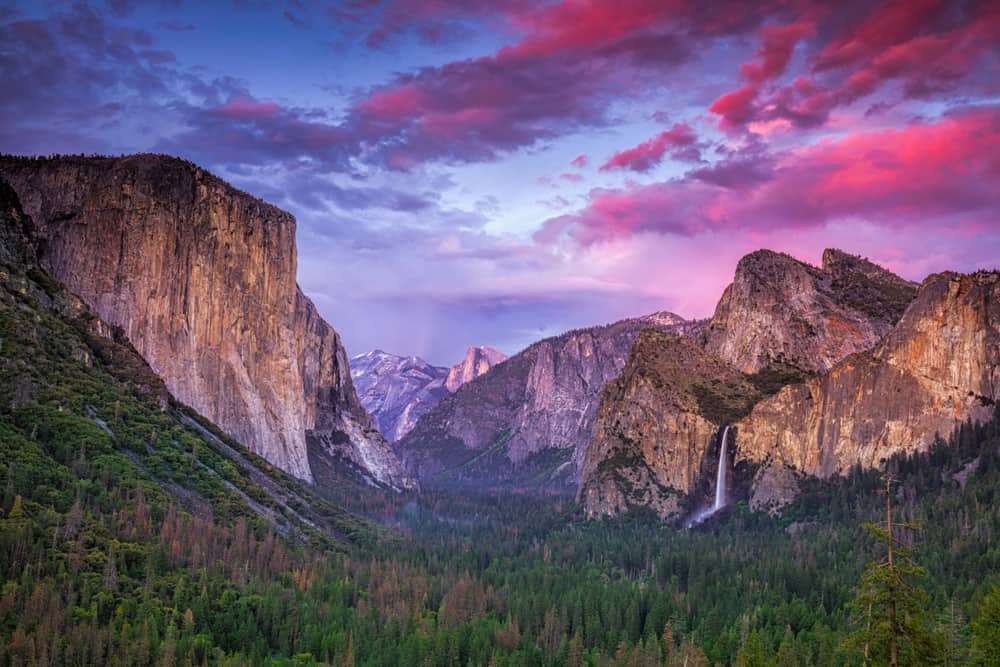 This is probably the most famous viewpoint in Yosemite.
You get the whole view of the Yosemite Valley, including its marvelous Ponderosa pines, the magnificent granite landscapes, and even the gorgeous Yosemite Falls — the largest waterfall in North America.
It's Yosemite in a nutshell, and that's why it's one of the best views in Yosemite.
How to Get to This Yosemite View: Head southwards on Highway 41 towards Wawona.
Once you're in the valley floor, you'll climb up for about 1.6 miles. Just before reaching a tunnel, there is a parking area on the right side of the road.
Columbia Rock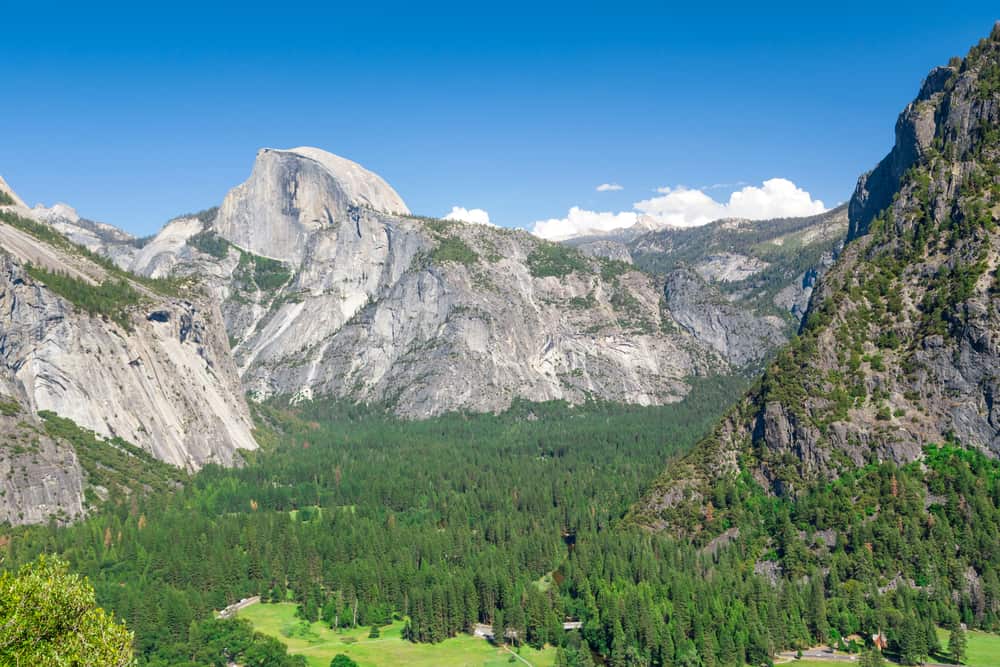 The view of Half Dome from Columbia Rock is one of Yosemite's best views, an unobstructed look at Half Dome and the magnificent Yosemite Valley from a great vantage point.
Columbia Rock is located on the Upper Yosemite Falls trail, so it can be a bit crowded, but it's worth it for these great Yosemite views.
How to Get To This Yosemite View: This is a moderate Yellowstone hike that's just 2 miles roundtrip, so it's a beautiful hike that's attainable for beginner hikers.
Find the Upper Yosemite Falls trail located at Camp 4 (you can walk from the Lodge, take the shuttle bus, or park in the lodge parking lot if there's room).
While it's just a 2-mile hike, expect to gain 1,000 feet rather quickly. The hike takes around 2-3 hours roundtrip.
Glacier Point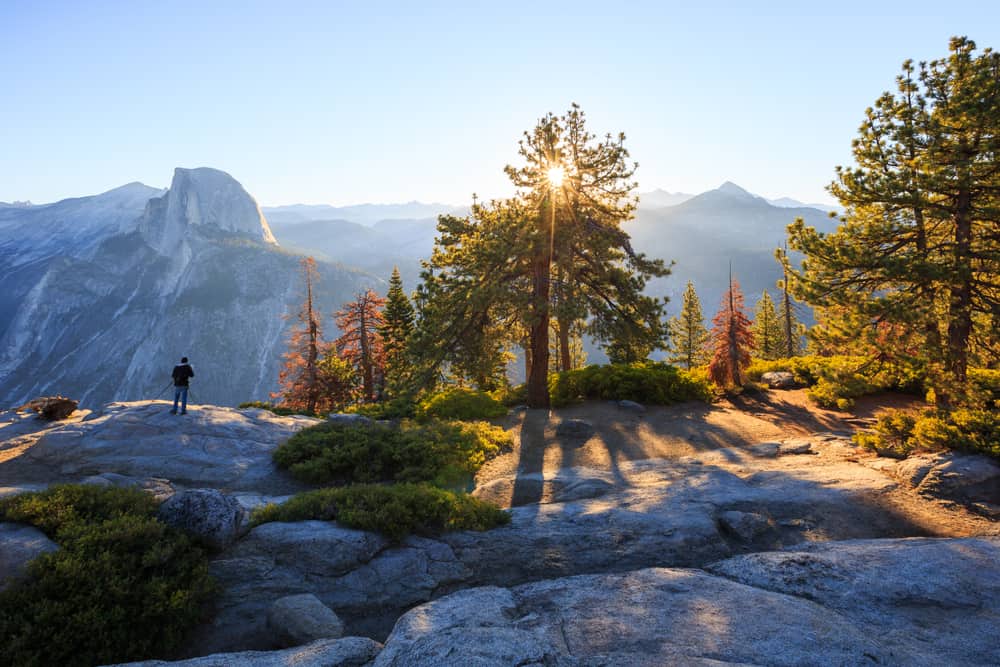 One of the best views in Yosemite is at Glacier Point, where you can get what is likely the best view of Half Dome in the park, as well as a view of the valley and Yosemite Falls.
Note that Glacier Point is not accessible by car year-round, as the road is only open from late May through October/November, depending on the snowfall conditions.
How to Get to This Yosemite View: Drive on Highway 41 onto Wawona Road, and turn onto Glacier Point Road until the end of the road where there's a parking area.
The parking lot may fill up; you may need to catch the shuttle from the Yosemite Ski and Snowboard Area (between 10 AM and 5:30 PM, every 20 minutes).
The hike to Glacier Point from the trailhead is only 1.2 miles round trip, so it's a fairly easy hike for such incredible views!
Taft Point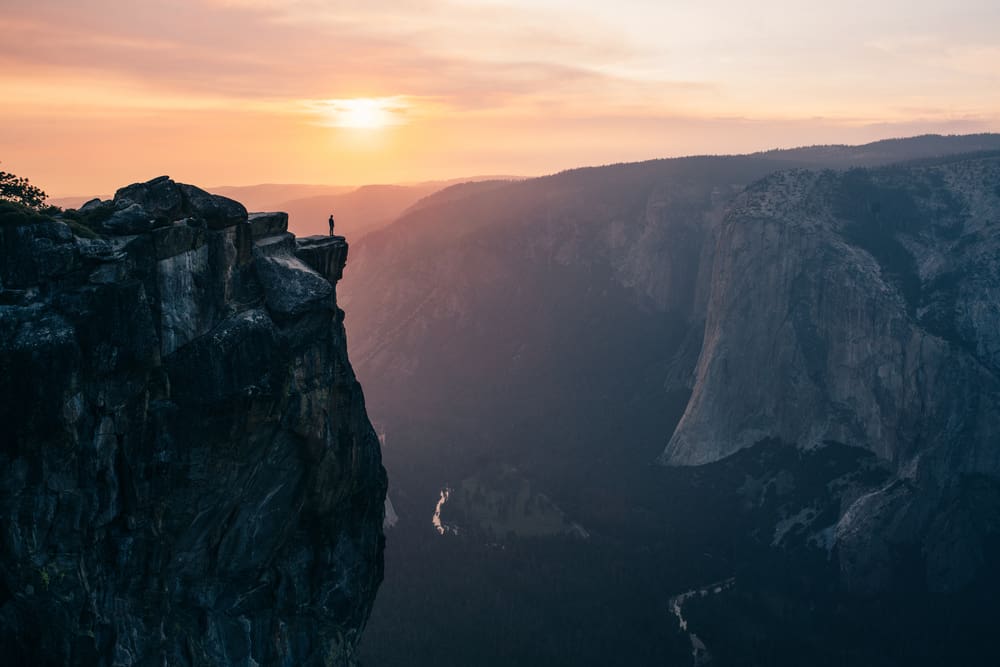 If you continue on from Glacier Point, you can reach what, in my opinion, is the best view in Yosemite: Taft Point.
This is the photo spot where you often see proposal and wedding photos and epic Instagram shots of Yosemite that make you want to book that trip.
It is also, however, a dangerous place: an influencer couple died tragically a few years ago, likely while taking photos at this spot.
Don't get distracted when taking photos and always make sure you are a safe distance from the edge.
How to Get to This Yosemite View: It's a 7.5-mile roundtrip hike from the trailhead to Taft Point rated as moderate, so come prepared for a long and at-times strenuous hike.
Read the AllTrails guide for trail info. You park at Glacier Point (or have to get the shuttle from the ski area) so read the above section for information on that.
Washburn Point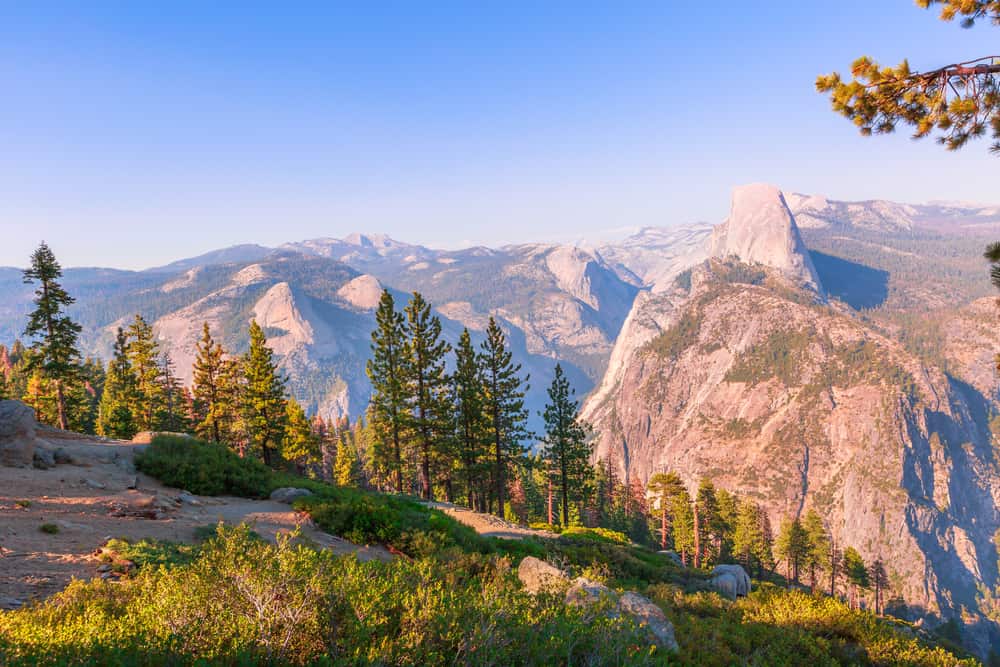 One of the best views in Yosemite comes with the least effort! It's literally just 20 stairs away from the parking lot, at an elevation of 7,500 feet.
Admittedly, the view of Half Dome isn't quite as nice here as at Glacier Point, but you do great a nice trade-off with far fewer crowds, as well as views of three waterfalls: Vernall Falls, Nevada Falls, and Illilouette Falls.
Honestly, I think I prefer it to Glacier Point, just because the crowds are fewer and while you don't have that "all-to-yourself" feel, it does feel a lot more magical.
Where to Find This Yosemite View: On the way to or from Glacier Point, be sure to make it a point (pardon the pun) to stop at Washburn Point.
There's a decent-sized parking lot, which usually isn't too full, and then just walk the couple of steps to the view point.
El Capitan Meadow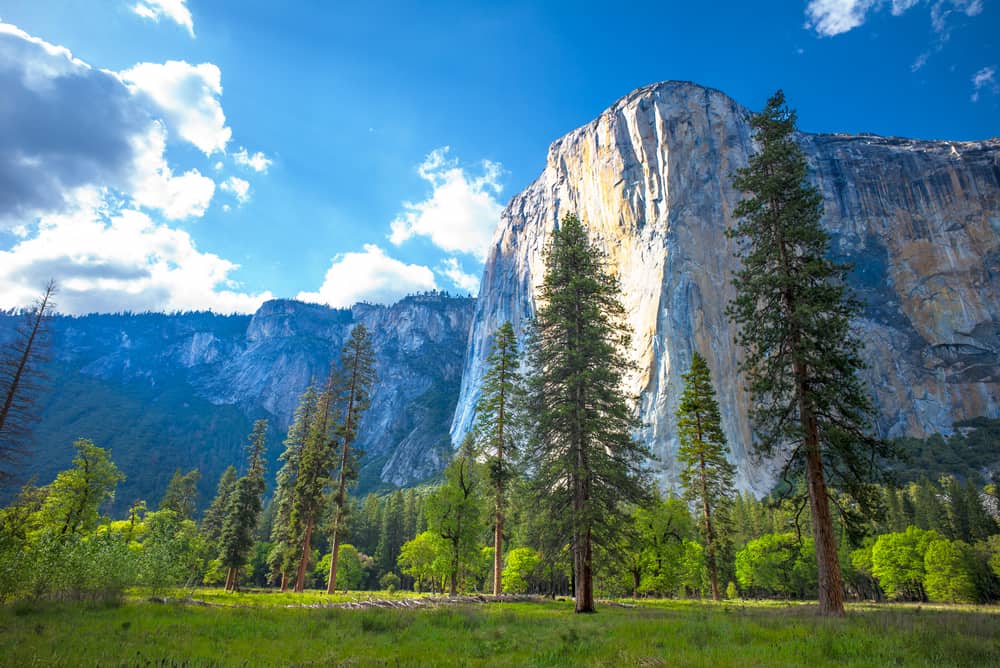 Located an hour away from Yosemite Valley, El Capitan Meadow is a great viewpoint in Yosemite to understand the scale of the beautiful granite formations around you.
El Capitan is the largest single piece of granite in the world, at a whopping 3,593 feet above the valley floor. (Bring binoculars to try to spot climbers!)
From the El Capitan Meadows, you can see the true scale of El Capitan from the ground, which makes for some epic perspective shots, especially in wide angle.
How to Get to This Yosemite View: In non-Covid times, there's a shuttle to both the El Capitan or Cathedral Beach Picnic Areas.
Now, you'll have to bring your own car and park in either the El Capitan Picnic Area — keep an eye out for the sign for the parking lot on Northside Drive — or the Cathedral Beach Picnic Area on Southside Drive.
You can also walk via the Valley Loop Trail — which is a relatively flat, easy, and beautiful (though long) hike: read trail info here.
Three Brothers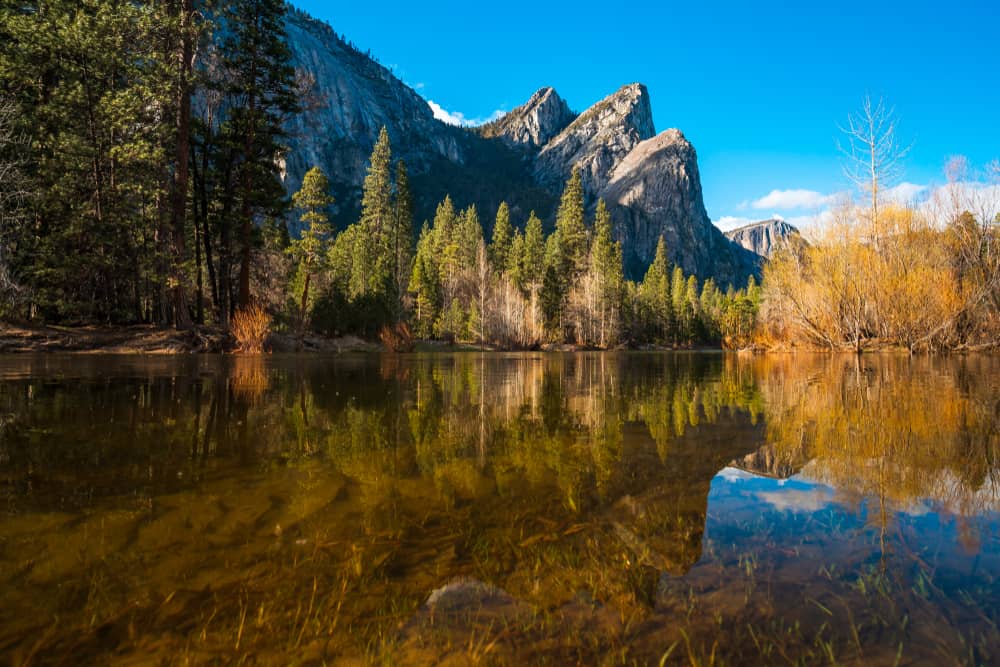 Also on the Valley Loop Trail is an epic viewpoint of the Three Brothers rock formation, one of the most sought-after Yosemite views for photographers in the Valley area.
The three brothers include three peaks in a single rock formation, the tallest of which is Eagle Point, and it's located just south of the impressive El Capitan.
You can see them reflected beautifully in the Merced River, which is usually calm and beautifully reflective, adding to the Yosemite Valley views.
How to Get to This Yosemite View: One of the best areas for this view is in the Cathedral Picnic Area, which is also mentioned above.
Cook's Meadow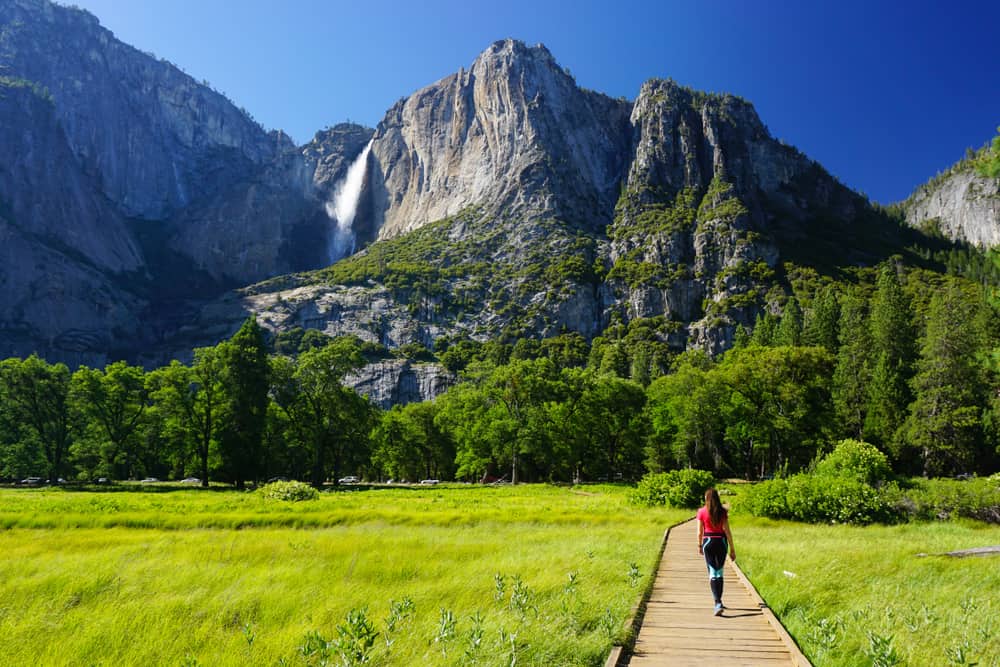 The one other Yosemite view in the Valley area worth a visit is the lovely boardwalk of Cook's Meadow.
It has sweeping waterfall views framed by lush green meadow in the spring and summer which turns a beautiful rusty yellow in the fall!
This easy trail has some of the best views of Yosemite Falls and other beautiful landmarks like Half Dome, Sentinel Rock, and Glacier Point.
How to Get to This Yosemite View: It's located near the Shuttle Stop 6 (by the Lower Yosemite Fall loop), but you can also walk here from the Visitor Center. It's a 1-mile trail, mostly boardwalk, with no elevation gain, so it's an easy-to-access view.
Olmsted Point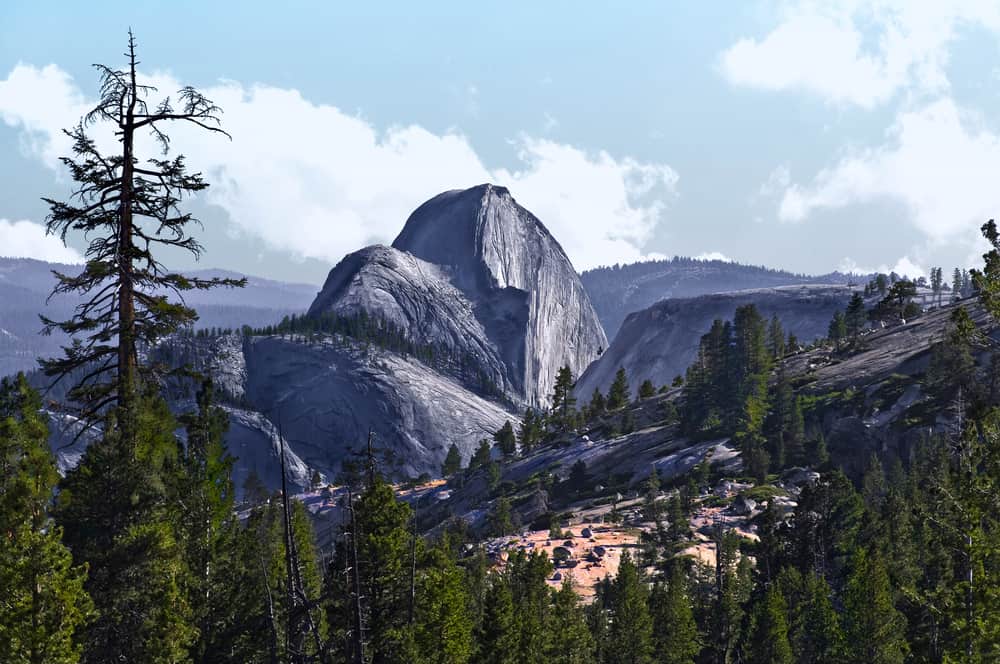 For one of the best views of Half Dome — without the hike — head to Olmsted Point, just off of Tioga Pass Road.
This viewing area is very easy to get to and offers a sweeping view over Tenaya Canyon with its sparkling namesake lake off in the distance.
Directly in front of you, you'll see Half Dome and Clouds Rest, two of the most beautiful granite landforms in all of Yosemite.
How to Get to This Yosemite View: Park in the large parking lot in front of the vista point, though it can sometimes be a bit crowded so you may have to wait for someone to leave.
There's a short walk to the viewpoint, but it is at a high elevation (8,400 feet, to be exact!) so take it slowly as the altitude can get you when you don't expect it. It's a quarter-mile each way, so half a mile roundtrip.
El Portal View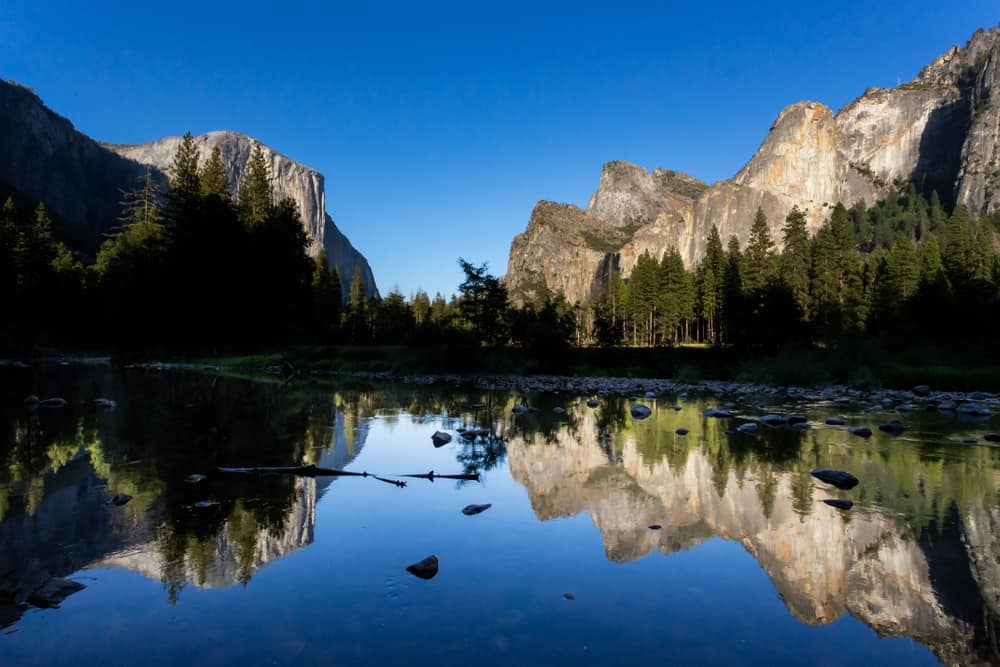 "El Portal" literally means "front door" or "entrance hall" in Spanish.
When you look at the stunning open scenery of the Merced River Canyon and the granite forms towering above it, you'll see why: it feels like the entrance to the palace that is Yosemite.
As it's located on the western edge of the park, it makes a great entry or exit point to your time in Yosemite.
How to Get to This Yosemite View: Drive west on Central Yosemite Highway (Highway 140) until you reach Yosemite View Lodge, which is a great place to park for this beloved Yosemite viewpoint.
Walk along the Merced River until you reach a great photo spot… but they're truly everywhere!
Valley View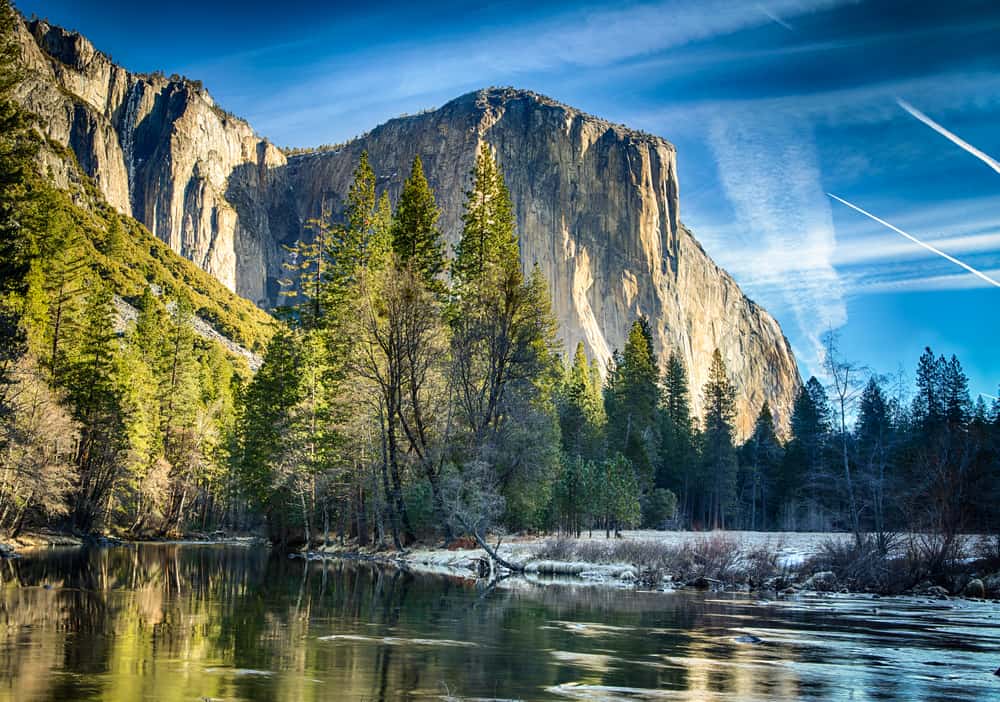 Another epic Yosemite view can be found at Valley View, located between Bridalveil Creek and its trailhead and Pohono Bridge.
This offers a stunning view of El Capitan with a reflection of the water below glistening in the Merced River, reflecting it on a still day if you're lucky.
Where to Find This Yosemite View: There are some parking spots at the El Capitan Viewpoint, but only like, a dozen, so you'll have to be lucky to snag one! Expect to circle around several times to get a coveted spot.
You can also take the Shuttle to stop 4 and walk about 15 minutes, past Bridalveil Creek, to get to this viewpoint.
Sentinel Bridge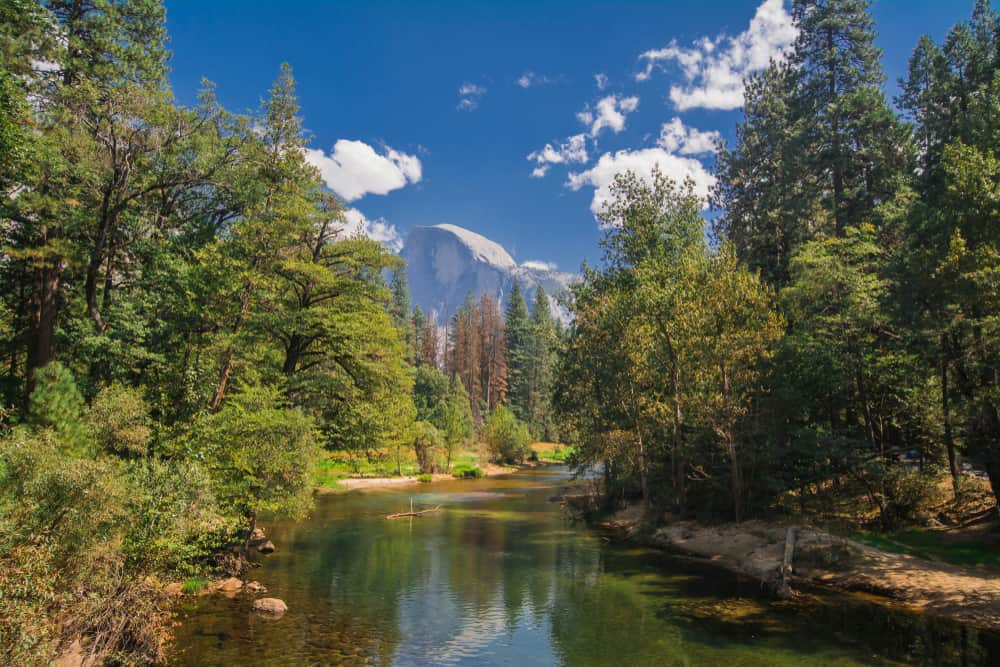 Want the coveted photo of Half Dome framed by beautiful foliage and a stunning calm river?
Head to Sentinel Bridge, which is one of the easiest Yosemite viewpoints to find. If you're lucky and it's a sunny day with not too much wind, you may even get a great reflection of Yosemite in the water.
Where to Find This Yosemite Viewpoint: It's located just a 5-minute walk from the main Visitor Parking area and the Village Store. It's the entry point to the Cook's Meadow loop, so you can knock off several other incredible Yosemite viewpoints from here.
What to Pack for Yosemite Hikes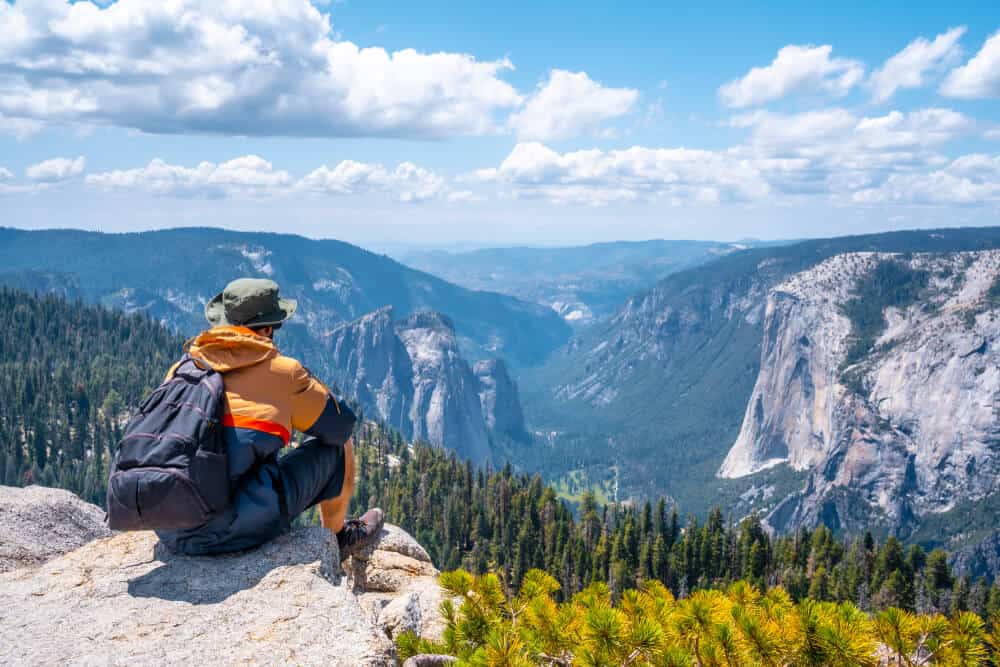 First aid kit: You'll want to pack a small kit with the things you need — but in my opinion, it's better to buy a pre-made first aid kit as it'll likely cover things you might forget.
I recommend this HART Weekend First Aid kit, which has extras in case you use something, so you won't have to replace it as often.READ NEXTOne Day in Yosemite National Park: Itinerary for a Quick Day Trip
Headlamp (and extra batteries): In case you're planning any sunset hikes where you may come back after dark, you'll want a headlamp to keep your hands free as you hike in the dark.
Trust me, you don't want to have to rely on the flashlight funciton of your phone – I've learned this the hard way before!. This Petzl headlamp is highly-rated and affordable.
Water Filter Bottle: There are a wide variety of water filtration systems and treatments, but for a day hike, I recommend a water bottle with a filtration system set up inside of it. I recommend the GRAYL Geopress.
It's compact and easy to use, and you can refill from anywhere: streams, waterfalls, lakes, you name it, without getting sick. Otherwise, you can only refill at designated drinking water stations in the park.
Rain gear: A rain jacket is great to have as a just-in-case: nothing ruins a hike quite like a sudden shower without a rain jacket.
I recommend Marmot brand — this men's jacket is great and stylish, and I have the women's Marmot Precip (and have had it for years) and love it.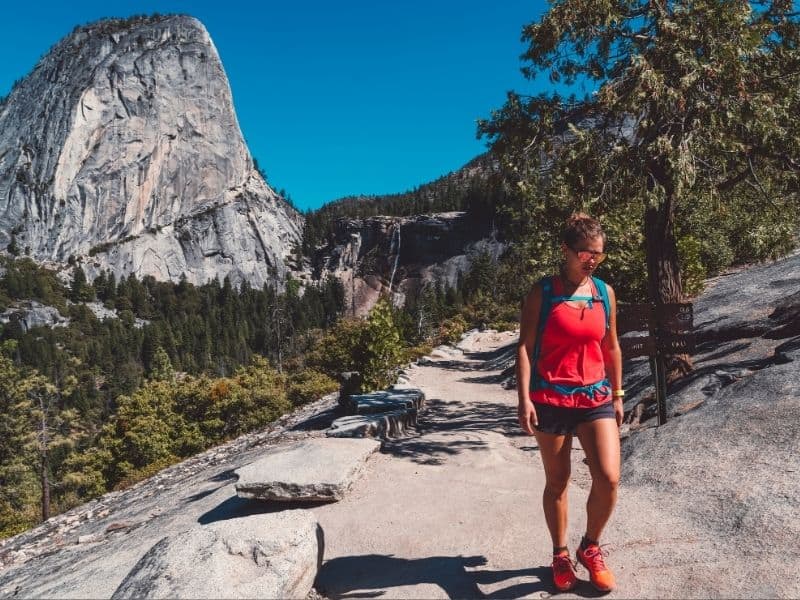 Day pack: No need for a giant backpack for these easy Yosemite hikes! Just bring a comfortable day pack. Look for something with a mesh back panel, so it's less hot and sweaty against your back.
I suggest picking something with waist straps and a shoulder strap to help distribute weight if you're someone who gets back pain easily *raises 80-year-old hand*. I love the Osprey day pack – it's cheap but durable, so comfortable, and has all the features you need for a day hike.
Sunscreen: Wear this every day of your trip — even on a cloudy day!
Sunglasses: Great for unshaded trails and sunny days!
Hiking boots: You'll want good, possibly waterproof hiking shoes for these Yosemite hikes!
I own and love my pair of Ahnu Sugarpine hiking boots and recommend it for other women – especially if you have wide feet like I do! For men, I've heard good things about the KEEN Durand boot, but haven't used them personally (for obvious reasons).
If you're only doing the really easy no elevation hikes, you can maybe get away with doing these Yosemite hikes in tennis shoes, but I have really bad ankles and am always grateful for the extra ankle support. Even a pair of work boots like Timberlands are a lot better than sneakers.
Camera: I use and love my Sony A60! It's mirrorless, so it's lightweight and perfect for a high-quality camera that won't weigh your pack down.
Sunhat: To keep sun off your face – I recommend a packable hat like this one which has a strap so it won't blow off in guests of wind and you can easily wear it on your back when you don't feel like wearing it on your head.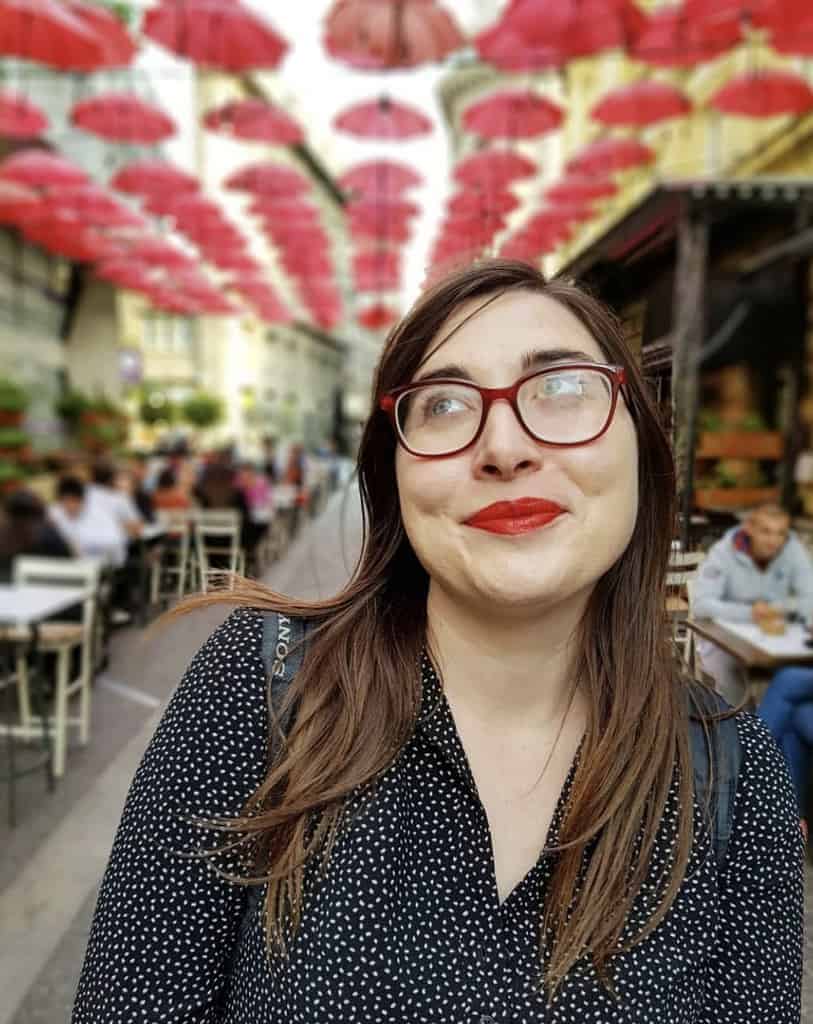 Allison Green is a travel blogger, writer, and podcaster who grew up in the Bay Area of California. She has spent time living in New York, Prague, and Sofia, but has returned to live in the East Bay. She has traveled to 60 countries before the age of 30 while running several digital travel publications. Her writing and podcast have been featured in Forbes, CBC Canada, National Geographic, the Huffington Post, and CNN Arabic, amongst others. She's obsessed with bouldering, houseplants, other people's pets, and anywhere she can see the ocean.