With thousands of campgrounds in southern California, you will have plenty of sites from which to choose.
The hardest part will be choosing where you want to wake up: do you want to wake up on the bluffs of the Pacific, under the stars in the desert or the towering trees, or steps away from the sandy beach? All of those dreams can be a reality in Southern California!
With the glorious weather in Southern California, camping year-round is not a problem.
In the winter, camp in the deserts of Death Valley or Joshua Tree National Parks when the temperatures are beautiful instead of scorching like they are in the summer.
Note: This post contains affiliate links, which earn me a small commission at no extra cost to you if you make a purchase using one of these links. Thank you for supporting this free content!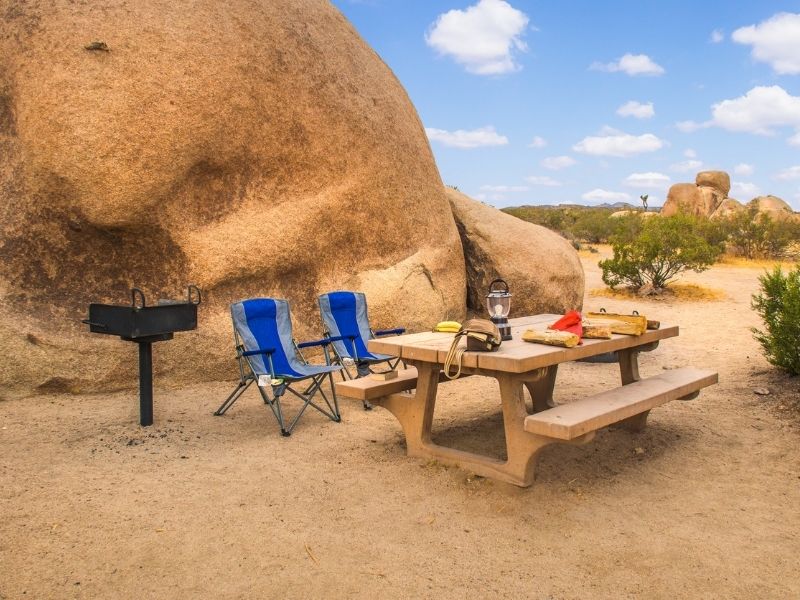 While during the summer months, head to Catalina Island or along the coast at Crystal Cove State Park for Instagram-worthy coastal sites or to the Palomar Mountain to camp under the dense pines.
To plan your next Southern California camping adventure, we've done all the research for you!
We hope you enjoy browsing this list of eight terrific Southern California campgrounds, along with useful information to help you plan your SoCal camping escape, such as the number of sites and amenities they each have.
Wherever you choose, stake out your spot and enjoy the starry sky and fresh campfire air. Unplug, unwind, and relax!
A quick disclaimer before enjoying any of these campgrounds in Southern California: The state has been ravaged by forest fires this year, just as it has many years in the past. Be aware of all fire restrictions. Speak to a local ranger and do individual research before planning anything involving fire. Just because a site has fire pits or a grill does not mean that you are allowed to use it, so ask and have a backup plan (i.e., food that does not have to be cooked or heated to eat).
Map of the Best Campgrounds in Southern California
8 Incredible Southern California Campgrounds
Moro Campground (Crystal Cove State Park)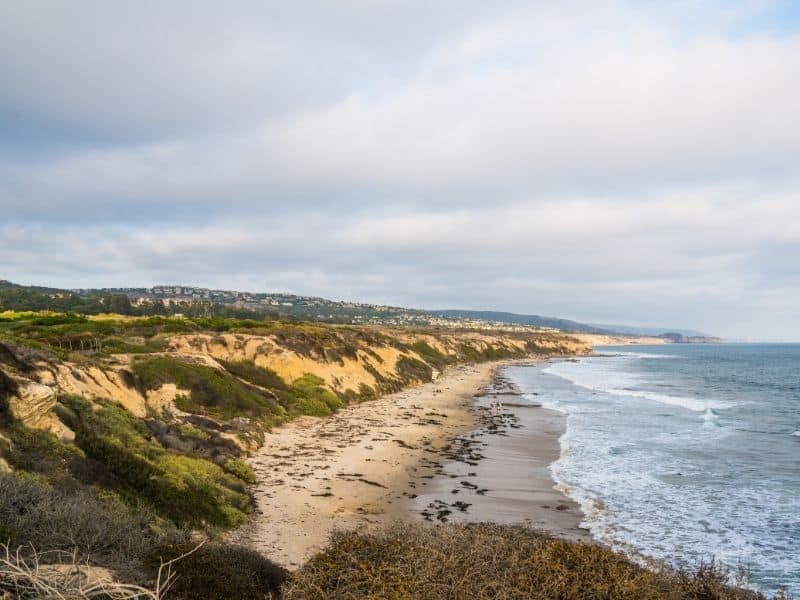 Location: 8471 N. Coast Highway, Laguna Beach
Reservations: Make reservations on the website here
When you want to get out of Los Angeles and enjoy camping under the stars, take a short road trip south to Laguna Beach in Orange County for sandy beaches, Pacific Ocean bluffs, and days filled with swimming and hiking.
After crossing the Pacific Coast Highway, Moro Campgrounds is just a short walk away from the beach.
Many of the sites sit on bluffs beside Moro Canyon and Moro Creek, with stunning views below.
This campground is open year-round and offers coastal terrace family sites.
Types of Sites
57 family sites

30 tent, conversion van, and soft-side trailer sites
Hookup sites – 38-foot maximum length
Non-hookup sites – 25-foot maximum length
Site Amenities
Campground Amenities
Flush toilets and coin-showers
Leashed dogs are permitted
Hiking trails to the ridgetops and viewpoints
Donane Valley Campground (Palomar Mountain State Park)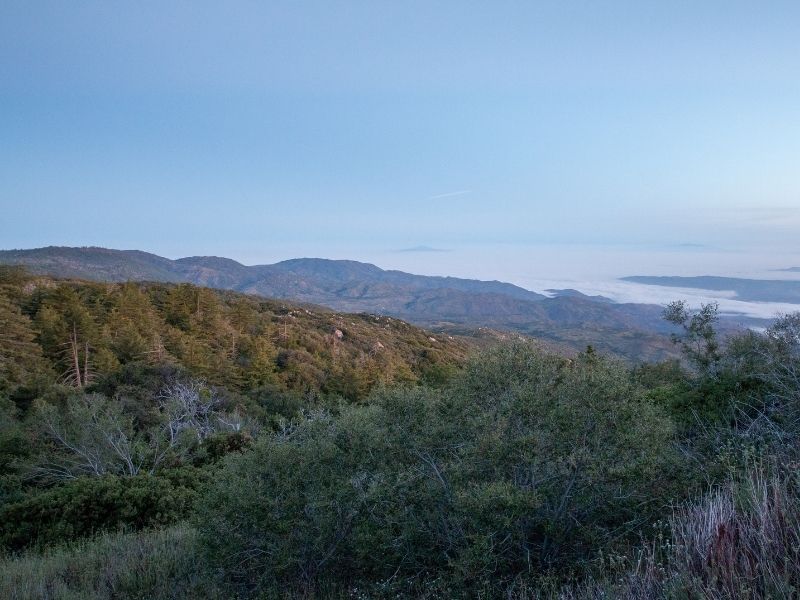 Location: 19952 State Park Drive, Palomar Mountain
Reservations: Make reservations on the website here
In San Diego County's beautiful Cleveland National Forest, this campground is nestled amongst the dense conifer trees and grassy meadows.
The Palomar Mountain is a great escape from the bustling city, and it's just a short drive away if you live in San Diego and are aching for a nature escape!
Spend the day hiking trails that begin from the campground, fishing Doane Pond, or head up the road to the Palomar Observatory to check out the 200-inch Hale telescope.
Type of Sites
31 campsites
The maximum length for RVs is 27 feet
Note: Some sites are on a slight incline
Insider Tip: Sites 8, 9, 16, 26, 29, and 30 are the preferred sites
Campsite Amenities
Picnic table
Fire ring with grate
Grill
Food storage cabinet
Steps – many of the sites have steps
Campground Amenities
Flush toilets and showers
Drinking water
Campfire Center
Amphitheater
Overflow parking
Pets are permitted
Doheny State Beach Campground (Dana Point)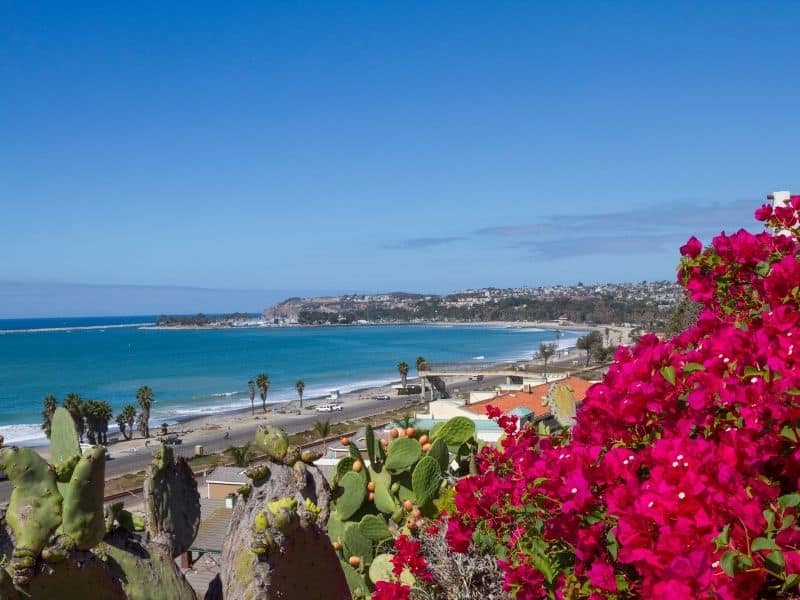 Location: 25300 Dana Point Harbor Drive, Dana Point, CA 92629
Reservations: Make reservations on the website here or call 1 (800) 444-PARK
What can be better than snagging a California beachfront camping site on the sand along a mile-long protected beach?
Located at Dana Point, this Southern California campground is one of California's most popular state beaches.
Along the southern coast of Doheny State Beach, enjoy camping just steps away from the beach.
Note: The campgrounds will be temporarily closed from November 1, 2020, through May 30, 2021.
Types of Sites
118 Campsites

33 premium ocean-front sites

16 RV or trailer only (with a maximum length of 25 feet)

Group campsites
Hike & bike campsites
Site Amenities
Picnic tables
Campfire ring
Campground Amenities
Flush toilets and coin-operated hot showers
No hook-ups
Dogs permitted in the campgrounds
Amphitheater
Park Amenities:
Day use surfing beach
Picnic facilities
Volleyball courts
Visitor Center
Insider Tip: If you stay during a full moon June through August, watch the silver grunion fish lay their eggs in the wet beach sand!
Fern Basin Campground (San Bernardino National Forest)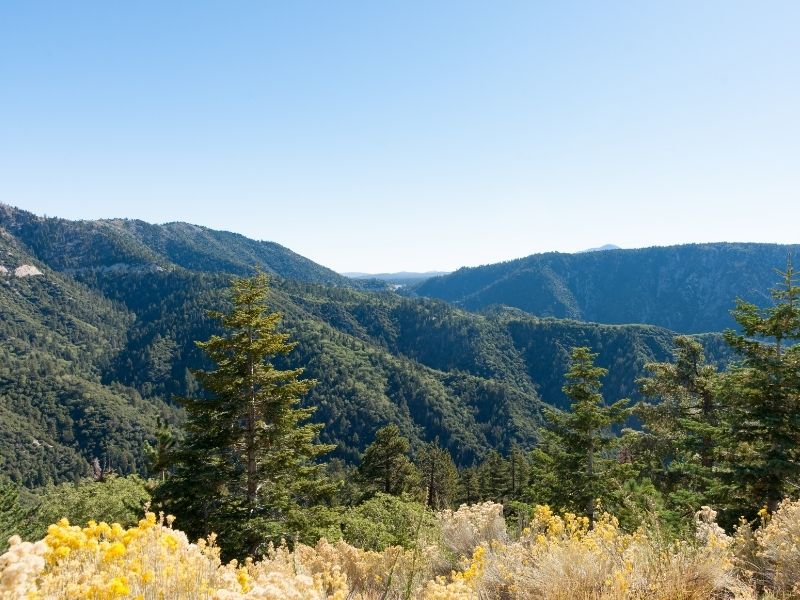 Address: 25905 Highway 243, Idyllwild, California 92549
Reservations: Make reservations on the website here.
Break away from the hustle and bustle of your daily life and pitch your tent or pull in your camper to one of Fern Basin's picturesque sites among the mature cedar and pine trees at this rustic campground just outside Idyllwild.
Getting back to nature is easy here as you will find the mountains peaceful and quiet. Put your hiking shoes on and head up the 11.8-mile Marion Mountain Trail to the peak of Mount San Jacinto or enjoy one of the less stressful nearby hiking and biking trails in the area.
Before you leave, make sure you bottle up some of the fresh mountain air and take it home with you until your next visit.
Note: The Campgrounds is open from late May to early November
Site Types
22 sites

20 feet is the maximum length for RV and trailer
Site Amenities
Picnic table
Fire ring with grate
Campground Amenities
Dogs permitted
Marion Mountain Trailhead
Drinking water
Vaulted toilets
No firewood on site
Equestrian trail
Insider Tip: There is a 50% off campsite fee for holders of Golden Age, Golden Access, America the Beautiful Senior or Access Passports.
Green Valley Campground (Cuyamaca Rancho State Park)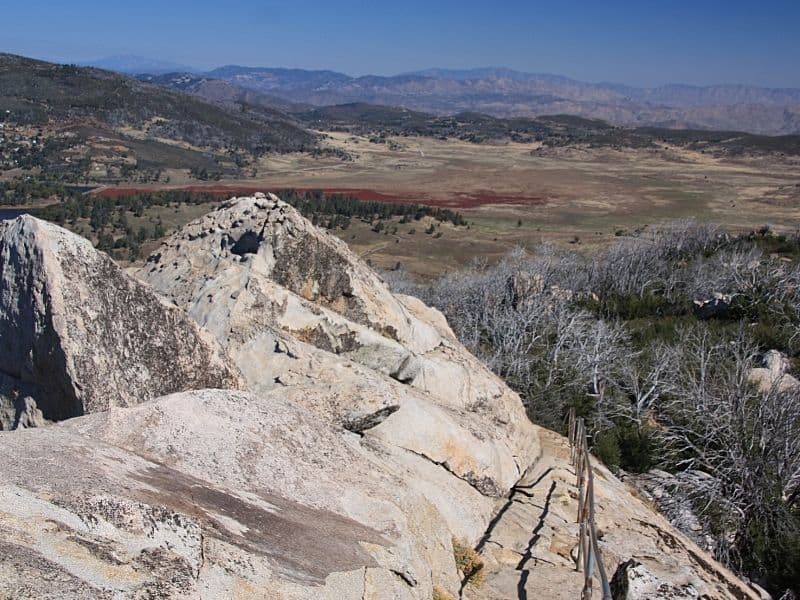 Location: 13652 Highway 79, Julian, California 92036
Reservations: Make reservations on the website here. You may book up to 7 months in advance.
Just 50 miles west of San Diego near the cute getaway of Julian, The Green Valley Campgrounds along the Sweetwater River makes a fabulous summer getaway.  
At 4,000 feet in elevation, the temperature under the lush oak and conifer trees make the nearby meandering streams inviting.
Spend the day hiking two miles to the Stonewall Peak or visiting the Stonewall Mine before relaxing at one of the popular swimming holes the creek provides.
Note: The campgrounds are open from May 1 – October 31
Site Types
81 sites

58 campsites for trailers, tents, and RVs (maximum length of 30 feet)

15 equestrian campsites (with corrals for your horse!)

No hookups
If you want a more secluded, quiet site, choose sites 6 or 7 since they are more kept to themselves.
Site Amenities
Campground Amenities
Pine Ridge Trail nearby for easy hiking
Coin-operated showers and flush toilets
Dark night skies for Milky Way viewing
Dump station
Firewood and ice available for sale
Leashed pets are permitted
San Onofre Bluffs Campground (San Onofre State Park)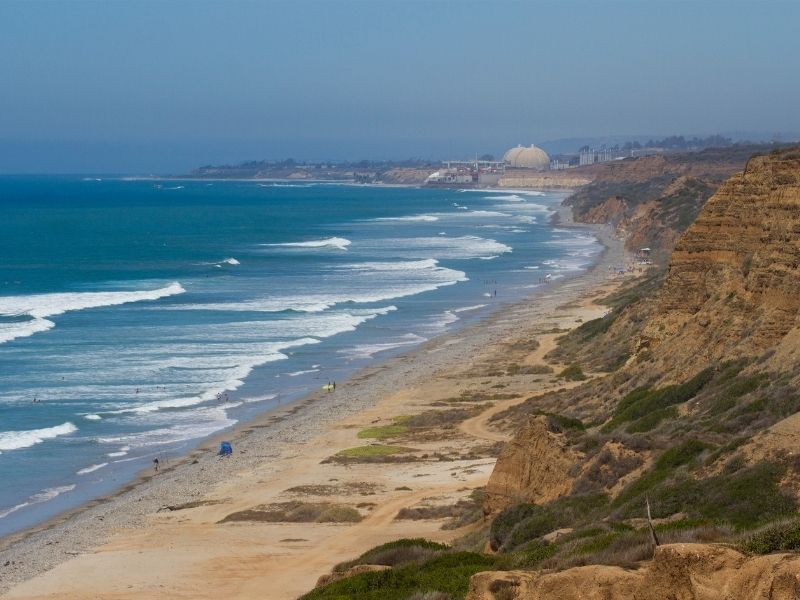 Location: Old Pacific Highway, San Clemente, California
Reservations: Make reservations on the website here.
Along the Pacific Ocean coast north of Camp Pendleton, this Southern California campground offers campers some of the best surfing waves, fishing, and sand for sunbathing along the 3 ½ mile-long beach.
What could be better than waking up to the sound of crashing waves as you call this pad along old US Route 101's sandstone bluffs home?
Site Type
157 sites 

About half is designated for RVs and half is for tents

No RV hookups
Site Amenities
Campground Amenities
Sites 1 to 23 and 105 to 112 have ocean views 
Potable water
Cold outdoor showers
Chemical toilets
RV dump station
Firewood available
Pets allowed
Six trails leading to the beach
Nature programs and geocaching
South Carlsbad State Beach Campground (South Carlsbad State Beach)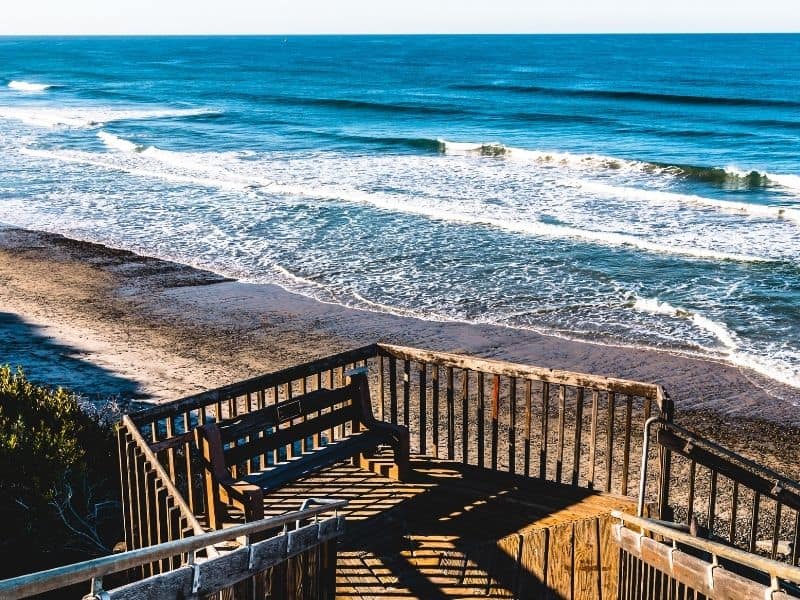 Location: 7201 Carlsbad Blvd, Carlsbad, CA 92008
Reservations: Make reservations on the website here.
This linear bluff campground offers sites on the edge of the ocean-front bluff, so all you have to do is walk down the famous staircase to the State Beach below.
A stay here means a low-key, relaxing time to unwind and enjoy the outdoors.
Enjoy easy beach access and a wonderful ocean views as you stretch out at the very popular and beautiful South Carlsbad State Beach Campground.
The wooden stairs and ramps to the lifeguarded beach make this a great family campground.
Site Types
223 bluff-top campsites

RV maximum length is 35 feet

Sites 36 to 53 and 183 to 205 are right on the ocean
Site Amenities
Picnic tables
Fire rings with grill
Campground Amenities
Flush toilets and coin-operated showers
Beach for swimming, surfing, and fishing
The camp store has firewood and ice
Wi-Fi hotspot at the campground office
Amphitheater
Dump Station for RVs
Indian Cove Campground (Joshua Tree National Park)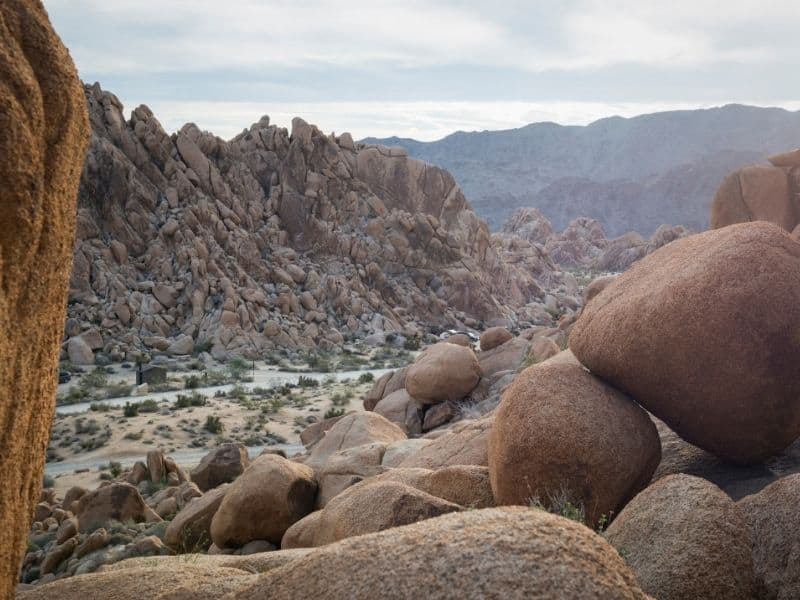 Location: Joshua Tree National Park
Reservations: Make winter reservations on the website here.
Among the signature boulders and rock formations of Joshua Tree National Park, this is the perfect location to start your incredible journey through the park. 
A stay here means no wasted time in the car getting to and from all the incredible things to do in Joshua Tree National Park. There are many rock climbing routes near the campground.
After an adventurous day, return to your home away from home and fall asleep under the stars.
Indian Cove is the largest of the four campgrounds in Joshua Tree National Park, so it has some of the best of the park's amenities!
Insider Tip: Choose sites 4, 6, 7, 20, or 46 to be surrounded by giant rock formations.
Type of Sites
104 total camping sites (91 individual campsites and 13 tent-only group sites)
Camping sites are allocated on a first-come, first-served basis from June 10 through August 30
Site Amenities
PIcnic table
Fire ring with grate
Campground Amenities
Massive granite boulders for climbing and photographing
Interpretive nature trail nearby
No water, so bring a lot of your own! This is the desert.
Vault toilets
Campfire Center / Amphitheater
Leashed pets are permitted 


What to Pack for Staying at Campgrounds in Southern California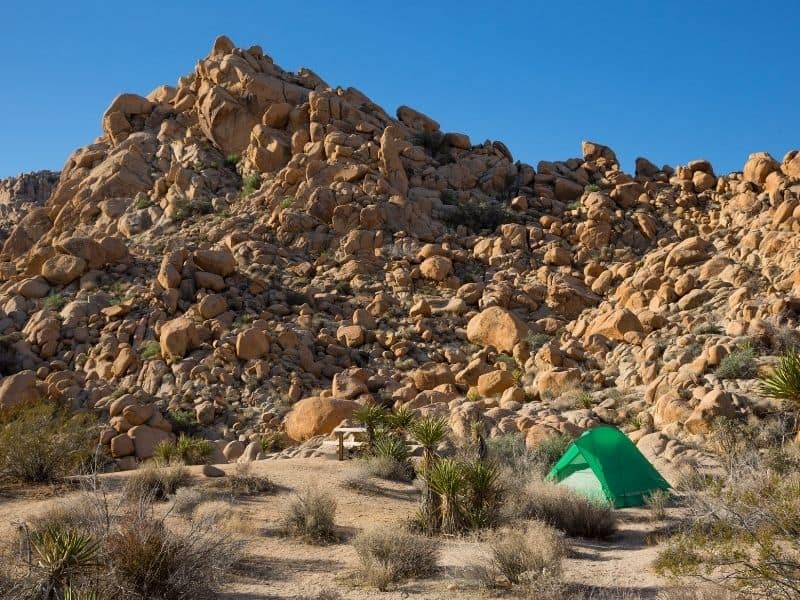 Lightweight tent: This lightweight North Face Stormbreak 2-person tent weighs only 5 pounds 5 ounces, which is a nice low weight given the cost. It's a good 3-season tent with loads of headroom, easy pitching design for fuss-free set-up, and there's plenty of room for two people to share.
Sleeping bag (30 degree or colder): While you may be camping in California, that doesn't mean it doesn't get cold at night — especially on the California coast or in the desert in the winter! You can spend a fortune on a sleeping bag, but you don't have to.
For a comfortable sleeping bag that won't break the budget, I recommend the REI Trailbreak 30 (men's version) and (women's version). You can go more high-tech, but then you're looking around the $300 range. Great if you camp a lot, but for beginners, you may want to start with a more affordable version until you decide you really are a camping person.
Sleeping pad: This is what takes you from cold, uncomfortable nights on rocky ground to tent comfort! You can buy a cheaper version like the REI Trailbreak Self-Inflating Pad, but I'd recommend going with the Flash Thermal if hiking the trail in spring or fall, when the nights can get really cold!
Note: Some Southern California campgrounds do have tent pads you can use, so this may not be necessary — check the site amenities above for each potential campground.
First aid kit: You'll want to pack a small kit with the things you need — but in my opinion, it's better to buy a pre-made first aid kit as it'll likely cover things you might forget. I recommend this HART Weekend First Aid kit, which has all you need for 2 people for 2-3 days of camping.
Water Filter: There are a wide variety of water filtration systems and treatments, but I have two preferred brands: LifeStraw and GRAYL. The LifeStraw set-up I recommend is this one: LifeStraw Flex. It has a 2-stage filter that removes over 99.999% of bacteria, parasites, and microplastics.

It can be used as a personal straw (its original iteration), but it also can attach to a gravity bag (included), a water bottle, or a typical hydration bladder. Each filter can be used for filtering up to 1,000 L of water. If you just want a water filter/water bottle set-up, I recommend the GRAYL Geopress. It's compact and easy to use!
I recommend the LifeStraw Flex if your water sources are fewer and far between, and the GRAYL Geopress if you have an easy water source and just need to filter it between refills.
Cup: For water at the campsite if you don't want to use your water bottle — or for a celebratory glass of wine if you're the kind of person brings a bottle of California red on your camping adventures to celebrate the end of a long day's camp! I like this Hydroflask cup.
Mug: You'll want a mug for morning coffee or tea! Bonus points if it has a cute design for morning campsite snaps, too.
Spork or similar utensil: You can't forget a spork while you're backpacking!
Bear canister: Keep your food away from bears with this bear-resistant canister! Yes, it's heavy, yes, it's bulky, and yes, it's absolutely necessary if you're in bear country.
Day pack: An easy to zip-away day pack is helpful to have when camping so you can easily put small things that you want more accessible and handy when you leave your campsite to do some nearby adventures.
Food: I recommend freeze-dried meals! AlpineAire is a favorite of many campers and has tons of choices: this black bean and beef chili is a fan favorite. Patagonia also has a great selection including lots of vegan options: vegans love this spicy red bean chili. For breakfast, grab some granola with blueberries and milk packets and some tasty Kuju instant coffee!

Of course, you could also bring a cooler and some meat, sausages, and vegan goodies if you want to grill things up or have a BBQ.
Clothing: It can get chilly at night so plan accordingly. You'll want at least 2 shirts (synthetic or wool, long and/or short sleeve depending on the season), 2 pairs of leggings or long underwear, 1 fleece or wool outer layer, a waterproof jacket, waterproof pants, beanie, gloves, and 3 pairs of socks.
Optional Gear for SoCal Camping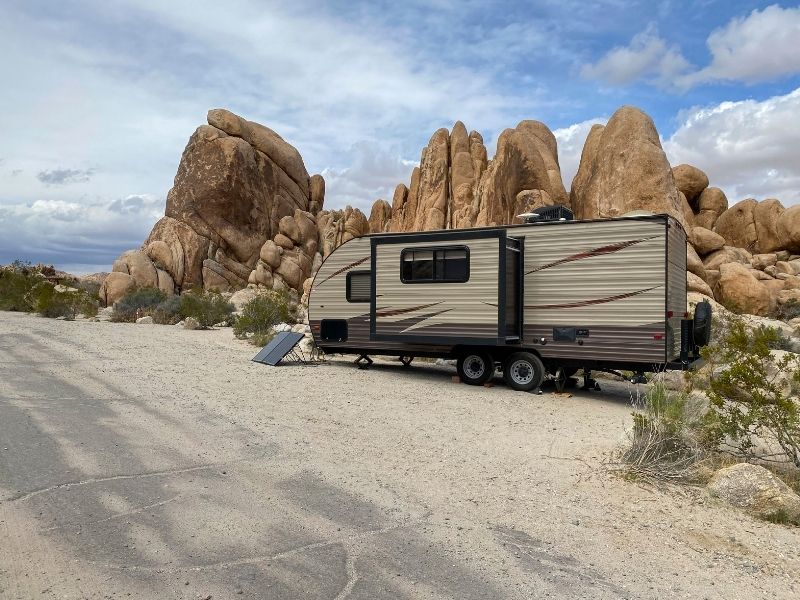 Backpacking stove: This will depend a bit on your set-up and whether or not your campsite has grills or fire pits (and if you're allowed to use those fire pits!).
No matter what, be sure to get your California campfire permit before embarking to any of these Southern California campgrounds.
If you don't want to deal with starting a fire, and you're planning on eating only freeze-dried meals, oatmeal, ramen, and other "just-add-boiling-water" dinners, you can get by with a lightweight Jetboil, which weighs in at less than a pound (fuel included) and is also great for making coffee in the morning!
If you want a more "cooking-friendly" set-up including pots and pans, check out this surprisingly lightweight Optimus camp stove that comes with a frying pan and cooking pot at under a pound of weight (not including fuel).
Note that during peak fire season, even things like the Jetboil may not be allowed — please check with your local rangers regarding any fire restrictions.
Fuel: If bringing your own cooking gear, make sure you have plenty of fuel for whatever your backpacking stove set up is! And if you're doing a fire pit (during a time without campfire restrictions), research if you need to BYO firewood and kindling.
Camera: I use and love my Sony A6000! It's mirrorless, so it's lightweight and perfect for a high-quality camera that won't weigh your daypack down while out and about on your daily adventures.
Journal and pen: For noting down all your camping thoughts!
Board games: For campsite fun — my favorites are Scattergories and Cranium!
Sandals: To change into once you reach your campsite! Tevas are a favorite, and they're a nice break from the sneakers or hiking boots you'll likely be wearing most of the day out.
Sunglasses: To give your eyes a break from the sun during your daily activities
Sunhat: To keep sun off your face – I recommend a packable hat like this one which has a strap so it won't blow off in gusts of wind and you can easily wear it on your back when you don't feel like wearing it on your head while hiking, boating, and enjoying Southern California's beautiful scenery!
Pin This Guide to the Best Campgrounds in Southern California!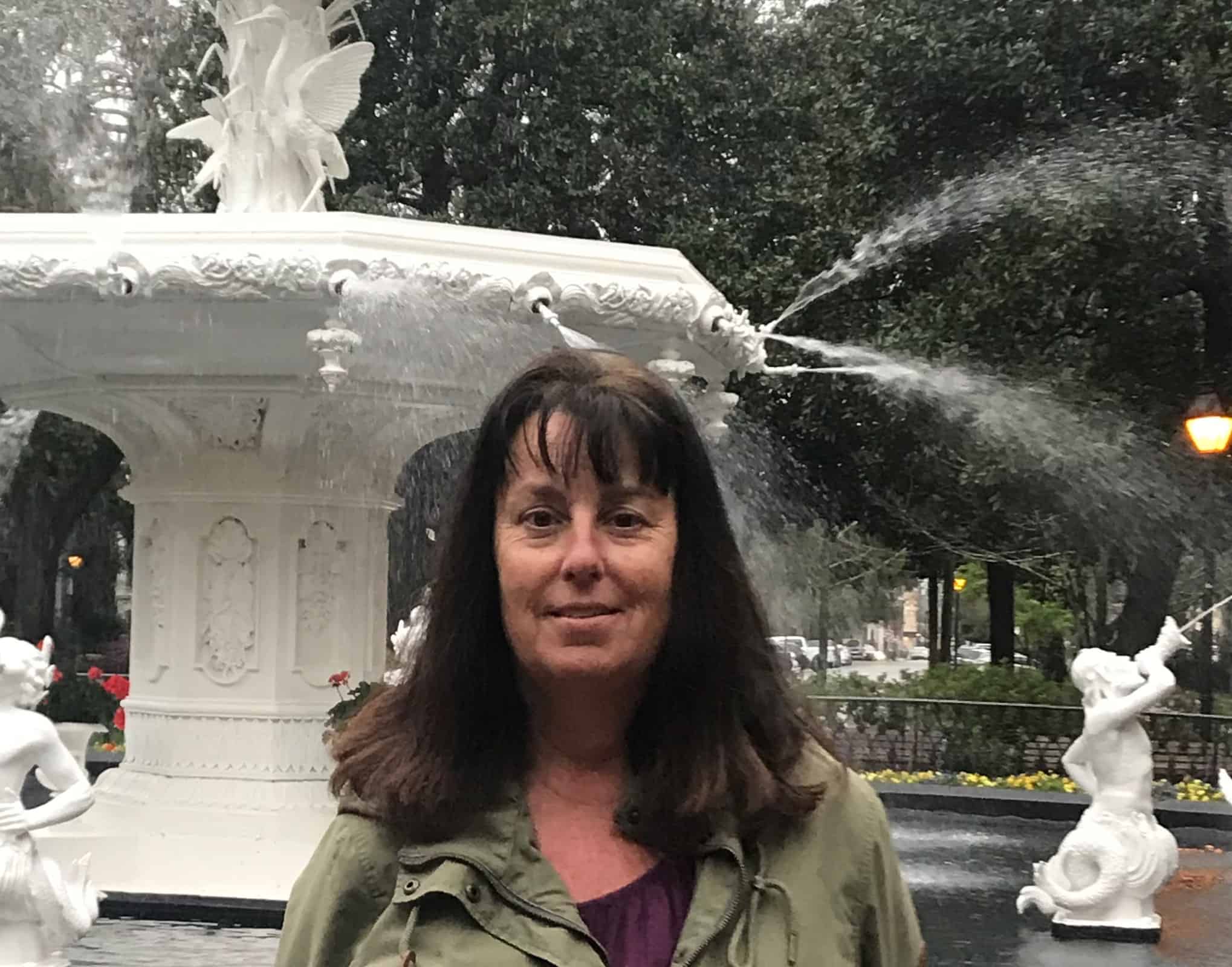 Laura Gray is a freelance writer and retired elementary teacher based in Norfolk, VA.  She spends her summers enjoying the shores of the Chesapeake Bay, traveling the world, and exploring the beautiful United States. Her favorite places to visit are National Parks, waterfalls, and lighthouses.