We've already established that Lake Arrowhead is one of the best destinations to visit in Southern California for a lakeside getaway, whether in winter or summer (or fall or spring, for that matter!).
We covered all the great things there are to do in Lake Arrowhead here, as well as recommendations for where to eat, drink, and play during your stay.
But what about where to stay in Lake Arrowhead?
We recommend skipping the chain hotels and standard resorts and opt for one of these beautiful Lake Arrowhead cabins for the most magical stay.
These Airbnbs in Lake Arrowhead offer immense value, gorgeous views, and the promise of a unique stay unlike you'd get in a standard hotel.
We've broken down this guide to Lake Arrowhead Airbnb into three categories: dog-friendly Airbnbs in Lake Arrowhead, romantic Lake Arrowhead Airbnbs for couples, and the best Airbnbs in Lake Arrowhead for larger groups.
We hope you find the perfect place to stay in Lake Arrowhead for your next adventure!
Where to Stay in Lake Arrowhead: Best Dog Friendly Airbnbs in Lake Arrowhead
Lake Arrowhead Mid Century Modern A-Frame Cabin
Note: This post contains affiliate links, which earn me a small commission at no extra cost to you if you make a purchase using one of these links. Thank you for supporting this free content!
For a lovely Lake Arrowhead cabin that's all about clean lines, wooden details, and comfort, you'll absolutely adore this A-Frame cabin!
This cabin is super spacious for up to 4 guests, including their pets! The living room is a great area for lounging and relaxing, with a large L-shaped sofa, a fireplace (great if visiting Lake Arrowhead in winter), a gorgeous chandelier detail that emphasizes the high ceilings, and a private patio/balcony area to enjoy.
There is a BBQ grill out on the patio, but the kitchen is modern and spacious with plenty of room to cook up delicious masterpieces in, if you don't feel like eating in town or firing up the grill.
There are several smart TVs scattered around the house as well for your entertainment pleasure!
There's also a fire pit for enjoying s'mores outside, and if you have kids who you are bringing and making this a family stay, there is a timber fort for them to play in and enjoy!
Past guests say:
"Magical here!!! I felt like it was truly my home – so cozy! The heater was easy to work with. Check in was flawless. Arthur provided everything I needed during the stay from the kitchen to the bathroom. Home was spotless clean! Bed is comfortable as well. Our dogs LOVED it here! Location is perfect too – we had a lot of privacy. I can't wait to come back in the spring! Thanks for creating a snow path to walk around in the backyard. :)"
"This cabin was the perfect location and had amazing amenities! They decorated it perfectly and we would love to come back here! So glad we were able to bring our dog with us too as he seemed comfortable in such a spacious cabin"
The Wildflower Cabin
This is a great cabin for a group of two or even a solo retreat!
This Lake Arrowhead cabin was built in the 1920s and was used to be housing for the nearby Forest Service employees, but it's been a family cabin for 25 years.
The entire furnishing is nostalgic and screams "cabin vibes' — from knotted pine walls to a brick fireplace to rustic details with modern updates.
It's a great place to stay winter or summer: winter means roaring fires in the fireplace, whereas summer is all about enjoying that beautiful deck, with a BBQ grill and bistro table for enjoying food al fresco.
The kitchen is fully equipped with a beautiful vintage Wedgwood stove,with a dining area to enjoy your meals in. There's also a living room with a flat-screen TV and a loft for reading and relaxing, plus high-speed WiFi.
There are a ton of nearby nature trails, as well as the beautiful Crest Park and the Arboretum, quite literally at your doorstep!
Past guests say:
"This is our fourth time staying in this wonderful cabin. Jolene is always super responsive and very pleasant to communicate with. My Fiancé, little dog and I always feel like we are at our second home when we walk through the cabin doors. We have had such great memories here filled with peace and relaxation. This cabin has such a warm tranquil charm with all the amenities you could need for a relaxing stay including Dove shampoo/ conditioner, make up removing wipes, hot chocolate, coffee, popcorn, and the list keeps going. A big THANK YOU to Jolene and family for the opportunity to share their cabin for the last 3yrs!"
"This is our second time staying at Jolene's cabin and it is absolutely what you would envision when you think of a cozy cabin. Along with that, it comes with all the amenities you need and is only about 5-7 minutes away from Lake Arrowhead Village. Jolene is always quick to communicate if you have a question as well as very thorough when giving directions about arriving to the cabin. Enjoy your stay!! My fiancé and I want to come back every year:)."
Lazy Dog Cottage
This charming Airbnb in Lake Arrowhead is great for a family or group of friends traveling with a dog!
Hidden away in the treetops, this lovely secluded cabin in Lake Arrowhead is a great choice for unwinding. There's a wood-fired stove in the living room which creates the perfect ambiance for enjoying a bottle of wine, playing board games, or watching a movie or Netflix on the smart TV with loved ones.
There's also a lot of great outdoor spaces to enjoy, such as the patio with a grill and two patio chairs to sit out and enjoy the nature on.
There are also lots of hiking and biking trails nearby, so bring your best walking shoes or your mountain bike should you want to get active during your stay!
Another bonus is that the cabin is within walking distance of a large grocery store, so you don't need to do a massive shop before arriving at your Airbnb… and if you forget anything you need for a kickass meal, it's just a few steps away!
Past guests say:
"4th time staying here. Same amazing experience every time. Thanks again, we'll be back!"
"Much cleaner than expected, great place and communication with owner was easy. The close by store was very convenient and I would highly recommended staying here."
Where to Stay in Lake Arrowhead for Couples: Most Romantic Airbnbs in Lake Arrowhead
The Hideout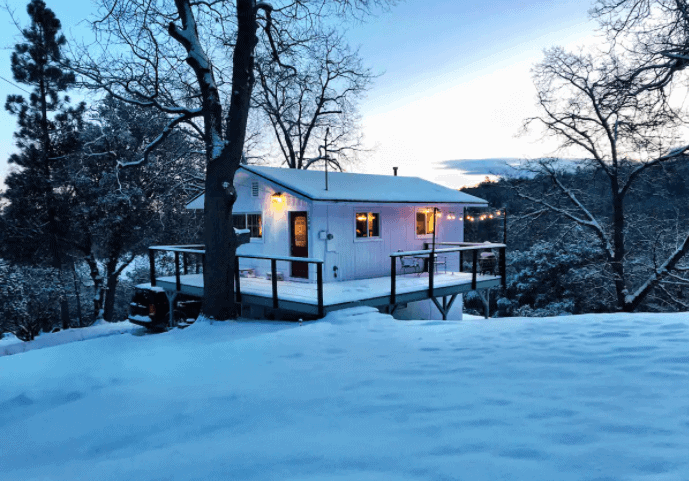 What could be more romantic than a snow-covered cabin for two, or peaceful walks around a beautiful lake as the fall foliage begins to change?
All of that is possible at The Hideout, this cozy and romantic Airbnb in Lake Arrowhead for two.
Built in 1962 and recently given some TLC in 2018 to modernize this little Lake Arrowhead cabin, you'll adore waking up with this views.
Whether you start your day with a delicious coffee or a mimosa, enjoy the view of the morning sun through on the deck, also a fabulous sunset spot each night. There's also a grill on the deck if you want to fire up a great grilled dinner, or there's a spacious and modern kitchen you are welcome to use.
The living room is spacious, with plenty of room to cuddle on a comfortable couch, with a flatscreen TV for watching movies on and a wood-lit stove for heating up the house on a cold night.
The bedroom is similarly cozy, with a lovely queen bed with sumptuous sheets (and a guitar mounted on the wall in case your bae is musically gifted!).
But best of all is the bathroom with a soaking tub!
Tiny House in Lake Arrowhead (Walk to the Village)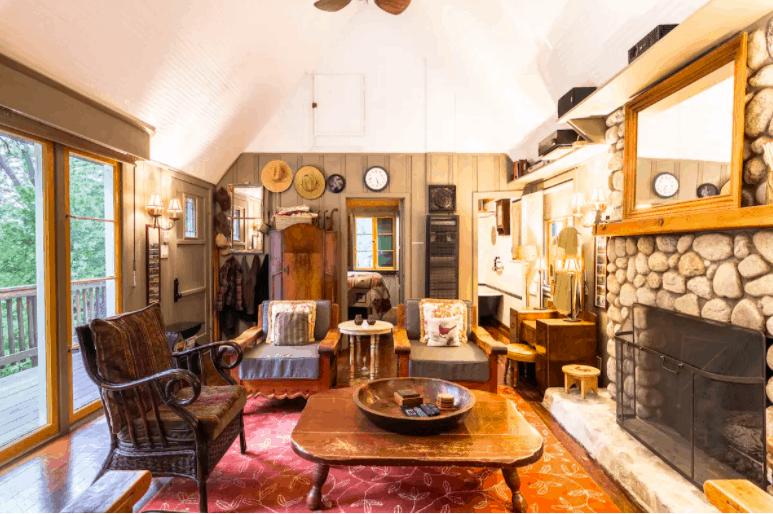 Nothing says romance like cozying up in a tiny house!
… Or if you're thinking of downsizing to a tiny house but just want to test-drive it to make sure you won't kill each other first, that's also a legitimate reason to check out this adorable Airbnb Lake Arrowhead tiny house!
Still, while it is compact, it isn't that tiny. There is a full bedroom, full bathroom (with tub!), and plenty of space in the living room, so don't expect a teeny-tiny sleeping loft you have to squeeze yourself into like you may have seen on HGTV.
Built in the 1930s, this mountain cabin for two is a great small-space solution. You're just steps from walking to the village, but you also have a lot of outdoor space to enjoy, such as a large deck surrounded by trees, as well as BBQ for cooking up meals.
Inside, you can cozy up on the couch to watch some movies on the projection screen, access the WiFi, or light a fire in the gas fireplace for some romantic vibes.
Past guests say:
"This place is so lovely!! It's a small, vintage cabin with rustic touches and OH SO cozy. Having a gas fireplace is so much better than a wood-burning one, in my opinion. Kitchen has everything you'd ever need… Brent was the most responsive host I've ever encountered. Running an AirBnB in a location with inclement weather can pose challenges—and even though he can't control those things, he STILL insists on making things right in every instance! We really enjoyed our stay… If you're coming during the snowy season, I recommend NOT driving once you've parked. Bundle up and walk everywhere. It's 10 minutes to the Village!! I'll definitely want to stay again—during the snow or the summer!"
"This was a wonderful getaway in such a cozy and well-located spot. Any questions we had were answered readily, and we felt right at home. It was a pleasure being able to walk to the lake and local spots within minutes. I'll be recommending this spot to all of my friends…even though I hope that it does not fill up too quickly because I'm hoping to come back again soon!"
Romantic Tiny Cabin with Lake View
This cozy Lake Arrowhead cabin for two is the perfect spot for couples! The living room is small and cozy with a satellite TV, attached to a small kitchen where you can rustle up a simple meal.
But the real draw here are the views: mountain and lake views everywhere you look due to its position atop a hill!
Everything is kept cozy and warm with heating as well as floor heaters, extra blankets, and lots of sweet touches such as complimentary wine upon arrival.
But my favorite perk is the spiral staircase which adds an element of beauty to the house, and brings you up to the spacious but beautiful sleeping loft, a great place to snuggle up and enjoy your couple's getaway to Lake Arrowhead.
Past guests say:
"This beautiful cozy cabin was described wonderfully and was a perfect quick drive to town while being a cabin off from the main road to keep down noise from traffic and was overall so calm and such a rejuvenating weekend at this cabin. The host Britnie provided several great recommendations for dining and activities nearby and responded to any questions I had in a very timely manner. One of my favorite little touches was the extremely soft towels provided to us along with the blankets we used while playing some games and watching tv in the loving room. A truly romantic place for a couples getaway!"
"-Very clean -Very responsive -Great location; perfect for privacy and still near everything -Heat was great even though it was freezing outside -We would definitely book again"
Romantic Burnt Mill Canyon Cottage
This Airbnb is strictly adults-only and no pets or no smoking, so it's great for those who have allergies and want to ensure a comfortable stay.
It's also exceedingly clean and immaculately kept, all high-touch surfaces — from light switches to door handles to counters — disinfected with Clorox between guests.
One of the best ways to enjoy some time with your significant other is taking a romantic mountain getaway to a cabin built for two.
This charming spacious Airbnb for two is the perfect winter getaway — though admittedly, it would be lovely any time of year. However, if you come for winter, expect lots of festive details!
Built in 1922 but recently majorly renovated, the house now boasts modern amenities like porcelain tile floors, granite countertops, stainless steel appliances, and central heating.
Cozy up around the fireplace with its lovely knotty pine mantel. Don't worry if you're not handy with starting fires: it's a gas fireplace, igniting with the press of a button!
The modern amenities also include a flatscreen smart TV with Amazon Prime, Netflix, highspeed internet, and a voice-activated Amazon Fire.
The bedroom is exceedingly cozy with a top-rated queen-size memory foam mattress, and the bathroom has a lovely rain shower.
Meanwhile, outdoors there is a patio with chaise loungers to enjoy the nature –no matter what time of year — as well as an outdoor dining area surrounded by old-growth cedars and dogwood trees.
Past guests say:
"This place was such a gem. Between the location and attention to detail you can not go wrong with this place. Very romantic and while we were there it snowed pretty hard making the whole place that much more magical. Paul was super helpful and even arranged to have the snow cleared out before we left (which was SUPER appreciated). We will definitely be back!"
"Feels like home! Would definitely recommend! Paul did an excellent job with any questions we had and even helped us clear snow around our vehicle!"
Serene Cabin for Two with Screening Room
This charming modern Lake Arrowhead cabin for two is surrounded by beautiful pines, located right between Lake Gregory and Lake Arrowhead for stunning views everywhere you look.
There's a secluded deck area complete with patio chairs and a fire pit, perfect for relaxing in under the stars in the sunny and for bundling up and making some s'mores in the winter.
There's also a spacious full kitchen with all you'd need to make a gourmet meal during your stay, plus coffee and tea supplies. There's also a full bathroom with a combination shower/bathtub, in case you want to take a romantic bath for two!
The interior design of this Lake Arrowhead Airbnb is just stunning. There's a large leather couch and a plush armchair, great for reading and relaxing in, as well as a fireplace to nuzzle around.
The bed is a comfortable queen bed with cozy sheets and a streamlined decor for a restful, uncluttered night's sleep.
But best of all is the unique screening room, with real movie theater vibes. And since it's been a long time since any of us have been a proper theater, it's a great substitute, with cozy theater-style chairs and a large flatscreen smart TV, plus some board games in case you're looking for entertainment of the more analog variety!
Where to Stay in Lake Arrowhead for Groups: Best Large Lake Arrowhead Cabins & Airbnbs
Pet-Friendly Lake Cabin with Big Pines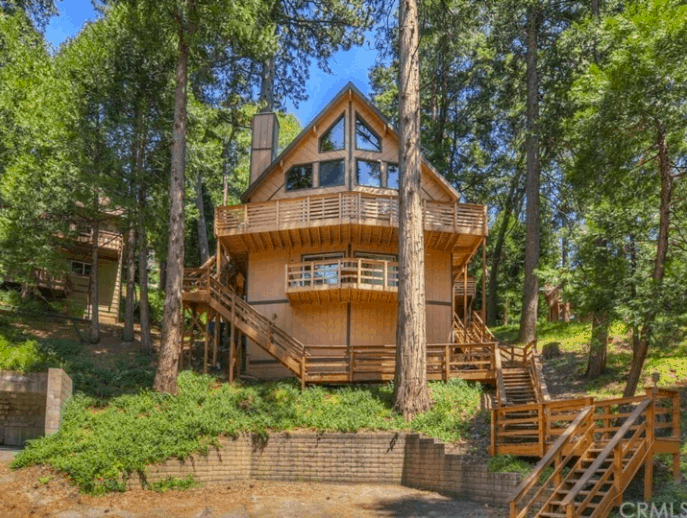 This massive Lake Arrowhead cabin can fit up to 10 guests, despite only being a two bedroom!
There are 5 beds (2 queen beds, one couch bed, and two twins in the bunk bed) to enjoy, as well as a bonus loft area for reading and relaxing (one can sleep on the couch and there's also a bunk bed).
There is also a massive living room with fireplace, full kitchen, a dining area, a bathroom, and three outside decks with a BBQ.
Note that this house is not accessible to those with mobility-related disabilities, because there are 50 steps to access the home (seen in the photo). Families with small children are also advised to be cautious due to the wide slots between openings on the loft railing, the steep stairs, and the high decks. Use discretion as it may not be good for you if you have smaller kids.
Meanwhile, pets are allowed for a $25/day pet fee, so long as they are kenneled or crated while away (otherwise, the pet fee is much higher).
Past guests say:
"Amazing communication from the hosts. My children loved the cabin as did I. They felt like they were in a huge treehouse. Going only two days after snow fell was the only challenge. Overall so happy I chose this place. Would love to come back. *****"
"We enjoyed our stay in Lake Arrowhead and got lucky to be there during a snowy weekend. The change of scenery from being 24/7 in our home was just what we needed. Ryan sent detailed check-in instructions and was very quick to respond to questions. The kitchen was very well-stocked and we didn't want for anything. The cabin is really spacious and close to the village, and you can see the lake poking through the trees in some spots. The stairs are definitely real – after not having exercised strenuously in nearly a year, they were a challenge, but I kind of liked the workout. Definitely be prepared for those!"
A-Frame in the Forest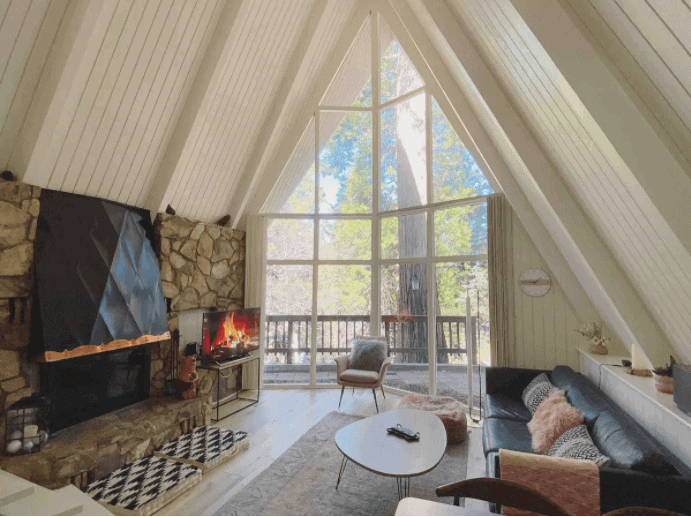 This cozy Airbnb in Lake Arrowhead is great for a mid-sized group of up to five people. Up to two pets are allowed, but do ask for permission beforehand; there may be an associated additional cleaning fee.
There are two bedrooms with 3 beds, one downstairs with a king-size bed with en-suite bath, as well as a lofted bedroom upstairs with another king-size bed and a single floor mattress for a fifth person if needed.
The cabin was recently given some TLC, so it's quite well-equipped. Enjoy the full, well-stocked kitchen and dining space.
Feel free to light a fire in a gas/wood burning stove (BYO firewood), spend time watching the birdlife in the swinging chair in the loft with forest views, or head outside to sit on the outdoor sofa and watch the world go by. There's also a Webes gas BBQ on the outdoor deck.
In terms of entertainment, there's a smart TV with Netflix and YouTube access, as well as Sonos speakers in the living room and Bose bluetooth in the kitchen, so you can jam out and have a dance party whether you're cooking or having drinks in the living room.
There's also a coffee bar, a washer/dryer in case you need to laundry, and there's easy access via an August smart lock so you can check in remotely with your smartphone, rather than having to deal with waiting on a host for check-in.
Past guests say:
"If you are looking for a mountain escape with all the amenities, then look no further. We had such a lovely stay in the modern A-Frame cabin. It's so close to the village, yet feels secluded. We will definitely be booking again!"
"The perfect spot for a quiet getaway. Every square inch of their home is put to great use. It's adorable and so quaint. And… so quiet! The neighbors we SO loud our first night and inside the house we couldn't hear any of it. What a relief! We loved our time away."
Gorgeous Lake Views with Jacuzzi
I mean.. do I need to even say anything after that lake view in the first picture?
This is the ultimate Lake Arrowhead Airbnb for those looking for location, location, location! But it's also got plentiful amenities for a cozy stay.
The open floor great room contains a living room which is well-equipped with a cozy leather sofa, fireplace, and a HDTV with cable. The great room as well contains a dining area for 4 with two more seats available at the bar, and full kitchen stocked with all you need.
The bedrooms are spacious and comfortable. The larger bedroom contains a king-sized bed and HDTV with cable, whereas the smaller bedroom contains a queen-sized bed. There's a full bathroom with a combination shower/tub, and in case you have a full party of six, there's also a queen-size sleeper bed that pulls out from the sofa in the living room.
Outdoors, there's a lot to love with two spacious deck areas. Beside those lake views on the back deck, there is a Jacuzzi, a fire pit, a grill, and a dining table for four. There's also umbrellas and two lounge chairs for relaxing on the front deck!
Traveling with kids? Ask for the provided pack-and-play or child gates. However, there are stone steps in the house, which makes it not an accessible choice for those with mobility limitations.
Do note if visiting in the peak of summer that there is no central A/C. However, there are ceiling fans and sliding glass doors which open up to the lake breeze, so it likely won't be necessary! There is heat in the winter, however.
Past guests say:
"Great spot right by the water, clean and super cozy, matches the description well and we would most definitely love to stay here again."
"We thoroughly enjoyed our stay. The scenery is breathtaking. We couldn't use the front deck due to the snow storm, but the deck off the living room provided a spectacular view! Reached out to Julie the day of our arrival and she was quick to respond. We can't wait to go back in the summer to enjoy the lake."
Old Creek Cabin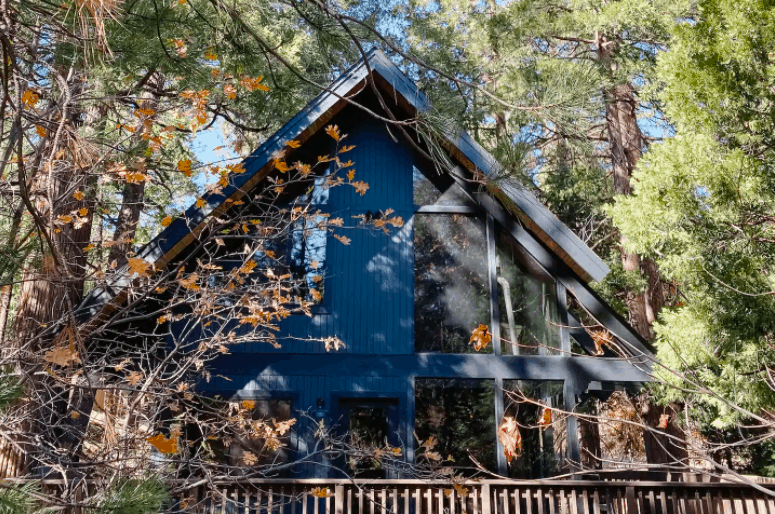 This stunningly remodeled Lake Arrowhead cabin is a dream for up to 8 guests, with plenty of space between the 3 bedrooms and 5 beds.
The cabin draws upon modern Scandinavian influences, such as a moody color palette enlivened by bright-toned wood. There are Southwest design elements as well as a fancy Malm fireplace which is a great place to gather at night.
There's a full kitchen with a dining area as well as a breakfast nook with gorgeous design elements that you'll love cooking in!
During the day, look out two stories worth of gorgeous glass windows into the forest, onto the creek. There's a wrap-around deck you can enjoy by day with a cup of coffee or by night lit up by fairy lights.
Enjoy game night in the upstairs area with a game table seating six, relax on the massive L-shaped couch to watch some TV, or check out the seating nook and relax with a great book.
There is a master bedroom with a pull-out couch in case you have young ones who want to join you in the master suite. There are also two more bedrooms on the main level, one with a queen bed and one wtih a bunk bed (full bed on bottom twin bed on top).
Past guests say:
"Where do I begin?! We feel so lucky to be one of the first guests to get to stay in this wonderful cabin. Marie has done an incredible job creating a magical space for her guests. Not only are the cabin design, furnishings and decor gorgeous, but no detail was overlooked. From the nice bottle of Pinot and healthy snacks awaiting our arrival, to the shelves stocked with fun games for all ages, to the super comfortable mattresses, linens and nice toiletries. Everything was perfect for our family. I can't recommend this place enough. Thank you Marie!"
"Our stay at Old Creek Cabin was fantastic. The cabin is beautifully decorated and supplied with all the necessities for a comfortable stay. Family friendly games, sleds and even a snow man kit for wintertime stays. Marie is totally accessible and eager to help with any thing that may come up. We look forward to our next stay."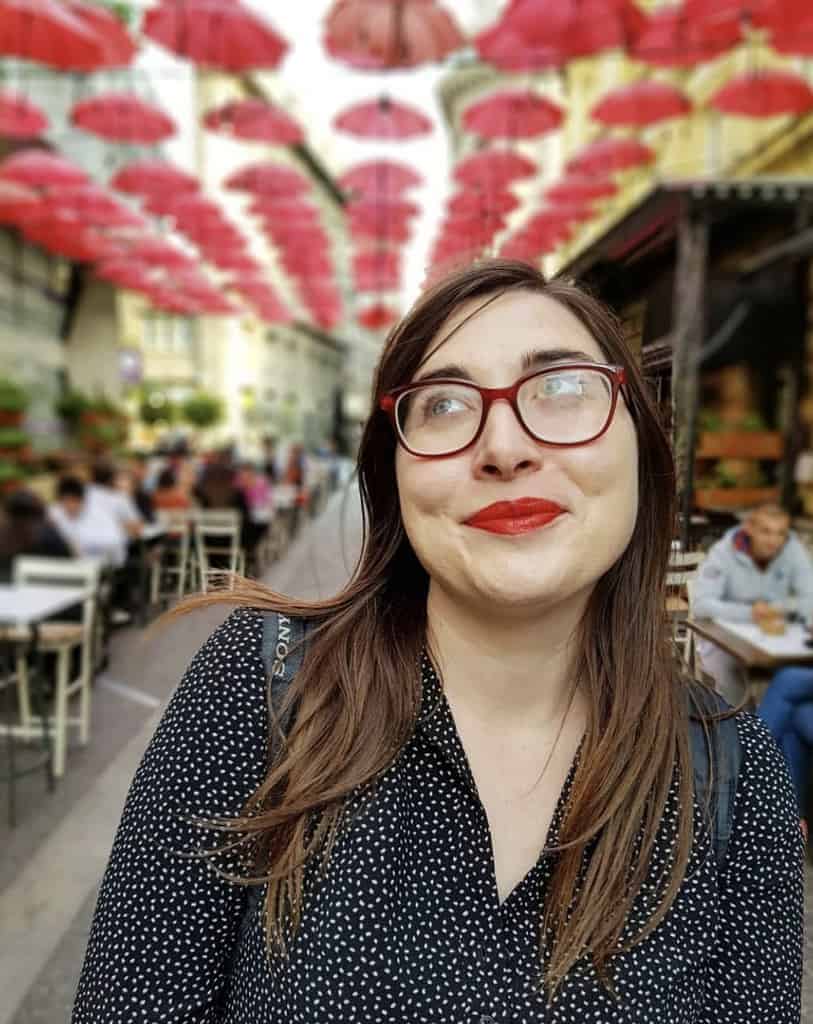 Allison Green is a travel blogger, writer, and podcaster who grew up in the Bay Area of California. She has spent time living in New York, Prague, and Sofia, but has returned to live in the East Bay. She has traveled to 60 countries before the age of 30 while running several digital travel businesses. Her writing and podcast have been featured in Forbes, CBC Canada, National Geographic, the Huffington Post, and CNN Arabic, amongst others. She's obsessed with dogs, wine, and anywhere she can see the ocean.