Santa Cruz is the kind of city that offers a wide array of experiences to heighten the senses…. and food is no exception!
You can find yourself at peace on a cliff overlooking the ocean while watching a sunset, or you can ride "The Giant Dipper" rollercoaster or surf a massive wave for an adrenaline rush.
You can get the heart pumping while climbing up and down the Aptos hills or biking around town working up an appetite, then you can stroll along the streets downtown with loved ones and indulge in a tasty meal or dessert.
The options are many, the limits are few! Santa Cruz has something for everyone, and when it comes to the best Santa Cruz restaurants, there's no shortage of choices… in fact, the hard part is deciding where to eat in Santa Cruz
When visiting a new place, finding the best food options is not always easy… unless you have a local to help you out!
So I'm going to help you out and share some of my favorite spots for delicious food in Santa Cruz. These suggestions come from a local — so you won't be disappointed.
Note: In these Covid times, please understand that these Santa Cruz restaurants are subject to local restrictions, so dining in — indoor or outdoor — may not be an option. Takeaway and delivery are usually available.

If you order takeaway or delivery, please order on the website or call to place an order personally rather than using a 3rd party website. This helps support these restaurants in Santa Cruz, many of which are struggling financially with little support from the government to weather these tough times for the restaurant industry.

Eat safe, tip as generously as you are able to, and as always, be kind!
Vegan-Friendly Restaurants in Santa Cruz
It should be no surprise that the food options in Santa Cruz will include vegan, vegetarian, and other earth-conscious food. California is generally known for its progressivism, particularly in the environmental and health movements of the US, and Santa Cruz especially so!
These Santa Cruz restaurants aren't strictly vegan, with the exception of Cafe Gratitude, but they all make ample vegan offerings, making them a great choice when dining with a group with mixed dietary leanings!
Saturn Cafe
The beloved Saturn Cafe is located in the heart of Santa Cruz on Pacific Ave. They also have locations in Berkeley and Los Angeles.
This is a '50s diner-style restaurant serving vegan and vegetarian burgers, scrambles, and "BLT"s (plus so much more).
They also have local draft beers and Bloody Marys to enjoy, making this the perfect brunch spot. Keeping with the '50s theme, you can order a vegan milkshake or a root beer float from the soda bar!
Address: 145 Laurel Ave., Santa Cruz, CA
Charlie Hong Kong's
Over on Soquel Ave, you will find Asian-fusion food, street food style at Charlie Hong Kong's. They offer vegan and gluten-free options, plus they make sustainability a part of their everyday business practices.
Every part of their business is environment-friendly. They compost through the Santa Cruz composting program, locally make their own tofu, and source their vegetables from the farms of the Central California coast's so-called "salad bowl".
Some of our favorite dishes include Spicy Dan's Peanut Delight, Chiang Mai Noodles, and the Organic Sweet Garlic Tofu Rice Bowl. We also love their ginger lemonade!
They offer sustainably-raised fish, chicken, and meat for earth- and health-conscious omnivorous folks. They have a kids menu, too.
Address: 1141 Soquel Ave, Santa Cruz, CA 95062
Cafe Gratitude
The lovely Cafe Gratitude is an organic vegan restaurant in Santa Cruz. This place is really special for a variety of reasons.
For one, they take their commitment to environmentalism to heart. The food here is made with love using delicious locally sourced ingredients. The food reflects the importance of having gratitude and moving through the world with an open, loving heart.
Items on the menu are titled things like "Grounded" (potato bites), "Warm-Hearted" (pan-seared polenta), and "Humble" (a lentil curry bowl). They have salads and some interesting sides like kimchi, garlic-nut parmesan toast, or coconut maple "bacon".
Energize or chill out with one of their fresh-pressed juice blends, wellness shots, smoothies, coffee, or tea. It is located right in the heart of the Pacific Ave. shopping district, on Lincoln Ave.
Address: 103 Lincoln St, Santa Cruz, CA
Best Seafood Restaurants in Santa Cruz
Stagnaro Brothers
Seafood is a must-try while in a beach town. We recommend heading to the wharf and hitting one of the seafood restaurants there for a beachy, aesthetically-pleasing environment.
Our favorite spot for seafood in Santa Cruz is Stagnaro Brothers. You can get a walk-up window take-out meal or a sit-down dinner with views of the ocean.
Enjoy classics like fish n' chips and clam chowder with an incredible view.
Address: 59 Municipal Wharf, Santa Cruz, CA
Best International Restaurants in Santa Cruz
Akira Seabright
Akira is a fantastic sushi restaurant in Santa Cruz. Their Seabright location features local beers, sake and funky art.
They have some excellent and unique appetizers: the "Akira Popper" is super delicious, as are their "Melting the Albacore" and "Gem of Akira".
Their sushi rolls are super creative and satisfying, and with over 40 options, it's hard to choose!
Feeling stuck? Our personal favorite is the "Natural Bridges", which is named for the nearby State Park. It contains hamachi, lemon, fried garlic, basil, and cucumber, topped with seared tuna, avocado, nuts, ponzu, and spicy mayo. It is to die for!
They also do donburi, bento boxes, and of course, fried green tea ice cream.
Address: 1222 Soquel Ave, Santa Cruz, CA
Ambrosia Aptos
If Indian is your thing, head over to the nearby village of Aptos for some of the best Indian food near Santa Cruz!
It is worth the short trip, as this is the best Indian food around. Ambrosia Aptos will provide you an authentic experience complete with perfect, warm chai tea.
They strive to be a place that is open to the community, so this means including a vegan-friendly menu, so there is something for everyone!
Their tandoori sizzlers are also an excellent option for all to share. If you don't like to make a ton of choices when ordering, they have great prix-fixe meals making ordering easy. They offer all the classic Indian dishes, plus wine and beer.
Address: 207 Sea Ridge Rd, Aptos, CA
Las Palmas Taco Bar
California is known for its tasty Mexican food, and Santa Cruz is no slouch in this department!
Las Palmas Taco Bar is located right near the boardwalk and the wharf, making it convenient to grab your food to go and head to the beach or wharf for food with a killer view. They also have a small indoor and outdoor dining area.
We recommend the shredded crispy chicken taco or the Las Palmas super burrito. They offer soda from the local California company, Alameda Point Craft Soda Co. These are delicious cane-sugar sodas — no corn syrup here! Our favorite is the Uptown Burgundy.
Address: 55 Front St, Santa Cruz, CA
burger.
Looking for a tasty place to grab a burger? Well, head to burger. (yes, the b is lowercase and it has a period after it, it ruins my inner grammar freak soul as well) — it is the best place to get burgers around!
Their grass-fed beef burgers are high-quality and dressed with unique toppings. They have outdoor dining, milkshakes, and a large draft beer menu.
Plus, they are not limited just to burgers, despite the name! You can get salads, sliders, sandwiches, hot dogs, and breakfast sandwiches. No matter what you're craving, it's a seriously good choice, and a no-brainer if you're hankering for a burger.
Address: 1520 Mission St, Santa Cruz, CA
Kianti's Pizza and Pasta Bar
Head to Kianti's on Pacific Ave for an Italian meal that will delight your senses! They have a heated patio, fireplaces, and fireside tables.
Winos rejoice — they have an excellent wine menu containing many local wines. Not so into wines? Enjoy beer, specialty cocktails, "mocktails", smoothies, and Italian sodas.
When it comes to what to eat, it's pretty much all amazing. Their meatball appetizer is insanely good, as is the bruschetta. The rest of the menu will fail to disappoint.
We tend to order family-style salads, pastas, and pizzas. They also make individual-sized pizza, salads, and pasta along with their option for a kid's menu and desserts.
Address: 1100 Pacific Ave, Santa Cruz, CA
Sala Thai
Head on over to Ocean Street to enjoy the best Thai food in Santa Cruz at Sala Thai. The building is an A-frame building, so it starts as a cozy, almost cabin-like experience.
"Sala" in Thai translates to "house" in English, so it literally means "Thai House". They truly have created the homey feel they were going for in this establishment!
The staff and owner are incredibly friendly — basically, you are treated like a long-lost friend.
Plus their food is just wonderful! We love the Panang Curry and Chicken Satay.
Address: 353 Soquel Ave, Santa Cruz, CA
Pearl of the Ocean
Have you ever had Sri Lankan food?
Sri Lanka is a small island country off the southeast coast of India. It is a country whose influences trace back thousands of years, interconnected to many Asian cultures.
The food at Pearl of the Ocean reflects this diversity and the tropical environment in which it originates. Enjoy dishes like grass-fed deviled beef or an organic coconut carrot salad.
You will also find Sri Lanka is famous for its tea, which you can also find at this delicious restaurant, along with other tasty beverages!
Address: 736 Water St, Santa Cruz, CA
Tam's Chinese Cuisine
This is our pick for cheap eats in Santa Cruz. Tam's is inexpensive, delicious, and generous — you get a lot for what you pay for!
Our favorite is the hot and sour soup. For around $10-12, you can get a combo plate that comes with rice, 2 entrees, and an egg roll. They have sizzling platters as well, plus every other Chinese-American classic dish you can think of. They have it all!
Just remember, this is classic Chinese-American food, so a lot is deep-fried and sugary, so it's not always the healthiest choice…. but it offers a delicious bang for your buck, nonetheless!
Address: 2403 Mission St, Santa Cruz, CA
Marianne's Ice Cream
Before we wrap things up here, we have to share with you some of our picks for desserts.
To start us off, we have chosen a Santa Cruz staple, Marianne's Ice Cream. It has been around since 1947, a golden time in Santa Cruz's history.
They make all of the ice cream themselves, boasting 105 flavors. Truly, it's a place you should not miss when visiting Santa Cruz.
Address: 1020 Ocean St, Santa Cruz, CA
Mission Hill Coffee and Creamery
This is one of the more pricey places for dessert in Santa Cruz, but it is worth it for the quality!
Mission Hill is one of that new generation of artisan ice cream shops with unique flavors like basil, Turkish coffee, and blueberry goat cheese. They also have sweet <cand savory pies, macarons, sourdough bread, and cookies.
Get a coffee or affogato if you need a little kick, or if you want something non-caffeinated and refreshing, a milkshake or some lemonade will cool you down.
Address: 1101B Pacific Ave, Santa Cruz, CA
The Buttery
Yum. Let's just start this off with that. Yum.
The Buttery is an excellent bakery and cafe. They do sandwiches, pastries, and coffee. It is a spot that has been around since 1983 and is a favorite for many locals. It is so wonderful to walk in and see what is in the case for purchase that day. We recommend popping in for a cupcake and a cup of tea: it never disappoints!
Address: 702 Soquel Ave, Santa Cruz, CA
***
Beyond what has been mentioned, there are amazing places to eat in Santa Cruz. One of the best things about this town is the options for people of all stripes.
You will always find a spot to recharge after an active day with some nutritious food or indulge in desserts to soothe the soul.
When it comes to relaxing and recharging, generally, Santa Cruz has you covered. And with these tasty Santa Cruz restaurants, you'll find all that relaxing delicious as well!
Pin This Guide to Santa Cruz Restaurants!
Note: This post contains affiliate links, which earn me a small commission at no extra cost to you if you make a purchase using one of these links. Thank you for supporting this free content!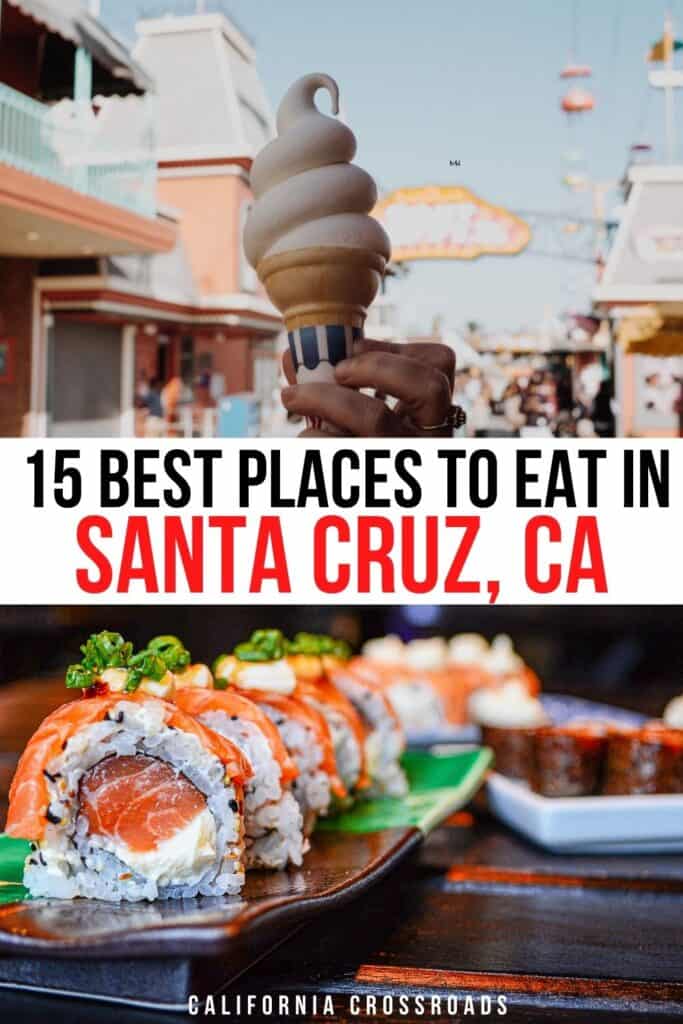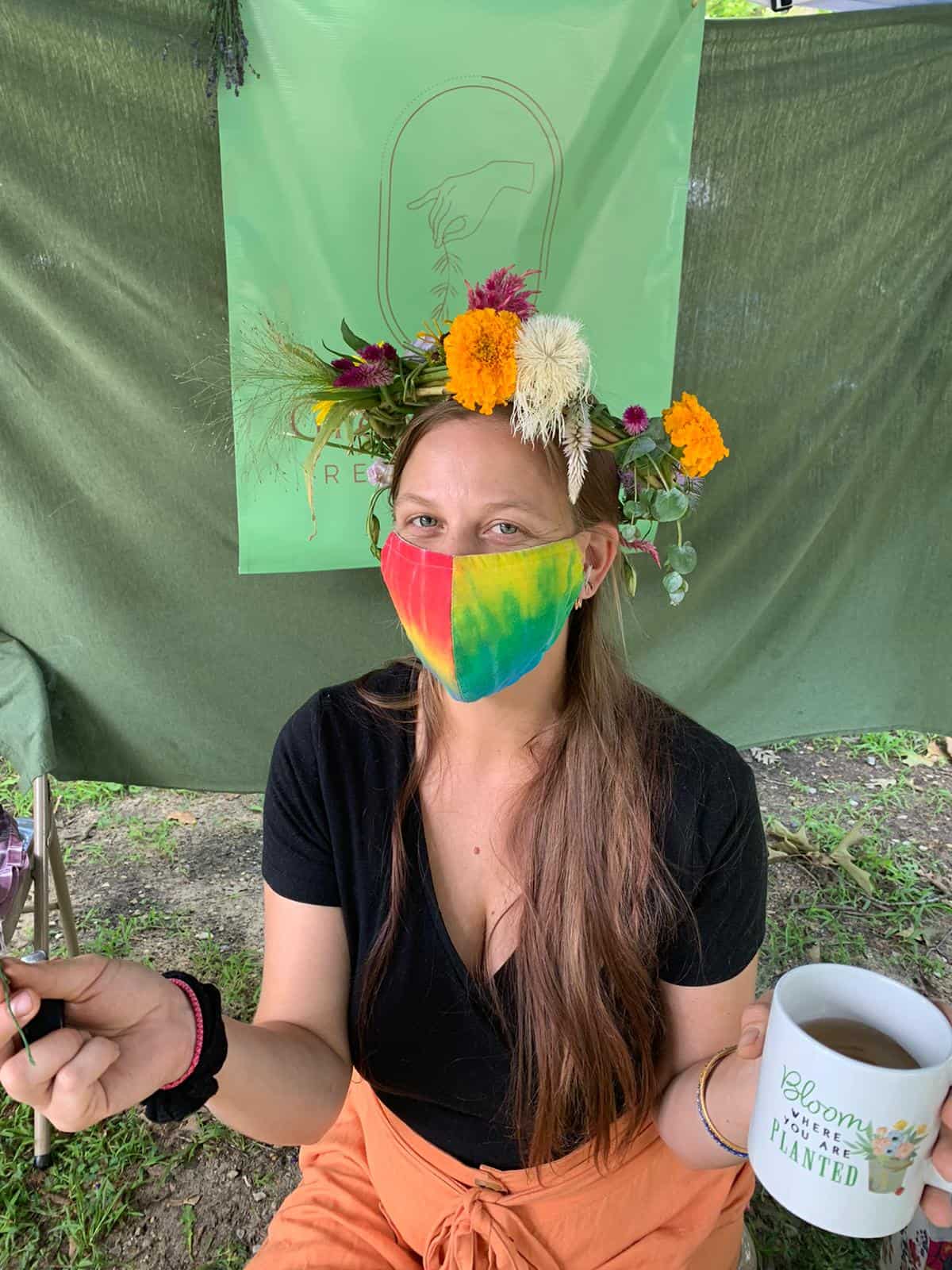 Allison is a writer, herbalist, musician, and lover of nature. She is an avid traveler and backpacker, having traveled throughout most of the United States and through parts of Asia and Europe. She has lived in Hawaii, Philadelphia, New Jersey, Boston, and of course, California. Allison has lived in California for 5 years, working on farms and in Yosemite National Park. She has been all over the state, enjoying many cities and of course, the many amazing outdoor wonders California offers. She currently resides in Aptos, Santa Cruz County, CA.