Kings Canyon National Park is truly fit for royalty!
Kings Canyon itself, for which the park is named, is over a mile and a half deep, making it the deepest canyon in the United States. If you're looking for Yosemite-like views without the crowds, Kings Canyon National Park is the place for you!
The park is split into two main areas, Grant Grove and Cedar Grove.  Both offer basic amenities such as groceries and gas, as well as beautiful rivers, mountains, and tall trees.
Both villages are can be accessed by Highway 180, but be sure to check for snow conditions and potential park closure between September and early May.
You might want to read this article on visiting Sequoia in winter, as the parks are very close together and are often visited as a twosome — a lot of the same information will apply to Kings Canyon in winter as well.
With its grand vistas, jagged peaks, and flowing waterfalls, Kings Canyon is nothing short of majestic. Whether you're there for a single day or for two weeks, get ready to be wowed!
Easy Hikes in Kings Canyon National Park
Grizzly Falls Trail
Note: This post contains affiliate links, which earn me a small commission at no extra cost to you if you make a purchase using one of these links. Thank you for supporting this free content!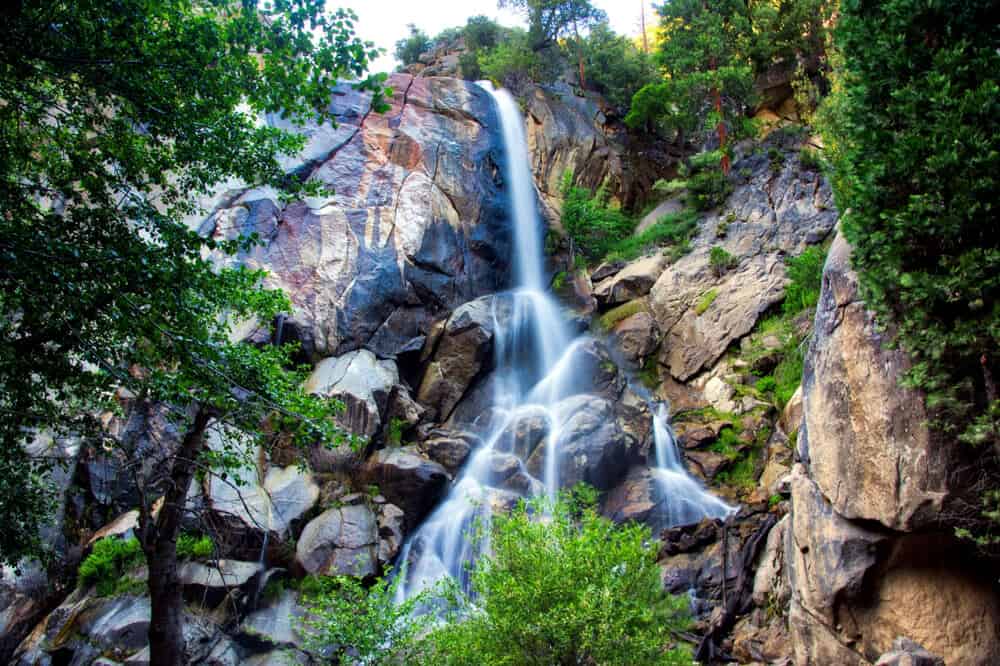 Distance: 0.1 mile roundtrip
Total Elevation Gain: 19 feet
Grizzly Falls may be the most convenient waterfall in all of Kings Canyon. The falls can actually be glimpsed from the Generals Highway, the only road connecting the two main areas of the national park, Grant Grove and Cedar Grove.
Make Grizzly Falls your lunch destination or stop there to get a quick peek on your way to somewhere else; it's worth it either way!
Many park visitors say that Grizzly Falls is their favorite waterfall in the park, despite its proximity to the main road. (If you need it, it's also a stunning spot for a centrally located bathroom pitstop).
Pull over at the Grizzly Falls Picnic Area and take the short jaunt up to the falls. The path is wide and quite short, so it's a great hike to do with kids. The falls themselves are over 80 feet tall and provide a lovely mist for you to cool down on hot days.
Roaring River Falls Trail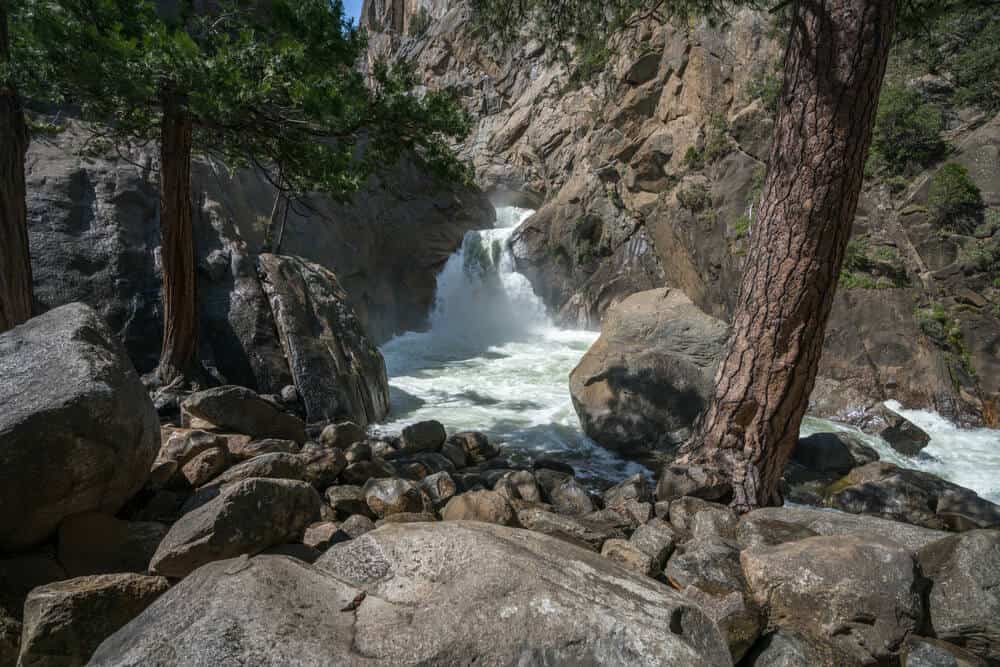 Distance: 0.3 miles roundtrip
Total Elevation Gain: 26 feet
The Roaring River Falls Trail offers the most bang for your buck! This riverside Kings Canyon hike is very short, but you'll still get views not only of the majestic Roaring River Falls, but also of craggy North Mountain.
The trailhead is right off of the Generals Highway, only 7 miles past Grizzly Falls. The path is paved, making it a great option for a wheelchair-accessible hike.
Roaring River Falls looks like it springs right from the rock. The falls flow down a multi-level rocky path into a churning, shimmering pool below. Move around the viewing area to get glimpses of the upper level of the waterfall.
While the water may look inviting, the rivers in Kings Canyon can be quite dangerous, so please do not swim.
General Grant Loop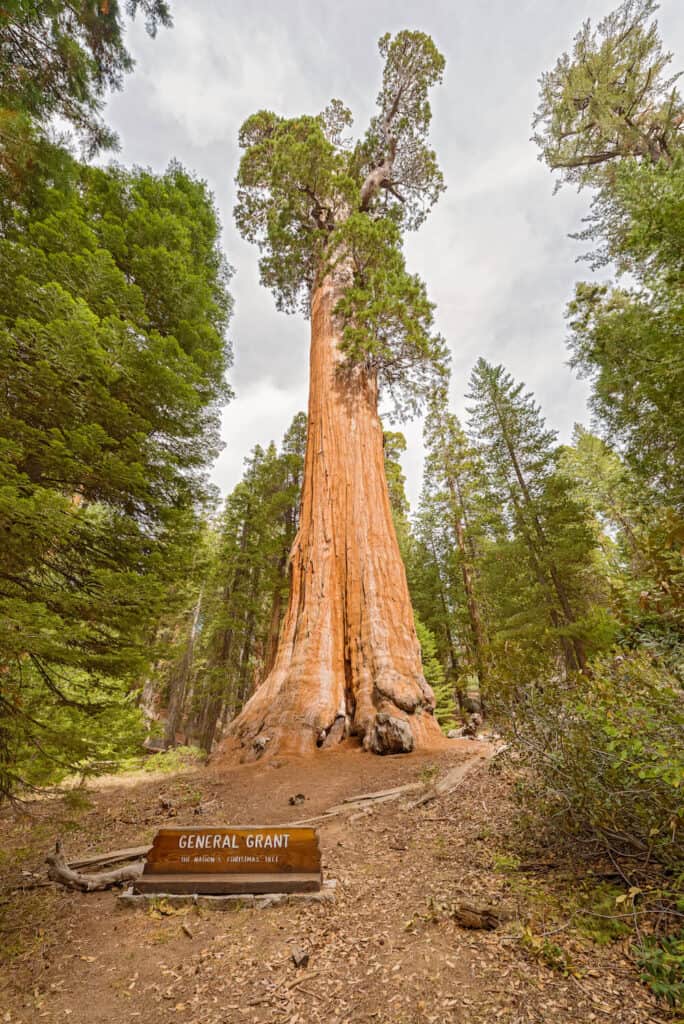 Distance: 0.6 miles roundtrip
Total Elevation Gain: 32 feet
You'll feel tiny as you walk amongst the giant sequoias in Grant Grove on your way to the General Grant Tree. The path is paved and is an easy walk. This hike is the perfect place for the whole family to see the trees that make Kings Canyon famous.
Back in 1890 when the park was established, it was named General Grant National Park. While the national park has since been renamed to Kings Canyon, the majestic General Grant Tree kept the name alive.
The General Grant Tree is one of the largest living trees in the world and has gained national recognition. In fact, in 1926 President Coolidge named the tree "The Nation's Christmas Tree" after hearing about the tree's colossal size!
In Grants Grove you will also have the option to extend the loop on various side trails, including the Sunset and Dead Giant loops. Make sure not to miss the Fallen Monarch Tree, a huge hollowed-out tree that you can walk through!
Intermediate Hikes in Kings Canyon
Road's End to Bailey Bridge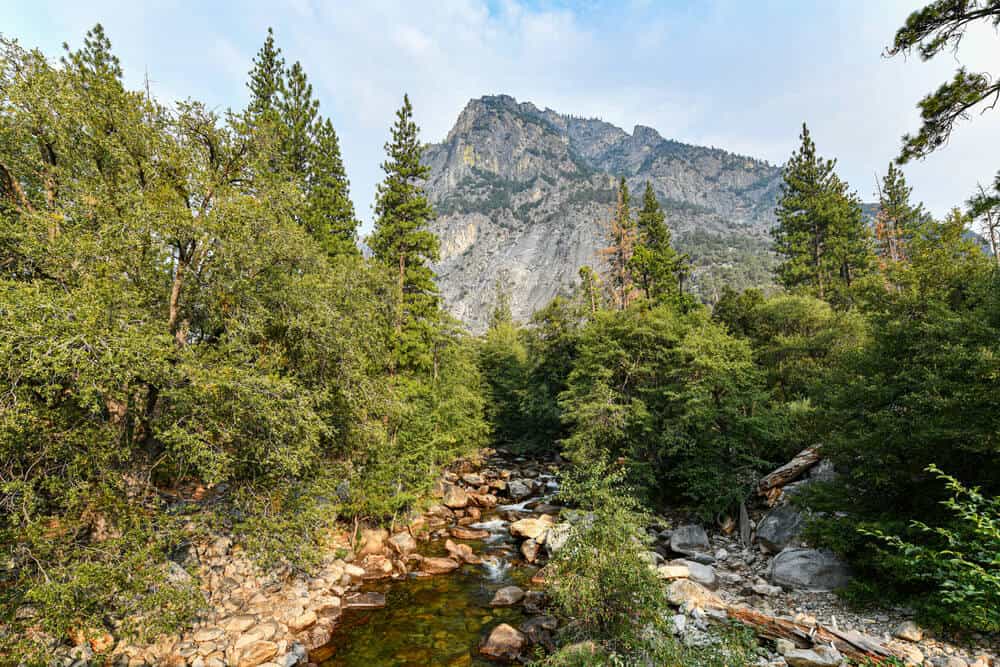 Distance: 4.7 miles roundtrip
Total Elevation Gain: 209 feet
Road's End is exactly what it sounds like. The only road into the park (Highway 180) dead ends here (5 miles east of Cedar Grove), making Road's End a perfect jumping off point into the wilderness! The loop to Bailey Bridge is a good option for a gentle hike that is a little longer.
The first portion of this hike can be quite exposed and hot on sunny days, so make sure to bring plenty of water and sun protection. However, later portions of the hike offer plenty of shady spots to relax by the river.
At a little over 2 miles, stay right towards the Bailey Bridge, which crosses over the quick-flowing Bubbs Creek. At a junction shortly after the bridge, take a right onto the Kanawyer Loop Trail, where you will soon reach a log-bridge stream crossing. Please follow park guidance on whether the river is at a safe level to cross here.
As the trail opens up into a grassy meadow, marvel at the large granite walls towering above you. At around 3 miles, you'll hit the Kings River. Follow the trail along the river and you will eventually hit the River Trail, where you can take a right to return to your car.
Challenging Hikes in Kings Canyon National Park
Seville Lake Trail
Distance: 12.9 miles roundtrip
Total Elevation Gain: 2,276 feet
The Seville Lake Trail is an out-and-back trail that offers the feel of the High Sierras without having to do a multi-day backpacking trip.
The trail ends at Seville Lake, a pristine alpine lake on the border of Kings Canyon and the Jennie Lakes Wilderness. While this trail is on the longer side, it is still doable with older children who are up for a challenging hike!
The hike begins at Rowell Meadow Trailhead, which you can access on a paved road that ends in dirt. All-wheel drive is recommended for the last section of road. Make sure you have a good map for this hike before setting out.
As soon as you step foot on trail, you'll start hiking up a gradual hill. Don't worry though – at about 3 miles, the trail flattens out and goes downhill. But don't forget to enjoy the plentiful mountain views on the way up!
Swim in sparkling Seville Lake as you gaze up at the sharp peaks above. The lake is one of the lesser-visited lakes in the area, so you may even have it to yourself (and the trout!). Stay overnight (get a backcountry permit from a ranger station if you choose to do so) or eat a picnic lunch and hike back.
The first part of the return hike can be quite steep and hot, so make sure to leave enough time. After that first climb, it's a smooth downhill back to the car.
Rae Lakes Loop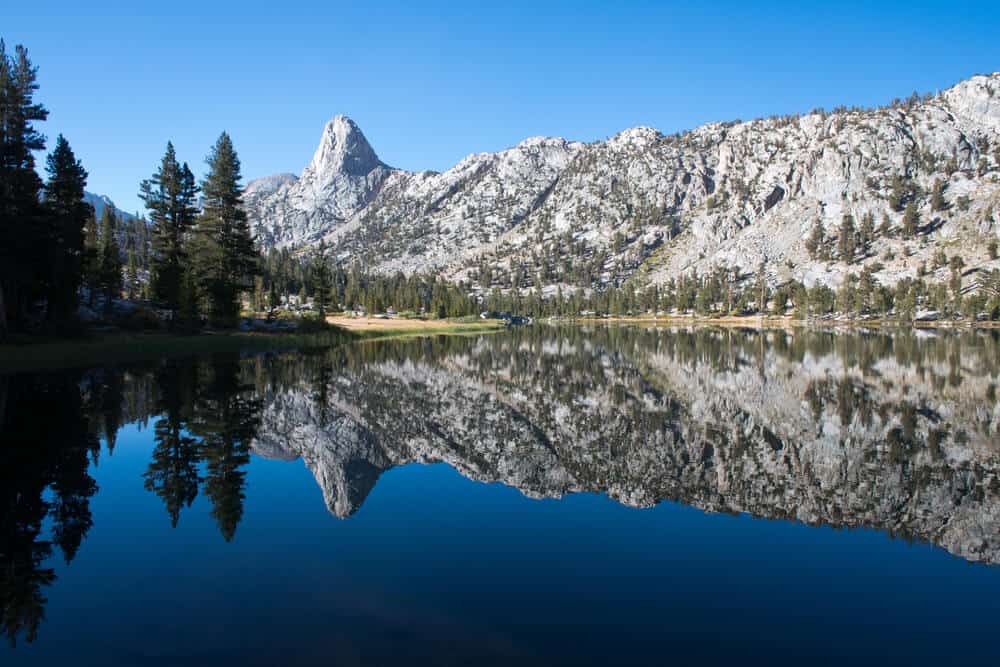 Distance: 41.4 miles roundtrip
Total Elevation Gain: 7,844 feet
The Rae Lakes Loop is one of the most popular backpacking hikes in the Sierra Nevada mountains for a reason. This hike includes deep-blue lakes, rushing rivers, and a steep climb up to a high pass. Rae Lakes Loop is the best of the Sierras and is truly a backpacker's paradise. This hike usually takes 3-5 days.
Because of the trail's popularity, you must get a backcountry permit before doing this hike. Also, be sure to speak with a ranger or check the site for camping restrictions before you set out. Bear canister food storage is also required to protect the area's wildlife (and to protect your food from critters large and small).
Starting at the Road's End Trailhead, the hike begins going uphill either towards Mist Falls or the steeper Sphinx Junction. To follow the loop clockwise, head towards Mist Falls. Pass through pine forests and lush meadows as you make your way towards Upper Paradise Valley camping area at about 10 miles. The trail goes up another 6 miles or so to the Woods Creek suspension bridge. Hold on to the swinging bridge as you scamper across!
From the bridge, the trail begins to climb into a high valley with lots of grass and flowing water. After climbing through granite, you'll hit the first lake at a little over 4 miles from the bridge. Keep hiking, winding your way through a lake-filled valley. Camp near Upper Rae Lake, where you'll get a clear view of the 11,978-foot Glen Pass looming above. Don't let it psych you out- you'll be climbing it the next day!
Switchback up Glen Pass about 2 miles from the Upper Rae Lake and grab a well-deserved break at the top. Don't let a marmot grab your snack! Take in the stunning views of lakes and mountains (you may be able to see Mt. Whitney, the tallest mountain in the contiguous U.S. on a clear day!) before heading down towards Junction Meadow.
Camping at Junction Meadow will leave you about 10 miles away from your car, but you'll be walking alongside Bubbs Creek for some time, which offers plenty of camping. Finally, hike those last ten miles down switchbacks back to your car. Then, celebrate!
Pin This Guide to Kings Canyon Hikes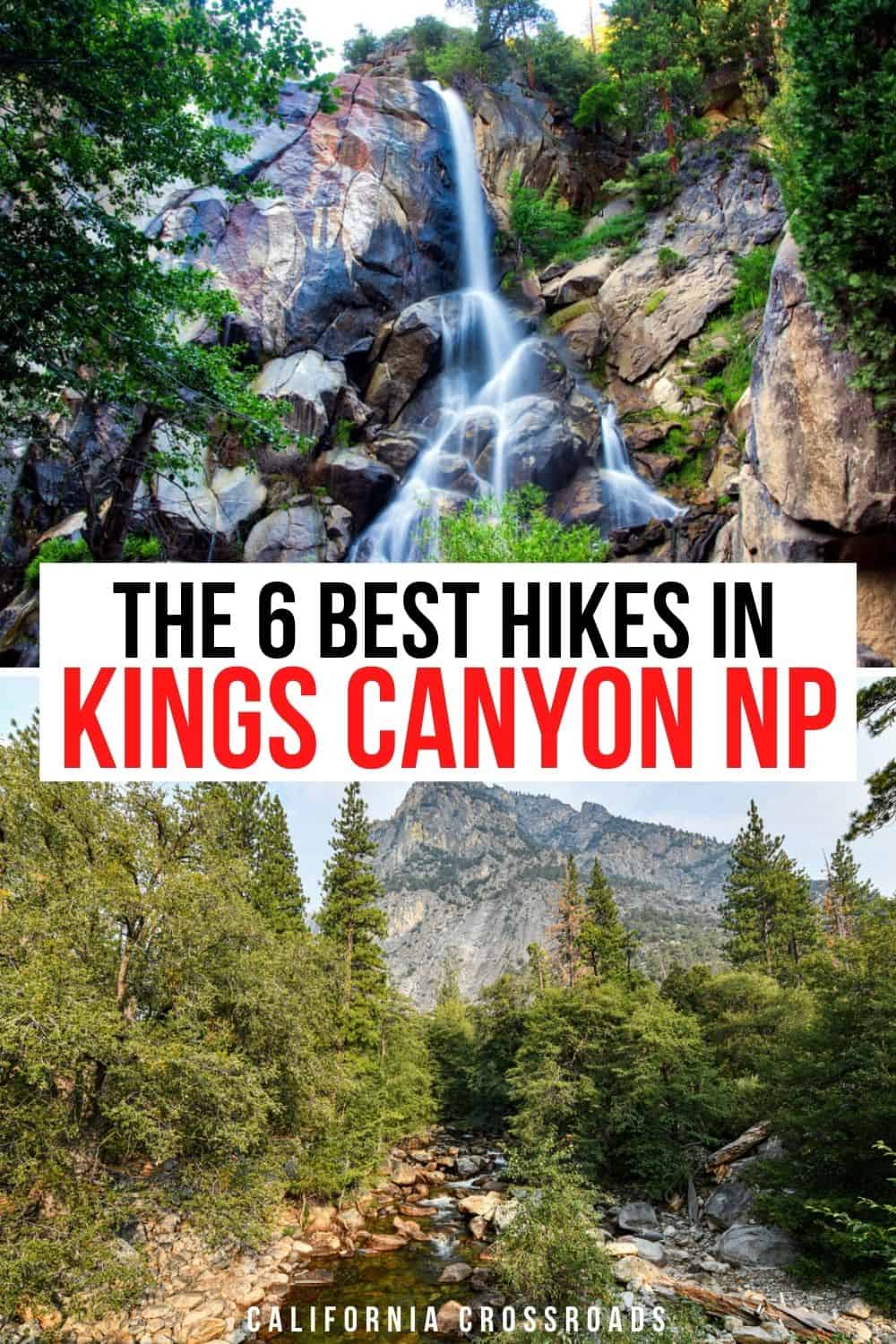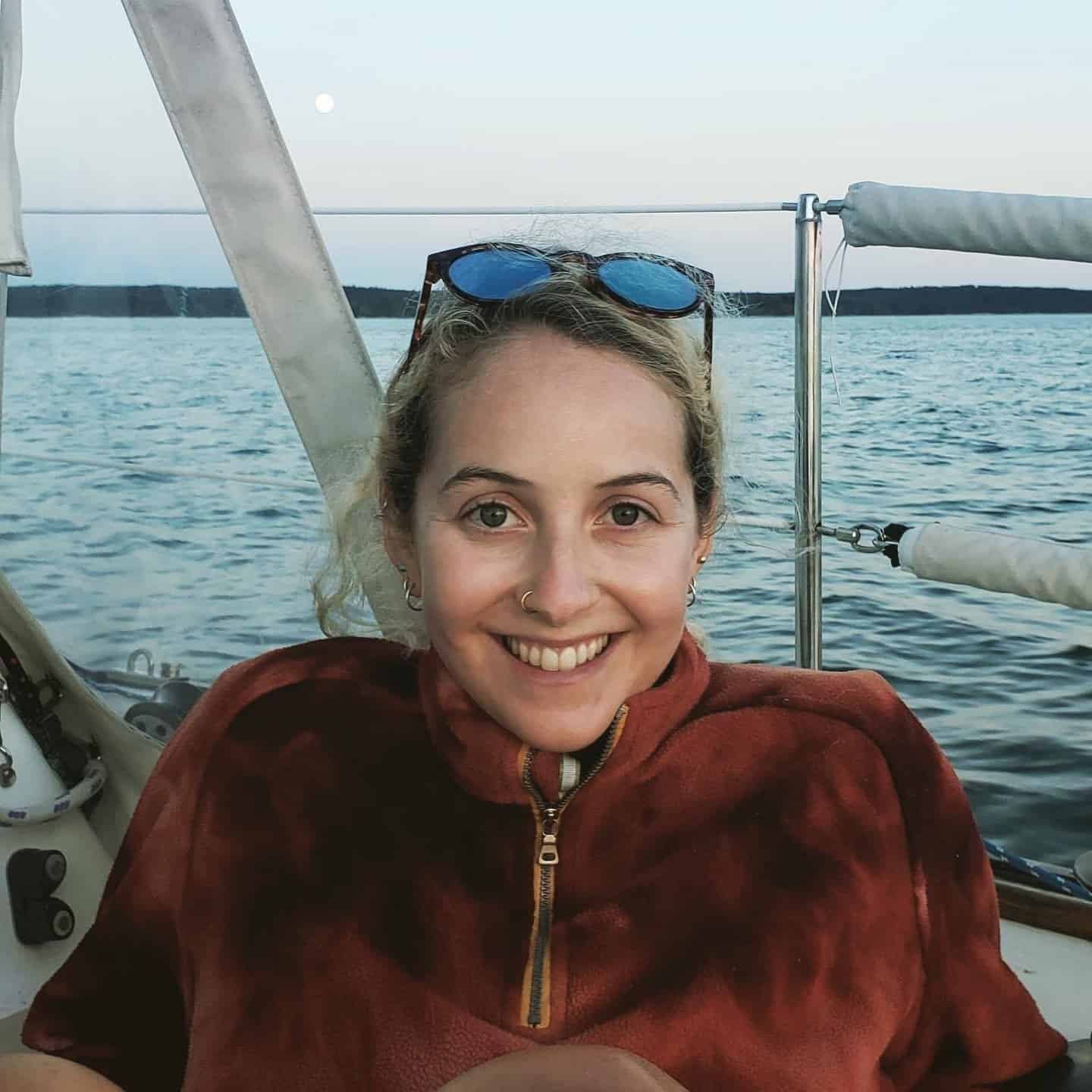 Lena is an outdoor recreation enthusiast born and raised in the San Francisco Bay Area. After going on her first camping trip at 3 months old, she hasn't stopped since. While her backpacking adventures have taken her to wilderness destination across the country, California's mountains and deserts will always be her favorite.