Hundreds of miles of hiking and walking trails snake their way through the iconic and varied forests of the Redwood National and State Parks.
Impossibly positioned between the major hubs of human activity in San Francisco and Portland lies an older world, an ancient world, inviting us each to come, to be lost and to be found.
You do not have to wear the label "hippie" or "outdoorsman" to be struck by the sheer scale of this ancient world and walking amongst the roots of the giants of those forests is an experience that will cling to your very core.
This post is not a list of which trails to take or not take. They are not ranked or numbered because there is no right or wrong path to take when each one lends itself to a new and different experience, but few of us have the luxury of time or perhaps even the inclination to comb through every bit of trail that the vastness of California has to offer.
Whether a trail is "the best" or a "must-see" is a subjective matter, because just as the forest and its trails are unique so are the hikers that trek along with them.
A little research before pulling your pack on and head out the door can make all the difference in what you take away from the experience. Struggling to find the trailhead or parking once you get there can start your trip off on the wrong foot, or perhaps you didn't realize the trail you chose went through a riverbed and now you've got wet feet.
Hiking with small ones? You might enjoy a shorter trail more than one of the "must-see" longer trails to avoid the over-tired meltdowns. Newly single and definitely not ready to mingle? Opt for one of the less popular trails and give yourself space for quiet reflection.
Rest assured though, whether you are venturing out for fun, or peace, or exercise, or to take in the views, you can and will find all of that in the Redwood Parks. These are a few of my favorites and I do hope that you will venture out and enjoy some or all of them in your own time and in your own way.
Best Hikes in Redwood National & State Parks
Prairie Creek Redwoods State Park
Fern Canyon Loop Trail
Note: This post contains affiliate links, which earn me a small commission at no extra cost to you if you make a purchase using one of these links. Thank you for supporting this free content!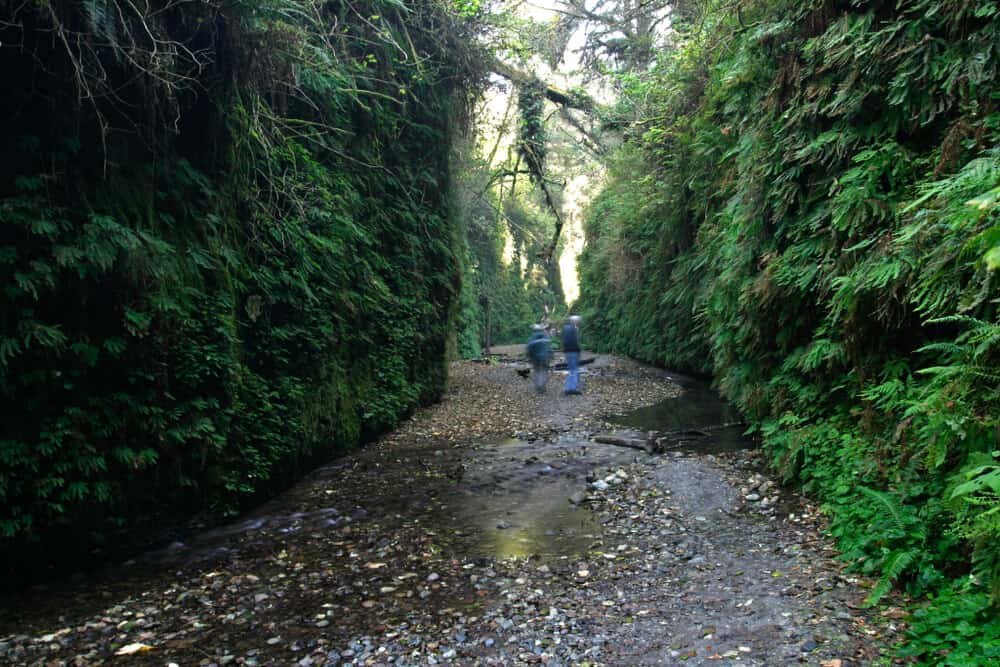 Distance: 1.1 mile loop
Elevation: 118 feet
Why we love it:
This hike is accessible to most, regardless of age or physical prowess. Those travelling with children, elderly, or injured can use this trail to still experience the majesty of one of the most beautiful State Parks in the Redwood National & State Parks complex safely and happily.
It is also a fantastic trail choice for someone who needs a quick refresh in nature but can't dedicate an entire day to tramping through the forest.
The trail meanders magically through a gravelly creek bed surrounded by overwhelmingly lush vegetation. As the name would suggest, the understory along this trail abounds with mammoth fern, but there is no lack of old-growth redwoods and firs to remind us all to stop and look up.
Bring your waterproof boots and gear and let the kid in you and/or the kids with you splash and play your way over the stones and fallen logs. Pull out your camera along the way and do your best Julianne Moore impersonation, as you may recognize this otherworldly trail from The Lost World Jurassic Park sequel!
You will not likely have this trail to yourself, it has become quite popular, but it is hard to care very much in the company of such an incredible display of life. The serenity is a built-in feature.
As always, if you want more nature and fewer people on your hike, I suggest investing in some warmer gear and tackling the trails in the off-season.
James Irvine Trail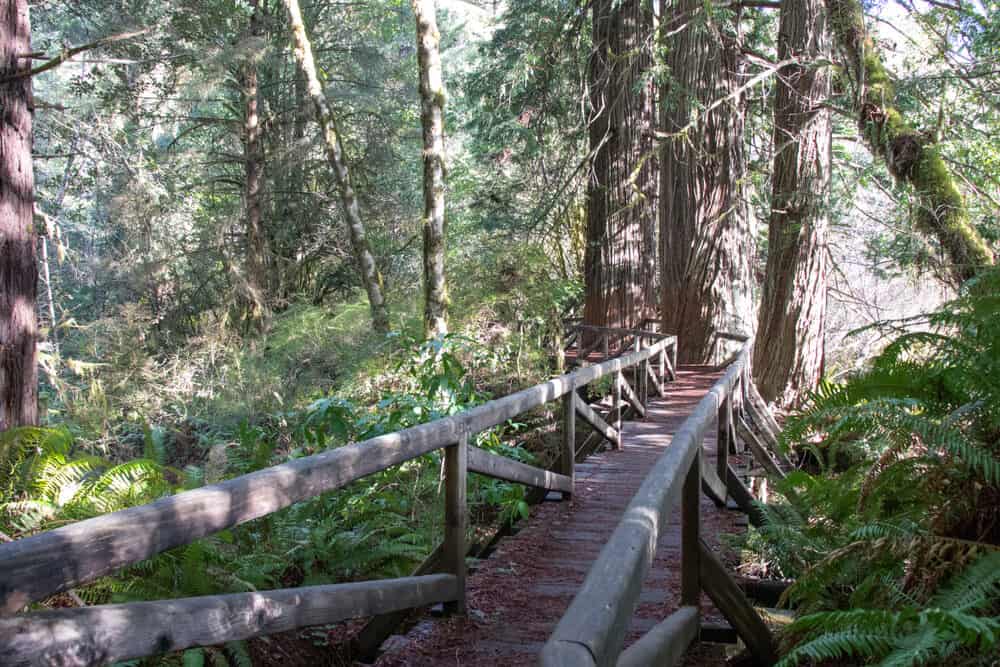 Distance: 10.7 miles out and back
Elevation: 1,604 ft
Why We Love It:
Do you have more time or looking for a longer, more challenging hike?
Instead of driving to the Fern Canyon Trail Head, park at the Prairie Creek Visitor Center and follow the James Irvine Trail a little over 4 miles to where it sweeps down to meet the Fern Canyon trail.
You'll get the same beautiful moments amongst the ferns with more quiet time amongst yourself and the redwoods, without the crowds who tend to gather around the closer trailhead.
There'll be old-growth redwood forest, the beautiful peaceful sound of Prairie Creek, the ocean, and the beautiful fauna of Fern Canyon to boot.
Redwood National Park
Trillium Falls Trail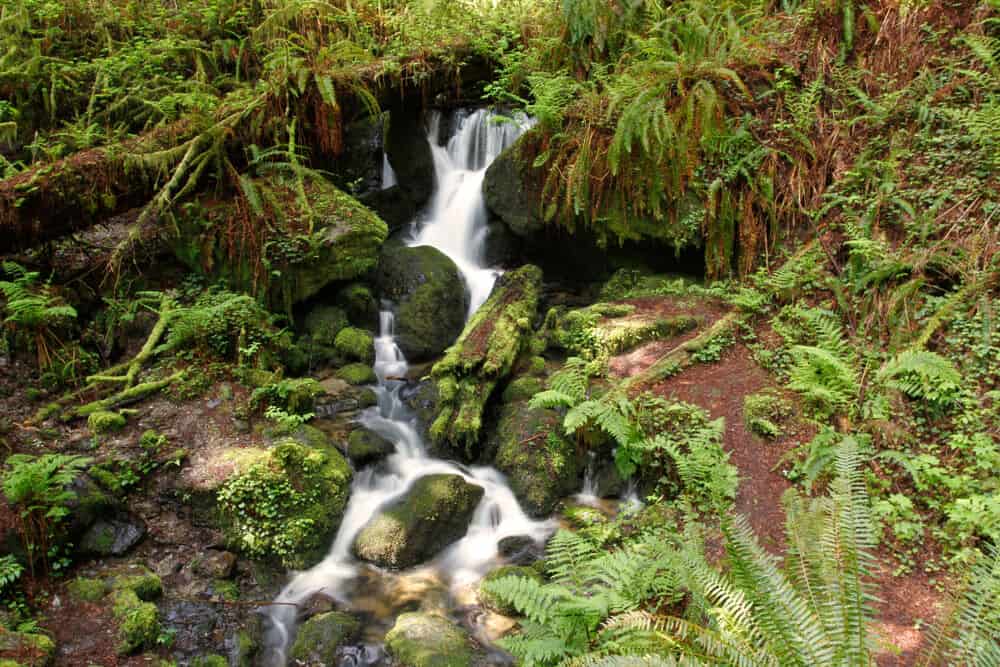 Distance: 2.6 mile loop
Elevation: 433 feet
Why We Love It:
The Trillium Falls hike offers slightly more of a challenge than Fern Canyon, with a bit more distance to it and steeper slopes to traverse, but that isn't the true purpose of this hike.
This is the hike you take for the hard reset. This is the hike you take to forget, or to remember. The hike you take to feel utterly connected to it all and disconnected from everything else.
While this hike is still accessible enough for the whole family, and it is one of the more heavily trafficked trails in the parks, it is an excellent choice for the solo hiker. If you are aiming for a little solitude, hit the trail early in the morning or better yet in the off-season between November and March.
Of course, it is worth making the hike in the spring as well though, even through the crowds, to catch the trail's namesake in bloom alongside a plethora of other beautiful flora. The bright white petals of the trillium flowers stand in almost defiant distinction to the dark rich soil and the vibrant greens of the leaves and moss spreading from the forest floor to its impossibly high ceiling.
You will hike under a canopy of old-growth redwoods with an understory teeming with fern and moss-covered tree trunks and stones, and it quickly becomes impossible to ignore the weight of the history under your very feet and on display for what feels like your eyes alone.
It's not the kind of history you will find in a book or doled out to you by the dry voice of the middle-aged man your father went to school with, but a history of life itself, life and death and rebirth, the living definition of continuation.
In refreshingly stark contrast to the ageless nature all around, you will come to the steel bridge that crosses over the small but picturesque waterfall that the trail is best known for. Do not be shy, stay a while on this lovely bridge, ponder all of life's triumphs and troubles, or at the very least snap a few photos for the 'gram.
If you feel the need to get closer to the waterfall, do so while keeping the integrity of the natural formations and organisms in mind as you make your way down the small bank and onto the stones and logs sitting at the base of the fall.
Coastal Trail to Flint Ridge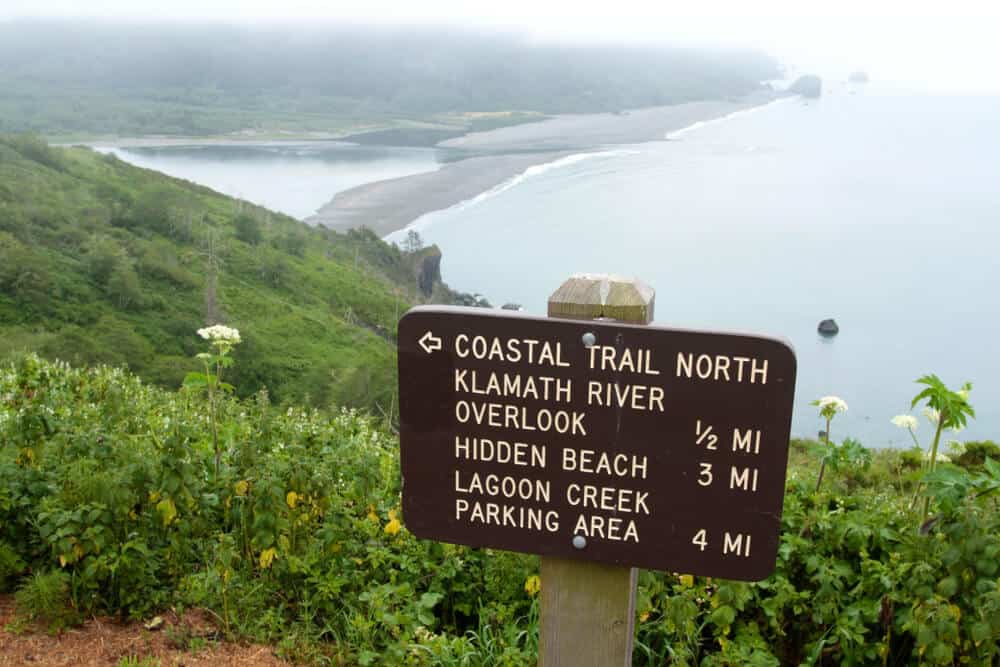 Distance: 8.6 miles out and back
Elevation: 1,771 feet
Why We Love It:
For those of you seeking more of a challenge, this moderately rated trail is the most strenuous on this list. It has more distance and more incline to it but is less heavily trafficked than other long treks like the Redwood Creek Trail (an amazing trail if you are looking for the most ancient of redwoods).
The true beauty of the Flint Ridge trail lies in its diversity. It begins along riverbanks, veers around a quaint and peaceful pond, delves into a stunning crop of old-growth redwoods, and finishes with views and access to the coast.
Because it is one of the lesser-traveled trails, it has an element of solitary enjoyment to it that many other trails in the iconic forests of northern California are lacking. The wildlife also seems to greatly appreciate that aspect of the area surrounding this trail, so keep an eye out for our furry and feathered friends along the way.
Parking for the trail head is relatively easy to find. You can park in a lined pull-off on Alder Camp Rd just before it intersects with Klamath Beach Rd and take the crosswalk to the trail signs.
There are several spaces, and the small lot rarely fills up for this lesser-known trail, but it is always best practice to be the early bird.
Not only does it ensure that you will be able to find parking with ease but it also affords you more time to amble along and enjoy the breathtaking views, stop and watch the curious patterns of a Douglas Squirrel, or follow the slime trail of a massive banana slug.
Gentle Reminder for Hiking in Redwood National Park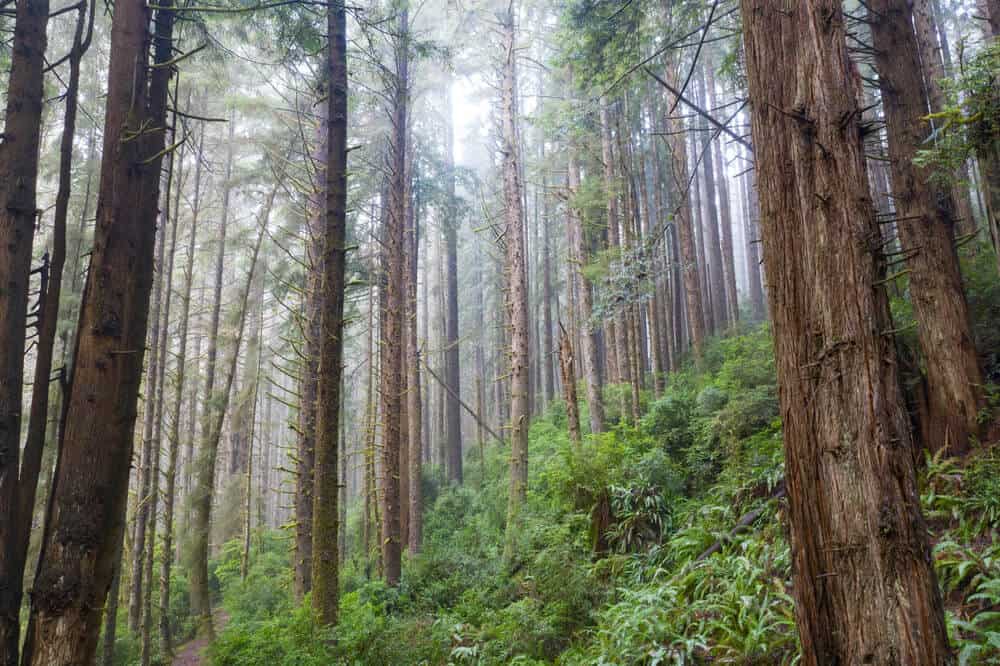 Anyone interested in hiking — basically, anyone who has read this far — implicitly has a bit of an adventurer's spirit.
It is important for the ecological health of one of our planet's most treasured and ancient forests that we each try to rein that impulse in while hiking the trails of the Redwoods National and State Parks.
Going off-trail can be incredibly tempting, to draw closer to the colossal ancients all around you, or to follow a particularly beautiful specimen of wildlife just a bit farther, but these simple acts of curiosity can have major impacts on the landscape and far too many visitors give into that temptation every single day.
The best way to ensure the parks stay healthy enough for all of us to enjoy is to not encroach upon them or try to change them. We share the time we spend on the trails with them, we give them our space to learn from them and to love it, but they belong to themselves alone.
Pin This Guide to Hiking in Redwood National Park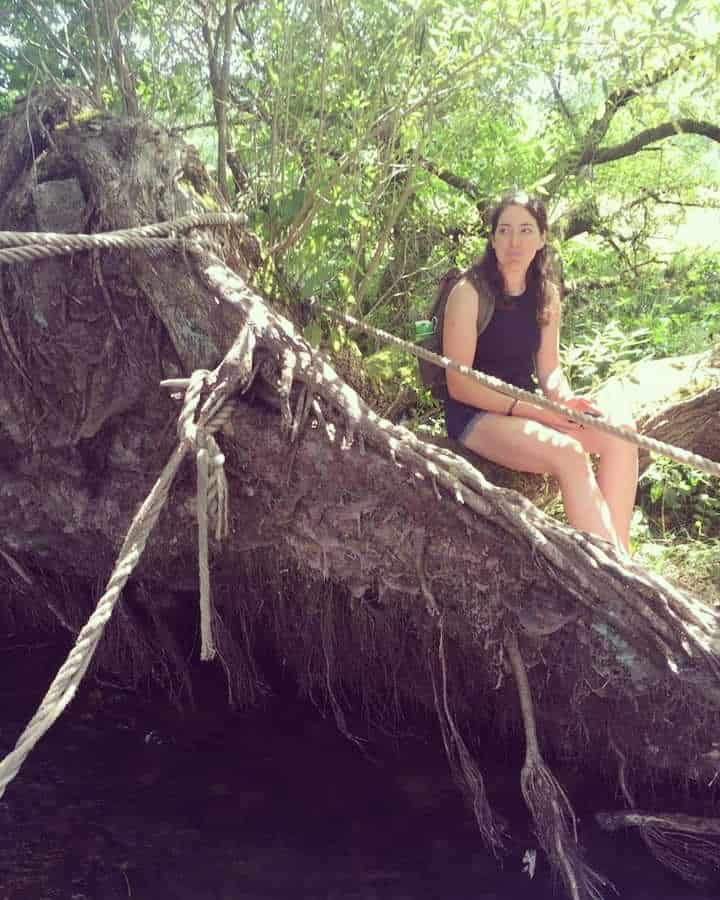 Cara was born and raised in an old-world small town in the heart of the Virginian Blue Ridge Mountains, where being able to get outside and experience and enjoy nature was a vital part of her life. Cara's military service landed her in Monterey California for several years, where she quickly fell in love with the state and all that it has to offer for the outdoors lover. She has spent her entire adult life since then avidly traveling around the world, enjoying all that the Earth has to offer, and sharing it all with her three incredible children.