Nestled in the southeastern part of California, the Mojave National Preserve is one of the most underrated hiking destinations in the state.
With Death Valley National Park and Joshua Tree National Park so close by, the Mojave can seem easy to pass up. But trust us: just one visit to its unique environment will have you begging for more!
In fact, the Mojave National Preserve actually has a larger collection of Joshua trees than Joshua Tree National Park and a more extensive set of dunes than Death Valley!
Not to mention the diverse wildlife population that guarantees animal sightings like wild cattle, horses, bighorn sheep, tortoises, and desert iguanas.
Add in the complete lack of crowds and you can be exploring one (or many) of the mesmerizing trails in Mojave National Preserve all to yourself. It doesn't get much better than that!
Just make sure to wear comfortable shoes, stock up your water supply, pack a few snacks, and fill up your gas tank before embarking on your journey because there are little to no amenities in the preserve itself. But that's what makes it so special and untouched!
Whether you visit as a weekend getaway in Southern California or along the road from Los Angeles to Las Vegas, here are 5 incredible hikes in Mojave National Preserve for a variety of levels of hikers. Bonus: many of them are dog-friendly!
The Best Mojave National Preserve Hikes
Lava Tube Trail
Note: This post contains affiliate links, which earn me a small commission at no extra cost to you if you make a purchase using one of these links. Thank you for supporting this free content!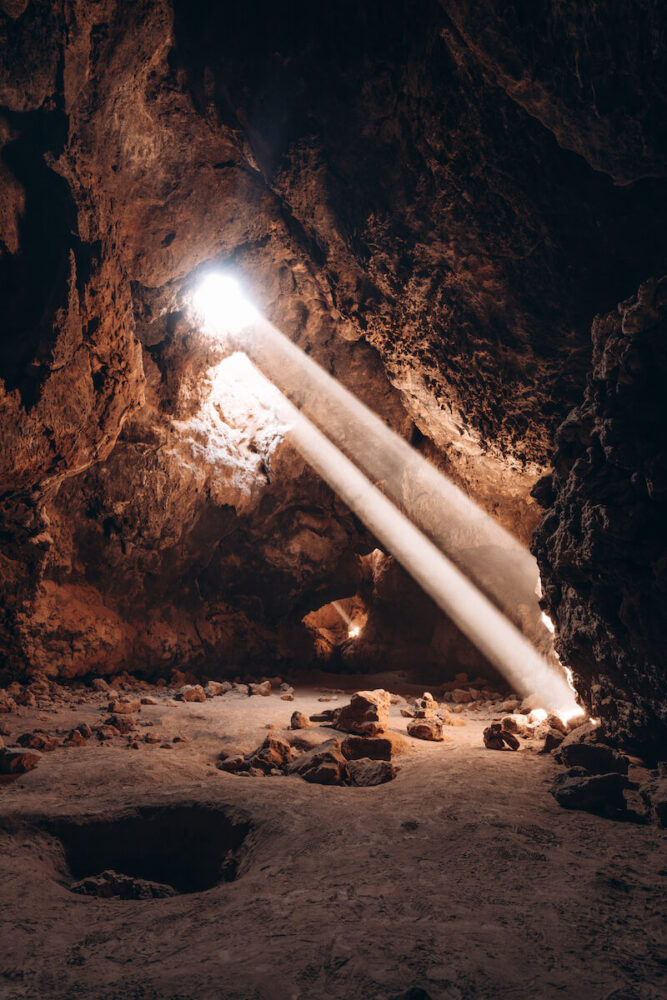 Distance: 0.5 miles roundtrip
Difficulty: Easy
Elevation Gain: 86 feet, plus some stairs into the lava tube
Dog-friendly: Dogs are allowed on a leash, though the stairs into the tube may be difficult. Use your judgment as to whether your dog would use the stairs and if you can carry them if they won't.
This natural wonder is one of the most popular Mojave hikes, but there is still a pretty good chance you'll be the only hiker around thanks to the preserve's low traffic… Oh, and the need for a 4×4 vehicle to get to the trailhead!
The 5-mile road to the Lava Tube is rugged at best and quite frankly in the middle of nowhere, so please do not attempt to travel here without plenty of water and the necessary vehicle.
Best practice when visiting remote desert landscapes like the Mojave National Preserve is to bring several gallons of water with you in your car.
I suggest at least 2 gallons just to be safe, and carry at least a liter or two of water on your person when you hike, depending on the hike length. For a hike of this length, you don't need much, but still, you'll want to have plenty of water in your car in case you get stuck or break down.
Once you've made it to the trailhead, you will head out on a rather short journey that will leave you impressed from start to finish.
It can be easy to get lost in the valley of black volcanic rocks, so just make sure to keep an eye out for the small lava tube entrance sign to your right about a quarter of a mile in.
The rickety ladder that stands before you can feel a bit intimidating at first but it leads you into the depths of a lava tube so shake those nerves away and go explore!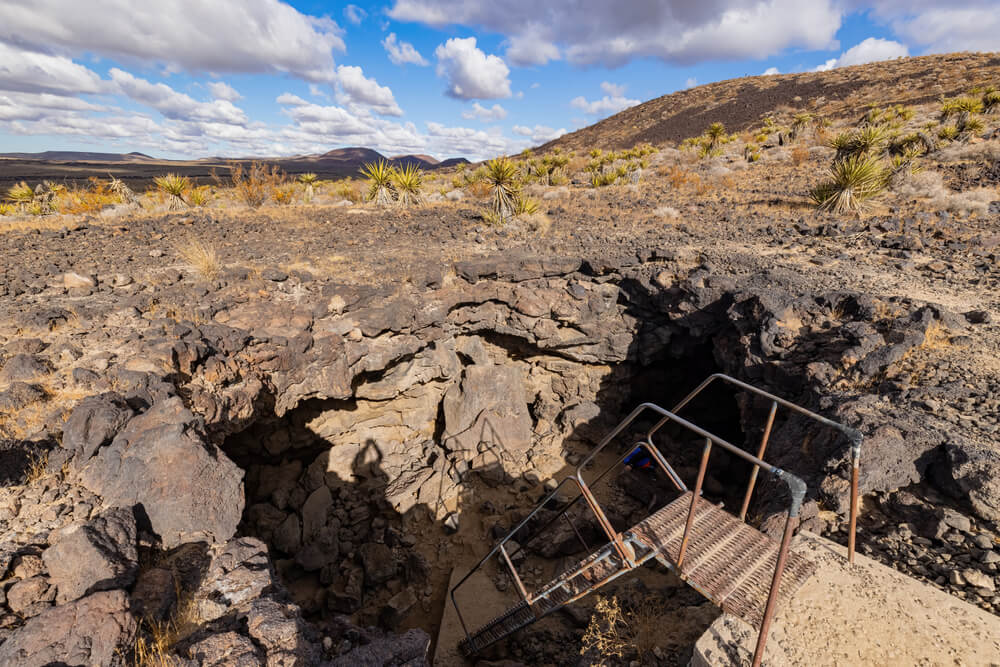 It's only 16 steps down and before you know it you will have entered a subterranean world with pockets of light that shine down amongst its holes creating a magical setting.
Talk about a photographer's dream, amirite?
The most impressive part of the cave is tucked away so do yourself a favor and bring a flashlight so you can safely duck under rocks (I promise you won't have to crawl) to get to the main cavern where beams of light shine down all around you.
Tip: Try to plan this hike early to midday (between 11 AM – 2 PM) when the sun hits it just right to see it in all of its glory and if it wasn't obvious, avoid overcast days completely. It may be extra hot during this time though if you're visiting in summer, so bring a sunhat, lots of sunscreen, and lots of water.
Kelso Dunes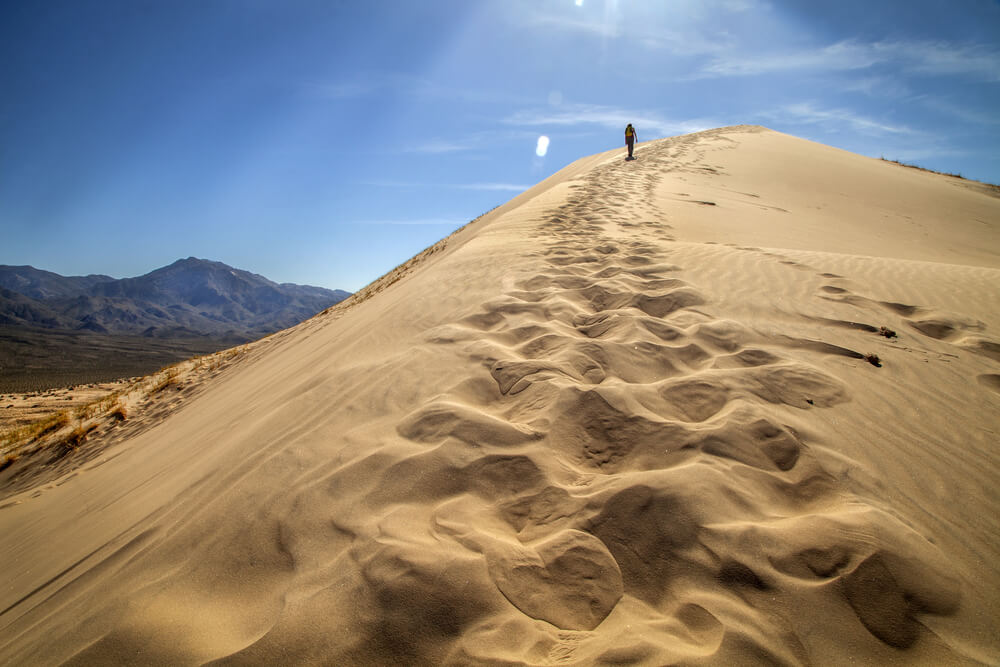 Distance: 2.7 miles roundtrip (though there are multiple trails and ways to the top, this route is the one listed on AllTrails)
Difficulty: Moderate
Elevation Gain: 423 feet
Dog-friendly: Yes, on a leash at all times. Keep in mind the sand would be very hot on their paws, though, so it's best done early in the morning around sunrise when the sand is at its coolest.
Like most dunes, there are no definite trails as the wind constantly pushes the sand around but the goal remains the same: make it to the summit of a dune and relish in the miles of sand that surround you.
For those who haven't had the pleasure of hiking a dune before, just know that as easy as it may look, it is a strenuous task and sand has a way of slowing you down so give yourself some extra time to enjoy it.
Nonetheless, there's no feeling quite like sitting atop of a dune and taking in the world around you especially at sunrise or sunset when the sun compliments the ripples in the sand.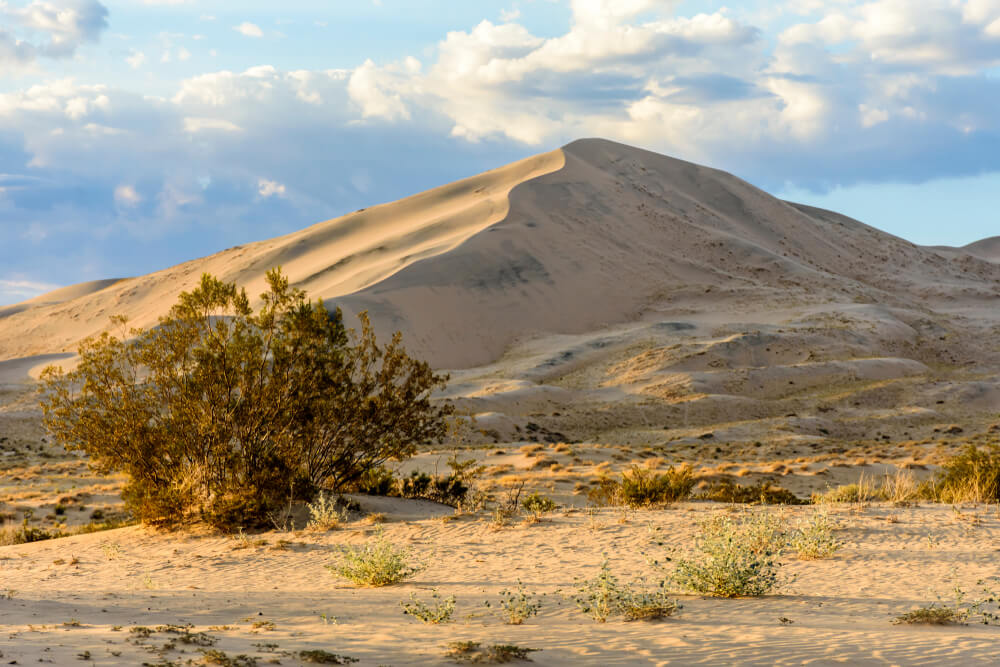 When you have locked in a dune you wish to climb, start your ascent and listen closely as small sand avalanches cause rumbling below your feet. (You may have also heard this phenomenon be referred to as "singing sand".)
Another great part of the dunes is that you can make the trip as easy or strenuous as you'd like. Only up for a short trip? No problem! Walk around the base of the dunes at your leisure. Want something more challenging? Great! Look for the tallest summit and get a move on.
And most importantly, have fun! Channel your inner child as you run amongst the sand and slide down slopes. You may be knocking the sand out of your shoes for a few weeks but it is totally worth it.
Rings Loop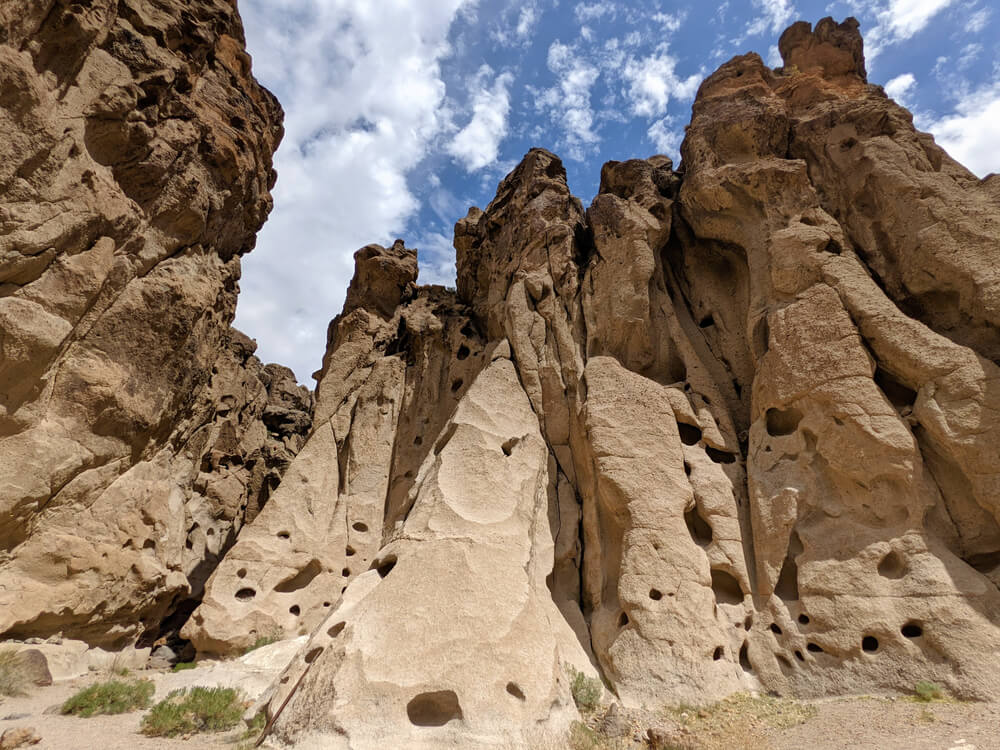 Distance: 1.3 miles roundtrip
Difficulty: Moderate
Elevation Gain: 127 feet
Dog-friendly: Technically yes, they are allowed if on a leash at all times. However, you will not be able to experience the Hole-in-the-Wall / Rings section with your pet, which is kind of the point of this Mojave hike! If you bring a pet, take the detour mentioned below.
This is by far the best hike in the Mojave National Preserve, and it's one of the very few places you can expect to see other hikers (though I'm only talking about 2-3 groups, tops).
Everything about the trail is intriguing from the diverse desert plant species to the mesmerizing geological features and let's not forget the fun challenges along the way.
Before I get into too many details let me just start by saying you will definitely need a bit of upper arm strength to experience the trail in its entirety.
Towards the very end of the trail you will encounter two sets of iron rings that you will need to use to lift yourself between slots in the rocks to get up to the next level.
Now to be fair, I have very little upper body strength and although I found climbing the rings extremely difficult (and exhilarating), I was able to complete the challenge on my own so I highly recommend giving it a try.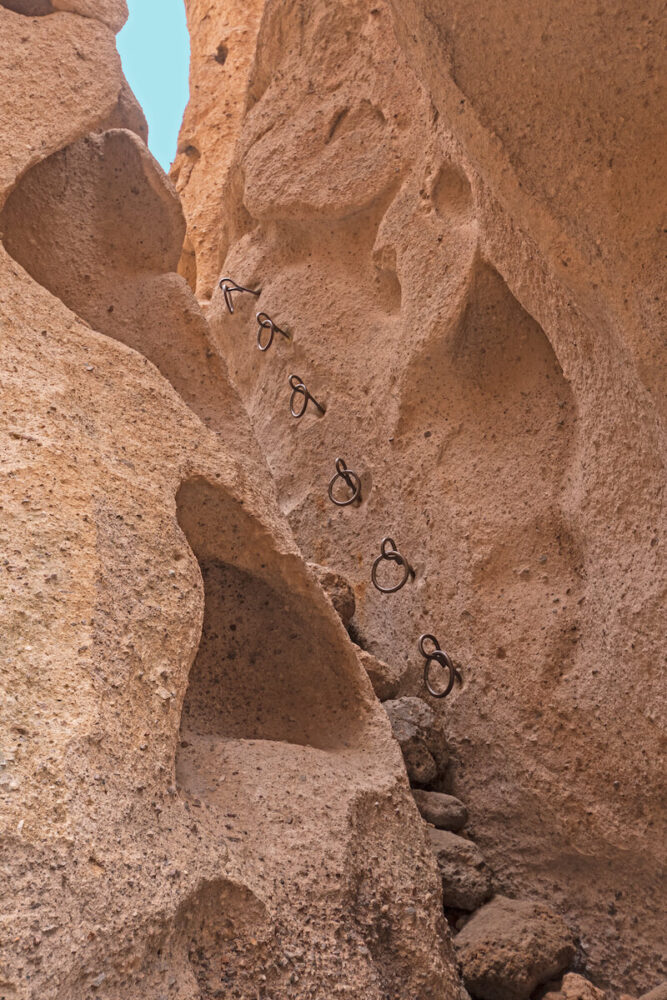 Once you've climbed up the rings, you are instantly rewarded with a narrow, winding slot canyon that leads you to a picturesque cluster of boulders to scramble across.
A majority of the trail leading up to the rings is flat and you'll see plenty of desert flora and petroglyphs carved into large rocks along the way.
As you near the rings portion of the trail, you will be engulfed by a canyon with walls covered in deep pockets that resemble a huge beehive of sorts. Because of this unique geological feature, the trail is often called a different name, the Hole-in-the-Wall Trail.
If you do not feel comfortable climbing the rings, fear not, there is a short detour available that requires a bit of easy rock scrambling and takes you right back to the visitor center where the trail began.
You'll see signs pointing to an overlook at the very end of the trail but don't even think twice about it. Just go. The extremely short side trip provides breathtaking views overlooking a massive slot canyon with holes peppered all throughout.
Teutonia Peak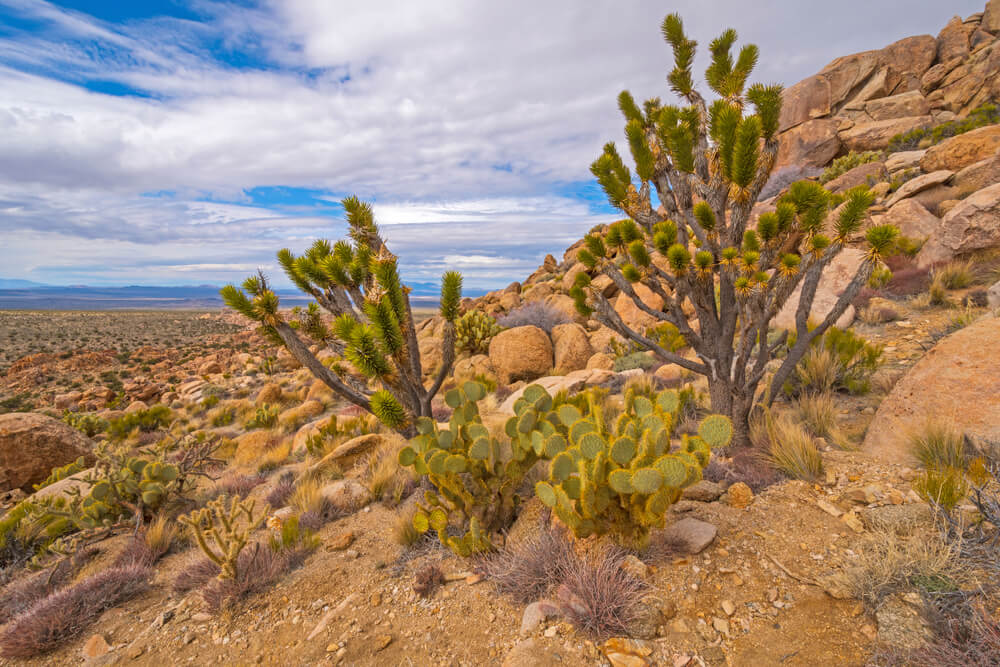 Distance: 3.2 miles roundtrip
Difficulty: Moderate
Elevation Gain: 659 feet
Dog-friendly: Yes, on leash at all times.
If you have a thing for Joshua trees, hiking Teutonia Peak is an absolute must as it takes you through the largest concentration of Joshua trees in the entire world.
Note, though, that the Joshua trees along this route were burned recently in the Cima Dome Fire, though, and they are slow to come back.
If that's not enough to get your motor running, a walk across the most symmetrical dome in the country, Cima Dome, ought to do the trick.
As you make your way through the forest of Joshua trees and along the sandy plain of the dome, you'll notice the extensive ruins of what was once a silver mine in the late 1800s.
Feel free to wander around the grounds of the mine to get a closer look at what remains but steer clear of the mine shaft which does not technically have a grate blocking it off but is NOT safe to explore.
It's all uphill from there. You'll gain an elevation of 700 ft as you ascend into the rocky terrain and up to the panoramic peak of Teutonia.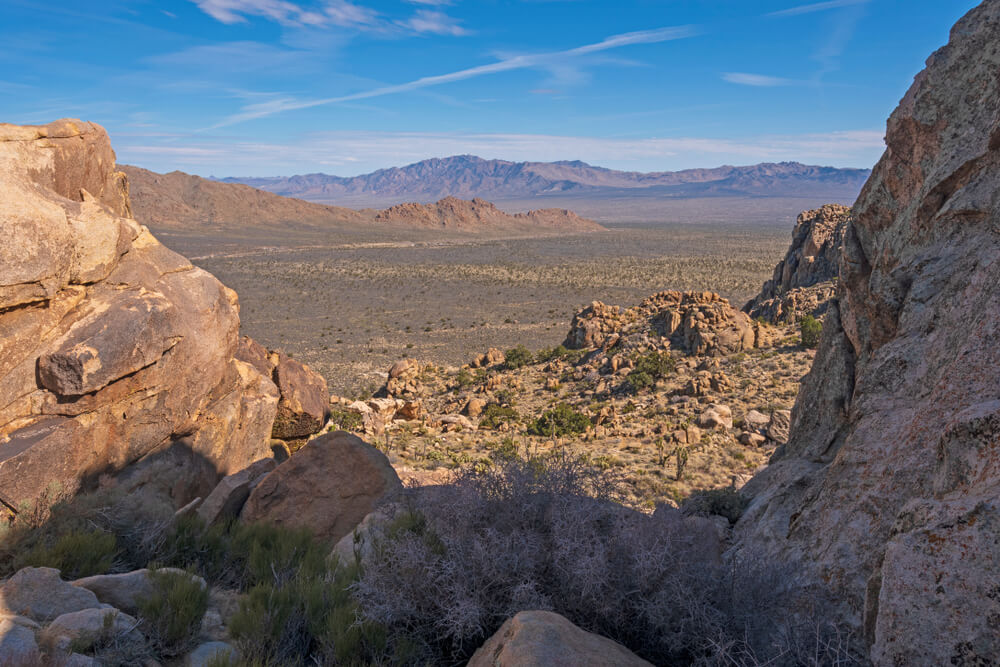 Filled with stone steps and switchbacks, this portion of the trail can feel a bit strenuous at times but once you reach the top you'll know that all that hard work paid off.
Admire the illusion-like view overlooking Cima Dome that looks like the earth has curved right before your eyes and the rugged peak of Kessler out in the distance.
If you're really feeling adventurous, you can partake in a bit of rock scrambling to reach the tippy top of Teutonia but the views will be wonderful regardless.
Wild Horse Canyon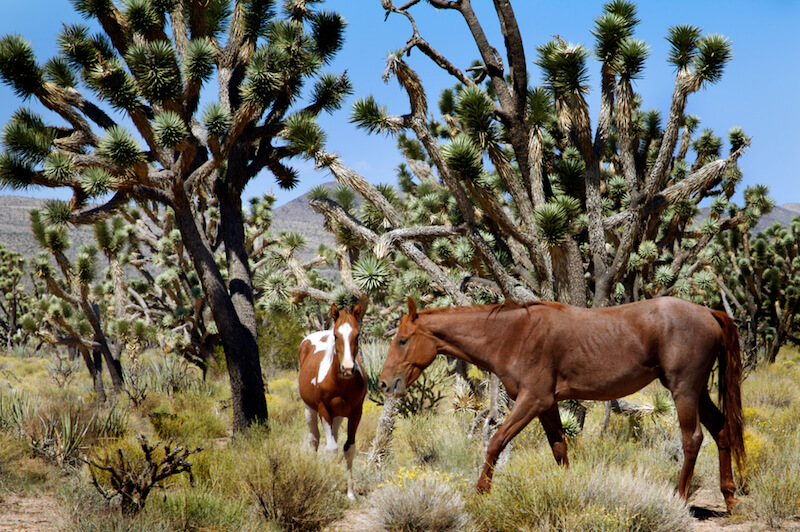 Distance: 11.5 to 28.2 mile loop (or any fraction thereof; check it on AllTrails or here)
Difficulty: Easy to Moderate
Elevation Gain: Flat to 1,975 ft
Dog-friendly: Yes, on a leash.
Although technically considered to be a 4×4 road, Wild Horse Canyon is one of my favorite places to explore and the preserve's minimal amount of travelers means you don't have to worry about vehicles kicking dirt in your face.
Discovered on a whim, there are no large signs directing you to Wild Horse Canyon but if you use a map you'll notice it as a side road just minutes from the famous Rings Loop Trail.
Now you can definitely just enjoy a leisurely drive through the canyon but I highly recommend getting out and walking to really take in the peaceful vibes that seem to radiate from the place.
You will walk (or drive) amongst dense fields of yucca and other desert plants with flat-topped mountains as a backdrop and there is a pretty good chance you will encounter the canyon's namesake, wild horses.
The wild horses tend to travel in a large team with a singular donkey in their midst so they are extremely easy to spot and as majestic as can be.
With any wild animals, remember to always keep a safe distance and not disturb the horses in any way no matter how friendly they may appear.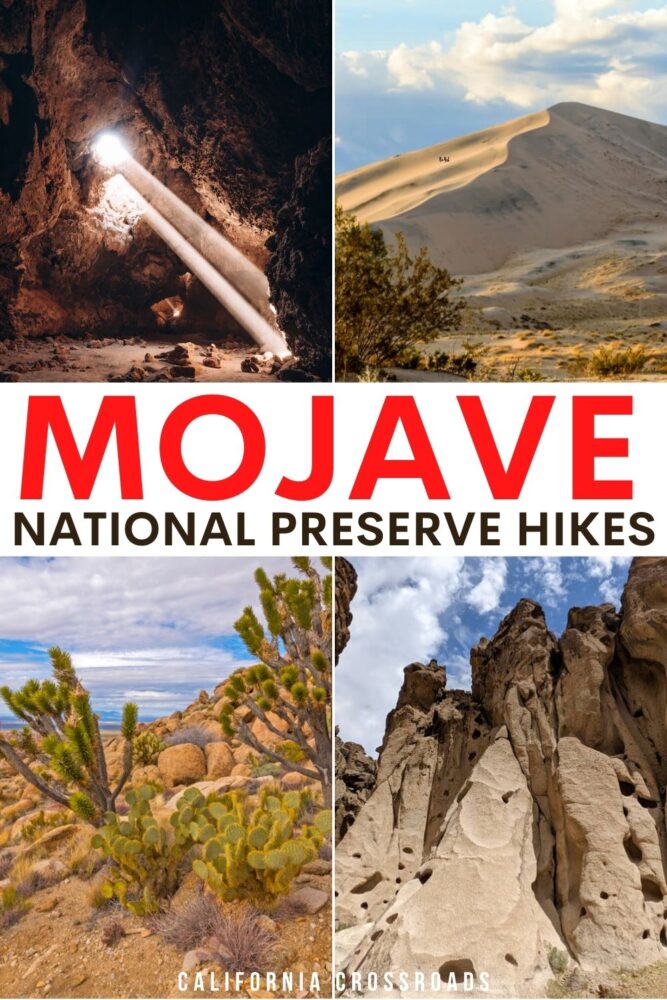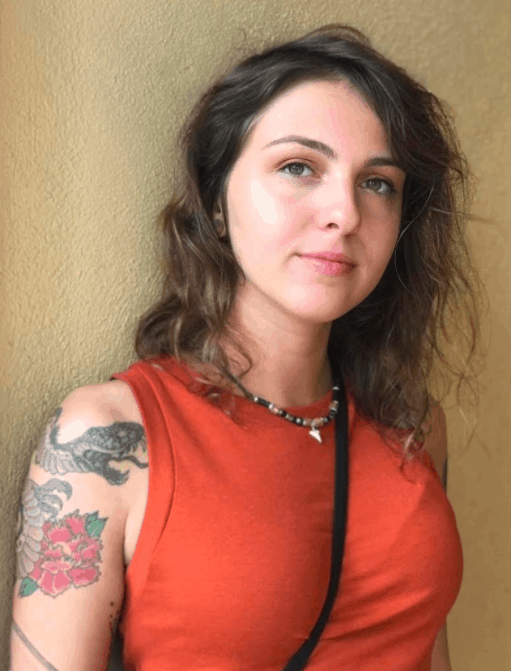 Nicole is a freelance travel writer who lives in Upstate NY, but her heart lies in the beautiful state of California. She loves to travel to new destinations, eat at all the best local restaurants and explore all the world has to offer. Her favorite place is just about anywhere where snow-peaked mountains can be seen in the distance.