Picking apples in the fall is one of the most rewarding and peaceful activities that you can enjoy alone or with friends and family.
There is something special about going out in the autumn sun and picking fruit that will feed you and your family — and hopefully make some tasty desserts, too!
Northern California is actually one of the best locations to go apple picking!
Many people think of California's warm climate as not being suitable for apple orchards, which tend to grow better in more Northern states like Washington, Michigan, and New York… but California is home to a wide variety of microclimates that are just perfect for apple picking, and the state is #5 in the country for apples produced!
You will find less opportunity to pick apples in areas right around San Francisco, but there are wonderful Northern California apple orchards located all over the more inland areas of the region.
No matter where you live or where you are visiting, you can find a place to pick your own apples in Northern California!
Best Apple Orchards in Northern California
Note: This post contains affiliate links, which earn me a small commission at no extra cost to you if you make a purchase using one of these links. Thank you for supporting this free content!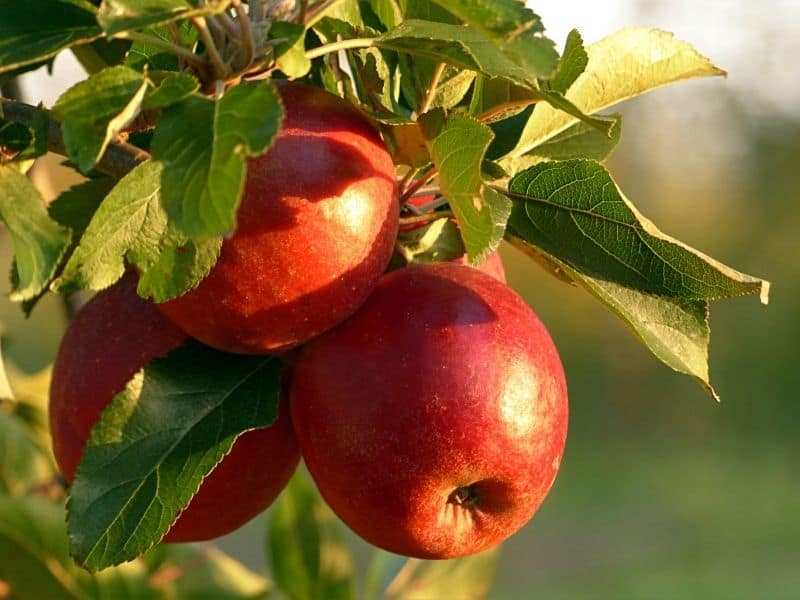 Gabriel Farm
Address: 3175 Sullivan Rd, Sebastopol, CA 95472
Website: Here
This apple orchard in Sonoma County is open by appointment only until mid-November.
They grow McIntosh, Gala, Braeburn, Gilbert Golden Delicious, Fuji, Rome, and Gravenstein apples — the latter of which Sebastopol is famous for!
You can buy a season pass that covers a group of up to four people and you can head out to pick your own apples — you keep whatever you pick!
You can take funny pictures near the front entrance and admire the operations of this charming working farm. This is a great place to bring your kids to have some wholesome fun.
If apples are not the only fruit that you enjoy, you can pick persimmons, berries, and plums as well. They also grow mixed flowers that are gorgeous and worth taking the time to see.
Chileno Valley Ranch
Address: 5105 Chileno Valley Rd, Petaluma, CA 94952
Website: Here
This apple picking farm in Northern California is also a working cattle ranch, making this a great stop to experience both kinds of farming life!
Located just outside of Petaluma, this sprawling farm offers U-pick apples in the fall each year while also hosting weddings and other events on their picturesque acreage.
You can learn about the ranch's history as you pick or you can just head out after you pay to enjoy the scenery and pick your apples.
They make cider here daily as well and you can pet some sheep and hang out with the chickens. Everything here is interactive and educational and well worth the visit!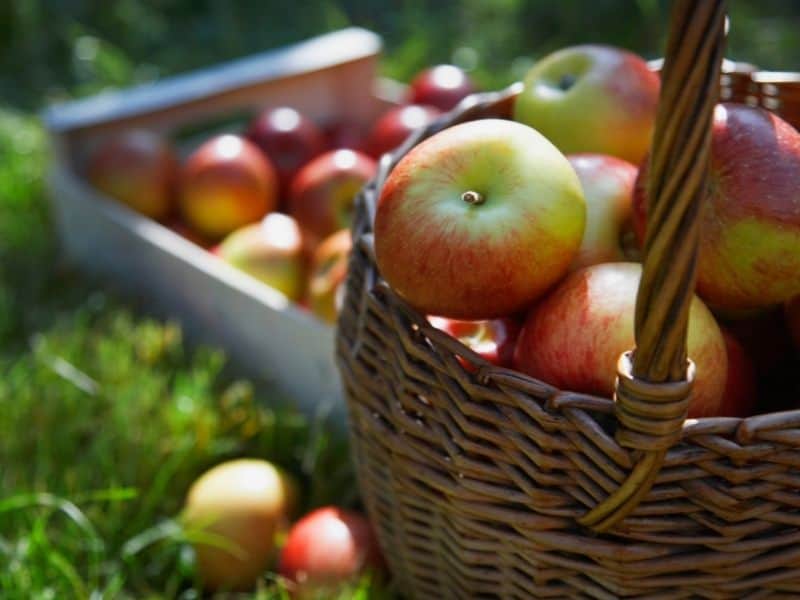 Clearview Organic Orchards
Address: 646 Trabing Rd, Watsonville, CA 95076
Website: Here
This Santa Cruz area apple orchard is a great location to visit on the weekends until November of each year!
They are open from 10 to 4 and you can get Fuji, Gala, Honey Crisp, and Mutsu apples here. They also make organic apple juice and delightful fresh-baked apple turnovers!
You can also get dried lavender, honey, pumpkins, and squash on this gorgeous farm.
This is a gorgeous working farm and you can see the delightful spread of Watsonville and the ocean three miles away.
This is one of the most beautiful apple orchards in California, and you will not be disappointed in the scenery when you visit!
Apple-a-Day Ratzlaff Ranch
Address: 13128 Occidental Rd, Sebastopol, CA 95472
Website: Here
This is another apple picking location in Sebastopol, and it is a great place to go if you love apples and also pears!
They have Golden Delicious, Rome, and Gravenstein apples on offer, as well as their delicious pears that you can pick and take home with you. U-Pick is done from September to October.
The ranch also makes cider from their trees which have been in the family for three generations.
Kids can enjoy cider slushes and the whole family will love learning about the ranch and how it has been in the family for so many years!
Apple Hill
Address: Various (50+ farms)
Website: Here (or download the app here)
This location is a bit of a drive from the Bay Area, but it is so worth the effort!
Apple Hill Growers Association offers the largest selection of apples in Northern California.
This group of family-owned apple orchards have the distinction of being located in a beautiful part of the Sierra Nevada foothills near Placerville.
Each farm is a little different int his area, but often, you can get apple cider and doughnuts here as well as picking your own apples!
Head over to one of the many Apple Hill orchards in September and November for U-pick apples in Northern California — it's a beloved local tradition!
Enjoy the scenery, the gorgeous location, and the delicious apples in many varieties!
While you can easily come to the Apple Hill area and just drive around to find a great farm, we'll include a few of our favorite orchards in Apple Hill below.
Goyette's North Canyon Ranch
Address: 3825 N Canyon Rd, Camino, CA 95709
Website: Here
Located in Camino, CA, this delightful orchard is one of the most popular among the Apple Hill farms.
They grow Golden Delicious and Empire apples as well as Granny Smith, Fuji, and Winesaps. Winesaps are often used for preserves and cider, but they also make a great cooking apple due to their firm texture.
You are invited to spend a whole day here and bring your family. They are open weekend from mid-September to the end of October, or whenever the apples are all gone. They also grow pears which are available for U-pick.
This is a great place to get a tour of a working farm when you come to pick your fruit of choice!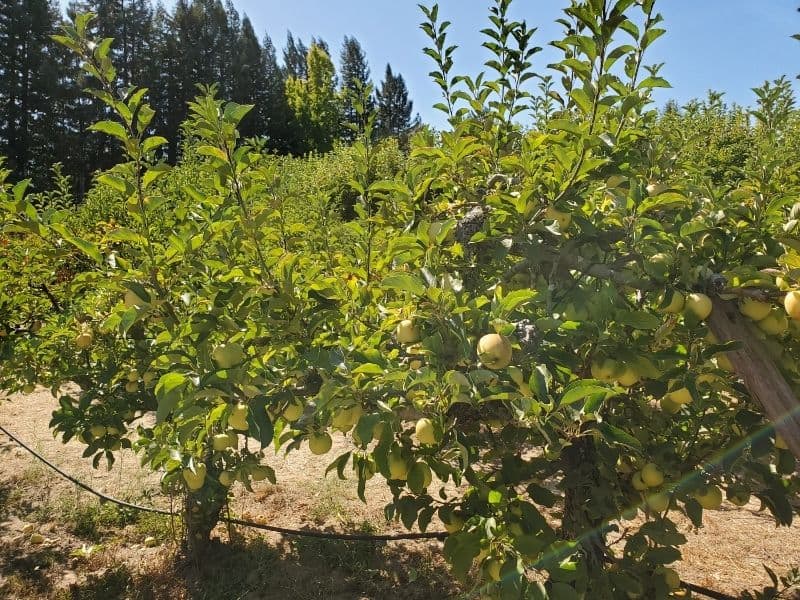 Denver Dans Apple Patch
Address: 4354 Bumble Bee Ln, Camino, CA 95709

This is another great U-pick location in Apple Hill due to its great price and many varieties on offer!
Apples are U-pick here for $2 a pound and you can get Macintosh, Gala, Golden Delicious, Gravensteins, Jonathan, Red Delicious, Empire, and even Honey Crisp apples here.
There is an apple barn and bakeshop here and you can even buy frozen pies to take home and bake!
They do tours that are just for kids like the "Cookin Kids" tours, making it a great apple picking spot in Northern California for families. They offer up apple peeler demos and tastings of their jams and jellies as well.
This is a great place to visit to entertain your whole family, see the beautiful Camino area, and pick up some delicious fruit. You can also pet alpacas (!!!) and buy some yummy pies and jams before you head out!
Hangtown Kid Apple Orchards
Address: 2598 Mace Rd, Camino, CA 95709
Website: Here
This is another orchard that is located near Placerville, and you can head there easily off Highway 50.
This is a great place to visit for a quiet U-pick experience and to buy honey, chestnuts, persimmons, pears, and of course, apples!
Persimmons are available later in the year, so if you have missed the apple cut-off in November, you can pick persimmons and buy some honey instead!
If Asian Pears are your favorite kind of pear, they grow them as well. In short – there is no shortage of yummy produce to buy here!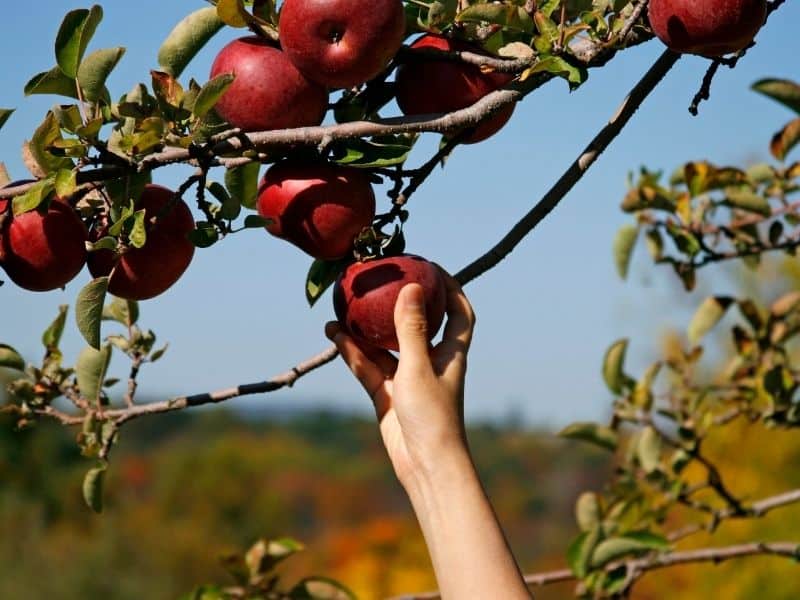 Boa Vista Orchards
Address: 2952 Carson Rd, Placerville, CA 95667
Website: Here
Also located in Placerville, this apple orchard has a beautiful location with delightful scenery nestled right in the middle of the Apple Hill region. This is the right place to go for apple doughnuts, caramel apples, and even hard apple cider!
More properly thought of as a farm, this orchard is unique because it is open 363 days a year!
The farm has been operating for over 100 years and selling wine as well as all of their other products. You can harvest your own apples, Asian Pears, berries, peaches, grapes, and plums here, and enjoy events like Strawberry Days.
There is an on-site restaurant that serves up deli and BBQ favorites and you can buy juices that are made from their product as well.
There is so much more to do here than just pick apples. You will need to plan a whole day for Boa Vista to really do it justice!
Impossible Acres Farm
Address: 37945 Co Rd 31, Davis, CA 95616
Website: Here
Located near Davis, this is a rustic working farm that makes for a fun weekend place to visit for your whole family.
Kids can play on haystacks, enjoy playing with goats and other livestock and you can pick apples before you go. May and June are raspberry and apricot picking season and then you move into apple season!
Grandpa's Barn is their petting zoo and it is open throughout October. They run a seasonal pumpkin patch during October as well. U-Pick opens up starting in May and you can visit on all other days other than Mondays and Tuesdays.
This farm cycles through various crops, so even if you miss apple season, you will be arriving in time for some kind of fruit to be available for U-pick!
There is no shortage of fun here and they are open so many days a week that it is easy to find fun things to do here, even at a moment's notice.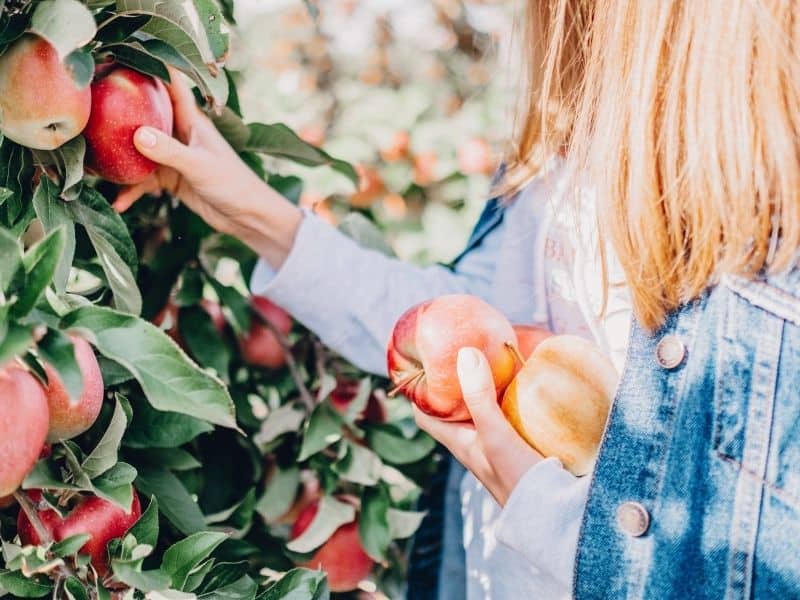 Gizdich Ranch
Address: 55 Peckham Rd, Watsonville, CA 95076
Website: Here
This is another farm that offers all kinds of activities all year!
If you are not in town during apple season, you can sample bakery items like apple dumplings, or maybe you will choose to visit the pie shop and sample the nine fruit pie varieties that are made there daily.
You can buy entire pies if you want or grab some apple and Olallie popsicles for your kids. Enjoy an apple slush or their homemade ice cream if it's hot out when you arrive. Deli sandwiches and other meal items are also available.
They offer more than just U-pick apples and you can enjoy U-pick strawberries as well as Olallieberries, blackberries, boysenberries, and of course, apples.
For those who are not aware, Olallieberries are a lesser-known variety of blackberry that is a cross between the Black Loganberry and the eastern Drancdall berry.
Gizdich Ranch has limited hours from Sunday through Friday, you will want to make sure to call for an appointment before you stop by.
24Carrot Farm
Address: 2731 Jacquier Rd, Placerville, CA 95667
Website: Here
This farm is located in Placerville as well, making it a great add-on to a full day of apple-picking fun in the area.
This is one of the most beautiful picking locations on this list and you will be able to pick your fill of a variety of apples when you visit. You can also grab some pumpkins and they sell honey as well!
They offer online shopping through their website if you prefer this method of getting your apples or produce, or you can visit from 10-5 on Thursday, Friday and Saturdays starting in the fall.
Their website includes delightful recipe suggestions as well as preparation guidelines for lots of dishes that take advantage of their produce.
This is a new arrival to the orchard scene (established in 2015) and they have 5 acres of certified organic produce that they sell year-round.
When it is not apple season, you can still get some really wonderful produce here that will amaze you with its delightful flavors and textures.
Lucky You Orchards
Address: 21611 Carrolton Rd, Ripon, CA 95366
Website: Here
This is a unique orchard that is near Stockton in Ripon, CA!
This is a fourth-generation family orchard and their apples are famous in local farmer's markets.
This orchard has only recently been opened up to U-Pick, and their specialty apple variety is Fuji. As an added benefit, they also grow cherries that are open to U-pick as well.
Come here through the first of November for U-pick and pay a small fee when you set your reservation. You will be able to pick on your own row and take a tractor ride!
There is also a pumpkin patch on site which comes with a fun tour of the orchard and some explanation about their growing processes and procedures.
Apple Picking is a Delightful Way to Spend a Day
There is just something special about a day spent in an apple orchard — you will not find such delicious fruit in any store!
Being able to handpick your own produce feels like a thing of the past, but U-pick makes this a possibility again for people who are tired of store-bought produce that just doesn't stand up when compared to handpicked foods.
Being able to support the orchard industry and the farms that are involved in it is a huge boon to the local economy of each orchard and its community, as well as a means to support farming in California, which has been impacted by drought, fires, and the pandemic.
If you are not going to visit these farms to pick apples, you can still enjoy seeing the farms at work and maybe buy some yummy bakery items for the road
Picking apples is a fun way to spend a weekend day in fall in California, and you will not regret taking the time to visit any of these orchards to enjoy a day of picking apples and catching up with family and friends!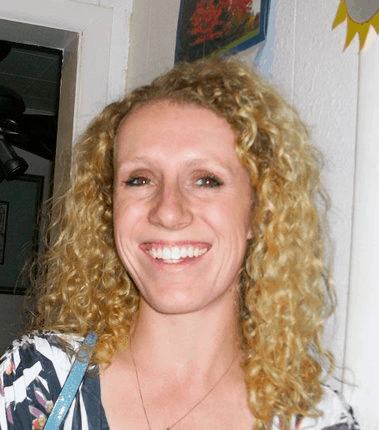 Brianna York has spent many years of her life traveling for work and pleasure, and grew up in Oregon in the gorgeous Pacific Northwest. She embraces each new place she visits and makes the most of seeing all the best that each city or place has to offer.  She is a published author and competes with her Arabian Show horses all over the United States. She embraces each day like a new adventure and is always ready for new experiences!