Just a short day trip away from San Francisco, you can enjoy the beautiful Point Reyes National Seashore.
Drive a leisurely 1 hour north on Highway 101 to Manzanita, then continue north on CA-1 to Olema, where you will find the park entrance.
Even though it is just a short drive, you may want to enjoy the weekend or a mid-week break by spending a day or two exploring the area and getting away from the hectic city. You could also stop at Muir Woods or Mount Tamalpais along the way as well for more of a Point Reyes road trip.
Once you arrive, take time to slow down and go exploring. Point Reyes National Seashore offers visitors a wide array of outdoor adventures, so there are plenty of things to do in Point Reyes!
Options include hiking some of the 150+ miles of trails that lead to a breathtaking waterfall — Alamere Falls, one of just two tidefalls in California and a few dozen in the world–, visiting an amazing lighthouse, checking out the beautiful scenic views, and keeping your eyes open for an array of wildlife including, elk, elephant seals, birds, sea lions, and whales.
Not only can you hike to many wonderful spots, but you can mountain bike, kayak, or canoe if you're up for some active adventure in California
When To Visit Point Reyes?
Note: This post contains affiliate links, which earn me a small commission at no extra cost to you if you make a purchase using one of these links. Thank you for supporting this free content!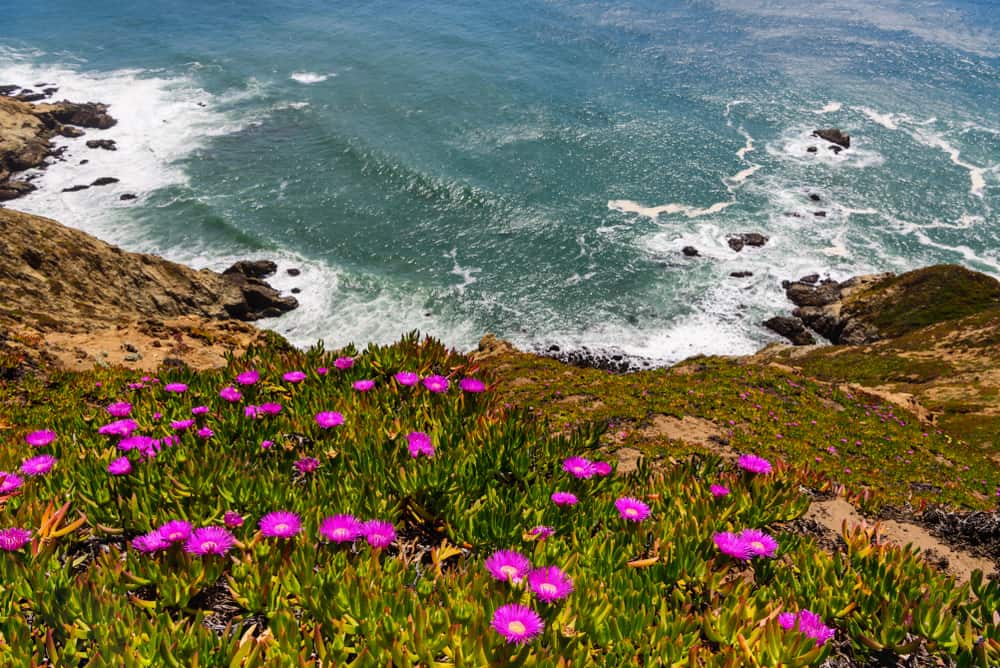 If you want the best temperatures, the period between September – October has for the warmest temperatures (think low 60s) and the lowest chance of fog.
If you're keen to spot some whales offshore, visit between November – May.
To spot the local elephant seals, you can come in winter when they are breeding, or in April – July when they are molting. You an also find sea lions between May and July.
If you want to spot the local tule elk, you'll have the best luck between August and October, which is rutting season.
But don't rule out a spring visit! Spring brings beautiful wildflowers at Chimney Rock and is one of the most lovely times to visit Point Reyes.
Best Things to Do in Point Reyes
Go bird watching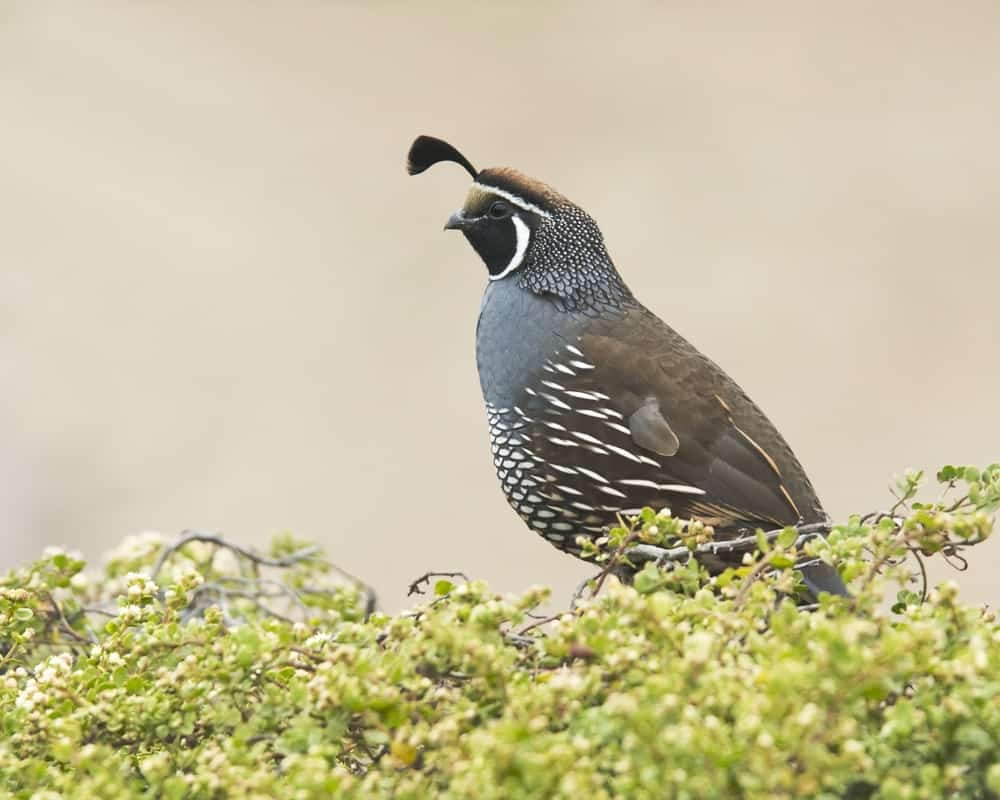 One of the best things to do in Point Reyes is peep the bountiful bird life!
If you are a bird watcher, see how many of the nearly 500 species of birds you can spot.
Here are the birds you can see, broken down by season.
Winter – ducks and sparrows
Spring – quail (California's state bird!) and owls
Summer – swallows and goldfinches
Fall – heron and warblers
Hike to the tidefall at Alamere Falls — carefully!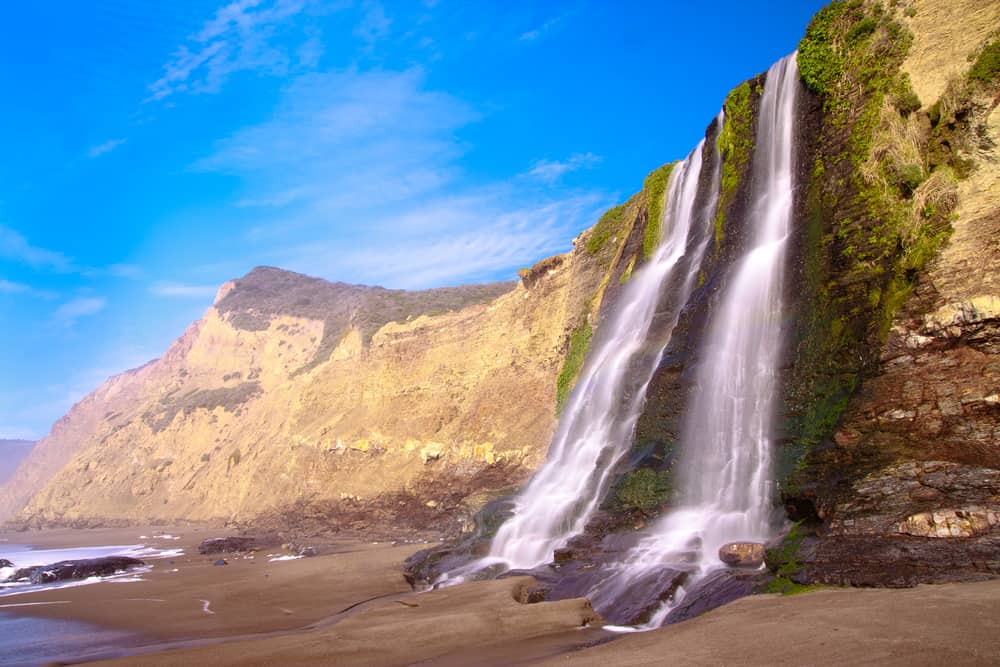 Alamere Falls is a must-visit if you are up for the 13 – 14.6-mile round-trip hike. Warning, though: it's not an easy hike, so dress appropriately and be adequately prepared for the length with plenty of snacks, sun protection, water, and appropriate layers.
The falls are a stunning sight as the water cascades off the 30-foot cliff onto the sandy Wildcat beach below. It's one of the most beautiful waterfalls in California, no doubt, but it is one hell of a hike!
If you are making this your first stop from San Francisco, head to the northwest end of Mesa Road in Bolinas, where you can begin the 13-mile round trip hike at the Palomarin Trailhead. This is the most recommended trail.
You can also start from the Bear Valley Trailhead near the Bear Valley Visitor Center for a 14.6-mile round trip hike. Plan your trip in advance and book one of the eight campsites at the Wildcat Campgrounds that overlooks the ocean. From here, it is only a 2-mile round-trip walk to the falls!
Hike around Bear Valley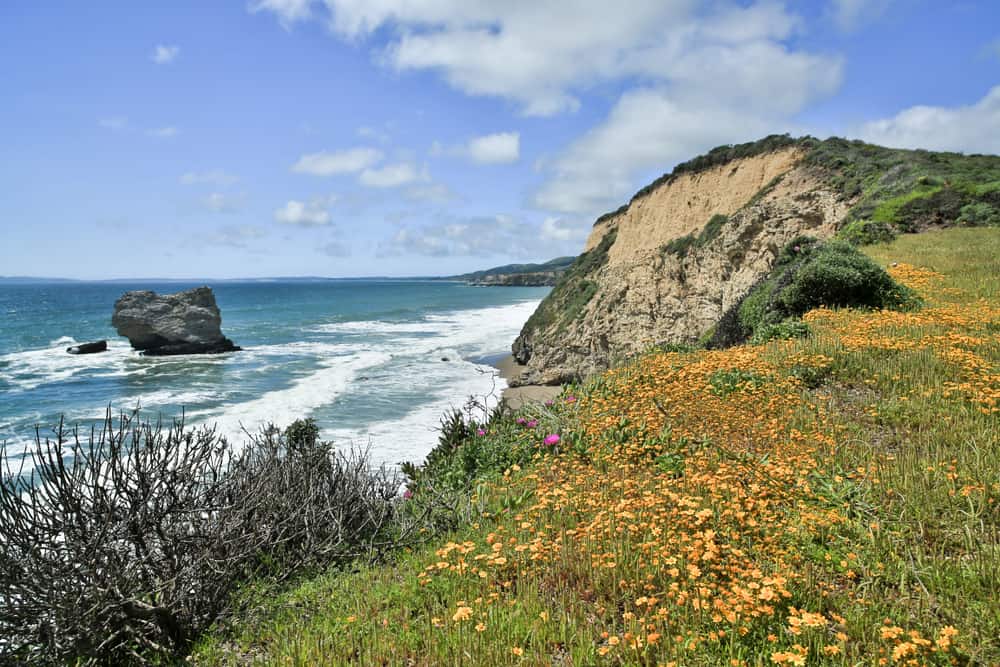 As you enter this park that is free to explore, stop at the Bear Valley Visitor Center. They have a variety of exhibits featuring the area's natural habitats as well as acquainting you with the Indigenous people who stewarded the land for centuries.
Before you continue, pick up a map of the park's roads, trails, beaches, and landmarks to get acquainted.
While in the Bear Valley area, take advantage of two short hikes and experiences.
Earthquake Trail

– This short interpretive trail helps visitors explore the San Andreas Fault Zone. Even though there is evidence that the ground has shifted, there is no huge crack in the earth. I know this is what I always envisioned, and I was a little disappointed when it wasn't there, so keep that in mind before going. Expectations matter!
Kule Loklo – This short ½ mile trail features a Coastal Miwok replica village (the Indigenous people who called Marin county home prior to settlers displacing them) and cultural exhibit.
Check out the shipwreck & tree tunnel in Inverness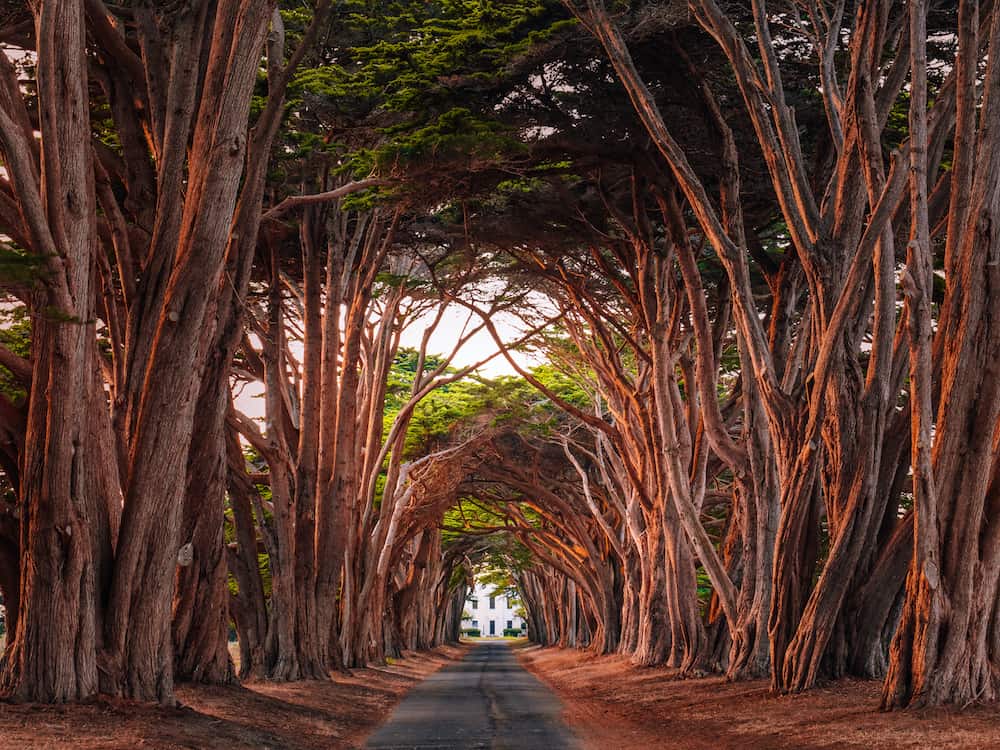 As you travel for about 45 minutes to the Point Reyes Lighthouse from San Francisco, make a couple of quick stops along the way.
First up is a shipwreck which dates back about 100 years!
In the little village of Inverness along the Tomales Bay, pull into the small parking area, walk behind the Inverness Store to the trail. Walk down the short path to view the S. S. Point Reyes Shipwreck
Next, drive about 6 miles and park outside the gate to explore the picturesque Cypress Tree Tunnel. Here you will find beautiful cypress trees that form an arch — its like something out of Game of Thrones, and it reminds me of Northern Ireland's Dark Hedges!
If you happen to be staying overnight in the area, come at sunrise when the sunrays dance their magic through the trees.
Warning that this is quite a popular Instagram spot, so it may be difficult to photograph people free.
Take a dip on Drake's Beach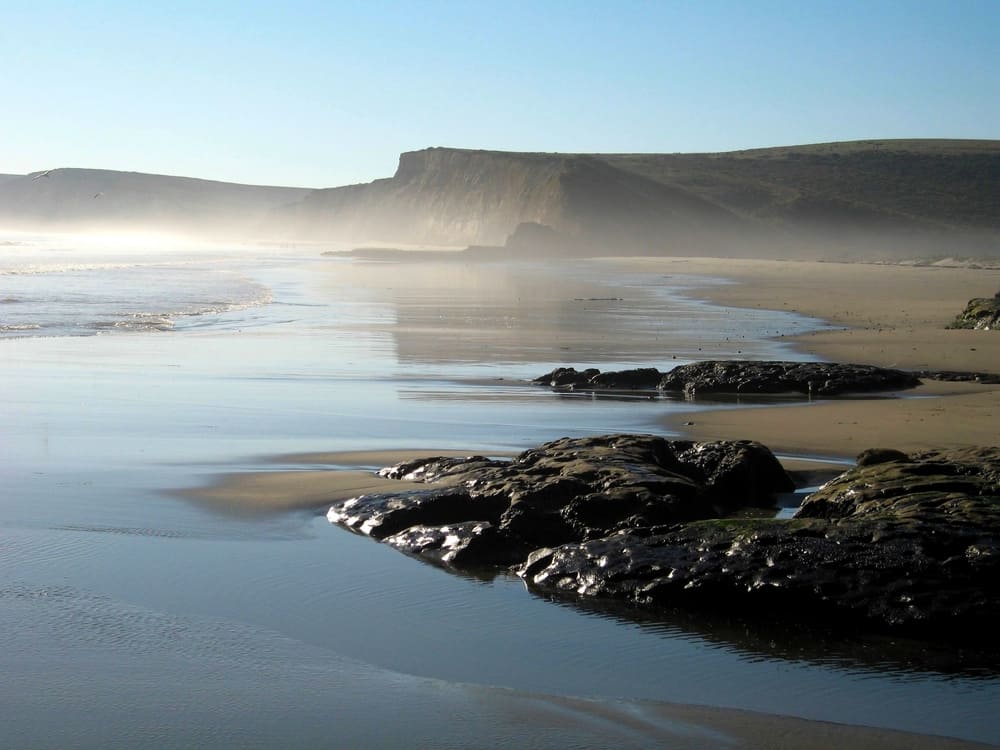 This beach is one of Point Reyes' best.
Not only does it have drive-up access and a visitor center, but it also has amazing white cliffs of sandstone — like a Cliffs of Dover in miniature.
Here you can explore the natural cove that is great for water play, beach walking, and stand-up paddleboarding. Take the short hike up to Peter Behr Overlook to look down onto the beach cove for magnificent photos!
NOTE: This beach is closed in the fall.
Check out the Elephant Seal Overlook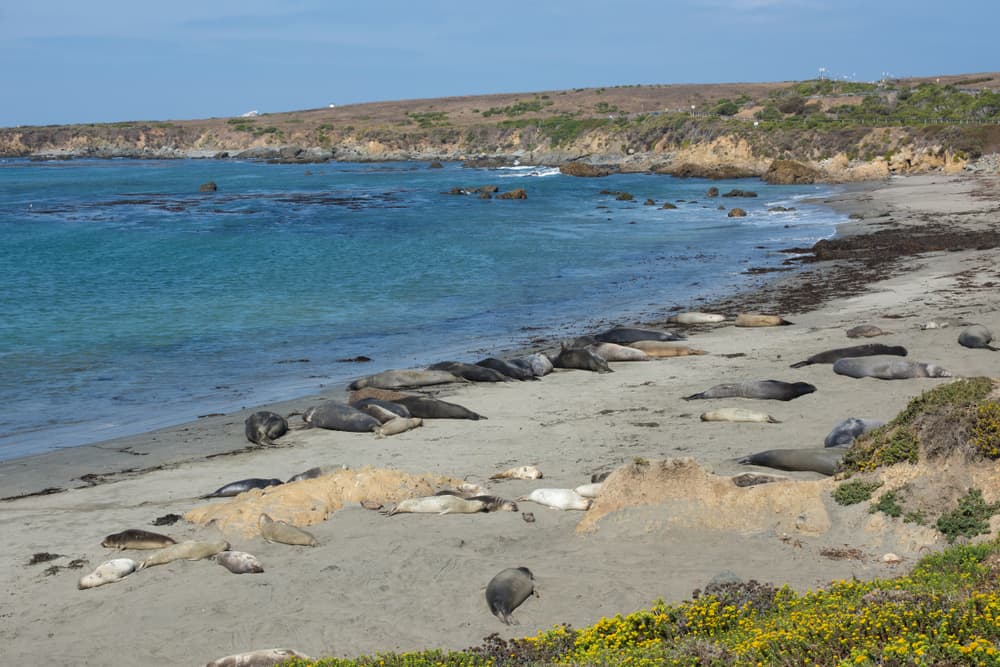 Continue down the road for another 9 miles / 20-minutes through farmland and past the calf warming huts to the Chimney Rock parking lot.
The Elephant Seal Overlook is a short 0.2-mile trail where you can see and hear the elephant seals below. Be warned: they're often really noisy and rather smelly, but ultimately, very adorable!
Check out the scenic Historic Point Reyes Lifeboat Station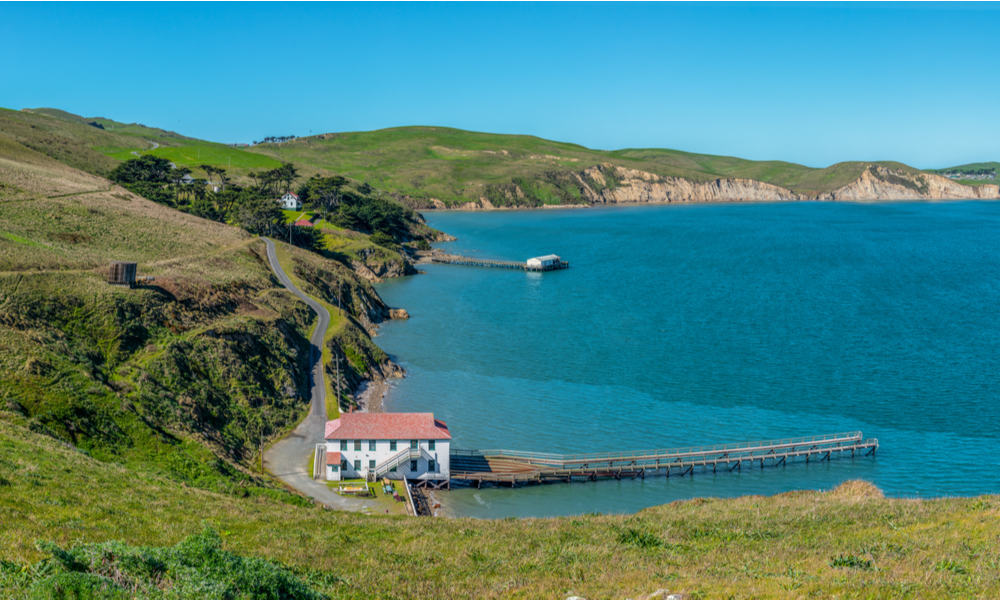 From Elephant Seal Overlook, take the trail to the right to the Historic Point Reyes Lifeboat Station.
Decommissioned in 1969, the station is often open for tourists during the spring. You can also often see sea life like sea lions and elephant seals sunning themselves on the beach here!
There are also some great hikes nearby. While in the area, take the 1.8-mile round-trip hike along the rocky coast to Chimney Rock. The walk offers stunning views and a magnificent collection of spring wildflowers.
Visit the Marvelous Point Reyes Lighthouse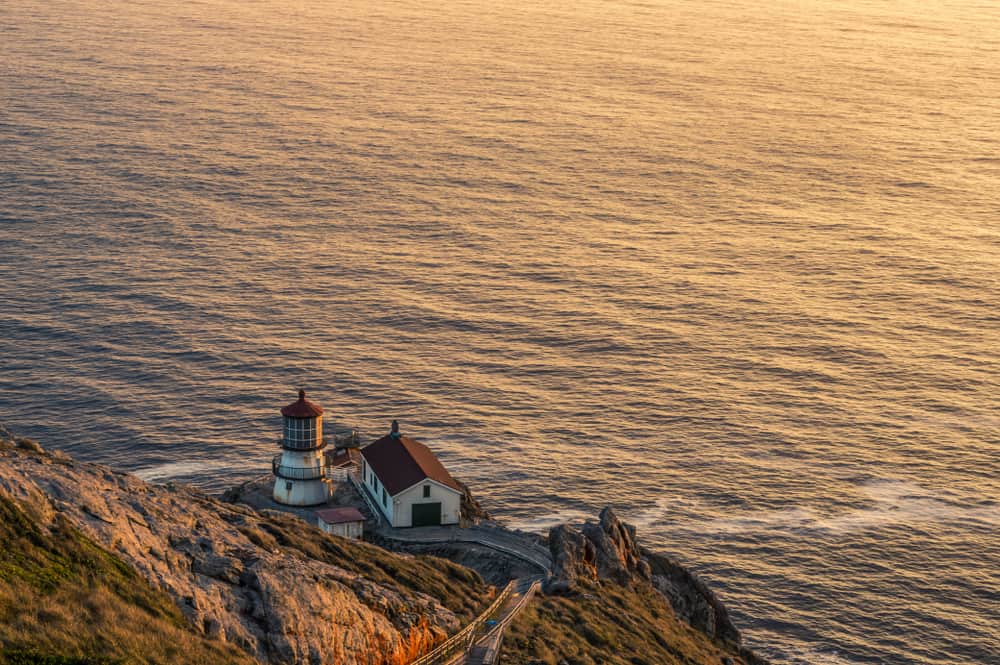 Head back to Sir Francis Drake Blvd. and continue to the left to the Point Reyes Lighthouse – one of the most famous lighthouses in California.
From the parking area, it is a half-mile walk to the Lighthouse Visitor Center.
Along this walk, take time to be in awe of the leaning trees along the side of the road. They truly tell the story of the constant winds and wetness this area sees.
This popular lighthouse is only accessible when you walk down the 308 stairs. Note that the lighthouse is only open Friday through Mondays. However, if the winds exceed 40 miles per hour, the stairs to the lighthouse are closed for visitor safety. On your return trip, take frequent breaks as you climb the stairs to enjoy the scenery!
Head up North to Tomales Bluff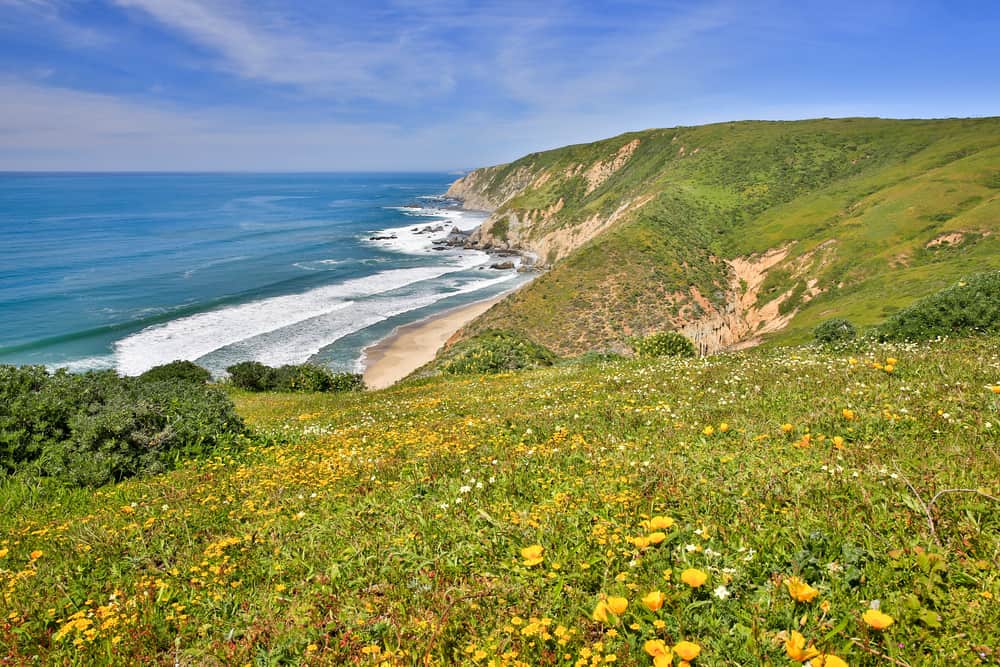 From Point Reyes Lighthouse to Tomales Bluff is a 22 mile / 50-minute drive.
Just a short way along Sir Francis Drake Blvd. from the lighthouse parking area, stop at the Sea Lion Overlook. Here you will be able to look down onto Sea Lion Cove.
Continue through the dairy farms and entrances to North and South Beach. These beaches are dog friendly, so if you have your critters with you, it is the perfect place for them to stretch their legs.
40-minutes from the lighthouse, you will come to Kehoe Beach Trail along Pierce Point Road. This 1.2-mile stroll ends at a peaceful beach. The beach and trail are both leached dog friendly.
Check out the historic Pierce Point Ranch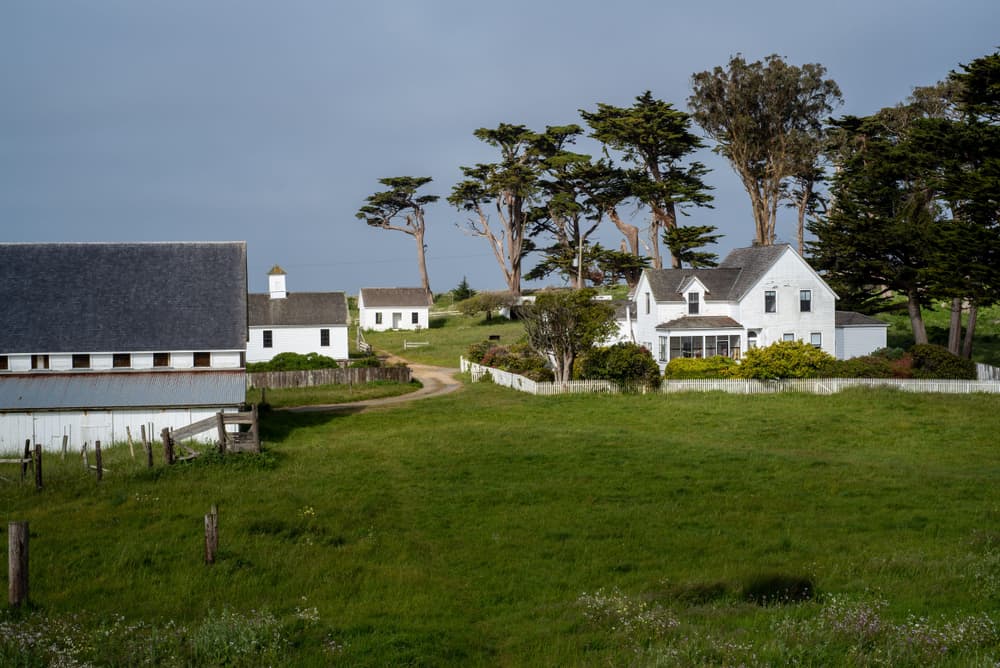 The Pierce Point Ranch is a little less than 10-minutes down the road. Explore the dairy ranch that operated here for over 100 years through the kiosks that explains what life was like for a dairy farmer in the early 1900s on the isolated Tomales Point.
The weathered buildings are also a photographer's dream. Here you can get out and explore the Tule Elk Reserve as you hike to Windy Gap (2-miles) or to Tomales Point (3.7-miles), where you can see the Limantour beach far below.
Along this open trail through the reserve, you will have spectacular views of the Pacific Ocean's rugged coastline, Tomales Bay, and along with a chance to spot some of California's magnificent Tule Elk. There is a herd of around 250 that roam this area.
Relax and end the day at McClures Beach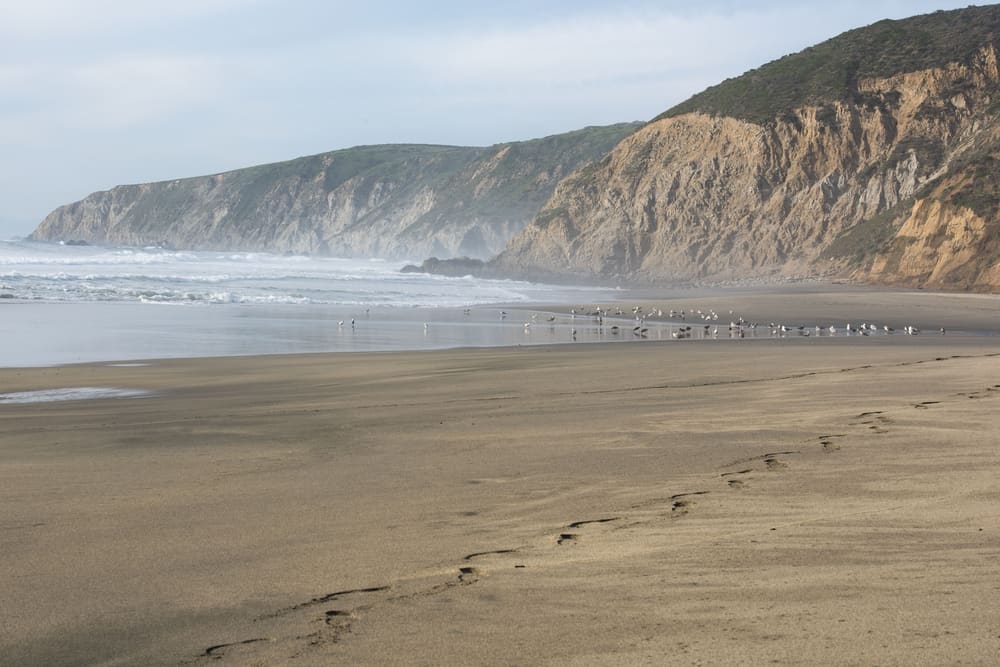 Backtrack just a bit and make the McClures Beach Trail your last stop… as long as the tide is low!
This moderate, 0.8-mile trail descends a ravine to the ocean. The picturesque cove is enclosed by rocky cliffs and a sandy beach.
Stay the night and unwind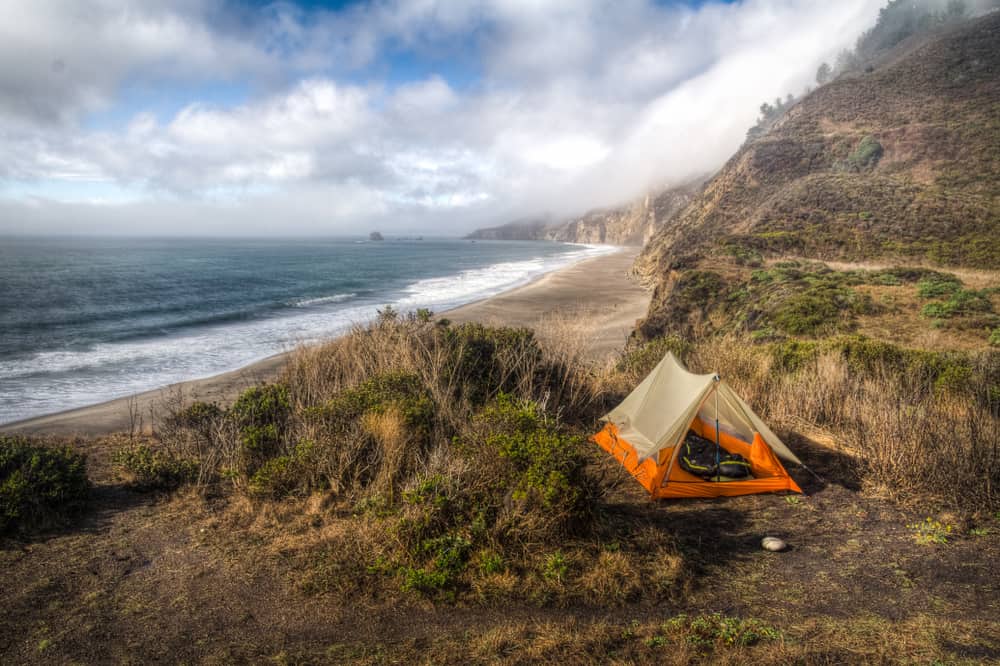 If you fall in love with this wild peninsula, almost in the middle of nowhere, think about spending a night or two.
Check into the HI Point Reyes hostel, one of the four backpacking campsites, head out of the park to Ocean Breeze Glamping or Nick's Cove on Tomales Bay so you can spend another day or two exploring this magnificent area.
There are so many great campgrounds in Northern California worth exploring if you want to stay a little further afield!
Hotels & Glamping in Point Reyes
TOP PICK: Ocean Breeze Glamping offers upscale campsites with large tents with bonus amenities like hot tubs. It's a bit away from Point Reyes, located near Stinson Beach, but this is such a fabulous area to explore as well that I highly recommend extending your Point Reyes tip to stay here!
HI Point Reyes Hostel offers guests a male dorm, female dorm, a group 10-bed dorm, and five private rooms. This secluded hostel is the perfect escape from cellphones and all things digital as you escape into nature.
Nick's Cove offers 14 rustic, stilted cottages along Tomales Bay in Marshall, CA. From here, you can rest your weary legs after a day of hiking or kayaking and relax on your deck as you watch the shorebirds. The Wi-Fi is complimentary and fresh oysters can be delivered to your door. This is a great starting or ending point for exploring the Point Reyes National Seashore.
Campsites in Point Reyes
Dine Deliciously in Point Reyes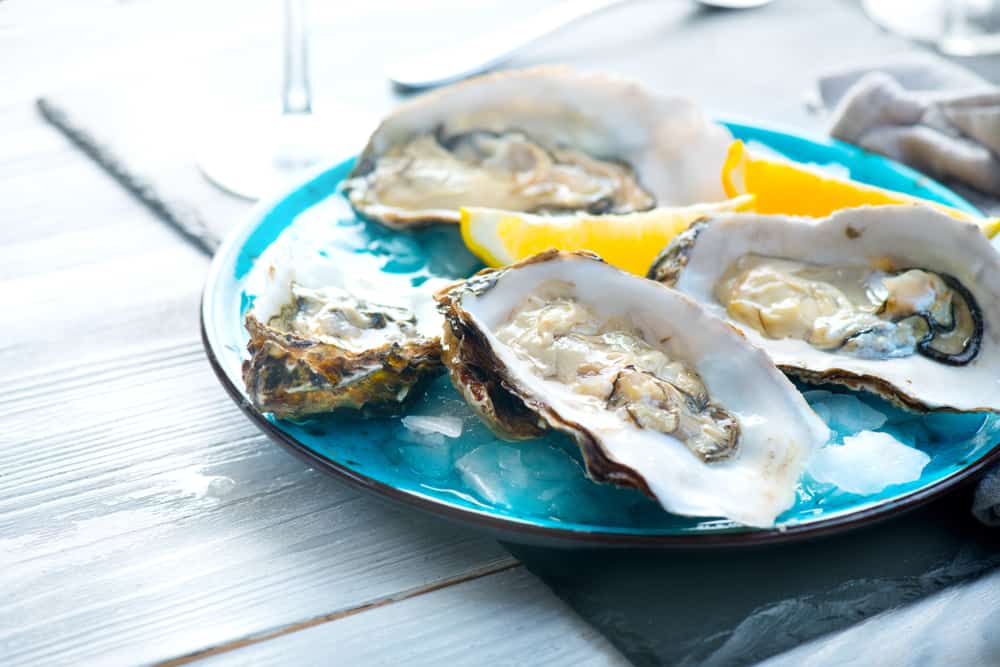 All that hiking and stair-climbing and driving has probably worked up an appetite! Here are three delicious places to stop and dine in Point Reyes.
Cowgirl Creamery – 80 4th Street, Point Reyes Station – This is a cheese lovers paradise. Their cheeses are extremely popular in Northern California and known for their Red Hawk and Mt. Tam cheeses.
Nick's Cove Restaurant and Oyster Bar – offers guests a glass-decked, nostalgic hunting lodge that serves award-winning cuisine like crab macaroni and cheese or oysters from the Tomales Bay.
Hog Island Oyster Co. – Purchase your oysters at the sales window to go or reserve a table to grill and shuck your oysters.
Pin This Guide to Things to Do in Point Reyes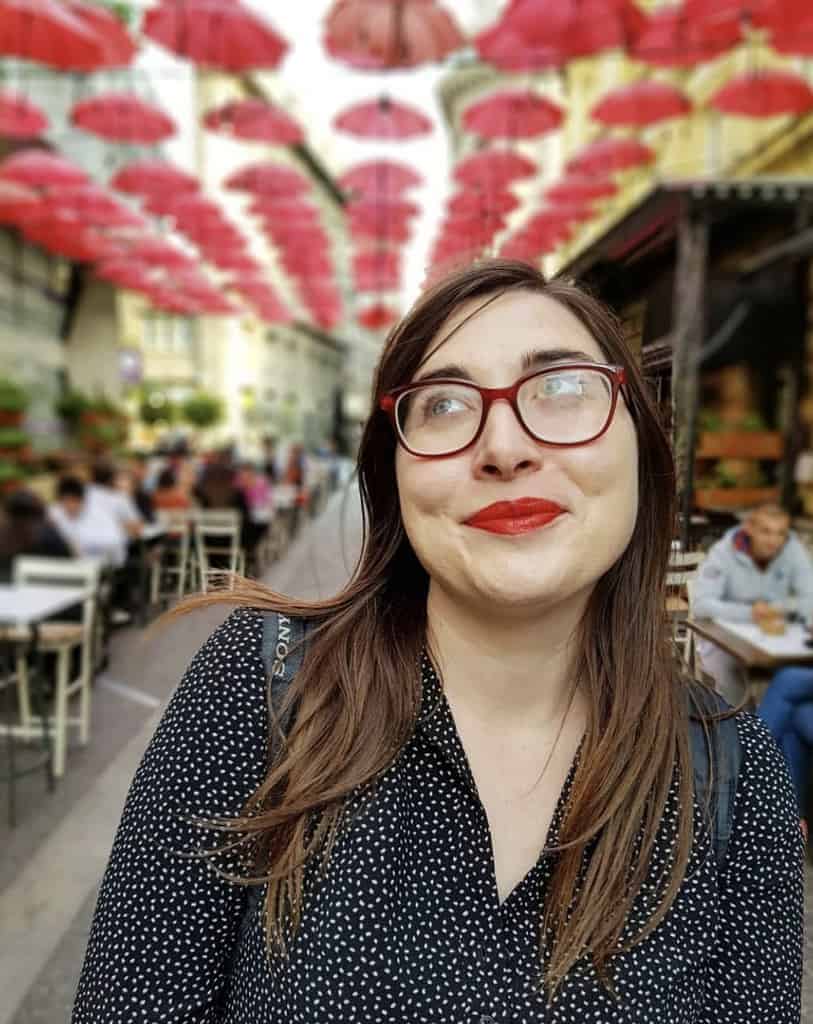 Allison Green is a travel blogger, writer, and podcaster who grew up in the Bay Area of California. She has spent time living in New York, Prague, and Sofia, but has returned to live in the East Bay. She has traveled to 60 countries before the age of 30 while running several digital travel publications. Her writing and podcast have been featured in Forbes, CBC Canada, National Geographic, the Huffington Post, and CNN Arabic, amongst others. She's obsessed with bouldering, houseplants, other people's pets, and anywhere she can see the ocean.