The Pacific Crest Trail (PCT) winds 2650 miles along the mountain ridges of California, Oregon, and Washington.
The section through California is the longest, clocking in at 1,691 miles.
The sections of the PCT in California are extremely varied, offering miles in the scorching but beautiful Mojave Desert, in the pristine Sierra Nevada mountains, and in the high deserts and forests of Northern California.
Many of us don't have the time (or desire!) to thru-hike the entire Pacific Crest Trail, but that doesn't mean that you can't enjoy it!
This guide presents the best section hikes in California on the PCT, in order from south to north.
Get ready to explore one of the nation's best natural treasures.
(Note: Some of these areas may have been impacted by recent wildfires. Always check closures and trail conditions before hiking).
Southern California PCT Section Hikes
Note: This post contains affiliate links, which earn me a small commission at no extra cost to you if you make a purchase using one of these links. Thank you for supporting this free content!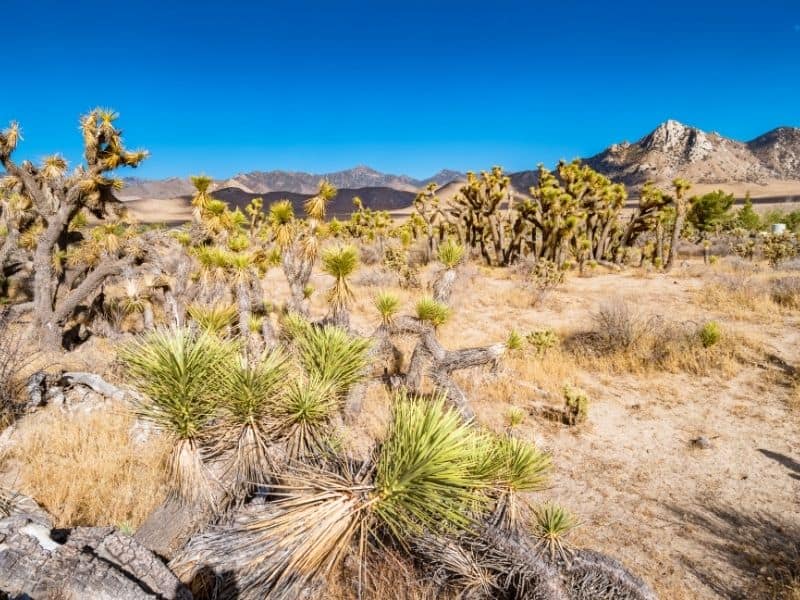 The PCT's Southern Terminus is in southern California, near the town of Campo.
The portion of the PCT in Southern California ends at Walker Pass, known to many as the gateway into the Sierra.
Southern California offers beautiful desert sunsets, easier terrain, oak trees, and a surprising number of high elevation mountains.
However, the section is also known for its scorching temperatures!
The best time to hike in southern California is usually between March and early June.
Do not hike in high heat, as this can be very dangerous.
Water can be difficult to find in the desert, so make sure you carry extra water and plan to get water at reliable sources.
Carry a map with reliable water sources marked, and do research ahead of time to make sure they're still running.
This guide mentions water sources, but they may not be available at all times.
(The navigation app FarOut's PCT maps include comments about the seasonality and reliability of marked water sources on the trail.)
Idyllwild to Mount San Jacinto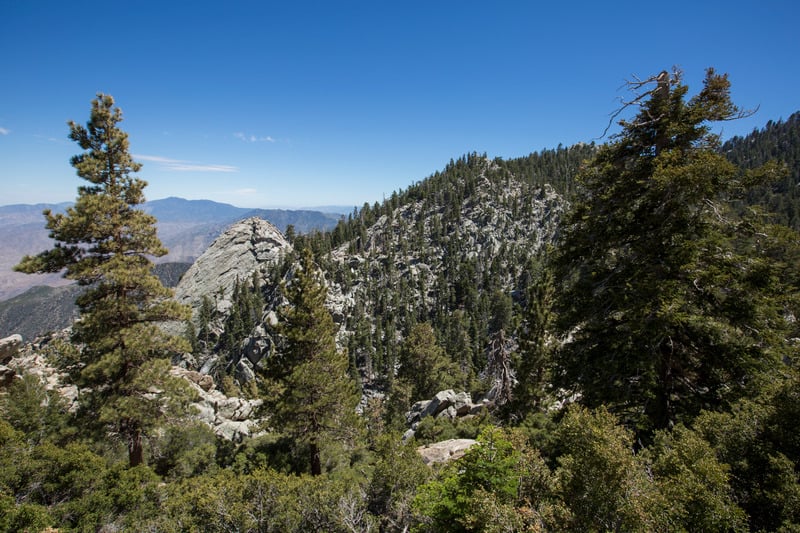 Length: 20.3 miles round trip (extended loop Deer Springs to Humber Park loop trail info here, or make the detour outlined below)
Difficulty: Hard
This hike offers a big push and high payoff (the summit of Mt. San Jacinto!) with shorter mileage, making it a wonderful weekend adventure.
The best part is that it's a loop, so you don't need to worry about transport back to the car.
At 10,834 feet, Mt. San Jacinto does get plenty of snow in the spring, so make sure snow levels are at a level you're comfortable with before setting out.
There is limited water on this trail.
Starting in the small trail town of Idyllwild, at PCT mile 179, start at the Deer Springs Trailhead at an elevation of 5620 feet.
You'll hike up around 4 miles, passing the popular rock-climbing area Suicide Rock, before hitting the PCT at mile 183.5.
There is a good camping spot here if you've had enough for one day. Hike north on the PCT until you hit the San Jacinto Peak Trail.
This is also the location of Deer Spring (185.6), which often has water in the early season.
(If this is dry, hike north to the more reliable North Fork of the San Jacinto River at mile 186.2)
At mile 185.7, leave the PCT and follow the San Jacinto Peak Trail about 3 miles and almost 2000 feet to the summit of the second highest mountain in southern California!
Celebrate at the top, at 10,834 feet, or in the Summit Hut Shelter (meant for emergencies only- don't plan to camp here!)
Take your time to prepare for the notoriously lengthy descent from the summit.
From the summit, you can choose to go back down the way you came or continue clockwise on the San Jacinto Peak Trail until you hit the Wellman's Cienega Trail.
Take a right to rejoin the PCT at mile 181.2.
There is a fairly reliable spring on your way down.
To make this hike a true loop, hike north from mile 181.2 on the PCT back to the Deer Springs Trail.
Take a right to head back down to where you started!
If you want to cover some new territory instead, you can instead head south on the PCT from mile 181.2 towards Saddle Junction.
At Saddle Junction, take the Devil's Side Trail down, climbing down nearly 2500 feet towards Humber Park trailhead.
From here, you'll need to find transportation back to the Deer Springs Trailhead.
Eagle Rock: Warner Springs to Julian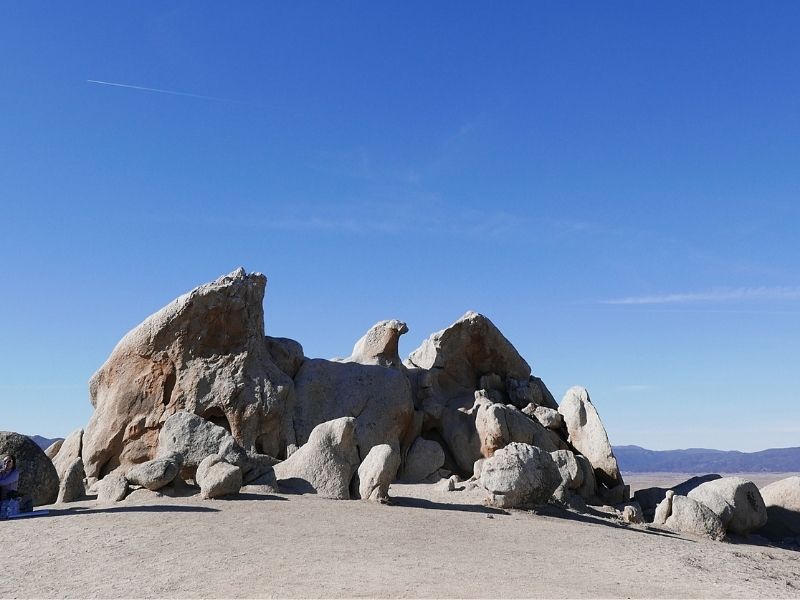 Length: 6.6 miles round trip (day hike) or 32.2 miles one way (3-day trip)
Difficulty: Easy (day hike) or Moderate (3-day trip)
Eagle Rock is a highlight of the desert for many PCT hikers, as the large stone takes the shape of a formidable eagle.
Some would say that you haven't really hiked the southern section of the PCT if you didn't take a picture at Eagle Rock.
Day hike: Luckily, Eagle Rock can be reached in a single 6.5-mile round trip day hike.
Simply start at Highway 79 next to the Warner Springs Elementary School, where the highway crosses the PCT at mile 109.5.
From there, take the PCT south along the Cañada Verde Creek. This direction is slightly uphill, but you'll only climb about 500 feet.
As with most areas in southern California, this section is likely to be quite hot and dry, with little vegetation.
However, in the spring months (which is the recommended time to do this hike), you might be lucky enough to catch some wildflowers in bloom.
Hike 3.3 miles to Eagle Rock (you can't miss it!) before turning back to your car.
To extend this hike slightly, start at the farther north crossing of Highway 79, at PCT mile 111.4.
3-day trip: Start at the same parking area with plenty of water.
Eagle Rock makes a great place for your first snack break!
After passing Eagle Rock, you'll head slightly downhill towards San Ysidro Creek (which may be flowing in early seasons, but is not reliable.)
At mile 104.1, about 5 miles into your hike, you will pass a short side trail that takes you about a quarter-mile southeast to a seasonal spring and cattle trough (yes, it sounds gross, but this one is often clear and a good source to filter.)
Stop to take pictures a mile later at Warner Springs Meadow, which often has fields of wildflowers in the spring.
Begin a short climb to a large water trough and a nice campsite under oak trees (mile 101.1.)
You will also notice Montezuma Valley Road here, which leads to the small town of Ranchita. The Montezuma Valley Market is here and offers food, camping, and showers.
Continue on with your longest climb yet to about 4,400 feet.
Grab a rest in the shade at mile 96.1, where there is a very small rock cave.
After that, you'll head downhill towards a water cache and underground cistern at mile 91.2.
This is your last water until you reach the town of Julian 14 miles later, so it's crucial that you fill water here.
This entire section is filled with campsites, so camp wherever you find a nice flat spot!
The rest of the way to Julian is all a gradual downhill, so enjoy the cruise!
At mile 77 you'll reach Highway S2, which leads to Julian.
From there, Highway 79 will take you back to your starting point (it's best to arrange transportation ahead of time!)
The Sierra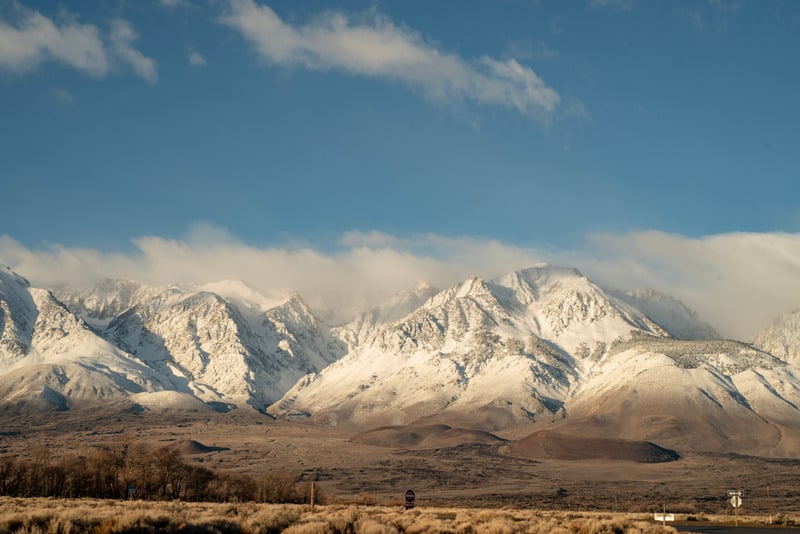 The Sierra Nevada officially begins at Walker Pass and climbs out of the desert into high peaks.
Many PCT hikers name the Sierra as their favorite part of the hike, despite its challenging elevation and climbing.
You're sure to get rushing rivers, alpine forests, and large granite slabs on nearly any hike you do in the Sierra.
The Sierra Nevada is typically covered in snow between late September to mid-June.
Check trail reports before heading out, and never hike in high snow without the proper experience and gear.
Between late June and early September, the Sierra offer near-perfect daytime temperatures in the 70s-80s, lots of sun, and clear skies at night.
(Note: Bear canisters are required for any overnights in the Sierra Nevada.)
Thousand Island Lake on the PCT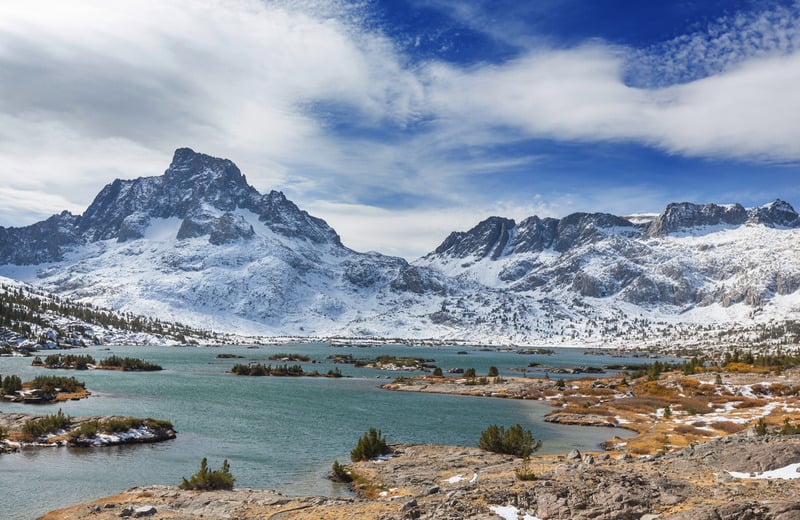 Length: 8.3 miles one way
Difficulty: Moderate
Thousand Island Lake is one of the most popular hiking and camping destinations on the PCT, as well as in California as a whole.
Once you get a glimpse of rugged Banner Peak poking above the lake's bright blue waters, the area's popularity makes a lot of sense.
This hike is great to do as an overnight.
You will need a permit from Inyo National Forest to camp on this trail.
Begin your hike at the Agnew Meadows Trailhead on Minaret Road (mile 916.9 on the PCT.)
You may need to park in the town of Mammoth Lakes and take the shuttle to your trailhead.
You'll begin your hike at 8314 and climb higher from there, so it may be a good idea to give yourself a little time to acclimate before hiking; consider staying at Agnew Meadows Campground at the trailhead the night before.
Head north from the trailhead and switch back up nearly 1,000 feet before crossing a stream in about 1.5 miles.
You'll continue climbing for several miles until you reach a stream at 9,662 feet about 3 miles in.
After this, your hike will level off (for now!)
At 5 miles in, you'll pass Agnew Pass Junction. Continue another mile down the trail and stop for lunch at Badger Lake!
Your final big climb is coming up as you continue up another 500 feet to Thousand Island Lake at 9,846 feet.
Set up camp on one of the many tent sites near the water and go for a swim!
For an extra jaunt, consider continuing just 2 more miles and climbing up to Island Pass at 10,226 feet.
This provides the best view of Thousand Island Lake from above.
To return, either go back the way you came or take the John Muir Trail back past Garnet and Shadow Lakes to make this a loop.
This route is slightly longer but is recommended as you'll pass several alpine lakes and it's mostly downhill.
Mammoth Lakes to Sonora Pass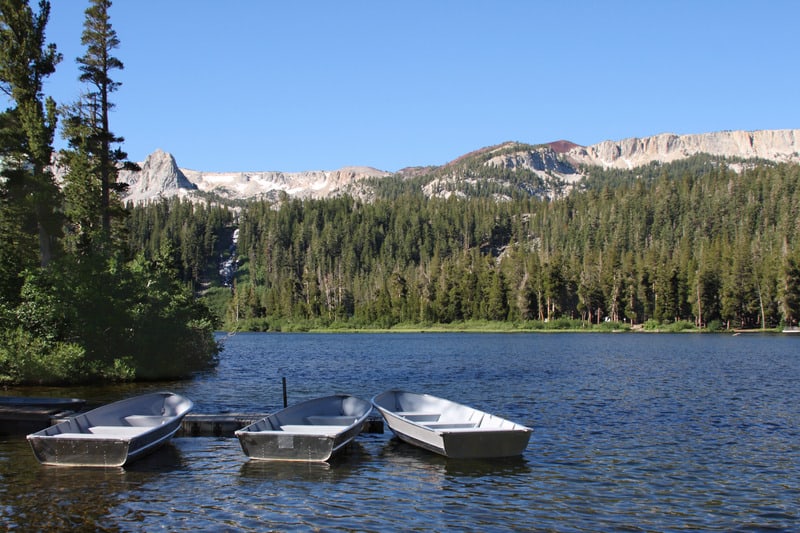 Length: 101 miles
Difficulty: Hard
This longer section of the PCT crosses right through Tuolumne Meadows and ends at the northern 'gateway' to the Sierra, Sonora Pass.
While this section is not quite as difficult as the southern Sierra, it still provides challenges, beauty, and rugged terrain.
It's also a fun hike because you move from granitic rock to more volcanic areas, which provides a nice mix of new landscapes.
Begin this hike the same way as the Thousand Island Lake hike described above, parking your car in Mammoth Lakes and beginning at Agnew Meadows Trailhead at PCT mile 916.9.
After passing Thousand Mile Lake, continue up Island Pass, down into a forested valley, and back up the other side to Donahue Pass at 11,073 feet (mile 931.9.)
Head down from Donahue Pass to stroll through Lyell Canyon before entering what is officially Tuolumne Meadows.
There is a small store and post office there for a food resupply, as well as a campground.
This is your last access to any kind of civilization until Sonora Pass, so make sure you plan to get enough food here.
From Tuolumne Meadows, head down into Glen Aulin, past a rushing waterfall, then onto a long flat stretch.
Get ready, since the next few days will be a lot of up and down as you hike up and down between 8400 feet and 10,107 feet at Benson Pass, before heading back down again to 7604 feet.
You'll continue climbing up and over valley walls, passing beautiful lakes, until you reach the Tilden Lake Junction, where things level out a bit (for now.)
Hike along the valley from Tilden Lake to Dorothy Lake before heading over Dorothy Lake Pass.
At mile 1005.4 (about 88 miles into your hike), you'll begin a large climb from about 8600 feet up to the Leavitt Lake Junction at 10,487 feet.
You'll stay at about this elevation until you begin your final descent to Highway 108 and Sonora Pass.
From there, you're a short drive away from Kennedy Meadows North, a small resort with a store. Congratulations! You've hiked out of the Sierra.
You'll likely need to plan a ride from here back to Mammoth, as this section is far from public transit and it's not a straight shot back to your car.
You can also plan on getting a ride to Tuolumne Meadows, and then taking the YARTS bus out to Mammoth.
For a longer section hike, consider doing the full 186-mile Tahoe to Yosemite Trail on the PCT.
John Muir Trail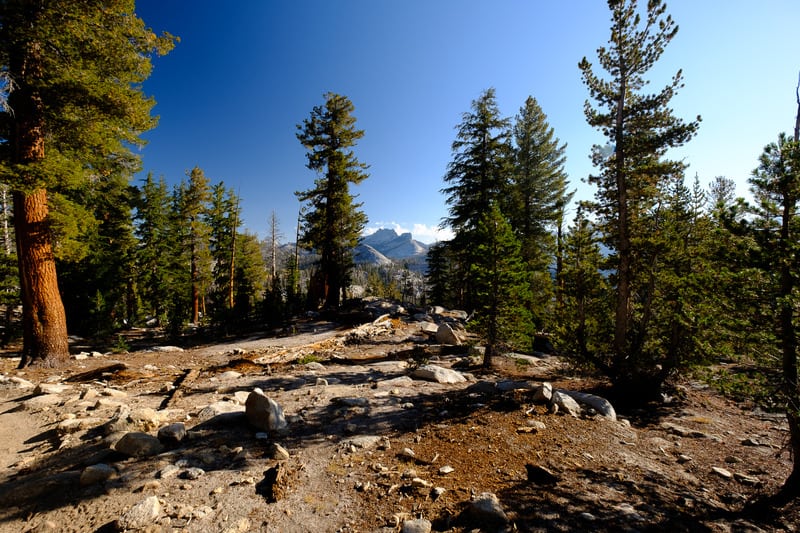 Length: 211 miles
Difficulty: Hard
The JMT is considered by many to be the gem of California hiking trails and is the best section of the PCT to do in order to get a real feel for the Sierra.
You'll get to experience Yosemite National Park as well as Mt. Whitney, the tallest mountain in the Lower 48.
We won't go into too much detail here because you can read our full guide to hiking the JMT!
Northern California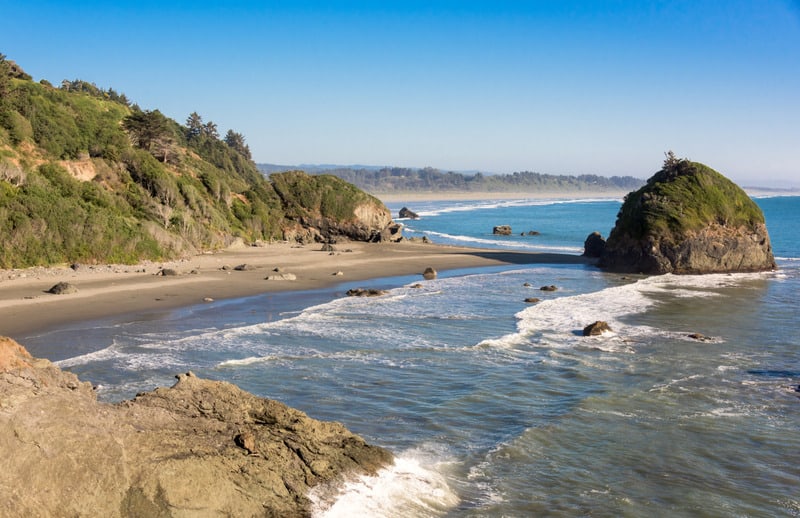 The northern California section of the PCT officially begins north of Sonora Pass, although you may still feel like you're in the Sierra until after Lake Tahoe.
While some areas, like Tahoe or the Trinity Alps, may feel similarly alpine to the Sierra, the elevations in northern California are lower and you'll find more forested sections.
Much of northern California is also considered high desert, so the water becomes less available and you'll experience more sandy or volcanic landscapes as you hike through the southernmost part of the Cascade Range.
The best time of year to hike in northern California is between mid-late June to late September, depending on snow levels that year (snow can fall in September or not be melted in June.)
Some sections can get quite hot and dry, as you'll be at only 2000 feet in some areas, so plan accordingly and always know where your next water source is.
Echo Lake to Donner Pass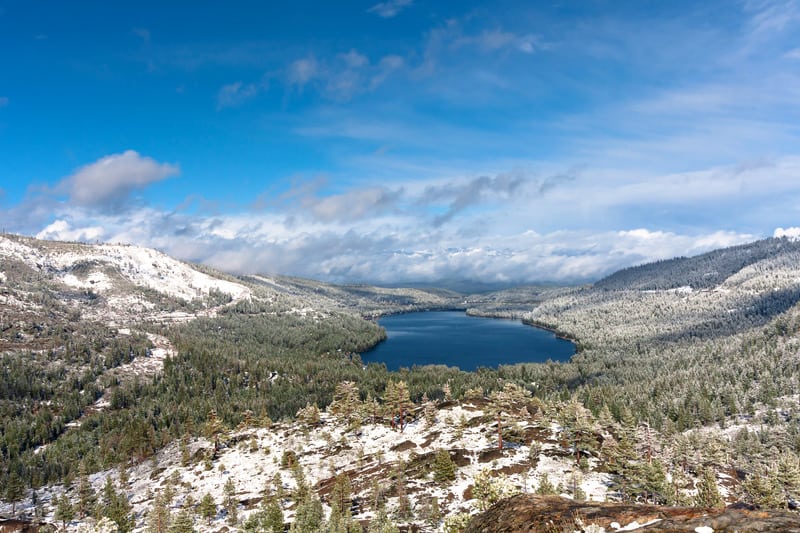 Length: 61 miles
Difficulty: Moderate-Hard
This backpacking trip makes for a great 5 to 7-day trip and takes you through the Desolation Wilderness, one of the most popular areas for backpacking in the entire state of California.
You'll get to experience the incredible blue of Lake Aloha, views of Lake Tahoe, and one of the nicest ridges walks on the PCT.
You will need one of the highly sought-after Desolation Wilderness permits from Eldorado National Forest.
This area is also well-known for its bears, so make sure to bring a bear canister or other form of bear protection for your food.
Begin at the Echo Lake Chalet, off of Highway 50 near the town of South Lake Tahoe (PCT mile 1092.3.)
You have the option to take a boat shuttle across Echo Lake or hike along the side for a few miles.
Either choice is sure to be a good one as you soak in the views of the lake and its rocky shoreline.
Climb from Echo Lake to Lake Aloha, passing the Tamarack Lake Junction and crossing a boardwalk.
After about a 700-foot climb and a short descent, you'll reach Lake Aloha about 7 miles into your hike.
This makes a wonderful camping and swimming spot, as there is a rocky shoreline with flat spots as well as perfect sunbathing rocks spotted around the lake.
Climb out from the lake basin up to a wonderful view of Susie Lake.
Head over Dicks Pass at 9376 feet (mile 1105.7).
Descend past Fontanillis Lake and Middle Velma Lake to a stream basin with several tent sites.
At mile 1117.2, 25 miles into your hike, you'll leave the Desolation Wilderness Area and pass Richardson Lake as well as Miller Creek.
You'll have a gentle climb to the Barker Pass Trailhead at mile 1124.8 and experience a great view of McKinney Bay, a small bay in Lake Tahoe that is often filled with boats.
The next section of the trail is fairly gentle, with fluctuations of only about 500 feet.
At mile 1133.4 you'll pass the Alpine Meadows Ski Area, and then pass Palisades Tahoe Ski Area (formerly Squaw Valley) about 7 miles later.
Walk along the ridge for another 13 miles (there are plenty of campsites along the way, although water is slightly more limited) and consider scrambling up Tinker Knob for a great view of what you just hiked.
Finally, you'll hit Donner Peak Trailhead outside of the town of Truckee at mile 1153.2.
Stop in at the Donner Ski Ranch for a snack or get a ride into Truckee.
From Truckee, it's a slightly long but direct drive back to South Lake Tahoe and on to Echo Lake where you started.
Castella/Dunsmuir to Etna
Length: 98.5 miles
Difficulty: Hard
This 98.5-mile section of the PCT (I mean, come on, let's just call it 100) is an underrated but spectacular section of the trail.
You'll get to see Castle Crags, a unique formation of sharp rock cliffs, you'll have a great view of Mount Shasta, and you'll get to hike through a chunk of the stunning Trinity Alps.
You'll need a Trinity Alps Wilderness permit for this hike. Water may also be limited at certain times of the year, so make sure you know where your next water source is.
Begin your hike near the towns of Castella and Dunsmuir, where the PCT crosses I-5, at PCT mile 1501.2 and an elevation of 2132 feet.
Get ready to climb!
The first section of this hike involves a switch-backed climb up past Castle Crags to a fantastic view of Mt. Shasta.
Make sure to get water at Gully Spring at mile 1516.2, and consider camping at the tent sites beyond the spring – there's an amazing view of both Shasta and Castle Crags at once.
Wind around a meadow ridgeline, into the forest, and onto a long stretch of the rocky ridge towards the Trinity Alps.
Ten miles later, you'll hit Picayune Spring, which is about 300 yards off-trail.
Consider camping at Porcupine Lake (mile 1531.3, 30 miles into your hike), which has fantastically flat tent sites and a wonderful swimming lake.
The next day is remarkably gentle as you curve north along a ridgeline.
At mile 1560, 59 miles into your hike, you'll pass a campground at State Highway 3.
There is very little traffic here but is a good bail option if you need it.
You'll climb about 2000 feet from Highway 3 onto a beautiful rocky ridge.
Head up and over a tough climb before descending back down into a lush meadow next to the South Fork of the Scott River.
At mile 1580 you'll leave the Trinity Alps Wilderness, cross Forest Highway 93, and begin another short climb up to tent sites.
The last section before Etna will bring you many ups and downs, literally and figuratively, as you climb past beautiful rocky springs and hike through a large burn section.
Climb one last exposed, rocky stretch with a great view of alpine lakes below you, before your final descent of about 1500 feet.
You'll end your hike at the Etna Summit Trailhead 1599.7, elevation 5952.
Take Sawyers Bar Road 10 miles down into the extremely hiker-friendly town of Etna.
This road is rarely traveled, so it may be best to arrange a ride ahead of time (there are several trail angels in Etna that may be able to help you.)
That said, Etna locals are used to hikers and will often pick them up if they're going by.
If you want to rest a little, there is camping available in Etna's public park, as well as a grocery store and several good restaurants.
From Etna, you can take Highway 3 to Highway 5, which will take you south back to your start.
Finally, if all these PCT section hikes have you itching for more, check out our complete guide to preparing for the PCT or our guide to packing for the PCT.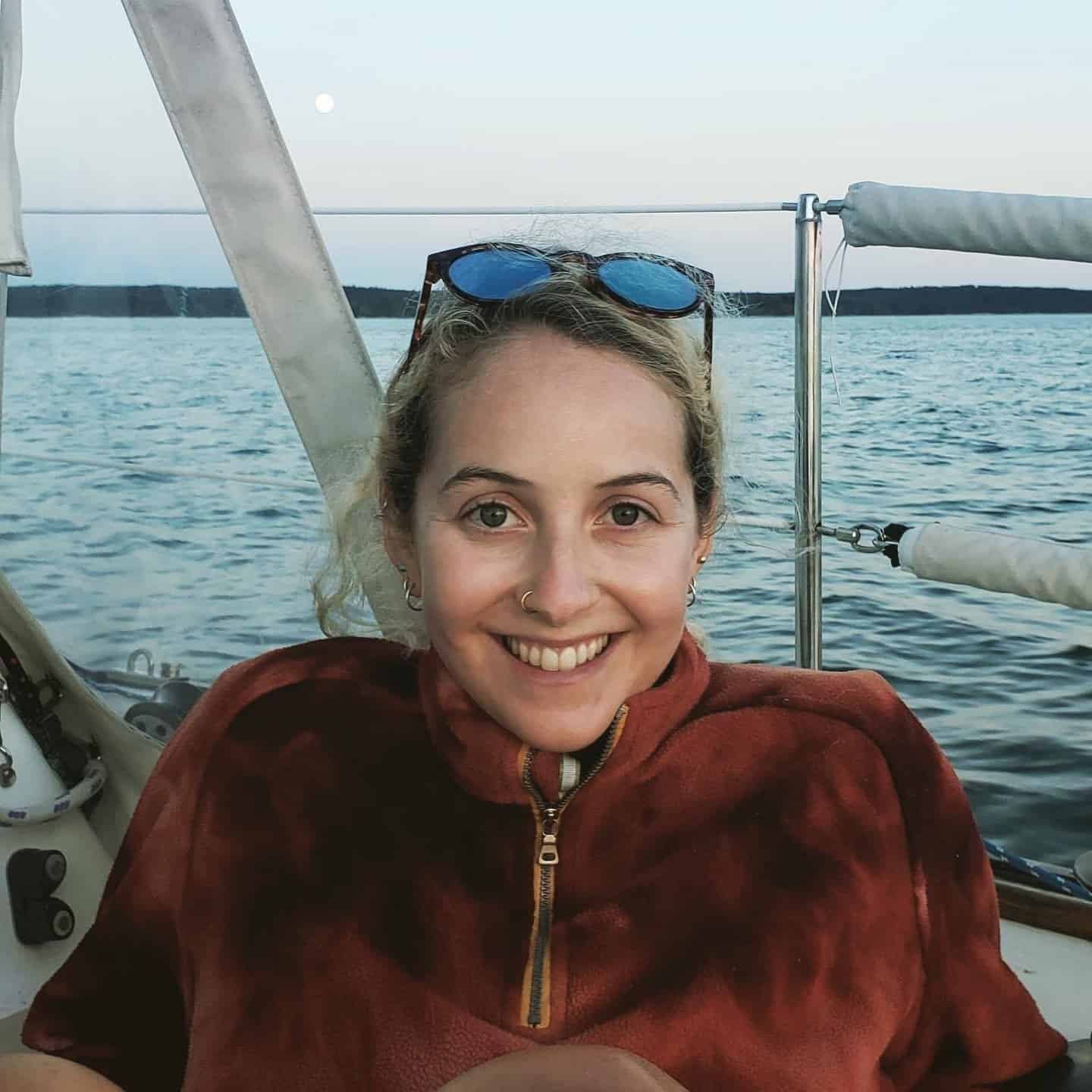 Lena is an outdoor recreation enthusiast born and raised in the San Francisco Bay Area. After going on her first camping trip at 3 months old, she hasn't stopped since. While her backpacking adventures have taken her to wilderness destination across the country, California's mountains and deserts will always be her favorite.