Each and every one of California's nine national parks has something (if not a bunch of somethings) to rave home about and Redwood National Park is no exception.
Dare I say that Redwood National Park is even one of the best national parks to visit?
The National Park is combined in unison with three redwood-filled state parks to create a superfecta of breathtaking overlooks, hikes, and attractions!
It might as well be named the enchanted forest for the way the lush greenery, towering trees, and tranquil silence makes every inch of this National Park feel truly magical.
Not to mention the herd of majestic elk that are always being spotted wandering around somewhere within the park or the crashing of waves along the rugged coast of the Pacific Ocean (yes, Redwood National Park includes beaches and coastline, too!)
The bottom line is that a visit to this park is an extraordinary experience that you won't find anywhere else and I already have all the details planned out…
So what are you waiting for?
I hope this Redwood National Park itinerary helps you plan the perfect trip!
Where to Stay in Redwood National Park
Gold Bluffs Beach Campground
Note: This post contains affiliate links, which earn me a small commission at no extra cost to you if you make a purchase using one of these links. Thank you for supporting this free content!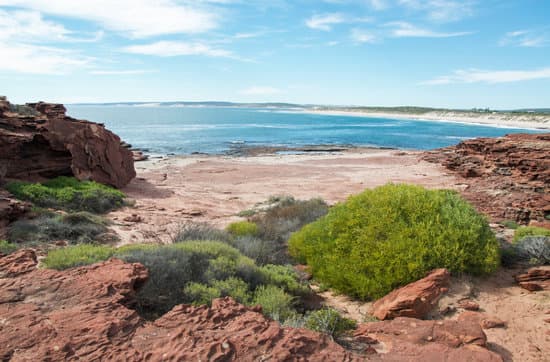 If you are planning a visit to Redwood National Park, chances are that you like to spend time outdoors, so why not fully immerse yourself in the beauty of it all by staying at Gold Bluffs Beach Campground!
Now if you are someone who already does your fair share of camping, all you need to know is that this is the best campground in the park.
But for all my friends who don't consider a tent the best form of lodging accommodations, let me explain to you why this would be one of the best experiences of your life.
This is a campground where you get to spend the night at the beach and I am not talking about just any beach here.
A night spent here means you get to wake up each morning to the picturesque view (and sound) of waves crashing against one of the most beautiful stretches of California's coast.
It doesn't get better than that, amirite?
Well, actually it does. It also just so happens that Gold Bluffs Beach Campground is located at the heart of all the excitement so you'll never be too far away from a day filled with adventure.
Elk Meadow Cabins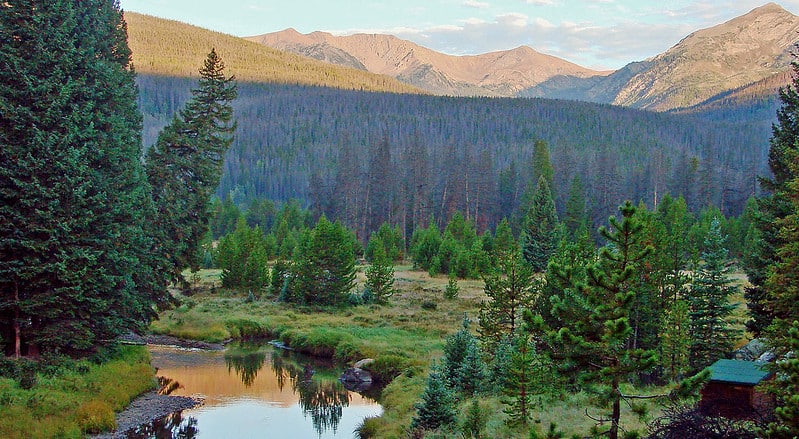 But if the camping lifestyle just really isn't for you, I totally get it.
No hard feelings here!
And besides, I came with a backup plan (and a pretty fantastic one at that).
Elk Meadow Cabins is located just down the road from Gold Bluffs so you can still enjoy the convenience of its location while also enjoying some luxuries that you wouldn't find otherwise.
I am talking about outdoor jacuzzis, community fire pits, private porches, and so much more!
Not to mention the fact that this place wasn't just named Elk Meadow Cabins for the appeal.
These cozy accommodations are located smack dab in the middle of the elk migration path so there are almost always some of these majestic creatures hanging around!
Elk Prairie Campground
One of the Redwood National Park's greatest features is its remote location but with that comes a lack of amenities.
Plain and simple.
So to really enjoy all that this beautiful park has to offer, you have to embrace every bit of it.
And what better way to do it than by enjoying a night of camping?
Elk Prairie Campground is a perfect representation of the park's tranquil bliss as it is in a quiet part of the forest that sees very little foot traffic.
You'll get to spend the night under a canopy of towering trees and wake to the peaceful sounds of nearby wildlife.
Plus varying campsites let you have your pick of scenery, whether it be the running waters of Prairie Creek or the wide-sweeping beauty of the Elk Prairie meadows.
Travelers easing their way into a life of camping can also enjoy one of four cabins which are designed simply to put a roof over your head.
You won't find a bathroom or a kitchenette. In fact, you won't find anything in them at all besides a bed to rest your head (just don't forget your own linens).
In other words, It is a great way to dip your feet into a more simplistic lifestyle without having to invest in the gear.
Crown of the Coast
If you don't mind doing a little extra driving after a day in the park and you prefer to stay close to amenities, then I highly recommend spending the night in Crescent City where you will find just about the only source of human life within a two-hour drive.
Now don't expect big city vibes here but you'll definitely be feeling spoiled by the collection of restaurants, breweries, and department stores after spending a day surrounded by trees.
There are also a handful of hotels to choose from but if I am being completely honest with you, the house rentals in this little city put all of the other lodging options to shame.
A particular favorite of mine is the Crown of the Coast and while it is especially great for large groups of people (sleeps 12), its affordable rates make it an ideal choice regardless of your party size.
The view is worth the price alone thanks to floor-to-ceiling windows overlooking the wide-sweeping beauty of the Pacific Ocean.
Spend the night in one of five bedrooms, play a game of pool with friends, unwind after a long day in the 8-person private sauna, take one of the beach cruisers bicycles out for a spin, watch the sunrise over the water with a cup of coffee in hand, enjoy a barbeque on the back patio- the opportunities are endless!
The Wonders of Redwood National Park: Day One
Wander Around Stout Grove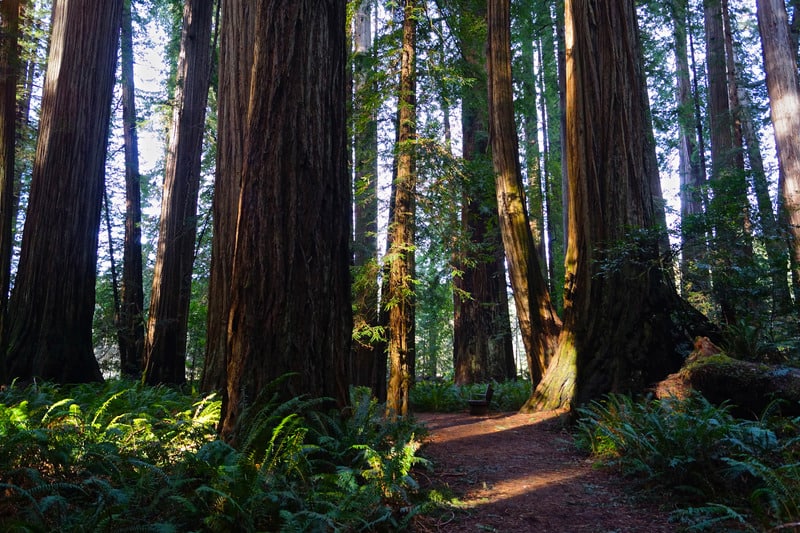 Distance: 0.7 miles
Time required: 1 hour
Difficulty: Easy
Rise and shine! The first day of this Redwood National Park itinerary has you up and at 'em bright and early.
A day exploring a national park almost always requires an early morning and today is no exception.
Some of the best moments you'll have here will occur before you even have breakfast so grab a cup of coffee for the road and get ready to explore.
Start your day off with a bang with a visit to Stout Grove and cherish the fact that you have decided to get here early because the trailhead parking lot is usually full by noon.
If you are lucky, you may even get to explore a bit of this magical forest all to yourself!
The trail itself is a little over half a mile and its relatively level terrain makes it an easy hike for all experience levels.
It is one of those trails that offers some spectacular views for very little effort so it's no wonder why it is one of the most popular trails in Redwood National Park.
Feel free to take your time as you marvel at the giant trees that surround you and listen in awe to the sweet sound of nothingness that makes this grove feel even more like a page out of a fairytale.
For a different approach, park in the Jedediah Smith Redwoods State Park Campground Day Use Area (but just be prepared to pay the $8 entrance fee) and take the hikers' bridge across the Smith River to reach the grove.
Grab a Quick Bite at Hiouchi Cafe
Staring at towering trees has a way of making you forget about that growl in your stomach, but once you leave that trailhead you are sure to be feeling ravenous so it's time to head right to breakfast at Hiouchi Cafe.
It may be hard to take the cafe's title of "Best Breakfast in the County" seriously when they are the only breakfast in the county (I am only half kidding), but I assure you that a meal here does not disappoint.
The menu is always changing and there has to be some sort of creative genius behind the dishes because where else can you find options like loaded breakfast fries or a breakfast bread bowl?
Hike the Boy Scout Tree Trail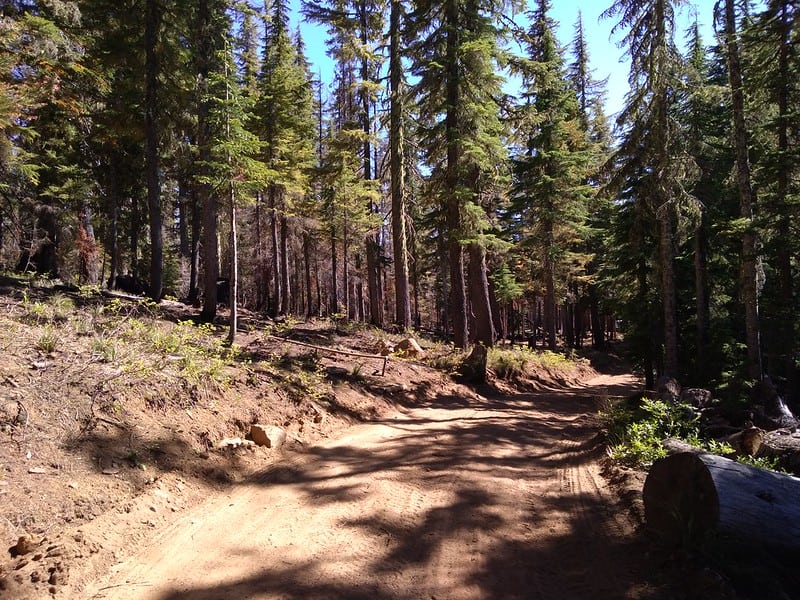 Distance: 6 miles
Time required: 3-4 hours
Difficulty: Moderate
Now that you are fueled up, it is time to take on the big hike for the day.
The Boy Scout Tree Trail clocks in at a whopping six miles but its minimal elevation gain makes it a great warm-up for experienced hikers and the perfect challenge for first-time explorers.
You'll get to admire the national park's highlight, redwood trees, as you walk through a moss-covered grove that is nothing short of remarkable.
You will feel like you have stumbled upon one of the world's best-kept secrets (because you kinda have) as you bask in the beautiful silence, hearing nothing more than the sounds of flowing water up ahead.
The trail rewards you for your efforts with an unparalleled view of Fern Falls and its mystic beauty is just one of those things you really have to see to believe.
The falls aren't known for their grand size nor their powerful waters, but rather for the way that they make all travelers feel like they have stumbled upon something truly magical (if you haven't caught on already, fairytale vibes are pretty much the theme of this national park).
Once you find the will to pull yourself away from these otherworldly falls, you will have to go back the same way you came where you will get to, quite literally, admire the beauty of the redwood trees in a different light.
Drive Howland Hill Road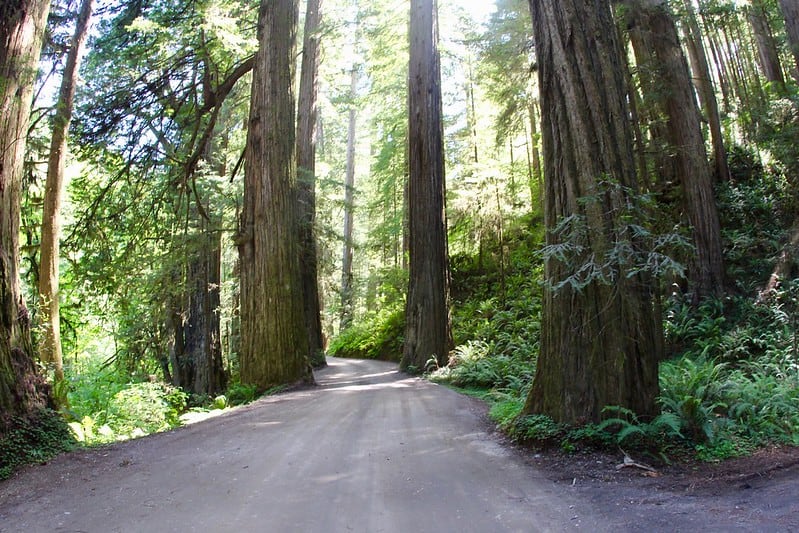 Good news.
If you just got in your car and pulled out of the Boy Scout Tree Trailhead, then you are already on Howland Hill Road!
Talk about painless.
This 10-mile stretch of dirt road is one of the most scenic drives in the park so it is perfectly acceptable to stop every so often to get out and take in the views.
In fact, it's encouraged!
Plus, this road is going to lead you right to lunch so sit back and enjoy the ride.
Enjoy Lunch with a View at the Chart Room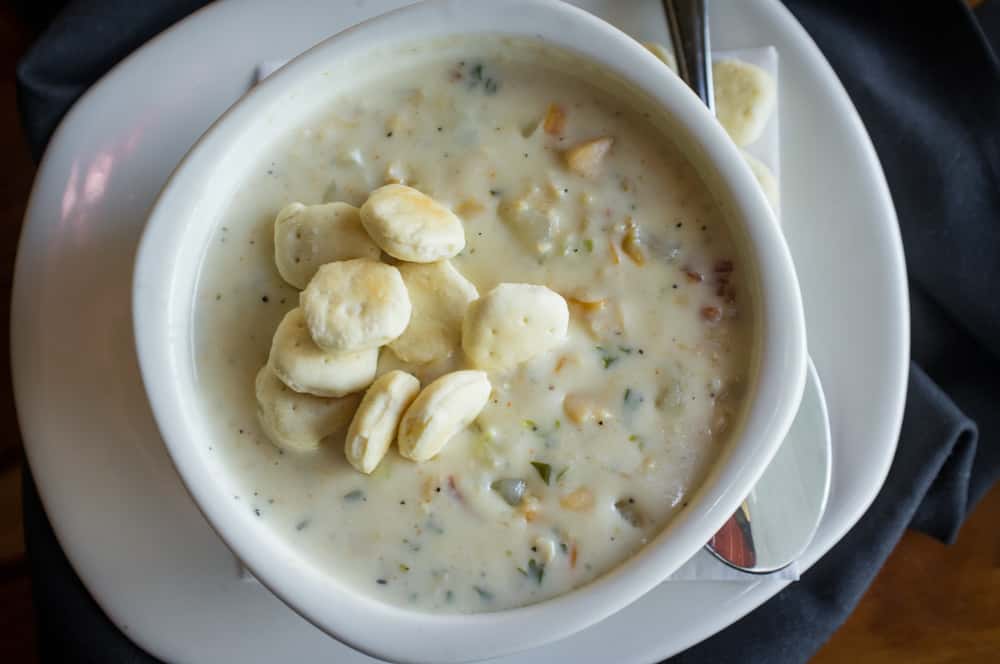 Alright, I'll be honest with you. If you don't plan on spending the night in Crescent City then this is probably going to be the last real sit-down meal you'll have while exploring the park so you might as well make it count.
That's why I spared no expense when picking your next destination so believe me when I say that the Chart Room is the best restaurant in town…
… and it also just so happens to have the best view.
This place is known for its seafood so do yourself a favor and go all out with a seafood combo platter or add in some carbs to keep you energized for the day with a grilled crab sandwich.
Just don't forget to order a bowl of clam chowder. You'll thank me later.
Stare in Awe of the Crescent Beach Overlook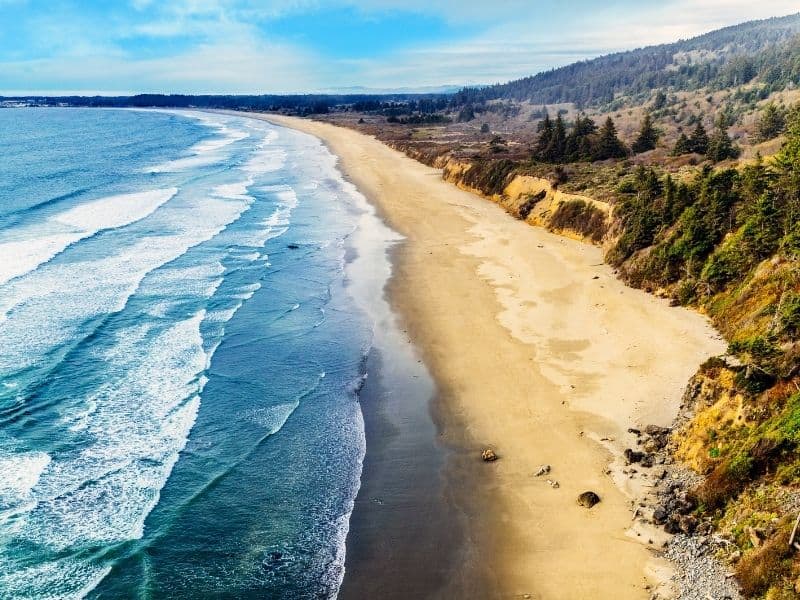 You've done your fair share of walking today so it's about that time when you get to enjoy a breathtaking view without having to put in any work.
That's right.
None at all.
That is unless you count the quick, five-minute drive it takes to get here.
But once you arrive, you will find it hard to leave as the endless views of the rugged coast and the occasional sightings of marine life leave you mesmerized.
In other words…
If you are looking for an iconic photo opp, this is your place. It's one of the most spectacular views on this Redwood itinerary!
Explore the Tidepools at Enderts Beach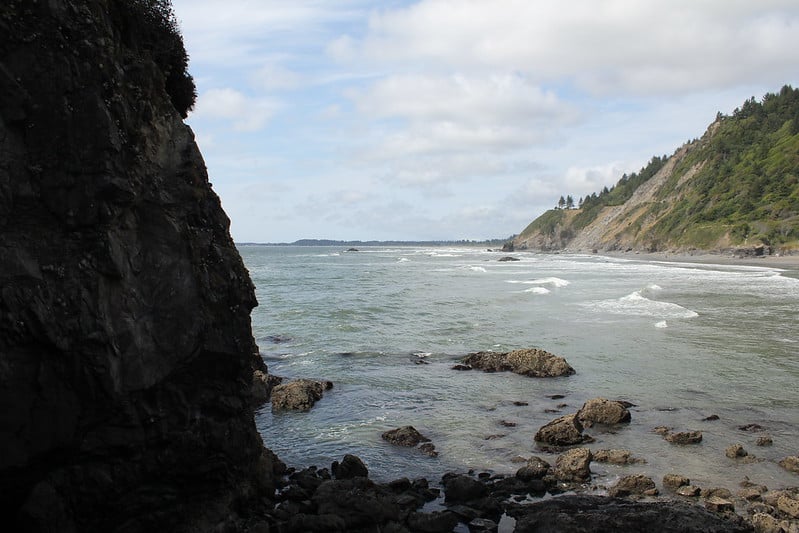 Can't get enough of the coast?
Enderts Beach is just minutes from the Crescent Beach Overlook and it provides an access point for travelers to explore its sandy shores.
The quick walk down to the beach is breathtaking every step of the way dotted with coastal bluffs and flourishing vegetation.
Once your toes reach the sand, you will have entered a world where nothing matters but the crashing waves and an abundance of tidepools only add to the fun.
Stretch Your Legs at the Klamath River Overlook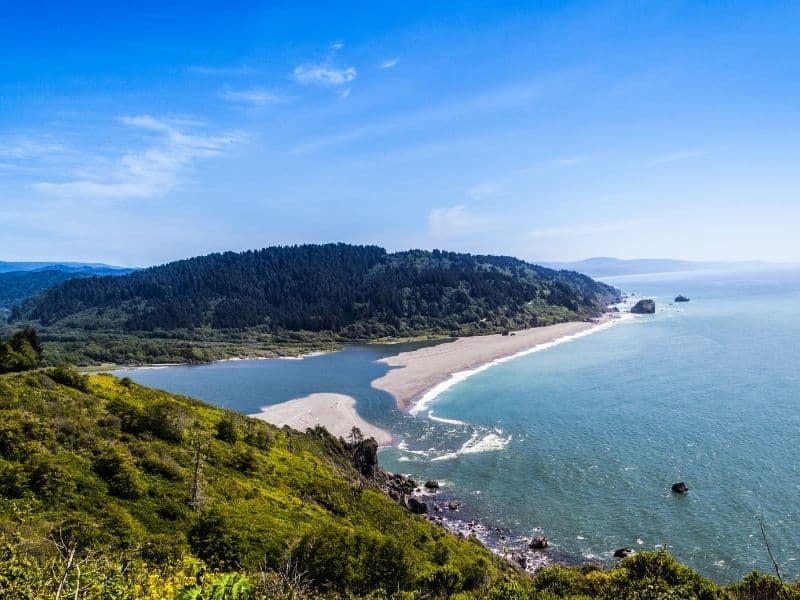 Once you head out from Enderts Beach, you will have a bit of a long drive before you reach your final destination but luckily the Klamath River Overlook makes for the perfect halfway point to get out and stretch your legs.
The views from the parking lot are stunning but anyone willing to take the half-mile trek down to the actual viewpoint will be in for a real treat.
You will have to pay for the view with a steep hike back up the cliffside but I promise it is worth the burn.
From this viewpoint, you'll spot sea lions and a wide variety of birds going about their day as well as the occasional whale migrating for the season.
Not to mention the incredible sight of the Klamath River intertwining with the Pacific Ocean!
Pro tip: Take the Newton B. Drury Scenic Parkway.
From the Klamath River Overlook, you can take the Redwood Highway (aka the 101) all the way to your next destination, but veering right onto the Newton B.
Drury Scenic Parkway will provide you with a slightly longer but much more scenic route.
Try an Elk Burger
You are officially at the heart of Redwood National Park and that amazing news also has a downside.
Amenities are slim to none.
But fear not, EdeBee's Snack Shack is here to save the day.
And really you have to give this place props.
It is the only place to grab a bite to eat for miles so the hard reality is that the food really doesn't have to be that good.
But it is. It's really good.
Like, order a second elk burger because you just can't help yourself-good.
I mean they have five different kinds of smothered tater tots for Pete's sake.
Sure, ordering an Oreo milkshake probably isn't great for the diet but after a busy day like today, you've earned it!
Watch the Sunset at Gold Bluffs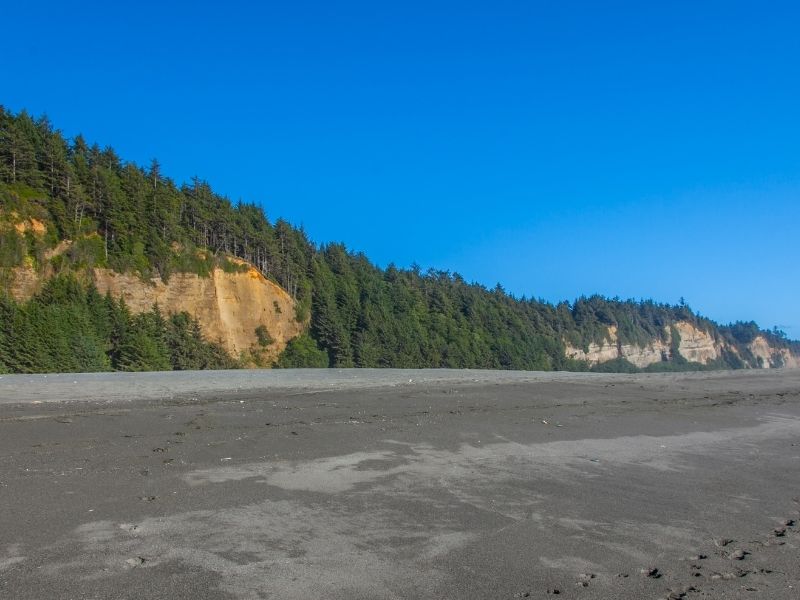 As I mentioned earlier the Gold Bluffs is easily one of the most beautiful portions of California's northern coast.
You would honestly be doing yourself a disservice if you didn't spend a night watching how the sunset takes that beauty to the next level.
And psst… if you set up camp at one of the sites here, then you are already home!
The Wonders of Redwood National Park: Day Two
Stock Up at the Shoreline Deli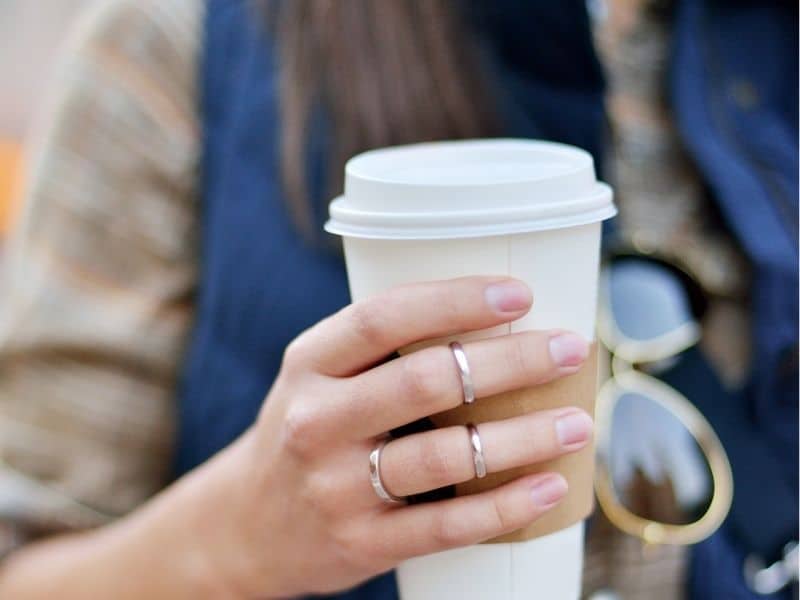 You are about to go exploring the southern part of Redwood National Park and in doing so, you will stray further and further away from a food source.
That is why I can't emphasize enough the importance of having a cooler packed with snacks, sandwiches, and drinks before you hit the road.
Luckily, you can find all of those things at Shoreline Deli.
And then some. Start your morning off with a tasty breakfast sandwich and a cup of coffee.
Then roam the short but well-stocked aisles for all the goodies your heart desires.
You have a busy day ahead so the more the merrier.
And considering its small size and remote location, you'll actually find a nice selection of bread, meats, and cheeses to build a sandwich you can enjoy later in the day.
Oh, and while you are at it, don't forget to refill on gas!
Marvel at Fern Canyon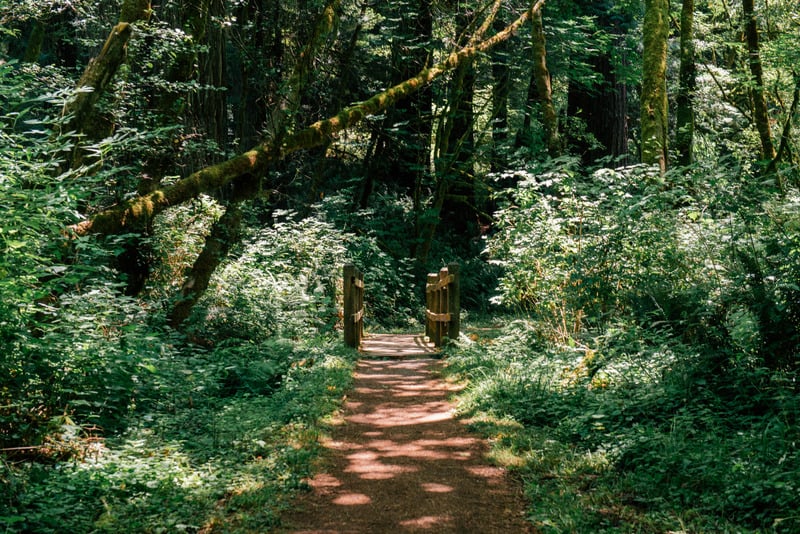 Distance: 1.1 miles
Time required: 1 hour
Difficulty: Easy
Fern Canyon is a place you'll enjoy with or without the crowds but to really make the most of your experience, I highly suggest getting here as early as your body will allow it.
I know you had a long day yesterday and your body might be begging for some extra time in bed but just remember that Fern Canyon is one of the most beautiful places in the national park…
… and it doesn't even have redwood trees!
It is probably hard to imagine anything could be as breathtaking as those towering giants you've already spent so much time with but I assure you that the fern walls of this canyon have a way of stealing hearts.
The hike is only about a one-mile round trip but it is an exciting adventure from start to finish.
Cross riverbeds and make your way through running creeks that sometimes flow high above the ankles (in other words, wear waterproof shoes) as you marvel at the endless greenery that surrounds you.
I mean, there is a reason why scenes from Jurassic Park were filmed here.
Hike the Tall Trees Grove Trail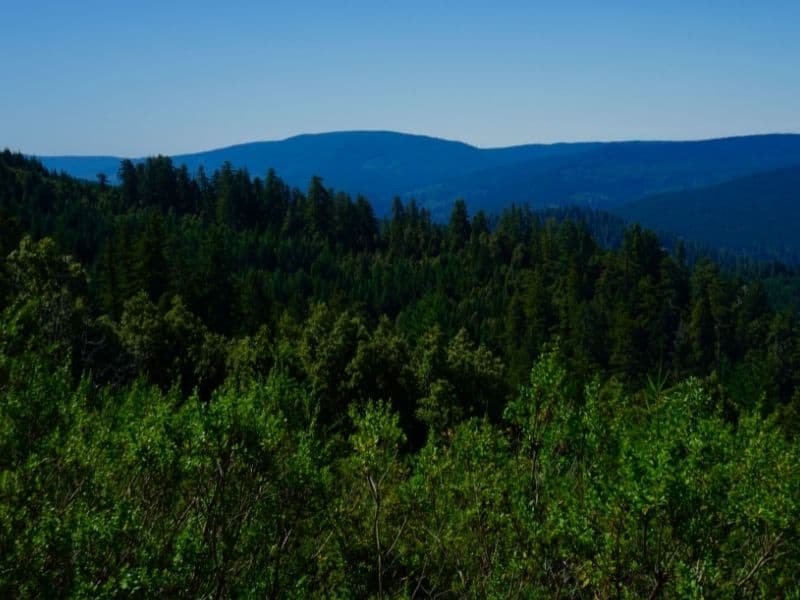 Distance: 3.3 miles
Time required: 2-3 hours
Difficulty: Moderate
Once known as one of the busiest trails in Redwood National Park, the Tall Trees Grove Trail can now only be accessed with a hiking permit that limits the traffic to no more than fifty groups a day.
Some may see this as an unfortunate thing since you can't decide to hike the trail on a whim, but anybody who is able to request a permit more than 48 hours in advance almost always scores a spot.
To increase your chances, get plans in motion up to four weeks prior to the day you hope to hike this trail.
This may sound like a big to-do to go on a hike but there is a reason why this kind of system was set up and it's got everything to do with the beauty that awaits you there.
Picture towering redwoods in a serene setting unlike any of the other groves you've seen so far… and now they can be enjoyed with even fewer people!
At the end of the hike, you'll enjoy a scenic view over the tops of the redwoods and the surrounding mountains, a view like no other on this Redwood itinerary!
Have a Picnic at Dolason Prairie Picnic Area
There is nothing like a strenuous hike to get you ready for lunch and lucky for you, the Dolason Prairie Picnic Area is just a stone's throw away.
(Okay, fine, it's more like 25 minutes but everything in the park is so spread out and… you get the point).
Besides, this perfect little picnic spot is where you'll start your next adventure. So it's a win-win.
Plus, it is located at the foot of a wide-sweeping meadow that overlooks the historic Redwood Creek watershed and is complemented by the view of tree-lined mountains.
What more can you ask for?
Wildlife sightings?
A nature trail?
Oh yeah, the Dolason Prairie Picnic Area has those too.
Enjoy a Change of Pace at Bald Hills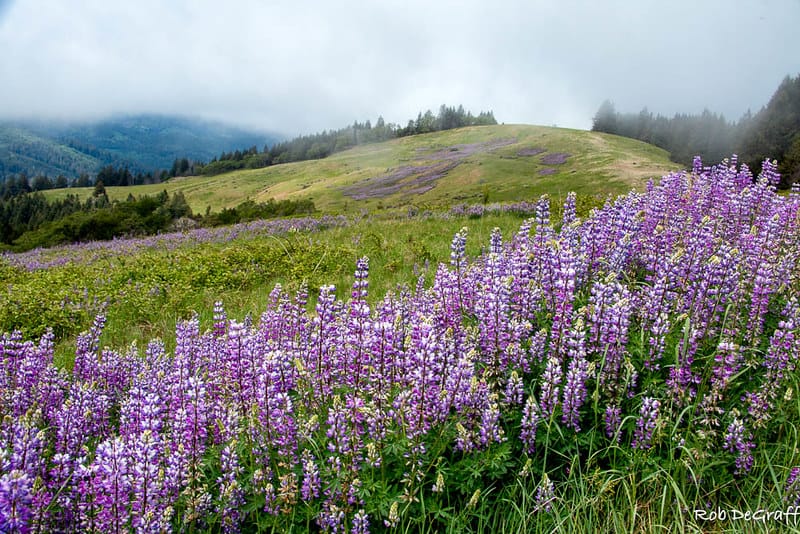 You won't have to go out of your way to enjoy your next activity.
In fact, driving the picturesque road that winds through Bald Hills will take you right to your next destination and this journey begins the moment you leave the Dolason Prairie Picnic Area.
Do I know how to make the most of your time or what?
Driving this road lets you see a totally different part of the national park.
Redwoods may border its edges but for the most part, you will be admiring the views of wide-sweeping grasslands and scenic meadows.
Just remember to drive slowly (and keep your camera handy) because wildlife sightings are extremely common here!
Stroll Through Lady Bird Johnson Grove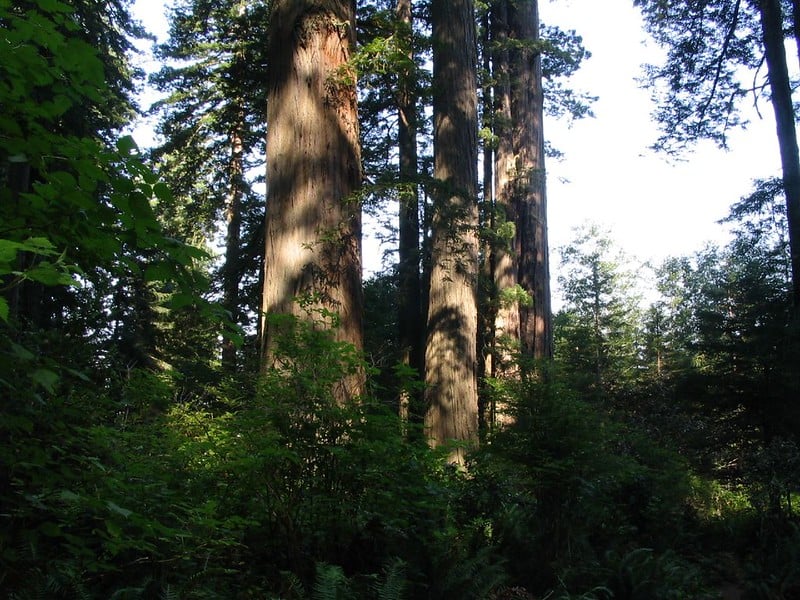 Distance: 1.3 miles
Time required: 1 hour
Difficulty: Easy
Unlike all of the other groves you visited on your adventures through Redwood National Park, Lady Bird Johnson Grove is located 1,200 feet above sea level which means it is technically an upland grove.
Some background information: Lowland groves provide all of the needed components for redwoods to become those giant monsters that we all know and love whereas upland groves' high elevation has a way of stunting growth.
This isn't necessarily a bad thing since smaller redwoods means a canopy-free view of the sky.
It is actually the reason that this grove is one of the only places you can look at one of these trees from trunk to tip!
Plus, the higher elevation rolls in a lot of fog which only makes the trail feel that much more magical as you walk over bridges and amongst towering trees.
Watch the Sunset at Redwood Creek Overlook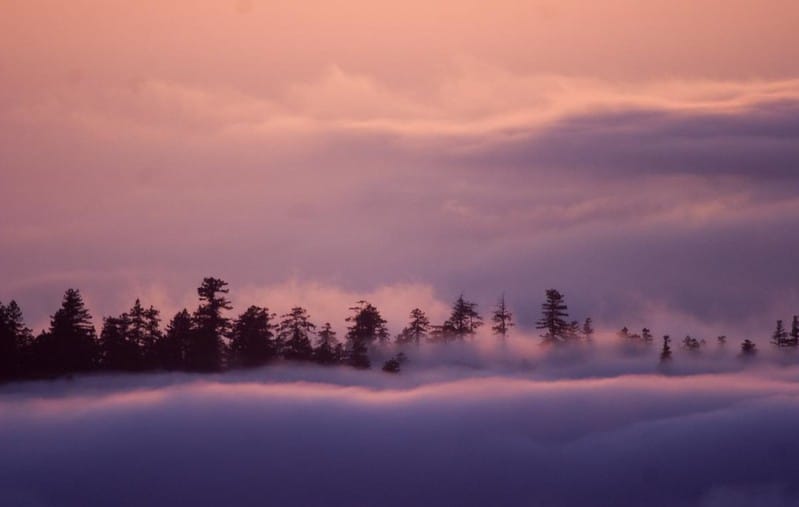 As your journey through Redwood National Park comes to an end, it is only right that you say a proper goodbye and there is no better place to do it than the Redwood Creek Overlook… especially during sunset.
For starters, this iconic overlook stands 1,000 feet above sea level and provides wide sweeping views of the redwood treetops you just spent the last couple of days venturing beneath.
Throw in the views of the Pacific Ocean out in the distance and you are pretty much looking at all of the national park in a nutshell.
And just when you think it can't get any better, the sun starts to set over the water and, in combination with the amazement you feel over the cloud inversions, you are left speechless by the way the sky transforms into a sea of red, pink, and orange.
End with a Bang at the Larrupin' Cafe
Saying goodbye is never easy, especially when it means leaving one of the most beautiful places in California, but luckily the Larrupin' Cafe is there to help ease that pain.
A thirty-minute drive takes you out from underneath a canopy of redwood trees and along the open coast where the Larrupin' Cafe is ready to provide you with an upscale meal in celebration of everything that you have accomplished on your journey.
Right off the bat, you will be invited to enjoy a selection of the restaurant's finest local cheeses while you decide between mouth-watering dishes like the Filet & Prawn Kabobs and the House Special Lamb Chops.
Just don't forget to start off with an appetizer like the Brie En Croute and don't even think about skipping dessert when there are options like lemon tart and creme brulee just waiting to be enjoyed.
And if the weather is on your side, do yourself a favor and sit out on their new patio!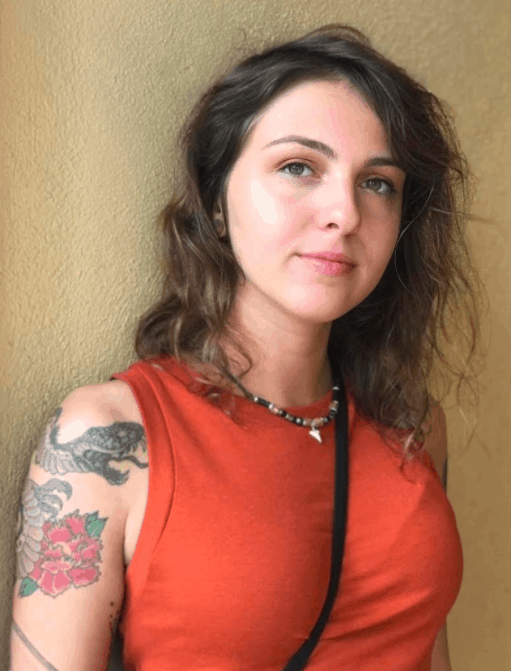 Nicole is a freelance travel writer who lives in Upstate NY, but her heart lies in the beautiful state of California. She loves to travel to new destinations, eat at all the best local restaurants and explore all the world has to offer. Her favorite place is just about anywhere where snow-peaked mountains can be seen in the distance.