There is just something about the beach that makes a person want to kick off their shoes and relax.
While I am usually all for it, there is just too much of San Diego to explore to rightfully lay out, without wondering what you are missing out on!
Now before you beach-lovers chew my head off, I assure you that you will get plenty of time by the water on this San Diego itinerary!
Feel free to squeeze in extra beach time whenever you see fit (as there are just so many great beaches in and near San Diego!)
Note: This post contains affiliate links, which earn me a small commission at no extra cost to you if you make a purchase using one of these links. Thank you for supporting this free content!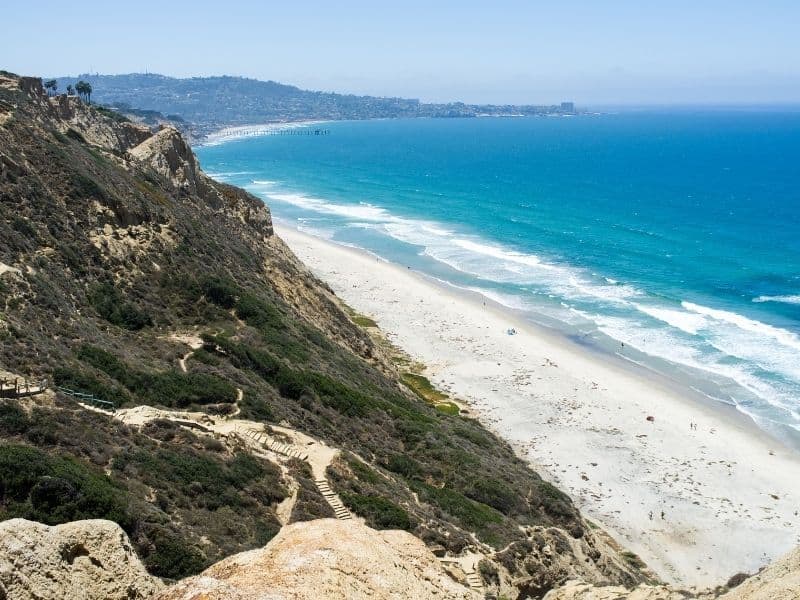 But just make sure you save time to explore all of what San Diego has to offer!
To be fair, there is no way to see all of what San Diego has to offer in one trip given that it is made up of over 100 unique neighborhoods, but that is part of the beauty of it!
You can visit this beachfront city time and time again without ever getting sick of it. There is always something new to see or do!
But, if this is your first time in San Diego, you have to start with the classics.
This 3 day San Diego itinerary will have you moving from morning until night with one exciting activity after another.
That way you can spend less time worrying about what to do next and more time breathing in that famous San Diego air. (If you know, you know and if you don't know, you will understand soon enough!)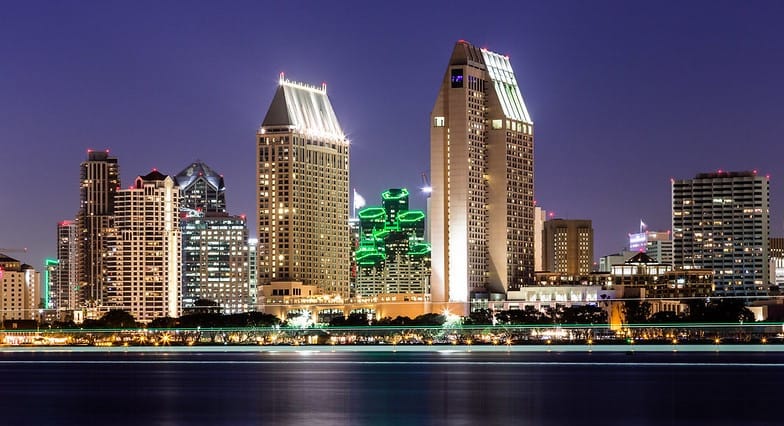 Where to Stay in San Diego
Paradise Point Resort & Spa
Nestled on the small island that is literally named Vacation Isle, the Paradise Point Resort & Spa is everything you pictured San Diego would be like and more.
It is actually kind of mind-blowing just how close the resort is to all the excitement while also maintaining a nonstop feeling of total relaxation and straight-up vacation vibes.
I mean, the resort pretty much operates across the entire 44-acres that make up this island and it is located at the heart of San Diego's iconic Mission Bay for Pete's sake.
Talk about a beach vacation!
Step outside of your perfectly themed, tropical bungalow to…
Sit on the island's sandy shores,
Relax by one of the many communal fire pits with your toes in the sand,
Have your pick between five swimming pools,
And try something new at each of the five restaurant venues!
Considering the slew of amenities that are waiting for you at Paradise Point, the bungalows are surprisingly affordable so you can save your money for a different kind of luxury…
… like a massage at their highly acclaimed spa!
The Shoal La Jolla Beach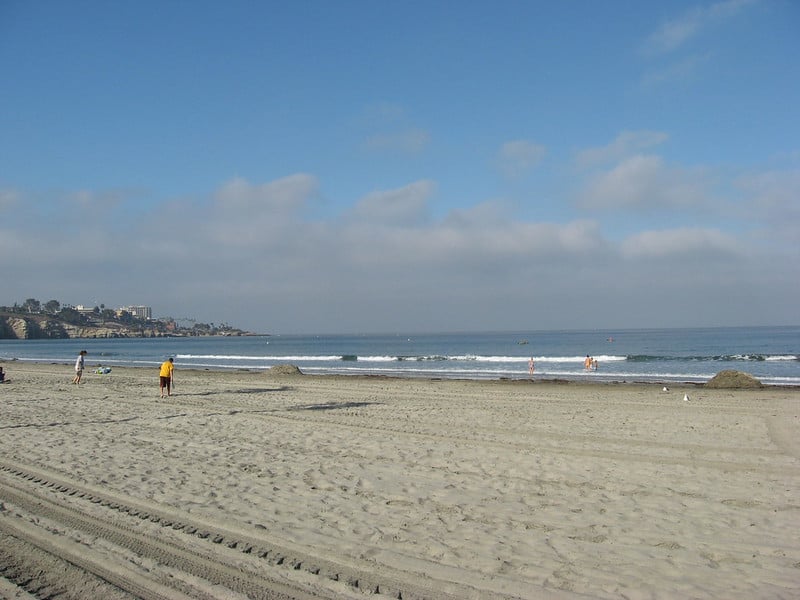 There are so many different neighborhoods in San Diego and each boasts its own unique features, but there is no doubt that La Jolla Beach is one of the best places to rest your head at night.
And yes, La Jolla is considered one of San Diego's upscale neighborhoods where below-average hotels cost more than you'd ever be willing to pay for them, but the Shoal comes in to save the day.
This up-and-coming hotel isn't on everyone's radar just yet, but it won't stay a secret for much longer given its trendy style and laid-back atmosphere.
Don't even get me started on how adorable these rooms are with their wide-open floor plan, colorful accent wallpaper, velvet couches, and sliding barn doors leading to a perfectly modernized bathroom.
Seriously, you have to go take a look at these rooms.
I am slightly (100%) obsessed with them.
But it gets better.
The Shoal is within walking distance to a large variety of shops, restaurants, and bars so you constantly have everything that you could need right at your fingertips.
Did I forget to mention that you are also a five-minute walk from La Jolla's Windansea Beach?
And thanks to the way people swarm La Jolla's main beach, there is a good chance that you will have this little slice of heaven all to yourself!
Hotel del Coronado
Stealing the hearts of its guests since it first opened its doors in 1888, the Hotel del Coronado is a classic addition to any trip to the beachfront city of San Diego.
Plus, Disney fans will be thrilled because its impressive appearance was the leading inspiration for the famous Grand Floridian at Walt Disney World and the resemblance is uncanny.
But if you are not familiar with Walt Disney World's pride and joy, I am here to give you the rundown.
This stellar piece of classic Victorian architecture is a sight to behold with its white wooden structure and striking red roofs lined with sparkling lights.
Add in its seven restaurants, endless beachfront, historic hallways, and breathtaking balconies- You may never want to leave!
I mean, they even offer tacos and cocktails on the beach.
Score, amirite?
To enjoy all the wonderful amenities this iconic hotel has to offer, book your room here!
The Lodge at Torrey Pines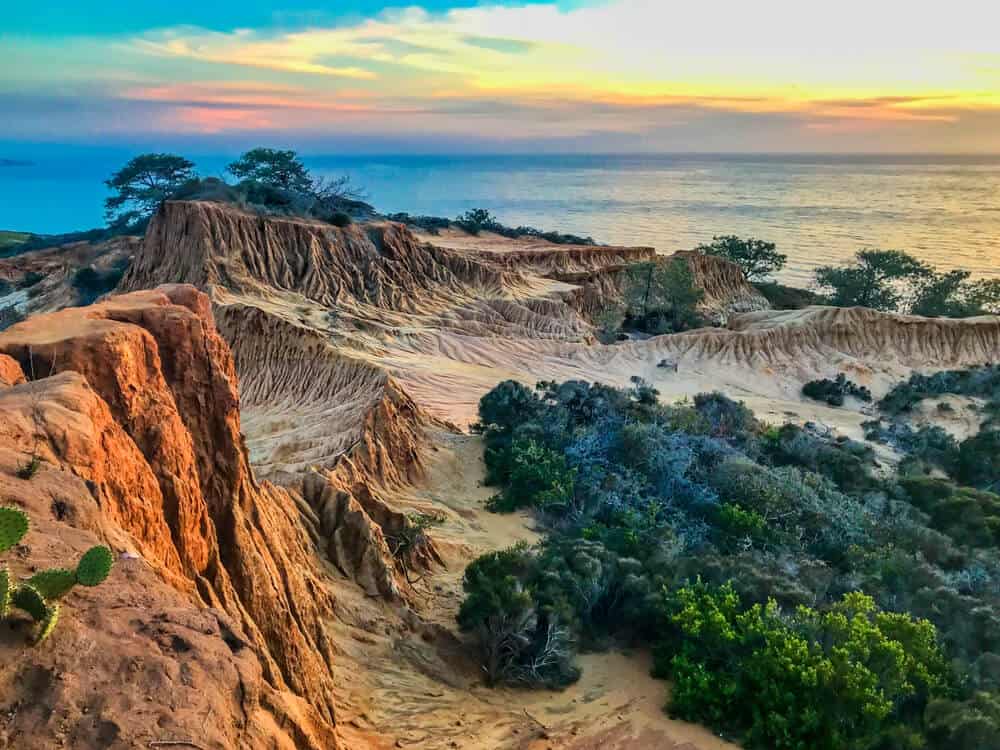 But if there is any place you should empty out your wallet, it is The Lodge at Torrey Pines.
Everything about the lodge's design is undeniably breathtaking and the views are even better.
In fact, this is the kind of place where you can't help but pay the extra money for a view because it is really that spectacular.
You could probably spend the entire day just staring out your bedroom window in awe.
I'm not kidding!
The lodge sits atop the cliffs alongside the notorious Torrey Pines State Natural Reserve, so you are always just steps away from the crystal clear, turquoise waters of the Pacific Ocean.
And there is just something about the way the waves crash against the rugged cliffs that are truly mesmerizing.
Especially when you are walking along its edges surrounded by Torrey pine trees and endless ocean views, but more on that later.
For now, just think about the highly acclaimed restaurant that operates right on property serving up exquisite dishes like Roman Style Liberty Duck Breast and White Wine Braised Alaskan Halibut.
And the views are spectacular.
Can't forget about the views. It's kind of (totally) the theme here.
Book your room here at The Lodge at Torrey Pines to enjoy the ultimate comfort and luxury experience in the heart of La Jolla!
Airbnb- The Cottage
Perfect for couples or solo travelers, The Cottage offers everything you could need in its cozy 300-foot space and steals the show for its patio alone.
You are guaranteed a good night's sleep on the comfy queen-size bed and access to unlimited coffee if you are fueled by caffeine
(You know who you are!)
But regardless of if you have one cup or five, there is no better feeling than sipping on a cup of joe while taking in the views of the grassy canyon.
It may come as a surprise since this rental is located in the middle of a semi-crowded suburb, but The Cottage is nestled far below the main house at the cusp of a deep canyon.
This makes for a really unique experience since The Cottage also has an outdoor shower on its wraparound patio so you can take in the views without worrying about any peeping toms.
But don't worry, cozy robes are waiting for you inside!
There are a bunch of fun little games and coloring books to enjoy in your pastime and don't forget to snap a picture on their polaroid camera to commemorate your trip and take home using their complimentary film.
Vrbo- Waterfront Apartment
Located smack dab in the middle of it all, this waterfront apartment makes it easy to hit up almost all of San Diego's most popular attractions in fifteen minutes or less.
And if convenience isn't enough for you, you will be happy to know that this place is breathtaking.
This is the furthest thing from your typical apartment setting and looks more like a bungalow you'd find at some high-end Mediterranean resort.
This unit is perfect for small families and friends looking to spend the weekend by water with sleeping accommodations for up to four people in its spacious floor plan.
Forgot something at home?
The owners have you covered with beach towels, chairs, and coolers ready for use, so that you can spend as much time as possible relaxing on the beach.
When you're not soaking in the sun, some of San Diego's most lively neighborhoods are right at your doorsteps like Little Italy, the Gaslamp District, and the Seaport Village.
Your 3 Day San Diego Itinerary: Day One
Stuff Your Face at Breakfast Republic.
If you ask a San Diego native where you should go for breakfast, there is a very (VERY) good chance that they will say Breakfast Republic — and it's not just because there are a slew of them scattered around the city.
While most foodies tend to steer clear of chain restaurants, an exception must be made for this breakfast joint.
It's not their fault that their growing fan base has led to one expansion after another.
Okay, maybe it is their fault… but in the best way possible!
One look at this menu will have you questioning everything you thought you knew about breakfast and ordering just about everything on the menu if you lack self-control like me.
Breakfast Bacon Mac 'N' Cheese? Gamechanger.
French Toast Sampler? 10/10 recommend.
And don't even get me started on their drink menu.
I would drink five of the Sweetie Cocky 12s — think highly caffeinated cold brew with coffee ice cubes — if it didn't mean I would be bouncing off the walls for the rest of the day.
So hop in your car, drive to the nearest Breakfast Republic (because there is bound to be one nearby), and get ready to have one of the best breakfasts you will ever have.
Bold statement, I know. But just wait until you try it.
Get Up Close and Personal With the Animals at the San Diego Zoo.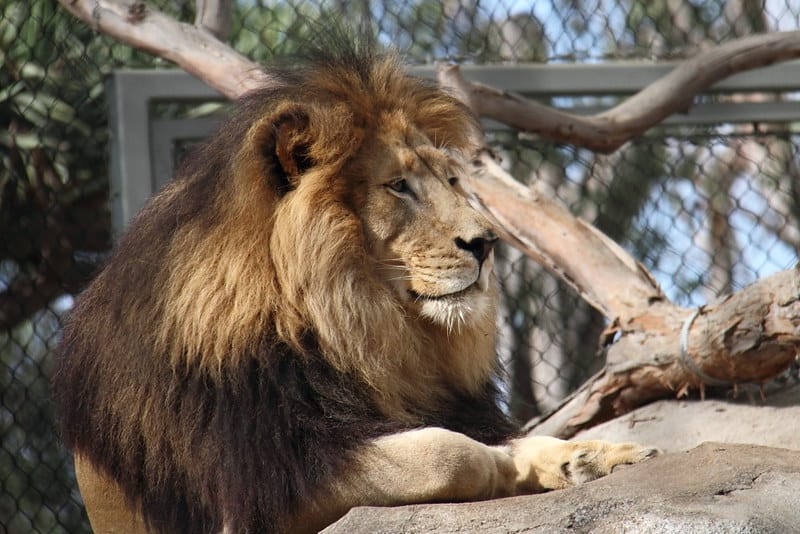 So you may be thinking, "Really? You want me to go to a zoo on my vacation? They have those all over the country!"
But I assure you that is not your typical zoo experience.
In fact, pretty much every person who visits the San Diego Zoo says that it is the best zoo they have ever been to and it's not just because it is one of the largest in the country.
No, San Diego holds the title of the best zoo in the country for its abundance of endangered species and the way it brings the habitats to life while providing visitors with face-to-face encounters.
With that being said, this is not the kind of place where you should be walking around in flip-flops.
The zoo uses a system of different trails that intertwine with each other for a multi-level experience, so you will definitely need a pair of good walking shoes.
But you won't even realize how much you have walked because you will be completely distracted by the close encounters with some of the world's most exotic creatures like the Amur leopard and African hippo.
Just do yourself a favor and grab a map at the entrance, because this zoo is so enormous that it is easy to get lost.
And when in doubt, hop op on the Kangaroo shuttle bus to save yourself the hassle and give your feet a break.
This is one of the zoos that you can visit time and time again without seeing all that it has to offer, so make sure you map out what exhibits are calling to you and create a game plan to make the most of your time.
But if you find yourself overwhelmed by the plethora of things to do and see, consider checking out a shuttle bus that takes you around to the zoo's highlights or the Skyfari aerial tram for a bird's eye view of it all.
Lines to enter the San Diego Zoo can be long, as this is one of the most popular attractions in the city. Save time and book your ticket to the San Diego Zoo online!
Enjoy a Tasty Lunch from Dobson's Bar & Restaurant.
All that walking probably has you starved, but fear not — the Dobson's Bar & Restaurant is just five minutes away and ready to kick those hangry feelings to the curb.
That is not to say that walking into this place with an empty stomach is an easy feat considering the way the aroma of freshly baked bread slaps you in the face and the extensive menu tempts you to try it all.
Plus, the restaurant was once San Diego's iconic Spreckels Theater back in the early 1900s and much of its interior has been restored to create a luxurious, vintage look.
As soon as you walk through the door you will be dazzled by the tiger oak bar and the sparking chandeliers welcoming you to join the fun.
And because of this, reservations are highly recommended– especially on weekends!
This includes bar seating as well. The place is just that popular!
You'll notice that the menu has a touch of Italian, Asian, and Spanish influence, so there really is something for everyone.
Just make sure you try their World's Famous Mussel Bisque.
They have sold over a million cups for a reason!
Go for a Stroll in Balboa Park.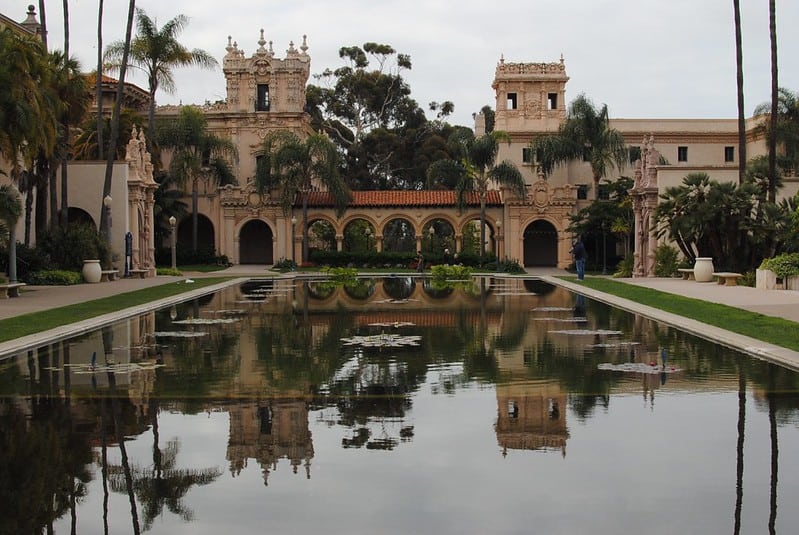 Time to digest your food and what better way to do it than by going for a scenic walk in San Diego's famous Balboa Park.
You could say that it is San Diego's version of Central Park but others would argue that it doesn't even come close to the beauty waiting for you at Balboa!
This place is huge. Like 1,200 acres filled with over a dozen gardens and nearly 30 museums huge.
And every inch of it has something unique to offer, so you will have a wonderful time regardless of where you end up.
There is so much going on here that most San Diego natives haven't even had the chance to explore it all, so don't try to bite off more than you can chew.
The best way to get a taste of the park is by purchasing an Explorer Pass.
What is an Explorer Pass you may ask?
Well! The Explorer Pass offers a few different options depending on your time and interests.
But for this trip, the best option is the Explorer Limited Pass which will give you access to 4 of the participating venues for one flat, discounted rate.
I won't overwhelm you with all of the options but I will say that some of the best attractions to check out are:
Stay for Dinner at The Prado at Balboa Park.
Considering its grand size, it is no surprise that Balboa Park boasts a variety of dining options but The Prado at Balboa Park is easily the best place to get the full "dining in the park" experience.
For starters, Prado is located within the House of Hospitality, so you can keep your historic journey through the park alive by eating at this national landmark.
When you are not struggling to decide which delicious menu item to choose from, you can be admiring the way the park transforms into a peaceful oasis come nightfall.
When the weather is nice, sitting inside is out of the question (although the dining room is gorgeous) and any reservations should come complete with an outdoor seating preference.
You'll thank me later.
And this place is all about sweet deals. Check out their carefully curated Dinner for two menu after 4 PM, Dinner After 8 3-Course Menu, and Tuesday Date Night Menu for Two.
Throw in live music every night from 8 PM to closing and the vibe really just doesn't get better than that.
It is important to note that this establishment is closed on Mondays.
Grab Drinks in the Gaslamp District.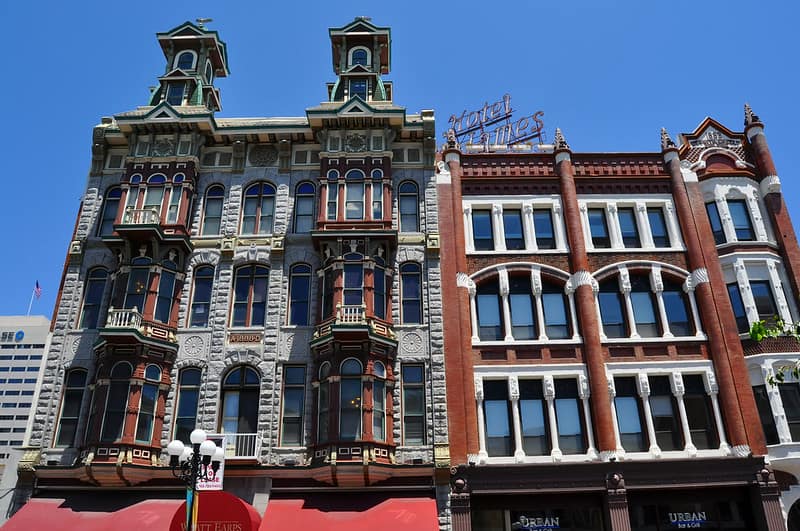 There is a neighborhood in San Diego for everything, whether it be finding the best local eats in Little Italy or exploring the beachfront at La Jolla, but the Gaslamp District claims the title for the best place to hang out at night.
There are so many exciting bars to check out and even the most experienced party person couldn't tackle them all in one night.
In other words, this is the place to bar hop.
In other words, make sure you have a designated driver or opt for an Uber.
It would be wrong of me to start listing off every bar that awaits you here because it takes away from the thrill of discovering new places, but I will see that you are in for a night filled with rooftop patios overlooking the ocean, unique drinking games, and clubs that will make you want to dance the night away.
Want some ideas for what to do in San Diego at night? I've got 'em here.
Your 3 Day San Diego Itinerary: Day 2
Have Breakfast with a View at Cody's La Jolla.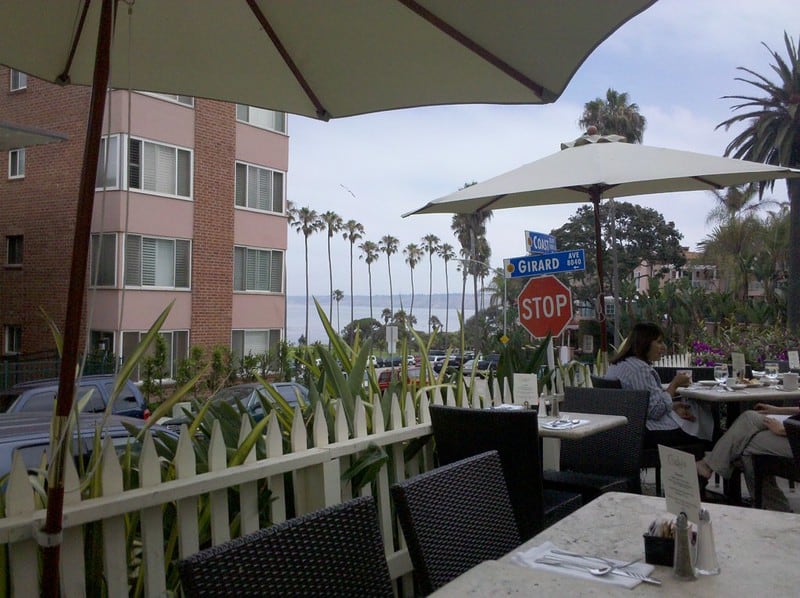 No trip to La Jolla would be complete without a meal at the famous Cody's La Jolla.
There is no better time to indulge in a hearty meal than breakfast when you have a busy day in front of you. And especially when the breakfast menu features items like Crab Cake Benedict and Awesome French Toast (Spoiler: it holds up to its name.)
But surprisingly the food is not the main reason why people visit Cody's in swarms.
Although, it is definitely a nice surprise to find out that the food is just as good as the views.
So there you have it, the breathtaking view of crashing waves against La Jolla Beach is what draws people in and the food guarantees that they will be back again and again.
And considering its undeniable popularity, wait times are almost always nonexistent and the service is impeccable.
Don't ask me how they do it, but they do!
Just sit back and take in the beauty of it all while you sip on a glass of freshly squeezed orange juice (or a mimosa. No judgment here!) and munch on one of the best breakfasts you'll have in San Diego.
Explore La Jolla's Sea Caves on a Kayak Tour.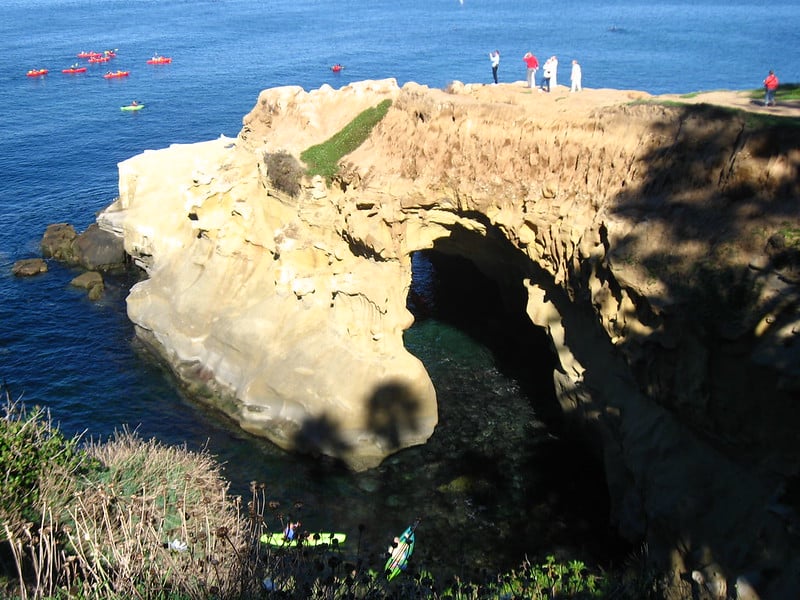 Once you have fueled up on breakfast, it is time to explore La Jolla's most notable activity.
A kayaking tour in and around the sea caves brought this little beachfront neighborhood to fame.
Well, that and the sea lions.
You won't be able to contain your excitement as your tour guide leads your group to the launching location as the crystal clear, turquoise waters approach you and flying seabirds welcome you to their home.
Once aboard your kayak, you will embark on a 90-minute, once-in-a-lifetime experience (that is unless you book this experience again. I wouldn't blame you.) across the La Jolla Ecological Reserve.
As your guide teaches you about the area's many wonders, you will be taken back by the abundance of marine life.
I can just picture it now. Sea lions sunbathing on rocks, harmless leopard sharks swimming below you, vibrant colored fish navigating through seagrass, and the chance of dolphins coming along for the ride.
Not to mention the amazing opportunity to paddle through La Jolla's Emerald Cave as you feel transported into another world!
Just make sure that you arrive at least thirty minutes before your reservation time because tour groups often leave fifteen minutes ahead of schedule and no refunds are offered for those who don't make the cut.
If you don't want to miss out this amazing experience, check out this super fun 2-Hour Kayak Tour of the 7 Caves! You'll have the time of your life!
Stop for Some Hawaiian Cuisine at Duke's.
So you pretty much just had one of the best experiences of your life and that is bound to work up an appetite. The good news is that Duke's is right down the block and it's not only convenient but delicious.
Plus, you can sit on the outdoor patio, pointing at all the kayakers paddling around the cove, and be able to say "Look! I was just doing that exact same thing!".
Everything about this place screams tropical paradise, from the Hawaiian-influenced menu to the fruity cocktails and everything in between.
And when I say everything I really just mean the carefully designed interior with surfboards covering the ceiling and friendly waitstaff sporting none other than the classic Hawaiian shirts.
So yeah, everything.
Go for a Hike at Torrey Pines State Natural Preserve.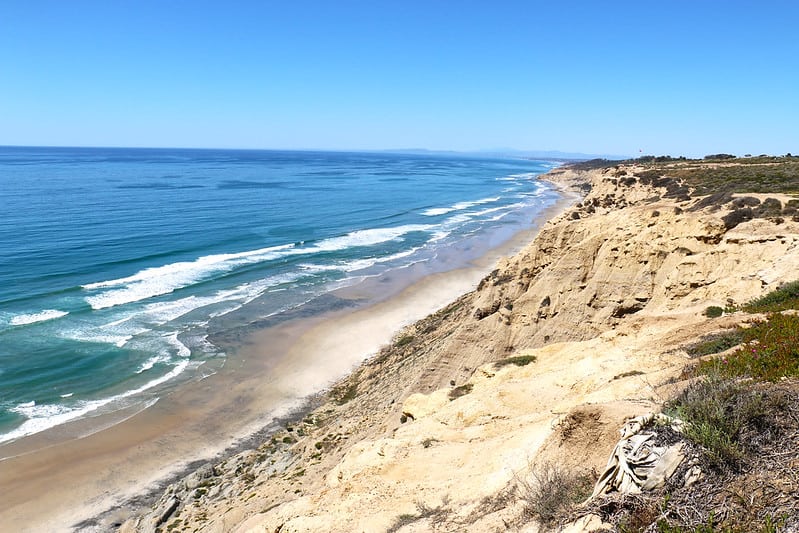 If there is one thing you definitely don't want to miss, it's a visit to Torrey Pines State Natural Preserve.
Whether you like to take in the views while soaking in the sun from a lounge chair or while hitting up a steep hike along the cliffside, Torrey Pines is not a place you pass up.
Before you even reach the entrance ticket booth, your eyes will be glued to your window as the preserve's iconic, rugged cliffs come into view.
Not to say that the clear, turquoise waters won't draw you in as well.
And tempting as it may be to run right to the beach, you really need to explore one of the preserve's many hiking trails to see this place in all of its glory.
But don't worry, there is a wide range from quick, leisurely strolls to difficult, heart-racing treks to offer up something for everyone.
Regardless of which trail you choose, you will get to admire some of the preserve's namesake, the Torrey Pine tree, which is considered to be the rarest pine in the country and can only be found in one other location.
Many of the trails are less than a mile long so you can easily tackle a few of them during your time here. Just make sure you save time to check out the Guy Fleming Trail.
It is easily accessible to just about everyone, is only ⅔ of a mile, and provides some of the most breathtaking viewpoints.
From vibrant wildflowers to ancient Torrey pines, to remote waterfront, to close-ups of the rugged cliffs, to wide sweeping views of Torrey Pines Beach.
The Guy Fleming Trail has it all.
End the Day Off Right with Dinner at A.R. Valentien.
Since it is hard enough as it is to have to pull yourself away from the beauty of Torrey Pines State Natural Preserve, why not keep the good times (and views) rolling a little longer with a high-class meal from A.R. Valentien.
Considered the Lodge at Torrey Pines golden child, the A.R. Valentien is the place to have a luxurious dinner and the views are impossible to beat.
Plain and simple.
You may have taken notes on this place earlier when I was explaining why the Lodge at Torrey Pines was one of the best places to stay in San Diego.
But if you didn't that's okay. I will just refresh your memory by mentioning some more of their mouth-watering dishes like the Caramelized Sea Scallops and Brandt Beef Rib Eye Steak.
Add in some intriguing details like the fact that the menu changes with the season, only uses locally sourced products, is home to the culinary icon/Executive Chef Jeff Jackson, and you'll be booking your reservation months in advance to ensure you get to experience it all.
Laugh Until You Cry at The Comedy Store.
It is only right that you head back to La Jolla to give this adorable, beachfront neighborhood a proper goodbye
And lucky for you, The Comedy Store lets you go out with a bang.
There is not a bad night to visit this venue (except Mondays and Tuesdays when they are closed), but you should always check out their event calendar ahead of time to see what the night holds for you.
On open mike nights, admission into this comedy club is free of charge given that you buy at least two drinks but cover charges and crowds occur when the club hosts famous guest appearances like Finesse Mitchell.
Your 3 Day San Diego Itinerary: Day Three
Fuel Up on Coffee at the Humble Bean Cafe.
You know those people who are totally obsessed with coffee?
Well, I am one of those people and that's why I can say with total credibility that the Humble Bean Cafe is the best place to get coffee in San Diego.
This place has something for every kind of coffee lover.
Be it your classic drip coffee, a flavored iced latte, or a refreshing cold brew…
… Or a Turkish Latte, Vanilla Rose Latte, Vietnamese Coffee, Iced Kenyan Chai, Matcha Tea, or a Kilimanjaro.
(Hint: The list goes on forever.)
And while their food menu isn't nearly as large, it offers up just enough tasty dishes to have you struggling to decide between items like an Acai bowl, Avocado Toast, and interesting bagels.
Get Out on the Water to Watch Marine Life!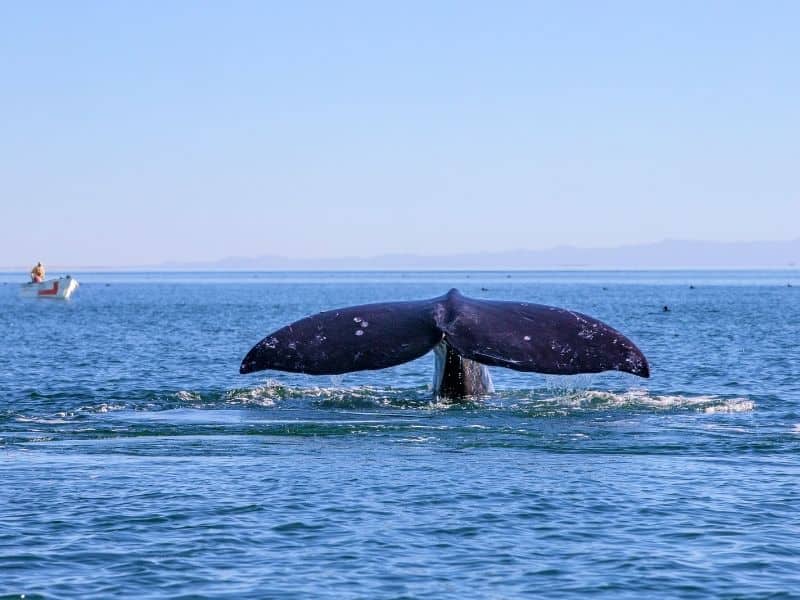 You'll probably want to take your breakfast to go because your Whale and Dolphin Watching Cruise starts at 9:30 AM and the ship boards 15 minutes ahead of time.
One of the many beauties of San Diego is the opportunity to whale-watch all year round with Gray Whales passing by during migration in the wintertime and Blue Whales coming to feed in the summer months.
If you are lucky, you may even spot a humpback whale, a calf traveling with its mother, or a group of bottlenose dolphins!
Regardless of what you see along the way, you are guaranteed to have a good time as your captain and their expert crew teach you the ins and outs of the Pacific Ocean with a focus on the marine life that lives there.
Whale watching is definitely a must when you visit San Diego, that's why I strongly recommend this Whale Watching Cruise — it's the best way to enjoy this truly magical experience!
Head Over to Old Town San Diego for Lunch.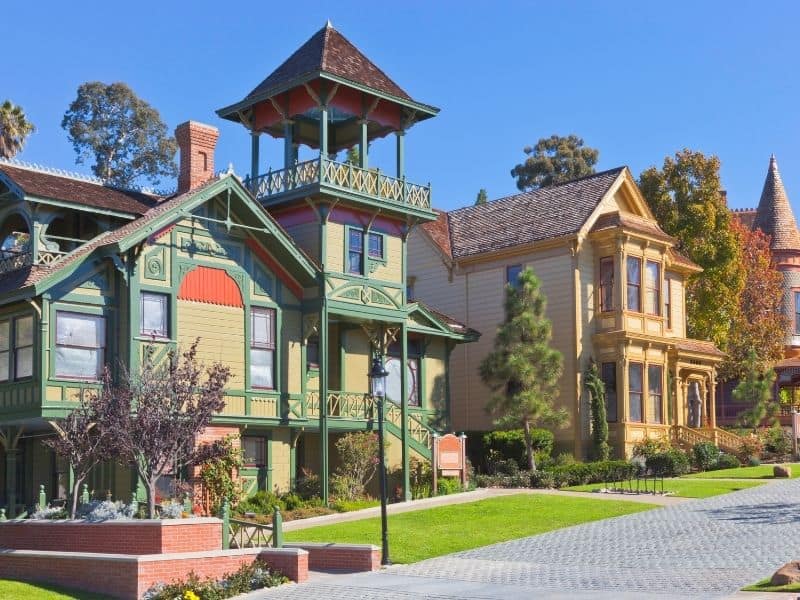 Old Town San Diego is overflowing with tasty Mexican restaurants, but trust me when I tell you that the Barra Barra Saloon should be the first on your list of places to try!
And it's not just because they are known for making the best margarita in San Diego — nor because that said margarita only costs $7.
They are also one of the oldest restaurants on the block (dating back to the 1800s), so it only seems fitting considering you are in Old Town San Diego.
Oh yeah, and their food is amazing.
I couldn't even tell you that the Armadillo Shrimp out beat the Chicken Mole Verde Oaxaca or that the Fajita Parrillada trumped the Indian Flatbread Tacos because that would be a lie.
Every dish here is a great choice, so feel free to take a risk and try something new.
Pro tip: While you are digesting your massive lunch, go for a stroll around Old Town San Diego to visit some of its many shops and historic landmarks, especially the houses of Heritage Park (pictured above). You will not be disappointed!
Explore the Embarcadero.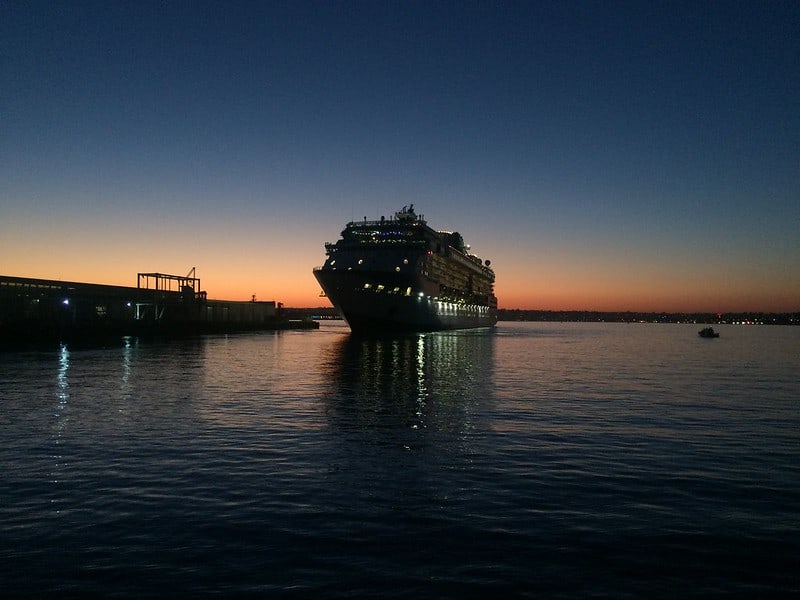 The endless view of the San Diego Bay is enough to have you running to the Embarcadero's boardwalk, but you will be even more thrilled to know about the slew of things you can do here while taking in the sights!
Hop on over to the Embarcadero Park to go for a stroll along the water and if you're lucky you may stumble upon one of the park's many rotating events like the San Diego Symphony Orchestra's Pops Concerts.
Shop until you drop at the Seaport Village where you can zigzag through stores filled with keepsakes, chic clothing, tasty treats, holiday decor and so much more.
I mean there is an entire store dedicated to socks…
You are bound to find something to spend your cash on here.
Fun fact: The Seaport Village hosts a series of family-friendly events like movie nights, chocolate tastings, and morning yoga sessions if you're looking for an excuse to spend more time by the water.
Continue on past the Seaport Village to pay your respects at a few of the war memorials like the famous Unconditional Surrender statue that symbolizes the end of World War II and overlooks the great USS Midway.
And speaking of this naval aircraft carrier…
You can step aboard with a visit to the USS Midway Aircraft Carrier Museum where you can admire over thirty restored aircraft while you imagine what life was like for the military personnel that spent their days here during the war.
Grab Dinner in San Diego's Little Italy.
You can't go wrong with any of the restaurants that line Little Italy's charming, not-so-little plaza (think hanging lights, colorful patio tables, and a tiered fountain), but Civico 1845 is definitely the cream of the crop.
The moment you walk through the doors you will feel as though you have been transported to Italy and what is a great restaurant without the ambiance.
Civico 1845 checks everything off the list with the perfect amount of natural lighting, artwork that tells the story of the Italian people, and waitstaff that will have you wondering if they have a secret door to Italy in their basement.
You could come here for the experience alone and fall in love without ever tasting a bite of food.
But that would be a tragedy of course since the pasta is made fresh in-house and the sauces taste like the owners' convinced their Italian grandmother to share some of her secret recipes.
I also just want to say that I grew up in a dominantly Italian household, so I have acquired a certain standard that makes it hard for me to enjoy a meal at just any Italian restaurant.
Therefore, when I say that this restaurant gives my grandmother competition (This stays between you and me!), it is truly the highest form of praise.
Mangia!
Watch the Sunset Over the Iconic Sunset Cliffs.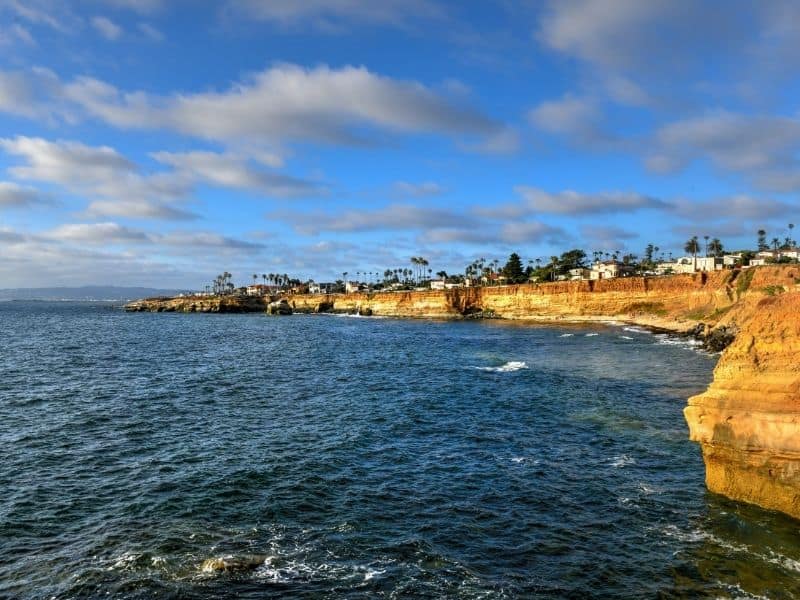 If you couldn't tell by its name, the Sunset Cliffs Natural Park is the place to watch the sunset and it would be wrong of me to offer up an itinerary that doesn't let you experience this breathtaking place at least once.
I honestly would never be able to forgive myself.
Now I could tell you about how the views of the ocean are endless or how the waves crashing against the rugged cliffs are a sight to behold or even how the sky looks brushed with pastel colors of pink and orange…
But I want to focus all of my attention on the park's many sea caves and here is why.
Across the park's nearly 70 acres, there is a slew of sea caves with each one more remarkable than the last.
They create a picture frame of rock that somehow magnifies the beauty of the ocean and the sky as the sunsets.
Plus, they are sea caves which are just awesome in general amirite?
Pro tip: Keep an eye on tide charts for a chance to visit Sunset Cliff's Open Ceiling Sea Cave. This sea cave should NOT be attempted unless there is a negative tide and can be extremely dangerous if not taken seriously.
However, this is the most beautiful of all the sea caves because it provides an opening overlooking the sea as well as a large opening overhead that gives the cave its name. There is nothing quite like it!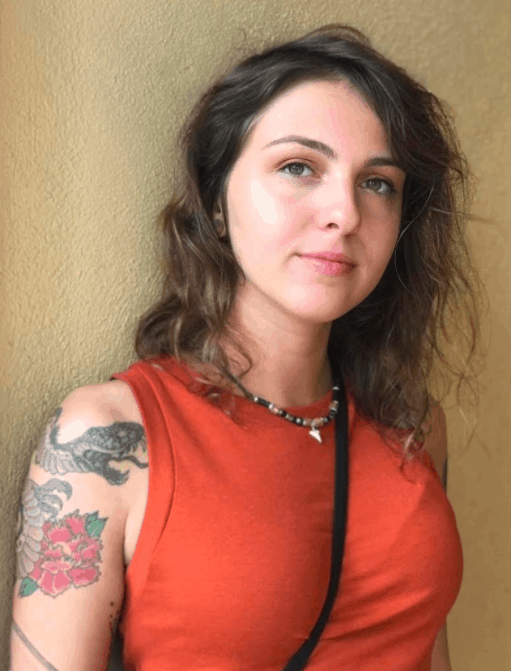 Nicole is a freelance travel writer who lives in Upstate NY, but her heart lies in the beautiful state of California. She loves to travel to new destinations, eat at all the best local restaurants and explore all the world has to offer. Her favorite place is just about anywhere where snow-peaked mountains can be seen in the distance.