San Diego is one of those cities that everyone strives to visit at some point in their lives!
Like any great city, the lively San Diego nightlife scene is one of its many attributes.
The beauty of San Diego's enduring popularity is that there is always something new and exciting to do!
Whether it be grabbing a few drinks at the latest rooftop bar or checking out an up-and-coming band in Balboa Park, there is so much to do in San Diego at night.
There is something for everyone to enjoy once the sun goes down and I am here to tell you all of the juicy details.
So buckle up and enjoy the ride because you are about to learn all of the best things to do in San Diego at night!
San Diego at Night: 7 Fun Things to Do After Dark!
Go for a sunset cruise.
Note: This post contains affiliate links, which earn me a small commission at no extra cost to you if you make a purchase using one of these links. Thank you for supporting this free content!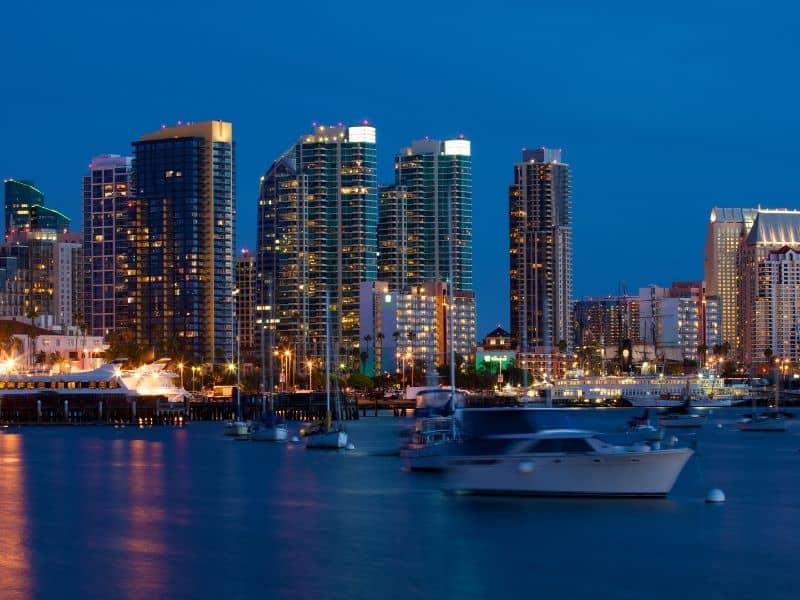 Nothing says vacation like a good, old-fashioned sunset cruise — and it just so happens that San Diego is filled to the brim with options to get you out on the water!
But there is no denying the leader of the pack. The Sights & Sips Harbor Cruise is a one-stop-shop for a toast while watching the lights over the city change colors — and with many happy reviews, you can bet your bottom dollar that it has mastered the art of the sunset cruise.
What that pretty much means is that you won't just be on a sunset cruise, you will be on the sunset cruise. A staple of San Diego if you will. And did someone say a full bar with cocktails and complimentary appetizers?
Delicious sips and snacks notwithstanding, you will be rewarded with one of California's most breathtaking sunsets! Talk about the perfect way to start your night, amirite?
Watch Old Town San Diego come to life.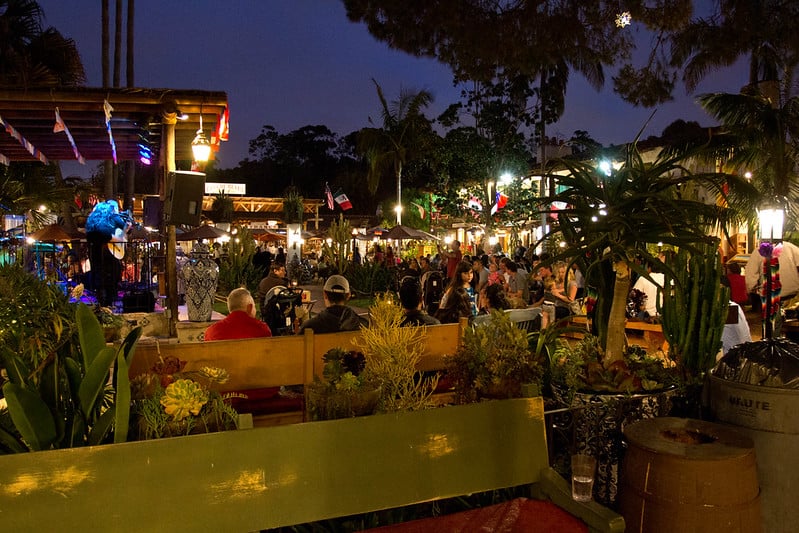 When exploring San Deigo, a visit to the Old Town is an absolute must. But what many people don't realize is that it is when the sun sets is when this place really comes to life!
Now I am not stopping you from grabbing lunch at one of its highly acclaimed Mexican restaurants or from venturing through its many historic buildings, but I am definitely saying that this vibrant place is even better at night time!
So visit as many times as you like (because there is plenty to see), but just make sure one of those times is under a starry sky.
All of the excitement happens at Fiesta de Reyes and if you happen to be visiting during the weekend, you are in for a real treat!
Live entertainment takes center stage around nineteen locally-owned, authentic shops serving up goodies from Mexican hot chocolate to homemade crafts.
Listen to the sounds of the mariachi band as you shop or grab a seat at one of the restaurant's outdoor patios to munch on some guacamole while you watch folklórico dancers do their thing.
Listen to music in Balboa Park.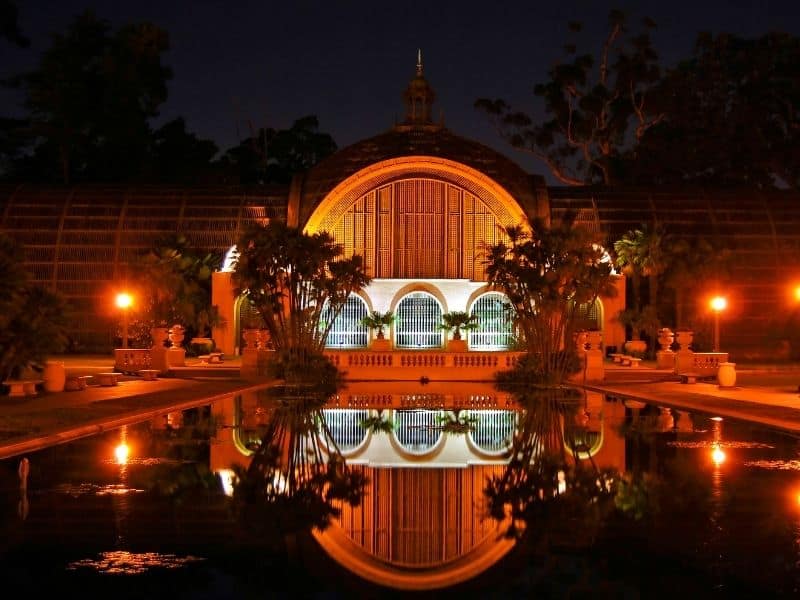 There is no denying that Balboa Park is the heart of San Diego but a more interesting truth is that even people who have spent their whole lives in this colorful city have never quite seen it all!
And that's not to say they haven't tried. Balboa Park is huge — like 1,200 acres huge — and it boasts seventeen unique museums.
But that doesn't even scratch the surface of attractions offered at this everchanging gem!
You can almost call it the Central Park of San Diego but with no disrespect to New York City, Balboa Park is bigger (by a good 50%!) and dare I say better when it comes to entertainment options.
This iconic park makes the list as one of the top places to visit during a trip to San Diego without question.
Considering its massive size, it only makes sense that it stays open late to allow for tourists and locals alike to make the most of their time here!
So don't worry about feeling rushed by those typical 5 PM closing times at museums because Balboa Park will grant you late-night access that will have you feeling like you have landed yourself in the fourth Night at the Museum movie!
And when you have absorbed all the knowledge that you can for one night, step outside to the sounds of live music and the smell of tasty food pulling you in every direction.
In other words, there is an entertainer and/or a food truck just about everywhere you look!
Grab drinks at the Gaslamp Quarter.
Who said you have to wait for the weekend to enjoy a night of drinks?
Well, I will tell you one thing, the frequent flyers of the Gaslamp Quarter didn't get the memo because this place is buzzing with people every night of the week!
And since you are on vacation (or just looking for something fun to do in San Diego at night), why not let yourself indulge in a nightcap (… or two).
But before anyone who isn't much for drinking skips right over this option, I should mention that there are plenty of other ways to enjoy the Gaslamp Quarter at night, so don't run off on me too quickly now!
Sure, there is an endless collection of bars sporting their own fun highlights like rooftop venues overlooking the city or underground dives with arcade games you haven't seen since you were a kid, but even just a walk down its busy street is enough to crack a smile.
The architecture of its many building is obviously historic, enlivened by modern flair like neon signs pointing you to the next great hangout spot — it all really adds to the ambiance. Plus, this interesting combo makes for a photographer's dream.
So make some friends over a few drinks or simply walk the streets taking it all in, but the Gaslamp Quarter will always be one of the hottest places to spend a night in San Diego!
Feel transported to Rome in Litte Italy.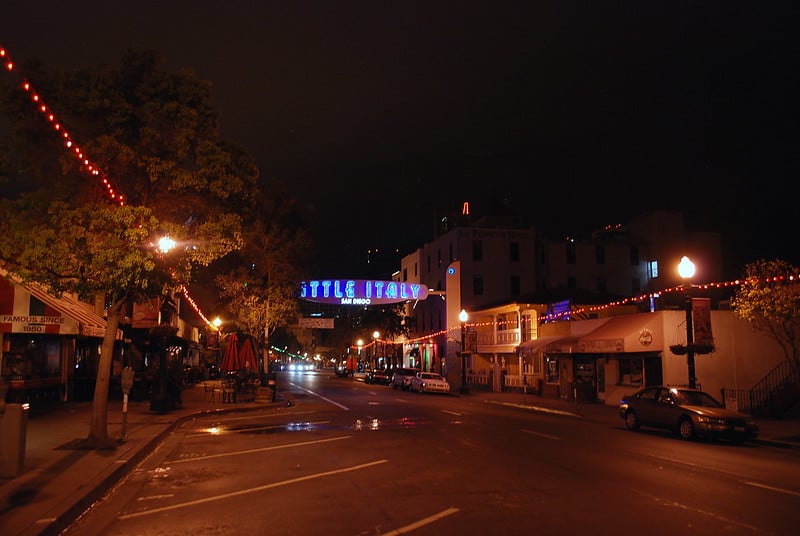 Not to take another jab at New York City, but San Diego's Little Italy is nearly double the size of its eastern counterpart but somehow manages to remain in the shadows.
Well, not today! I am here to tell you that San Diego's Little Italy is actually the largest of its kind in the country and you would be a fool not to visit (Sorry, not sorry).
Have a seat under twinkling lights at the plaza where you can admire how colorful lights bring the fountain to life, enjoy a romantic dinner at any of the dozens of impressive Italian restaurants that line the streets, or follow the sounds of live music for a night of entertainment!
Just do yourself a favor and give in to that sweet tooth because you are going to be bombarded by shops selling everything from gelato to handmade chocolates and they all stay open late-night.
And while we are on the topic, the Ghirardelli Ice Cream and Chocolate Shop is always giving away free samples. You're welcome!
Catch a late-night show at the San Diego Zoo.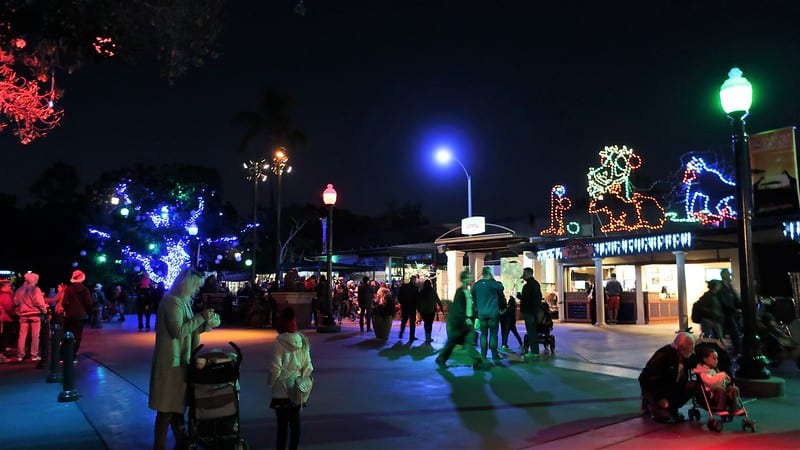 Ah yes, the good ol' San Diego Zoo: another classic destination during your stay in this beachfront city!
The San Diego Zoo is like the Mary Poppins bag of tourism: it's a place where crowds can be seen forming at the gates at any given hour but somehow disappear upon entry.
This may have something to do with the zoo's impressive size, but nonetheless, you never really feel crowded during your time here.
You will probably break a sweat climbing up its many hills, but at least you won't be shoulder to shoulder with anyone along the way!
And since this place has a way of tiring out its visitors (be it the excitement of the many close encounters or the lengthy mileage), most people don't make it for the Nighttime Zoo festivities, which is only more of a reason to add it to your schedule.
Imagine having the zoo almost entirely to yourself while you hang out with the animals that come to life at night.
Listen to the sounds of the live music of the night, whether it be the brass band or the mariachis. This is an experience you don't want to miss!
The Zoo is also a great thing to do at night in San Diego if you're visiting in December — their yearly "Jungle Bells" events should not be missed!
Roast marshmallows on Coronado's beach.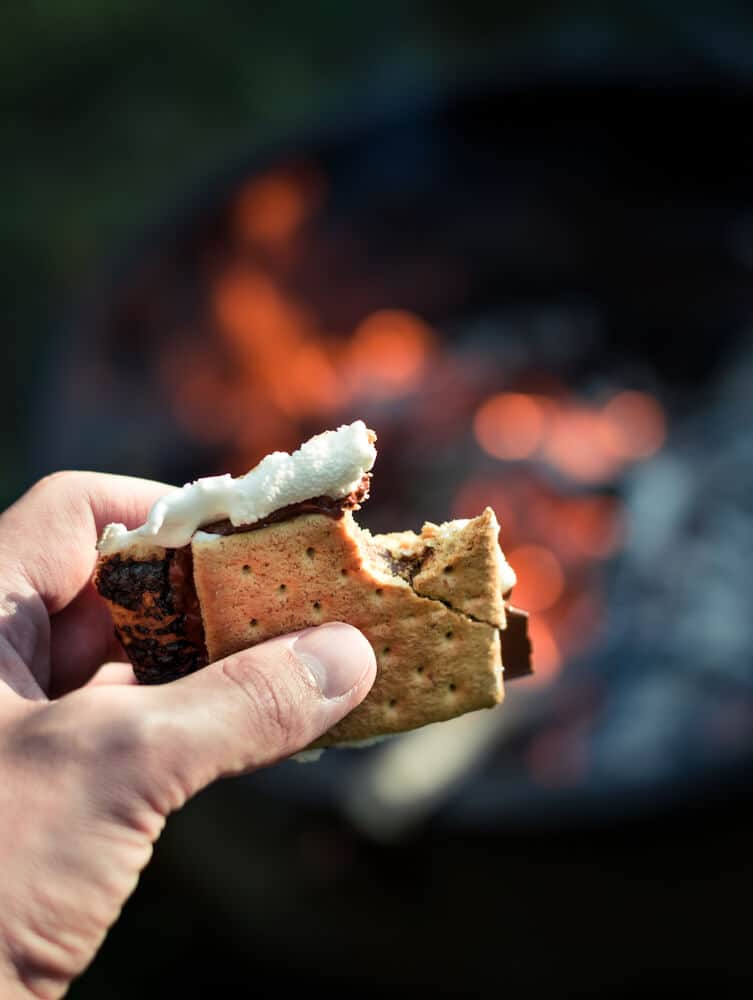 Psst… I want to let you in on a little secret. You don't have to be a guest at the iconic Hotel del Coronado in order to get in on their marshmallows roasts!
In fact, all you really have to do is set up a reservation online and you will gain access to the private beach that everyone dreams of laying out on someday.
Granted, you won't be there to soak up the sun but that doesn't take about from the VIP feeling you get as your toes touch the sand! The only thing to consider is that with a VIP feeling comes a VIP price tag.
This experience is not cheap, but if you have the means to splurge, it can make for a memorable experience filled with s'mores, crashing waves, and the occasional spooky story.
Partake in some stargazing festivities.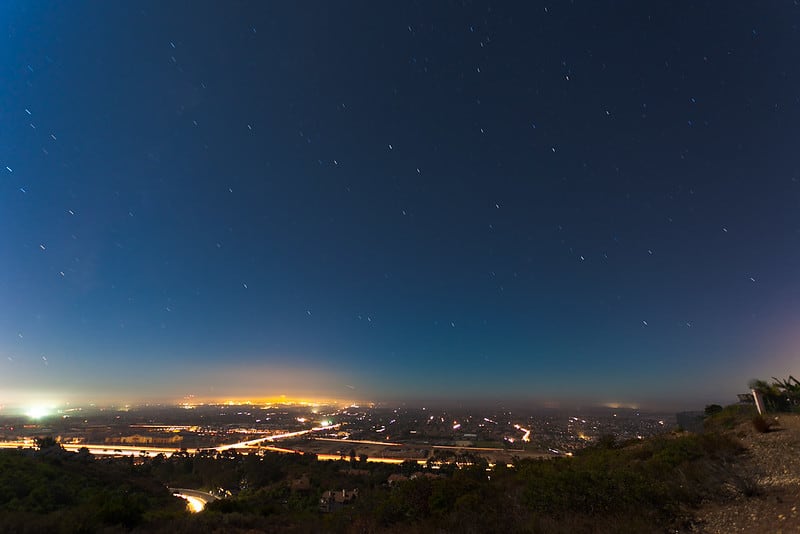 This one may come as a surprise given the light pollution that curses every big city, but San Diego actually has a handful of places perfect for stargazing, like Mira Mesa (shown above).
That is not to say that we shouldn't give credit where credit is due, so if we have anyone to thank for this information it's the San Diego Astronomy Association!
And speaking of the SDAA, this association even hosts free events all throughout the city where they will set up telescopes for visitors to enjoy the ultimate stargazing experience!
It doesn't get much better than that right? Well, it does!
Volunteers also walk around to help stargazers identify planets and teach the basics of astronomy to anyone who cares to listen.
Throw in other nighttime events like twilight hikes and scorpion hunts (wait, what now?) and you will find yourself constantly checking their calendar for new pop-ups!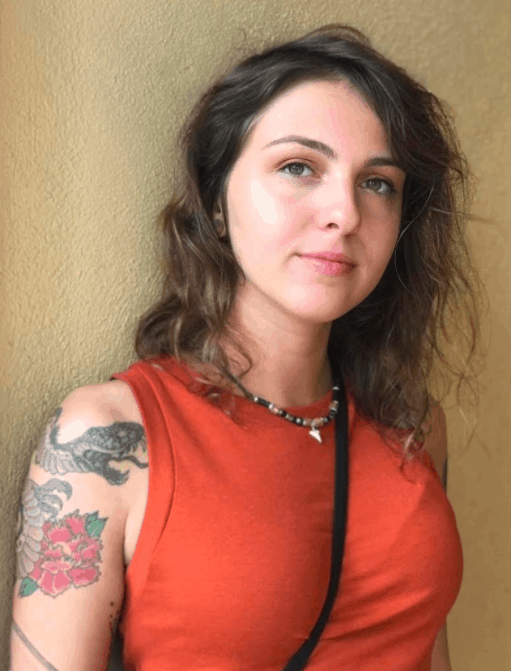 Nicole is a freelance travel writer who lives in Upstate NY, but her heart lies in the beautiful state of California. She loves to travel to new destinations, eat at all the best local restaurants and explore all the world has to offer. Her favorite place is just about anywhere where snow-peaked mountains can be seen in the distance.