Note: This post contains affiliate links, which earn me a small commission at no extra cost to you if you make a purchase using one of these links. Thank you for supporting this free content!
The small town of Yucca Valley is mostly known for being right next door to Joshua Tree National Park, but it has plenty going on in its own right!
Throughout this post, you'll find a wide range of things to do in Yucca Valley, this little roadside gem!
Located about 2 hours and 25 minutes outside of Los Angeles, Yucca Valley started out as a hideaway for stars and starlets escaping the big city.
Now, it hosts local artists and modest music venues. It's a cute small town where quirky art installations and intimate gatherings contrast with the luxury travel industry in nearby Palm Springs.
Yucca Valley is also within traveling distance to Las Vegas or San Diego. They are only a few hours away depending on traffic and all along highways that will show you some of the austere desert landscape Southern California is known for.
Regardless of whether you're in Yucca Valley as a short stop on part of a cross-country excursion or for a weekend away, there is plenty to do in this hideaway town that you'll enjoy!
The Best Things to Do in Yucca Valley
Discover a different side of Joshua Tree National Park.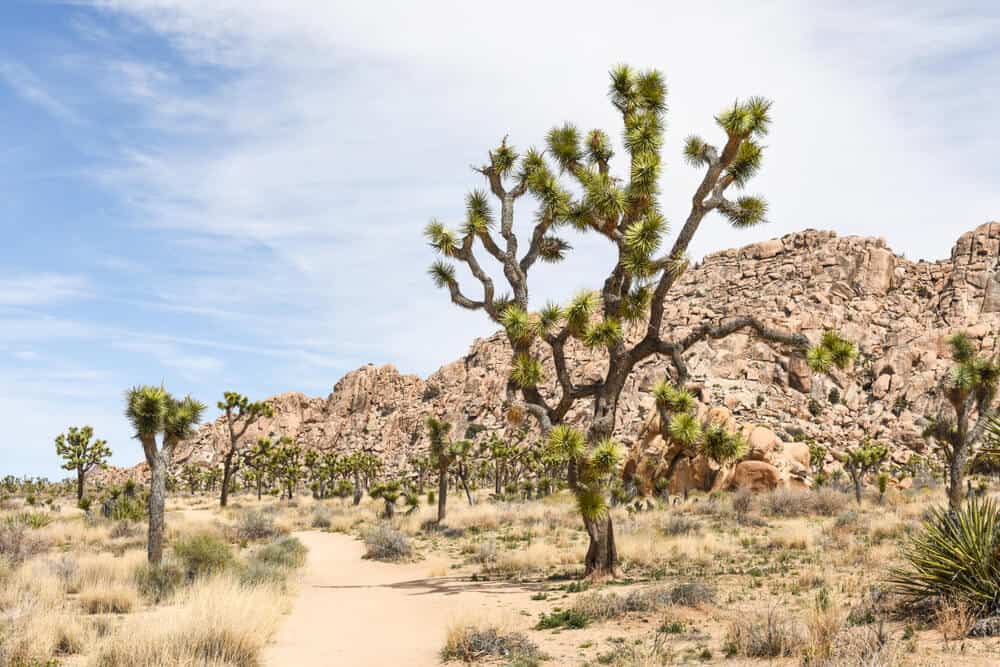 While the main entrance to the National Park is in a neighboring city, Yucca Valley has its own small entrance located in the lesser-traveled western wing of the 1,200-square mile national park.
The Black Rock area of Joshua Tree offers the Black Rock Nature Center, the start of several hiking trails into the park, campgrounds, and a ranger station. All of this is only 15 minutes from the center of Yucca Valley!
Heading out for a day amongst the Joshua trees is easy, convenient, and especially recommended in the early hours of the morning when the morning wildlife starts stretching their legs!
Wake up with a sunrise on the trail.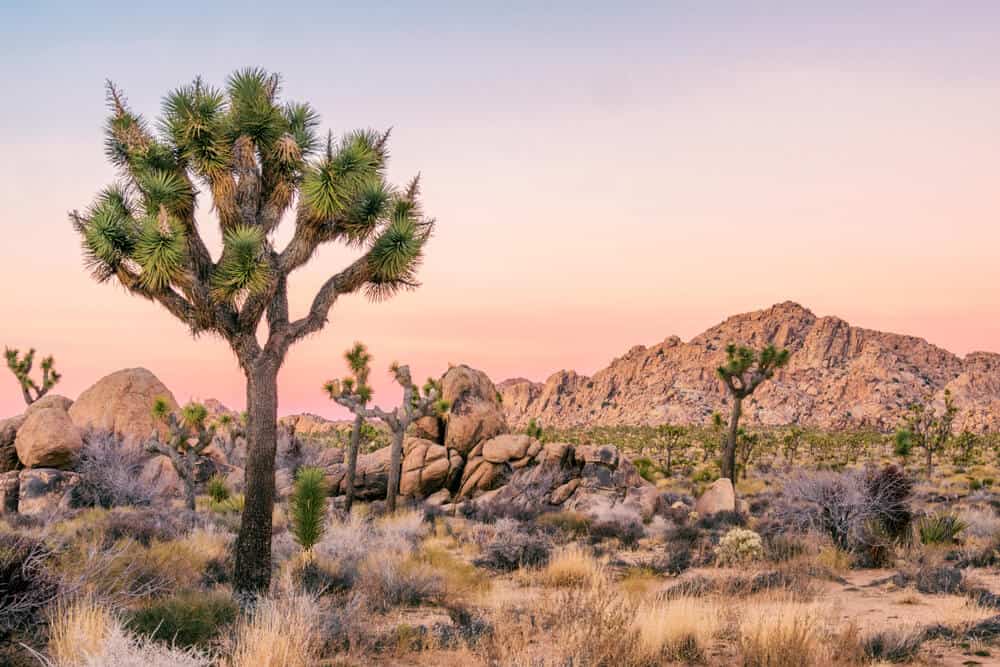 Sunrise in the desert is something to be seen as often as you can in this life!
The light creeps in from the east and slowly slides across the rocks and sands, highlighting each Joshua tree in a glowing ring.
Getting this view is as simple as finding the right route and picking the time to head out in the morning.
There are a few trails that start out in the Black Rock Nature Center that make a great morning hike!
Warren Peak Trail is a beautiful 5.6 miles out-and-back. Mostly used for hiking and walking, this path takes hikers to a ridgeline that lets you gaze out on the San Jacinto and San Gorgonio Mountains as the sun creeps in.
If you're looking for something a bit more challenging, the Black Rock to Panorama Loop Trail is a moderate 6.4-mile hike from the campground.
In the early morning hours, these trails offer a great snapshot of desert life waking up to daylight!
Expand yourself with some art.
Yucca Valley has a burgeoning art community in the surrounding region that is well represented in the several small local art galleries and design stores.
The area's artists make anything from metal and glass sculptures to oil paintings to jewelry using gemstones combined with pieces of local plant life!
You can even set up your own afternoon art crawl and go through the galleries and boutiques one by one, seeking out the art that really displays the desert lifestyle.
Gaze down on the geoglyphs at Black Mesa.
The hills in Yucca Valley have inspired artists from all over the world. Andrew Rogers from Australia is one artist that went to great lengths to make his mark on the region.
Rogers has created giant stone designs in some 16 countries across the world. In his Yucca Valley installation, he made two huge geoglyphs called Rhythms of Life and Atlatl that can be seen from a local vantage point.
Meant to inspire connection between peoples, this giant earthwork installation is a site that shouldn't be missed.
Devour some Mexican food.
Part of any California adventure is eating as much good food as you can! And if you're going to be authentic about it, that means checking out as many Mexican restaurants as you can fit into your trip!
Luckily Yucca Valley is home to a dozen small authentic restaurants, and as many as I tried on my own trip there, I couldn't find a bad one!
Usually, the smaller and less impressive looking the place is, the bigger the flavor gets!
Algoberto's Taco Shop fits this description to a T, and it seems to top the list of most people's favorites in the region.
It can get busy though with a lot of take-out orders and there isn't much seating inside, but the flavor is worth it if you're up for it!
If that restaurant doesn't fit your bill, any of the taquerias in the neighborhood you can order the classic burritos, tacos, and nachos!
If you want to get adventurous, though, ask what they are known for making and order that. You might end up with a new favorite!
Cruise through beauty on a scenic drive.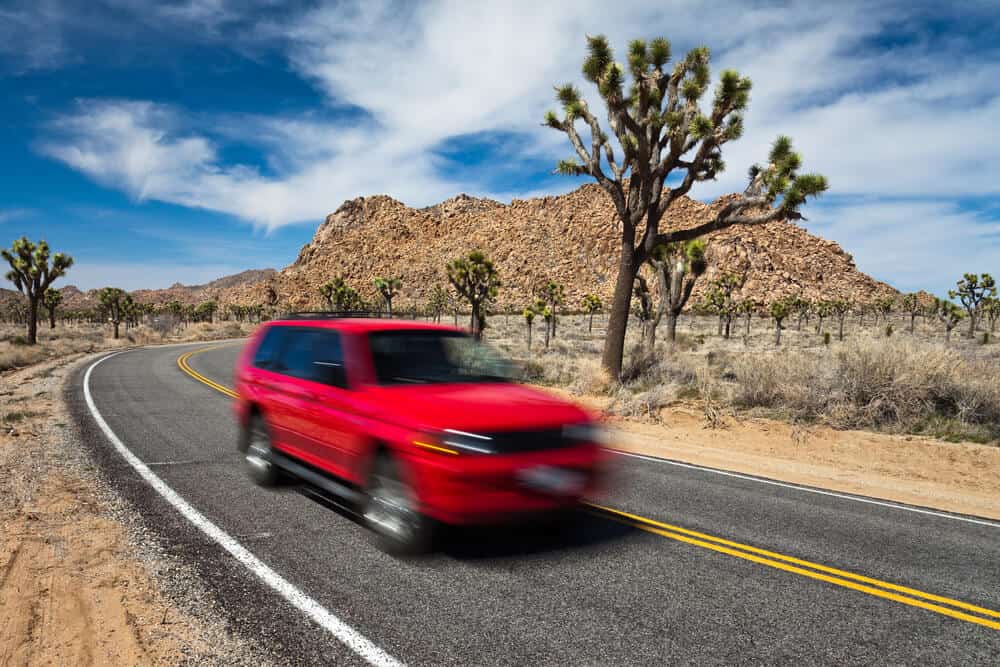 Tired after a long hike? This can mean it's time to see more while doing less!
Driving through the area is a beautiful way to see much more than a single hike can give you while also resting your legs for the next adventure.
Exploring the National Park by car can take up a whole day with stops at the different sites, but if you're looking for a different viewpoint of this historic area, it might be time to get your tires dirty!
There are plenty of well-traveled dirt roads around the park that let you see places many haven't been able to.
It is important to use an appropriate vehicle when embarking on unpaved roads though, such as having high clearance and all-wheel drive if relevant, so be sure to figure that out before your drive into the desert!
If your wheels are ready, the trip to Eureka Peak is a great start! The trip is 55 minutes from the center of Yucca Valley by taking Covington Flat Road out of town.
Then it's a right onto Covington Cross Road and another right onto Eureka Peak Road. Careful, the roads are unpaved when you get closer to the peak!
Eureka Peak stands at 5,518 feet and can be driven nearly all the way to the top!
The final walk is worth seeing the view from the fourth largest peak in Joshua Tree National Park.
Enjoy the outdoor marketplace.
On Saturdays and Sundays, the local Carr family opens the doors to the Sky Village Swap Meet at the old drive-in theatre.
This is an open-air market covering about 7 acres of land and it has all sorts of different places to explore!
There is good food to be eaten in the Sky Café or several small gardens to explore while you stop and look over local vendors who come to share their goods.
Some beautiful and strange things can be seen in the outdoor market and it's always interesting to see who shows up on any given weekend.
Take in a historical perspective.
If you're interested in learning more about Yucca Valley, you might enjoy going to the Hi-Desert Nature Museum.
There are beautiful displays of the local flowers, plants, and animals. You will also see an exhibit that looks with a paleontologist's lens at the ancient plants and animals from the area.
The Hi-Desert Nature Museum even has a small collection of arachnids, insects, and reptiles from the region! There is also one particularly fun cockatiel that lives there too.
If you are into the finer things in life, there is a display of gemstones and other rock formations that show just what is created under the surface of a desert environment!
Get 'Hi' at sunset.
After a long day of exploring, the short 1.3-mile trail at Hi View just south of town is the perfect way to end the day!
It's a loop trail that takes you around a well-traveled path to look over the surrounding rolling hills.
Watching the sun creep down and away as the stars come out on the top of this hill is a great way to wind down before heading back to your bed for the night.
…. or to find your next stargazing spot!
Saturate yourself in starlight.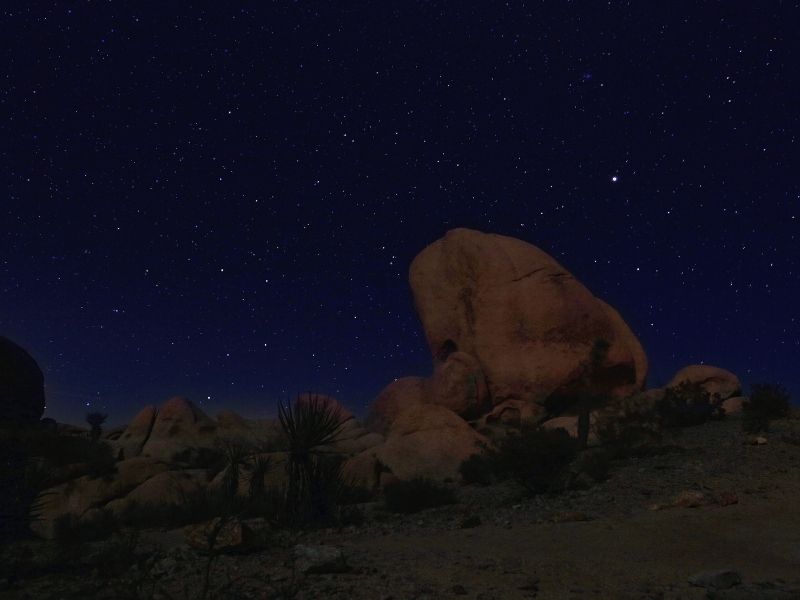 After the stars come out in Yucca Valley, you'll be hooked on the place, especially if you've found a place far away from town to stargaze.
If you drive back out into the park on Covington Flat Road there are several pull-offs to stop your vehicle in and walk a bit off the road into the desert.
You can lay a blanket out there and look up for the stars as long as you are able to!
Often you will hear coyotes singing in the landscape as you count the dozens of shooting stars that are likely to whiz by.
Depending on when you go, you will need to bring something to cover yourself with as it can get cold in the desert at night!
If you're bundled up and ready though, it's the perfect place to see how big the universe really is.