With 70-degree temperatures and clear and sunny skies on average all year, San Diego is without question worth visiting for its weather alone.
Besides the perfect climate, San Diego is both a laid-back beach city and a hub for world-class attractions and premier dining. 
If you're looking to spend your time being sun-kissed with the sand between your toes, there are 31 beautiful beaches you can visit in the county!
On the other hand, if you'd rather spend your time immersed in the city's many cultural and historical attractions, there are over 90 museums you can explore.
One day in San Diego will never be enough, but you can still cover a lot of ground within 24 hours!
Unlike Los Angeles, San Diego is much less scattered and more pedestrian-friendly, making the city easy to navigate and get around.
This 24 hour San Diego itinerary will take you on a thrilling water excursion, and then invite you on a tour of one of the city's most popular attractions. And of course, you'll be able to taste some of San Diego's best food.
Get ready for an unforgettable experience exploring one of California's most beautiful coastal cities! 
Your One Day in San Diego Itinerary
Wake up to breakfast in Little Italy.
Note: This post contains affiliate links, which earn me a small commission at no extra cost to you if you make a purchase using one of these links. Thank you for supporting this free content!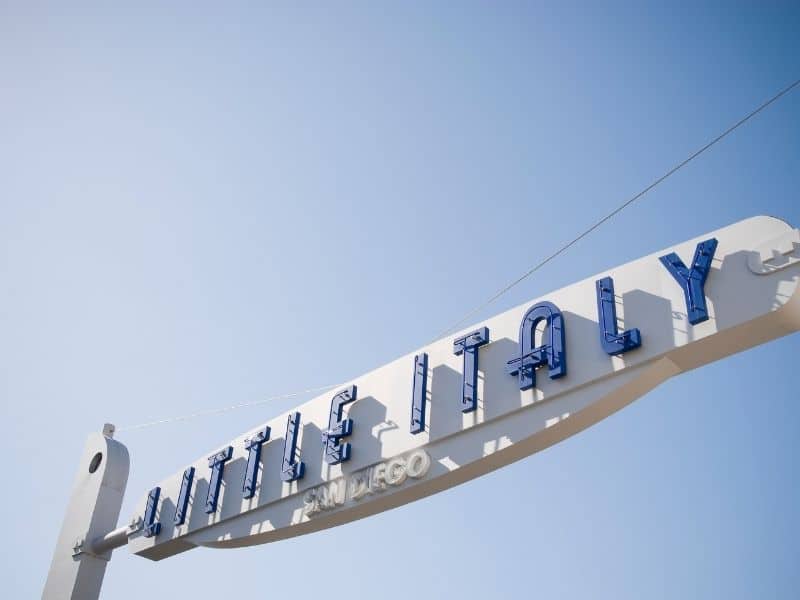 With all the activities planned for this San Diego itinerary, you'll need enough energy to keep you engaged in the day!
Wake up early and fill up on breakfast in Little Italy, a lovely pocket of San Diego that is packed with cafés, craft breweries, cocktail bars, trendy boutique shops, and internationally-renowned restaurants. 
Pizza is the highly recommended food to eat here, but it's likely you'll consider it to be too early to eat pizza (and most pizza places won't be open yet, so you can always grab a slice later). Grab a bite at one of these breakfast spots: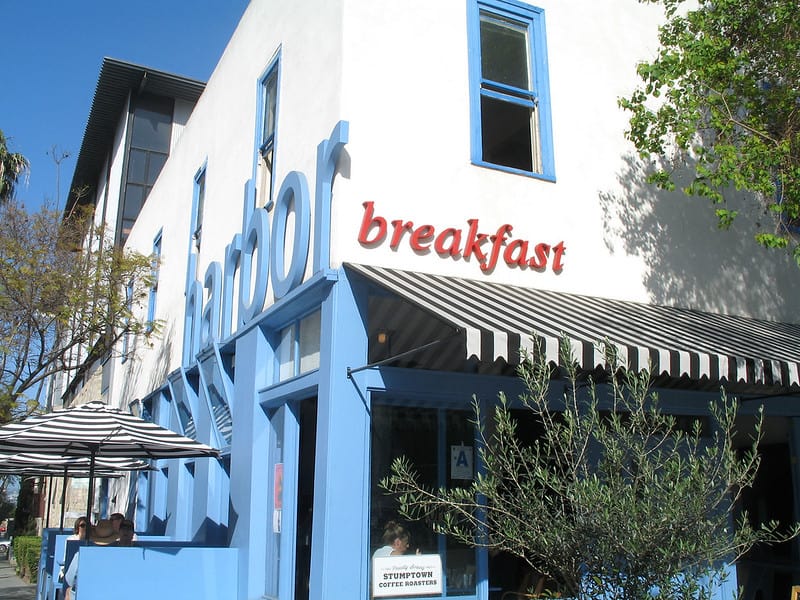 Note: You'll want to have breakfast at around 7 AM. The next destination is about a 10–15-minute walk from Little Italy, and you'll need to arrive at the next spot at least 15 minutes before 9 AM.
Set sail across the coast for some remarkable sights of marine life.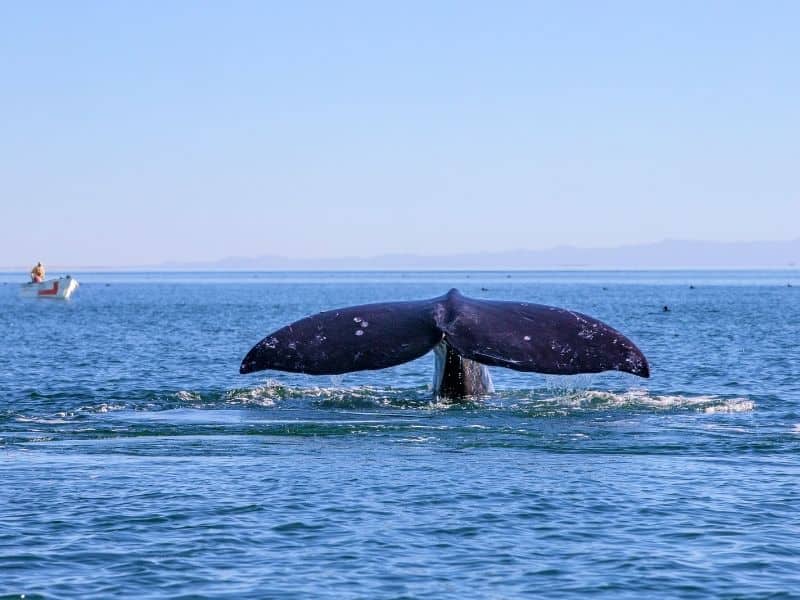 When in San Diego, whale watching is a must!
Known as one of the best places in California for whale watching to see these extraordinary mammals, San Diego is where Gray Whales are seen migrating during the winter and springtime.
Meanwhile, don't fret if you're visiting in another time of year. Blue Whales are seen feeding off the coast in the summer!
Dolphins, fish, marine birds, and sea lions are often spotted during whale watching tours, so this is truly a special opportunity to connect with wildlife.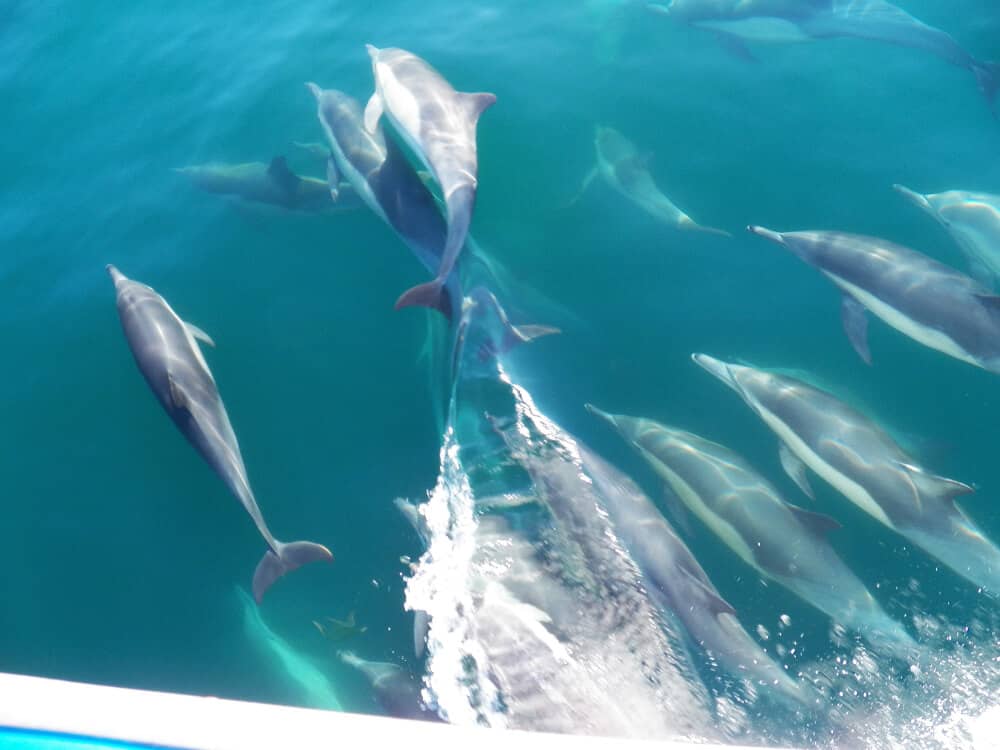 The San Diego Whale and Dolphin Watching Cruise will take you on a 4-hour cruise—whale or dolphin sighting guaranteed!
If you don't catch sight of either during your tour, they'll issue you a free pass for another cruise in the future!
Ages 13+ are allowed and tickets are $68 per person including taxes and fees. The tour takes off at 9AM, so be prepared bright and early.
Address: 1800 N Harbor Dr, San Diego, CA 92101
Dine along the seaside for lunch at Portside Pier.
After an exhilarating morning at sea, you might find yourself wishing you could just sail away and escape reality forever.
So what's the next best thing? How about enjoying a tasty lunch with stunning views of the San Diego Bay?
At least you can both satisfy your appetite and still be close to the ocean! 
Portside Pier is San Diego's one and only site that includes several dining options with outdoor patio and lounge seating, 360-degree waterfront views, and a second-floor public viewing deck—all built on an over-water platform.
Fresh seafood, Mexican food, pub fare, craft beer, cocktails, and coffee and gelato are all served here.
Address: 1360 N Harbor Dr, San Diego, CA 92101
Visit the USS Midway Museum.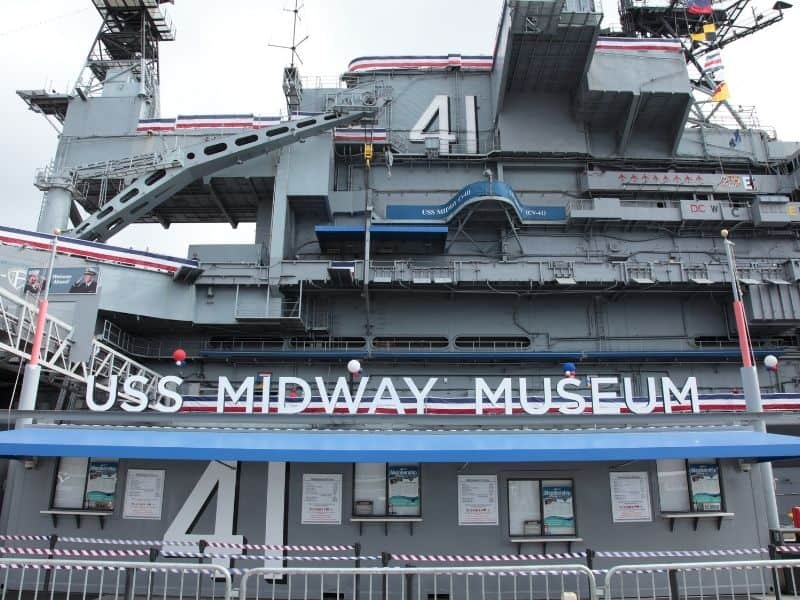 A convenient, 8-minute walk south from Portside Pier is the world's longest-serving aircraft carrier that has been restored from World War II—the USS Midway.
Now a museum with over 60 exhibits, the USS Midway Museum offers visitors the opportunity to meet veterans and listen to their incredible stories.
You can also ride flight simulators and climb aboard aircrafts and cockpits!
With so many fascinating sights to see onboard, you can easily spend an hour or even longer exploring this museum. But since you only have one day in San Diego, try not to take up your entire afternoon!
Tickets are $26 for adults and $18 for ages 6-12 (taxes and fees included in both prices).
Address: 910 N Harbor Dr, San Diego, CA 92101
Visit Balboa Park and the San Diego Zoo.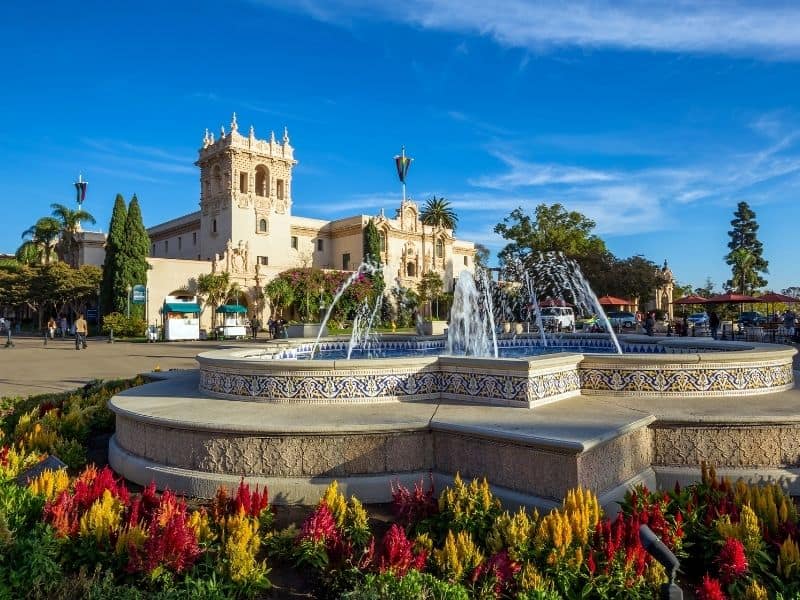 Two of the most important attractions on any San Diego itinerary can be found in the same place: Balboa Park, of which the San Diego Zoo is just one out of 17 awesome museums and educational institutions.
There's a ton to see in Balboa Park, which takes up nearly two square miles in the city, and nearly 10% of that is dedicated specifically to the San Diego Zoo.
Before visiting the Zoo, make sure you visit the Lily Pond across from the Botanical Building for one of the most quintessential photo spots in all of San Diego.
There are all sorts of other places you could visit in the park — the Japanese Friendship Garden is a favorite, as is the Air & Space Museum — but with only one day in San Diego, let's set our sights on the main attraction: the San Diego Zoo.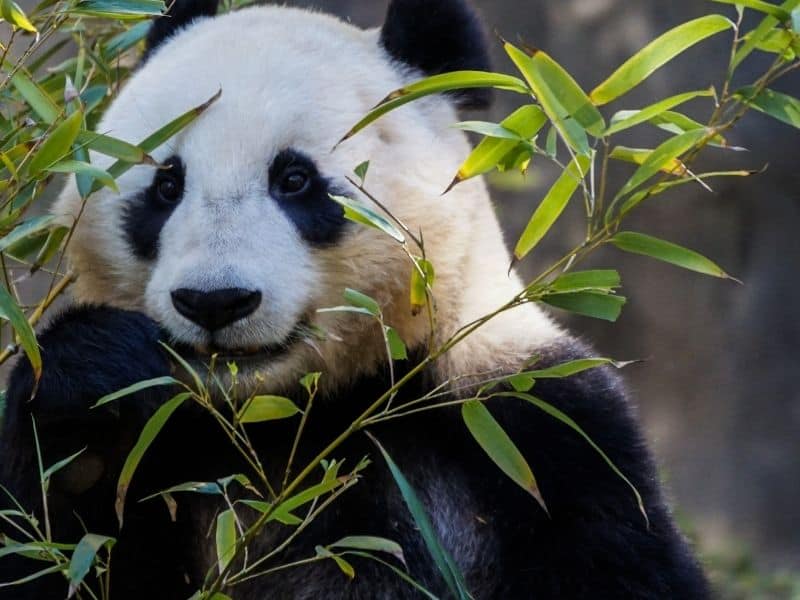 While many zoos have fallen out of favor, the San Diego Zoo is consistently held up as one of the best examples of an urban zoo, with a focus on wellbeing and conservation.
They rehabilitate California condors and release them into the wild as well as facilitating rehabilitation and conservation projects in over 45 countries.
You can see all sorts of animal life at the San Diego Zoo, which is home to over 700 species of animals, including orangutans, koalas, pandas, Galapagos tortoises, elephants, baboons, and more.
Lines can be long here, so save yourself some time by booking your ticket in advance to skip the line.
Wander around Old Town San Diego.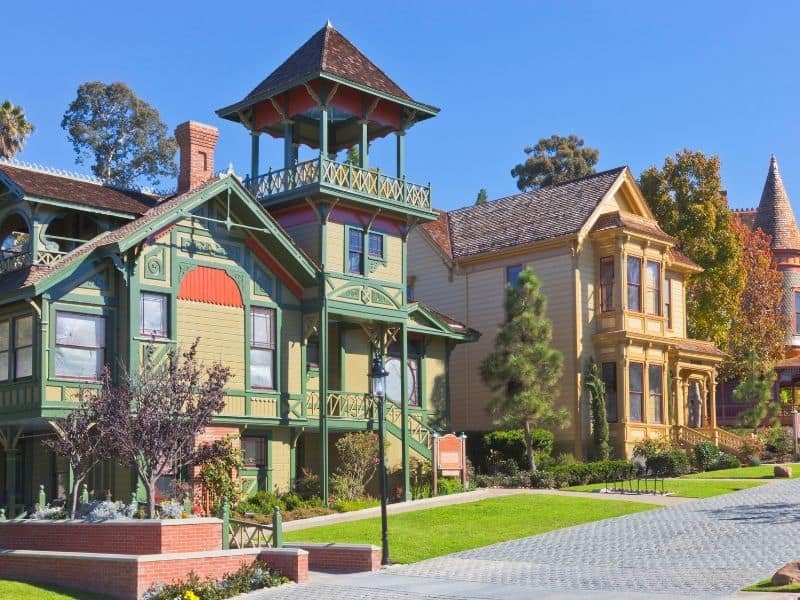 Travel back in time with a visit to San Diego's oldest neighborhood, Old Town!
Old Town was established as the first permanent European settlement in California, marking itself as the birthplace of California. Many visitors have remarked that it looks like an actual town from the Wild West era!
With 32 historic sites and buildings (many are located inside the Old Town San Diego Historic Park), over 30 restaurants, and more than 75 specialty shops (check out the Old Town Market), you'll find it hard to run out of things to do!
Address: 4002 Wallace St, San Diego, CA 92110 (Old Town San Diego State Historic Park address)
Visit the Birch Aquarium.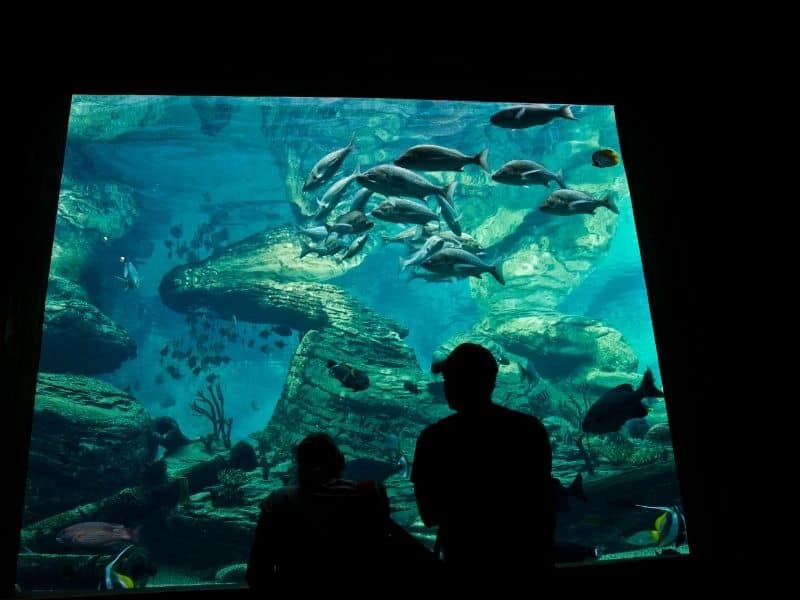 About a 20-25 minute drive north of San Diego's waterfront is the Birch Aquarium — a more ethical and more affordable alternative to SeaWorld that does not compromise on presenting spectacular views of marine life.
The focus at the Birch Aquarium is not on having marine life perform for you, but to conserve marine life for generations to come, so we can learn about and appreciate our vulnerable oceans.
For example, the Birch Aquarium is one out of only a handful of aquariums around the world that have successfully bred Weedy Seadragons!
Additionally, the aquarium has a two-story, 70,000-gallon underwater exhibit that is home to giant kelp forests, Leopard Sharks, Moray Eels, endangered Giant Black Sea Bass, and many more unique underwater species.
You will be mesmerized by the variety of unique sea animals here!
Tickets are $19.50 for adults and $15 for children ages 3-17 (children 2 and under are free). 
Address: 2300 Expedition Way, La Jolla, CA 92037
Capture the classic California coastal sunset.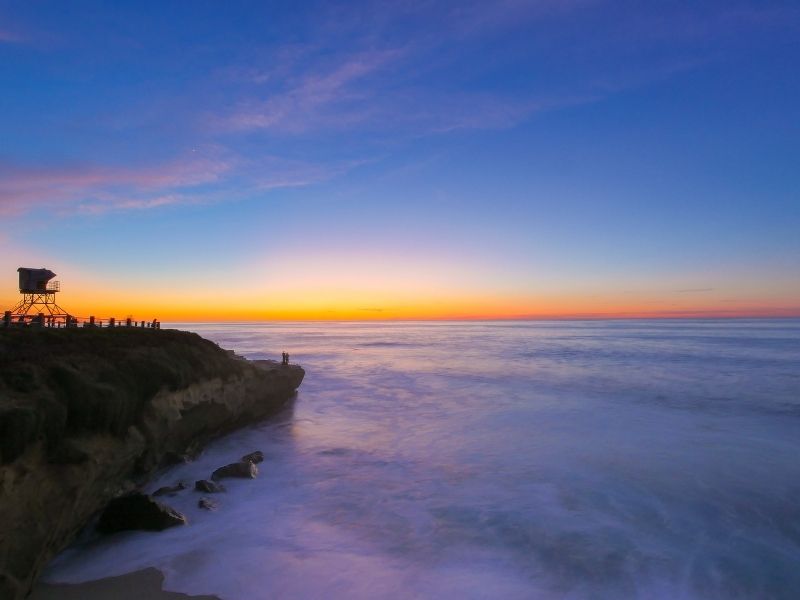 The magic of California's coastline can be seen everyday—that is, during sunset!
If the sun hasn't set just yet, head north to La Jolla Cove or Sunset Cliffs. Both locations offer the perfect backdrop for that jaw-dropping view of the fiery sky.
La Jolla Cove Address: 1100 Coast Blvd, La Jolla, CA 92037
Sunset Cliffs Address: 1100 Sunset Cliffs Blvd, San Diego, CA 92107
Bar hopping? Go taco hopping instead!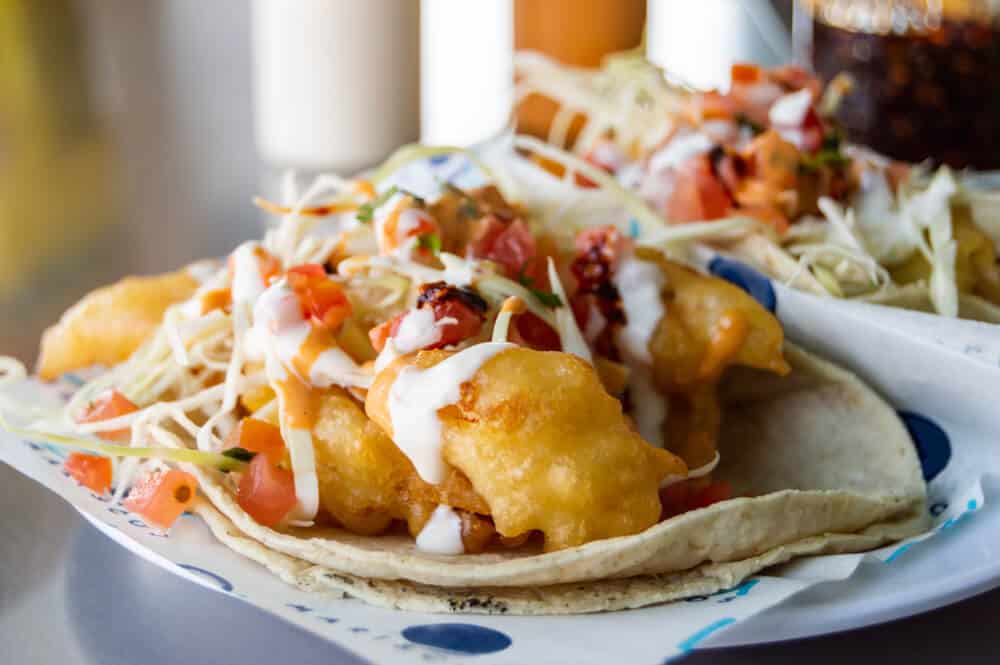 Mexican cuisine is essential to San Diego's food culture — and with the Mexico-U.S. border being a mere 15 miles away, how would it not be?
There are taco shops at nearly every corner of the city, making tacos a staple to the locals' diet.
With that said, the tacos served in San Diego are done right, and it would be a disservice to the city if you visited without eating at least one!
Order a taco from each of these popular taco spots in downtown:
End the night with something sweet.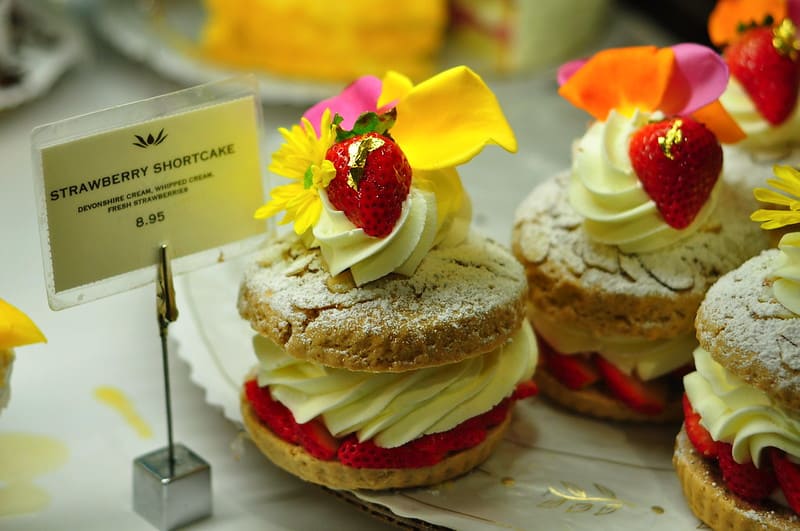 Treat yourself on a day well spent in San Diego with something sweet and soft to bite into like a slice of rich, chocolate dulce de leche cake (available at Extraordinary Desserts).
Or maybe you're craving a slice of warm and flaky salted caramel apple pie—head over to Pop Pie!
Or how about indulging in a fluffy, perfectly balanced slice of cheesecake from The Incredible Cheesecake Company.
Is your mouth watering yet? Visit one of these spots to satisfy your cravings!
Cheers to a night out in Gaslamp Quarter.
If you're on an adults-only trip, continue your night into downtown's Gaslamp Quarter, where a mix of beautiful Victorian-style buildings and modern skyscrapers line the street!
This area is filled with trendy boutiques, fine dining restaurants, rooftop bars, breweries, and clubs.
Dance the night away to the latest music hits with a drink in hand at one of these lively spots: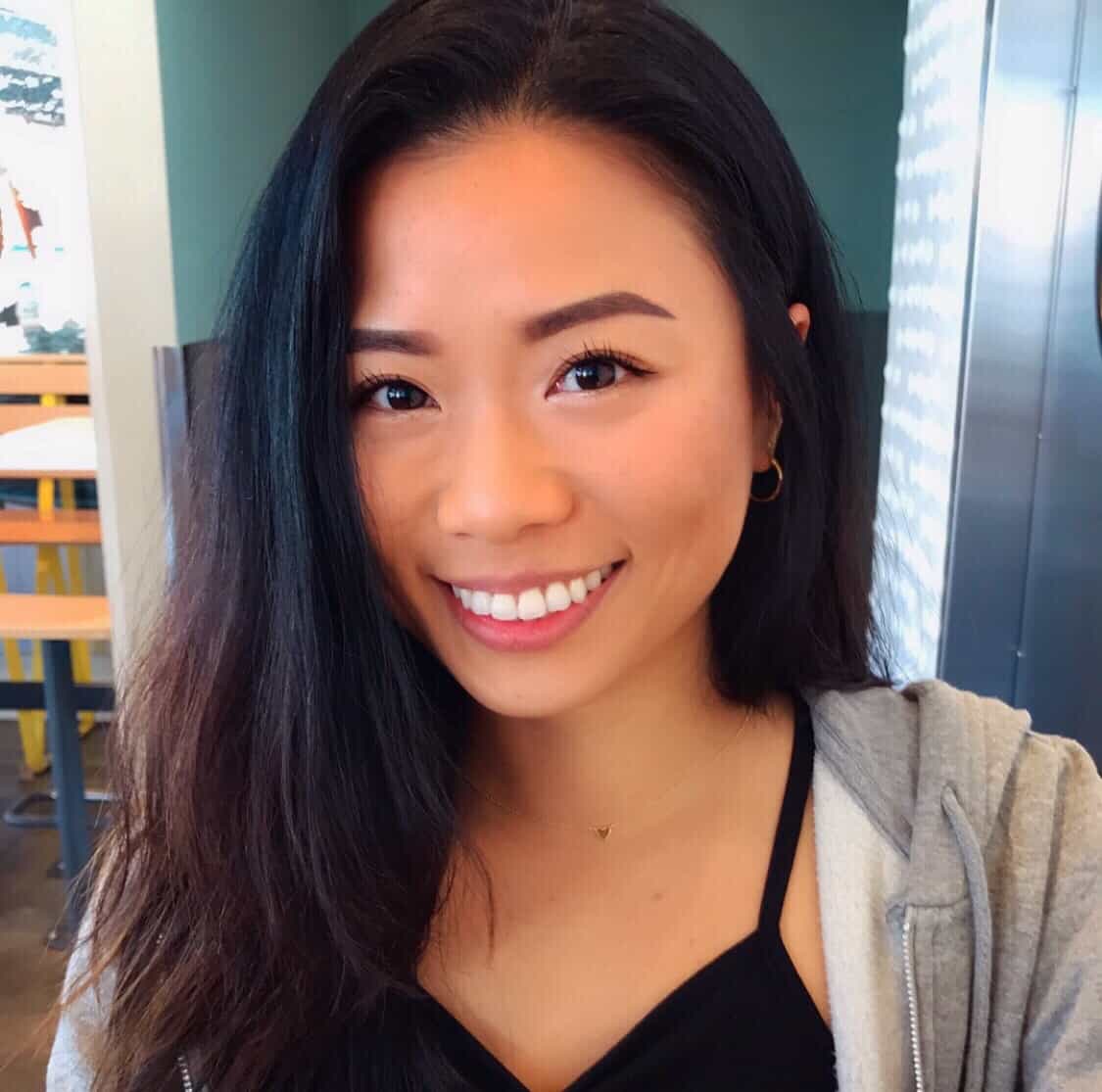 Lianne quit her 9-5 job in 2018 and moved to the bustling city of LA for a change of pace. Having lived in a quiet, secluded part of the East Coast most of her life, her life on the West Coast has since pushed her outside her comfort zone and inspired her to always take "the road less traveled." Travel has played a key role in her personal development, and she believes everyone can reap the extraordinary benefits of exploring life beyond borders.