The Best Instagram Spots in San Diego
Sunset Cliffs
Note: This post contains affiliate links, which earn me a small commission at no extra cost to you if you make a purchase using one of these links. Thank you for supporting this free content!
With 68 sprawling acres of gorgeous Cali scenery, Sunset Cliffs is one of the most photogenic parts of all San Diego.
While it's dangerous to dive off the cliffs, you can get some incredible shots just wading through the water or posing at the edge of the cliffs (carefully – your life isn't worth an IG shot!)
Address: 1253 Sunset Cliffs Blvd San Diego, CA 
Old Point Loma Lighthouse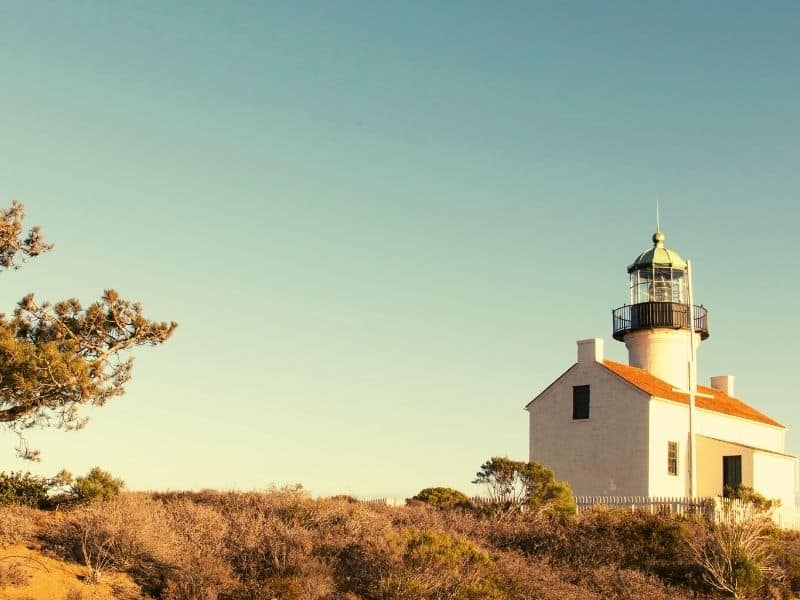 This museum shows the history of Old Point Loma Lighthouse, and it's a super cool exhibit!
What Instagrammers love about this venue is the rustic appearance of the lighthouse surrounded by elegant rocks — all the makings of one of the best Instagram spots in San Diego.
As a bonus, parking here is always a cinch! 
Address: 1800 Cabrillo Memorial Dr, San Diego, CA 92106
Balboa Park Architecture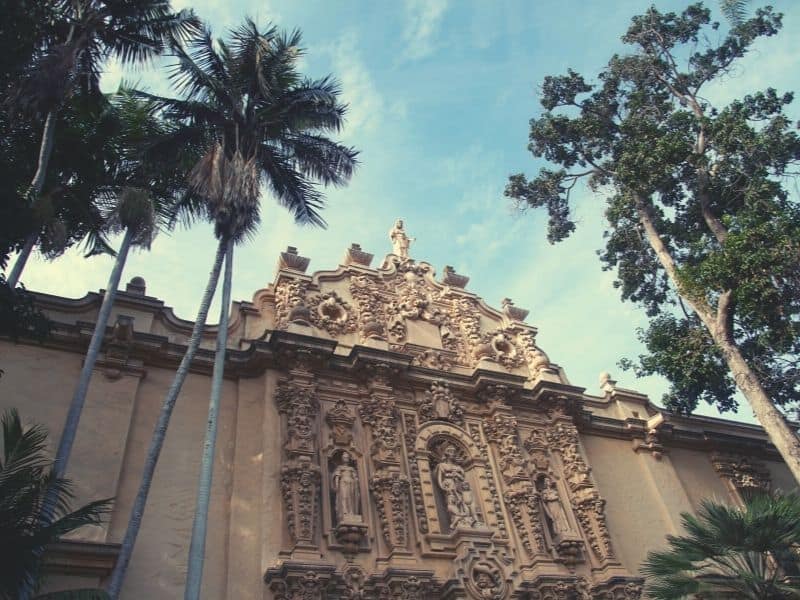 San Diego's architecture is notorious for being great in shots, but the old Spanish architecture you'll find in Balboa Park is a cut above the rest.
Since this park is 1,200 acres large, you might want to make a whole day of it scouting out all the most Instagrammable places in San Diego's most beloved park.
Address: 1549 El Prado, San Diego, CA 92101
Balboa Park Fountain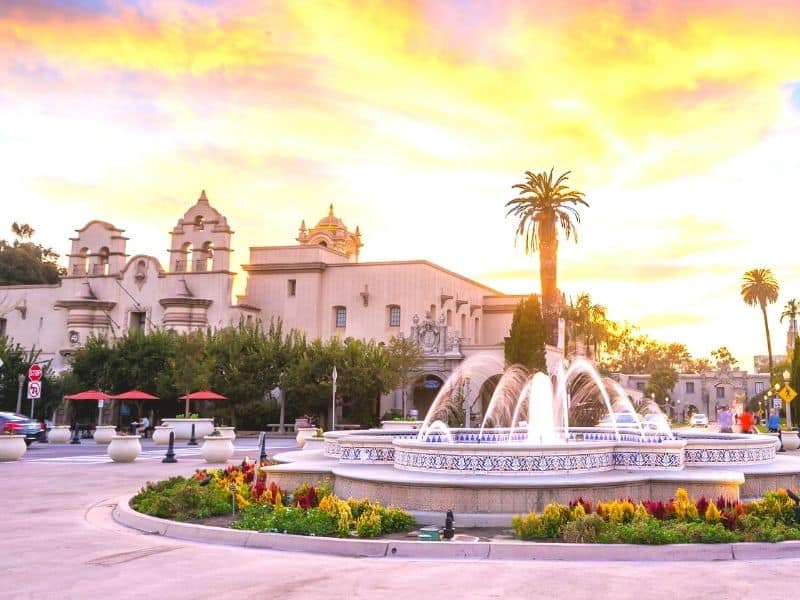 Nestled right in the heart of the cultural center that is Balboa Park is the fountain, one of the best places for a rustic fashion shoot in an already awesome area.
This area is doubly incredible at sunset!
Address: 1549 El Prado, San Diego, CA 92101.
Balboa Park Pond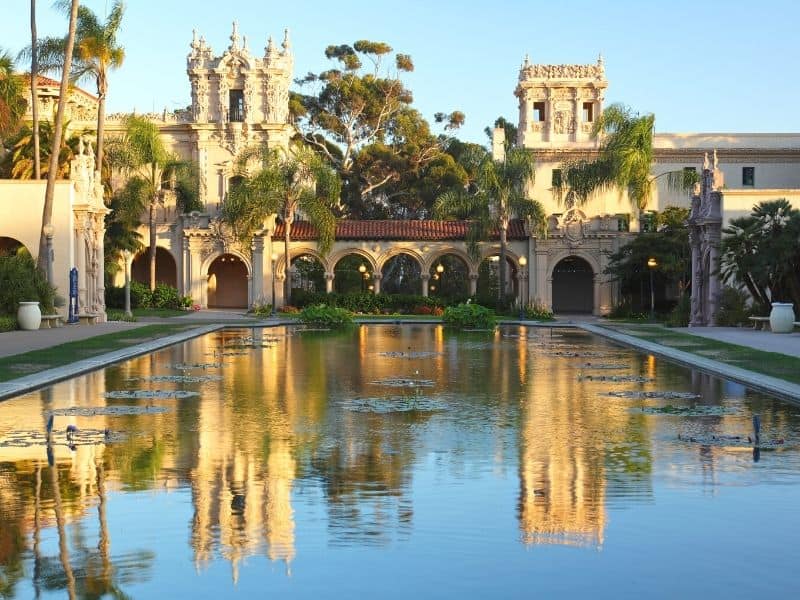 You know how the Taj Mahal has that beautiful manmade pool in front of it? Balboa Park's pond offers a similar aesthetic with a Spanish colonial twist!
Like with other parts of this massive park, you can both walk and drive through it, parking at various points throughout the park.
Address: 1549 El Prado, San Diego, CA 92101
Coronado Bridge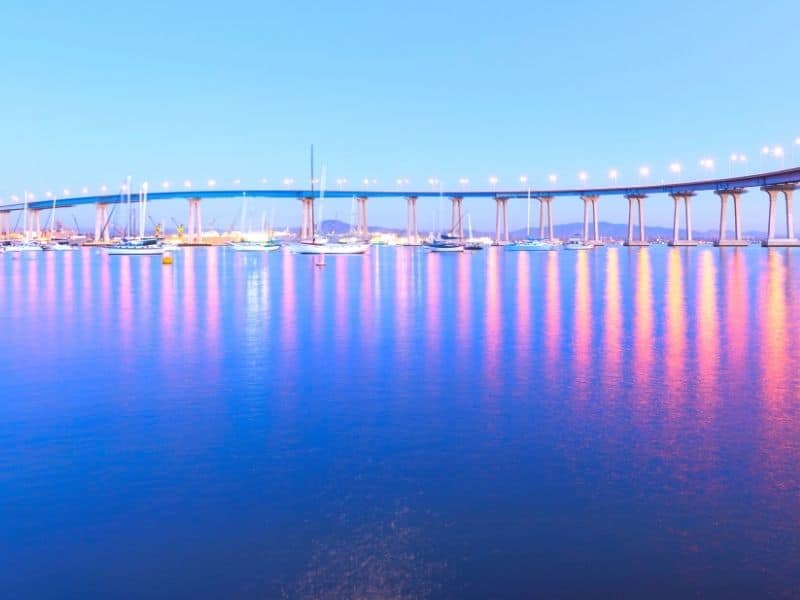 San Diego is no stranger to gorgeous bridges (um, hello Bixby Creek Bridge on the PCH!), but Coronado Bridge might be the cream of the crop!
This bridge has gorgeous lighting that makes the entire structure look like a retrowave video at sunset. It's best to take this shot by the nearby beach!
Address: CA-75, Coronado, CA 92118
Coronado Beach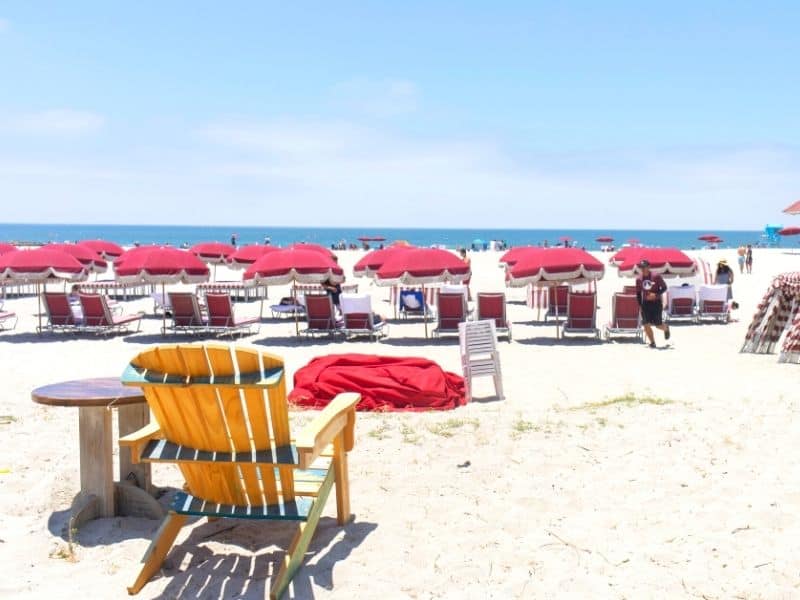 Coronado Beach isn't just one beach. It's the classic surf spot that has the Hotel del Coronado in the background.
Excellent waves, awesome dunes, and plenty of space for a chic fashion shoot make this place a must-see. It's about 1.5 to 1.75 miles in length, so get prepared for a long walk on a beach.
Address: 919 Ocean Blvd., Coronado, Ca. 92118
Marina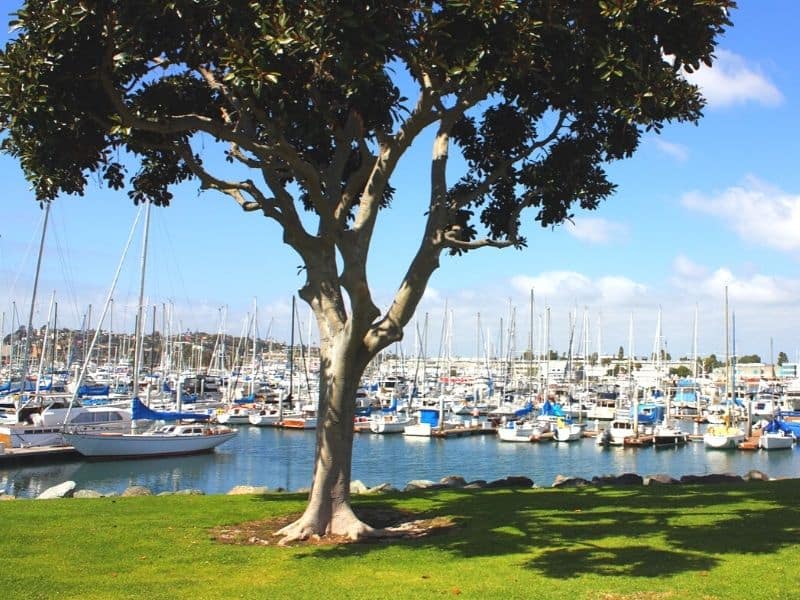 The Marina is not just one location in San Diego. It's a full neighborhood that consists of a marina (duh!), a fish market, luxury condos, and more!
The fish market is great for foodies, while the actual marina is a good place to get boat shots.
Silver Strand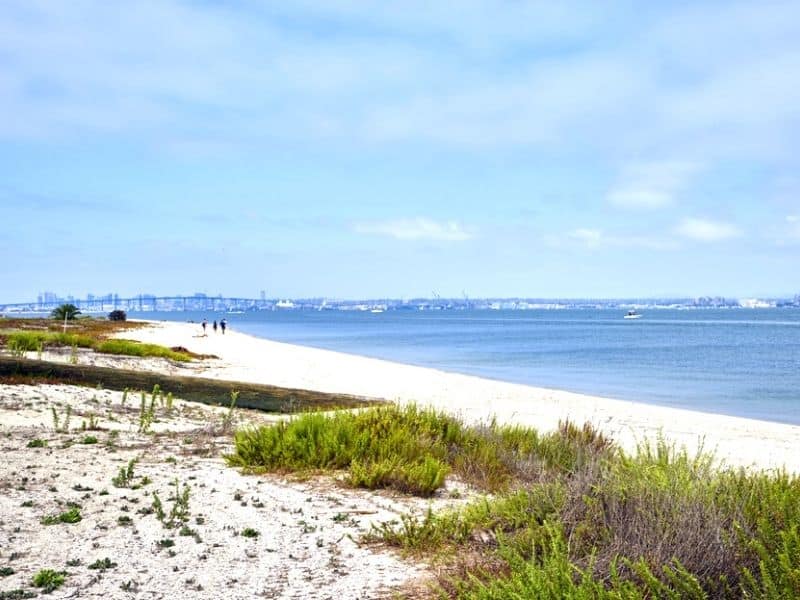 Silver Strand is the small bit of land that connects Coronado Island with Imperial Beach, and it's about 7 miles of pure, unadulterated beachy goodness.
This strip is an excellent pick for people who want to get shots of a beach town, right next to a beach!
Old Town San Diego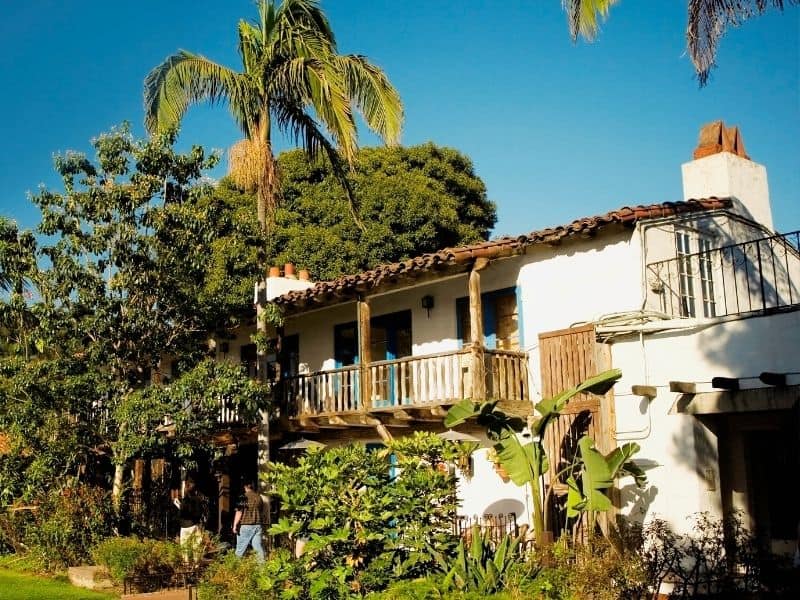 Old town San Diego is one of the more picturesque neighborhoods in the city, primarily due to the architecture that you can find here.
Foodies are going to enjoy hitting up Insta-friendly venues like the Cosmopolitan Hotel.
Architecture fans will love the hotel's look as well as the surrounding historic layout.
Address: Start exploring around 2660 Calhoun Street, San Diego
Scripps Pier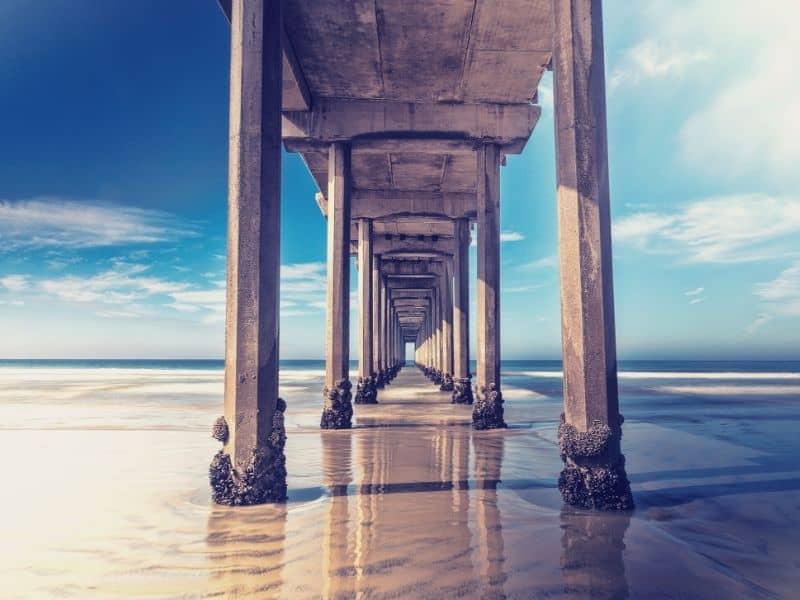 If you've seen some album artwork or certain TV shows, you might have seen Scripps Pier as the backdrop!
This pier has an amazing set of concrete archways, and while it's mostly a research facility, pierworkers are totally used to seeing people take sunset photos under the pier.
Address: 8650 Kennel Way, La Jolla, CA 92037
Gaslamp District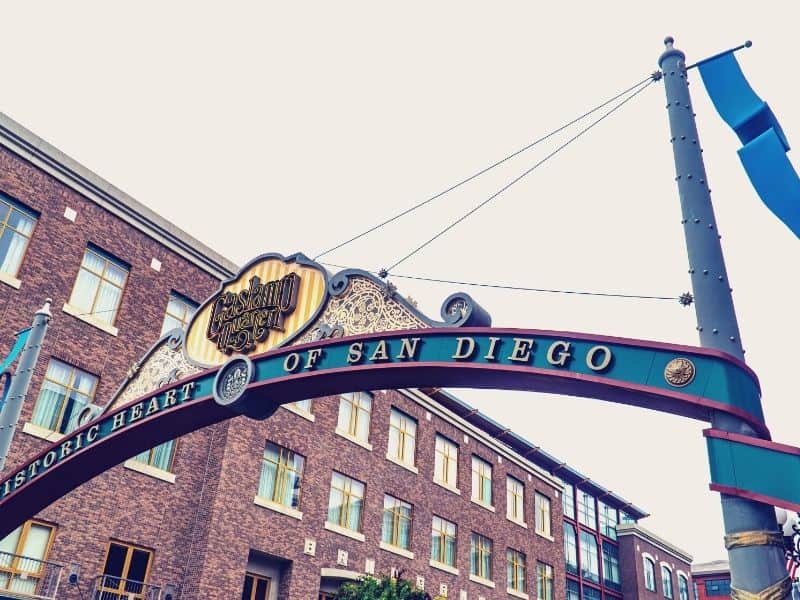 The majority of the US no longer uses gaslamps, but the ones in San Diego are iconic.
This district has tons of foodie-friendly places to eat, excellent shots of steampunk-friendly architecture, and more. What's not to love?
Salk Institute
The Salk Institute is a bioresearch center that is still somewhat open to the public and it's a beloved Instagram spot in San Diego amongst in-the-know locals.
While you might need to keep your shots low key, it's still simple enough to walk around this modern architectural wonder and get some neat photos. Be respectful of the fact that this is many people's workplace and don't get in anyone's way!
Address: 10010 N Torrey Pines Rd, La Jolla, CA 92037
Torrey Pines State Natural Reserve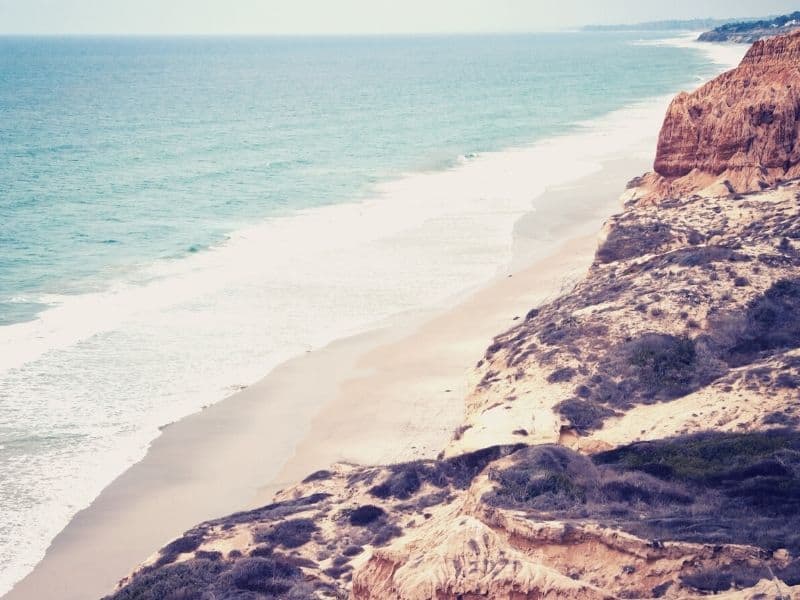 Torrey Pines might be one of the largest natural reserves in the San Diego area, and it's famous for its gorgeous cliffs, sunset shots, and sprawling nature trails.
You might have to do a bit of hiking to get to really good shots on some of San Diego's best beaches, but don't let that stop you. 
Address: 12600 N Torrey Pines Rd, La Jolla, CA 92037
Cabrillo National Monument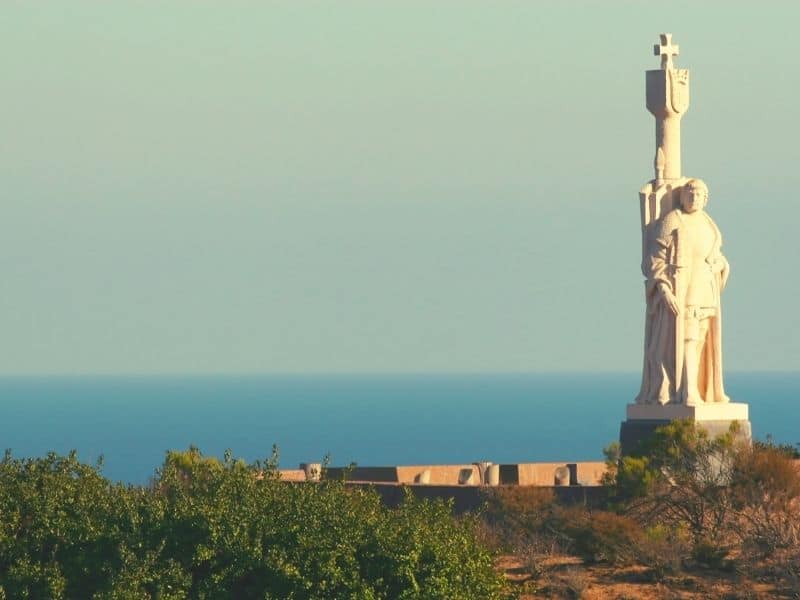 If you're a fan of oceanic shots that also have some beautiful architecture nearby, then you're going to enjoy the Cabrillo National Monument and the surrounding beautiful views.
This easy-to-visit, easy-to-spot place is ideal for Instagram shoots on a clear day. 
Address: 1800 Cabrillo Memorial Dr, San Diego, CA 92106
Potato Chip Rock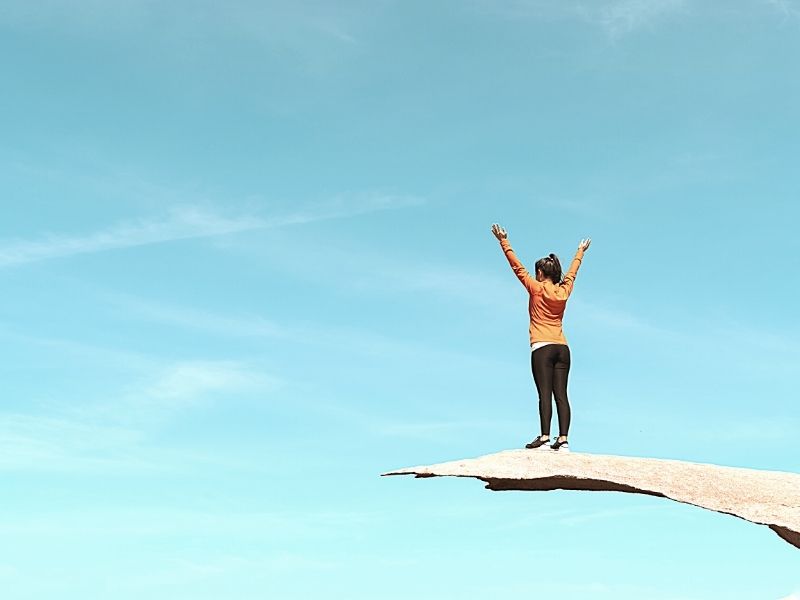 Are you brave enough to stand on a paper-thin rock overlooking a cliff? If so, you can hike over to Potato Chip Rock for a once-in-a-lifetime shot. (Don't worry, the rock below isn't as far as it looks — it's more the angle!)
The hike via Highway 67 is faster, but it's still a nearly 4 mile hike (5.5 miles as a loop) that'll take a good 2-3 hours depending on your pace.
Be sure to wear grippy shoes!
Address: 16310 Highway 67
Ocean Beach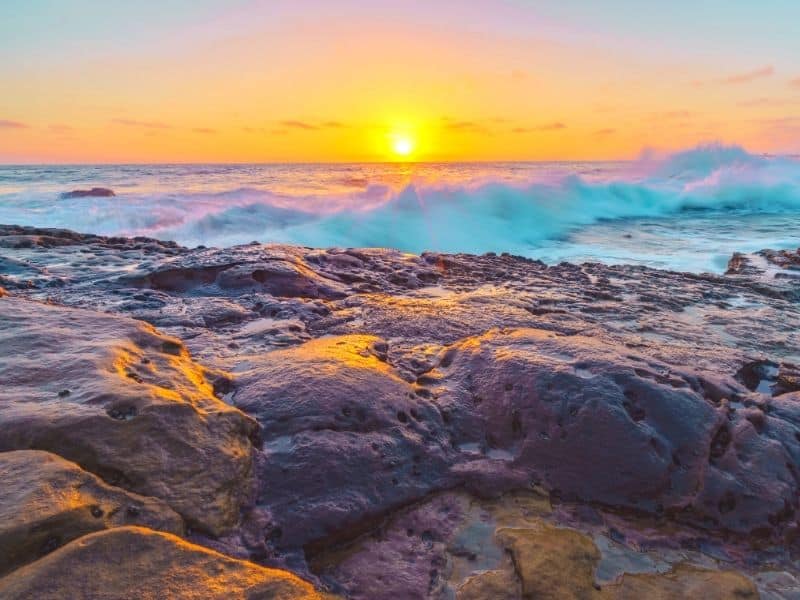 Not to be mixed up with the Ocean Beach Pier, Ocean Beach is a neighborhood in San Diego that's part historic district, part beach town.
Great beaches, wonderful restaurants, and awesomely oceanic architecture is around every corner here. No matter where you are, you can't go wrong. 
Mission Beach Carousel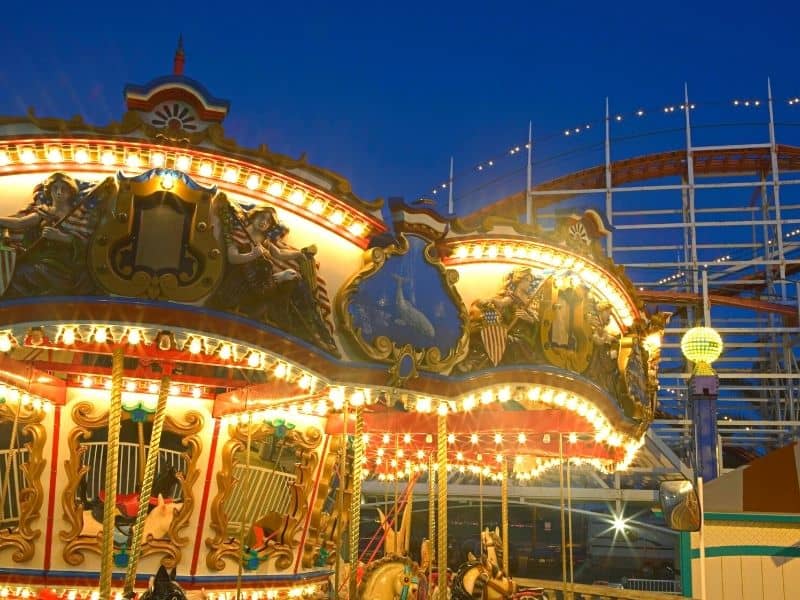 Possibly one of the most famous old school carousels in California, the Mission Beach Carousel (also known as Liberty Carousel)  is right in the middle of the Mission Beach Boardwalk near Belmont Park.
It's best to drive to the park, then walk to the boardwalk for a perfect nighttime shot.
Address: 3146 Mission Blvd, San Diego, CA 92109
Mission Basilica San Diego de Alcala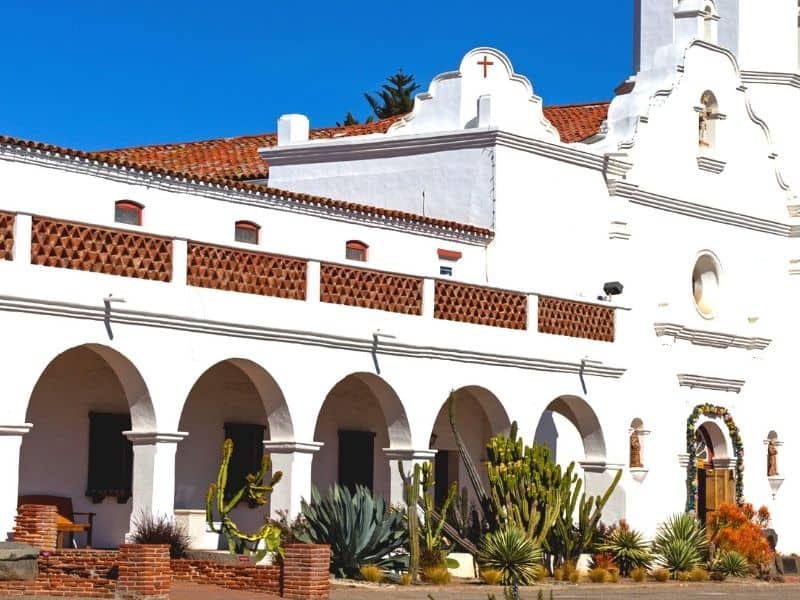 This isn't just a regular Franciscan mission, Mission Basilica was the first mission to be established in San Diego.
Though it's a popular hotspot for church enthusiasts, Instagrammers love it for its hardcore Cali charm. 
Address: 10818 San Diego Mission Rd, San Diego, CA 92108
Carlsbad Flower Fields (Seasonal)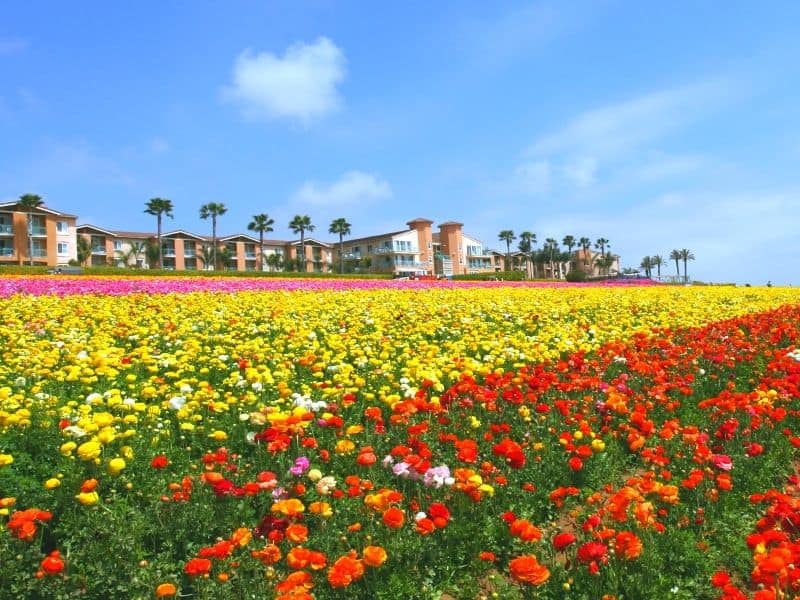 The Carlsbad Flower Fields are only able to be seen in the spring and summer, but when they're there, they're amazing.
The entire field features rows upon rows of ranunculus flowers of every possible shade. It's a pay-to-visit setup, but it's worth every penny.
Address: 5704 Paseo Del Norte, Carlsbad, CA 92008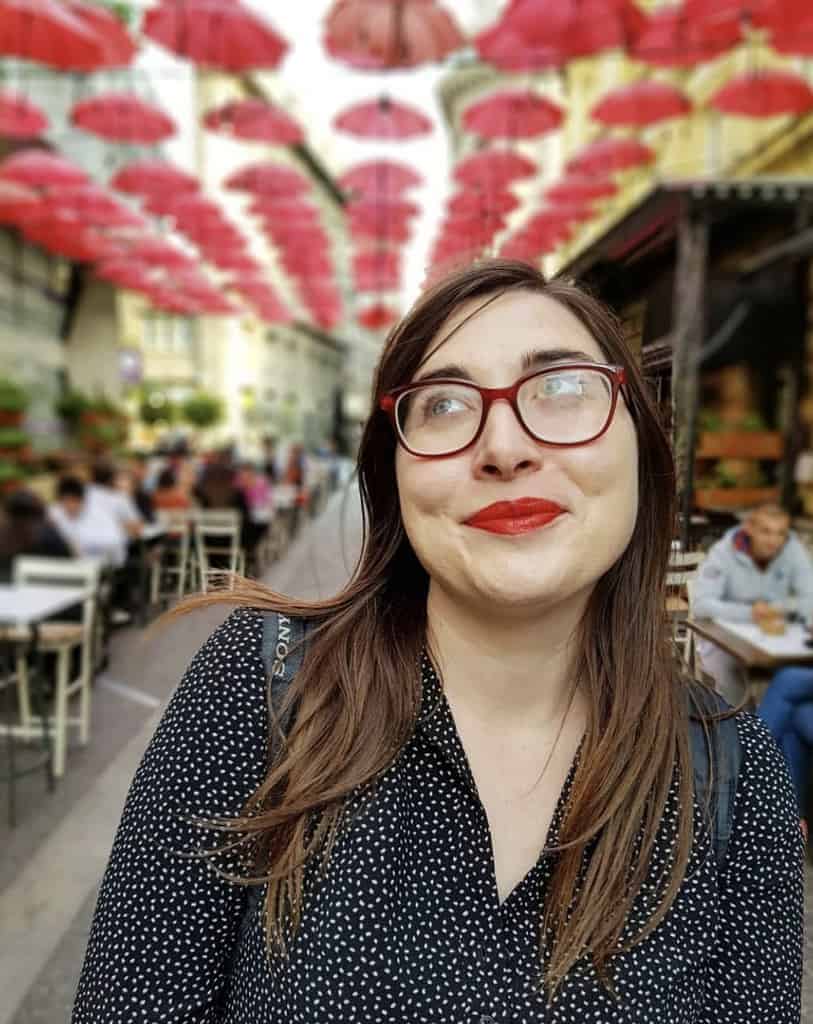 Allison Green is a travel blogger, writer, and podcaster who grew up in the Bay Area of California. She has spent time living in New York, Prague, and Sofia, but has returned to live in the East Bay. She has traveled to 60 countries before the age of 30 while running several digital travel publications. Her writing and podcast have been featured in Forbes, CBC Canada, National Geographic, the Huffington Post, and CNN Arabic, amongst others. She's obsessed with bouldering, houseplants, other people's pets, and anywhere she can see the ocean.