If you've only got a short amount of time to discover California, your best bet is spending two days in Monterey.
While you'll miss out on the star-studded streets of Hollywood, the Golden Gate Bridge and city views of San Francisco, and the ultra-hot temperatures of Death Valley, Monterey has pretty much everything else you would expect of the sunniest state!
If you are able to, book your trip later on in the season. The Central Coast is beautiful all year round, and you can avoid the crowds of tourists if you wait until fall or make your trip before the summer rush.
Bring warmer clothes than you expect that you need to, in case you catch a foggy morning in the fall and winter seasons, though! The coast has unpredictable weather at times, veering towards the cool and foggy, so it's best to be prepared with some layers to snuggle up with.
Where to Stay on a Monterey Weekend Getaway
Note: This post contains affiliate links, which earn me a small commission at no extra cost to you if you make a purchase using one of these links. Thank you for supporting this free content!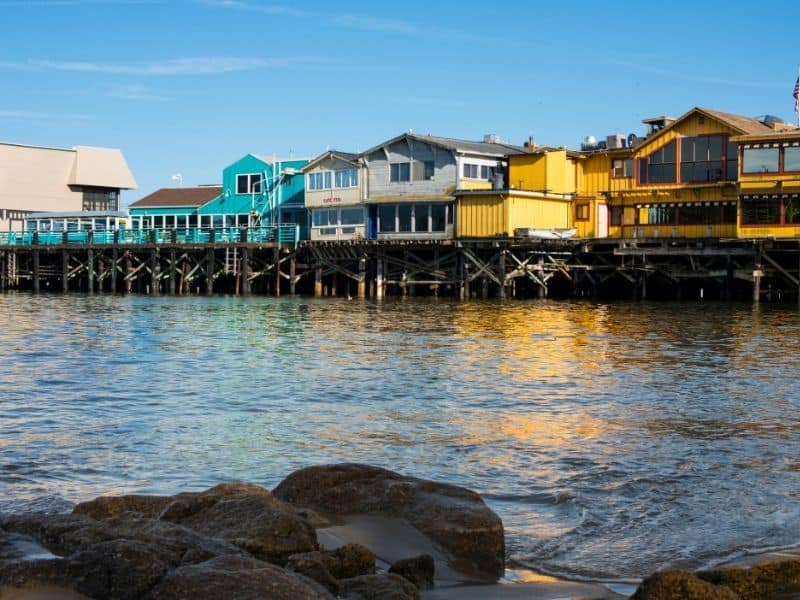 You can't go wrong with most of the hotels in Monterey, but there are some exceptionally nice ones in Pebble Beach; however, the prices go up as you look closer to the coast.
Your best bet may be a bit more inland, where the prices are lower. You can also search on Airbnb for better pricing and more unique experiences. I've included a selection of hotels and Airbnbs of different price points, great for your Monterey weekend trip.
Oceanfront Award-Winning Airbnb: Spanish Revival House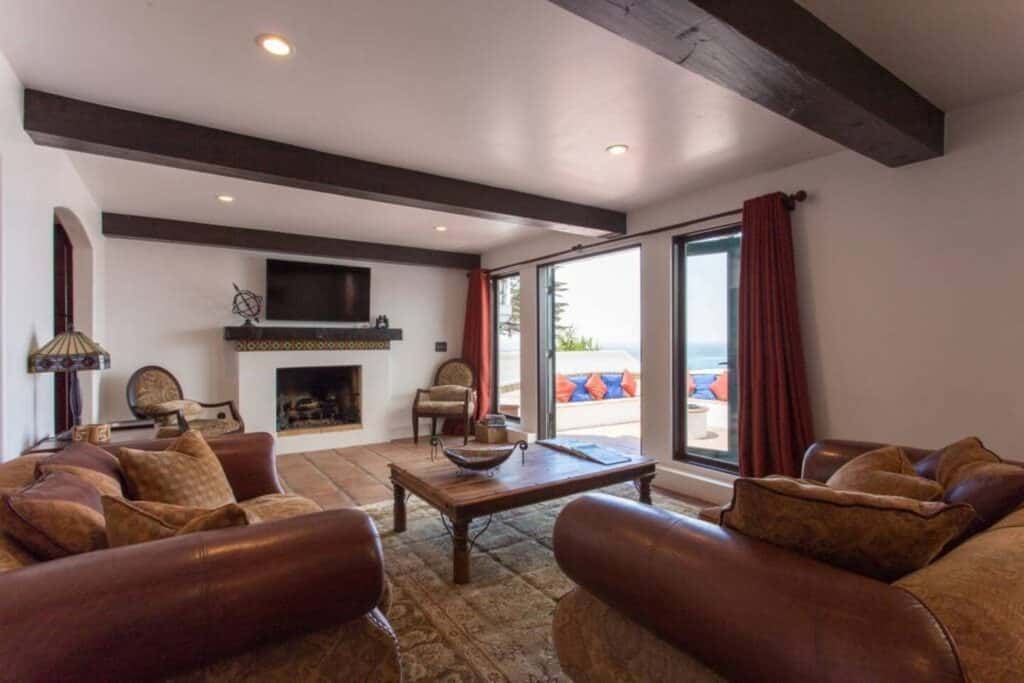 This gorgeous oceanfront Airbnb features beautiful Spanish revival architecture and Talavera tiles on its patio. It's modern yet warm and comforting with beautiful views everywhere you look.
The fire pit is a prime place to watch marine life from the comfort of your own patio: keep an eye out for whales, otters, sea lions, and more!
This Airbnb can host up to six people, with two bedrooms (each with a king-size bed), two bathrooms, and a queen size air mattress if needed for additional guests.
Ocean View B&B: The Jabberwock
For a stunning historic B&B with a quirky touch, check out the Alice in Wonderland-themed B&B The Jabberwock, located a 5-minute walk from Cannery Row and the oceanfront of Monterey.
Located a bit up on a hill, this B&B boasts stunning Pacific Ocean views despite not being directly oceanfront. There are 7 cozy bedrooms with Victorian beds and furnishings — some have fireplaces and 2-person hot tubs! All rooms come with afull hot breakfast, afternoon tea with biscuits and snacks, and wine and hors d'ouevres every evening on the porch.
If you want a place to relax after a day of exploring Monterey, relax in the half-acre of gardens or play a game of bocce ball on the grounds.
Beautiful Budget Airbnb: Mermaid Cottage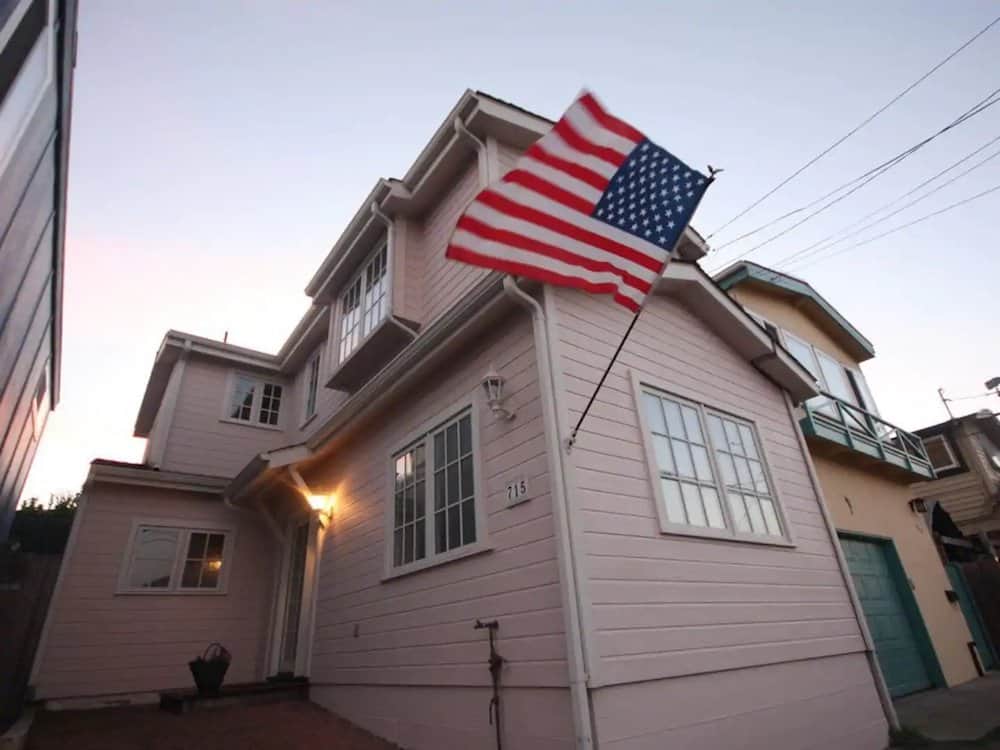 For an affordable yet beautiful place to stay on a budget in Monterey that's great for a larger group, look to Mermaid Cottage! This dreamy Monterey getaway sleeps 6 guests in a charming 2-bedroom, 2-bathroom cottage with 4 beds.
This cottage is two stories, comes with a complete kitchen, and has a stunning ocean view where you can whale watch from your own window! There's a small patio and heated floors to make this place cozy year-round. You're located close to the Lover's Point area, a stunning part of Monterey great for picnics, walking on the beach, or playing a round of beach volleyball.
Budget-Friendly Hotel: Monterey Bay Lodge
For a place to stay in Monterey that's easy on the wallet but sure to please, check out the Monterey Bay Lodge. This charming hotel is just a 5-minute walk to Monterey State Beach and a 15-minute walk to Cannery Row and other attractions there.
There's an outdoor pool and hot tub, restaurant, and garden courtyard on site, and rooms are basic but modern with all the amenities you need for a short but comfortable stay.
It also has a selection of pet-friendly rooms, so this is a perfect place if you're bringing your favorite four-legged friend!
Day One of Your Weekend in Monterey
Ease into your trip starting along the coast
Depending on where you are staying during your 2 days in Monterey, you may want to get an early start heading out towards Pebble Beach.
Your very first destination in Monterey should be one of the gated entries to 17 Mile Drive; any of them will do, but entering by Carmel puts you right in the middle of the action. Entering off of the highway will mean driving a bit more to get to the best places to pull over and walk around a bit.
The drive alone is beautiful, but there are a ton of picnic areas and great places to take a walk, or a couple photos. You pay $11 per car to enter, and you can stay as long as you like. Be sure to grab a map at the gate – it will point out the best locations to stop along the way.
Want a bit more of an active day than driving around the coast? Book this 17-Mile Drive guided bike tour which hits up all the most popular spots with an enthusiastic guide.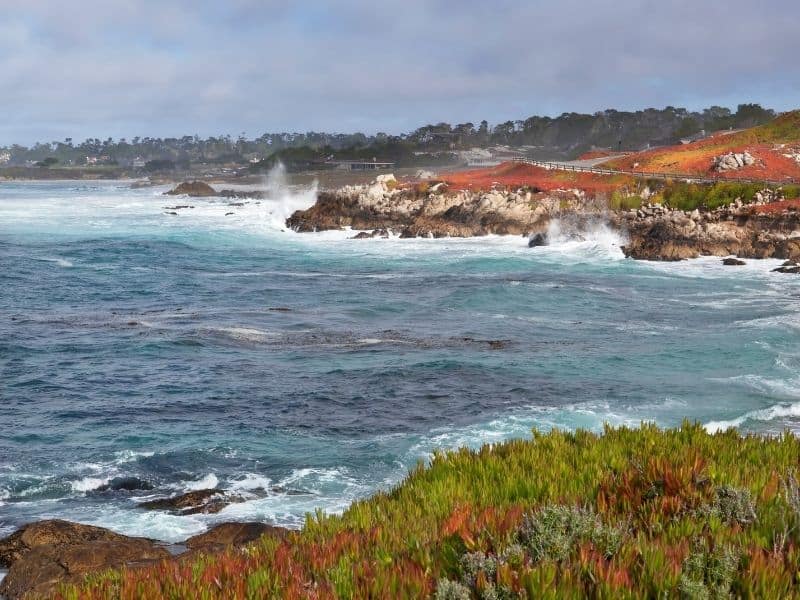 Every single one of the marked spots is worth a look, but you definitely should go out of your way to hit Spanish Bay Beach (above) and Seal Rock, if you get the chance.
Some places are easier to park than others, so be prepared to circle back if there is somewhere you know you want to check out.
Don't miss photographing one of the most famous trees in California, the Lone Cypress Tree! It's a Monterey itinerary must.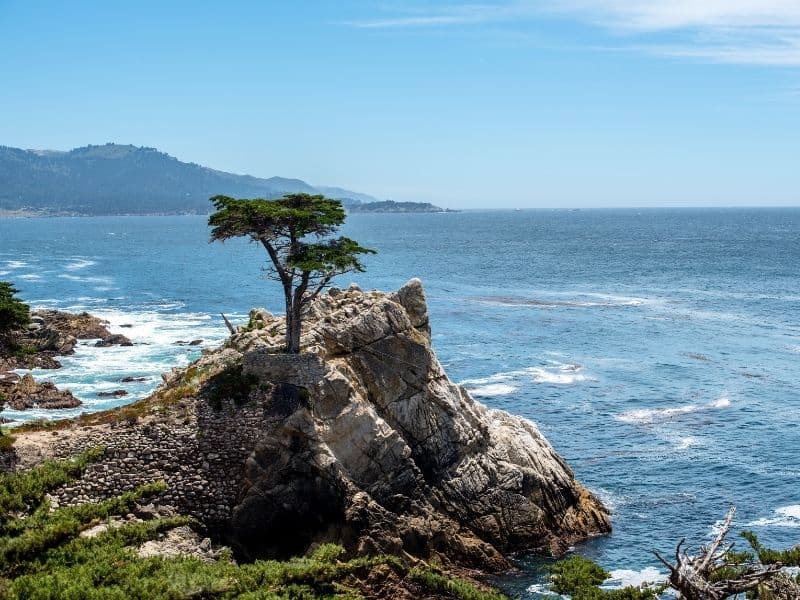 Have a picnic lunch on the beach
If you bring a blanket or some foldout camp chairs, Spanish Bay Beach would be a perfect spot for lunch.
You can certainly bring your own, but there are plenty of options there, too.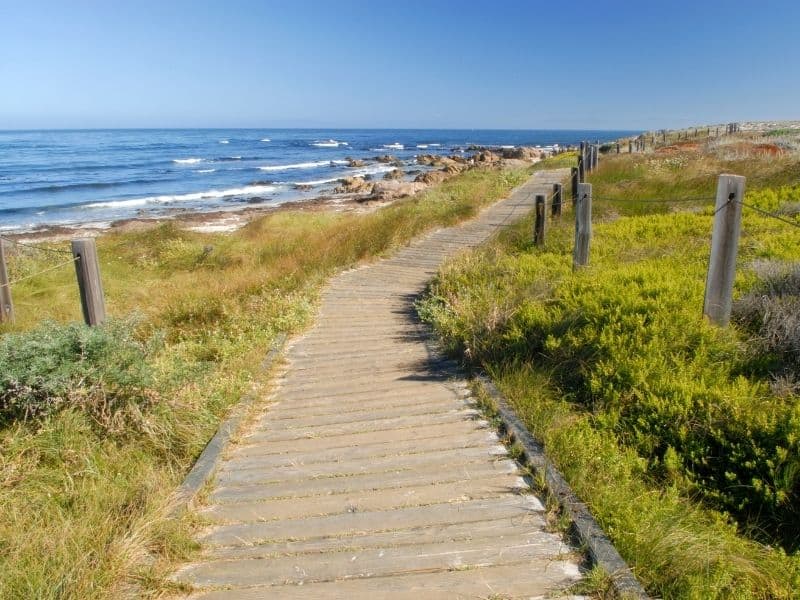 I don't know that any of the restaurants offer food to go, but you can go to Pebble Beach Market for some snacks and lighter fare if you don't have access to a cooler.
Alternately, you can rest up at The Bench, the Spyglass Grill, or Roy's. All of these are on the pricier side, but they'll actually deduct your admission from a purchase that meets their minimum spending amount of $35.
That $11 refund might be enough to make a sit-down lunch worth it, especially if you need to access a restroom, as there aren't many located on the drive, unfortunately.
That's definitely something to keep in mind, especially if you are traveling with young children (or if your bladder is as small as mine!)
Spend an afternoon out in the sun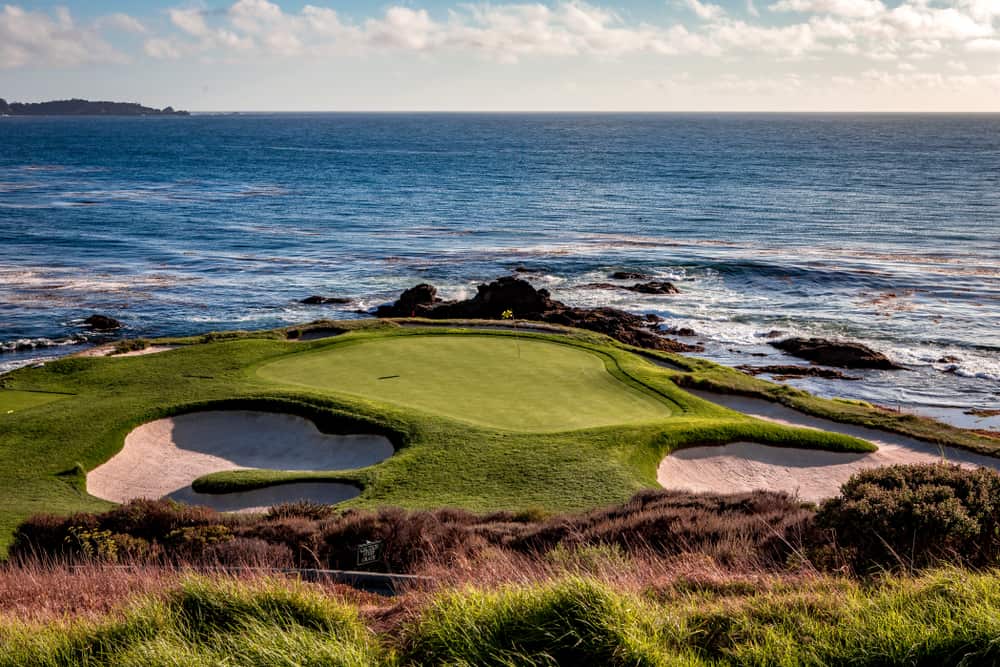 There are a variety of activities in Pebble Beach, so you are guaranteed to find something you're interested in if you take a look at all the options.
There are spas, top tier golfing options (if you have the funds!), and – my personal favorite way to end a day in Monterey – horseback riding.
For horseback riding, the Pebble Beach Center will set you up with a trail tour that fits your group size and your experience level.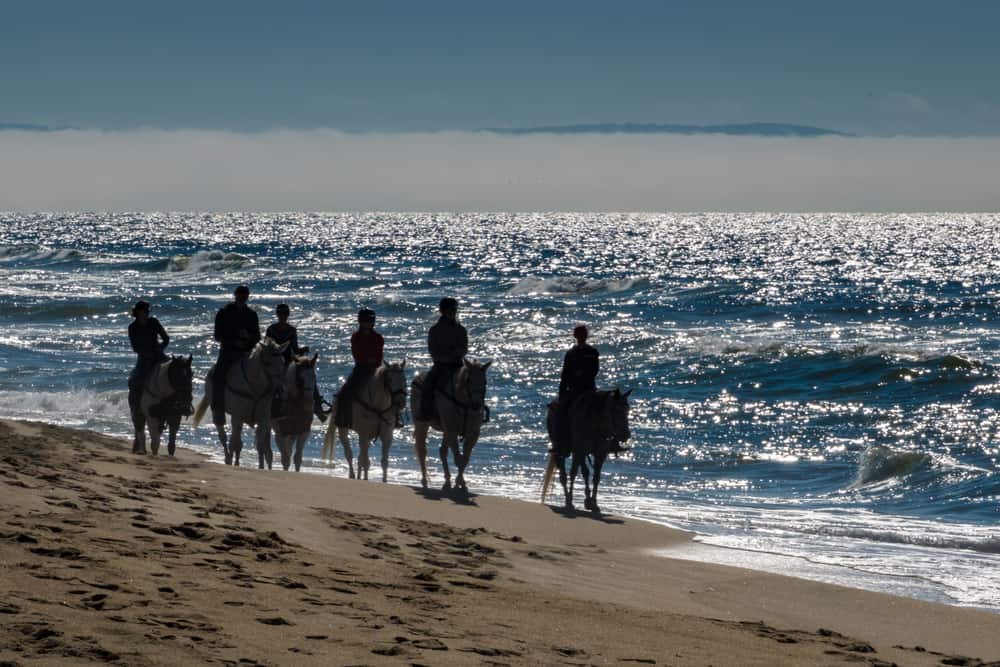 They allow a huge variety of services, but most likely you'll be most interested in booking a group trail ride with some of their rescue horses!
Pebble Beach closes at sunset, but you can enjoy it a bit longer if you book your stay at The Lodge at Pebble Beach – plus, your admission to the park is free if you're staying the night.
Wherever you choose to stay, don't stay up too late so you can make the most of your next day of your weekend in Monterey!
Day Two of Your Monterey Weekend
Start your second day with an up-close look at the wildlife of the bay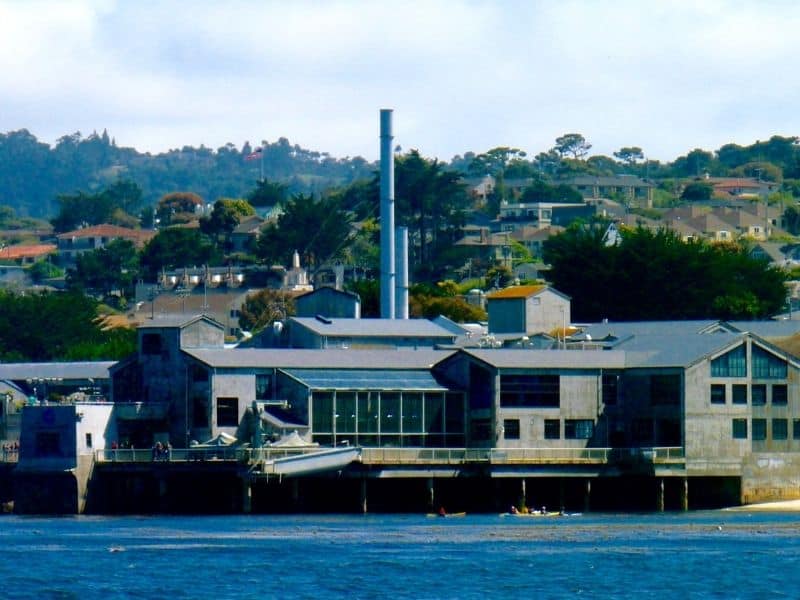 Note: The aquarium is currently closed due to the pandemic, but you can check their virtual learning offerings!
One of my absolute favorite places in California is the Monterey Bay Aquarium, and you'll want to get there right when they open.
Their hours run from 10:30 AM to 5 PM daily. This is a particularly good option in the offseason or on a cold, foggy day that isn't great for being out on the water.
This one is great for the kids, but I love it even as an adult. There is a steep price tag though – it's $50 per adult, and a little less for each kid. However, for one of the world's best aquariums, it's 100% worth it.
It's simply a must on any Monterey itinerary.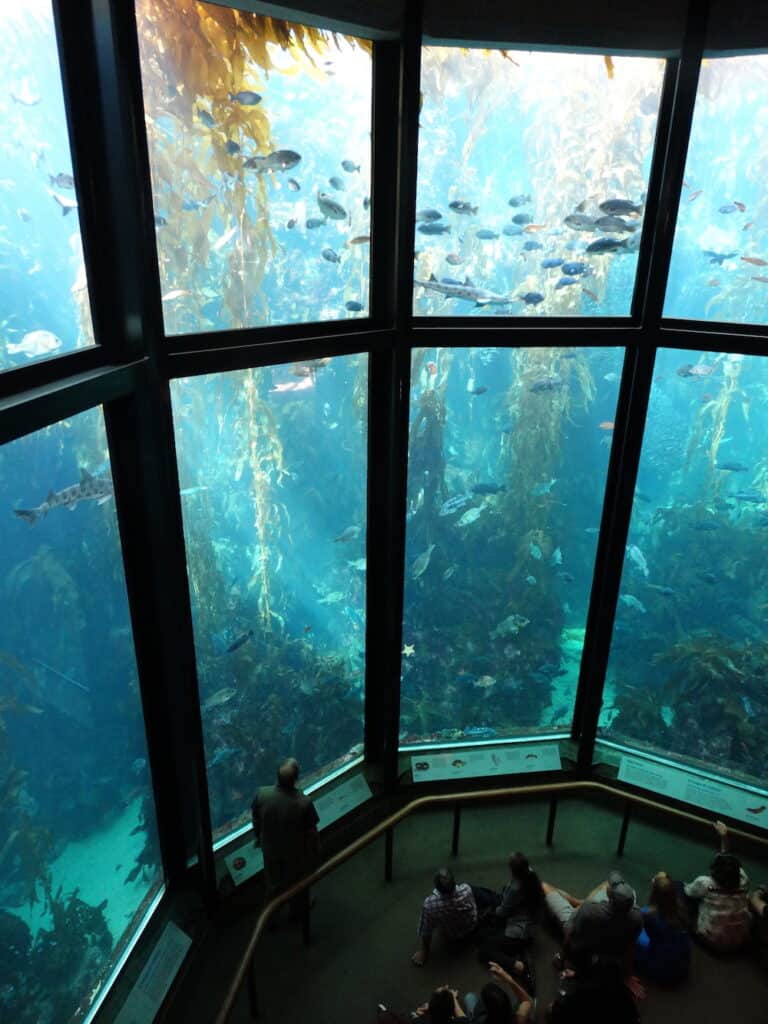 Students and seniors do get a discount though, and you could easily spend all day here if you really wanted to. The animals are well taken care of, and you can learn so much talking to the friendly staff there.
If you go towards the end of September, you may be lucky enough to check out Sea Otter Awareness Week. If you've got school-aged kids, there are more activities and educational events around this time.
Regardless of when you visit, you will still most likely get a chance to see some animals up close and personal, though. The aquarium also has live video feeds that will let you look right into some of the exhibits from home, if you want to check this out ahead of time, or just get your kids excited about spending a weekend in Monterey.
For lunch, try out somewhere on the Old Fisherman's Wharf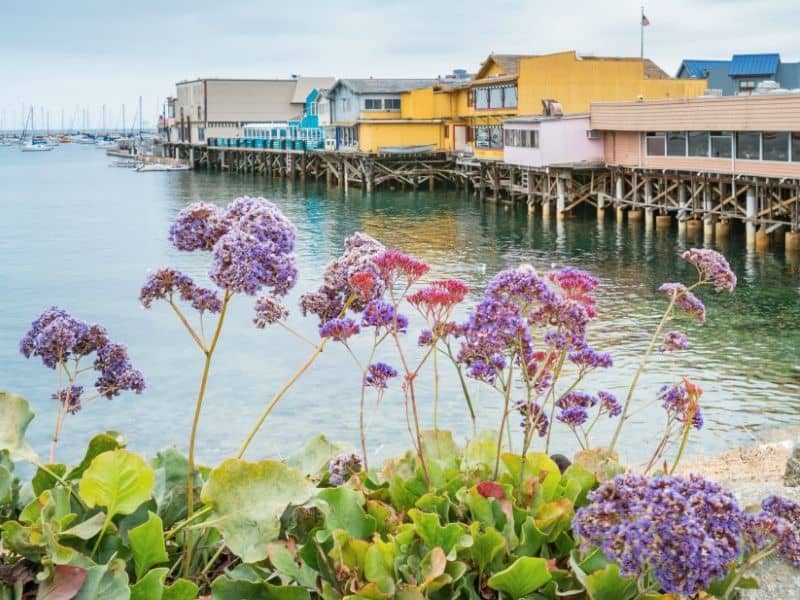 Like most places in California, you can get great sea food anywhere along Monterey Bay.
I'd highly recommend a clam chowder at Vivolo's Chowder House, but if you want something a bit more novel you should go to Bubba Gump's.
Both places come highly recommended on the usual sites, so there may be crowds if you go during peak hours, especially on if you visit on a weekend in Monterey.
Walk along Cannery Row and the Wharf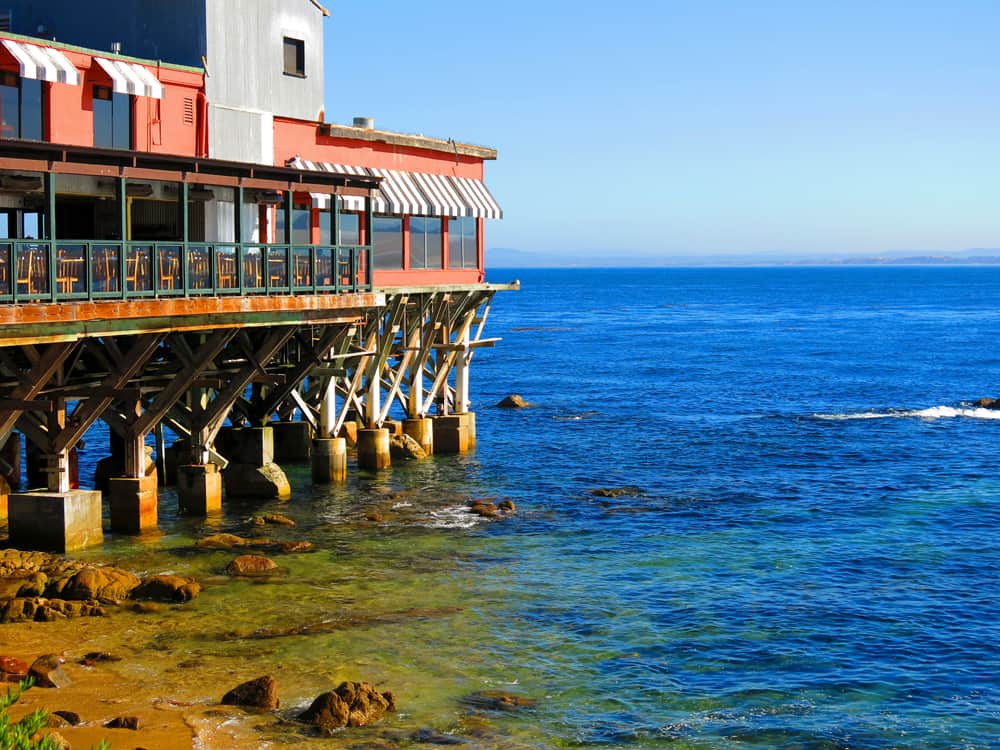 Don't run off after lunch, though – there's much more to the wharf than the food. Since you're already there, take some time to really enjoy it. You can walk along the strip and window shop.
There are often performers to watch or listen to along the way, especially if you're there during the summer seasons when most of the tourists are around.
You can also generally view sea lions, birds, and more out in the water.
Go out on a whale watching tour of the Monterey Bay
If you're up for a more guided activity, you should absolutely give one of the boat tours some time out of your day — especially a whale-watching tour!
The water is far too cold for swimming for most sane humans, but whales absolutely love it. There are different species to see at different times of the year (including orcas, humpback whales, blue whales, and more), but there's almost always whales in the Monterey Bay.
Some tour companies will post their daily sightings online so you can take a look and know what you can expect. There's never any guarantee you'll see what you are hoping for, but the views from the boat ride alone is worth it.
There are currently small group restrictions due to Covid-19 safety guidelines, so there are only a few spots per boat tour — book well in advance to make sure you nab one.
The afternoon tour is more popular and departs at 1:30 PM, but if that's all sold out, you could move around the activities on this Monterey weekend itinerary to do the morning tour instead, which starts at 9 AM. And since the aquarium is currently closed, that may be a good option!
Have dinner overlooking the beautiful waters of the Bay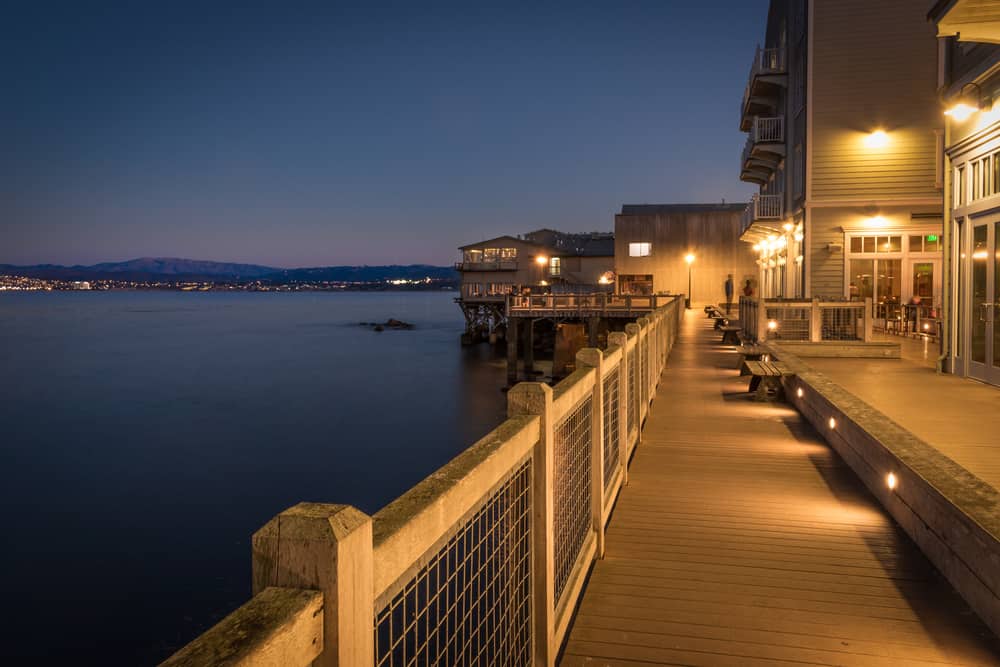 There are some great dinner locations that have excellent views nearby – you definitely don't have to go far. I love Fish Hopper, right on Cannery Row.
You can reserve a table ahead of time on OpenTable, or by calling ahead. These locations are a lot of fun – as long as you aren't there ar peak hours, you should bring your friends and plan on having a good night. This is also a great place to order family-style and share – just ask for some extra plates and try it all.
If there aren't any kids in your group, you may want to follow up next door for some after-dinner drinks at A Taste of Monterey, right next door to Bubba Gump's and Fish Hopper.
I've never been much of a wine person, but the staff will take great care of you here. There are tons of options to choose from, but if you're looking for something new you are bound to find something to love here.
If wine isn't your thing – or you have to accommodate someone under 21 – opt for dessert at Ghirardelli instead. I last visited on a cool night, and I got the most amazing hot chocolate there.
On warmer days, the Monterey Bay Creamery has great ice cream: the perfect way to end a weekend in Monterey.
Be sure to take a look at all of the candy available at Candy World, too. Any of these dessert options will also make for good souvenirs to bring home at the end of your Monterey weekend trip.
Are you convinced yet to plan your weekend in Monterey?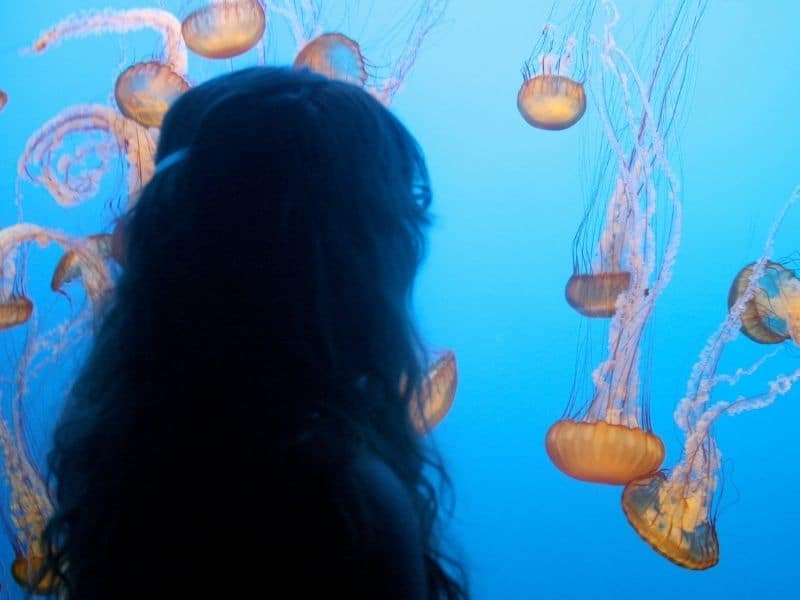 Monterey is one of my favorite places in California. There are so many kinds of activities, and this is just the top of the list.
If you wanted to extend your trip, you could carry on to Carmel or Santa Cruz for a few more days of fun on the California coast.
For a completely different kind of California experience, you could spend a few days in quirky, lovable San Francisco. But if you only have two days, I still stand by Monterey!
Pin This Weekend in Monterey Itinerary!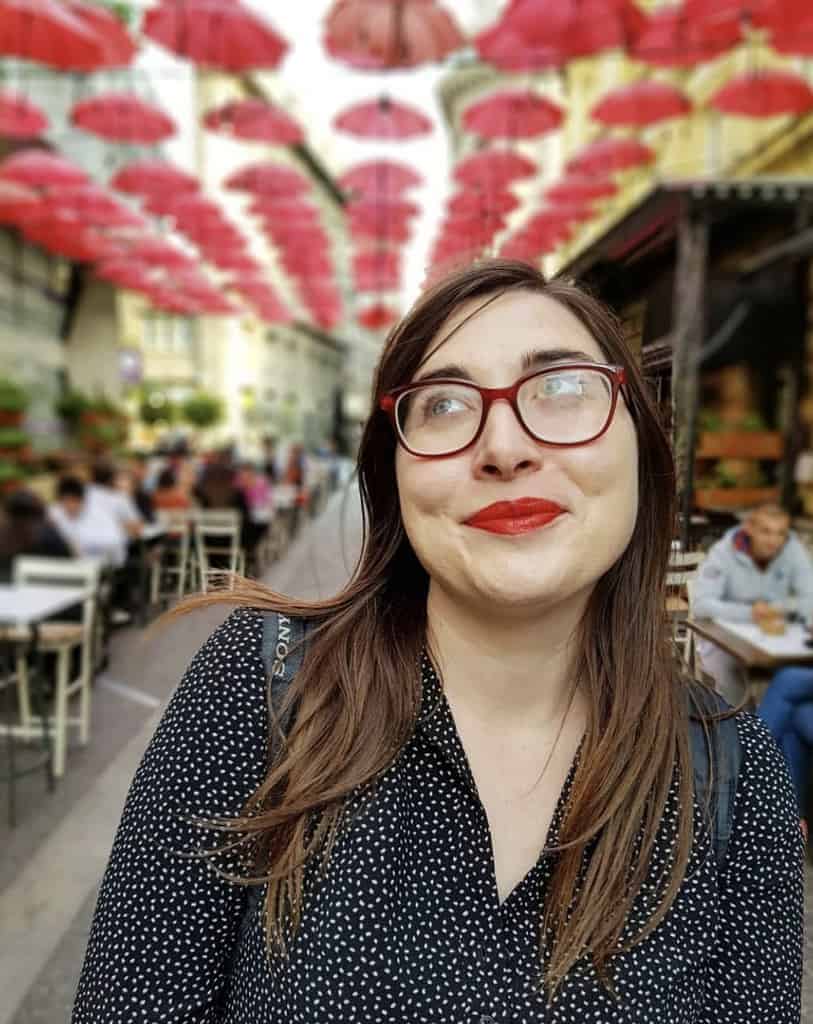 Allison Green is a travel blogger, writer, and podcaster who grew up in the Bay Area of California. She has spent time living in New York, Prague, and Sofia, but has returned to live in the East Bay. She has traveled to 60 countries before the age of 30 while running several digital travel publications. Her writing and podcast have been featured in Forbes, CBC Canada, National Geographic, the Huffington Post, and CNN Arabic, amongst others. She's obsessed with bouldering, houseplants, other people's pets, and anywhere she can see the ocean.