It is safe to say that the Central Coast of California is one of the most breathtaking places in the country!
In all seriousness, you could easily just head off on the Pacific Coast Highway without a second of planning and be guaranteed a great time where you stop along the way.
But if you are anything like me, you don't just want to have a great time. You want to have the best time.
And in order to do that, you need to fully immerse yourself in everything that California's Central Coast has to offer.
You'll be blown away by the picturesque, rugged cliffs that seem to follow you everywhere you go.
But even better than that are the charming Central Coast small towns that call the edges of this coastal oasis home!
Prepare to fall in love with one charming beach community after another (and don't blame us if we make you go on a Zillow rabbit hole…)
Here are our top Central Coast towns that you ought to visit on your next trip to California to really make the most of your experience!
Where is California's Central Coast?
Note: This post contains affiliate links, which earn me a small commission at no extra cost to you if you make a purchase using one of these links. Thank you for supporting this free content!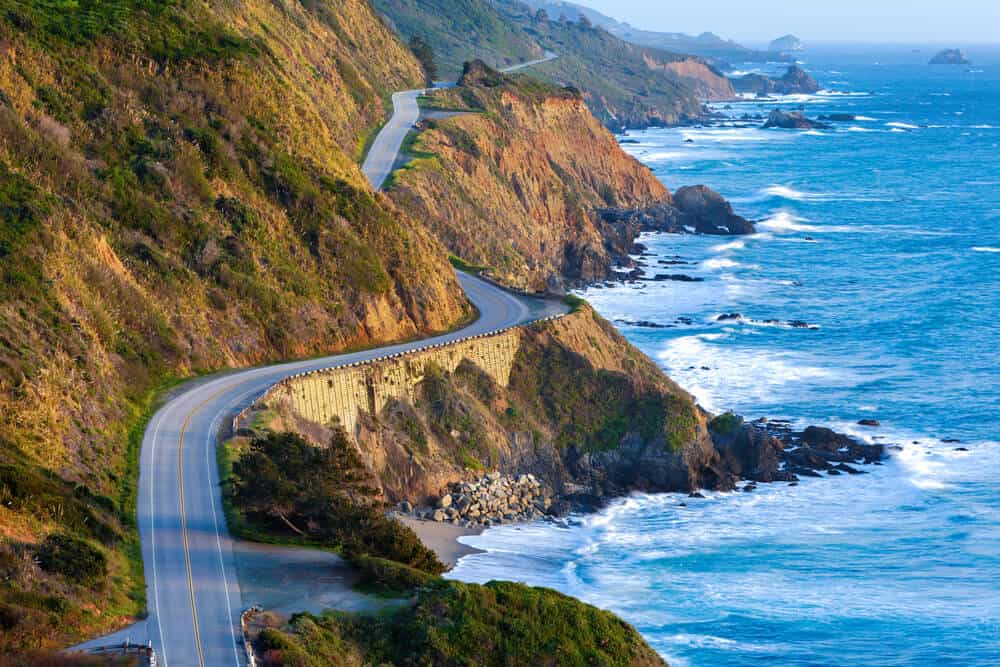 Even as a native Californian, I sometimes find the state's geography a bit hard to puzzle out, with a lack of clear geographical boundaries between north, south, and central.
Everyone agrees that San Francisco is Northern California and Los Angeles is Southern California, but the in-between parts can sometimes get a bit fuzzy.
Technically speaking, the Central Coast is defined as including several counties. From south to north, those are: Ventura, Santa Barbara, San Luis Obispo, Monterey, and Santa Cruz countries.
For the most part, these destinations are off either Highway 1 or Highway 101.
However, often the northernmost counties (such as Santa Cruz and Monterey County) will get lumped in with Northern California.
Similarly, the southernmost counties (such as Ventura County and Santa Barbara) will get lumped in with Southern California.
For the purposes of this post, we're going as broad as possible and listing destinations in each of these counties to give you the most options!
Note: Not every single destination on this list is precisely coastal, but the Central Coast region includes some inland destinations that are not far from the coast.
Central Coast Towns: Ventura County
Ojai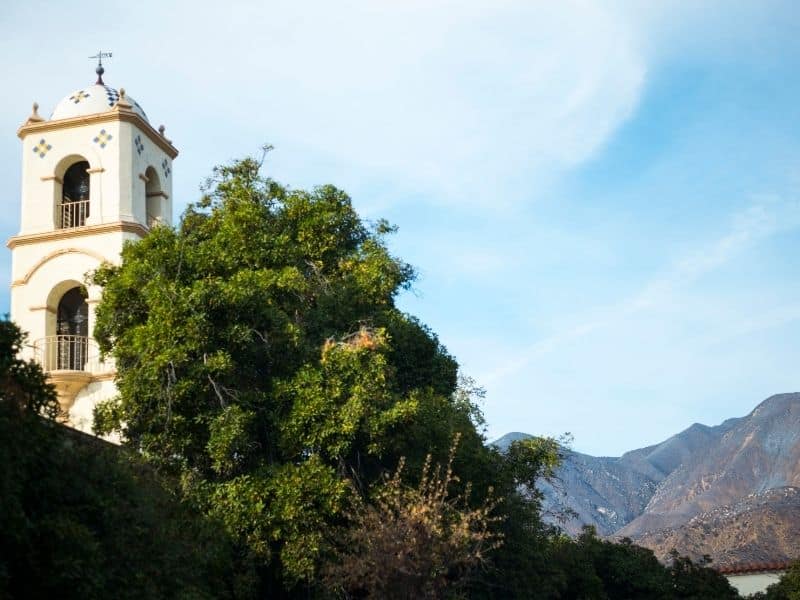 The charming mountain town of Ojai is not far from the coast, offering you the chance to visit beaches and mountains in a single fantastic trip!
Ojai is known for having banned chain stores, so every single boutique, restaurant, and business in this charming small town is absolutely unique.
Browse for books at the outdoor bookstore Bart's Books, practice yoga with a view, go for a fantastic hike, go for a horseback ride in the mountains, or marvel at the scenic St. Thomas Aquinas Chapel in town.
And that's not to mention the amazing food scene!
A few favorites are the Nest for eclectic brunch and lunch fare, Ojai Tortilla House for tacos, The Ranch House for local farm-to-table food in a gorgeous outdoor setting, and AZU for fine dining.
Where to Stay: Pretty much everyone who visits Ojai stays at the Ojai Valley Inn. It's so big and has so much to offer that it's a trip all in itself. Golf, restaurants, massage: the hotel is absolute luxury at its best

Looking for something on a slightly different budget? The best boutique hotel in town is the Capri Hotel. It's hipster heaven and you'll wish you lived there all year round, as it's one of those rare hotels that instantly make you feel at home. 
Ventura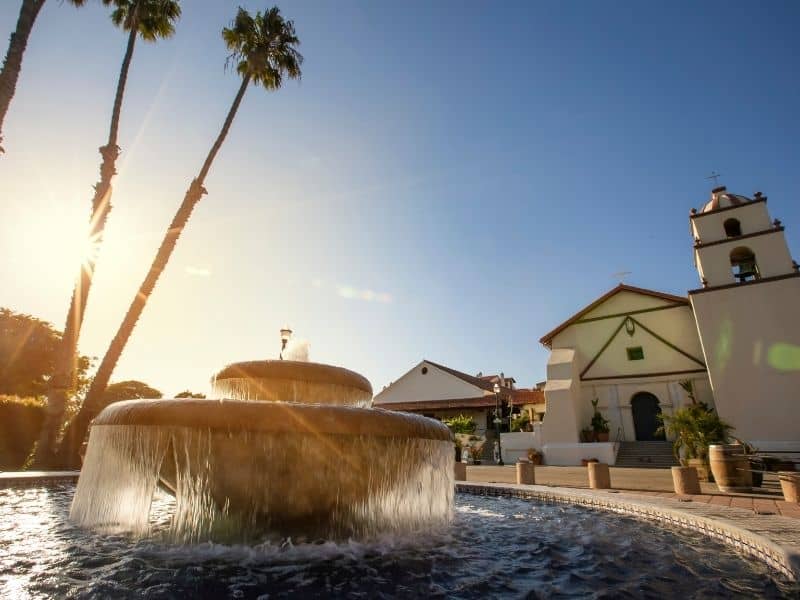 The charming city of Ventura is perhaps best known for being the departure point for ferries to Channel Islands National Park, one of the most beautiful coastal destinations in California.
But beyond Ventura Harbor, there's a lot to love in this charming Central Coast city.
Grab a towel and hang out on San Buenaventura State Beach, then stretch your legs for a stroll on the nostalgic wooden pier, Ventura Pier.
Like many other Central California Coast destinations, surfing is a way of life here. Head to Surfer's Point to watch the locals shred some waves!
Downtown Ventura has plenty to offer, including a Main Street with lots of fun places to eat and drink.
Beer fanatic? Head to Fluid State Beer Garden. Wine more your scene? Visit Pacific by NoRu. Can't decide? Grapes and Hops has it all. Prefer cocktails? Head to Bank of Italy Cocktail Trust.
Where to Stay: For a unique stay, book a night in the retro-chic Waypoint Ventura, where converted Airstream trailers have been given a modern facelift with gorgeous furnishings and private outdoor patio spaces.

For a more traditional stay, the Crowne Plaza is beachfront, complete with an outdoor terrace with a firepit and Pacific sunset views!
Oxnard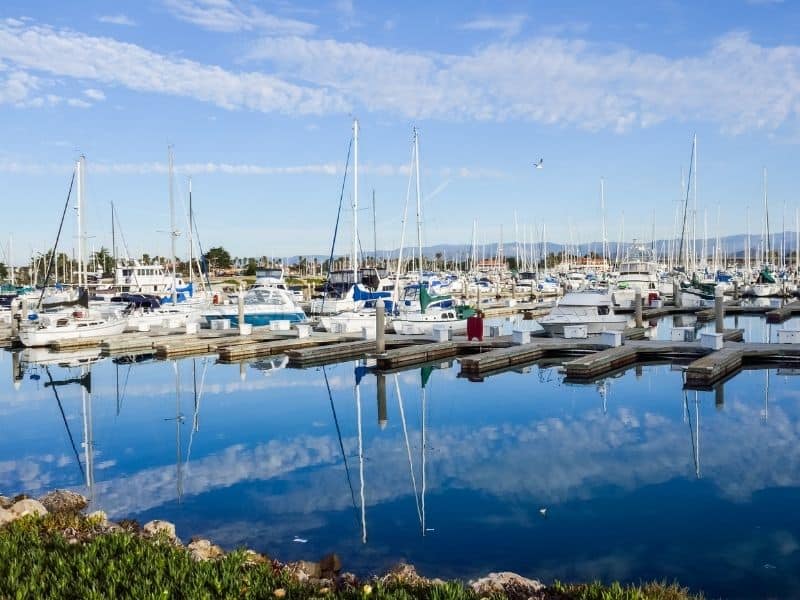 Oxnard is yet another charming Central Coast town worthy of a visit.
Start by checking out its central Heritage Square, with beautiful homes that date back to the early 1900s (practically ancient for California).
There's also the Carnegie Art Museum if you feel like getting a little culture in between flopping yourself on the beach!
Speaking of beaches, Oxnard Beach Park is a wonderful place to while away a sunny day, with views of the Channel Islands off in the distance.
Where to Stay: The Embassy Suites Mandalay Beach Hotel & Resort in Oxnard is a great place for a family to stay while visiting Southern California. This wonderful hotel has an outdoor pool, beach access, and a delicious breakfast menu!

If you're looking for a more affordable option, I've got you covered! The Hilton Garden Inn has plenty of amenities on site such as hot breakfast and outdoor pool with an outdoor lounge area for guests to enjoy!
Central Coast Towns: Santa Barbara County
Solvang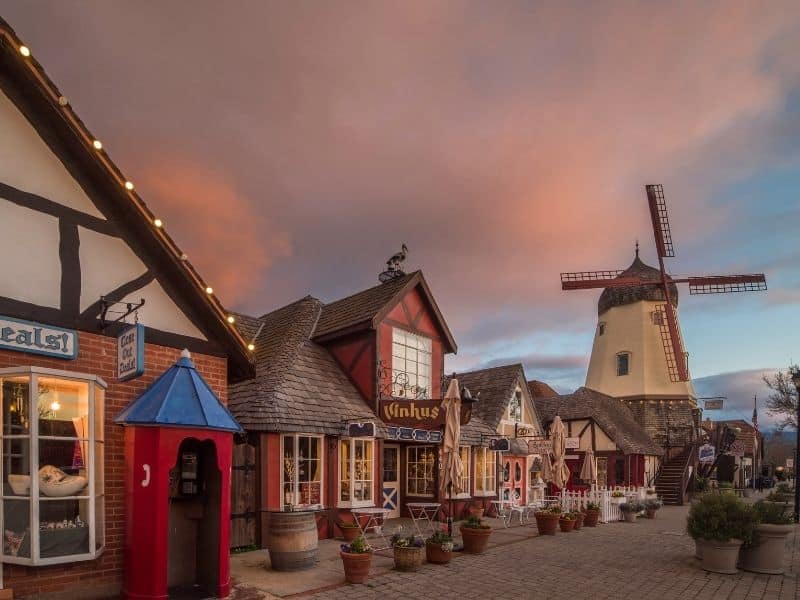 While you're visiting towns along California's Central Coast, don't forget Solvang.
While it's not technically along the coast, it's part of the Central Coast region, just a stone's throw from seaside cities like Santa Barbara and a quick drive from nearby Gaviota Beach.
The real draw to Solvang is its Danish roots (and food) and European-inspired architecture.
Because who doesn't want to feel like they've been transported to Europe every once and a while?
Especially when you know that you will be blessed with views of California's stunning coast as you come and go. Talk about the best of both worlds!
You will know you have arrived in Solvang when you are greeted with cobblestone streets, half-timbered houses, historic windmills, and of course the intoxicating aroma of authentic Danish pastries.
And sure you can find European-style villages in other parts of the country but what really makes Solvang stand out is its authenticity.
Sure it sees a lot of tourists (because how could it not when it is pretty much oozing charm?) but it was in no way designed to be a tourist attraction!
So while you can stuff your face with an endless amount of sweets, hang out in a variety of wine tasting rooms, and shop till you drop amongst local boutiques, you can also spend time learning about Solvang's rich Danish history.
Where to Stay: Solvang is all about that Scandinavian vibe, so why not stay somewhere with modern Danish design? The utterly charming Atterdag Inn offers that dreamy Nordic interior design at a price that you won't blink twice at.

For a more traditional (as opposed to modern) Danish-style place to stay, the Mirabelle Inn offers upscale, characterful rooms in what looks like a literal chateau in downtown Solvang!
Los Olivos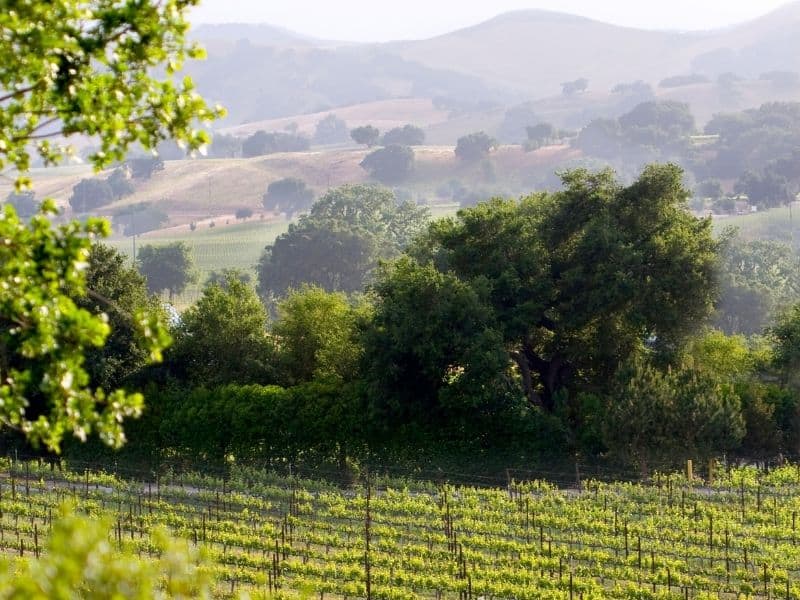 Solvang is the most well-known destination in the Santa Ynez Valley wine scene, but there are several other charming wine country towns on the Central Coast that are vying for your attention, like Los Olivos!
If you want to frolic through lavender fields, hop from winery to winery, mosey along horse trails through vineyards, or hike through mountains and even waterfalls, Los Olivos is a wonderful Central Coast town to consider for your next vacation.
Los Olivos also has a fantastic downtown dining scene with all sorts of world-class restaurants that you'd be surprised to find in a small town!
Plus, since it's just a short drive away from Solvang (we're talking a mere 10-minute drive), you'll have easy access to all the wonderful amenities of Solvang while staying a bit more off the beaten path.
Where to Stay: Hotel Corque is a boutique hotel located in Los Olivos. The hotel offers a peaceful and serene environment for its guests to enjoy. It offers exclusive rooms and suites, each with their own unique design to suit the needs of the guests.

For a lost-cow option I highly recommend Wine Valley Inn, which is also a boutique hotel with a unique variety of rooms to suit different tastes and budgets. The rooms are luxurious with large windows that let in the natural light and overall, it has all the amenities you can ask for!
Los Alamos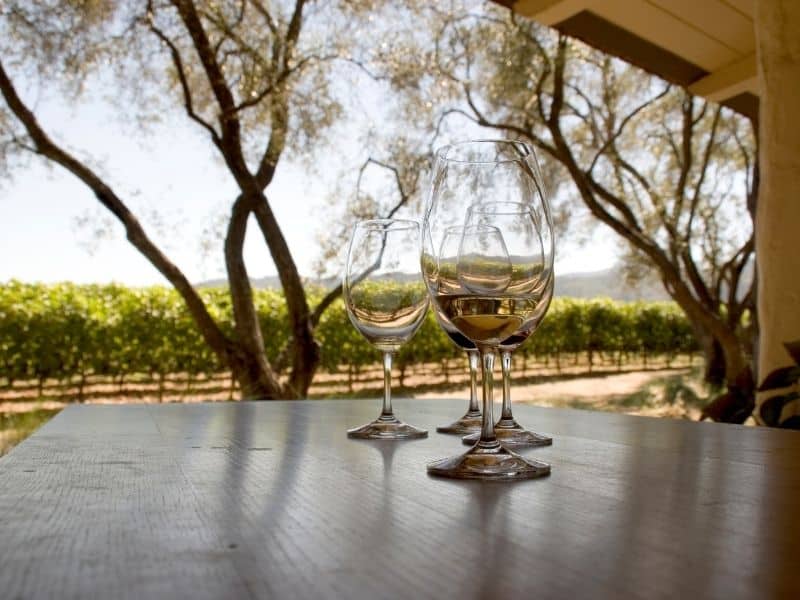 Given the nickname "Little LA", Los Alamos shares more in common with the metropolis than just its initials!
Los Alamos is a charming Western-style town that's become a little hipster outcropping of Los Angeles, with tons of fantastic boutiques and eateries that cater to all your bougiest needs.
Los Alamos may be tiny — its claim to fame is being only 7 blocks long! — but it has packed a lot into that small amount of space, including some incredible accommodation options.
Plus, it's only 15 minutes to Los Olivos and 25 minutes to Solvang, so you're not far from the attractions of the other Santa Ynez Valley towns.
Where to Stay: The Hampton Buellton/Santa Ynez Valley is one of the best options close to Los Alamos- only 16 min away. The hotel has a restaurant, bar, fitness center, and spacious rooms with all the amenities you need.

Flying Flags RV Resort & Campground is an inexpensive option for the incredible amenities it offers. It is located in the foothills of the Santa Ynez Mountains, and it has all the amenities you'd expect from an RV park, including Wi-Fi and cable TV, but it also has a pool, restaurant, laundry facilities and beautiful spaces for exploring.
Buellton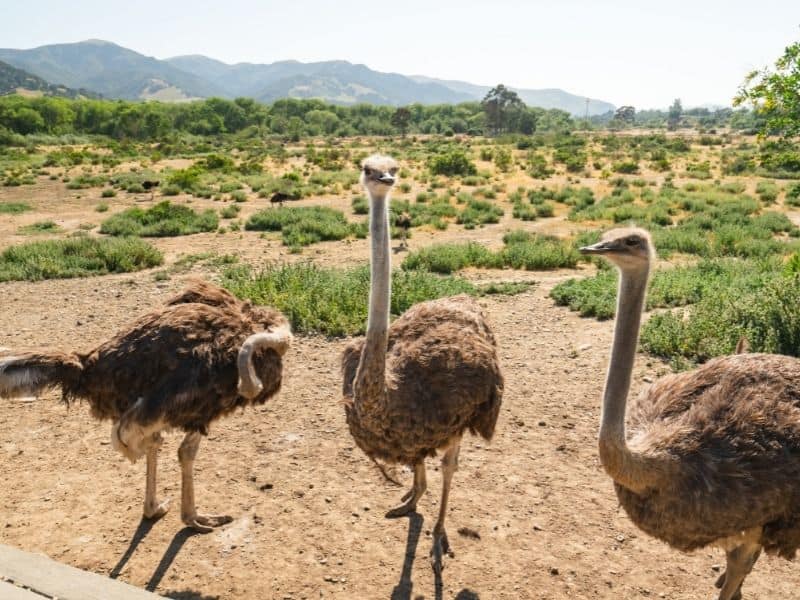 Buellton is a quirky hub along the Santa Ynez Valley, known for a few roadside oddities that make it worth a stop while you're exploring the Central Coast.
Buellton is known for two quite distinct things: ostriches and pea soup. Why? I have no idea, but I've been going to Buellton since I was a small kid (since my grandma lived in Solvang) and that's just… what you do.
Grab a bowl of split pea soup at Pea Soup Andersen's and then hop over to OstrichLand to see these massive birds wandering around the beautiful California countryside.
Buellton has definitely seen a bit of an uptick in tourism since the movie Sideways where it was featured heavily. Check out some of its filming locations, such as The Hitching Post Restaurant!
Where to Stay: If you want to enjoy an outstanding luxurious experience in Buellton, then you can't miss the opportunity to stay at The Inn at Zaca Creek. This incredible hotel offers a rustic but very cozy atmosphere, which will make you feel like in a medieval castle, with all the comforts you need to make your trip a very special adventure.

Also, be sure to check out the incredible hotel Sideways Inn at a more affordable cost but with many amenities and very close to the best vineyards in town. It offers restaurant, bar, free WiFi and spacious rooms with a very local charm that will make you feel at home.
Santa Barbara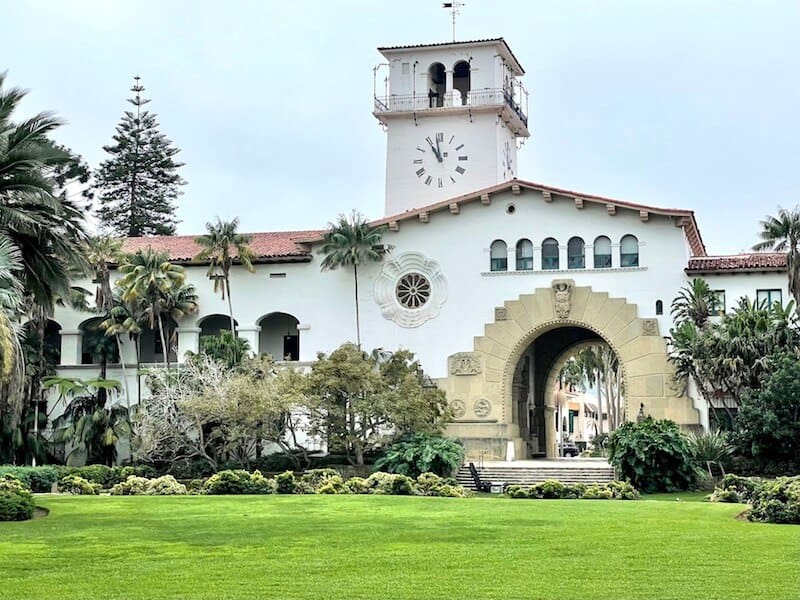 Definitely more of a city than a town, Santa Barbara is still so quintessentially Central Coast that it merits a spot on this list!
Nicknamed the American Riviera, Santa Barbara is so charming you'll never want to leave.
Santa Barbara is known for its beautiful Spanish Colonial Revival architecture that is straight out of a dream. Don't miss the Santa Barbara Courthouse as well as Mission Santa Barbara, both of which are insanely Instagrammable.
Of course, Santa Barbara is a coastal city so that means plenty of beach time (pickup beach volleyball game, anyone?), boardwalk strolls, and Pacific Ocean views.
Don't miss walking Stearns Pier and sitting down at one of the seafood restaurants for a plate of some of the freshest seafood along the coast.
Santa Barbara also has a fun quirky side that is fun to explore, particularly the Funk Zone which is close to West Beach and the boardwalk.
There is a plethora of fantastic wine bars, breweries, and restaurants in this neighborhood (read this post to a full guide to the Funk Zone!)
Where to Stay: Accommodations in Santa Barbara are not cheap, but the Eagle Inn in West Beach (a 10-minute walk from central Santa Barbara) offers some of the best value just a short walk from the ocean!

For a little more luxury, the Santa Barbara Inn is a beautiful, chic boutique hotel with beachfront access and its own pool, also located in West Beach.
Montecito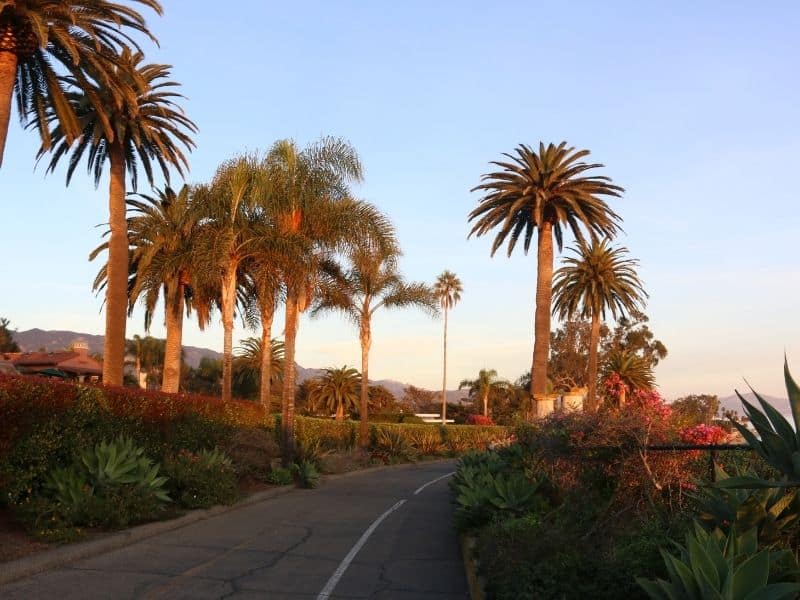 But when it comes to hidden gems along the Central Coast, Montecito holds the title.
Just speaking about it in this article must break some unspoken rule of never promoting its charm because there is no way it could avoid the tourism wave if people actually knew about everything it has to offer!
It may seem like just a neighborhood of Santa Barbara, but that's not right at all. It has so much charm of its own that shouldn't be overlooked!
For starters, this place is a mecca of all things that define a small town. Take the coffee scene, for example.
You will find a handful of local cafes that could easily fight for your devotion with their equally delicious selection of coffee brews. Not to mention, the fact that most of these cafes also boast a breakfast menu that will have you rolling out the door (in the best way!).
And when you are not stuffing your face or bouncing off the walls from the excessive caffeine intake, you can be shopping amongst a fine variety of boutique shops, relaxing on a beach that sees so little foot traffic that it is low-key suspicious, or hanging out in one of the coolest botanical gardens in the country, Lotus Land.
Where to Stay: There are a handful of hotels in Montecito itself, and more options in downtown Santa Barbara. In Montecito, check out charmers like the Montecito Inn or the Coast Village Inn. Both are pretty comparable in terms of rooms, amenities, and price.
California Central Coast Towns: San Luis Obispo County
Morro Bay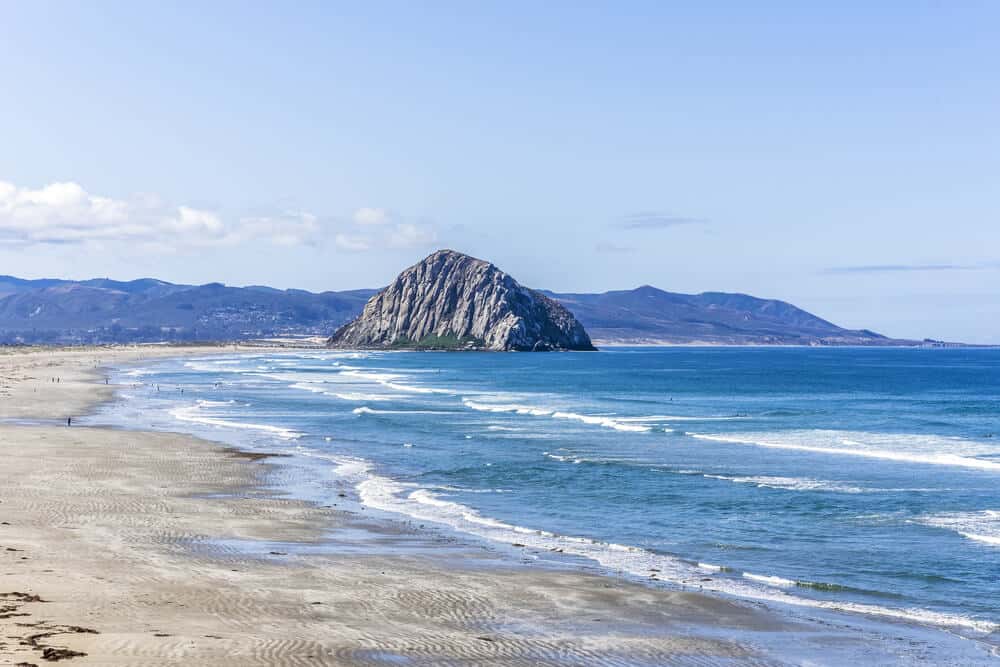 If you only had enough time to visit one town while visiting the Central Coast, be it a weekend trip or a stop-and-go on a lengthy road trip, it should be- no, it needs to be Morro Bay.
In short, Morro Bay is everything you could possibly ask for in a waterfront town, from the quaint little shops and restaurants to the stunning coastline.
Better yet, hit the water and go kayaking to meet the adorable otters that pretty much wave hello around every corner!
So far, we have plenty of reasons to visit Morro Bay, but we haven't even taken into consideration its star attraction!
It is true that Morro Bay has earned its right as one of the best (if not the best) Central Coast towns for a variety of reasons.
But the number one selling point of this charming Central California beach town is the fact that it is home to one of California's Nine Sisters, aka a series of super cool volcanic mountains, aka Morro Rock.
Plus, this beauty doesn't require a strenuous hike to fully appreciate it (in fact, you can't climb it, so just enjoy it from afar!).
Morro Bay is all about relaxing, and relax you will as you mosey along the picturesque boardwalk and take in the breathtaking view of Morro Rock showing off her stuff in the middle of the bay.
Not to mention the fact that every September the town hosts an Avocado Margarita Festival! Yes, you read that right!
You'll be sipping on margaritas and feasting on avocado-infused dishes while you shop and dance to your heart's content.
It doesn't get more California than that, does it?
Where to Stay: The stunning Inn at Rose's Landing has the best views in town! It's right on the Embarcadero, with a front-and-center view of Morro Rock. The rooms are spacious with a modern flair, and the terrace has great views of the bay and the famous rock!

For a more budget-friendly option, the cheap and cheerful Pleasant Inn has that renovated vintage motel vibe with updated rooms, great prices, and a solid location.
Pismo Beach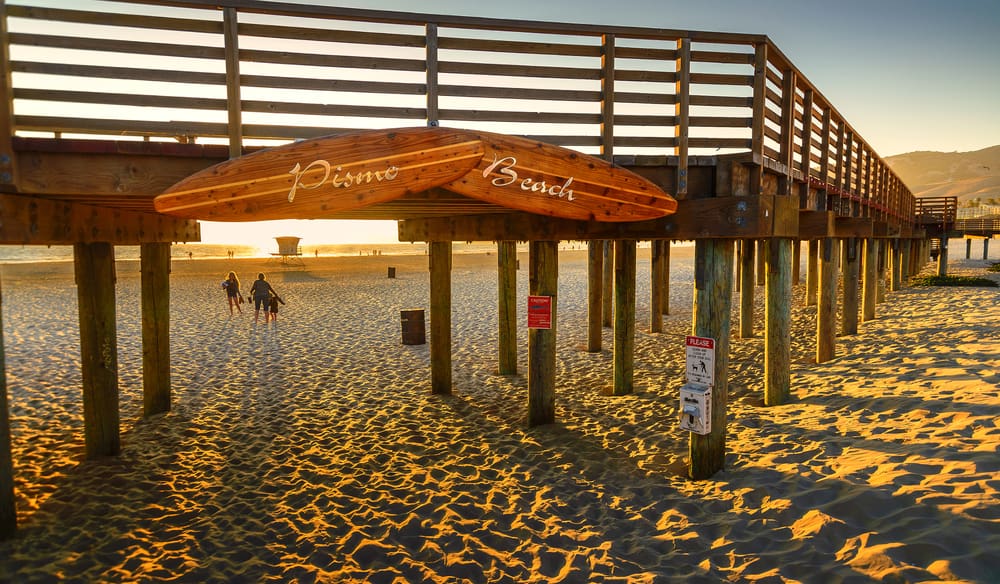 Okay, fine.
Pismo Beach is technically a city but with a population of less than eight thousand people and laid-back vibe that literally beckons you to the beach, you might as well call it a town.
And what an amazing town it is!
I feel the need to start by telling you that Pismo Beach is known as the "Clam Capital of the World" and no visit here should come to an end without tasting some of its award-winning seafood.
If you are really lucky, you may even be in town for the annual Clam Festival. It happens every October, and no one will blame you for planning the days of your vacation solely around this weekend event.
There is a reason why it is the busiest time of year in Pismo Beach. So keep in mind that you ought to book your accommodations early if you are planning on visiting during this time of year.
But even if clams aren't your thing (although they very well might be after a visit here), you will find plenty of things to do to pass the time and each activity will just bring you further into a state of relaxation!
Sunbathe amongst its many picturesque beaches, watch the surfers hit the waves, sip on some of California's finest wines as you hop between wineries.
And while it may seem like a purely summer destination, winter in Pismo Beach has its many benefits.
Due to its year-round mild climate, you can marvel at the thousands of monarch butterflies when they drop in during their annual migration, or grab a pair of binoculars and try to spot some of the gray whales migrating though.
Another fun thing to do in Pismo Beach is visiting the Oceano Dunes, where you can book yourself an ATV rental and go dune bashing!
Where to Stay: The charming Cottage Inn on the Sea offers stunning views over Pismo Beach from a bluff above it, with a fire pit and chairs to watch dreamy views of the sunset. Score! It also has beautiful rooms (some with fireplaces and ocean views) as well as a pool and hot tub.

For a brand new, luxury hotel experience, Vespera Resort on the beach offers spacious and beautifully designed rooms on a gorgeous property with 4-star amenities (fitness center, giant pool, etc.).
Avila Beach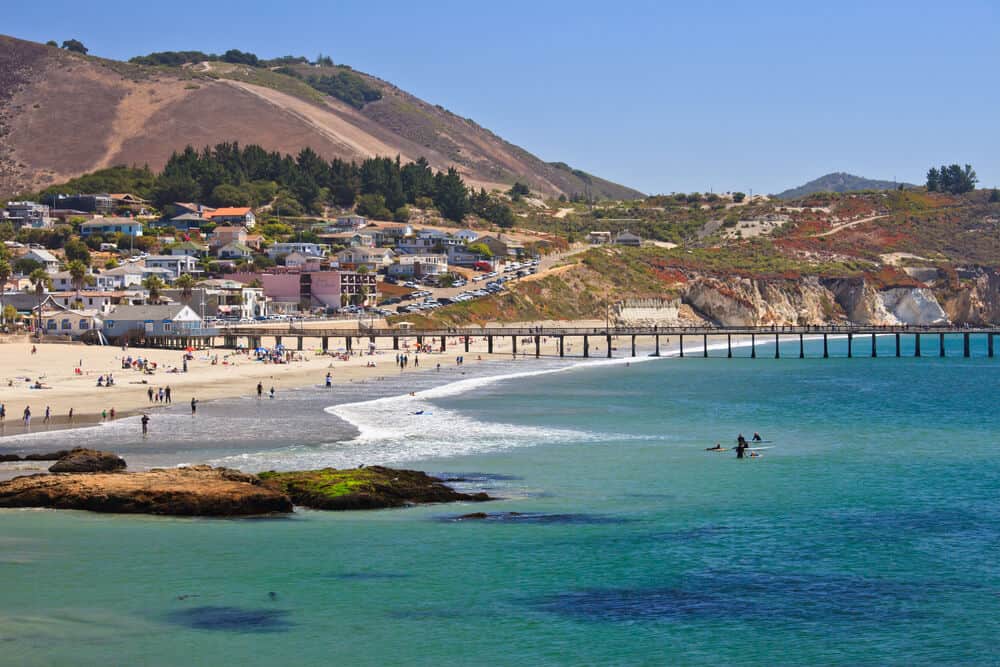 It is no secret that the Central Coast is one of the most popular vacation destinations for Californians.
After all, it's tucked between the state's two major coastal metropolises, San Francisco and Los Angeles, making these Central Coast towns easy for a weekend getaway from either hub.
Therefore, it comes as a pleasant surprise that Avila Beach has managed to stay off most people's radar. That's right — a coastal town without a crowd. You're welcome!
Now to be fair, with all of the breathtaking views and charming attractions Avila Beach has to offer, it is bound to become a hub for tourism eventually…
So that's even more of a reason to plan your visit now while the magic is still in full swing!
I mean seriously, this coastal town offers many of the same highlights as iconic places like Pismo Beach, but somehow manages to see less than half of the foot traffic.
It's mind boggling to me but I am totally okay with it if it means I can lay out on an uncrowded but stunning beach.
See for yourself as you walk down Avila Beach's quaint downtown streets, lay out on its white, sandy beaches, drink the days away at the local vineyards, soak in the mineral hot springs, and take scenic bike rides along the water's edge.
But don't forget to save some time to visit Avila Valley Barn.
Who doesn't love browsing through an endless supply of local produce, unique crafts, and adorable baby goats?
Where to Stay: Avila Beach is home of some to the most exclusive hotels in California. Avila Lighthouse Suites is a luxury hotel set on a scenic bluff overlooking the Pacific Ocean and features a number of amenities including an indoor pool, spa, fitness center, and restaurant.

Avila Village Inn is a boutique hotel that offers a variety of rooms and suites with stunning ocean views. This hotel is located in the heart of Avila Beach and it is near to several restaurants, shops, and attractions to enjoy!
Cambria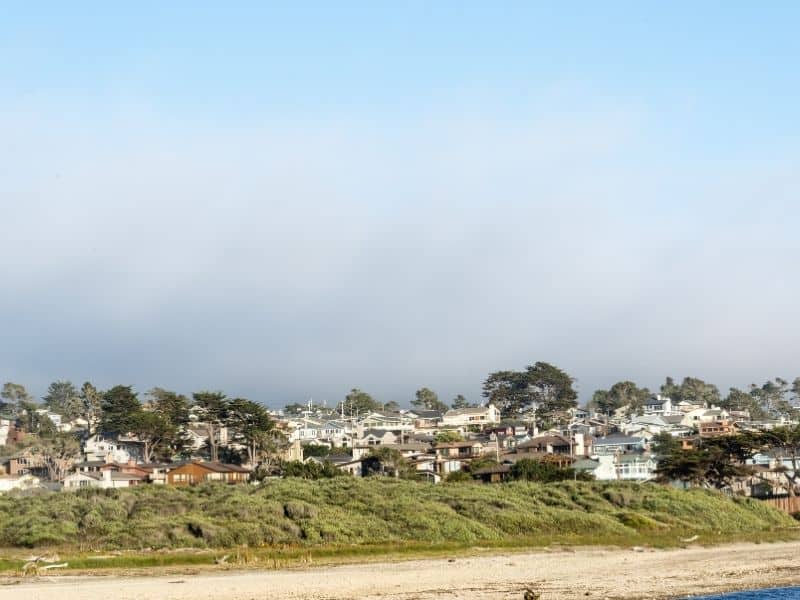 No one is stopping you from spending all your time laying out on the beach, but I feel the need to tell you that to really make the most of your time in Cambria, you need to be up for an afternoon of exploration!
There are plenty of places along the Central Coast to lay out your towel (though no guarantees that the weather will cooperate).
However, it's not everyday that you get to visit a place like Cambria where outdoor adventures can run wild!
Now don't get me wrong… You will still have access to all of those classic, coastal town highlights like white, sandy beaches, quaint, local wineries, and fresh seafood galore, but that doesn't even scratch the surface of what this charming place has to offer.
Spend your days walking along picturesque coastal bluff trails along the edges of Cambria's wide-sweeping ranch preserve.
Alternately, spend some time hanging out with the elephant seals at the local rookery or go and explore one of the most interesting looking homes you'll ever set your eyes on (Nitt Witt Ridge, aka the poor man's Hearst Castle).
And if you find yourself drawn to the sandy shore (and reasonably so), do yourself a favor and head to the iconic Moonstone Beach for a leisurely afternoon stroll accompanied by the thrill of gathering some of the sparkly gemstones scattered all throughout!
Where to Stay: The charming Cambria Beach Lodge is located just across from Moonstone Beach, offering a beautiful sun terrace with a sunset view. Rooms are large with lovely beachy decor, with a seating area and en-suite bath. Best of all, sunny yellow bikes are available for free to guests!

Another great option is Creekside Inn in downtown Cambria located right on Main Street, a 5-minute walk from downtown. Rooms are spacious and clean and the prices are really affordable. Plus, there's a hot tub on site for guest use!
Cayucos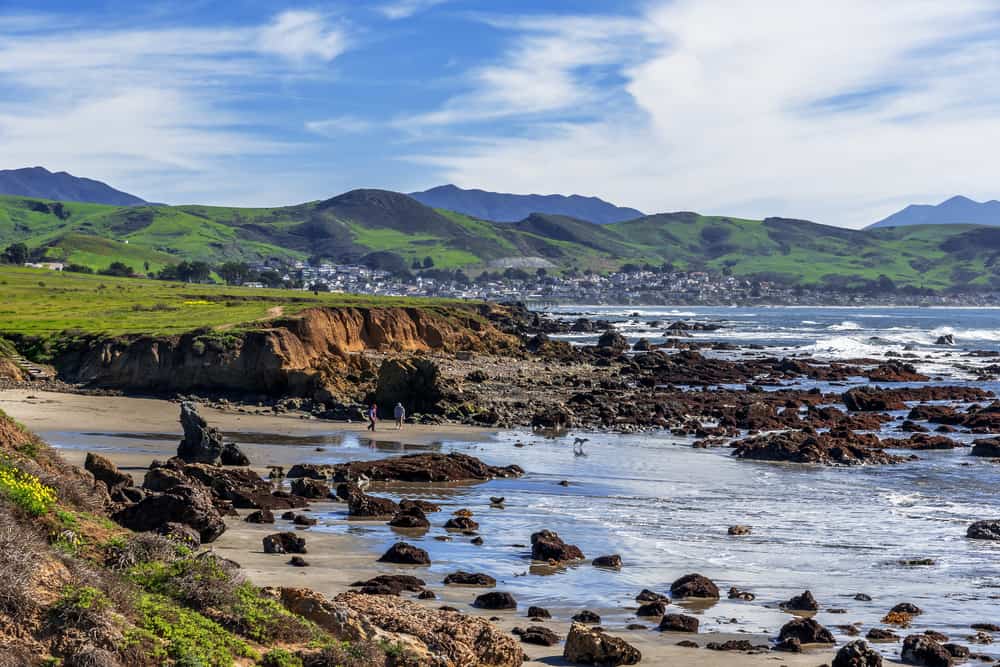 Dabble in some good old-fashioned coastal town history in Cayucos where the streets — or should I say street — haven't changed a bit in the last 100+ years…
This is saying a lot considering the way that most of California's beach towns have succumbed to the need to paint a pretty, vacation-themed picture for tourists!
Don't get me wrong. I love the typical beach vibes as much as the next person, but it is nice to have a bit of variety every so often, and Cayucos offers you just that.
I mean, you can literally have a drink in a saloon that was at one time filled with real-life pirates. How cool is that? If you're lucky you may even have a paranormal encounter with the famous Captain James Cass… or so they say.
Don't bother asking which saloon this is (because the tall standing pirates at the entrance ought to be answer enough) but just know that there is another bar dedicated to cowboys if that's what tickles your fancy!
And bonus, they are right across the street from each other.
After you have had your fill of this quaint little area, head over to Estero Bluffs State Park to take in the breathtaking views that have brought all of these coastal towns to life.
Rugged bluffs and picturesque coves stretch out over 350 acres, offering a plentiful amount of hiking trails for people of all experience levels to enjoy.
Where to Stay: For a charming B&B in Cayucos, look no further than the Cayucos Sunset Inn. It has patios with sunset views just a short walk from Main Street and great touches like fireplaces and en-suite baths.

Another great option that's a little more affordable is Cayucos Beach Inn, which is a lovely no-frills inn just one block from the scenic Cayucos State Beach. Rooms are clean, cozy, bright, and airy!
San Luis Obispo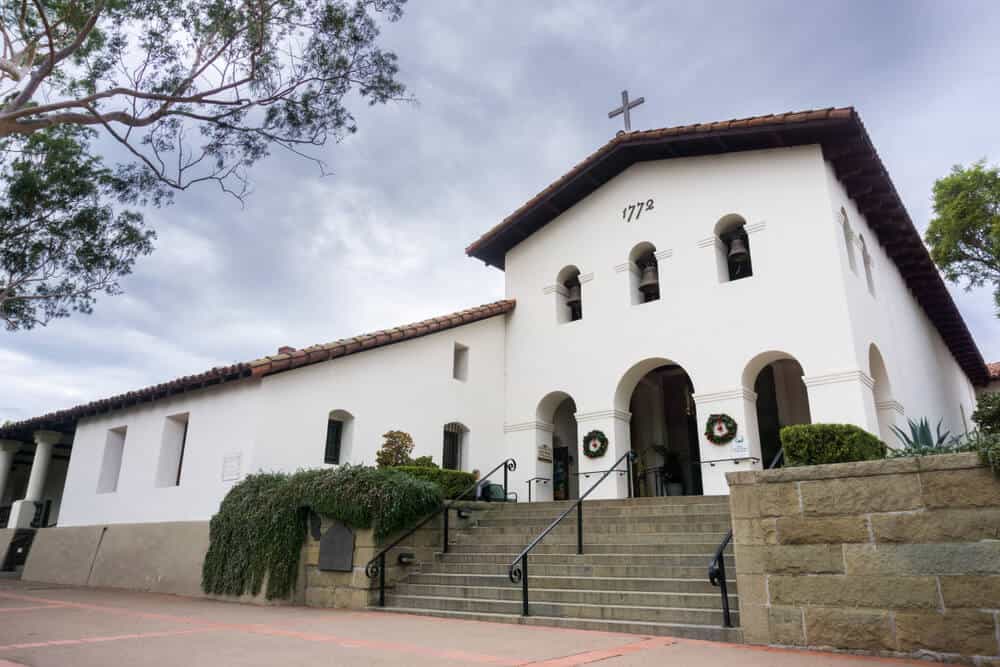 San Luis Obispo (affectionately known as SLO) is one of our favorite places on the California Coast!
This exciting place is not like any of the coastal California towns you'll visit along your journey, and while that's mainly because it's not located on the ocean, there are definitely some other factors in play!
For starters, it is huge. Forget about those humble little fishing villages (if only for a moment) and embrace the beauty of a city that has everything you could possibly need and more.
Spending the day hopping from eccentric breweries to dive bars, trendy eateries to quick bites, unique museums to quirky art galleries — and do it all without ever leaving the bustling downtown area.
Where to Stay: The forever-classic Madonna Inn offers an impossible variety of quirky rooms, each with their own personalized theme and decor. Don't miss visiting the hot pink steakhouse or walking around their gorgeous grounds! Each room has its own style, so be sure to check your room's photos before you book — that's all the fun!

I don't know why you'd want to stay anywhere else, but if you can't get a room at the Madonna Inn for some reason, I'd suggest the beautiful yet minimalist San Luis Creek Lodge for great design in a wonderful location.
Paso Robles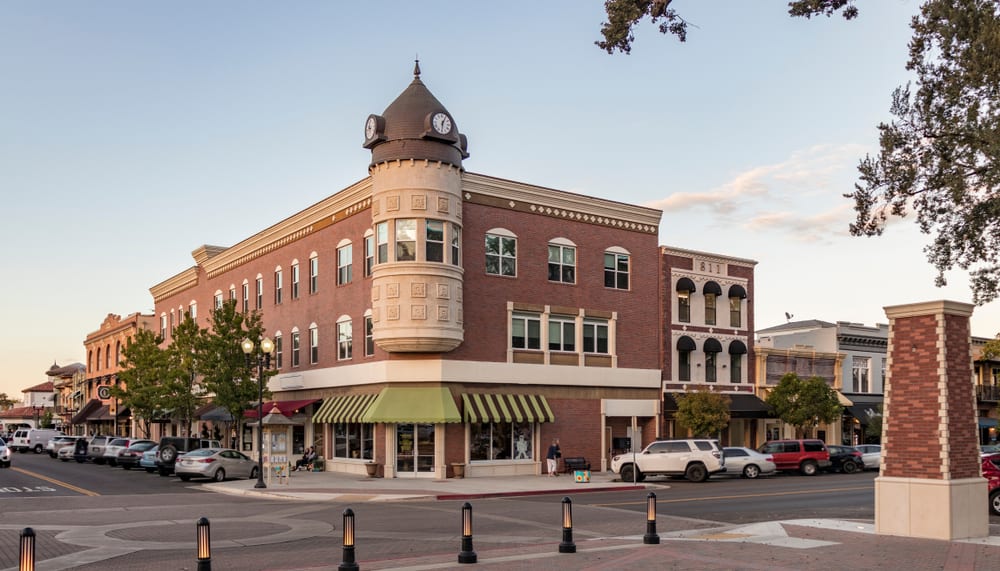 Paso Robles is a bustling city in the Central Coast region of California that sits along the Salinas River in a range of rolling hills that will instantly take your breath away.
These hills boast hot springs, astounding hikes, an abundance of wineries and distilleries, as well as an incredible production of olive oil and almond orchards.
A majority of people traveling here are almost certainly looking for wine, wine, and more wine. And Paso Robles definitely offers that in spades.
But if you're looking for an eventful vacation or no wine at all, there is an abundance of great things to do in Paso Robles besides wine tasting: rich culture, eclectic activities, unique shopping options, and astounding food — all with a backdrop of absolutely incredible scenery for your viewing pleasure.
Where to Stay: Adelaide Inn is a beautiful family-friendly boutique hotel with a charming and cozy vibe and comfortable amenities including outdoor pool, picnic area, and a relaxing spa to spend a soothing stay on your way through Paso Robles.

For a more upscale alternative, I highly recommend La Bellasera Hotel & Suites with a beautiful Spanish architecture that captures perfectly the essence of Paso Robles. You can enjoy fun activities like bike tours, beautiful rooms and suites, and an incredible spa area with a jacuzzi!
San Simeon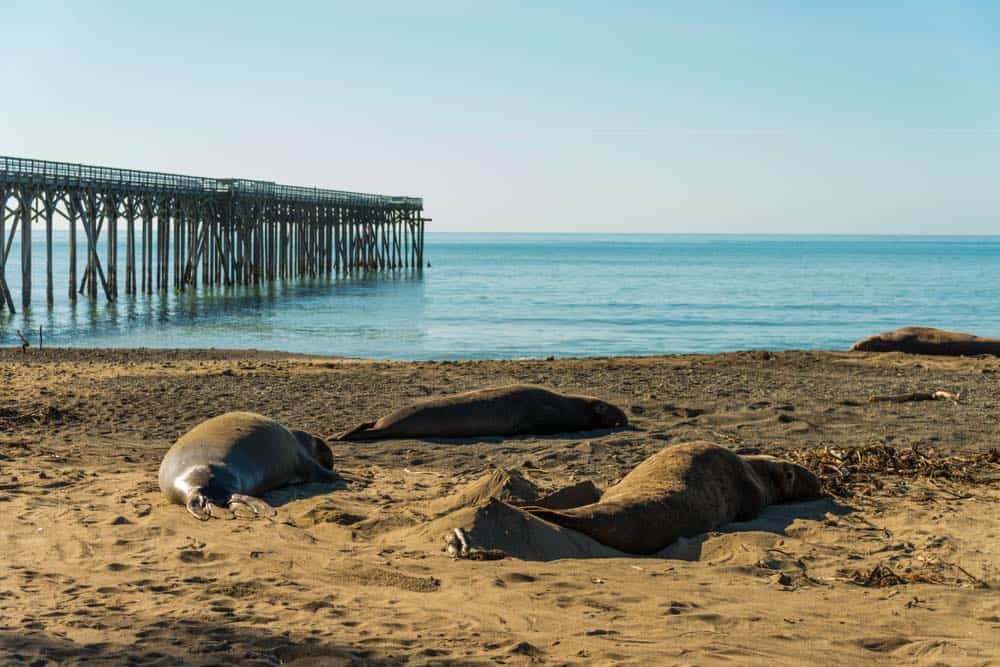 After you have oohed and aahed your way along the portion of the PCH where the ocean meets the Los Padres National Forest, you will find yourself in the charming little town of San Simeon, which is the start of the Big Sur region.
There are just enough things to do here to warrant a day trip along your travels but if you are limited on time, make sure you put Hearst Castle at the top of your list.
This isn't your typical museum experience. Not even close. This is a "how the other half lives" kind of experience.
And even then, you will find yourself wondering how anyone could ever need 165 rooms, two pools, and over one hundred acres of gardens. But apparently William Randolph Hearst did?!
I mean, this luxury estate even once had its own private zoo, for Pete's sake!
After you have gawked at the over-the-top design of the Hearst Castle, you can head over to the Hearst Ranch Winery where you can sip on fine wine and pretend it's just another day in the (royal) neighborhood.
Pick your favorite wine after an exciting tasting and grab a bottle of it to take with you on your next adventure!
Did someone say sunset picnic on the beach? Don't mind if I do! Hearst San Simeon State Park has not one, not two, but thirteen beaches to choose from.
Where to Stay: For a scenic stay at the south end of Big Sur, the beautiful Cavalier Oceanfront Resort offers stunning views for an affordable price given the quality and the prime location.

Another option is the charming Ragged Point Inn, located in one of the lesser-known parts of Big Sur. It's two miles from downtown San Simeon along the PCH, but it has beautiful coastal walks and absolutely breathtaking grounds.
Central Coast Towns: Monterey County
Carmel-by-the-Sea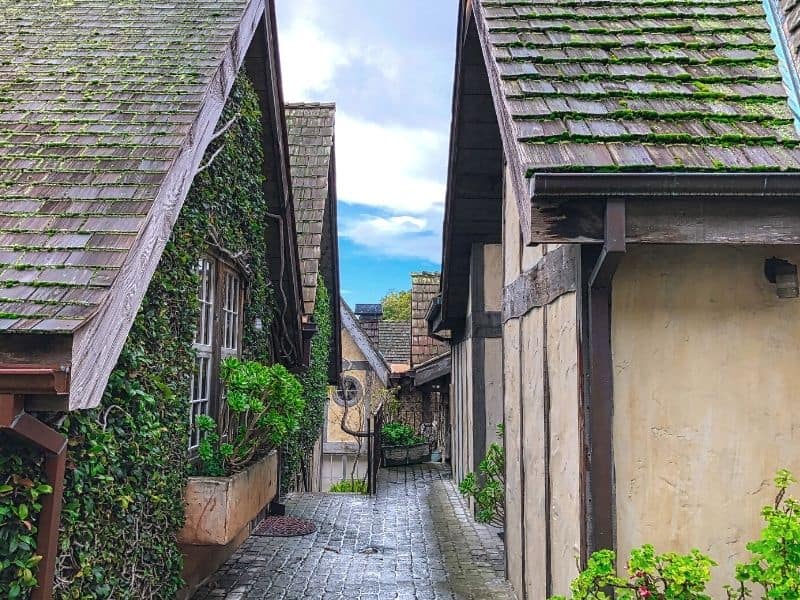 Another coastal town disguised as a small city is Carmel-by-the-Sea.
Known more commonly as just Carmel, this is the place to go if you are looking for a luxurious retreat filled with romantic beaches, endless art galleries, potential celebrity encounters, scenic drives, and so much more.
Everything about Carmel-by-the-Sea screams small town vibes so don't be surprised when you get here to find that every street is completely void of street lights… or even numbered addresses!
To my big city folk, this may sound alarming, but I promise you that the town is small enough that it is easy to navigate regardless.
Another thing that I love about this place is that there isn't a single chain restaurant in sight — everything is unique and local to the area. There are so many amazing local restaurants to try offering a wide variety of cuisines with a focus on local produce and seafood.
Start your trip with a visit to Ocean Avenue where time stands still and shops are never ending! Whether you window shop or max out your credit card, you'll enjoy the fun and unique boutiques (again, no chain stores!)
Feeling like a drive? Take a drive along one of the most scenic stretches along California's central coast, 17 Mile Drive, and soak up the sun at any of Pebble Beach's six iconic coves.
Just make sure you reserve enough energy to stay out to watch the sunset because there is literally not a bad place in town to watch the sky transform into a series of vibrant colors.
However, Carmel River State Beach is a great place if you're looking for a sunset spot!
Once the sun sinks below the horizon, prepare to welcome a complete darkness (no street lights, remember!) — it's perfect for stargazing.
Where to Stay: L'Auberge Carmel, Relais & Chateaux is a beautiful luxury resort and hotel with a Spanish colonial style that will truly make you feel like you're staying in a different continent. It offers its guests a range of amenities to make their stay more comfortable and enjoyable.

Carmel Bay View Inn is a small hotel with a very unique design that reflects its history and features many amenities that make it stand out from other hotels in the area, like its proximity to Pebble Beach and its daily breakfast service. The best part is that you can enjoy all these benefits at a very reasonable price!
Pacific Grove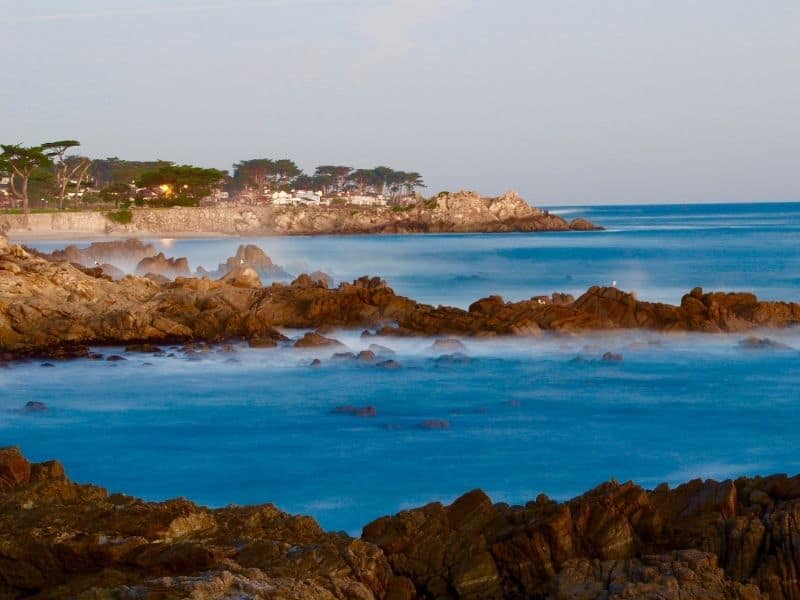 This charming Central Coast town near Monterey is a great choice if you're looking for a small town vibe that's close to many of Monterey's greatest attractions.
You get the best of both worlds when you stay in Pacific Grove, as you have easy access to Monterey's best attractions like the Monterey Bay Aquarium and Cannery Row, but you're also away from the tourist crowds.
Pacific Grove also has some attractions of its own, including Asilomar State Beach, Point Pinos and its lighthouse, tide pools, and a world-class golf course.
Where to Stay: If you want to enjoy a fairytale-like experience in California, then your best option is this charming hotel that will make you feel like you're in a movie. I'm talking about Green Gables Inn and offers amenities that include activities such as Happy Hour, snorkeling, cycling, hiking and first class services for your comfort.

For a more budget-friendly option you can definitely give Sea Breeze Inn a try, since it is very comfortable, it offers a wide range of amenities in all the rooms available and has a perfect location, just 1.6 km away from the city center.
Sand City
Sand City is located just outside of Carmel and Monterey, but it's a unique destination on the Central Coast in its own right!
Sand City is famous for its public art, so come here for a stroll along the city's many beautiful murals.
And of course, as suggested by its name, there's no shortage of beach in this tiny Central Coast town!
Lay out on the quiet beach of Sand City Beach or explore the protected sand dunes of the Eolian Dunes Preserve for a beautiful walk in nature.
Big Sur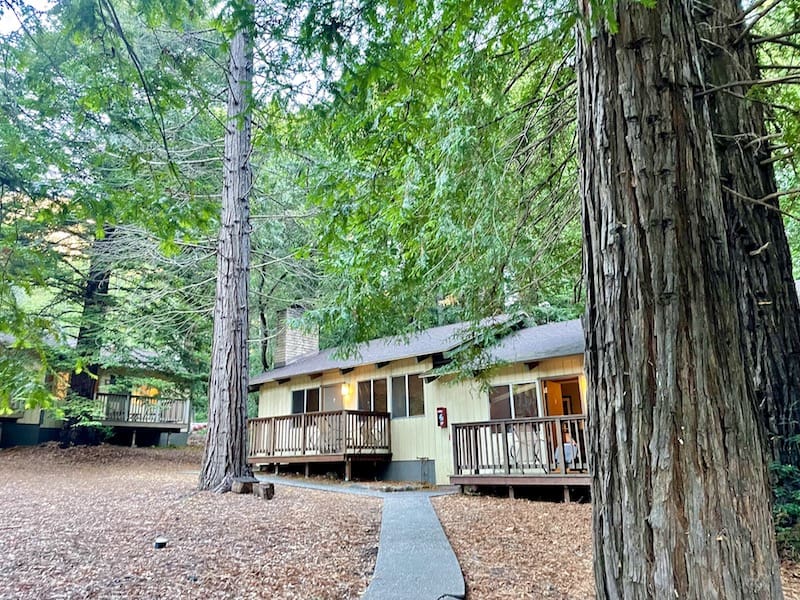 The 'town' of Big Sur is really more of a cluster of small businesses and a few accommodations around Pfeiffer Big Sur State Park.
Big Sur is all about nature, hiking, and road tripping, and Big Sur village is the main place to stay to put yourself in the heart of all that Big Sur has to offer.
Go for a hike to Pfeiffer Falls, walk on the purple sand beach at Pfeiffer Beach (yes, just about everything here is named Pfeiffer), browse books at the Henry Miller Memorial Library, or have a drink overlooking the Pacific Ocean at Nepenthe.
Big Sur is also a fantastic destination for camping (and glamping) but keep in mind that demand is higher than supply so you will have to definitely book way in advance!
Where to Stay: Big Sur is a truly magical place in California and its range of hotels never disappoints. To experience the mountain atmosphere of this wonderful place, I recommend the stunning hotel Alila Ventana Big Sur. It is certainly the most gorgeous hotel in the area, and it will take your camping experience to a whole new level!

For a more homelike experience, the best option is the Hidden Valley Inn, which features comfortable rooms, cable TV, free WiFi, and access to the most amazing vineyards in California to enjoy an unforgettable stay.
Monterey
Monterey is one of the most touristic cities along California's Central Coast but it's still well worth a visit if you are doing a trip along the coast!
Of course, there's the Monterey Bay Aquarium, which is known for its kelp forest aquarium and its friendly otters. It's a world-class aquarium that you simply can't miss when visiting the Central Coast.
Monterey is also known for its history, which you can see preserved at the Old Fisherman's Wharf and Cannery Row (after which the famous Steinbeck novel was named).
Monterey is also a great departure point for aquatic adventures like whale watching or scuba diving, so whether you prefer to see wildlife above or below water, there's a Monterey adventure for you!
Where to Stay: The Monterey Plaza Hotel & Spa is an award-winning luxury hotel located in the heart of downtown Monterey. The hotel is a short walk away from the Monterey Bay Aquarium, Fisherman's Wharf , and Carmel-by-the-Sea. It offers restaurant, bars, and a heated outdoor pool with stunning views of the Pacific Ocean. The hotel also has a private beach club with access to the bay.

Another great option is the Blu Pacific Hotel which features a variety of amenities including free WiFi and a picninc area. The rooms also include pillowtop beds, clean linens, and coffee maker.
Central Coast Towns: Santa Cruz County
Capitola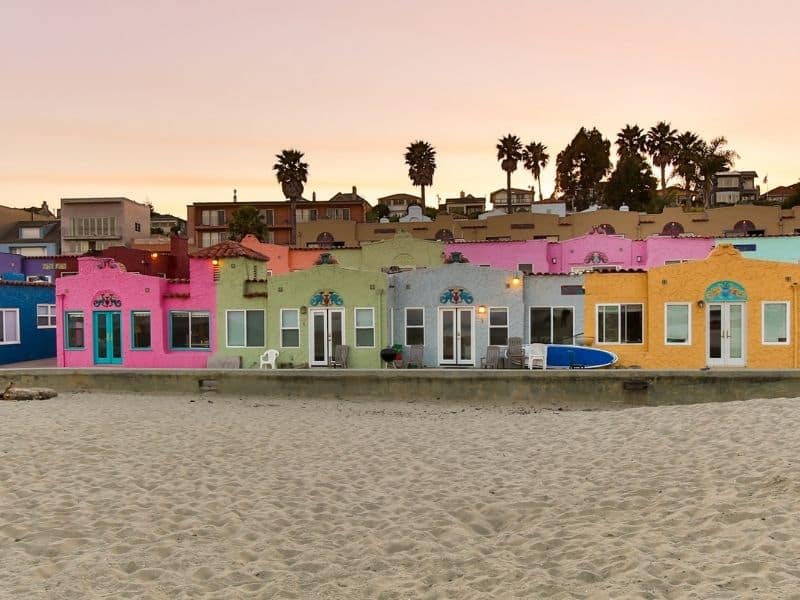 The (not so) little waterfront village of Capitola is a hidden gem if I have ever seen one and the secret is bound to get out eventually!
But for now, you can enjoy the quiet serenity of California's beaches and the undeniable charm of its sleepy streets without all of the crowds.
Everything about this place is picturesque and what I really mean by that is the fact that there is an Instagram photo opp waiting for you around every corner.
For starters, there is a row of vibrantly colored cottages (think pastel overload) known as the Venetian Court that line the Soquel River and overlook the Pacific Ocean.
And while you can't get right up to them unless you are one of the lucky few spending a night there, you can definitely get close enough to admire its unique style and take a few photos.
Where to Stay: The Inn at Depot Hill is a beautiful place to stay. It offers a variety of amenities and features that make it a great place for both leisure and business travel. The rooms have luxury finishes and furniture, there is evening wine reception, beautiful gardens, and it is top-located, just a 15 min drive from from Santa Cruz Beach Boardwalk.

For a more affordable but just as comfortable stay, The Quality Inn & Suites offers easy access to the Capitola Mall, Rio Theatre, and the Armida Winery. It offers a variety of amenities including free WiFi, an outdoor pool, and even a business center!
Santa Cruz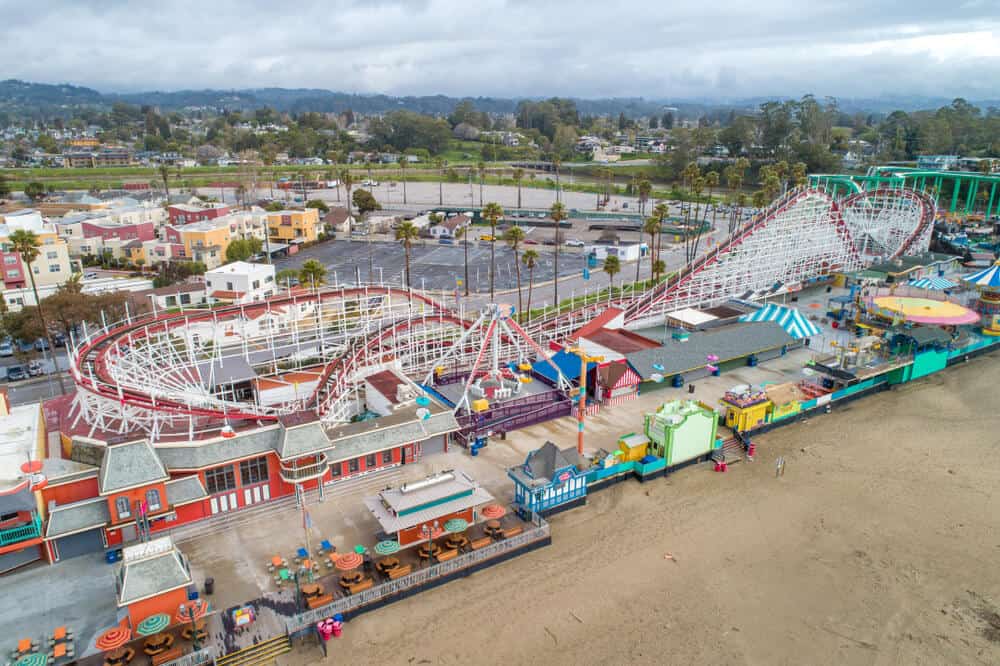 If you are looking for the ultimate beach town vibe, look no further than Santa Cruz where the mountains are dotted with redwood trees perfect for hiking, the waves call to the experienced surfer, and the streets ooze hippie energy.
There are plenty of ways to spend your time here but it is only right that you make a stop at the iconic Santa Cruz Beach Boardwalk during your visit.
Whether you want to pig out on boardwalk goodies like deep-fried twinkies, challenge your friends to a friendly game of laser tag, or simply walk the strip while taking in the views, the boardwalk has got you covered.
After you've explored the boardwalk, do yourself a favor and find an excuse to drive along West Cliff Drive for the most dramatic views of the Pacific Ocean as it crashes up against the rugged cliffs and creates a picturesque layer of mist.
Where to Stay: Mission Inn is a great hotel to enjoy many amenities including free WiFi, free breakfast, and comfortable services such as hot tub and sauna. Also, you will be very close to the main attractions of the city like the Santa Cruz Surfing Museum, Pacific Garden Mall, the Santa Cruz Beach Boardwalk, and the most popular beaches.

For a high-level experience, I highly recommend the Hyatt Place Santa Cruz, which offers a modern atmosphere and facilities, as well as top-quality services including a swimming pool, fitness center, and daily breakfast. A wonderful option to enjoy an exceptional stay!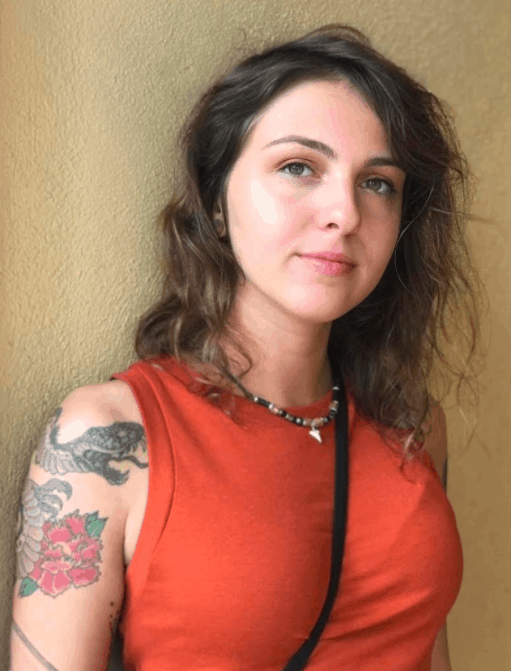 Nicole is a freelance travel writer who lives in Upstate NY, but her heart lies in the beautiful state of California. She loves to travel to new destinations, eat at all the best local restaurants and explore all the world has to offer. Her favorite place is just about anywhere where snow-peaked mountains can be seen in the distance.