You've heard of black sand beaches, white sand beaches, glass beaches, and maybe pink sand beaches. But what about a purple sand beach?
I'll admit it: before visiting Pfeiffer Beach in Big Sur, I was doubtful. A purple sand beach in California?
I was fully prepared for the purple to be just the subtlest hint of color, and not true purple sand… but I was wrong!
Note: This post contains affiliate links, which earn me a small commission at no extra cost to you if you make a purchase using one of these links. Thank you for supporting this free content!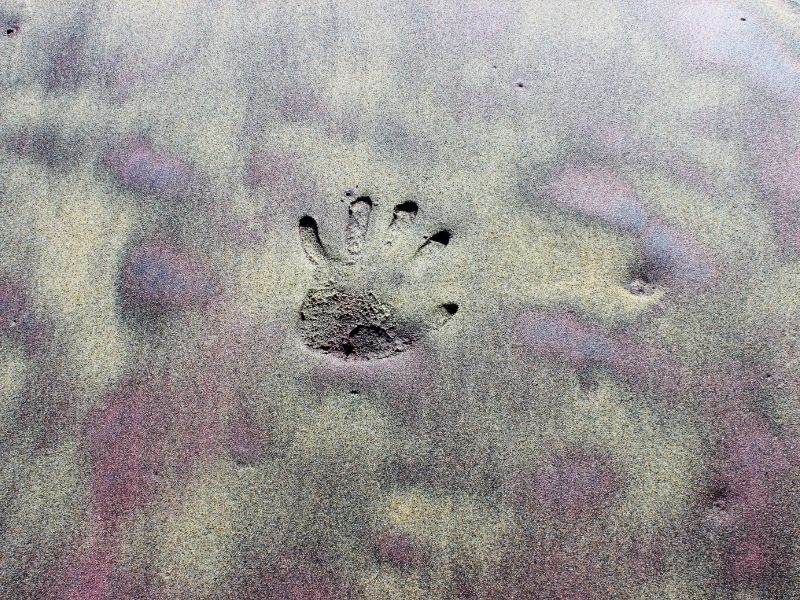 Sure enough, streaks of violet sand twinkled under the afternoon sun, mixing and marbling with pale golden sand on the shore.
As if that wasn't reason enough to visit this beautiful beach, Pfeiffer Beach is also known for its stunning rock formations, one of which is the well-known Keyhole Arch.
You may have seen this rock in photos, where the setting sun is framed beautifully through the hole in the rock arch.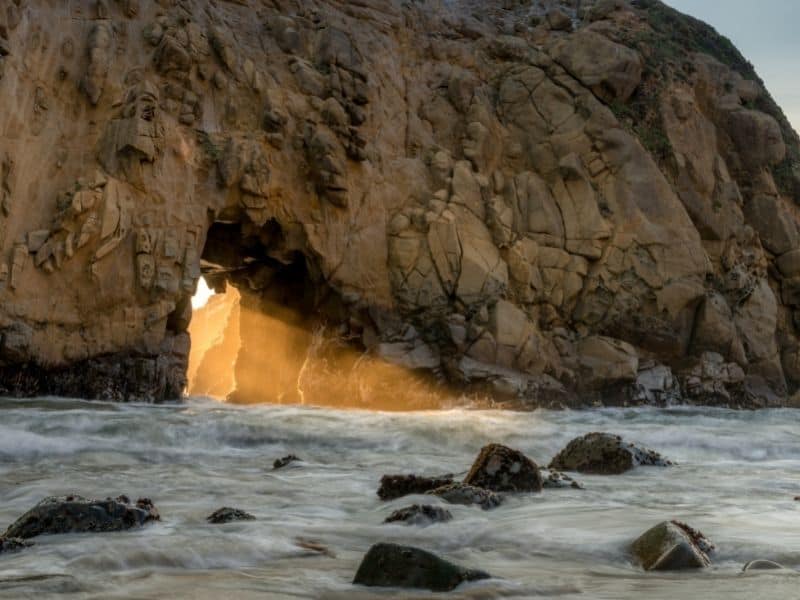 This only occurs during a short period of the year, roughly between the winter solstice and New Years, when the mid-winter sun hits the rock at a particular angle.
You'll also find tide pools on Pfeiffer Beach at low tide, if you walk towards the north edge of the beach.
Convinced that you should add this beautiful purple sand beach to your upcoming Big Sur road trip bucket list? Here's all you need to know to plan your visit to Pfeiffer Beach.
Why Does Pfeiffer Beach Have Purple Sand?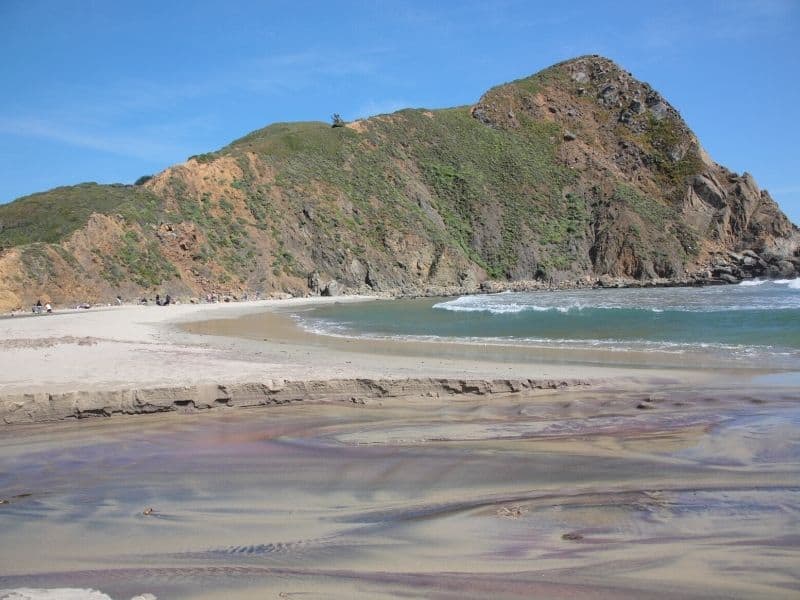 So you might be wondering: how does purple sand even occur in nature?
It's pretty simple: sand is just rock that's been broken up over the process of erosion over time. The cliffs above Pfeiffer Beach are rife with a mineral called manganese garnet, which has a deep purple hue when wet.
However, I will note that the sand at Pfeiffer Beach is not entirely purple.
Rather, the sand at Pfeiffer Beach is a mix of what you likely think of as 'normal' sand and purple sand, and they mix and swirl in abstract patterns on the shore.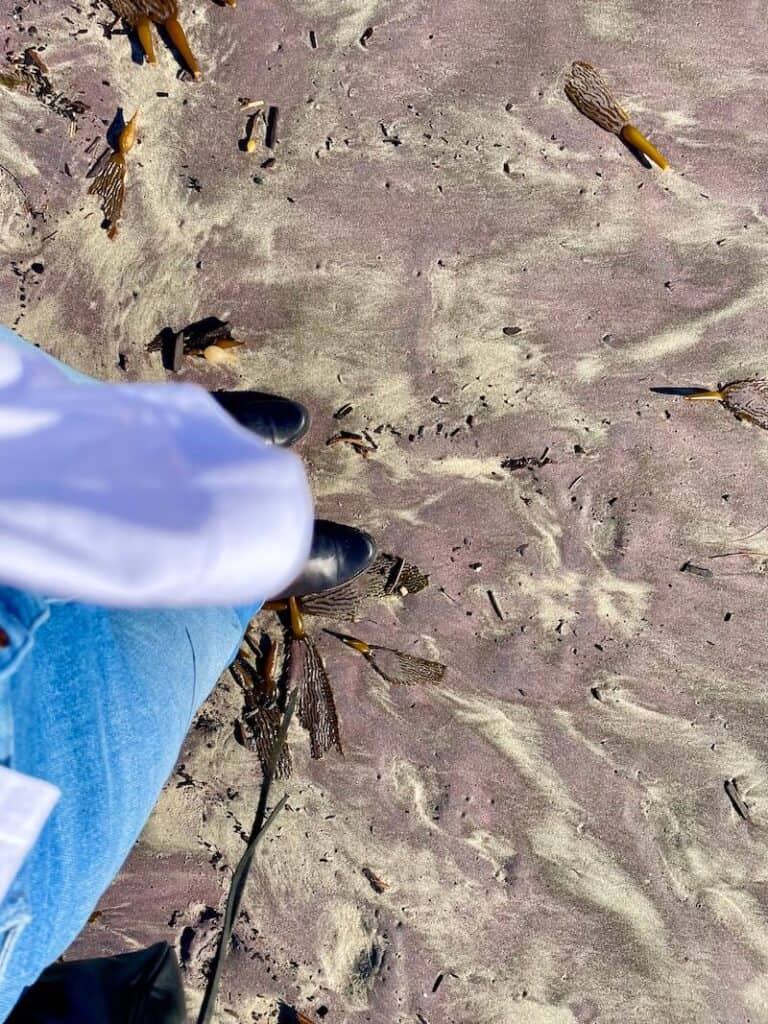 Here is a photo of the purple sand, taken with a cellphone, with minimal editing and processing so you can get a sense of the color.
The purple is easier to see where the sand is wet, so look for the part where the waves wash up onto shore as well as the creek that runs through the beach.
Where is Pfeiffer Beach in Big Sur?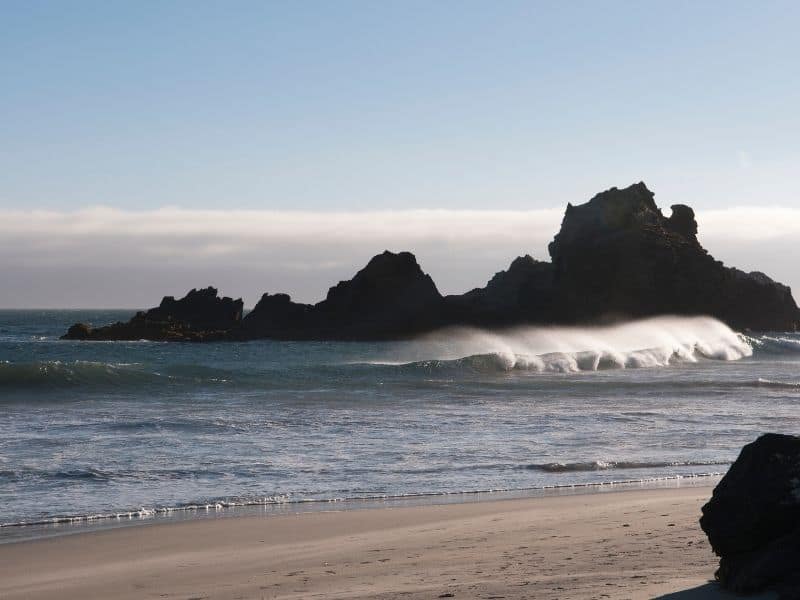 Pfeiffer Beach is located along Highway 1 (aka the Pacific Coast Highway), the main road that goes through the Big Sur area along the Central California coast.
It is located about one hour's drive south of Monterey and Carmel-by-the-Sea, in the town of Big Sur.
Pfeiffer Beach is located about one mile south of Pfeiffer Big Sur State Park's main entrance, where you'll find lots of incredible hiking trails like the hike to Pfeiffer Falls (yes, just about everything in Big Sur is named 'Pfeiffer', and no, it doesn't get any less confusing with time.)
Despite its name, though, it is not actually on Pfeiffer Big Sur State Park land, but rather it is part of the Los Padres National Forest.
This is a National Park Service-managed site, not a California state park-run site, so if you have a California state park pass it will not work here.
Despite being managed by the NPS, it is one of the few exemptions to the America the Beautiful Pass. Unfortunately, you will have to pay a fee for day use — but it's worth it!
How Do You Get to Pfeiffer Beach?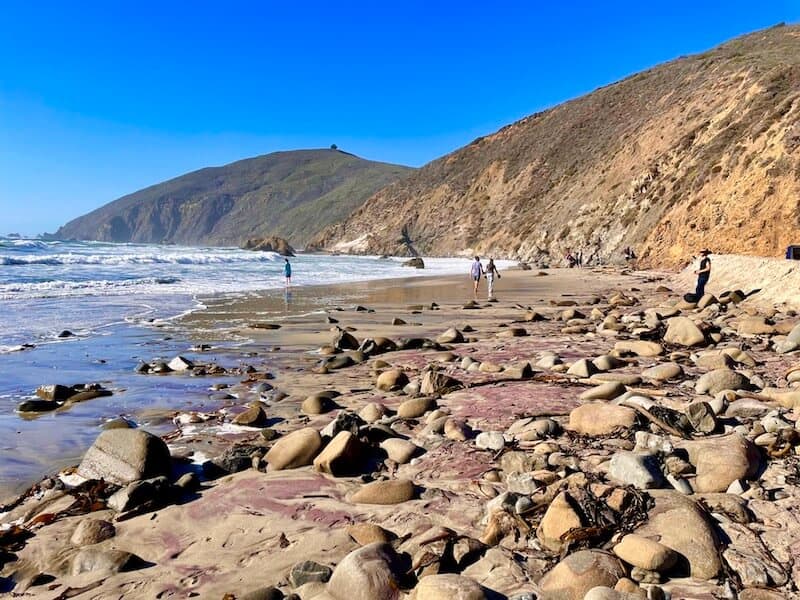 Pfeiffer Beach is not officially marked on Highway One, but it is easy to find if you have GPS or Google Maps.
Keep in mind that Big Sur has very spotty cellphone service, so you'll want to download an offline map beforehand… or go analog and bring your own paper map!
To get to Pfeiffer Beach, plug in Pfeiffer Beach into Google Maps or your other navigation tool of choice. If you want exact GPS coordinates, here they are: 36.2381° N, 121.8162° W.
If you're heading to Pfeiffer Beach from some point north, as if you were driving down from San Francisco, the turn off will be on your right-hand side. It is a very sharp right turn, practically a U-turn. If coming from Los Angeles, it'd be on your left-hand side.
If you don't have GPS, look for Mile Marker 45.64 on Hwy 1. You'll see a yellow sign that says "Narrow Road" and also mentions that trailers/RVs are not allowed. This is the access road for Pfeiffer Beach.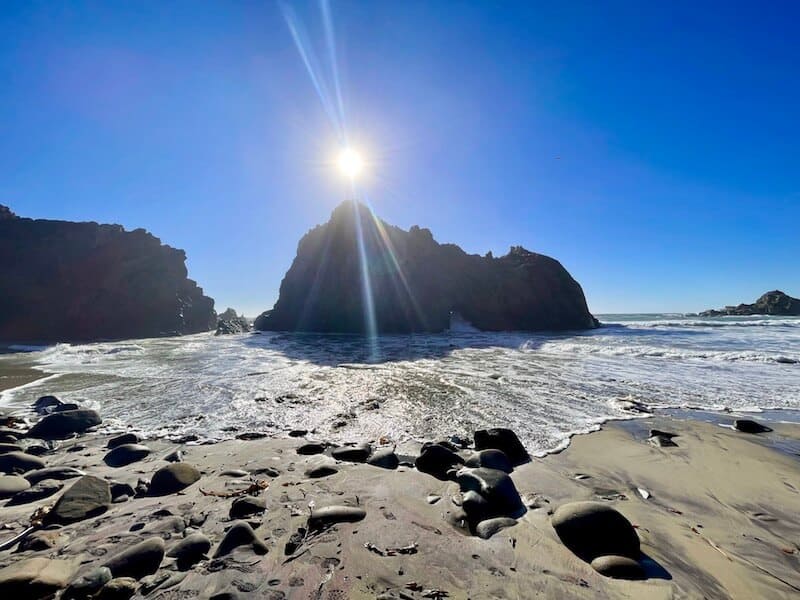 The only road to the purple sand beach is Sycamore Canyon Road, a narrow but decently well-maintained paved road that's about two miles long.
I read some horror stories about the road before visiting and was a little nervous, but I thought it was overstated.
The road is paved and mostly in good shape (Oakland roads certainly feel more beat up than this one!), though it is a one-lane road. That may freak some people out, but there are plenty of places to navigate passing a car or allowing a car to pass.
So how to navigate this one-lane road? In general, cars going uphill have priority over cars going downhill, but if you have the better turnout area to let another car pass, it is the kind thing to do to pull over.
Go slow and keep your eyes on the road, as there may be a few potholes that you won't want to hit, as well as cars trying to go uphill as you go down.
Once you reach the end of the road, you'll arrive at a little kiosk where you pay the entrance fee to use the parking lot. It costs $12 for a vehicle for day use. Cash, debit cards, and credit cards are all accepted.
Park in the designated parking area — there were quite a few spaces when we visited on a weekday, but you may have to circle the lot a few times if visiting in high season or on a weekend, as there is limited parking.
From the parking area, it's a short walk to Pfeiffer Beach through some beautiful riparian forest until you reach this famous California beach!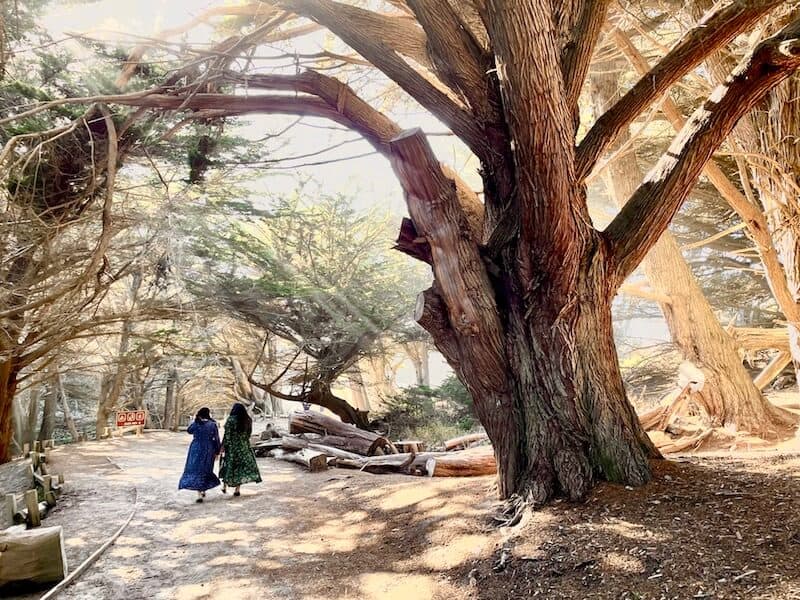 Pfeiffer Beach Hours and Additional Information
Pfeiffer Beach is open daily from 9 AM to sunset. Reservations are not required to visit, and there is no camping available at Pfeiffer Beach.
There is a $12 fee to access the Pfeiffer Beach day use area and parking lots. Neither the California state park pass or the National Park pass will grant you free access.
If you plan to visit Pfeiffer Beach specifically multiple times, you can purchase an annual pass to Pfeiffer Beach for $49.
We were able to use a debit card to pay the $12 fee when we visited in October 2021.
However, in the past, cash has been required, and there is always the chance that the point of sale technology won't be working, so I'd bring back-up cash just in case — you won't want to get all the way down that road only to have to turn around!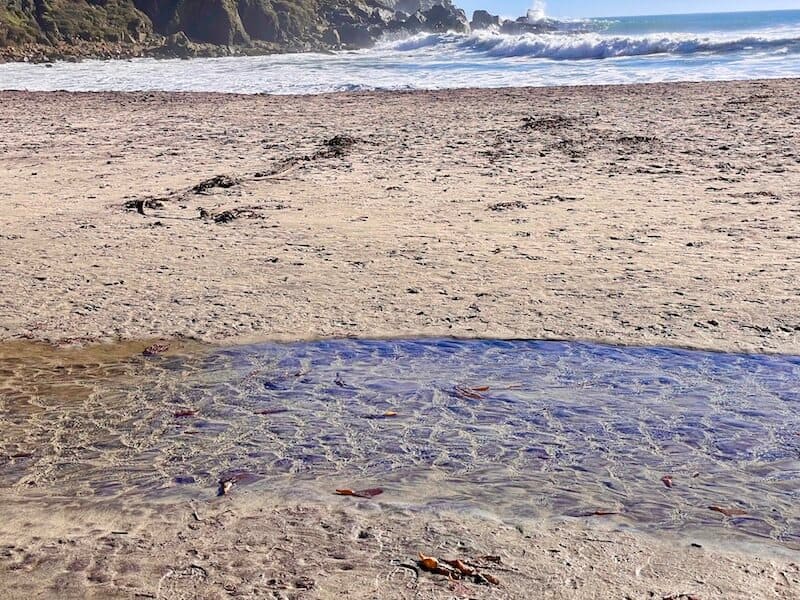 There isn't much in the way of amenities at Pfeiffer Beach: just some vault toilets if you need to use the restroom, and two parking lots with about 50 or so parking spots in them.
There is nowhere to get food or water, so be sure to bring your own and bring everything you need for a day at the beach. You won't find any vendors here! I suggest stopping at Big Sur Bakery or the deli in Big Sur (near the post office) and bringing a picnic lunch here.
Good news for pet owners: Pfeiffer Beach is one of the rare dog-friendly spots in Big Sur! Dogs are allowed on Pfeiffer Beach as long as they are on a leash.
For the most up-to-date information on Pfeiffer Beach, check its page on the Los Padres National Forest website before you go.
What to Bring for a Day at Pfeiffer Beach
Layers: The Big Sur coast is famous for its cool, frequently windy weather and frequent fog. Just because it's a California beach doesn't mean it's going to be warm! I visited in mid-October and ended up wearing my light jacket, jeans, and boots on the beach. It definitely wasn't sunbathing weather!
Cash: Just in case the debit/credit card reader isn't working, you'll want to bring at least $12 in cash to cover the parking fee.
Food and Water: Remember, there are pretty much no amenities at Pfeiffer Beach, so you will want to bring whatever you need for a day at the beach, including a picnic lunch! I recommend the Big Sur Deli or the Big Sur Bakery for a to-go lunch.
Towel for Lounging: You probably won't get in the water at Pfeiffer Beach. The waves are quite rough and the current is very strong in this part of the Pacific Ocean. Plus, Central Coast beaches are typically freezing cold! That said, you will most likely want to sit and stay awhile admiring the views, in which case you'd want to bring a beach towel.
Camera: If you visit a purple sand beach and don't take photos, did you even visit? I used my cellphone camera for my shots of Pfeiffer Beach and I was able to capture the colors pretty well, but if you have a mirrorless or DSLR camera that is capable of shooting in raw, you can draw out the purple colors even better in editing.
Where to Stay in Big Sur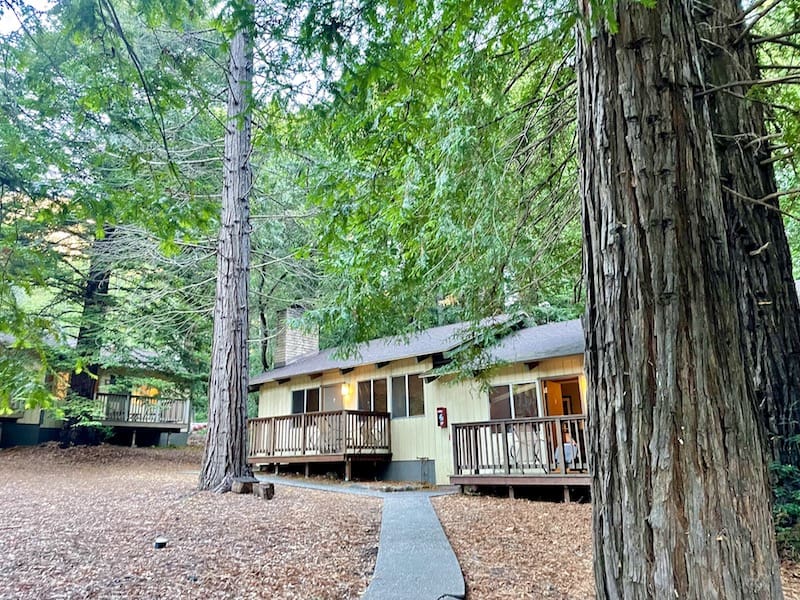 I recommend staying at the Big Sur Lodge! It's the perfect base for hiking in Big Sur, as it's literally located within Pfeiffer Burns State Park.
The price was reasonable for a Big Sur accommodation (which are typically quite expensive).
Our cabin was large and spacious, with a working fireplace, a seating area, two queen beds including a separate bedroom, and a huge bathroom with a great shower.
Best of all was the deck with lounge chairs — perfect for enjoying a cup of coffee with the morning light filtering through the forest.
It's only located about 3 miles away from Pfeiffer Beach, too, so it's about as close as you can get to the famous purple sand beach of Big Sur!
Check availability, prices, and reviews of the Big Sur Lodge here!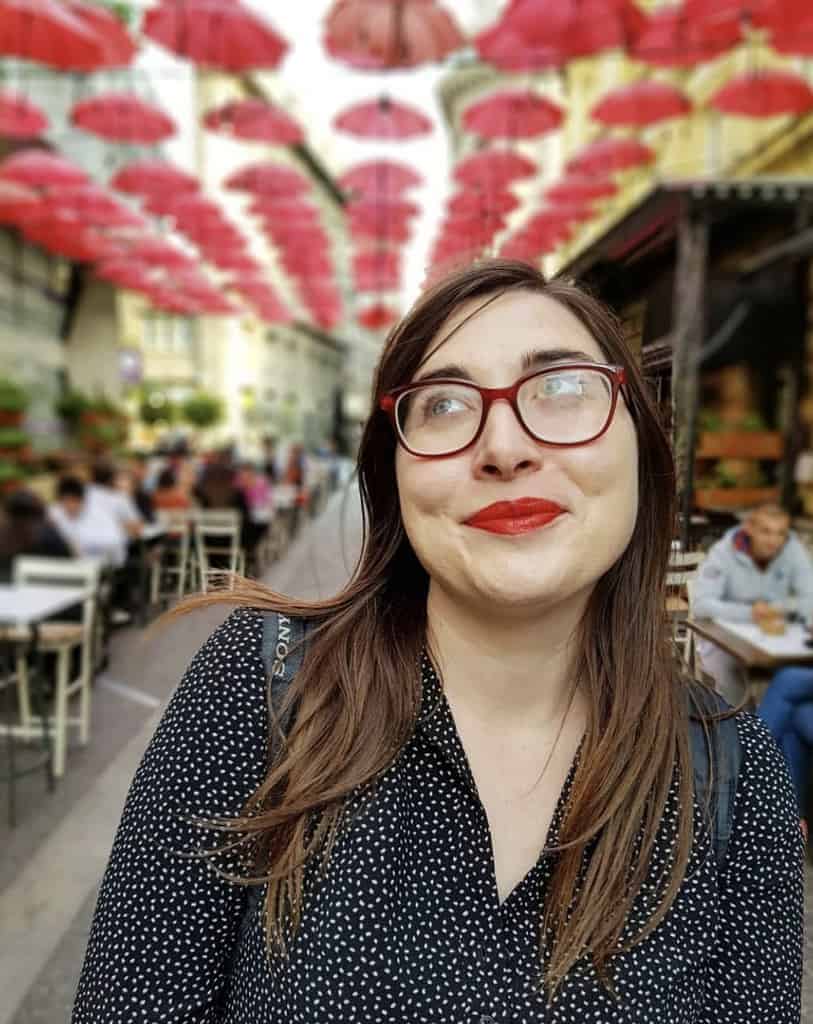 Allison Green is a travel blogger, writer, and podcaster who grew up in the Bay Area of California. She has spent time living in New York, Prague, and Sofia, but has returned to live in the East Bay. She has traveled to 60 countries before the age of 30 while running several digital travel publications. Her writing and podcast have been featured in Forbes, CBC Canada, National Geographic, the Huffington Post, and CNN Arabic, amongst others. She's obsessed with bouldering, houseplants, other people's pets, and anywhere she can see the ocean.