Driving the famed Highway 1 is an experience all in itself, but if you have the time to stop and enjoy the scenery, that makes it even better!
Here are some suggestions to make sure you fit as much into your day in Big Sur as possible!
Get an early start because you have a full day ahead of you!
Getting to Big Sur from the Bay Area
Note: This post contains affiliate links, which earn me a small commission at no extra cost to you if you make a purchase using one of these links. Thank you for supporting this free content!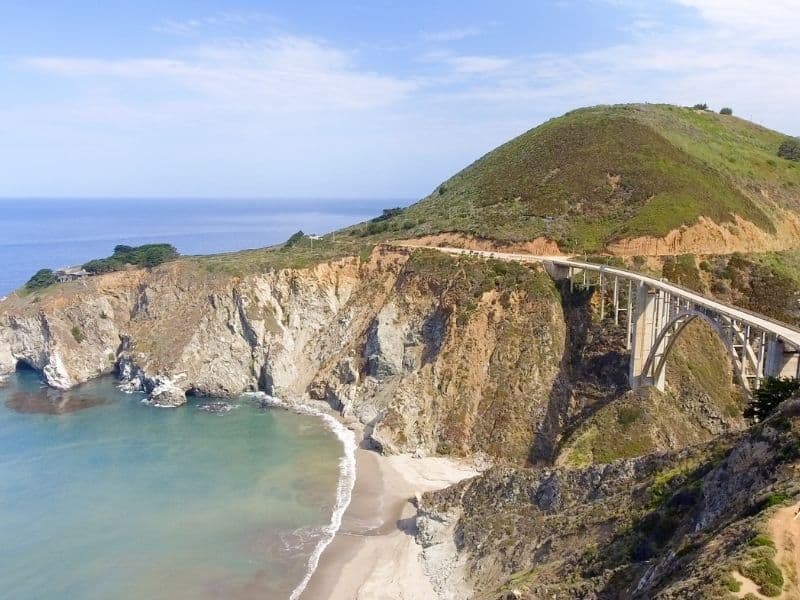 For the purpose of this post, we're going to get you to Carmel-by-the-Sea as quickly as possible to begin this Big Sur day trip, assuming you're starting in the Bay Area
If you're coming from San Francisco, it's about 2 hours via 101-S to Highway 1, depending on traffic.
You could also take 101-S to Los Gatos and then cut through the mountains to Santa Cruz, then continue along the coast on Highway 1. This will also take about 2 hours.
From the East Bay, take 880-S (Oakland) or 680-S (Walnut Creek and Concord area) to San Jose until you intersect with 101-S, then take that to Highway 1.
From San Jose, just get on 101-S and then merge onto Highway 1 when you can, or go via Santa Cruz. This will only take about an hour and a half either way.
Planning a Big Sur Day Trip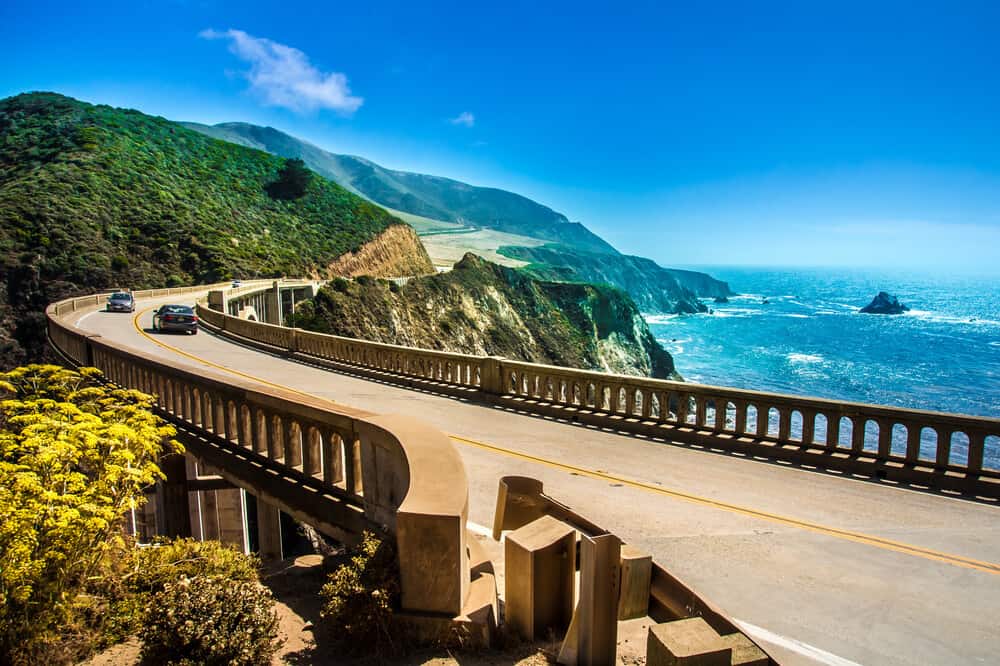 The drive from Carmel-by-the-Sea to San Simeon is 2 hours and 20 minutes of curvy, cliff-side driving.
If you're going to drive all of the Big Sur coastline in a day, coming from the Bay Area, you'll want to be prepared for at least 5 hours of driving each way, a total of 10 hours on the road.
For this, it's pretty essential to have a second driver unless you are perfectly comfortable driving that much in a single day.
Alternately, I suggest staying in a hotel in Carmel-by-the-Sea the night before to reduce the driving burden, or ending the night with a hotel stay in Cambria or San Simeon.
If you have even longer in the area, starting in Monterey would be a great choice to be able to see The Monterey Bay Aquarium, but for the sake of brevity, we'll get started in Carmel!
Your Big Sur Day Trip Itinerary
As you cruise down from Carmel, the views will open up and you'll start to see the crystal clear blue water that this area is known for!
With gorgeous views on either side of the car, there are lots of pull-off spots to let others pass or to get out and enjoy the sights yourself!
Take a hike.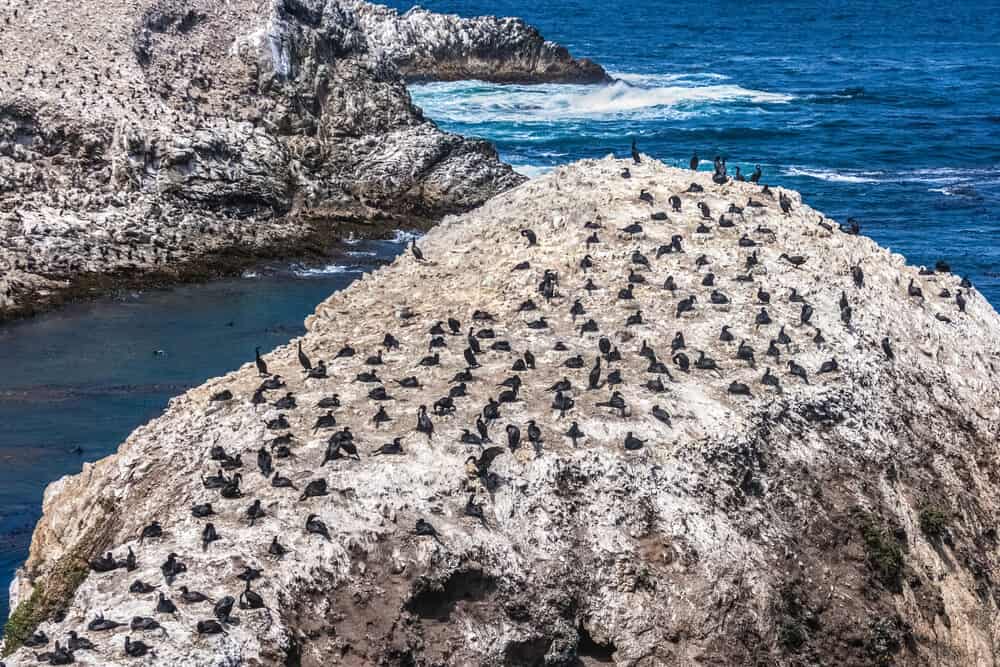 If you're ready to get out of the car and do some exploring, the Bird Island Trail awaits you at Point Lobos State Park.
Just under a mile in length, this beautiful seaside trail will take you to the emerald green waters of China Cove.
To get to this sandy beach and clear water, take the park road all the way to the end and then follow the trail to the steps that will take you down to the beach.
Be aware that at each state park, you must pay a fee of $10 to visit even if you have an America The Beautiful Annual Pass!
Marvel at the Bixby Creek Bridge.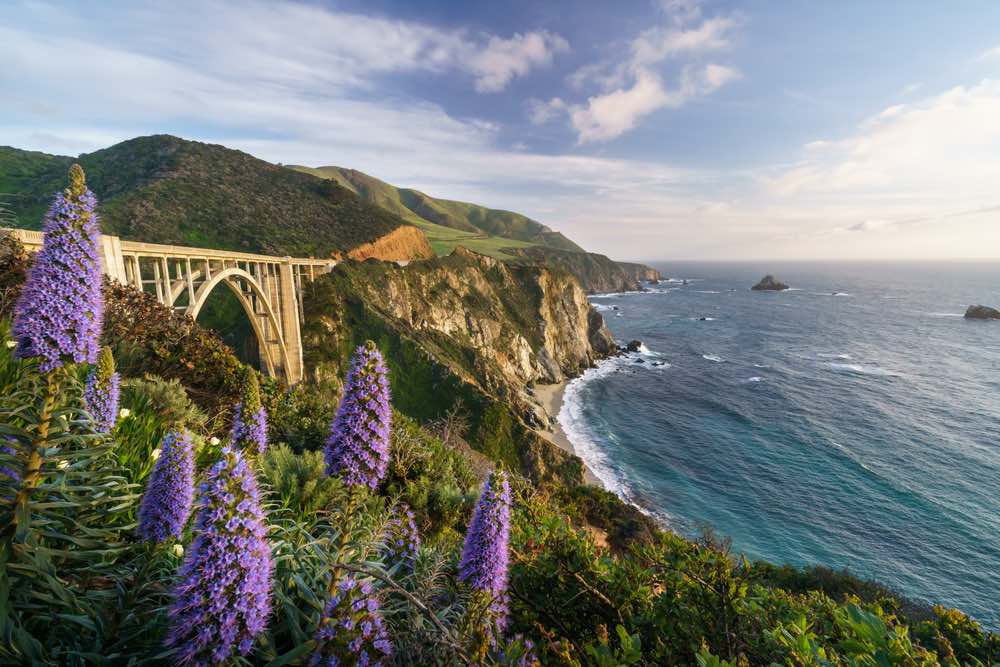 After you've stuck your feet in the chilly waters of the Pacific Ocean, head back to your car and keep cruising south on Highway 1.
Our next stop on this Big Sur day trip is 20 minutes from Point Lobos and has been featured in movies, TV shows, and as the focal point on postcards!
The Bixby Creek Bridge was built in 1932 and is as much a photo op as its Golden cousin to the north!
Right before the bridge, there is a small parking pull-out for you to get out and take pictures of the bridge and the road leading to it.
Be warned for this and all other pull-outs that the Pacific Coast Highway is very popular — which also makes it very dangerous. Please be sure to look and check your surroundings as a driver when pulling in and out!
Stop to see the redwoods.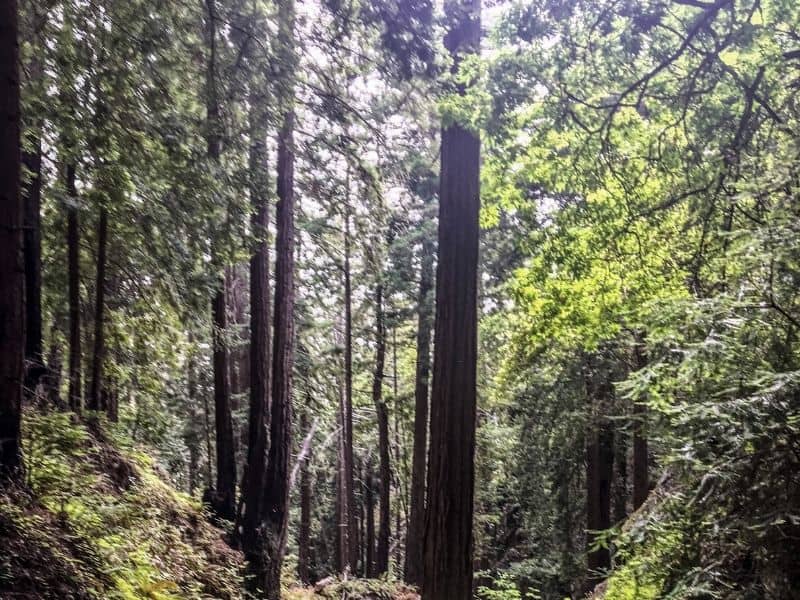 Our next stop is 20 minutes away, so crank up the tunes, roll down the windows, and enjoy the salty air as you continue on in your journey.
The ocean view starts to turn more into a heavy green forest cover and that is how you'll know you're close to our next stop, Pfeiffer State Park.
If you want to see redwood trees, this is your stop! After the ranger's kiosk, pull off into one of the day-use parking lots and begin your quick journey to see these ancient trees.
A path runs by the river and removes you from the sound of busy Highway 1 to the quiet, calm sounds of the forest. After a quick 5 minute walk, you'll arrive at the Redwood Deck.
This quick walk around the deck will only take you a minute, but there's plenty of information to read and lots of giant 800 to 1,200-year-old trees to stare up at.
Take an optional hike.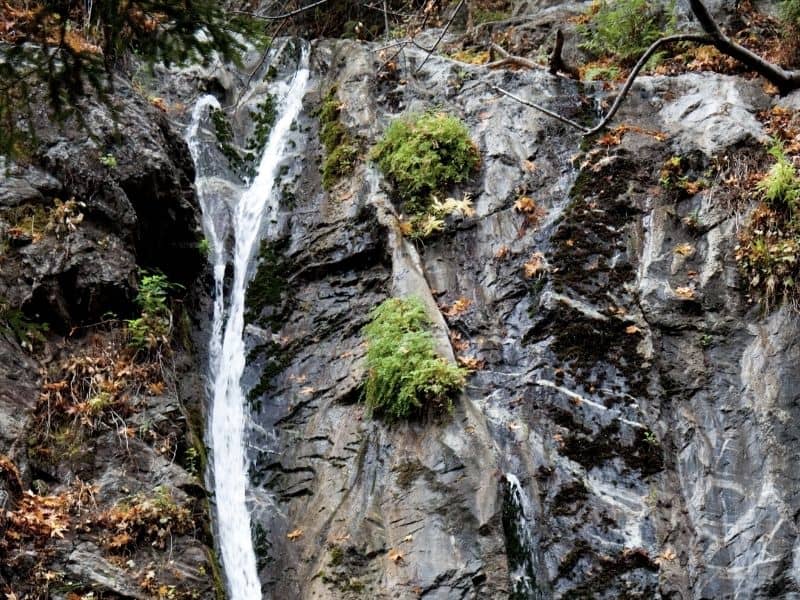 If you've had your fill of the redwoods and don't want to take any longer hikes today, then jump back in the car and skip this next trek.
But, if you were hoping to see more redwoods and even a waterfall, then this hike is for you.
From the redwood deck, cross the road and follow signs for the Valley View Trail. This 1.5-mile out-and-back trail will start by taking you by some more redwoods!
The first section of the trail is up a set of "stairs," and gains 400 feet in elevation, so it is not for those with knee issues, or you could always do what I do and bring a brace and pole to absorb some of the shock.
Once you have hiked about a mile, the trail breaks off into two pieces. To one side, you have the Valley View Trail which takes you to a lookout point 0.3 miles further, or Pfeiffer Falls, 0.2 miles further and our destination.
A bit of quick downhill, switchback hiking (100 ft) will connect you to a small footbridge over Pfeiffer Creek that will lead you to the base of the waterfall.
The most impressive time to see the falls is after a rainfall, but it is a beautiful, tranquil place any time of the year. Note that in the late summer and fall, before the winter rains, the waterfall may be more of a trickle!
When you're done having a Zen moment with nature, pick up your backpack and head back the way you came. If you're feeling extra adventurous, hit the rest of the Valley View hike before heading back down to your car.
The Valley View hike climbs a little bit more to an overlook of the deep valley below. There is even a bench at the top to rest your weary legs.
Grab a delicious lunch.
Photo Credit: TravelingOtter via Flickr – (CC BY-SA 2.0)
After a hike, the best thing to do is to grab a bite to eat! If you're looking for a quick bite, check out Big Sur Deli.
Right outside the state park, you'll find this deli and taphouse. If you're grabbing something for the road, try a made-to-order sandwich like the Italian Stallion or the Big Sur Hippie.
Or, if you have enough time for a pint, grab a sandwich and head over to the adjoining taphouse that offers a wide selection of local and craft beers!
If maybe you skipped the longer hike, or just want more of a sit-down dining experience, Nepenthe is one of Big Sur's most sought-after dining locations.
You'll see first-hand why "location is everything" as you step out to your table on Nepenthe's giant outdoor deck and take in the surrounding ocean and mountain views!
Grab a burger, salad, or even steak and relax before continuing your journey.
Admire the purple sand of Pfeiffer Beach.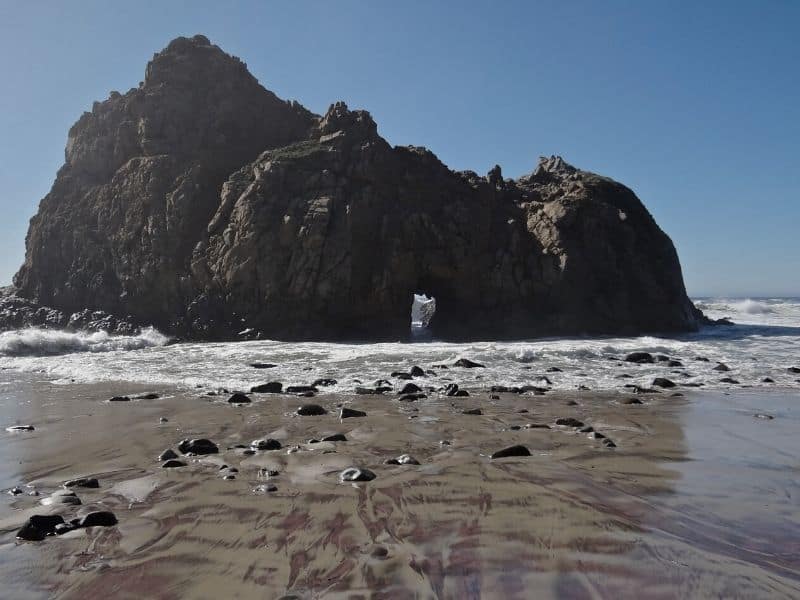 Next, it wouldn't be a Big Sur trip without a stop at the famous Pfeiffer Beach!
Depending on where you enjoyed your lunch at, you may need to backtrack a few minutes to get to Sycamore Canyon Road, the turn-off that leads to this coastal gem.
Be warned that this road is very narrow, but has lots of pull-out spots to allow for cars coming in the opposite direction to pass. The parking for the beach fills up quickly, so the earlier you can get there, the better.
Once you've parked, head out to the beach! This spot is well known for its natural bridge rock formation known as Keyhole Rock.
If you are able to come at low tide, it's a great place to see the many colorful creatures that call these tidepools home. It's also a wonderful beach to just sit at and recharge before finishing your drive down the coastline!
Admire McWay Falls.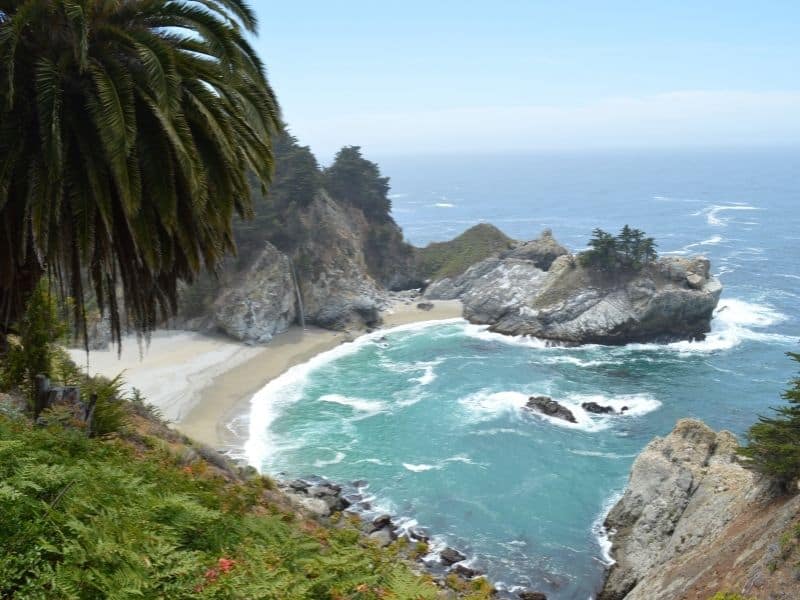 Once you get back to Highway 1 South from Sycamore Canyon Road, your next destination is 30 minutes away. McWay Falls is one of only two beach waterfalls in California that drops water into the ocean.
Currently speaking, several trails in Julia Pfeiffer Burns State Park are closed, including the Tanbark Trail and Ewoldsen Trail. But don't worry: you can still see its jewel, McWay Falls!
You can still get to the viewpoint via a short walk from the parking lot, or you can park your car along the highway on a pull-off close to the falls and walk down to an overlook.
Regardless of how you view it, these spectacular falls are a must-stop on your drive down the coast!
Drive to Sand Dollar Beach.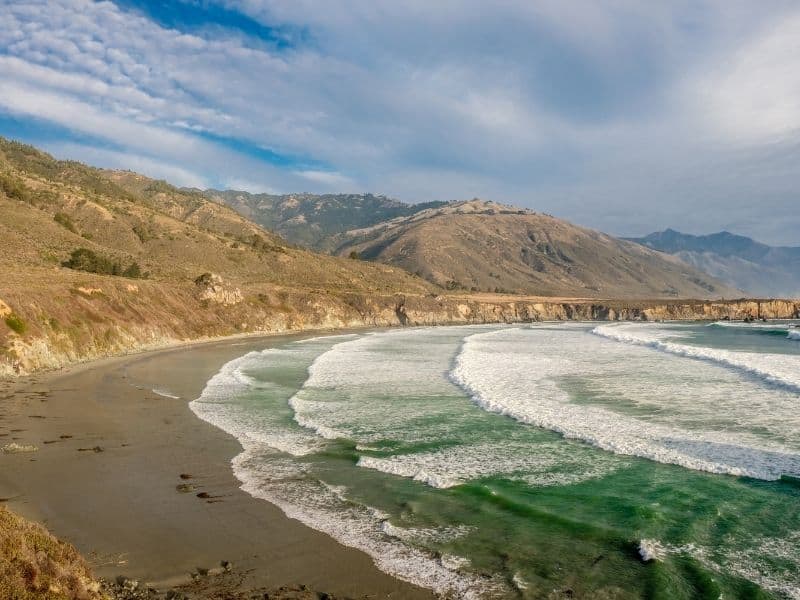 In 35 more minutes, if you haven't had your fill of beaches, take a stop at Sand Dollar Beach!
Here, you can stroll up and down the longest stretch of unbroken sand along the Big Sur coastline and hunt for sea glass and natural jade.
Continue along the coast to see elephant seals.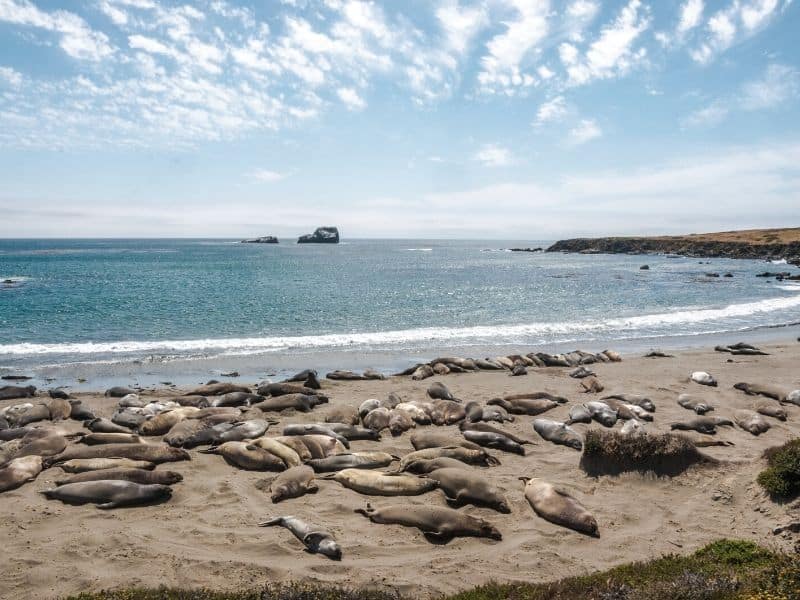 Finish off the rest of your Big Sur adventure by continuing down the road for 50 minutes to stop at the Elephant Seal Rookery.
Pull off into the parking lot and walk along the boardwalk to get up close to the elephant seals that take up residence here!
The best part about this stop is that it's free, making it another must-stop on your Big Sur day trip.
After this, if you have time (and energy) a great stop to make is at the Hearst Castle in San Simeon.
Media mogul William Randolph Hearst began building this mansion in 1919 and it has been a point of interest ever since.
Walk the grounds and see the pools, libraries, airstrips, and even the out-of-service zoo that once was!
End your day in Big Sur.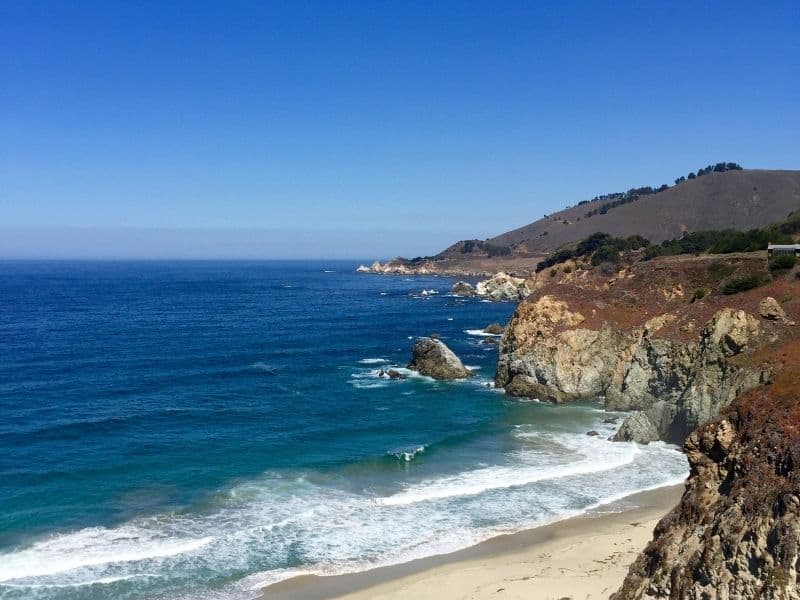 You've done it! You've finished a very full day of traveling down one of California's most scenic highways.
For dinner, take in the sights one last time at The Cavalier Coastal Kitchen at Cavalier Oceanfront Resort — which would be a good place to rest your head for the night if you want to break up the drive.
Have a drink and a steak or maybe some seafood to round out the perfect day of travel.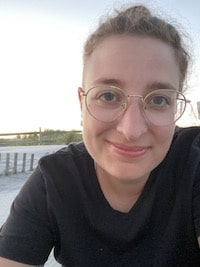 Britta DeVore is a travel writer and hiking enthusiast based in Southern California by way of Brooklyn. Relocating to California has given her the best opportunities to explore the wonderful West and share her experiences with others. You can find more of her work and travel guides at WildBum and her travel account, @trektonowhere