There are so many places to explore in California, but only a few really capture the essence of everything wonderful the Golden State has to offer.
Big Sur is one of those few.
Travelers take Highway 1 (the only accessible road) along 90 miles of California coastline between Carmel and San Simeon to experience all the hiking, beaches, and breathtaking views that Big Sur has to offer.
Whether this is your first time in California or you've lived here your whole life, it's a coastal paradise you won't want to miss, and I've created this Big Sur road trip itinerary to make sure you make the most of it.
How This Big Sur Itinerary Works
Note: This post contains affiliate links, which earn me a small commission at no extra cost to you if you make a purchase using one of these links. Thank you for supporting this free content!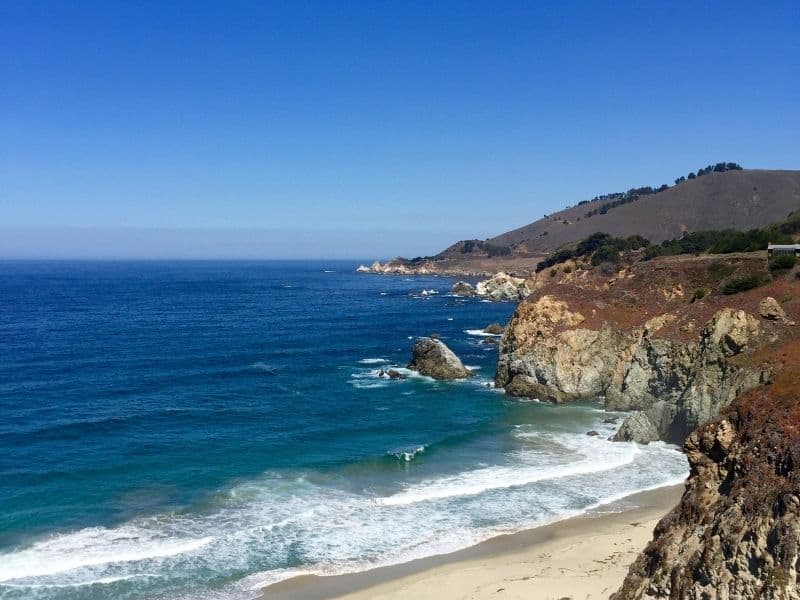 This Big Sur itinerary will take you through the must-see sights and best stops that the region has to offer, plus a handful of great Big Sur hikes.
These highlights are arranged in a logical itinerary, starting from Northern California and traveling south down Highway 1 (aka the Pacific Coast Highway).
I recommend starting at the north end of Big Sur if you can, because all the pullouts to viewpoints will be easily accessible and you won't have to make left turns against the traffic. Plus, the ocean views are right on your side!
Of course, if you are beginning in Southern California, that isn't really feasible on the way up, since I have you do this itinerary in reverse!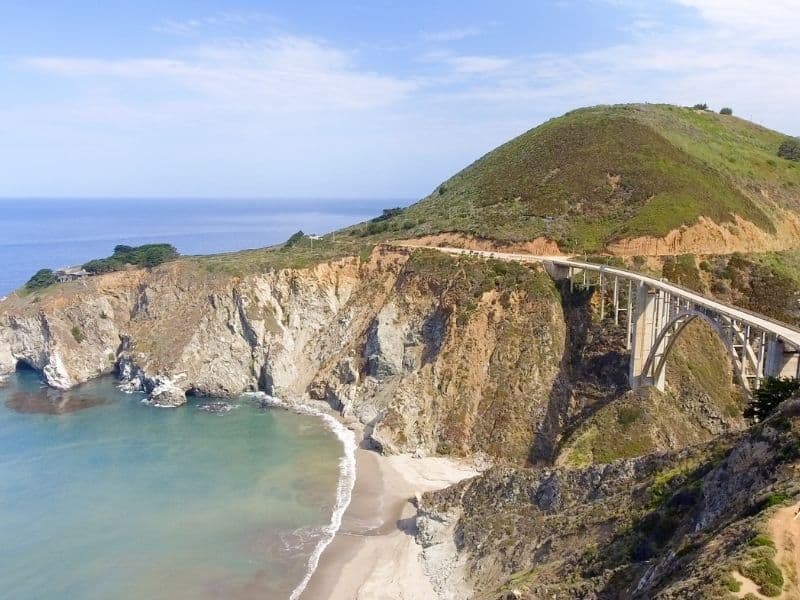 However, you could do the majority of the pullouts on the way back, when you are going with the flow of the traffic and can easily pull over to the side of the road when you see an epic view.
If you need to rent a car, I suggest doing so from one of the Bay Area airports. Most flights arrive into SFO. If you depart from San Francisco Airport, you can drive down the coast past cute towns like Pacifica and Half Moon Bay.
There are also often cheap flight deals into Oakland Airport (OAK) and San Jose Airport (SJC). San Jose Airport is technically the closest to Big Sur, so if you find a good flight into San Jose, grab it!
Not sure where to get the best deal on your rental? I've rented cars dozens of times through various search engines and have settled on Rental Cars as the best car rental search engine in the US – it searches dozens of trusted rental companies to find the cheapest price for your rental! Compare prices for car rental here.
Best Time of Year to Visit Big Sur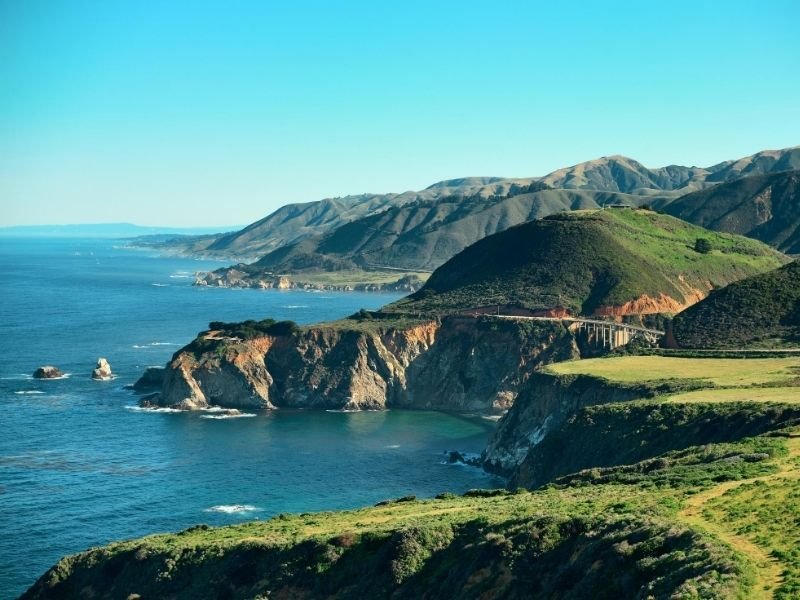 There really is no wrong time to go to Big Sur — it's a dream destination year round!
The Central Coast's climate is very mild and ranges from the low 50s to high 70s Fahrenheit throughout the entire year. The most popular season is April through October.
Contrary to most places, Northern and Central Coast California summers are actually quite foggy and damp.
We call it "June Gloom" and it affects the Bay Area as well as the Big Sur coastline… and sometimes all the way down to Southern California. (If you're unlucky, that extends to "May Gray", "No-Sky July", and the occasional "Fogust").
Still, as long as you pack layers you really can't go wrong, and summer in Big Sur is still fantastic, as long as you don't expect to be warm and sunny every day.
My recommendation would be to go either in the early spring because it is a nice time to catch the wildflowers in full bloom, or in the fall.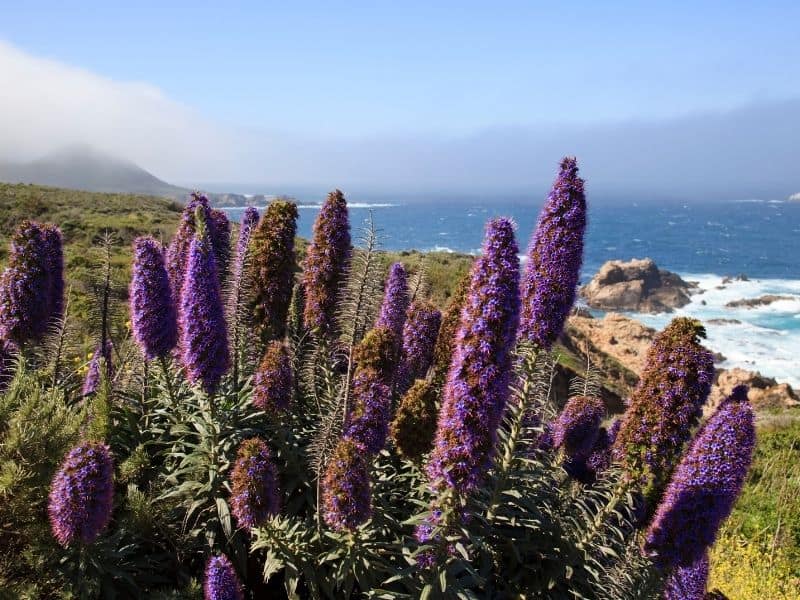 California's climate is a little peculiar in that our falls tend to be warmer than our summers. So if you are looking for warmer days for some sun on the beach (though tbh, unless you're Canadian, Finnish, or just a huge masochist, you likely won't want to swim still), September and October are great months to visit Big Sur.
The only time that Big Sur isn't ideal to visit is in the few short winter months — mostly December and January — when winter storms can cause havoc and even landslides that take out a portion of the PCH, as they did in January 2021!
However, winter in California is short-lived along coastal California and the rains typically subside by mid-February, so after that is generally fairly safe to plan your Big Sur road trip. I would suggest planning it loosely so you can cancel if there are rain storms projected.
What to Pack for a Weekend in Big Sur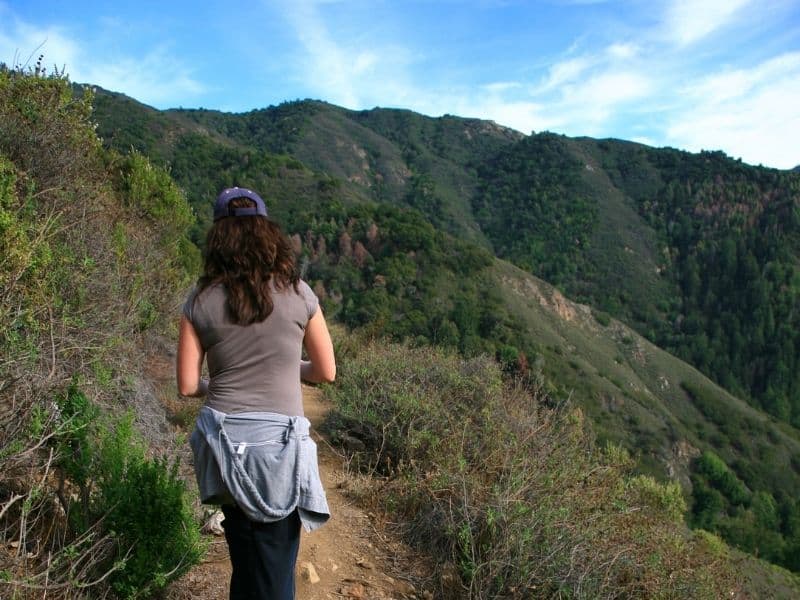 Note: The clothes you will need to pack for Big Sur depend on the season, with fall needing the least warm clothes, summer and spring needing medium-warm clothes, and winter needing the warmest clothes.
Layers | A mix of long-sleeve and short-sleeve shirts as a base layer, with a medium weight down like a fleece, and one warmer jacket will do you well year-round. On the bottom, a pair of jeans will do fine most of the year, but you may want to slip a pair of thermal leggings in your bag to wear underneath your jeans if it gets cold. A scarf and hat can help if you get cold easily.
Jacket | For a more temperate time of year, your jacket could be a simple windbreaker; for a colder time of year, you may want a heavier shell. I suggest something waterproof because even though it doesn't rain that often in Big Sur outside of the winter season, the morning fog can really permeate your clothing. Waterproof clothes have less of an open weave, keeping cold wet foggy air out.
Hiking Boots | This Big Sur itinerary includes a number of hikes where you'll want sturdy hiking boots to help you keep your footing. I use and love Ahnu hiking boots.
Offline Maps or Paper Map | Once you go south of Point Lobos, cellphone reception quickly drops off. You'll want to have everything you need downloaded for offline use by the time you leave the Carmel area. So this means offline maps on maps.me or Google Maps, as well as any podcasts or playlists you want for the road. A paper map also works (and it looks good in photos, let's not lie to ourselves!)
Quality Camera | While you can use a cellphone for snapping pics of Big Sur, I do suggest bringing a higher-quality camera. I love the Sony A6000 with a zoom lens and a wide-angle lens.
Big Sur FAQs
How many days do you need in Big Sur?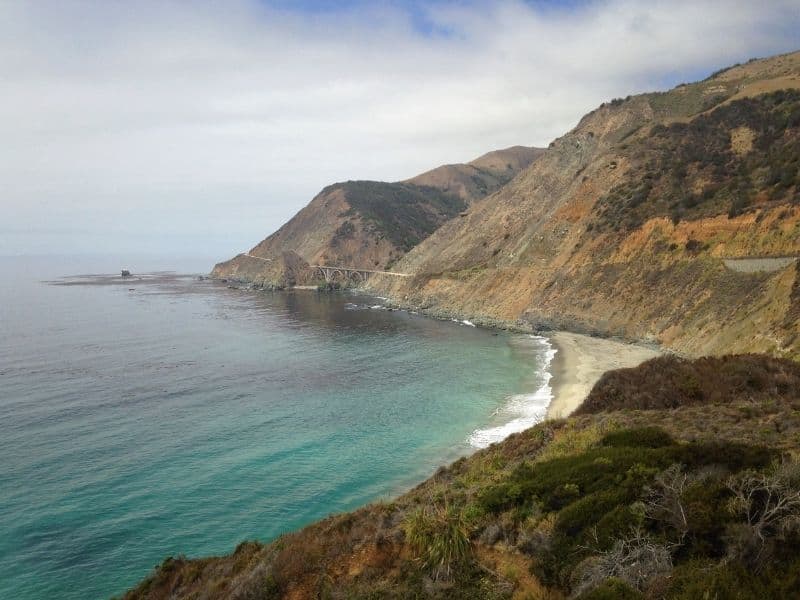 While a cursory trip to Big Sur could easily be done in a day trip from San Francisco if you get an early start and come back late, I don't recommend it unless it's the only option.
If you are visiting San Francisco for a short, 3 day trip and have one day to dedicate to a full-day Big Sur day trip, then sure, that's better than no trip to Big Sur — especially if you have it on your California bucket list.
However, if you're reading this, I assume it's because you've decided you want to spend at least a weekend in Big Sur or maybe even 3 days, tackling all the best stops along the Big Sur coastline. Luckily, that can be done!
A weekend in Big Sur is sufficient time if you are coming from San Francisco or Santa Barbara.
If you are coming from the LA or San Diego area, I'd suggest three days to account for the longer drive you have to do, but you could also make 2 days in Big Sur work if you need to! Just account for a lot of extra driving time.
How do you get to Big Sur from San Francisco?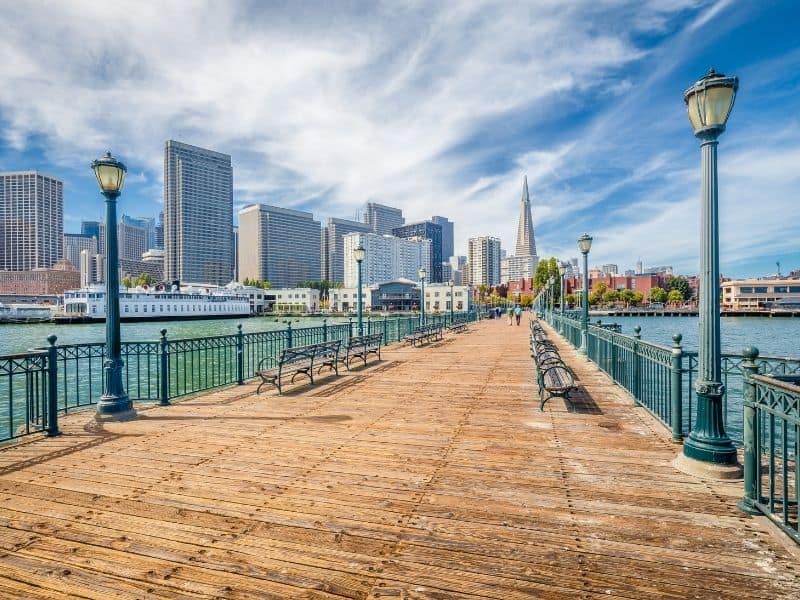 The Pacific Coast Highway (Highway 1) runs right through San Francisco, down the San Francisco peninsula, past Santa Cruz, leading you right to the heart of Big Sur. This takes about 3 hours from San Francisco city.
If you want a faster but less scenic route, Highway 101 is the way to go. It'll save you about 45 minutes to an hour, depending on traffic through San Jose. It's just over a 2 hour drive from SF this way, without traffic.
You'll take it through San Jose and Gilroy (garlic capital of the world, anyone?), then turn off on Highway 156, which then turns into Highway 1 just before Monterey.
Want to drive the scenic route? Here are all the best stops between San Francisco and Big Sur along the PCH!
How do you get to Big Sur from Los Angeles?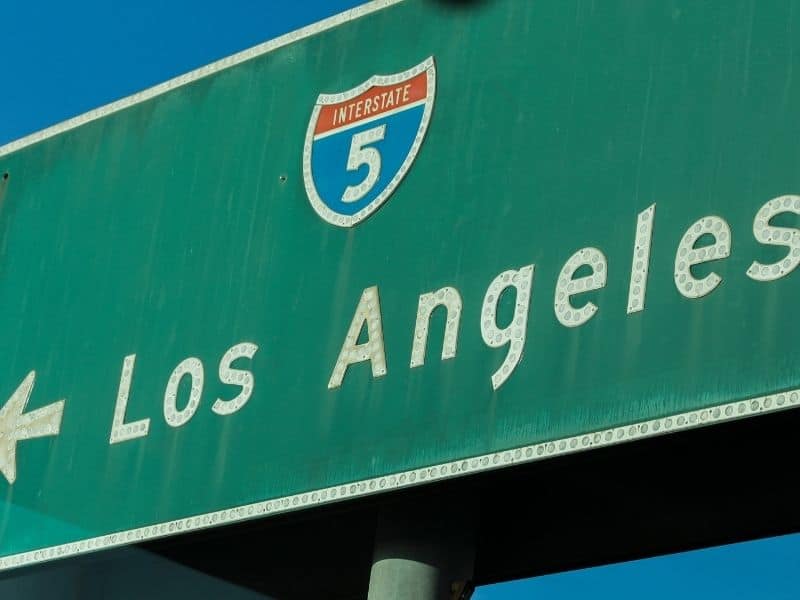 If traveling from LA, the most direct way is to take Highway 101 all the way to San Luis Obispo and then switch to Highway 1.
This takes 3 hours and 30 minutes to the lowest point of Big Sur, Cambria, where you can start this itinerary (in reverse order from how it's posted).
Alternately, it's possible to just take Highway 1 all the way, though this takes a long time, about a 4 hours and 30 minutes drive to Cambria.
Want the scenic route? Here are our favorite stops between Los Angeles and Big Sur via the PCH!
Is Big Sur worth the drive?
Absolutely. Next?
What are the best things to do in Big Sur?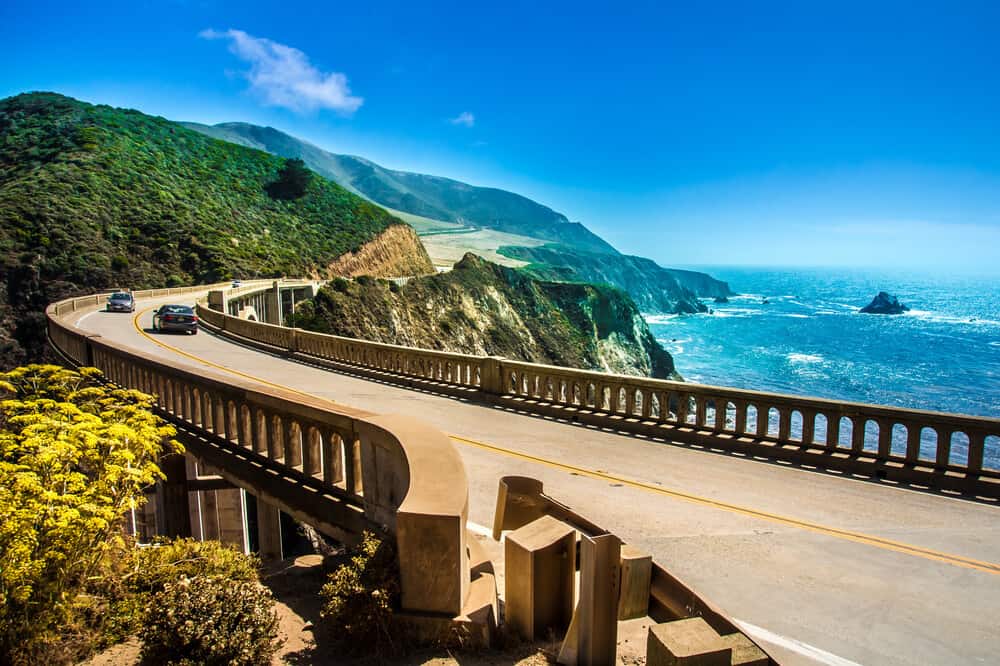 Obviously, enjoying the entirety of 90 miles of coastline is a good start! Besides taking a scenic drive, though, there is plenty to do in Big Sur for every type of traveler.
Stroll on the beaches (though you won't want to swim — the water is freezing and often dangerous due to rip tides), take hikes in Big Sur among wildflowers and redwoods in several of its state parks, go glamping in the forest, and snap photos 'til you drop: those are the things Big Sur does best!
Highway 1 Road Status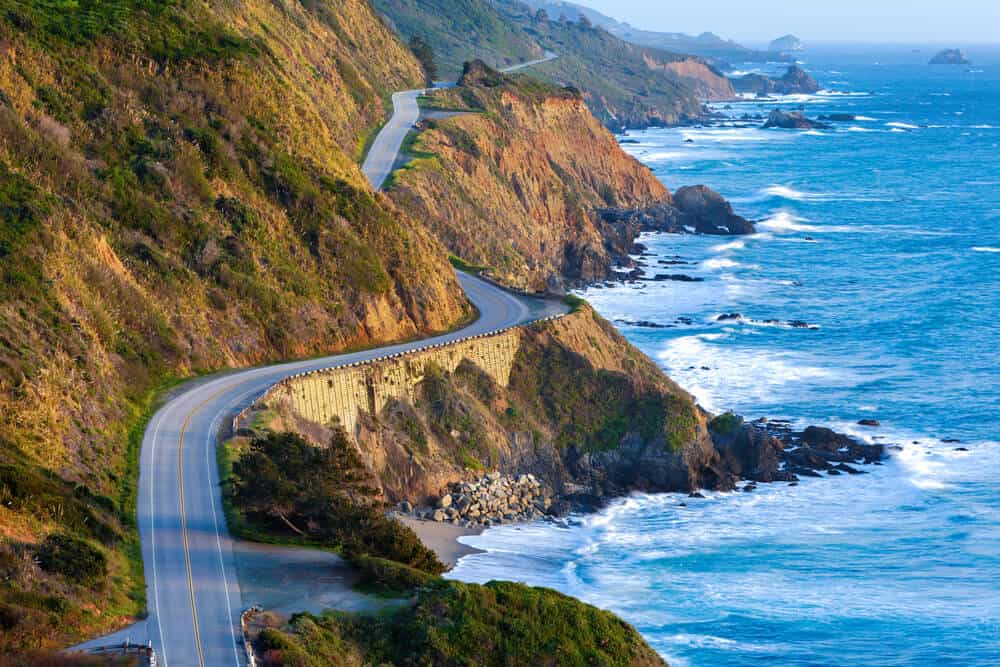 Much of Highway 1 is made of one-lane roads traversing along the sides of cliffs and mountains of the California coast.
However, the same thing that gives Highway 1 its beautiful views also accounts for some unpredictability.
In the past, this road has closed down for landslides, mudslides, and wildfires, including a landslide in January 2021 that took the road out of commission for about five months.
Make sure to check your route before embarking, as this is the only highway that properly accesses all of Big Sur!
Travel Tips for Planning a Big Sur Drive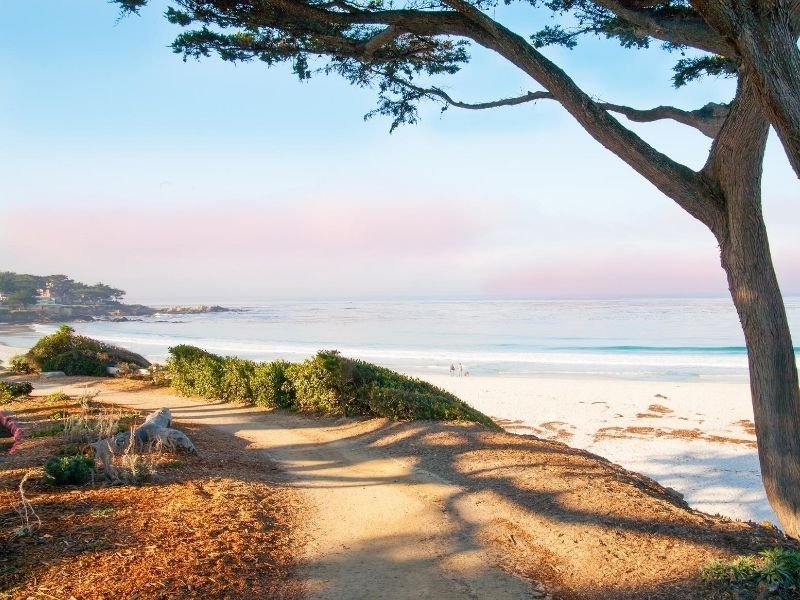 Stops and Snacks
The remote vastness and scenic views of Big Sur and the Central California coast will come at a cost — to your sweet and salty cravings!
There are not many stores along the way so I recommend bringing food and snacks with you on your journey.
This includes gas and bathroom breaks as well — make those stops strategically!
Public restrooms are available in all the state parks — and there are several on this list, so you'll be able to combine your stops with your sightseeing.
Pets
People often ask: is Big Sur dog-friendly? The short answer is probably not.
Three of the locations on this list (Point Lobos, Julia Pfeiffer State Park and Pfeiffer Beach) do not allow dogs.
If you plan to make other stops along the way, check the info page ahead of time.
Directions
When visiting Big Sur, be sure to bring a map. Yes, a real map!
You can also download an app called maps.me for offline navigation. Cell service is not reliable in Big Sur, and you'd rather be safe than sorry… especially since WiFi is not always that good in Big Sur.
Where to Stay on Your Big Sur Weekend Trip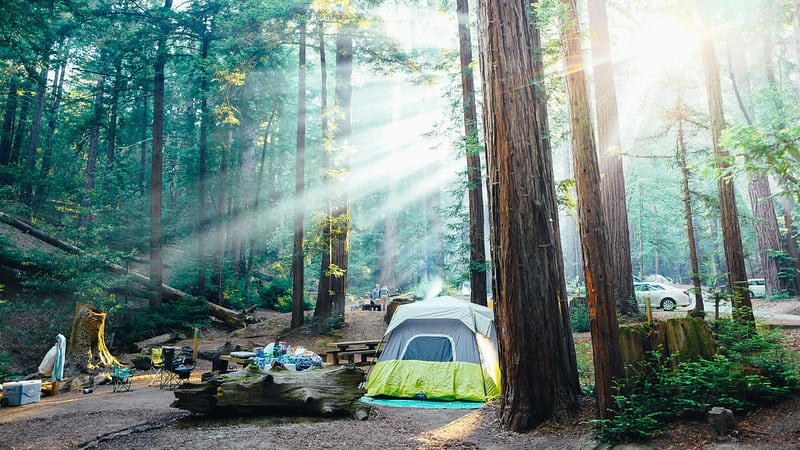 There are so many great spots to stay near Big Sur!
If you are only spending one night, make it in the Big Sur town area, which is about the halfway point between the items on this itinerary. Here are our picks for that area. Note that the average price of accommodation in Big Sur is rather on the high end.
Want to go camping? We have a full guide to camping in Big Sur here that covers 9 different campgrounds.
MID-RANGE | Big Sur River Inn: For a budget-ish hotel that doesn't sacrifice comforts or location, this is a good option. It's 10 minutes from Pfeiffer Beach and just a few miles from the redwoods of Andrew Molera State Park. It has river access and a restaurant on-site and the rooms are cozy and charming.
>> Check availability and prices on Booking.com | Hotels.com | Expedia
LUXURY | Alila Ventana Big Sur: For the ultimate luxurious experience, staying at the Ventana Inn & Spa will blow your mind (and your wallet). This adults-only resort takes up 160 serene acres and offers amenities such as Japanese baths, two heated outdoor pools, luxurious spa, and even an on-site art gallery.
>> Check availability and prices on Booking.com | Hotels.com | Expedia
GLAMPING & CAMPING | The $2000+ a night price tag at Alila Ventana got you down? You can go glamping there for a small fraction of the cost, around $250 per night! They really put the 'glam' in glamping here: think canvas tents, cozy beds, fire pits, and even a modern bathroom (not in your tent) with heated floors, showers, and large fluffy towels!
There is also tent camping, where you bring your own tent and supplies and can camp in their beautiful redwood forest for a reasonable nightly fee.
>> Check availability on their website
Other Places to Stay In & Near Big Sur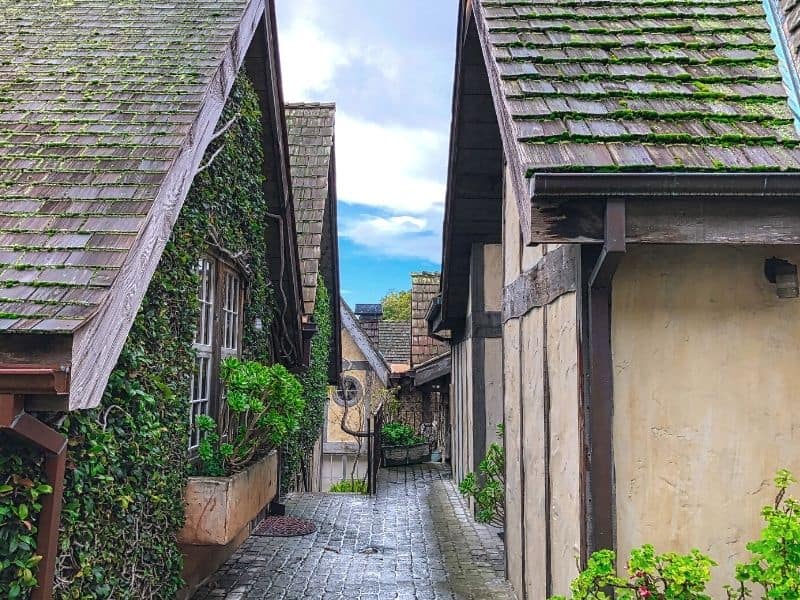 QUAINT | For a stay that makes you feel like you're in Europe, the Danish-inspired Hofsas House Hotel in Carmel-by-the-Sea is a fantastic choice. Book on Booking.com or Expedia.
YURTS | Yurts are available at Treebones Resort, just south of Sand Dollar Beach.Book on their website here.
OCEANFRONT LODGE | For a scenic stay at the south end of Big Sur, the beautiful Cavalier Oceanfront Resort offers stunning views for an affordable price. Book on Hotels.com or Booking.com.
Day 1 of Your Weekend in Big Sur Itinerary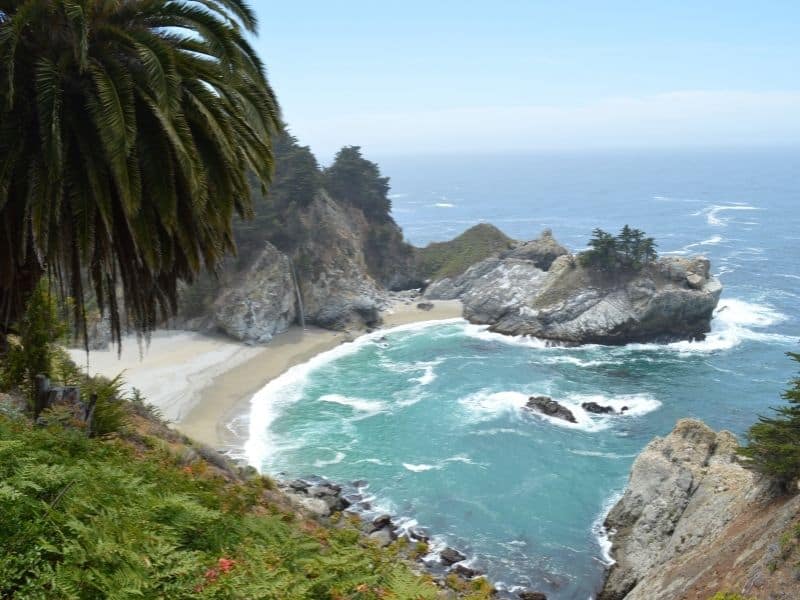 As mentioned before, as written, this Big Sur itinerary is southbound, leaving from San Francisco / the Bay Area along the coast.
If you're heading up from the Los Angeles / Southern California area and are heading north, follow this itinerary for Big Sur in reverse, starting in San Simeon and working your way north.
I've planned this as a 2-day itinerary, with an overnight near Big Sur town. However, you could spend an extra night there and split up the sightseeing however you choose.
If you're visiting Big Sur as part of a larger California coast road trip, I suggest going as straight-through as possible to avoid backtracking.
If possible, route your PCH road trip from the north as you drive south. This gives you the best views and easiest access to the scenic pullouts!
Take a spin down 17-Mile Drive.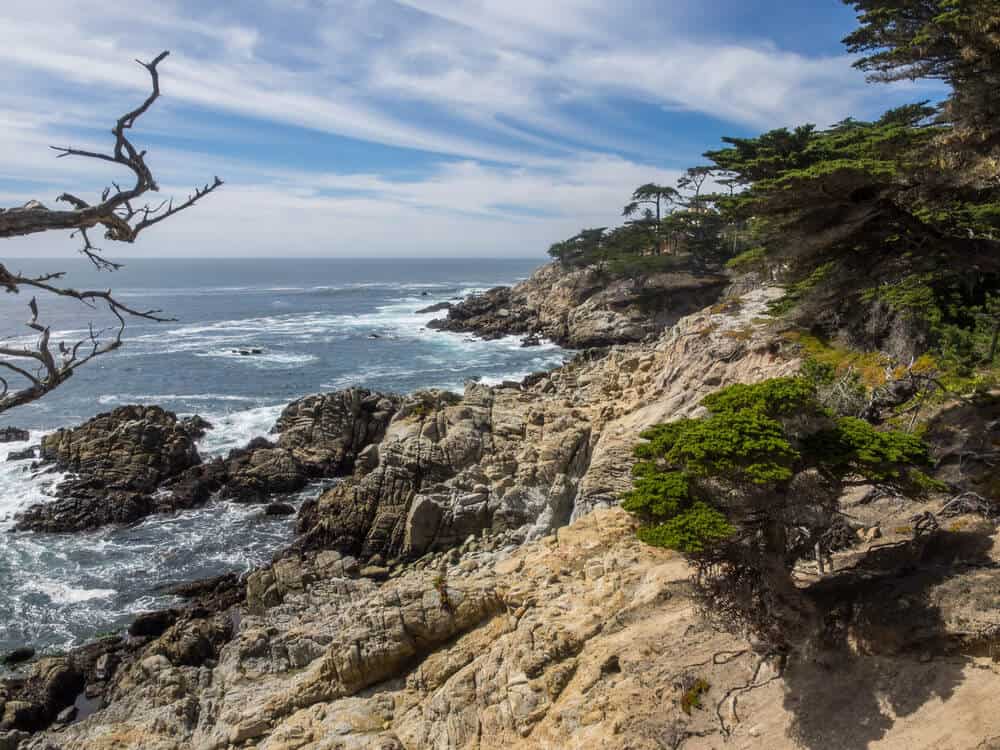 From Monterey, you'll arrive at your first stop: 17-Mile Drive, which brings you to Carmel-by-the-Sea in the most scenic way imaginable!
First, head towards Pacific Grove, and enter the gates near the Inn at Spanish Bay in Pacific Grove.
You'll have to pay a gate fee of $10.50 per vehicle, as this is a privately maintained road, but note that it's refundable with a purchase at one of the restaurants or shops if you choose to stop for breakfast here.
As you drive down the scenic twists and turns of 17 Mile drive, you'll drive past ocean views and golf courses as you enter Pebble Beach.
Along the way, there are scenic attractions like Lone Cypress and the Del Monte Forest of Monterey cypress trees, one of the most unique and beautiful trees endemic to this part of the California coast.
Wander the quaint town of Carmel-by-the-Sea.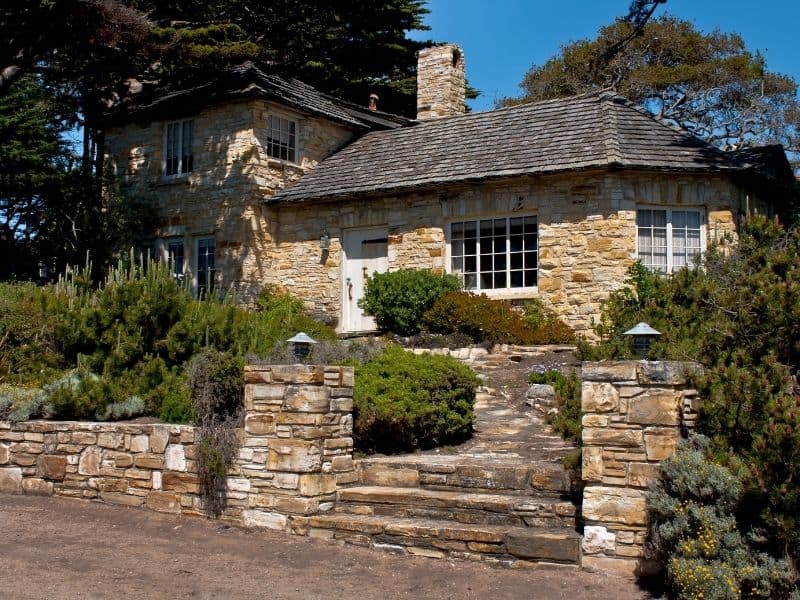 This California beach town is the gateway to Big Sur, but it's also a worthwhile destination in its own right.
This whimsical small town offers all sorts of culture in its small, 1-square-mile downtown area: we're talking galleries, boutiques, hotels, restaurants, and shops, all with gorgeous, fairy-tale-inspired architecture and stone cottages.
Meanwhile, the nature around Carmel is just as beautiful: rugged cliffs juxtapose against sandy beaches, like Carmel River State Beach which is one of the most beautiful beaches on the Central Coast.
Pick a hike in Point Lobos State Natural Reserve.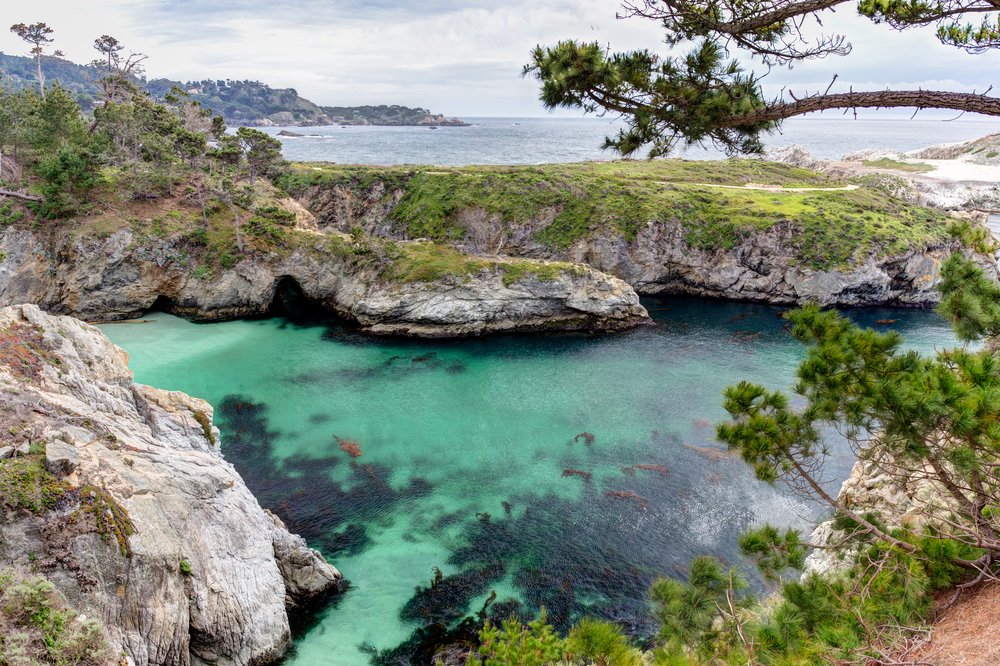 The first stop on your journey through Big Sur is only three miles south of Carmel down Highway 1. While not technically in Big Sur, it's close enough to count!
This state reserve has a $10 entry fee. Once you get inside, there are four parking lots to choose from.
To the north shore is Whaler's Cove, where the vistas from high up on the cliffs looking out at the Pacific Ocean will take your breath away. The Whaler's Museum is also located at the north end parking lot and is open from 9 am to 5 pm every day.
From any of the parking lots, you can embark on one of many hiking trails that meander along the many popular viewing spots soaking in the crashing waves below.
If you're lucky you can catch sight of some interesting wildlife such as sea lions, sea otters, and pelicans!
Visit Garrapata State Park & Garrapata Beach.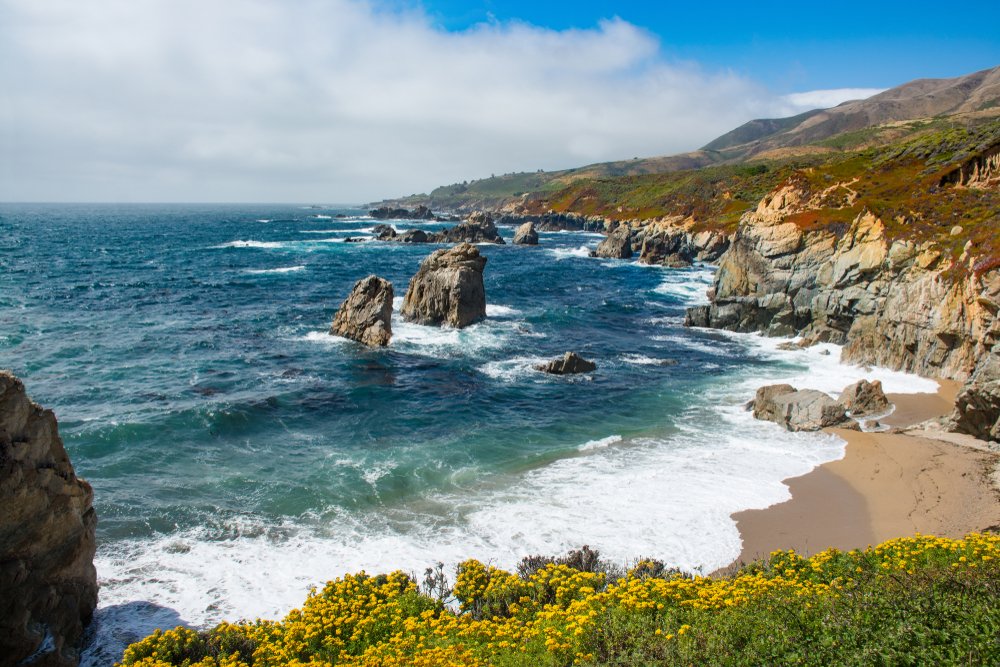 This secluded beach is considered a Big Sur hidden gem by the locals, which makes it a must-see highlight for this road trip!
This state park and beach is just 8 miles south of Carmel and just a few minutes down the road from Point Lobos, your previous stop on this Big Sur itinerary.
There is only one turnout sign that most people skip over, which is great for allowing you to have it all to yourself!
Take some time to wander down the trail and dip your toes in the Pacific Ocean. If you arrive in spring, all the wildflowers in bloom will enhance the experience even more.
Snap photos of the span of Bixby Creek Bridge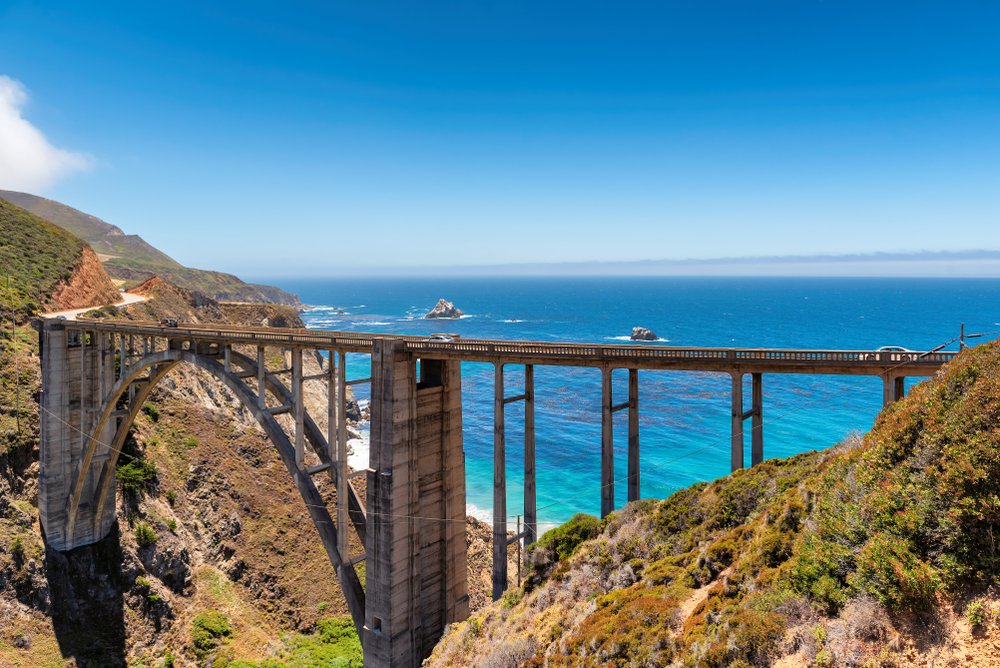 Located 13 miles south of Carmel, fans of the HBO show Big Little Lies will definitely recognize this one!
The Bixby Creek Bridge is an open-spandrel arch bridge that was built in 1932. There are two viewpoints on the north and south end of the bridge to get out and take pictures.
You're going to have to drive over it anyway, so you might as well take some pics! This is the second most photographed bridge in California after the Golden Gate, and for good reason.
Note: Be sure to pull over very carefully here and make sure your car is not blocking traffic at all. Exit your car with caution so you do not door a passing car. The turnout area is small and this stop is starting to get sort of overrun with tourists. If it is too crowded, some back another time.
Take a hike in Andrew Molera State Park.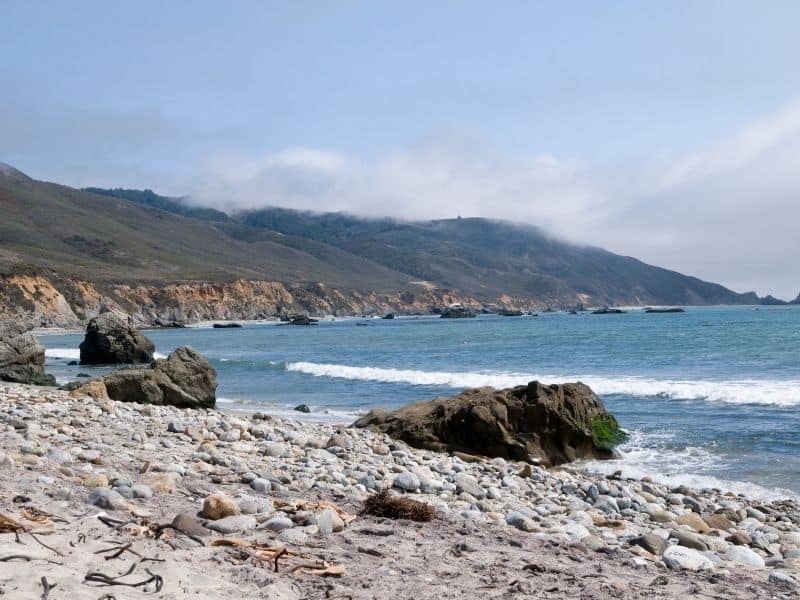 Next up is the beautiful Andrew Molera State Park, where you can embark on a number of beautiful hikes.
One beautiful hike is the beach hike from Big Sur River to Cooper Point, about 4 miles roundtrip. It's quite rocky, so bring hiking boots.
However, note that this beach is not accessible during high tide. Plan your trip carefully, checking a tide table, to avoid any issues with getting trapped or stranded during your hike.
Another easy hike is the trail along the bluffs, which is less subject to the mercurial tides. You can access the beach 1.7 miles into the hike, when it intersects with the Spring Trail (just 0.1 miles to Molera Beach). You can turn around there, or continue down to the beach. Always check tides before going down to the beach.
For a longer but still easy hike, take Bobcat Trail and Coyote Flat Trail, a 5.5-mile roundtrip hike that will bring you through redwood trees, oak trees, and Big Sur river views.
For a more difficult hike, try the 2.6-mile roundtrip Panorama Trail, which trades in sweeping views for a steep and heart-pounding climb.
Tip: If you want to camp, there are hike-in, tent-only spots at the park: just 24 primitive sites available with a 0.3-mile short hike.
Visit Pfeiffer Big Sur State Park & Pfeiffer Beach for sunset.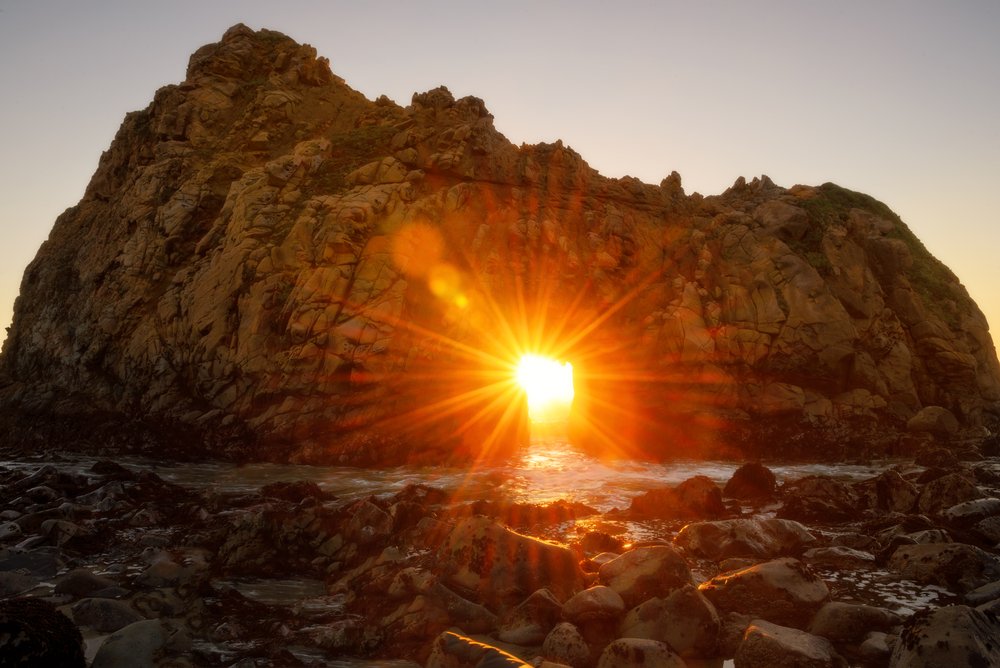 Located in Pfeiffer Big Sur State Park, just outside of the town of Big Sur, you can't miss Pfeiffer Beach. It is known for its beautiful deep purple sand, tidepools, and arch-shaped rock formations.
This beach is probably the most popular attraction for tourists to Big Sur. However, I have included it on this list because it really is a must-see.
There is a day-use parking lot which does require a $10 entrance fee per vehicle. Soak in the sand and waves during the sunset while admiring the Keyhole Arch.
Even if there are crowds, the beach is large enough to spread out. To really get the most for your money, I recommend bringing a picnic and blanket down to the beach and watch the sunset down below the Pacific Ocean.
Have dinner at Nepenthe.
​Nepenthe is considered one of the best places to eat in Big Sur — and its stunning views certainly don't hurt!
Prices are on the high side — think $15 for a cocktail and $20 for a sandwich or salad — but it's undoubtedly worth it for the views you can drink in while sipping a drink as a reward for a long day on the road!
Stay the night in Big Sur.
Pick one of the great places to stay in Big Sur that we outlined above — whether that's the luxe life at Alila Ventana Inn & Spa, glamping at Ventana in a redwood forest, or staying in a cheerful lodge.
Day 2 of Your Weekend in Big Sur Itinerary
Grab a pastry at Big Sur Bakery.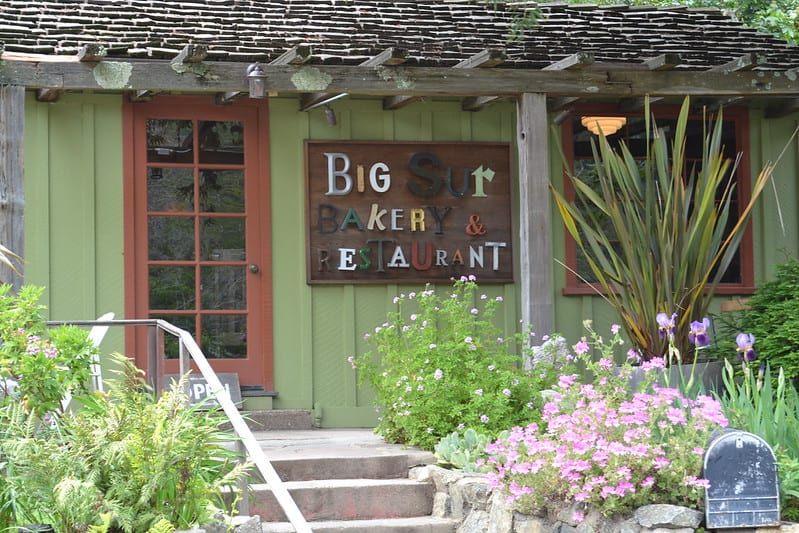 Any good day road tripping starts with a stop to pick up a tasty breakfast!
Big Sur Bakery has all sorts of tasty baked goods to start your day: scones, pound cake, muffins, etc. plus more filling and healthy breakfast entrées like yogurt and granola parfait.
Visit Julia Pfeiffer Burns State Park to see Mcway Falls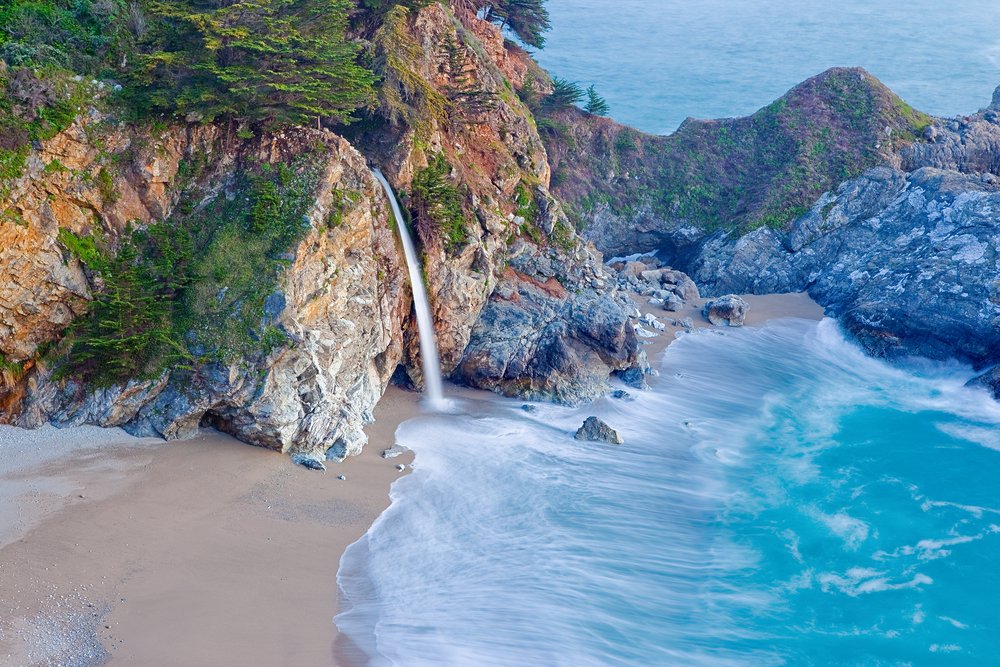 Time to see one of the most famous sights on any Big Sur itinerary!
This is also a park that requires a $10 entry fee per vehicle. But remember, you are supporting the California state parks system and helping to maintain this beautiful area.
Julia Pfeiffer Burns State Park is a beautiful state park that most people come to for the plunging McWay Falls into the Pacific Ocean!
The McWay Falls Trail is only 0.65 miles and will take you directly to the falls! This is a highly populated tourist attraction, so I recommend coming here early right after your morning pastry, so that you can take in the views without all the crowds.
Besides the falls, there are also copious other trails for all levels of hiking rigor. I also recommend the Ewoldsen Trail, which meanders through the redwood trees and also picks up some elevation.
In total, this trail is 5 miles in length, but the view of the Big Sur Valley below is worth the climb!
Also, the Partington Cove Trail which is only one-mile round trip, offers ocean views from the trailhead leading down to the rocky surf below. Be advised, swimming at the end of this trail is not advised or allowed. But oohing and awwing is highly encouraged!
If you are interested in camping to get the full Big Sur experience, the Pfeiffer Campground is a popular location. It's located right in the heart of the park up along the Big Sur River.
Reservations book up very far in advance – up to almost 6 months. So plan ahead if you want to camp here!
Stop by the historic Limekiln State Park.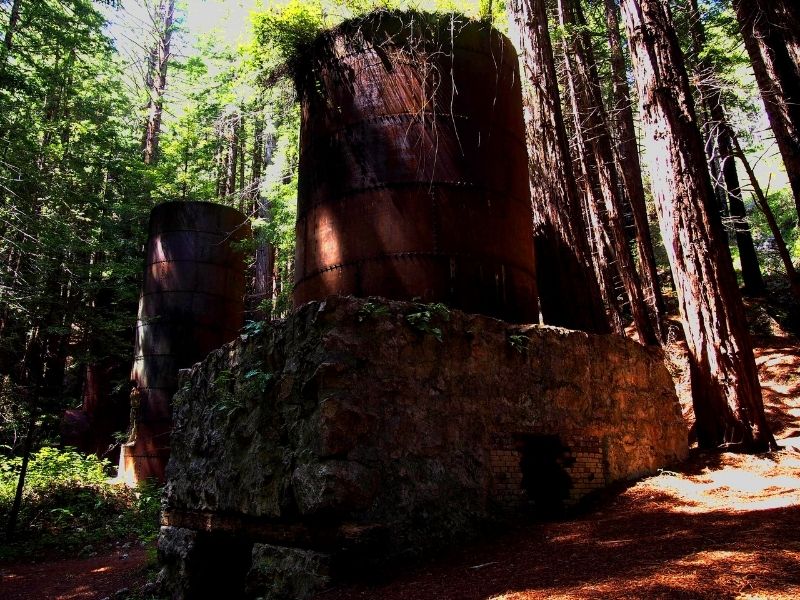 Yet another California state park on this Big Sur itinerary, Limekiln State Park is definitely less-visited than others on this list.
For one, it's further south, so enthusiasm may have waned after seeing all the state parks at the beginning of the itinerary. But for another, it's just lesser-known and doesn't have any of the "Insta-famous" spots of other state parks, which gives it a quieter atmosphere.
Unfortunately, the Dolan Fire in 2020 devastated many parts of this park, and the beautiful hikes that used to draw visitors — redwoods hikes and the hike to the 100-foot single-drop Limekiln Falls – are temporarily closed due to fire damage.
However, there are still a few parts of this state park open to visitors, such as the campgrounds, parking lot, bathrooms, and beach.
The state park is named after the four historic 19th-century lime kilns located within the park, where sandstone was converted to quicklime. This would be essential for the construction booms taking place in San Francisco and Monterey.
Take a long walk at Sand Dollar Beach.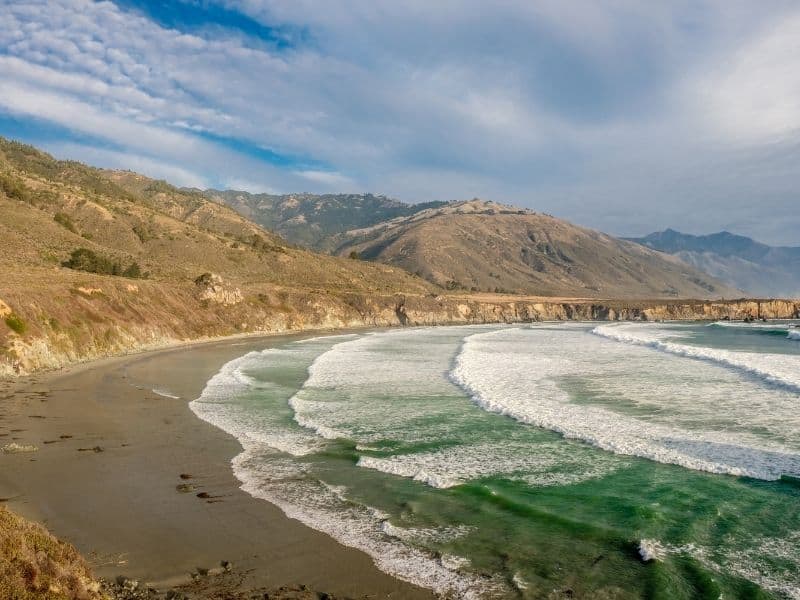 Widely considered to be one of the best beaches in Big Sur, it is definitively the longest: 7 miles of sandy beach shoreline in a beautiful crescent shape.
While the water will likely be too cold to do more than dip your feet into, it's fun to watch the crazy surfers who try surf in these frigid waters year round!
Insider Tip: From Sand Dollar Beach, you can make your way to Jade Cove. There is a separate parking area here. There are jade boulders here which stretch out into the ocean, which occasionally flake off loose jade for ambitious collectors to find!
There is an unmarked trail to Jade Cove (but it is marked on your Maps app, so use that to guide yourself). The hike is three-quarters of a mile each way). It is permissible to take small pebbles of jade from the area. Read about restrictions and guidelines here.
Take a hike in Ragged Point.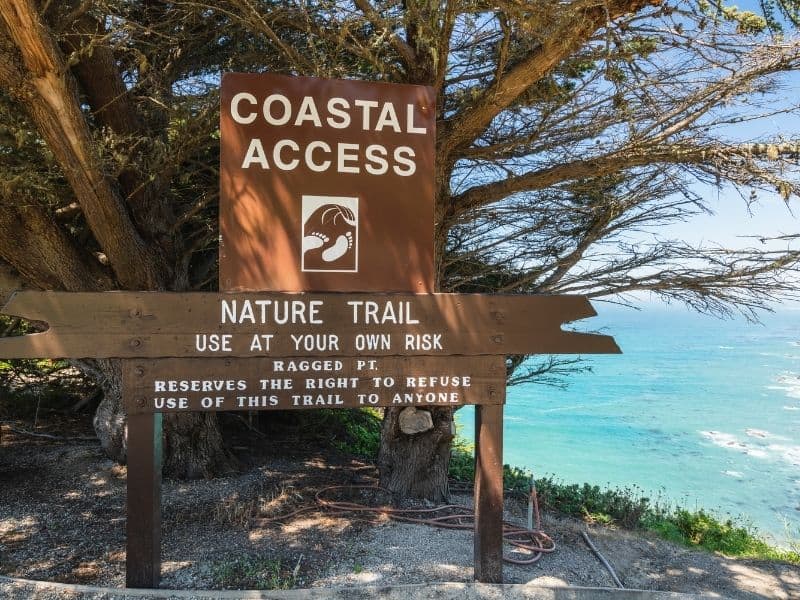 Mostly known for the Ragged Point Inn, this charming seaside outpost is a worthwhile quick stop on this Big Sur itinerary, whether you have lunch or dinner here or even opt to spend the night if you are stretching this out into a 3-day Big Sur itinerary.
If you don't want to stop at the Inn, the Ragged Point Cliffside Trail is also an excellent hike worth stopping for. It's a short hike but moderate in difficulty at 0.8 miles each way. But the reward is worth it: Big Sur's only black sand beach and the (seasonal) Black Swift Falls
Snap some shots at the Piedras Blancas Light Station.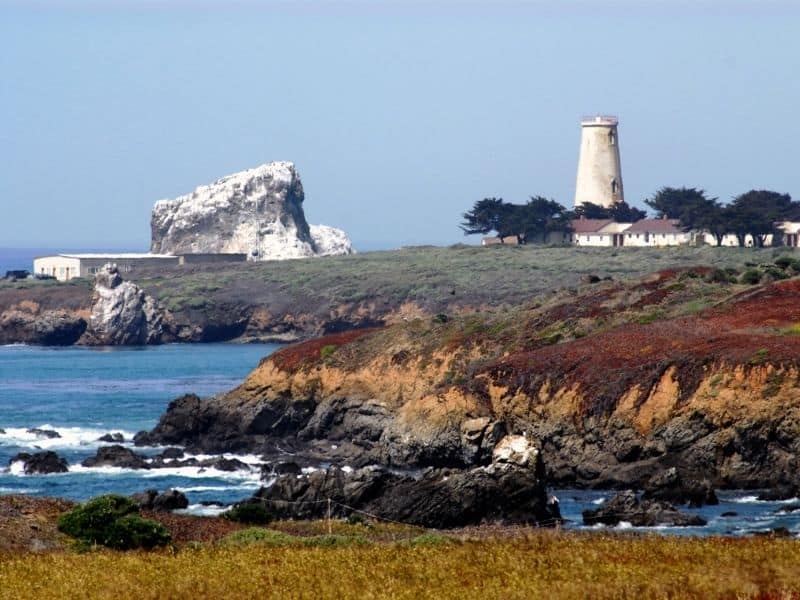 I don't know why, but I love finding lighthouses when I travel the California coast! There is something so scenic and beautiful about them.
If you feel the same, be sure to check out the Piedras Blancas Light Station, just a tiny bit north of our next stop at the Elephant Seal vista point. The views here are simply stunning.
You can also take a hike here, connecting between the lighthouse and the vista point. The hike is about 1.9 miles each way. It's a short hike and relatively easy, but account for plenty of time to ooh and aah over the coastal views — and the elephant seals at the end of the hike!
Squeal in delight at the Elephant Seal Vista Point.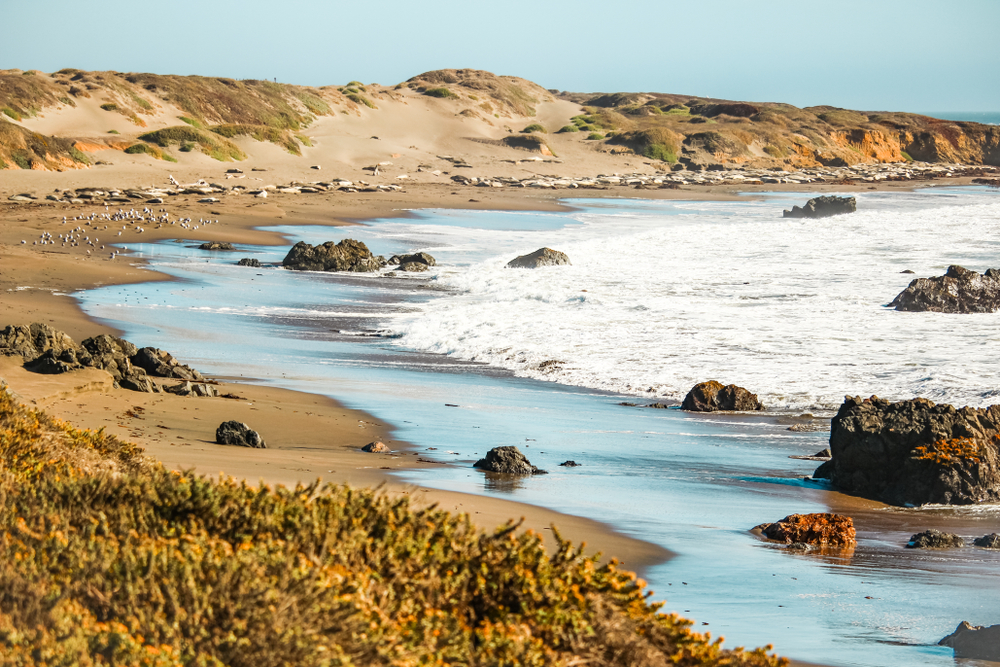 This cove located in San Simeon is so different from any wildlife interactions you may have ever had before!
The Elephant Seal was an endangered species before protective measures helped bring them back safely. Now, these enormous mammals flock to this beach in the hundreds – and up to the thousands during November through March, the birthing season when the little pups are born.
Getting the chance to see (and hear) these elephant seals in their natural habitat is really something you have to see for yourself.
Take a tour of the opulent Hearst Castle.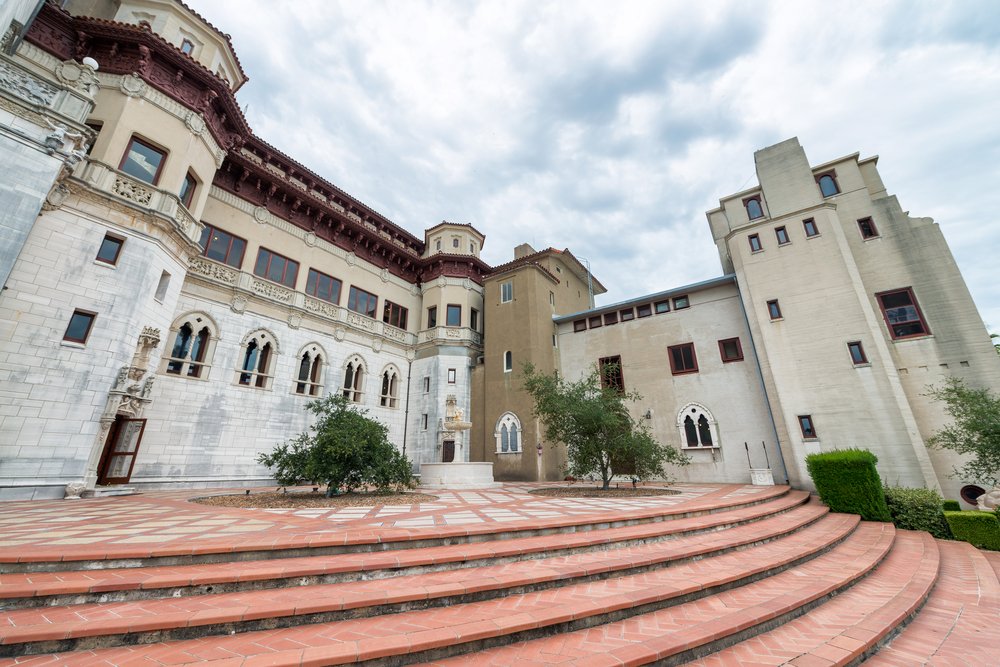 Note that tours are currently closed due to the ongoing Covid-19 pandemic.
Also located in San Simeon is the spectacular home-turned-museum of William Randolf Hearst.
This is the only non-outdoor activity on the list, making it an essential highlight after all the natural beauty of the beaches and parks.
The magnificence of the mansion is second to none. Inside, you can expect to see high marble ceilings and huge ballrooms with columns and larger-than-life decorative art.
Outside is somewhat of an exotic farm with zebras, goats, and various livestock. Entry to the castle is by tour group only. The cost is $25 for adults and $12 for children.
Make sure to book in advance to guarantee the best time. It's really a Big Sur highlight you won't want to miss!
Where to Stay: For a scenic stay at the south end of Big Sur, the beautiful Cavalier Oceanfront Resort offers stunning views for an affordable price given the quality and the prime location.

Another option is the charming Ragged Point Inn, located in one of the lesser-known parts of Big Sur. It's two miles from downtown San Simeon along the PCH, but it has beautiful coastal walks and absolutely breathtaking grounds.
How to Extend This Big Sur Itinerary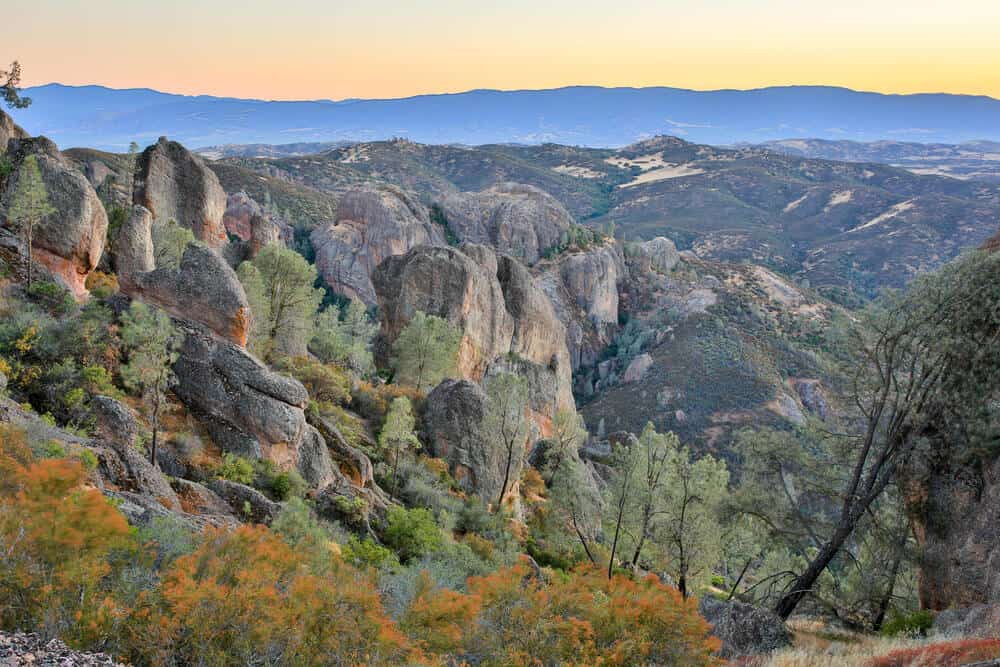 If you find yourself wanting to spend more time exploring California and the Central Coast, there are so many ways you could extend this trip, especially if you are doing a larger California road trip like tackling a larger section of the PCH.
Combine the beauty of the coastline with one of California's least-visited (but no less epic) national parks, Pinnacles National Park. It's located about 1 hour from Monterey and works either heading too or leaving Big Sur.
You could also spend more time in the gateway towns of Monterey (with its impressive Monterey Bay Aquarium, one of the best aquariums in the world, and its charming Cannery Row) and Carmel-by-the-Sea.
I have 2 day itineraries for both Monterey and Carmel, if you want to extend your trip to include more time in either place.
Another way would be to explore more of the area just south of Big Sur: San Luis Obispo, Paso Robles, Morro Bay, Pismo Beach, etc. Go wine tasting in Paso Robles, hiking in SLO, frolicking on the sandy beaches of Pismo Beach, or kayaking in Morro Bay — the world is your oyster in this part of California.
Final Words About Visiting Big Sur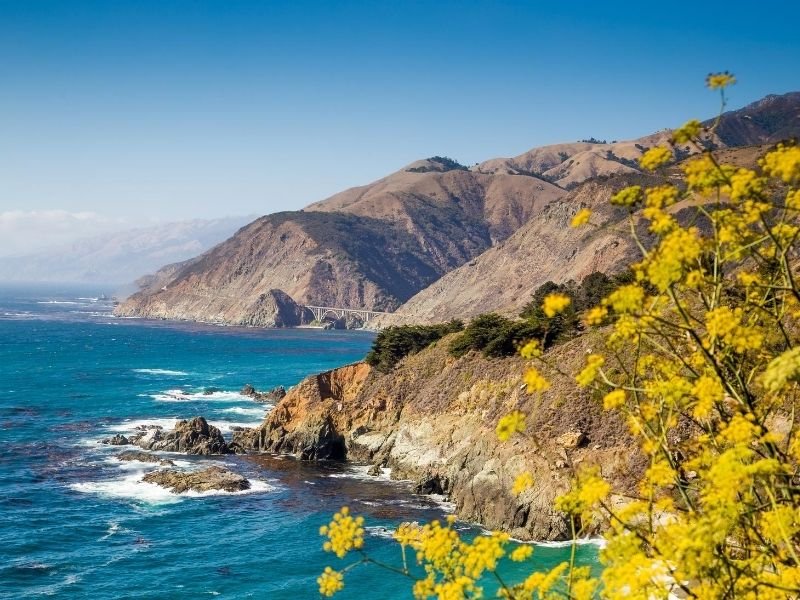 Although the Big Sur itinerary outlined above will surely guarantee you get to experience many of the popular highlights of Big Sur, there are also many beautiful pullouts along Highway 1 not mentioned.
These are spots where you can pull off to at any time to snap a nice photo or stretch your legs or just feast your eyes on the vastness of the great ocean ahead. As long as it's safe to do so, don't be afraid to be a little spontaneous as well!
From top to bottom once reaching Carmel, this Big Sur road trip needs only 2 hours in drive time. However, I encourage you to make it your own!
I've written this itinerary as a two-day Big Sur weekend getaway, but by all means, you could stretch it out to 3 days in Big Sur — or even a week!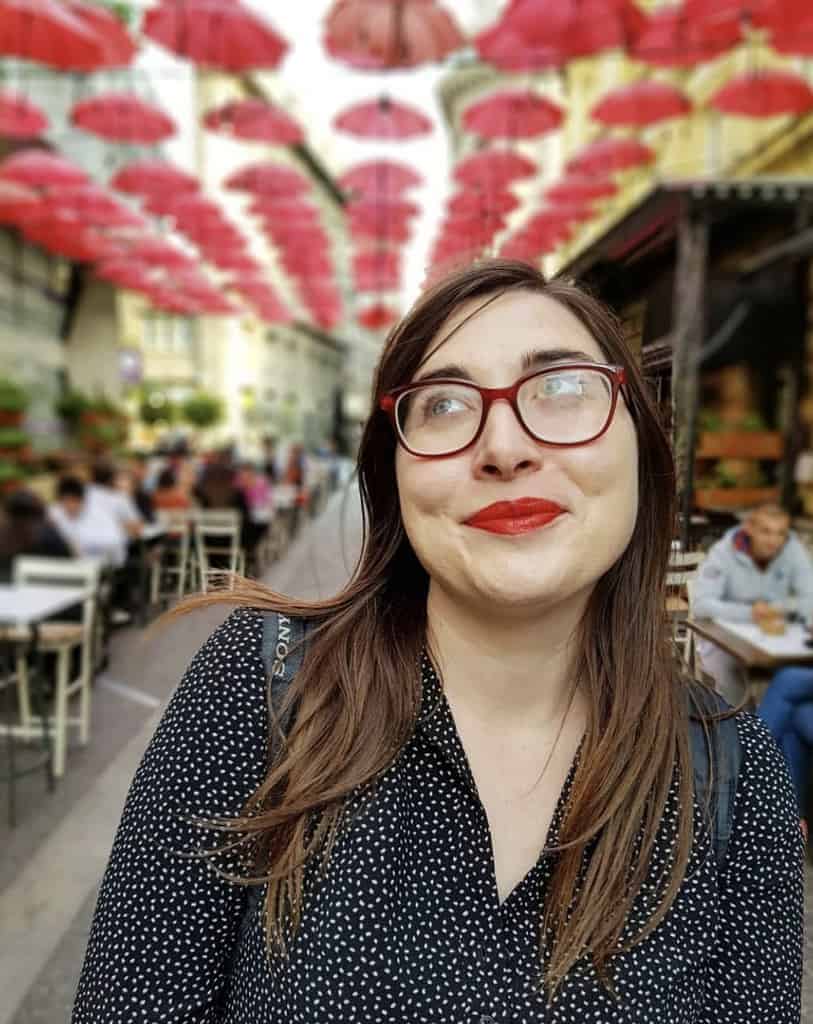 Allison Green is a travel blogger, writer, and podcaster who grew up in the Bay Area of California. She has spent time living in New York, Prague, and Sofia, but has returned to live in the East Bay. She has traveled to 60 countries before the age of 30 while running several digital travel publications. Her writing and podcast have been featured in Forbes, CBC Canada, National Geographic, the Huffington Post, and CNN Arabic, amongst others. She's obsessed with bouldering, houseplants, other people's pets, and anywhere she can see the ocean.