California is a state so vast, so beautiful, so varied that you could spend an entire lifetime traveling it and still never get bored of its landscapes.
With incredible cities, gorgeous vistas, delicious food, and a dizzying diversity of culture, even though California is my home state I still never get bored of getting out and exploring more of California.
Growing up I never appreciated just how beautiful California is, but after leaving, I truly understand just how many beautiful places to visit in California there are, and so I made this California bucket list for myself — as long as others — to inspire you to travel far and wide in the Golden State.
Whether you're a Californian embracing local travel or you're visiting the state from another place in the US or abroad — I hope this list of the best places to visit in California will inspire you!
The Best Things to Do in California: Bucket List Edition!
Walk amongst the tallest trees on earth in Sequoia National Park
Note: This post contains affiliate links, which earn me a small commission at no extra cost to you if you make a purchase using one of these links. Thank you for supporting this free content!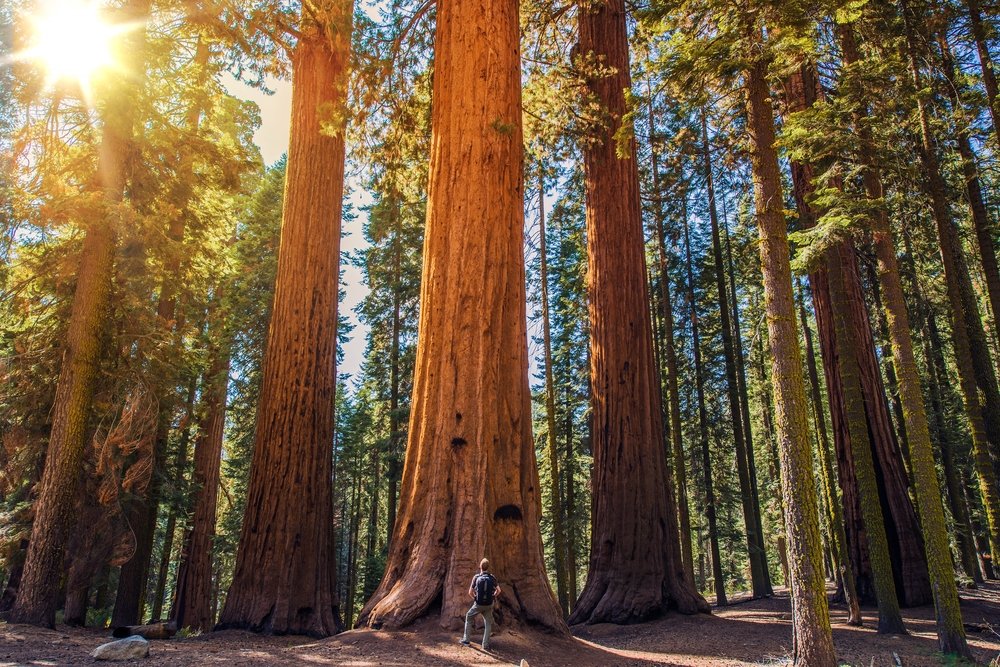 There are several places in Northern California where you can find the beautiful sequoias (redwoods), the most famous of which is Sequoia National Park in the far north of California.
However, you can find sequoias near San Francisco in Muir Woods, as well as Armstrong Woods in Sonoma County, and Humboldt Redwoods State Park about 3 hours north of San Francisco which has the famous 'Avenue of the Giants'.
Wherever you go, it'll be worth seeking out these beautiful, otherworldly trees.
Cross the Golden Gate Bridge by foot or by bike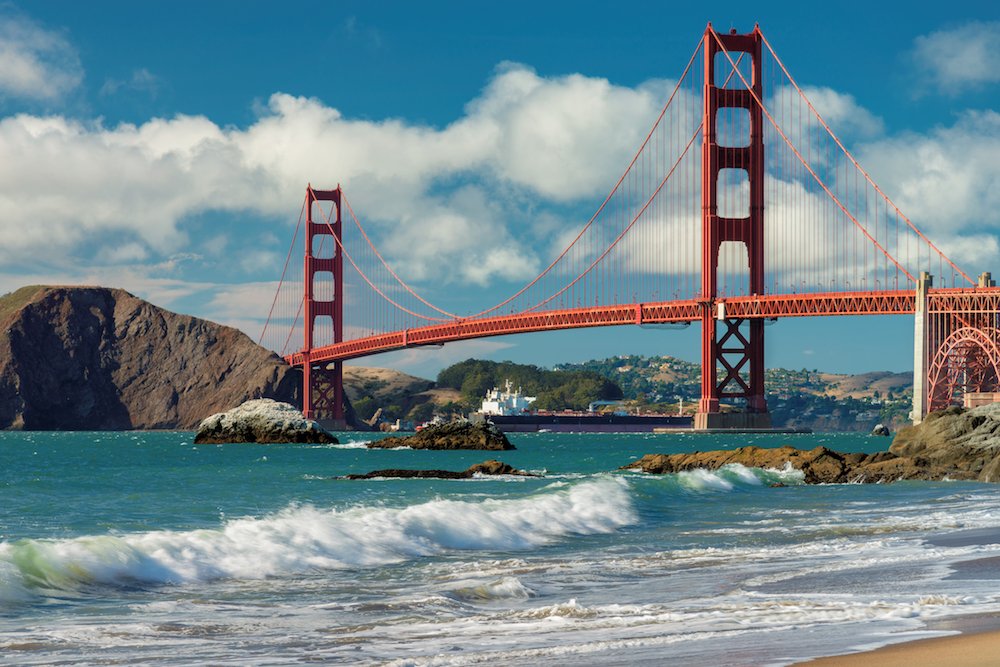 The Golden Gate Bridge is one of the most iconic bridges in the world, and for good reason.
On a sunny day where Karl the Fog is not bearing down on you, the contrast between blue sky, red bridge, and turquoise water is simply unbeatable. Walk or bike the length of the Golden Gate Bridge for the ultimate San Francisco bucket list must.
Ride a cable car up one of San Francisco's hills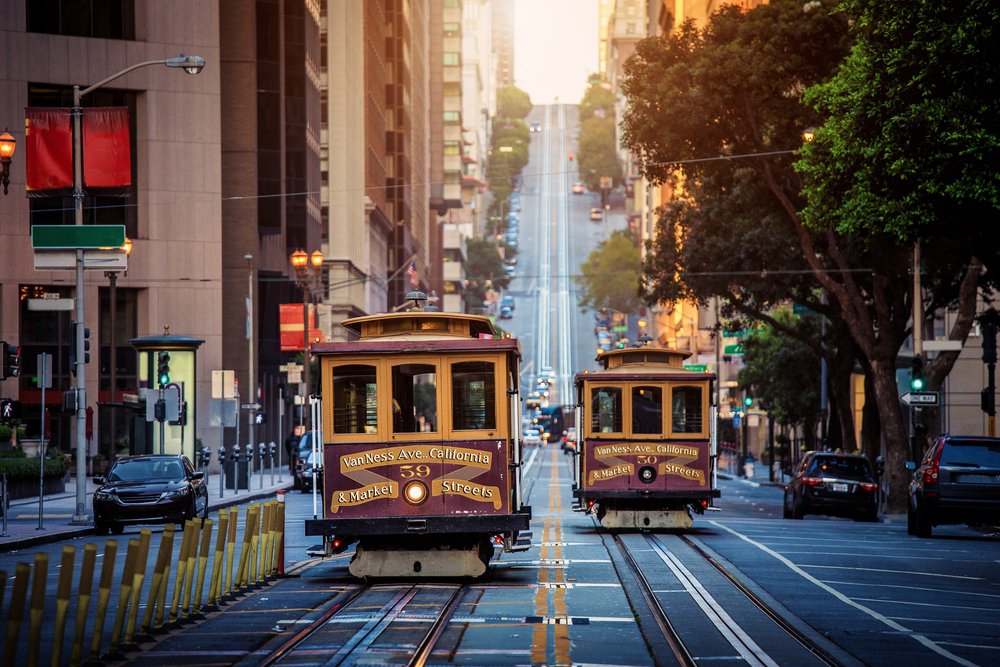 The cable car is the other emblem of San Francisco, and I must say that it's a nostalgic must-do when in San Francisco.
Touristy, yes — but it is also quite a bit of fun too, and it's definitely worth skipping some of the massive hills you have to climb walking around San Francisco.
I recommend skipping the Powell Street cable car and instead choosing another one of the cities' cable cars — the lines at Powell are always horrendous.
See the "world's crookedest street"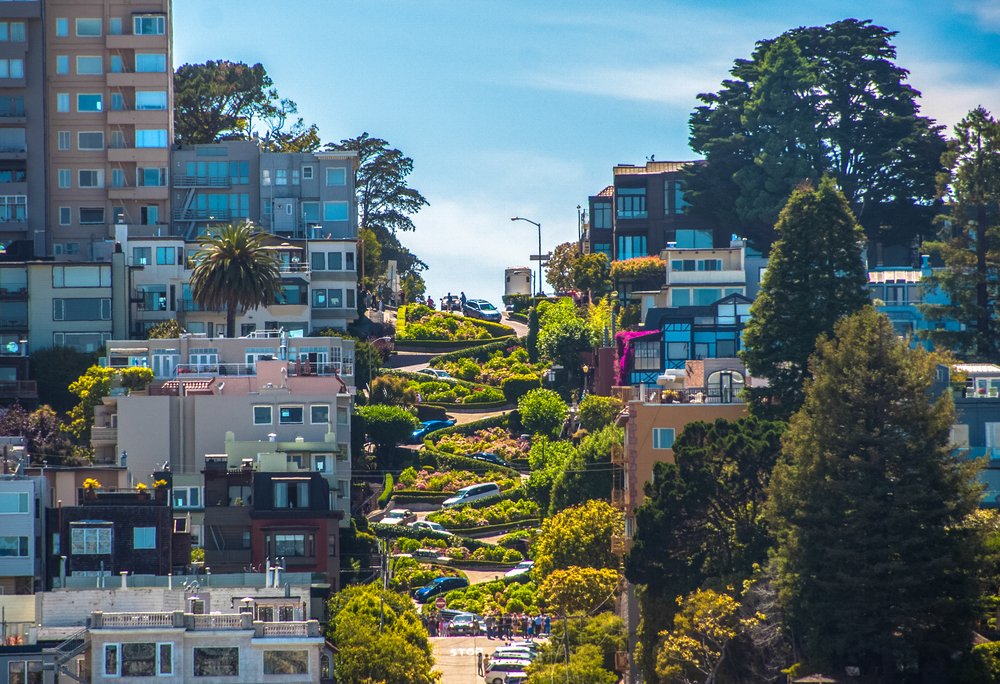 While it may look like something out of Harry Potter, Lombard Street in San Francisco is very much a real place!
On one block of it, there are 8 — yes, 8 — hairpin turns for brave drivers to navigate, since otherwise, this road would be way too steep for car traffic!
See San Francisco's famous Painted Ladies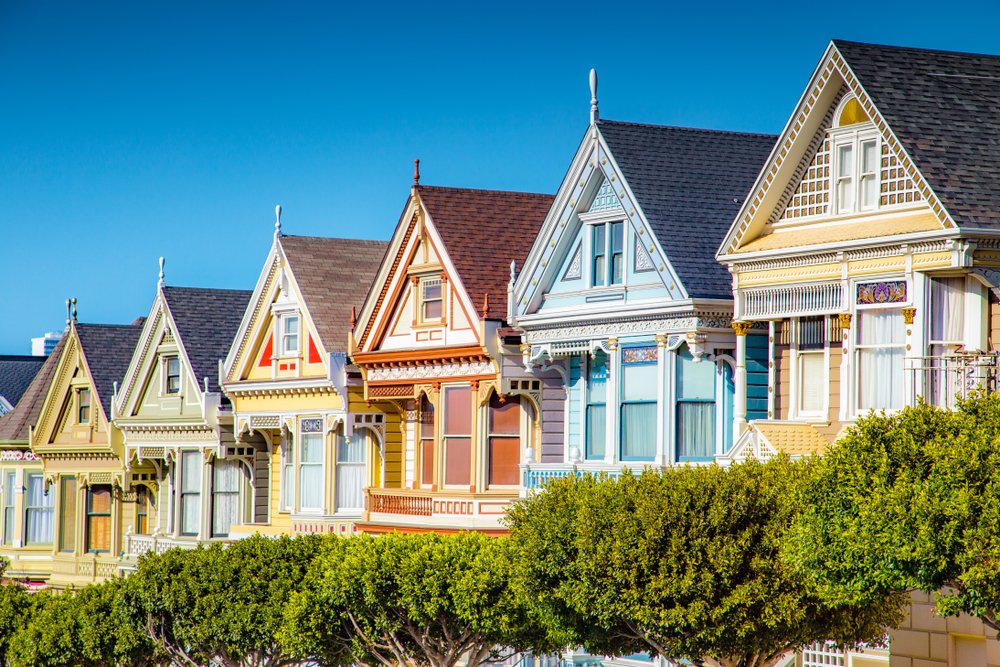 Often also called "The Full House House" due to being shown in the opening credits of the popular 90s sitcom, the actual "Full House" house isn't located amongst these famous houses but rather about 20 minutes away!
Regardless, the Painted Ladies are a row of beautifully painted Victorian Houses that are one of San Francisco's many iconic sights, right along the beautiful grassy Alamo Square. It's a San Francisco bucket list must.
Learn the unique history of Alcatraz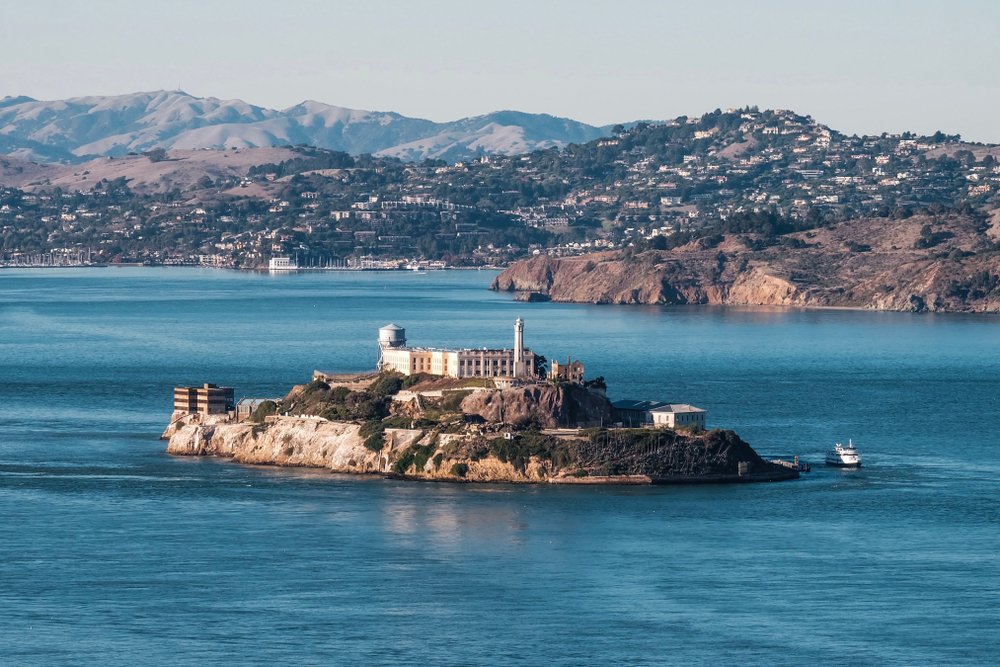 Alcatraz Island used to once host some of the most dangerous criminals in California, thinking that there was no way the criminals could survive swimming to shore through the San Francisco Bay. And in its history, no one is known to have survived escaping from Alcatraz.
Closed since the 1970s, Alcatraz Island is now a museum and one of the most important sights to see in San Francisco. It's a bit spooky, to be honest, but absolutely worth it.
Check out the unique houseboats of Sausalito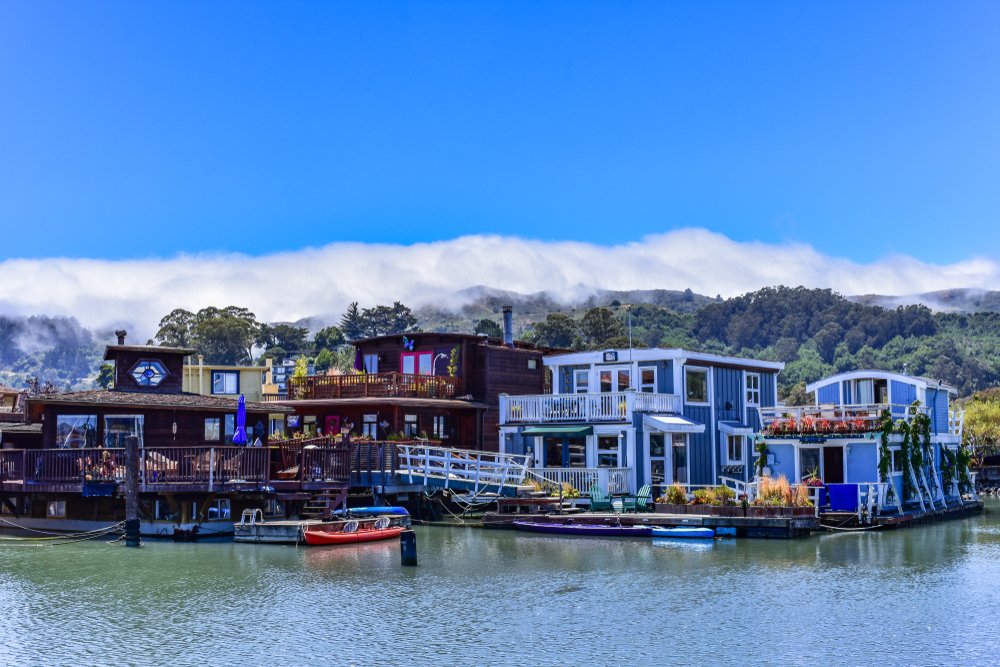 Sausalito is just across the bay to the north of San Francisco, and it's one of the wealthier parts of the Bay Area: one need only look at its kooky collection of expensive houseboats to have an idea why!
There are plenty of other things to do in Sausalito as well, but seeing its many houseboats is something visitors to the Bay Area always get a kick out of.
Wander California's Black Sands Beach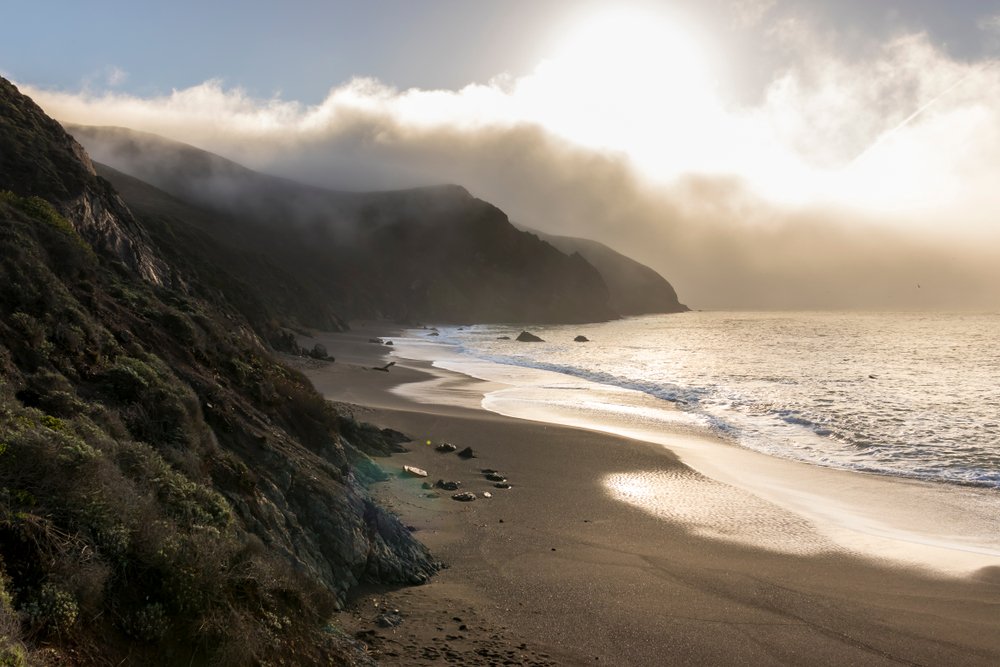 I know most people think of California and immediately think of tanned bodies on golden sands… but California has its very own black sand beach as well, plus a really cool glass beach (later in this article).
Black Sands Beach is located in Sausalito in the Marin Headlands area, and it's a short hike from the parking lot down to this gorgeous beach. Admittedly it's not typically a place for sunbathing — San Francisco's ever-present fog assures of that — but it's gorgeous: almost like a little slice of Iceland right in the Bay Area.
Climb to the top of Mount Tamalpais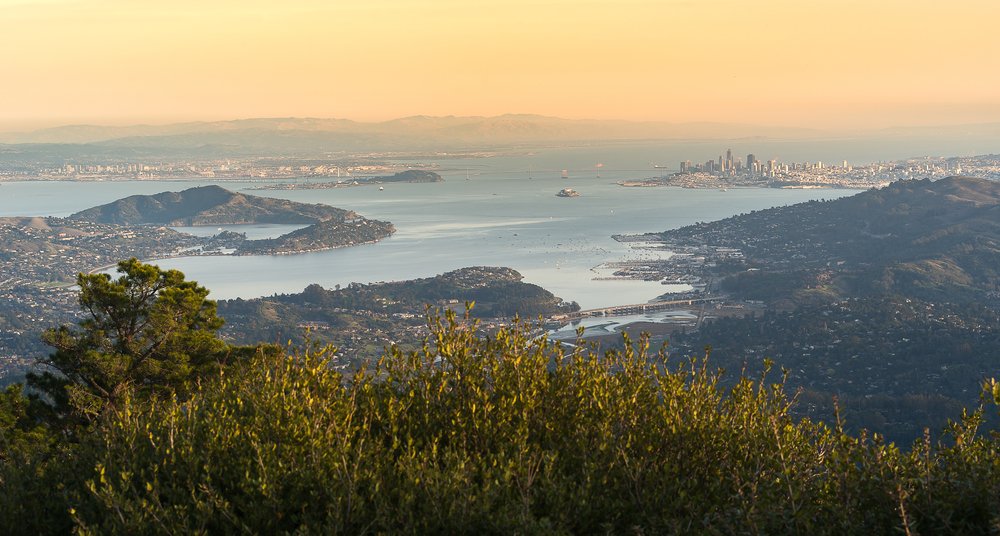 Often called "Mount Tam" by locals, this is one of the best places in California to get a gorgeous view over the entire San Francisco Bay.
At an elevation of only about 2,500 feet, it's not a particularly hard hike, but are the views ever rewarding! Just try to time it so that you don't get your view totally obscured by fog, which is a common occurrence, it being San Francisco and all!
Drive down Highway 1 (the Pacific Coast Highway)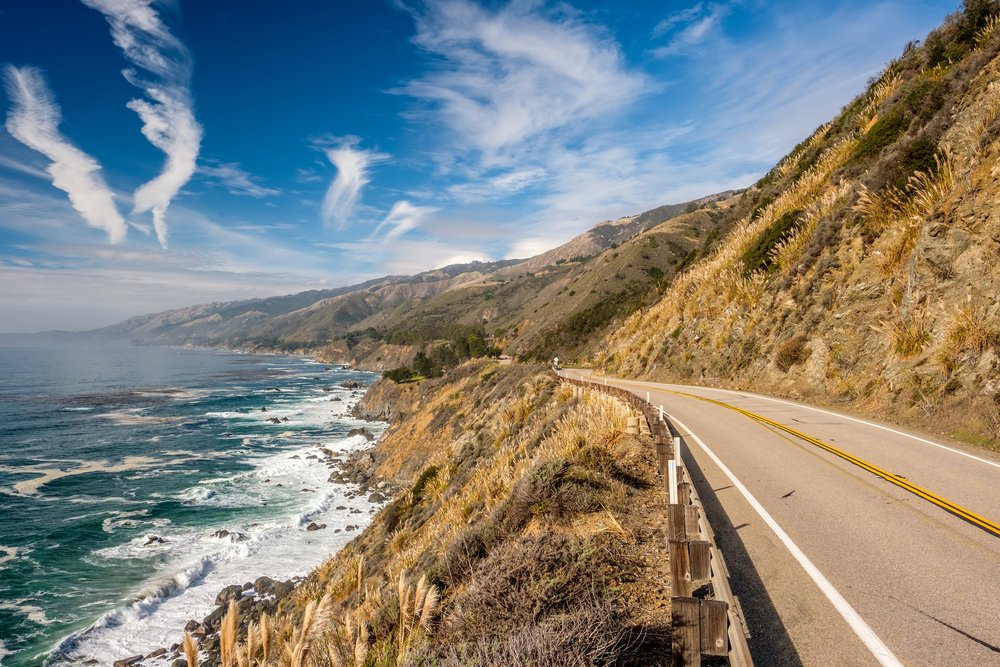 The Pacific Coast Highway is one of the most sought-after road trips in the world. I've done the stretch between San Francisco and Santa Barbara at least a dozen times visiting family as a kid and the views never disappoint.
The entire length of it, however, is absolutely worth having on your California bucket list. Give yourself at least a week to do it leisurely.
Spot a California otter in Monterey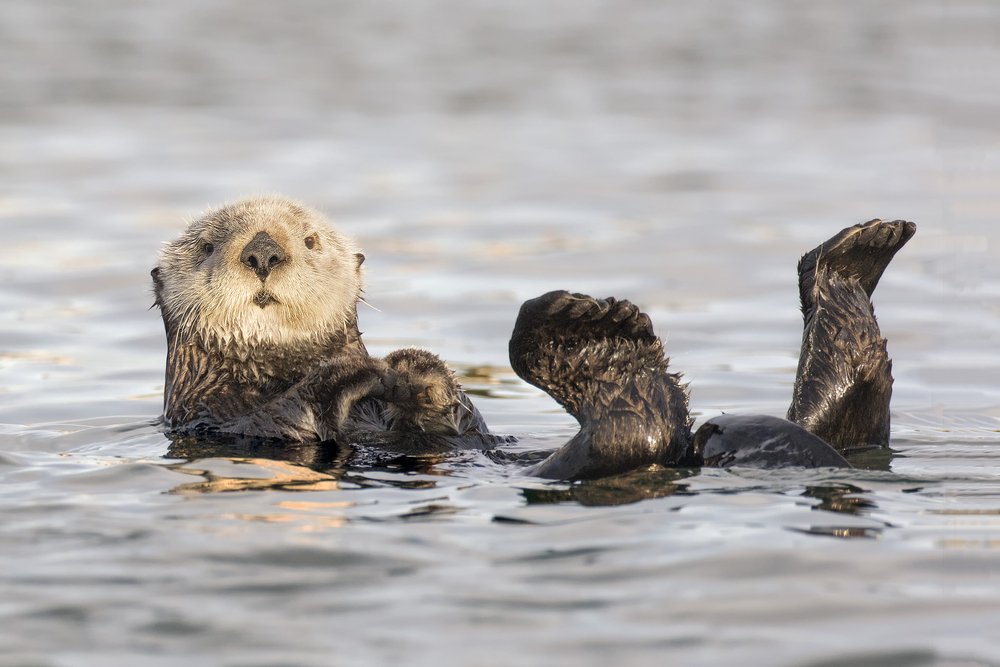 Incontrovertible fact: sea otters are some of the most adorable creatures on the planet.
Another fact: you can find them all over the Monterey Bay, especially if you go kayaking in the Monterey harbor!
Visit the excellent Monterey Bay Aquarium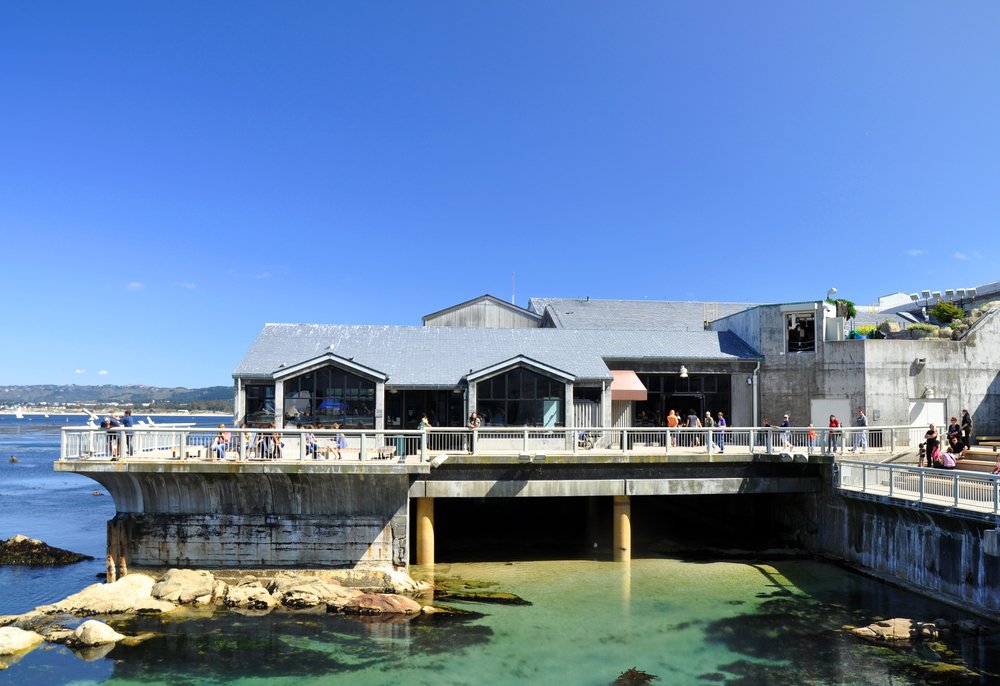 If you prefer to see them more up close and in person, though, the Monterey Bay aquarium also has otters which they've rescued and rehabilitated after the otters could no longer live in the wild for a variety of reasons.
They also have other phenomenal exhibits and are leaders in the world of sustainable and responsible marine education and entertainment, providing plentiful enrichment in the environments for their animals, adhering to best practices in sustainability and conservation, and educating the public.
See the historic Cannery Row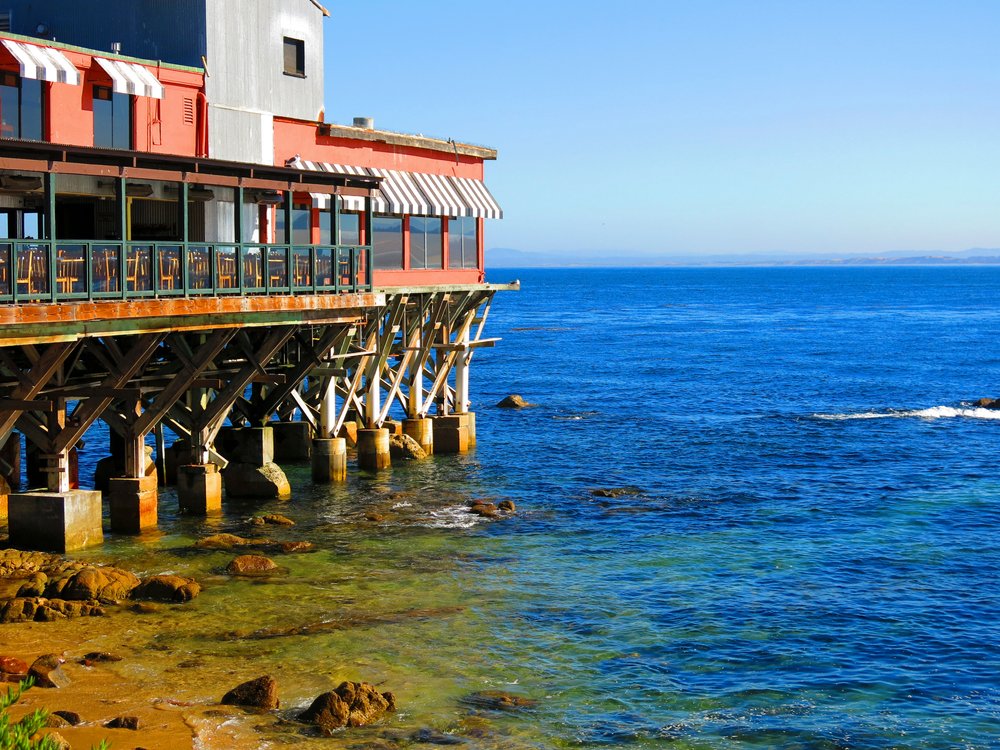 Made famous by the John Steinback novel, Cannery Row is indeed a real place in Monterey back when sardine fisheries were one of California's main industries.
Now, Cannery Row is mostly converted into a tourism area with lots of restaurants occupying a gorgeous stretch of seafront, but it's worth it for Steinbeck lovers and seafood lovers alike.
Relax in the quaint Carmel-by-the-Sea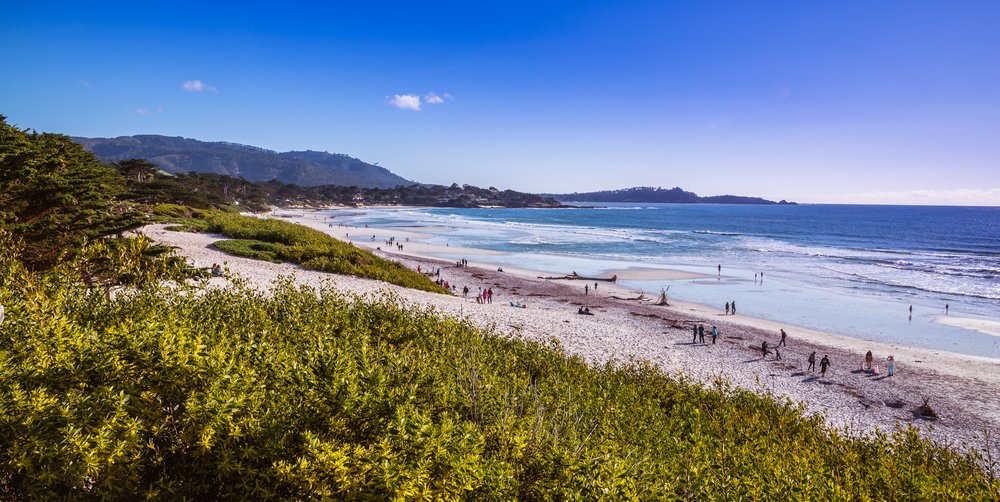 Carmel-by-the-Sea more than any other place symbolizes my childhood getaways – I think my family went at least once a year.
I love Carmel: its delicious restaurants, its quaint architecture, its beach (which is often a bit cold and foggy but delightful nonetheless). Carmel is the quintessential weekend trip destination and a must for anyone in Northern California to add to their California bucket list.
See Morro Rock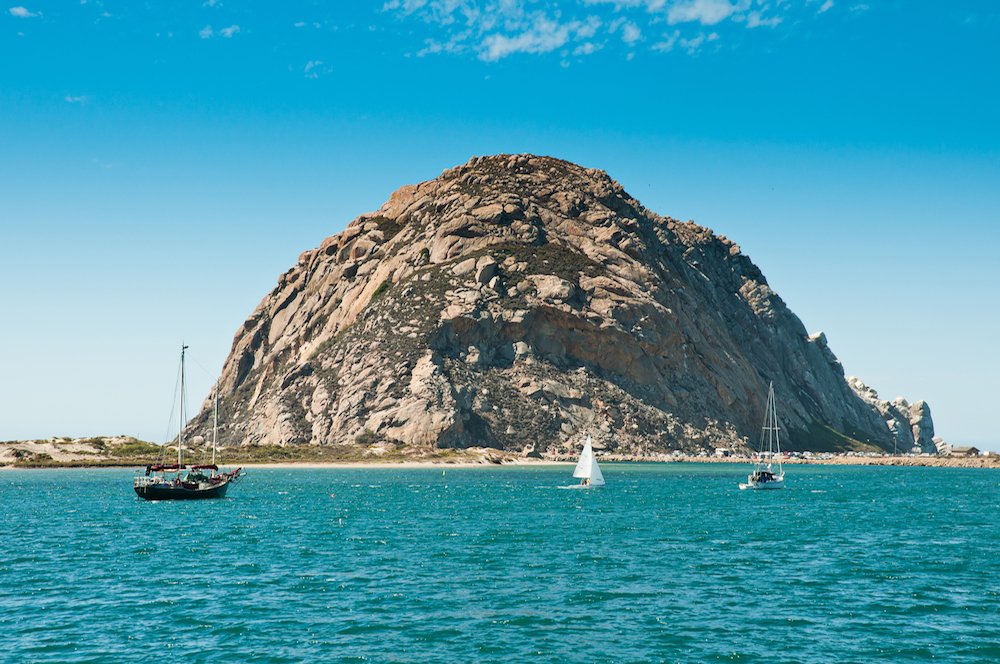 The quaint oceanside town of Morro Bay is a popular weekend getaway spot on the central coast, not far from San Luis Obispo which makes it a popular getaway for both Angelenos and San Franciscans alike as a midpoint of sorts between the two major population hubs.
It's famous for Morro Rock, a giant volcanic rock rising nearly 600 feet out of the sea: it's an incredible sight to see and definitely one for your California bucket list.
See the ultimate optical illusion at Lake Berryessa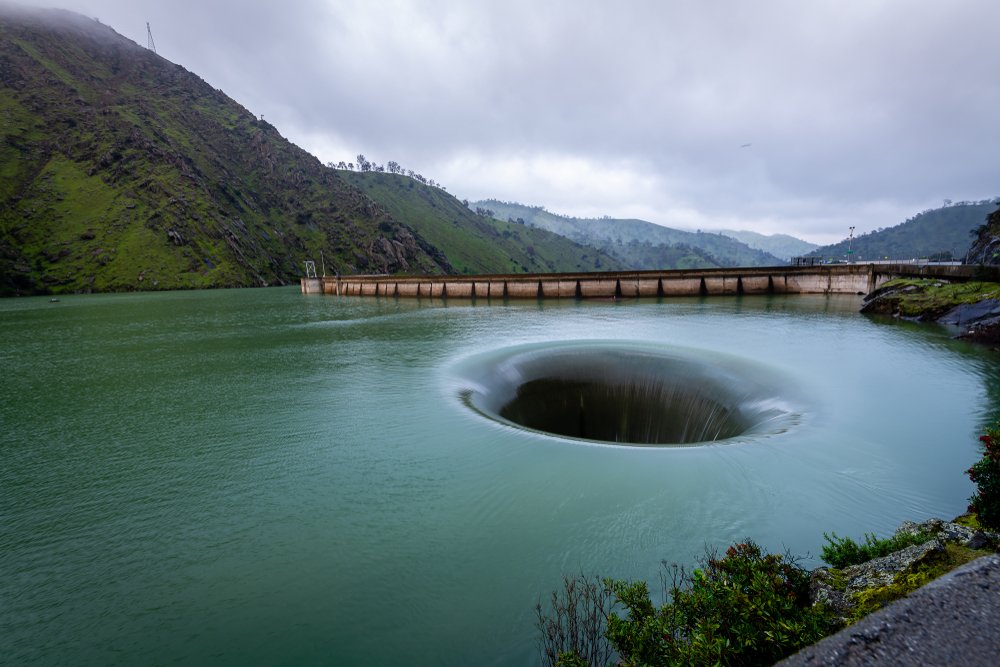 This otherworldly looking image is actually real! The 'glory hole' (well, that ought to be renamed…) of Lake Berryessa made the rounds on social media a few years back, but it's still a popular sight to see.
This 'spillway' is not always visible — the water level must be above 440 feet for it to function — but when it does, the water gets sucked almost like a vortex into the Monticello dam beneath to keep it from spilling over.
It's quite cool, but it's not always visible, so make sure to wait for heavy rains and then check Instagram or other social media to see if the spillway is doing its alien-like thing.
See the State Capitol Building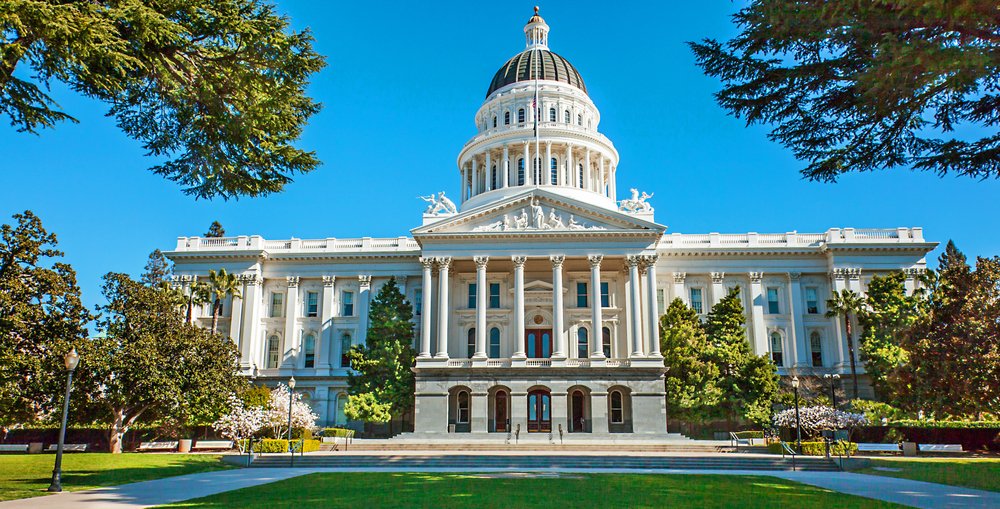 People from outside of California are often confused when they learn that our capital is not Los Angeles or San Francisco but actually Sacramento.
Frankly, I've been to Sacramento a handful of times and never found it to be that exciting of a city — but the State Capitol Building is absolutely beautiful, and Sacramento is the heart of California's political scene so it's interesting from a historical and political perspective.
And being that California alone is the 5th largest economy in the world, that's actually a pretty powerful place!
Gaze out at the ocean in Santa Monica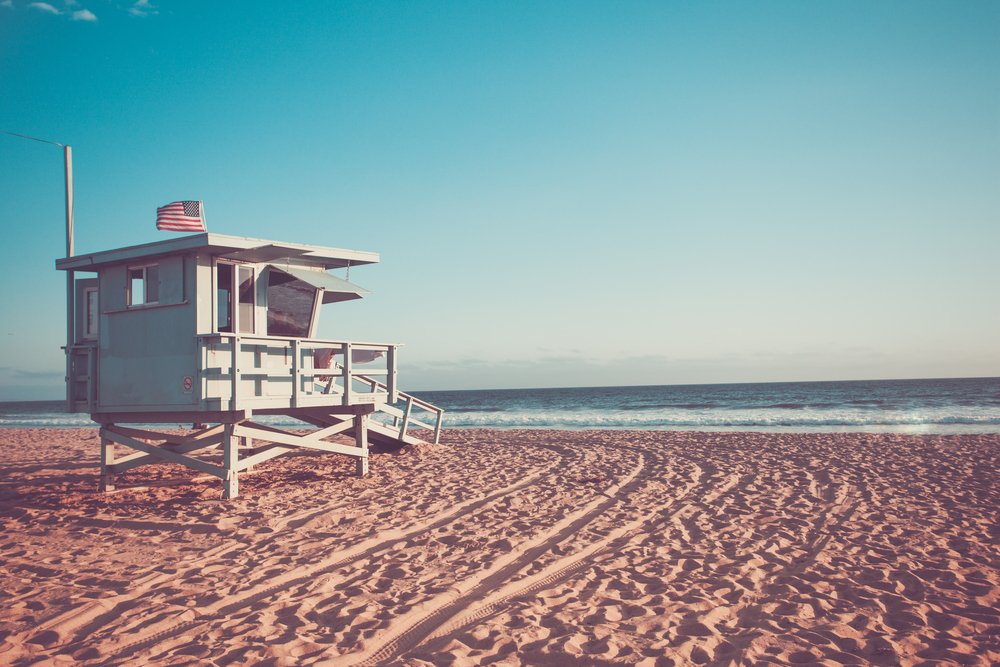 Santa Monica is synonymous with Southern California for its laid-back vibe, beautiful beach, and stunning sunsets.
Feeling the sand beneath your toes in Santa Monica is a California must-do.
Stroll the Santa Monica Pier by Night
While Santa Monica is a lovely beach to hang out during the day, it's also worth going back at night to see the pier all lit up with its Ferris wheel and other rides.
In addition to the small amusement park you'll find on the pier, there are also some concession stands where you can grab a bite to eat if you're feeling hungry.
Visit the island paradise of Catalina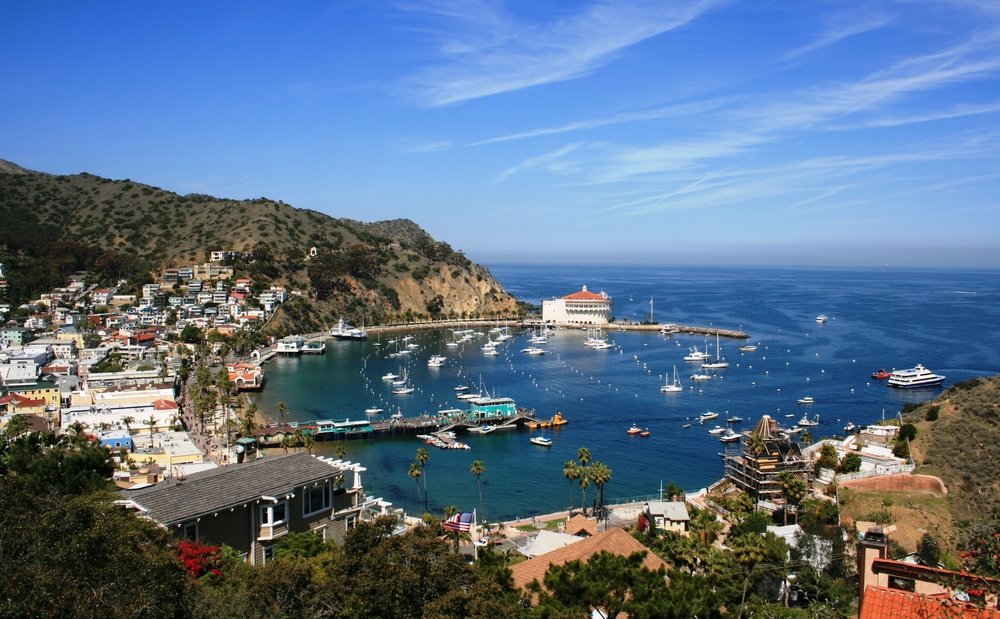 The Channel Islands off the coast of Los Angeles is a popular getaway spot for Southern Californians; in particular, Santa Catalina island is the most popular due to the ferry which departs regularly from Long Beach, San Pedro, Dana Point, and Newport Beach.
From its famous Avalon casino to its miles of beautiful railways to the fishing excursions you can do around Catalina's waters, there is plenty to do in Catalina, making it a must for Californians and California enthusiasts.
Spend some time in laid-back San Diego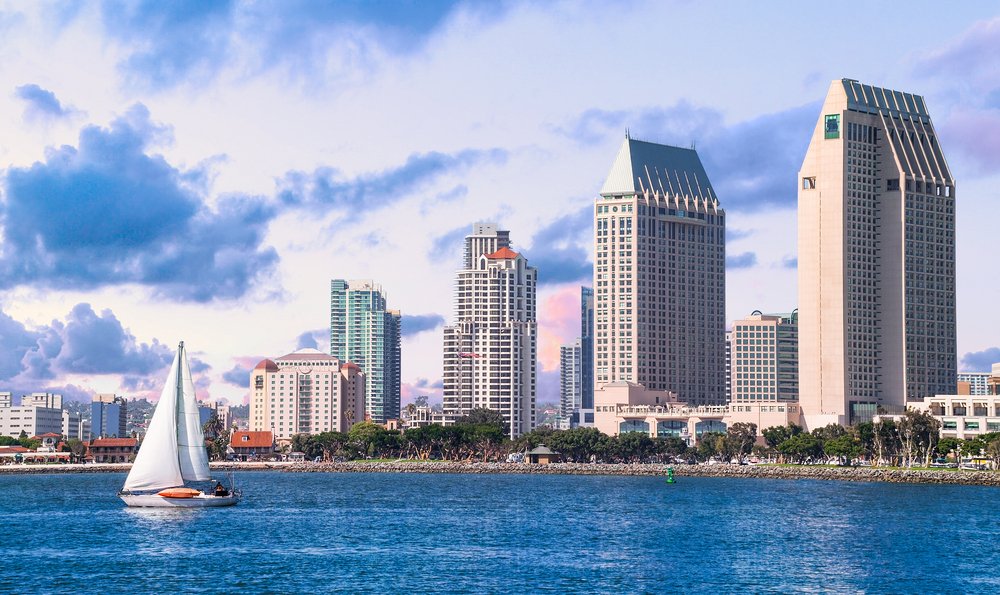 San Diego is the second-largest city in California (San Francisco doesn't even come in until fourth, believe it or not!) and has some of the best Mexican food in the country… which makes sense as it's just a short drive from the border.
There are plenty of things to do in San Diego, and the city really has it all — gorgeous beaches, a cool urban vibe, delicious food, and a stunning skyline — and it's well worth spending a few days enjoying San Diego to its fullest.
Drive across the Bixby Creek Bridge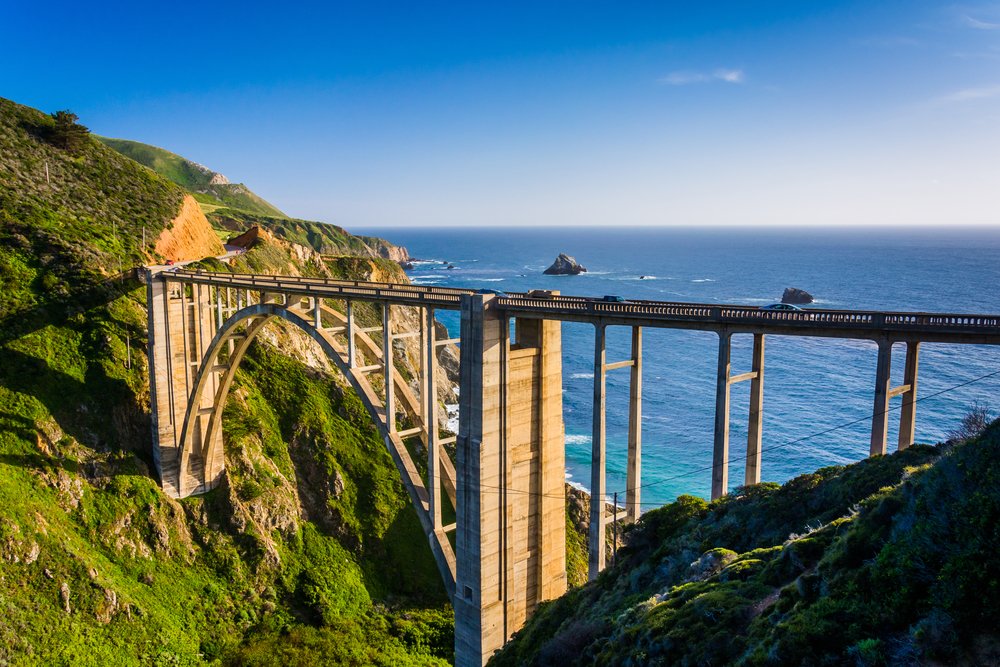 Perhaps the second-most famous bridge in California, the Bixby Creek Bridge in Big Sur is a California bucket list must.
The iconic architecture juxtaposed with the turquoise blue sea is an image you'll never forget, and it's an essential part of any Pacific Coast Highway road trip.
See a waterfall emptying into the sea in Big Sur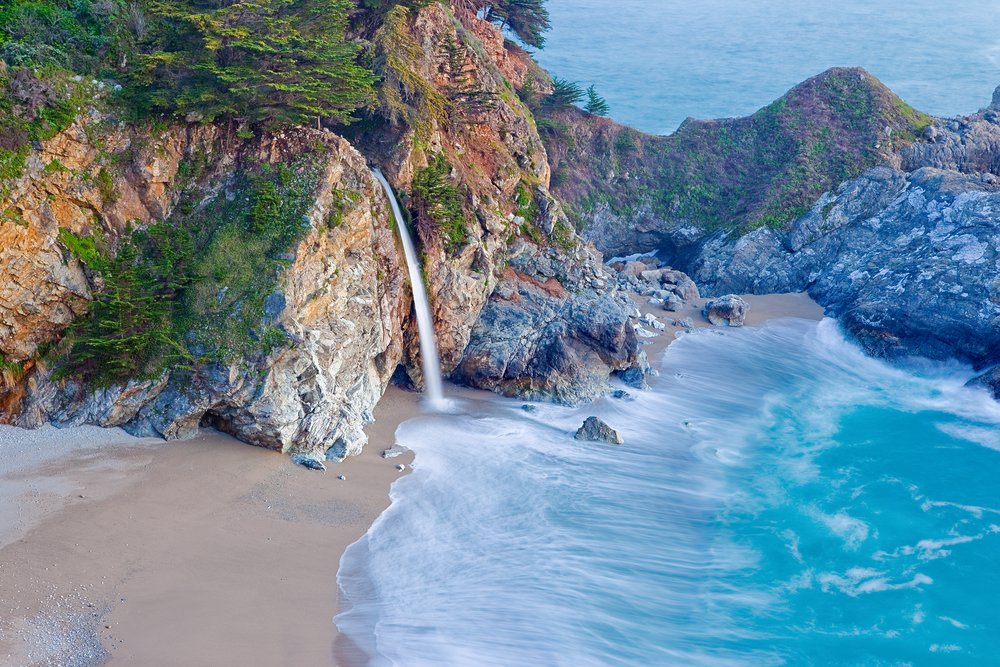 One of the other iconic photos of Big Sur that you"ll want to see with your own eyes is the beautiful waterfall which empties into the Pacific Ocean: McWay Falls.
An inevitable part of any Pacific Coast Highway road trip, this is one for your California bucket list.
See the keyhole rock at Pfeiffer Beach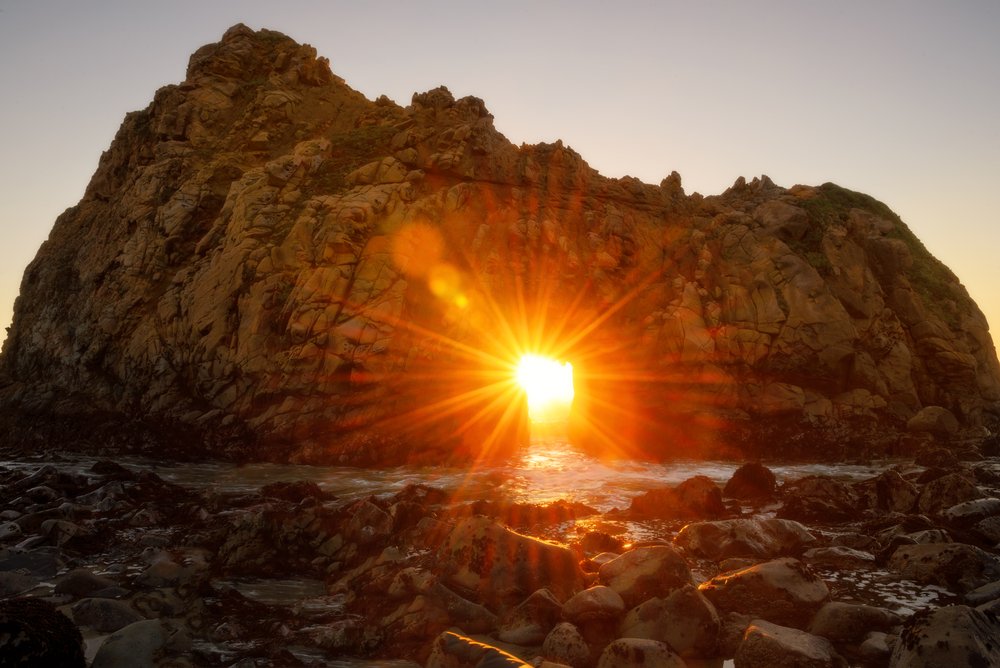 One of the iconic images along the California coast is the rock formation at Pfeiffer Beach, located in Big Sur.
It's almost famous for its purplish sands and stunning sunset views, especially when you can line up the sun through the keyhole rock at Pfeiffer Beach with a spot of timing, photography skills, and good luck.
See the Glass Beach near Fort Bragg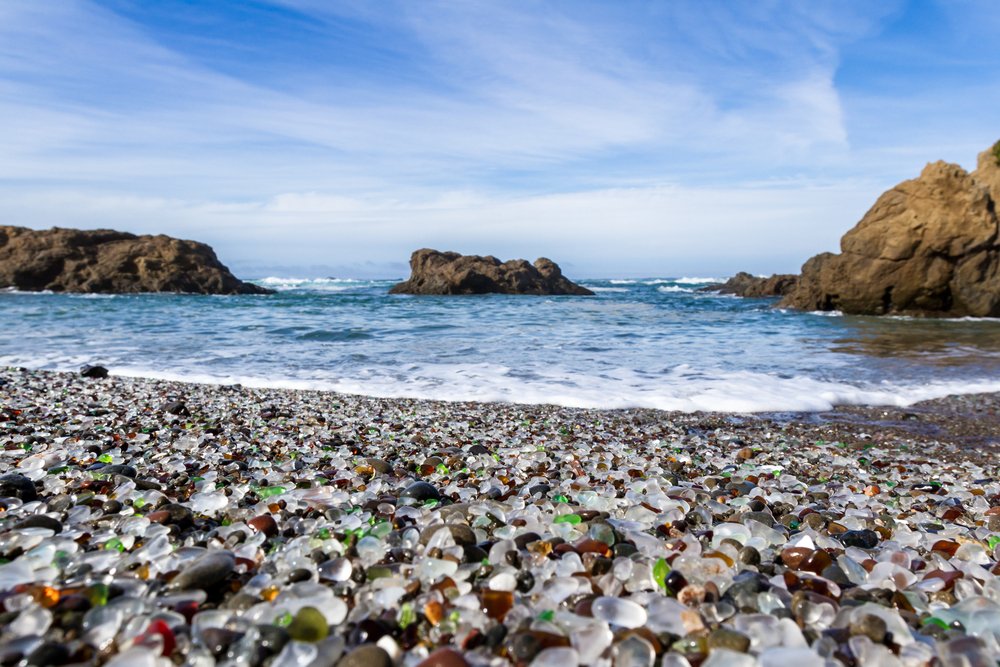 The glass beach near Fort Bragg is a manmade marvel but that doesn't make it any less magical of an experience!
The sea glass is forbidden to be taken, to preserve the marine environment, so please be aware of that if you add this beach to your California bucket list.
Check out the beautiful Big Bear Lake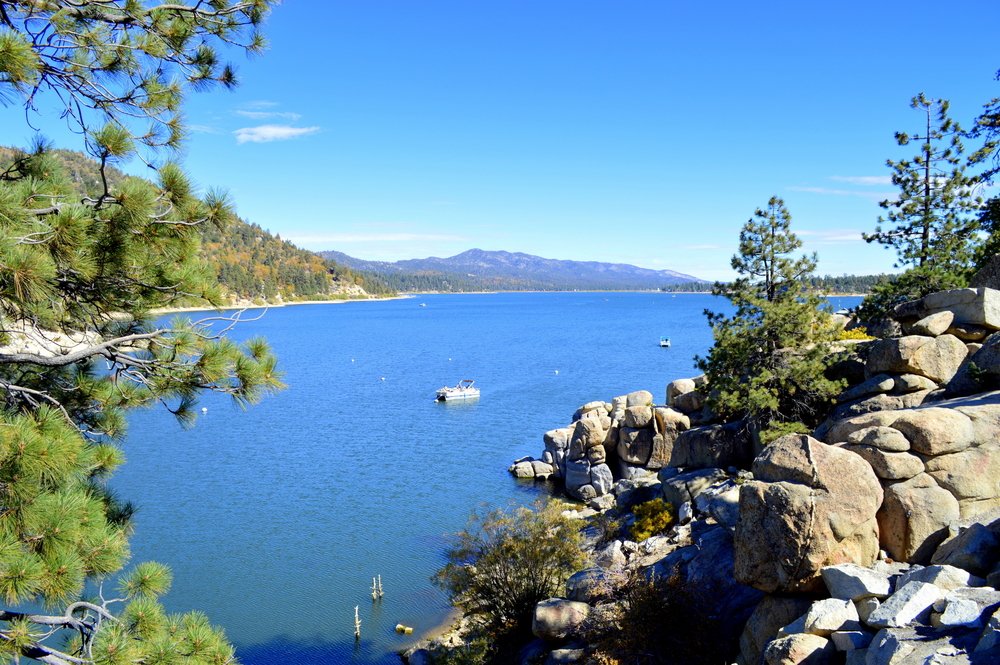 Big Bear Lake is the summer resort of Bear Mountain, a popular ski getaway in Southern California (yes, Southern California has awesome skiing as well!).
In the summer it's a great destination for boating, fishing, kayaking, and swimming.
Spot the Lone Cypress on the famous 17 Mile Drive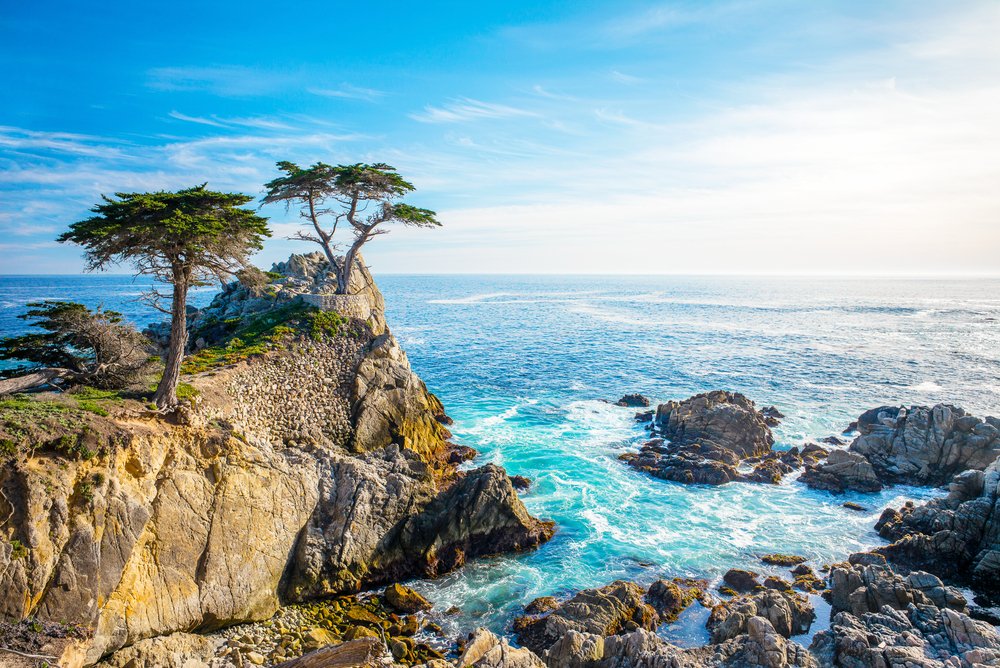 One of the most photographed trees in the world, the Lone Cypress is located in Pebble Beach, off of the famous 17-Mile Drive.
It's located not far from other California bucket list musts like Monterey and its amazing aquarium and Carmel-by-the-Sea, so it's easy to add on to other California must-dos.
See the colorful houses of Capitola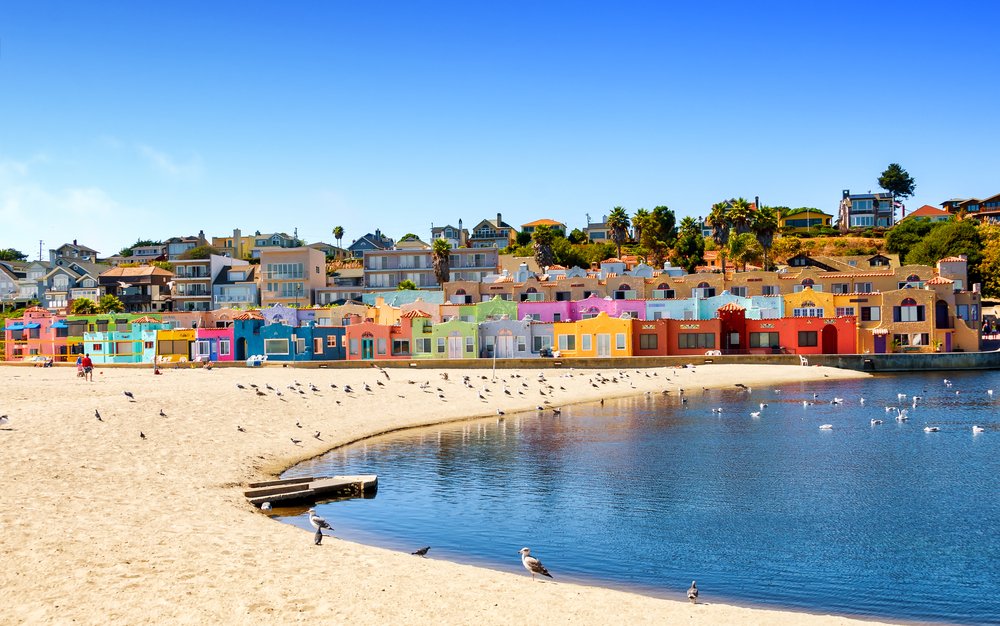 On the coast of California not far from Santa Cruz is the beautiful and colorful beachside town Capitola.
The most famous part of Capitola is, of course, the colorful Venetian Court, which was one of the first condo developments in California and is actually designated as a US Historic District.
You can even rent one of these colorful houses and stay the night in it – though it won't come cheap!
Get some thrills on the Santa Cruz Beach Boardwalk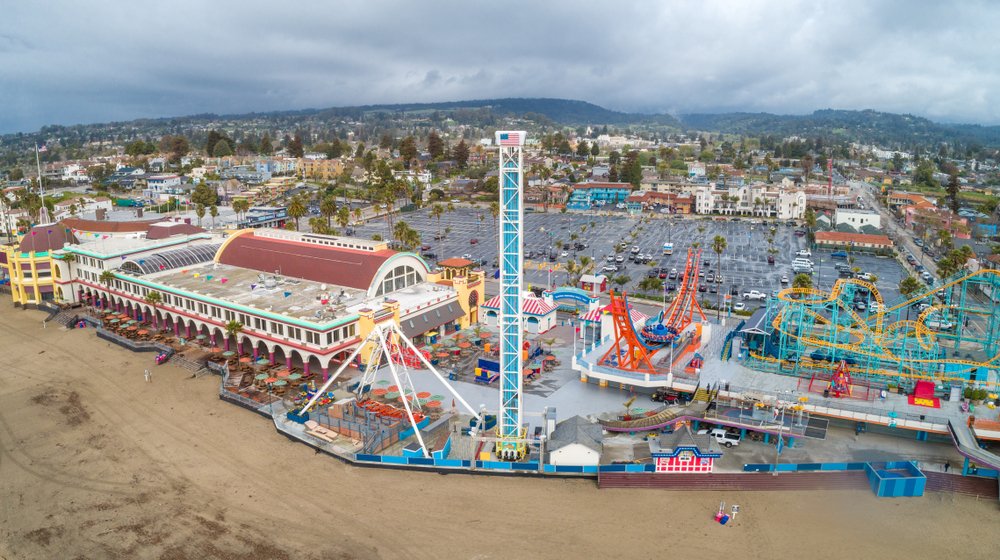 The Santa Cruz boardwalk has a special place in my heart — I went several times a year as a kid and loved it dearly (except for that time I got too motion sick and threw up from the top of the Ferris wheel… true story).
It's a great place to go with kids, but it's also a great place to go and unleash your own inner kid as they have a lot of vintage amusement park rides that are a ton of fun!
Look out on the beautiful Santa Cruz lighthouse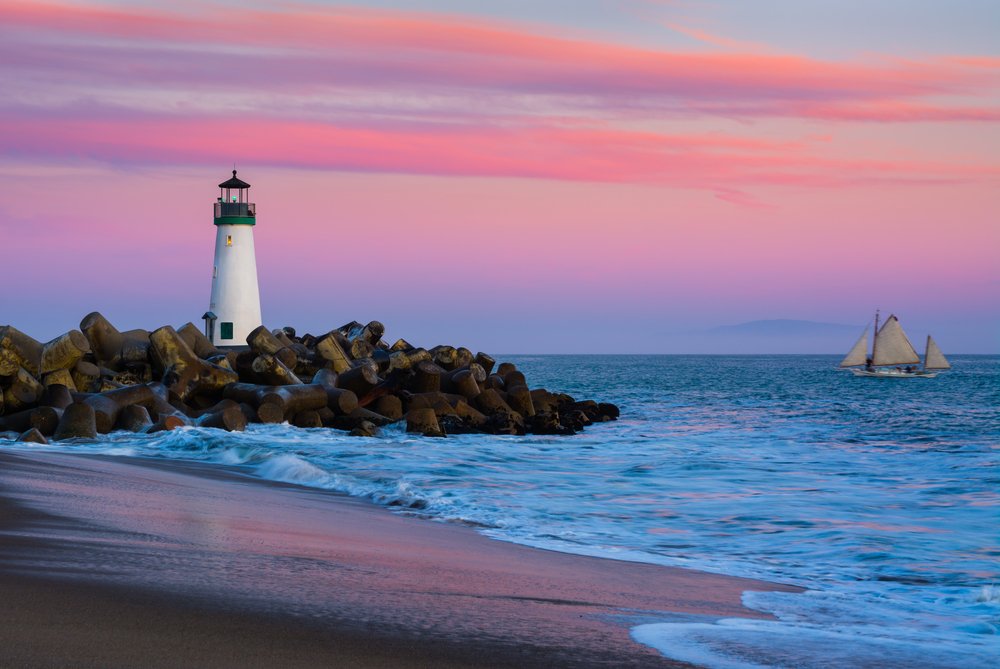 I love a lighthouse and the lighthouse in Santa Cruz is one of my favorites in all of California.
See it at sunset after walking the boardwalk and tasting some delicious craft beers at one of the many bars and breweries in Santa Cruz — the beautiful glow of the sunset on the lighthouse is mesmerizing.
Go wine tasting in one of California's many wine countries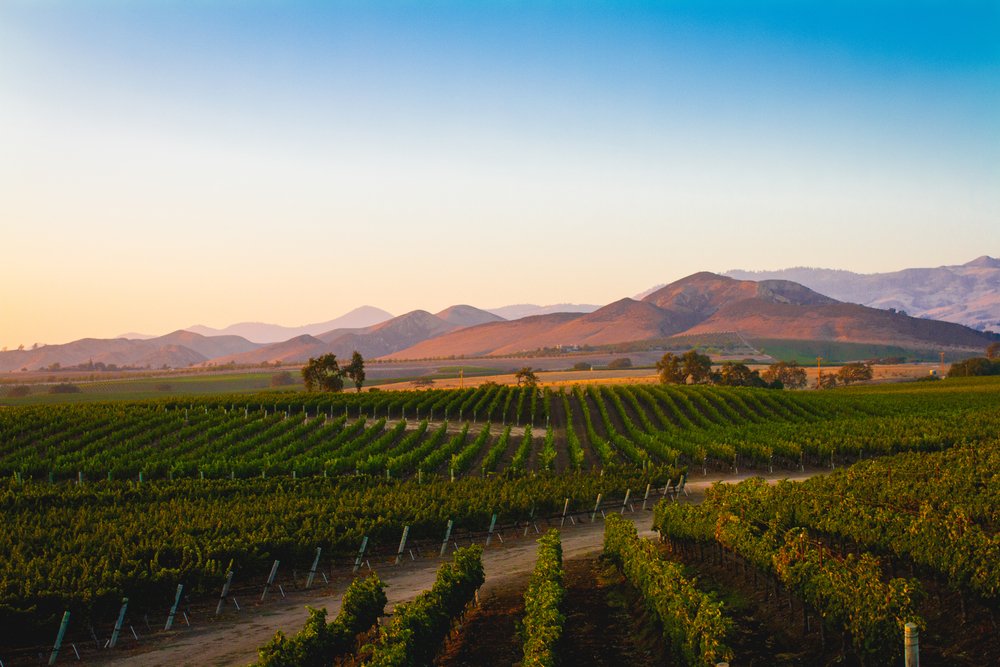 Truly California has so many different wine countries that I could write an entire wine tasting California bucket list (maybe that's a goal for another post?).
But I won't list them all separately here, as there are simply too many incredible places to visit in California to take up that much room on just wine tasting.
A few incredible destinations for wine tasting in California? The Santa Ynez Valley, Livermore Valley, Paso Robles, Sonoma County, Mendocino County, and of course — Napa County. However, there's also much, much more!
Looking for a wine getaway? Napa & Sonoma make a fantastic home base to exploring California's wine country.
Walk, shop, and eat in downtown Oakland
Right across the Bay from San Francisco, Oakland is San Francisco's edgier, more diverse twin city.
In Oakland, you'll find food from all around the globe, representing the diversity of this dynamic city, and you can't miss walking or biking around Lake Merritt, a gorgeous tidal lagoon right in the heart of the city.
I was born in Oakland and half of my family is from there, and it'll always have a very special place in my heart.
Check out stunning Stinson Beach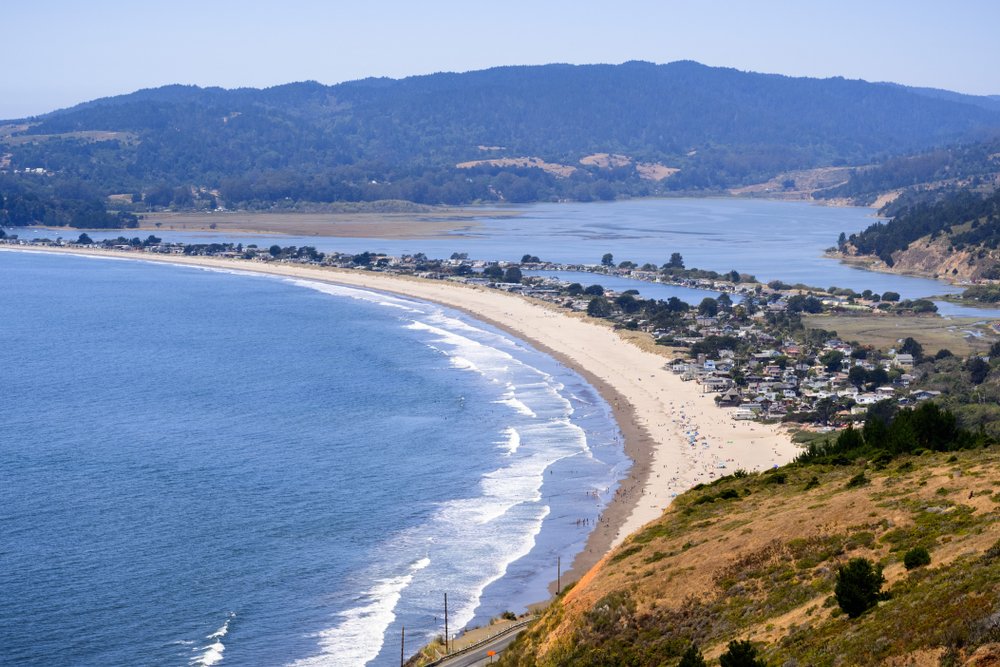 Stinson Beach is a Northern California favorite (though we tend to be weary of it as well as there have been a string of shark attacks on surfers there).
The way that the beach collides with and Bolinas Lagoon, forming a beautiful ecosystem, is truly enchanting, making this a Northern California bucket list must.
Take in the stunning Point Reyes lighthouse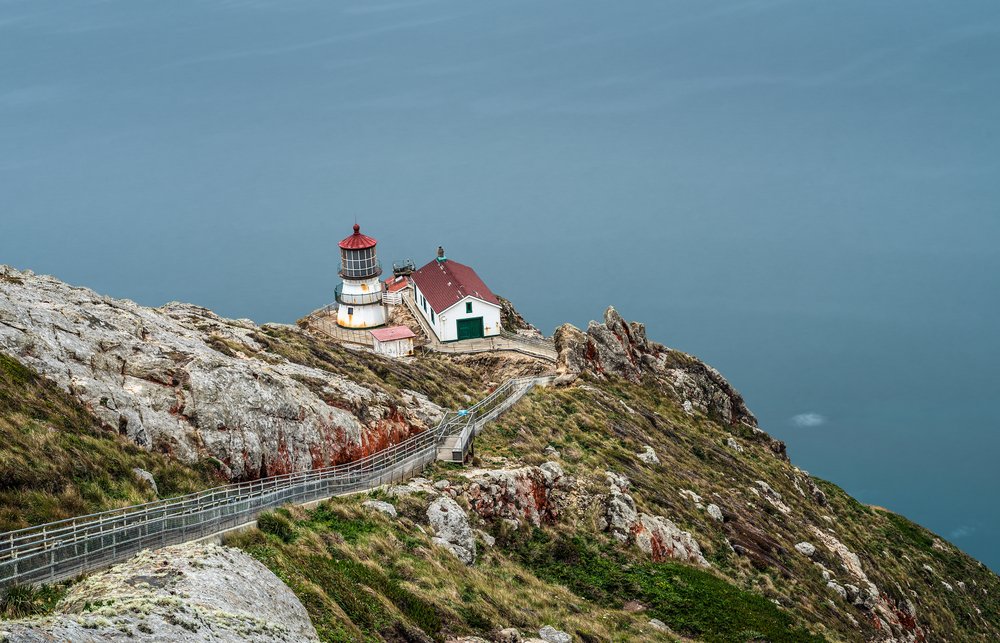 There are a number of beautiful lighthouses in California but the Point Reyes lighthouse is one to truly remember.
The lighthouse is an easy starting point for other hikes around Point Reyes, including the waterfall hike (later on this list) – so it's a great way to knock off a few items on your California bucket list in one day!
Walk through the cypress tunnel on the way to Point Reyes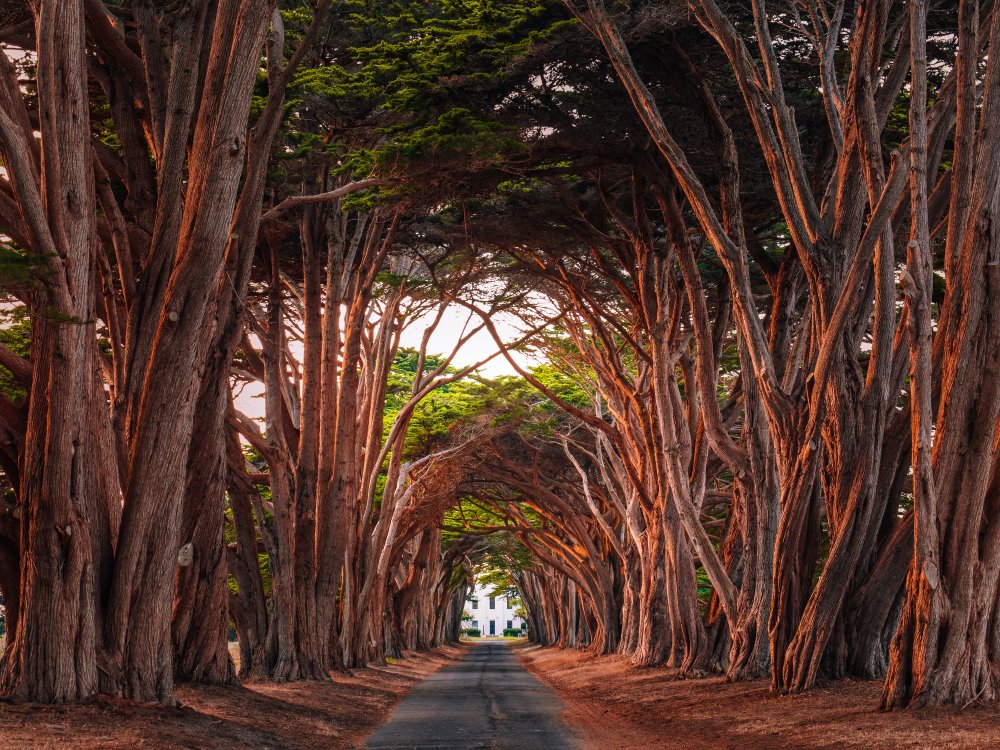 On your way to Point Reyes it's inevitable that you'll pass through the beautiful cypress tunnel.
It's located just parallel to Sir France Drake Boulevard as you drive through Inverness on your way to Point Reyes. Just be aware Instagram has made it blow up in popularity so you likely won't be the only one!
Hike to Alamere Falls in Point Reyes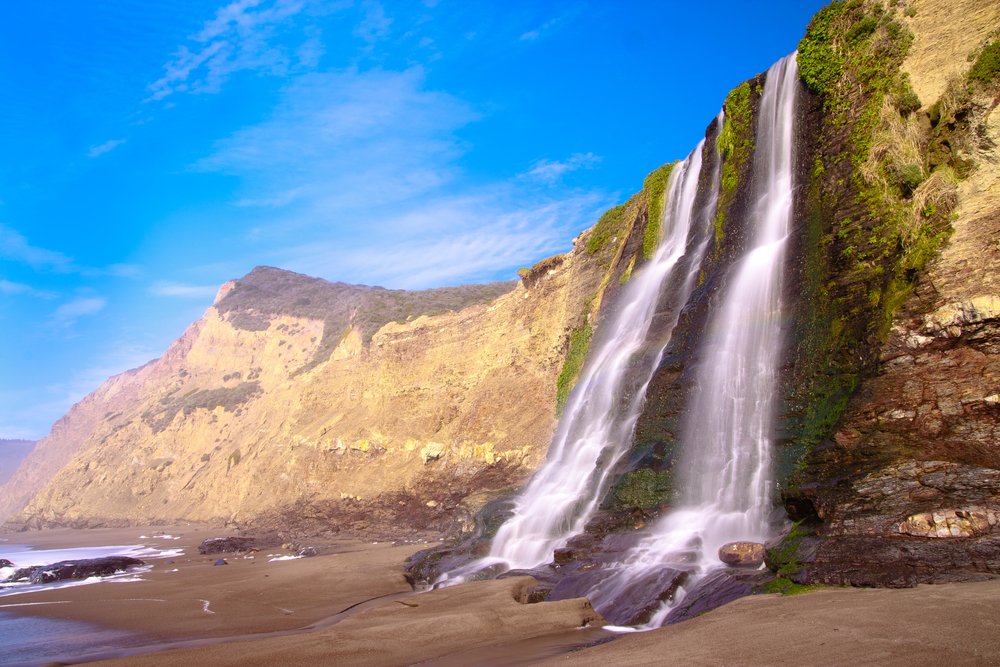 The hike to Alamere Falls is not an easy one. It's a minimum 13 mile roundtrip hike, so it should only be done by seasoned hikers who have the proper gear for a long hike that takes several hours. This includes proper shoes and waters.
However, for those who do have the stamina and will, it's definitely a hike for your California bucket list to see one of these rare and beautiful tidefalls — a waterfall falling into the sand and being carried out by the ocean. However, this hike can be quite dangerous so please do read the National Parks Service guide on visiting Alamere Falls.
Stroll the Venice Beach Boardwalk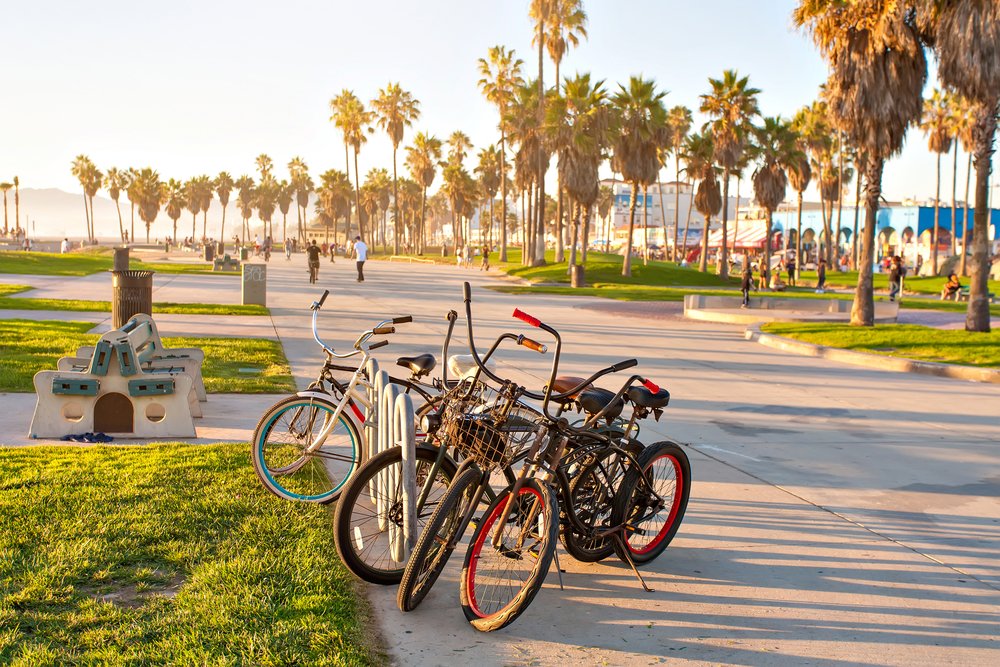 One of the most famous stretches of beachside real estate in all of California is the Venice Beach boardwalk.
Full of performers, bodybuilders, vendors, and people walking and biking, Venice Beach is full of character!
Stumble upon a field of California poppies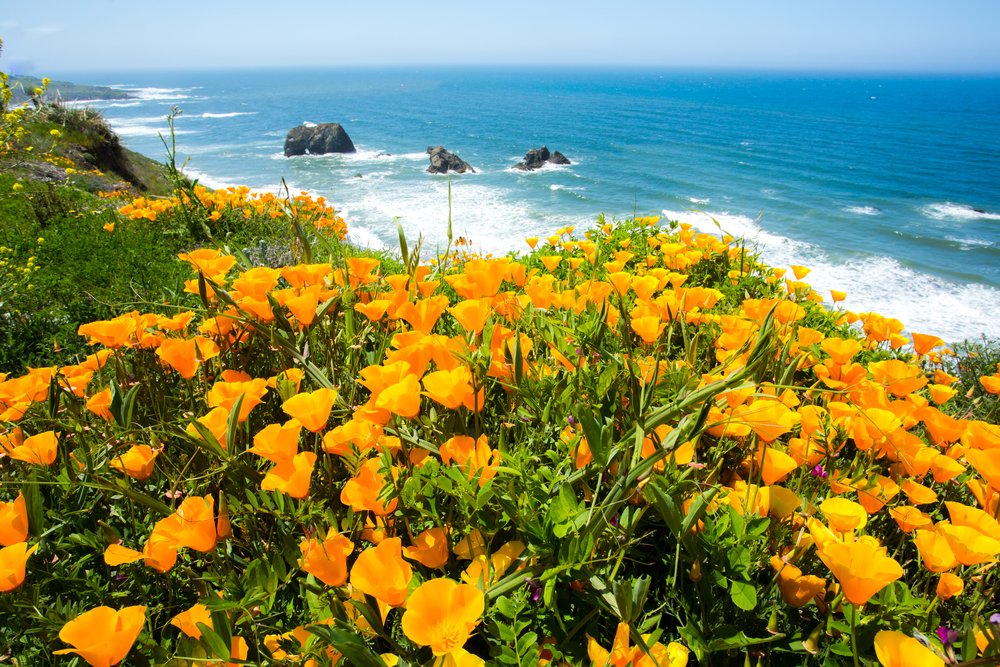 Poppies are California's state flower, and you'll find them everywhere throughout California if you keep an eye out for them.
Just please don't pick the poppies — it's illegal unless it's on your own property or if you have express permission from the land owner.
You can also try to seek out one of the state's superblooms but these can be a tad unpredictable! Antelope Valley tends to be the major spot for the superbloom.
Spend some time camping in Yosemite National Park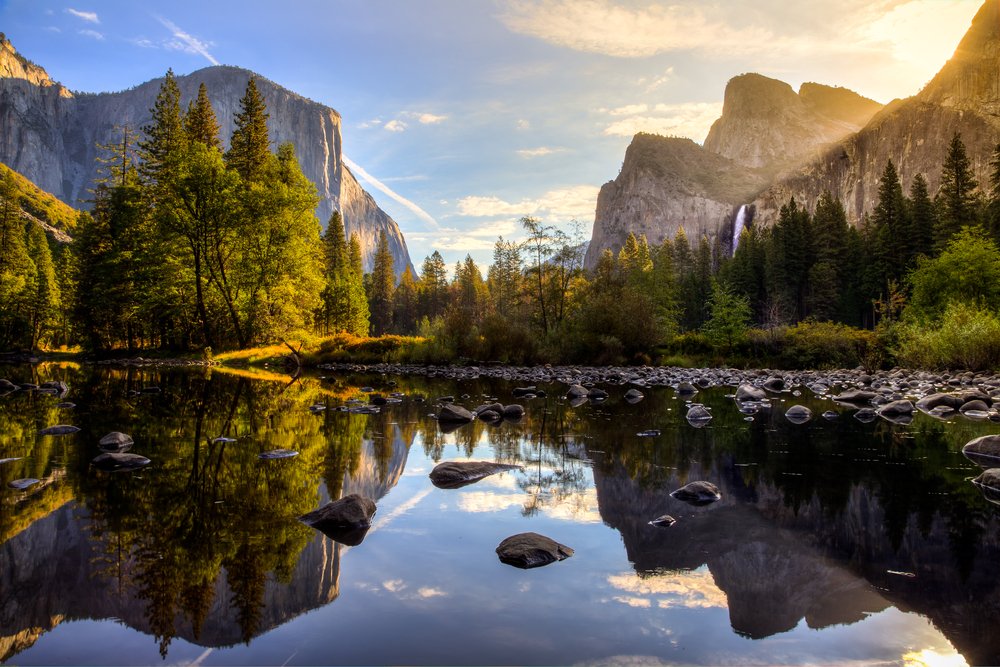 Yosemite National Park is the most famous national park in California, and one of the most famous US national parks in general.
There are so many incredible hikes and places to visit in Yosemite that frankly, you could spend two weeks camping and exploring there and not run out of new hikes to do or places to explore.
Bring a tent (or glamp if camping isn't your style) and spend some time getting to know one of the most beautiful parts of California.
Marvel at the aptly named Bridal Veil Falls in Yosemite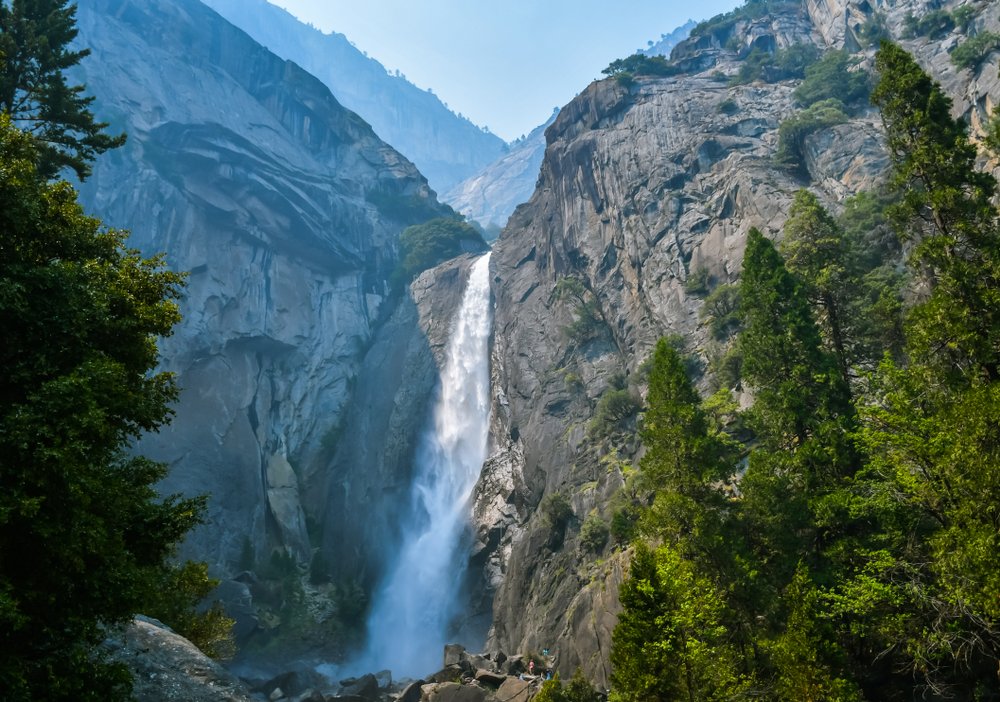 The beautiful Bridal Veil Falls cascade thunderously down the landscape in Yosemite, one of the most beautiful and powerful waterfalls in all of California.
Its beauty and strength make it a must on any California bucket list.
Visit the lesser-known King's Canyon National Park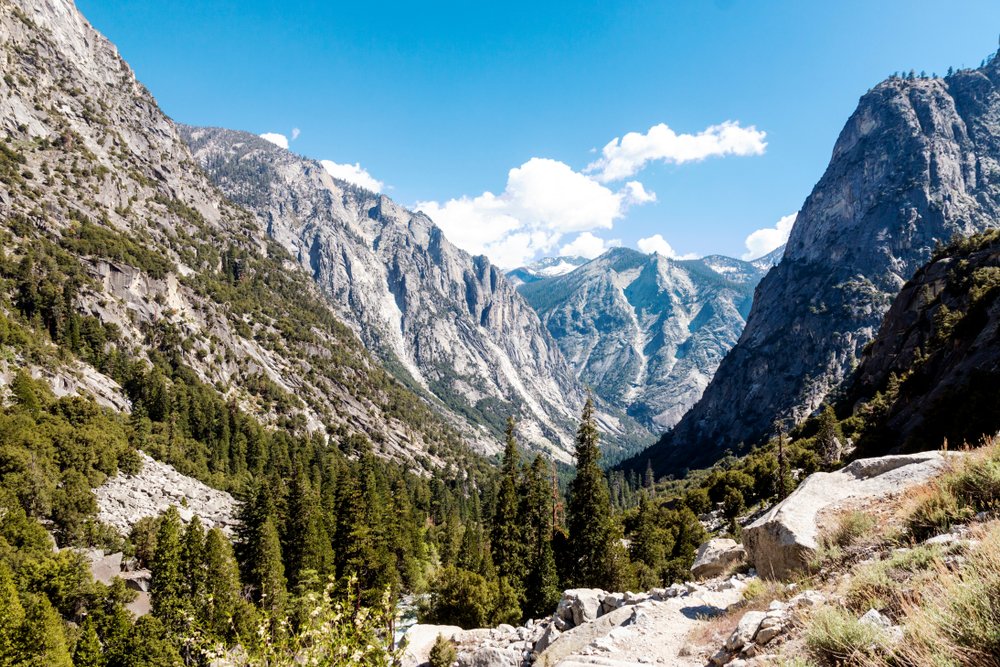 A national park so little-known that many Californians don't know it exists (myself included until recently), you can be guaranteed beautiful views and far fewer crowds than you'll find in any other of California's nine national parks.
Take a hot air balloon over the Napa vineyards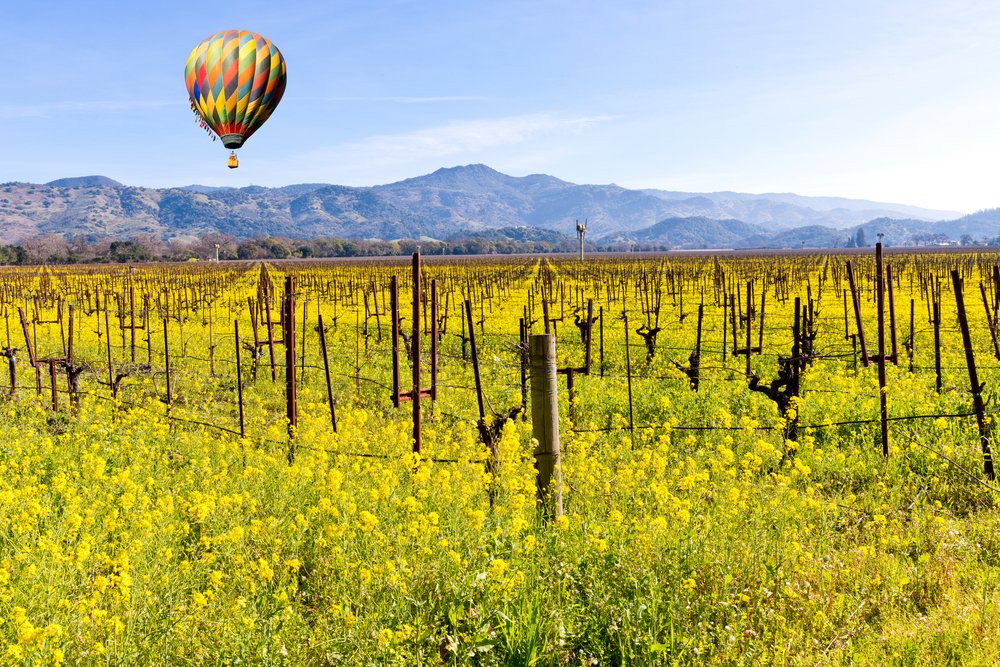 There is so much to do in Napa Valley – most of it being of the wine tasting variety – but there's one other epic thing you should add to your California bucket list: ballooning over it!
Watch the vineyards disappear and melt into the hilly California landscape as you ride in a hot air balloon over the gorgeous Napa Valley.
Be sure to celebrate with the Napa favorite, cabernet sauvignon, afterwards!
Go wine tasting in Sonoma County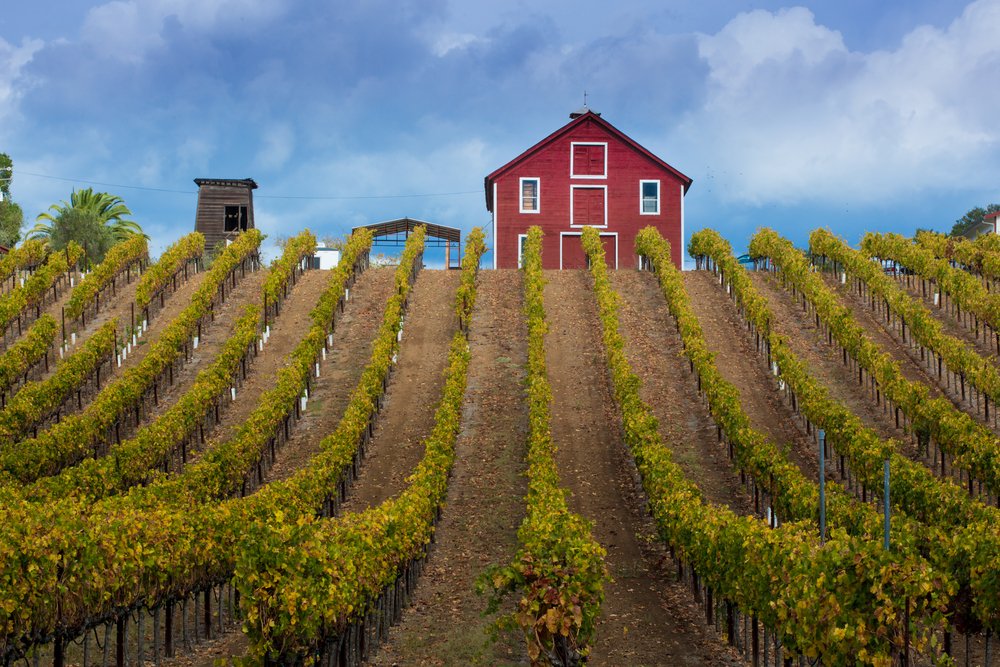 Napa Valley often gets all the love but in my opinion, Sonoma County has some of the best wines on the planet, especially if you're a fan of Pinot Noir!
The cities of Sebastopol and Healdsburg are great bases for exploring the Sonoma County wine scene, and they have phenomenal restaurants as well — all with a much more laid-back vibe and cheaper prices than Napa.
See where the Russian River meets the Pacific Ocean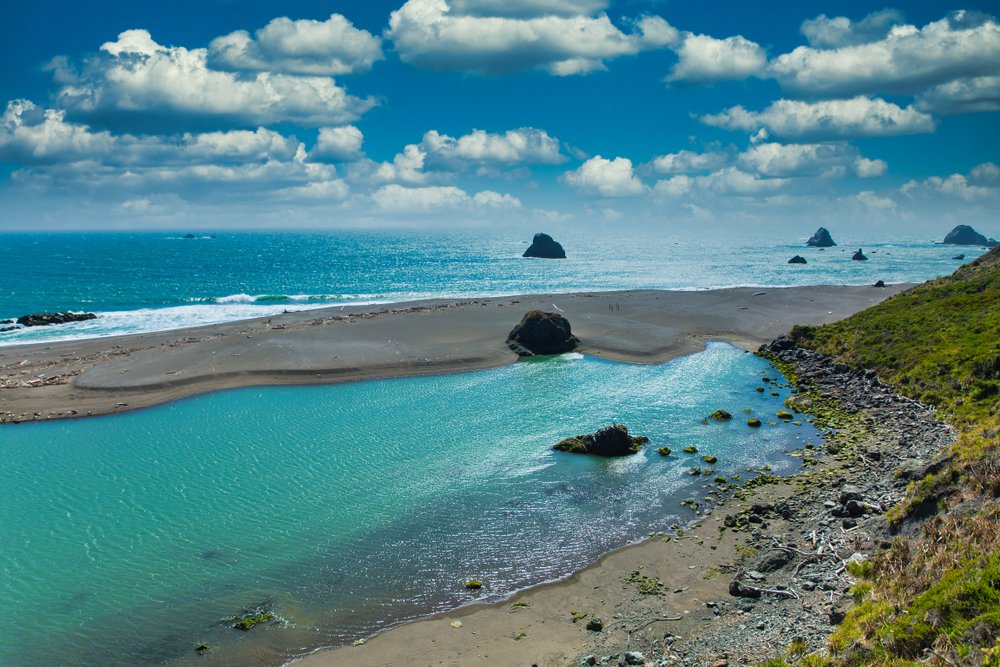 The town of Jenner is a true hidden gem in California.
Located on Highway 1 yet not anywhere near as well known as other places like Big Sur, this beautiful tiny oceanfront town is where the Russian River empties out into the Pacific Ocean in the most beautiful way.
Visit wine country during the fall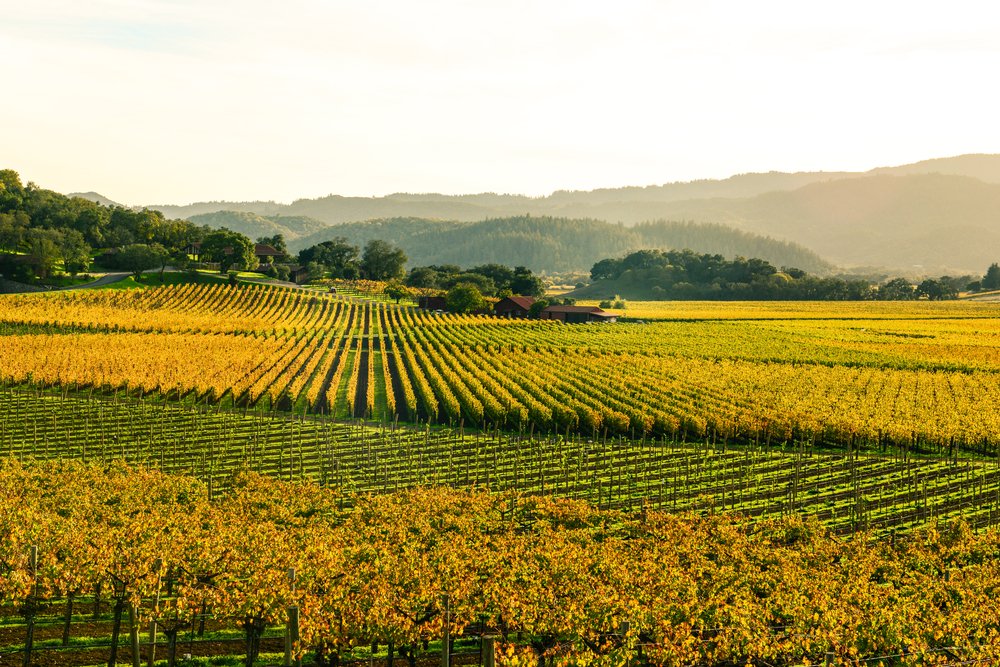 Some say California doesn't have a true fall — and to that, I'd vehemently disagree.
Fall in California is one of the most beautiful times of the year, especially in wine country when the vineyards turn a beautiful golden yellow and harvest season begins. Take that, New England – we don't need your red leaves!
Have a cozy vacation in Mendocino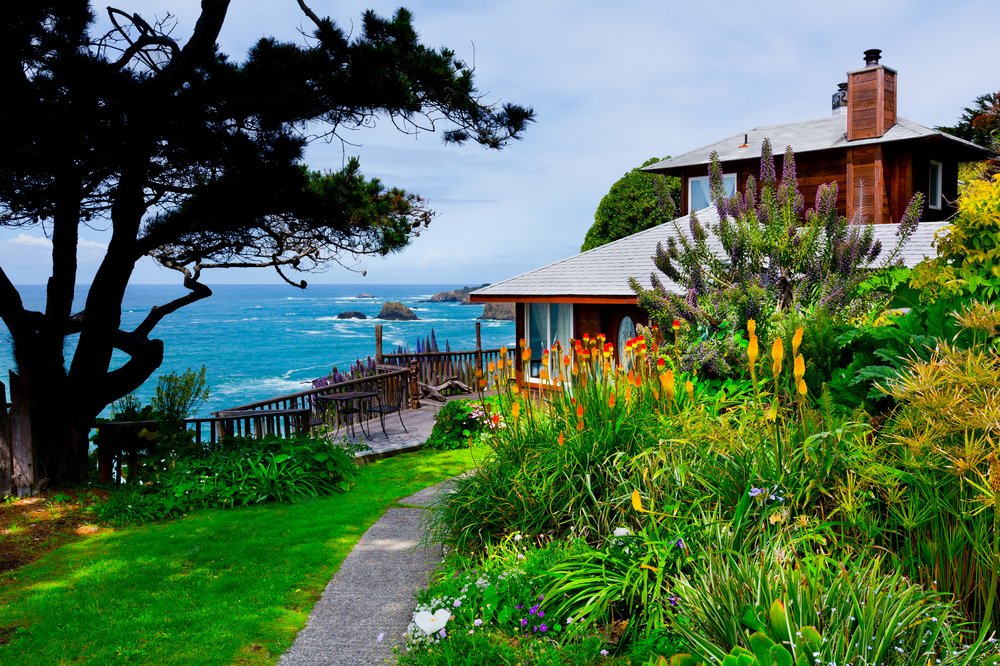 Mendocino in Northern California is one of the state's hidden gems, known well to Northern Californians who use it as a weekend getaway but little-known outside the state.
Renting a cute seaside cottage here – preferably one with a view of the ocean so you can try to spot seals, sea lions, and even whales! – is a California bucket list must.
Marvel at the crystalline waters of Lake Tahoe in summer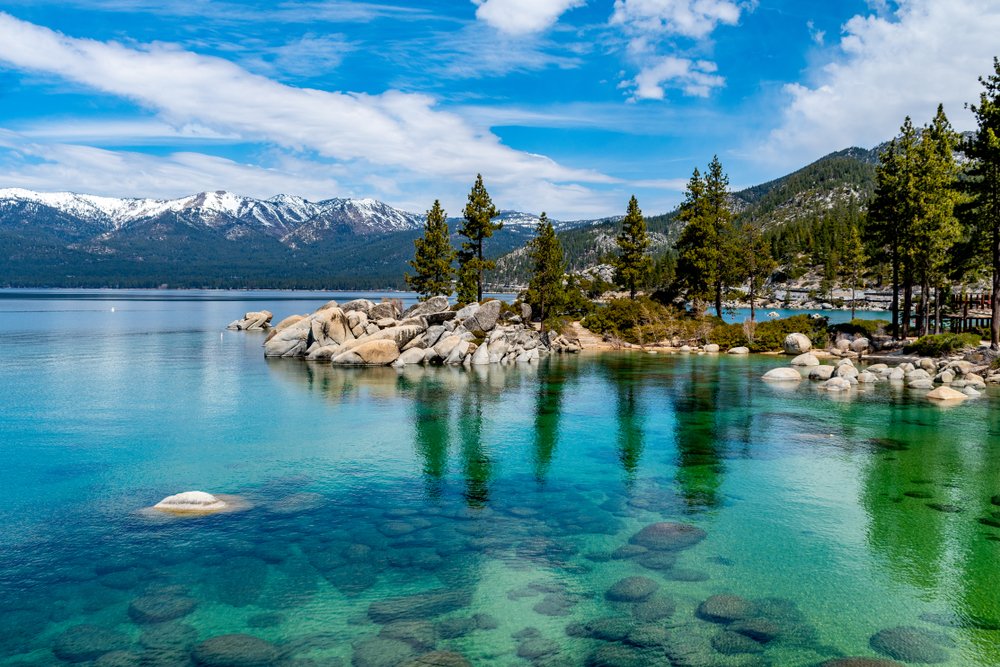 Tahoe is often thought of as a winter-only destination but it has so much to offer in summer.
Rent a boat on the gorgeous glacial lake, go kayaking, or even just enjoy some California craft beers while posted up on a cute patch of shore and enjoy some of the best views in the state.
See the Lake Tahoe Rocks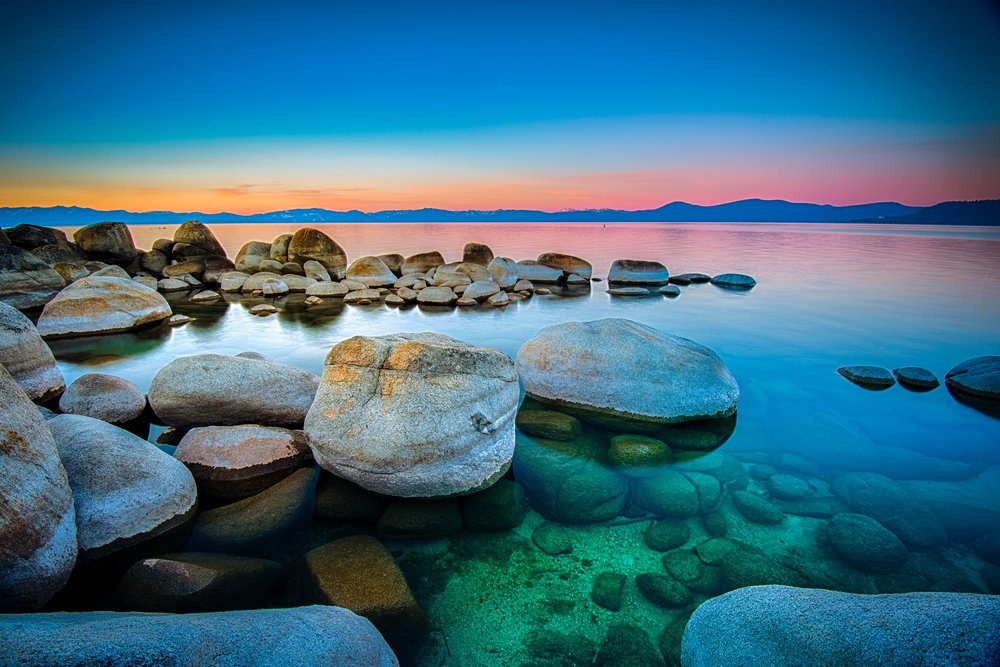 Lake Tahoe is famous for its enormous granite boulders which you can find on the periphery of certain parts of the lake.
The area around Bonsai Rock in particular is a gorgeous place to spot these beautiful, unique boulders, as well as "Secret Cove" which is definitely not as secret as the name would imply.
Gasp at the beauty of Emerald Bay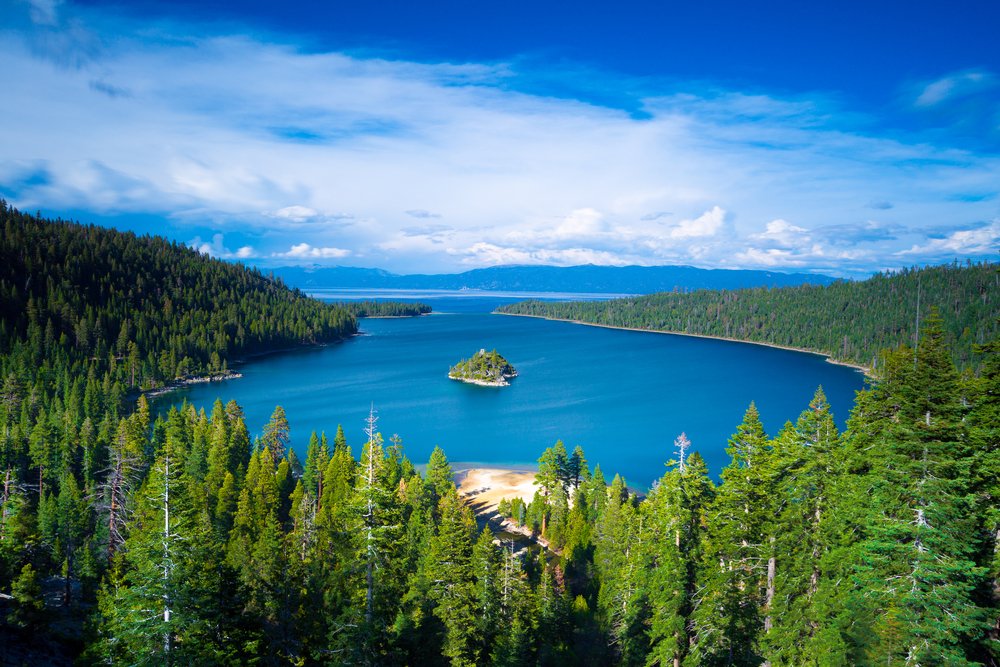 One final part of Lake Tahoe that deserves its own special section is Emerald Bay, perhaps the most photographed part of Lake Tahoe with its adorable small islet in the middle of it.
Since it's on the Southwest corner of the lake, it's the perfect sunrise spot if you can make yourself wake up early enough to enjoy it!
Ski in Lake Tahoe during the winter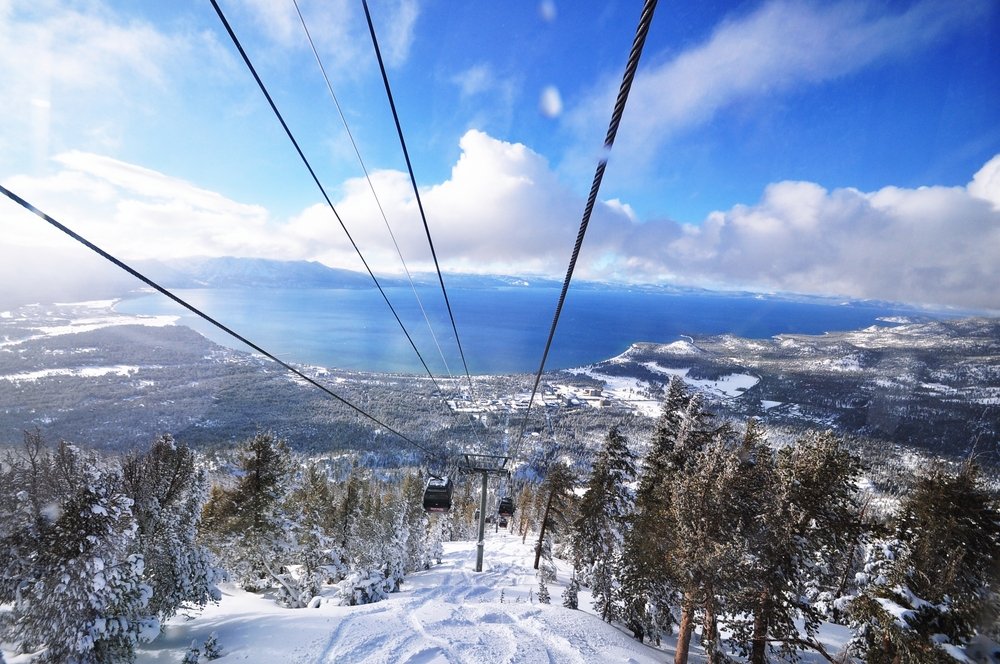 I'm not a skier, but I've heard the slopes in Tahoe are world-class. Squaw Valley in Tahoe is the ski resort of legends, and thousands of ski bunnies descend on the slopes every winter.
You have literally hundreds of runs and resorts to choose from to suit any skill level or budget, plus plenty of ski schools if you're itching to learn. Me, I prefer my feet planted on the ground rather than attached to two boards sliding down a mountain… but for many people, this is top of their California bucket list!
Drive down Palms Road in the Coachella Valley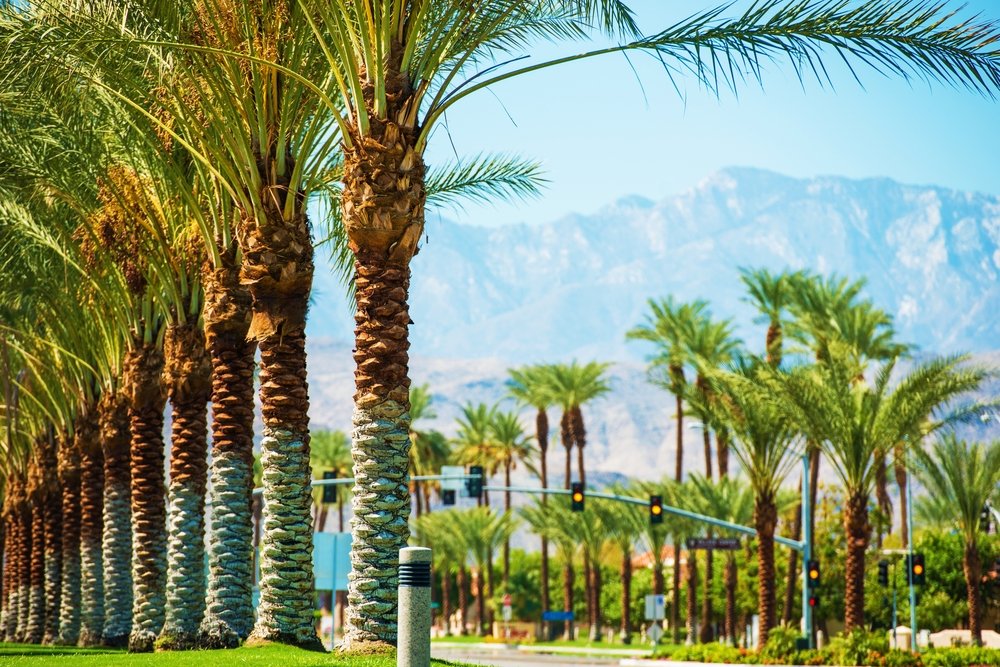 Coachella Valley is better known for its eponymous music festival, but even if it's not that time of year, Coachella Valley is worth a visit.
One thing that should definitely be on your Southern California bucket list is driving Highway 111 and seeing the epic Palms Road, which you'll find located in Indian Wells.
Marvel at the mirror-like Mammoth Lakes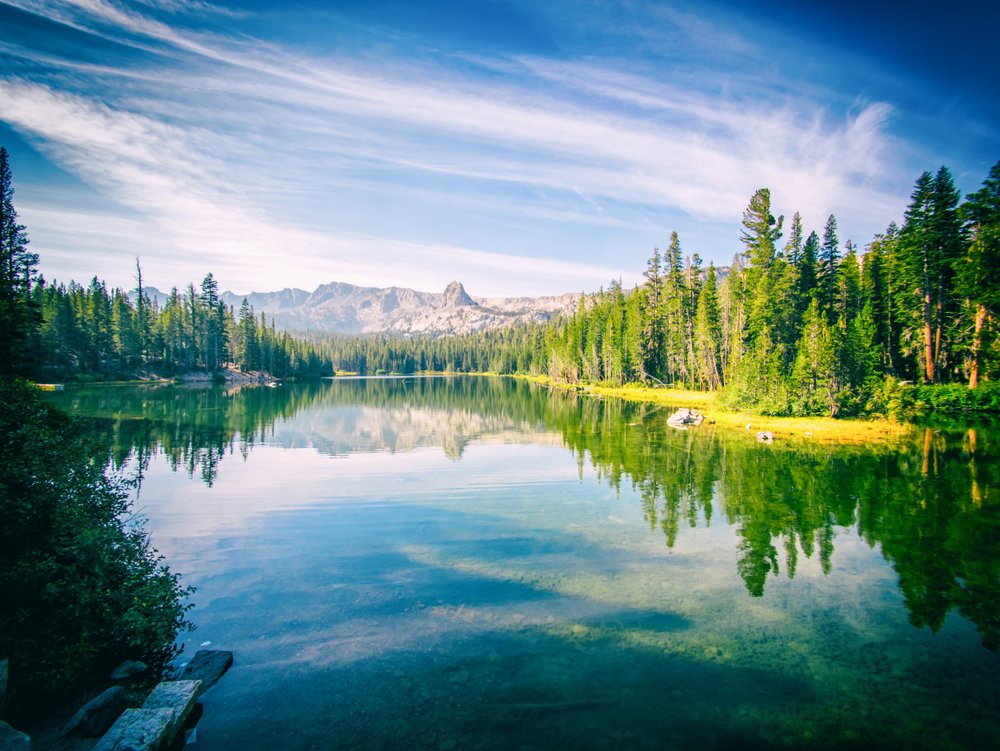 The Mammoth Lakes in Sierra Nevada are home to some of the most beautiful bodies of water in California — they're a great place to camp as well.
The mountains nearby are beloved for skiing in the winter and hiking in the summer.
See the beautiful Burney Falls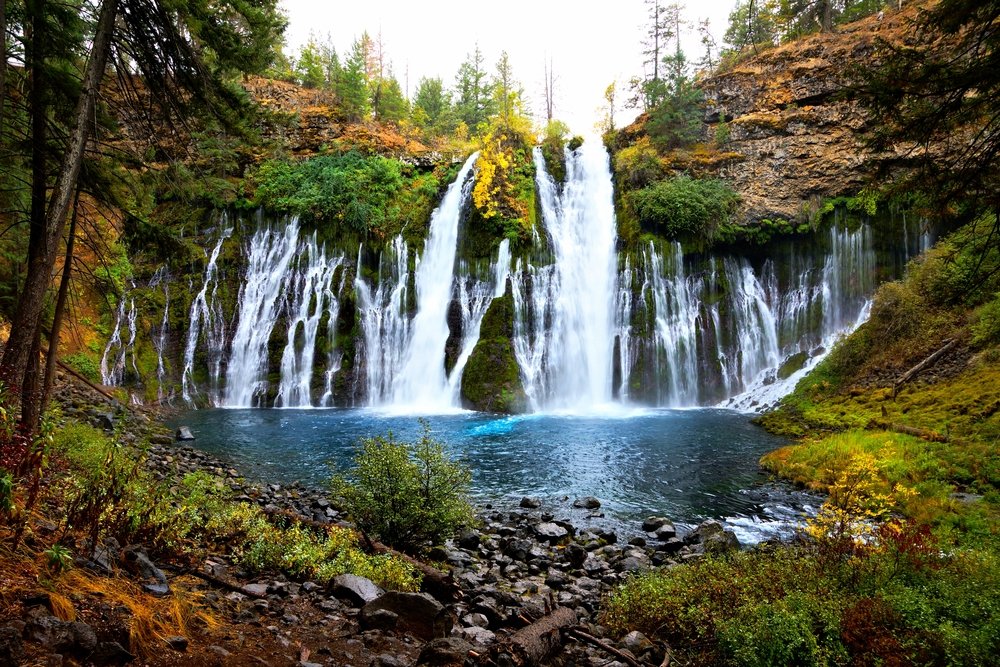 The stunning McArthur-Burney Falls is located way in the north of California, not too far from the city of Redding, just off the Pacific Crest Trail made famous by Cheryl Strayed's phenomenal book Wild.
This is one of the most beautiful waterfalls in California and it's a must on any California bucket list.
Hold your breath at Lassen Volcanic National Park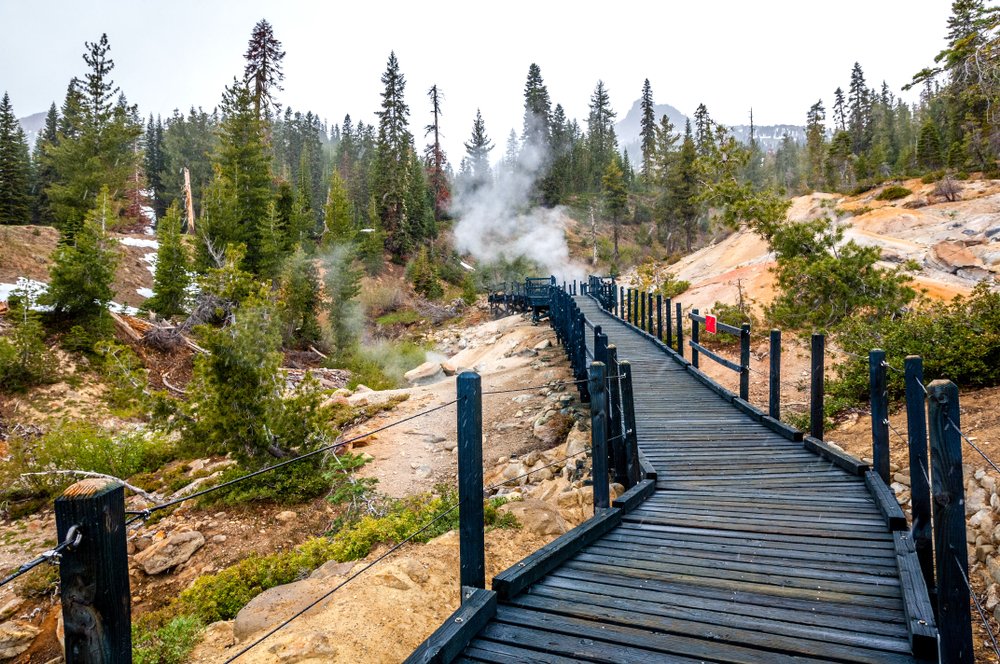 How does a trip to Bumpass Hell sound?
All jokes aside, Mount Lassen Volcanic Park is incredible: from bubbling sulphuric mud pits to lava rocks strewn from a previous eruption millennia ago, you can really see the wild and unpredictable nature of volcanoes in real life right here in California.
Take in the glorious Mount Shasta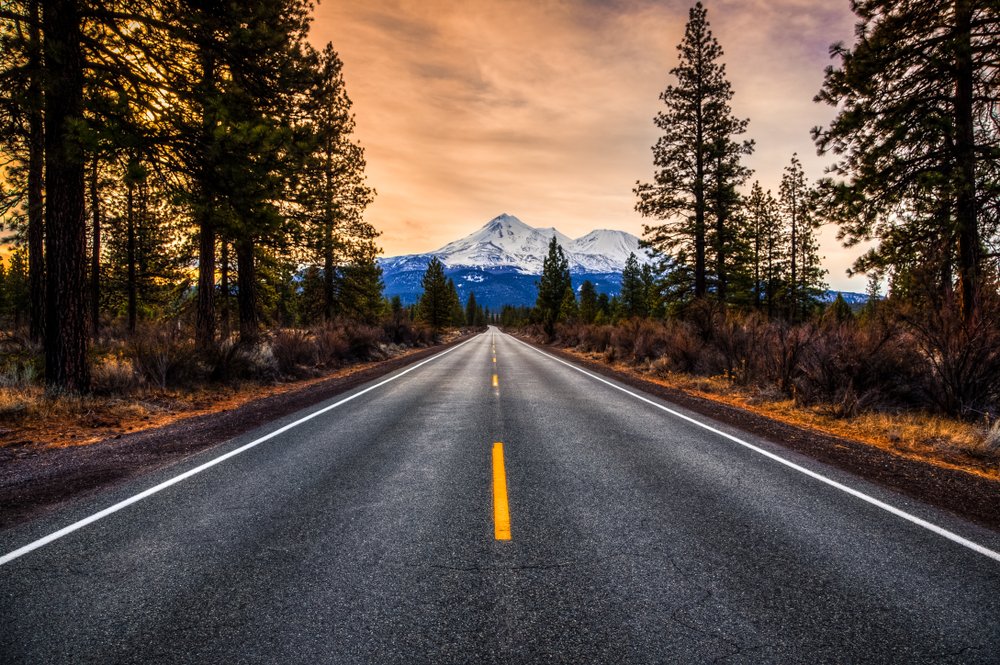 Mount Shasta is one of the most iconic mountains in California, apart from perhaps Mount Whitney.
At over 14,000 feet, Mount Shasta isn't exactly easy hiking — you definitely need to be in good shape and have proper gear to do the hike — but there are tons of hikes in the area that have a stunning view of Mount Shasta that are definitely worth undertaking.
Run in the sand dunes of Death Valley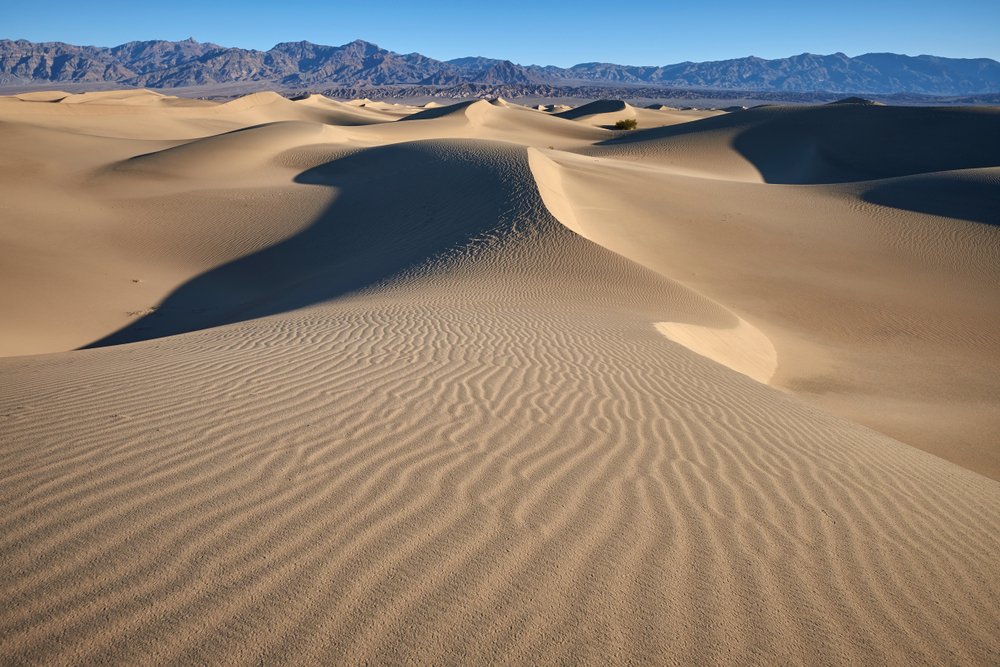 Want a touch of the Sahara in California?
The sand dunes in Mesquite Valley are the next closest thing, with super soft orange sand undulating out in the distance, with only mountains behind it.
Marvel at the Dr. Seussian Joshua trees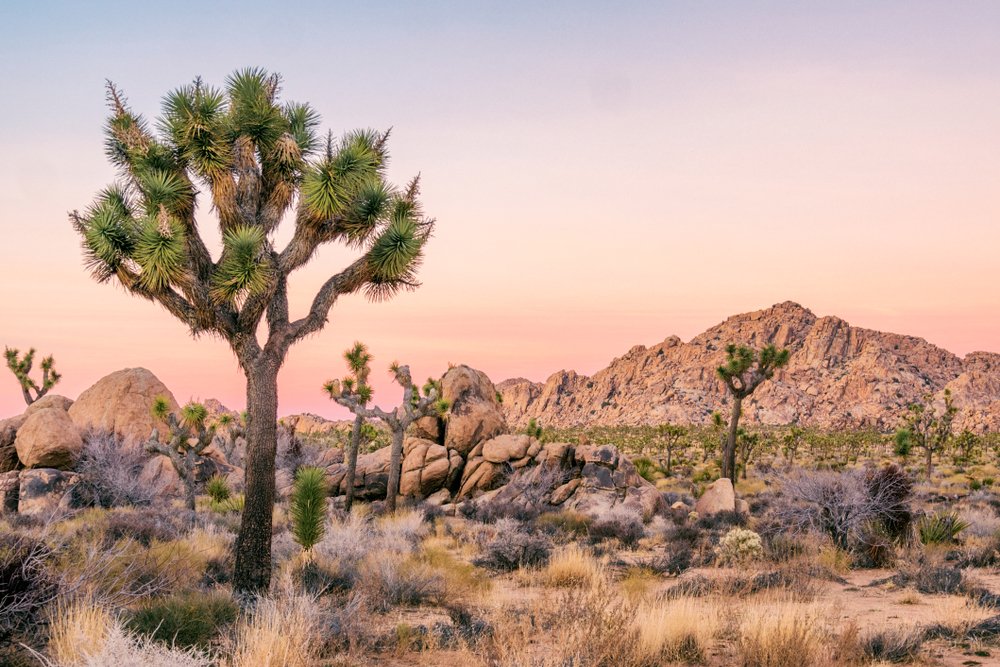 Joshua Tree National Park is one of the only places on earth you'll be able to find the strangely beautiful Joshua trees – so please treat them with the respect and caution they deserve (though frankly that goes for every natural space on this list!).
There are tons of different hikes you can do in Joshua Tree depending on your skill level and desired trail length; just be prepared as this is a rather desert-like atmosphere, so bring plenty of water!
Let your inner child go at Disneyland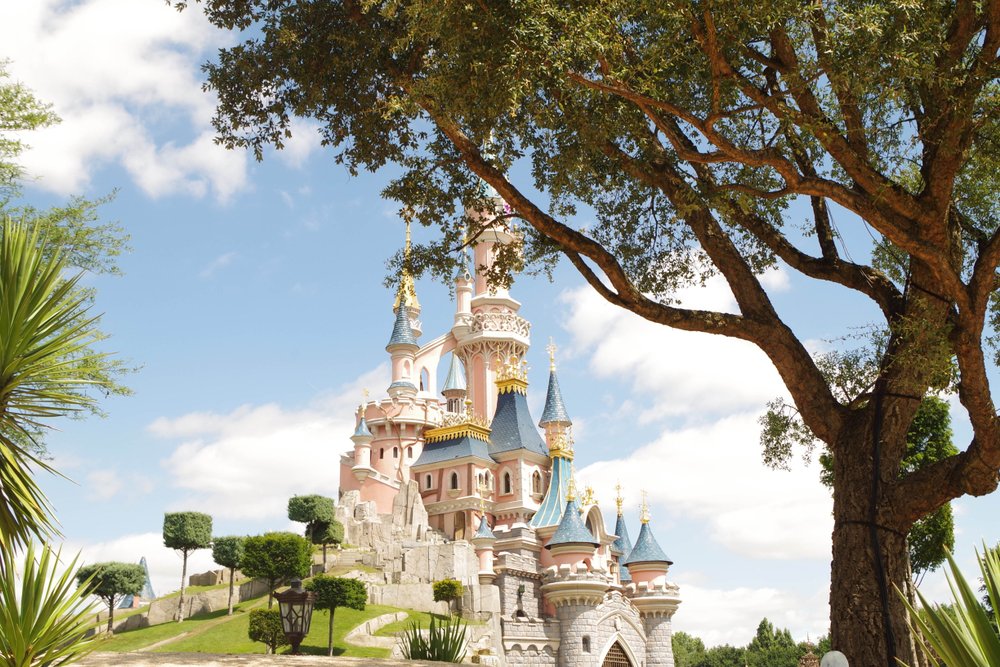 What is there to say about Disneyland that hasn't been said before?
For many, it's the happiest place on earth. For this introvert who is terrified of children and crowds, it's hell on earth.
But to each their own, and if you have children (or are a kid at heart!), a Disneyland trip is a California bucket list must.
See the cute Danish town of Solvang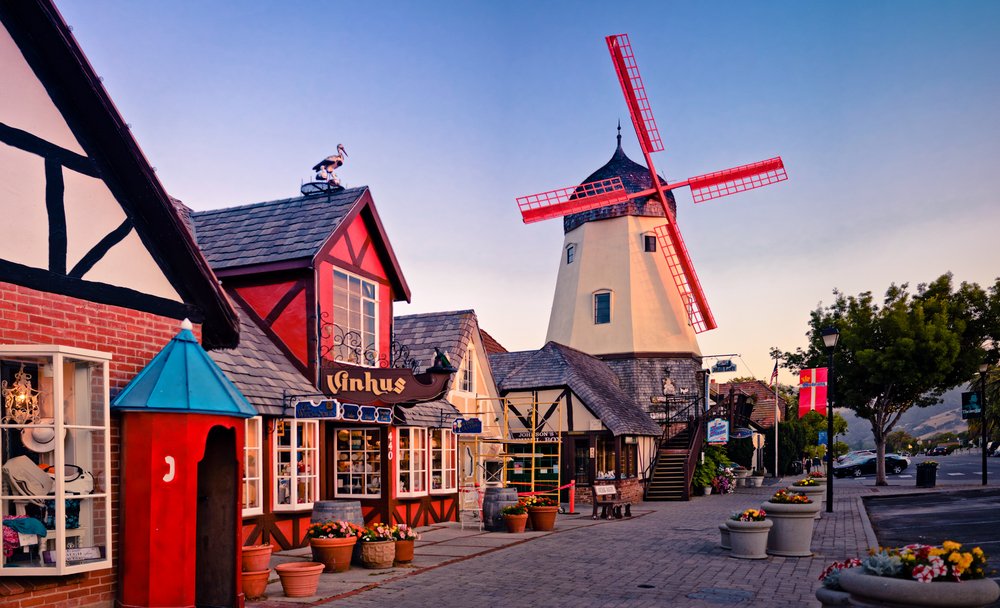 I've spent more time in Solvang than pretty much any other place on this list as it's where my grandmother lived during all her years of my life (my dad's family is from Santa Barbara). I visited at least twice a year until my grandma passed at age 12.
Growing up I always thought it was a bit of a silly place – who could think of a slice of Denmark right in the heart of Southern California – but I've heard Solvang is just plain cool now, with wine bars, hip restaurants, and plenty of cool things going on to attract weekend trippers from nearby Santa Barbara.
Hike to Sturtevant Falls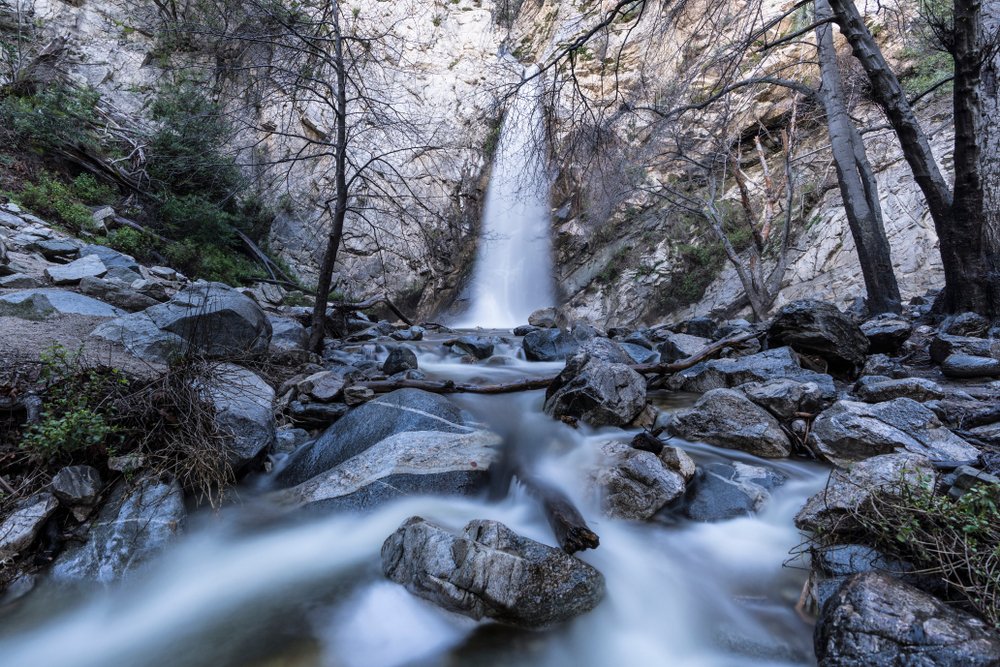 There are a lot of wonderful hikes near LA, and one of the most popular is located in the Angeles National Forest, part of the San Gabriel Mountains.
Sturtevant Falls is a relatively easy hike good for beginners, a little over 3 miles, and it's a great way to escape from the hustle and bustle of LA.
Catch an incredible sunset in LA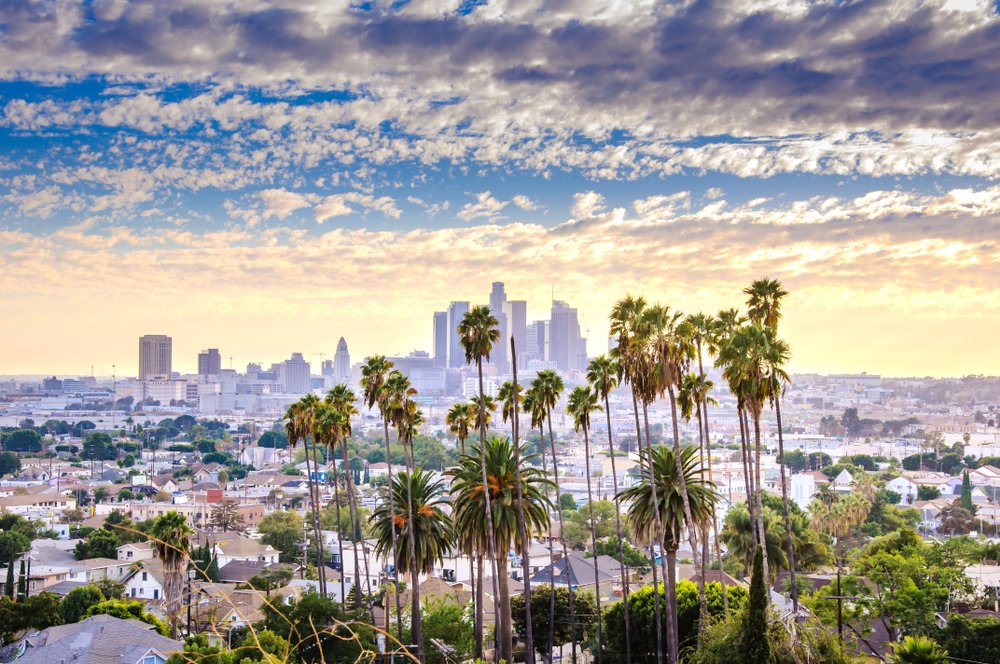 Los Angeles is an incredible, invigorating metropolis which can at times be a bit overwhelming due to the relentless traffic and unending sprawl. But you can catch a moment of peace and quiet, it makes it pure magic.
Some great viewpoints can be found at the Hollywood Bowl Overlook and Griffith Observatory, but there are countless other viewpoints worth seeking out!
Window shop with celebrities on Rodeo Drive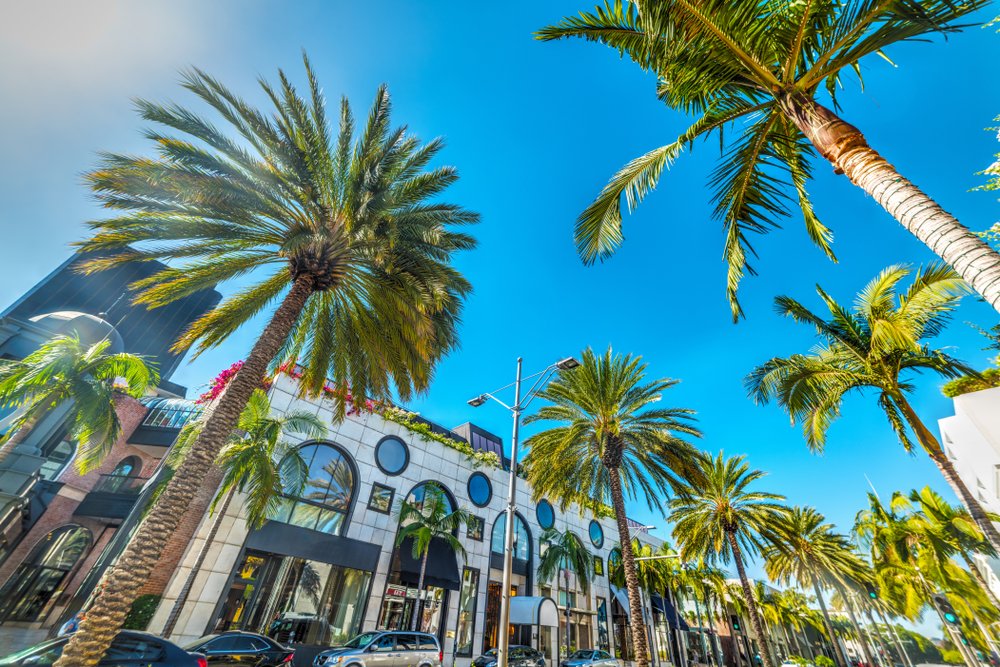 Rodeo Drive is one of the most famous shopping streets in California, and you'll find that nearly every designer has a piece of real estate here.
You'll find everything from super high end Louis Vuitton and Prada to more accessible brands like Banana Republic and Anthropologie. Even if you don't have the money to splurge, it can be fun to window shop here and try to spot some celebrities doing a bit of shopping!
Stroll down the Walk of Fame on Hollywood Boulevard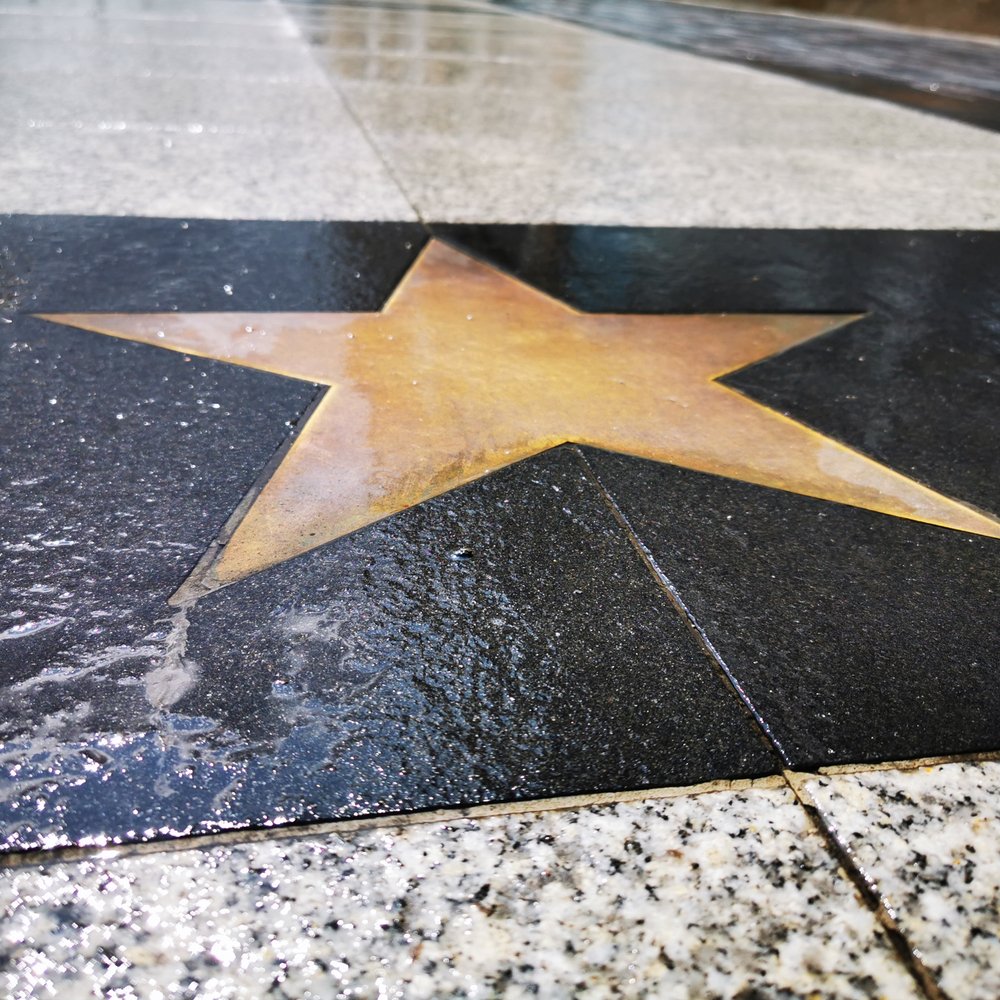 A bit obsessed with Hollywood? You can't miss the Walk of Fame!
Stroll down Hollywood Boulevard while spotting your favorite celebrity stars, snapping photos along the way — touristy, yes, California bucket list must, also yes!
Catch a sunset at Laguna Beach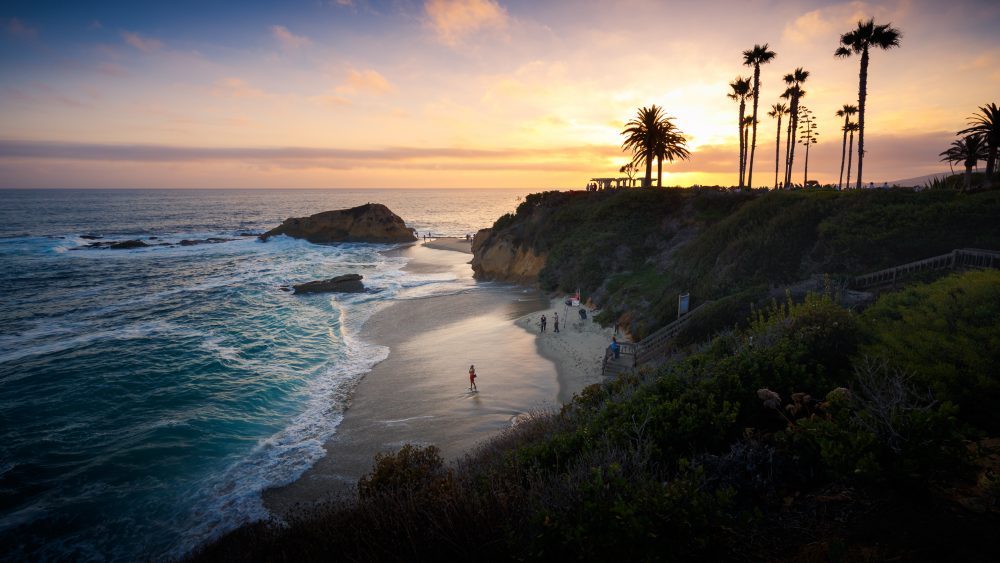 In my mind, I will always and forever associate Laguna Beach with the reality TV show (I am a millennial, after all). But Laguna Beach is so much more than the drama between Kristin and LC.
The beach is stunning, the sunsets are unbelievable, and the food is incredible.
Stroll the famous Huntington Beach Pier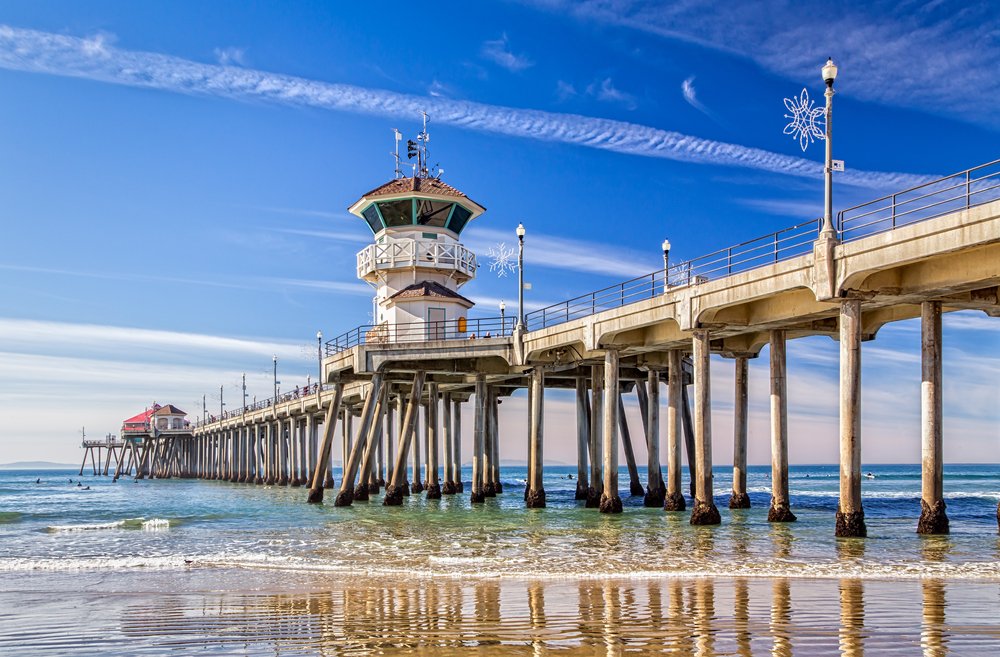 Huntington Beach is a beloved surf town in Southern California, and one of the things it's most famous for is its enormous pier.
It's nearly 2,000 feet long and is one of the longest piers in all of the West Coast, going far into the Pacific so you can see the waves crashing beneath your feet.
See the sunset from the pier on Pismo Beach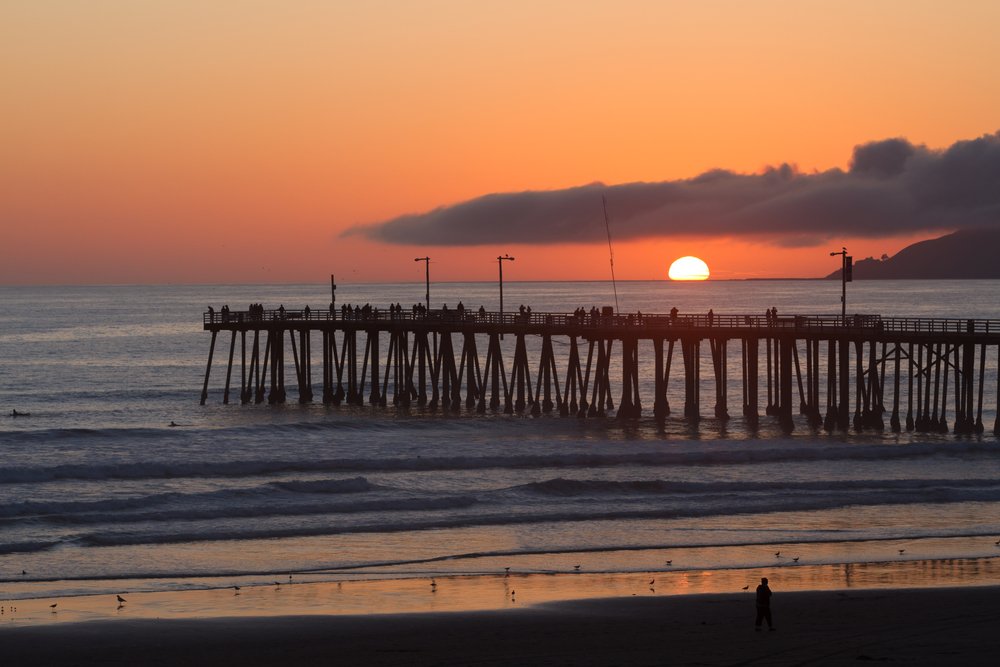 Pismo Beach is another place I associate with my childhood, as we'd always stop there on our Pacific Highway road trips to go visit my grandmother.
It's dead beautiful during the sunset, and it makes a fantastic place to stop on any Highway 1 trip. Frankly, I think it's one of the most beautiful beaches in all of California.
See the desert colors at sunrise at Zabriskie Point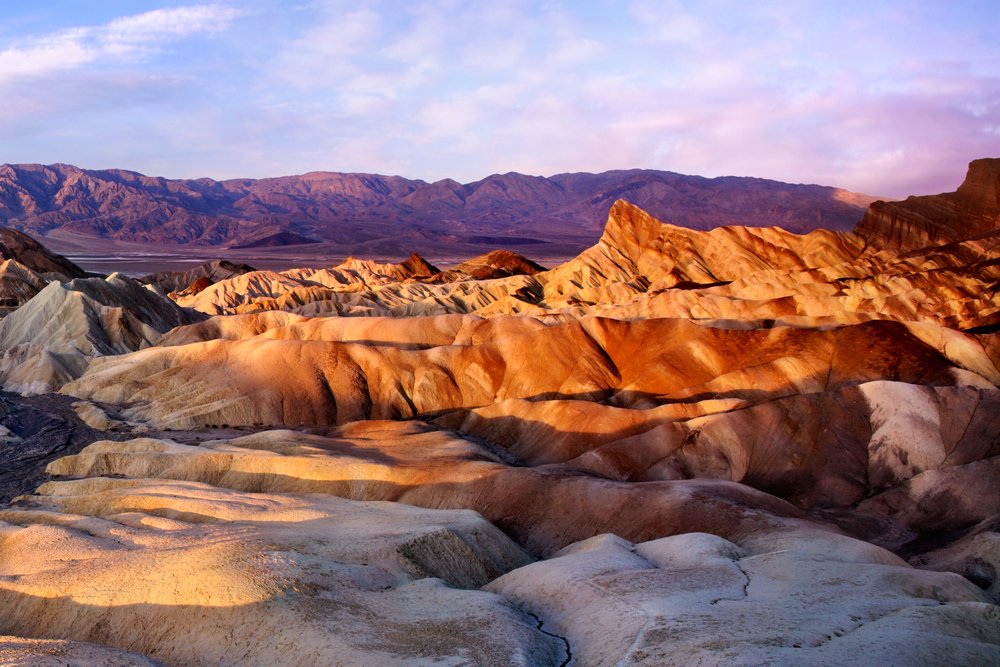 There are so many stunning places in Death Valley that its hard to know where to get started, but Zabriskie Point with its gorgeous kaleidoscope of colors seems as good a place as any!
It's especially beautiful at sunrise and sunset, when sun sets the desert on fire, but prepare to be surrounded by tons of photographers who share the desire to capture this beautiful place in California as well!
Check out the Salton Sea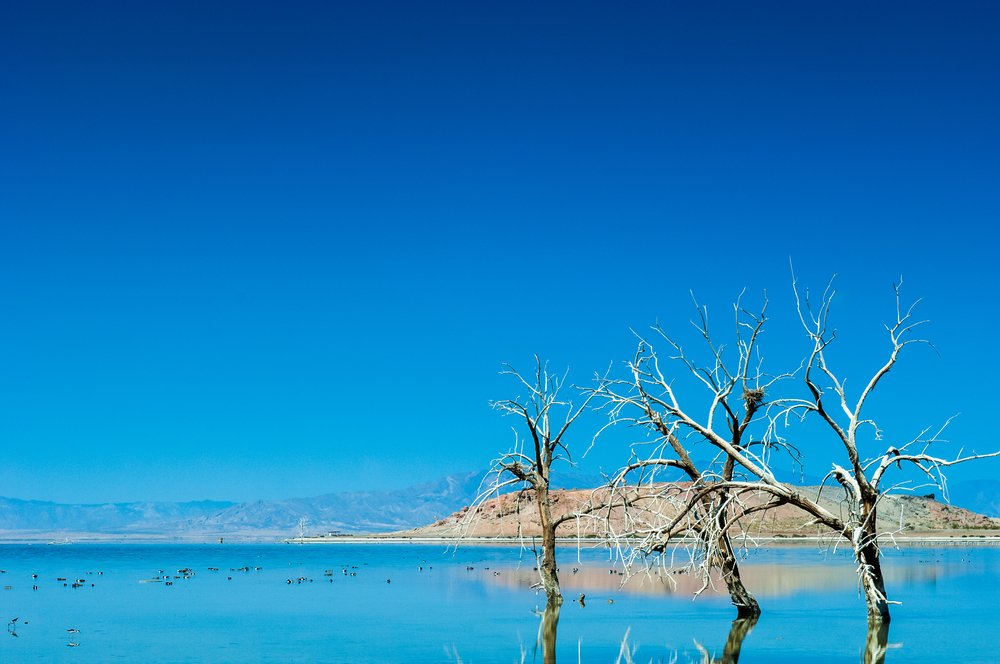 The Salton Sea may be beautiful in its own way, but it is most definitely NOT a place you want to swim!
The water is evaporating so rapidly that it's left insanely high saline levels, killing off a lot of the ecological diversity it once held. Once a major tourism destination, the Salton Sea area is now a bit of a ghost town, which is part of what makes it so fascinating.
Stargaze for the Milky Way in Death Valley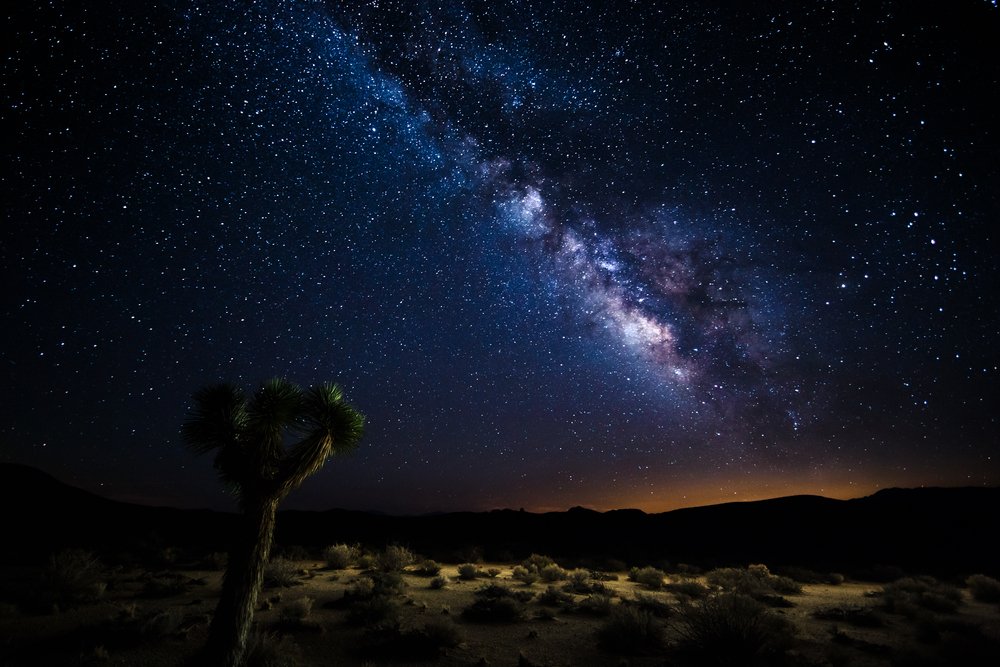 Some of the clearest skies in California are in Death Valley, so if you're a serious stargazer, bring your best camera, warm clothes, and loads of patience on a clear night to try your hand at astrophotography in this beautiful place.
See the lowest point in North America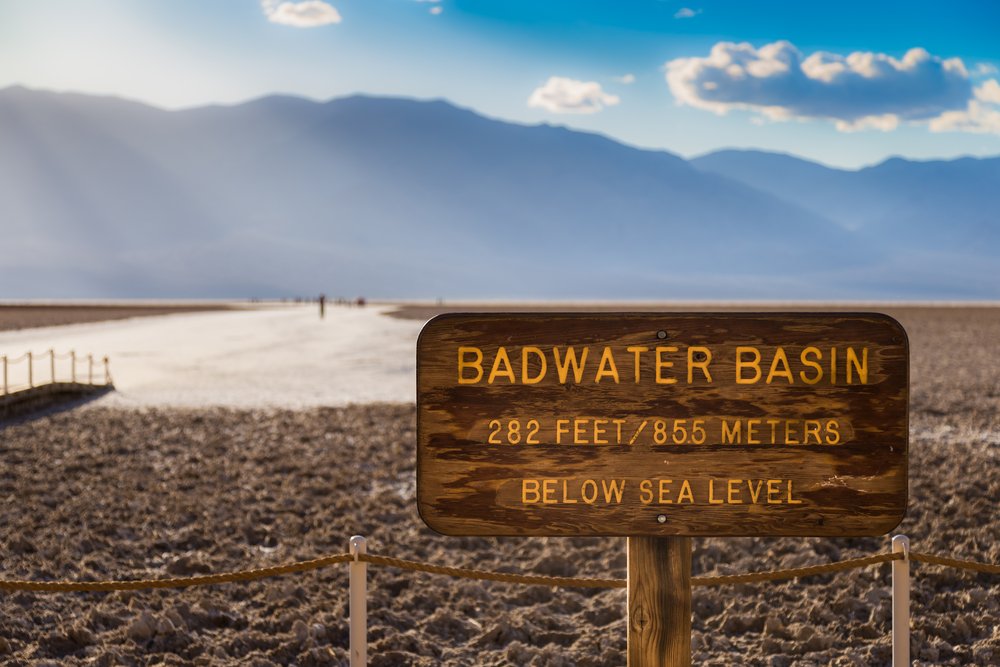 Badwater Basin is the lowest point in all of North America, making it a bit like the Dead Sea of the Western Hemisphere.
The salt flats make otherworldly hexagonal like patterns which are incredibly beautiful and there is a marker on the cliff to show just where sea level is, which grants you an incredible perspective of just how low you are when you visit Badwater Basin!
Visit the charming seaside city of Carlsbad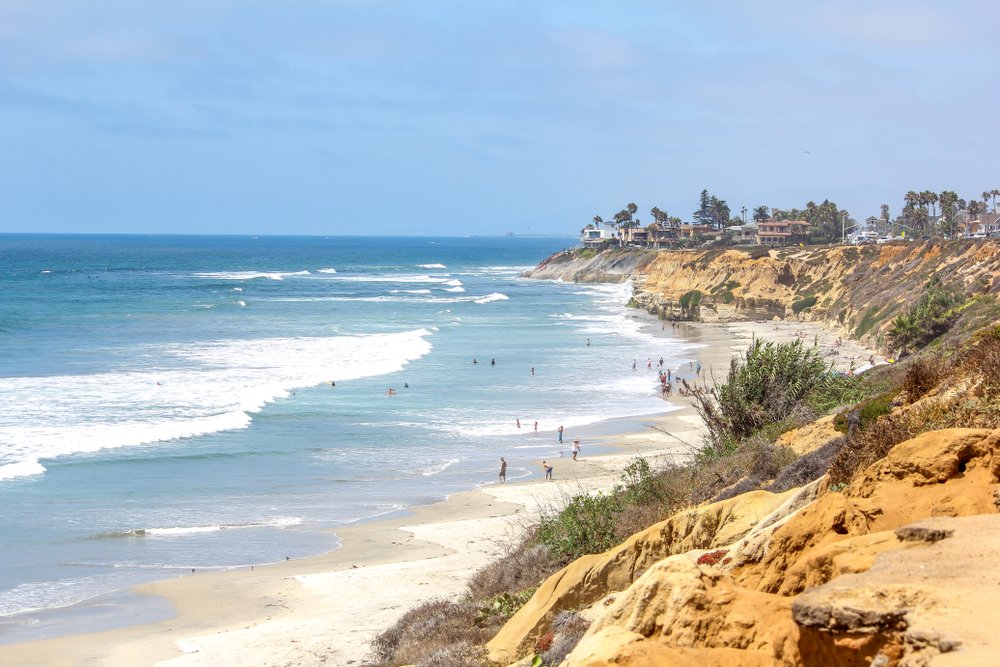 Carlsbad is a small city in between Los Angeles and San Diego that has a ton of incredible attractions making it worthy of any California bucket list.
There are a number of lagoons and beaches worth exploring, plus it's the location of Legoland — a must for any kid!
Relax in Palm Springs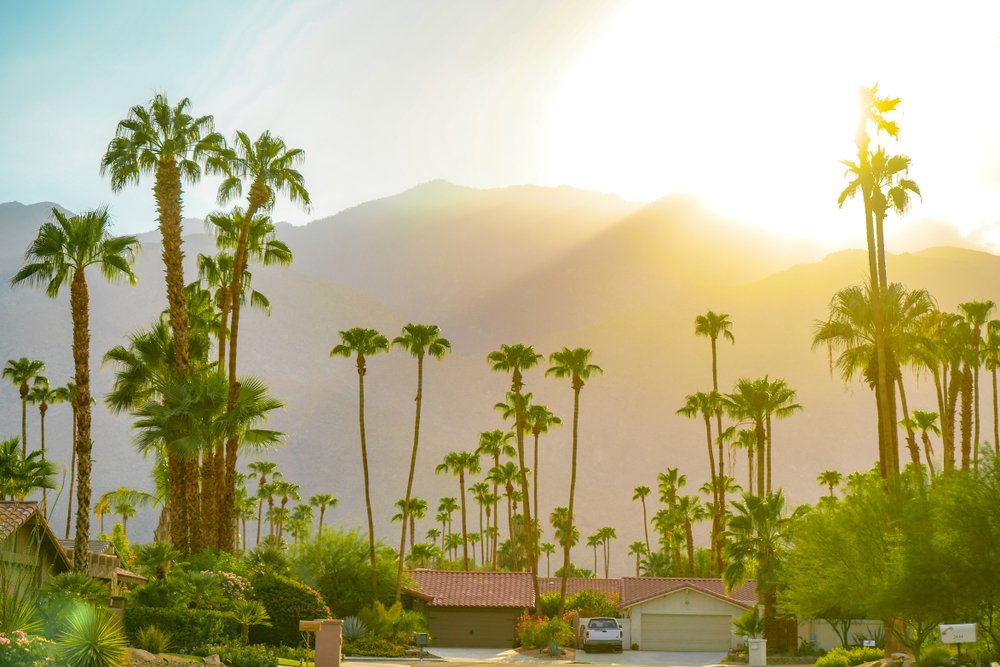 Palm Springs is a beloved weekend getaway in California for people all around the state.
Located in the Sonoran desert with the backdrop of the Hollywood Hills, Palm Springs is like an oasis of luxury amid the desert. It's famous for its architecture and luxury hotels, as well as its hot springs, so if you're in need of some R&R, Palm Springs is the best place in California to get it!
See the San Diego skyline from Coronado Island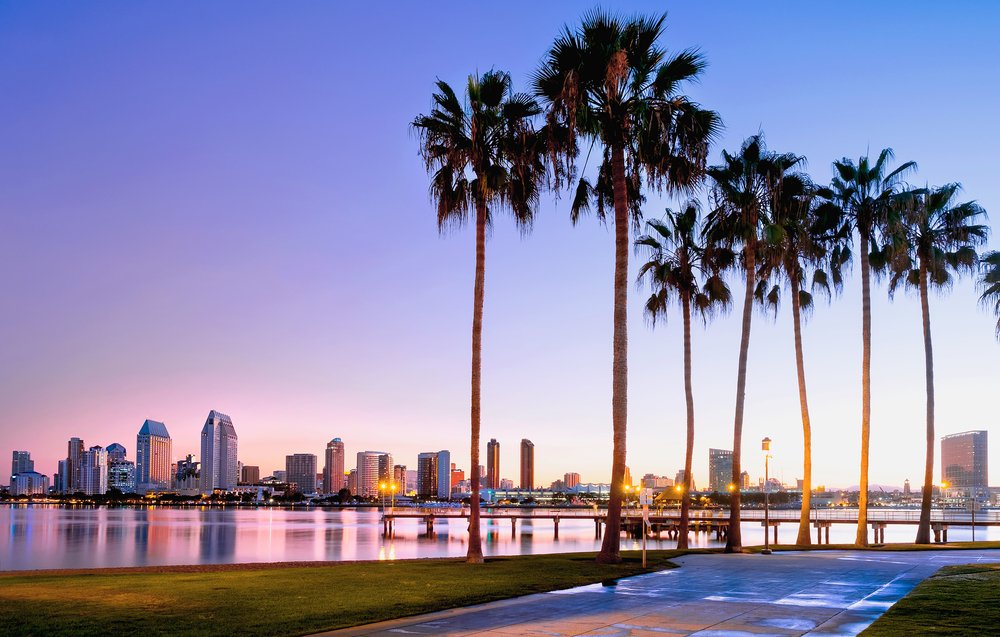 Did you know that California has several islands?
In addition to the more famous Channel Islands, which includes Catalina, California's largest island, there are a handful of other islands which are charming places to visit in California.
Coronado Island is connected to San Diego by a bridge, making it — technically speaking — no longer an island. Its beach and its gorgeous views of the San Diego skyline make this a must on your California bucket list.
Relax on the beautiful Torrey Pines State Beach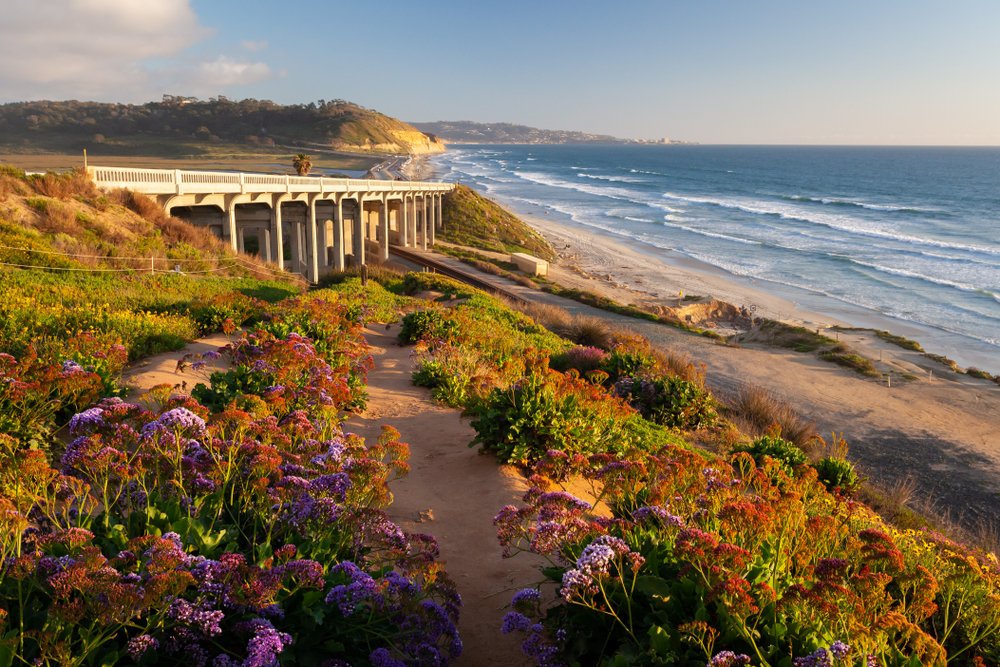 Not far from San Diego is one of the most beautiful stretches of beach in all of Southern California.
Filled with flowers and beautiful fine sand, Torrey Pines State Beach is a must on your California bucket list.
Pin This Guide to Things to Do in California & California Bucket List Ideas!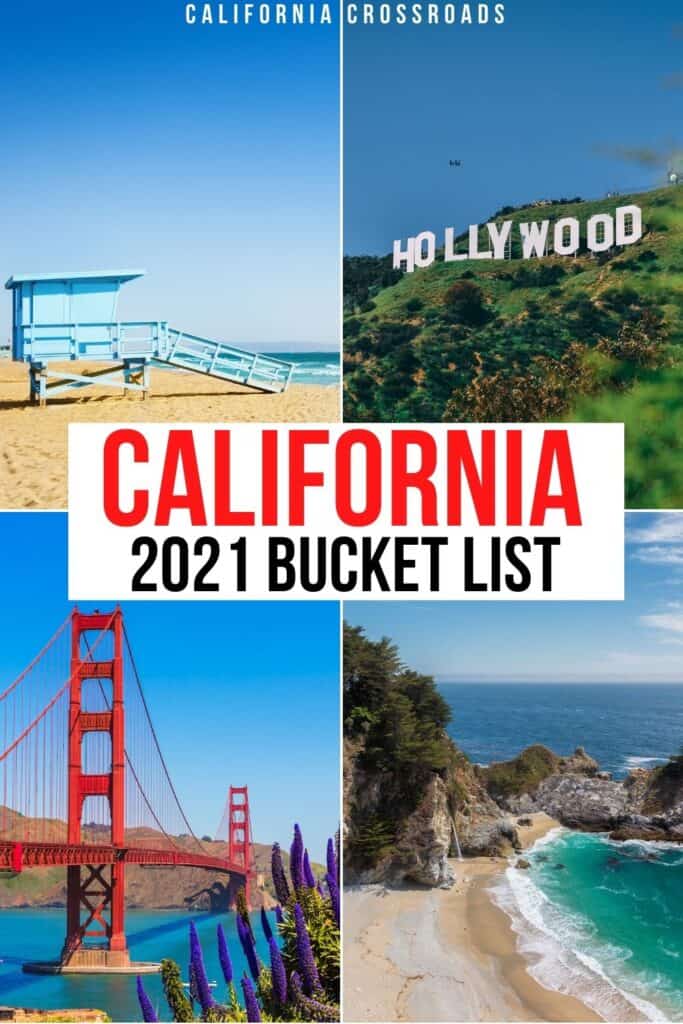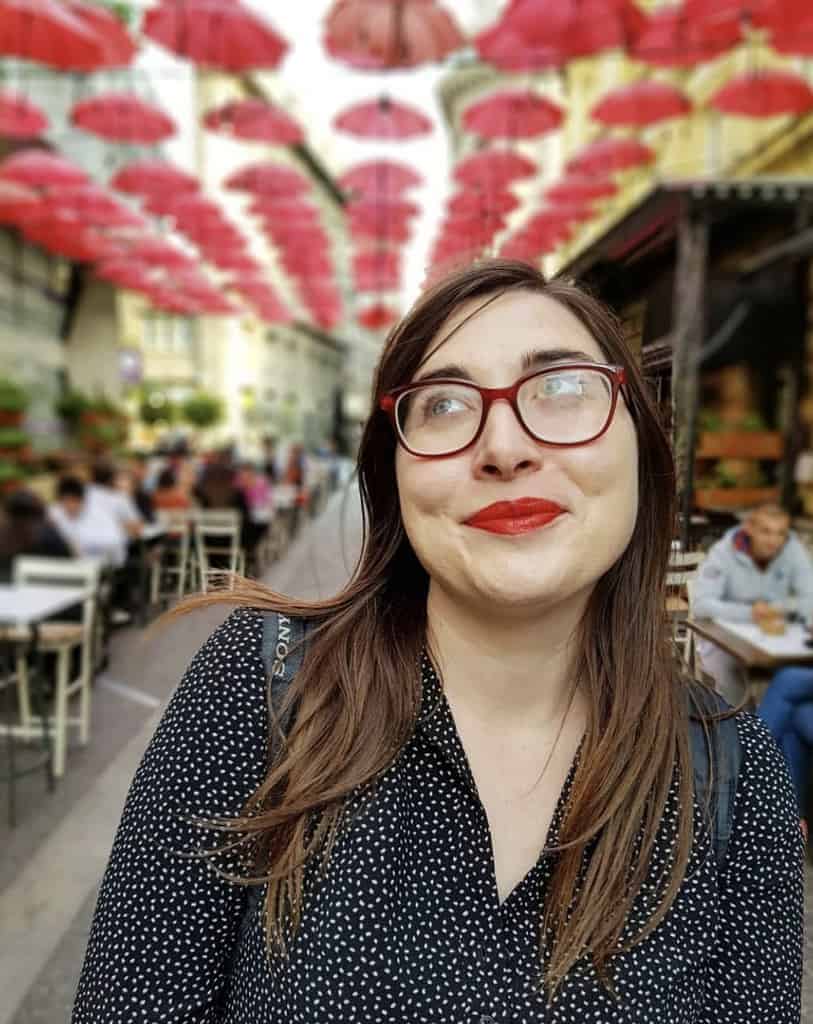 Allison Green is a travel blogger, writer, and podcaster who grew up in the Bay Area of California. She has spent time living in New York, Prague, and Sofia, but has returned to live in the East Bay. She has traveled to 60 countries before the age of 30 while running several digital travel publications. Her writing and podcast have been featured in Forbes, CBC Canada, National Geographic, the Huffington Post, and CNN Arabic, amongst others. She's obsessed with bouldering, houseplants, other people's pets, and anywhere she can see the ocean.