Los Angeles is the city that dreams are made of! The rich and famous often take center stage in this dazzling city full of glitz and glamour, leaving other aspects behind closed curtains.
It's time to bring your attention to the city's vast and varied—and rather breathtaking—geography with these incredible hikes in L.A.
L.A. is more than just traffic and skyscrapers! Its sprawling terrain provides many opportunities to explore and get in touch with nature.
A hike in the westside of L.A. will offer you sweeping views of the beautiful beaches that stretch for miles along the Pacific Ocean.
Meanwhile, a hike in northern L.A. will allow you to achieve substantial elevation and capture 360-degree views of the many incredible mountain peaks, rolling hills, canyons, and valleys.
Hiking is the perfect getaway from the bustling metropolis—something all Angelenos need!
From easy, medium, to hard—there is a hike for every difficulty level in L.A. If you're itching to go on an urban adventure without all the bustle, then one of these trails is bound to satisfy your needs, and more.
Here are 21 of the best trails to hike in L.A.!
Where to Hike in Los Angeles
Note: This post contains affiliate links, which earn me a small commission at no extra cost to you if you make a purchase using one of these links. Thank you for supporting this free content!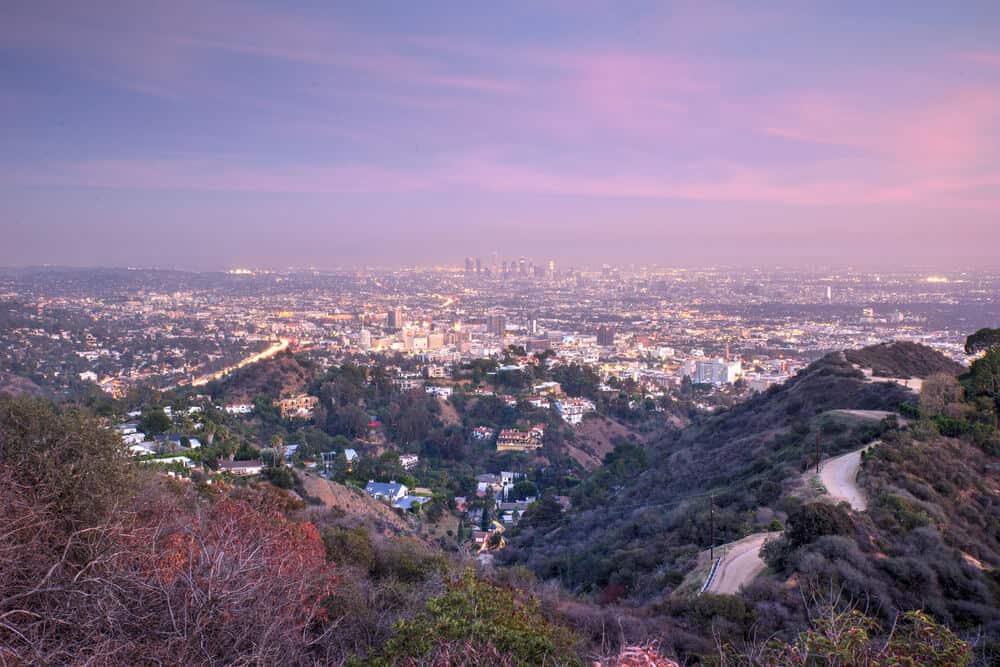 While there are hundreds of incredible trails throughout the Angeles National Forest, most of them require preparation, advanced skill, and plenty of time to hike.
A drive to the Forest from central L.A. can take up to two hours (that L.A. traffic is no joke!), so to save you on travel and preparation time, check out 10 of the best hikes in Los Angeles County listed below.
These hikes are an ideal way to spend your morning or afternoon, and most can be completed by beginners!
Notes and Tips on Hiking in Los Angeles
The climate is mostly hot and dry, and most hiking trails offer little shade—always bring enough water and food, and wear sun protection.
The temperatures are the highest from July to September—plan your hike for the early morning if you are hiking during these months to avoid getting caught in the summer heat.
If you are hiking during the spring, fall, or winter season, bring a light waterproof and windproof jacket in the off chance you get caught in rainfall or the gales of the "Santa Ana winds" (the extremely dry, strong, and often hot winds that originate from the east and typically occur in late summer and early fall).
If you are hiking in the early spring, late fall, or winter season in the Angeles National Forest (i.e., San Gabriel Mountains), always check the local weather report as snow and ice near the summit of some trails may make it very difficult, or nearly impossible, to hike. (Yes, it does snow in LA!)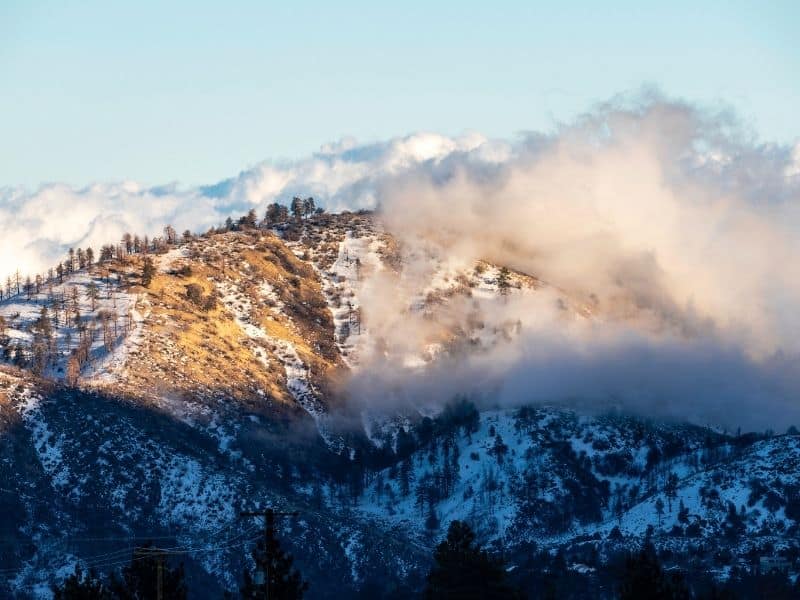 For some trails in L.A., especially those in the San Gabriel Mountains, trekking poles are highly recommended. You can purchase a reliable and inexpensive set of poles online here.
Most of these hikes can be completed with comfortable and supportive walking shoes, ideally ones with durable outsole grips that have good traction as this will prevent you from slipping and falling when hiking up or down steeper slopes. For the more difficult hikes, wearing hiking boots that have ankle support are highly recommended. I recommend the NORTIV 8 Mid Waterproof Boots for men and the Hi-Tec Logan Mid Waterproof Boots for women.
It's normal to encounter wildlife during a hike in Los Angeles, such as snakes or coyotes. It can be alarming to be near a wild animal if you're not used to being in nature, but don't panic or make any sudden movements or sounds that may disturb the animal. Always keep your eyes open and maintain your distance from animals—they will not attack unless you bother them.
If there's been rainfall, wait at least a few days to allow the land to dry. In L.A., parks often close the day after it rains because the trails are muddy and unsafe to hike on. Always check the park's website first before heading out to the trail.
Stay on the official, marked paths of trails and don't leave trash behind.
Before embarking on your trek, review the trail map and screenshot it or print it out to bring with you as you can lose cell service on the trails. www.alltrails.com is a great resource!
The Best Hikes in Los Angeles County
Kenneth Hahn Park Hike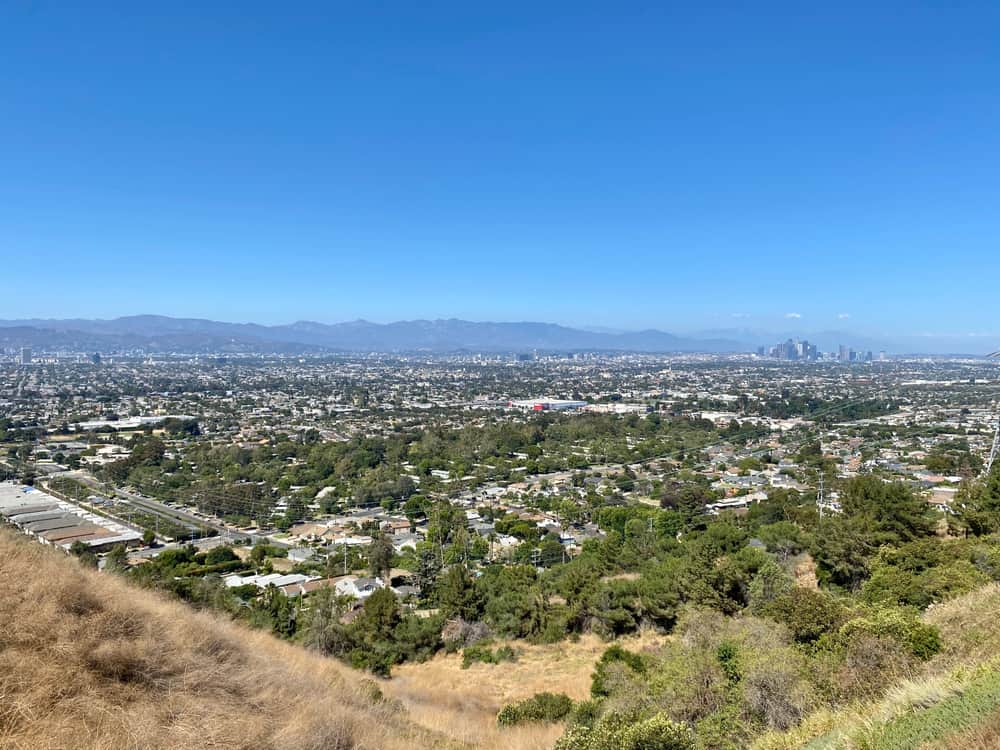 Distance: 2 miles
Difficulty: Easy
This west L.A. hike is perfect for the family as the trail is well marked and does not include many steep slopes. This trail will loop around the perimeter of Kenneth Hahn State Recreation Area where you'll witness spectacular views of Downtown L.A.
At the beginning of the hike, you will see the peaceful Doris Japanese Garden and pass through a charming red footbridge and a pond with water lilies and koi fish.
Trailhead Address: 4100 South La Cienega Blvd, Los Angeles, CA 90056. After entering the park's main entrance, make a left to park in the "Olympic Forest" parking lot. Walk to the far end of the parking lot to begin the hike along the dirt path.
View park information here.
Baldwin Hills Scenic Overlook / Culver City Stairs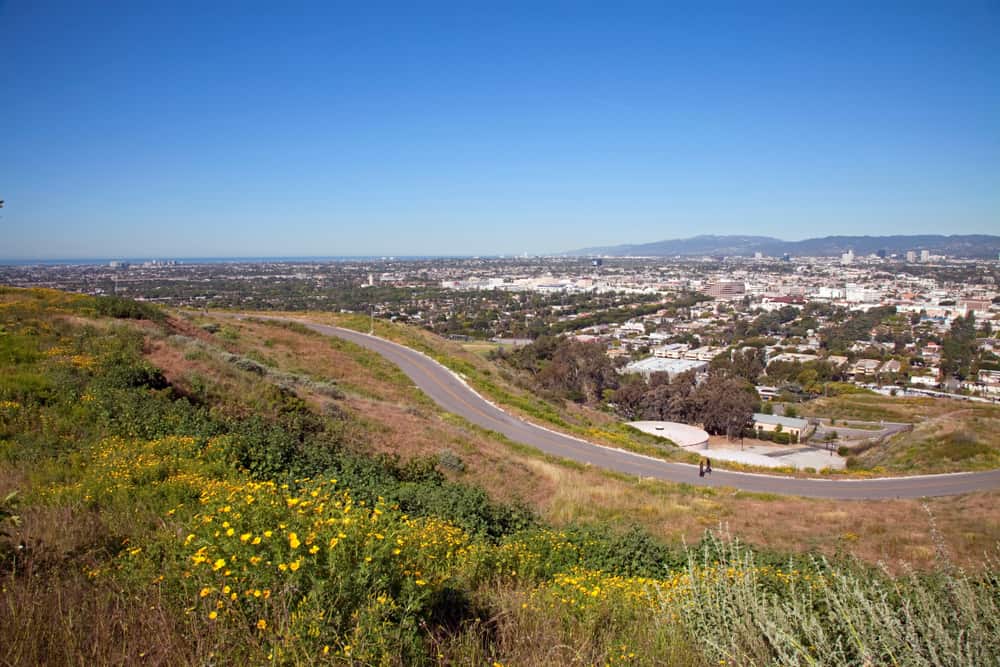 Distance: 2.3 miles (switchbacks) / 0.18 miles (stairs)
Difficulty: Medium (switchbacks) / Hard (stairs)
The Baldwin Hills Scenic Overlook boasts panoramic views of the skyline from west L.A.
There are two options for hiking to the peak of Baldwin Hills. For the scenic switchback route, make sure to turn left before the stairs and follow the dirt path as it zig-zags up the hill.
If you're seeking a challenge, head straight up the Culver City Stairs and conquer 282 steps worth of a steep incline. Either way, you'll reach the peak where you can take a break and soak in the breathtaking city views.
Trailhead Address: 6050 Jefferson Blvd, Culver City, CA 90232
View park information here.
Temescal Canyon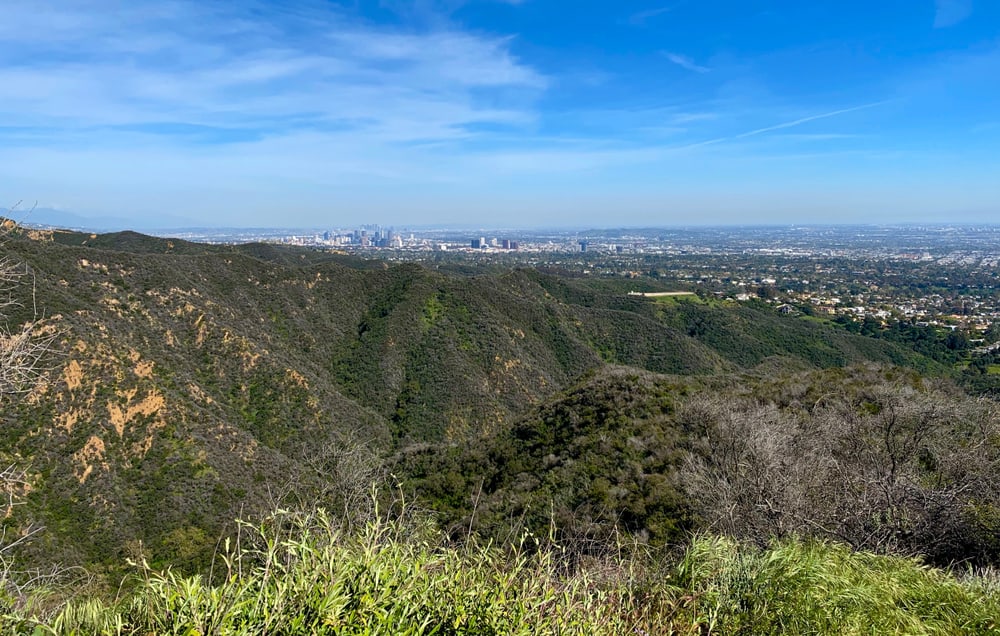 Distance: 3.2 miles
Difficulty: Medium
Located north of Santa Monica is Temescal Canyon Park where you'll hike through lush terrain (perfect for a hot day when you need some shade) and make your way along an elevated ridgeline for sweeping views of the coast and the Pacific Ocean.
After roughly a mile into the hike, you'll encounter a bridge that passes over one of the trail's main features, the Temescal Canyon Falls.
Tip: The Falls are best viewed at least a couple days after rainfall.
Trailhead Address: 15601 Sunset Blvd, Pacific Palisades, CA 90272. After you enter the main entrance and park to the left, walk straight into the park until the pavement road ends and make a left up the dirt path. A trail sign will indicate where to go.
View park information here.
Wisdom Tree Hike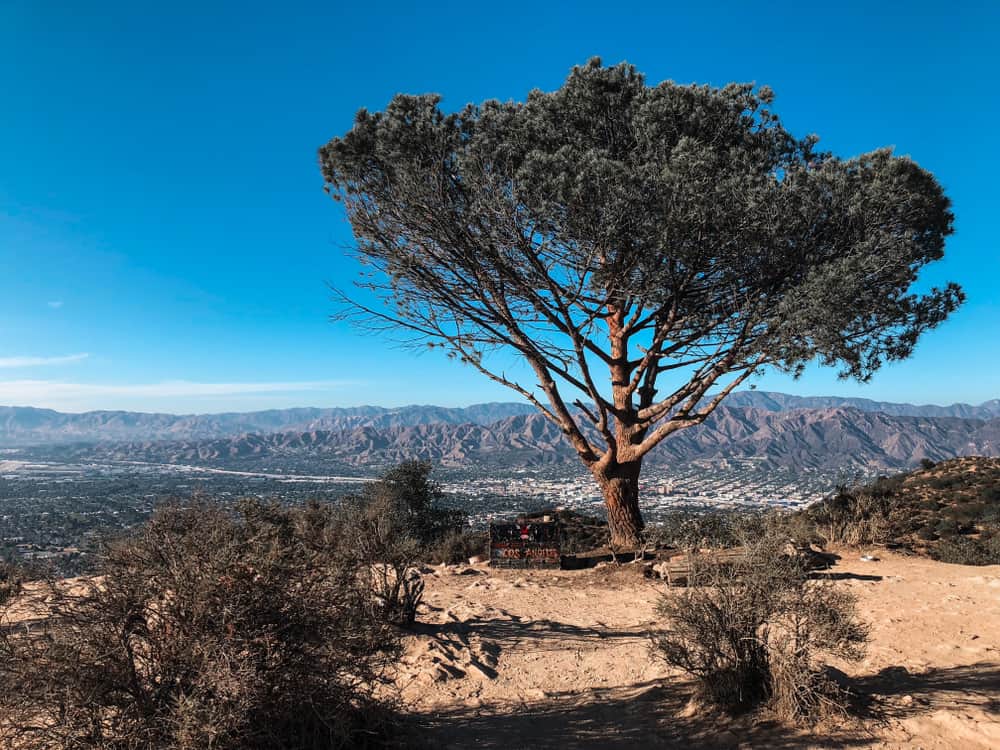 Distance: 1.8 miles
Difficulty: Medium
Situated in Hollywood is the Wisdom Tree hike to Burbank Peak, which is popular for its scenic view of the lone-standing "Wisdom Tree" and its surrounding cityscape.
Although the hike is a steep and rocky incline throughout most of the trail, the stunning sights at the summit are worth the challenge.
The route type is out-and-back, so it's easy enough to go down the way you hiked up.
Trailhead Address: Wonder View Trailhead:Wonder View Dr, Los Angeles, CA 90068. Park along Lake Hollywood Dr, then walk up the road to the Wonder View Trailhead to begin the hike.
View park information here.
Runyon Canyon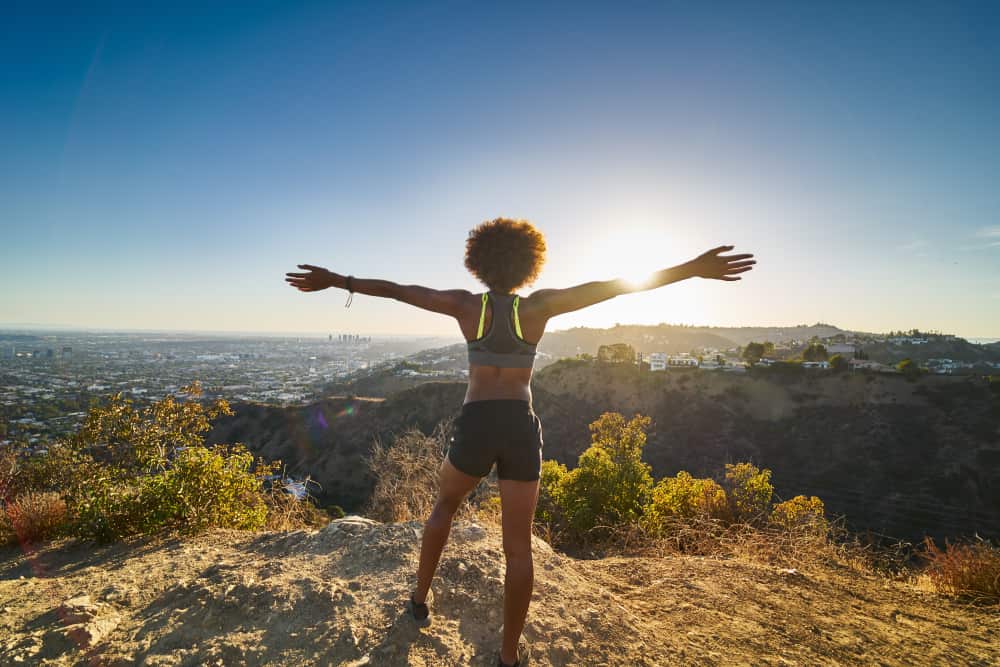 Distance: 3.5 miles
Difficulty: Medium
Distance: 3.5 miles
Difficulty: Medium
An iconic hike nestled in Hollywood, Runyon Canyon attracts locals, tourists, and celebrities!
Although the hike tends to be more crowded, it's a short and fun hike that includes a balanced mix of inclines and declines.
Once you complete the steepest climb of the hike near the beginning of the trail, you'll be able to see downtown L.A., the Hollywood Sign, and the Griffith Observatory in the distance.
Tip: Arrive early and ideally on a weekday when it's less busy since there is limited street parking.
Trailhead Address: 2000 N Fuller Ave, Los Angeles, CA, 90046
View park information here.
Lake Hollywood Reservoir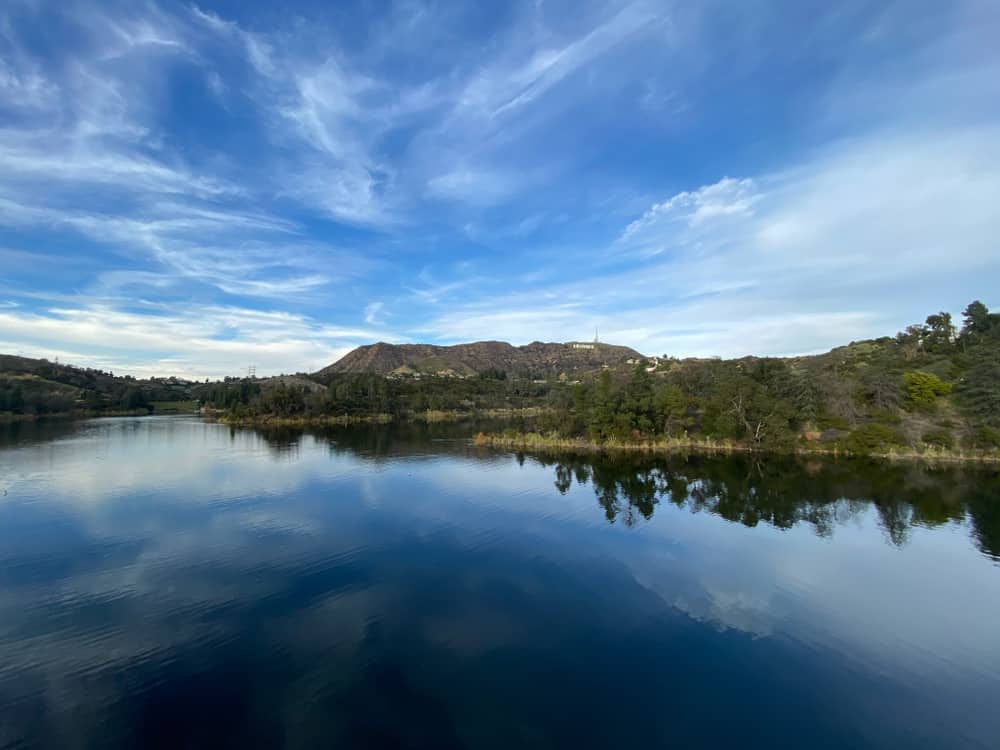 Distance: 3.5 miles
Difficulty: Easy
The trail around Lake Hollywood Reservoir is ideal for beginner hikers and families. Most of the trail is paved and loops around two bodies of water: Lake Hollywood and the Hollywood Reservoir.
Enjoy the lake, foliage, and close-up views of the Hollywood sign throughout your hike!
Trailhead Address: Lake Hollywood North Gate, Lake Hollywood Drive, Los Angeles, CA 90068
View park information here.
Hollywood Sign Hike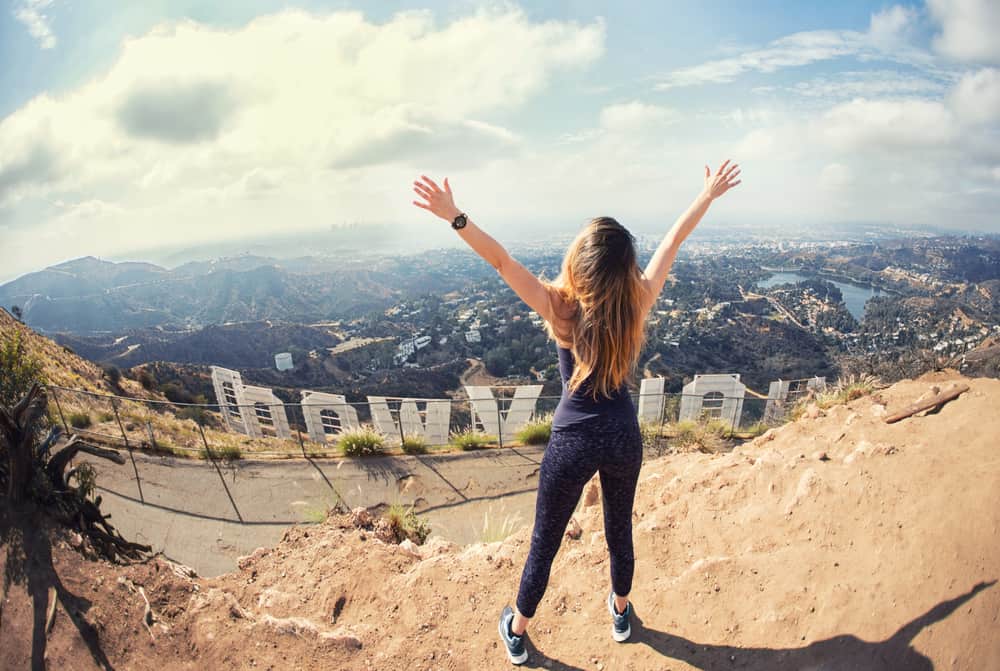 Distance: 6.5 miles
Difficulty: Medium
Whether you reside in or are a visitor of L.A., the hike to the Hollywood Sign is a must.
The hike will take you up 1,709 feet in elevation where you can stand directly behind the sign and look out at the beautiful views of the city and mountains!
The trail is steep at some parts of the hike, but you'll be rewarded with plentiful views throughout the ascent that will make the climb worth it. This is the most quintessential L.A. hike for a reason!
Trailhead Address: 3200 Canyon Dr, Los Angeles, CA 90068
View park information here.
Bronson Caves and Canyon, Griffith Park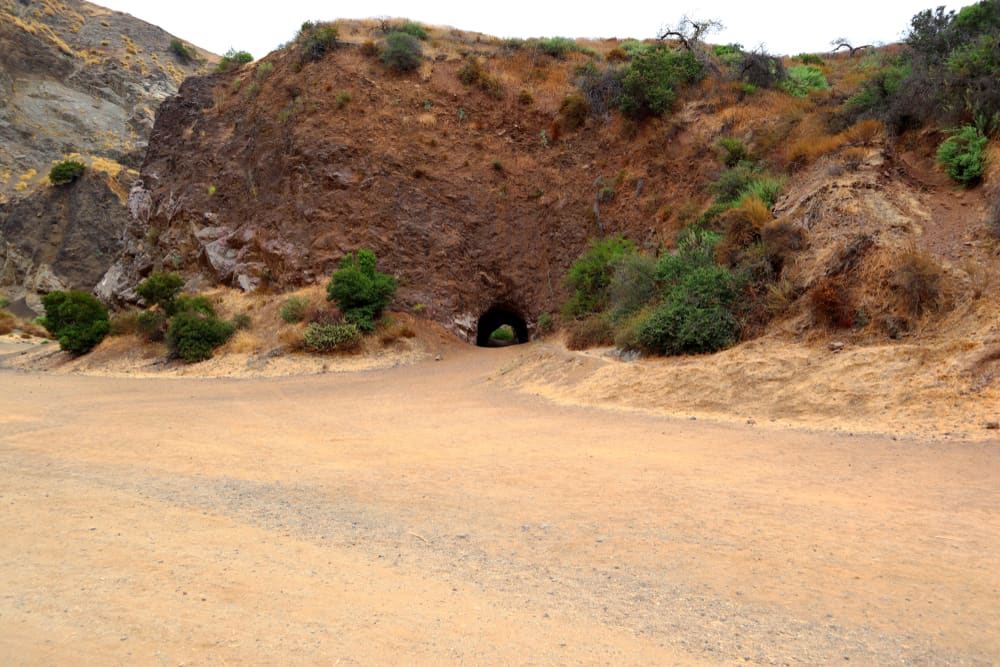 Distance: 0.6 miles
Difficulty: Easy
If you've seen the 1960's Batman TV series, you might recognize the Bronson Caves as it was filmed as the entrance to the Batcave. And yes, you can walk through the 50-foot long cave!
Since the hike to the caves is short, combine it with a nearby LA hike like the Hollywood Sign Hike. You can also snap great photos of you with the Hollywood sign above you — it's a perfect Instagram spot in LA!
Trailhead Address: 3200 Canyon Dr, Los Angeles, CA 90068
View park information here.
Fryman Canyon Trail, Wilacre Park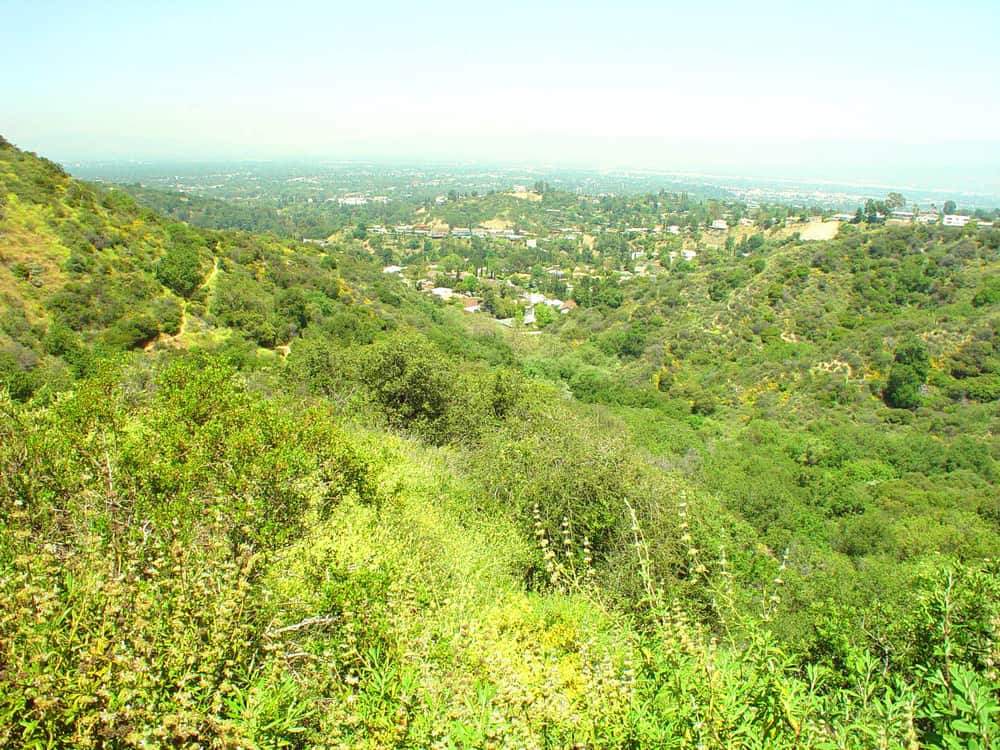 Distance: 2.6 miles
Difficulty: Easy
The Fryman Canyon Trail will take you through woodland and wild flowers and present you with expansive views of the valley.
This Los Angeles hiking trail is ideal for when you want to go for a quick and less strenuous hike — but still want beautiful views!
Trailhead Address: Fryman Trailhead,Briarcrest Fire Rd, Studio City, CA 91604
View park information here.
Franklin Canyon Site Trail, Franklin Canyon Park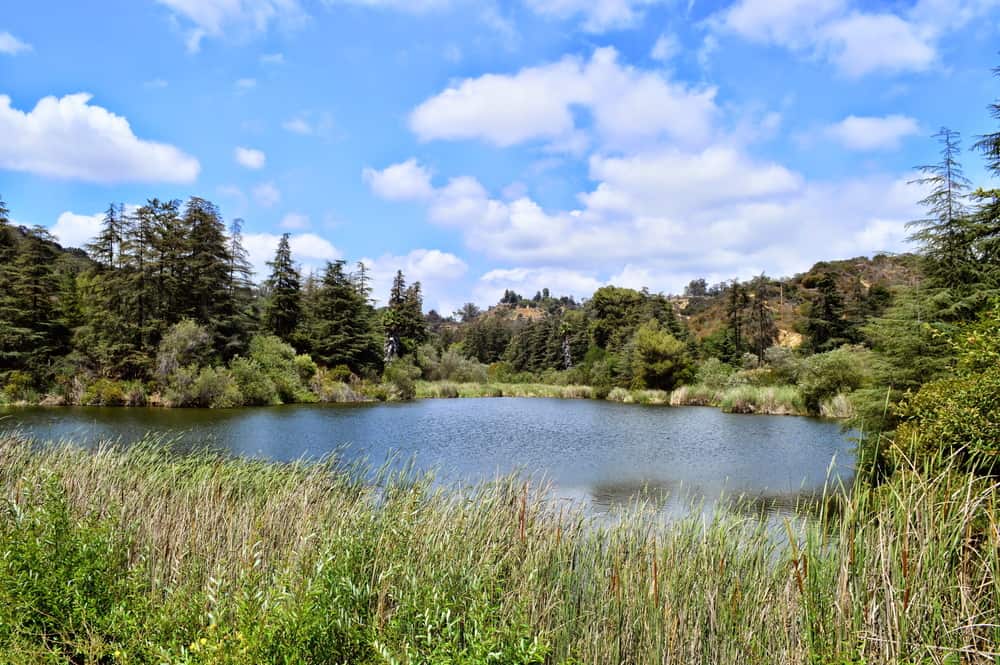 Distance: 2 miles
Difficulty: Easy
The Franklin Canyon trail is an ideal Los Angeles hike for beginners. The trail loops around a lake and pond where you are likely to see wildlife.
If you're looking to spend a quiet afternoon surrounded by nature, this hike is the perfect getaway from the noise of the city!
Trailhead Address: 2637 Upper Franklin Canyon Dr Trail, Beverly Hills, CA 90210
View park information here.
Glendale Peak Trail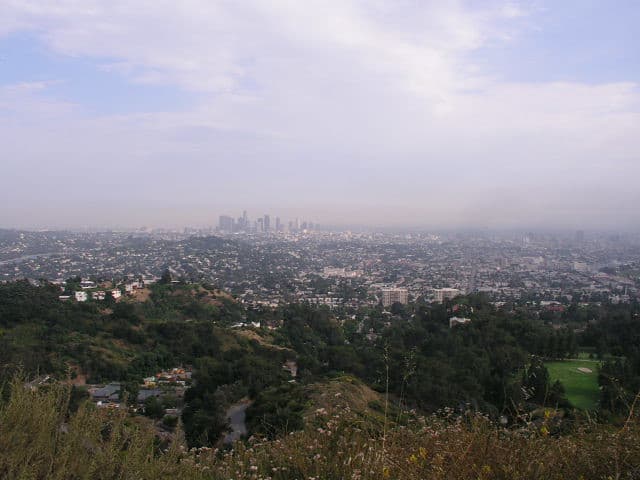 Distance: 3.6 miles
Difficulty: Medium
With 360-degree views of L.A. from Glendale Peak, you can't skip this hike when you're at Griffith Park!
At the peak, you'll witness a spectacle that stretches as far east to the San Gabriel Mountains and as far west to the Pacific Ocean.
The trail is filled with some steep inclines but also levels off throughout, making this hike just the right amount of challenge without going overboard.
Trailhead Address: 2715 N Vermont Canyon Rd, Los Angeles, CA 90027
View park information here.
Bridge to Nowhere via East Fork Trail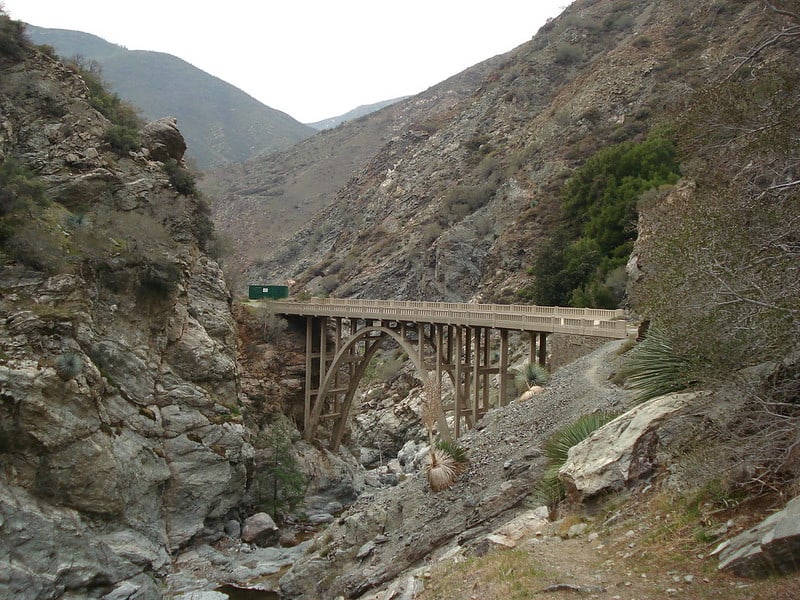 Distance: 10 miles
Difficulty: Medium
Despite the length, the Bridge to Nowhere trail is very doable!
You'll begin the hike with a trek through wooded terrain alongside the San Gabriel River, which includes ample opportunities to cross the river and stay cool in the forest before there's no more shade.
The trail then takes you up a gradual incline, with some rocky portions—be careful of your footing here!
Once you reach the 130-foot-high concrete bridge (you'll know it when you see it), you've made it to your destination: the Bridge to Nowhere.
The Bridge to Nowhere is the result of one of the largest and most catastrophic floods to happen in the history of L.A.
The bridge was built in 1936 and the road that was supposed to connect to the bridge was washed away by the 1938 flood, leaving the project abandoned.
Today, you'll find bungee jumpers using the bridge and hikers cooling off at the pool of water beneath the bridge.
Note: Hiking poles are highly recommended for navigating this trail along with sturdy, water-proof hiking boots.
Trailhead Address: Camp Bonita Rd, La Verne, CA 91750
View park information here.
Mount Baldy Trail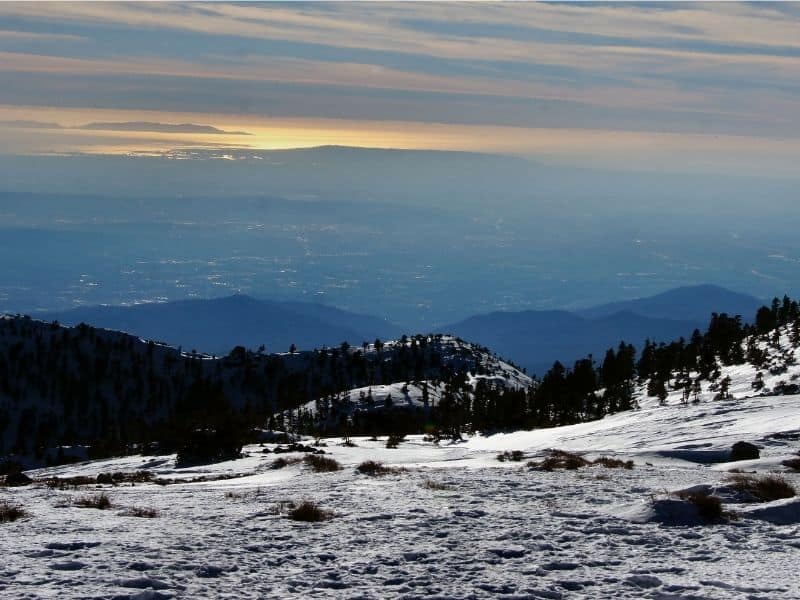 Distance: 11 miles
Difficulty: Hard
Gear up for this one—it's a challenging hike recommended for the more experienced hikers, especially if there is snow at the peak.
You will feel the burn in your legs, especially at the last stretch to the peak. Once you've reached the summit, give yourself a pat on the back—you've just made it to the highest point in L.A.!
At 10,064 feet high, you will feel like you're on top of the world. In addition to the summit views, the dramatic mountain range and vivid greenery is truly something to admire on this hike!
Note: It's recommended to avoid hiking this trail between November to April, unless you're experienced with hiking in the snow.
Trailhead Address: 901-993 Falls Rd, Mt Baldy, CA 91759
View park information here.
Sunset Peak Trail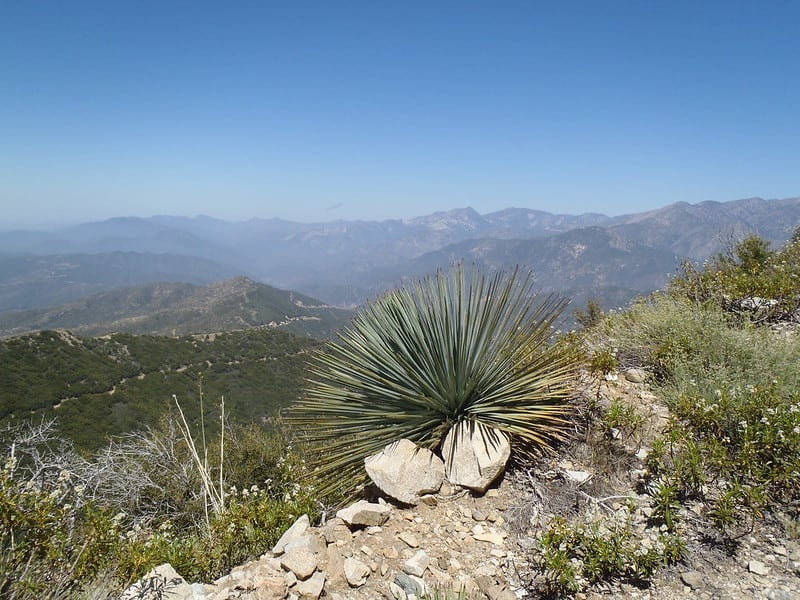 Distance: 7.5 miles
Difficulty: Medium
Located near Mount Baldy in the Angeles National Forest, the Sunset Peak Trail offers sweeping views of the San Antonio Canyon and Baldy Bowl.
It's a great alternative to hiking Mount Baldy when you're seeking a hike that is less taxing on the legs!
The wide and relatively leveled out-and-back trail offers ideal conditions for first-timers. And since most of the trail is located on the north-facing side of the mountain, there is ample shade that makes hiking this trail more bearable.
You'll achieve approximately 1,400 feet of elevation again, but it won't feel like it due to the gradual incline. It's best to avoid hiking this trail during winter, though, as snow can make the trail difficult to navigate.
Note: It's recommended to avoid hiking this trail between November to April, unless you're experienced with hiking in the snow.
Trailhead Address: Glendora Ridge Rd, Mt Baldy, CA 91759
View park information here.
Echo Mountain Hike via Sam Merrill Trail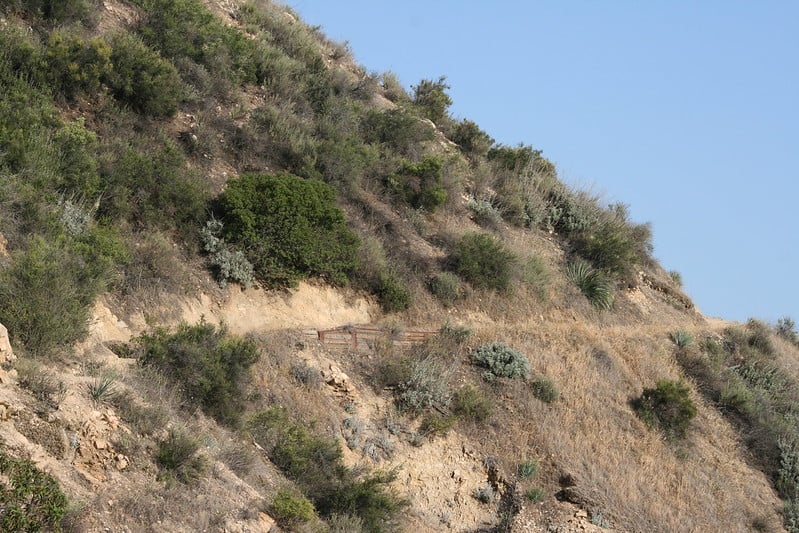 Distance: 5.4 miles
Difficulty: Hard
The hike up Echo Mountain begins conveniently in L.A. (in Altadena, north of Pasadena) along the Sam Merrill Trail and provides hikers both a challenging workout and a chance to learn some interesting history behind the mountain itself.
Parts of the trail parallels some of the scenic Mount Lowe Railway route that was built in 1893 as a tourist attraction.
This was the only electric mountain railway ever built in the U.S., which transported guests to the enormous, luxury hotel named Echo Mountain House that was built atop Echo Mountain.
Unfortunately, a fire burnt the hotel down and the railway was damaged by natural disasters. After the 1938 flood washed away most of the structures, the railway was permanently abandoned.
There are several informational signs and pieces of old ruins located along the trail that you can stop at to read and learn more about the history of the railway and hotel.
Trailhead Address: Sam Merrill Trail, Altadena, CA 91001
View park information here.
Mount Baden Powell Trail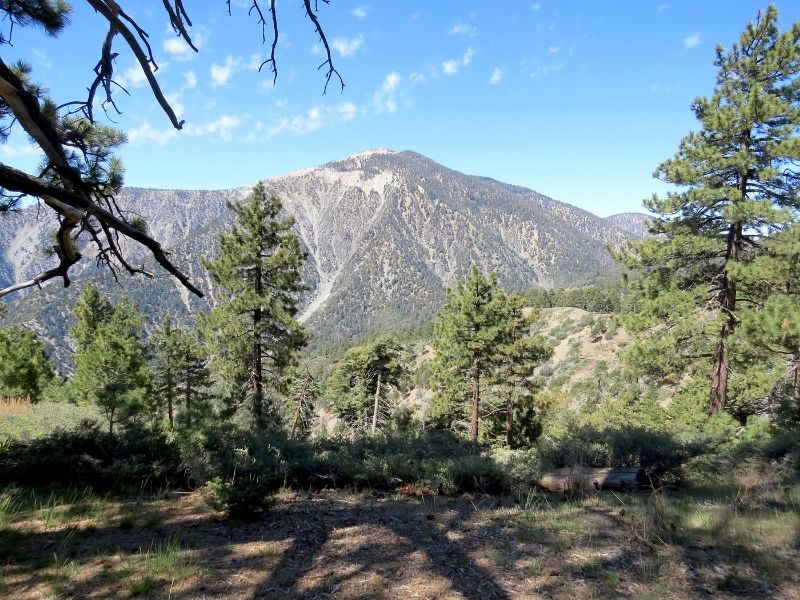 Distance: 8.3 miles
Difficulty: Hard
If you find joy in feeling your heart race and your muscles burn, this hike is for you. The trail will test you to make the trek up nearly 40 switchbacks (thankfully, these are mostly covered in shade!).
Make sure to take breaks along the way and pat yourself on the back once you reach the summit—you'll be standing at an incredible height of nearly 9,400 feet!
Trailhead Address: Vincent Gap, CA, 93563, USA
View park information here.
Switzer Falls via Gabrielino Trail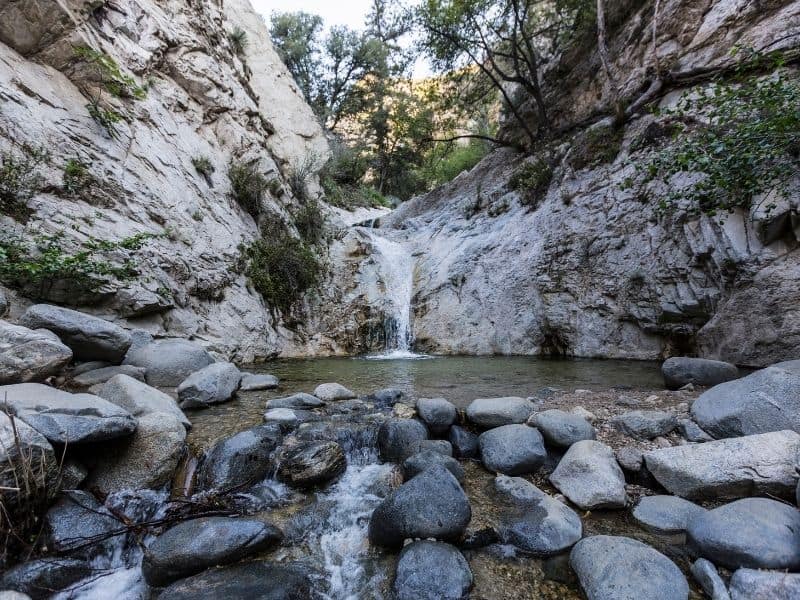 Distance: 3.6 miles
Difficulty: Medium
Switzer Falls offers a little bit of everything within a short distance, making it an ideal hike for when you want something short and sweet but with variety. The first portion of the trail will lead you to traverse the forest and cross a few creeks. Once you descend into the canyon, you'll continue your hike down an exposed path—so be prepared for the incline on the way back up and out. Cool off and enjoy the views of the plunging waterfall before you turn back.
Note: The best time to see the Switzer Falls in full flow is in the spring and after rainfall, otherwise, you may only see a trickle of water!
Trailhead Address: 701 Angeles Crest Hwy, Tujunga, CA 91042
View park information here.
Josephine Peak Trail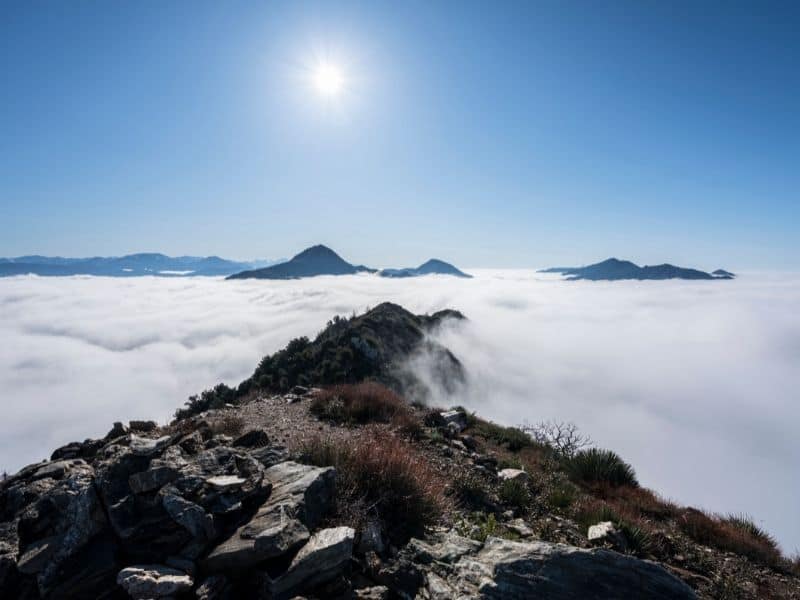 Distance: 8.3 miles
Difficulty: Medium
Despite being rated with medium difficulty, Josephine Peak Trail is great for beginners.
This out-and-back trail is wide, easy to navigate, and inclines gradually. You'll catch a variety of beautiful sights, from the neighboring Strawberry Peak down to the Big Tujunga Canyon — though sometimes it can be foggy at the top!
There are many opportunities for wildlife sightings, and in the spring, the wildflowers are in full bloom.
Trailhead Address: 701 Angeles Crest Hwy, Tujunga, CA 91042 (Trail begins at Josephine Peak Road, across from the Clear Creek Fire Station)
View park information here.
Beaudry Loop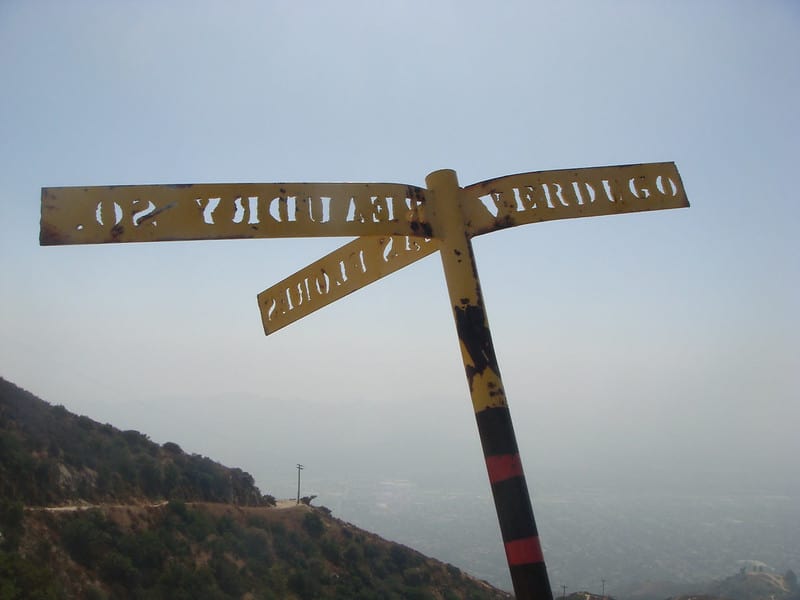 Distance: 5.5 miles
Difficulty: Medium
Located in Glendale, Beaudry Loop offers gorgeous views of the city and the surrounding peaks.
The trail is wide, leveled, and climbs gradually, but does not offer much shade so be sure to hike this trail early in the morning during the summer.
Try hiking this trail during sunrise or later in the day to catch the sunset—the views are incredible!
Trailhead Address: 3110 Beaudry Terrace, Glendale, CA 91208
View park information here.
Eaton Canyon Trail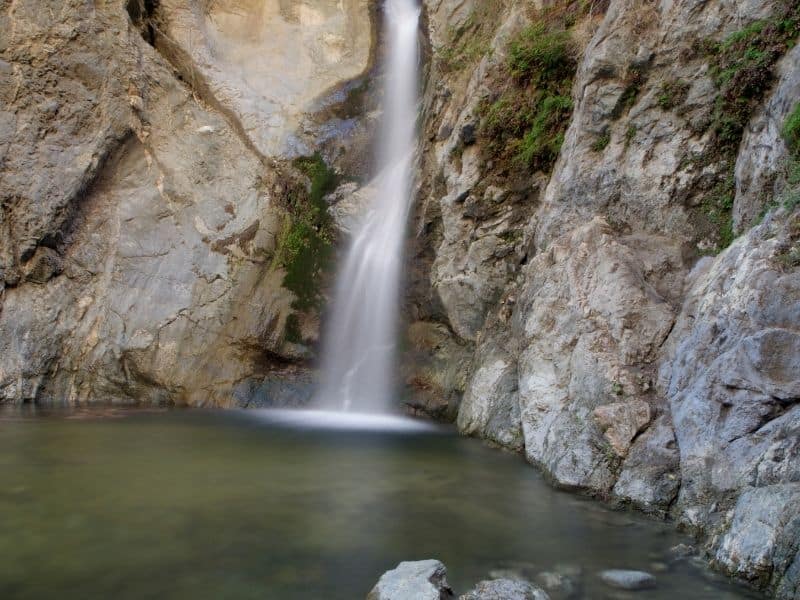 Distance: 4 miles
Difficulty: Medium
Hiking Eaton Canyon Trail is a must, especially during the spring!
If a few days have passed since rainfall, this out-and-back trail will reward you with the sights of a plunging, forty-foot waterfall and a water pool that is perfect for dipping your toes in on a hot day in L.A.!
The trail becomes very rocky and rugged as you near the falls, so make sure to wear sturdy shoes that support your ankles.
Trailhead Address: 1999 Veranada Ave, Pasadena, California 91107
View park information here.
Park to Playa Trail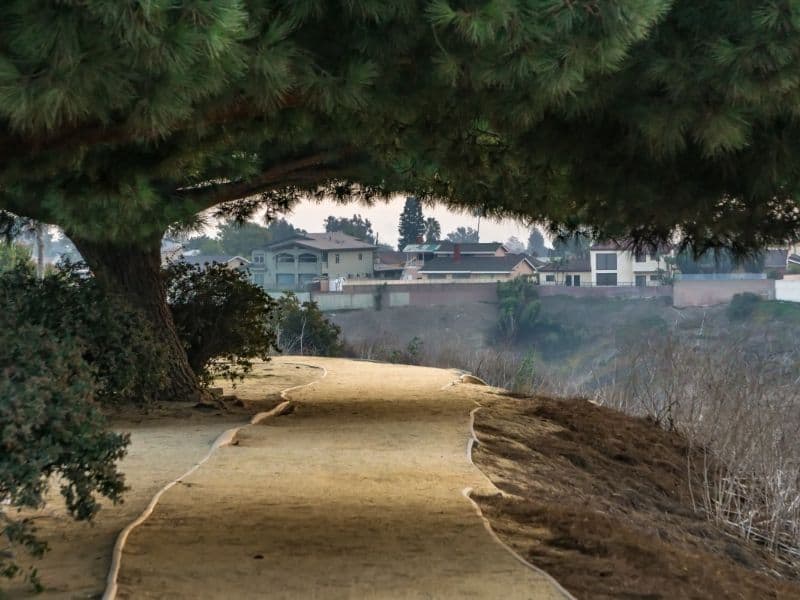 Distance: 13 miles
Difficulty: Medium
Getting to most hiking trails in L.A. requires you to travel to the outskirts of the county, but not this one!
The Park to Playa Trail links several trails, from View Park-Windsor Hills to Marina Del Rey. Because the trail connects different parks and their respective trails, it offers a unique way to see L.A.'s cityscape.
Once you've completed the long trek to the westside, take your time enjoying the gorgeous seaside and soak in the ocean views.
Note: This is a one-way hike (unless you want to walk 26 miles!) so plan to call Uber to return you to your car or just Uber each way.
Trailhead Address: Stocker St, Los Angeles, CA 90008
View park information here.
What to Pack for These LA Hikes
If you're new to hiking, there are a few things you should remember to pack in a day bag every time you go out for a hike!
Small Backpack: A small but sturdy backpack, preferably with shoulder strap support, is the best choice to holding all the gear you need for a day hike.
Water: Bring plenty of water in a reusable bottle for any shorter hikes. If you plan to fill up from any creeks or streams along the way, you'll definitely want a water filter/water bottle set-up, I recommend the GRAYL Geopress which filters out more than 99.9% of viruses, bacteria, particles, and nasty microplastics just like magic!
Snacks: None of these LA hikes are particularly intense, but you should have some snacks just in case you get hungry or you feel your blood sugar dropping. I recommend protein bars, nuts, or other high-density snacks that give you a lot of energy for their weight.
First aid kit: You'll want to pack a small kit with the things you need — but in my opinion, it's better to buy a pre-made first aid kit as it'll likely cover things you might forget, like ACE bandages, etc. I recommend this HART Weekend First Aid kit. Just keep it in your day bag for every time you venture out on a hike — you hopefully won't have to use it, but if you ever do, you'll be happy you have it!
Weather appropriate gear: Pack in thin, breathable layers. For cold weather hiking (not that you get much of it in LA, but still!), it's easier to modulate temperature if you have one thin thermal, one long-sleeve or sweater, and one outer layer, rather than having one thick jacket. For summer hiking, even if it seems like it'll be hot, bring a thin outer layer to cover you in case clouds roll in or elevation makes things cooler.
Rain gear: It's great to have a thin, lightweight rain poncho like this one in your hiking bag just in case the weather turns sour while you're out
Headlamp (and extra batteries): If you do a sunset hike, you'll definitely want to pack a headlamp and some spare batteries to go with them. This Petzl headlamp is highly-rated and affordable.
Sunscreen: Wear this no matter what — even on a cloudy day!
Sunglasses: Necessary on trails with lots of exposed path.
Sunhat: To keep sun off your face – I recommend a packable hat like this one which has a strap so it won't blow off in guests of wind and you can easily wear it on your back when you don't feel like wearing it on your head.
Hiking boots or sneakers: For most people, a pair of sneakers with good traction will be fine for these hikes in Los Angeles. I love these cute Sorel sneakers, which are waterproof and great for handling mud and other obstacles (Sorel specializes in snowboots, so they've got traction down pat!)
If you hike in LA a lot, you'll probably want proper hiking boots for the ankle support they offer. I own and love my pair of Ahnu Sugarpine hiking boots and recommend it for other women – especially if you have wide feet like I do! For men, I've heard good things about the KEEN Durand boot.
Pin This Guide to Los Angeles Hikes!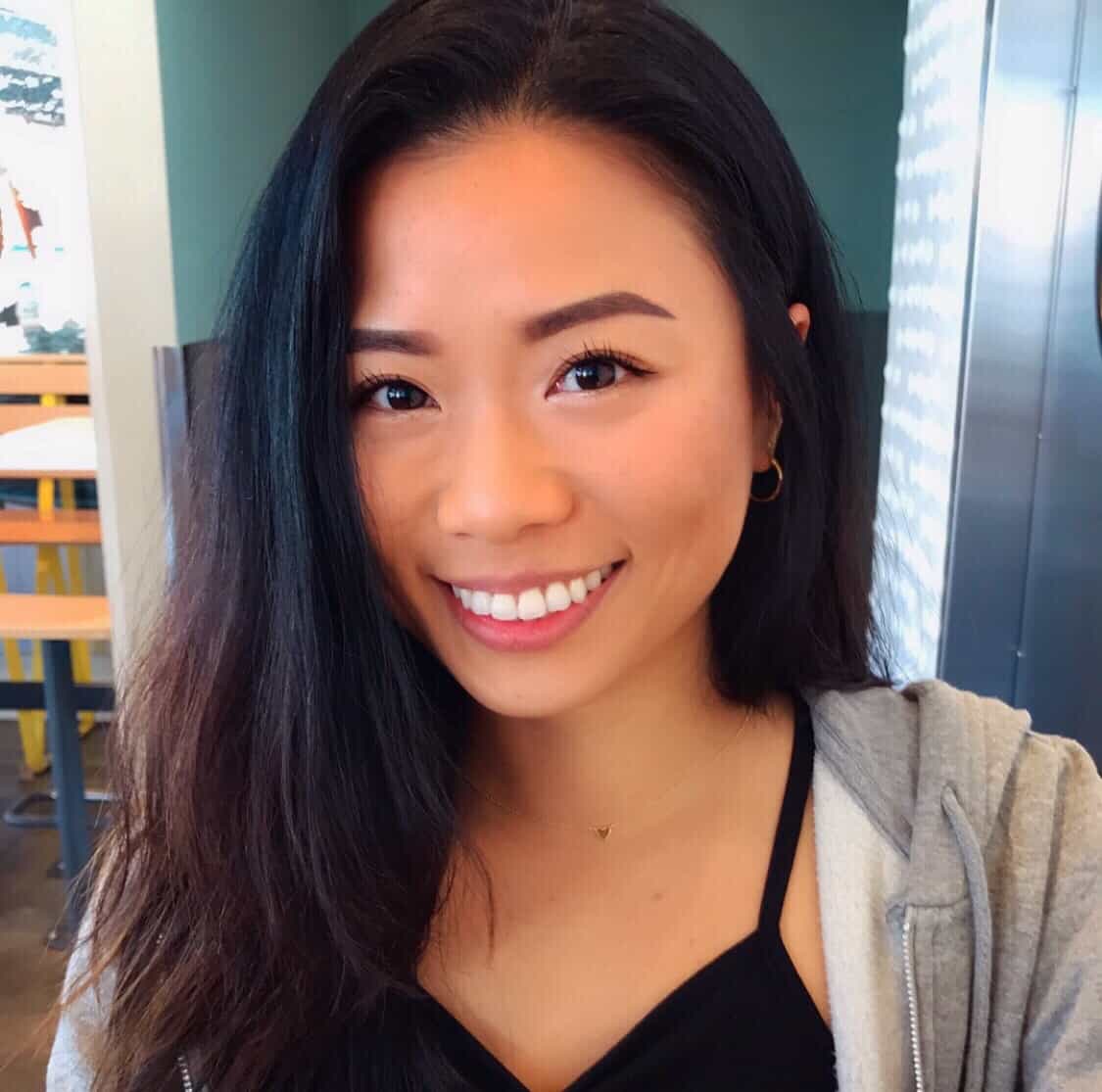 Lianne quit her 9-5 job in 2018 and moved to the bustling city of LA for a change of pace. Having lived in a quiet, secluded part of the East Coast most of her life, her life on the West Coast has since pushed her outside her comfort zone and inspired her to always take "the road less traveled." Travel has played a key role in her personal development, and she believes everyone can reap the extraordinary benefits of exploring life beyond borders.