Palm tree vibes, skylines, Hollywood signs: this is what Instagram in LA is made of!
We've gathered all the most Instagrammable spots in LA in one mega-guide to photographing your way through the City of Angels.
From iconic shots like the palm trees of Sunset Boulevard to the boardwalk of Venice Beach to more under-the-radar Instagram spots in LA like the Micheltorena Stairs and the Pink Wall, here are the best places to photograph in LA: Instagram edition!
The Best Instagram Spots in LA
The Palm Trees of Sunset Boulevard
Note: This post contains affiliate links, which earn me a small commission at no extra cost to you if you make a purchase using one of these links. Thank you for supporting this free content!
There's no image that shouts "I'm in LA!" than an iconic snap of the towering palm trees of Beverly Hills, particularly on Sunset Boulevard.
Amazing at any time of day — with a sunburst between the palms in the middle of the day (insider tip: use a low aperture/high f-stop number on manual mode to achieve this!) or silhouetted against a sunset sky, you simply must visit this classic LA Instagram spot.
I mean, if you leave without a photo of the palm trees, have you really even been to LA?
Address: They're all along Sunset Boulevard, but the area around the Beverly Hills Hotel (9641 Sunset Boulevard) is where most people snap their shots. I don't recommend supporting the Beverly Hills Hotel at all though — and here's why.
The Hollywood Sign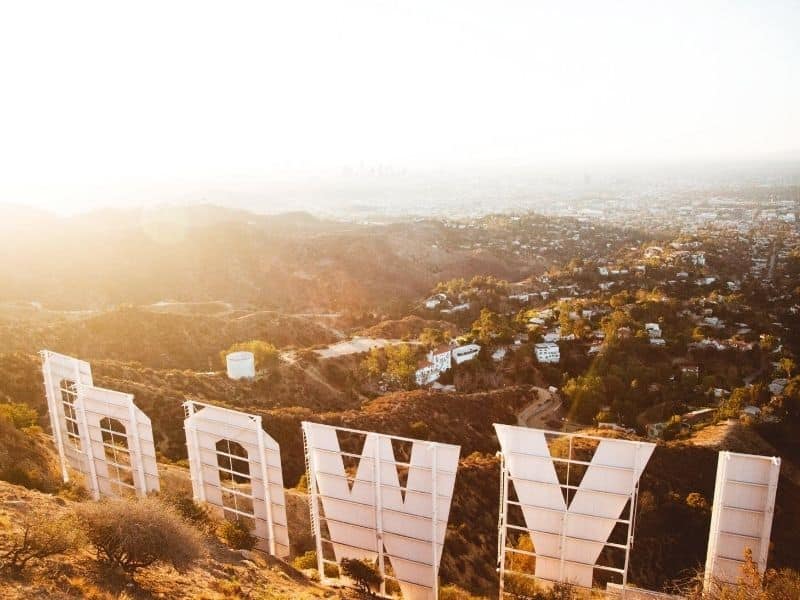 Another classic Los Angeles Instagram spot is the Hollywood sign — but from above!
Yes, this means you'll have to lace up your running or hiking shoes and go for a quick hike in the hills, but it's so worth it for those sweeping views over Los Angeles and the opportunity to snap a photo from one of the best photo locations in Los Angeles.
Not sure how to do the Hollywood sign hike? Here's some tips on that, plus other LA hikes!
Address: On top of Mount Lee — click the link above to see the typical hiking routes there.
Griffith Observatory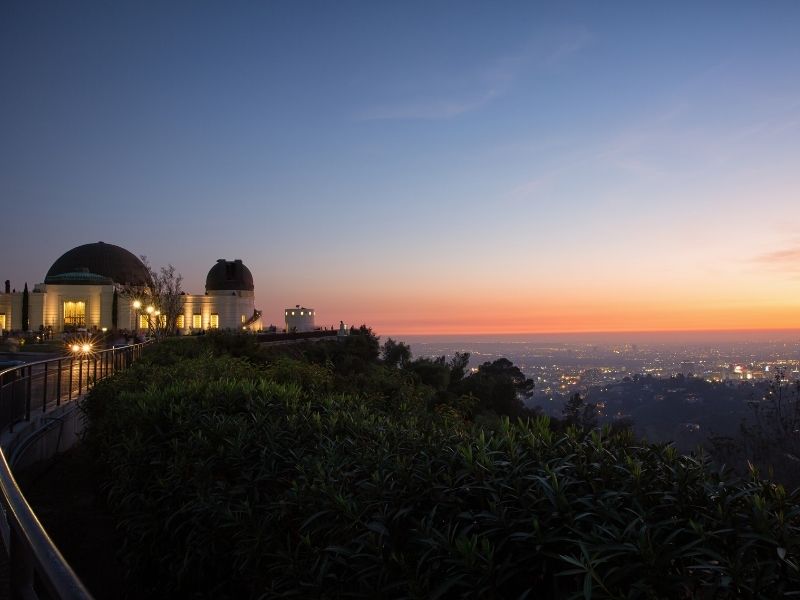 Many visitors to LA (and locals alike) combine two popular LA Instagram spots on a single hike: the hike from the Griffith Observatory to the Hollywood Sign on Mount Lee.
It's a 4.4 mile hike each way, so just under 9 miles roundtrip… which definitely can feel like longer in the Los Angeles heat! This hike is best done in the morning before the sun gets too intense or in the winter when Los Angeles temperatures are dreamy.
If you don't want to hike, you can just drive up to the Griffith Observatory easily. Parking is $10/hour while the observatory is open. But the observatory is free!
Address: 2800 E Observatory Rd, Los Angeles, CA 90027
OUE Skyspace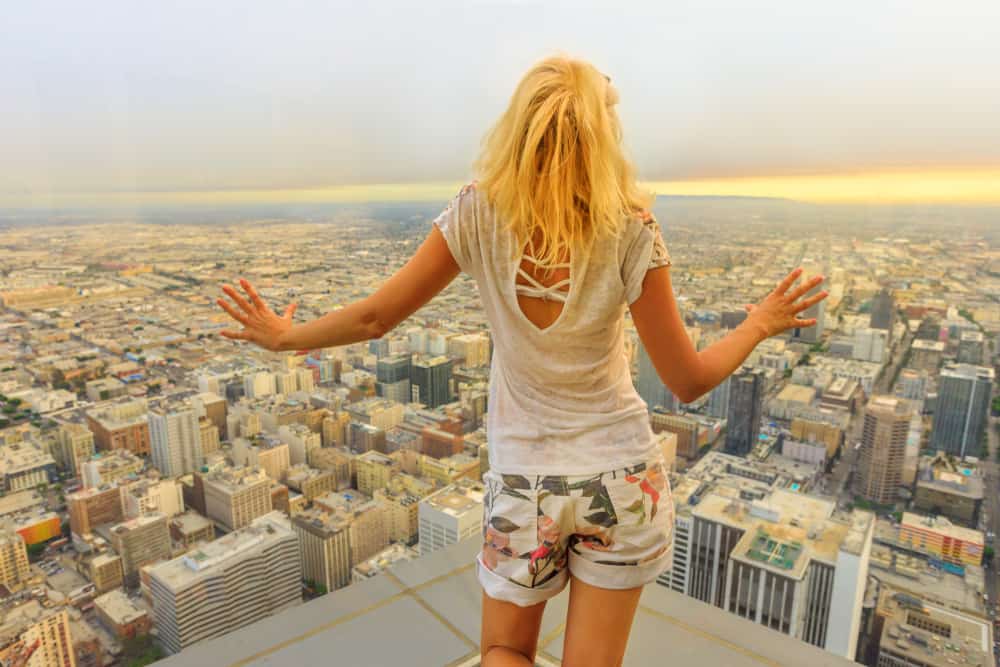 If you're looking for an epic place to take Instagram photos of the LA skyline, you can't miss the opportunity to go up, up, and away at OUE Skyspace, located in the US Bank Tower.
This is the tallest observation deck in Los Angeles and affords you 360-degree views of the entire city. Tickets are $25 per adult — pricy but typical for observation decks — and the views are unparalleled.
Address: 633 W 5th St #840, Los Angeles, CA 90071
Venice Boardwalk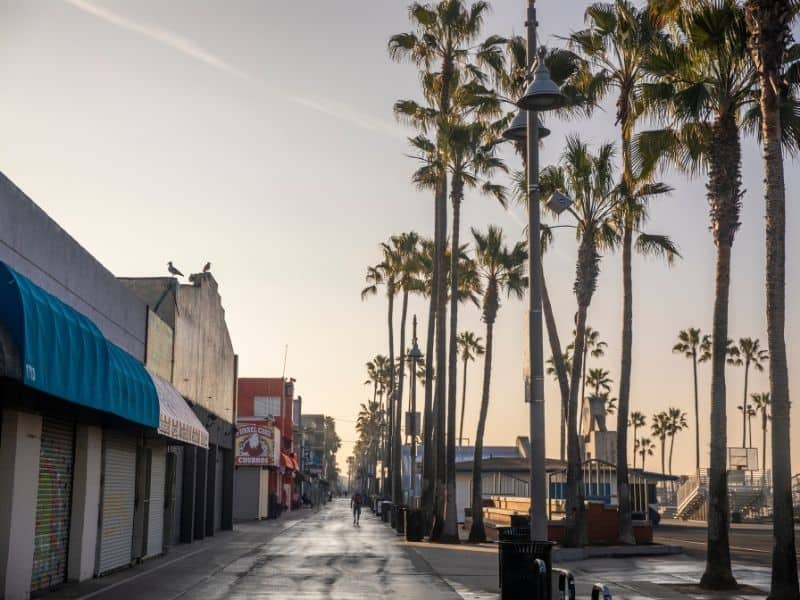 Venice Beach is one of the most popular places to take photos in Los Angeles because it just has such a distinctive and funky vibe!
Nowhere else can you quite get the vibe of Venice like strolling its boardwalk. With beautiful flowers, funky buildings, and palm trees everywhere you look — plus the gorgeous Pacific always at your side — it's a great place for Instagramming in LA.
Address: 1800 Ocean Front Walk, Venice, CA 90291
Venice Pride Lifeguard Tower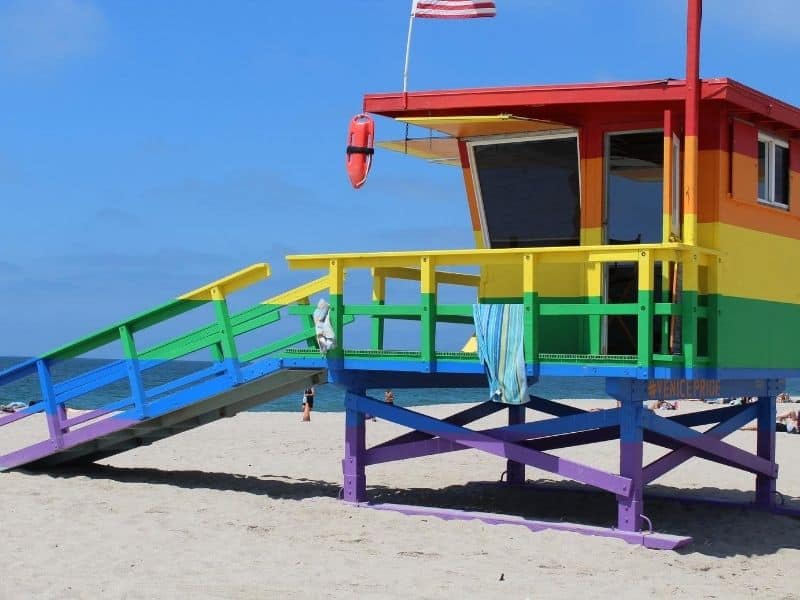 One of the most popular LA Instagram shots is always the cool, retro-vibes lifeguard boxes which you'll find on public beaches throughout the city.
But the one in Venice is special because it was painted rainbow in celebration of Venice Pride! If you're looking for colorful photos for a technicolor feed, head to the Venice Pride Flag Lifeguard Tower!
Address: 998 Ocean Front Walk, Venice, CA 90291
Venice Canals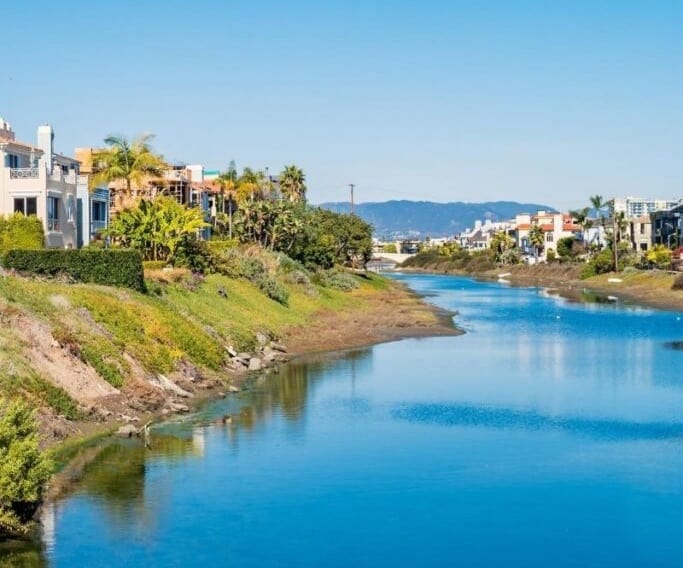 Wait, Venice Beach has actual canals?
Bizarrely, these canals were actually man-made and funded by Abbot Kinney, a millionaire who made his money in the tobacco industry. He dug several miles of canals throughout the residential area that he lived in — but the city of Los Angeles wasn't a big fan of this, and in 1924-1928, the city paved over most of the canals to make more roads, despite a Supreme Court battle.
However, a few are still here, which you'll find easily if you plug in "Venice Canals" to Google Maps.
Address: Venice Canals, Venice, CA 90292
Venice Sign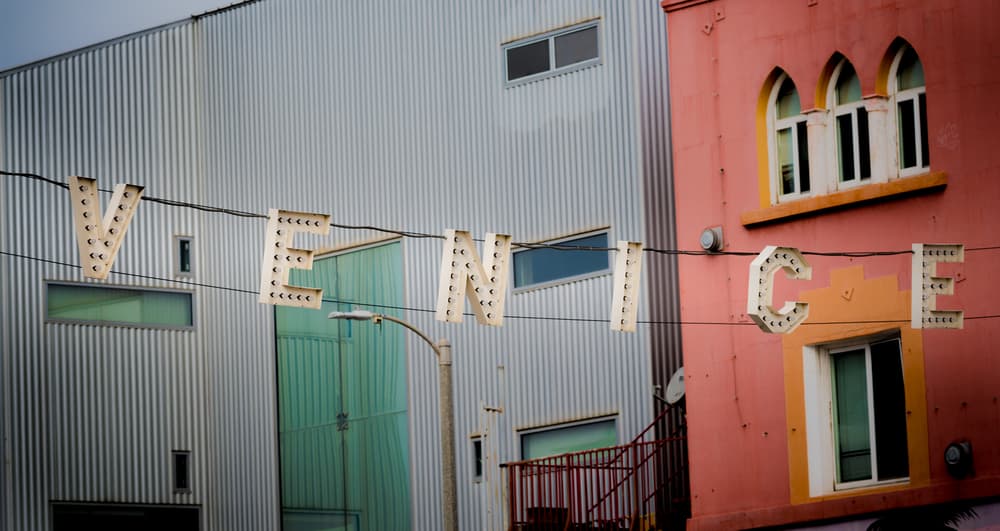 Wondering where you'll find that classic Venice sign welcoming you to Venice Beach?
Right at the intersection of Pacific Avenue and Windward Avenue, just a block from the boardwalk, this is a classic Instagram spot in Los Angeles.
Address: Pacific Ave & Windward Ave, Venice, CA 90291
Santa Monica Yacht Harbor Sign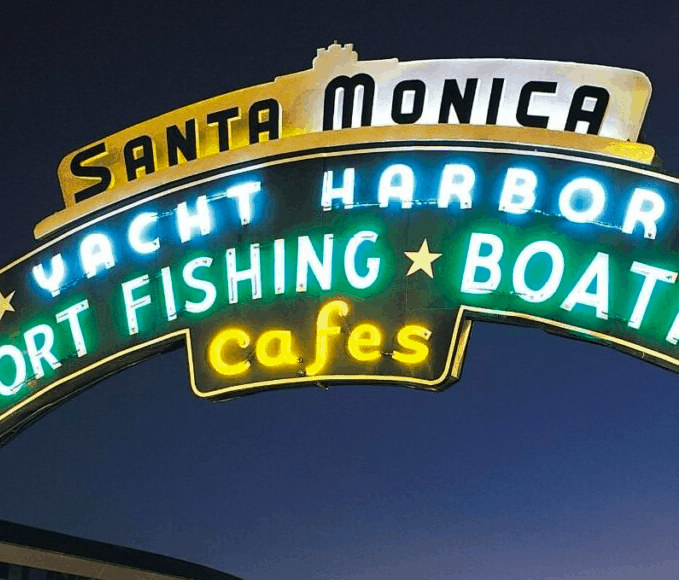 Santa Monica Yacht Harbor is one of the most beautiful places to go in the area at night, period.
The pretty ocean, the iconic sign… It's on Ocean Avenue at the Santa Monica Pier. It takes a quick walk from the harbor to get there, but it's 100 percent worth it!

Address: 620 Santa Monica Blvd, Santa Monica, CA 90401
Santa Monica Lifeguard Box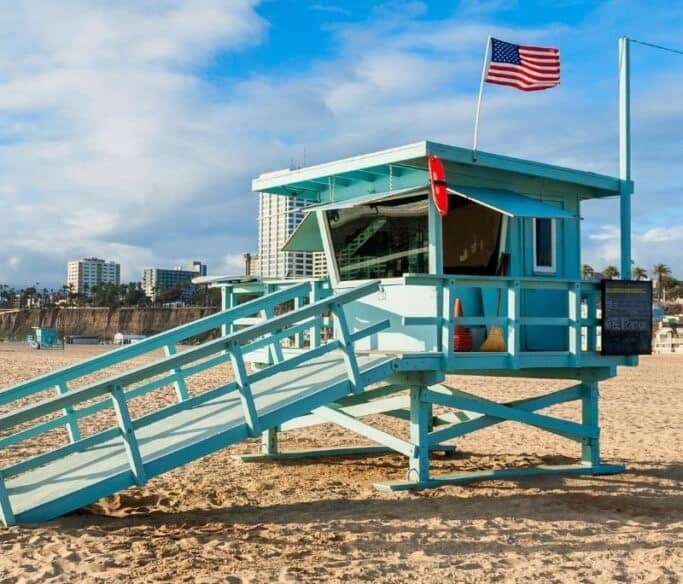 Do you love Baywatch? These lifeguard boxes, also called "penalty boxes," are the perfect place to pose like 90s Pam Lee — which is why it rules!
You can find them throughout the Santa Monica Beach area, all the way down to Venice Beach.
Address: Along Santa Monica Beach
Santa Monica Pier at Night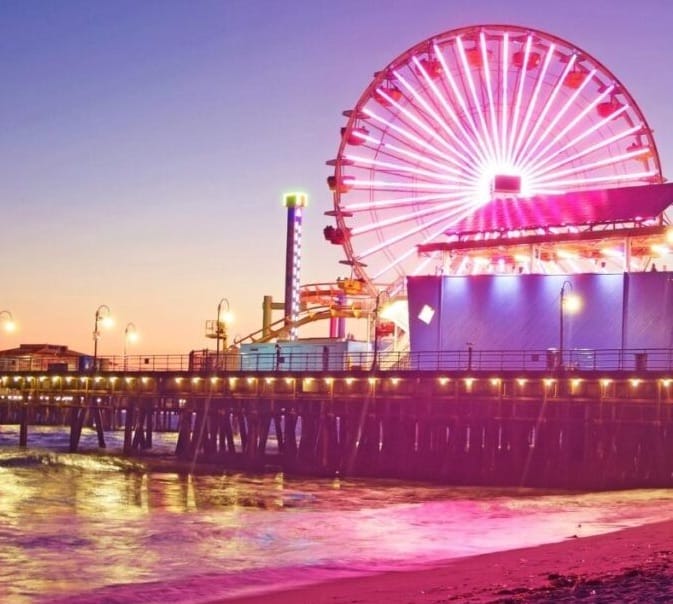 The Santa Monica Pier has been featured in tons of movies, including A Night at the Roxbury and Beverly Hills Cop.
Better still, there are tons of rides, clubs, and attractions that are within the pier's walking distance. It's a win-win!
Address: 200 Santa Monica Pier, Santa Monica, CA 90401
Santa Monica Route 66 Sign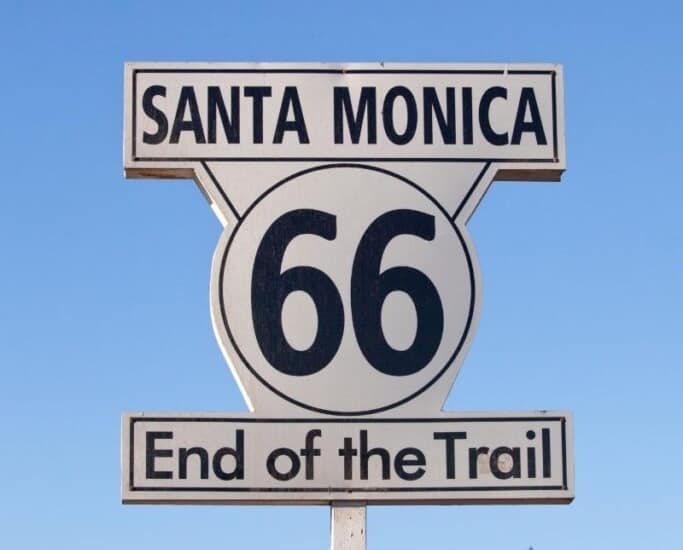 Route 66 is one of the most famous roads in the world, and it still maintains its rustic charm, which is why it's one of the greatest nostalgic Instagram spots in LA — sepia- filter, anyone?
The Santa Monica sign marks the end of the road, and is right next to a bunch of chic shops. You can drive there pretty easily, but it's often better to park nearby and walk.
Address: 9 Santa Monica Pier, Santa Monica, California, 90401
Rodeo Drive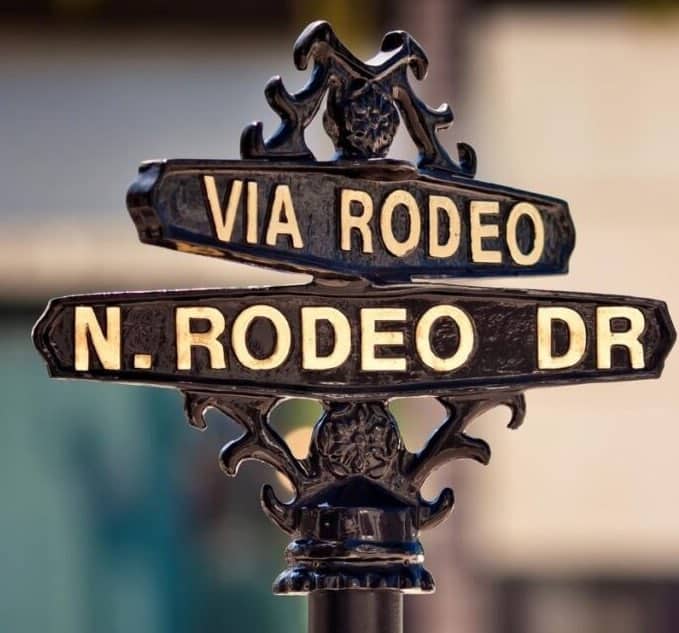 Grab your boots and get something cute to wear, it's Rodeo Drive time!
This might be one of the most famous shopping centers in the world. Don't be shocked if you meet someone famous while you're here.
Address: Santa Monica Blvd at Wilshire Blvd, Beverly Hills, CA 90210
Vista Hermosa Park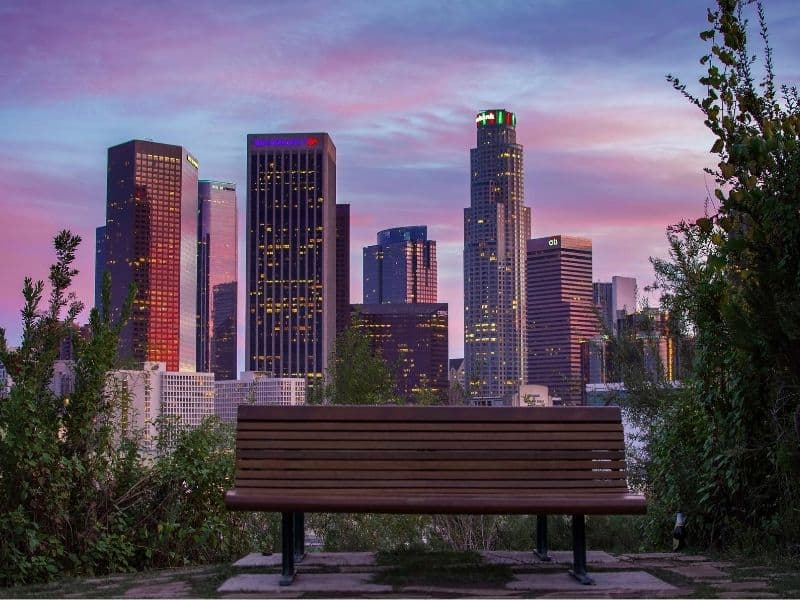 Vista Hermosa Park is another famous landmark that's made its way onto films before—particularly, You're The Worst.
If you want to visit on a weekend, get here early as this quite a popular Instagram spot in Los Angeles, and parking tends to be a bit sparse. 
Address: 100 N Toluca St, Los Angeles, CA 90026
Walt Disney Concert Hall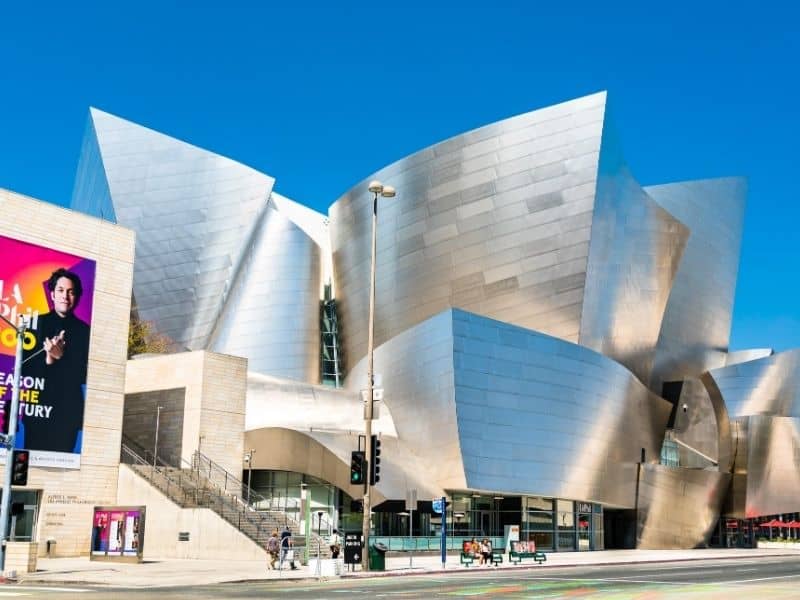 Are you looking for an artsy addition to your Instagram?
Walt Disney Concert Hall's unique architecture made it a favorite for art students and Disney fans alike. Los Angeles never looked so sleek.
Psst: If it looks familiar, it's because it's extremely similar to the famous Guggenheim museum in Bilbao, and they were designed by the same architect!
Address: 111 S Grand Ave, Los Angeles, CA 90012
The Broad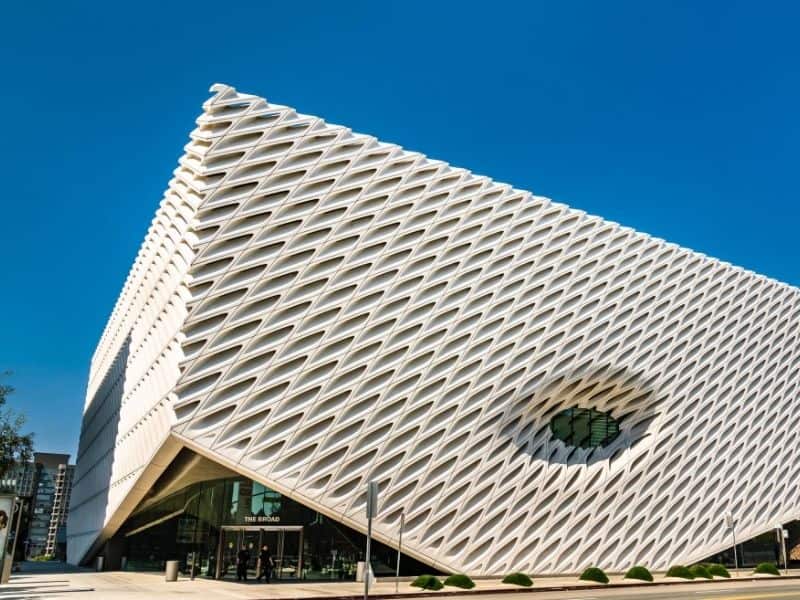 Taking a cue from the Walt Disney Concert Hall is the Broad, a contemporary art museum nestled right in the heart of Los Angeles.
Trippy and surprisingly modern, this will add a pop of style to your Insta in a heartbeat. 
Address:  221 S Grand Ave, Los Angeles, CA 90012
Los Angeles Country Museum of Art
LACMA is home to the beloved art installation, Urban Light, the Insta-famous vintage lampposts you've likely seen on your feed.
Going to the LACMA is not just a good way to get amazing architecture shots and learn about art.
It also happens to be right next to the La Brea Tar Pits, making it a great side trip for people who want to get some intellectual stuff as well as killer Instagram pics.
Address: 5905 Wilshire Blvd, Los Angeles, CA 90036
Angels Flight Funicular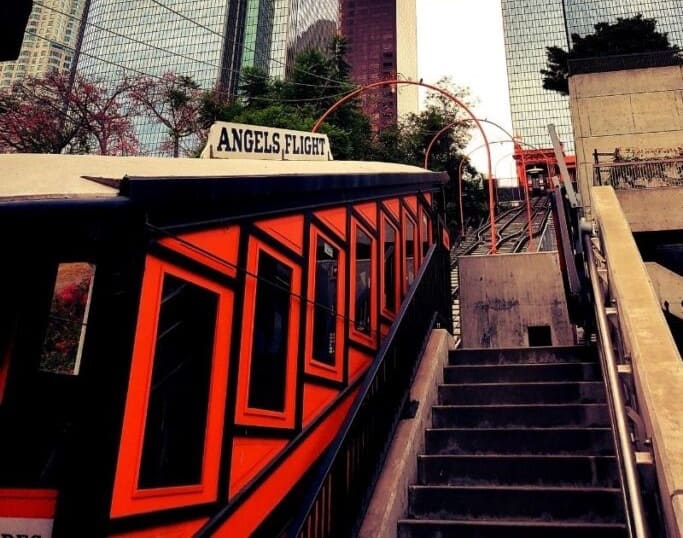 Angels Flight has that aesthetic that both architecture and art students love.
With an age of over 118 years, this small motorized train brings passengers between two streets. It's right between Hill Street and Grand Avenue, by the Angel's Knoll.
Address: 350 S Grand Ave, Los Angeles, CA 90071
Angels Flight Tramway from the Side View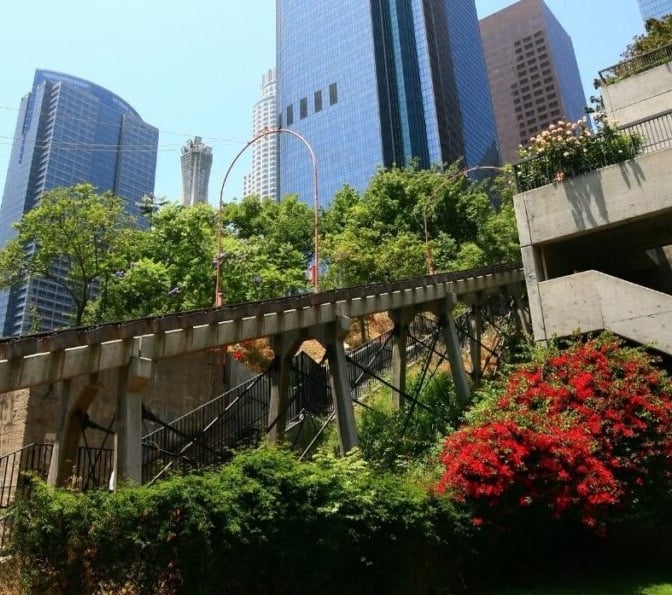 If you want to get a new taste of a classic shot, just take a look at the Angels Flight from the side.
The elegant arches look impressive on camera and also can act as an amazing backdrop for a shoot.
Address: 350 S Grand Ave, Los Angeles, CA 90071
Bradbury Building
This five-story office building is thankfully open to the public, and that makes it great for architecture fans.
The gorgeous aesthetic has amazing lighting thanks to the skylit atrium, wooden accents, and striking ironwork. It's also the oldest office building in the city! 
Address: 304 S Broadway, Los Angeles, CA 90013
The Last Bookstore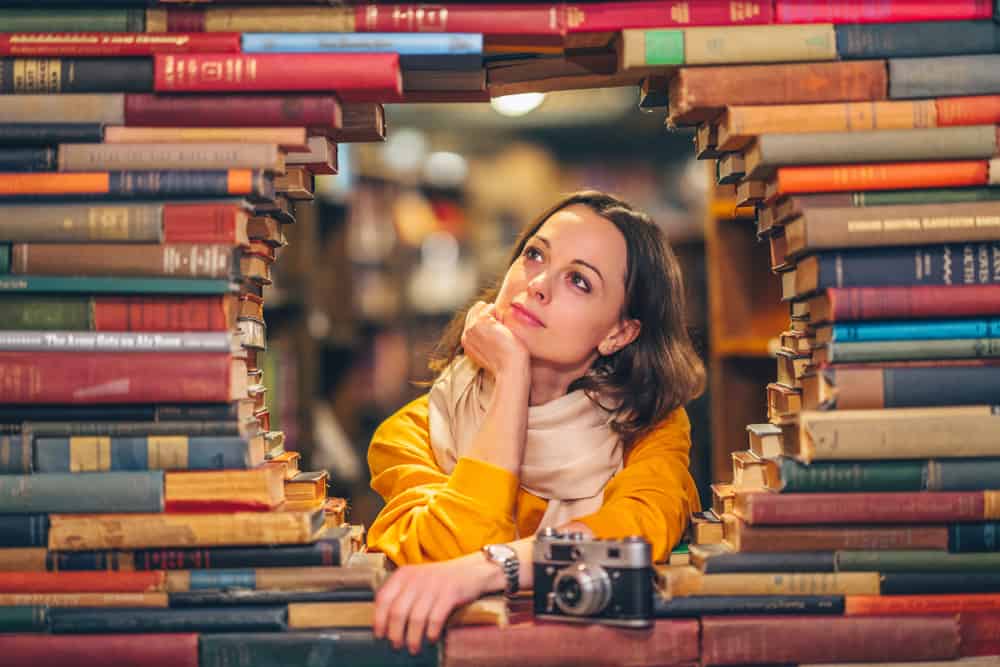 If you're a bibliophile, you might already know about the Last Bookstore. The is a used book store that is part art-gallery, part statement about what people think of books.
Though sculptures and unique book displays abound here, the real draw is a tunnel that's made entirely from classic books. Chic!
Address: 453 S Spring St, Los Angeles, CA 90013
Huntington Library Chinese Garden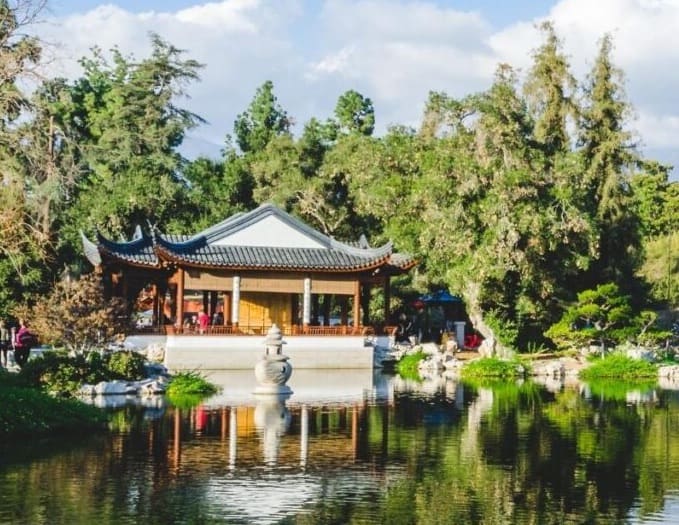 Want to go to China, but don't quite have the budget yet? Huntington's Chinese Garden is a great landmark to soak in some classic Chinese art!
This is actually the first Chinese-style garden to be built outside of mainland China, making it a historic landmark as well as one of the most Instagrammable places in LA.
The bridge and the miniature garden center are what really sell this, but virtually every corner is worth a look!
Address: 1151 Oxford Rd, San Marino, CA 91108
The Krikorian Theater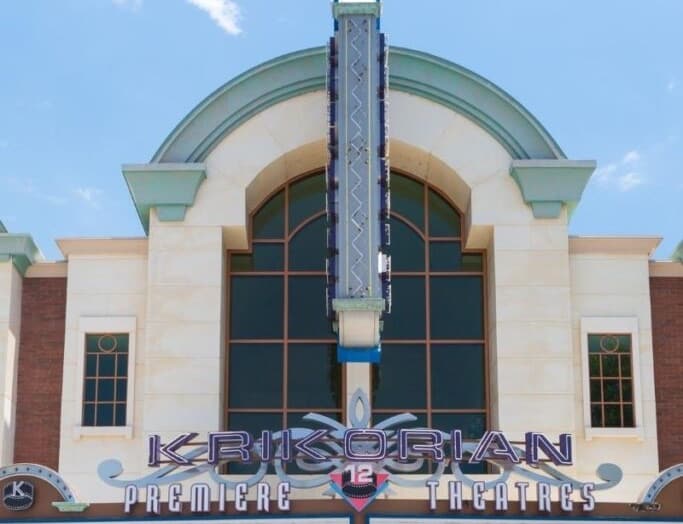 Art Deco meets theater kid flair at the Krikorian.
Known for being a plush yet surprisingly affordable place to catch a flick, it will give your Instagram an amazing "vintage Hollywood" vibe.
After you're done shooting, go see a new film or eat dinner there. It's a good time!
Address: 8290 La Palma Ave, Buena Park, CA 90620
Grand Central Market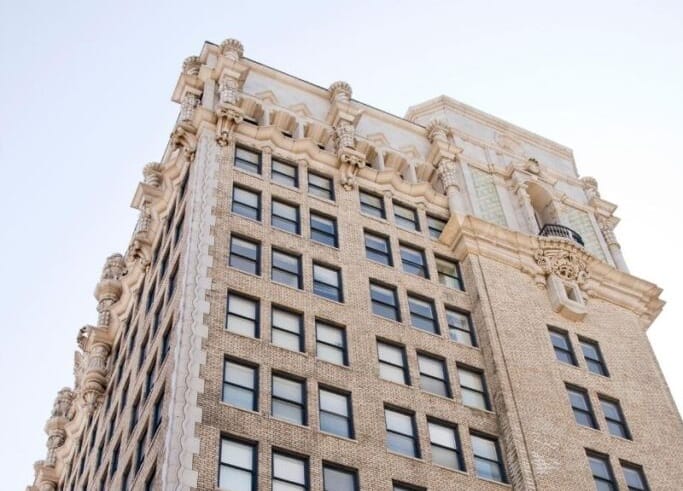 Not to be confused with the Grand Central Market in New York City, LA's Grand Central is one of the more aesthetically pleasing buildings you can find in Los Angeles.
This venue also houses several world-famous food stops, so if you need some food shots for your 'gram, this is the place to be.
Address: 317 S Broadway, Los Angeles, CA 90013
The Paul Frank Pink Wall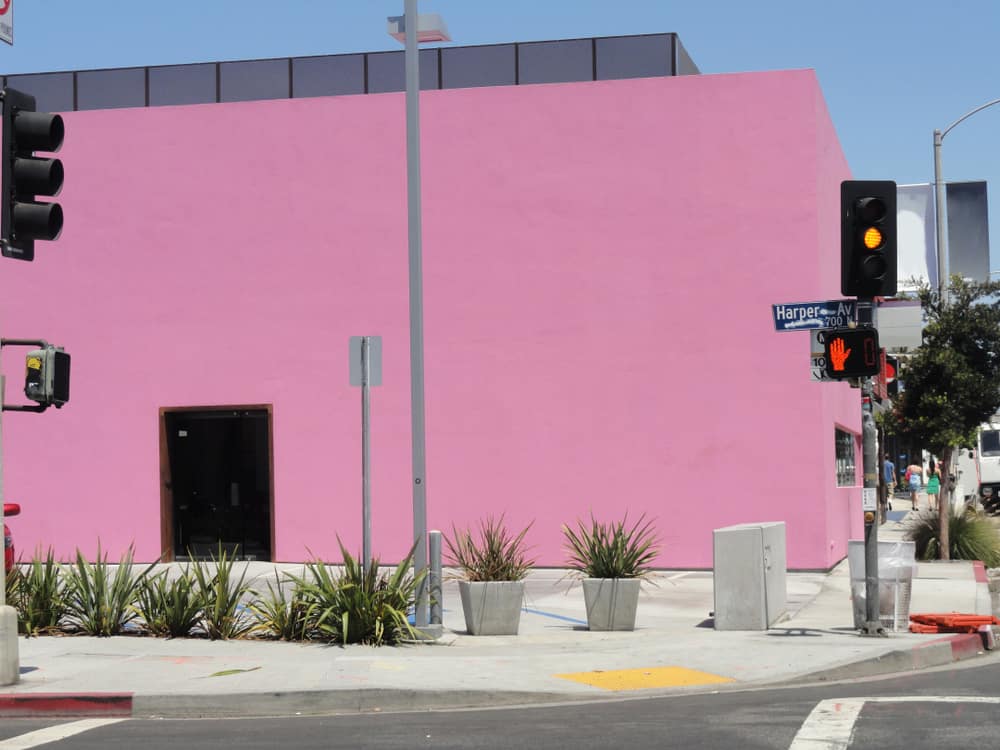 During the 90s and early 2000s, Paul Smith was the designer who was famous for his quirky and wild designs.
The fun and funkiness is all here in his world-famous pink wall beloved by fashion Instagrammers. Dress to impress, and you've got a surefire shot for your feed!
Address: 8221 Melrose Ave, Los Angeles, CA 90046
Runyon Canyon Park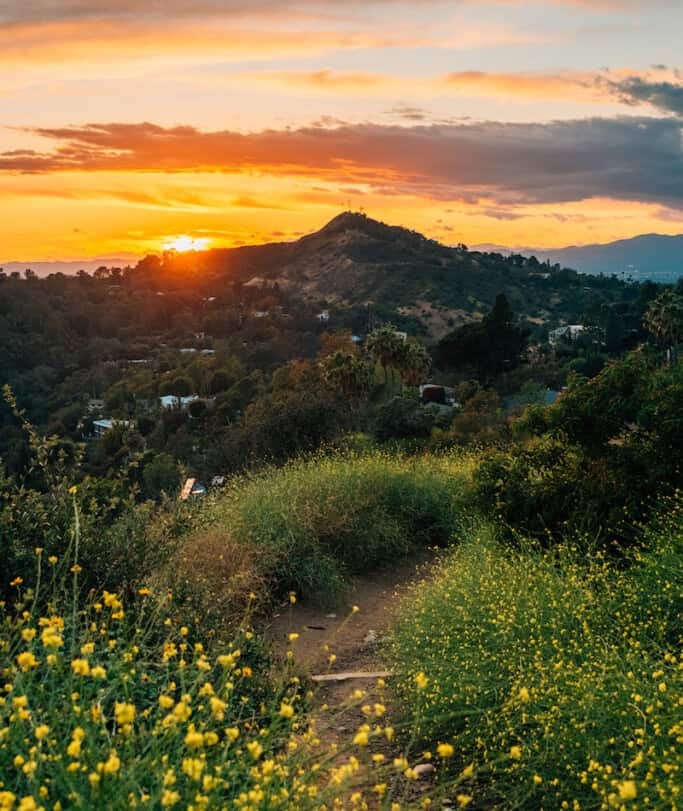 Runyon Canyon Park is a lowkey influencer hotspot for striking nature shots, particularly those that happen at sunset.
With 160 acres of pure, pristine nature trail to explore, you're bound to find at least one good shot here.
Heads up, you can also see the Hollywood sign from here.
Address: 2000 N Fuller Ave, Los Angeles, CA 90046
Los Angeles Japanese Garden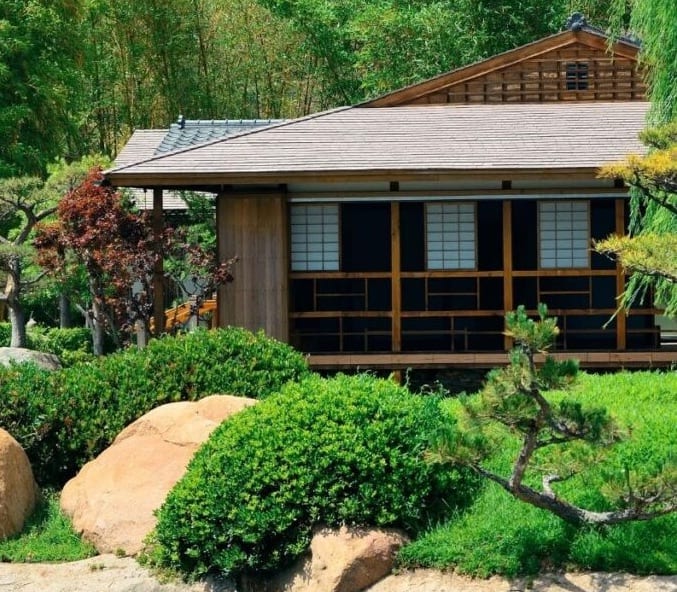 Exotic, chic, and Instagram influencer-friendly, it's hard to ignore how beautiful Los Angeles Japanese Garden is.
It's been featured in movies, commercials, and TV shows galore due its sheer awesomeness.
Their tea service, by the way, is also Instagram-worthy!
Address: 6100 Woodley Ave, Van Nuys, CA 91406
Hsi Lai Temple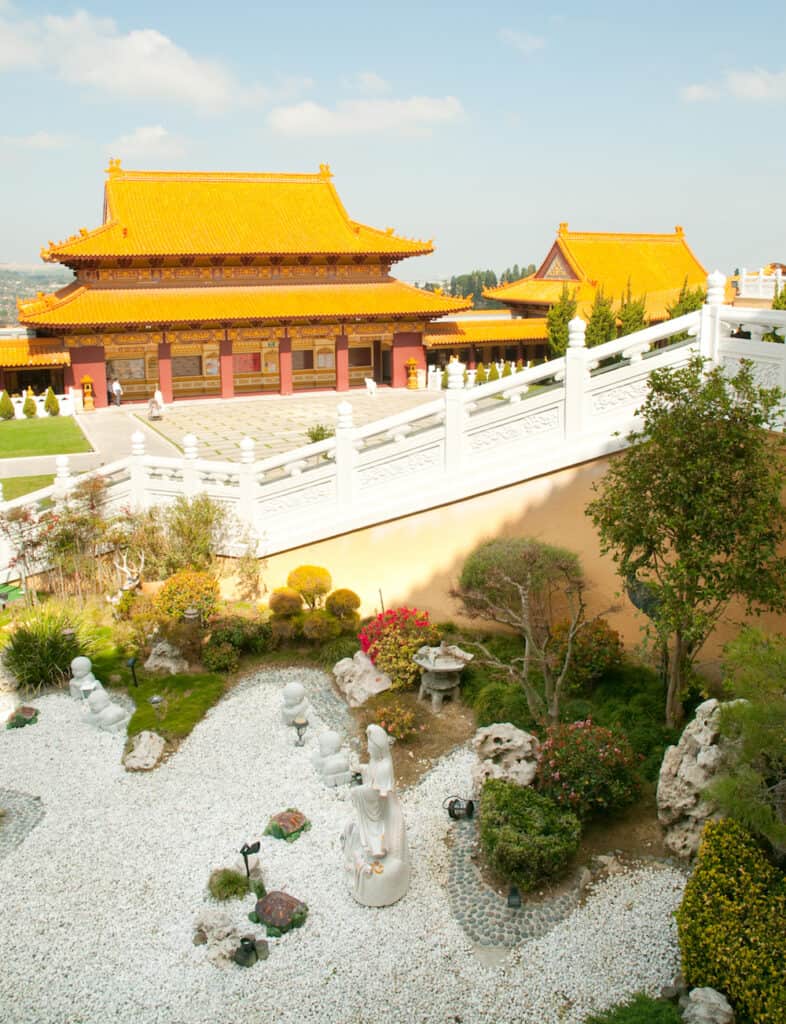 Hsi Lai Temple isn't just an amazing backdrop for Instagram photos. It's a legitimate monastery that's nestled in the heart of Hacienda Heights.
"Hsi Lai" means "Coming West," a subtle note to the fact that this temple is one of the first of its kinds in America. 
Address: 3456 Glenmark Dr, Hacienda Heights, CA 91745
Micheltorena Stairs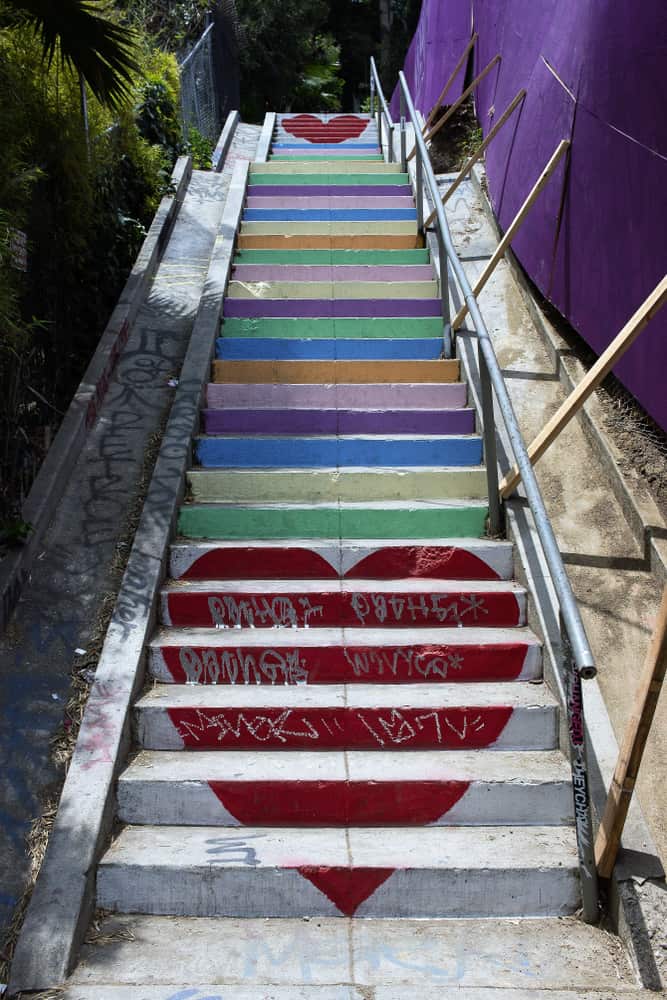 A little grungy, a lotta Instagrammy, the Micheltorena Stairs have seen more fashion shoots than it's safe to guess.
Located right on Sunset Boulevard, these 200-odd stairs are some of the most recognizable in the fashion world due to their bright colors and street photography significance.
Address: 3400 Sunset Blvd, Los Angeles, CA 90026
Watts Towers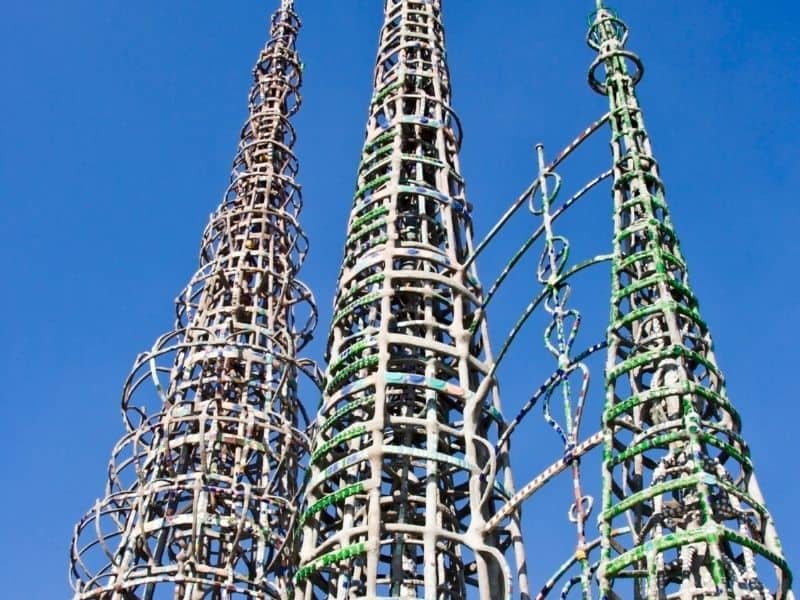 Are they metal Christmas Trees? Are they supposed to be radio towers? These head-scratching towers are meant to be a sculpture that denotes something awesome.
And, awesome they are. That's precisely why so many Instagram shots involve them as part of their aesthetic!
Address: 1727 E 107th St, Los Angeles, CA 90002
Getty Center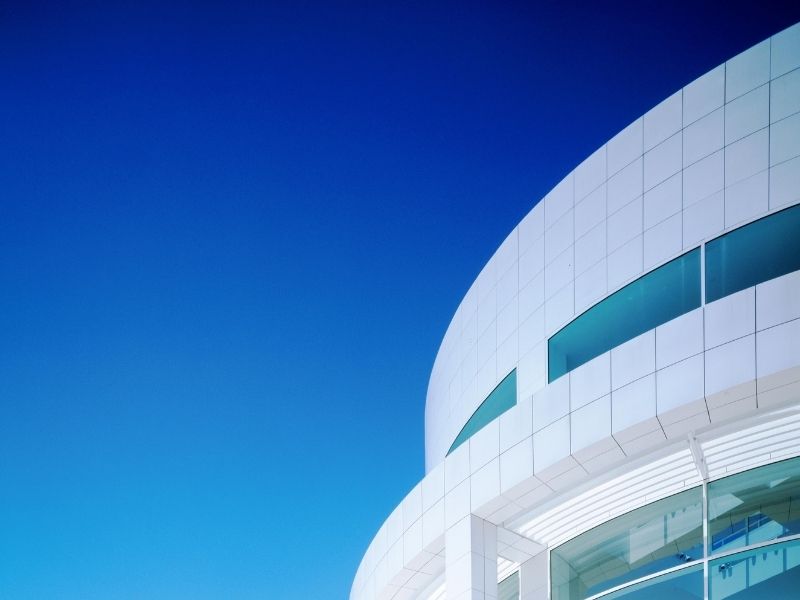 The Getty Center isn't just one building, though their art museum happens to be one of the most well-known in the country.
What makes this building cluster popular among Instagrammers is that you are able to get awesome shots of modern architecture that works well with fashion shots.
Of course, anyone would be able to enjoy the shots you can get in the art section, too!
Address: 1200 Getty Center Dr, Los Angeles, CA 90049
The Biltmore Hotel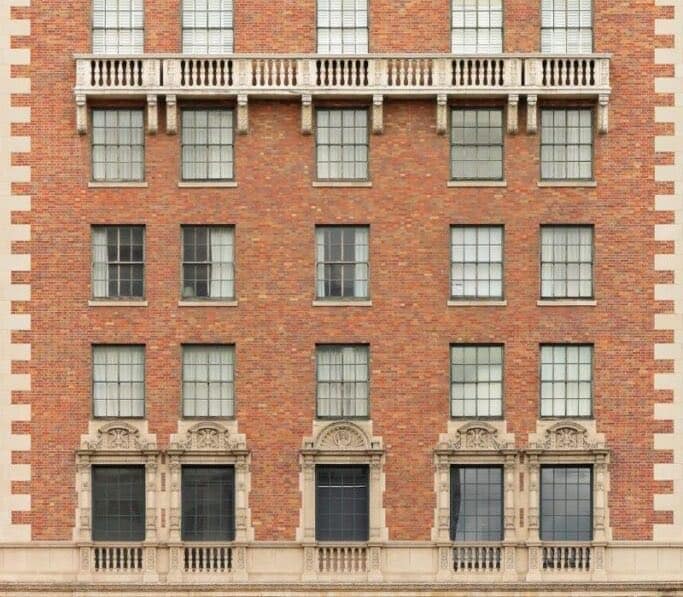 Fans of old-school architecture are going to find themselves very happy when they head over to the Biltmore.
At one point, this was the largest hotel west of Chicago in the United States. Today, it's one of the most famous architecture hotspots in the country, and as a result, it's one of the most Instagrammable places in Los Angeles!
Worried about ghostly activity? You should be. The Biltmore is allegedly haunted!
Address: 507 S Olive St, Los Angeles, CA 90013
LA City Hall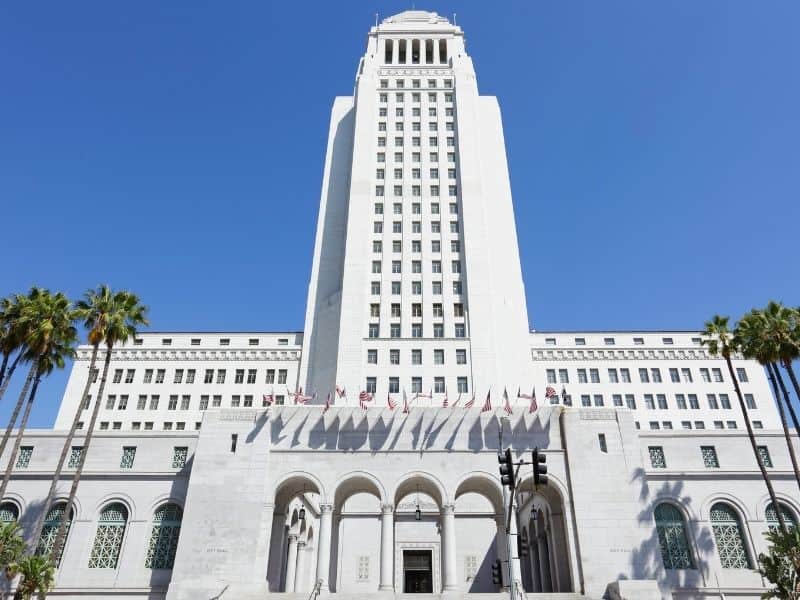 It shouldn't surprise anyone that LA City Hall is one of the most aesthetically-pleasing municipal buildings in America.
Along with being an amazing backdrop for fashion-forward Instagram shoots, this City Hall also happens to be an architectural wonder worth hitting up for little reason other than admiring the look. 
Address: 200 N Spring St, Los Angeles, CA 90012
Tram at the Original Farmer's Market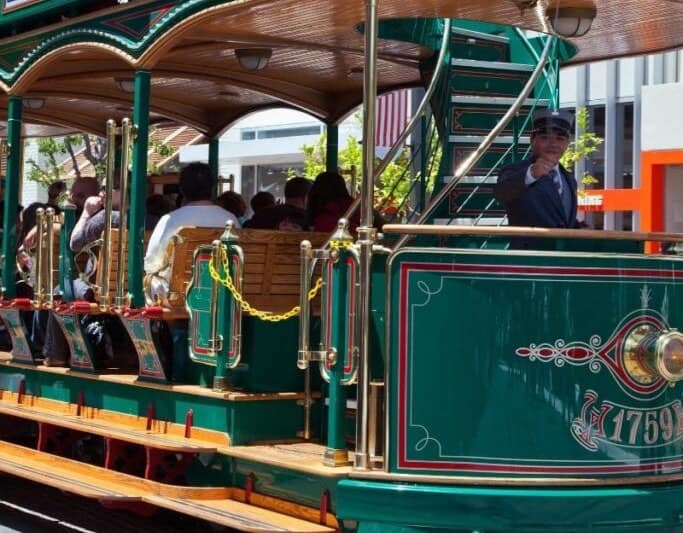 It's true. The Original Farmer's Market is one of the hottest foodie spots in all of California, and the Tram is not much different in that sense.
This historic tram is considered to be one of the better still-operating parts of history in the city. 
While you're at the market, you might want to pick up some of the locally-made foods. They're to die for!
Address: 6333 W. 3rd St., Los Angeles, CA 90036
TCL Chinese Theatre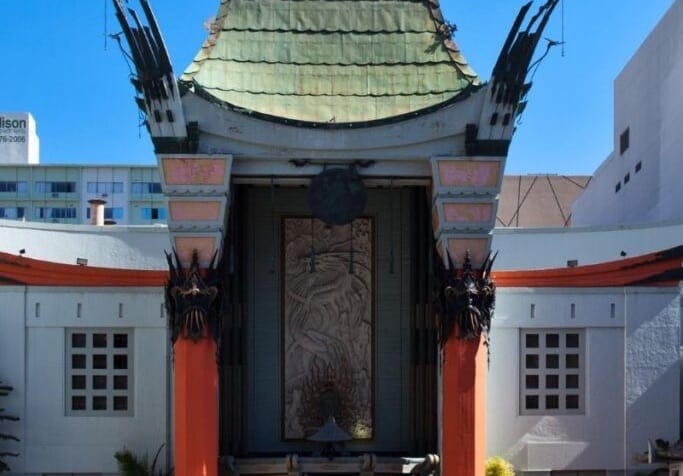 Movies never quite seemed to be shown in as much style as at the TCL Chinese Theatre.
This movie hotspot is only a quick walk from the main portion of the Walk of Fame, and is most popularly known for its unique pagoda-inspired decor. 
Address: 6925 Hollywood Blvd, Hollywood, CA 90028
Disneyland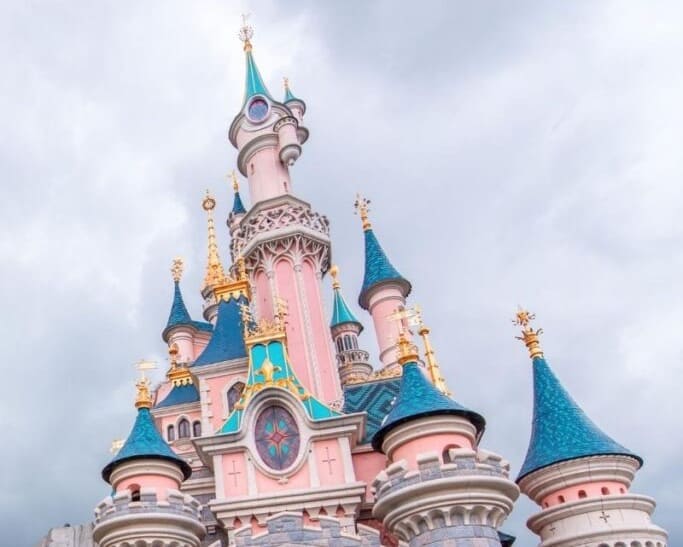 If you believe in Disney magic, then this is going to be one of the most wonderful places on Earth for your Instagram.
The cool thing about this park is that everything is meant to be a photo op inside the park gates. Oh, and the rides are cool too.
Psst: If you go to Disney, we've gathered a bunch of wonderful Disneyland Instagram captions for you to steal!
Address: 1313 Disneyland Dr, Anaheim, CA 92802
Walk of Fame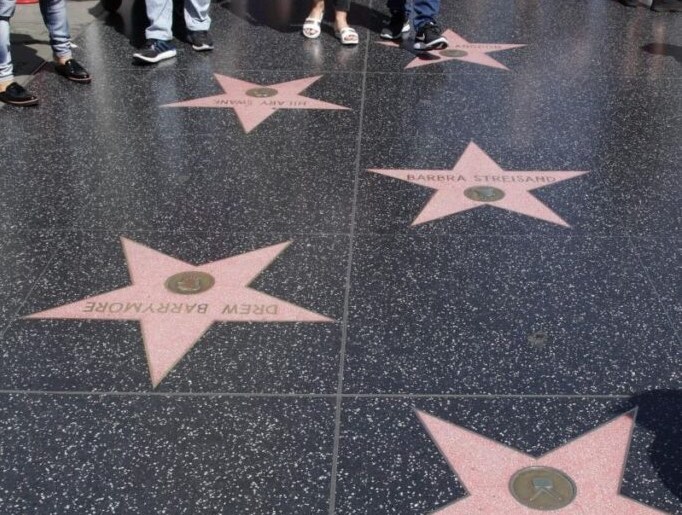 It is so hard not to want to get at least one or two shots at the world-famous Hollywood Walk of Fame.
What you need to be aware of, though, is that this area tends to be flooded with tourists as well as other Instagrammers hoping for 'the shot'.
While this could have a good shot at being a great place to get your photos, crowding can make it difficult to do. Try, if you can, to go on off-peak hours.
Address: Hollywood Boulevard, Vine St, Los Angeles, CA 90028, United States
El Matador Beach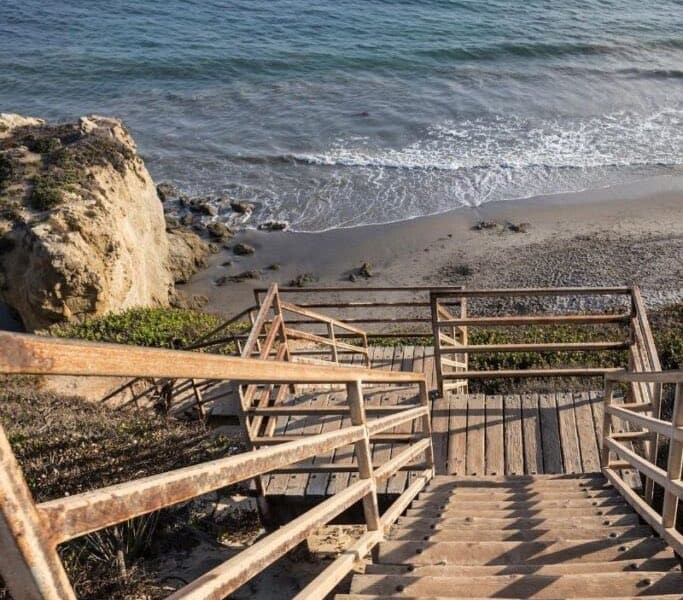 There are few things as aesthetically pleasing as finding a good beach for a photo session. It's natural, it's elegant, and at the same time, it's timeless.
That's why you're going to enjoy El Matador Beach, and I'm sure you'll agree that it's one of the most Instagram-worthy places in LA. Well, technically Malibu, but close enough!
This beach is pretty petite, but it still offers a lot of fun. Cliffside parking is available too, so it's not too much of a hike, but it can get crowded, especially around sunset. You may need to park on the PCH.
Address: 32350 Pacific Coast Hwy, Malibu, CA 90265
Malibu Pier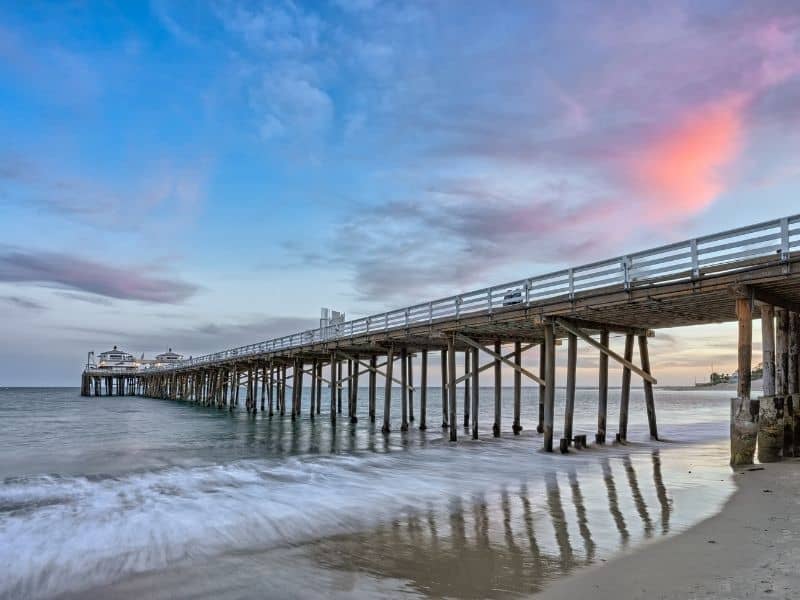 Malibu Pier has become one of the most popular piers in California for Instagrammers, and it's not hard to see why!
The water under the pier is crystal-clear, the waves are gorgeous, and so are the sunsets. 
When you're not shooting, you can check out the pier's nearby restaurants and tourist attractions.
Address: 23000 CA-1 (Pacific Coast Highway), Malibu, CA 90265
Union Station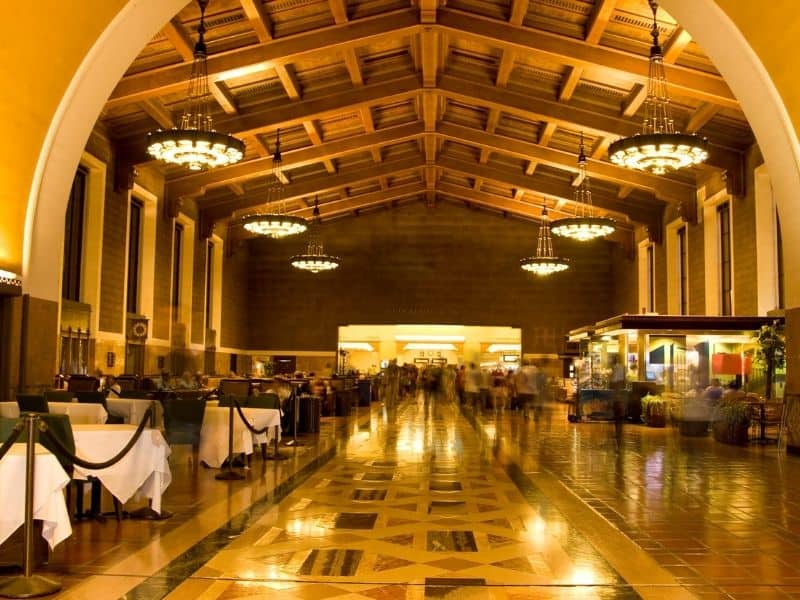 Union Station is one of the many rail stations in California that got a strong following due to its 19th century architecture.
Gorgeous archways, warm lighting, and a surprisingly easy trip to wherever you need to be are what make this station such a good one to use as a backdrop for your next shoot. 
No wonder it's a beloved Instagram spot in LA amongst in-the-know locals.
Address: 800 N Alameda St, Los Angeles, CA 90012
Elysian Park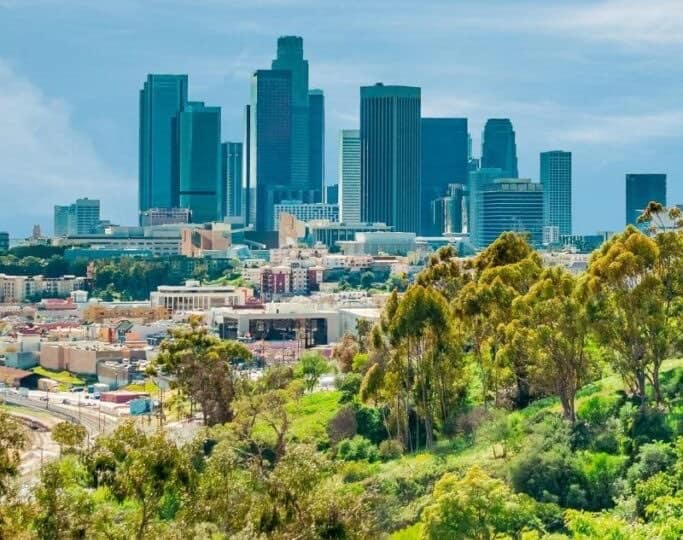 Last but not least on our list of the most epic Instagram locations in Los Angeles is Elysian Park, home of the Elysian Park Swing.
This features a wooden swing that lets you literally swing over the park. The trek is steep and a little challenging, but it's not that bad. It's only a five-minute trip!
Location: Park Row Dr, Los Angeles, CA 90012
Pin This Guide to LA Instagram & Photo Spots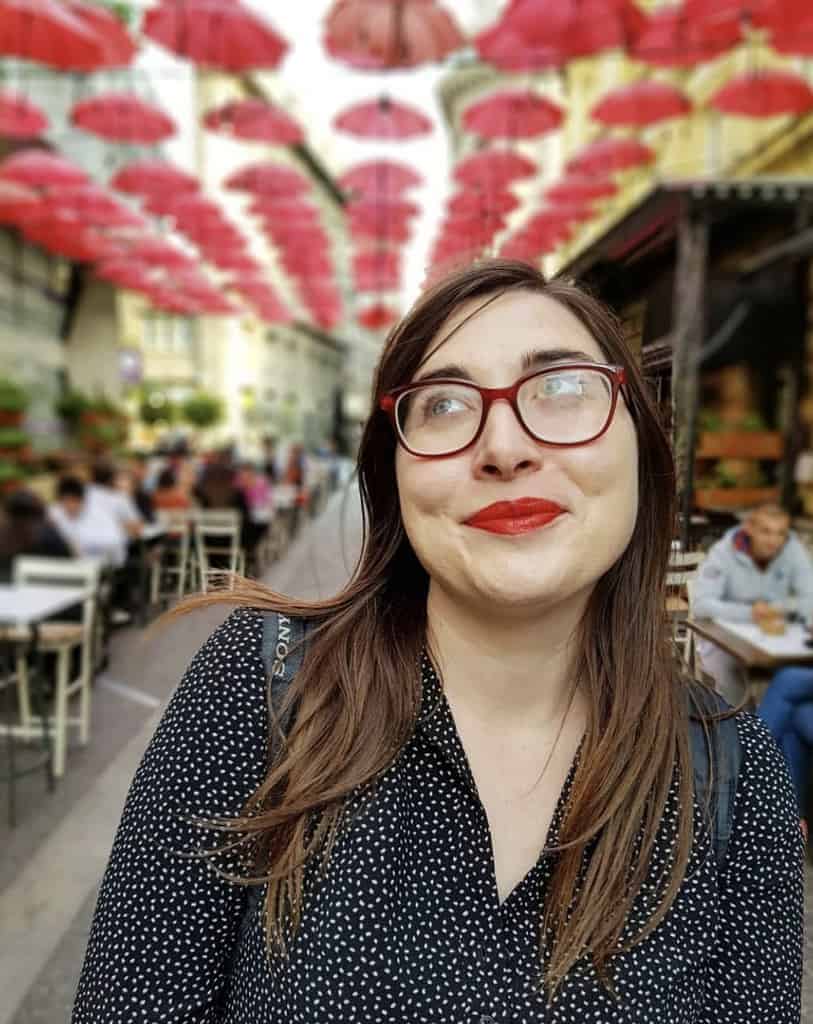 Allison Green is a travel blogger, writer, and podcaster who grew up in the Bay Area of California. She has spent time living in New York, Prague, and Sofia, but has returned to live in the East Bay. She has traveled to 60 countries before the age of 30 while running several digital travel publications. Her writing and podcast have been featured in Forbes, CBC Canada, National Geographic, the Huffington Post, and CNN Arabic, amongst others. She's obsessed with bouldering, houseplants, other people's pets, and anywhere she can see the ocean.