Enter a traditional dim sum restaurant, and you will be seated before a spread of small, round bamboo baskets that fill up the dining table. Some baskets are even piled high atop one another.
Inside each basket is a hot and tasty dish that will "touch your heart" – this is the English translation of the Cantonese word dim sum.
What is the meaning behind this translation? Simply put, dim sum is comfort food for Cantonese people because it is a meal that is enjoyed in the comfort of family and friends. 
Served during breakfast and lunch hours, dim sum (or as Cantonese speakers also call yum cha, which translates to "drink tea") includes a variety of savory and sweet Cantonese-style Chinese food that can be consumed within a few bites.
Although each dish is small, this is on purpose. You are supposed to eat and share various dim sum dishes, preferably with a pot of tea!
Dim sum consists of an assortment of meat, seafood, and vegetarian dishes that are prepared either by steaming, pan-frying, deep-frying, or baking.
Hot tea is served with your meal, and this is an essential part of the dim sum experience. Tea options commonly include oolong, jasmine, chrysanthemum, and pu-erh (a fermented black tea).
These teas compliment dim sum because they are meant to help digest the meal, which tends to be on the heavier side due to the starch and oil used in many of its dishes.
Dim sum has evolved throughout centuries to meet the modern-day palate. While there aren't as many truly authentic dim sum restaurants today (unless you're in Hong Kong or Guangdong—a province in southern China where dim sum originated), there are still dozens of restaurants in LA that hit pretty close to home for Chinese people—I can attest to this as a Cantonese Chinese person myself!
Don't waste your time trying to scour the web for the best dim sum in Los Angeles—I've done it for you.
These are the 9 best dim sum restaurants in LA!
Things to Know Before You Order Dim Sum in LA
Note: This post contains affiliate links, which earn me a small commission at no extra cost to you if you make a purchase using one of these links. Thank you for supporting this free content!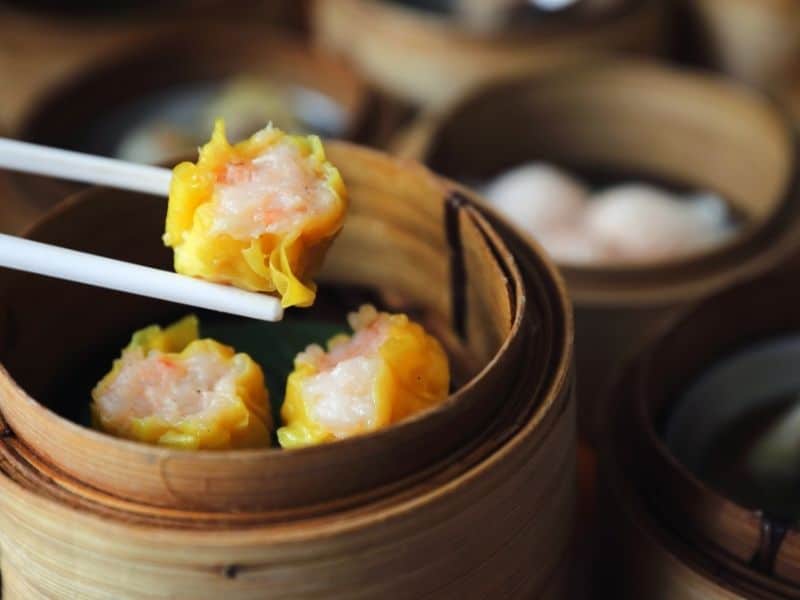 If you've had dim sum before, then skip this section and read on to find out what LA's 9 best dim sum restaurants are.
If you're new to eating dim sum, it can be intimidating for your first time. But once you understand the customs of dim sum dining you will be hooked on dim sum!
Here are some things you should know before you dine at a dim sum restaurant in LA:
Expect to be eating in a convivial and casual environment. Because dim sum is meant to be eaten with family and friends, large groups often dine together to eat and socialize. If you've come to eat in peace and quiet, you're better off ordering take-out. This is typical especially for the more authentic dim sum restaurants than the modernized dim sum restaurants (the list in this article will differentiate between the two).
At an authentic restaurant, you can expect to order from a push-cart. Servers push around a cart of various dim sum dishes that come straight from the kitchen. When the cart comes to your table, ask or point at the dish you want and they will serve it to your table. The server will then mark the slip of paper from your table to indicate what you've ordered and the items are added to your bill. Alternatively, you may receive a slip of paper upon being seated that you use to mark the dim sum dishes you want to order.
At an authentic restaurant, rest the lid of the teapot so it is covering the opening slightly—make sure it's not fully closed. When you leave the lid open slightly, it indicates to the server that you want your tea refilled. At a modernized restaurant, this is likely not necessary—simply ask the server for a refill. 
At a modernized restaurant, the dim sum is made-to-order. This means you can order in the conventional westernized way where you receive a menu and a server will take your order.
If you can handle spice (and it is not already available at your table), ask for chili sauce (laat jiu jeung). It is a delicious accompaniment for dim sum!
Dim sum is filling, so pace yourself and enjoy the variety. Try to get a nice mix of steamed, fried, and sweet dishes.
There are no conventions on what order you should eat dim sum—if you want to eat some sweet dim sum first, go ahead! 
Tip 15%-20%. Service is not included.
The menu at every dim sum restaurant will vary, but you will likely see that each menu will include the most common dim sum items listed in the next section.
Common Dim Sum Menu Items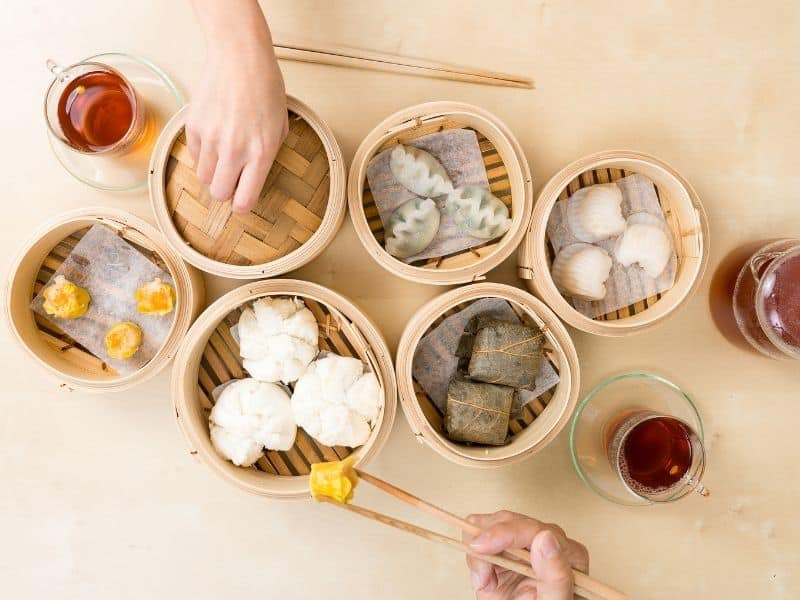 Overwhelmed on what to order? Knowing a few names offhand may help. Here are a few of the most popular dim sum dishes in Los Angeles dim sum restaurants.
The Best Dim Sum Restaurants in Los Angeles
Bao Dim Sum House
At Bao Dim Sum House, you can expect high-quality dim sum. Its dimly-lit, modernized interior creates a swanky, lounge-like atmosphere.
Dim sum is made-to-order, and they offer take-out, catering, happy hour, and lunch specials. Yes—you can unwind after work with dim sum and a cocktail!
Bao Dim Sum House is perfect for date night, lunch with friends, and even a meal out with your family because no one can resist their hearty dim sum portions—especially their dumplings.
Despite being on the pricier side, it's a solid option especially considering it's only one of two restaurants in the Beverly Grove neighborhood that serves the most common dim sum dishes that are often sought after. 
Address: 8256 Beverly Blvd, Los Angeles, CA 90048
Parking: Metered street parking.
Website: https://baodimsum.com/
Ixlb DimSum Eats
Ixlb DimSum Eats offers convenience for those who want to get right to eating and satisfy those evening dim sum cravings.
Open daily from 11 AM to 9 PM, Ixlb DimSum Eats is a take-out only spot that keeps things simple and straightforward. Its no-frills interior (the floor-to-ceiling windows, pristine white walls, and absent dining tables) allows you to focus on exactly what you came for—dim sum!
The steamed and baked classics are all available to order—har gow, siu mai, xiao long bao, cha siu bao, and more.
Your order can add up to a pricey bill if you're planning to feast, but there really isn't any other place in the heart of Hollywood that can satisfy your dim sum fix.
Address: 5900 Sunset Blvd, Los Angeles, CA 90028
Parking: Free but small parking lot in the back or metered street parking.
Website: http://www.ixlbdimsumeats.com/
Din Tai Fung
Din Tai Fung is a renowned legacy. But if you didn't know, now you will. Crowned with the title of being among the top 10 gourmet restaurants in the world by The New York Times, Din Tai Fung is the go-to spot for their beloved dumplings and buns.
Their xiao long bao (soup dumplings) is an art form in itself. With the amount of handiwork and attention put into the making of their bite-sized delights, you'll develop a newfound appreciation for this dim sum dish that at first glance appears simple.
Because Din Tai Fung is a Taiwanese-style restaurant, you won't be able to order all the Cantonese-style dim sum classics. Instead, you can fill up on their specialties: dumplings, wontons, buns, and noodles. Take note of this now: your meal is incomplete without an order of their Chocolate & Mochi Xiao Long Bao and Chocolate Bun—need I say more?
Albeit a more expensive meal, it's worth it. Located on the second level of Century City's Westfield Mall, this Din Tai Fung location comes in clutch for residents of the westside who don't have the time to travel out to the dim sum hub of LA (San Gabriel Valley a.k.a. SGV).
Address: 10250 Santa Monica Boulevard #2400 Level 2, Los Angeles, CA 90067
Parking: Parking garage of Westfield Century City Mall. Park closest to Eataly and Nordstrom.
Website: https://dintaifungusa.com/
Tian's Dim Sum & Fast Food
Authentic, affordable, and quality dim sum is served at Tian's Dim Sum & Fast Food. Walking into this small, family-owned dim sum joint feels homey and reminiscent of Cantonese restaurants in Hong Kong.
It's cash-only, but the portion sizes are generous and the service is quick. Tian's menu is large, too. You can order from an array of authentic Chinese mains from chow mein, fried rice, seafood, congee (rice porridge), and more.
There is nothing to complain about here—you'll likely want to bookmark this place on your favorites list!
Address: 809 N Hill St, Los Angeles, CA 90012
Parking: Free but limited parking in the back lot and metered street parking.
Website: https://ordertiansdimsum.com/
Golden Dragon Restaurant
Another Chinatown spot to add to your favorites is Golden Dragon Restaurant. Like Tian's, the dim sum is cheap, authentic, and delicious.
Takeout and outdoor dining are currently the only options available, so make sure to come back when full-service indoor dining is available.
Its spacious, banquet-style dining room is as authentic as you can get, especially with the traditional dim sum push-carts. 
Address: 960 N Broadway, Los Angeles, CA 90012
Parking: Free parking at the 9333 N Broadway Parking Lot andmetered street parking.
Website: http://www.goldendragonla.com/
Lucky 1 Restaurant
Image: https://www.instagram.com/p/B32P1AfAsWZ/
If you're in SGV, you can't miss Lucky 1 Restaurant. This casual, mom-and-pop shop delivers on authenticity!
You can find nearly all the traditional dim sum dishes on their menu, and they do not skimp out on their portions. The prices are incredibly cheap making it a popular spot in the area, so make sure you go early.
It's worth noting that the servers are native Cantonese speakers that speak little English, so your best bet is to point at the items you want from the menu (the menu includes both English and Chinese).
Address: 3001 7637, Garvey Ave, Rosemead, CA 91770
Parking: Lucky 1 is located in a shopping plaza; free parking available in the lot.
Website: https://www.lucky1restaurant.com/
Lunasia Dim Sum House
The best dim sum you'll find in Pasadena is at Lunasia Dim Sum House. Despite the pricier menu, their quality is excellent!
Their modernized take on dim sum will have you drooling over their specialties like the Truffle Siu Mai and the Scallop Dumpling with Squid Ink. Not to mention, their portion sizes are huge!
They make this known on their menu with dishes like the Jumbo Shrimp & Pork Siu Mai and Jumbo Shrimp Har Gow.
They currently offer delivery and takeout only, which you can order by calling in, online on their website, or on their very own Lunasia app available on both the App Store and Google Play.
Address: 239 E Colorado Blvd, Pasadena, CA 91101. Locations in Alhambra and Cerritos.
Parking: Public parking lots nearby, metered street parking, and parking available at The Paseo Shopping Mall.
Website: http://lunasiadimsum.com/
NBC Seafood Restaurant
This is a SGV staple for when you want a traditional dim sum experience with push-carts!
With a huge selection on their menu, this is a popular spot that tends to have lineups, so arrive early or be prepared to wait.
The servers are attentive and you can expect superb quality dim sum. Their dim sum is served daily from 8 AM to 3 PM.
Address: 404 S Atlantic Blvd, Monterey Park, CA 91754
Parking: Free parking in restaurant parking lot.
Website: http://www.nbcrestaurant.com/
Atlantic Seafood & Dim Sum Restaurant
Atlantic Seafood & Dim Sum Restaurant is a top competitor to NBC—it's less than 5 minutes down the road.
Their menu is easy to order from and they offer flat-rate prices for every dim sum item. On weekdays, all items are $3.68! On weekends and holidays, all items are $4.68.
They serve authentic, high-quality classic dim sum on push-carts. You will get your money's worth!
Address: 500 N Atlantic Blvd., Suite 200, Monterey Park, CA 91754
Parking: Free parking in restaurant parking lot.
Website: https://www.atlantic-seafood.net/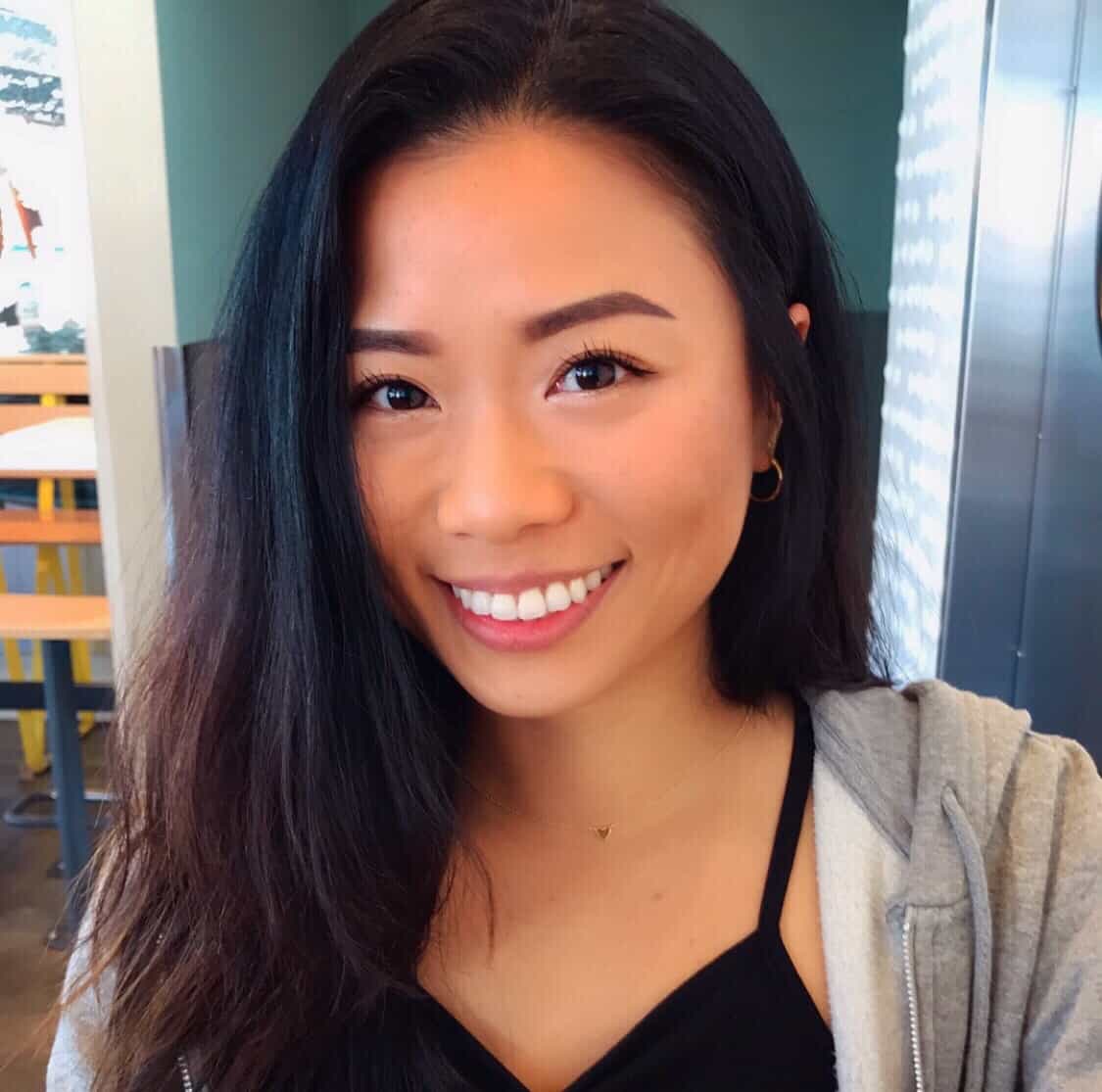 Lianne quit her 9-5 job in 2018 and moved to the bustling city of LA for a change of pace. Having lived in a quiet, secluded part of the East Coast most of her life, her life on the West Coast has since pushed her outside her comfort zone and inspired her to always take "the road less traveled." Travel has played a key role in her personal development, and she believes everyone can reap the extraordinary benefits of exploring life beyond borders.