Los Angeles isn't just a place for Hollywood studios and hot fashion. It's a place for people who want to live their best lives and maybe also find the romance that they want.
While the city might have more of a reputation for its stars and its shopping, the truth is that it's an amazing place for a memorable date.
Everyone knows that LA is one of the best places to go when you want to have an elegant getaway. There's always something neat to do here! But, what about cool date ideas in Los Angeles? Well, we found a bunch…
The Best Los Angeles Date Ideas: Romantic Things to Do in LA [Afternoon, Night, + Distanced!]
Spend time at the gardens in Huntington Library.
A date at the library? It's more likely than you think. Huntington Library is one of Los Angeles's best-kept secrets.
Along with having the standard library selection of fiction and nonfiction, the library also has one of the most beautiful gardens in the city — the Japanese Garden is particularly gorgeous!
It's a great place to have a picnic, to relax, or to get that perfect Insta-worthy shot commemorating your date.
Due to Covid-19 safety restrictions, you may have to book your reservations in advance, but trust us, it's worth it.
Note: This post contains affiliate links, which earn me a small commission at no extra cost to you if you make a purchase using one of these links. Thank you for supporting this free content!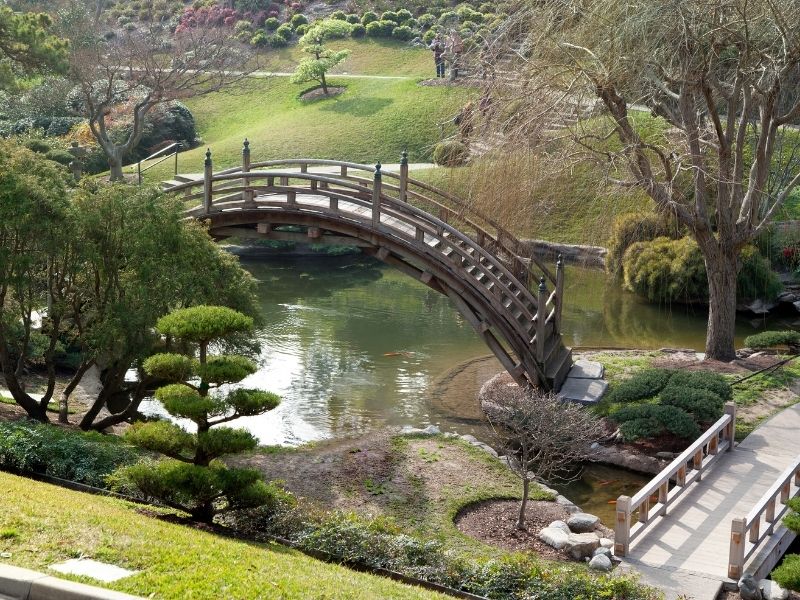 Have some fun at the drive-in.
Did you think that drive-ins were a thing of the past? Well, they're not. Believe it or not, there are six different drive-in movie theaters throughout SoCal. Some of them are pretty close to (or even within) the city's limits.
Once you have the experience of actually watching a movie from your car and getting that retro vibe in, it's going to be hard to go back to seeing movies the regular way! It's a great LA date idea for the social distance era.
Drive through the Palos Verdes Peninsula.
Fancy a nice drive with plenty of gorgeous views along the way?
Grab your sweetie (and your car) for a quick tour through the streets on the Palos Verdes Peninsula. This area features tons of roads that offer up ocean views, cool curves, and plenty of places to see.
It's good to know that this road runs for about 10 miles, which means that you will be able to get some quality time together. Plan a picnic!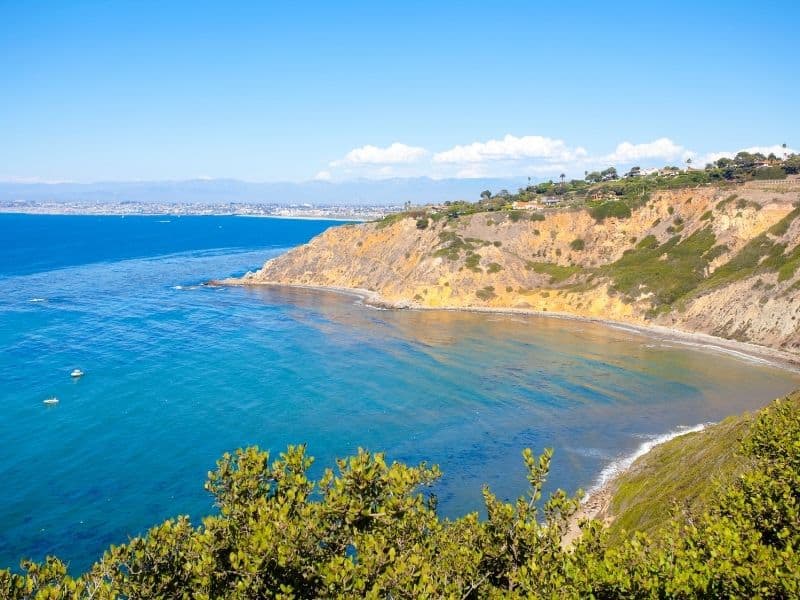 Paddle a swan boat at Echo Lake.
Echo Lake is one of the most popular tourist spots in Los Angeles, but it's also a lovely romantic date spot in LA.
The lake is right in the heart of one of LA's busiest districts, and the scenes alone are amazing. So, if you're in the mood for a walk by the lake, here's where to go.
One cool thing about Echo Lake is that they have swan paddle boats that you can rent out, which is the perfect outing for someone who wants to make a romantic gesture! It's one of the great Los Angeles date ideas for those looking for some old-school romancing.
Treat your pets to a dog's day at the beach.
A lot of Cali dog owners end up bonding with potential partners over their mutual love of man's best friend!
If you're both pet owners — or even if you're not and you're just hoping to spend some time with that cute dog you saw on their profile pic — then you can head over to Rosie's Dog Beach in Long Beach.
This is Los Angeles's only leash-free beach for dogs, and it's a super pet-friendly way to show your date that you share a love of animals.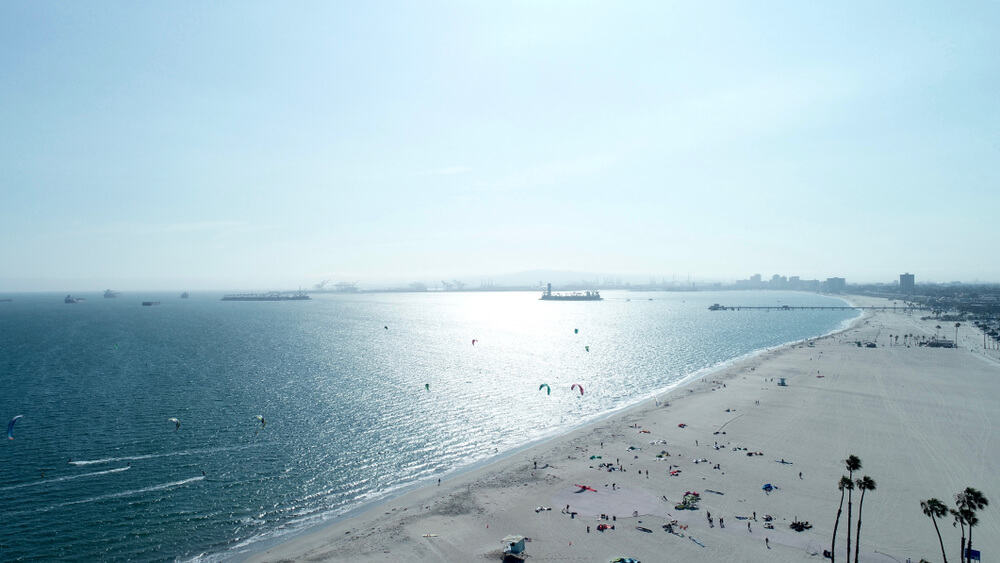 Hit up the Grand Central Market for some good eats.
The Grand Central Market is the stuff of legends, to the point of it being a major foodie tourist location. Here, you get ambiance-boosting neon lights, gorgeous settings, and a wide range of trendy food vendors, all in an Instagram-perfect setting.
The highlight of the Grand Central Market is the sheer number of amazing eateries you can try. At the heart of the eatery blitz, you can enjoy is world-class tacos. The tacos are the true winners. Get those carnitas, already!
Check out the intimate areas of Playa Del Rey.
So much of Los Angeles is fun and beautiful but incredibly cramped. In the time of Covid-19, that doesn't exactly spell out a "romantic" thing to do in Los Angeles.
That's why we strongly suggest Playa Del Rey, one of the nicer beaches for a walking date in Los Angeles.
Fewer people hang out here than on LA's other beaches, which means that you are more likely to get that intimate one-on-one vibe that helps set the mood.
If you want to make your LA date night super romantic, go out here and watch the sunset. It's absolutely, positively breathtaking.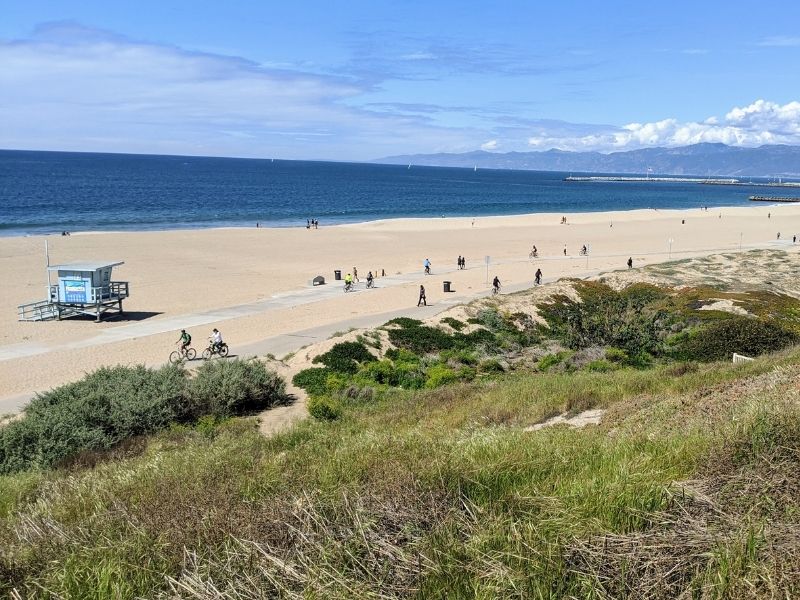 Explore First Fridays.
NOTE: Not open now due to Covid-19. Check the website to see when First Fridays reopen.
Ask any LA local, and they'll tell you that the first Friday of every month is the time to go down Abbott Kinney Boulevard. This area turns into an amazing swath of cool, quirky shops and delicious food trucks.
To a point, it's almost a rite of passage. Are you even from SoCal if you've never done First Fridays? Trust us, if your date isn't from the area, she's going to love it. Make sure to grab your phone, because you will want to post some pics to Insta.
Go biking through Venice Beach.
Venice Beach is one of the biggest destinations for people who love bodybuilding, roller skating, or just chilling out by the ocean. Unsurprisingly, this means that this major hotspot also happens to be a great place for people to bike through.
Don't have bikes? Not a problem. You might need to do a little hunting around, but you will be able to find bike rentals on the cheap within the area's limits!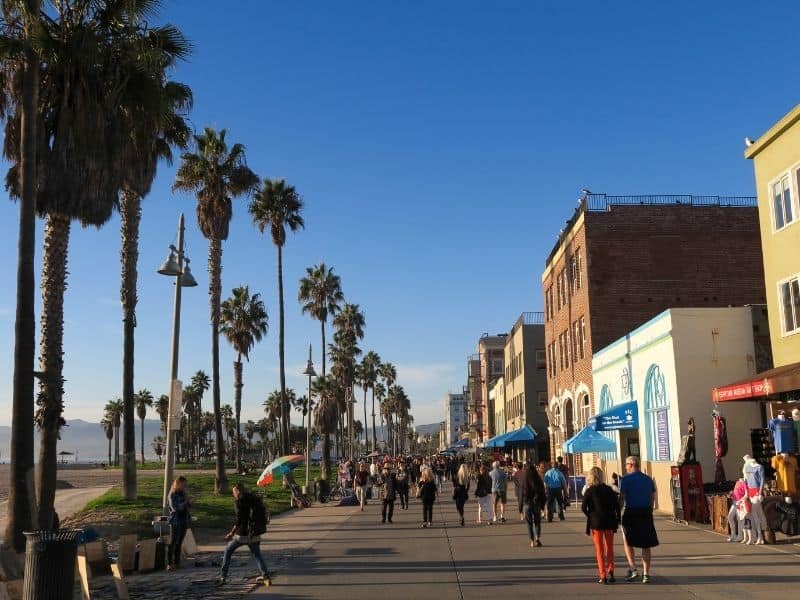 Learn something new at a museum.
NOTE: Many museums are running at limited capacity or still closed due to Covid-19, so check them out before planning this LA date.
Los Angeles is famous for its museums, and truth be told, there are pop-ups that happen almost every day. You've got your choice between the Getty, LACMA, and the Broad—just to name a few. Indie galleries also can be found around every corner.
The pop up gallery scene is insane in Los Angeles, and it's the type of area where you never know who you could meet. If you're not sure what's around, you can usually find out the newest exhibits via Instagram.
Tour the La Brea Tar Pits.
NOTE: The museum is currently closed but the park is open — and free!
You don't need to be a tourist to fall in love with the insane history of La Brea. The easy-to-navigate museum is one of the most incredible collections of dinosaur bones on the West Coast. Scientists are still studying this area, too.
While you can spend an entire day learning about the Tar Pits and reading up all the museum information, you don't have to do that. The area is also remarkably close to a nice variety of eateries. So you can shoot two birds with one stone.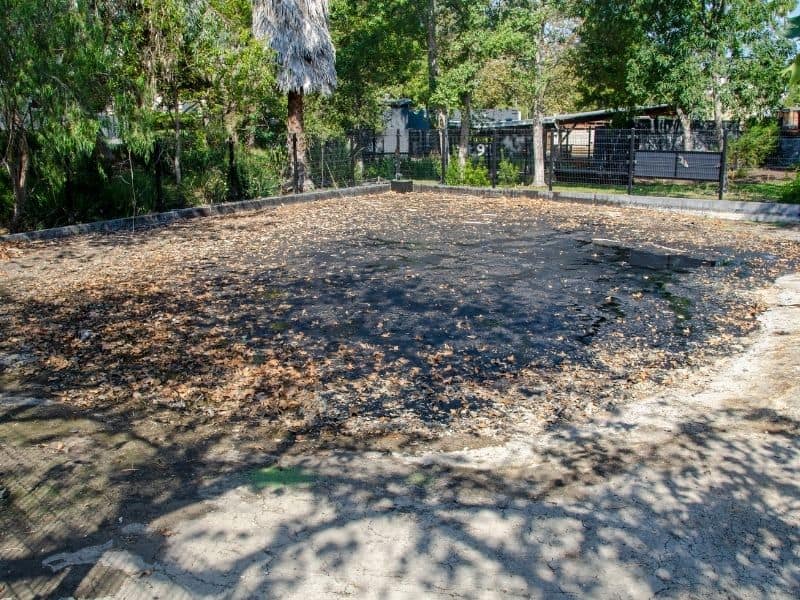 Check out some of the wine tastings nearby.
While Los Angeles is mostly a beer and cocktails type of place, it also can be a major hotspot for people who want to enjoy a good glass of vino too. The town has a number of top wine bars that feature bottles imported from around the world.
Most wine bars in the area are happy to arrange tastings, and actually throw them on a fairly regular basis. You might have to reserve your spot at some of them, but trust us, you'll love what you experience.
Hit up the Hollywood sign.
The Hollywood sign is one of the most impressive and iconic parts of all Los Angeles, and yet so many locals never actually take time to discover that area. The trail that leads up to the sign is actually really gorgeous and filled with fun lore you can tell your date.
Of course, the trail up there has a slew of other perks that come in handy during a date. It's a pretty romantic place in LA with lots of views along the way!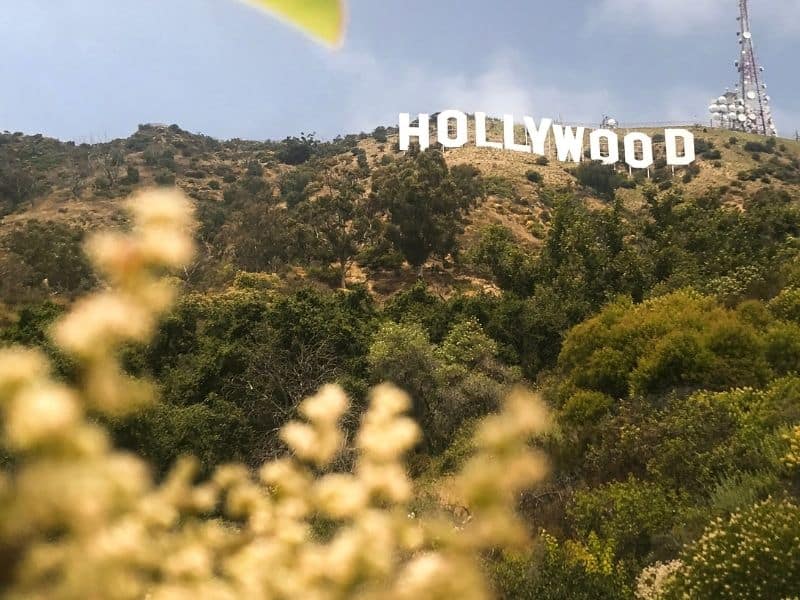 Grab some dinner at one of the many, many restaurants.
Yes, LA is famous for food trucks. Yes, food truck grub is great. It's wonderful, but let's face it, it's not everything!
Sometimes, it's better (and classier) to hit up a restaurant with your boo. If you're trying to make a good impression or actually want to sit down and chat, this is the best way to do it.
There is literally never a shortage of restaurants to choose from — and plenty with outdoor dining as well, to stay safe and dine in a responsible way while supporting struggling restaurants.
Sip some suds at a local brewery.
Most people don't realize this, but Los Angeles does have its fair amount of craft beer fans. That's great, since LA also happens to be home to a number of breweries. The two most popular ones are Angel City Brewery and Boomtown Brewery.
You and your craft beer-loving boo will be happy to know that both breweries offer tours (tours postponed due to Covid-19) and tastings. They say nothing quite beats having a beer at the place it was made. You'll have to find that out yourself.
NOTE: Due to Covid-19, Angel City Brewery is only open for takeaway (growlers, etc.). Boomtown Brewery has a spacious outdoor dining area where you can drink a beer in an outdoor patio area Thursday through Sunday night.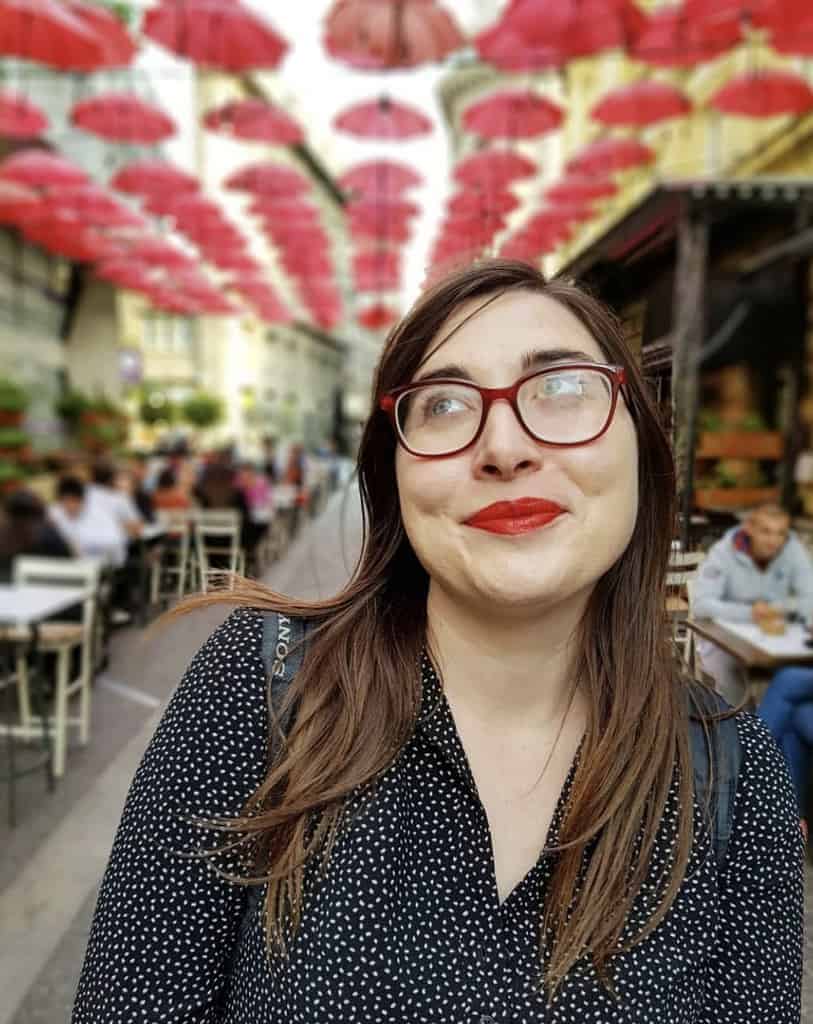 Allison Green is a travel blogger, writer, and podcaster who grew up in the Bay Area of California. She has spent time living in New York, Prague, and Sofia, but has returned to live in the East Bay. She has traveled to 60 countries before the age of 30 while running several digital travel publications. Her writing and podcast have been featured in Forbes, CBC Canada, National Geographic, the Huffington Post, and CNN Arabic, amongst others. She's obsessed with bouldering, houseplants, other people's pets, and anywhere she can see the ocean.