California is a beautiful place with a gorgeous coastline, amazing wineries, and even huge theme parks like Knott's Berry Farm and of course, Disneyland.
You might have gone to California to go surfing or to hike, but there are other unique things to do in California that you might not have heard about before.
If you are looking for something different to do in California, consider planning at least part of a day to go looking for bats. Yes, bats!
California is a great place to see bats in their natural habitats, and many people in the state plan outings just to see large flocks of bats coming and going from their dens during the evening hours.
If you want to plan a unique and memorable day trip, looking for bats in California is the perfect thing to add to your plans!
There are many locations to look for bats in California, but we will talk about the most popular ones where you can see the most bats when you visit.
First, let's talk about the kind of bats in California you might find.
Bat Species in California
Note: This post contains affiliate links, which earn me a small commission at no extra cost to you if you make a purchase using one of these links. Thank you for supporting this free content!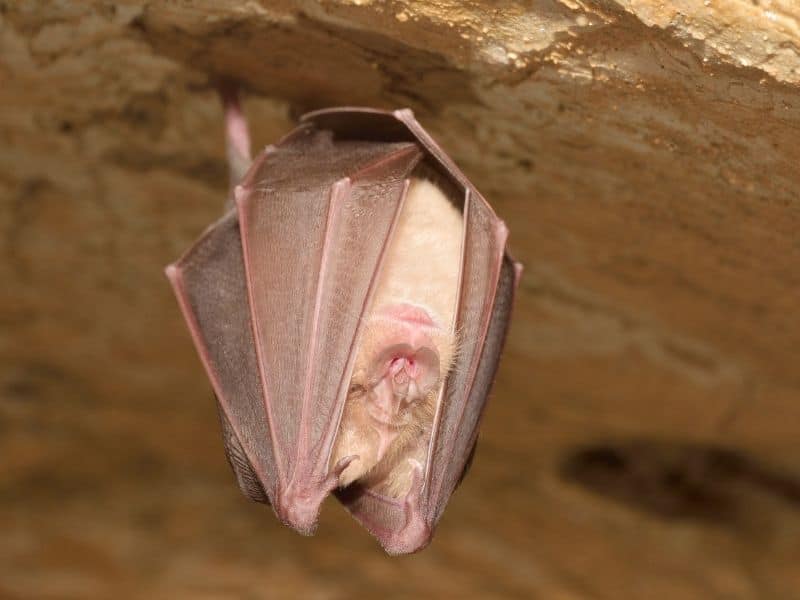 There are various species of bats that live in California!
They often dwell in locations where they can hang upside down comfortably in large groups, which might mean caves or dens, but they will sometimes also nest in abandoned buildings or other kinds of man-made spaces!
Long-Legged Myotis
This California bat species is actually quite common in Mexico, but it can also be found in large numbers in California.
It is a forest bat, but it might also be found in desert locations. Colonies can be as large as 300 bats. This bat is long-lived, so individual bats in a colony could be as old as twenty-one years of age! (Don't give them a beer, though.)
This is a common bat to see in high desert locations, such as the Mojave Desert part of Joshua Tree, where you can find warm weather conditions combined with forested spaces.
Western Pipistrelle
This is an evening bat and you will see it as soon as it leaves to go hunt when darkness starts to fall!
They often feed off insects in streams or lakes, so they will usually den up near bodies of water.
They do hibernate in caves and mines and crevices but sometimes this species might migrate to warmer weather as well. These are common bats to see all the way from New Mexico to California.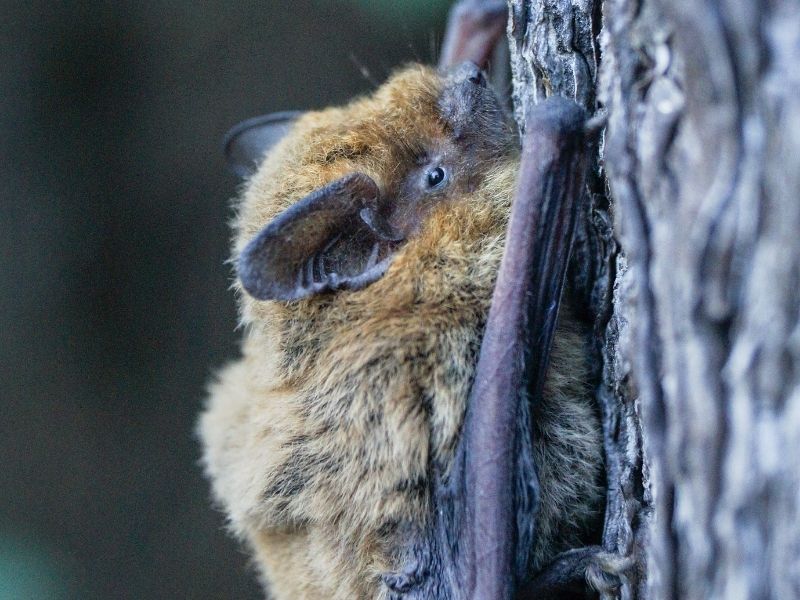 California Myotis
This is a very common species to see in California and it is distinctive for its day roosting behavior and extended hibernation periods.
This bat will actually nest in tree hollows during the day and then forage when evening comes. They like to hunt in the canopies of trees but can also be seen swooping over meadows and other open spaces.
Pallid Bat
These bats come out in the evening but they are unique because they feed on the ground. They live in smaller colonies of thirty to one hundred bats and they are less likely to be seen due to their unusual feeding behavior.
They are presumed to hibernate, but they are not numerous enough for there to be good information about their hibernation habits as of yet.
These bats give off a skunk-like odor and are sometimes mistaken for a skunk before they are actually seen!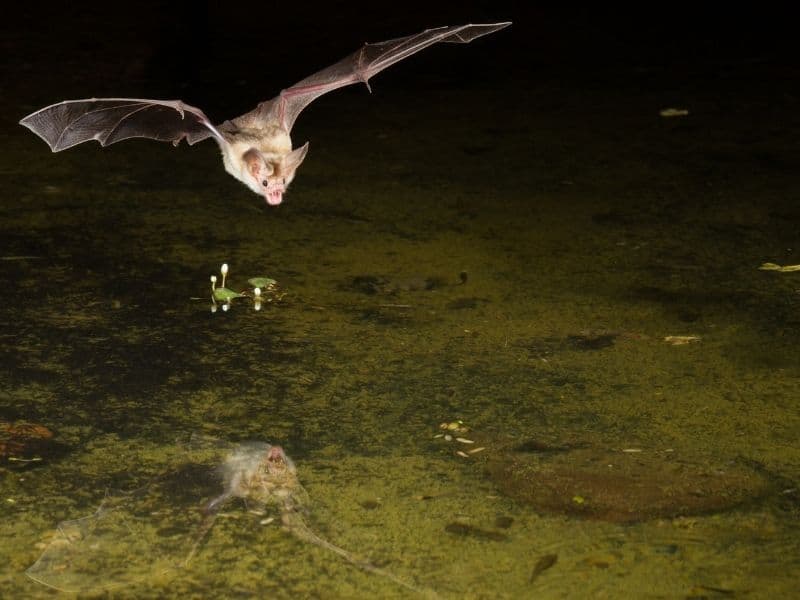 Mexican Free-Tailed Bat
This is the most common bat in the western hemisphere. It is the bat that is famous for living inside of the Carlsbad Caverns in the Southwest, in New Mexico!
This bat can live in colonies of 20 or colonies of over 100,000! These bats forage at higher altitudes than other bats, which is why you will often see them swooping around in large clouds as they feed.
This bat is really common in Northern California and it often the species that you will see if you go looking for bats in Northern California locations.
Little Brown Bat
This is another common bat species in the Northern hemisphere and is found throughout California and the Pacific Northwest.
These bats are most active during the warmer months because they hibernate during the coldest part of the year.
This is a noisy bat species and you will often hear their chatter before you see the cloud of bats feeding!
This California bat species typically lives in caves, so they will be found in locations that offer this kind of natural feature.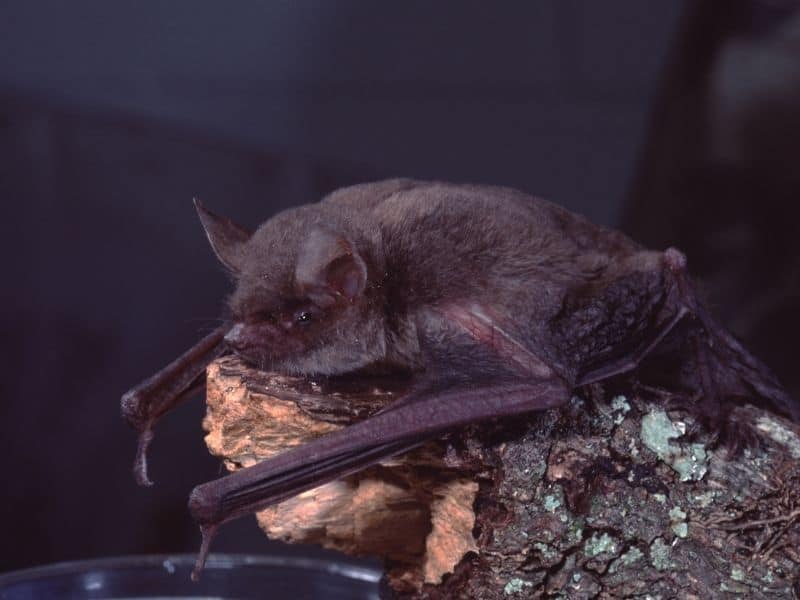 Where to Go to See Bats in Northern California
There are a few locations that are really perfect to see bats in Northern California. This is due to the terrain, which offers up the right blend of caves and trees for them to roost and den up.
The bat colonies in these locations have been there for a long time and are well-established, so you will be almost certain to see bats in these locations if you go during the warmer months!
Yolo Bypass Wildlife Area
Not far from Sacramento, Yolo Bypass Wildlife Area is one of the most famous locations that you can go to see bats in the wild. This colony numbers a quarter-million bats in size!
The colony resides under the Yolo Causeways, which is a 3-mile-long viaduct on Interstate 80. These are Mexican Free-tailed bats and they take up residence in the crevices in the concrete bridge!
If you want to see the bats yourself, you can find a place with a good view, but you can also book tours that are specifically designed to get you close enough to see the colony.
There are many different tour options out there and you can pick and choose between them to choose the kind of sunset bat-watching experience you want to have.
Lava Beds National Monument
Another place to check out some bats in Northern California is the Lava Beds National Monument in Tulelake.
This location is in Siskiyou County, and the caves and cliff faces here have bats roosting there year-round.
This is a park that offers protected caves for the bats, so be sure to observe park rules while you are visiting to see the bats at dusk.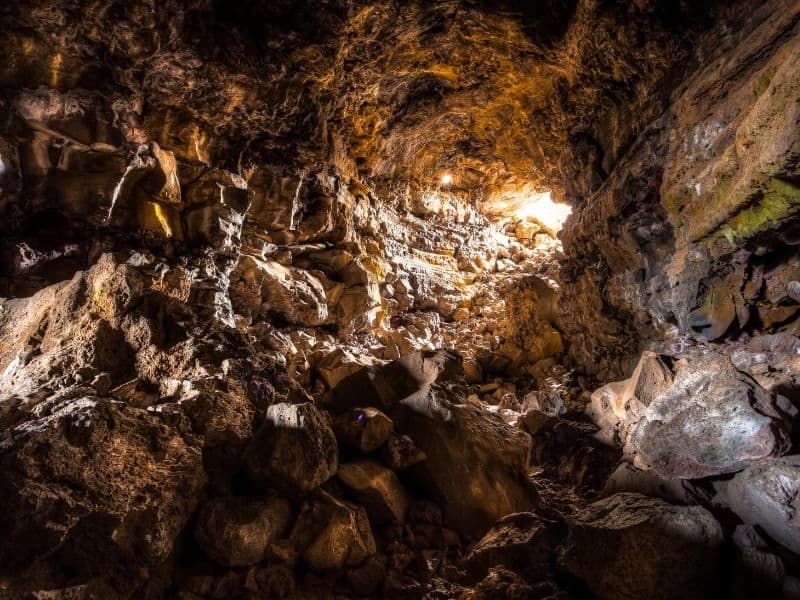 Gallery of California Natural Sciences at OMCA
If you want less of a wild bat experience, and more of an educational one, you can check out the Gallery of California Natural Sciences at the Oakland Museum of California.
This can be really fun if you have kids as you can climb through a lava tube and check out the huge ears of a pallid bat model that is hanging inside of it!
You can also look at species under a microscope to learn more about their teeth and skull sizes. There are multiple species featured here and you can spend part of a day learning all about bats as a family!
Where to See Bats Near the Coast of Central California
The San Luis Obispo area is a delight for many reasons!
You might want to visit the coastal side of the state in this area for wine-tasting, to visit the ocean, or to be in proximity to Santa Barbara and its many activities.
However, many people are not aware that you can also find bats on California's Central Coast and inland!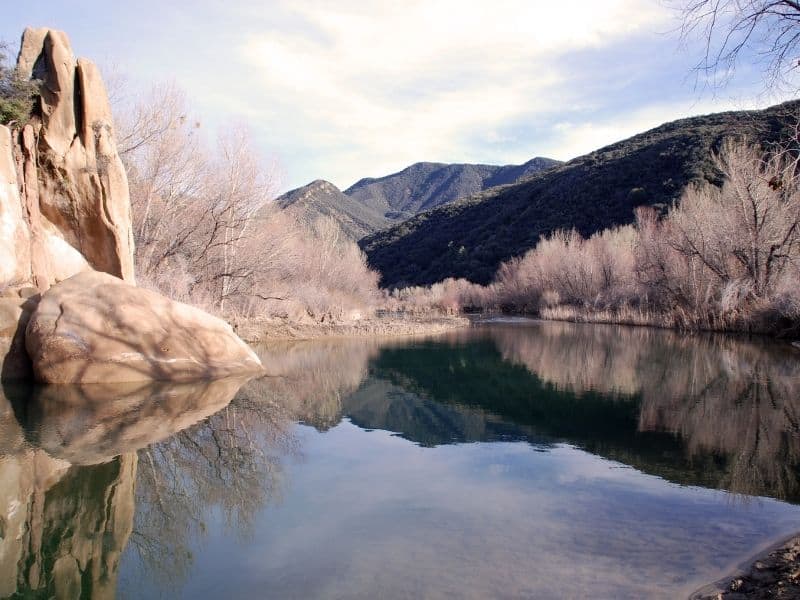 Los Padres National Forest
Located in the beautiful Los Padres National Forest are some large colonies of bats. You can see mouse-eared bats or even the very large Mastiff Bat here.
This area has become a location where bat habitats are preserved to help manage the loss of habitat spaces for bats due to new human homes that have been built in the city. 
Conservation is key in this national forest, and there is plenty of information available in the education center when you visit about the bat preservation projects that are ongoing here.
Park experts or rangers can tell you where to look for bats, but if you want to hike around the forest in the evening, you will probably see them without having to be told where to look.
This is a beautiful location that is worth a visit even if you are not looking for bats, but the large bat colonies are the icing on the cake for bat enthusiasts.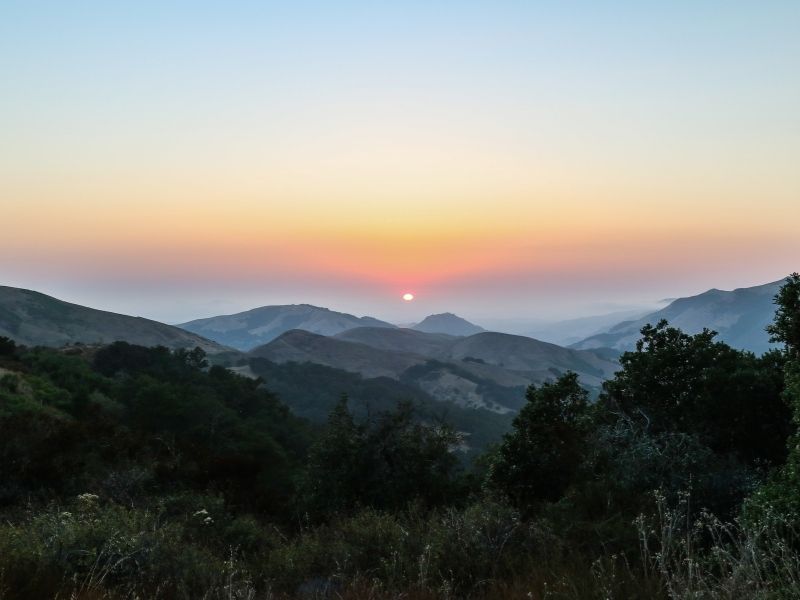 Pinnacles National Park
While technically Pinnacles National Park is part of Central California, it's close in driving distance from several large NorCal cities, like Santa Cruz and San Jose as well as places like Monterey which are popular day trips for Northern Californians.
Pinnacles National Park is perhaps one of the best places to find bats in California, as its Bear Gulch Cave is home to species of bat in California listed on the "sensitive" list, the Townsend's big-eared bat.
This means that California is required to protect them under state law and as such, the cave is closed during particular times in the bat's life cycle such as when the bats raise their young in the early summer months (mid-May to mid-July). Outside of that period, Bear Gulch Cave is typically open to visitors.
About half of the cave is open to visitors, and the rest is separated by a gate so that the bats who live there won't be disturbed by the presence of humans in their space and can have a safe space to retreat to if they feel bothered.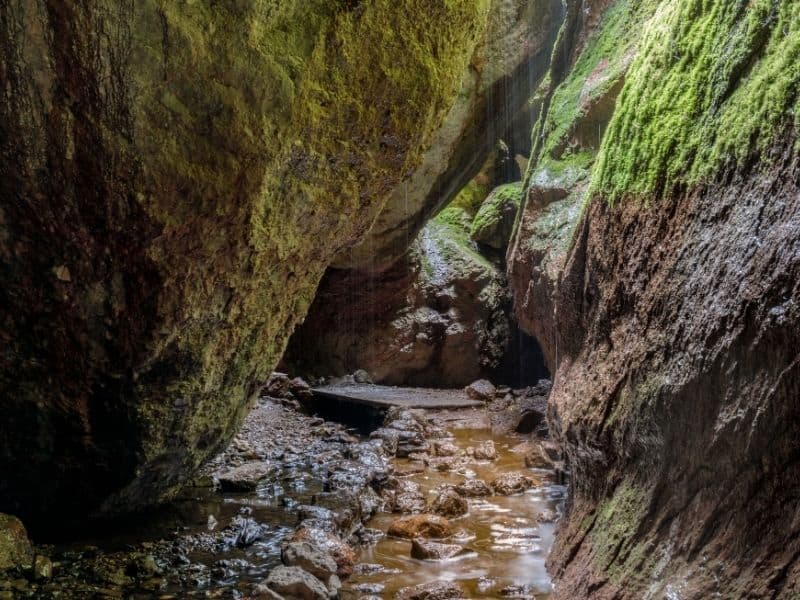 Where to Look for Bats in Southern California
If Southern California is your trip destination or your home stomping grounds, there are places to see bats in Southern California as well!
While the terrain is slightly less ideal for bats than in Northern California, there are still places where bats are thriving and can be witnessed feeding at dusk.
Los Angeles
It was recently discovered that there are a few large colonies of bats in LA, living in urban areas!
These bats are located on US parkland in locations like Whittier, Hacienda Heights, La Habra Heights, Rowland Heights, Brea, and even Anaheim!
Park rangers and bat experts have found eleven unique species of bat in California in these colonies, and they are working out a plan to try and move some of them to better locations away from people's homes.
To see the bats in these locations, all you need to do is ask around when you enter some of these neighborhoods. People will be able to point you to the best viewing locations. You can also access the parks themselves and sit down at a table at dusk and wait to see the bat activity start to ramp up.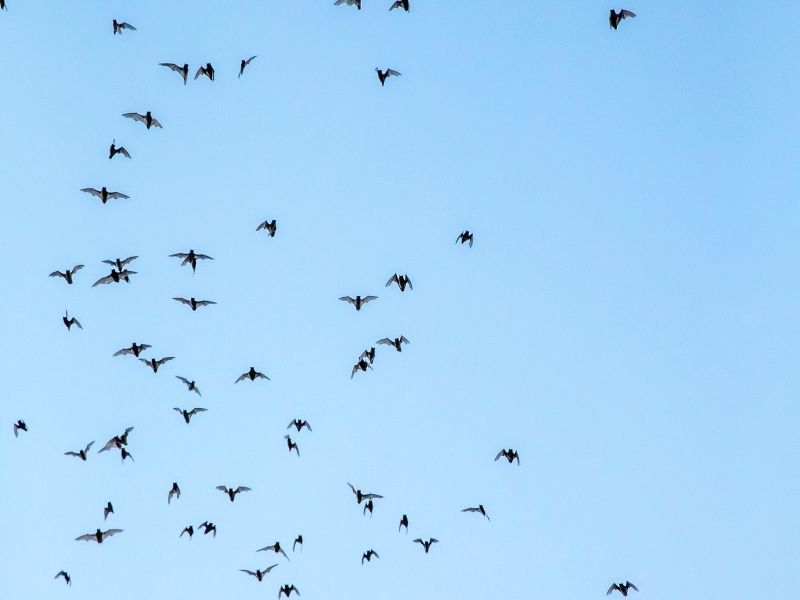 Eaton Canyon Nature Center
If you want to see bats in Southern California without having to ask the locals for tips about where to view them, you can head over to the Eaton Canyon Nature Center.
This protected park gives access to the Eaton Canyon trail system where bats are seen all the time (though they are more active around sunset). This is a great place to see the Western Pipistrelle or the Big Brown Bat!
You can also learn about environmental projects and restorative work that is being done in the LA area to create better wildlife habitats near the city.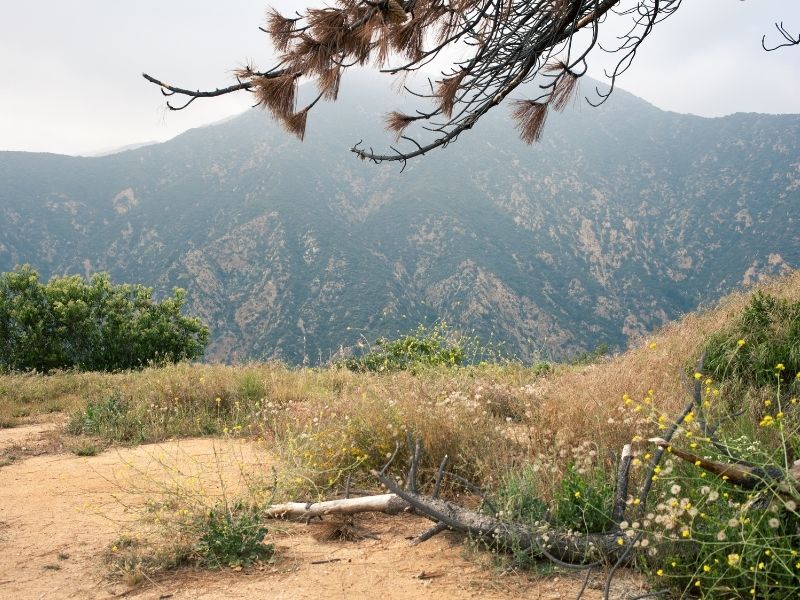 San Dimas Experimental Forest
Another protected location where Southern California bats are present all the time is the San Dimas Experimental Forest near LA.
Located at the foot of the San Gabriel Mountains, you can visit this carefully preserved parkland to learn about all kinds of ecosystem support projects that are being undertaken in the LA area.
Afterward, you can hike up the canyon to view bats that live near the trails as they start to feed each night!
This is a really interesting place to visit for a whole host of reasons. This area offers a unique, Mediterranean type of climate, which greatly changes the biome of the parkland.
This is an area where it is possible to study chaparral preservation and maintenance, which is very helpful for more arid climates that have lost their native grasslands due to human incursion.
Overall, this is a really good experience to make time for, and not only to see the bats!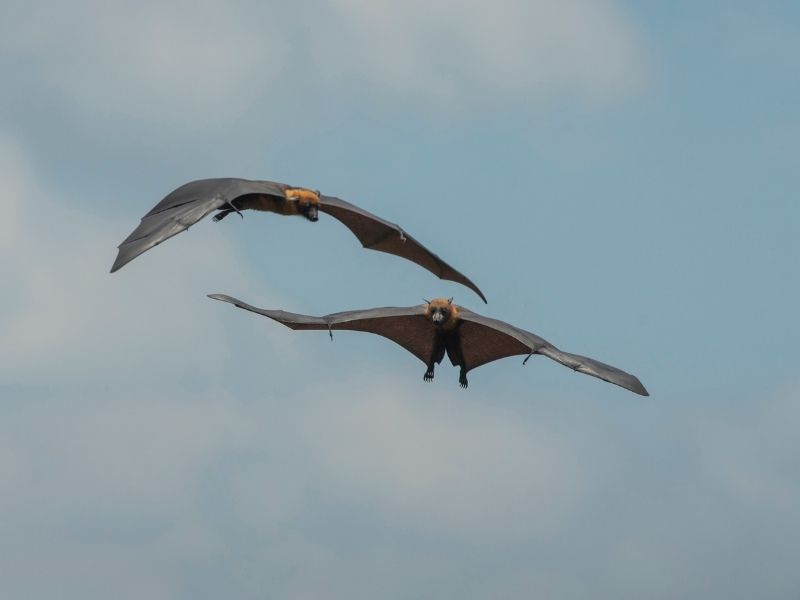 Bat Conservation in California
Central California is the location of an ongoing study called The Central Coast Bat Survey Plan. This study has been undertaken to work out the balance between native bat populations and encroaching human activity that is limiting their ability to find homes to roost in.
There is a large body of evidence that bats are actually a major benefit to the ecology and agriculture of the region, and the project is looking to help balance the needs of the bats and the needs of the residents of the central coast of California.
It is sometimes possible to visit bat "vineyards" where this research has created new homes for bats to replace the natural ones that have been lost due to human demands!
There are other places working on conserving and aiding bat species, such as NorCalBats in Davis, California and Bat Rescue of Southern California in San Diego, California.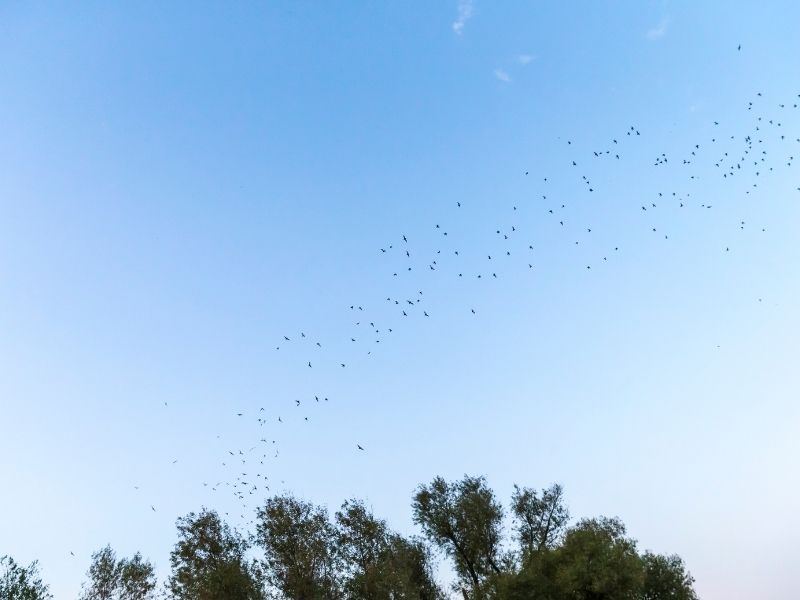 Why Look for Bats in California?
There is just something magical and almost thrilling about seeing a large colony of bats exiting their home in a giant cloud to start looking for food. There are few natural processes that are so excitingly obvious as they are occurring, and many people are drawn to the sense of freedom and flight that bats can convey as they go about their nightly bat activities.
If you are looking for bat-spotting locations, there are so many up and down California that you might not have time to see them all! No matter what location you decide to visit for your vacation, there are going to be bat-viewing locations fairly nearby.
Bat watching is a great way to experience California's natural world in action, and finding a colony of bats is so easy that you pretty much have to put it on your calendar when you visit.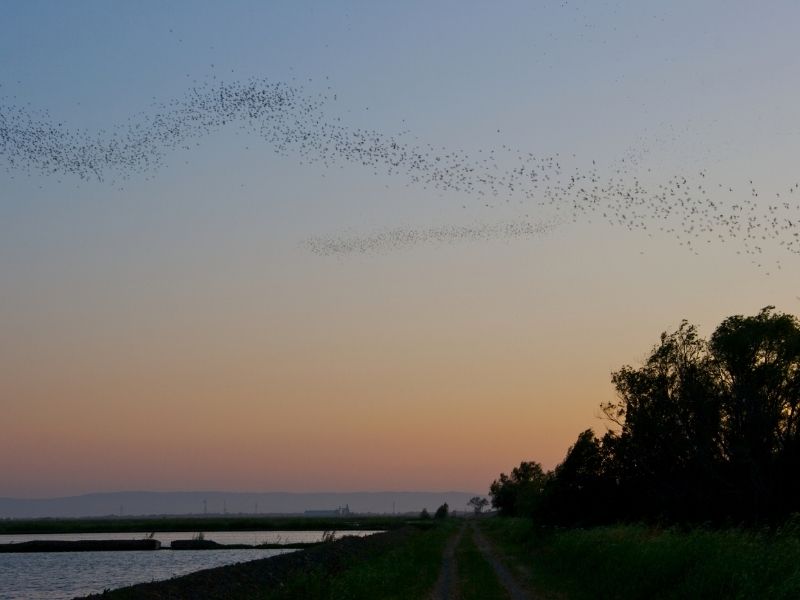 Safety of Looking for Bats in California
Always make sure to plan ahead and have some good hiking boots with you and a sweatshirt or a jacket so you can get close enough to your selected bat colony to actually see them at their work.
Be careful not to get too close to the bats, and always wear thick clothing that covers your skin well.
Even bat scratches can transmit rabies, so if your skin comes into any contact with a bat — it doesn't have to be a bite — immediately clean the spot where the bat made contact and consult a doctor.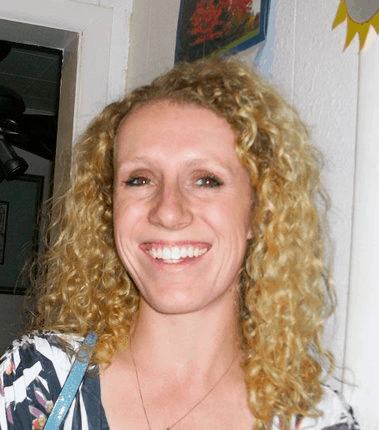 Brianna York has spent many years of her life traveling for work and pleasure, and grew up in Oregon in the gorgeous Pacific Northwest. She embraces each new place she visits and makes the most of seeing all the best that each city or place has to offer.  She is a published author and competes with her Arabian Show horses all over the United States. She embraces each day like a new adventure and is always ready for new experiences!