If you've ever seen the Val Kilmer movie, titled The Salton Sea, my guess is you aren't reading this because you decided, yes that's a place I'd like to go visit!
Now that I've scared you and filled your next Friday night with a really memorable movie, let me tell you a little bit about the unique place known as the Salton Sea.
Now, some call the Salton Sea an overlooked treasure, a hidden gem… That, friends, is debatable.
It is a landlocked body of water formed by river runoffs from the Imperial and Coachella Valleys. It sits just southeast of Palm Springs, Indio, and Joshua Tree.
It is the ancestral home of the Cahuilla tribe and it is now inhabited by palm date farmers, military personnel, and some artistic weirdos living off the grid.
It's a place filled with all kinds of unique desert plants and animals that live amongst trippy art installations, a military base, and an insanely toxic, far-stretching, slowly shrinking, uninhabitable, yet very pretty body of water.
Here's the disclaimer before you get the full low-down on what to expect once you get there!
The water became toxic from farm chemical runoff decades ago. All the wildlife in the water died, and 3 out of every 10 people who live in the surrounding area suffer from various respiratory diseases — and it's definitely not a coincidence. So pack a lunch and stay overnight… if you don't mind a little risk!
P.S. Salton Sea has a really distinct smell. Remember when I said all the wildlife in the lake died? Well… it still smells that way. So bring a little lavender oil to wipe under your nose.
First, let's get weird!
8 Things to Do In & Near the Salton Sea
Check out the trippy art installations.
Note: This post contains affiliate links, which earn me a small commission at no extra cost to you if you make a purchase using one of these links. Thank you for supporting this free content!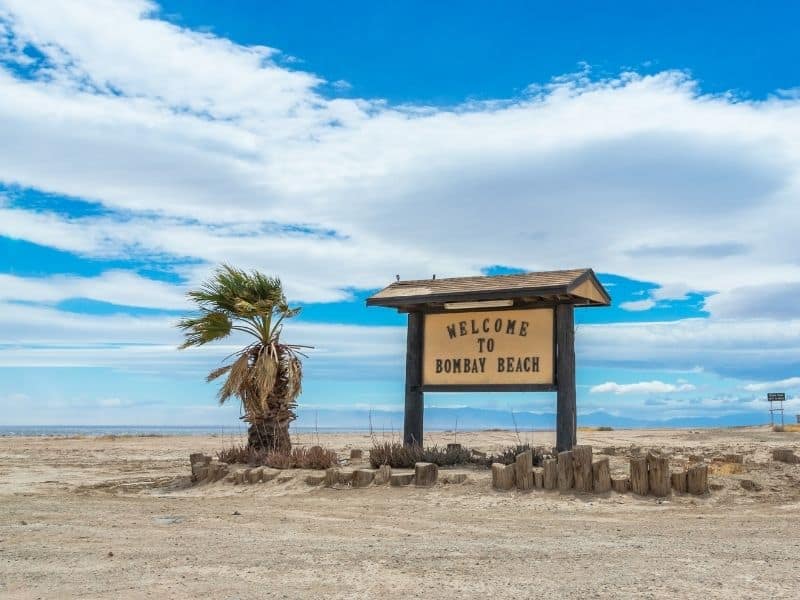 Do not miss the Bombay Beach Ruins. Once a hustling, bustling hub of flashy socialites, it's now home to some really awesome and strange art installations.
Some look like giant scorpions, some like shipwrecks that have fallen to the bottom of the ocean — and that ocean has since dried up, leaving them protruding like a fossil from the ground.
Other installations are part Ferris wheel, part jet aeroplane, and there are tons of remnants of the 1950s nightlife, such as street signs and advertisements along with hollowed-out buildings that might have housed restaurants and gas stations.
Mostly everywhere has been turned into an acid-dream art piece. For all you Instagrammers, charge those phones because there's plenty of unique places to take photos!
Take a visit to Salvation Mountain.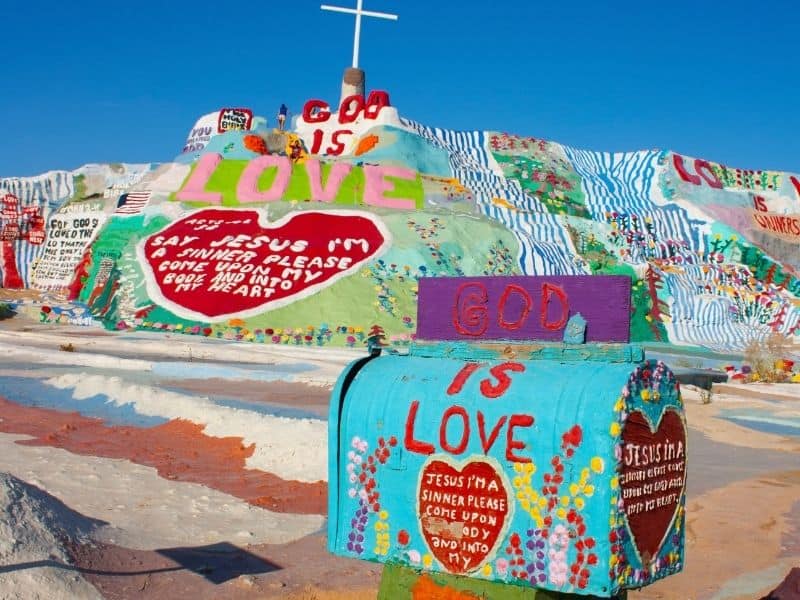 I have no idea what the story is behind Salvation Mountain, but if you're looking for a little soul cleansing to go with your morning cup of coffee, don't miss a trip to this super-weird, insanely-difficult place to describe.
When I saw it, my guess was someone took one too many hits of acid in the 70s and never came back. And somehow, they spent the last 40 plus years building this really cool, one-of-a-kind walkthrough mountain thingy that, is I promise you, a place you will never forget.
Also, if you happen to be craving a cool photo for your social media account of you or a friend talking on an old rusty payphone in the middle of a deserted desert? Visit here (or the Bombay Beach Ruins) and you'll run across such a phone.
Visit the Banana Museum.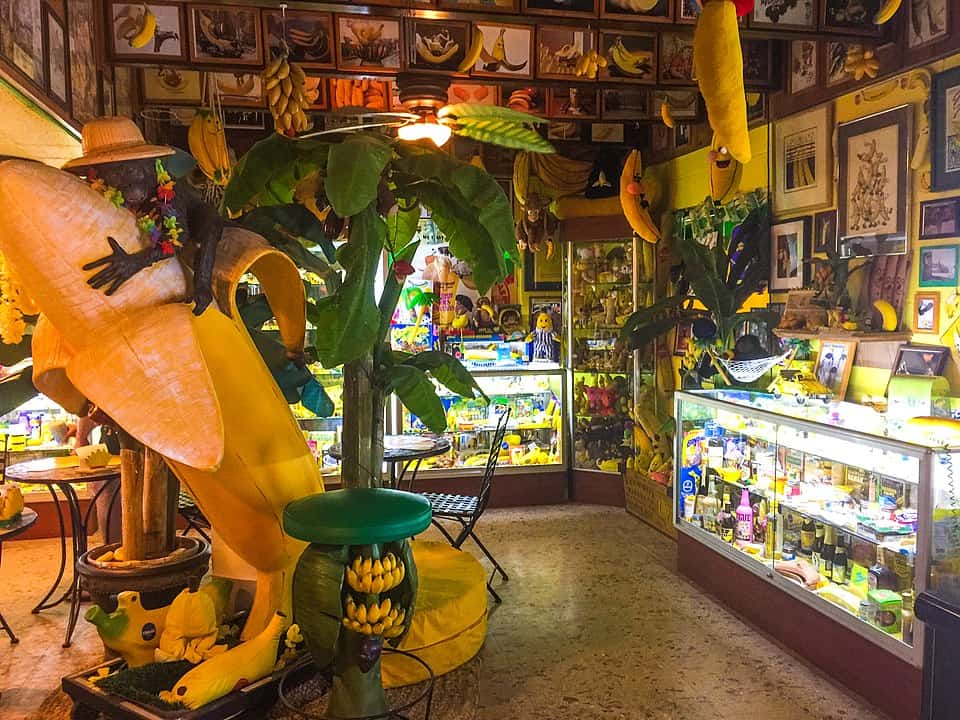 Perhaps the most unexpected thing about a visit to the Salton Sea is a little place that called itself the International Banana Museum.
If you go out to this area and don't stop in, you should stop traveling altogether. It's a funky, super strange place that is home to all kinds of arty banana knick-knacks.
It's hysterical and defines the American novelty gift shop slash museum slash who knows why someone ever made this place to begin with? I guess it's simply because, you know what, why not?
Hit the only bar in town.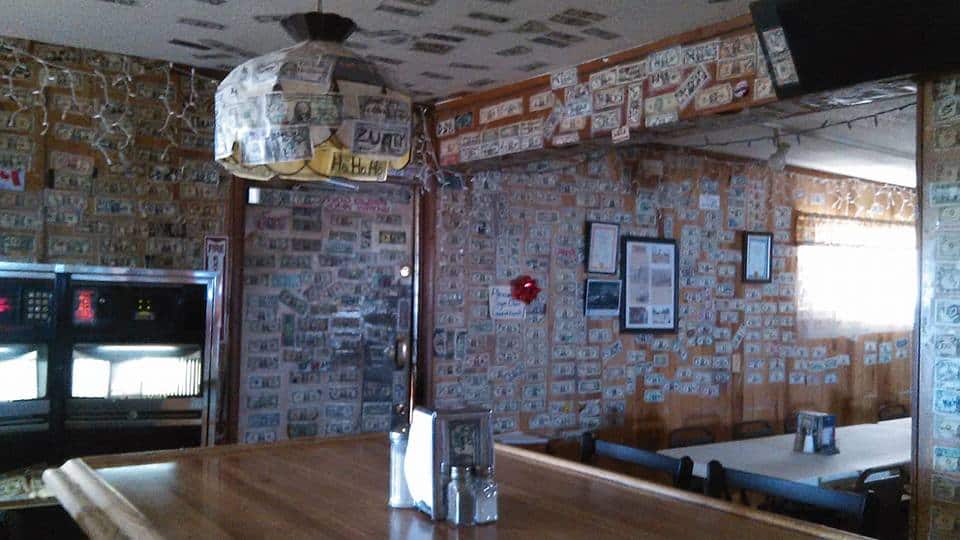 It's called the Ski Inn, and it has a pool table, cheap beer, and dollar bills stuck to every inch of its walls and ceilings.
It's one of those places, that once you've gone, if you see a picture of it in 30 years, you'll remember exactly what it is.
There's food, but honestly, I can't tell you how it is since I packed a lunch before visiting Salton Sea.
Fun fact: It's the lowest bar in the Western Hemisphere, located at 223 feet below sea level!
Check out the wildlife thriving.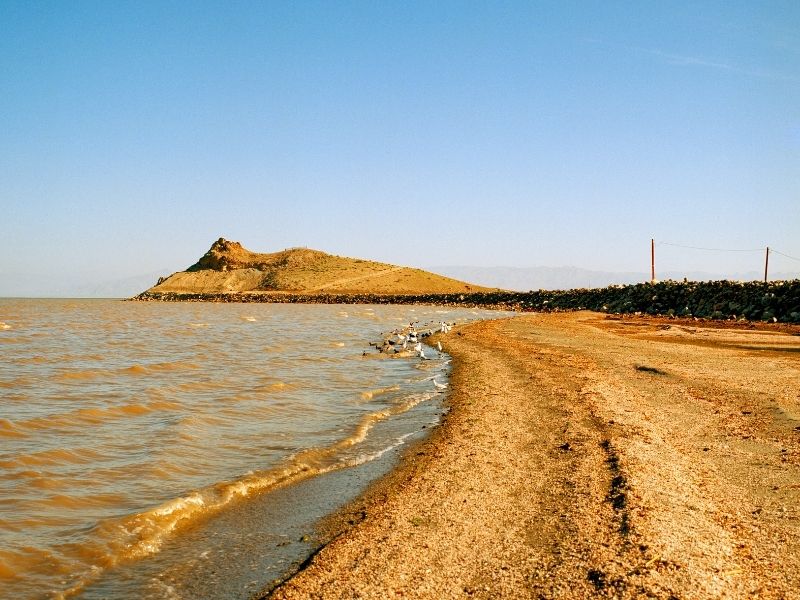 Yes, even in a toxic environment, the Salton Sea is home to wildlife!
Check out the Sonny Bono (yes you heard that right) Salton Sea National Wildlife Refuge, a unique thing to do in the Salton Sea area.
I have no idea how Sonny got involved, but they take care of dozens of kinds of beautiful desert birds and you can take a self-guided trail out to the Sea with a pocketful of knowledge about the surrounding wildlife and its habitats and ecosystems.
Visit La Quinta Museum.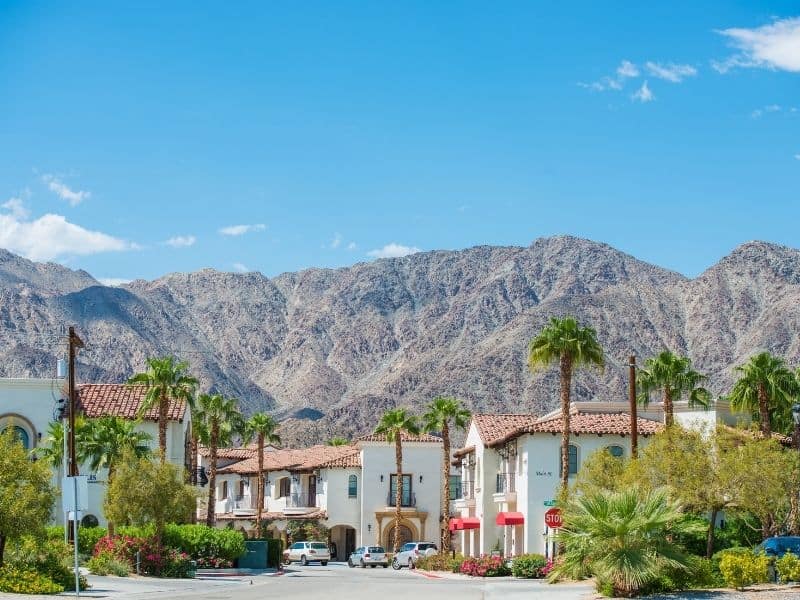 Just outside Palm Desert, in the town of La Quinta between Palm Springs and the Salton Sea, is a cool little museum called La Quinta Museum.
There's a ton of local art that derives from the longstanding cultures that inhabited the surrounding area for generations.
Once you've had your fill of some 1970s substance-fueled art, check out this place for some gorgeous paintings and rich, well-preserved history.
Check out the surrounding nature.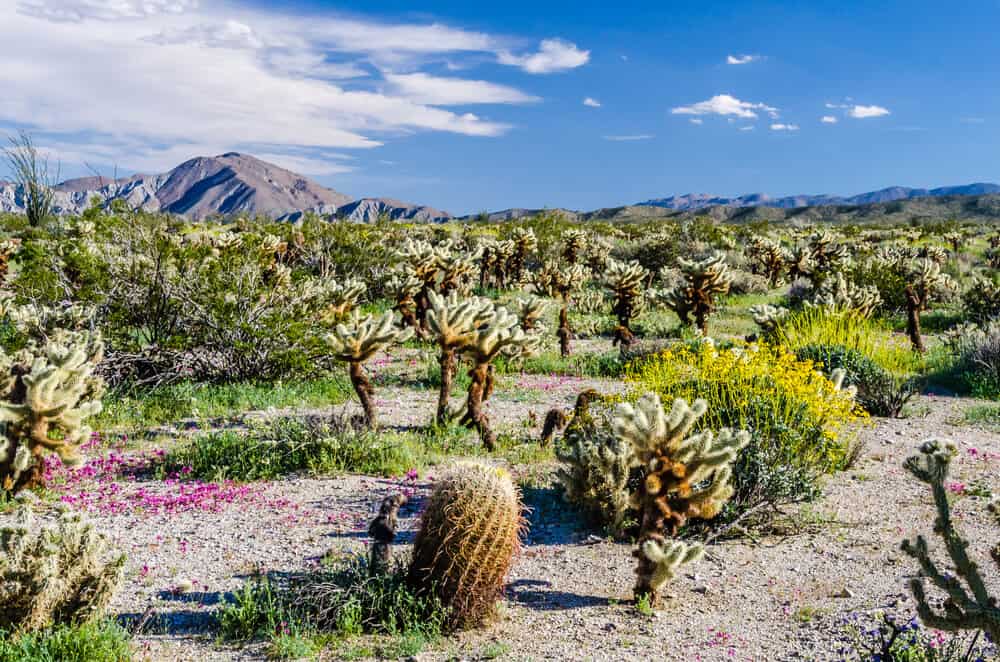 There are so many great places to visit around the Salton Sea. You're surrounded by Joshua Tree National Park, the Imperial National Wildlife Refuge, Anza-Borrego Desert State Park (California's largest state park) and the Santa Rosa & San Jacinto Mountains National Park near Coachella and Palm Desert.
Here are the closest and best hikes and outdoor sites to see just around the Salton Sea!
First up, Painted Canyon. It's a 5 mile, super-easy hike that will make you feel like you're in an episode of Star Trek.
If you want to meet Batman, go to the Bat Caves Buttes. It's really cool and it's only 3 miles… and if you see Bruce Wayne, send us a picture.
Mecca Hills Wilderness has a bunch of trails and really cool geological formations to check out. It's located nearby in Chuckwalla.
Dos Palmas Preserve is in the Colorado Desert in Riverside County. It's filled with gigantic gorgeous palm trees and the whole area looks so prehistoric you might dream you see a dinosaur strolling about.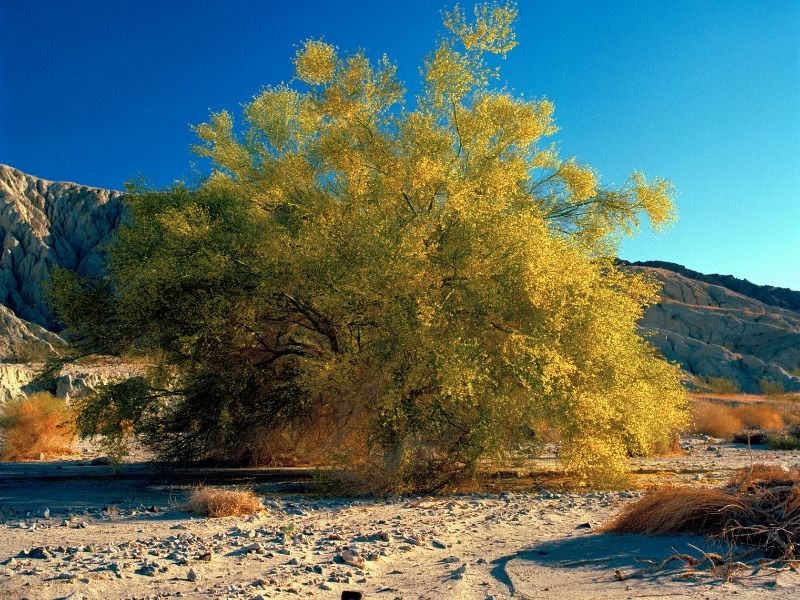 Bet it all on red.
I'm not a gambler myself, but if you were looking to spice up your trip and perhaps win (or most likely lose) a little bit of scratch, you can find the Red Earth Casino in the nearby town of Thermal.
Don't blame us if you lose!
Where to Eat Near the Salton Sea
The first place to eat I'm going to recommend is going to split up my readers between two very polarized groups.
The question each of you must ask yourselves (if you're really, really hungry) is… To Denny's or not to Denny's? That… is the question (Isn't that the Shakespeare quote?).
I myself, don't mind some greasy eggs and toast. However, once more, I packed my own lunch.
If you want to drive a little further away, here are some other places to grab some good food in the surrounding areas.
Oasis Date Gardens in Thermal has been growing organic Medjool dates and offering them off on a plate for a long while now. There's a reason the date palm has been a beloved snack by desert-dwelling people like the Egyptians for millennia. It's a great treat when you're spending time in desert sands.
Unique Bite Eatery is a cool little family-owned restaurant in Indio. It's in a little strip mall, but it boasts some really great food like smoked brisket, cilantro tilapia, and deep-fried cauliflower.
Pin This Guide to Visiting the Salton Sea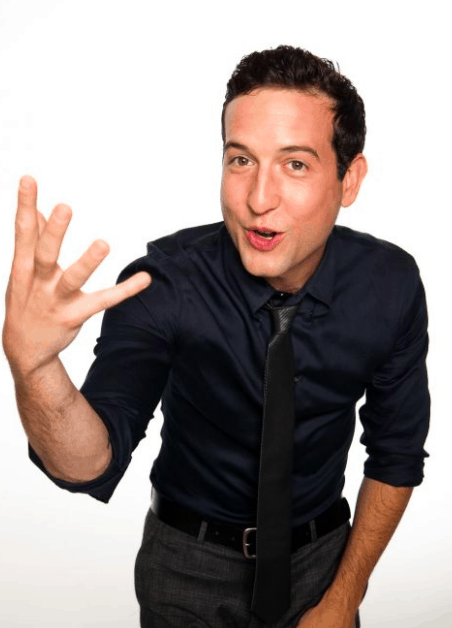 Christopher Rodriguez is a freelance writer, actor, and comedian. Originally from the East Coast, he has resided in Los Angeles for nearly twenty years. He's a first-generation American. Son of an immigrant from France and another from Cuba. He loves to travel and for a trip to be all-encompassing. He's a proud father, an adoring husband, and an occasional optimist.