Southern California is not often thought of as a location for farming or orchards — but the ample opportunities for apple picking in Southern California will prove that wrong!
People more commonly associate Southern California with beaches, Los Angeles, and Hollywood stars — not outdoor adventure, hikes, or agriculture.
While these attractions are all valuable things to see and experience while you are visiting Southern California, you might be surprised at the number of places that you can go to experience a slower side of life.
While some people say California doesn't get a proper fall, I say they don't know what they're talking about!
There are plenty of great places to go in Southern California to have a little bit of fall foliage and to get to pick your own apples and get away from the hustle and bustle of the city.
Apple picking season is a great time of year no matter where you live, and if you have apple picking options nearby, you should always consider taking the time to head over to an orchard and get some delicious fruit to take home to your family!
Most of these locations also offer fun added experiences like hayrides, cider tastings, and more!
If you're in Southern California trying to find some fun fall activities and you didn't realize that you could go apple picking in your area, let's start talking about where you can go to have this fun experience!
Where to Go Apple Picking in Southern California
Note: This post contains affiliate links, which earn me a small commission at no extra cost to you if you make a purchase using one of these links. Thank you for supporting this free content!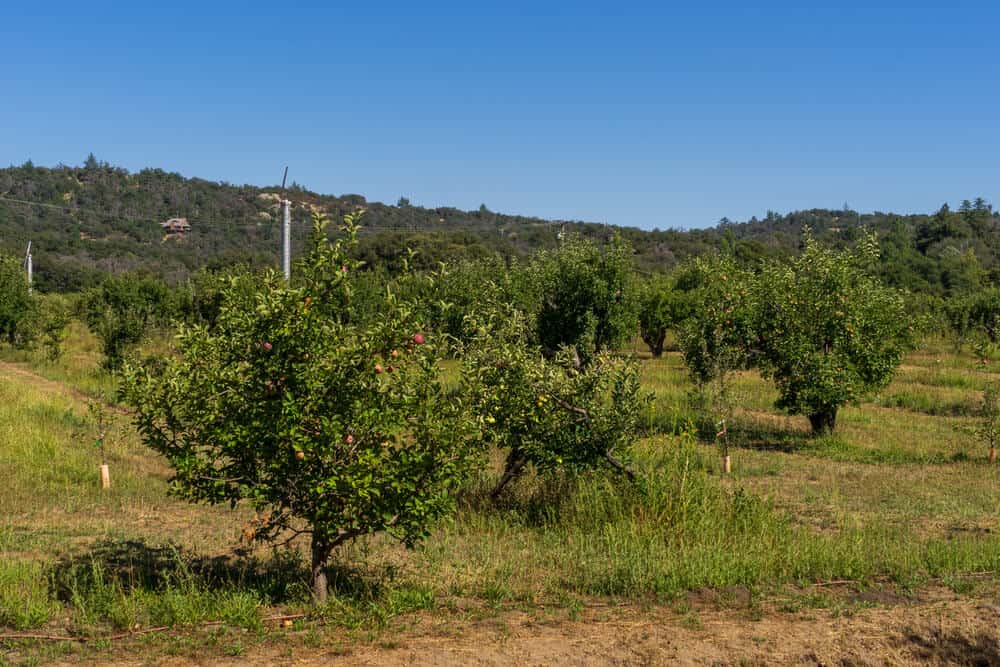 Riley's Apple Farm
This farm in Yucaipa was originally called "The Original Riley's in Oak Glen" but has recently been renamed.
The farm offers U-Pick apple picking, cider making, and lots of other fun activities that you can enjoy! This is a common location for field trips for local school kids, so there are lots of kid-centric things to do here.
This is a great place to learn about the history of working farms in California, get shown some original planter's garb by an employee, and during the autumn you can also buy local artisan crafts!
Parrish Pioneer Ranch
Located not far from Riley's, this ranch is also steeped in history and offers tours and information about the region seven days a week from 9 AM to 5 PM.
You can sample apple cider, apple butter, apple salsa, and many other locally sourced apple food products.
For those who love wildlife, there are goats, chickens and turkeys, and even a mini donkey here!
This is a gorgeous historic ranch that has been in the area since 1867. There is an onsite restaurant as well as an artist's studio on site.
Apple season is September 1st through November and you can enjoy U-Pick Vazquez and Parkdale Beauty Apples as well as heritage apple varieties that are no longer sold commercially.
The Vazquez was actually developed by long-term ranch foreman Juan Vazquez and remains a popular local favorite.
One of the most popular unique heritage varieties that you can pick here is the Arkansas Black which appears in late October and only lasts for a few weeks before being sold out completely!
Another variety that is never around for long once it comes into the season is the Pink Pearl.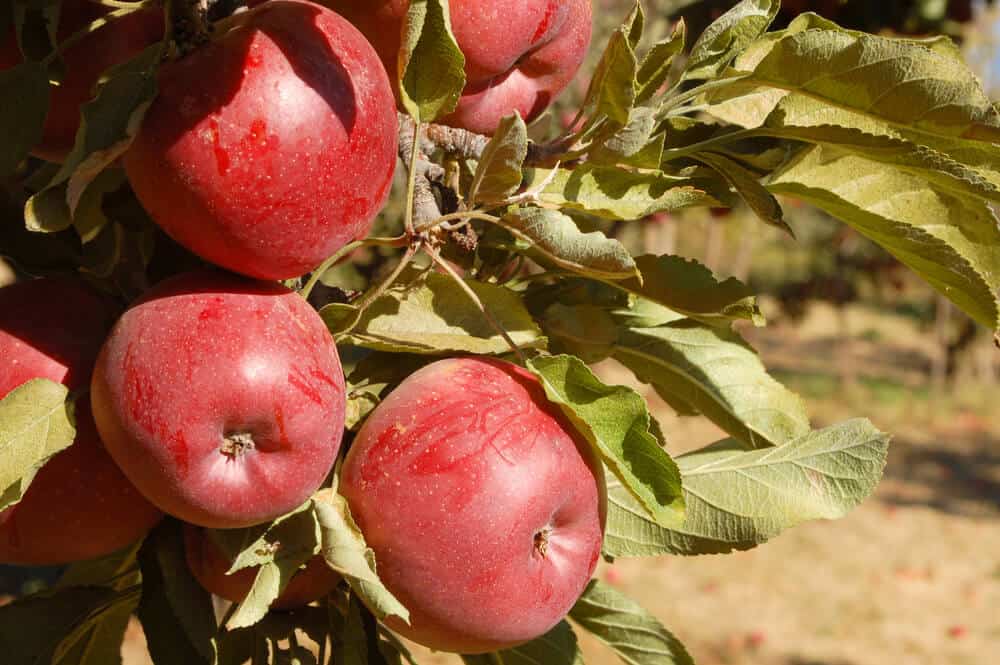 Willowbrook Apple Farm
Also located in Yucaipa, this farm is open Saturdays and Sundays from 10 AM to 4 PM.
You can pick apples here, meet farm animals, go on a tractor ride, or even press your own cider if you visit at the right time of year!
This farm was planted in 1910 and is still a family-run business. You can partake of Stayman-Winesap apples here, which are not sold in grocery stores.
They also grow Jonagold, Sweet Sixteen, Honeycrisp, and Double Delicious!
The greater San Bernardino area is a gorgeous place to visit and you will not be disappointed that you took the time to partake in this delightful farm experience!
Snow-Line Orchard
This orchard is located in Oak Glen and has been around since 1898 — so basically eons in California history!
This is a great place to enjoy a beautiful view while munching on mini cider donuts (so tasty you won't be able to stop!).
They are open seven days a week from 9 AM to 5 PM, even outside of apple season. You can picnic here or shop for specialty gifts at the gift shop.
This orchard also sells wines, teas, and hot ciders for you to take home as well as salsas and sauces, and jams and jellies. There is something here for everyone and the location is phenomenal!
The original farm and orchard buildings frame the picnic area here. The original packing shed still stands, as does the historic cider mill and an ancient chestnut tree that is as old as the orchard or perhaps even older.
Oak Glen is cooler than some of the other locations on this list and you can enjoy the peace and quiet and the wonderful weather when you visit Snow-Line Orchard.
You may even find snow late in the apple picking season — hence the name!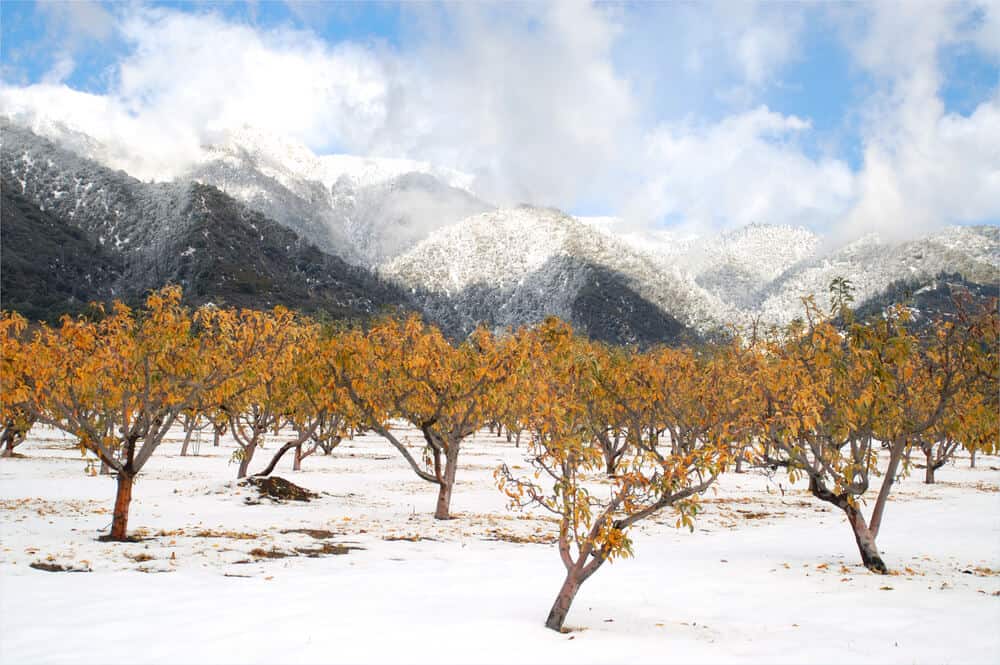 Stone Soup Farm
This is one of the best-known orchards and farms in the Oak Glen area of the San Bernadino Mountains.
This is a farm dedicated to sustainability and they believe that their artisan agricultural model leads to superior organic produce.
You can take a tour of the farm and learn about their ongoing efforts to develop new organic growth techniques. They also do events and workshops on many different topics and have a farm and gift shop on site.
The apples here are grown on heirloom trees and you can pay for what you pick when you arrive on site. They will teach you how to pick apples correctly before they send you out to collect your apples!
You can also pick berries or wildflowers while you are there. They offer a variety of growing seasons for their U-Pick options, so you can pick for many months at Stone Soup Farm.
The Box Social which is located on site, is open every weekend from September through November. They offer wine tastings as well as savory dishes and other local fare.
You can enjoy gemstone panning to learn about the area's rich mining history, or visit the pumpkin patch and pick up an heirloom pumpkin.
This is a year-round farm that is always producing and educating on local farming history! There is something here for kids as well as adults, and you will be able to spend an entire day here having fun.
Los Rios Rancho
Also located in Oak Glen, this is the largest apple farm in operation in the state since 1906.
Traditional farming techniques are shown to visitors and you can take hayrides or wagon rides during the fall.
Enjoy the petting zoo, a corn maze, and delightful fresh cider all year. There is an onsite café as well and a country store.
U-Pick apples are available from late August to early November and there are 32 varieties of apples here to pick.
They offer really fun sunset U-Pick hour events from time to time and you can also pick raspberries and strawberries during their growing seasons in the summer!
Book a Frontier Farm Tour and learn about the settlers who moved to California in the 1870s in search of gold and a new place to build their lives.
This area was located on a segment of the Oregon Trail and Los Rios Ranch can teach you about the history of the trail as well as California settlements that cropped up along its path.
This is an amazing complete experience that should not be missed out on. Even if you don't want to pick very many apples, there are so many things to do here that you can spend the whole day having fun and learning about the ranch.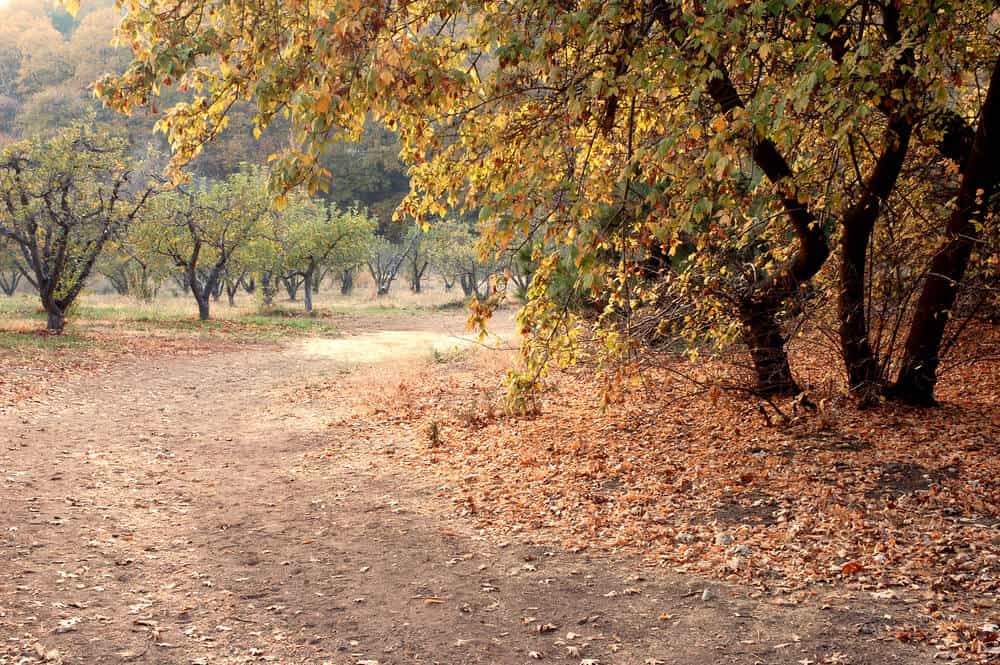 Volcan Valley Apple Farm
For a simple U-Pick experience, you can visit Volcan Valley Apple Farm in Julian — one of the best-known places for apple picking in Southern California, and a popular town to visit.
For a flat $12 fee, you can head out to pick from 7 varieties of regular and semi-dwarf trees.
Dogs are welcome here as well so it's great if you're looking for a pet friendly apple orchard in California so you can enjoy fall with Fido!
Apple season is from late August until mid-October here, so you will need to visit during this part of the season to be able to partake.
This is not a full ranch experience like some of the other farms on the list, but they offer a simple and enjoyable apple-picking experience that can be perfect if you don't have time to do a farm tour and visit a gift shop.
Julian Farm and Orchard
If you are in the Julian/Wynola area, this fun farm and orchard offers far more than just apple picking in Southern California!
Apple picking season is in the autumn but they also have strawberry picking earlier in the year. You can also partake in fun historical activities like gold panning, gem sluice mining, and ax throwing!
This is a common site for field trips for local kids and the historical reenactments are delightful as well as informative.
If you have ever wanted to learn more about the mining history of this area, you will get to experience this education firsthand when you visit!
You can even rent a cabin to stay here for a few nights! These delightful homesteader-style cabins have all the comforts of home and even allow pets to stay too!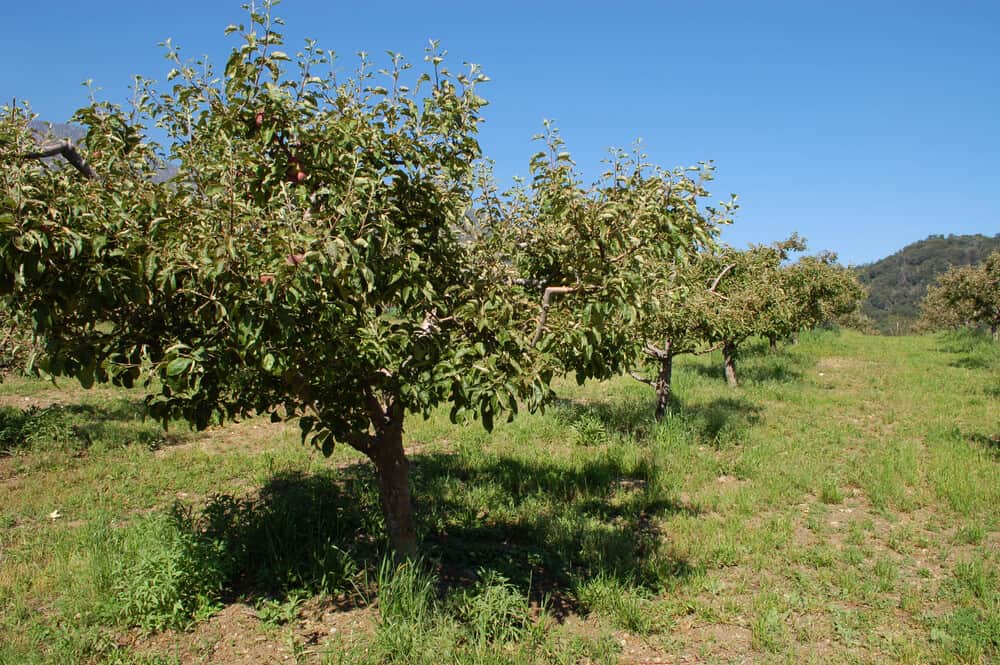 Peaceful Boutique Orchard
This is a fun location to visit if you want to see the oldest apple tree in Julian!
It was planted back in the 1800s and it is still producing apples today!
The U-Pick apple season opens in August and runs until November. You should check online for their U-Pick hours as they can vary.
This farm is unique not just for the presence of Granny Gravenstein (more popular up in Northern California, where it is the local apple of Sebastopol), but it is also one of the original dry-farmed orchards in the state.
You can pick heirloom varieties here along with Jonathans, Jonagolds, Golden and Red Delicious, as well perennial apple-pie favorite, Granny Smith.
There is a farm stand here as well and the organic and pesticide-free policy that is used for the orchard is extended to anything that you buy while you visit.
This is a scenic area that is steeped in history that you will not want to miss out on visiting!
The Apple Stand
If you are in the area of San Luis Obispo near the Central Coast, this is a great apple picking experience that is open daily from 10 AM to 5 PM from September to November.
You can pick many varieties of apples here from Pippin to Red Delicious, to Gala, and more.
They offer fresh-pressed apple cider on most days and they sell ranch-raised honey with a unique flavor!
You can also take home some farm-fresh eggs, apple butter, or fresh kale, basil, zucchini, and tomatoes.
This is a real working farm with lots to offer, and you can grab a ton of different organic produce here to enjoy at home.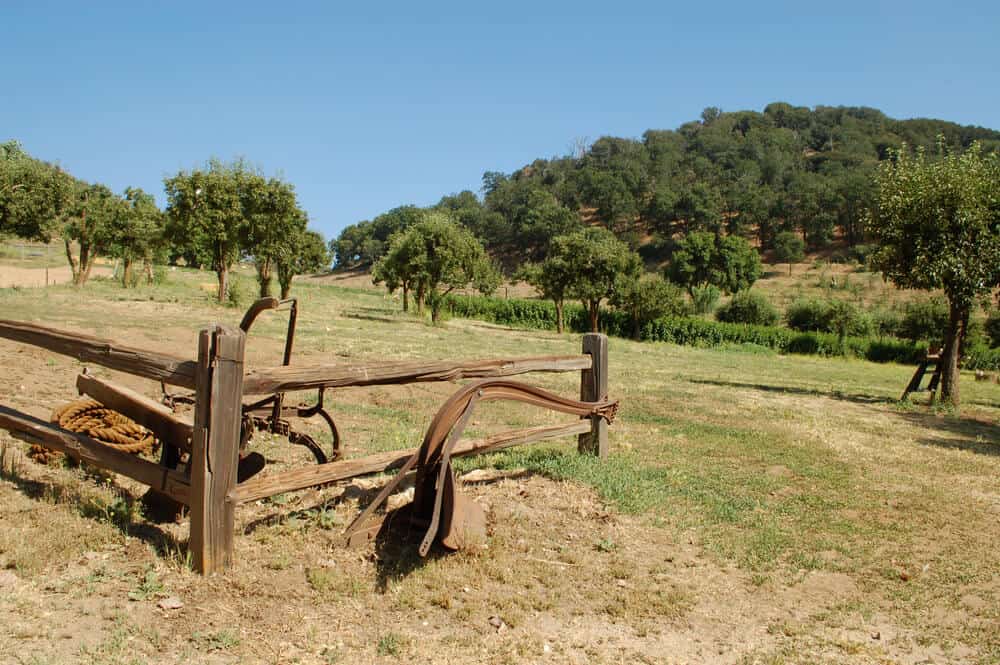 SLO Creek Farms
The U-Pick season here is from September to November and is available every day from 11 AM to 5 PM.
You can enjoy organic apple varieties from this 44-acre farm, along with the quiet atmosphere and peaceful setting.
San Luis Obispo is a delightful area to visit for many other reasons, and the serenity and perfect weather that you will find at this U-Pick location is a well-known part of a visit to this part of the state!
This is a smaller farm that does not offer as many side activities as some of the bigger farms on this list, but this is a delightful place to visit for peaceful scenery, scrumptious apples, and a real taste of what San Luis Obispo is all about.
***
Southern California is a gorgeous place that offers up many fun experiences.
From beaches to historical mining town excursions, to local farming history, you can't go wrong when you visit Southern California.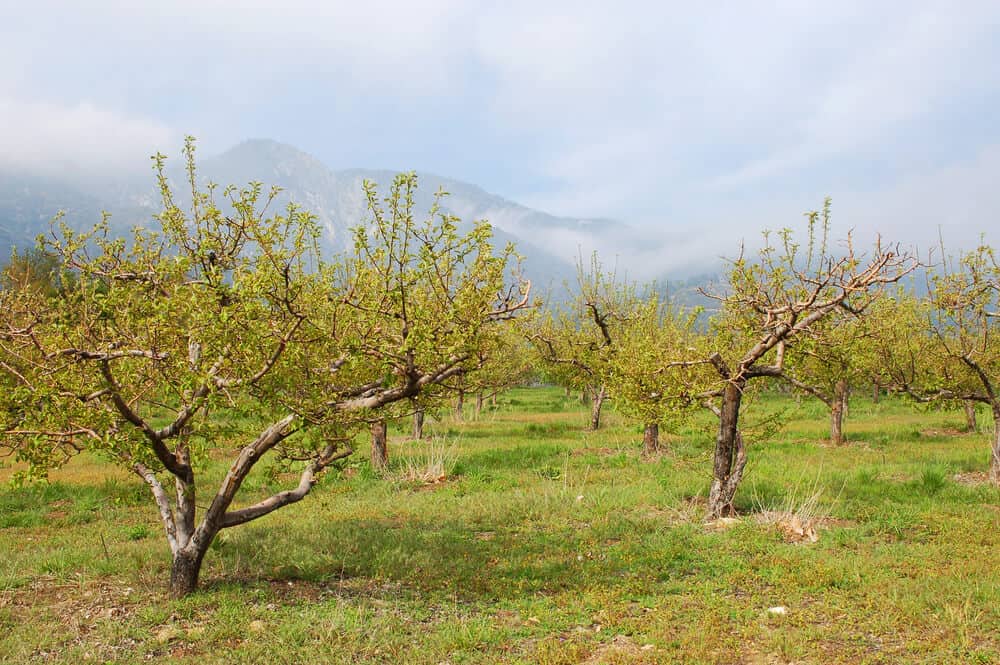 The apple-picking locations on this list offer so much more than just access to fruit and produce. They are a piece of the state's history and they tell the story of the vibrant past that has made Southern California what it is today.
If you love a unique experience and some historical information, nearly every one of these locations can deliver you a fun-filled day full of information and special experiences.
The delicious apples that you will pick are like the icing on the cake that you can take home with you after your visit!
Don't miss out on the unique and special apple-picking experiences that you can take part in the next time that you visit Southern California.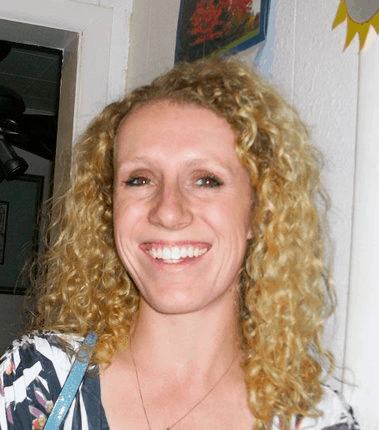 Brianna York has spent many years of her life traveling for work and pleasure, and grew up in Oregon in the gorgeous Pacific Northwest. She embraces each new place she visits and makes the most of seeing all the best that each city or place has to offer.  She is a published author and competes with her Arabian Show horses all over the United States. She embraces each day like a new adventure and is always ready for new experiences!