Northern California is well known for its Gold Country towns and its quaintly charming cities that hold onto overtones of yesteryear!
Fall is Northern California's best time of year, one where the beautiful weather shines.
Trust me, you will never regret visiting this picturesque part of the state in the fall, and if you're local to Northern California, you know well that fall in California is when the state shines.
Fire season is over, the days are warm but with a slight crispness overnight, and a few drizzly days herald the end of summer.
Perhaps one of my favorite parts of going to California in the fall is visiting pumpkin patches in Northern California! This is one of the things that I look forward to each time I am in the area at this time of year.
And it's not all about the pumpkin picking!
Pumpkin patches in Northern California involve other fun activities as well, from U-Pick seasonal fruits to hayrides and visits with animals on the farm.
If you are planning a trip to Northern California in the fall, or you're a NorCal local looking for something different to do on a cozy fall weekend, put a pumpkin patch visit on your list of things to do!
Here are some of the best ones to visit for a great experience.
Bay Area Pumpkin Patches Near San Francisco
Clancy's Christmas Trees & Pumpkin Patch
Address: 2101 Sloat Blvd, San Francisco, CA 94132
This is a joint venture that offers pumpkin picking in October and then sells Christmas trees in the winter months!
The location is open every day of the week for long hours from 9 AM to 9 PM. Located near San Francisco, this patch has been around since the 40s and is still family-owned and run.
You will be able to pick your own pumpkin here from one of the massive array of sizes and shapes.
They offer tractor rides, visits with farm animals, a child-size hay bale maze for kids, a small haunted house, and a gift shop for the adults.
This location also offers up a fun tour of the farm that includes a gander at the scarecrows and ghosts tucked into the trees and fields.
Perhaps best of all, their hayride actually goes through part of San Francisco's Outer Sunset neighborhood, so you will see the city as well as enjoying the farm itself when you select this fun added option!
Note: This post contains affiliate links, which earn me a small commission at no extra cost to you if you make a purchase using one of these links. Thank you for supporting this free content!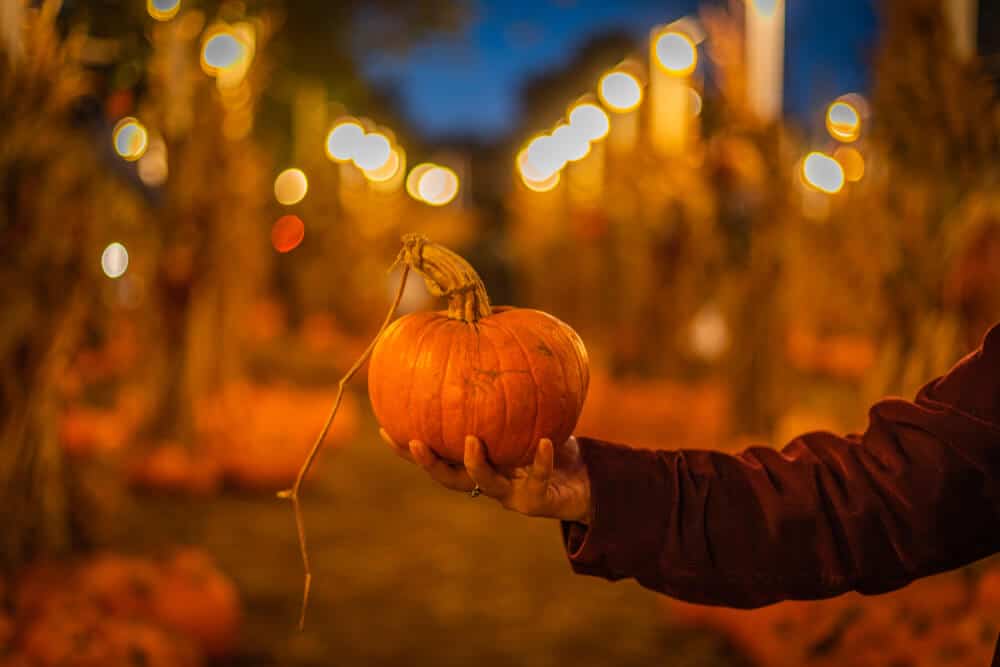 The Great Pumpkin Patch at Emerald Forest
Address: 317 Sloat Blvd, San Francisco, CA 94132
This is another pumpkin patch in San Francisco that offers year-round fun as well as pumpkin picking in the fall.
They offer a wide variety of pumpkins here in many sizes perfect for all your needs: baking, eating, carving, you name it!
Kids will love the bounce house that is on-site and the picnic area is gorgeous!
You can enjoy a corn maze, a kid's size hay bale maze, or even go through the adult-size corn maze: all in one place!
People rave about the atmosphere here that is complete with corn husks and straw along all the pathways.
You use red radio flyer wagons for your pumpkin picking and there are horses to take rides on if you want!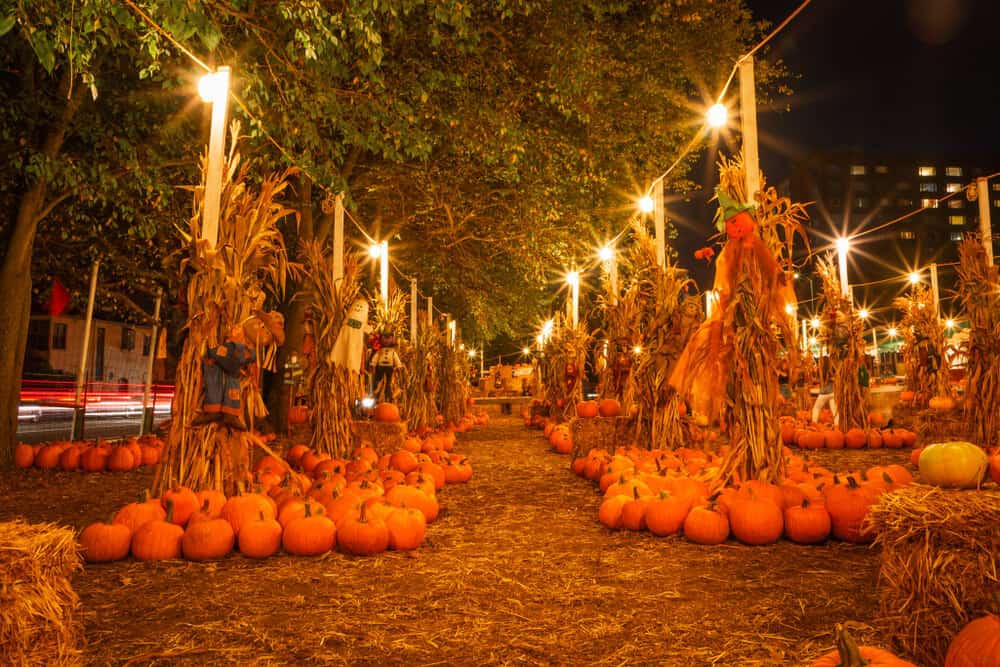 Blue House Farm
Address: 950 La Honda Rd, San Gregorio, CA 94074
This patch is located in San Mateo County in San Gregorio and has been running for 16 years.
They offers lots of varieties of pumpkins that you can pick or you can select from the pre-picked that are in their shop and farm stand!
Come here for tractor hayrides, the fall festival, or a kid-sized hay bale maze for additional fun beyond just picking your own pumpkin.
They also offer lots of produce that you can take home with you and you will love the visits with farm animals and learning about the operation of the farm itself.
This is a farm that is focused on sustainability and they are happy to teach visitors about the ways that they can make their own lives more sustainable as well.
You will enjoy every moment of your visit to this picturesque farm, from the produce stand to the pumpkin picking.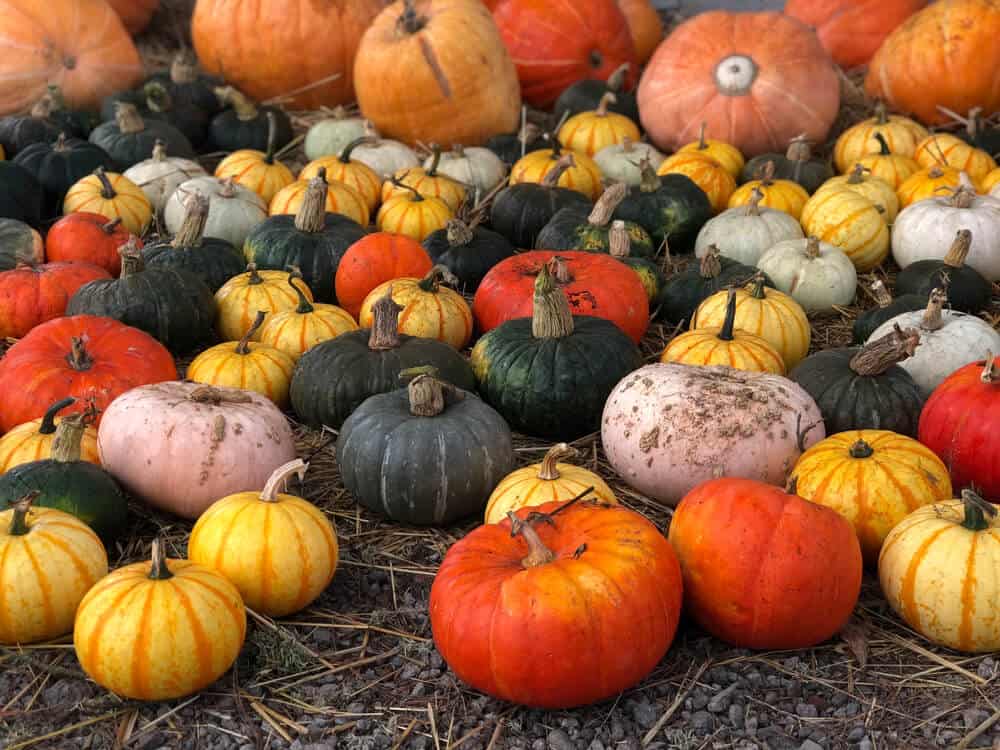 Smith Family Farm
Address: 4350 Sellers Ave, Brentwood, CA 94513
This farm is open daily in October and you can pick your pumpkins here as well as taking a hayride!
They offer live music on certain dates and a great corn maze as well, one that kids will love.
There are farm animals to see, a country store and a picnic area. The admission fee is affordable and you can have a whole days' worth of fun here.
One of the most unusual things that you will see here is the replica Miwok Indian village that is on the property. It shows how the original inhabitants of the Coastal Bay Area lived before settlers disrupted and displaced the Indigenous populations.
There is no shortage of fun things to see and do here and this patch is a great place to visit.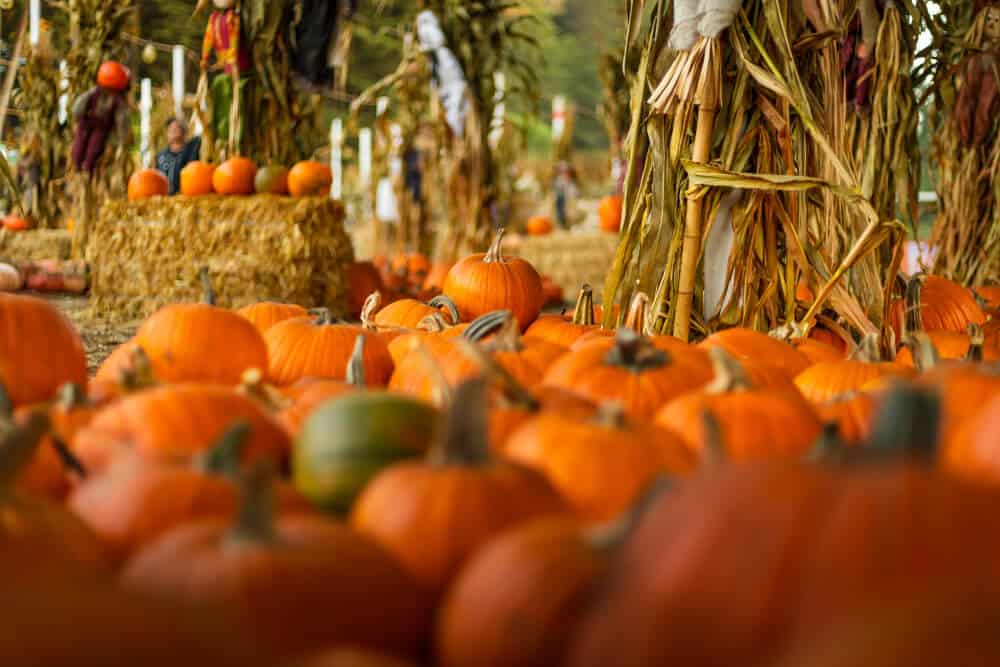 Pick of the Patch Pumpkins
American Canyon: Address: 4225 Broadway, American Canyon, CA 94503
Richmond: Address: 2200 Hilltop Mall Rd, Richmond, CA 94806
Concord: Address: 1090 Oak Grove Rd, Concord, CA 94518
Oakland: Address: 4311 MacArthur Blvd, Oakland, CA 94619
San Mateo: Address: 1863 S Norfolk St, San Mateo, CA 94403

With dozens Bay Area pumpkin patch locations (American Canyon, Concord, Richmond, Oakland, San Mateo + more), there are plenty of U-pick pumpkin patches near you to choose from.
You can pick your own pumpkins or select from the pre-picked that are near the farm stand and store.
Each location has something unique so check out details about each individual Bay Area pumpkin patch.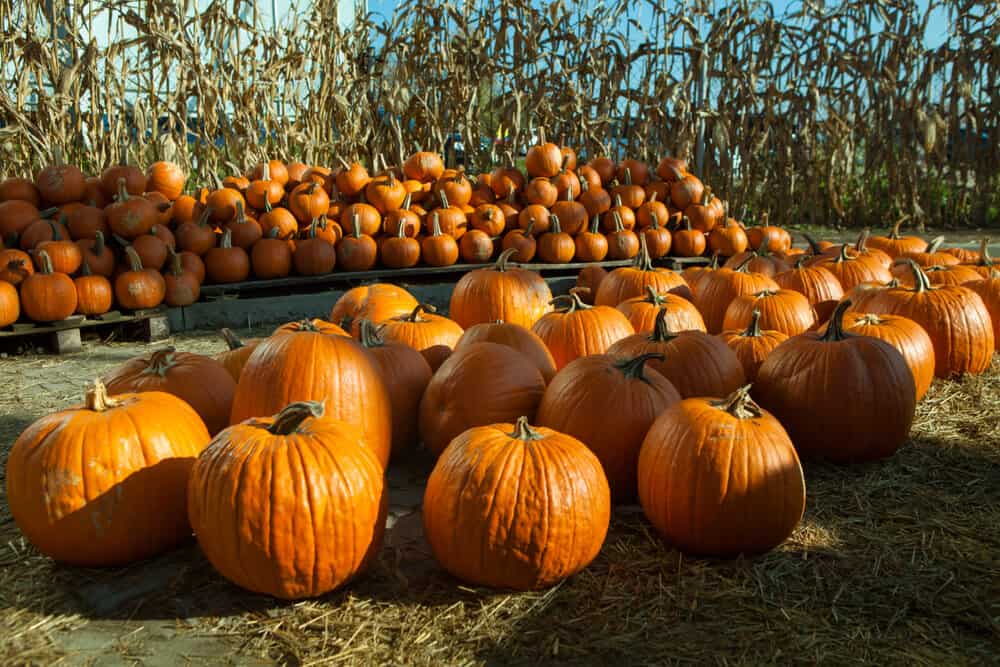 Half Moon Bay Pumpkin Patches
Arata Pumpkin Farm
Address: 185 Verde Rd, Half Moon Bay, CA 94019
Located in San Mateo County in beautiful Half Moon Bay, this farm has been around since 1932.
This patch is right at home in Half Moon Bay, which is known as the pumpkin capital of the world (according to its own, admittedly biased, tourism board).
They sell many varieties of pumpkin and other squash, have a petting zoo, and offer pony rides as well!
This is a fun pumpkin patch near San Francisco to come to take a hayride or ride on a tractor and see the sites. There is even a supposedly haunted barn!
You can check out the mini locomotive that is on the property and take a pony ride as well.
This is a really fun place to take kids to pick pumpkins near SF, and you will have a great day with kids of all ages if you take them here!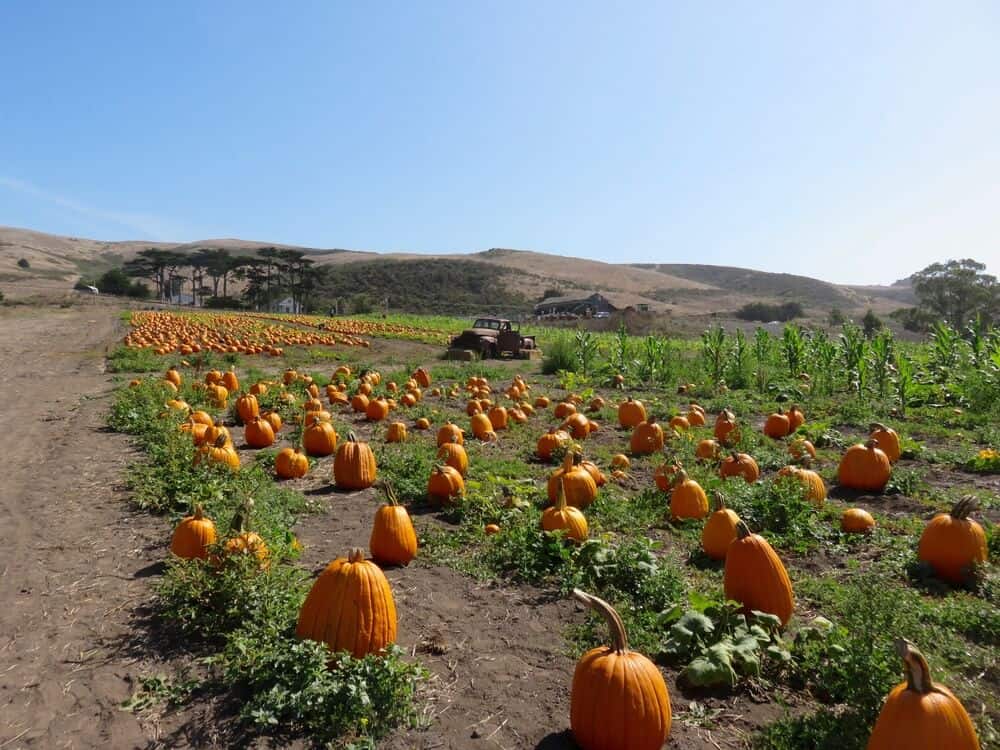 Farmer John's Pumpkin Farm
Address: 850 Cabrillo Hwy N, Half Moon Bay, CA 94019
Also located in HMB, this fun patch is just off the Pacific Coast Highway.
They are one of the only pumpkin patches in Northern California to offer you access to purchase the Atlantic Giant, a rarity on the West Coast.
This is a pet-friendly patch and they even have pet-centered events during the pumpkin growing season like Annual Bernese Mountain Dog Day (as someone with a Berner, this delights my soul!).
There is an heirloom seed store here as well and you can pick from 13 varieties of pumpkin! Buy corn stalks for décor or straw for your fall decorations at home.
This is a really fun classic pumpkin patch experience that is fun for the whole family!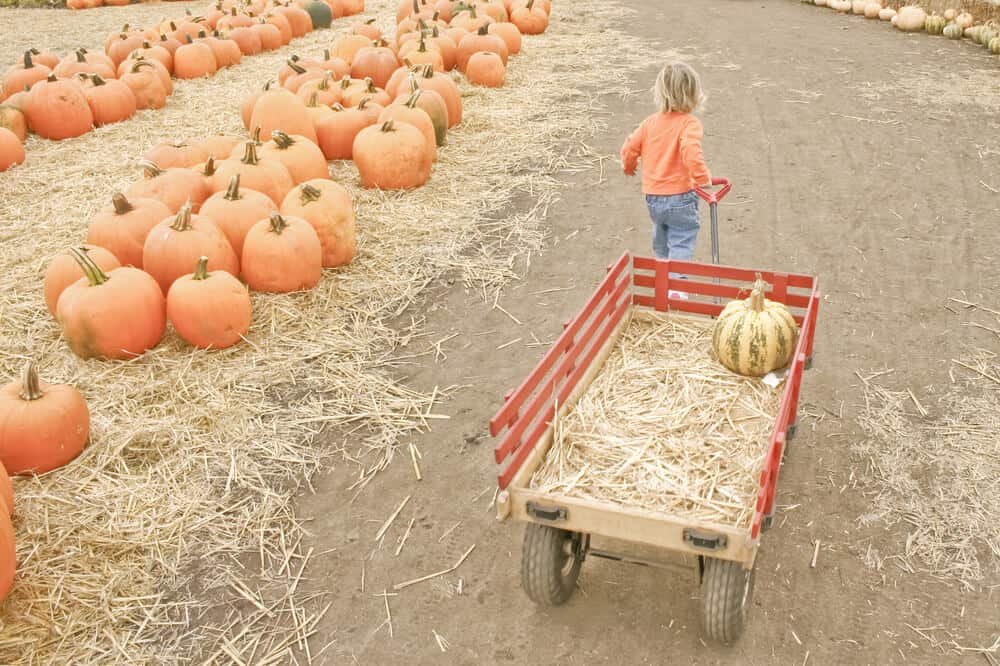 Lemos Farm
Address: 12320 San Mateo Rd, Half Moon Bay, CA 94019
This is another patch in the delightful Half Moon Bay area and it has been around since 1942!
This patch is scaled a little more towards all ages of kids with a spooky haunted house and their famous "Scare Zone" that has been on the news more than once!
This is a year-round location that also offers kid's birthday parties, goat yoga, and some really great food at their onsite restaurant.
Kids can take pony rides or hayrides here as well and there are seasonal attractions that can be enjoyed if you are visiting at the right times.
This is a really fun location that is also beautiful and it is located in a really nice location to experience a lot of what Northern California is all about.
This is a great fit if you have older kids who would not have as much fun at the smaller more kid-focused patches, or if you are there just at the tail end or the start of pumpkin season when you can partake in the other attractions.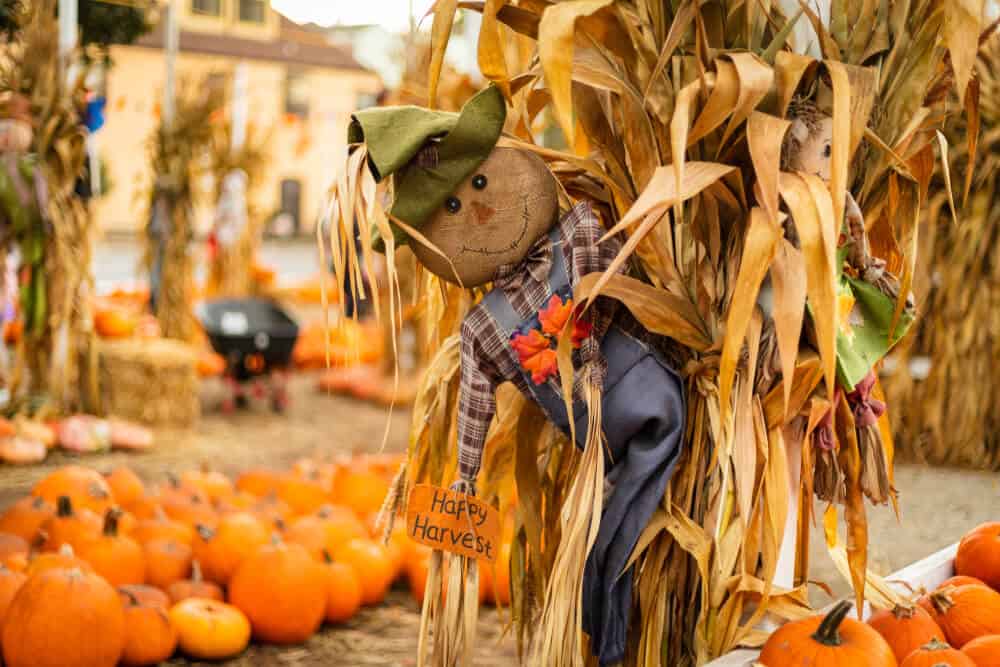 Pastorino's Pumpkin Farm
Address: 12391 San Mateo Rd, Half Moon Bay, CA 94019
This charming Half Moon Bay pumpkin patch is a local favorite for pumpkin picking near San Francisco.
All October long the farm is open to pumpkin picking, and there is a haunted house and face painting on weekends to get into the Halloween spirit!
Kids will love the variety of fall activities including train rides, hay rides, meeting animals at the petting zoo, and pony rides.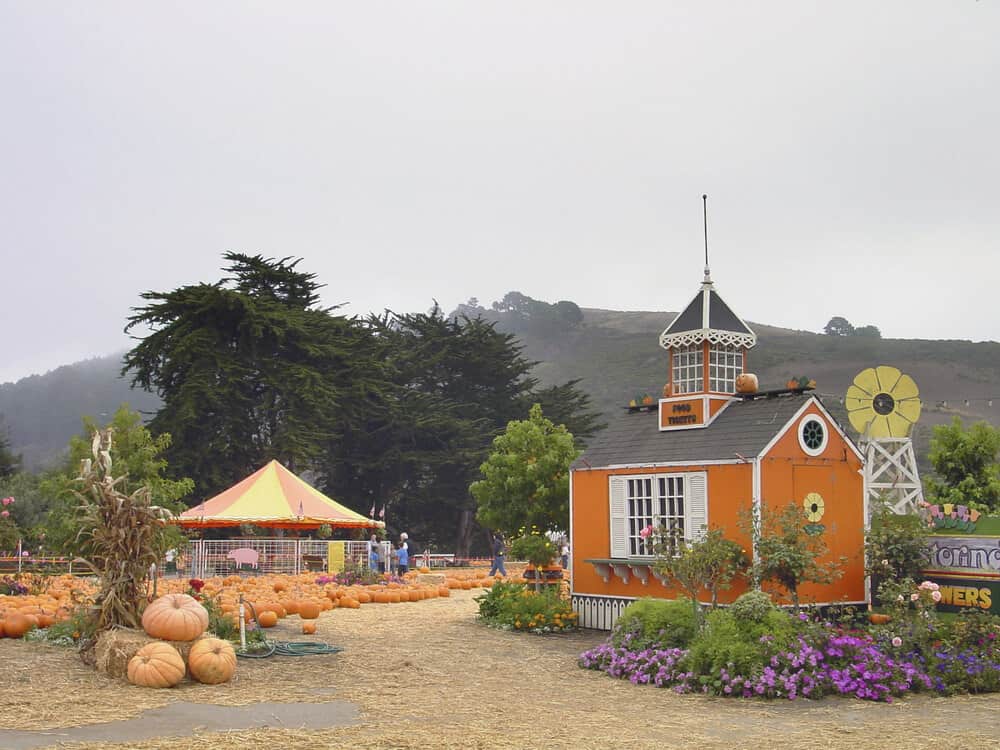 Pumpkin Patches Near Sacramento
Cool Patch Pumpkins
Address: 6150 Dixon Ave W, Dixon, CA 95620
Located in Solano County, this delightful pumpkin patch is open from September to Halloween!
This is a huge pumpkin patch that offers up several varieties of pumpkin as well as squash and vegetables.
You will be able to explore the working farm and take a hayride as well as picking out your own pumpkins and farm-fresh veggies, perfect for making seasonal fall dishes.
For $15 you can navigate the 45-acre corn maze here which is the Guinness Book of World Records!
They also sell yummy snacks and pumpkin pie and you can play in the giant corn bath near the maze. They also offer farm tours to kick off the holiday season.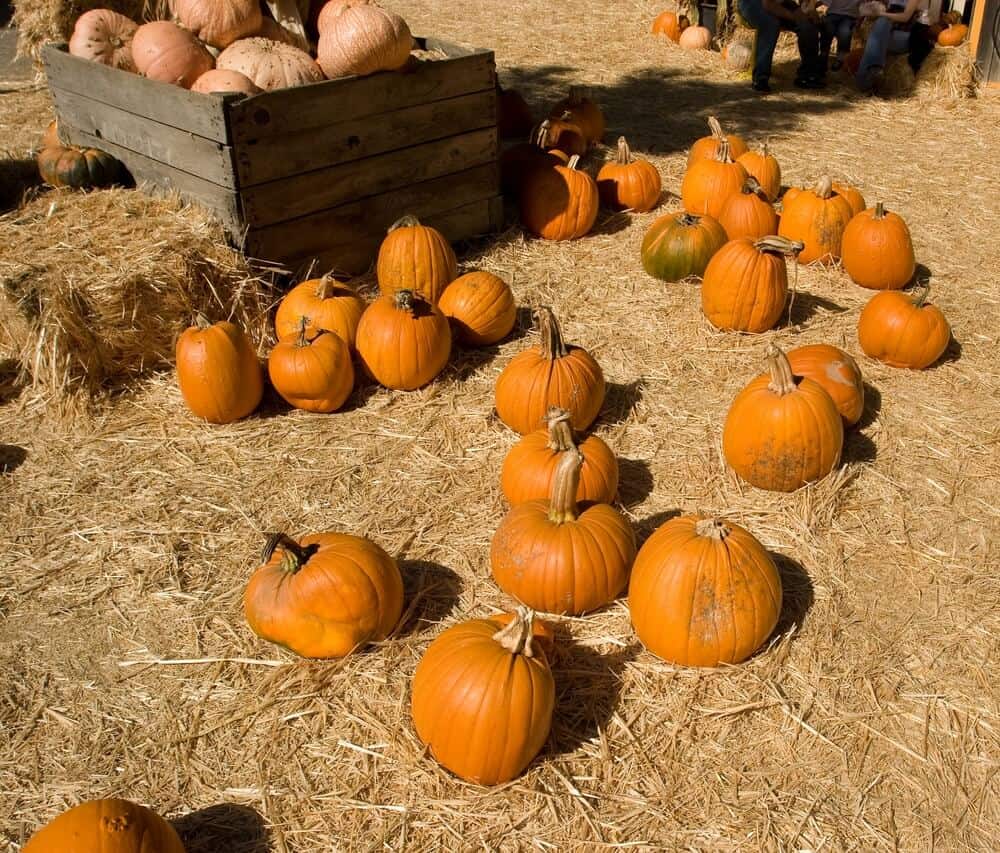 Del'Osso Family Farm
Address: 501 S Manthey Rd, Lathrop, CA 95330
This is a central valley location to go pumpkin picking near Tracy, Livermore, and Stockton.
You can also partake in a corn maze here as well as pony rides for the kids. There are lots of fun additional activities as well like a haunted house, scarecrows, and even an aerial ropes course!
This location is open for fun even outside of pumpkin picking season each day of the week and they also have a country store with delightful offerings, a pedal car speedway, and a petting zoo that are active even when pumpkins are out of season.
If a tractor ride or a fun visit to the country store is on your list of things to do while you pick up your pumpkin, this is the patch to pick for your needs!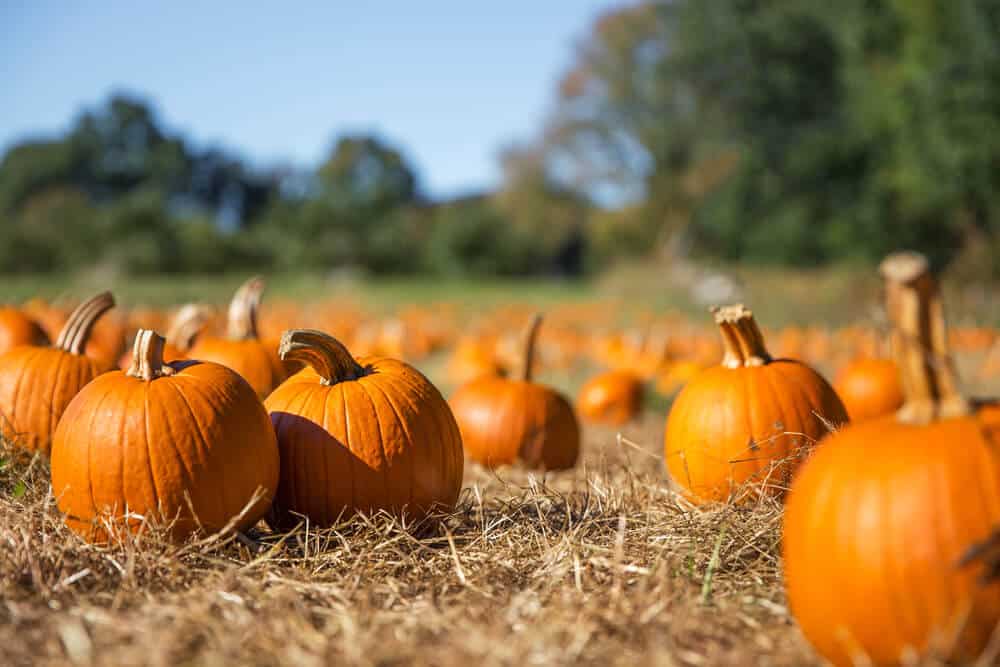 Pumpkin Patches Near Tahoe & Northeastern California
Wemple's Pumpkin Patch
Address: 450-525 Wemple Ln, Milford, CA 96121
This is a great location for squash as well as pumpkins, and they allow you to patch-pick right in the field!
You can enjoy a corn maze and a hay bale maze as here for the smaller kids. There is a snack and refreshment stand as well as tractor hayrides and a petting zoo.
This patch has long hours during the pumpkin season from 9 am to 5 pm and you can also buy decorative items like dried gourds, corn husks, and hay bales for your own décor at home.
This is a family-owned business that is backed by passion and you can tour the entire 500-acre farm if you want, learning about how the patch and the farm work.
The weather is still usually quite warm in this area in October, so plan to bring a jacket, but wear short sleeves so you are not too hot while you shop and navigate the corn maze.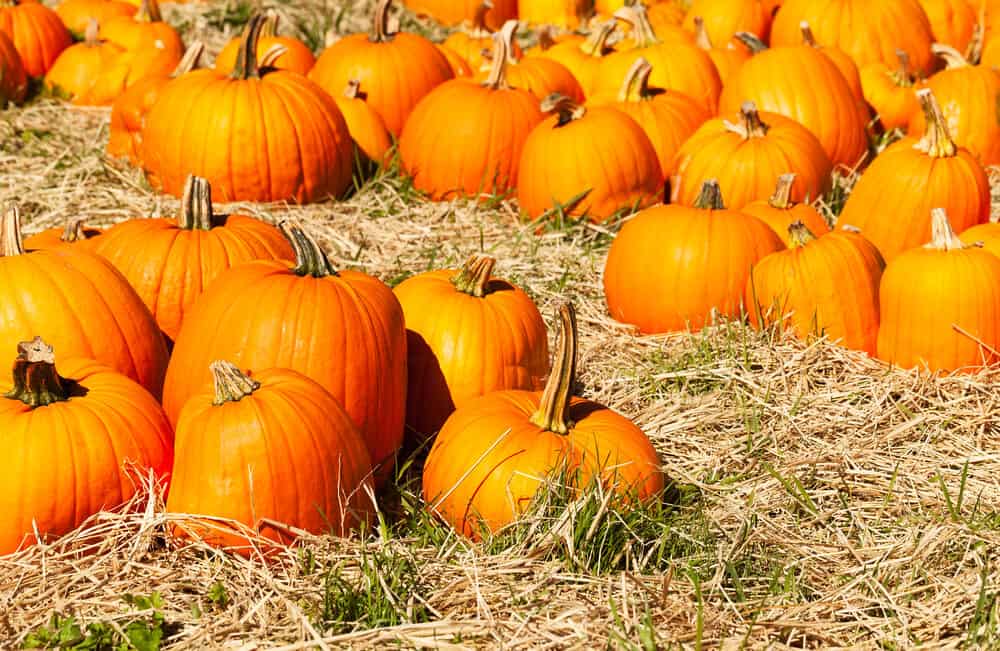 Lil' Megs Pumpkin Patch
Address: 4118 Segundo Road, Beckwourth, CA 96129
This is a fun local patch that is in Plumas County. Named for both the small size of the patch and in the honor of the petite owner, this fun location offers fun for all ages.
They offer unique events throughout the pumpkin season like bake sales, games, and other fun things to do. Pumpkins are sold from $1 to $30 and you can pick from many sizes and varieties.
They also have a small corn maze, daily games activities to partake in and a concession stand. You can also get gourds here if you would rather have those instead of pumpkins.
Lil' Megs is also going to be included in the Sierra Valley Art 7 Ag Trail sites for the next few years at least, so you can add that fun adventure to your day as you head over to pick out your pumpkins!
There are not many other places that you can enjoy art and pumpkin picking all in the same day!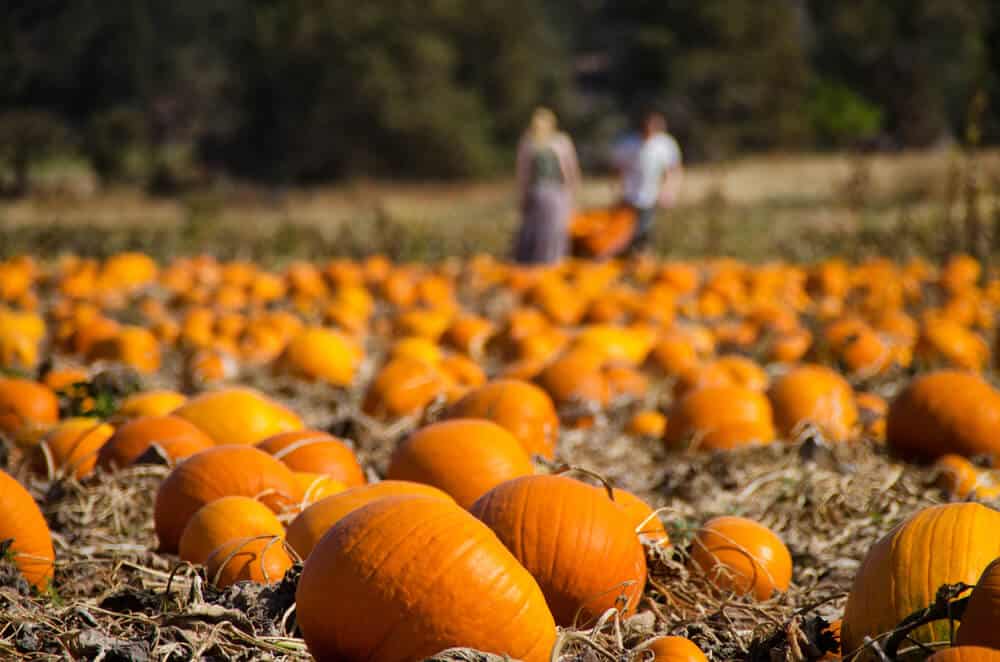 ***
Whether you are visiting Northern California in the fall, or you live close to some of these pumpkin patches, there is no shortage of fun to be had!
Pumpkin picking is one of my favorite fall activities and I am always delighted at the variety of pretty pumpkins in many colors that you can get at U-pick pumpkin patches.
Pumpkin patch visits are a tradition in many families, and you will see why once you go for the first time!
There is nothing that is more quintessentially fall than a visit to the pumpkin patch, and you will not be sorry that you took the time to have this adventure.
All of these pumpkin patches offer something for visitors of all ages and your friends and families will enjoy spending the day pumpkin picking along with you!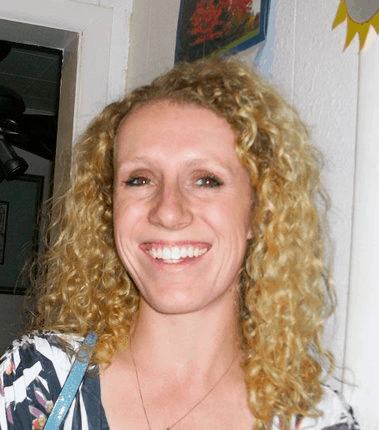 Brianna York has spent many years of her life traveling for work and pleasure, and grew up in Oregon in the gorgeous Pacific Northwest. She embraces each new place she visits and makes the most of seeing all the best that each city or place has to offer.  She is a published author and competes with her Arabian Show horses all over the United States. She embraces each day like a new adventure and is always ready for new experiences!