Camping along the shores of Lake Tahoe means waking up to fresh mountain air, a day on the lake, or relaxing on the beach while sleeping under the alpine forest.
These campgrounds are usually open between mid-May and mid-October and provide an affordable way of staying and kick up your heels, while refreshing yourself in the way only camping can provide!
The Best Time to Go Camping in Tahoe
The best time to camp in Tahoe is in the summer, from June through August, when the temperatures are in the upper 70s, the skies are usually sunny, and the trails are free of snow.
For those who are enjoy skiing, pack your skis, and come camping in May — some of the campsites are open, and you may get to shred some late-season snow up in the mountains, while near the campsites there'll be minimal snow on the ground.
However, if you want a quiet, peaceful campground, pack up your gear and enjoy a mid-week stay in September when the crowds are all gone, but the weather is still very nice.
When to Book Your Tahoe Campsite
Note: This post contains affiliate links, which earn me a small commission at no extra cost to you if you make a purchase using one of these links. Thank you for supporting this free content!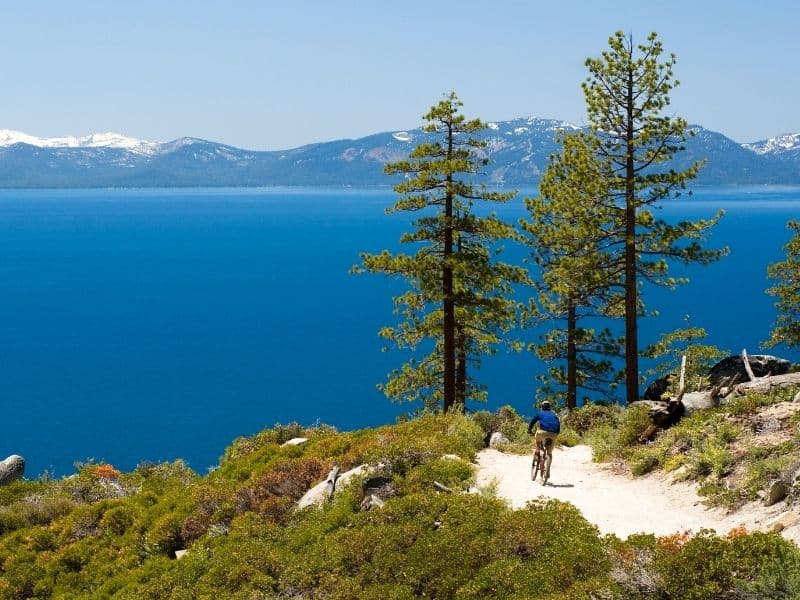 Regardless of what time of year you are visiting, it's best to make reservations in advance at Lake Tahoe campgrounds to ensure you can reserve your spot hassle-free.
Lake Tahoe camping reservations' peak season is from mid-April to September.
Remember, Lake Tahoe is a hugely popular destination for summer campers, especially the months when school is off for summer, such as June through August.
The best time to book your campsite in Tahoe depends on what you are looking for in terms of crowds. You may want to go for the shoulder season, such as May or September if you prefer less crowds or planning with less notice.
If you are looking for the cheapest campsite, then the optimal time would be at least one month before your desired date of arrival, because rates rise when it gets closer to booking season.
However, due to the popularity of Tahoe camping, you'll probably need to book further out in advance than that!
If you want to find campgrounds near Tahoe in the summer, book your campsite at least six months in advance.
Due to the high numbers of Tahoe travelers in the summer, many campers prefer booking their campsite in early spring or late fall. These are typically low-traffic periods that offer more opportunities to find a spot at the lake!
You should also take into account when booking campgrounds around Lake Tahoe the size of the group that will be arriving and the amenities you need for your stay.
For example, if your RV needs hookups or electricity, you'll want to make sure you can secure that.
How to Book Your Tahoe Campsite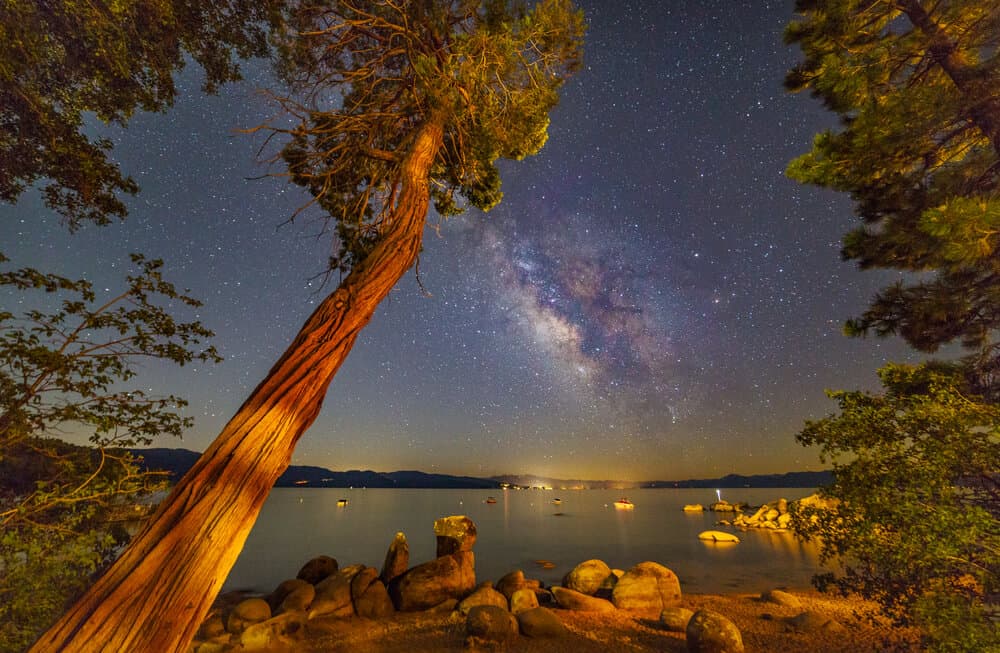 Don't worry — we will show you how to book your Tahoe campsite ahead of time.
There are many people who find this process complicated. Don't be intimidated!
The idea is to make it easier for you so that you can enjoy your vacation without having to worry about the hassle of reserving a campsite.
Here is some information to consider and tips on how to book campsites near Tahoe:
Do your research to find the ideal location. It is important that you find a campsite that has everything you need or want for your stay, including proximity to hiking trails or waterfalls, riverside access, bathrooms/showers, and more.
The public campgrounds can be found on the US Forest Service website, they provide information about the size of the campground, how much it costs, what amenities it has, etc. You can also call them to ask for more details about their reservation process to book your own campsite before you arrive at Lake Tahoe.
Private campgrounds are not as affordable as these public ones, but they do have their own websites where you can find contact information and reservations options.
Consider reserving your site early on. If possible, book your campsite as soon as you know where it is that you want to go because campsites can fill up quickly during peak season.
Many campgrounds have different rates for summer versus shoulder season and winter months, so keep that in mind
If you are booking in advance, be sure to check ahead and see what kind of campground it is: RV only, tent only, or both. Some campgrounds have size restrictions, and some require reservations while others allow first-come first-serve.
Now, with this information you are ready to know which are the best places to camp in Lake Tahoe!
Free and Dispersed Camping in Tahoe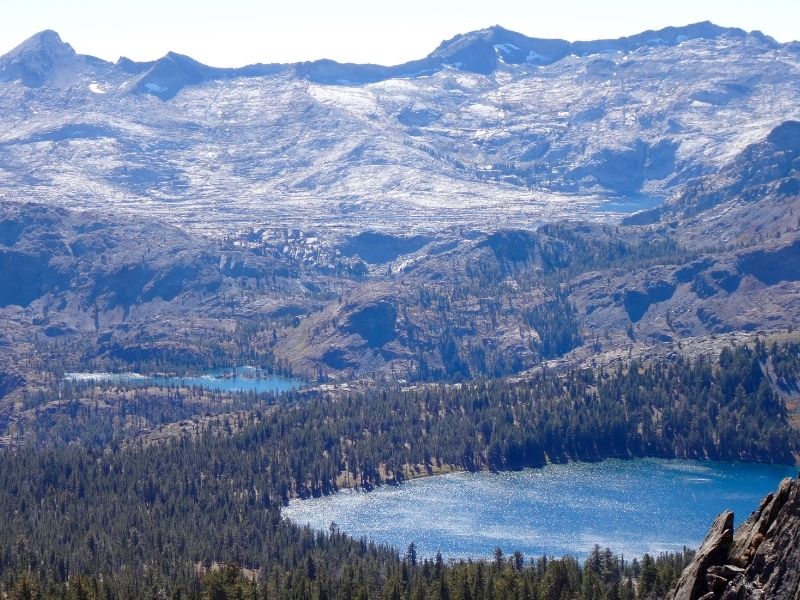 Camping near Tahoe has been a popular pastime for decades. It is a relatively inexpensive, family-friendly adventure that offers a great opportunity to spend some time outdoors.
Luckily, for those who love camping but don't want to spend too much money or extra time looking for sites, there are a few free camping options available in Tahoe including dispersed camping.
Dispersed camping occurs when campers set up their campsite away from any designated campsite. It is often synonymous with free camping, which refers to the act of setting up camp without needing to pay.
Note that free camping must be within designated places where dispersed camping is permitted or it is illegal!
Free dispersed camping offers a more rustic experience, but it requires more work to find a spot and to set up camp. However, on the flip side, this type of camping does not typically require permits or reservations.
In California, you are allowed to camp anywhere in the protected wilderness area, but not inside developed parks or other protected areas.
On the Nevada side of Lake Tahoe, dispersed camping is allowed everywhere except for designated campsites!
Free and dispersed camping is a way of camping without formal campgrounds or designated campsites.
This type of camping is allowed in most National Forest campgrounds, Bureau of Land Management campsites and some State Parks.
The advantage of this style of camping is that there are no fees to be paid, but it does come with some disadvantages as well.
For example, those who choose this style of camping are at the mercy of weather conditions.
Free dispersed campers must find their own sites, which may or may not be perfectly set up for camping. For example, there may not be a flat area cleared away for a tent, nor a fire ring where you are permitted to have a fire.
Note that fire restrictions are often in place near the Tahoe area, sometimes including camp stoves, so you may need to plan for food that doesn't require any heating elements.
Free dispersed campers are also limited because they do not have access to amenities like restrooms or trash receptacles. You'll need to follow LNT principles with regards to disposing of waste.
Free camping in Tahoe is not an easy task because of the dispersed nature of the campsites, but if you are careful about what you do and follow all park regulations then it can be an enjoyable — and free!– experience.
The following areas around Lake Tahoe's California side are authorized for dispersed camping: Mt. Rose Wilderness, Desolation Wilderness, Meiss Country Roadless Area, Granite Chief Wilderness, Echo Chalet, and Mokelumne Wilderness.
However, if you want a more traditional camping experience, we recommend going with a traditional Lake campground.
What to Pack for Camping in Tahoe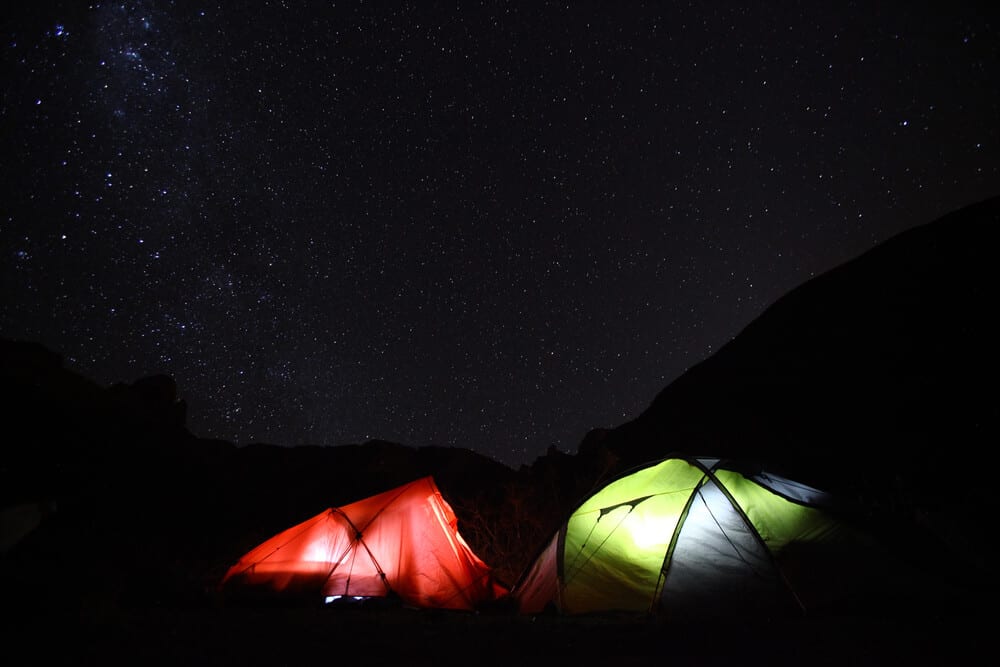 Tent: This lightweight North Face Stormbreak 2-person tent weighs only 5 pounds 5 ounces, which is a nice low weight given the cost. It's a good 3-season tent with loads of headroom, easy-pitching design for fuss-free set-up, and there's plenty of room for two people to share.
Sleeping bag: For a comfortable sleeping bag that won't break the budget, I recommend the REI Trailbreak 30 (men's version) and (women's version). You can go more high-tech, but then you're looking around the $300 range.
Sleeping pad: You can buy a cheaper version like the REI Trailbreak Self-Inflating Pad, but I'd recommend going with the Flash Thermal — it provides extra warmth (as well as cushion and comfort from the rocky ground) when the nights can get really cold at Tahoe altitude!
Clothes & layers: Be sure to check the weather before leaving for your Tahoe camping trip and pack appropriate clothing and layers! Be sure to keep an eye on the low temperatures as well, as Tahoe can get quite cold on summer nights.
Headlamp: To make sure you can get around the campground safely after dark, be sure to bring a headlamp!
Sunscreen: The sun in Tahoe at high altitude can be quite intense! Be sure to wear plenty of sunscreen and reapply
Bug spray: Mosquitos can come with a vengeance in the summer so be sure to bring some along!
First aid kit: Start with a pre-made kit like this HART First Aid kit, which has all you need for 2 people for 2-3 days, and supplement it with extra bandages (especially blister bandages!), painkillers, and other first aid essentials.
Stove & Fuel: If eating only freeze-dried meals, oatmeal, ramen, and other "just-add-boiling-water" dinners, you can get by with a lightweight Jetboil, which weighs in at less than a pound (fuel included) and is also great for making coffee in the morning!
Cooking pot: If you want a more "cooking-friendly" set-up including pots and pans, check out this surprisingly lightweight Optimus camp stove that comes with a frying pan and cooking pot at under a pound of weight (not including fuel).
Bowl & utensils: Be sure to bring plate or bowl as well as cutlery. I suggest a spork while you're camping! You'll also want a Hydroflask cup for enjoying any beverages.
Below you will find all the information about 12 of our favorite Lake Tahoe campgrounds!
Best Camping in Tahoe: 12 Scenic Tahoe Campgrounds
Camp Richardson Historic Resort and Marina Campground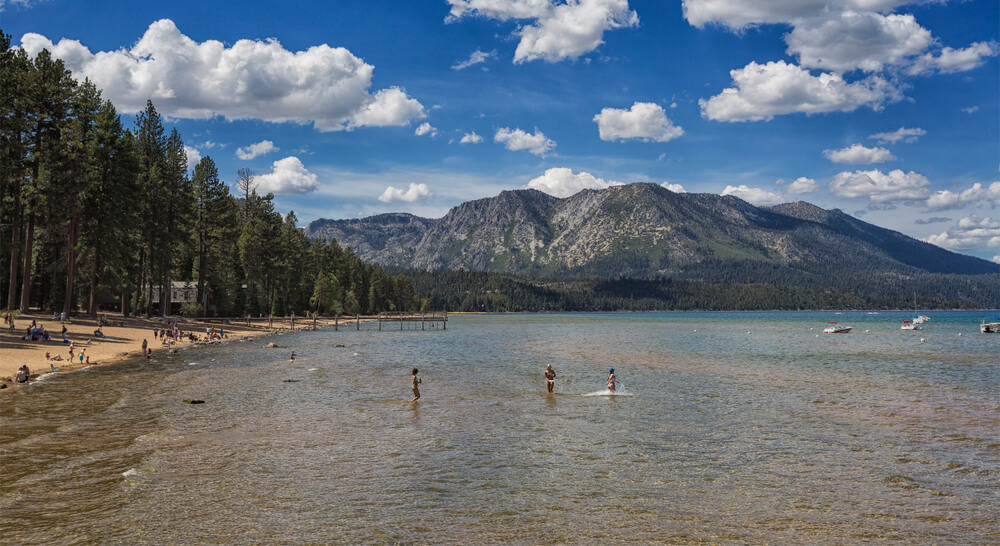 Location: 1900 Jameson Beach, South Lake Tahoe, CA 96150
Camp Richardson Historic Resort is a year-round resort; however, the two campgrounds, Eagle's Nest and Badger's Den are open are only open during the summer, and RV camping is available spring through fall.
If you want to stay closer to the lake, choose the Badger's Den; it is on the highway's lakeside, where the Eagle's Nest is more inland.
The resort offers a full list of amenities like a marina with boat rentals, a general store, an ice cream parlor, and a lakeside restaurant. Even better, the Mountain Sports Center has bikes you can borrow for free!
The two campgrounds offer more than 200 tent sites: each with a bear-proof locker, fire pit, and a picnic table.
They offer three sizes of tent sites, single tent (suitable for 6 people with 2 tents), double tent (12 people with 4 tents), and triple tent (18 people with 6 tents).
The bathrooms have flush toilets and coin-operated showers.
However, unfortunately, if you stay here, your four-legged friends will have to remain at home, as this Tahoe campsite does not allow pets.
The 100 RV sites in the RV Village have either partial (electric and water) or full hookups that also include sewer hookups. The campsites also include a fire pit and picnic table!
Spend your day relaxing on the beach, visiting the Tallac Historic Site, or enjoying a horseback ride out of the Camp Richardson Corral right on site!
D. L. Bliss Lower Pines Campground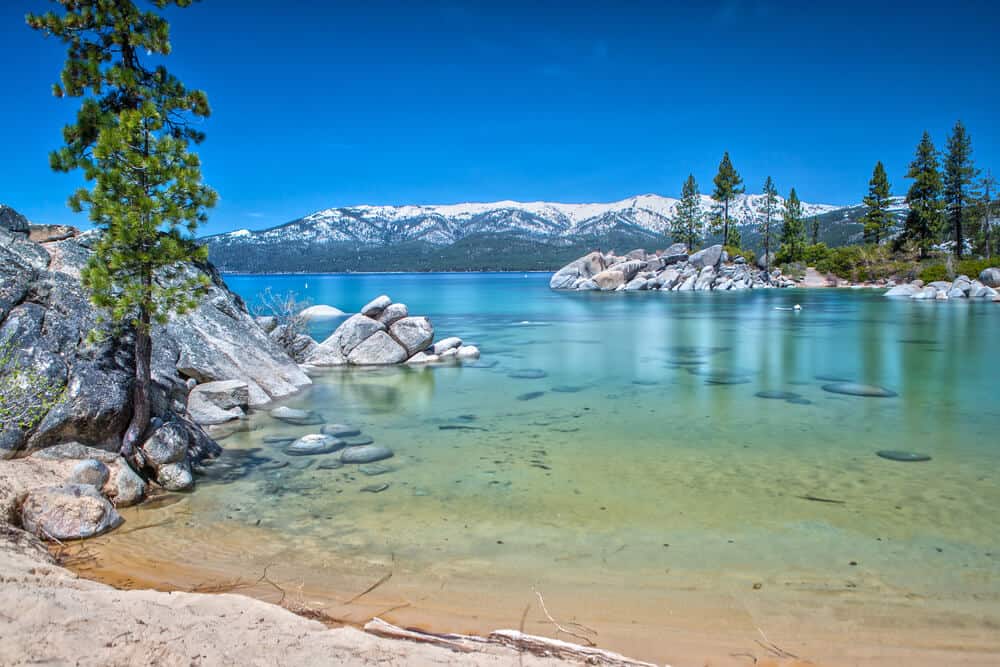 Location: 9881 CA Highway 89, Tahoma, CA 96142
This scenic campground offers sandy beaches, fascinating rock outcroppings, crystal clear water, and access to the Rubicon hiking trail, one of the most-loved hiking trails in Tahoe.
Choose one of 168 rustic Tahoe campsites within this historic campground, which sits in a heavily forested area high above the lake. The park has bathrooms with flush toilets and coin-operated showers, a dump station, and water throughout the campground.
Each campsite comes with a storage locker, great for if you're spending a day out on the lake and want to ensure your stuff is secure while you're hitting the water!
The roads throughout the campground are narrow, and the sites are somewhat on the small side — this impacts how big the trailer and RV allowances are. The maximum trailer and RV lengths are 15 and 18 feet, respectively.
For those who want to be close to the beach, reserve site 142 – 165 in the Beach Camp Loop. These are the most coveted, of course, so you'll want to book these Tahoe campsites early.
Dogs are permitted within the campground and on paved roads, but not at the beach or trails, so keep this in mind if you are trying to book a dog-friendly Tahoe camping trip.
Take time during the day to explore the beach, hike the Rubicon trail, or take the ½-mile self-guided trail to Balancing Rock!
Eagle Point and Upper Eagle Point Campgrounds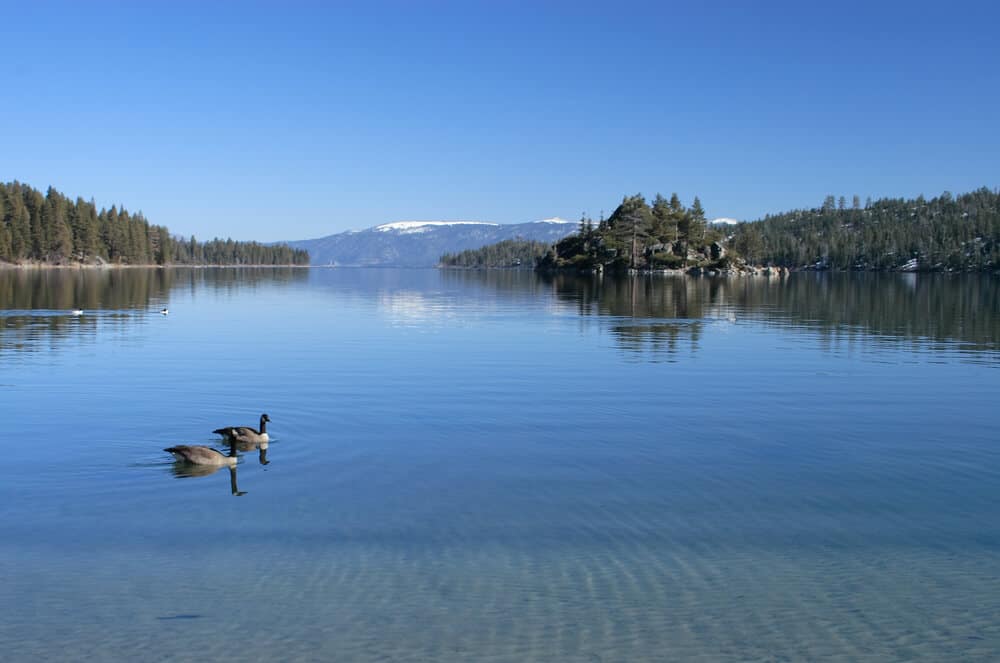 Location: 11001 S Highway 89, Tahoma, CA 96142
Within Emerald Bay State Park, you will find 100 rustic campsites along the south side of the bay's mouth at Eagle Point. These sites are only open in the summer, beginning around mid-June.
This Tahoe campground does not have hookups for RVs, but it does have bathrooms with flush toilets and coin-operated showers, so RV users shouldn't discount this site.
The campsites have a maximum trailer length of 18 feet and an RV length of 21 feet.
While technically this is a dog-friendly Tahoe campsite, there are some restrictions. Dogs are only allowed in the campground, on paved roads, and in the picnic areas. They can not be on the beach or trails.
While here, plan on hiking the Rubicon Trail or head to Eagle Falls!
General Creek Campground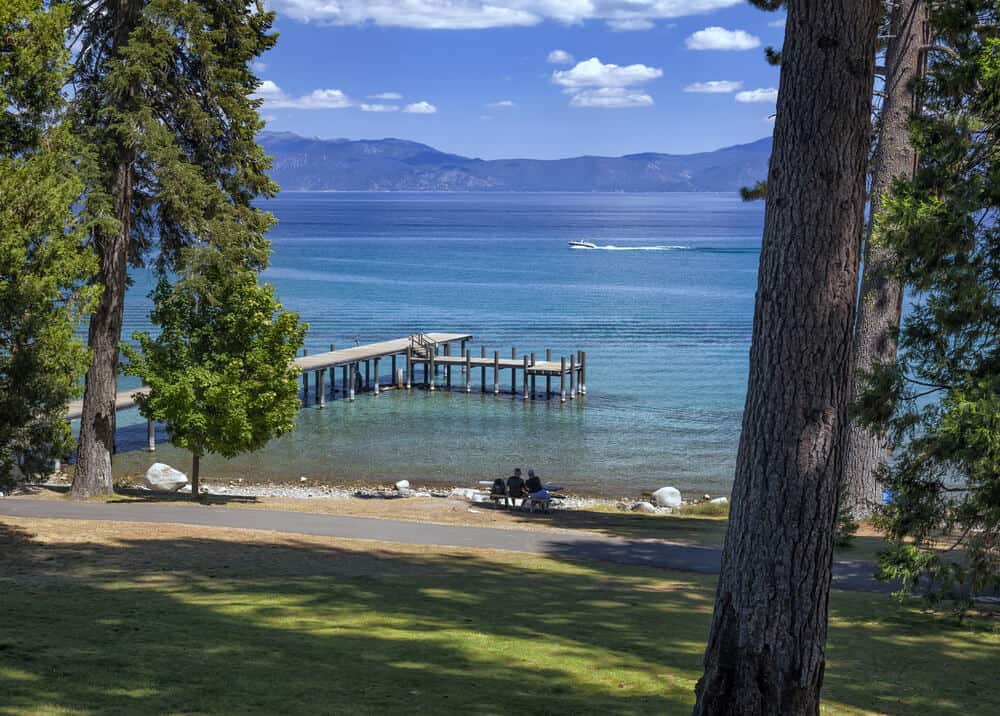 Location: 7360 CA-89, Tahoma, CA 96142
Along Lake Tahoe's western shores, Ed Z'berg Sugar Pine Point State Park offers campers two miles of shoreline and 175 beautiful Tahoe campsites within a dense pine-forested atmosphere.
A beach day means a short walk through the woods where you might catch a glimpse of one of the eagles that call this area home!
Most of the campgrounds are only open during the summer months, but for those who wish to camp in Tahoe during the winter, 16 sites remain available.
The campground amenities include a picnic table, fire ring, and food locker at each campsite. Around the campgrounds are bathrooms with flush toilets, coin-operated showers (summer only), potable water, an amphitheater, and a dump station.
The maximum length for RVs and trailers is 32 and 26 feet, respectively.
While camping in Tahoe at General Creek, take time to enjoy the hiking trails that offer striking lake and mountain views, or visit the Hellman-Ehrman Mansion and grounds where you can play a game of tennis.
If you can brave camping in Tahoe in the winter, it is a great place to strap on your cross-country skis and go exploring!
Kaspian Recreation Area Campground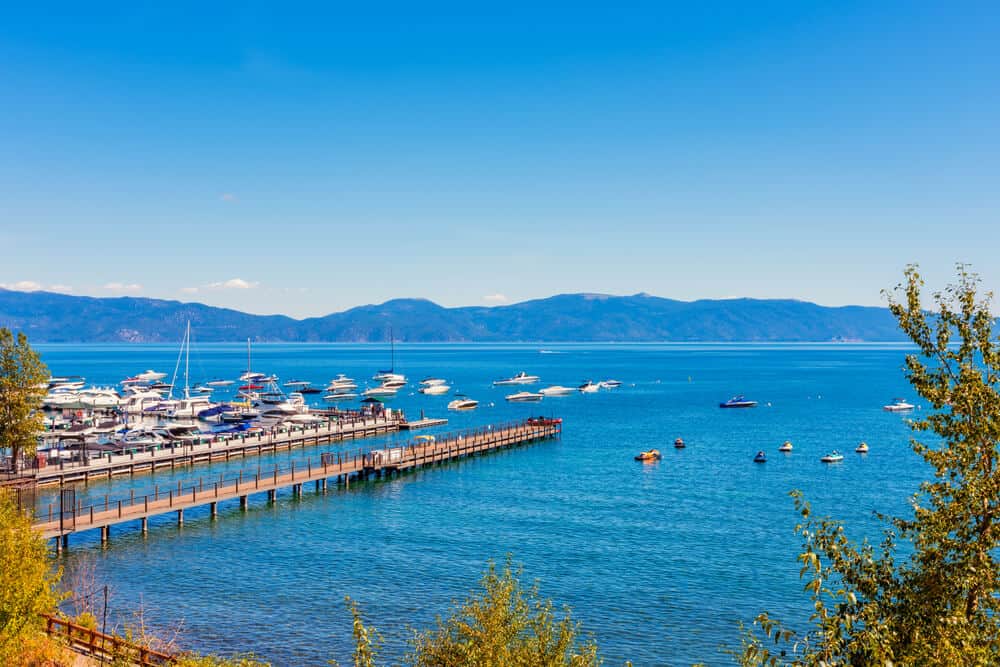 Location: 3255 CA-89, Tahoe City, CA 96145
This walk-in, tent-only campground sits on the shores of western Lake Tahoe amongst the towering pines.
The campgrounds' nine sites each have a picnic table, fire ring, and food locker, but no hook-ups. The campground provides bathrooms with flush toilets but no showers, potable water, and a dump station.
The campground is only open from mid-May until mid-October.
Good news for your fur babies: this is a dog-friendly campsite in Tahoe! However, note that a maximum of two leashed pets per campsite is permitted!
During the day, enjoy kayaking or swimming at the Kaspian day-use area of the lake or bike and hike the array of trails along the shores.
Meeks Bay Campground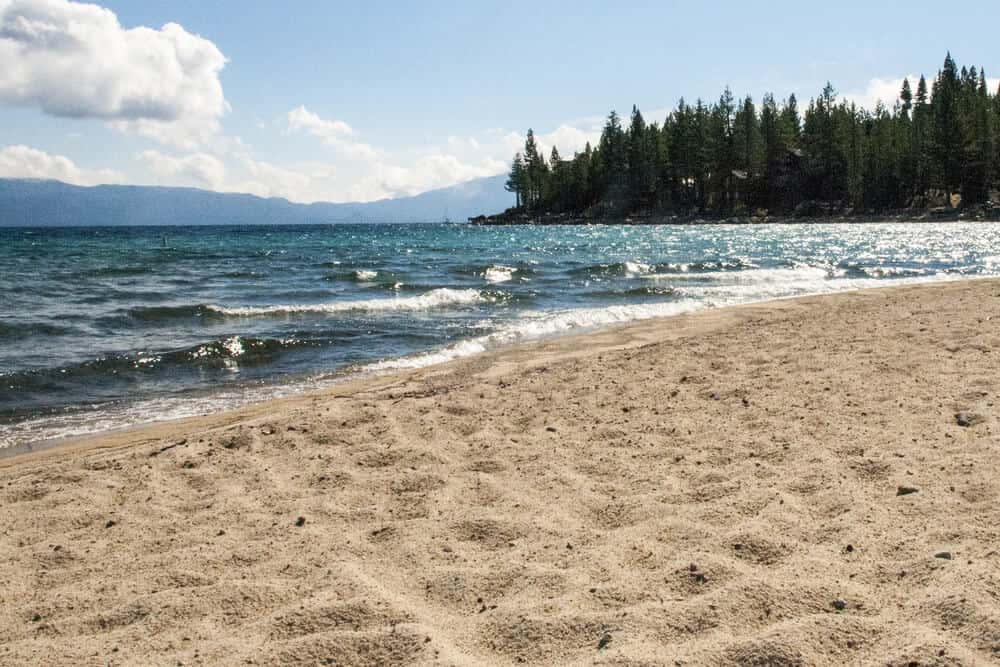 Location: 96158 Meeks Bay Ave, South Lake Tahoe, CA 96150
This rustic Tahoe campground has 36 campsites, with 16 of them designated for tenting only, and some offer beautiful views of Lake Tahoe.
The campground provides a picnic table, fire ring, and food locker at each site.
There are no hook-ups or dump station, and the maximum length of vehicles is 20 feet. The restrooms have flush toilets and tap water, but there are no showers.
While camping here, you should take time to hike through the Desolation Wilderness, ride your bike along the new bike path, or take the short trail to the beach and enjoy the sandy shores of Lake Tahoe. There are also marinas nearby where you can rent a boat, kayaks, or standup paddleboards.
The campground allows pets following the signs and restrictions!
Nevada Beach Campground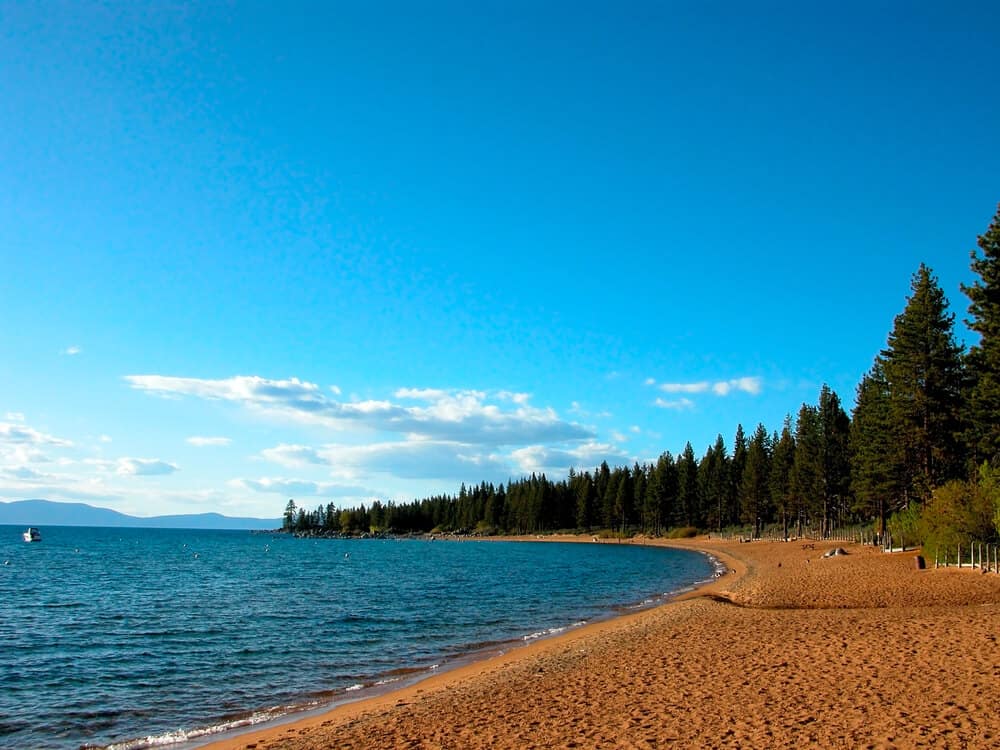 Location: Stateline, NV 89449
The Nevada Beach Campground is a Lake Tahoe Basin Management campground and one of Lake Tahoe's most scenic. Enjoy camping in Tahoe along the beach or within a short walk from the sandy shoreline.
The 49 sites offer no hook-ups, but they do have lots of other amenities to make up for it! These Tahoe camping spots all have grills, picnic tables, and campfire rings.
The campground does have bathrooms with flush toilets, drinking water, and a covered pavilion for large picnic groups of up to 150 people. From the pavilion, you will have a great view of the mountains and Lake Tahoe.
Note: the maximum length for vehicles is 45 feet, which should fit all but the largest RV set-ups!
While camping here, enjoy a relaxing day of fishing or a day relaxing on the beach. Those who wish to have more privacy, but less of a lake view, choose a site furthest from the lake.
Pets are allowed on site following the signs and guidelines.
Tahoe State Recreation Area Campground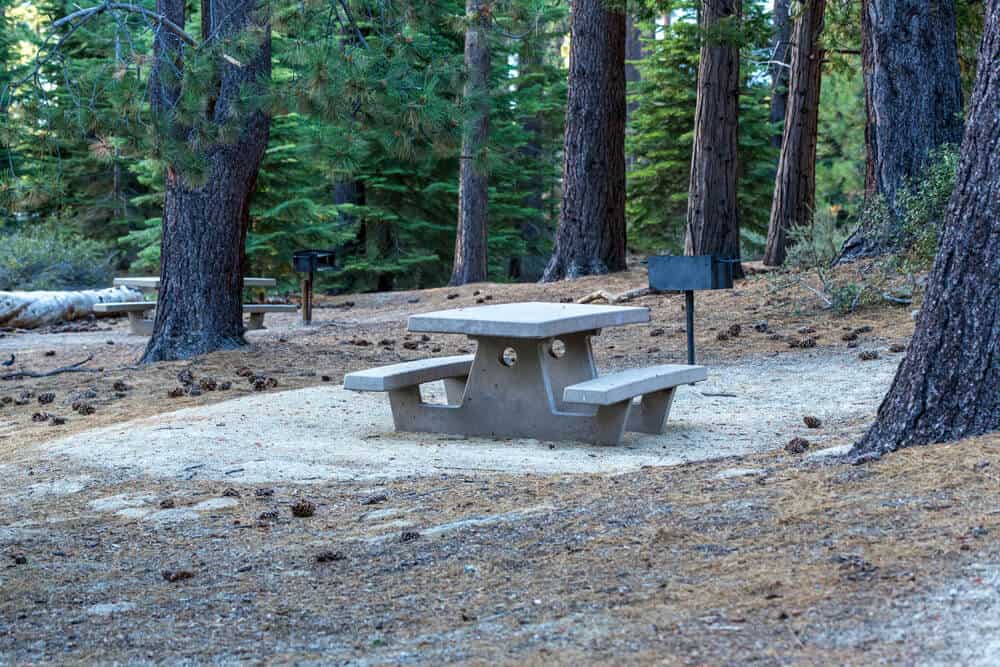 Location: 1100 N Lake Blvd, Tahoe City, CA 96145
Tahoe State Recreation Area Campground is a small campground with a lovely lake view that offers only 23 sites, with seven sites for tents only.
Each site has a picnic table, fire ring, food locker, but no hook-ups. The maximum length for RVs is 21 feet and 15 feet for trailers. Throughout the campground are coin-operated showers, flush toilets, and tap water, but there is no dump station.
While here, enjoy biking the 20-mile bike path along Lake Tahoe's western shore, or spend a day on the lake swimming, boating, fishing, kayaking, or standup paddleboarding. In Tahoe City, you have a variety of watercraft rental options.
William Kent Campground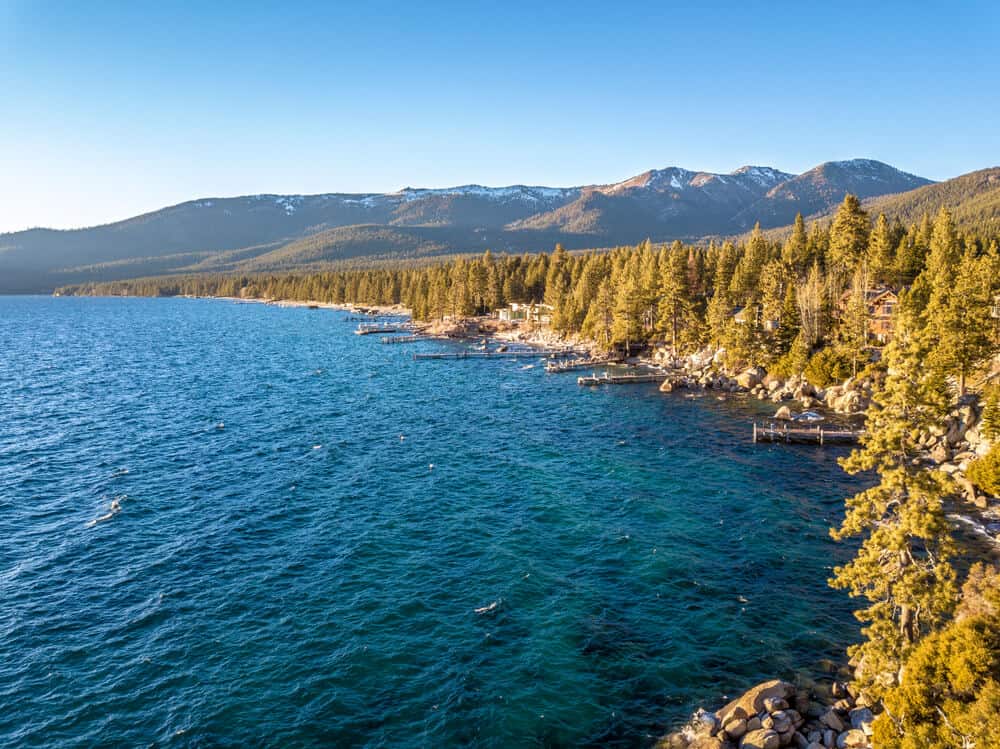 Location: 1995 W Lake Blvd, Tahoe City, CA 96145
On the western banks of Lake Tahoe's North Shore, the William Kent Campground offers 81 campsites with tables, food lockers, fire rings, and cooking grates. You can purchase firewood from the Campground Host.
The restrooms have potable water and flush toilets. The campground permits pets, so feel free to bring along your four-legged pals.
The beach is just a short walk across the road where you can enjoy a day on the lake kayaking, fishing, or building sandcastles on the beach.
Those with campers should choose sites 72 – 79 since they are the most trailer/RV friendly. If you are without a tent or camper, reserve yurt sites 2, 10, or 80!
If you have a Golden Age or Access Passport, you may be entitled to a discount.
Zephyr Cove RV Park and Campground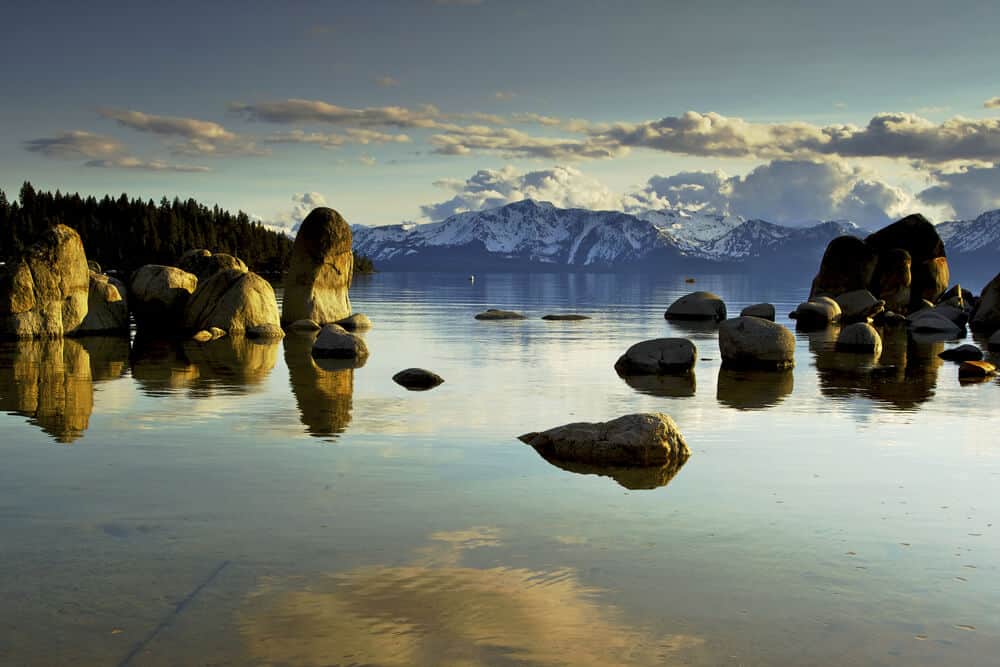 Location: 760 Hwy. 50, Zephyr Cove, NV 89448
The Zephyr Cove RV Park and Campground is a favorite Tahoe camping spot to stay along the southeast Lake Tahoe shores preferred by many seasoned Tahoe campers.
The award-winning park provides guests with beach access, horseback riding, a general store, and various marina activities.
Amenities include laundry facilities, WiFi at the restaurant and the resort's lobby, and full hookups — including cable!
The 93 sites at the RV Park can accommodate 40+-feet RVs, and some can accommodate an additional tent.
The campground has 47 walk-in sites and ten drive-in sites. Several of the drive-in sites offer a lake view. They all come with a picnic table, food locker, BBQ, and a fire ring.
Pets are permitted in the campground, but not on the beach, so keep that in mind when booking this Tahoe campsite!
Fallen Leaf Campground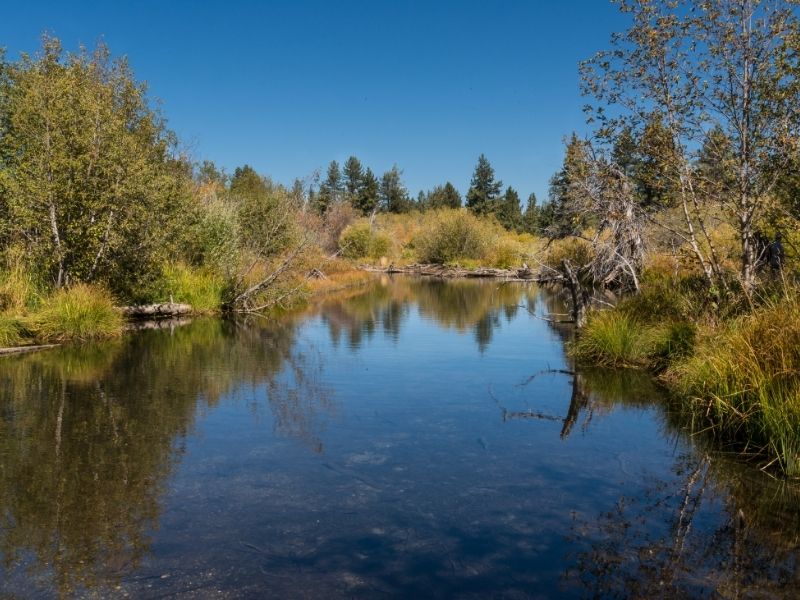 Location: 2165 Fallen Leaf Rd, South Lake Tahoe, CA 96150
Fallen Leaf Campground in Lake Tahoe Basin Management Unit is one of the most popular campgrounds in the area. It is considered by many the best camping in Tahoe.
It sits at an elevation of 6,400 feet and is only two miles from Highway 50, which means it is easy to get to. The campground contains 206 sites, many with views of Fallen Leaf Lake as well as Taylor Creek.
It has some fantastic amenities like picnic tables, fire rings, vault toilets onsite, hot showers, drinking water, and firewood.
There are even some campsites that will accommodate RVs up to 45 feet, so it is great for RVers in need of a place to stay.
The campground is situated near a number of attractions including the Fallen Leaf Marina and Lodge with its restaurant, bar and boat rentals, Nevada Beach on the lake for swimming, and El Dorado National Forest for hiking trails.
Other amazing activities available in this campground include fishing, canoeing, biking, boating, and kayaking, so you won't get bored here!
Tahoe South Campground by the Lake
Location: 4114 Lake Tahoe Blvd. South Lake Tahoe, CA 96150
The Tahoe South Campground by the Lake is a favorite for many tourists. It is located close to many different attractions, which enables visitors to go on day trips from Tahoe without having to travel too far.
The campground features sites that are large enough for easy set up of tents or trailers.
Lake Tahoe RV camping is a very popular activity, so you will also find RV hookups available for those who have RVs with them.
There are also large areas of open space that can be used as a gathering place and places for children to play and enjoy themselves safely.
The campsites are all located near the lake, which provides amazing views for all visitors. There are also many hiking trails that go up into the mountains that surround the lake.
The facilities include picnic sites, hiking trails, boat rentals, and other amenities for travelers to have a pleasant experience at this campsite.
This is also a family-friendly campground that offers a variety of food, beverages, and events—like the summer concerts the campground hosts!—to enjoy.
The Tahoe South Campground by the Lake has everything you would need to make your Tahoe camping experience enjoyable and memorable no matter what time of year is it that you visit!
Pin This Guide to Tahoe Camping!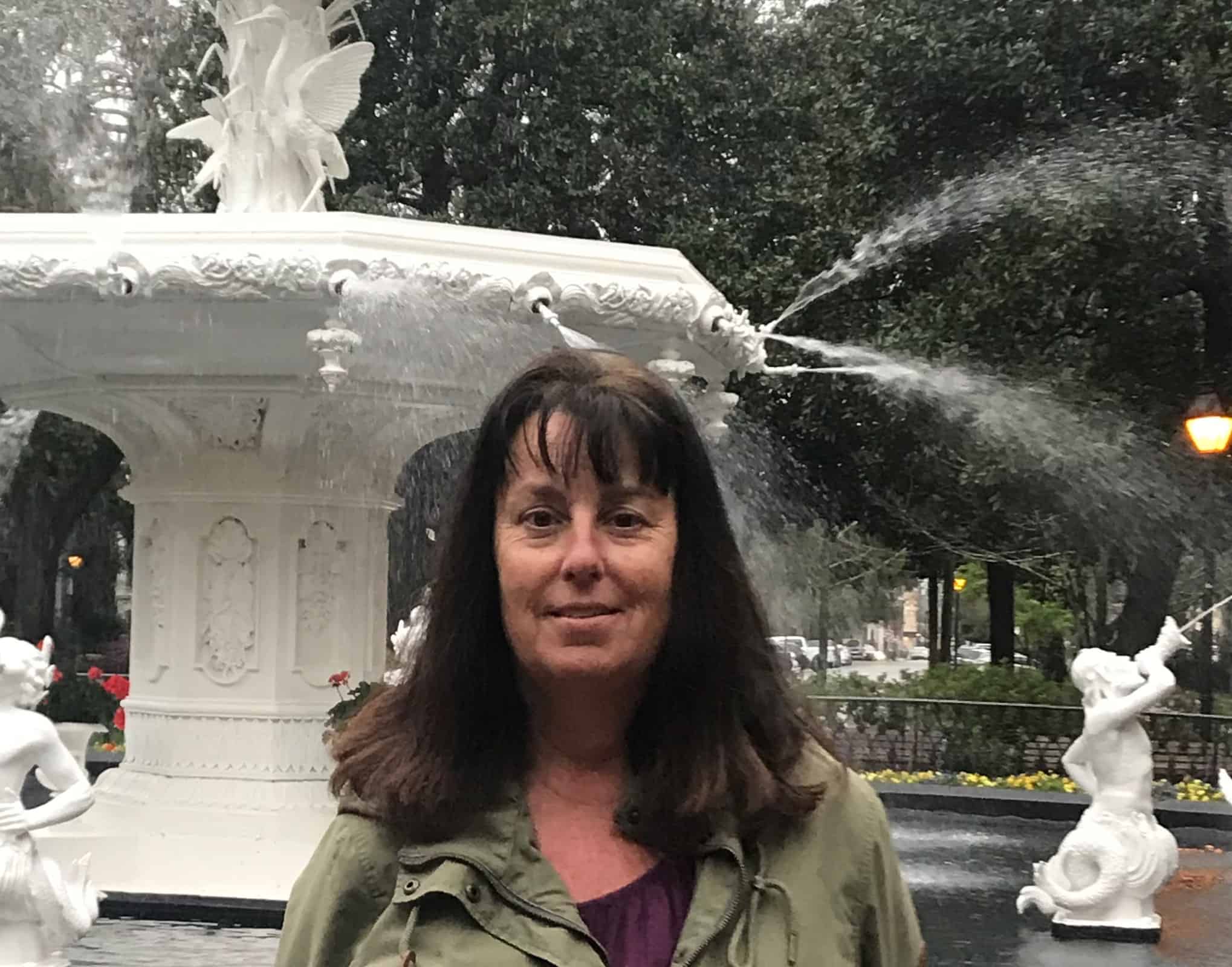 Laura Gray is a freelance writer and retired elementary teacher based in Norfolk, VA.  She spends her summers enjoying the shores of the Chesapeake Bay, traveling the world, and exploring the beautiful United States. Her favorite places to visit are National Parks, waterfalls, and lighthouses.