Drive a little over four hours north of San Francisco and you'll arrive in Mount Shasta – an enchanted city at about 3,600 feet above sea level in Siskiyou County.
Known for the massive volcano of the same name, Mount Shasta is a popular attraction for outdoor enthusiasts across the nation. While mountaineers travel to the area to tackle the summit of the fifth-highest peak in California, you don't have to traverse all the way to the top of the mountain to enjoy the awe-inspiring views Mount Shasta has to offer.
Whether you're visiting with your family or looking for more of a challenge, Mount Shasta has an abundance of hikes for every skill level. From waterfalls to meadow vistas to alpine lakes, these are some of the best hikes in and around Mount Shasta.
** Due to the pandemic and wildfires, some of the trails may be temporarily closed. For up to date information, check the national forest website, or the website for each individual park. AllTrails also provides user-generated information on trail closures.
Easy Hikes Near Mount Shasta
Sisson Meadow Loop
Note: This post contains affiliate links, which earn me a small commission at no extra cost to you if you make a purchase using one of these links. Thank you for supporting this free content!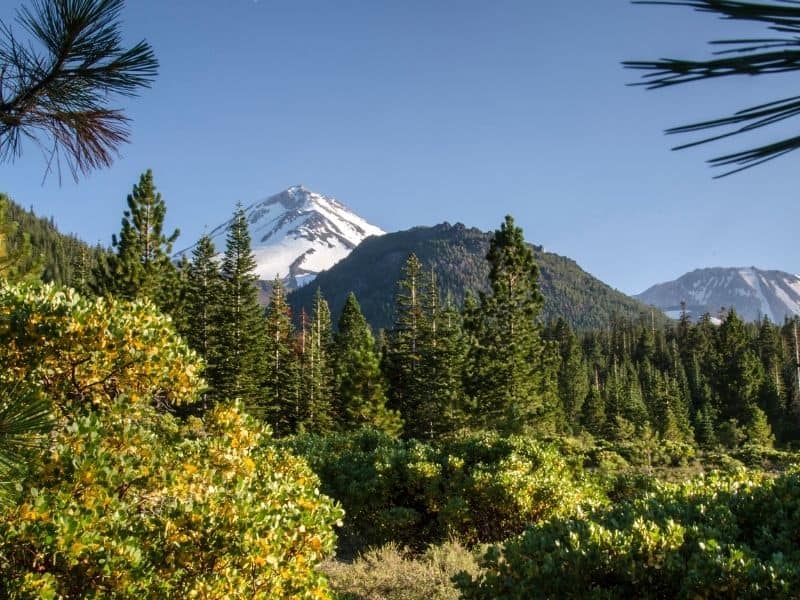 Length: 1 mile roundtrip
Elevation gain: 45 ft
If you're looking for a family-friendly hike near Mount Shasta with little effort and high reward, this is the hike for you!
Located in downtown Mt. Shasta, Sisson Meadow is part of the Siskiyou Land Trust and sits upon 7.5 acres of preserved and restored wetland.
The paved trail offers 360-degree views of Mt. Shasta and the surrounding peaks of Mt. Eddy, Black Butte, and Castle Crag's Wilderness.
Stroll slowly along the ADA-accessible boardwalk — great if traveling with someone who needs a stroller, walker, or wheelchair — through the meadows and enjoy epic views of Shasta without the elevation gain.
Panther Meadow Loop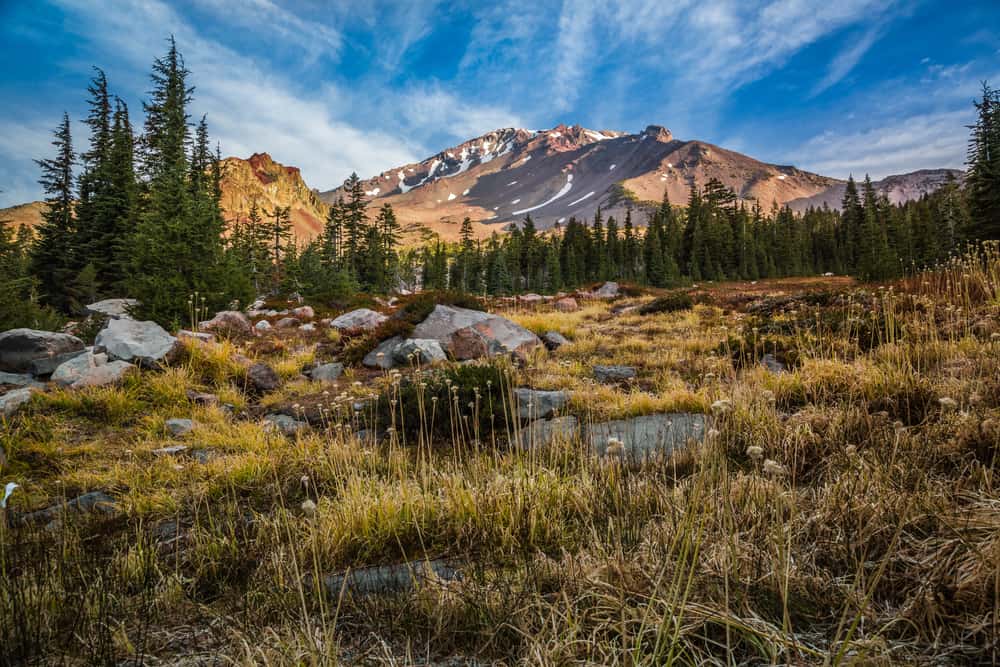 Length: 1.5 miles roundtrip
Elevation gain: 200 ft
Similar to Sisson Meadow, Panther Meadow packs a lot of views into little distance. Views of Mount Shasta and Green Butte are visible throughout the trail, and in many areas, you can see the Trinity Divide.
The trail weaves through a small yet delicate alpine meadow and a seasonal creek. Many see Panther Meadow as a sacred site, and it's common to see people meditating or performing spiritual rituals in the area.
Panther Meadows also offers a seasonal campground.
McCloud Waterfalls Trail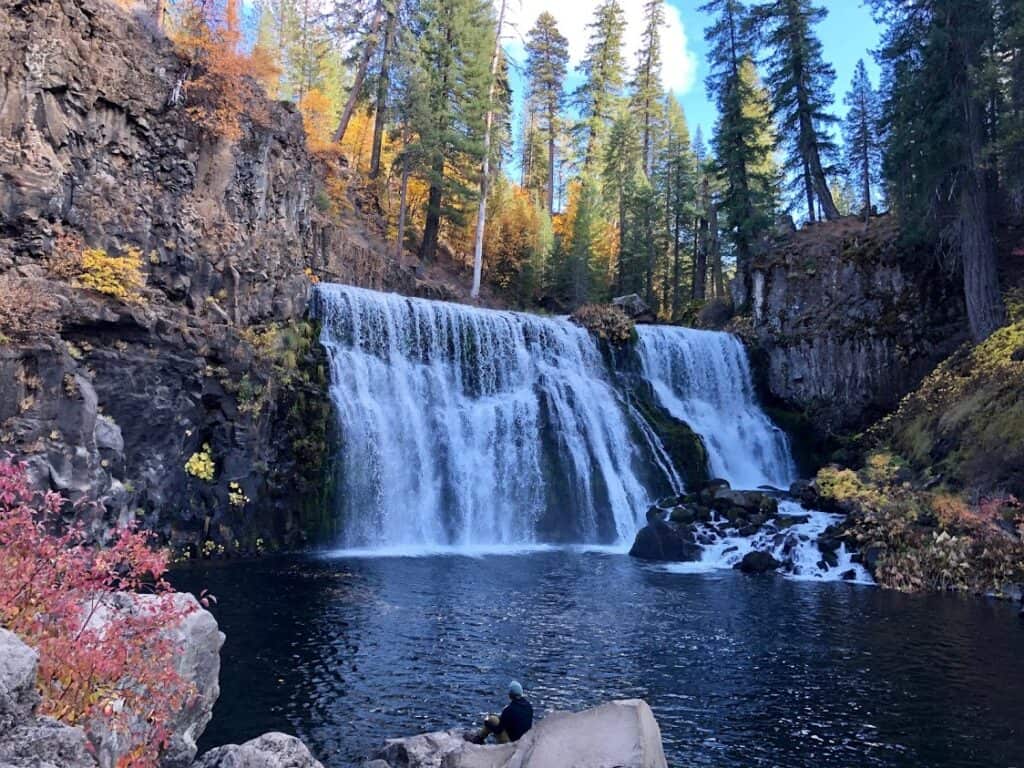 Length: 4 miles roundtrip
Elevation gain: 500 feet
If you're a waterfall enthusiast, you can't beat this trail along the McCloud River that features not one, not two, but three waterfalls, all within four short miles!
While each waterfall does have its own parking lot and accessibility, taking the trail between all three is an unbeatable experience.
The trail begins at Lower Falls, a small yet beautiful 15-foot fall pouring into a deep pool of water. Though the water is bone-chillingly cold even on the hottest days, you'll still find visitors swimming, relaxing on nearby rocks, and plunging in from high-up cliffs in the summer months.
But don't jump in yet – there's still two more waterfalls to see!
The dirt path continues on along the McCloud River for about 0.7 miles to Middle Falls, the most impressive of the three.
Here, you'll find more swimmers and sun-bathers lounging around the 50-foot-tall, 100-foot-wide waterfall. To keep going on the trail, follow the small uphill climb to reach the overlook to the falls.
The vista point offers an incredible birds-eye view of the powerful waterfall. To reach the last of the three falls, continue on along the canyon rim to the overlook at Upper Falls.
Moderate Hikes Near Mount Shasta
Spring Hill Trail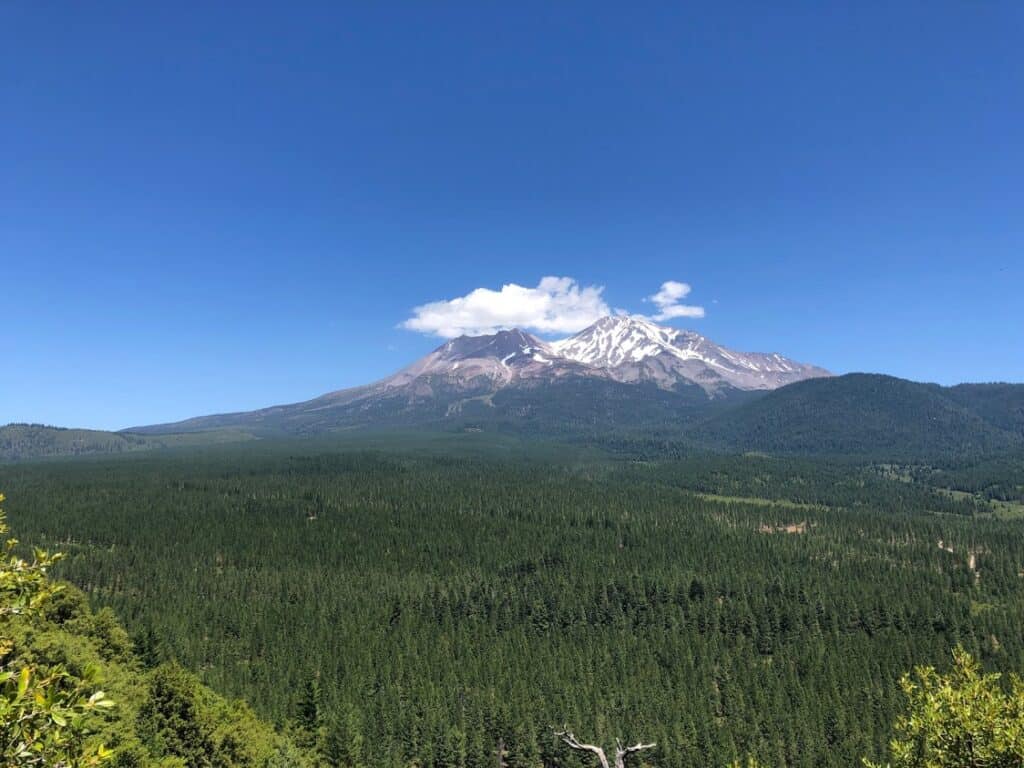 Length: Approx. 3 miles roundtrip
Elevation gain: 650 feet
Spring Hill Trail is a straightforward climb to the top of a hill and back down again, with non-stop views of Mount Shasta throughout.
The up-close vistas of Mount Shasta and surrounding mountains make the uphill portion well worth it. With several benches and picnic tables along the route, there are ample photo opportunities throughout.
There's very little shade, so bring extra water and sunscreen if you plan to visit in the warmer months!
Castle Lake, Heart Lake, and Castle Hill Overlook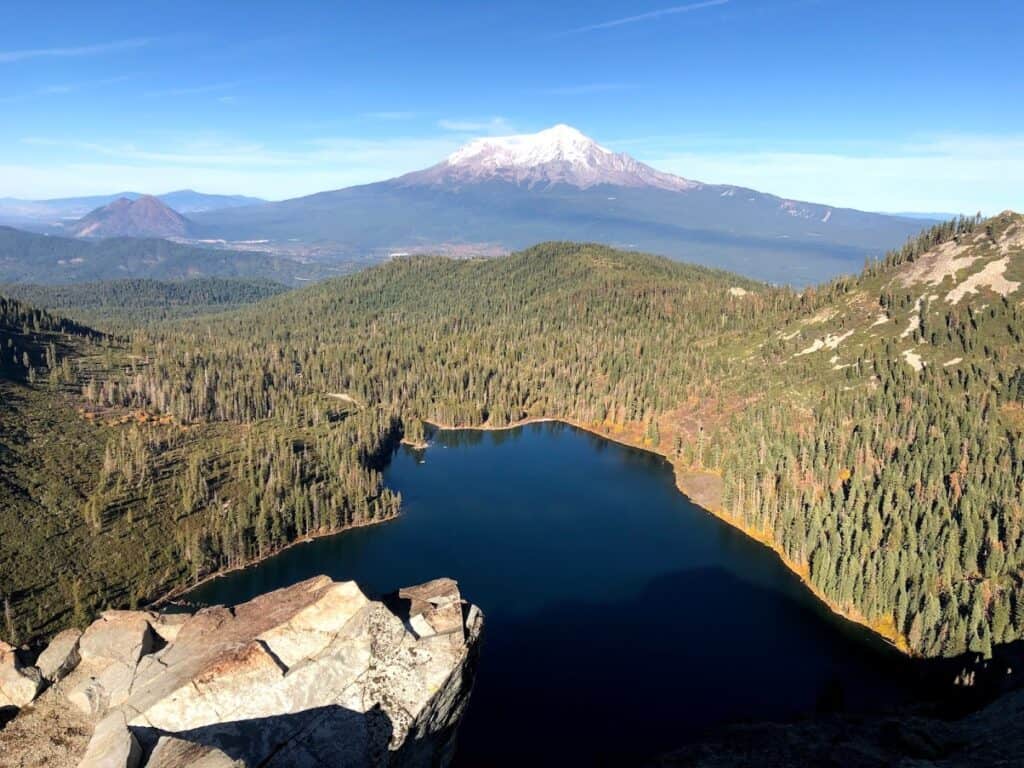 Length: 2.6 miles roundtrip
Elevation gain: 650 feet
You've probably seen snapshots of this hike on Instagram before, and for good reason. You can't get much better than two alpine lakes and one incredible view all in under three miles — no wonder this is one of the favorite Mount Shasta hikes!
Beginning at the Castle Lake parking lot, the trail heads uphill, giving your legs an immediate workout. At about .6 miles, things can get a bit confusing, as many trails lead in different directions up the mountain.
You'll want to keep left – heading straight for the lookout will land you in the bushes. It's a bit of a rocky scramble here, so watch your footing.
After about another mile you'll reach Heart Lake, a smaller and stunning alpine lake begging you to jump in.
From Heart Lake, it's just another .3 miles through a meadow to the overlook. After one last narrow trail upwards, you'll reach the peak, where 360-degree views of Mount Shasta, Castle Craggs, and Castle Lake await.
Though this trail is magnificent any time of year, a visit in autumn presents a breathtaking vision of bright yellow trees and meadows against the bright blue lakes.
Difficult Hikes Near Mount Shasta
Castle Dome Trail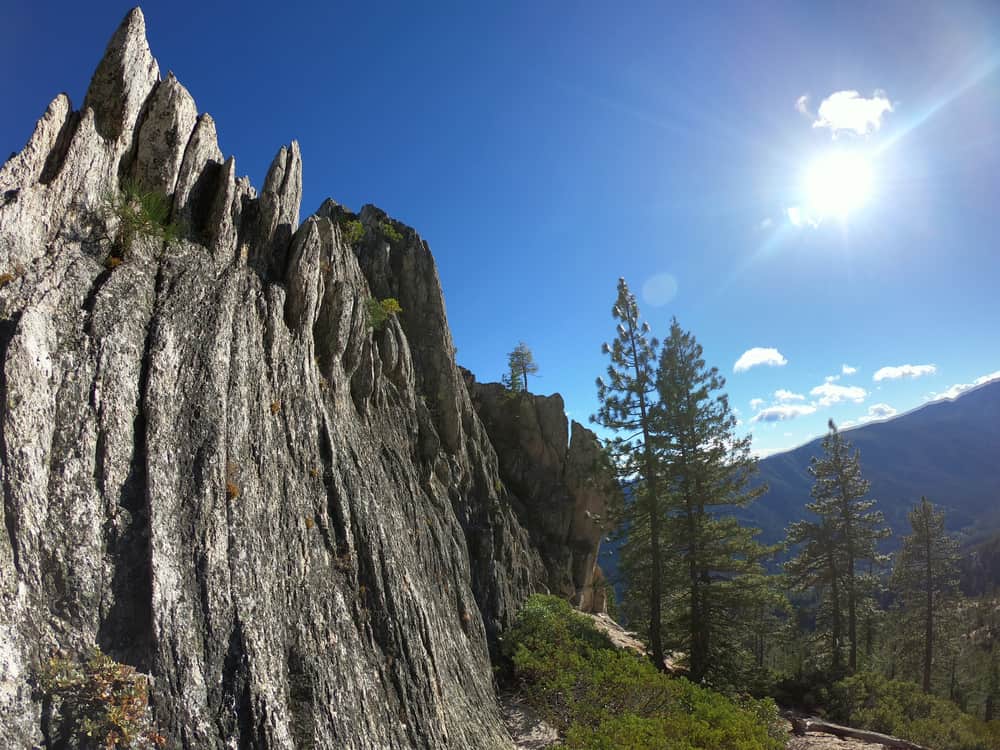 Length: 5.5 miles roundtrip
Elevation gain: 2,200 feet
The peaks of Castle Crags were formed over millions of years of erosion, slowly being shaped into the unique spires you see today.
The Castle Dome Trail at Castle Crags State Park is the only trail to actually climb into the granite peaks of Castle Crags – but you're going to have to work for it.
Follow signs for the Crags Trail as you begin walking through the forest on your journey to the dome. You'll cross the Pacific Crest Trail around 0.5 miles and then begin to climb steadily.
A little over two miles in, you'll be treated with a jaw-dropping view of Castle Dome and Mount Shasta. If you're feeling tired or are just looking for a shorter hike, this vista is a good place to turn back.
For those that choose to keep climbing, walk through more forest until you finally reach the granite pinnacles. Here's where the real fun begins. You'll start to weave around the granite walls as the trail gradually gets steeper. Congratulations, you're officially in the peaks of Castle Crags!
Continue until a clearing where you'll be met with sudden spectacular views. At the top, the trail veers off into dense bush. Despite its misleading name, the trail actually ends at the base of the dome, not at the dome.
You can try to reach the summit without rock climbing gear, but it is dangerous and should only be done by very experienced hikers (and those who aren't afraid of heights). Don't worry – the views and experience are well worth it even if you forego the scramble.
Helen Lake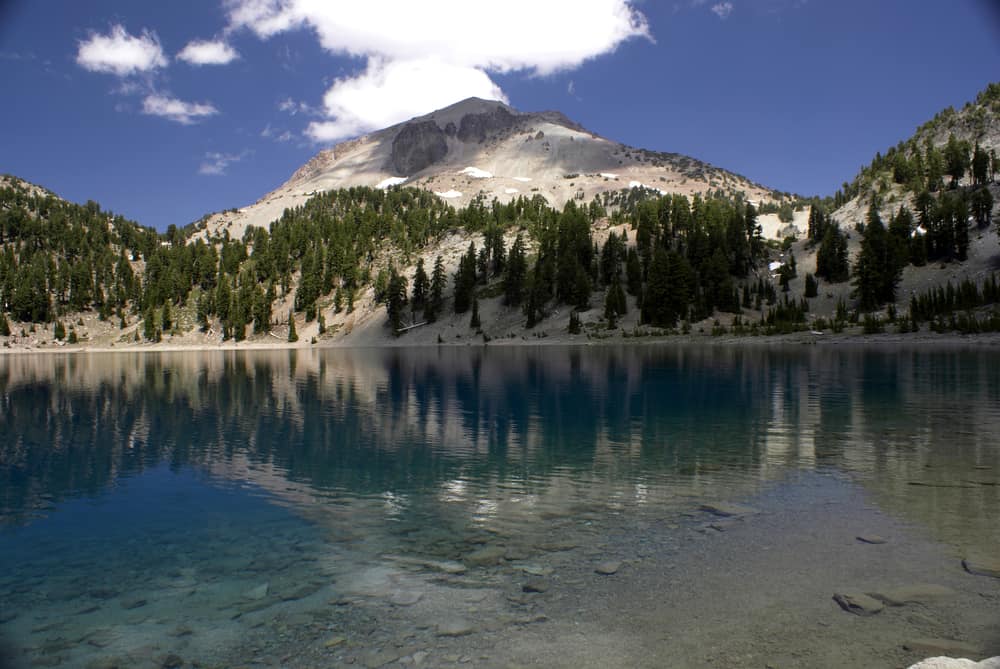 Length: 6.5 miles roundtrip
Elevation gain: 3500 feet
The trail to Helen Lake can serve many purposes. You can utilize the trail as a strenuous out-and-back hike, turning around at Helen Lake, or, if you're looking for more of a challenging adventure, you can plan to use Helen Lake as your basecamp to summit Mount Shasta.
This trail – no matter how far you choose to go – requires a wilderness permit. While many regard Helen Lake as merely the basecamp to summit Mount Shasta, it can also serve as a nice day hike for those not looking to go all the way to the top.
Depending on the time of year, however, you may still need specialty gear to traverse the snow, and you should not undertake this hike without researching the conditions first.
Begin at the Bunny Flat trailhead and head towards the historic Sierra Club Horse Camp Lodge. The first leg of the hike is a steady climb up through the trees. Horse Camp is two miles into the journey, and many will end their hike here to stay overnight.
From Horse Camp, the route continues up the mountain and through the valley. It's uphill every step of the way, but the views of mountains that continue to reveal themselves as you walk make it well worth it. The last part is the hardest, but you'll be rewarded with a viewpoint at Helen Lake.
Set up camp and spend the night or head back down the way you came. Either way, give yourself a pat on the back for ascending one of the toughest mountains in the area!
Pin This Guide to Hikes Near Mt. Shasta + Hiking Trails For All Levels!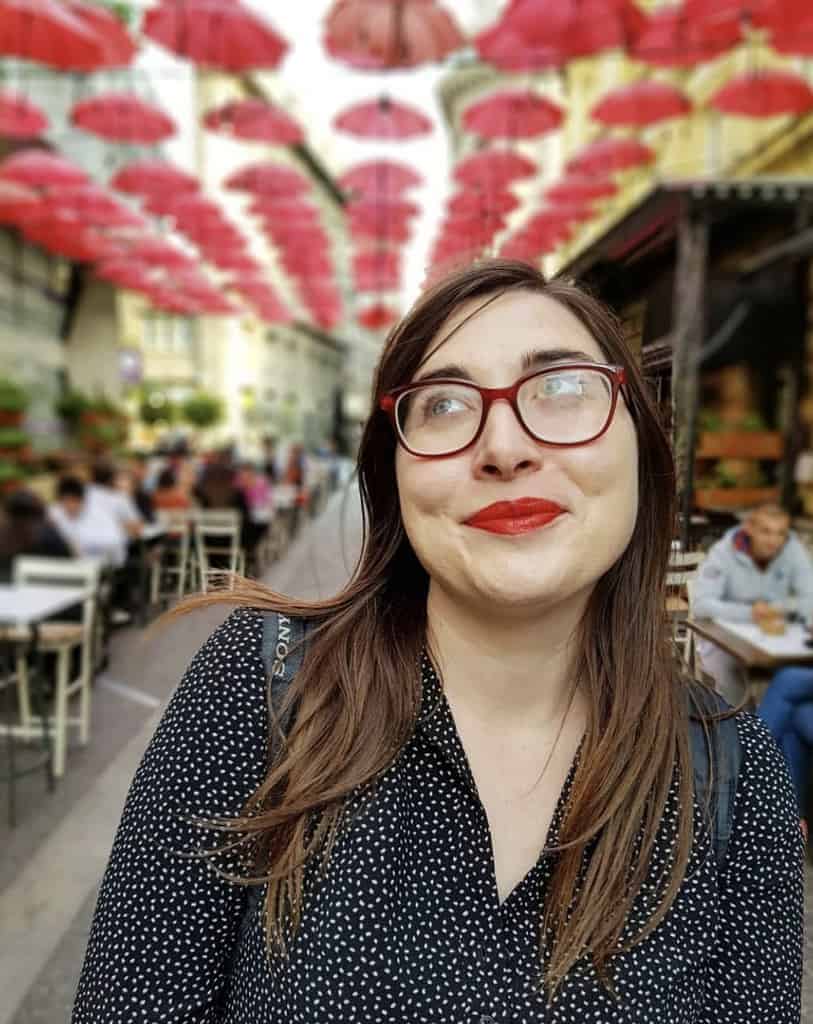 Allison Green is a travel blogger, writer, and podcaster who grew up in the Bay Area of California. She has spent time living in New York, Prague, and Sofia, but has returned to live in the East Bay. She has traveled to 60 countries before the age of 30 while running several digital travel businesses. Her writing and podcast have been featured in Forbes, CBC Canada, National Geographic, the Huffington Post, and CNN Arabic, amongst others. She's obsessed with dogs, wine, and anywhere she can see the ocean.