The Trinity Alps is a stunning mountain range within the Klamath Mountains System in Northern California.
While the Trinities are not as well-known as other areas within California, the Trinity Alps Wilderness is actually the second-largest wilderness area in the entire state, after Death Valley National Park.
In these Trinity Alps hikes, you'll find pine forests and large waterfalls that are surrounded by jagged granite peaks. The Trinity Alps also boast a single active glacier, the Grizzly Glacier, which may be more resistant to the effects of climate change than other glaciers in the state.
With the highest point in the area, Thompson Peak, clocking in at 9,003 feet, the Trinity Alps Wilderness Area is a great place to experience alpine conditions without having to endure extremely high elevations. Many who are sensitive to altitude choose to visit the Trinities rather than the higher peaks of the Sierra Nevada.
And if that wasn't enough to convince you to visit, get this: the Trinity Alps have the second-largest number of conifer tree species in the world. So grab your pack, your camera, and maybe even a tree identification guide, and hit the trails!
Wilderness permits are not hard to come by, but they are required to enter the Trinity Alps Wilderness. The most convenient Ranger Station for these Trinity Alps hikes is the Weaverville Ranger Station. Many of the hikes in this guide can be done as a day hike or by backpacking overnight.
Note: Most of these trails are only accessible from June through October due to snow pack.
Best Day Hikes in the Trinity Alps
Note: This post contains affiliate links, which earn me a small commission at no extra cost to you if you make a purchase using one of these links. Thank you for supporting this free content!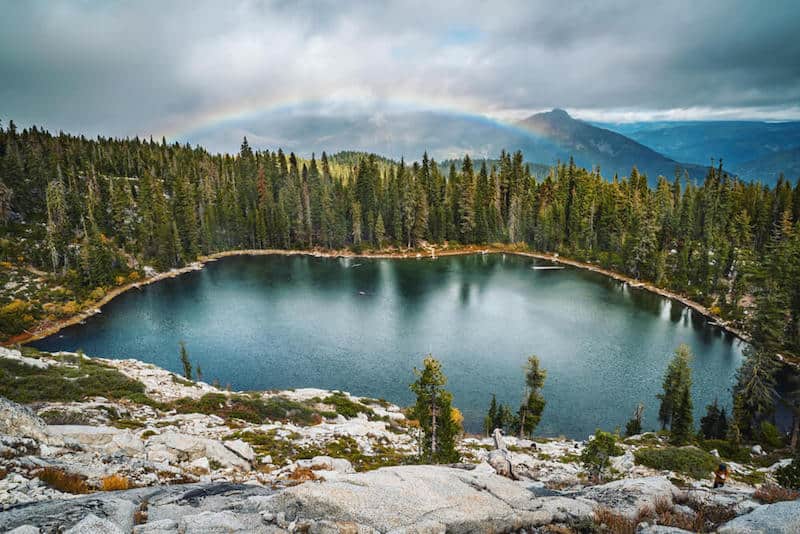 Boulder Lakes Trail
Distance: 3.9 miles round trip
Total Elevation Gain: 859 feet
The Boulder Lakes Trail is perfect for the whole family. You'll face some uphill on the way there, but the hike as a whole is not difficult. You are also allowed to bring your dog!
The drive to the trailhead is about 11 miles, and can be quite bumpy, so SUVs or trucks are recommended. The Boulder Lake Trailhead can be found off of Highway 3, where you can follow signs for the Boulder Lake Trailhead.
You will not have signal on Highway 3, so a paper map is recommended. Take a right on the dirt road labeled 37N52, (look out for views of Mt. Shasta!) and begin your hike at the parking area.
Make your way through pine forests and lush meadows on the Boulder Lakes Trail until you hit a fork after about 1 mile. Boulder Lake and Little Boulder Lake are 0.6 miles in either direction from the fork. You can't go wrong with either lake; both are a bright, clear blue color that will call you in for a swim!
If you'd like to extend your hike, there are several smaller lakes beyond Big Boulder Lake, such as Lilypad Lake.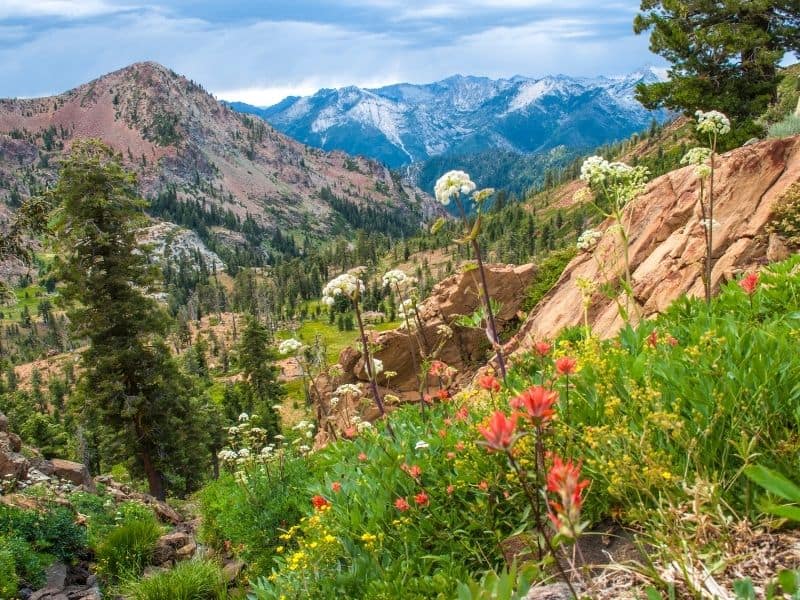 Tangle Blue Lake Trail
Distance: 6.1 miles round trip
Total Elevation Gain: 1,200 feet
The hike to Tangle Blue Lake is a lovely trek. You'll hike along a creek for most of the hike until you reach the lake, nestled in a granite bowl. This is a great option if you're looking for a shorter hike that still offers all the classic components of a Trinity Alps hike.
The parking area can be found off of Forest Service Road 17. Continue on Forest Service Road 17, past the PCT Parks Creek trailhead, and take a right on Highway 3.
Continue for 1.1 miles, then turn left onto the dirt road which is marked with a yellow sign with black arrows that says 39N20. The trailhead is 3.5 miles down the dirt road.
The hike begins on an old road that leaves from the parking area. Some hikers report that this trail can be tricky to follow, so make sure to look out for signs and bring a map.
After passing a gate immediately, you'll cross a bridge before the trail begins a very, very short switchback upwards.
After about a mile of hiking you will hit the boundary of the Trinity Alps Wilderness, where you'll diverge from the road. Follow the trail through meadows and rock fields before you hit Marshy Creek.
Continue on the Tangle Blue Lake Trail, where you'll have a half mile climb before you finally hit the beautiful lake. There is a trail that traverses around the lake, so make sure you get the views from every angle!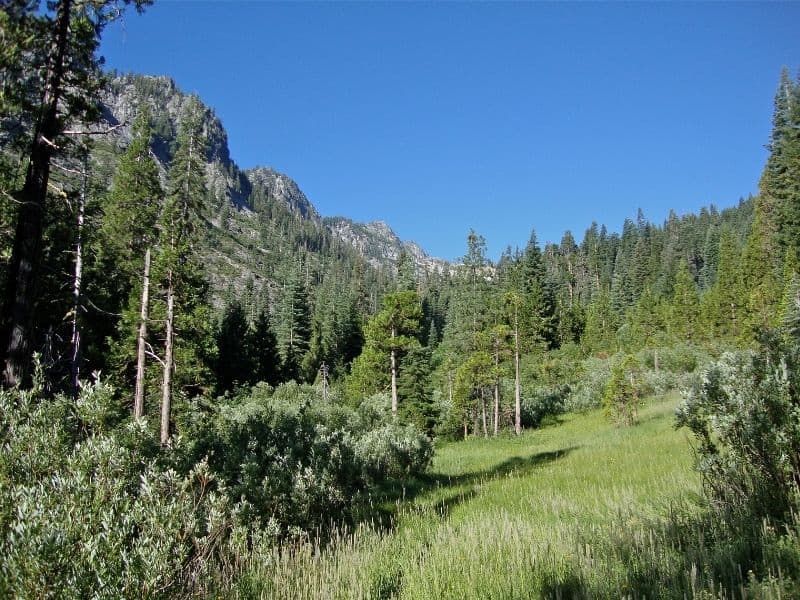 Hidden Lake Trail
Distance: 1.8 miles
Total Elevation Gain: 500 feet
Some hikers consider this the easiest trail in the Trinity Alps, as it is only a mile long (one-way), with fairly low elevation gain. This hike is a fantastic option to get a real taste of the Trinity Alps without too much uphill!
Hidden Lake, like most of the lakes in the area, is surrounded by gorgeous meadows and a large granite cliff.
You'll start at the Carter Meadow Summit Trailhead, which is a jumping-off point for many other hikes in the area. Follow signs for the Hidden Lake Trail, which begins heading due south before heading west.
You'll hike through a beautiful conifer forest before the trail becomes more exposed. From this section, you'll be able to see the Scott Mountains to the east.
The final section of trail before the lake is uphill, so you'll be rewarded for your climb with views of the lake! The lake is smaller than other lakes in the Trinities, but still offers swimming, camping, and viewing of the impressive granite cliff that towers above you on the east side of the lake.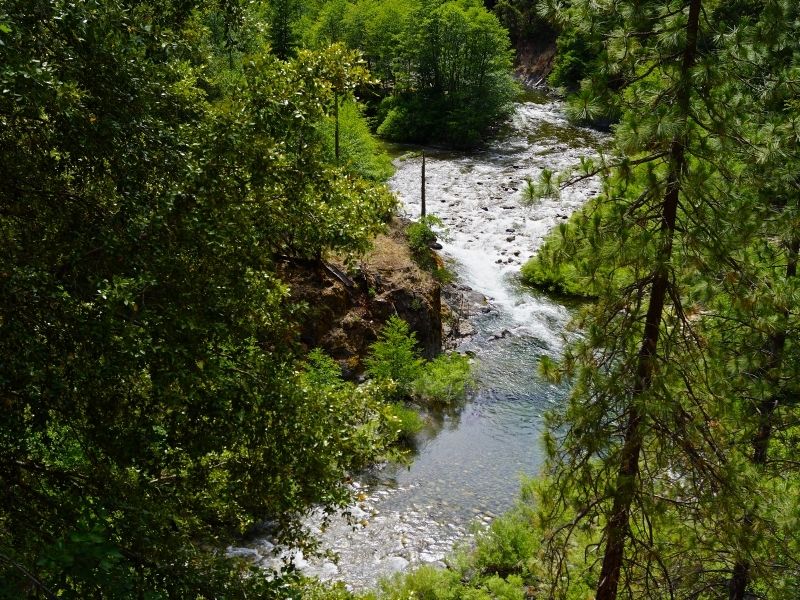 Porcupine Lake and Toad Lake
Distance: 3.4 miles round trip
Total Elevation Gain: 849 feet
Porcupine and Toad Lakes are a fantastic hike to do with kids who are good hikers! Toad Lake is a pretty easy hike from the trailhead (although it is uphill).
From there, you'll have the option to continue on the Pacific Crest Trail (PCT) for a short while to Porcupine Lake. Both lakes are fantastic destinations.
Begin at the Toad Lake Trailhead, which is down a long dirt road. The trailhead is definitely accessible to smaller cars, but the road may be easier with a car with higher clearance or 4-wheel drive.
Hike up through pine trees and wildflowers to Toad Lake, where camping is available. If you choose to continue the short way (about 1 mile) to Porcupine Lake, you'll be rewarded with views of famous Mt. Shasta and the Castle Crags rock formations.
If you want a really long hike, consider adding in a summit of nearby Mt. Eddy. This addition is best done as an overnight trip.
Canyon Creek Lakes Trail
Distance: 14.5 miles round trip
Total Elevation Gain: 2,629 feet
The Canyon Creek Lakes trail will have you climbing gradually up to the Upper Canyon Creek Lake, where you will begin climbing even more steeply! The stunning granite basin lakes and large boulders will make this uphill hike worth it.
Begin your hike at the Canyon Creek Trailhead. You have the option to only hike in the first 3 (mostly shaded) miles to the Sinks, an absolutely stunning little island between two arms of a rushing creek.
At around 6 miles, pass the junction with Boulder Creek Lakes Trail and switchback up to Upper Canyon Creek Falls.
Continue across Canyon Creek and up past the stone house before you finally continue up to Canyon Creek Lakes.
Swim in the sparkling blue lakes or sunbathe on the granite shore before turning around for the hike back down.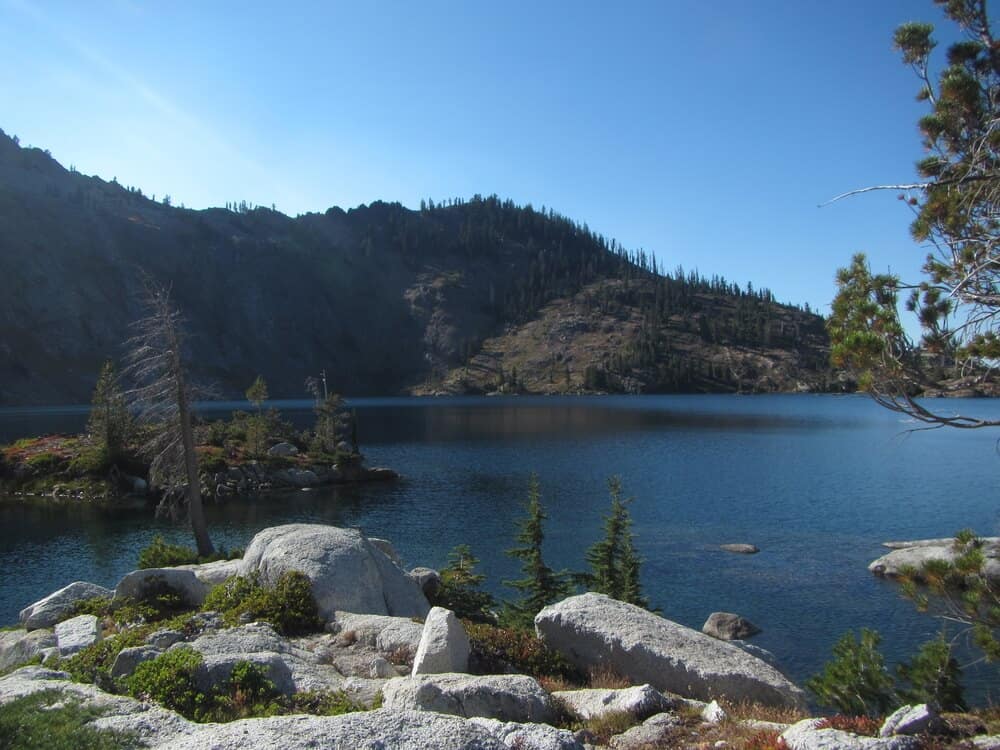 Caribou Lakes Trail
Distance: 16 miles loop
Total Elevation Gain: 4,251 feet
The Caribou Lakes Trail leads to a huge lake basin with amazing views of granite peaks.
Caribou Lake is the largest lake in the entire Klamath Mountains, and makes a fantastic destination (along with all the smaller lakes that dot the landscape along the way).
This trail can be done as a loop, so you'll have new scenery the entire time. You can also bring dogs on this trail.
While this hike can be done as a long day hike, it is a popular backpacking loop. Make sure to get a Wilderness Permit before you set out.
This trail can get crowded, so it is best to start early. Begin at the New Caribou Trail at the Big Flat trailhead, near the Salmon River. After fording the river, you'll follow the New Caribou Trail to switchback up Caribou Mountain.
You'll have beautiful views of nearby mountains as you climb. After a few miles of climbing, you'll hit a saddle at around 6,000 feet.
Continue on to lunch at Brown's Meadows, which is a great place to refill water (sterilize it first) if you need it. After the meadow, you'll ascend a few more switchbacks before you hit a fantastic overlook of Thompson Peak.
Continue past Snowslide Lake to massive Caribou Lake. Relax on the granite or swim to one of the islands in the middle. Camping is available (don't camp on the meadows).
Continue on to the Old Trail to summit Caribou Mountain and return to Big Flat. The climb out of the Caribou Basin is extremely tough, but the views will make it worth your time and effort!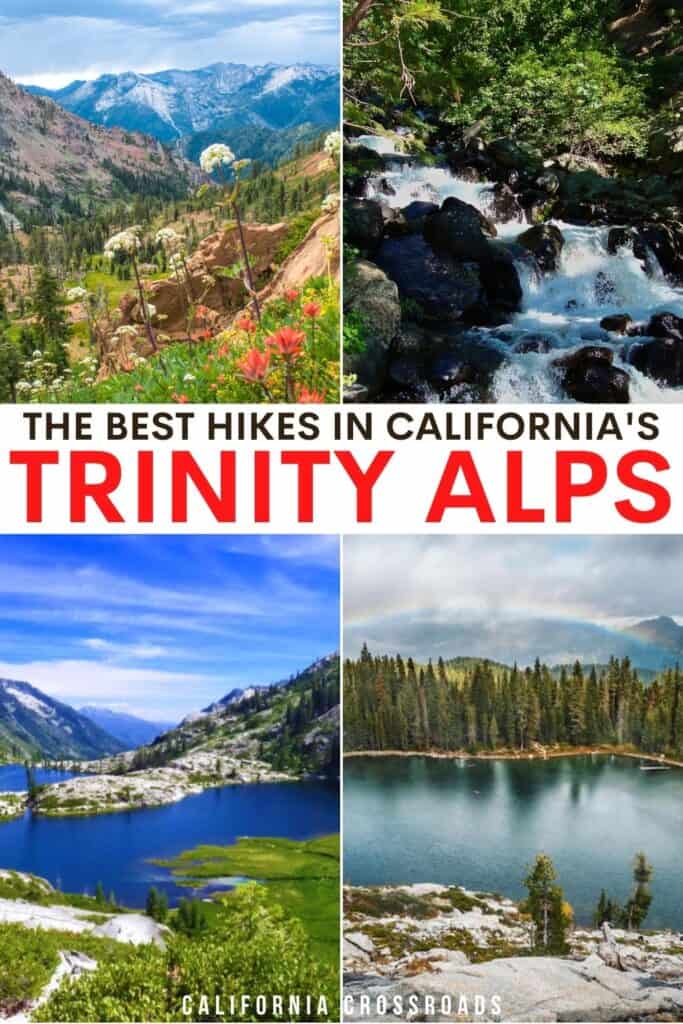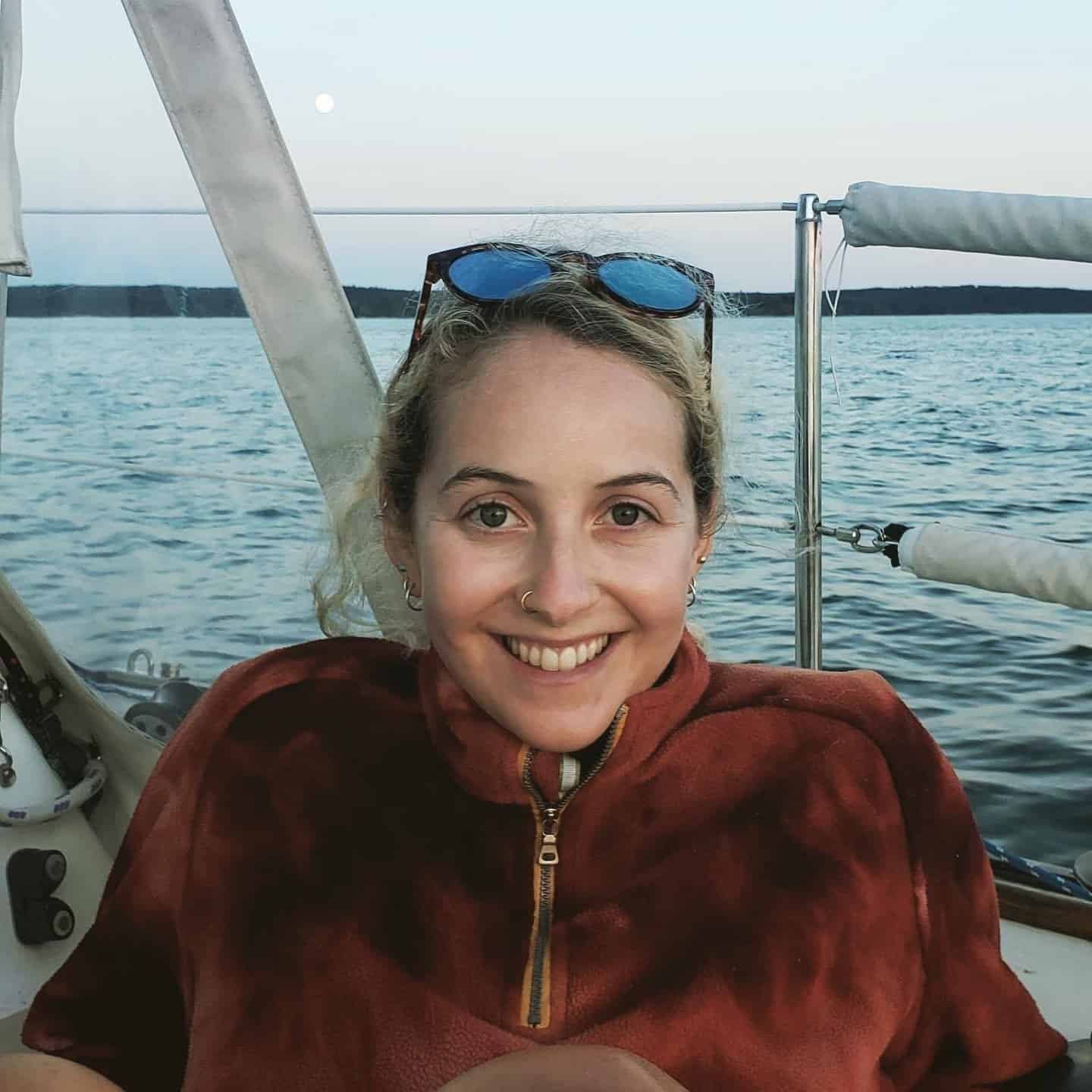 Lena is an outdoor recreation enthusiast born and raised in the San Francisco Bay Area. After going on her first camping trip at 3 months old, she hasn't stopped since. While her backpacking adventures have taken her to wilderness destination across the country, California's mountains and deserts will always be her favorite.