Angel Island State Park sits in the middle of the San Francisco Bay, enjoying beautiful views of Marin County, the San Francisco skyline, Alcatraz, and the surrounding bridges and hills of the Bay Area.
Whether you're interested in hiking, history, or simply a relaxing day trip in the Bay Area, Angel Island offers a ton of unique experiences.
Here are all the best things to do in Angel Island State Park on your next visit — plus how to get there from San Francisco and from Tiburon!
A Brief History of Angel Island
Note: This post contains affiliate links, which earn me a small commission at no extra cost to you if you make a purchase using one of these links. Thank you for supporting this free content!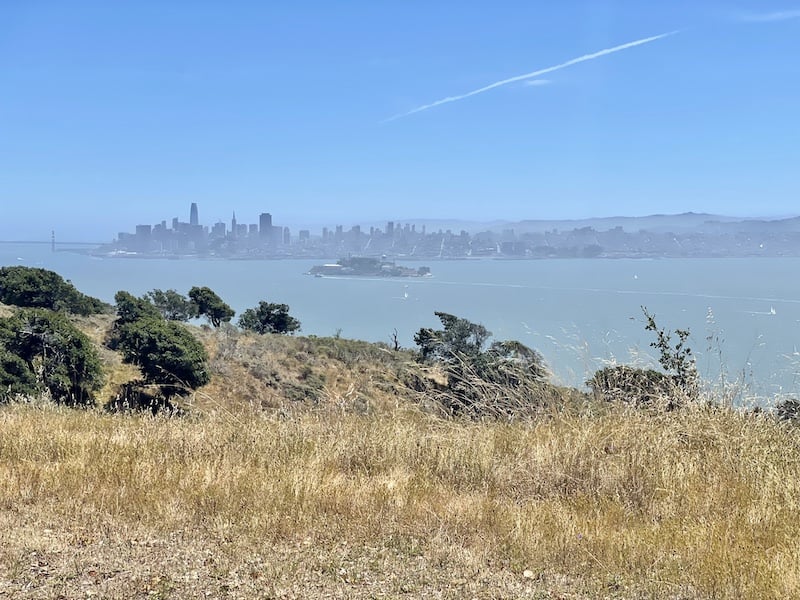 Angel Island has been inhabited for over 3,000 years, when it was an important fishing and hunting site for the Coastal Miwok Native Americans, the original people of much of the Bay Area.
In the past 200 years, it has also served as a military base, an immigration processing station, a detention center for prisoners of war during World War II, and as the Nike missile base during the Cold War.
It was made a California state park in 1958 and has been welcoming day trippers and visitors ever since!
How to Get to Angel Island State Park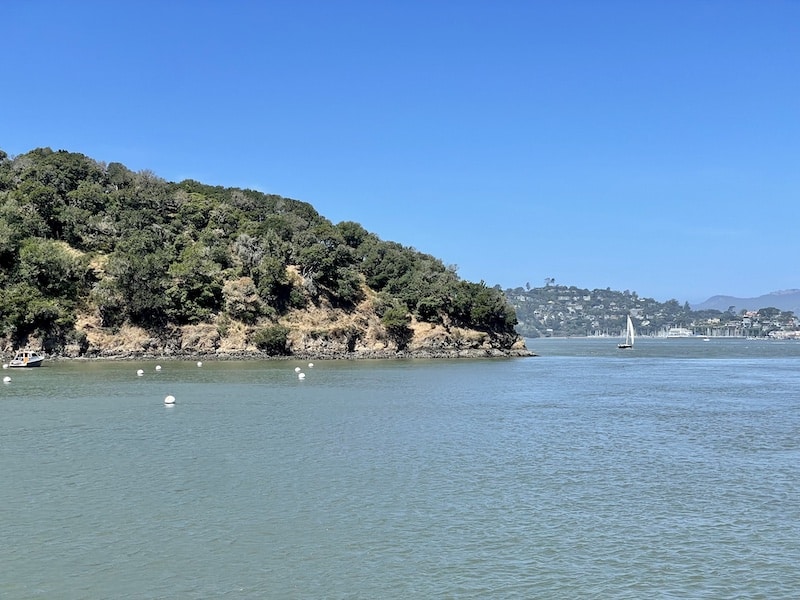 Getting to Angel Island State Park is quite easy via the two Angel Island ferries, which are run by different companies and have different hours or prices.
There used to be a third ferry service option, Blue and Gold Fleet, which departed from Pier 41 / Fisherman's Wharf area, but they no longer seem to offer ferries to Tiburon or Angel Island.
Depending on where you're coming from in the Bay, you'll either take the San Francisco ferry or the Tiburon ferry. Both ferries arrive at Ayala Cove, which is the main entry and exit point to the state park.
If you're a tourist staying in San Francisco or you live in San Francisco proper, the ferry ride departing from San Francisco will likely be the better option, since you will not have to pay bridge fees for the Golden Gate Bridge or parking in Tiburon.
However, if you're traveling from somewhere else in the Bay Area, especially the North Bay, Marin County, or East Bay, the Tiburon ferry will typically be a better deal.
There may be bridge fees (East Bay people will need to take the Richmond Bridge), but the ferry is a good $13 cheaper, and parking in Tiburon is cheaper and easier than in San Francisco.
All ferry tickets — both from San Francisco and from Tiburon — include the entrance fee to Angel Island State Park in the ticket price, and you can bring a bike on board for no extra cost.
No matter where you're coming from, Angel Island is the perfect Bay Area day trip!
Note: If you're lucky enough to have a private boat, you can dock it at Angel Island for a day use fee of $15.
San Francisco to Angel Island State Park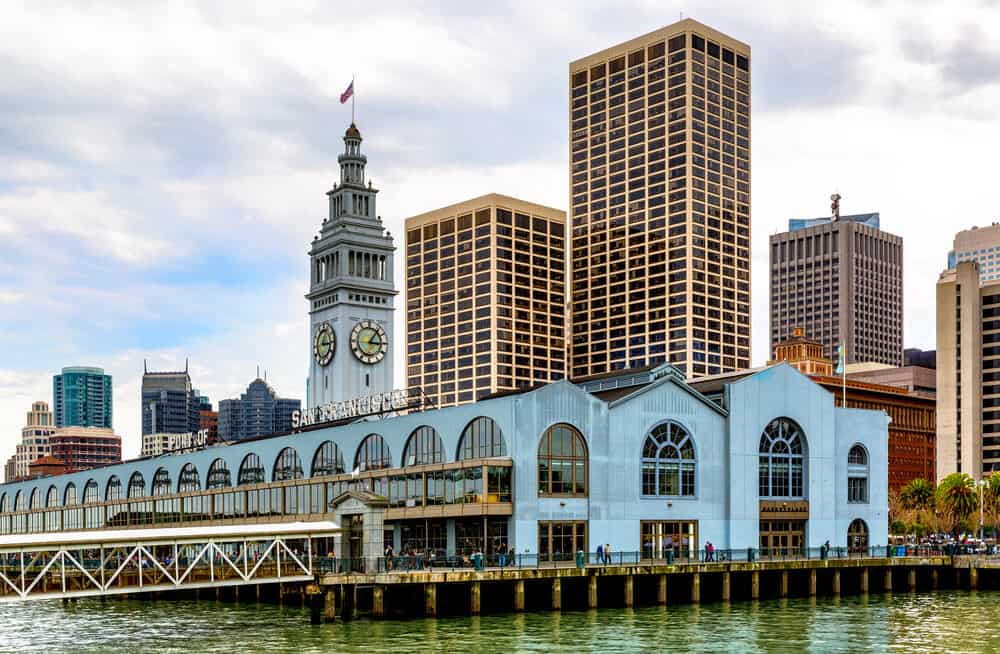 From San Francisco to Angel Island, you'll need to take the Golden Gate Ferry, which has departures from Gate B of the San Francisco Ferry Terminal (aka the San Francisco Ferry Building) seven days a week.
Be sure to get to the ferry dock at least 15 minutes early so that you will be able to board.
The ferry tickets to Angel Island cost $14 each way, but you will need to buy a roundtrip ticket while leaving from San Francisco, meaning it costs $28 and is the more expensive option.
The ferry takes about 30 minutes and you can enjoy beautiful views of the San Francisco Bay, the Golden Gate Bridge, and Alcatraz Island as you cruise to Angel Island.
Tiburon to Angel Island State Park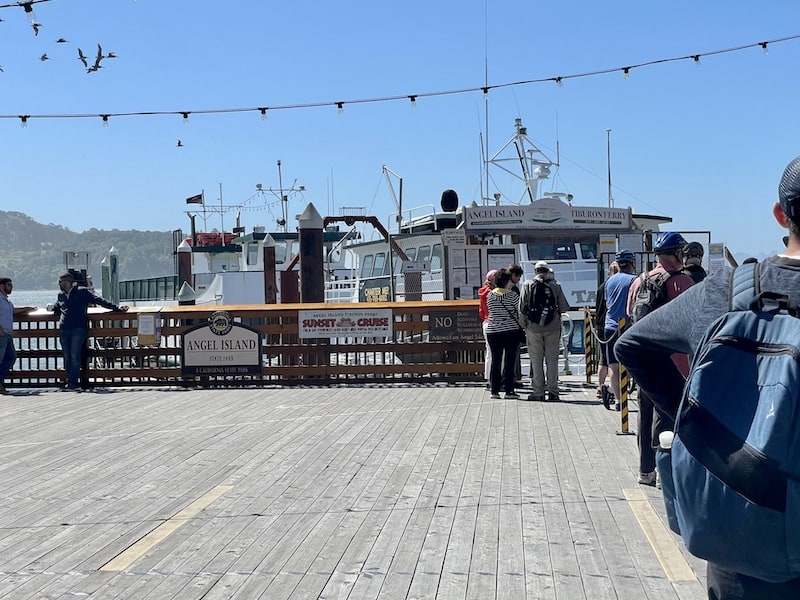 It's cheaper to get to Angel Island from Tiburon, where tickets cost $15 and are roundtrip via the Angel Island Tiburon Ferry company.
Buying your tickets in advance online is highly recommended as these ferries are a little smaller than the San Francisco ones, and they can sometimes fill up.
The ferry takes about 15 minutes and you can enjoy stunning views of cute Marin coastal communities like Sausalito, Belvedere Island, and Tiburon.
No matter which ferry you take, be sure to note the last ferry departure time and be sure not to miss it! It changes throughout the year and depending on the day, so you'll want to check the final departure time upon arriving to Angel Island.
Top Things to Do on Angel Island
Take a tram tour around the island.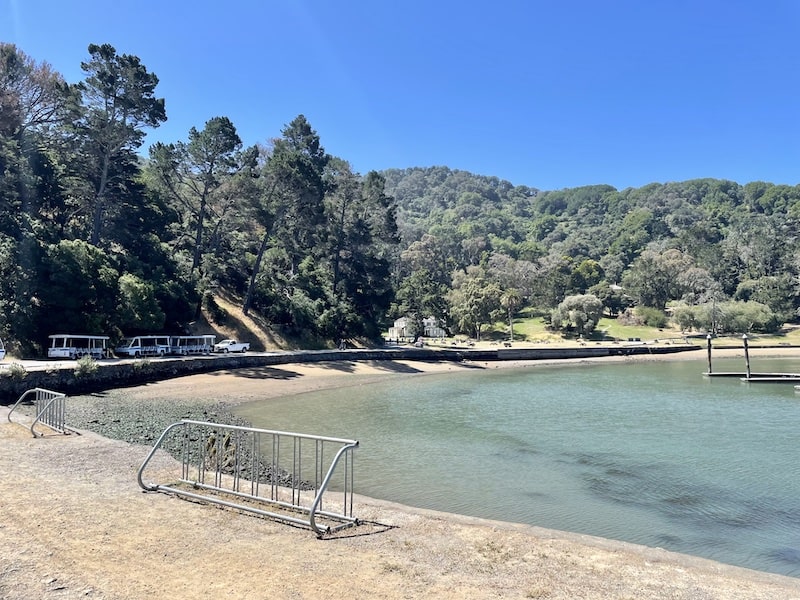 One of the best things about visiting Angel Island is that it is very accessible for all types of travelers, including people with disabilities, the elderly, and families with young children.
For people with mobility limitations or families small children, a guided tour via a tram is the best way to experience Angel Island State Park.
The tram tour circles Perimeter Road (which encircles the entire island) and stops at several places, including at Battery Ledyard, which is where you can see one of the best views of San Francisco and Alcatraz Island from Angel Island!
Book your tram tour in advance via the Angel Island Company to make sure you have a seat if this is way you want to experience Angel Island!
Note: If anyone in your party uses a wheelchair, be sure to email them and specifically request the wheelchair-accessible tram.
The Angel Island Tram takes one hour to experience and costs $17 per adult, $16 per senior, and $11 per child (5-12).
Learn Angel Island history at the Visitor Center or on a docent-led guided tour.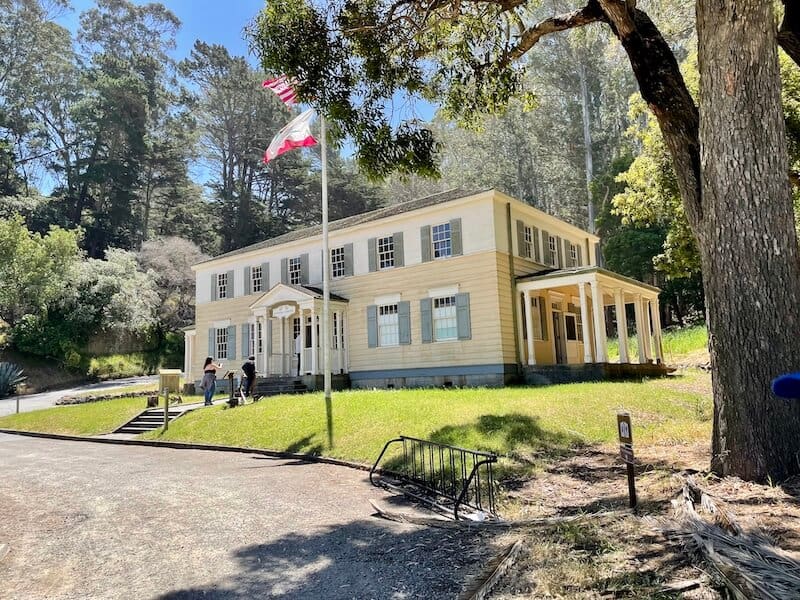 There are several themed tours that explore the history of the island, which you can learn about here. And even if there's not a tour on the day you want to visit, you can learn more at the Visitor Center in Ayala Cove.
One option is the Camp Reynolds guided tour, which focuses on California's role in the Civil War and looks at some of the oldest buildings on the island… and can include a cannon firing!
The tour lasts 1.5 hours and must be booked in advance. It's available year-round Wednesday through Sunday.
Another option is the Fort McDowell Guided Tour, which explores this important U.S. military site and focuses on the WWI/WWII history of this section of the island.
The tour lasts 1 hour and is only available on Fridays with advance reservations.
Taking a tour is a great way to get a better idea of the historic sites of Angel Island and how the island has changed over the last 150+ years.
Visit the Immigration Station.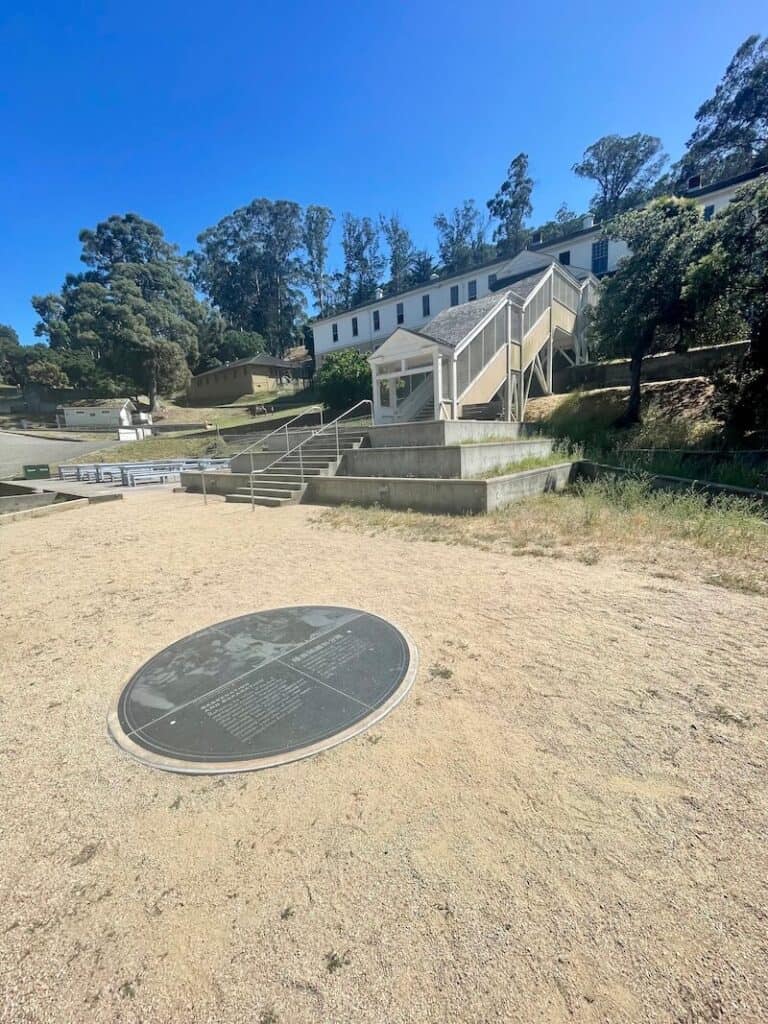 The US Immigration Station is located near Ayala Cove, about a 1 mile walk away via the paved Perimeter Road (there's a shortcut to the ferry area via the Northridge Trail, which has steps instead of paved road).
It's a must-see when you're visiting Angel Island!
The Immigration Station is where 500,000 immigrants from all over the world — mostly from Asia — passed through to enter the United States.
Between 1910 and 1940, it was the largest immigration center in California, and was also known as "The Ellis Island of the West".
But that nickname overlooks the historical reality of how different the immigration experience between Ellis Island and Angel Island was.
Ellis Island welcomed its mostly-European immigrants largely with open arms, accepting around 98% of its arrivals and detaining 20% of its applicants, typically only for short periods of time.
On the other hand, Angel Island enforced many of the racist, anti-Asian laws such as the Chinese Exclusion Act of 1882 and the Immigration Act of 1917 which created the "Asiatic Barred Zone".
Between those acts and several others, there were strict limitations or outright bans on immigration for most AAPI people
A full 60% of the immigrants who arrived on Angel Island were detained — some for over two years — and many would-be immigrants were deported and never given the chance to live in America, even after having made the long journey overseas.
Check out the Angel Island Immigration Museum.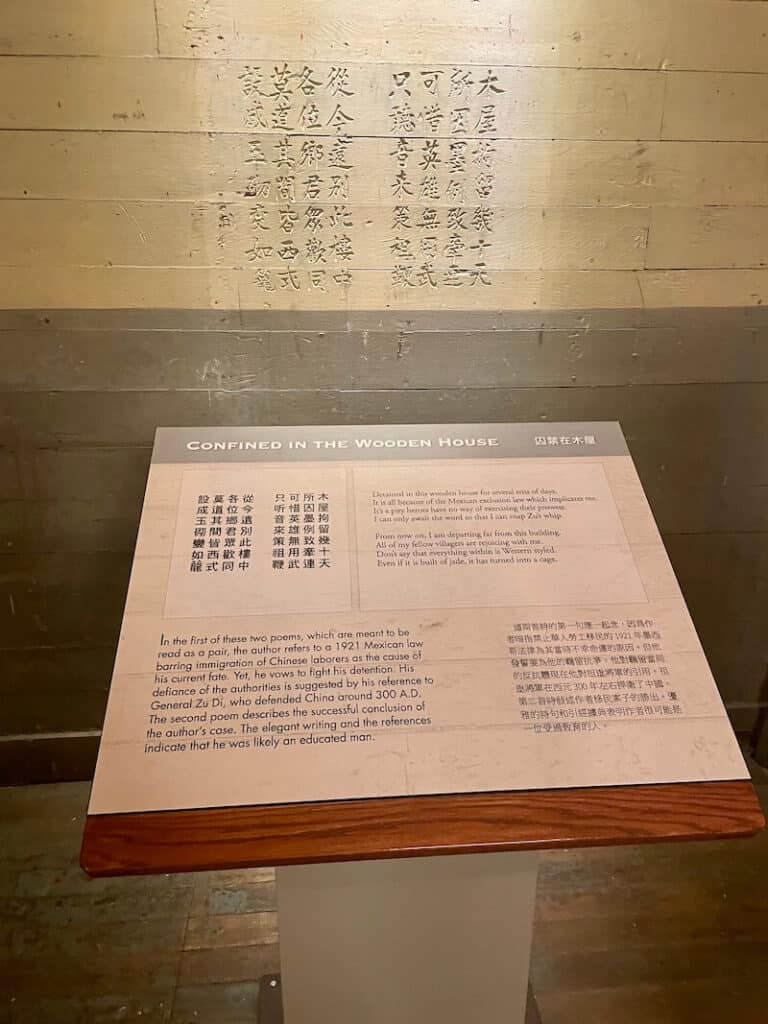 The Angel Island Immigration Museum does an excellent job reckoning with this historic wrong.
Chinese immigrants were the largest group who were detained at Angel Island, and many for long periods of time.
To cope with the injustice and uncertainty of how long they would be detained on Angel Island, many detained Chinese people passed the time and processed their disappointment and anger at how they were treated by writing poetry.
The poetry was carved into the walls of certain detention buildings at the Immigration Station, and now, an exhibit showcases these Chinese poems and translates them so that all who visit the museum can understand the poems.
The museum does a good job letting the stories of those harmed by unequal US immigration policies be told by the people who experienced them.
There is also a very touching exhibit where people can leave messages for the people who passed through Angel Island.
Many are notes left by the children and grandchildren of immigrants who passed through, thanking their elders for what they went through in order to try to provide opportunity for their next generation.
It's a sobering place to visit, but visiting the Immigration Station Museum is an essential part of understanding the complex history of Angel Island.
Bike around the island.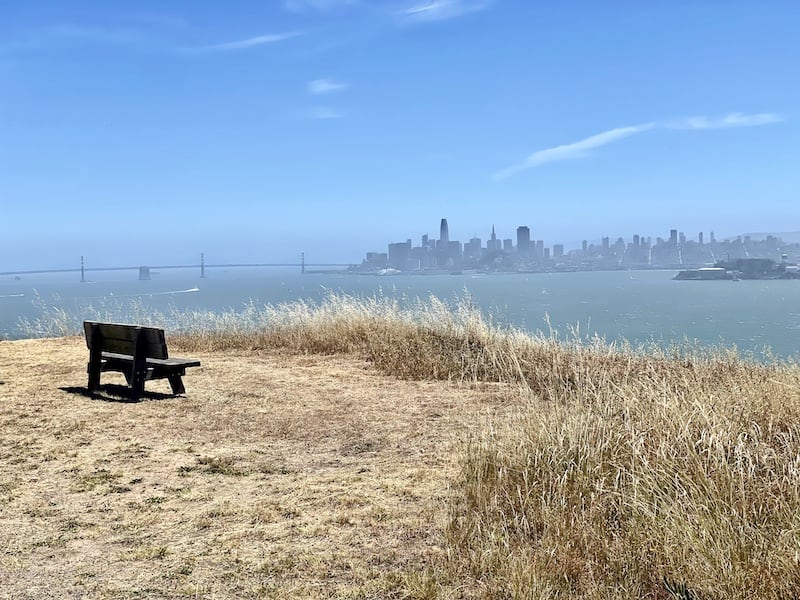 One of the best things about Angel Island is how bike-friendly it is!
There's no extra charge for bringing your own bike on the ferry to Angel Island, and there are also bike rentals available on the island if you don't have your own.
You can rent a mountain bike for $16 per hour of $64 for a full day (including helmet) or an e-bike that can go up to 20 mph for $26 per hour or $99 for a full day.
You can bike around the entire Perimeter Road or take mountain bikes on the designated bike trails (the paved Perimeter Road and the Fire Road Loop).
Note that bikes are not able to be reserved and are strictly first-come, first-serve so if you really want to bike around Angel Island and you don't have a bike of your own, I'd suggest taking one of the earlier ferries!
Hike to the top of Mount Livermore for the best views of the bay.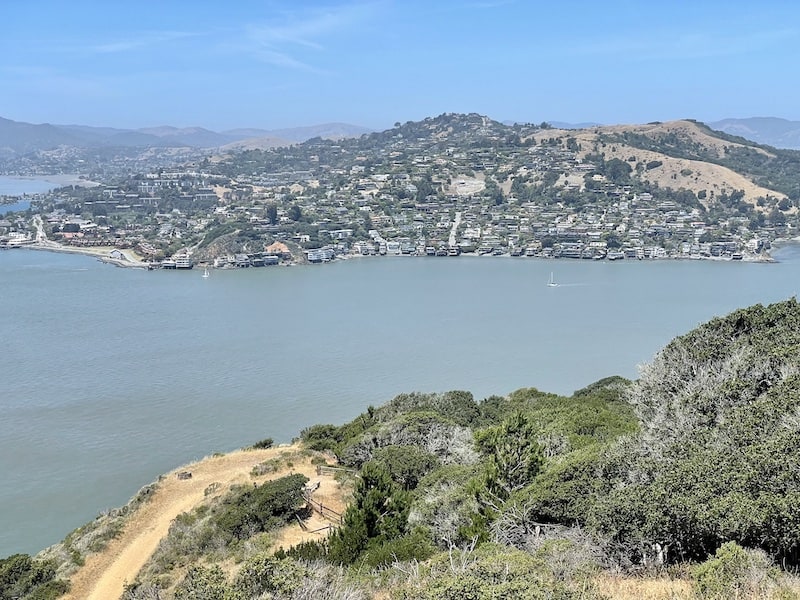 There are several beautiful hiking trails on Angel Island – in fact, that'll be the subject of a whole forthcoming post.
If you want to hike to the highest point on Angel Island, Mt. Livermore at 788 feet above sea level, I suggest the scenic Sunset Trail.
It's a beautiful hike and not too difficult, though there are definitely some steep inclines at the end!
When you reach the top of the trail, there is a really overgrown brushy area of the trail. Be sure to continue through this to reach the actual summit!
You don't have to go back through the brush — the trail continues a little bit from the summit, then loops back to the Sunset Trail so that you finish it as an out-and-back route that returns the same way you came.
You can also stop when you reach the fire road and continue your hike if you want to keep exploring more of the area!
Admire the three bridges that connect the San Francisco Bay.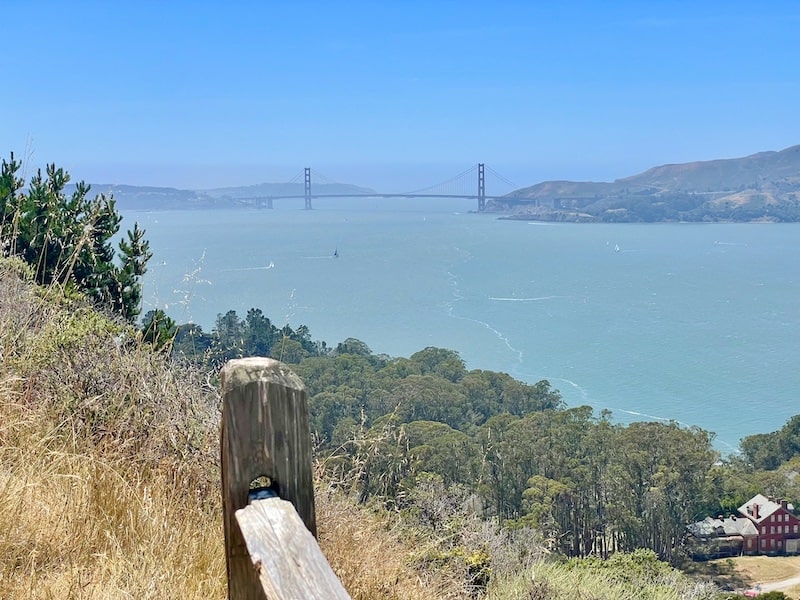 From different hiking trails along Angel Island, and even from the Perimeter Road, you'll have the opportunity to see three of the most important bridges that keep the Bay Area metro area moving.
Of course, there's the world-famous Golden Gate Bridge, which is easy to see in all of its iconic red glory.
But you can also see the Bay Bridge, which spans Treasure Island in the middle, as well as my personal favorite bridge, the Richmond Bridge, off in the distance.
I love all of the bridges of the Bay Area and think they're all spectacular in their own right and love having the opportunity to photograph them from different angles.
Visit Fort McDowell.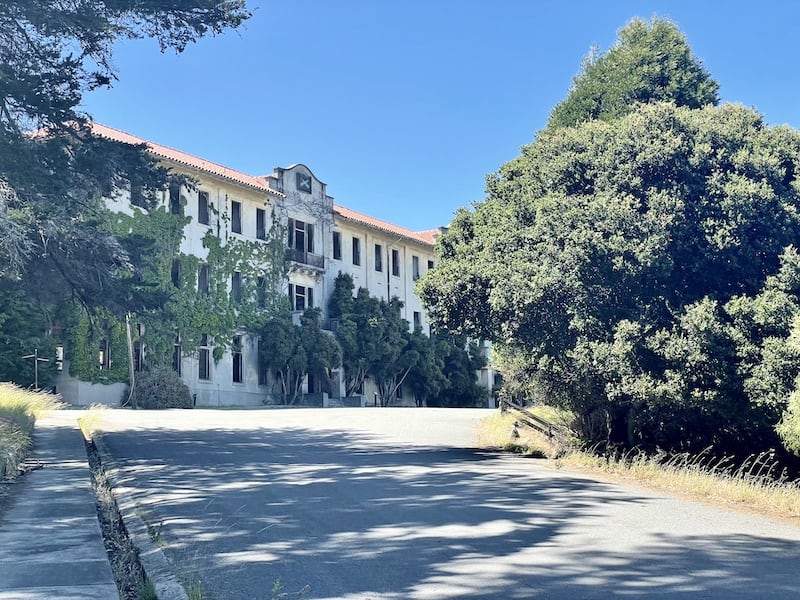 Fort McDowell was the East Garrison of Angel Island and was used during World War I and World War II.
It's a beautiful area with many different buildings left in varying states of disrepair. Many areas are closed off to the public and you can only see the exterior, but you can walk inside the former hospital at Fort McDowell on the first floor.
It's a beautiful yet eerie area, and if you're a fan of exploring abandoned buildings, this is the place for you!
Relax on the beautiful Quarry Beach.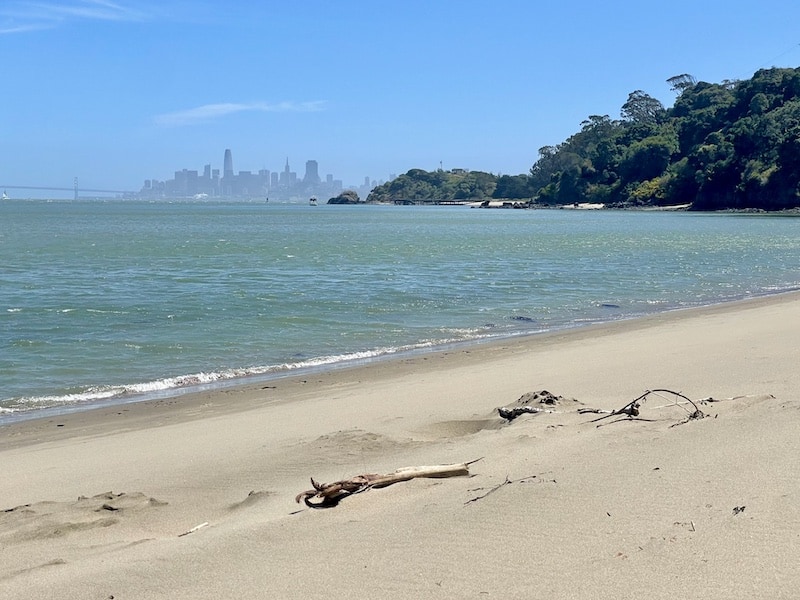 Did you know that Angel Island has a gorgeous sandy beach that's almost always totally empty? Quarry Beach is accessible via the Fort McDowell area and it's simply stunning.
When we went, there was no one else on the beach despite it being a beautiful, sunny Sunday afternoon.
Watching the boats sail around the San Francisco Bay from this quiet beach is simply one of the most spectacular things to do on Angel Island.
Enjoy a picnic lunch.
There are a number of spectacular picnic areas at this California state park!
There are ample picnic tables spread across the park area, with a large concentration in Ayala Cove in front of the Visitor Center.
There are also several picnic tables by the Immigration Center and in Fort McDowell area; however, these aren't the most scenic settings, so I'd opt elsewhere unless it's the thing that really makes the most sense timing-wise.
There are also some benches along the trails — we ate our picnic lunch on a bench while hiking up to Mt. Livermore, with a spectacular view over the Bay.
Quarry Beach does not have any picnic tables, but it would also make a fantastic place to enjoy a picnic.
Grab something to eat at the Angel Island Café.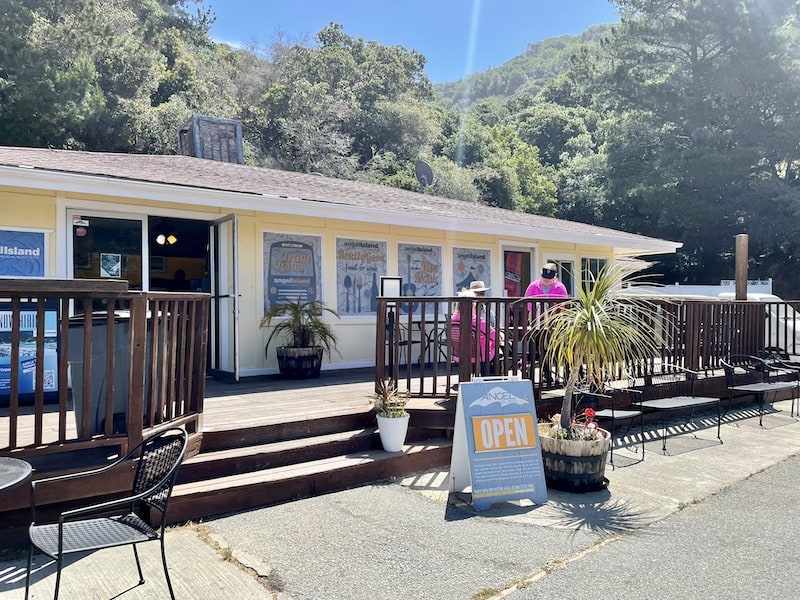 The Angel Island Café is the perfect place to grab a bite to eat if you didn't bring a picnic lunch, so long as you are not visiting on a Monday or a Tuesday when it is closed.
The Café is open from 10 AM to 3 PM on Wednesday-Friday and 10 AM to 4 PM on weekends, and offers a variety of salads and sandwiches that you can enjoy.
There's also the Cantina which serves up tacos and other Mexican-style street snacks (and often features live music on weekends!) but this is currently closed.
Snag one of the coveted campsites.
There are a handful of campsites available on Angel Island State Park but they typically book up very fast, as this is one of the best places to camp near San Francisco!
If you want to try your luck, check out ReserveCalifornia.com to see if any campsites are available in the near future.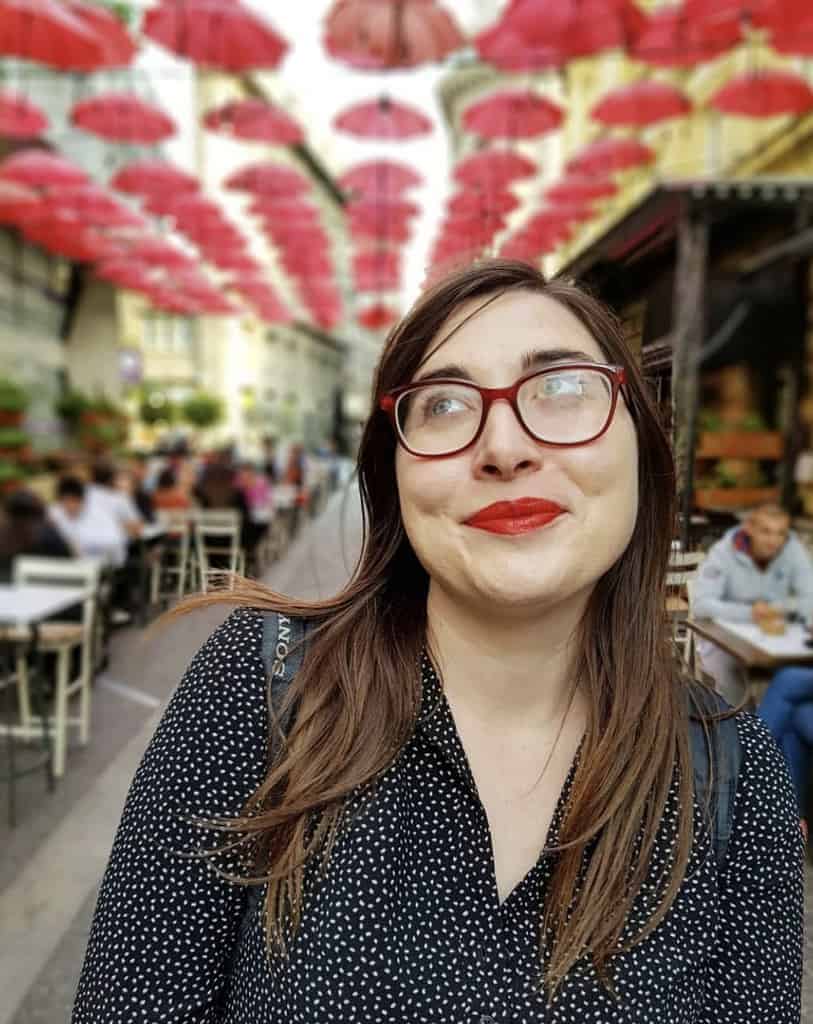 Allison Green is a travel blogger, writer, and podcaster who grew up in the Bay Area of California. She has spent time living in New York, Prague, and Sofia, but has returned to live in the East Bay. She has traveled to 60 countries before the age of 30 while running several digital travel publications. Her writing and podcast have been featured in Forbes, CBC Canada, National Geographic, the Huffington Post, and CNN Arabic, amongst others. She's obsessed with bouldering, houseplants, other people's pets, and anywhere she can see the ocean.