The beautiful Golden Gate Bridge is one of the main highlights of any San Francisco itinerary. It's a symbol of Northern California and it's simply spectacular!
And while there are myriad beautiful viewpoints of the Golden Gate Bridge scattered throughout the city, I love the changing views you get as you cross the Golden Gate Bridge on foot.
There are multiple ways to cross the Golden Gate Bridge as a pedestrian, but I'll tell you the most common first, and then tell you my insider secret favorite way. It's a little longer, but it's far more scenic!
But first, let's talk a bit of history and logistics.
A Brief History of the Golden Gate Bridge
Note: This post contains affiliate links, which earn me a small commission at no extra cost to you if you make a purchase using one of these links. Thank you for supporting this free content!
The Golden Gate Bridge began construction in early January of 1933 and finished on April 19, 1937.
The beautiful Golden Gate Bridge stands at 220 feet above the water, with its towers standing at 746 feet above water, nearly 500 feet tall apiece.
They were the world's tallest towers on a suspension bridge for over 50 years: until 1993, when the Mezcala bridge in Mexico beat it.
Joseph Strauss originally came up the overall design of the bridge, but he finished it with the help of Leon Moisseiff (the Manhattan Bridge engineer) to finalize the suspension bridge design.
Local architect Irving Morrow helped design the finer points of the bridge, such as the world-renowned Art Deco touches like the tower detailings, streetlights, and walkways, and brought the final design to life.
He also helped pick the famous color choice — the 'international orange' color which is used for its vibrancy as well as for its safety, as it is extremely visible even in the foggy Bay.
How to Get to the Golden Gate Bridge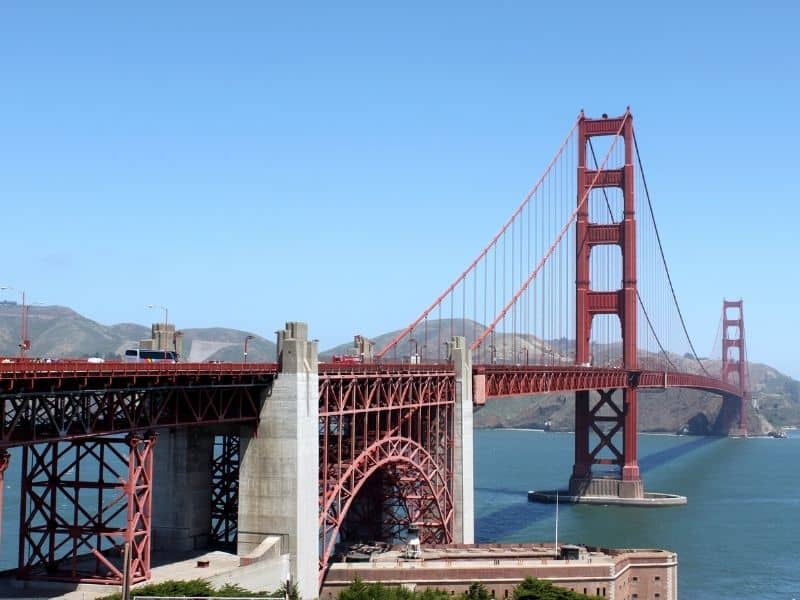 Most people start their trip crossing the Golden Gate Bridge on the San Francisco side of the bridge (the Southern end). This makes sense as most people are staying in the City when they are crossing the bridge.
Unless you are staying in Marin County, it doesn't really make sense to cross the bridge from the North side of the Golden Gate Bridge.
You will rack up bridge tolls ($6 for a return trip across the bridge), there are fewer parking options, and the parking is no better or safer.
For that reason, this post will focus on walking the Golden Gate Bridge starting in San Francisco, walking to the Marin side, and returning to the San Francisco side of the bridge.
By Car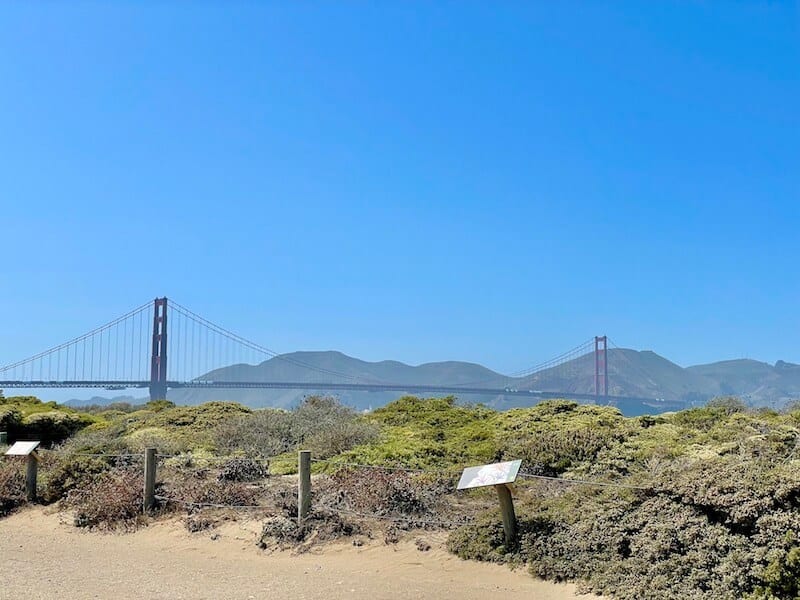 Getting to the Golden Gate Bridge by car is probably the most common way, but it's not without its pitfalls, unfortunately.
Car break-ins are incredibly common, so common in fact that the Golden Gate Bridge website itself says that there are "tens of thousands" of smash-and-grabs from GGB parking lots within the two-year period they analyzed — and that's only gotten worse since Covid.
There are some things you can do to protect yourself, such as hiding your valuables, but frankly, people will just smash in the windows to access the trunk button, so that is not a guarantee either. Even if they don't manage to get anything, you may end up with a hefty fee to replace your car windows.
I hate to be negative, but this is a persistent problem in the Bay Area, and I'd hate to mislead a visitor and have it ruin their trip.
If you do want to go by car, I suggest parking at a further away lot — such as the Crissy Beach parking lot (East Beach), which offers free parking! — and taking the longer scenic route which I outlined below.
The Crissy Beach parking area is really busy with beachgoers, windsurfers, and the like, so opportunistic would-be thieves have a lot less opportunity.
If you are undeterred and want to try parking somewhere near the Bridge, there are plentiful options, such as the Battery East Parking Lot, but keep in mind my warning!
There is also parking at the Golden Gate Bridge Visitor Center, but it is limited. However, it is better patrolled than other places, so you are probably safe to park here — if you can find a spot!
Note that the Welcome Center parking lot is closed on weekends and holidays between 11 AM and 5 PM, to encourage people to take public transit or rideshare. The Vista Point parking lot at the north end and the Merchant Road lot (also south end) are also closed during this time period.
By Rideshare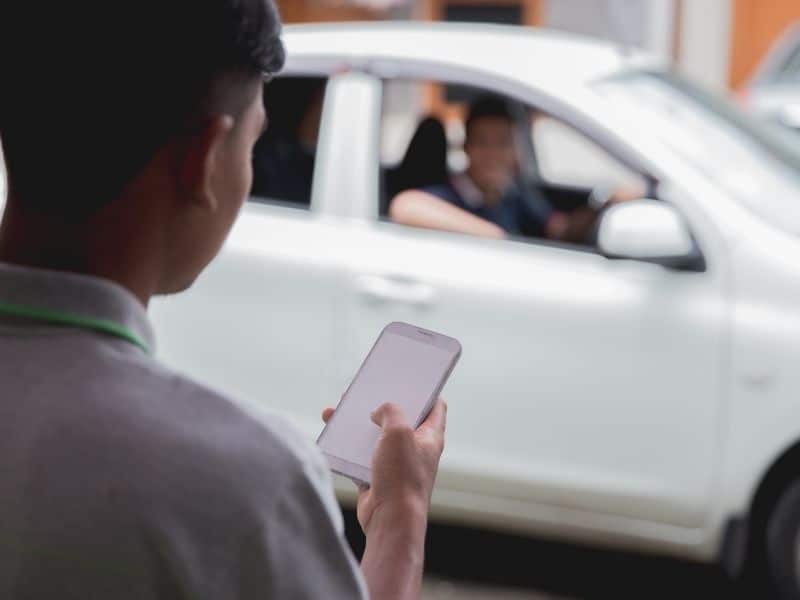 If you don't want the hassle of finding Golden Gate Bridge parking and worrying if your car will be OK, or you simply don't have a car during your visit to San Francisco, no worries! This is actually one of the preferable ways to get to the Golden Gate Bridge from SF.
I've checked out prices on Uber for common departure points within the city of San Francisco, for reference. Your actual prices may vary, but this is what I found when I searched.
Haight-Ashbury / Golden Gate Park: $15 USD
Embarcadero / Chinatown / North Beach (Downtown San Francisco): $17 USD
Mission District / Castro: $20 USD
All these prices are one-way, so you'll have to factor in return transit as well. However, if you're traveling in a group, this may end up rather affordable.
A group of 4 coming from downtown SF will pay about $8.50 per person return!
By Public Transit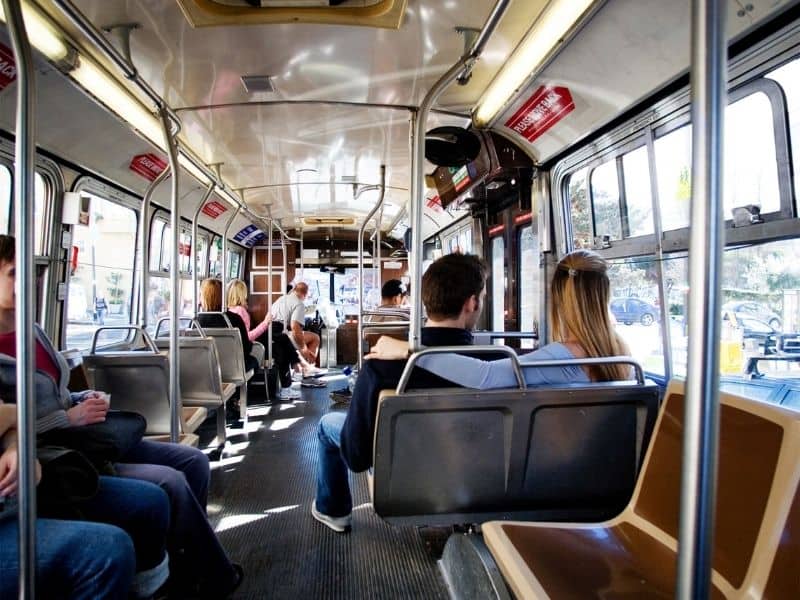 I'll readily admit I don't love San Francisco's public transportation system.
Having lived in NYC for nearly a decade, my standards are high, and as often as I'd complain about the crumbling subway infrastructure there, San Francisco wishes its transit was as good as New York's.
That said, there are a handful of public transit options to get to the Golden Gate Bridge (the south end of the bridge).
Golden Gate Transit is the bus line you'll want to use. It costs $5 USD in cash or $4 USD with a Clipper card or Clipper app (recommended), each way. 
Insider Tip: Note that if you pay with cash, the drivers do not give back change — any change is given as a "Change Card" which you can use on future bus rides. I suggest having exact change or using the Clipper app.
This is definitely the most affordable way to go if you are traveling solo or as a couple/group of two. However, if you are in a 3-4 person group, rideshare may shake out to be the same.
There are several places where you can board a bus to the Golden Gate Bridge.
From the downtown/Union Square area, you can board Golden Gate Transit buses routes 30, 70, and 101 at the Salesforce Transit Center (Bus Plaza, Bay A).
There are also some stops along Mission Street on the north side of the street — look for the Golden Gate Transit markings, not MUNI.
From Fisherman's Wharf area, you can board on North Point Street (Routes 27, 54, and 72). Note that these routes only run on weekday afternoons.
You can also take the bus Route 30, 70, or 101 from Van Ness & Union Street in Russian Hill. This isn't too far from Lombard Street if you want to check that out first. These routes run all week long.
All buses will stop at the Toll Plaza bus stop, right in front of the Visitor Center, so it's super convenient.
By Hop On Hop Off Bus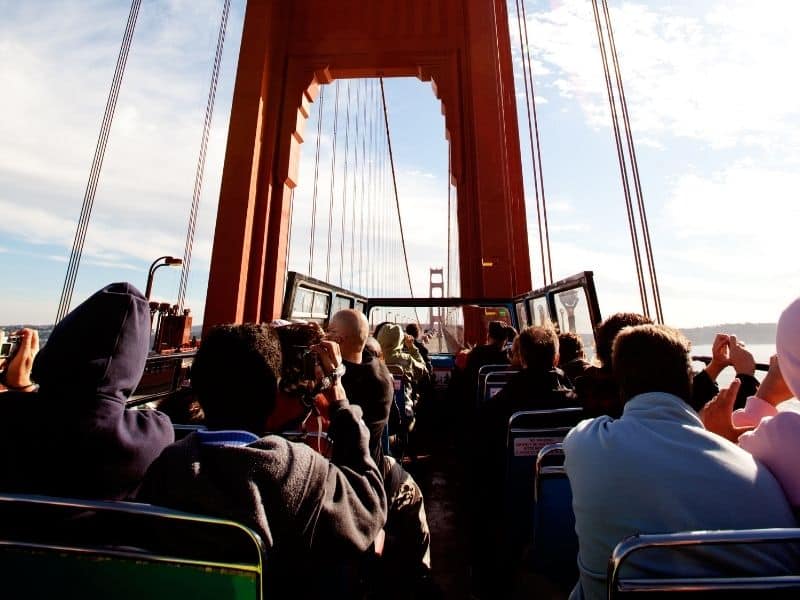 If you are visiting from out of town and plan to travel around San Francisco a lot, but don't want the hassle of renting a car or figuring out the city's public transit network (which — even as a Bay Area native — confuses me!), a hop-on, hop-off bus ticket offers excellent value and convenience.
Plus, it even goes across the bridge, so if you just want to walk one-way and take the hop-on, hop-off bus back, that's a great way to do it to save time and steps!
You can book it individually or bundle it with an Alcatraz ticket (tip: if Alcatraz tours are sold out — which they often are unless booking several weeks in advance — this is the best way to get a ticket!
How to Walk the Golden Gate Bridge: The Shorter Route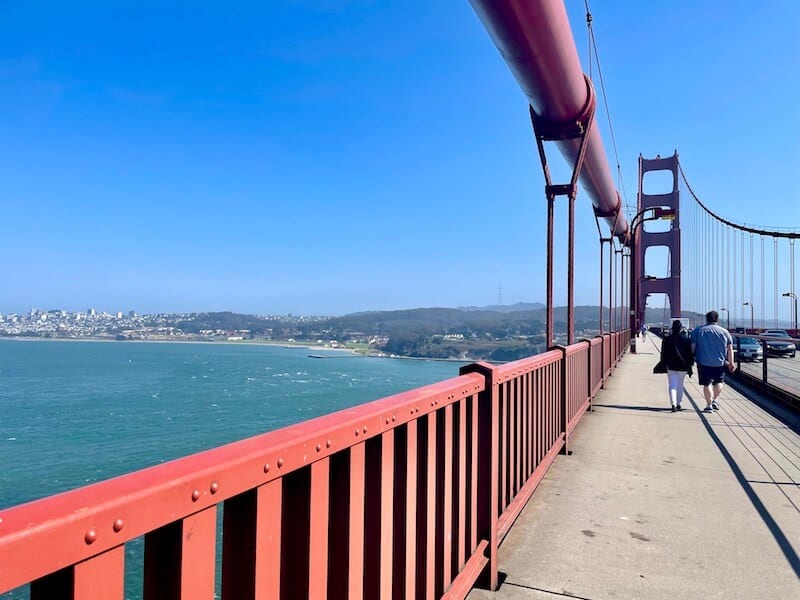 Total Length: ~3.5 miles round trip
Time Required: About 1.5-2 hours, depending on pace.
The shortest and most classic route to walk the Golden Gate Bridge leaves from the Golden Gate Visitor Center, takes you to the Marin end of the Golden Gate Bridge, and then has you return the same way you came.
As you approach the bridge, if you're facing Marin / towards the north, you'll want to take the right hand of the bridge (the east sidewalk), which faces towards San Francisco's city skyline and Alcatraz Island.
Don't take the left hand side of the bridge (the west sidewalk), which faces towards the Pacific. You want to be on the Bay side, the east side.
Along the walk, you'll see all sorts of beautiful sights: the skyline (look out for Twin Peaks, Coit Tower, the Transamerica Pyramid, and the Salesforce Tower), Angel Island, Alcatraz, the Bay Bridge, Treasure Island, and more.
As you walk across the Golden Gate, be sure to watch for cyclists! At certain times of day, they share the bridge with pedestrians, and so you'll want to keep your eyes and ears out. I suggest not walking with headphones for this reason.
Once you reach the other end of the bridge, be sure to check out Vista Point. It also shows up at Golden Gate Bridge View Vista Point on Google Maps.
This is not to be confused with Golden Gate Bridge Vista Point on the south side of the bridge!
I know, it's confusing, but if you type Vista Point into Google Maps it'll bring you to the right place) before you turn back!
How to Extend This Walk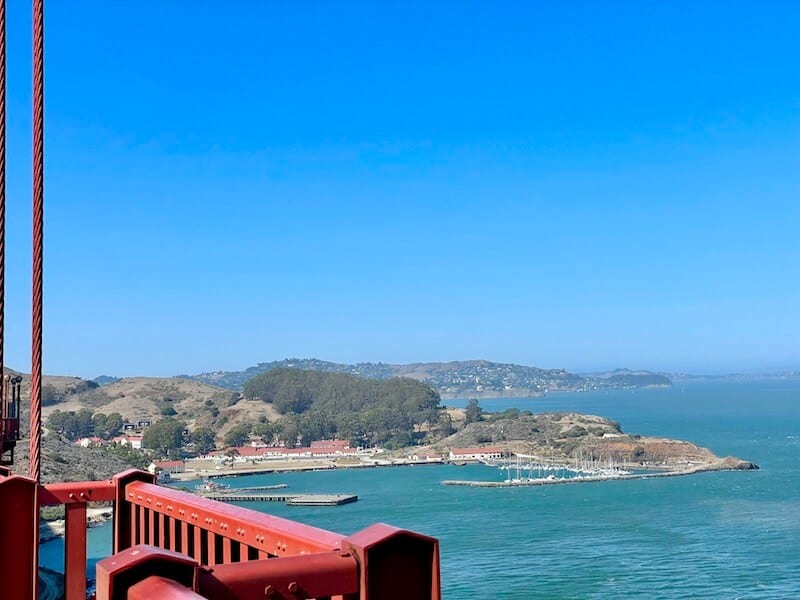 Of course, there are plenty of ways to vary this up and extend your walk.
For example, you could continue on into the Marin Headlands or into Sausalito, for example, or down to Fort Baker.
Another popular option would be to go up to Battery Spencer, which is an additional 15 minutes walk up Conzelman Road. It's up a hill that involves about 200 feet of elevation gain, but the views are really worth it!
How to Walk the Golden Gate Bridge: The Scenic Route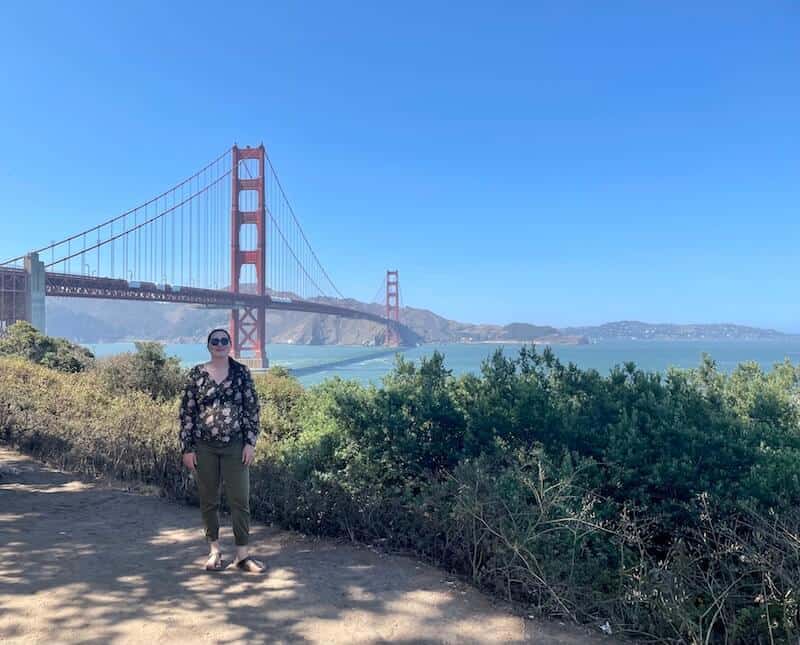 Total Length: ~6.5 miles round trip
Time Required: About 2-3 hours, depending on pace (4 if you want plenty of time for photos and selfies!)
This is my personal favorite way to walk the Golden Gate Bridge, and it's the route that I take visitors on, because it has the best views!
Yes, it's longer, but you get several incredible, relatively isolated viewpoints of the Golden Gate Bridge along the way — all of which, frankly, are more beautiful than any view you'll see actually walking across the Golden Gate.
It's that tricky thing about going up or across an iconic sight, which I wrote about on my guide to different observation towers in NYC. It's cool to be on the most iconic attraction, except for the fact that you can't see it since, well, you're on it!
To do the scenic route to the Golden Gate Bridge, you'll want to start at Crissy Beach. I parked my car safely here for ~3 hours during the middle of the afternoon on a weekday, and generally, I never hear of people having trouble at Crissy Beach.
That said, take all precautions by removing all your valuables from the car and make sure nothing that could pique a thief's interest is in eyesight.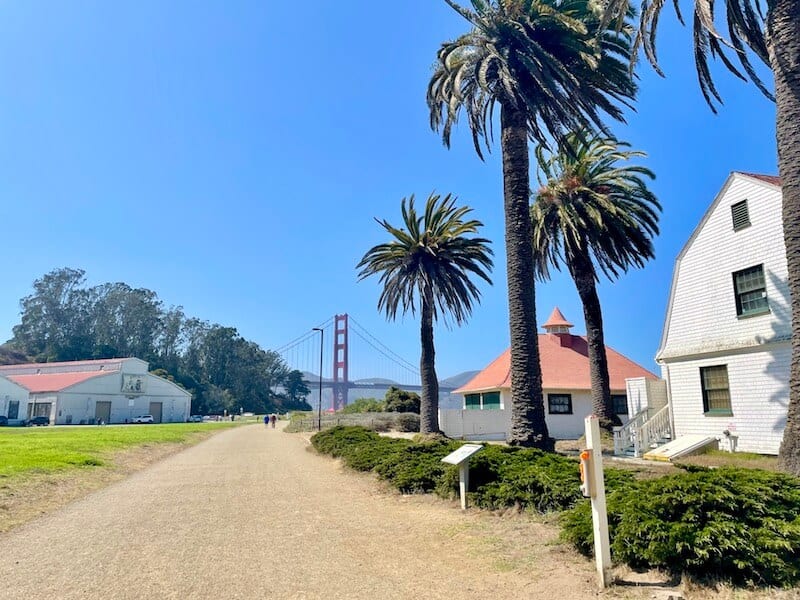 Start at the Crissy Field Promenade, which you can access from the East Beach Parking Lot. There are toilets here, which are surprisingly well-kept — so I suggest using the toilet before embarking!
The first part of this walk stretches from East Beach to the Warming Hut via the Crissy Field Promenade. The walk is flat and about one mile one-way.
As you approach the Warming Hut, you will see Fort Point, a former military sea fortification, another half-mile away, which is a national historic site within the Presidio.
You can explore this historic site, which was an active military fort built during the Gold Rush in 1853 to protect California's newfound wealth.
It was protected during the Civil War by Union soldiers during the Civil War in 1861, but the Confederate Army never attacked the San Francisco Bay. However, you might see war reenactments taking place here!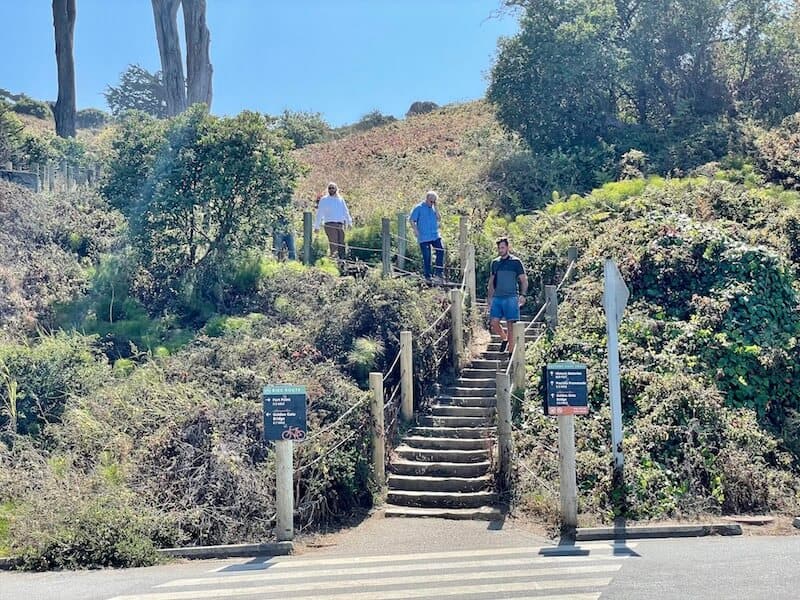 From the Warming Hut, you'll take the Battery East Trail — see the picture above to know where to turn (it'll be on your left as you're walking towards the bridge, with a crosswalk leading to it).
This is a very easy trail, with an initial steep set of stairs you have to climb, then the rest is a very gradual, calm uphill with a slight slope. All in all, it's 200 feet of elevation gain in a 0.4-mile one-way trail.
When you reach the top, you'll already be about 1.5 miles into your hike — and the Golden Gate Bridge lays right in front of you. Take the west side walk to continue onwards with your Golden Gate Bridge hike.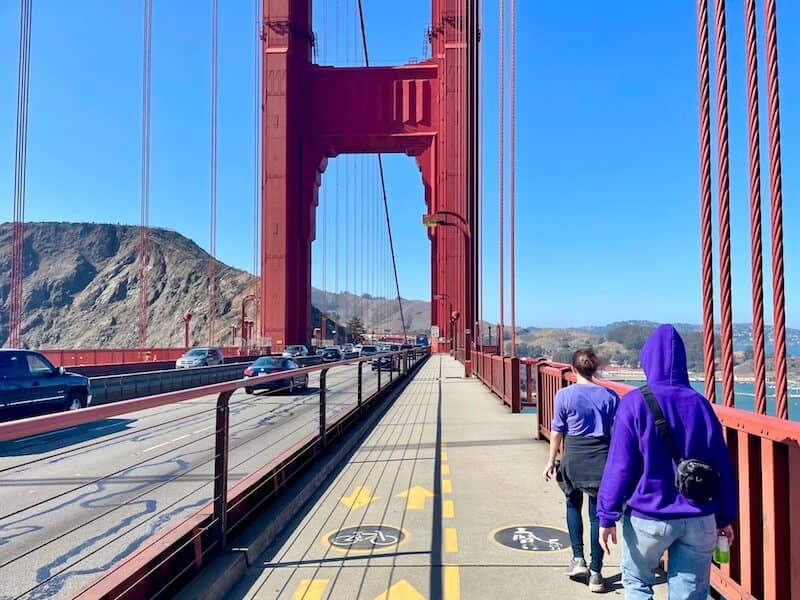 It's hard to understate how large the Golden Gate Bridge is! It's 1.7 miles across, from one end to the other end of the bridge. The two spans of the bridge are nearly a mile apart — 4,200 feet, to be exact — so don't underestimate it when it comes time to get walking across the bridge.
If you are already feeling a little tired from the trip, I suggest making it just halfway across the bridge, to a point halfway between the two spans of the Golden Gate, and walking back — the views are about the same!
Otherwise, make your way to the Marin side of the bridge, stopping at the Vista Point on the other end for a view of the bridge from Marin looking back out onto the city.
Golden Gate Bridge Tours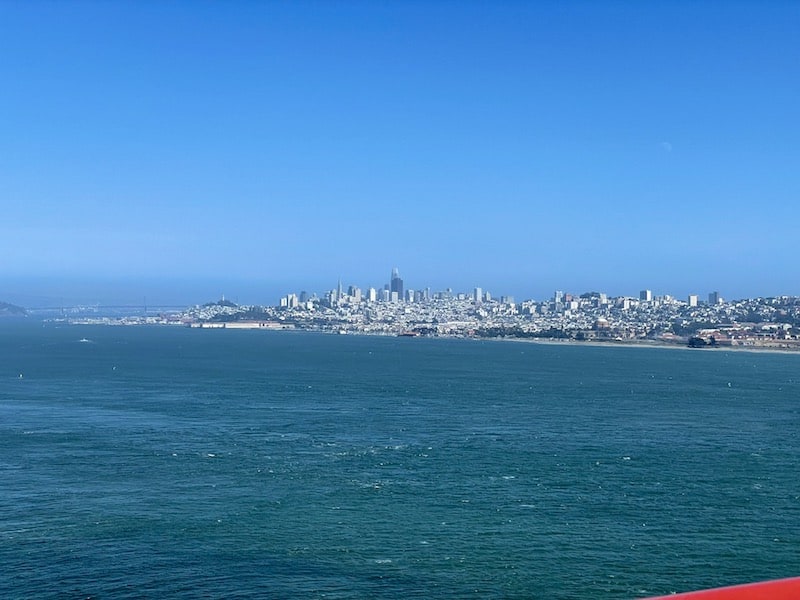 There are, of course, a ton of different Golden Gate Bridge guided tours that you can take in case you want a little more guidance, as well as some historical and architectural context.
You can opt for a biking tour or a walking tour.
Biking the Golden Gate Bridge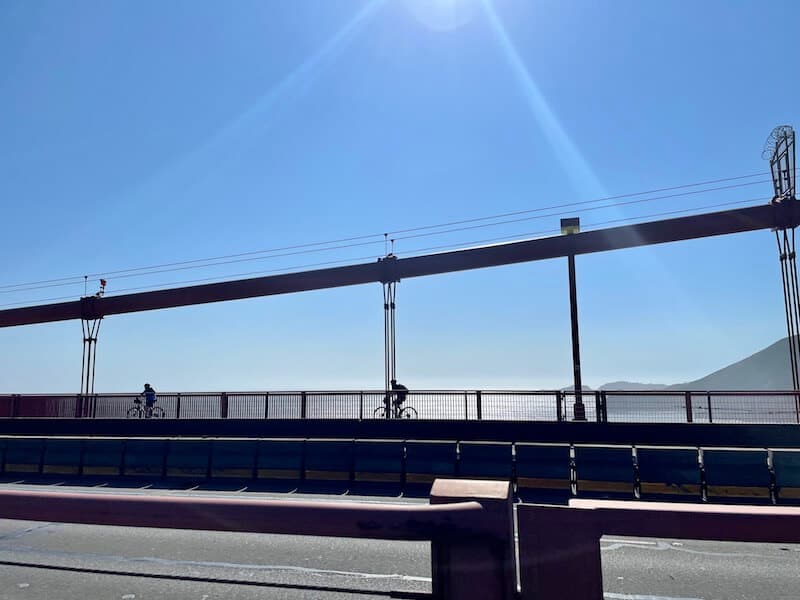 One other popular option is going with a bike rental across the Golden Gate Bridge!
There are lots of bike rental shops around the city, but the closest to the bridge itself is Golden Gate Bridge Bike Rentals.
They charge $36 for a full-day rental if you book it in person, but if you reserve it online, it's 15% off and you can get it for $30.60 for the full day, so you can take bike rides all over the city.
It's a fairly reasonable price to rent bikes in San Francisco so I suggest it if that's what you are in the mood for!
What to Wear When Walking the Golden Gate Bridge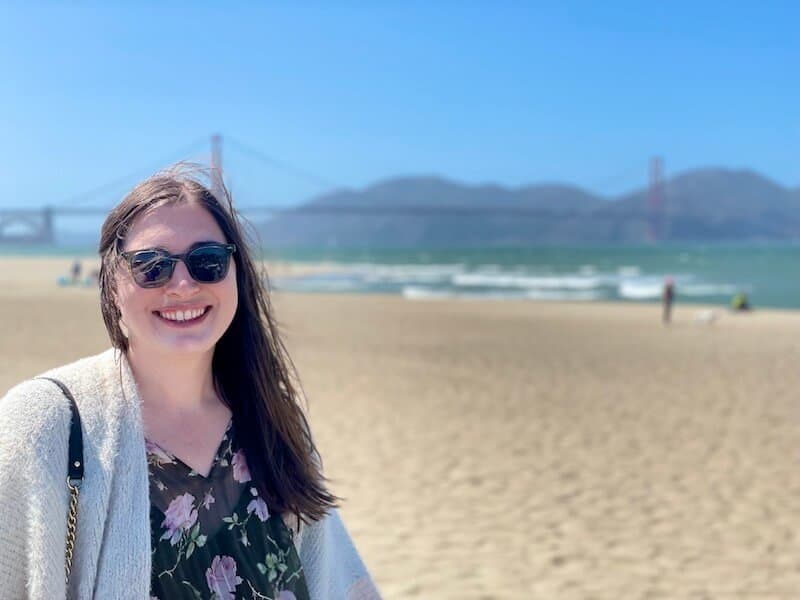 Like virtually everywhere in San Francisco: layers, layers, layers! It is hard to overstate just how mercurial the weather in San Francisco is.
On my recent walk across the bridge, it was gusty and windy which made it feel kind of cool, and there was a wall of fog on the west side of the bridge which blocked the views out to the Pacific Ocean (luckily the cityscape was clear).
… but it was still warm enough that I managed to get sunburned on my shoulders where my shirt exposed some skin.
So yes, even though San Francisco has a reputation for cold weather and fog, even in the summer, that doesn't mean you can't get sunburned, especially if you're pasty like me. Layer up on that sunscreen!
That said, you'll also want to bring a light jacket in the summer, in case the wind gets really gusty or if the fog rolls in. And in the winter, make that a heavier waterproof one, in case of rain.
Final Tips for Crossing the Golden Gate Bridge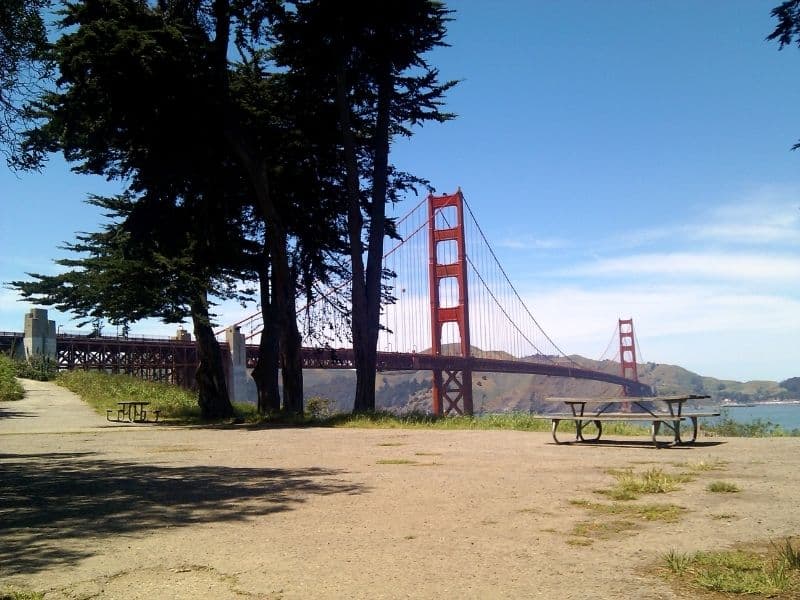 The Golden Gate Bridge can be noisy. My first time crossing the bridge, I kind of forgot that it is the very active Highway 101! The drone of constant car traffic can take away from some of the enjoyment. There are also occasionally very loud foghorns.
I still recommend walking the bridge, but other city guides don't mention this fact. Have your expectations in check, and keep this in mind if you are traveling with anyone who is hypersensory.
Bring a picnic or snacks. There are very limited places to eat at the Golden Gate Bridge since the Bridge Cafe closed around 3-4 years back.
Right now there is only the Round House Café and the food is pretty mediocre. There is a gift shop at the visitor center but it doesn't have food, just bottled water.
Instead, pack a picnic lunch and enjoy it with a view! There are picnic areas just below the Battery East parking lot if you want to bring something to eat with a view of the Golden Gate! There are also more tables around Crissy Field.
Choose your visit wisely! I suggest not planning everything in stone on a visit to the Golden Gate Bridge. It is very frequently fogged out and you will not be able to see anything. Not exactly the way you want to experience this bucket list item!
Locals do not "chase the fog" but rather time their walks on sunny days when you can actually see all the beauty of the San Francisco Bay!
Crossing the Golden Gate Bridge is free, as it is not a true 'national park'. Some people misleadingly believe the Golden Gate Bridge is inside of a national park, and therefore they have to pay a national park fee or show a national park pass.
Not quite: it is part of the Golden Gate National Recreation Area, which is a NPS managed site but not a national park. There is no entry fee to the GGNRA or to the bridge.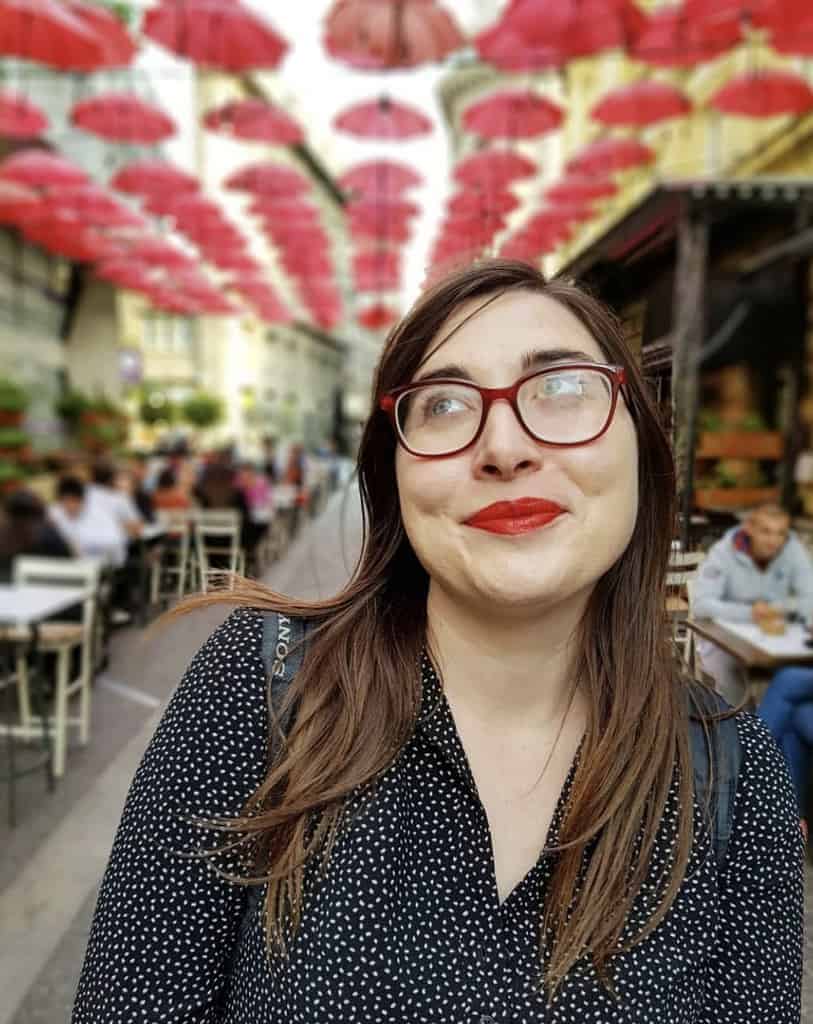 Allison Green is a travel blogger, writer, and podcaster who grew up in the Bay Area of California. She has spent time living in New York, Prague, and Sofia, but has returned to live in the East Bay. She has traveled to 60 countries before the age of 30 while running several digital travel publications. Her writing and podcast have been featured in Forbes, CBC Canada, National Geographic, the Huffington Post, and CNN Arabic, amongst others. She's obsessed with bouldering, houseplants, other people's pets, and anywhere she can see the ocean.