The microneighborhood of San Francisco's Japantown may be just a few square blocks, but it packs a lot into a small amount of space.
Also called Nihonmachi, Japantown consists of a few blocks all centered around the Japantown Peace Plaza.
It may not be nearly as big as Chinatown, but you'd be surprised: there are quite a few fun things to do in Japantown, despite its small size!
From eating delicious ramen and Japanese sweets to enjoying a soak in a Japanese-style onsen, here is what to do the next time you visit Japantown!
A Brief History of San Francisco's Japantown
Note: This post contains affiliate links, which earn me a small commission at no extra cost to you if you make a purchase using one of these links. Thank you for supporting this free content!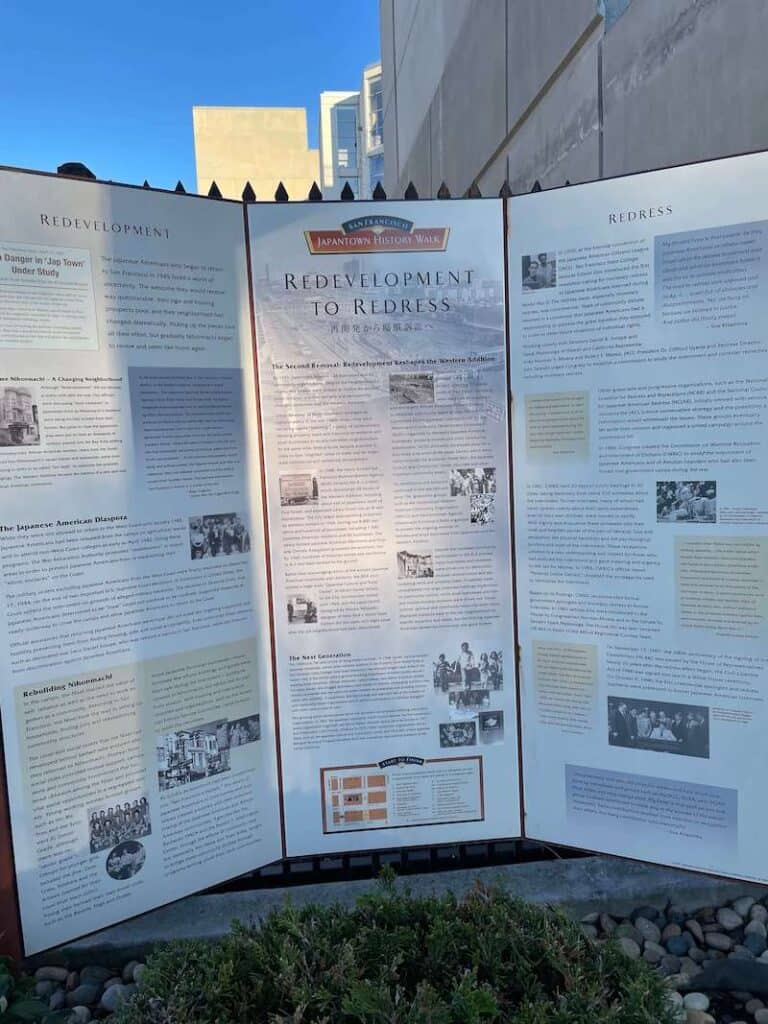 The twists and turns that Japantown are best-documented in this San Francisco Chronicle article, but I'll try to summarize its history briefly below.
You can also read the placards on the Japantown History Walk which consists of 16 informational signs along 10 blocks of the city.
Before the 1906 earthquake, San Francisco had two distinct Japantowns — one in SoMa, and one on the outskirts of Chinatown.
After the earthquake destroyed much of the city, many Japanese relocated to the Western Addition, where today's Japantown now stands.
Here, Japantown thrived for the next four decades, eventually becoming one of the largest Japanese enclaves outside of Japan (besides the Liberdade neighborhood in São Paulo, Brazil).
Then, of course, came World War II. After the attack on Pearl Harbor, over 120,000 Japanese-Americans — a full two-thirds of whom were citizens — were forcibly detained and incarcerated in prison camps around the United States without any due process.
As you can imagine, this had a devastating impact on Japantown. Most of the citizens of Japantown were forcibly relocated to the Topaz internment camp in the Utah desert, far from home.
Meanwhile, the sudden depopulation of Japantown left a void in the city's housing market, and African Americans impacted by Jim Crow housing restrictions quickly filled that void.
Maya Angelou — a former San Franciscan — commented that "Japanese area became San Francisco's Harlem in a matter of months."
Once Japanese-Americans returned to Japantown after being released from internment, they returned to Japantown, joining a vibrant multicultural community.
But over the next decade, racist housing policies and white supremacist violence led to poor living conditions in the Western Addition and Japantown.
City officials vowed to "clean up" Japantown — but residents were nervous, and rightly so, as over the next few decades, nearly 100 blocks would be destroyed, housing some nearly 20,000 residents.
As a result, the Japanese population of Japantown shrank dramatically, dwindling to only 2,000 residents.
Today, Japantown is more of a destination for commerce and dining than it is an ethnic enclave for its residents, as a result of the tumultuous history of racism and displacement that Japanese, Asian-Americans, and Black Americans have faced throughout the 20th century and today.
Things to Do in Japantown, San Francisco
Admire the Peace Pagoda and plaza.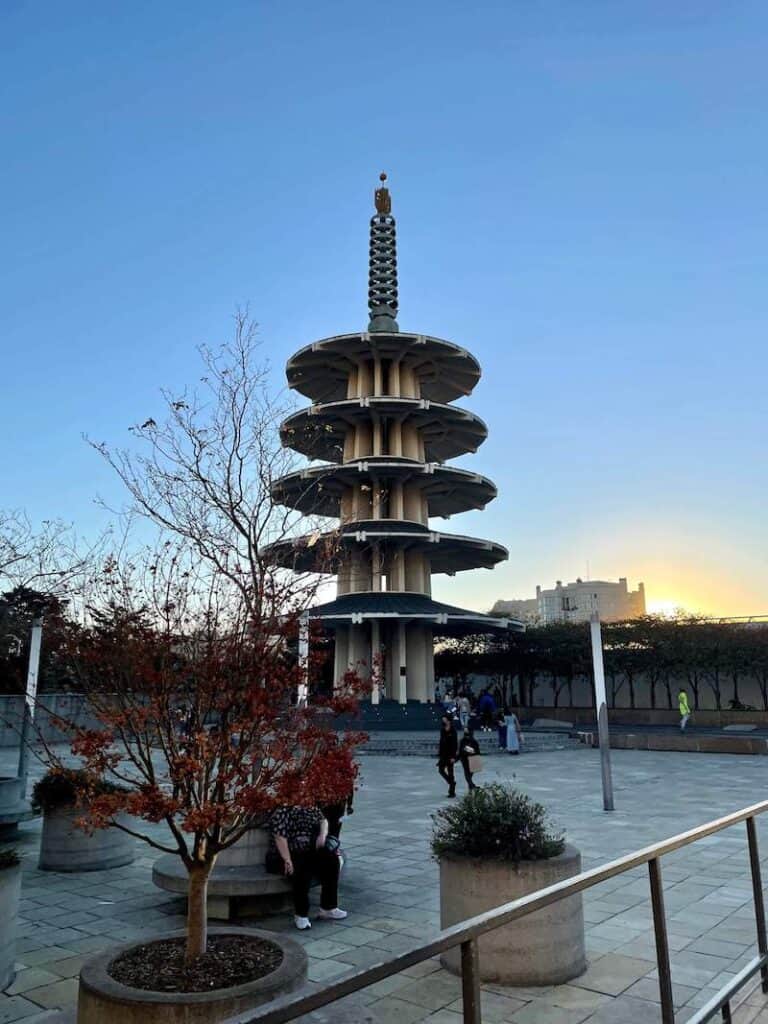 The center of Japantown is clustered around the Peace Pagoda and the plaza that surrounds it. It's located on Buchanan Street between Post and Geary.
The Peace Pagoda was gifted to the city in 1968 by Osaka, Japan. Designed by the Japanese architect Yoshiro Taniguchi, the unique pagoda consists of five tiers of concrete with a spire on top.
The pagoda itself is a unique place to visit and admire, and its location between the two branches of the Japan Center malls (east and west) means that it is a great central point to begin your exploration around Japantown.
Wander around the Japan Center malls.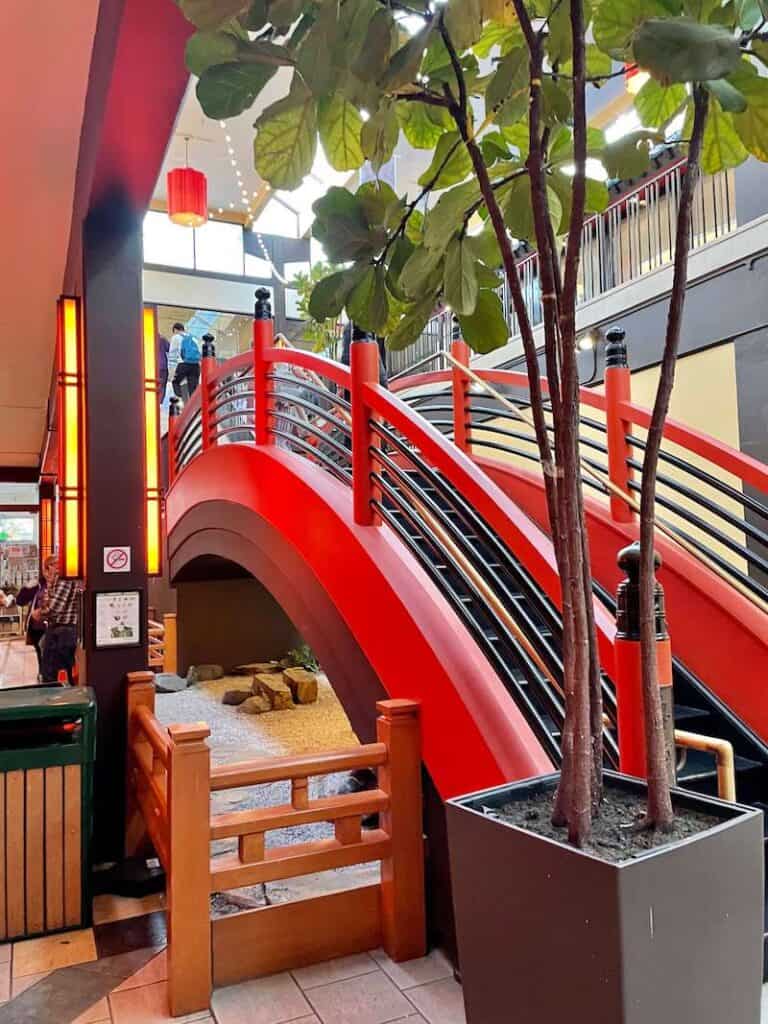 The Japan Center Mall is broken into two wings, separated by the plaza: east and west.
The west part of the Japan Center mall is generally a little more bustling. Several of the more famous Japanese eateries are here, such as Marufuku Ramen, Sophie's Crepes, and Mochill.
The east part of the Japan Center mall is where you'll find Daiso, the beloved Japanese dollar store, as well as a beautiful red high-arched bridge on the stairwell — which happens to be a fantastic San Francisco Instagram spot!
Eat ramen at Marufuku.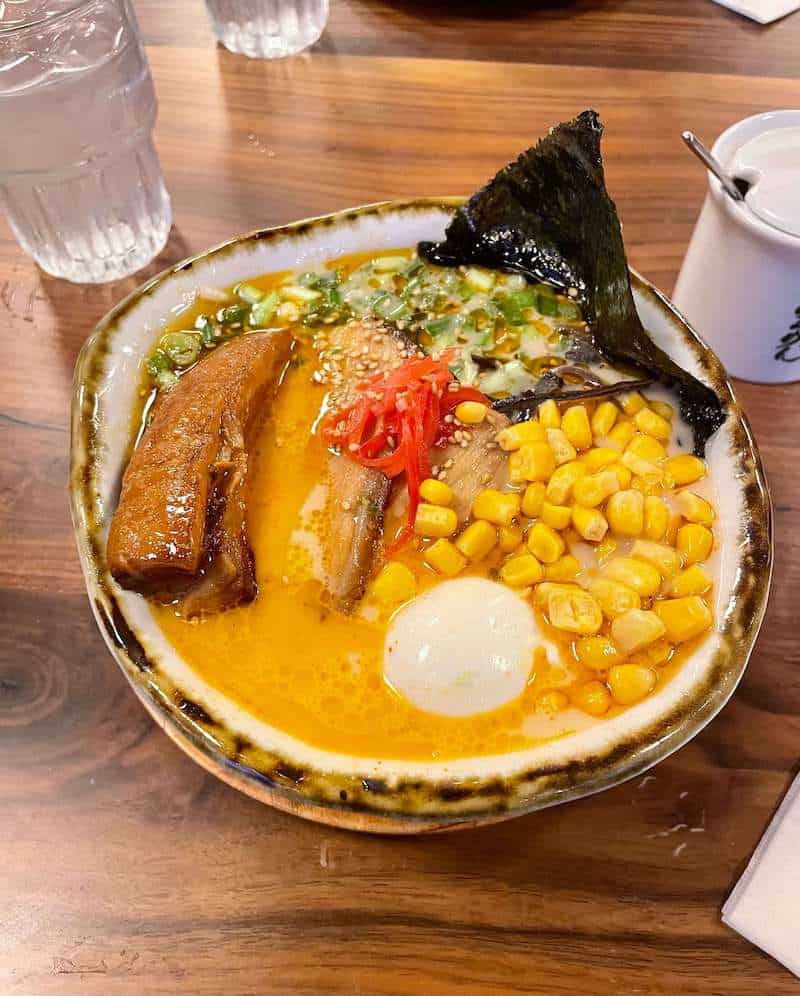 If you're looking for the best ramen in San Francisco, Marufuku Ramen is one of the top contenders!
Their ramen menu is small but mighty, with five dishes on offer and only three stock bases. I had their Hakata-style tonkatsu ramen "DX", served with braised thick pork belly, cha shu, mushroom, soft-boiled egg, and nori.
Not a fan of pork-based ramen? They also have paitan chicken ramen with chicken cha shu, as well as a veggie ramen with spinach noodles.
Shop for plants at Katsura Garden.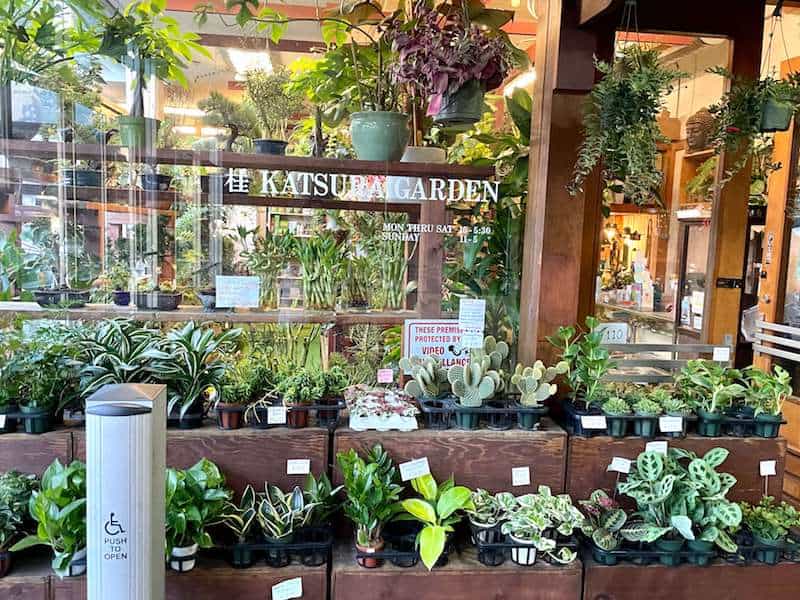 I can't not write about a neighborhood plant store, so if you're also a houseplant fiend like me, you'll definitely want to stop by Katsura Garden.
They have a ton of unique plants, including some rarer finds that I haven't seen at other plant stores in the Bay Area, like calathea musaicas and philodendron birkins.
Prices are a little higher than I've seen elsewhere, but not drastically: I just have an insane mental Rolodex of plant prices in the Bay Area because I'm a millennial and apparently liking plants is my personality now.
Grab ice cream at Matcha Cafe Maiko.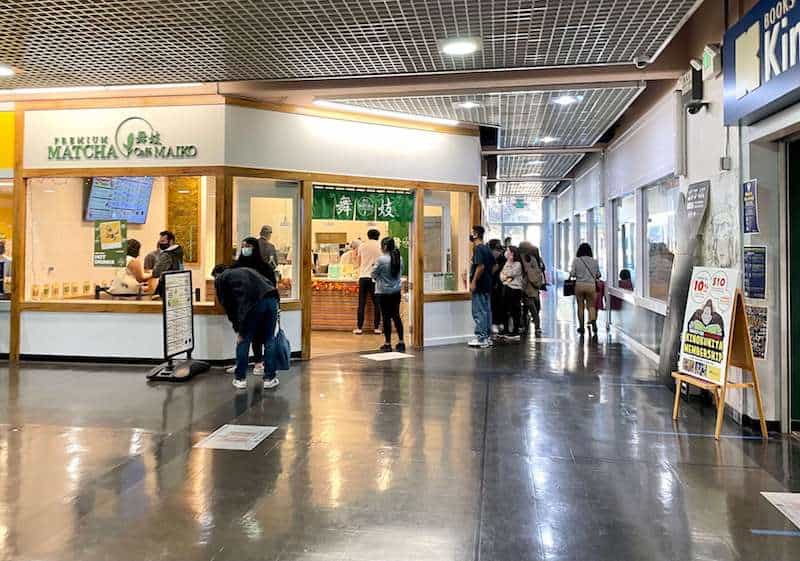 Matcha ice cream is always a good decision, and Matcha Cafe Maiko is the place of choice in Japantown — there's almost always a line nearly out of the door!
You can also get matcha ice cream in a taiyaki (fish cone) at Uji Time, and they also have other Japanese flavors like ube, black sesame, and red bean.
Wander Osaka Way.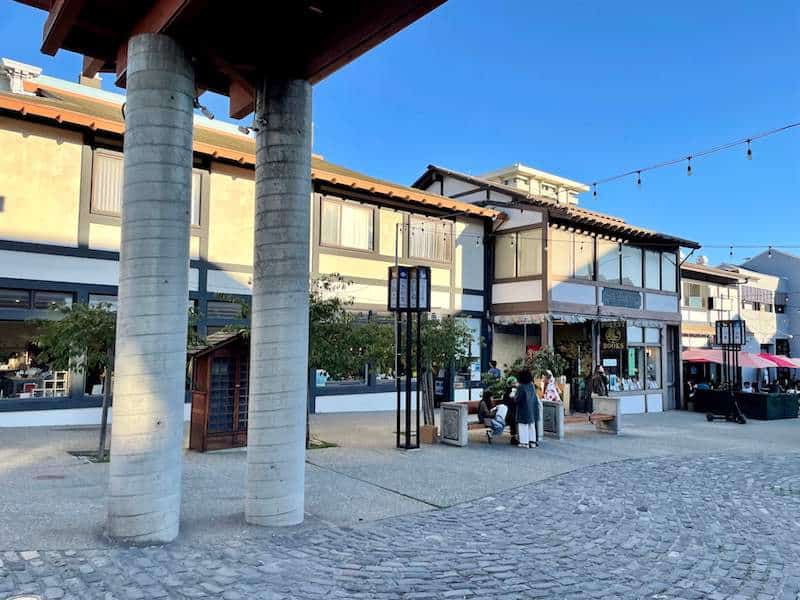 The small stretch of Buchanan Street between Sutter Street and Post Street is nicknamed Osaka Way, and it's a great place to shop and dine.
There are all sorts of great stores, including a used bookstore, home goods, and an origami paper store, as well as ramen and other Japanese restaurants.
Plus, it's just really picturesque to wander around.
Shop for deals at Daiso.
Daiso is a Japanese dollar store that has made its way to the United States, with some 70-odd stores now in the country.
Still, when in Japantown, you ought to check out a Japanese dollar store! If you haven't visited one before, it's a unique experience.
Be prepared for all things cute, from stationery supplies to kitchen odds and ends, and everything Hello Kitty.
Browse at Kinokuniya Bookstore.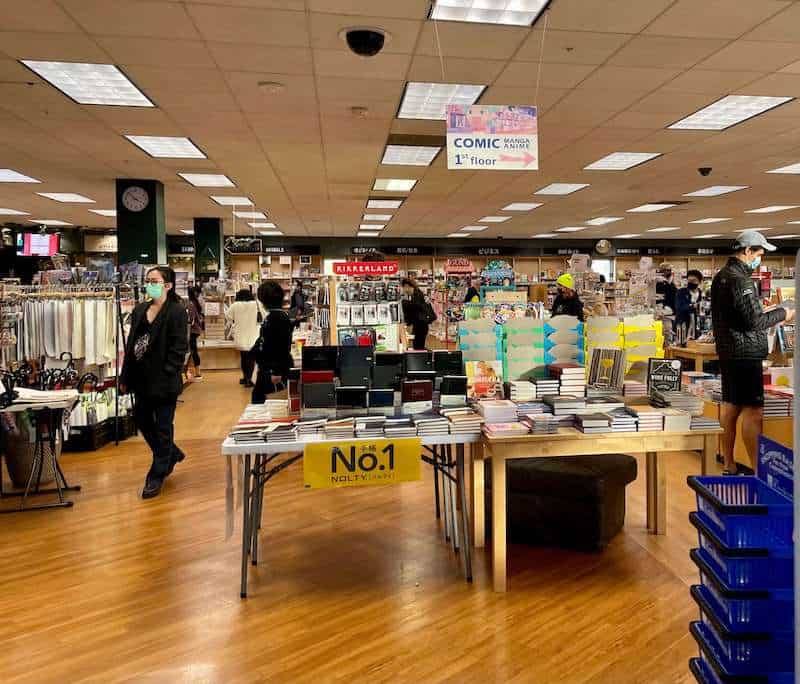 The wonderful Kinokuniya Bookstore is a must-visit when in Japantown!
This famous Japanese bookseller has an incredibly well-curated collection of books, despite the San Francisco store's small size relative to its Tokyo counterparts.
There are two separate bookstores located in the west side of the Japan Center Mall.
The first floor bookstore across from the matcha cafe specializes in anime, and the top floor near Sophie's Crepes has all sorts of other books, such as design, cookbooks, fiction, etc.
Eat a mochi donut.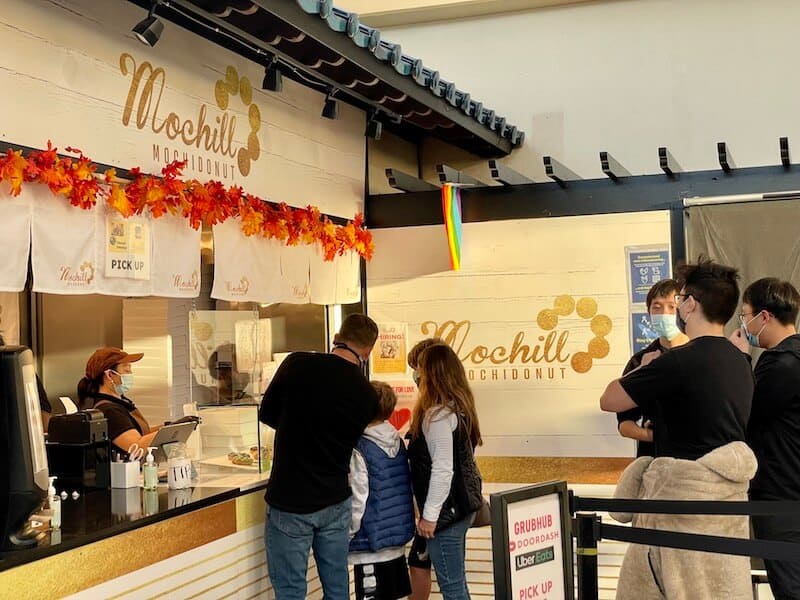 Ever heard of a mochi donut? If your mouth isn't already watering, prepare for it to at Mochill.
Get ready for a lighter donut made out of rice flour, with traditional donut flavors such as chocolate and cinnamon sugar as well as Japanese-style donut flavors such as matcha yuzu, taro, and black sesame.
Looking for a colorful donut to Instagram? Don't miss the Fruity Pebble mochi donut.
Browse gorgeous origami products at Paper Tree.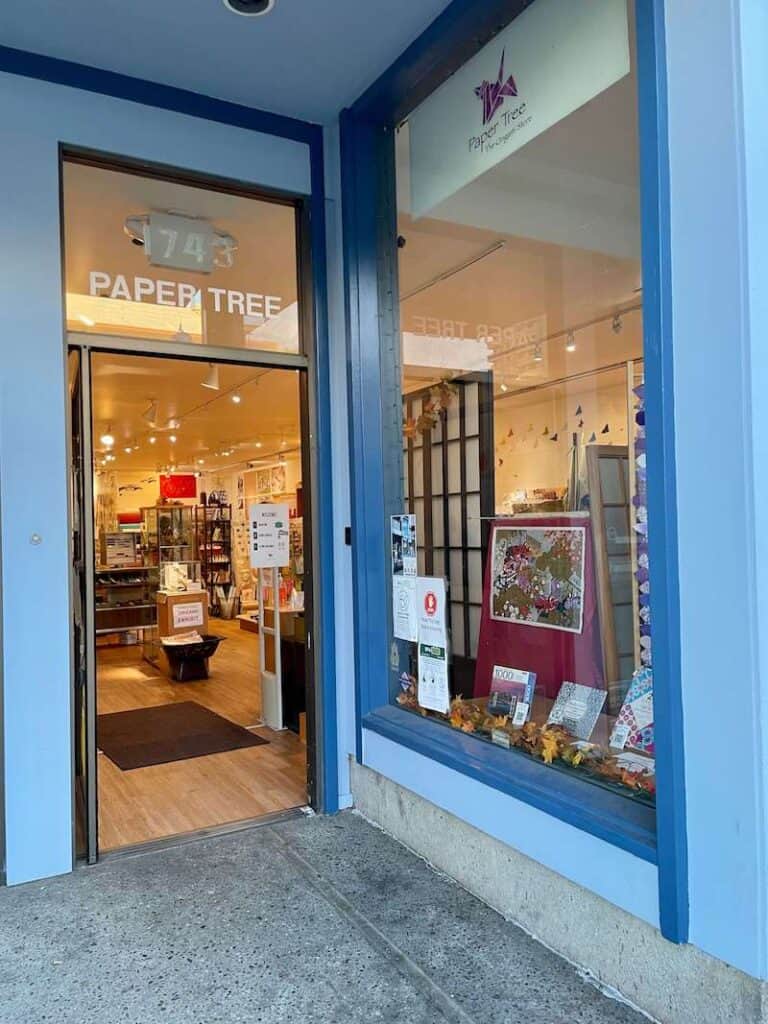 Love origami and paper arts? Don't miss browsing the wares at Paper Tree on Osaka Way.
You'll find everything you need to hone your origami skills here, as well as other beautiful Asian paper products and craft supplies.
Grab crepes at Sophie's.
By now you've probably gathered that there are all kinds of sweets on offer in Japantown… but if mochi donuts, taiyaki, and matcha ice cream aren't calling your name, there are always crepes!
Sophie's Crepes is a fan-favorite in Japantown. Grab all sorts of sweet and savory crepes here.
Their sweet crepes are served with local favorite Fiorello's gelato — handmade locally in Marin!
Marvel at Japanese woodblock art.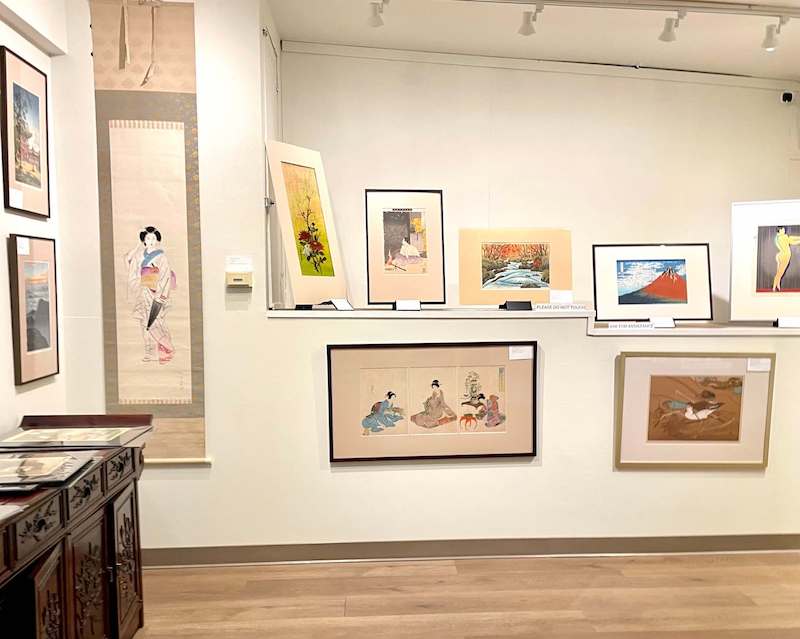 One of my personal favorite art forms is Japanese woodblock prints. Something about their simple, clean lines and beautiful rich colors is just so elegant and beautiful to me.
You can find a small but well-chosen selection of woodblock prints at Tokaido Arts in the Japan Center Mall. Even if you don't take one home, it's fun to browse!
Look for used books at Forest Books.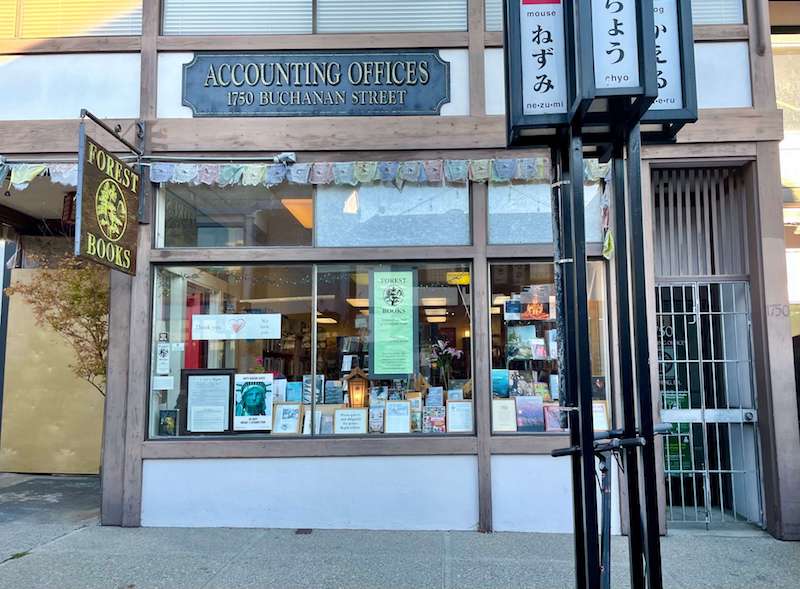 Also located on Osaka Way, the lovely bookstore of Forest Books has an excellent selection of international used books that is great to peruse.
Even though I was on a self-imposed book-buying ban, I couldn't leave without adding a new book to my collection!
Eat udon noodles at Udon Mugizo.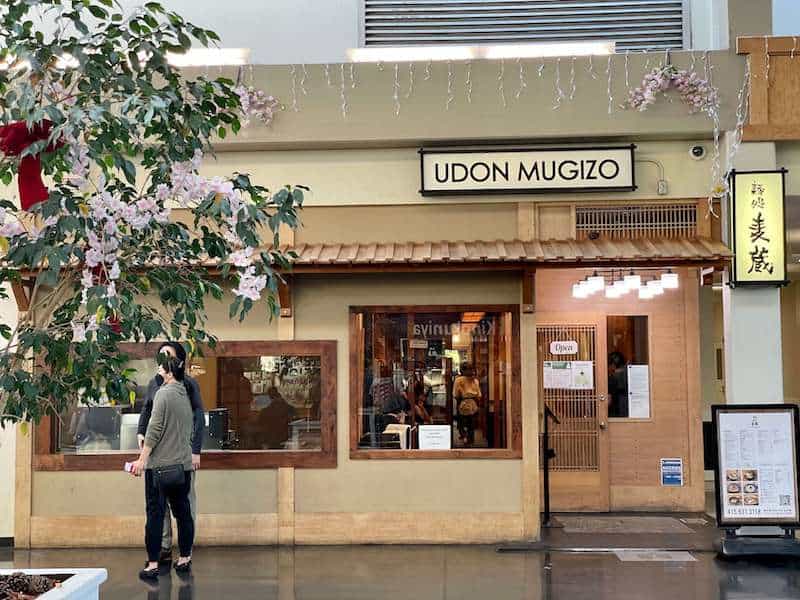 Soft, chewy, bouncy udon noodles are one of my favorite Japanese foods, so I was delighted to see there is a dedicated udon restaurant in the Japan Center mall!
One of the greatest things about traveling in Japan is how many hyper-specialized restaurants there are (udon restaurants, soba restaurants, tempura restaurants, etc.), and you can get a small taste of that in Japantown!
Grab mochi and manju at Benkyodo.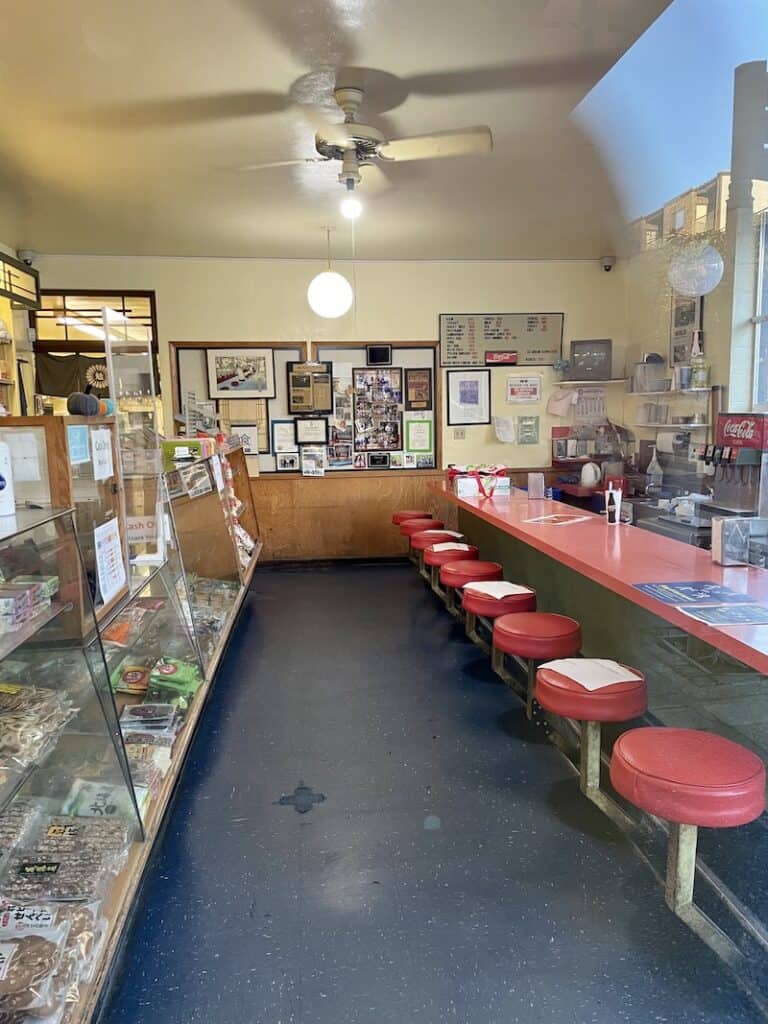 The fractured history of Japantown means that it's rare to find a business that has persisted despite the many challenges — but Benkyodo is the exception, open since 1906, making it the oldest business in Japantown.
It even survived internment, as when the Okamura family were forcibly removed and sent to a camp in Colorado, the owner's Chinese neighbor took care of the shop while the owners were imprisoned.
Enjoy a soak at Kabuki Springs.
The Kabuki Springs & Spa is a fantastic place to go for a little R&R in Japantown!
Enjoy the traditional onsen-style communal baths for $45 for a day pass or $20 if you are also getting a spa treatment.
Check out more information such as their prices, visiting days and hours, and Covid-19 policies here.
Visit the Northern California Cherry Blossom Festival.
Over 200,000 people annually come to celebrate the Cherry Blossom Festival right here in Japantown!
2021 was a virtual festival, but hopefully the 2022 festival will be back to being in person!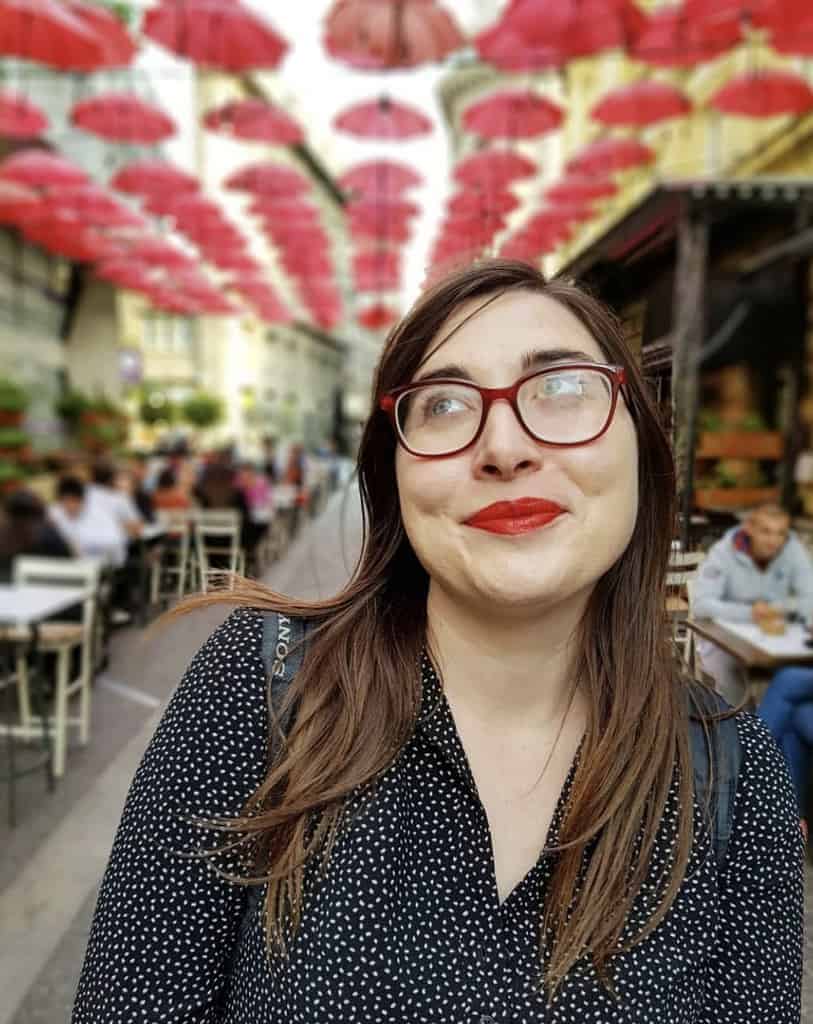 Allison Green is a travel blogger, writer, and podcaster who grew up in the Bay Area of California. She has spent time living in New York, Prague, and Sofia, but has returned to live in the East Bay. She has traveled to 60 countries before the age of 30 while running several digital travel publications. Her writing and podcast have been featured in Forbes, CBC Canada, National Geographic, the Huffington Post, and CNN Arabic, amongst others. She's obsessed with bouldering, houseplants, other people's pets, and anywhere she can see the ocean.