Even though I grew up in the San Francisco Bay Area, I was surprised to find out that we have a black sand beach right here in the Bay!
Located in the Marin Headlands, this beautiful beach in the Golden Gate National Recreation Area is an absolute stunner.
And surprisingly, in today's time of overhyped and overcrowded everything, it's still somewhat of a hidden gem.
The next time you need a destination to enjoy a sunny day on a day trip from San Francisco, consider visiting the beautiful Black Sands Beach in the Marin Headlands.
Visiting Black Sands Beach
Note: This post contains affiliate links, which earn me a small commission at no extra cost to you if you make a purchase using one of these links. Thank you for supporting this free content!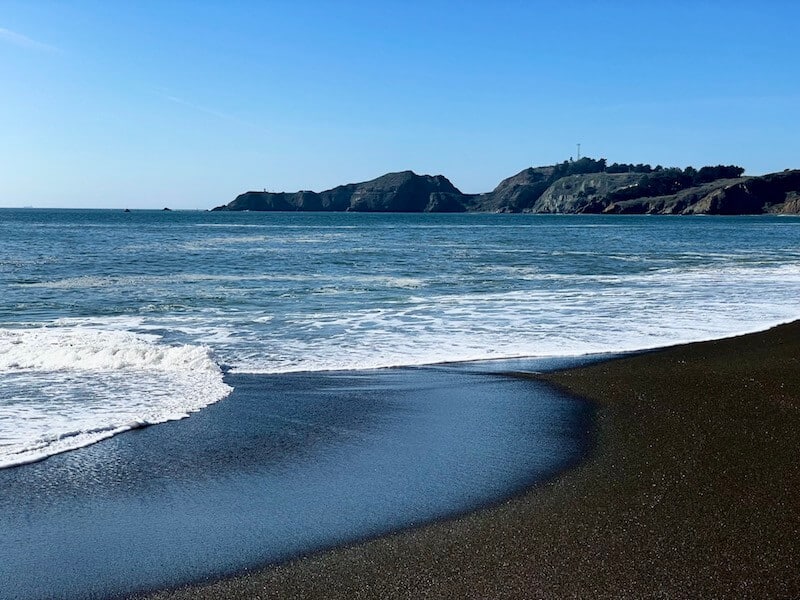 To be 100% honest, Black Sands Beach is a bit of a misnomer, as the sand is not truly black black, like you'd find in Hawai'i, Iceland, or even up north in Shelter Cove.
However, the dark sand is a really deep and rich grayish-brown color that looks black when wet.
However, it is certainly the closest thing you'll find to a black sand beach near San Francisco.
Here is an unedited photo of what the sand on Black Sands Beach in Sausalito looks like.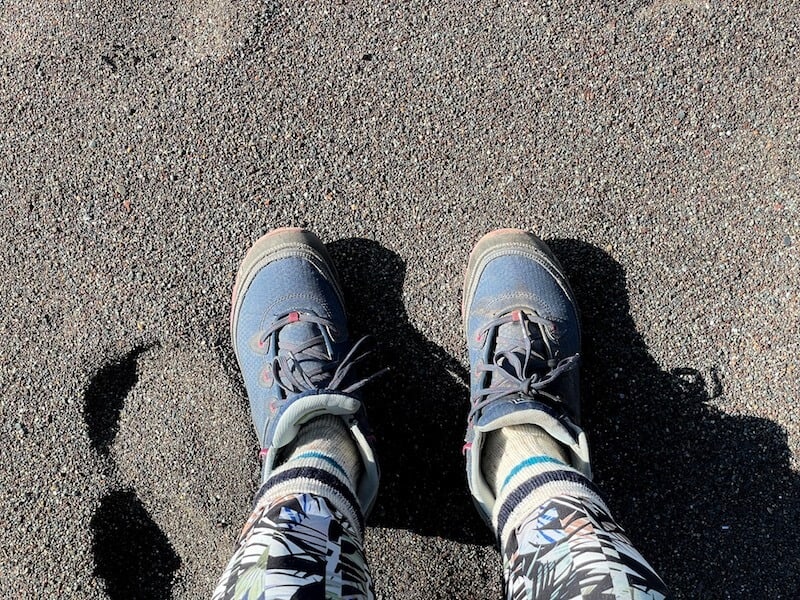 The beach is rather wide and spacious, and it was pretty uncrowded.
I visited on the day after Thanksgiving, when there were a lot of people visiting the Golden Gate National Recreation Area, and still found the beach rather desolate.
The area around Battery Spencer and all the Golden Gate Bridge viewpoints were incredibly busy that day, but Black Sands Beach was blissfully quiet!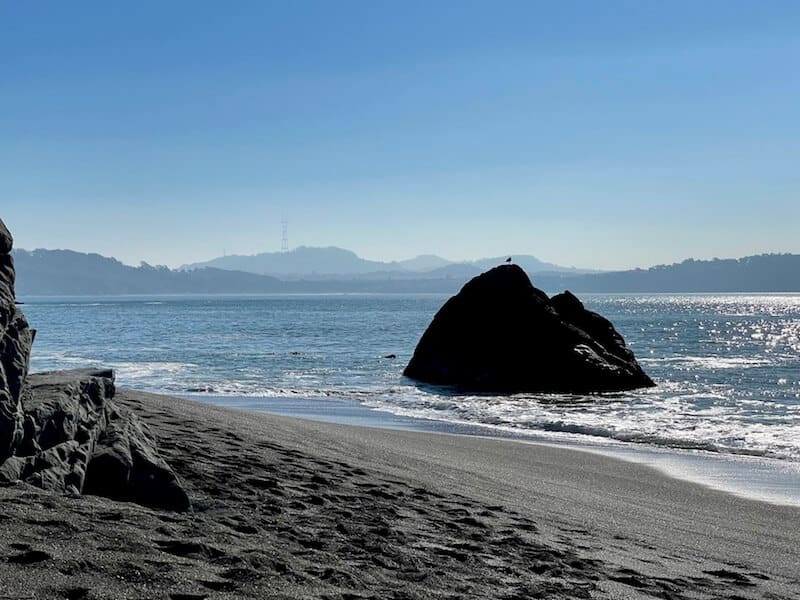 The beach also features beautiful views of rock formations out at sea as well as the Point Bonita Lighthouse visible off in the distance, as well as Twin Peaks on the other side of the Bay in San Francisco.
One thing to know about Black Sands Beach is that it is a clothing-optional beach.
We didn't see any nudists enjoying the sun on our visit, just a few fishermen casting their lines, but it is possible you will have a different experience!
Getting to Black Sands Beach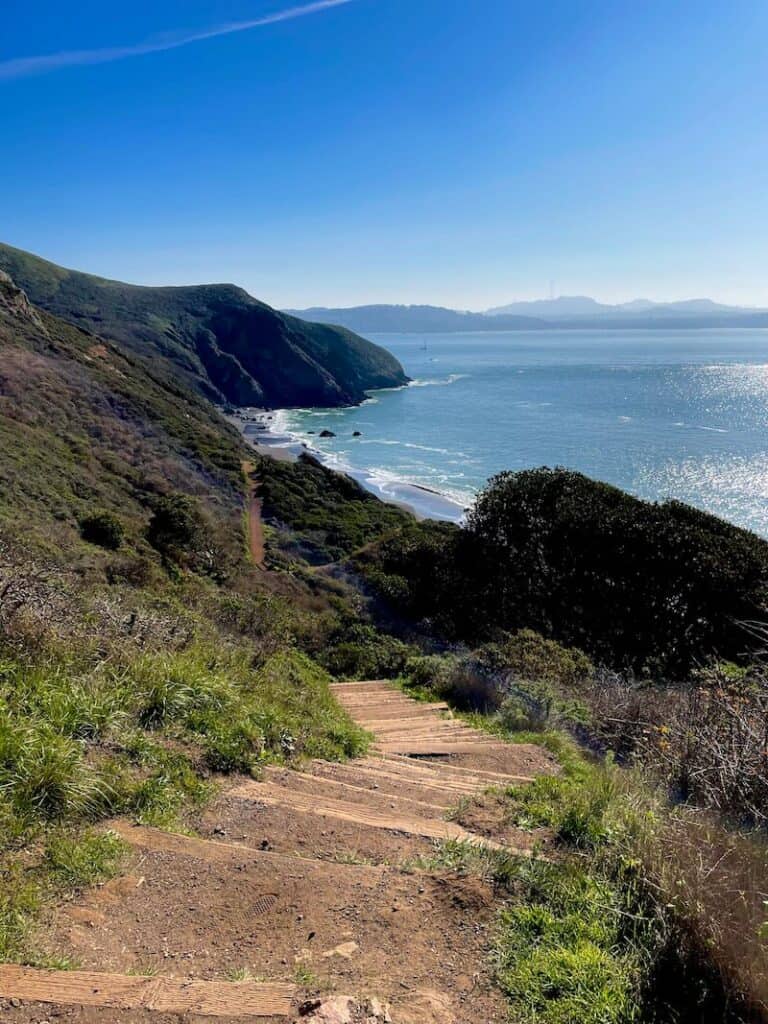 It's quite easy to get to Black Sands Beach, so long as you are physically fit and don't have any mobility limitations.
There is a small parking lot near Black Sands Beach where you can park for access to the beach trail.
It's called the Upper Fisherman's Parking Lot and it is located along Conzelman Road, one of the main roads through the Marin Headlands.
This parking lot gives you access to Upper Fisherman's Trail, which is the trailhead you take down to Black Sands Beach.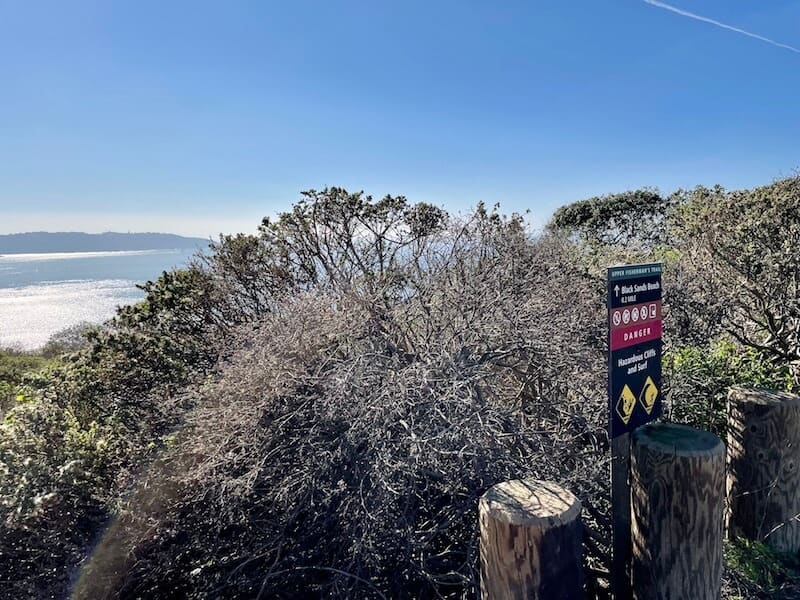 Upper Fisherman's Trail is a quarter-mile each way (0.5 miles return), but in that short distance, you have 220 feet of elevation gain!
It's definitely a good way to get in a tiny bit of cardio in a short amount of time!
Keep in mind that the wooden steps are a bit steep, so it's not a great place to visit for people with disabilities that affect their mobility.
Also, note that no dogs are allowed on Black Sands Beach. I did see a dog there when I visited, but I wouldn't risk bringing my pet there.
Finally, check a tide chart before visiting so that you don't visit during high tide, when there is very little beach area left to enjoy!
Hiking Trails to Visit Black Sands Beach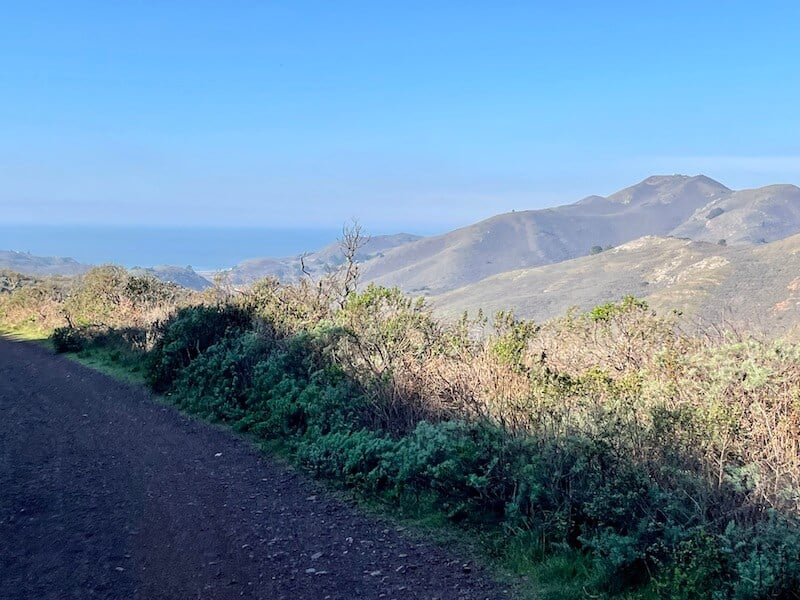 While all ways to visit Black Sands Beach require some hiking, there are other ways to reach the beach!
You have more options than just from the Upper Fisherman's Trail if you want to turn your beach trip into a longer hiking excursion.
Julian Trail to Black Sands Beach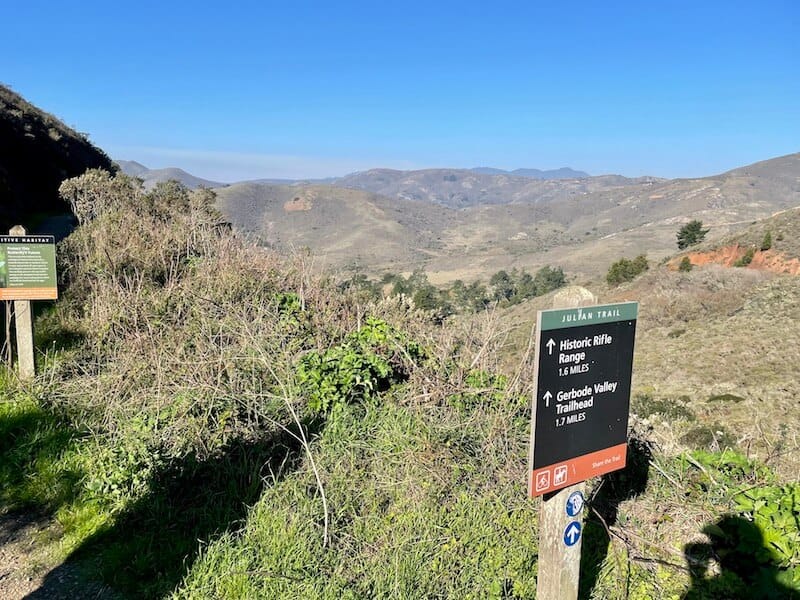 Trail Type: Unpaved out-and-back trail. Read more about the trail here.
Distance: 4 miles roundtrip
Elevation Gain: 856 feet
Difficulty: Moderate (on the easier side, in my opinion!)
We visited Black Sands Beach via the Julian Trail (a segment of the Coastal Trail), parking at the Coastal Trail parking area.
This parking area is located just off the roundabout where McCullough Road and Conzelman Rd intersect.
We arrived at 10:30 AM on a holiday weekend and found some parking; however, as we left around 12:30 PM, it was definitely more crowded!
The trail is all downhill on the way to Black Sands Beach, including a steep hike down the last portion of the trail (Upper Fisherman's Trail).
The way back is all uphill! However, it's a pretty gradual grade, so after the steep portion heading up to the Black Sands Beach parking lot, it's a pretty steady climb back up.
Coastal Trail to Black Sands Beach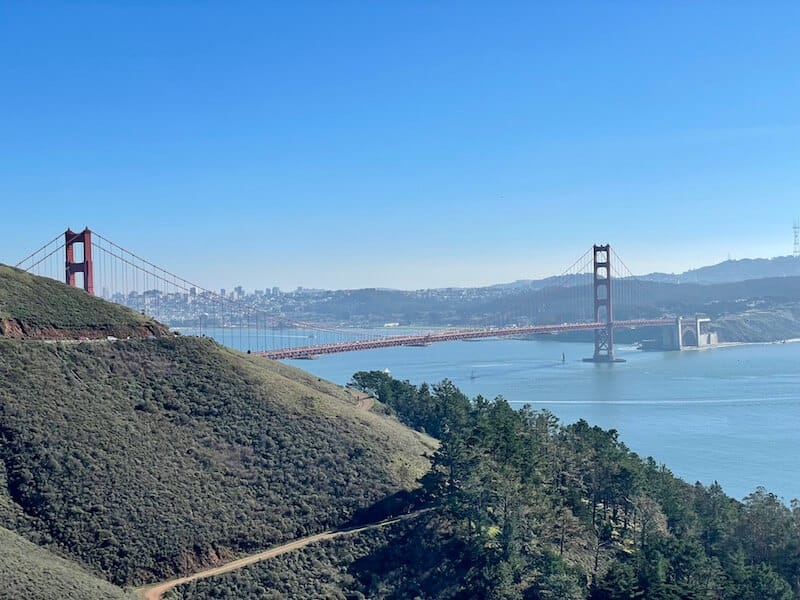 Trail Type: Some unpaved trail, some roadside along busy Conzelman Road. Read more about the trail here.
Distance: 3.9 miles roundtrip
Elevation Gain: 1,003 feet
Difficulty: Moderate
I generally wouldn't recommend this trail to Black Sands Beach as it's along a narrow, cliffside trail next to Conzelman Road.
This trail does include Hawk Hill, hence the added elevation gain; however, I'd recommend the Julian Trail which is quieter, more peaceful, and safer.
Other Hikes in the Marin Headlands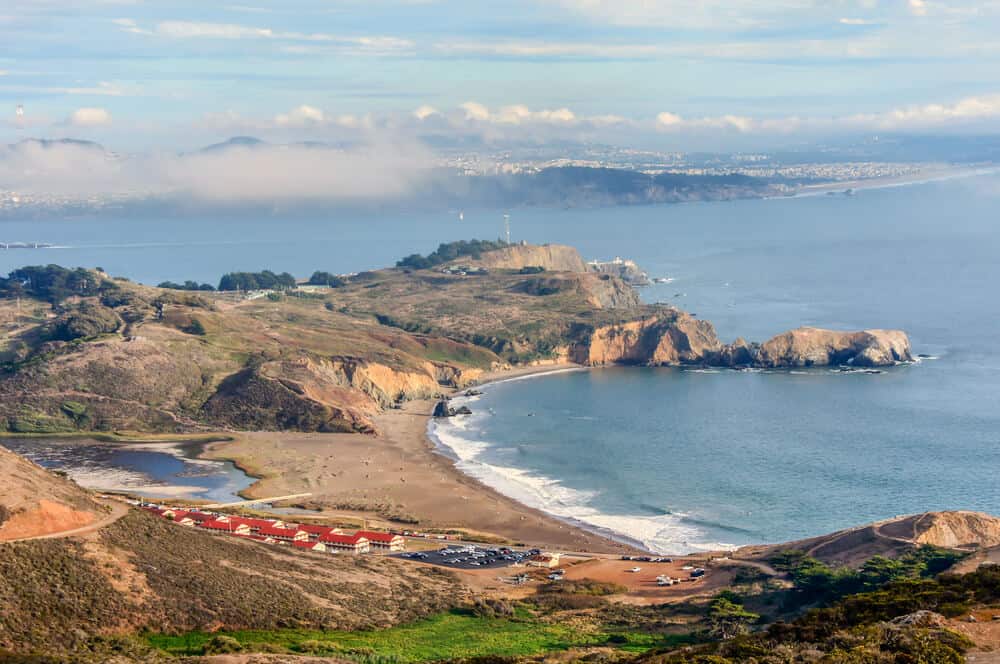 You can easily combine a hike to Black Sands Beach with another hike in the Marin Headlands area.
Rodeo Beach, Coastal Trail, and Miwok Trail: This moderate 5.3-mile loop includes about 1,000 feet of elevation gain plus stunning views as you descend to Rodeo Beach. You can combine it with Black Sands Beach easily if you have the stamina!
Kirby Cove Trail: This easy 3-mile out-and-back trail includes 560 feet of elevation gain, but it's worth it to access a beach with Golden Gate Views!
Slacker Hill Trail: Despite the name, this trail has you gaining about 330 feet of elevation in half a mile — doesn't seem much like slacking to me! The views of the Golden Gate from the vista point on the hill are spectacular.
Tennessee Valley Trail: This is an easy hike, just 3 miles and 170 feet of elevation gain. This hike leads you to the beautiful Tennessee Beach! Note that the parking lot will be closed between December 2021-February 2022, so to visit, you might have to hike into the parking area which will add more time.
Want more Marin hiking inspiration? Here are some of our favorite Marin County hikes, including hikes in Muir Woods, Mt Tamalpais State Park, and more.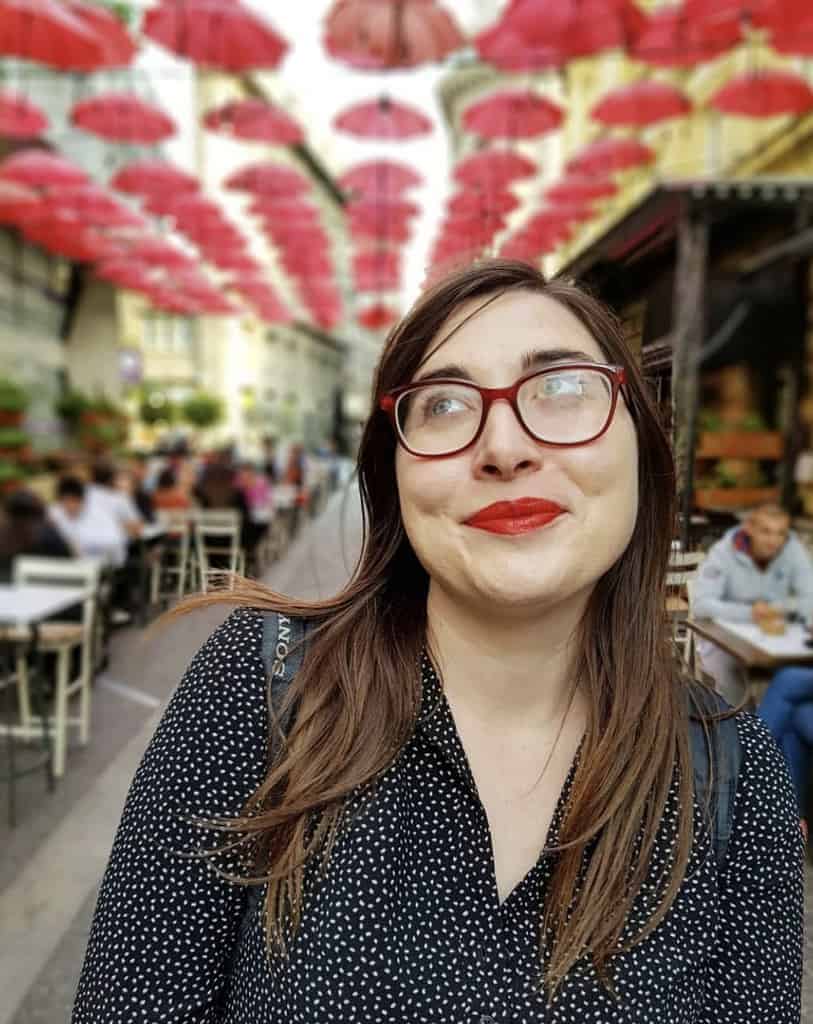 Allison Green is a travel blogger, writer, and podcaster who grew up in the Bay Area of California. She has spent time living in New York, Prague, and Sofia, but has returned to live in the East Bay. She has traveled to 60 countries before the age of 30 while running several digital travel publications. Her writing and podcast have been featured in Forbes, CBC Canada, National Geographic, the Huffington Post, and CNN Arabic, amongst others. She's obsessed with bouldering, houseplants, other people's pets, and anywhere she can see the ocean.