Marin County lies just beyond the famous Golden Gate Bridge and stretches along California's beautiful rocky coastline for many miles.
The area, which was inhabited by the Coast Miwok for thousands of years, is now occupied by many small towns and an abundance of recreational areas.
Marin is perhaps most well-known for its wonderful hiking trails. In addition to regional park areas, Marin County also encompasses Point Reyes National Seashore, Muir Woods National Monument, and Mount Tamalpais State Park.
Marin is a great place for a day trip given its proximity both to San Francisco and to cities in the East Bay like Berkeley or Oakland.
(Psst: We've written previously about the great hikes in the East Bay, South Bay & North Bay, as well as SF proper and Pt Reyes!)
While Marin's ease of access is a great bonus, it does mean that many hikes can get crowded on weekends. Make sure you get to these trailheads earlier in the day to avoid crowds.
Marin's popularity amongst hikers (and bicyclists and equestrians!) should come as no surprise, as every single hike in the Marin area is beautiful. Marin offers a huge variety of landscapes, even on a single hike. You can hike from dense forest to beach, or over golden grassy hills to a waterfall.
I know the area well and have hiked in Marin frequently, so without further ado, here are the best hikes in Marin.
Best Marin County Hikes
Bon Tempe Lake Loop
Note: This post contains affiliate links, which earn me a small commission at no extra cost to you if you make a purchase using one of these links. Thank you for supporting this free content!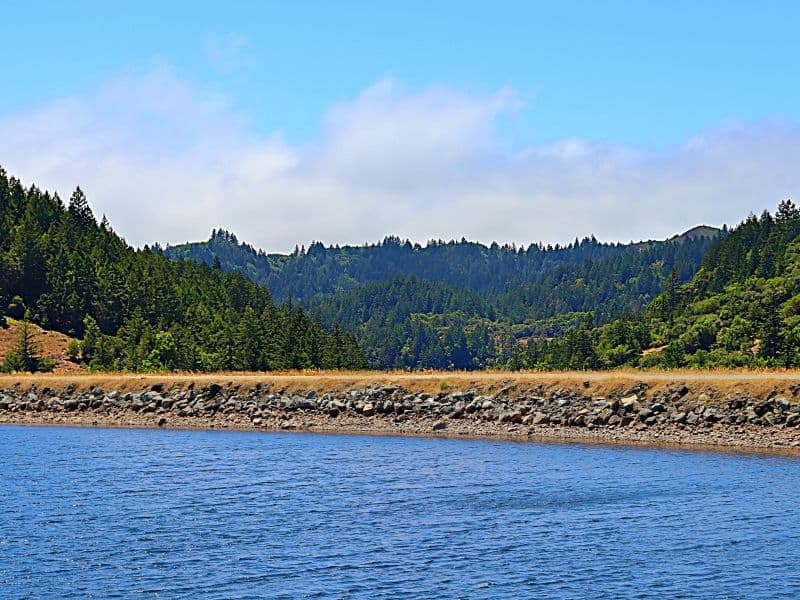 Difficulty: Easy
Distance: 4.1 miles loop
Total Elevation Gain: 209 feet
The Bon Tempe Lake Loop is a great trail to do with the family, and with your dog (on leash)!
On one half of the loop, you'll walk along beautiful Bon Tempe Lake in grasslands, and on the other, you'll walk through a pleasant, shaded forest.
Park at the Bon Tempe Parking Lot or at the Lake Lagunitas Parking Lot, both of which cost $8. Start by following the Sunnyside Trail, which, true to its name, has very little shade. If you're there in the spring, make sure to look out for wildflowers covering the nearby hillsides.
At about 2.5 miles in, you'll reach the Bon Tempe Dam. Look past it towards Alpine Lake and the mountains beyond.
From the dam, you'll begin to make your way back on the other side of Bon Tempe Lake. This area is more forested, making it a more appealing place to take a break on a hot day.
Muir Woods Main Trail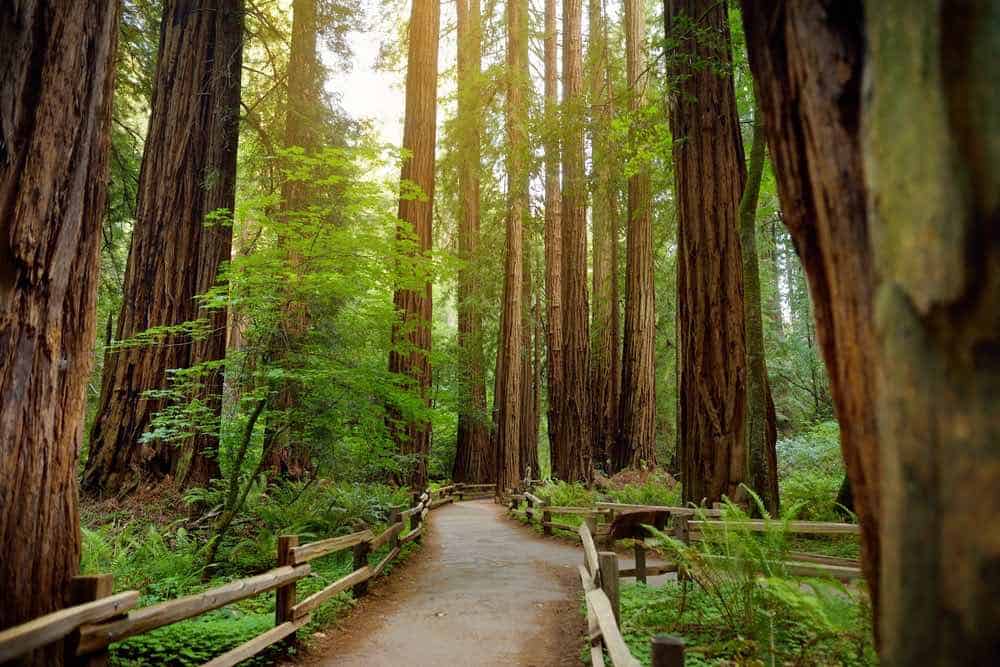 Distance: 0.5-2 miles round trip, depending on where you turn back
Total Elevation Gain: 90 feet
Difficulty: Easy
Nestled in the southwest corner of Marin County, Muir Woods National Monument in Mill Valley is truly a special place.
Named as a National Monument in 1908, the park contains trees that are much older. You do need a parking reservation to visit, so check their website for information beforehand.
Muir Wood's Main Trail takes you along through towering old-growth redwoods. Much of the trail is flat, making it a nice option for an easier hike in Marin County.
Begin at the National Parks Visitor Center, and follow the trail along Redwood Creek on a boardwalk. This section is wheelchair and stroller accessible. At 0.25 miles, you'll hit Bridge 2 over the creek. If you're just looking for a quick stroll, this is a great turnaround spot.
Continue on the boardwalk for another quarter mile until you hit Bridge 3. Continue onward, past Cathedral Grove, for another half mile until you reach Bridge 4.
After crossing the bridge, you'll walk the only uphill on this hike. Take a left on the Hillside Trail, a dirt trail that will take you back to Bridge 2.
Muir Woods Canopy View Trail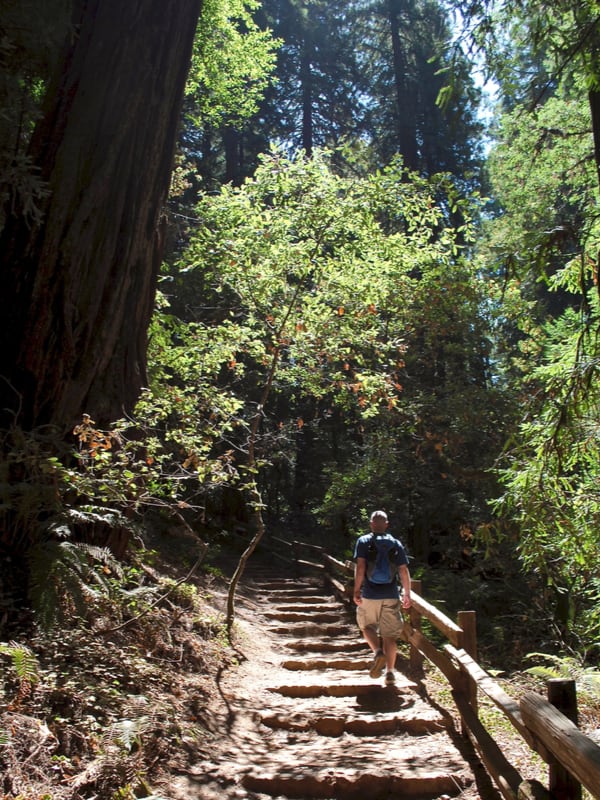 Distance: 3 miles loop
Total Elevation Gain: 530 feet
Difficulty: Moderate
This Muir Woods hike is a slightly more strenuous option than the boardwalk on the Main Trail at Muir Woods, meaning it's also a nice place to get away from some of the crowds.
Like on the boardwalks, you'll be surrounded by huge redwoods, but as the trail name suggests, you'll get to experience views from the canopy above, rather than the canyon bottom.
Park at the Visitor Center (again, you'll need reservations), and take the Main Trail to the first junction, where you'll take a right onto the Canopy View Trail. This trail is sometimes referred to as the Ocean View Trail, but these are the same trails.
You'll immediately begin climbing up some gradual steps as you make your way up the canyon wall. After 1.5 miles, you'll hit a junction with the Lost Trail. Continue steeply downhill on the Lost Trail towards the Fern Creek Trail.
Hike through ferns until you hit Redwood Creek at the bottom of the canyon. Cross the creek at the bridge, and take a left to head back to the Visitor Center.
Tennessee Valley Trail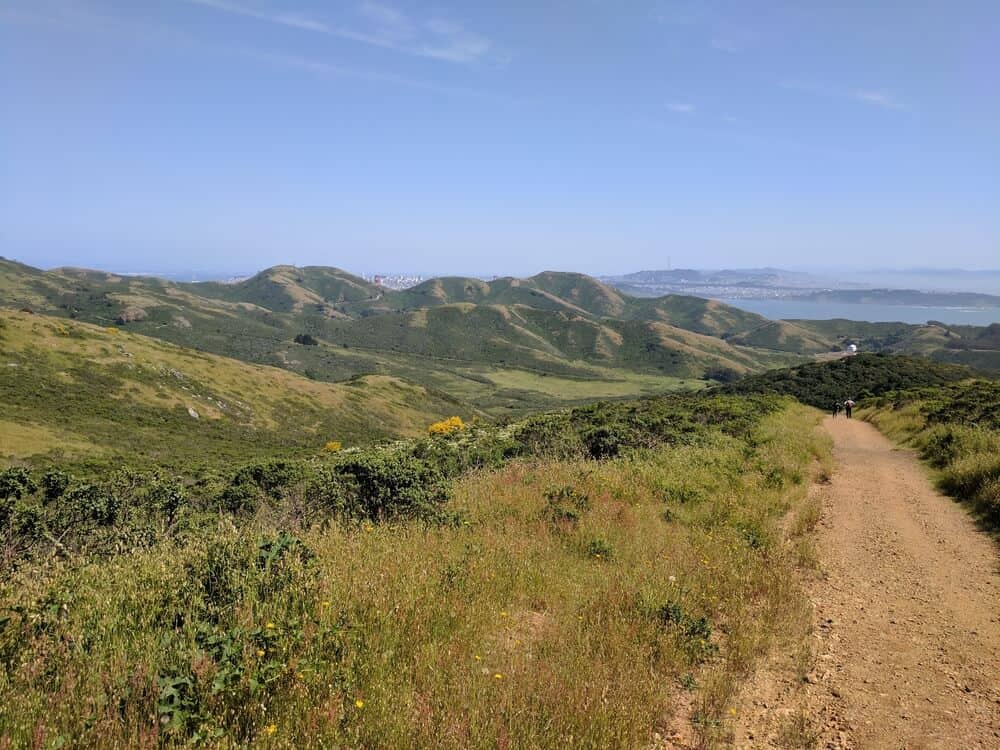 Distance: 3.4 miles round trip
Total Elevation Gain: 170 feet
Difficulty: Easy–Moderate
The Tennessee Valley Trail is a lovely stroll along grassy hillsides and wetlands that ends at the beautiful Tennessee Beach, a small cove with a sandy beach.
The hike is paved and accessible to wheelchairs for roughly the first mile. This is the perfect Marin hike to do with small children, especially children in strollers.
Park at the Tennessee Valley Trailhead. Make sure to get there early, especially on weekends, since this trail is extremely popular.
At about three quarters of a mile, the trail will become hard dirt, and you'll have the choice to take the Lower Spur Trail, or take the Upper Trail for a steeper, more difficult hike that includes an overlook. If you stay on the lower trail, at 1 mile, the trail begins climbing slightly towards the beach.
After 1.75 miles, you'll reach Tennessee Beach. If you've got the time, this is a fantastic picnic spot!
Accessing the beach can get slippery, so make sure you have appropriate footwear and take caution.
Coastal Trail: Rodeo Beach to Hill 88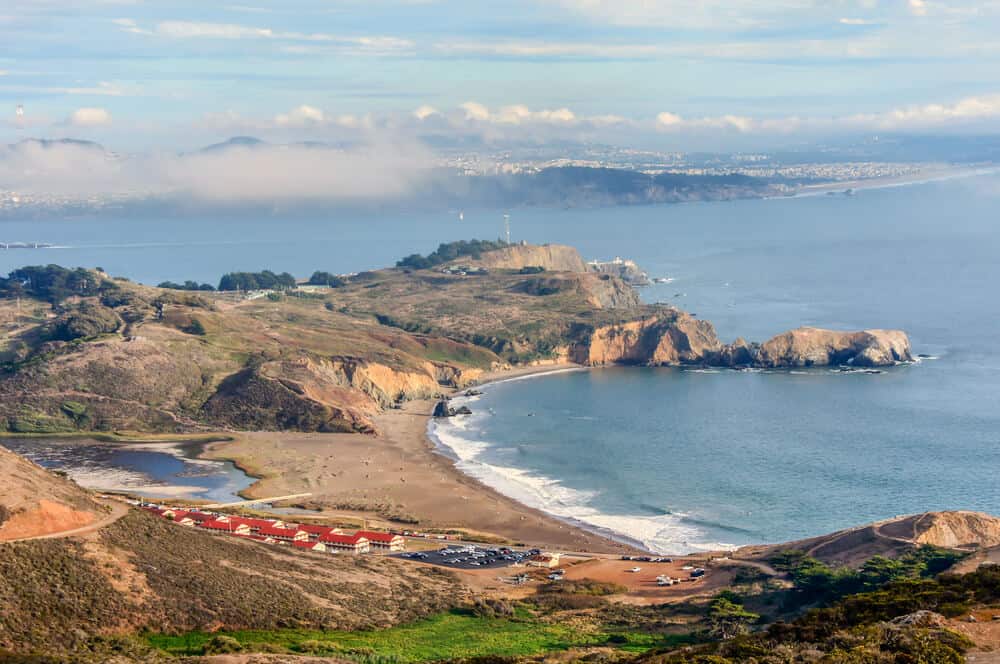 Distance: 3.8 miles round trip
Total Elevation Gain: 1,023 feet
Difficulty: Moderate
Rodeo Beach is the most famous beach in the Marin Headlands, the area of coast that stretches north beyond the Golden Gate Bridge.
While the beach is quite close to the Golden Gate, in order to reach your trailhead, you'll get to drive the extremely scenic Bunker Road past old military bases built into the hillside.
Park in the Rodeo Beach parking lot. Take the Coastal Trail, which begins at the far end of the parking lot. The trail begins paved, but after less than a mile becomes a dirt trail. Look out for Battery Townsley, an old military outpost, on your left as you climb.
Continue on the Coastal Trail for another mile until you reach Hill 88. At nearly 1000 feet above sea level, you'll have great views of San Francisco and the rest of the Headlands from the top of Hill 88.
From Hill 88, you can return the way you came for a 3.8 miles round trip hike, or continue on the Wolf Ridge Trail for 0.7 miles, before taking a right on the Miwok Trail, which brings you a little over 2 miles back to the Rodeo Beach parking lot. Making your hike a loop brings your total mileage to around 5.5 miles.
Note: both the Coastal Trail and Wolf Ridge Trails connect to the Tennessee Valley Trail described above. These are both great options to increase the length and difficulty of your Marin hike by including Tennessee Beach.
Make sure you bring a map, as there are many trails in the area, and directions may get confusing without navigational tools.
Coastal Trail: Muir Beach to Rodeo Beach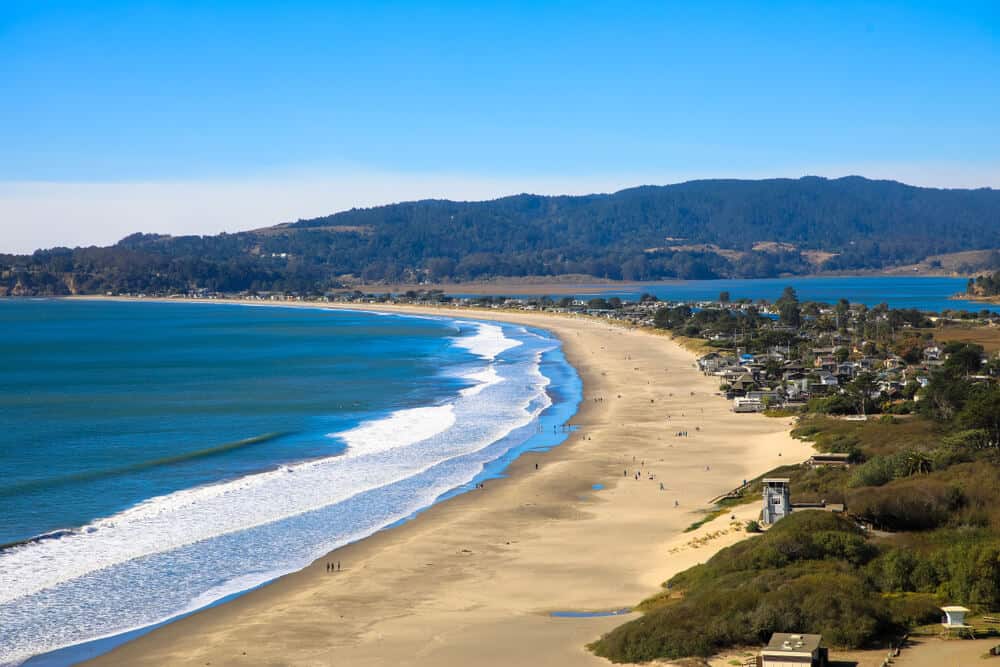 Distance: 12-13 miles round trip, depending on side trips
Total Elevation Gain: 3,528 feet
Difficulty: Strenuous
This beautiful coastal hike follows the ridgeline above the ocean between two of Marin's most popular beaches, Muir Beach and Rodeo Beach. If you hiked to Hill 88 and still can't get enough, this much longer hike might be just the trail for you!
You can begin this hike at Muir Beach or at Rodeo Beach, as it is an out-and-back hike with parking at either end. This description will follow the Muir to Rodeo Beach direction.
Park at Muir Beach parking lot. Parking can get crowded, so get there early, especially to leave time for this long Marin hike. The Coastal Trail leaves right out of the parking lot. Your first mile will include a gentle climb with beautiful views of the ocean.
Stay on this ridgeline for another mile or so, until you descend slightly to a cutoff to Pirate's Cove, a small cove featuring large rocks and ocean sprays. Take the short detour to the Cove for a break, before continuing back up to the ridgeline on the Coastal Trail.
At around 3 miles, you'll cross the Tennessee Valley Trail (see description above). Stay on the Coastal Trail, where you'll climb for a mile before descending for another mile. Consider a rest at the bottom, as the hike is not over yet!
After climbing over this first hill, you'll have another 1.5-mile climb (don't worry, it's gentler) as you crest the hillside over Rodeo Beach. Here you have the option to go up to Hill 88 or skip it and go around.
The last bit of trail winds down into the Rodeo Beach Parking Lot. Make sure to relax on the beach for a while before starting the trail back.
Cataract Falls Trail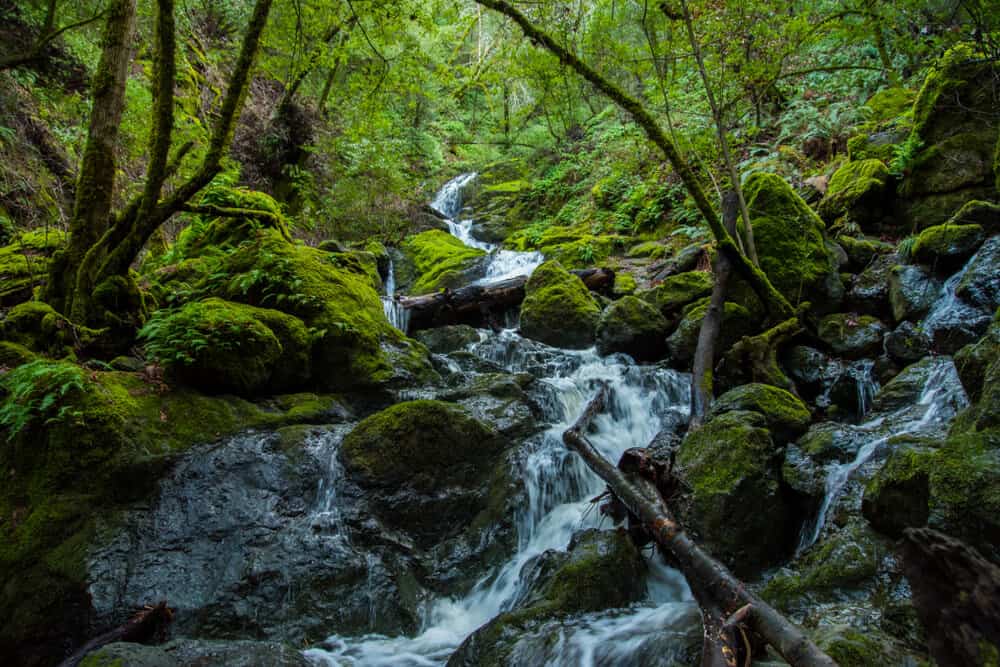 Distance: 4.8 miles round trip
Total Elevation Gain: 1,056 feet
Difficulty: Moderate
Cataract Falls is a fantastic hike featuring multiple waterfalls. The trail does include some uphill, but as you'll be climbing past waterfall after waterfall, the climb is really worth it.
This is another popular hike in Marin County, so leave time to find parking. The trailhead can be found off of Bolinas Fairfax Road, near Alpine Lake (and Bon Tempe Lake, described above).
You'll begin climbing on the Cataract Trail soon after you begin hiking. Climb up through fern-covered hillsides and across the creek multiple times. You'll also cross over a small bridge and go up some steps soon after beginning hiking.
You'll soon reach the Laurel Dell Picnic Area, which has several shaded picnic tables and a bathroom. After a snack or lunch break, you can turn around here or continue on the Cataract Trail towards the Upper Falls.
There is a beautiful pool at the base of the falls that makes it an awesome place to stop and rest before turning around.
If you'd like to extend this trail, begin instead at the Rock Spring Trailhead. Starting there makes your hike about 6 miles total.
Steep Ravine to Dipsea Trail Loop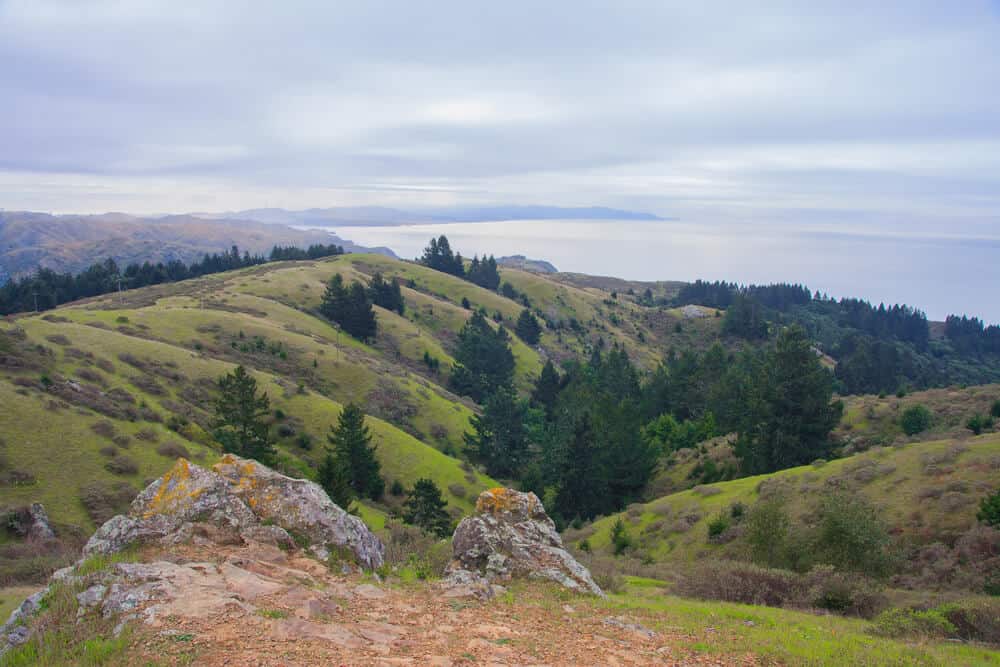 Distance: 3.5 miles loop
Total Elevation Gain: 950 feet
Difficulty: Strenuous
The Dipsea and Steep Ravine Trail Loop is a classic Northern California hike, as you'll experience both sweeping ocean views and dense forest.
If it's not too foggy, you'll be able to see San Francisco and the Golden Gate, as well as the rocky coastline of the Marin Headlands. You'll traverse through ferns and redwood forests, and even get to climb up (or down!) a wooden ladder.
While relatively short, this hike is no joke, as you'll literally dip down to the sea and back up again. In fact, the oldest cross country running race in the world, the Dipsea Race, takes place annually on this trail, and is notoriously difficult.
Begin at the Pantoll Ranger Station and follow signs for the Old Mine Trail. You'll begin in a forest, which will quickly become grassy hills. At your next junction, make sure to stop and look out for great views of San Francisco. Follow the Coastal Fire Road left, towards the Dipsea Trail.
Follow the Dipsea Trail through grasses and along the ridgeline until you reach a junction at around 1.5 miles. Take a right, which will drop you into a long descent following a creek drainage. Get your legs ready, since there are lots of stairs in this section.
At the bottom, you'll intersect with the Steep Ravine Trail, which is about 1.7 miles away from the Ranger Station. (You can also follow the Dipsea Trail all the way down to Stinson Beach for a snack break).
Follow Steep Ravine up through lush greenery and redwoods, up many stairs, and across the stream a few times.
After passing several waterfalls, you'll reach a ladder. Climb up it (careful, it can get slippery) and then switchback your way back to the Ranger Station.
Best Mount Tamalpais Summit Hikes
Mount Tamalpais, rising 2,571 feet above the San Francisco Bay, is the highest point in Marin.
Commonly referred to by locals as "Mount Tam," the mountain has three peaks: East, West, and Middle.
Although East Peak may be the most popular place to summit as it is the tallest point, most of the hikes in this area, including the Dipsea Trail described above, are on one of the mountain's slopes.
The hikes described below are some of the most popular ways to summit the Bay Area's prized peak!
Mount Tamalpais Middle Peak Loop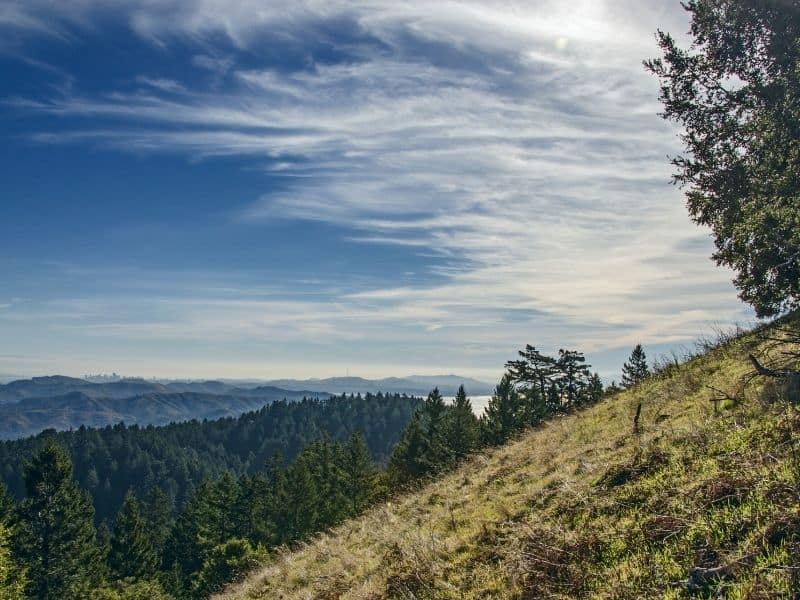 Distance: 5.3 miles loop
Total Elevation Gain: 889 feet
Difficulty: Moderate
The Middle Peak Loop is a fantastic opportunity to get stunning views without the crowds, as Mount Tam's East Peak is generally more crowded. You'll have a fantastic view of San Francisco's skyline from this hike. This hike is also a nice option to do on hot days, since much of it is shaded.
Park at the East Peak parking lot on Ridgecrest Road. Hike out on East Ridgecrest Blvd and take a right onto the trail at Eldridge Grade Fire Road. You'll hike slightly downhill for about a mile, where you'll take a left to stay on the Fire Road.
At the next junction, take a left onto the Northside Trail. Continue on this trail for several miles along a beautiful ridgeline. At 3.5 miles, take a left onto the International Trail as you round the other side of the loop. Follow this to the Lakeview Trail.
The Middle Peak summit is only a short spur off the Lakeview Trail. Take in the sights from 2,441 feet before you make your way back to Ridgecrest Blvd.
Verna Dunshee Trail to East Peak Summit
Distance: 1.2 miles loop
Total Elevation Gain: 285 feet
Difficulty: Easy
The Verna Dunshee Trail offers the full summit experience without the climb!
This loop circles Mount Tam's East Peak. It's paved, so it is wheelchair friendly, and is a great place to bring kids in strollers. While you'll have great views along the entire trail, make sure to stop at the official overlook platform!
To get to the trailhead, follow the Panoramic Highway until you take a right on Ridgecrest Boulevard. Follow this road until the parking lot.
You'll have views of the San Francisco Bay sparkling below you, as well as grassy hillsides. If you're there at the right time of year (spring), you'll get to experience fields of wildflowers as well. In the summer, you can watch the sunset reflected on classic California golden hills.
You'll also have the option to take the Plank Walk, a dirt trail (not wheelchair accessible) that takes you to the East Peak Fire Lookout Station.
Old Railroad Grade Trail to East Peak Summit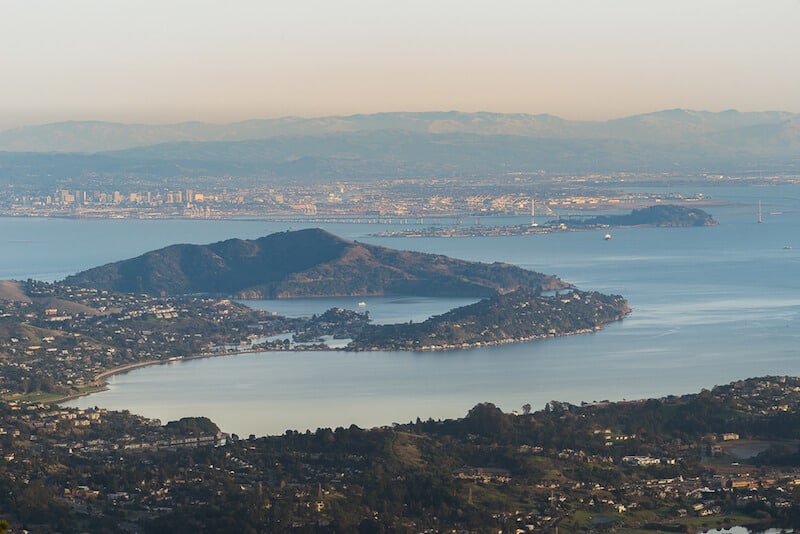 Distance: 4.4 miles round trip
Total Elevation Gain: 554 feet
Difficulty: Moderate
If you'd like to extend your hike to the summit of East Peak by just a bit, then this is the hike for you. The easiest route to the summit from the south is the "Old Railroad Grade," a nicely graded trail that, (surprise) is the site of an old cog railroad. As the railroad garnered the nickname "Crookedest Railroad in the World" soon after construction, it comes as no surprise that the railway no longer exists.
This trailhead is found at the end of Fern Canyon Road in Mill Valley, where there is plenty of parking. From your trailhead, follow signs right toward Old Railroad Grade. The trail is also very popular with mountain-bikers, so be sure to watch out for speeding bicyclists as you make your way up.
After hiking for about 2.5 miles, you'll reach the West Point Inn, a currently operating inn originally built for railroad visitors, which is not accessible by car. Continue up the trail until you reach the East Peak Visitor Center. From there, enjoy the 360-degree views, and take the Plank Walk to the fire lookout tower to reach the very top.
Stinson Beach to East Peak Summit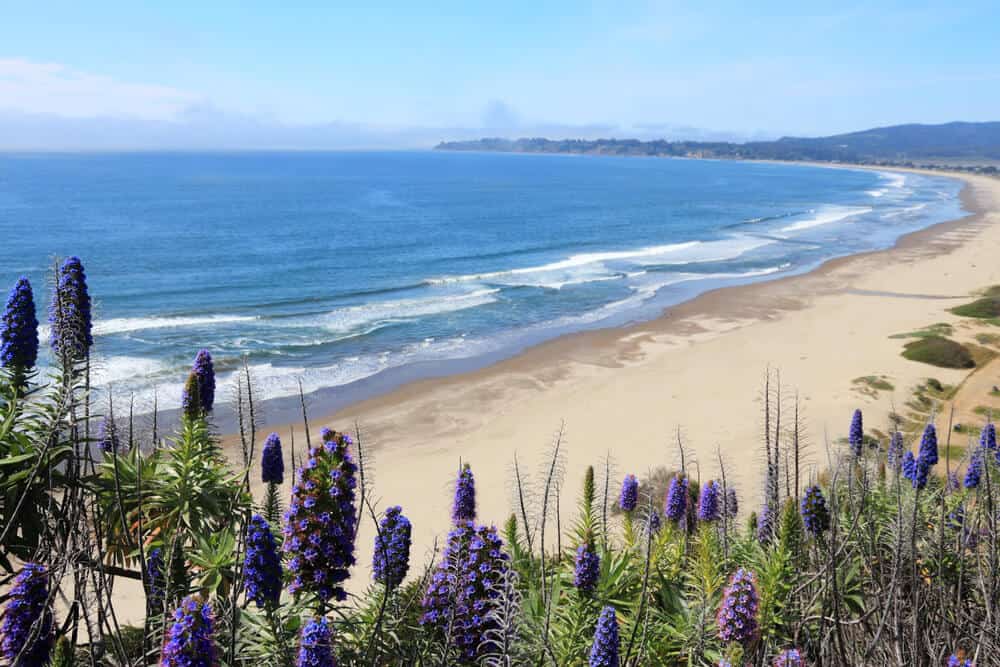 Distance: 17.0 miles round trip
Total Elevation Gain: ~3,000 feet (Net elevation gain: 2,571)
Difficulty: Strenuous
From sea to summit, this Marin County hike has it all!
You'll begin at Stinson Beach, a very popular beach in the Bay Area for lounging, playing in the sand, and even surfing. It also makes a great jumping-off point for many of the hikes near Mount Tam.
Parking at Stinson can get crowded on nice beach days, so make sure you leave enough time to find a spot. You can park on the streets or in the beach parking lot. The trailhead for the Matt Davis Trail is marked with a sign and a small bridge.
You'll begin hiking up switchbacks for about 2 miles, with great ocean views the whole way. Soon, the hike will become gentler (although with many ups and downs) as you make your way through smaller grassy hills.
At around 4 miles, you'll reach the Pantoll Ranger Station. If you're looking for a shorter hike, you can park here instead of at Stinson Beach. From the Ranger Station, continue hiking on the Old Stage Road. This road begins paved, but becomes a dirt road shortly after you begin.
At 2 miles in, you will hit the historic West Point Inn. (If you'd like to stay in one of their rooms or cabins, you'll have to make reservations well in advance). Follow the trail left to continue to climb up Mt. Tam. Once you hit the East Peak parking area, take a right and follow the Plank Walk Trail.
If you've read the previous Marin hike's description, this should sound familiar to you by now!
As always, take a minute to appreciate the stunning views from the top before you prepare for your long descent. You can go back the way you came, or take the Steep Ravine Trail (after Pantoll Ranger Station) back to the beach to make a loop.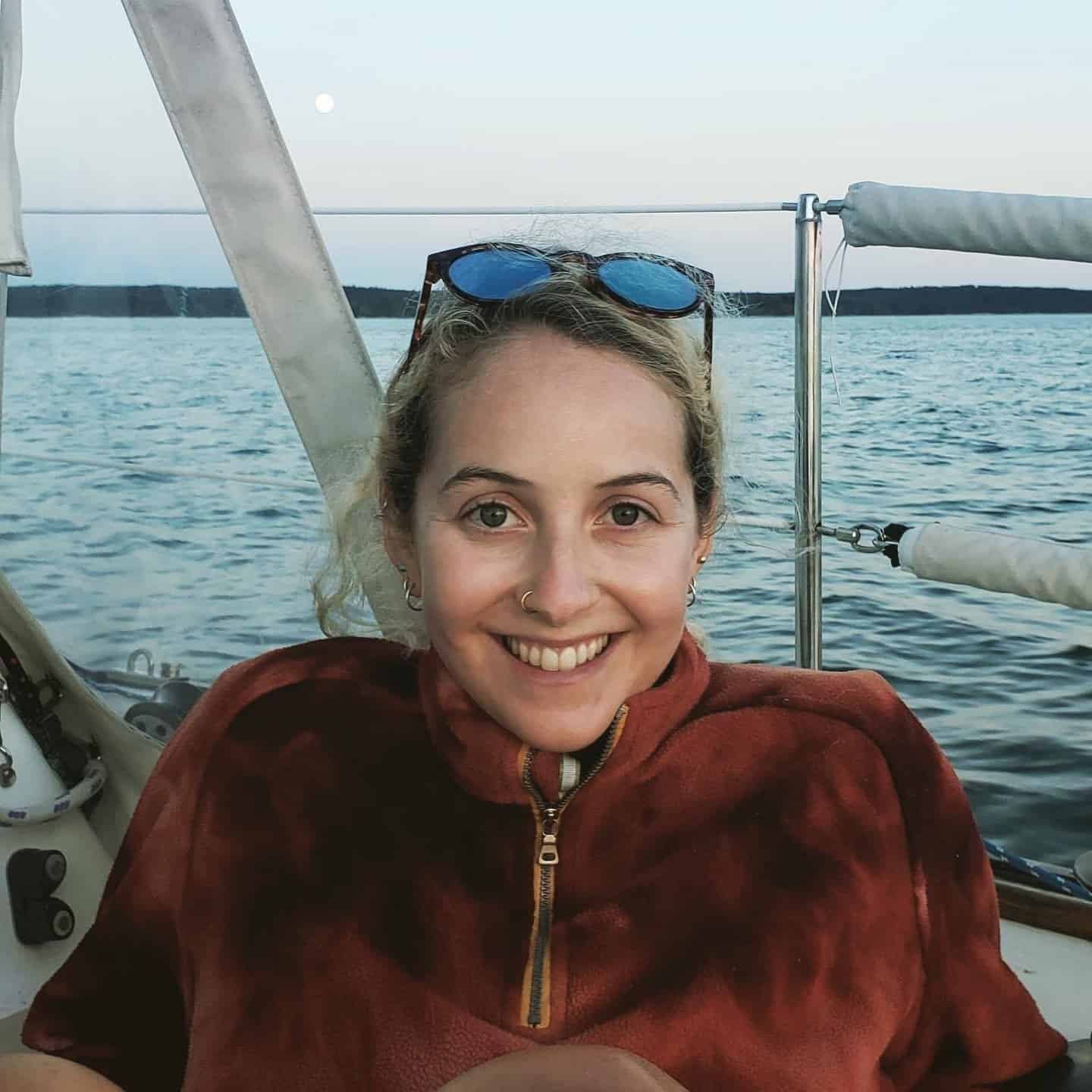 Lena is an outdoor recreation enthusiast born and raised in the San Francisco Bay Area. After going on her first camping trip at 3 months old, she hasn't stopped since. While her backpacking adventures have taken her to wilderness destination across the country, California's mountains and deserts will always be her favorite.