Home to skate and surf culture, Venice Beach has long been a major destination for fans of experiencing the outdoors in an urban environment.
Tucked in between Santa Monica and Marina del Rey, not only does Venice Beach have plenty to offer in the way of seaside outdoor activities, it's also packed with oodles of other kinds of things to do as well.
From street art, food, and festivals, to the wildly creative and vibrant denizens of this world-famous and unique beachfront community: here are just some of the best things to do in Venice Beach, Los Angeles.
Things to Do in Venice Beach
Try your hand at surfing.
Note: This post contains affiliate links, which earn me a small commission at no extra cost to you if you make a purchase using one of these links. Thank you for supporting this free content!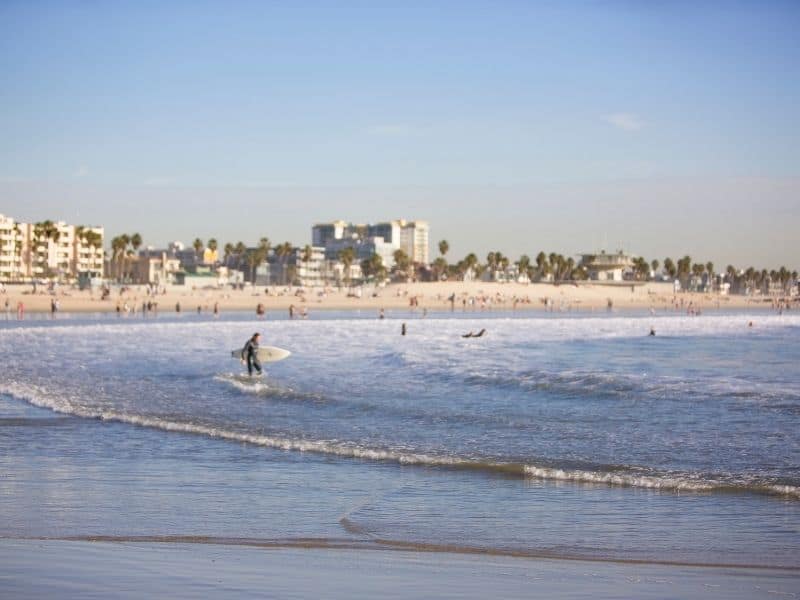 One of the first things you'll notice in Venice Beach is all the barefoot, sun-bleached surfers walking by with their surfboards tucked under their arms.
They all look really cool in their wetsuits, but where are they surfing?
Locals say that the best places to catch a wave are at the Venice Pier, Venice Breakwater, Bay Street (which is technically in Santa Monica, right next door), and off of Sunset.
There's also the nearby El Porto, which is off Manhattan Beach.
If you don't have your own surfboard, or if you want to take lessons, we recommend Jay's Rentals for both surfboards and lessons.
Try kayaking or paddleboarding.
Of course, if you don't know how to surf (and aren't interested in lessons), you definitely aren't limited in ways of enjoying the ocean.
There's also kayaking and paddleboarding — and for those of us who want to stay closer to the shoreline, swimming!
Rental spots are everywhere in Venice Beach, but if you want to take out a kayak, you'll probably want to make a reservation.
There are also kayaking tours available, which is a great way to sightsee while being in the water.
Have a delicious burrito.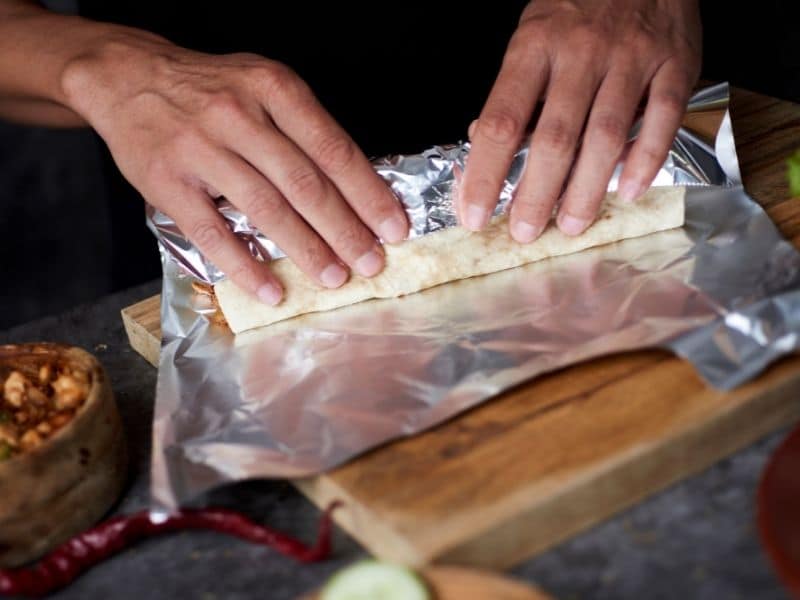 This being Los Angeles, excellent Mexican food is everywhere (which is why we have a full taco truck guide to LA as well)!
There's a special place in every surfer's heart for a truly good hometown burrito: no other city, in my opinion, does it better.
You should know that there are a couple of rules for a real LA burrito:
It must be wrapped in foil. There's a special alchemy that happens when the burrito, hot off the griddle, is promptly wrapped in aluminum foil: the tortilla steams slightly, allowing it to seal properly.
No rice! Rice is for people in San Francisco. Some people do put french fries in their burrito, but my belief is that french fries are more of a San Diego thing.
The best way to enjoy one? Get yours to go, and eat it beachside.
We recommend trying them at El Tarasco or Tacos Por Favor.
Check out the Venice Skate Park.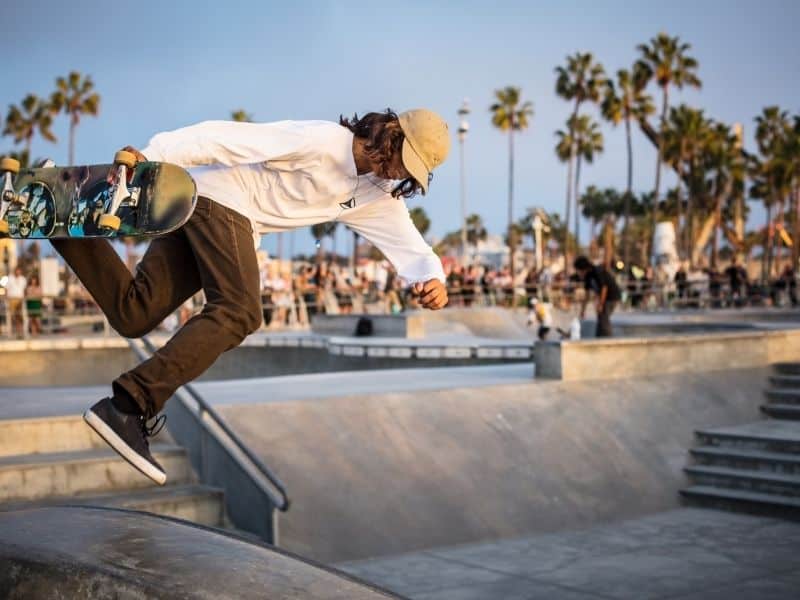 We're in Venice, so we definitely have to pay homage to the skate culture here, which was immortalized forever in movies such as Dogtown & Z-Boys.
While Dogtown itself is situated slightly to the north, straddling the border between Venice Beach and Santa Monica, the centrally-located Venice Skate Park is a fitting tribute.
Mosey on by and park yourself on one of the nearby benches to watch (or, if you're feeling brave, try going for a spin).
Most of the skaters (and occasional roller skater) are under 21, but if you know your stuff, you'll be welcome.
Everyone, however, is welcome to spectate!
Rent a bicycle or scooter.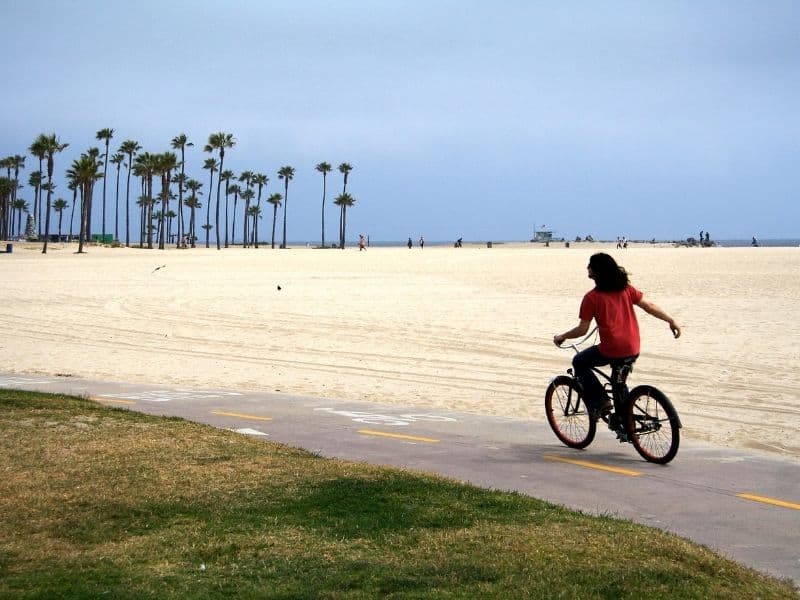 Scooters are available everywhere, and have become an acceptable mode of transportation in Venice Beach proper.
But if you're more of the traditional sort, you might want to rent a bike instead.
First of all, you probably already know how to ride it, and second of all, it's a little easier to maneuver down the boardwalk, because people will see you coming!
One other thing that's super popular along Venice Beach is rollerskating.
While this isn't a thing that people rent out, if you're a roller skater, you'll definitely want to bring them along. It's a great workout, and you'll be in lots of good company.
You can find bike rentals all over Venice Beach — they'll all charge you about the same. Check local prices at Perry's Cafe & Rentals.
Get your portrait drawn.
What's a fun and creative way to support the local artists on the boardwalk? Get your portrait done!
I still have a portrait of me from when I was five years old — it's a great souvenir for a trip to Venice Beach!
You'll be able to find any variety of artists who will paint you and your sweetie, but I like the caricature artists the best.
You'll look silly, but you'll also have a truly unique memento that you can frame when you get home.
Buy some jewelry on the boardwalk.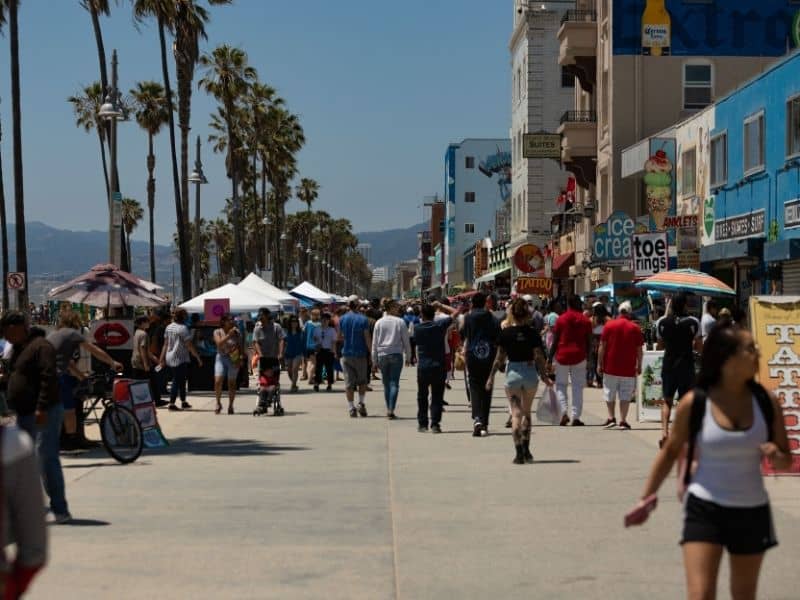 Venice Beach is chock-full of fun gifts for friends and family, but I like to look at their jewelry in particular.
Obviously, you won't find diamonds and rubies on the boardwalk, but you will find cool beaded necklaces, bracelets, and peace sign pendants galore.
They'll go perfectly with any hippie-inspired bohemian look — you'll find tie-dyed T-shirts everywhere, too!
Wander the Venice Canals.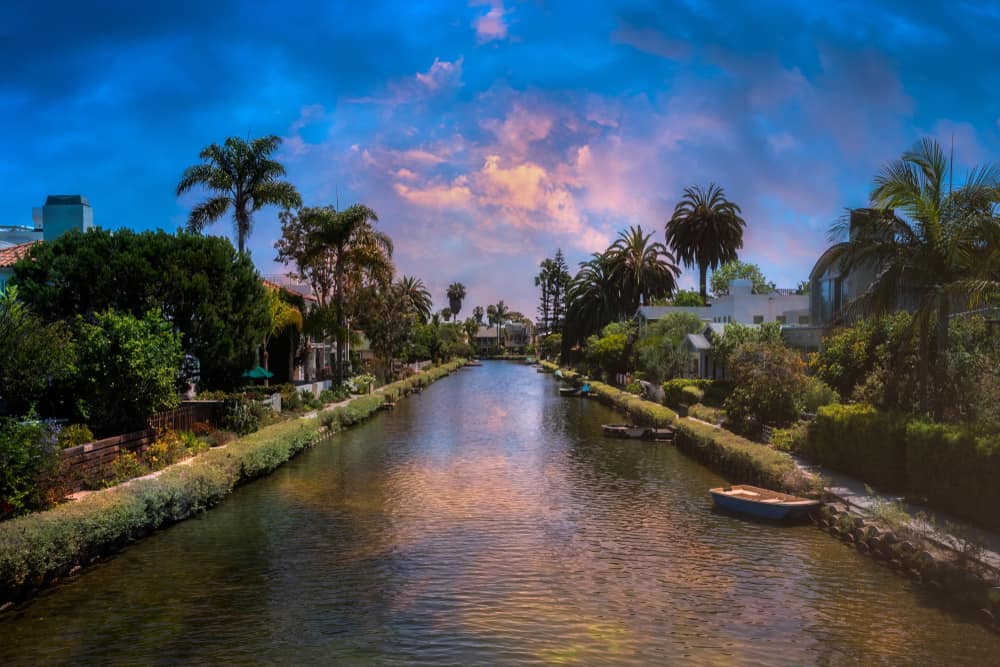 It's a short walk away from the beach, but checking out the Venice canals is a big treat for people who like looking at home architecture: there are some truly whimsical houses here.
There's a convenient walking path that runs by all the properties, and you'll be able to take some truly memorable Instagram pictures on the little arched bridges that connect them.
Abbot Kinney, the original Venice Beach developer and conservationist, wanted to recreate the look and feel of Venice, Italy.
While the scale here is much smaller and a little less grand than the real Venice, it's a beautiful and peaceful way to see a uniquely Californian neighborhood.
Visit for the Abbot Kinney Festival.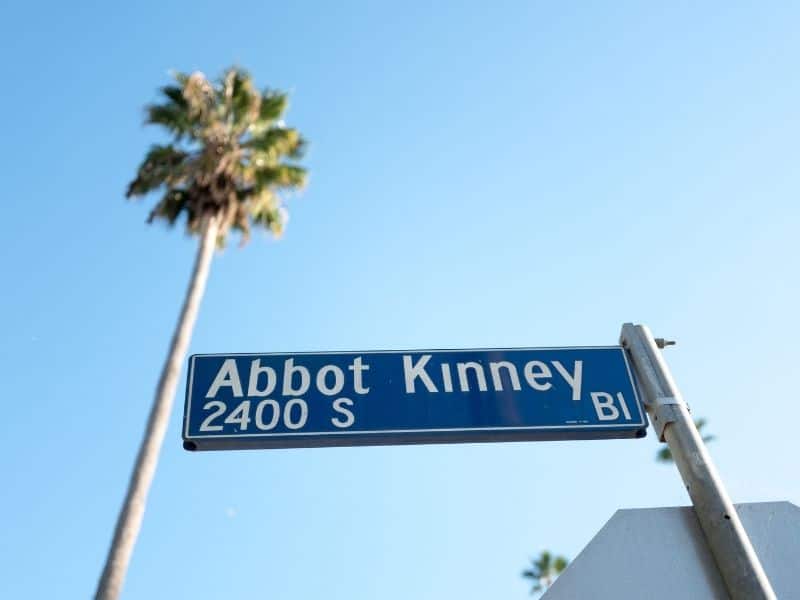 Speaking of Abbot Kinney, we need to talk about the street festival that's named after him.
It takes place on Abbot Kinney Boulevard, which is chock-full of shops and restaurants and was named the "coolest block in America" by GQ.
It normally happens in the fall, so if you're planning to attend, you'll want to make sure to schedule your trip around that time. As always, plan for COVID restrictions if applicable!
Check out Muscle Beach.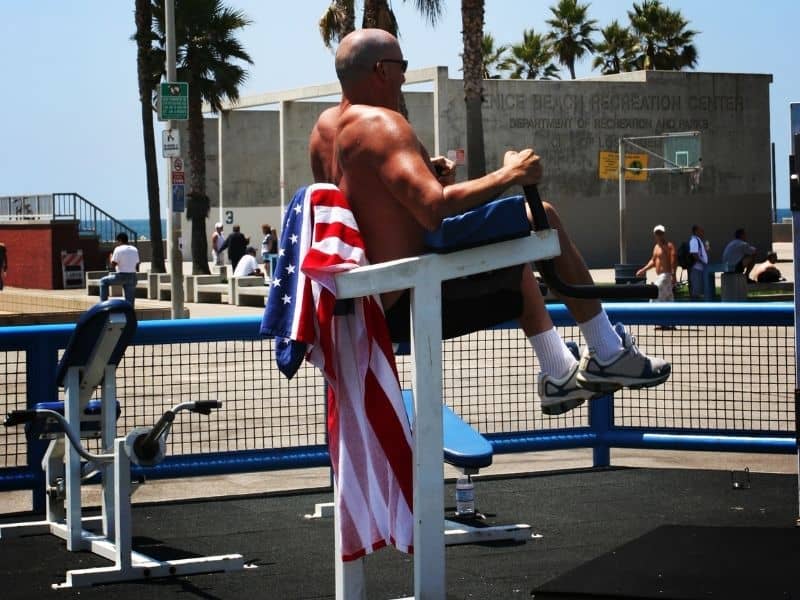 Calisthenics and gymnastics fans can take part in this publicly-available, famous outdoor gymnasium.
With traveling and exercise rings, bars, and swing sets, anyone can try their hand here. Just be careful — there's no one on duty!

There's also the Venice Beach Weight Pen, which is geared more towards weightlifters, with barbells, weights, and other weight-oriented exercise equipment.
Check out the Venice Art Walls.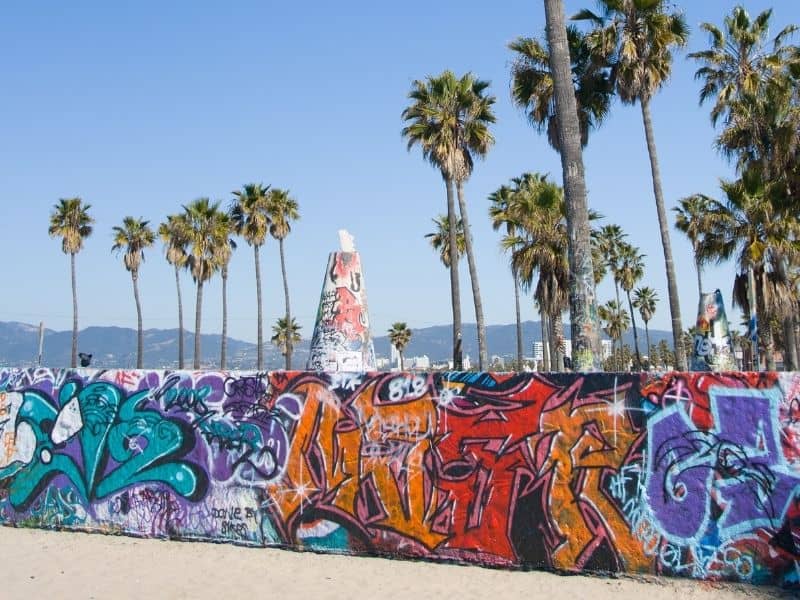 Fans of graffiti and street art will appreciate the many murals throughout Venice Beach, but the Venice Art Walls are very particular.
Composed of low, long, concrete walls, they were originally built as part of a structure called the Venice Pavillion (later torn down in 1999).
As graffiti artists continued to tag and spray-paint them, the city eventually issued permits for artists who wanted to do so.
The place is now curated by the Setting the Pace Foundation, which fosters community art across LA County.
Attend the Venice Art Crawl.
The Venice Art Crawl takes place quarterly, on the third Thursday (you'll want to check the website for exact dates — and the situation may be different due to the pandemic).
When it's on, it's on — you'll be able to view and enjoy art by local Venice artists, chat with artists, and check out exclusive Venice Beach galleries.
It's a great opportunity for the Venice creative community to network and support each other — and a good chance for you to be a part of it, however briefly!
Wander the Venice Boardwalk.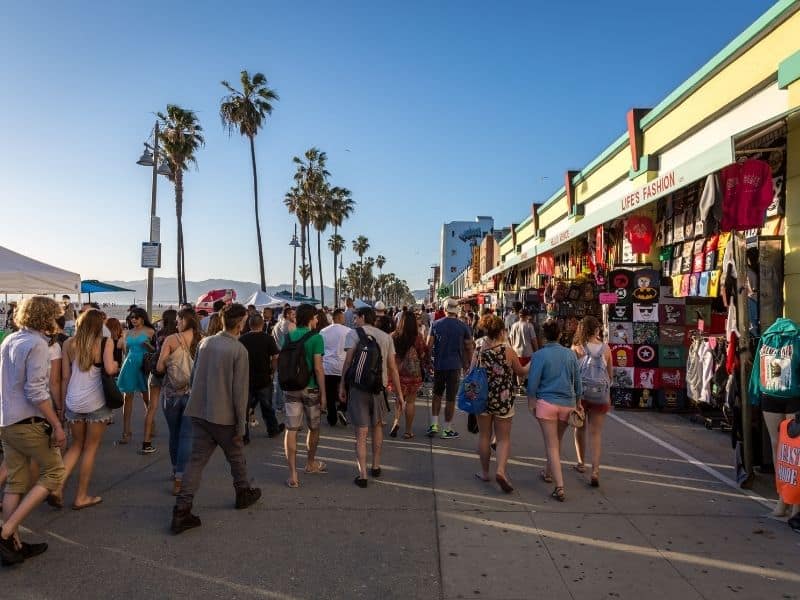 Running through this all is the Venice Boardwalk, the wide, two-mile-long path which, according to the LA Department of Recreation and Parks website, sees more than 28,000 people visitors per day.
Here, you'll find jewelry and t-shirt vendors, food, artists, and fortune-tellers, along with surfers, skaters, local teenagers, and various eccentrics of all kinds.
Check out the health food megastore Erewhon.
You might be aware of the Netflix TV series, You. But did you know that Love's store, Anavrin, is based on a real place?
Yes, it's true! You can get all the super-healthy fruit juice smoothies your little heart desires here, as well as other niche stuff.
Lion's Mane extract? Spirulina? It's all here, and all available to order.
Additionally, you can grab a satisfying lunch, without ever straying from your diet. This is one of those spots that can only exist in California!
Where to Stay in Venice Beach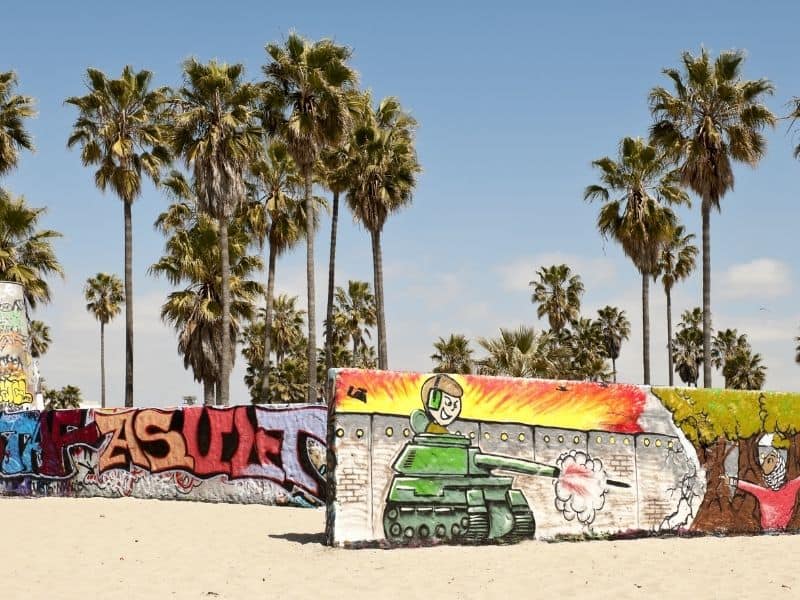 Venice Beach House
A National Register of Historic Places building, the gorgeous Venice Beach House was established in 1911 with 9 beautiful and unique rooms.
Featuring a tranquil, lushly planted old-fashioned setting and breathtaking common areas, Venice Beach House is a perfect getaway for you and that special person.
Venice V Hotel
For a more lively stay, try the Venice V Hotel, located right on the beachfront!
The rooms here feature distinct, Venice-flavored personalities, taking inspiration from skate and surf culture, along with California bohemian and hippie callbacks.
Vogue Magazine calls it "Los Angeles' coolest new beachside hotel"!
Venice Beach Hostel
If you're looking to save some money, you might want to try the Venice Beach Hostel.
It's rated decently and boasts a friendly, youthful vibe, with clean and welcoming places to chill. Perfect for visiting surfers!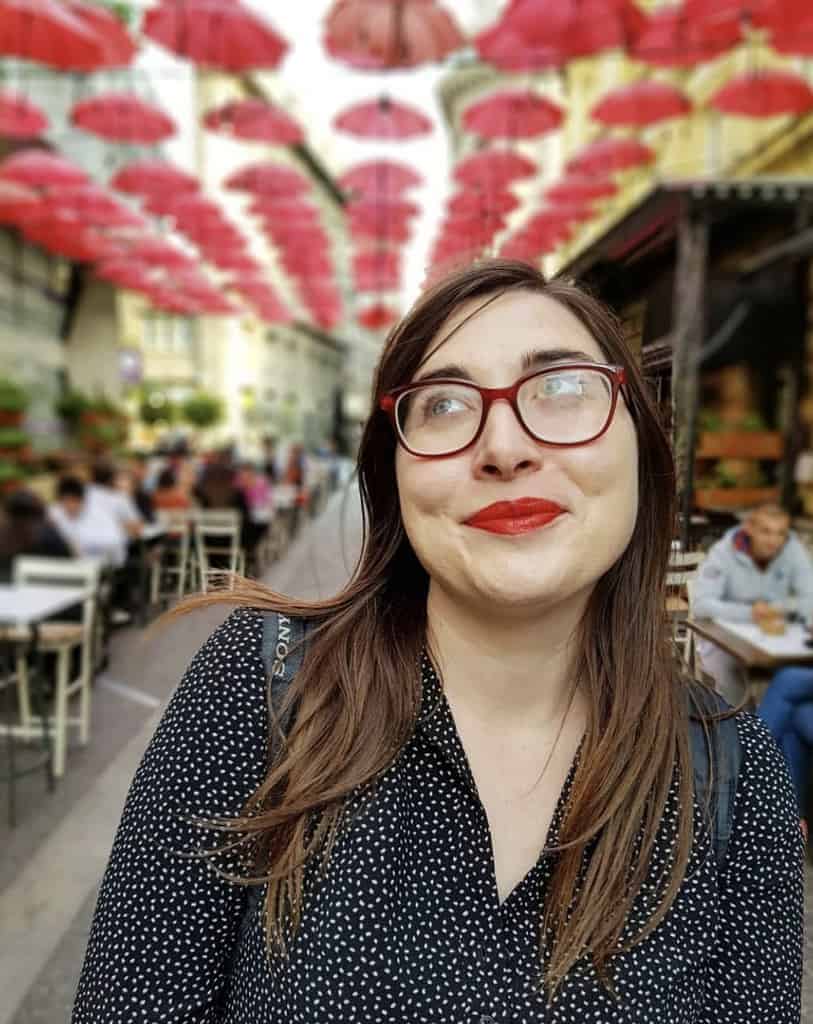 Allison Green is a travel blogger, writer, and podcaster who grew up in the Bay Area of California. She has spent time living in New York, Prague, and Sofia, but has returned to live in the East Bay. She has traveled to 60 countries before the age of 30 while running several digital travel publications. Her writing and podcast have been featured in Forbes, CBC Canada, National Geographic, the Huffington Post, and CNN Arabic, amongst others. She's obsessed with bouldering, houseplants, other people's pets, and anywhere she can see the ocean.