The fall is a wonderful time full of fun traditions to welcome the harvest season and begin the countdown until winter and winter holidays.
Many families or groups of friends include pumpkin picking or a visit to the pumpkin patch as part of their fall-time traditions.
This is one of the best activities that is offered in fall (although I'm also partial to apple picking), and it is a favorite of mine!
If you have never visited a pumpkin patch, you have been missing out!
If you live in sunny, picturesque Southern California, you might be thinking that I am crazy to suggest that you can visit a pumpkin patch in your area.
However, you might be surprised at the number of fun and unique pumpkin patches near Los Angeles!
If you have never been to any of the Southern California pumpkin patches, you have to plan to visit them as soon as it is pumpkin season again!
If this is your first visit to a pumpkin patch, you will be amazed at all the fun activities that you can do while you are pumpkin picking.
If you are a veteran, you will be pleased that you were told about the amazing patches that are near you in Southern California!
Southern California offers you the chance to visit sunny beaches and to visit theme parks, but it also offers you a unique pumpkin patch experience if you visit in the fall — so let's dive into the best places for pumpkin picking in SoCal!
Pumpkin Picking Near LA (Pasadena)
Note: This post contains affiliate links, which earn me a small commission at no extra cost to you if you make a purchase using one of these links. Thank you for supporting this free content!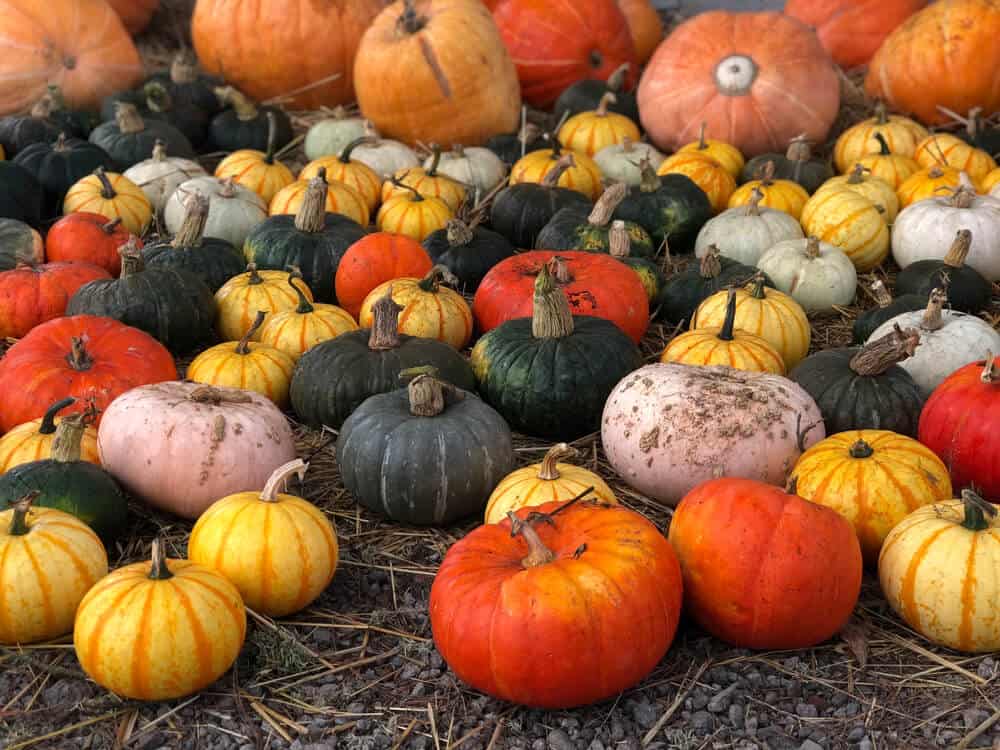 Pasadena Pumpkin Patch
Address: 900 N Lake Ave, Pasadena, CA 91104
This is a pumpkin patch near LA in a beautiful location that has been around for over 20 years!
They offer up many varieties of U-Pick pumpkin and you can bring your kids along for fun kid-centric activities here.
The pumpkin prices are great and affordable, and there is enough to do to spend a large part of the day here on a lovely fall weekend!
Kids will enjoy pony rides, a jumbo bouncy slide, and bouncy houses as well as a petting zoo.
There is no shortage of fun to be had here and your whole family will have fun when you visit this pumpkin patch!
Tahoe Scotty's Pumpkin Patch
Address: 1141 Mission St, South Pasadena, CA 91030
If you are in Pasadena, this is the patch that you should visit!
This is a cute little boutique patch that offers up basic U-Pick services as well as pre-picked pumpkins.
There is no carnival atmosphere here, but there are photo opportunities to be had as well lots of pretty scenery to enjoy.
While not a full-day experience, this patch is located in a gorgeous area, and you can spend some hours visiting area nearby (and eating at some great local Pasadena restaurants) while also making a stop for your pumpkins.
Los Angeles Pumpkin Patches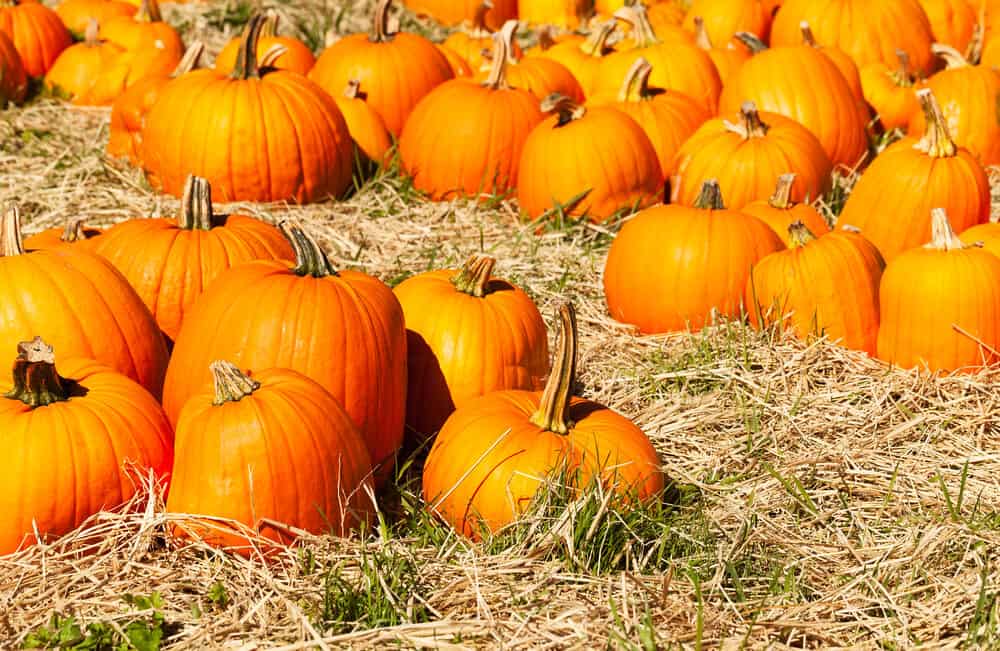 Debbie and Jeff's Pumpkin Patch
Address: 411 S. Pacific Coast Highway Redondo Beach, CA 90277
This pumpkin patch in LA (located in Redondo Beach) is a labor of love that has been undertaken by the family who owns it!
Debbie originally started the patch as a second source of income, but it quickly grew in popularity and has continued to be a part of the fall and Halloween celebrations of the Redondo Beach area for years now.
Debbi and Jeff also own a Christmas tree lot at this location, and they have kept it simple over the years.
There are no carnival-style attractions to be found here, but you can come to pick quality pumpkins and your kids can enjoy hanging out with the rabbits, goats, and ducks that are on site.
Debbie allows kids to feed the farm animals on-site for free!
This is a great little patch that offers up a fun and relaxed family atmosphere that focuses on the quality of their produce.
Forneris Farms
Address: 15200 Rinaldi St, Mission Hills, CA 91345
Forneris Farms offers up a really great day of fun for anyone who visits them!
They have a pumpkin patch that offers many varieties of pumpkins to pick and they have their own annual Harvest Festival if you are visiting during the right time.
Mission Hills is a lovely area of Los Angeles, and Forneris Farms is a delightful place to go when looking for a pumpkin patch in northern LA.
There is a corn maze here as well that is quite large at 4 acres! You can also take a tractor tour around the farm to learn all about its history and the many phases of growth that it has enjoyed.
They also have a farm market that sells many kinds of produce year-round, so you can stock up on veggies, berries, and other yummy foods before you leave.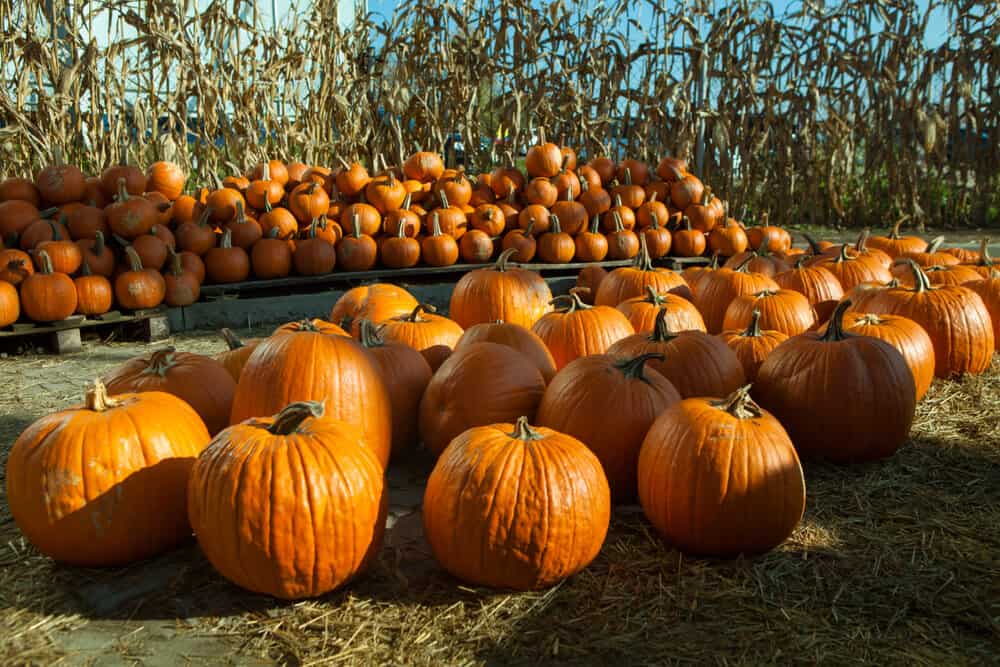 Mr. Bones Pumpkin Patch
Address: 10100 Jefferson Blvd, Culver City, CA 90232
This is one of the more famous pumpkin patches in Southern California!
Located near enough to Hollywood to draw in the occasional star, this pumpkin patch is the brainchild of Becky and David Campbell from Oregon.
Drawing on the sensibilities for Pacific Northwestern patches, they created this urban working farm experience that includes a pumpkin patch each year during October.
There are interactive tours that are offered daily as well as a petting zoo, a straw maze and pumpkin, and tipi villages.
There is also a truly unique feature, the Giant Rocking Horse, that makes this patch stand out for its fun attractions!
Your kids will love the fun things to do and the pumpkins are superb here.
Toluca Lake Pumpkin Patch
Address: 10601 Riverside Drive, Toluca Lake CA 91602
This is another pumpkin patch in LA that offers all of the Halloween fun that you could want!
You can come here for a huge selection of pumpkins but there is also a flower shop on site along with a petting zoo.
This is a great location to bring kids of all ages because there are some fun spooky activities for teens to enjoy.
The haunted maze is well-known by locals, and there are many people who come here year-round for produce and flowers.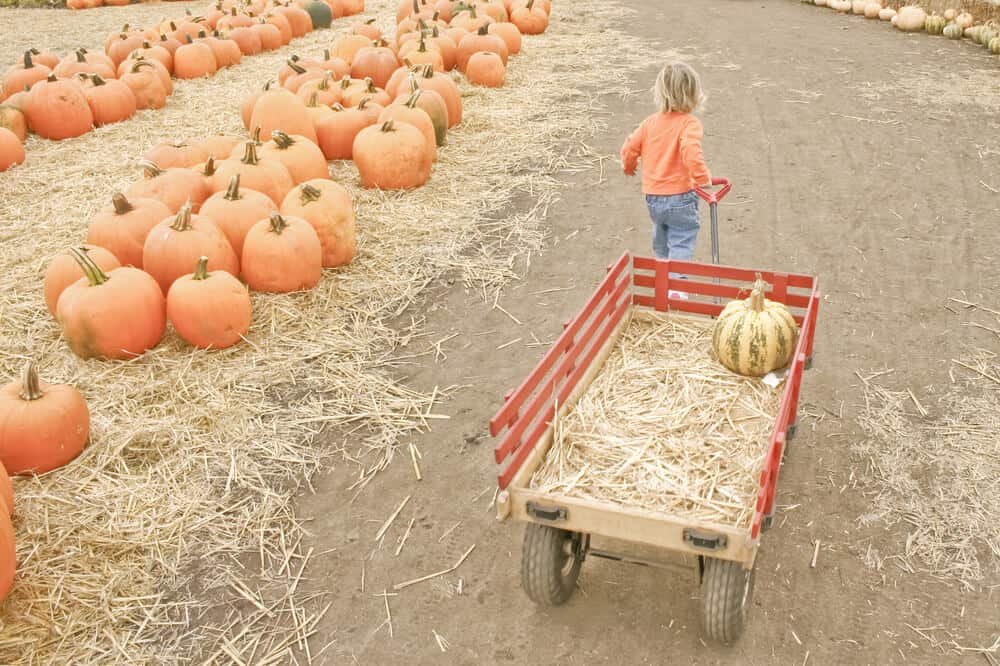 Tina's Pumpkin Patch
Address: 4725 Woodman Ave, Sherman Oaks, CA 91423
This patch is open in October and is located in Sherman Oaks in Northern LA.
This is another location that offers up more than just pumpkin picking in LA! There are pony rides, a petting zoo, and many bounce houses for the kids to enjoy.
Kids can also spend the day enjoying other activities, like taking a ride Tina's Train or getting a balloon animal from the onsite balloon artist.
Their hours are inviting if you are bringing a large group and want some time to experience all that they have to offer.
Long Beach Pumpkin Patches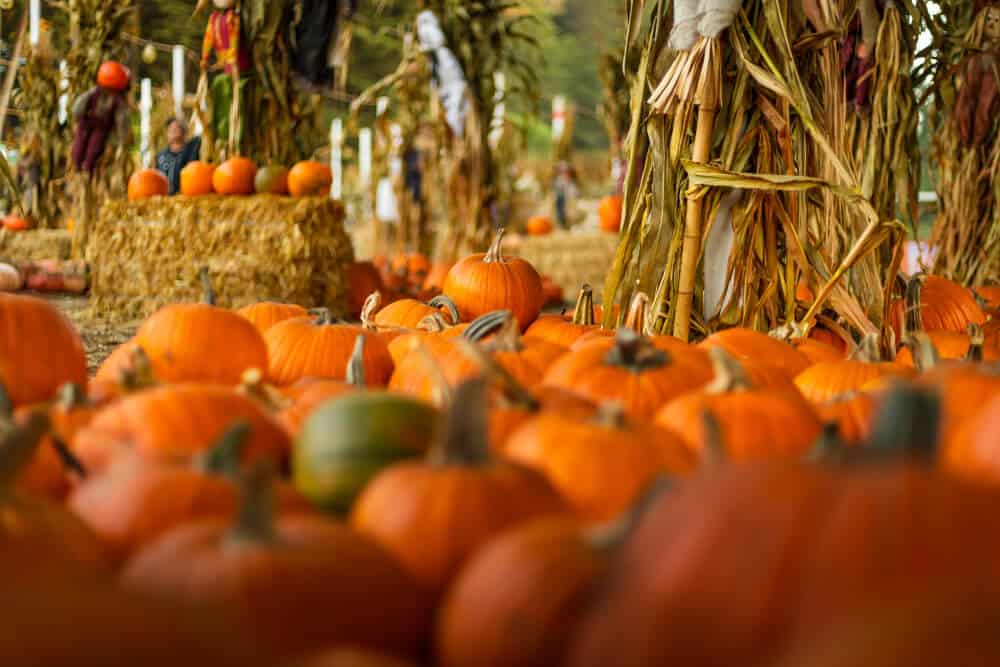 Pa's Pumpkin Patch
Address: 6701 CA-1, Long Beach, CA 90803
This patch is located in Long Beach and it is a great place to head for yummy food that is offered daily at the food bar, as well as corn stalks and gourds for your at-home decoration needs!
You will enjoy U-Pick pumpkins from many varieties as well as pony rides, a petting zoo, and games and rides.
This location is like a mini carnival and offers up fun for the whole family as well as delicious snacks and treats that can be taken home for enjoying later.
This is a common stop for local field trips, so plan for some traffic and some crowds if you visit during prime hours, particularly school hours!
Farm Lot 59
Address: 2714 California Ave, Signal Hill, CA 90755
While the name of this lot is atypical, the pumpkins are not!
You will find all the traditional pumpkin offerings for sale here or for U-pick.
You can also learn a lot about farming at this location, as they offer up demonstrations and tours related to their sustainability practices.
This is a small urban farm that is working to help develop small-scale sustainable farming.
They are spreading out into the lots nearby to create sustainable farming in an urban setting, and they are always happy to share information about this important process with their visitors!
Best Orange County Pumpkin Farms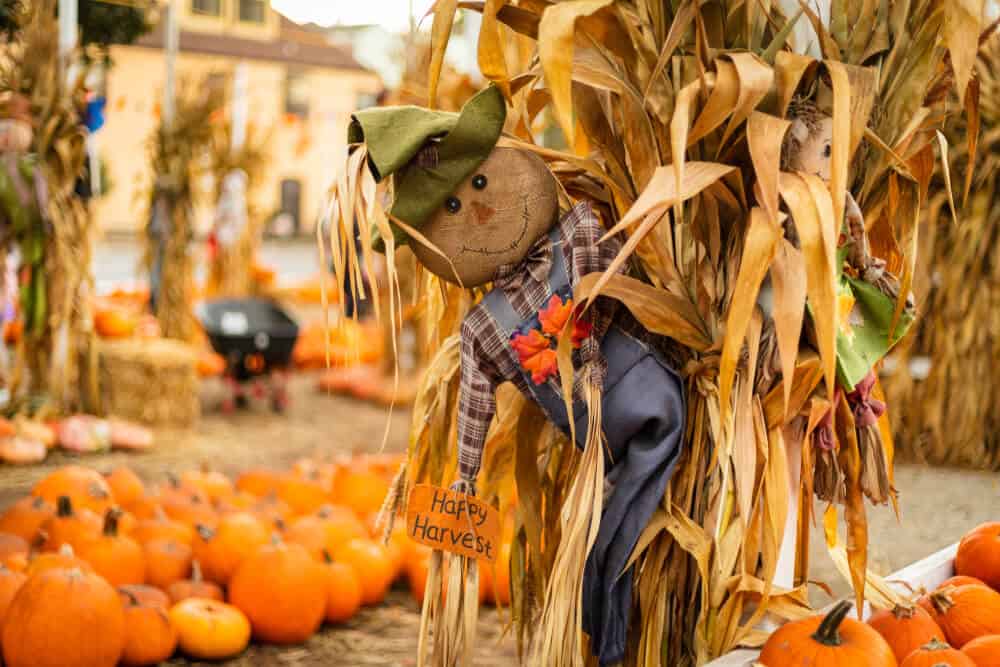 Enchanted Country Pumpkins and Trees
Address: 480 N State College Blvd, Brea, CA 92821
Located in Brea, this patch sells many kinds of pumpkins and offers lots of fun if you come for a visit!
This family-run business harvests their pumpkins with extra-long stems follow traditional harvesting methods and all the pumpkins that are pre-picked carry the stamps of farmer's approval.
This is a fun location to bring kids to enjoy fair-style games, bouncy houses, and tractor rides.
There is a petting zoo and they often have baby chicks available to be cuddled!
This is another location that is also a tree lot, so they are open for a large part of the year.
The Pumpkin Corral at MainPlace Mall
Address: 2800 Main St, Santa Ana, CA 92705
This is a patch that is fun for the whole family!
You can get great pumpkins here at this large patch in Santa Ana, and enjoy additional activities while you shop for your pumpkins.
There is a petting zoo and some inflatable bouncy houses and slides here as well.
If you want to maximize your carnival experience, your kids can ride the rollercoasters and fair-sized slides as well. There is even live music on certain days!
This is an Orange County pumpkin patch that is intended to be an attraction as well, and there is no shortage of fun to be had here.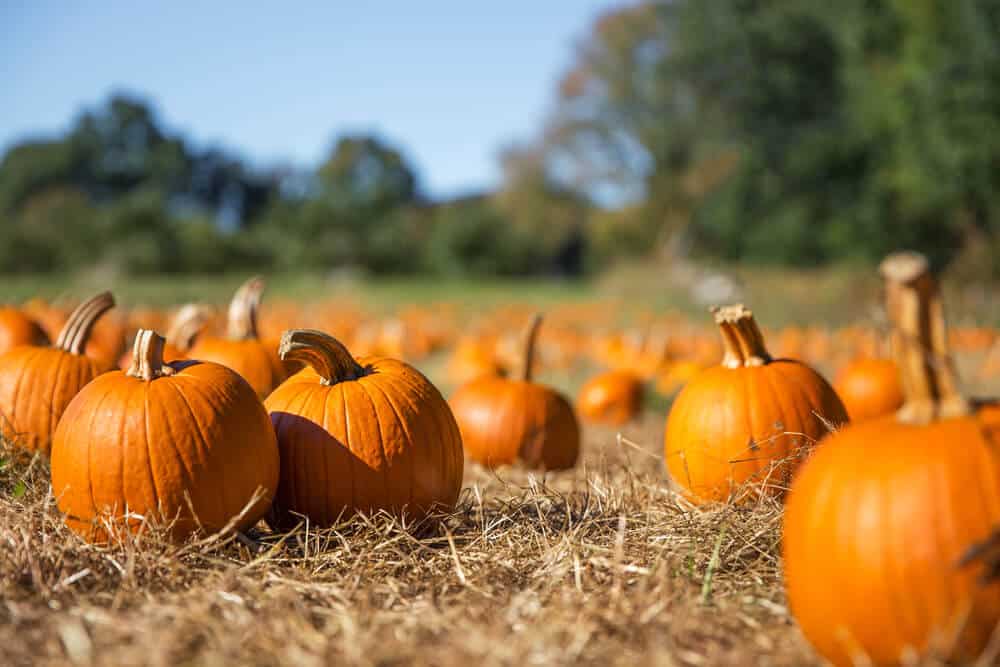 Zoomars Pumpkin Patch
Address: 31791 Los Rios St, San Juan Capistrano, CA 92675
The real mainstay of this location is the petting zoo and the playground, but this is a great pumpkin patch for small children!
There is a train to ride and the staff is catered to small kids and interactions that will make their day amazing.
San Juan Capistrano is a delightful area to visit, and this is just one of the many great things to do here during the autumn season.
Even though the pumpkin patch is seasonal, it is well-executed and you can get the right pumpkins for the right price here.
If you have small kids that might be intimidated by the hustle and bustle of the bigger patches, this is the right place for you to make a stop.
Irvine Park Railroad Pumpkin Patch
Address: 1 Irvine Park Rd, Orange, CA 92869
This is a large Orange County pumpkin patch with many activities, located in Orange, CA.
The fair games here are really fun and there is a huge variety of carnival games here for all ages! You can enjoy gold panning, hayrides, and train rides here as well.
If your little ones love to have their face painted, they can partake of that option and there is daily cookie decorating and a bounce house for smaller kids as well.
This is a large patch, so you can choose from thousands of pumpkins in all shapes and sizes and the kid-friendly haunted house is fun for everyone!
Enjoy a hay maze and watch the John Deere tractor races! This is a really fun location with a laid-back atmosphere that your whole family will love.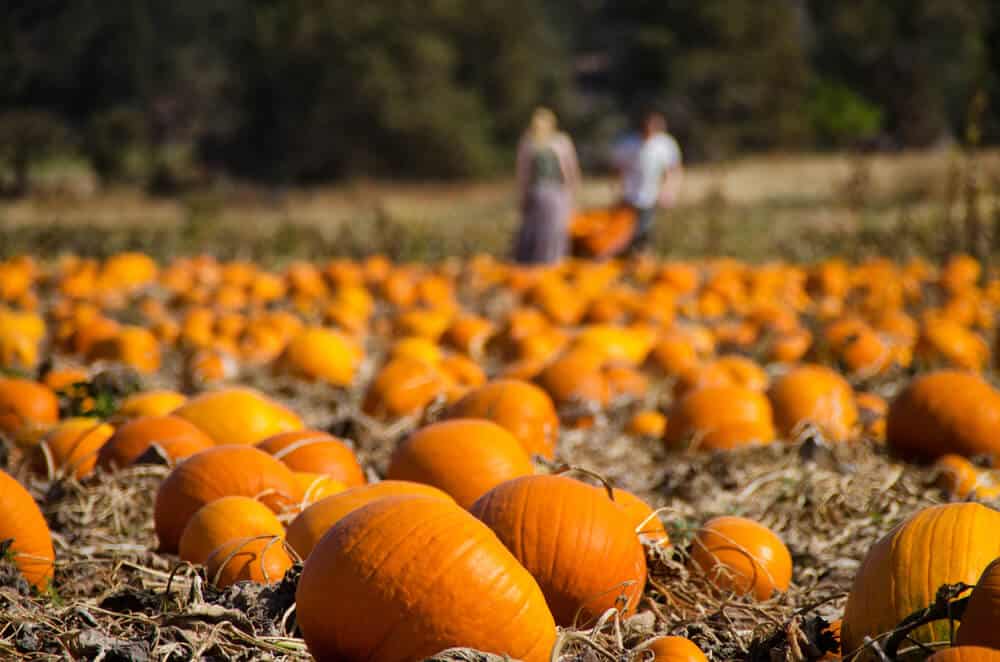 Tanaka Farms Pumpkin Tours
Address: 5380 3/4 University Dr, Irvine, CA 92612
Another Orange County pumpkin patch location, this farm takes their job as educators just as seriously as they take their commitment to fun!
You can learn all about farming practices during one of their daily tours, of you can enjoy a petting zoo, corn maze, and sunflower field.
U-Pick here extends to vegetables as well as pumpkins, and they also offer games, ATV rides, face painting, a pumpkin cannon, and fun interactive activities aimed at kids.
The wagon rides are continuous all day here as well, and the location is so beautiful that you will be glad that you stopped by for one of these fun activities that you would not be able to experience in other places.
***
Pumpkin patch experiences in Southern California are usually combined with a carnival atmosphere that you will not find anywhere else!
This is one of the parts of pumpkin patch visits in Southern California that is truly unique to the region and well worth taking the time to try out.
No matter if you are bringing along friends, or family, there is something for everyone at the many amazing pumpkin patches in the Southern California area.
If you are only in town for a visit, or if you live nearby and did not realize that you had access to these experiences, you will not be disappointed if you take the time to put a pumpkin patch visit on your to-do list this fall!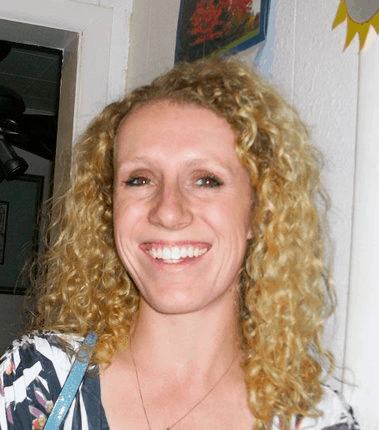 Brianna York has spent many years of her life traveling for work and pleasure, and grew up in Oregon in the gorgeous Pacific Northwest. She embraces each new place she visits and makes the most of seeing all the best that each city or place has to offer.  She is a published author and competes with her Arabian Show horses all over the United States. She embraces each day like a new adventure and is always ready for new experiences!