The San Francisco Bay area is more than just the Golden Gate Bridge and a terrific urban destination.
There are so many campgrounds near San Francisco: from the Marin Headlands to Mount Tam, from Angel Island to the Point Reyes National Seashore
Within just 15 minutes of the bustling city life, there are a variety of excellent campgrounds near San Francisco (and you get more and more options the further out you get — we cap the list at campgrounds more than two hours from San Francisco).
Choose between a campsite under the redwoods, one with views of the breathtaking rugged Pacific coastline where you can fall asleep to the tune of foghorns, or even waking up to see the Golden Gate Bridge!
The Marin Headlands area offers the Instagram-worthy Kirby Cove along with a variety of sites throughout the Tennessee Valley.
Are you planning on visiting Muir Woods National Monument? Then choose a convenient campsite at one of the three campgrounds in neighboring Mount Tamalpais State Park.
From there, you can continue your journey north and choose between four hike-in campgrounds in the Point Reyes National Seashore.
Grab your sleeping bag, family, or friends, and enjoy escaping the busy city and have a blast at one of these favored campgrounds near San Francisco!
Golden Gate National Recreation Area: Campgrounds Nearest to San Francisco
Kirby Cove Campgrounds
Note: This post contains affiliate links, which earn me a small commission at no extra cost to you if you make a purchase using one of these links. Thank you for supporting this free content!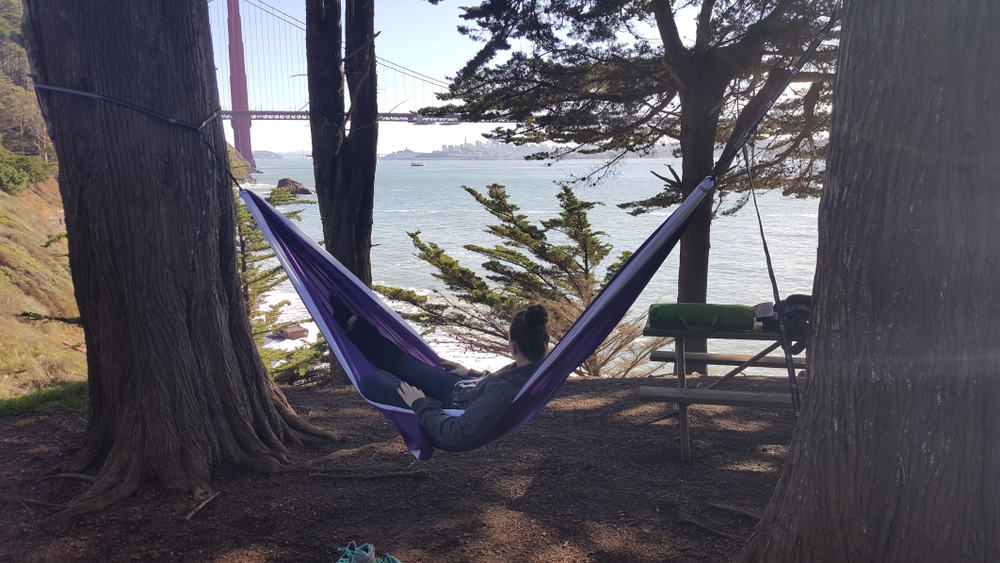 Location: 948 Fort Barry, Sausalito, CA 94965
Just a 20-minute drive from San Francisco, tiny Kirby Cove in Marin Headlands is a scenic retreat with stunning Golden Gate Bridge views.
It's also home to a cute beachfront swing in front of the famous red bridge — a popular San Francisco Instagram spot)
The sites tend to fill up quickly, so you need to plan this stay well in advance.
Once you get to the parking lot above Battery Spencer, grab a wheelbarrow and load it with your supplies and walk-in. It is a 1-mile steep trail to the cove, so it's a better choice for those with good physical fitness and mobility.
Those with mobility limitations will have their needs better served by one of the other drive-in Northern California campgrounds on this list!
While here, enjoy exploring historic Battery Kirby and Bonita Lighthouse for more breathtaking views of San Francisco along with the rugged Pacific coastline.
However, keep in mind that San Francisco Bay is quite foggy and a working, busy harbor. On a foggy morning, temperatures will be quite cold, and foghorns may be loud!
Five sites are all large enough for up to ten people. Campsite 1 is the preferred site, as it is secluded from the other sites. There is a tent pad with a view of the Golden Gate Bridge!
You will have picnic tables, a bear box, a fire pit, and tent pads on each site.
The amenities include only wheelbarrows for transporting goods, a picnic area, and pit toilets.
However, what people come here for is the city's unique view of the Golden Gate Bridge, and the unspoiled sandy beach.
Bicentennial Campground
Location: Conzelman Rd, Sausalito, CA 94965
Within the Golden Gate National Recreation Area, you can find three small sites that will cost you nothing (!) to pitch your tent and stay up to three nights a year (per car license plate) in the beautiful Marin Headlands.
The sites offer guests a BBQ grill, pit toilets, picnic tables, bear box, and stunning views of the Golden Gate Bridge and the San Francisco skyline.
While in the area, take time to walk over to the Battery Wallace, where you can explore the ruins.
To get to the campsites, you will need to walk about 100 yards from the parking area.
Reservations are required, and you must pick up permits at the Marin Headland's Visitor's Center.
Hawk Campground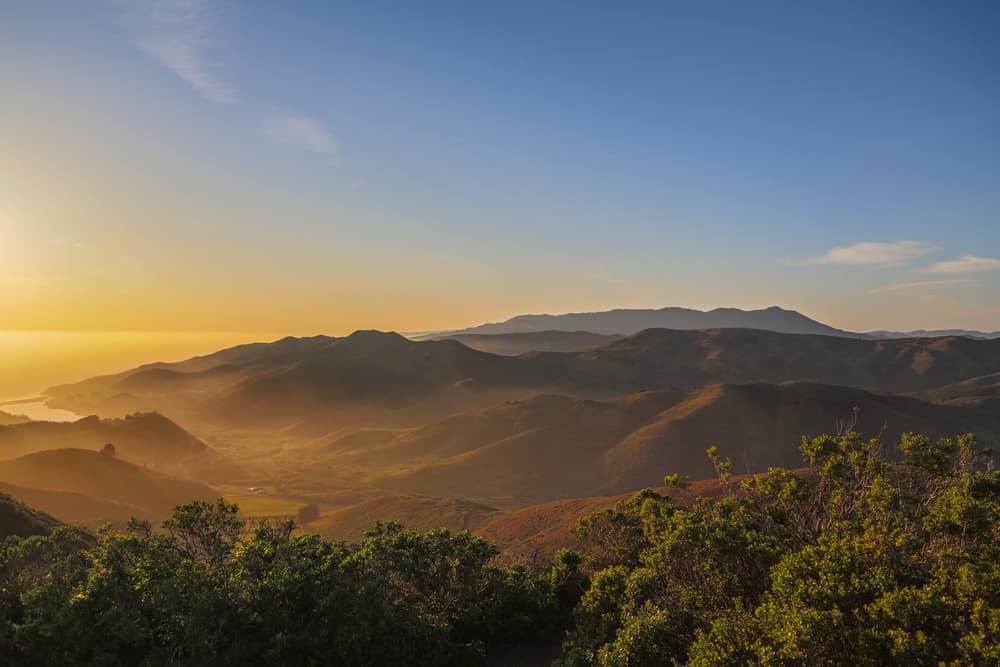 Location: Marin Headlands, Golden Gate National Recreation Area, San Francisco, CA 94123-0022
The Hawk Campground overlooks the Gerbode Valley and is the most remote of the Golden Gate National Recreation Area campgrounds.
The three tenting sites not only offer stunning views but are free to stay at with reservations for up to three nights a year.
Each four-person site has a picnic table, and there are pit toilets nearby. Cooking on gas camp stones is permitted, but wood fires are not.
To reach the campground, be ready to hike two-miles from the parking area at Tennessee Valley or 3-miles from the parking area at the Marin Headlands Visitor's Center.
Pets are not allowed at the campground.
Angel Island State Park Campgrounds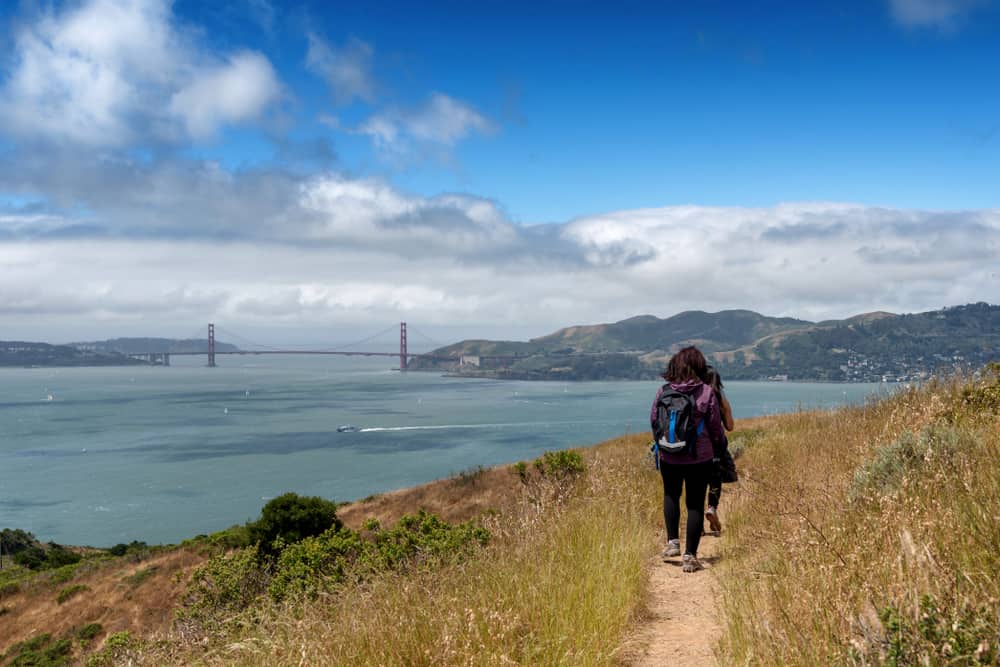 Location: Angel Island East Bay Sites, Belvedere Tiburon, CA 94920
Camping on San Francisco Bay's largest natural island (and a California State Park) is a short ferry ride away from the bustling city.
To stay at this simple campground, you may need to book a reservation up to six months in advance for a chance to enjoy the panoramic views the island provides. Competition is fierce for these beautiful spots to camp near San Francisco, but it's absolutely worth the wait!
Leave your car at home and either take the ferry in or arrive on your boat or kayak.
The camping area offers guests pit toilets and water.
While on the island, take advantage of the 13 miles of hiking trails, head up Mount Liverpool for beautiful Golden Gate views, and relax at the small beach, all while marveling over the San Francisco views.
Know Before You Go
Back in the early 1900s, Angel Island was somewhat similar to New York's Ellis Island, and it was the main processing place for hundreds of thousands of Chinese immigrants as well other immigrants from Asia and the Pacific Islands.
It should be noted that the door to immigrants crossing the Pacific was much harder to cross than the Atlantic due to anti-Asian racist sentiment and laws enacted in policies such as the Chinese Exclusion Act.
Then during WWII, Angel Island became an internment camp for many Japanese immigrants. Japanese immigrants from Hawaii and the West Coast were removed from their homes and held at Angel Island temporarily until being sent to other, larger internment camps such as Manzanar and Tule Lake.
Some German and Italian prisoners of war were also held at Angel Island, but it was primarily used as a Japanese internment camp.
While Angel Island is a beautiful place to visit and camp at, I think it's important to be mindful of its history while visiting.
Mount Tamalpais State Park Campgrounds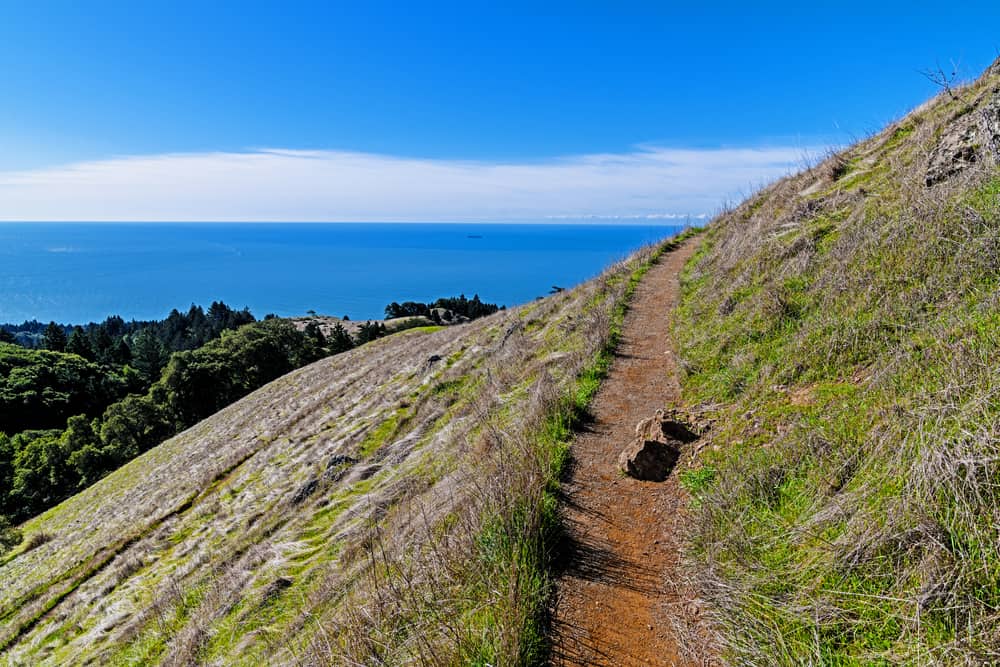 Mount Tamalpais State Park has a lot to offer weekend visitors at their campgrounds.
Take time to stretch your legs along the redwood grove hiking trails, enjoy a scenic picnic, or watch for a variety of wildlife as you take in the San Francisco Bay and coastal views.
Those looking for information, stop in the East Peak Visitor Center, where weekend volunteers will point you in the right direction.
Insider Tip: For those camping near San Francisco over the weekend, get out and about early due to heavy traffic leaving the city.
Pantoll Campground
Location: 3801 Panoramic Hwy, Mill Valley, CA 94941
Pantoll Campground is a first-come, first-serve campground. The 15 tent sites can accommodate up to eight people per site.
Each site offers campers a fire ring, and there is water, flush toilets, and firewood nearby.
Feel free to bring along your pet, but he must be leashed and stay within designated pet areas.
If you brought your bike, enjoy riding along the fire roads or Coast View Trail.
Those who want to get to the campgrounds by foot, begin at the Stinson Beach Community Center and hike more than 3 miles up the Steep Ravine Trail or via the Matt Davis Hiking Trail.
For those driving, the campground is only about a 100-yard stroll from the parking area.
Bootjack Campground
Location: Panoramic Highway, Mill Valley, CA 94941
Bootjack's 15 sites are also first-come, first-serve. The sites are conveniently located along Panoramic Highway and just down the road from Pantoll Campground. There is a short walk from the parking area to the campsites.
At this rustic Mount Tamalpais campground, you will have flush toilets and potable water. For those in need of firewood, you can purchase it at the campground.
For those wanting to hike the Matt Davis and Bootjack trails, this campground sits at these trails' intersection.
Steep Ravine Campground
Location: Rocky Point Rd, Stinson Beach, CA 94970
Located at the foot of the mountain and overlooking the Pacific Ocean, these seven very private campsites offer guests a cliffside view. Reservations are needed to stay at one of these campsites or the rustic Steep Ravine cabins that feature a wood stove but no electricity.
The campground does provide water, pit toilets, picnic tables, food lockers, and fire pits. For those in need of firewood, you can purchase it at the campground.
Campgrounds in Point Reyes National Seashore
Location: 1 Bear Valley Visitor Center Access Road, Point Reyes Station, CA
Just a short day trip away from San Francisco, you can enjoy the beautiful Point Reyes National Seashore.
Even though it is just a short drive, you may want to enjoy the weekend or a mid-week break by spending a day or two exploring the area and getting away from the hectic city.
Making it more than a day trip also means finding a place to stay, which isn't easy in this remote area.
The Point Reyes National Seashore does offer four hike-in campground locations.
Coast Camp offers 14 campsites, two of which are group sites for seven to twelve people. Begin your journey at the Laguna Trailhead and hike 1.8 miles to the grassy valley's campground. The area provides water and vault toilets for campers. These sites are popular since they are a mere 200 yards from the beach. Take time to explore the fascinating tidepools 725 yards southeast of the campground.
Sky Camp's 12 sites have great views of Drakes Bay, Point Reyes, and the Pacific Ocean from its Mt. Wittenberg location. The beach is a four-mile hike on either the Woodward Valley or Fire Lane trail.
Wildcat Camp is a hike-in campsite that offers eight sites in a meadow that overlooks the ocean from its bluff location. The beach is just a short walk away. Don't miss taking the 2-mile round-trip hike to the breathtaking Alamere Falls, one of the most stunning waterfalls in California which empties onto the beach below it.
Tomales Bay has 20 primitive sites that are first-come, first-serve, and only has boat-in access.
Pin This Guide to Camping Near San Francisco!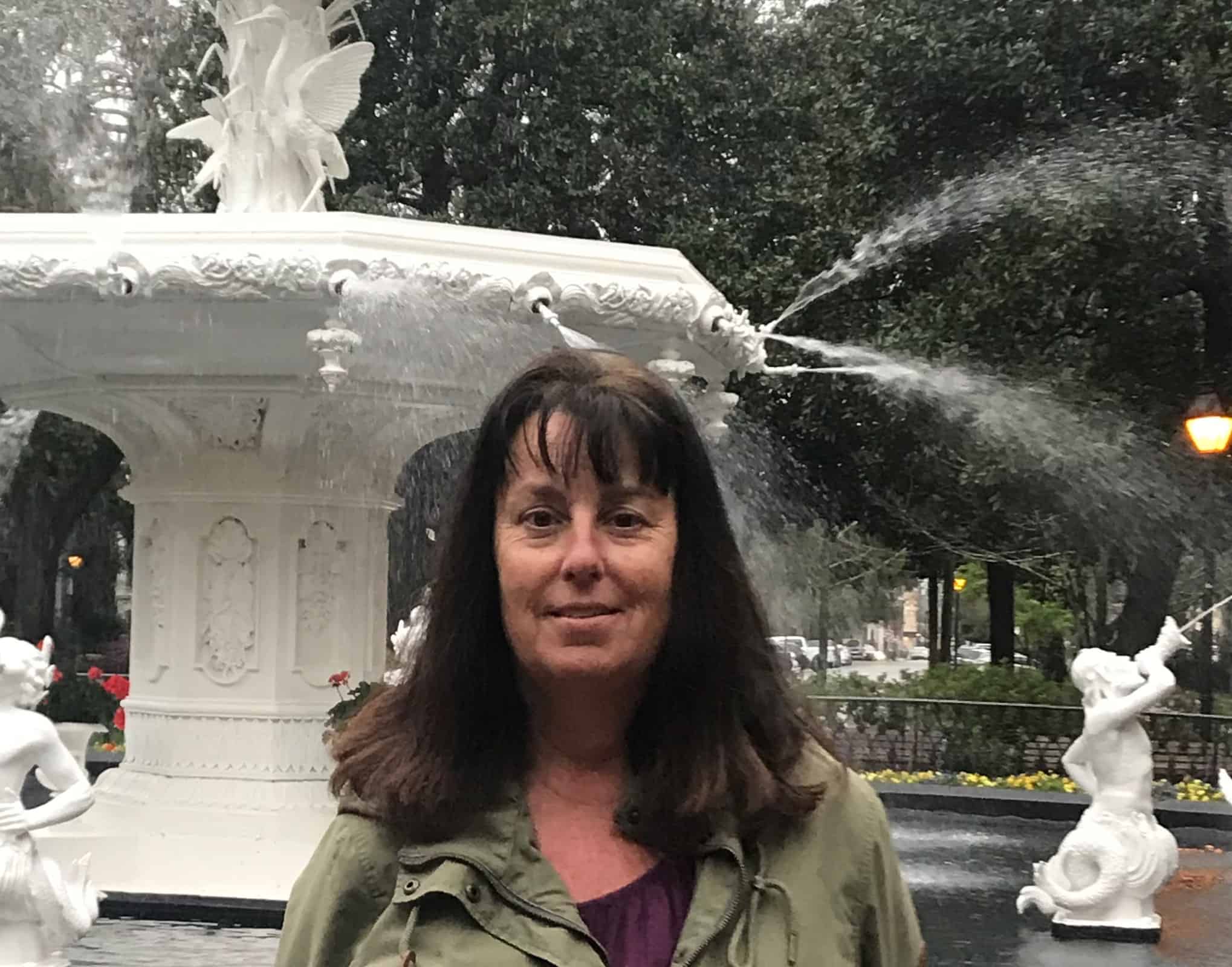 Laura Gray is a freelance writer and retired elementary teacher based in Norfolk, VA.  She spends her summers enjoying the shores of the Chesapeake Bay, traveling the world, and exploring the beautiful United States. Her favorite places to visit are National Parks, waterfalls, and lighthouses.