San Francisco has so many great destinations just a short drive from it, and it's one of the many reasons why I love San Francisco so dearly.
Where else can you find towering redwoods, rugged beaches, reaching cityscapes, and peaceful nature escapes all in one city?
While you can certainly find all this in San Francisco proper, sometimes you just want to get away.
Growing up in the East Bay Area, I know that the city has so many potential weekend trips from San Francisco perfect for any kind of traveler.
Whether you're looking for a nature escape, a beach holiday, a wine-filled weekend, or a city escape, you'll find it within a few-hour road trip from San Francisco.
How This San Francisco Weekend Getaways Guide Works
Note: This post contains affiliate links, which earn me a small commission at no extra cost to you if you make a purchase using one of these links. Thank you for supporting this free content!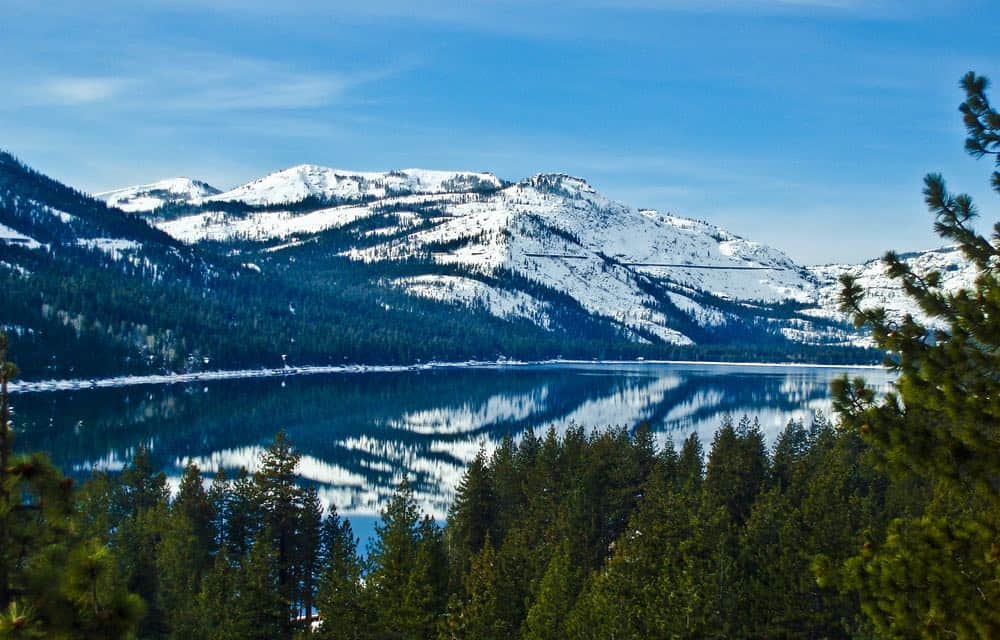 This guide only includes places that require at least one hour of driving distance from San Francisco.
While that excludes a few favorites, like Pacifica and Half Moon Bay for beach towns, Oakland and Berkeley for cities, and Muir Woods and Mount Tam for nature, those are more suited for day trips, which is another post entirely that you can find here!
Let's also be realistic: these are the Google-predicted times at non-peak traffic, so that one hour of driving distance is also more likely two if you're doing a weekend getaway from San Francisco at exactly the same time as everyone else!
So I capped these weekend road trips from San Francisco at a maximum distance of 4 hours driving one-way, since I think more than that is a little much for a weekend getaway.
This list is full of San Francisco road trips perfect for a weekend getaway. In other words, places that you can get to in 4 hours or less as per Google's best-case scenario.
OK, technically Sequoia National Park is just over 4 hours… but since a lot of that is on I-5, wink, I think you can justify the exception.
But at more than 1 hour drive, each of these destinations warrants at least an overnight stay to get all that you can out of each destination and really enjoy it rather than rush it.
Best Nature Weekend Road Trips from San Francisco
The Russian River (Guerneville)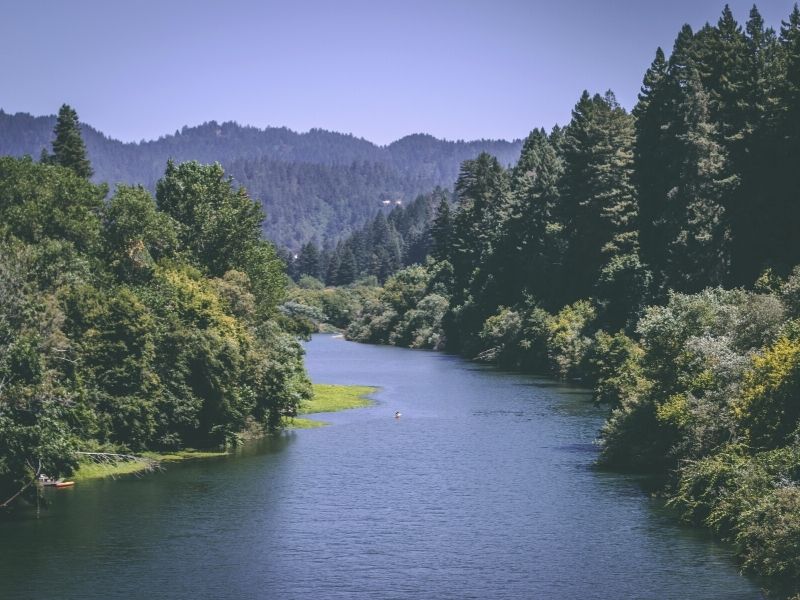 Driving Time from San Francisco: 1 hour, 35 minutes
One of the best nature escapes from San Francisco is an easy, beautiful hour and a half drive from San Francisco proper.
If you don't mind driving a bit extra, I highly recommend driving into Guerneville via the Bohemian Highway once you reach Sebastopol — it's a gorgeous drive through a shaded, foggy, mystical-feeling redwood forest.
There are several places along the Russian River worthy of being the main hub of your San Francisco weekend trip, but I opt for Guerneville. (Though you could also pick Healdsburg or Monte Rio)
It has a great dining scene and is also home to Johnson's Beach, one of the best river 'beaches' which is a great place to chill out during summery days or to rent an inner tube for some lazy river floating.
Guerneville is also home to Armstrong Woods State Natural Reserve, one of my favorite redwood forests near San Francisco, with great hiking trails and beautiful old-growth forest to be enchanted by.
There are also several Sonoma wineries within a 30-minute drive of Guerneville if you want to add some wine-tasting to your nature escape. (And I prefer Sonoma wines to Napa wines!)
If you're wanting a wine-themed getaway with a little side of the Russian River, I recommend either Healdsburg as a day trip or as your main base.
Point Reyes National Seashore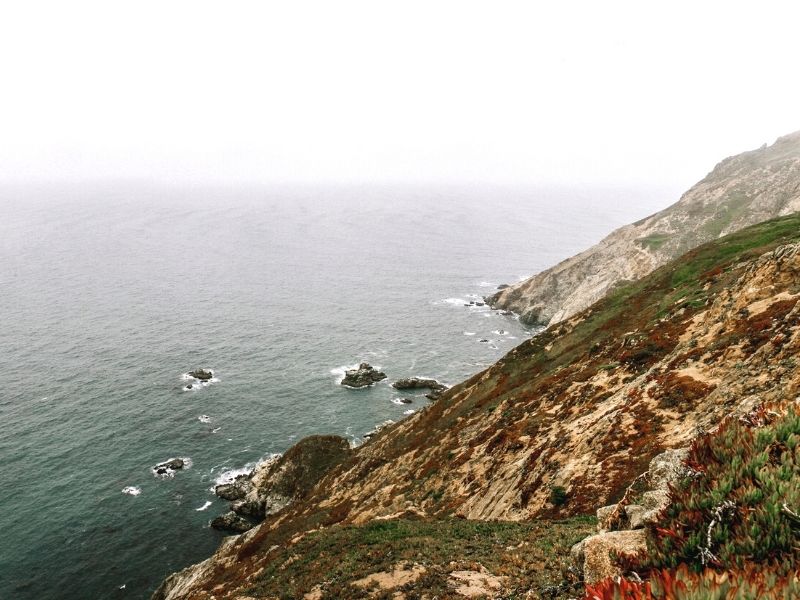 Driving Time from San Francisco: 1 hour, 45 minutes
Hugging the rugged California coast, make your way up to beautiful Point Reyes for a weekend getaway from San Francisco full of enchanting hiking trails, gorgeous sea views, and potential whale watching.
There are so many great things to do in Point Reyes that I've allocated it its very own post! But in a nutshell, if you're visiting from San Francisco for a weekend trip, here's what I recommend.
Visit the Cypress Tree Tunnel in Inverness on your way up for an incredible photography opportunity in a Game-of-Thrones-feeling natural tunnel made of cypress trees.
Next, head to the Point Reyes Lighthouse, checking out the Leaning Tree along the way. The Point Reyes lighthouse is one of my favorite lighthouses in California, and making an appointment to tour it is definitely worthwhile.
You can also do several hikes in Point Reyes National Seashore. I don't recommend you tackle the hike to Alamere Falls, one of California's two tidal waterfalls, unless you are a moderately experienced hiker, as the trail is quite long and requires a lot of energy to make the hike.
However, there are several easier hiking trails in Point Reyes that are absolutely worth the time, and many of them have incredible views where you can stand and watch migrating whales out at sea pass by. It's incredibly peaceful and beautiful.
Pinnacles National Park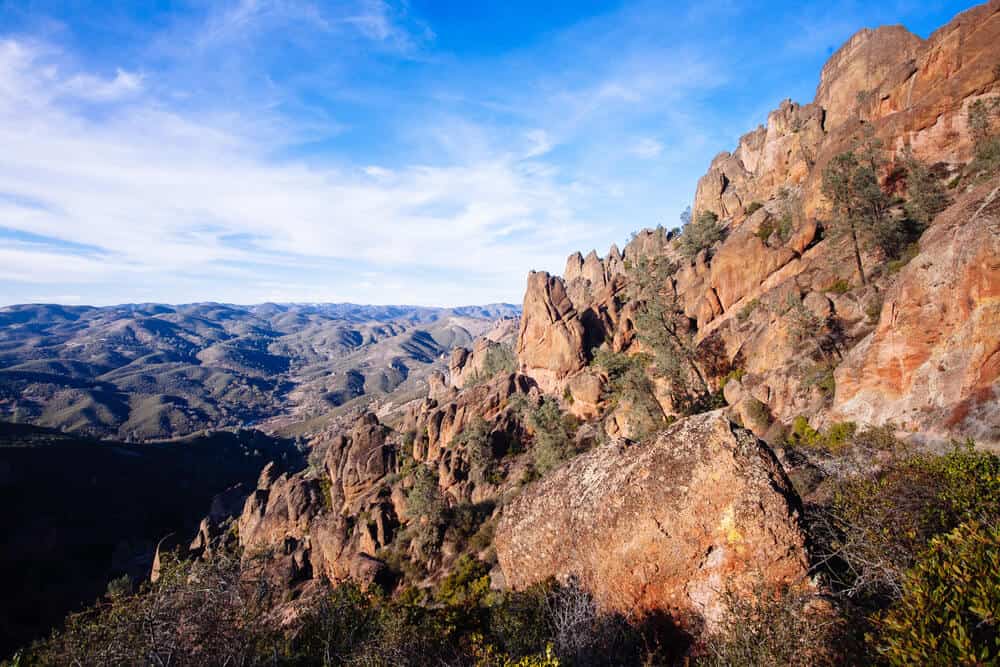 Driving Time from San Francisco: 2 hours, 15 minutes
One of the lesser-known national parks in California, Pinnacles National Park is absolutely worthy of planning a weekend getaway from San Francisco!
It's a great place for wildlife viewing, with the potential to see the incredible, endangered California condor which was successfully reintroduced to the wild after being nearly extinct.
About two dozen live in the High Peaks area and you can spot one if you're lucky.
There are also several caves, rock climbing, and some beautiful hiking trails such as the High Peaks Trail which are absolutely beautiful though quite strenuous.
I recommend staying overnight in Soledad, as there is no in-park accommodations.
Alternately, you could stay in Salinas or even Monterey, which is an hour drive from the park.
Big Sur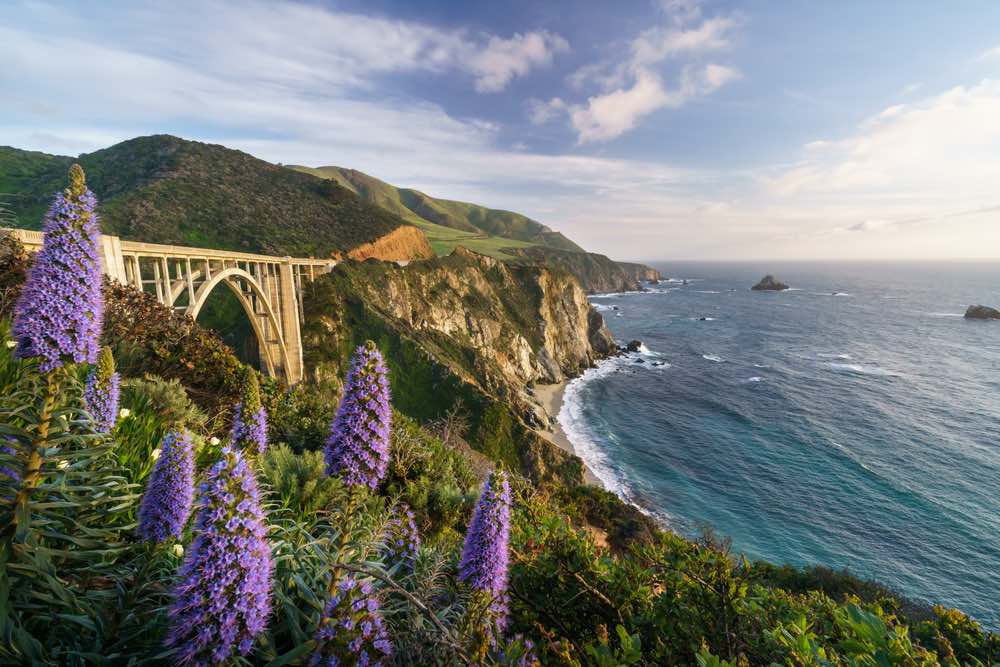 Driving Time from San Francisco: 2 hours, 45 minutes
Big Sur refers to both a town but also a massive stretch of coastline from Carmel-by-the-Sea to San Simeon along the Central Coast of California.
So you'll reach the north end of Big Sur in about 2 hours, but to reach the town of Big Sur, it'll be closer to 3…. assuming you have the willpower to not make a jillion stops on the way!
But heading straight to Big Sur Town would be absolutely missing the point of this road trip from San Francisco. The journey is the destination.
Be sure to make stops at Bixby Creek Bridge, Point Lobos State Natural Reserve, Garrapata State Park, Pfeiffer Beach, Julia Pfeiffer Burns State Park (where you'll see the famous McWay Falls), and the Elephant Seal Vista Point in San Simeon.
Oh, and don't forget touring the utterly incredible Hearst Castle, which reopened on May 11, 2022 after over two years of closure due to the pandemic!
Calaveras Big Trees State Park (Arnold)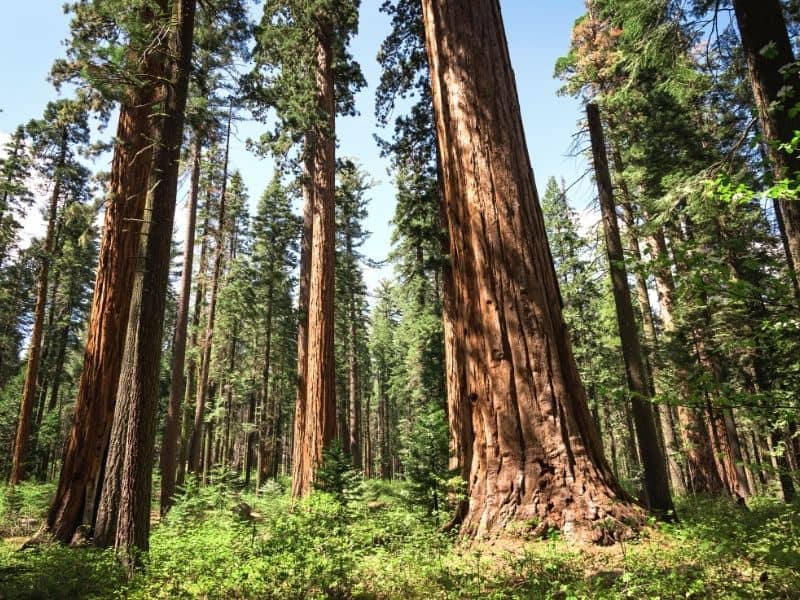 Driving Time from San Francisco: 2 hours, 45 minutes
Calaveras County is often ignored, admittedly even by Californians! With only 45,000 residents, it's a really small county by Californian standards, but there's a lot to see in this not-often-visited section of California.
One of the biggest draws is that Calaveras County is home to Calaveras Big Trees State Park in Arnold, which to my knowledge is the closest place to San Francisco where you can see giant Sequoias (the other redwoods closer to San Francisco are coastal redwoods).
They are some of the northernmost Seqouias in California; normally, you have to head further south to Yosemite, Sequoia, or Kings Canyon National Park in order to see these giant beauties.
Giant Sequoias only grow at a particular elevation so they are really quite rare and beautiful, and they're some of the largest living beings on this planet (the four largest are all in Sequoia National Park).
If you want to see a giant Sequoia and explore a little-visited corner of California in half the time it takes to get to Yosemite or Sequoia, Calaveras Big Tree State Park is the perfect weekend road trip from San Francisco.
South Lake Tahoe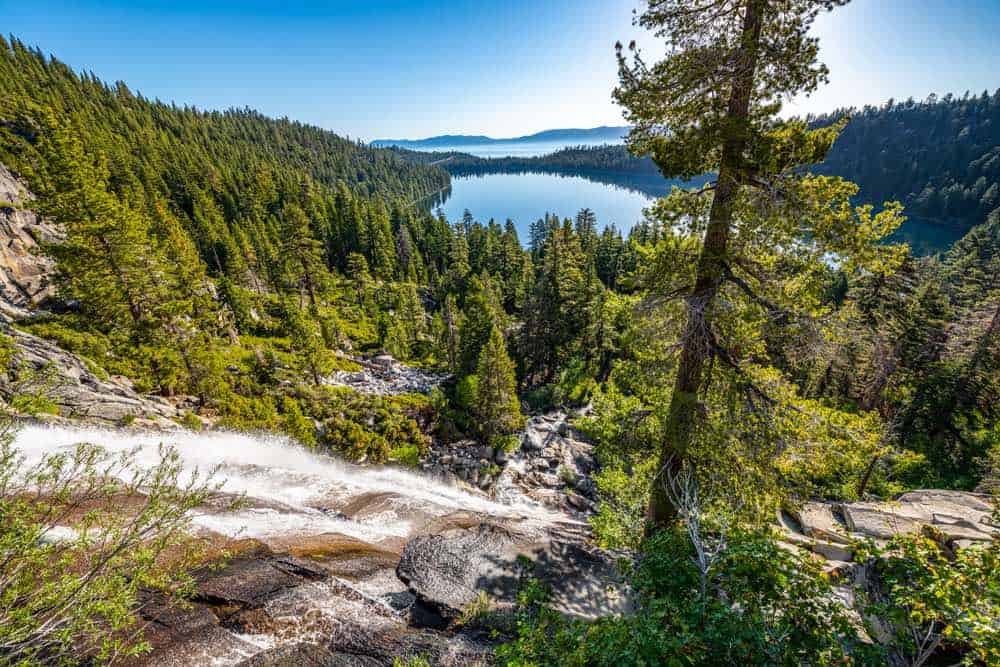 Driving Time from San Francisco: 3 hours, 30 minutes
Lake Tahoe is enormous (the largest lake in California!) and there are so many places around Tahoe that would be worthy of a weekend getaway from San Francisco, but I limited myself to picking just one place and that would be South Lake Tahoe.
It's the easiest to access from San Francisco and it's the largest 'city' in Tahoe. Though it's still quite small, at only 20,000 permanent residents. However, the stream of constant visitors on weekend trips from the Bay Area make it feel much more buzzy!
South Lake Tahoe has easy access to some of the most beautiful hikes in Lake Tahoe, such as in Emerald Bay State Park and D. L. Bliss State Park.
It's also home to the South Tahoe Beer Trail and has lots of great places to eat in the city, which is why it's my favorite place to base myself when visiting Tahoe for a weekend trip.
If visiting in summer, expect awesome beaches, camping, and mountain biking; in winter, it's home to skiing and snowboarding as well as tons of fun things to do for non-skiers!
Yosemite National Park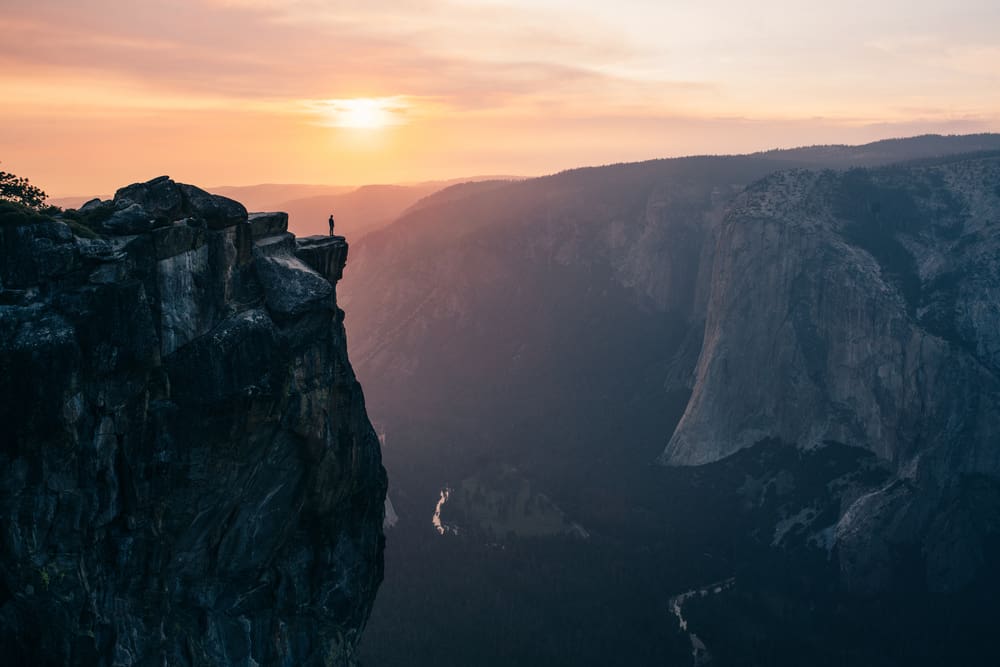 Driving Time from San Francisco: 3 hours, 45 minutes
Yosemite National Park is up there when it comes to driving times, and to be honest, you will be hard-pressed to road trip from San Francisco to Yosemite in under 4 hours on the weekend because everyone else will be too!
But traffic and crowds aside, Yosemite National Park is absolutely worthy of its spot on this list of San Francisco weekend getaways because it's, quite simply, the most beautiful place in California.
Nowhere is more epic or humbling than marveling at the spread of the Yosemite Valley from Tunnel View, hiking at the base of Yosemite Falls (the tallest waterfall in North America), craning your head to see giant Sequoias in person at Mariposa Grove, or catching the sunset from one of the best viewpoints in Yosemite.
I recommend you stay in an Airbnb in Yosemite so that the best of the park is always at your fingertips.
Whether you're interested in tackling some of the easy hikes in Yosemite, trying some of the more challenging trails, or finding some of the park's hidden gems, you'll be humbled and awed by the beauty around you.
TIP: If this ends up being the weekend getaway from San Francisco you pick, I have a perfect Yosemite weekend itinerary for you to follow.
Humboldt Redwoods State Park (Avenue of the Giants)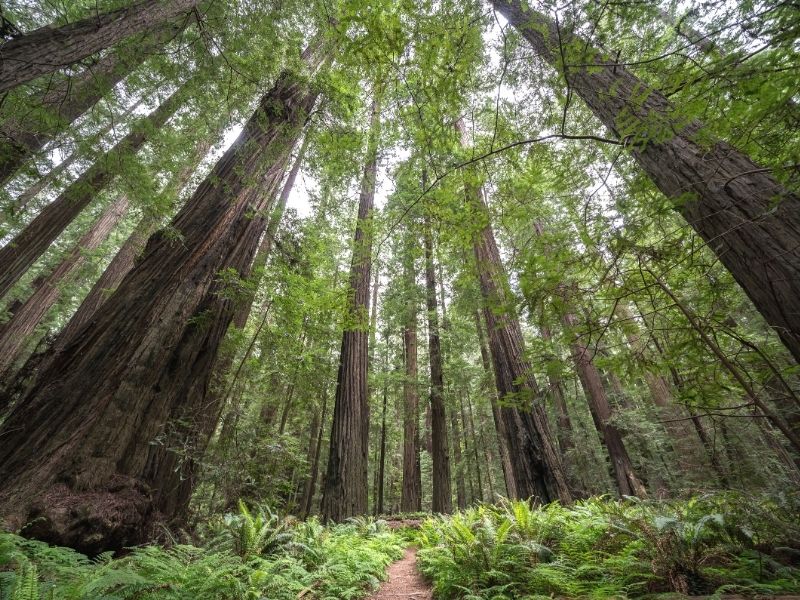 Driving Time from San Francisco: 3 hours, 40 minutes
Just squeezing its way in under the 4-hour mark, Humboldt Redwoods State Park is one of the best coastal redwood forests in all of Northern California and is absolutely worth a weekend trip from SF up north.
On the way to the state park, you'll drive up the famous Avenue of the Giants, which is one of the most picturesque scenic drives in Northern California.
Humboldt Redwoods State Park has so many beautiful trails to choose from, but a personal favorite is Rockefeller Loop.
There are a few hotels on the Avenue of the Giants itself, but you can also stay nearby and visit the state park.
Other places worth visiting in the area include Ferndale and Eureka (these also make good bases for exploring the park if you want some cute small-town energy in addition to your nature escape).
You could also make a side trip to the beautiful black sand beach at Shelter Cove, the endpoint of the Lost Coast Trail.
Sequoia National Park
Driving Time from San Francisco: 4 hours, 5 minutes
This is easily the furthest of the weekend getaways from San Francisco, but I couldn't justify not including it on the list as it's just a hair over 4 hours away from the city.
However, a lot of that drive is on I-5, and if you've even driven the I-5, you'll know that the speed limits are more like speed suggestions, as everyone tries to flee it as fast as possible.
So this is the rare instance where a San Francisco road trip that touts a 4-hour drive is, actually, indeed a 4-hour drive!
Sequoia National Park is absolutely magical, and while it saw quite a bit of damage during the wildfires in 2021, it's still worth a visit, though you should check park conditions before planning your trip.
You can't visit without paying your respects to General Sherman, the largest living tree on the planet, but you also should say hello to three of its siblings, who also hold the records for their size (in terms of mass — the tallest tree is also a redwood, but a coastal redwood, located in Redwood National Park).
Those siblings are General Grant (technically in Kings Canyon NP, but super closeby), President, and Lincoln. You also shouldn't miss walking the Big Trees Trail and the Congress Trail, as well as the hike to Moro Rock.
Best Beachy Weekend Getaways from San Francisco 
Pescadero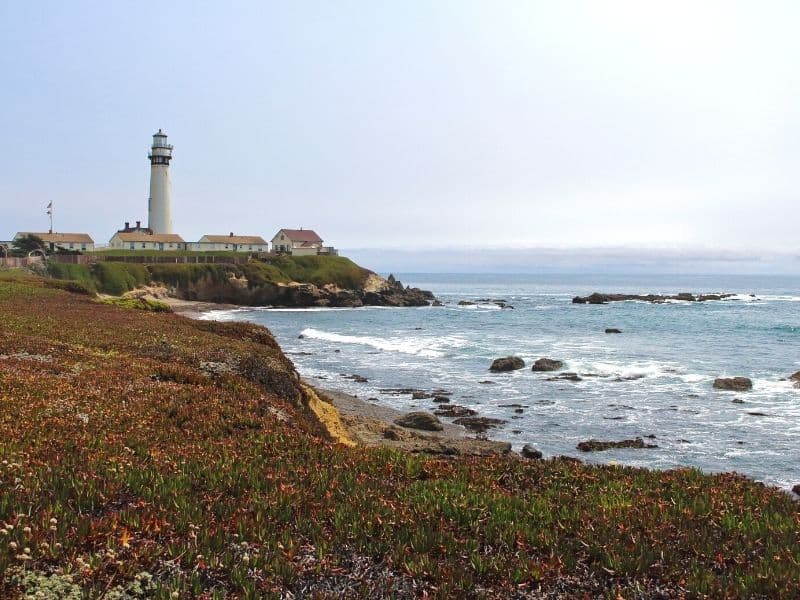 Driving Time from San Francisco: 1 hour, 5 minutes
The cute town of Pescadero is one of the best beach towns for a weekend trip from San Francisco.
It's far enough of a drive for you to feel justified in you splurging on a cute hotel, whereas it's a bit harder to feel like Half Moon Bay or Pacifica — lovely as day trips — warrant the overnight stay.
The Pescadero State Beach is a really beautiful beach, a typical rugged San Francisco peninsula beach which I (as a born-and-bred Northern Californian) will forever defend over sandy Southern California beaches.
Bodega Bay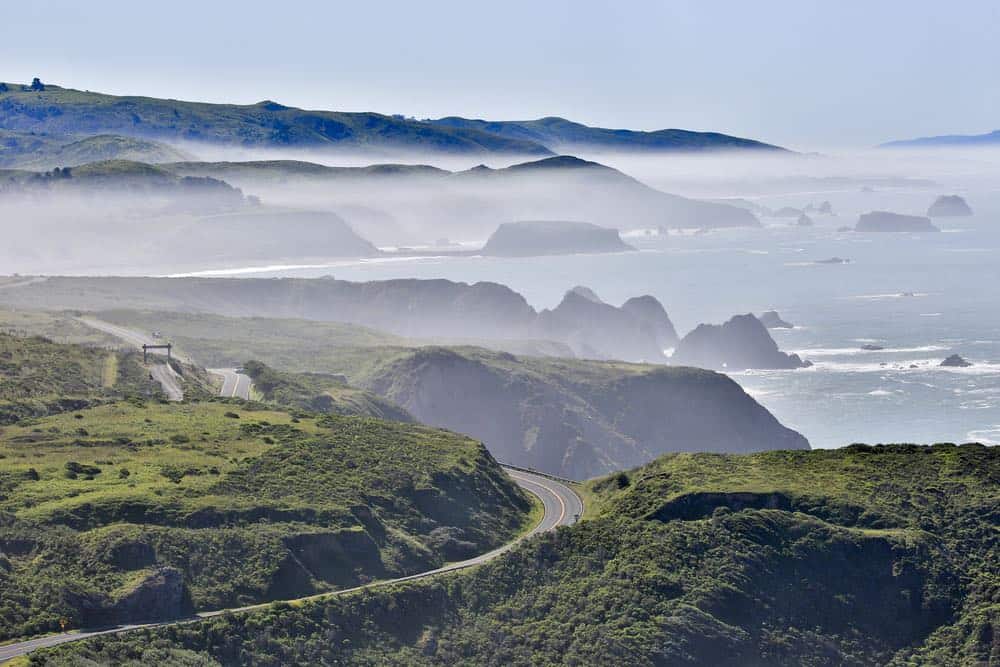 Driving Time from San Francisco: 1 hour, 30 minutes
North of San Francisco, Bodega Bay is one of my favorite beach towns on the California coast.
Horror flick fans will recognize it as the filming location for The Birds, but don't worry if you're planning a weekend trip from San Francisco here; there's nothing horrifying about Bodega Bay (except the real estate prices.)
Hitchcock fans should take themselves on a self-guided Hitchcock filming locations walking tour, or people who just want a lovely beach town experience should just wander around enjoy its small-town charms.
Don't miss the beautiful Saint Teresa of Avila Church as well as making a trip to Bodega Head, a prime whale-watching spot in California, if it's migration season (which tends to be October-February and then again in February through April).
This is also a great place to try Dungeness crab if it's in season! I recommend the crab sandwiches at Spud Point Crab Company.
Jenner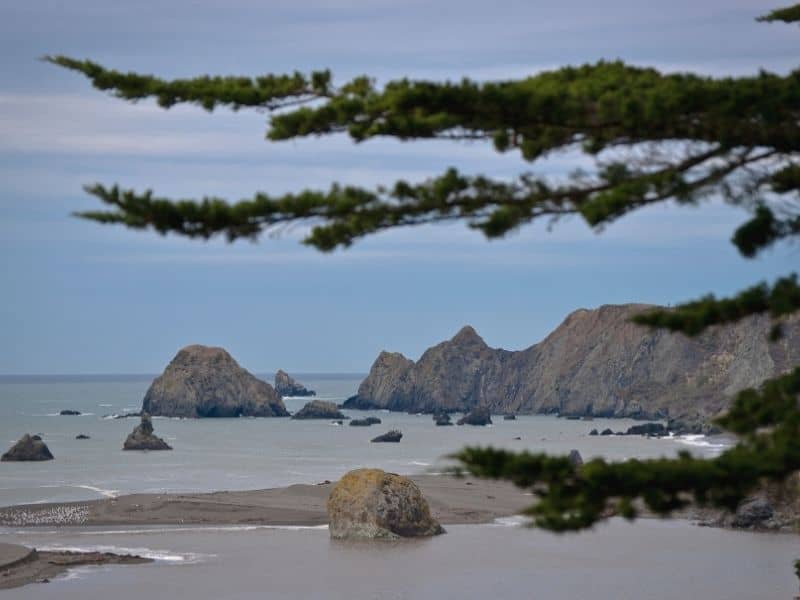 Driving Time from San Francisco: 1 hour, 50 minutes
Just a bit up the coast from Bodega Bay, Jenner is a great beach town if you want to be close to all the best of western Sonoma County as well as two beautiful wild, rugged beaches at your footsteps.
Jenner is where the Russian River meets the Pacific Ocean in the most beautiful greeting, creating two distinct beaches, Jenner Beach and Goat Rock Beach.
Both are beautiful for different reasons: Jenner Beach is wind-tossed and full of driftwood and feels almost mystical, whereas Goat Rock Beach has all sorts of incredible sea stacks and rock formations.
Stay at the River's End Inn for stunning views every day — there's also a great restaurant here with stunning views, especially at sunset.
The Kortum Trail is a great hike to do along the coast, but there are dozens of other great ones as well.
Guerneville, Duncans Mills, Monte Rio, and Bodega Bay are all easy to access from Jenner as well.
Sea Ranch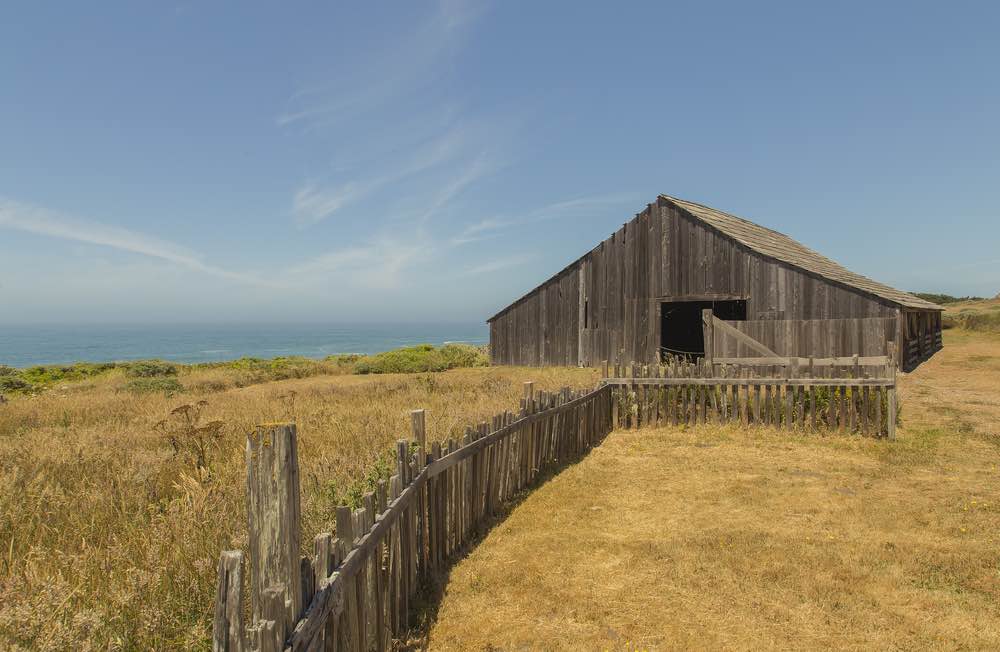 Driving Time from San Francisco: 2 hours, 50 minutes
This beachside small town was the heart of a minimalist, back-to-nature architectural movement in the 1960s.
Rather than go for avant-garde maximalism, the way many beachfront properties go, the architects at Sea Ranch all agreed to blend with the nature and design so that the homes blend into the landscape in a beautiful, non-intrusive way.
The result is an almost fairytale-perfect wild oceanfront with lots of intriguing homes to walk past and imagine living there.
Enjoy some time at Black Point Beach, admire the intriguing Sea Ranch Chapel, visit the Sea Ranch Lodge once it reopens, and head to nearby Gualala for some kayaking, hiking, and beach time.
Best Wine Weekend Getaways from San Francisco
Livermore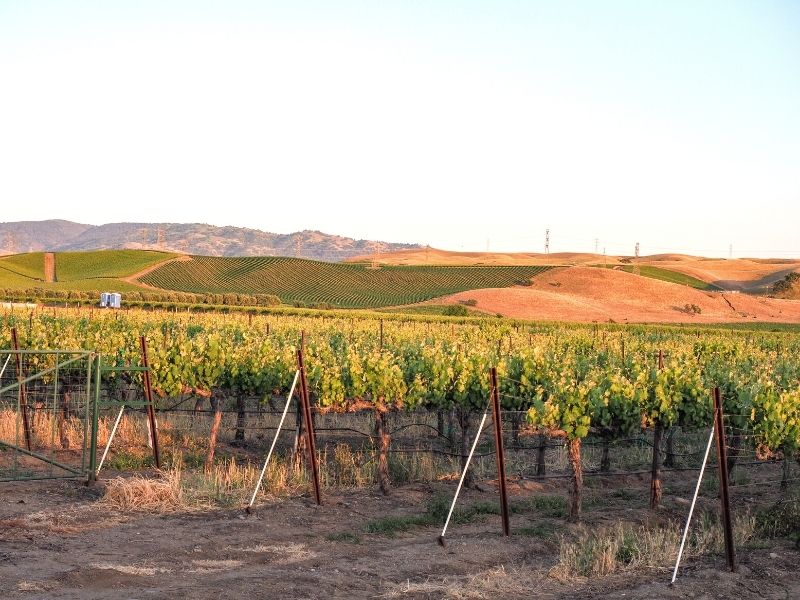 Driving Time from San Francisco: 1 hour
True facts: I used to drive by Livermore all the time and never realized there was an actual wine country there! But there is, with 60+ wineries, and it's actually really marvelous.
In my nerdy opinion, Livermore wines can't quite compete with the wines of Sonoma and Napa as the climates are just so different.
Livermore is a lot hotter and drier with less fog, so you get less of the contrast between warm and cold that makes for really complex and structured wines.
But Livermore does excel at red wines that love lots of sun, like Petit Syrah and Zinfandel, and its Zins are some of my favorite in California. My two favorite Livermore wineries are Wood Family Vineyards and Retzlaff Vineyards.
Plus, Livermore is really budget-friendly compared to Sonoma and Napa (Napa especially), and it's usually a lot less crowded as it's more popular with East Bay-ers and not as well-known by people in SF or the North Bay, who tend to head straight to Napa.
If you're looking for a wine weekend getaway from San Francisco that's a bit outside the norm, you won't be disappointed by Livermore's wine country!
Tip: Don't miss a hike at Del Valle Regional Park, a stunning hiking destination in Livermore!
Sonoma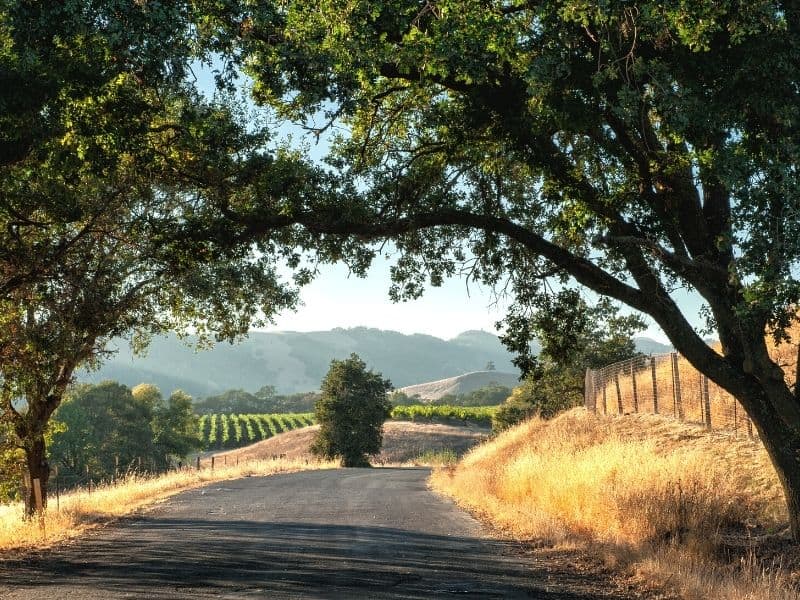 Driving Time from San Francisco: 1 hour, 5 minutes
I'll be honest and admit my bias here: Sonoma County is my happy place in California. Their Pinot Noirs are magical, their redwoods are mystical, their climate is incredible, and the views everywhere you look are breathtaking.
It has a fraction of the pretension and priciness of Napa, and it's really easy to get a bit off the beaten path in Sonoma and discover some lesser-known wineries.
The town of Sonoma itself is quite cool as well, as it's a university town, so it's got a more laid-back, student-friendly vibe that Napa doesn't quite have. And I realize I'm sort of pitting Sonoma against Napa here, when I do love both, but I think Sonoma just offers so much more bang for your buck.
In Sonoma proper, I love the sparkling wines at Gloria Ferrer (they are the same makers as the Freixenet cava brand, so they kind of know what they're doing!) and the reds at Ram's Gate.
The Sonoma downtown is also really cute with several great restaurants, and you should also stop by the historic Sonoma Mission to learn more about California's pre-U.S. history.
Napa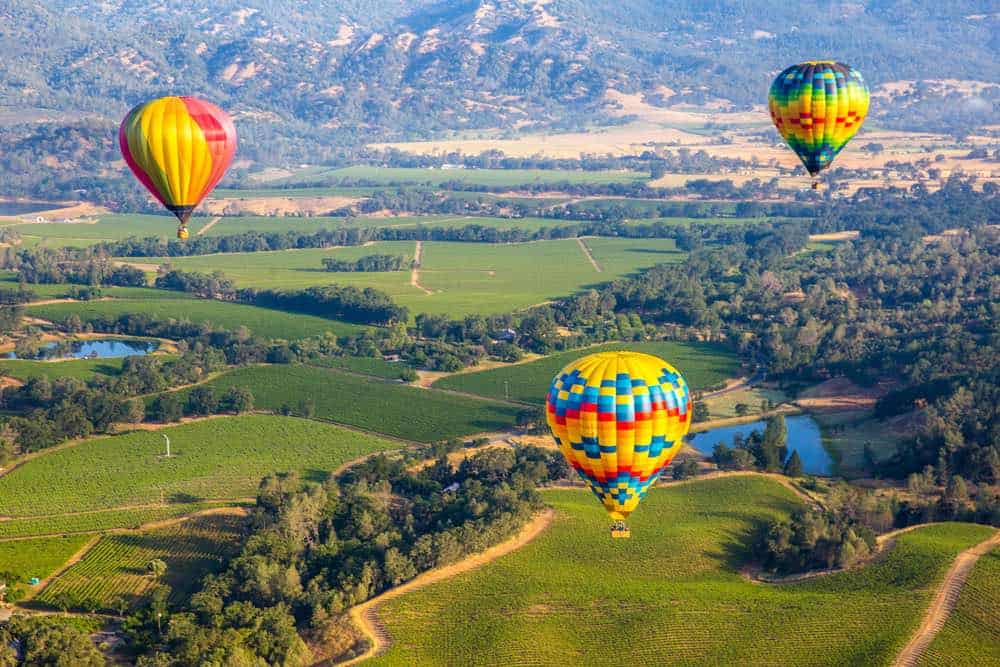 Driving Time from San Francisco: 1 hour, 10 minutes
While I know I talked a bit of s*@t about Napa above, it's only in comparison to Sonoma, because I am obsessed with Sonoma.
That said, Napa 100% appeals to a certain type of weekend trip from San Francisco.
It's absolutely great if budget is not a concern, because there are so many bucket list-worthy experiences in Napa like hot air ballooning over the vineyards or having a decadent meal at the French Laundry.
But if you're minding your wallet, Napa can get a little pricy. Tastings are about $30 on average, as opposed to $15-20 in Sonoma — and let's not even talk about buying some bottles!
But Napa does have a really unbeatably cool downtown, especially its hip Oxbow Public Market.
Another one of my favorite places in Napa is Vichy Springs, which offers 'champagne baths' — which, luckily for your wallet, refers to the bubbles which naturally occur in the mineral waters and not actually bathing in champagne!
It's a delightfully relaxing yet no-frills spa experience, though if you want some fancy spa time, Napa or nearby Calistoga will certainly deliver.
Healdsburg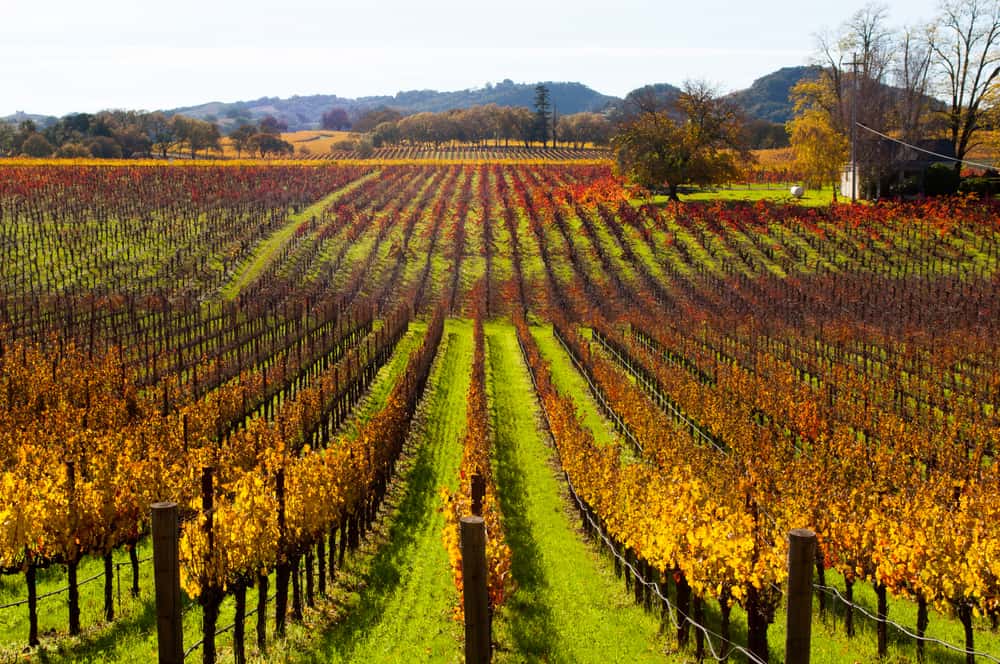 Driving Time from San Francisco: 1 hour, 30 minutes
Another Sonoma wine destination, Healdsburg is a great place to base yourself for Sonoma County wine exploration since it's pretty much dead in the center of Sonoma County.
It's also home to the Dry Creek Valley AVA, which is one of the best appellations in California for Zinfandel, but don't sleep on its delicious white wines either!
My favorite Healdsburg area vineyards are Simi Vineyards and Dry Creek Vineyard. I also like the in-town tasting room at Ferrari-Carano.
Besides all the wine tasting, Healdsburg is also great for browsing the art galleries in town, walking in the scenic Del Rio Woods Regional Park, and strolling alongside the Russian River.
Calistoga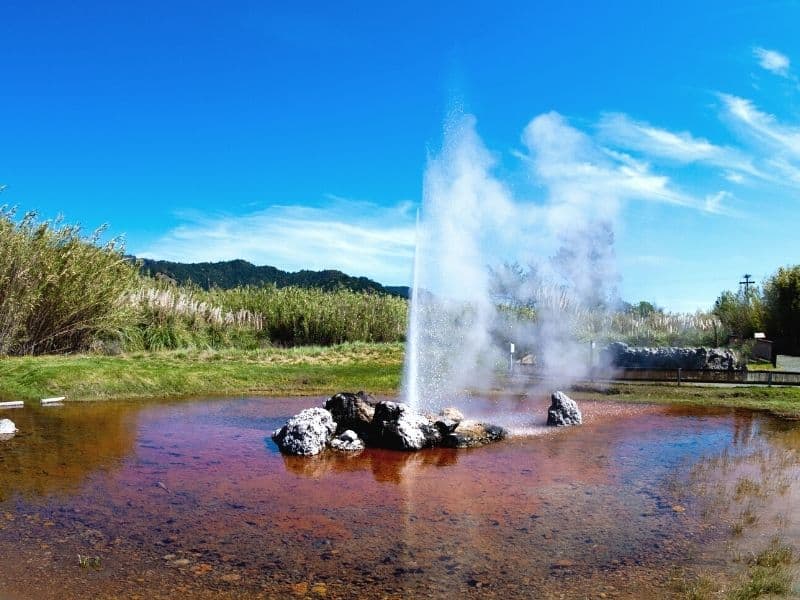 Driving Time from San Francisco: 1 hour, 35 minutes
Near enough to Napa that they can be visited on a single weekend getaway from San Francisco, I recommend basing yourself in Calistoga if you want to add a spa element to your weekend.
Calistoga has its own mini "Old Faithful" which, granted, is nowhere near as impressive as Yellowstone's but is quite cool nevertheless.
But it's far from the only geothermal activity under the ground in Calistoga, and as a result, you'll find several wonderful hot spring hotels in Calistoga, many of which also offer geothermal mud baths.
Calistoga Spa Hot Springs is perhaps the most famous, but there are so many other options as well!
Lodi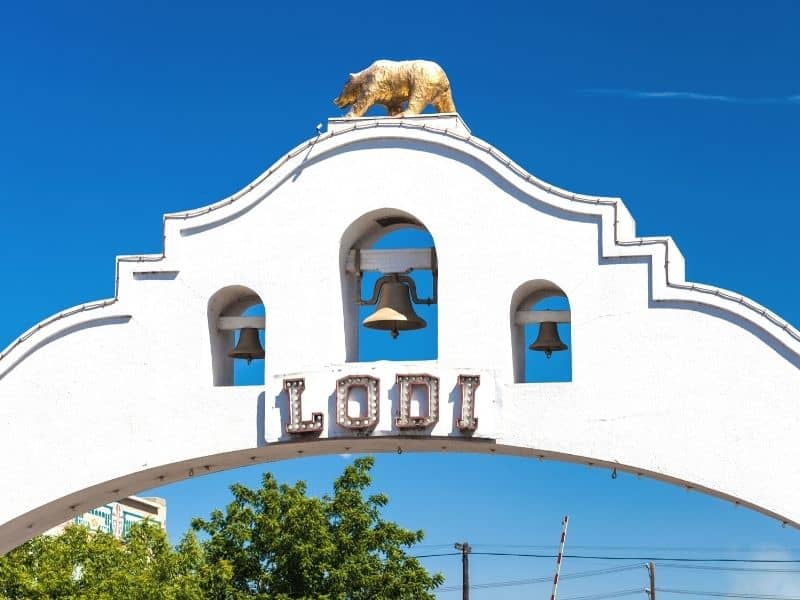 Driving Time from San Francisco: 1 hour, 45 minutes
Lodi probably doesn't come immediately to mind when thinking of California wine country, but it's actually a fantastic road trip from San Francisco for those looking for a little wine weekend!
It's also a great choice for a wine weekend if you are coming from the East Bay, since it's only a little over an hour's drive from East Bay hubs like Oakland and Walnut Creek.
Lodi is known for its Zinfandels — in fact, it's considered the Zinfandel capital of California, producing 40% of Zinfandel wines in the state! Top producers include Soucie Vineyard, m2, and McCay Cellars.
Besides wine tasting, other things to do on a Lodi weekend getaway include kayaking on Lodi Lake, birdwatching at Isenberg Crane Reserve, and enjoying the diverse dining scene.
Plymouth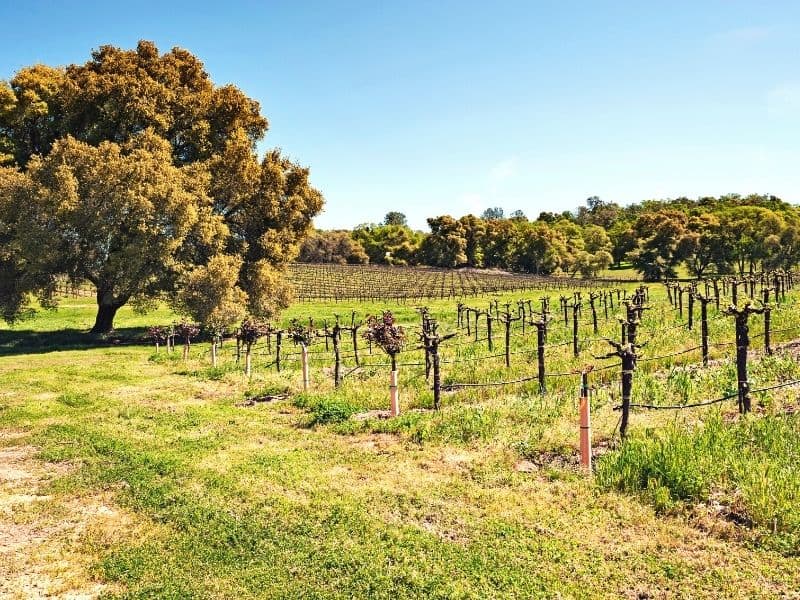 Driving Time from San Francisco: 2 hours, 30 minutes
Another lesser-known wine country option in California is Gold Country — yes, the former heart of Gold Country is now a burgeoning wine mecca.
Gold Country is home to the Shenandoah Valley AVA, which includes Amador Valley wines, which is also known for its Zins.
Plymouth is a cool place to base yourself while exploring the little-visited Gold Country wineries, with a fun small-town vibe that's close to several wineries worth visiting.
I've yet to visit Plymouth personally, but here are some winery recommendations.
Paso Robles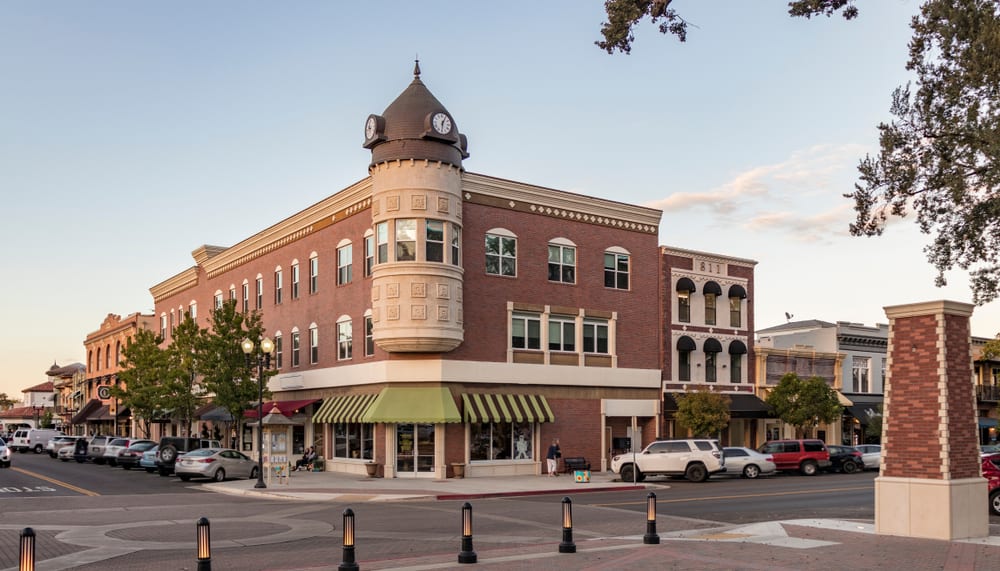 Driving Time from San Francisco: 3 hours, 30 minutes
Paso Robles is one of the up-and-coming wine countries in California, and clocking in at just under 4 hours of driving distance, it squeaks through to be one of the top wine country getaways from San Francisco.
Another fun option is to route via Highway 101 down to Cambria and then head inland to Paso Robles through there, so you get to combine a trip to Big Sur and to Paso Robles in one perfect weekend road trip from San Francisco.
It'd be a bit rushed, and you probably wouldn't want to stop at all the normal Big Sur attractions, but if you just want the best views, that's the way to go, as Highway 101 is nowhere near as scenic.
Paso Robles has it all: great breweries, incredible wineries, delicious dining, and beautiful landscapes and hiking opportunities.
Two favorite vineyards of mine are Vina Robles Vineyards and Robert Hall Winery.
Be sure to check out the incredible Field of Light At Sensorio, a light art installation by Bruce Munro, after dark — it's simply magical.
Best Small Town Road Trips from San Francisco
Sebastopol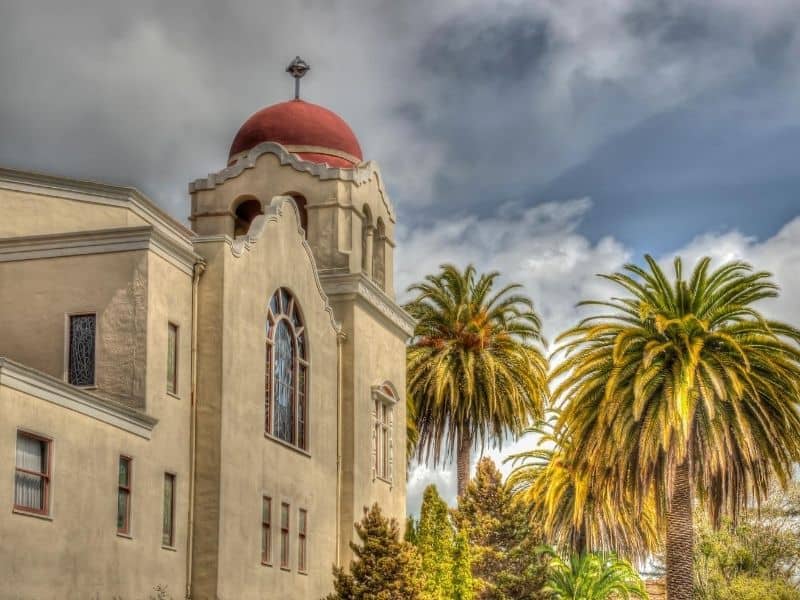 Driving Time from San Francisco: 1 hour, 15 minutes
Excuse my California, but for the purposes of this post, I'm calling a "small town" anything under 10,000 people — even if it's considered a city!
Sebastopol is one of my favorite places to base myself in Sonoma County, and I visit it usually at least twice a year.
It's home to a funky art scene (complete with junk sculptures scattered around town), a great Main Street for shopping with lots of great used clothing stores, and several incredible restaurants, including one of my favorite ramen restaurants in California, Ramen Gaijin.
In addition to those fun small town vibes, Sebastopol also is a great base for day trips around the Sonoma County area. Osmosis Spa is close by in nearby Freestone, offering incredibly relaxing cedar enzyme baths and Japan-inspired Zen gardens. It's the perfect place to bliss out for a day.
If you want to do some wine tasting, Iron Horse Vineyards has phenomenal sparkling wines that are absolutely worth experiencing. I also love Scherrer Winery and Halleck Vineyard, both by appointment only.
Halleck's tastings are pricy, but they're my favorite wines in all of Sonoma County (my family used to be wine club members!) — their Gewurtztraminer is to die for! I honestly do think they're worth it, though, because they come with a very generous tasting pairing full of surprising insights, like pairing their Gewurtz with a delicious pâté (and I don't usually like pâté!) and truffle chocolates with Pinot… and they all work beautifully!
Not so into wine? Sebastopol is the apple capital of Sonoma County, famous for its Gravenstein apples, and you'll find lots of cool cideries in the area: I recommend Ace Cider House or the Golden State Cider Taproom in the cool Barlow area of Sebastopol.
Carmel-by-the-Sea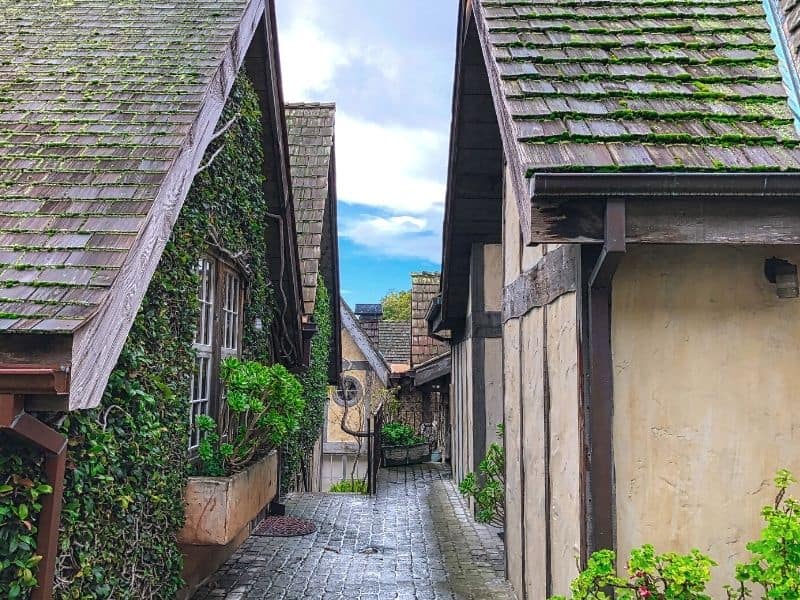 Driving Time from San Francisco: 1 hours, 50 minutes
Carmel-by-the-Sea is one of those magical places in California that doesn't feel real.
A fairytale-looking town center with architecture that looks more European than American, a pristine beach, and gorgeous 17 Mile Drive and the Big Sur coastline just a short drive away? Pinch me.
Carmel is the perfect weekend road trip from San Francisco too, especially if you take the scenic route and go via the Pacific Coast Highway, checking out the beautiful San Francisco Peninsula, Santa Cruz, and the Central Coast scenery as you go.
Tip: I have an entire weekend guide to Carmel worth perusing if you're planning a weekend getaway from SF!
Placerville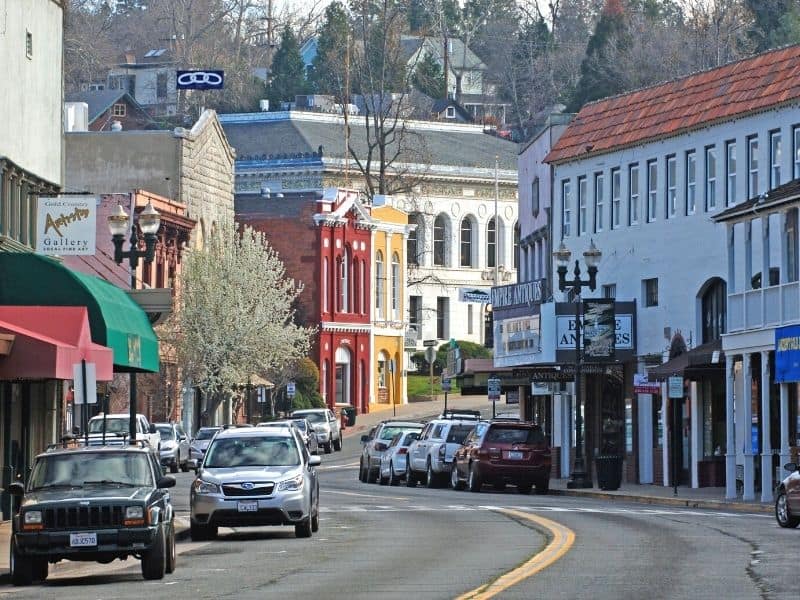 Driving Time from San Francisco: 2 hours, 15 minutes
Placerville is a historic Gold Rush town in California, and it's one of the best places to base yourself if you're planning on a history-based trip of California's Gold Country.
Base yourself in Placerville with its cute Main Street, but be sure to head to nearby Coloma and the Marshall Gold Discovery State Historic Park where you'll find Sutter's Mill: the place that sparked the California Gold Rush in 1848.
As mentioned earlier in this post, Gold Country is also an up-and-coming wine region, so be sure to taste the local grapes while you're in town.
Lava Cap Winery and Holly's Hill Vineyard have intriguing wines made from grapes grown at a high altitude, creating unique flavor profiles that will show you why in-the-know wine geeks are paying attention to Gold Country's wine scene.
Nevada City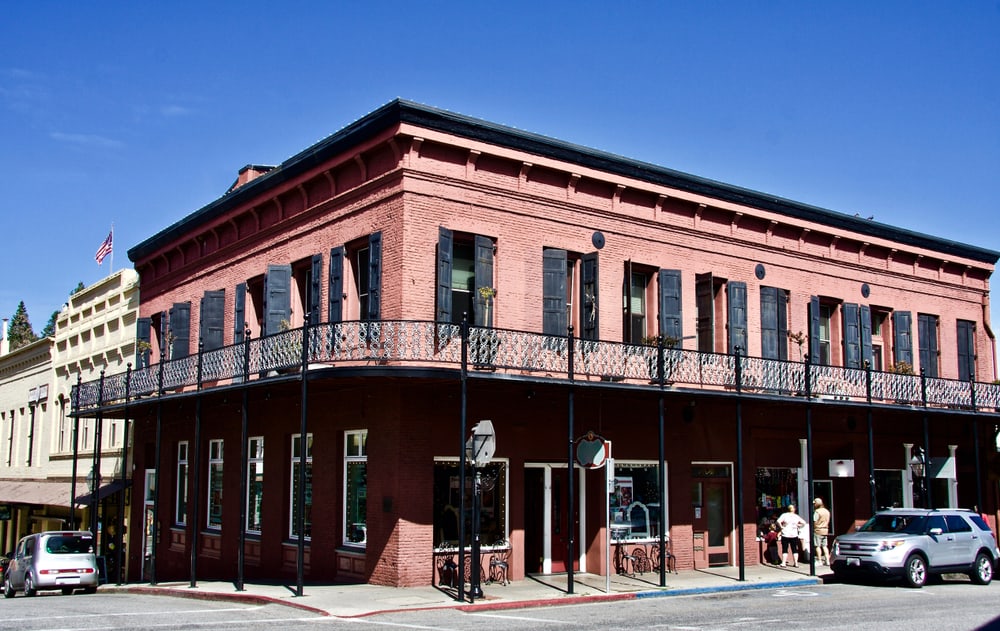 Driving Time from San Francisco: 2 hours, 35 minutes
Nevada City is not at all in Nevada, but rather right in the heart of California's Gold Country, so it's another interesting choice if you are planning a historical weekend trip from San Francisco.
Train lovers will enjoy the Nevada County Narrow Gauge Railroad Museum complete with a historic train and section of railway and lots of history facts to geek out over.
Meanwhile, Empire Mine State Park is a cool place to mix history and nature, where you can explore a historic, well-preserved mine and then go for a hike on one of the many beautiful trails.
Wine lovers, don't miss Nevada City Winery, the oldest winery operating in the Sierra Nevada foothills, which is doing great things to strengthen the region's wine reputation.
Mendocino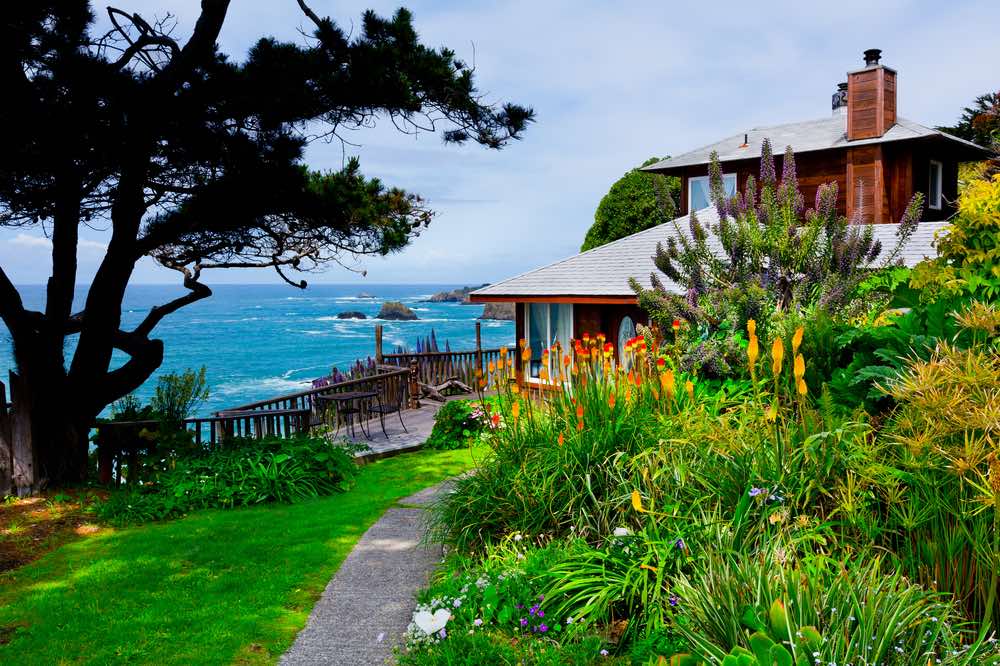 OK, technically, Mendocino is also a perfect wine weekend getaway from San Francisco and a beach getaway and a nature escape… but you really come to Mendocino for the cozy, small town vibes, at least in my book.
Mendocino truly has it all: incredible whale watching, beautiful hikes, a lovely downtown with an excellent food scene, and so many vineyards producing incredible wines.
Sample the wines in the town center at the punny MendoVino Wine Bar, or head out to local wineries to see where the grapes are grown and try a breadth of wines one producer at a time.
Hikers should head to one of two state parks, Mendocino Headlands State Park and Russian Gulch State Park, both of which have gorgeous hiking trails. The former is better for whale-watching whereas the latter is better for beach time and swimming if you're brave enough to dip your toes in the icy Northern California waters!
Culture lovers will want to head to Mendocino Art Center and wander around the town's many other galleries before diving into the delicious dining scene: Luna Trattoria is a local favorite.
Driving Time from San Francisco: 3 hours, 15 minutes
Morro Bay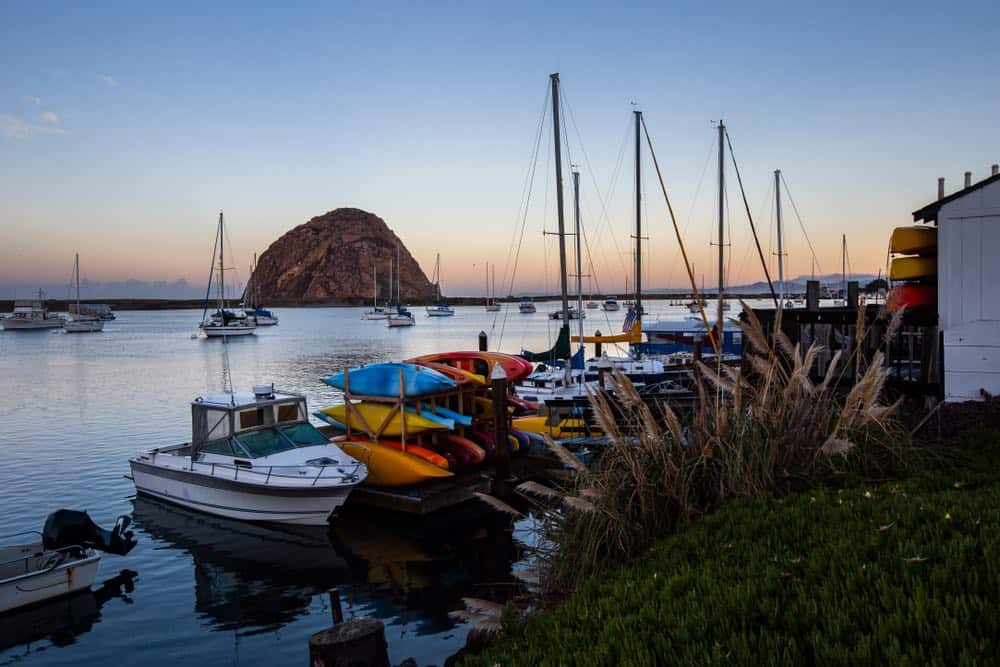 Driving Time from San Francisco: 3 hours, 45 minutes
Famous for the enormous Morro Rock which sits almost ominously offshore, the cute Central Coast town of Morro Bay has a lot to offer.
Enjoy nature trails and birdwatching at Morro Bay State Park, walk the Morro Rock Beach and be wowed by the immensity of the ancient volcanic mound which towers nearly 600 feet above sea level from your place on the shore.
Be sure to walk along the boardwalk area and check out the local sea otters who call the pier area home!
Rent a kayak and paddle around the calm bay and spot the other sea animals who also have made a home in calm, peaceful Morro Bay.
Best City Weekend Getaways from San Francisco
San Jose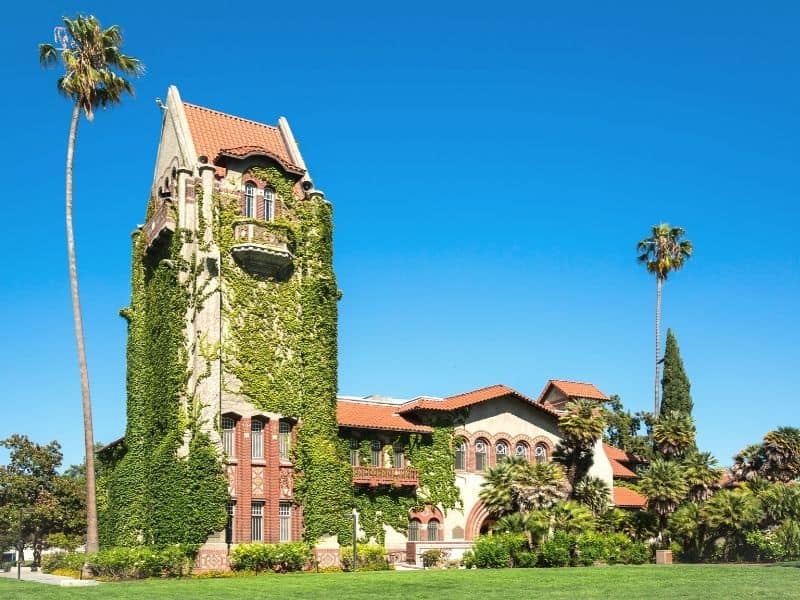 Driving Time from San Francisco: 1 hour
At just an hour outside San Francisco, San Jose could easily be a day trip, but this vibrant South Bay city has so much to offer that it's worthy of a weekend trip from SF!
An absolute must-do is checking out the bizarre Winchester Mystery House, supposedly one of the most haunted places in California.
This bizarre house has quite an interesting history, and going on a tour of it is an excellent way to learn more and see if you can sense some of its spooky vibes for yourself.
Other cool things to do in San Jose include window-shopping along Santana Row (or real shopping if you've got the funds — this is the poshest part of town!), enjoy the burgeoning craft beer scene, eating delicious ramen in Japantown and visiting Mission Santa Clara.
Santa Rosa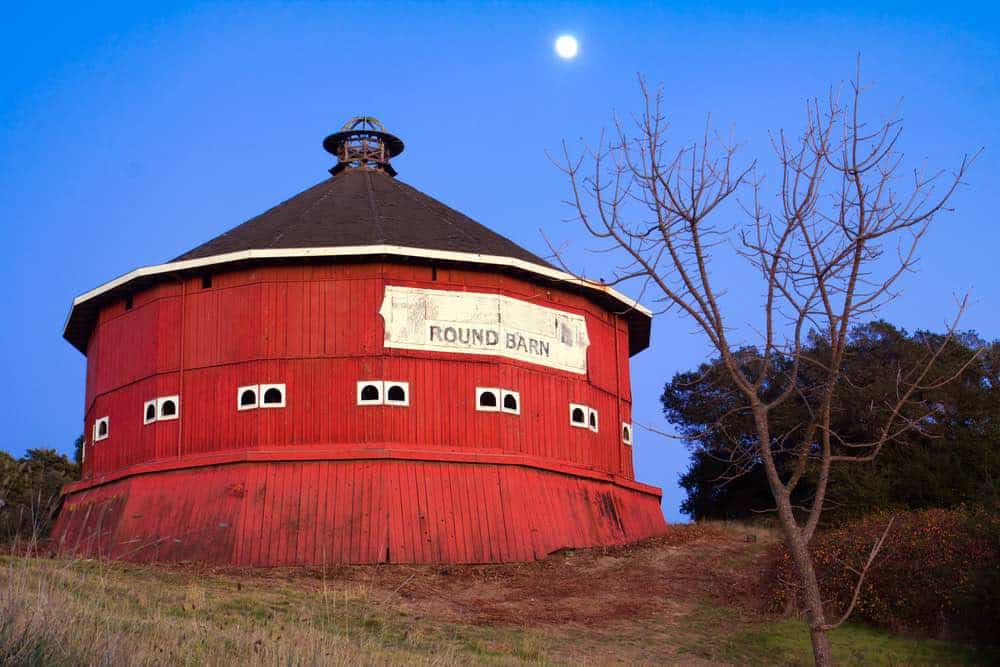 Driving Time from San Francisco: 1 hour, 10 minutes
Santa Rosa is the largest city in Sonoma County.
It's been devastated by wildfires in the not-too-distant past (including the above structure, the historic Round Barn, which unfortunately no longer stands), but it's a dynamic and vibrant city that surely will rise from its ashes, literally.
Go wine tasting at one of the many vineyards around Santa Rosa — Matanzas Creek Winery and Balletto Vineyards are my top choices.
Fans of the Peanuts comics or cartoons will want to head to theCharles M. Schulz Museum, dedicated to the legendary cartoonist. The gardens at Luther Burbank Home and Gardens are also a gorgeous place for a stroll.
For a more active weekend trip from San Francisco, go for a paddle out on Spring Lake or hike around the reservoir's rim, or head to Annadel State Park for beautiful wildflower hikes.
Santa Cruz
Driving Time from San Francisco: 1 hour, 20 minutes
Funky Santa Cruz is one of my top picks for a weekend getaway from San Francisco.
This place has it all: incredible redwoods hikes just a short drive from downtown, beautiful beaches, interesting museums and history, and a nostalgic boardwalk that's the perfect way to while away a sunny afternoon.
Drive down West Cliff Drive for some of the best views in the city, making sure to stop in the Surfing Museum housed in a historic lighthouse.
Spend an afternoon at Natural Bridges State Park, enjoying the beautiful rock formations in the ocean, or checking out the seasonal butterfly migration if you happen to be visiting while the butterflies make their temporary home in a eucalyptus grove inside the park!
Of course, you can't go to Santa Cruz without visiting the Santa Cruz Beach Boardwalk, a historic boardwalk full of rides and vendors. Kids love it, but adults will have a wonderful time as well.
There are also tons of seals who make the pier their home, and visiting them is essential on any Santa Cruz itinerary!
Finally, once Big Basin State Park reopens (currently closed after suffering massive wildfire damage), be sure to spend some time here. If it's not reopened yet, Henry Cowell Redwoods State Park is a wonderful substitute.
Tip: I have a guide to spending a weekend in Santa Cruz here!
Sacramento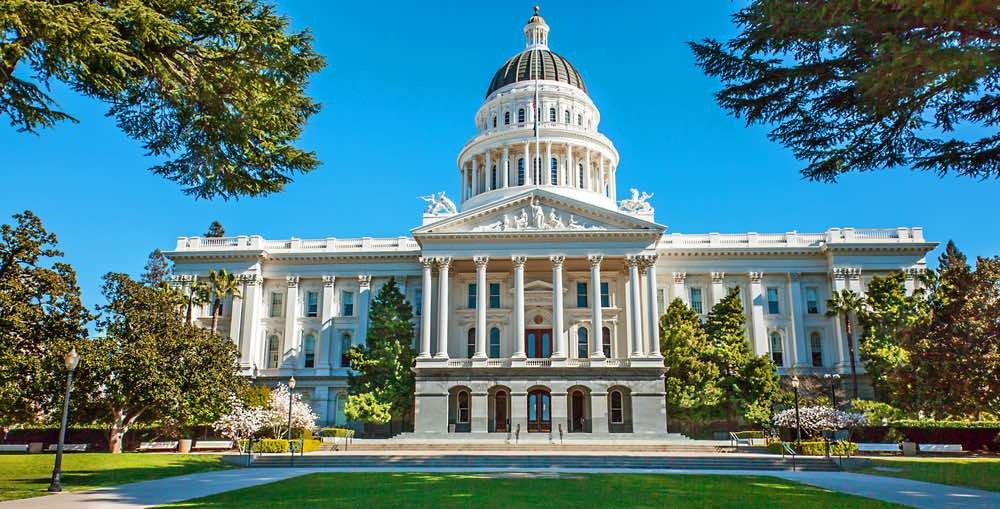 Driving Time from San Francisco: 1 hour, 35 minutes
California's capital is often overlooked, even by those who live in the state, but Sacramento is a good weekend trip from San Francisco for those who are looking for a city escape!
Skip Sacramento in the summertime, when the temperatures are simply too hot to enjoy inland California, but in the fall, Sacramento is a wonderful place for hiking and seeing some beautiful fall colors.
Besides checking out the State Capitol Building, an impressive building befitting California's powerhouse position as the fifth-largest economy in the world, there's a lot to do in Sacramento!
Be sure to also spend some time in Old Sacramento, walk riverside along the Jedediah Smith Memorial Trail, browse the Crocker Art Museum, and check out the historic Sutter's Fort.
Monterey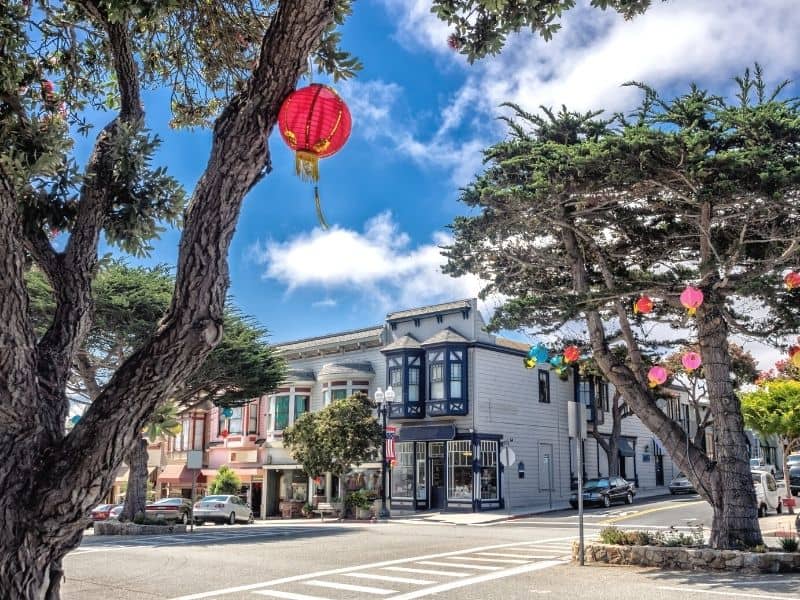 Driving Time from San Francisco: 1 hour, 45 minutes
Located right by Carmel-by-the-Sea, you can easily combine a trip to these two scenic places in Central California into one perfect weekend trip from San Francisco.
Monterey is most famous for its incredible Monterey Bay Aquarium, which in and of itself is worthy of the road trip from SF!
Besides that, there's also the historic Cannery Row, which inspired the John Steinbeck novel of the same name, as well as the Old Fisherman's Wharf.
Both have been converted into prime dining and shopping locations, and while a little touristy, still ooze with charm.
And of course, Monterey is one of the best whale watching destinations in the world, with pretty much year-round whale watching opportunities!
The species you'll see vary by the time of year, but there's almost always whales hanging out in the peaceful, deep waters of Monterey Bay.
San Luis Obispo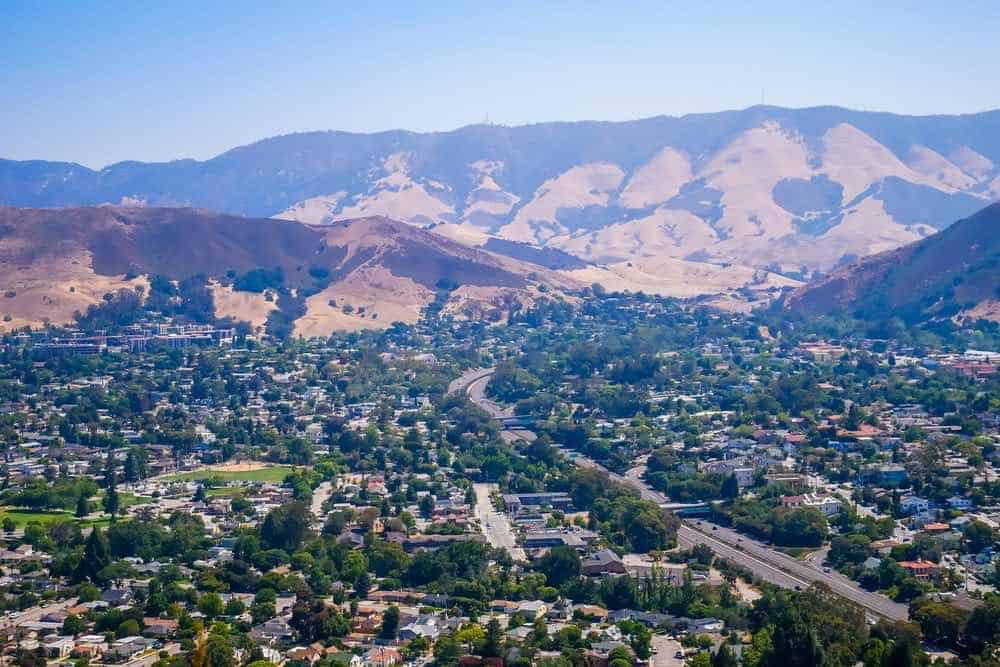 Driving Time from San Francisco: 3 hours, 45 minutes
Yes, San Luis Obispo requires a long road trip from San Francisco, but if you feel like taking a long drive and exploring somewhere new for the weekend, it's a great pick.
San Luis Obispo is home to one of the many California missions, Mission San Luis Obispo de Tolosa, as well as the historic Madonna Inn and its ridiculously awesome pink steakhouse (a classic road trip stop on the PCH).
Besides its two most famous draws, there's also great outdoors opportunities such as hiking to the top of Bishop Peak or Cerro San Luis Obispo.
San Luis Obispo is also a hub for wine tasting, with over 30 wineries along the coastal region close to the city: check out here for more details.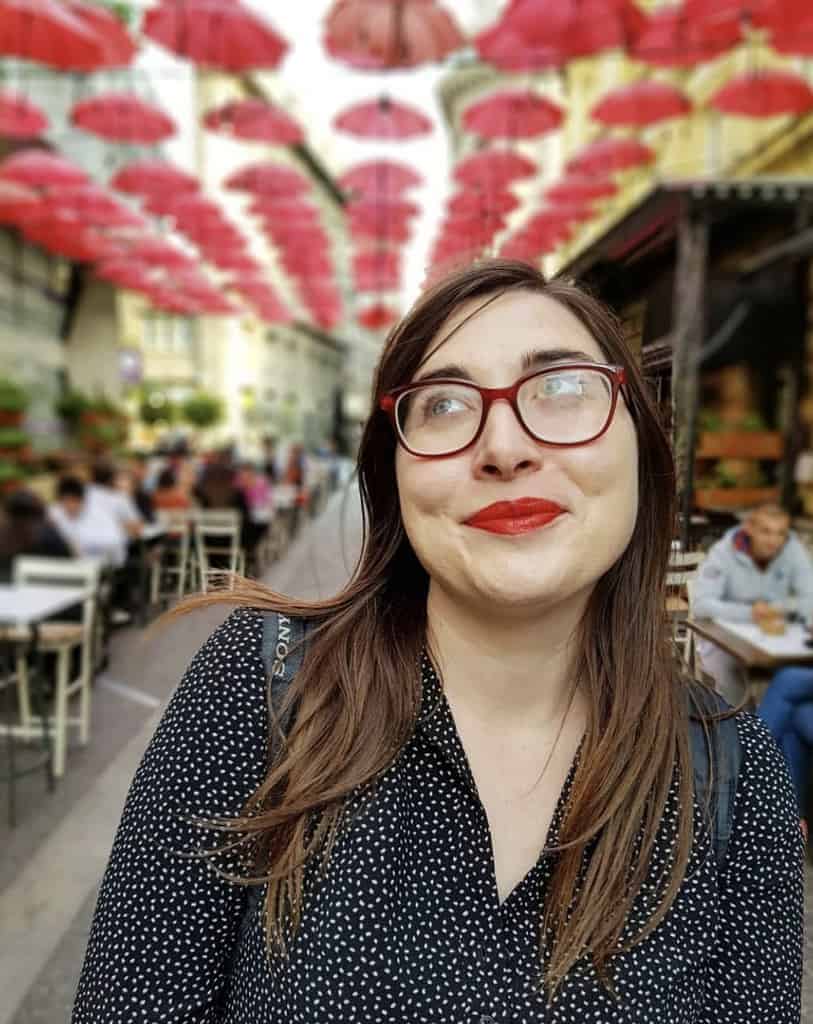 Allison Green is a travel blogger, writer, and podcaster who grew up in the Bay Area of California. She has spent time living in New York, Prague, and Sofia, but has returned to live in the East Bay. She has traveled to 60 countries before the age of 30 while running several digital travel publications. Her writing and podcast have been featured in Forbes, CBC Canada, National Geographic, the Huffington Post, and CNN Arabic, amongst others. She's obsessed with bouldering, houseplants, other people's pets, and anywhere she can see the ocean.