Monterey is an amazing coastal destination in California. The oceans of Monterey Bay are largely protected by marine reserve areas, creating pristine marine habitats teeming with life.
When you come to Monterey, you will have the opportunity to explore and enjoy the wild waters of the Pacific Ocean while immersing yourself in a beautiful and historic city.
Monterey is nestled on the central California coast, 2 hours south of San Francisco. It has a rich history, particularly in the sardine packing industry, which was immortalized in John Steinbeck's classic Cannery Row.
Plus, it is surrounded by opportunities to explore beaches and coastal mountains. You will also find excellent opportunities to eat well, especially if you are a fan of seafood.
Monterey is a wonderful weekend getaway destination as it is one of the most scenic in California. You will enjoy this city if you are looking for a variety of activities.
However, you will enjoy it most if you are interested in connecting with the ocean. This is by far one of the most nautical destinations in California!
The Best Things to Do in Monterey, CA
Get some clam chowder on the Old Fisherman's Wharf.
Note: This post contains affiliate links, which earn me a small commission at no extra cost to you if you make a purchase using one of these links. Thank you for supporting this free content!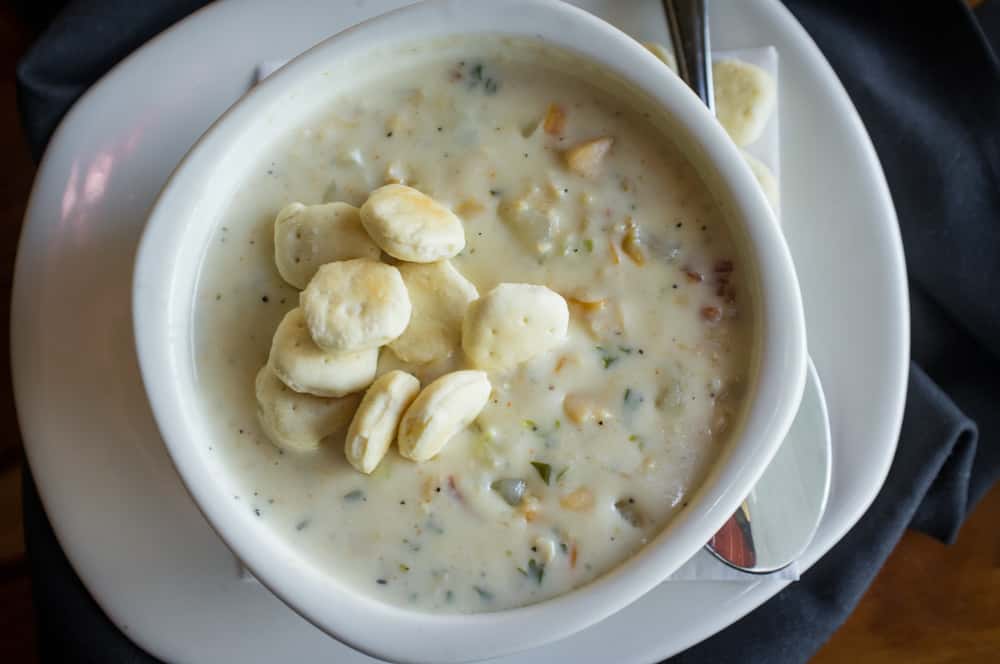 Start things off right and head to the water. The Fisherman's Wharf is full of shops, restaurants, and interactive activities. It has a boardwalk vibe complete with candy shops of sizeable grandeur. You may sometimes see street performers in this area, too!
To get to the point: this is the spot in the city to get some clam chowder. It is common to sample clam chowder on the wharf before picking your favorite. Employees of the restaurants stand on the wharf handing out samples, openly competing with one another. Monterey Bay calamari is another popular dish to taste.
Personally, this writer likes the Old Fisherman's Grotto because of their commitment to sustainable seafood. It is a popular spot, so prepare to wait. They also have a fish market, Grotto Fish Market. This is a nice option if you want to pick up some fish and cook it at home if you've rented an apartment.
Gaze in wonder at the Monterey Bay Aquarium.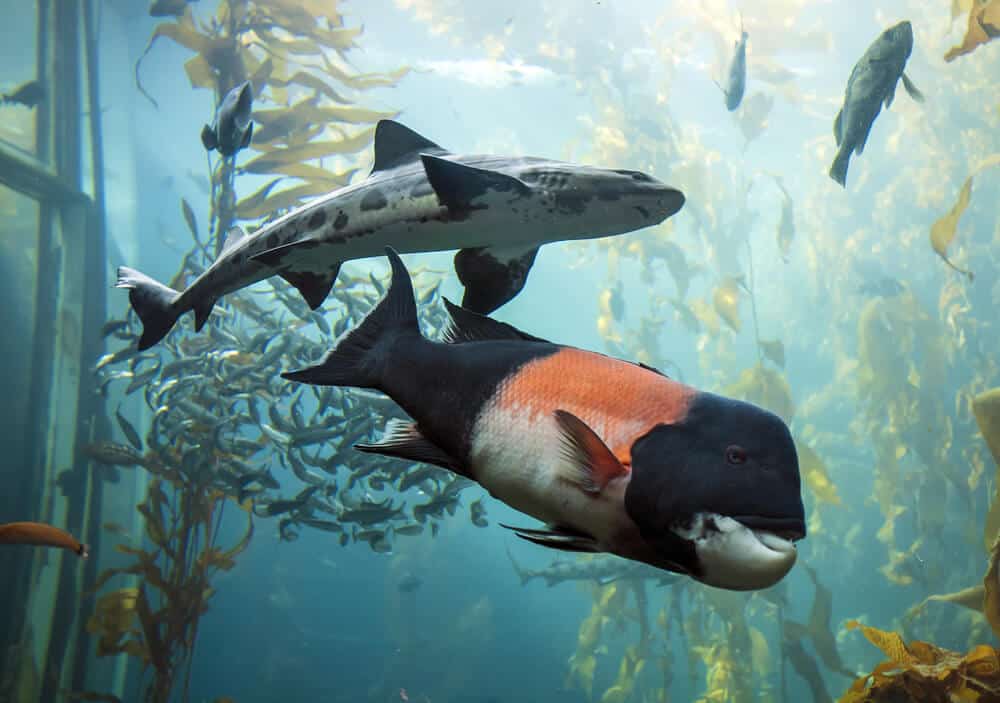 The Monterey Bay Aquarium is the top aquarium in the United States, hands down, so it's no wonder this is one of the best things to do in Monterey!
Their unique building allows for the aquarium to be filled with the waters of the ocean, so that the ocean is very much a part of the aquarium. They have beach and tide pool adventures available too as part of the aquarium.
The Monterey Bay Aquarium has some of the most incredible displays of jellyfish you can imagine. You can observe moon jellies and black sea nettle jellies. And, you can see the incredible comb jelly, which glimmers rainbow as it swims.
In addition to the jellyfish, you can see sharks, penguins, and giant Pacific octopuses.
One of the most fun tanks to visit is the sea otter tank. It is two levels so you can climb up and see the sea otters on land. It is wildly entertaining watching them swim down, playing gracefully in the water.
They also have touch pools where you can explore sea plants and learn more about the ecosystem of the Pacific Ocean.
Take a stroll around Cannery Row.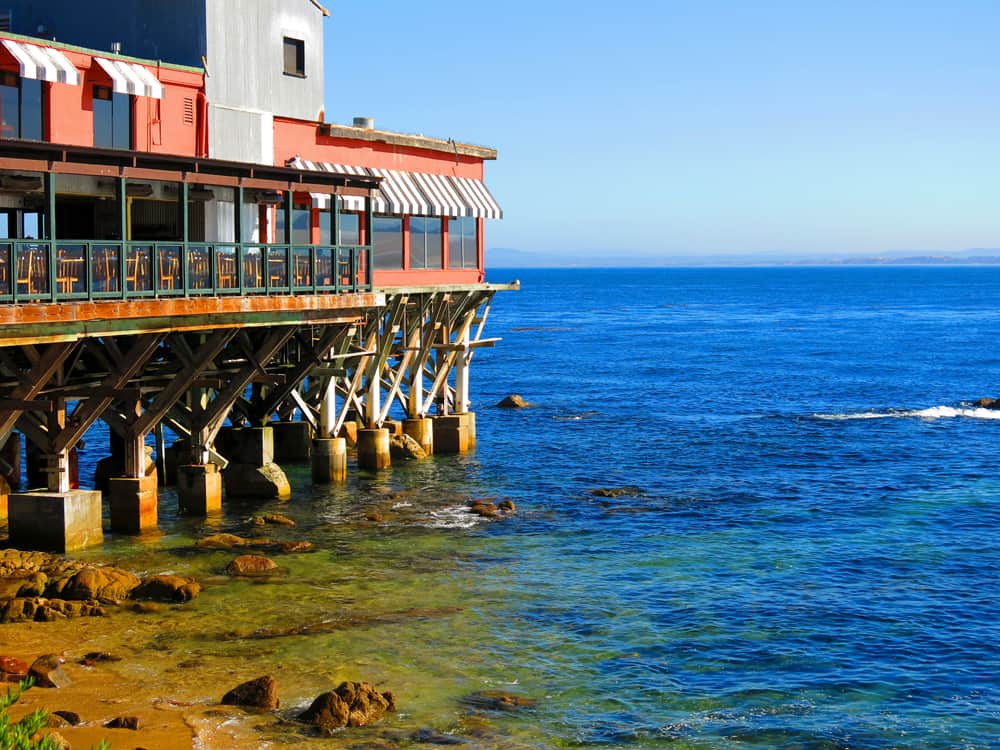 In keeping with our nautical theme, head to the famous Cannery Row. It is a landmark in Monterey for a few reasons!
The first would be its history. There is a long history of humans living in the area, beginning with the Ohlone Native American tribe. They have depended on the ocean for survival for hundreds of years.
This seafaring lifestyle eventually paved the way for the sardine canneries of the 1900s. John Steinbeck writes about this in his book Cannery Row, and today, this area of Monterey is named for the book.
Once a booming industry, the old cannery buildings are now full of shops and restaurants. You can find ample places serving, wine, craft beer, and delicious eats.
Not hungry? There's still plenty to do here, with plenty of unique shops and art galleries in the area. Engage your inner child at the Monterey Mirror Maze or at Ghirardelli.
Awaken your tastebuds with wine tasting.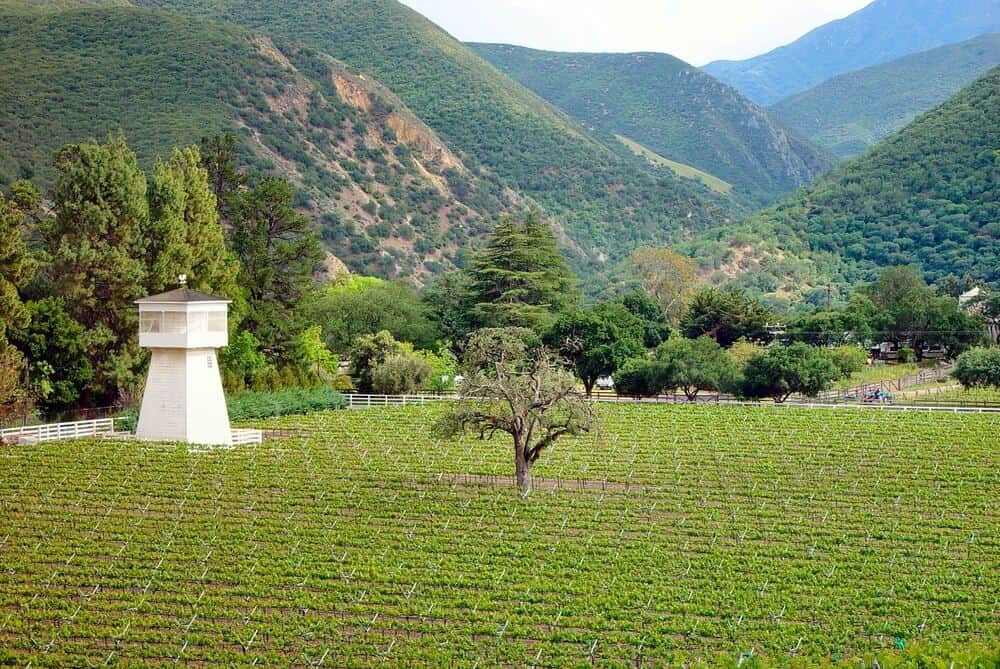 Okay, so this is not such an ocean-centered thing to do in Monterey, but this is California: wine is everywhere!
When people think about wine in California, they often think of Sonoma or Napa, but don't count Monterey out! There are many tasting rooms in the city and wineries in the nearby area serving delicious wine.
Monterey wine country is necessary to any wine lover's California bucket list.
There are almost 40,000 acres of vineyards in Monterey County, including in Monterey and nearby Carmel-by-the-Sea, so you'll absolutely find a vineyard you'll love.
You will find your wine adventure full of award-winning wines, lovely tasting menus, and beautiful views — it's definitely one of the most fun things to do in Monterey.
Enjoy biking on the Monterey Coastal Trail.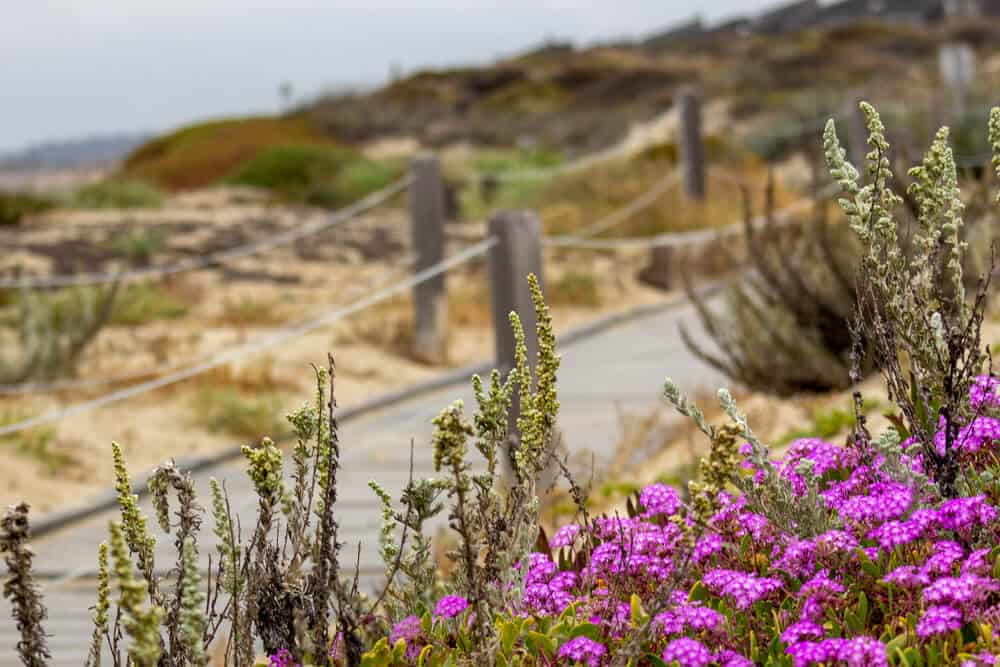 Find your favorite coastal lookout points on this 18-mile-long bike path!
You can bike your way through the city, past many of the major landmarks of Monterey. Bike nearby the aquarium and Old Fisherman's Wharf, then head towards beaches like Lovers Point.
Biking around Monterey is a great way to easily get around without the hassle of finding parking. Plus, it's beautiful!
You can rent bikes at many places in the city. Adventures by the Sea has many locations convenient to the trail. They also rent kayaks, paddleboards, and surreys (four-wheeled bikes for families).
Leave the land behind and go kayaking or paddleboarding.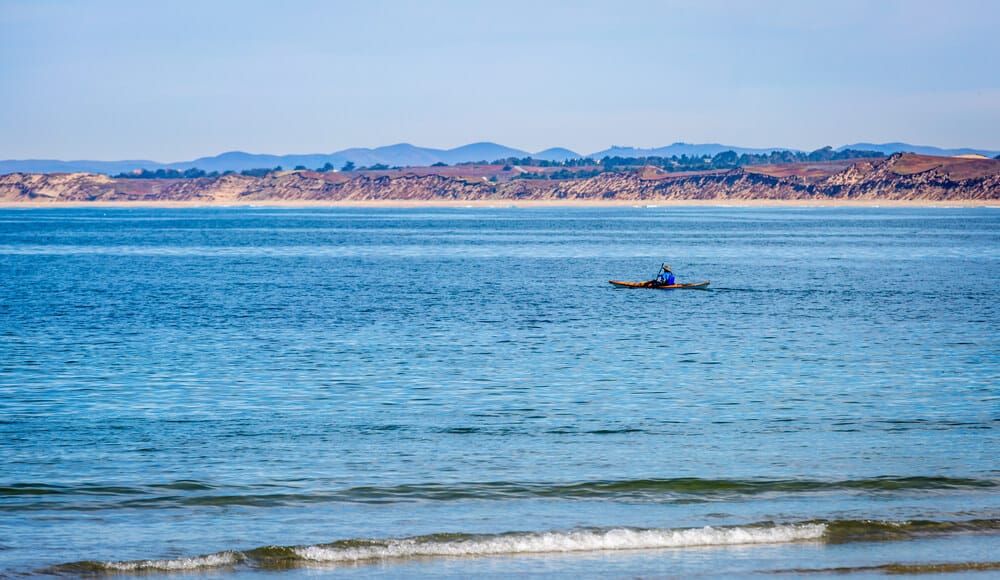 Kayaking and paddleboarding are extremely popular activities in Monterey!
There are miles of coastline to explore where you can revel in an on-the-water adventure.
Head to the Monterey National Marine Sanctuary for the best place to enjoy this Monterey activity. Keep an eye out for sea otters, jellyfish, or pelicans, plus many more.
The Monterey National Marine Sanctuary is largely responsible for the conservation of these waters. They monitor and research the seas, and they have been pivotal in restoring the ecosystem here, helping to maintain the integrity of the kelp forests and wetlands of Monterey.
There are kayak and paddleboard tours available. You can also rent equipment and choose your launch point.
Up the intensity and go scuba diving.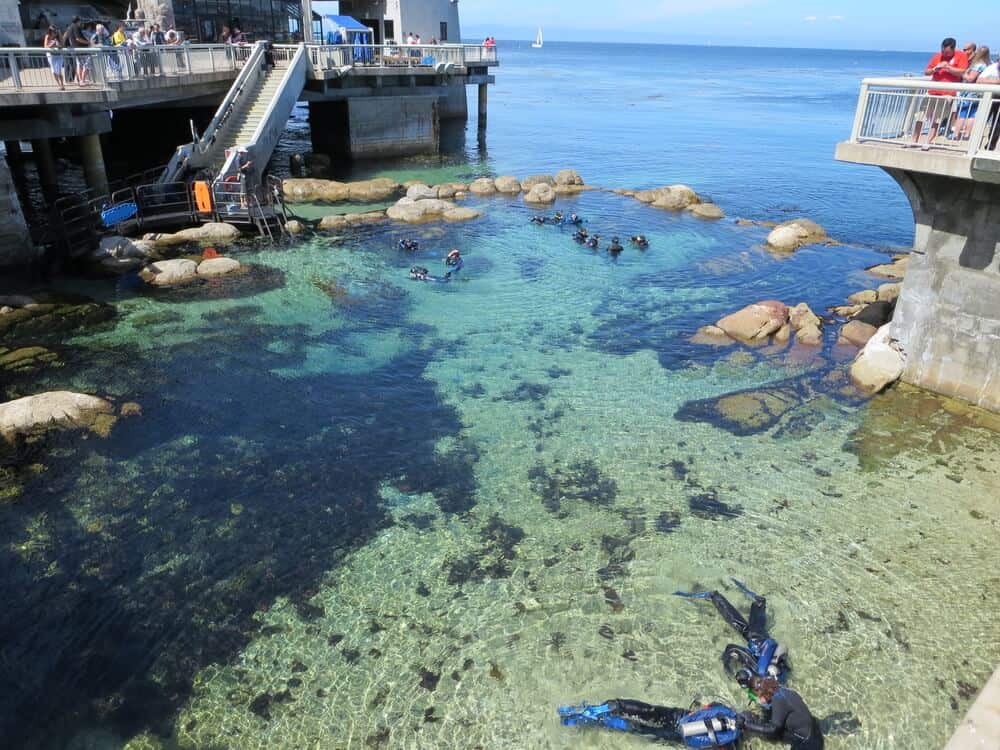 Why not take your on-the-water experience to the next level and go scuba diving!
If you were already planning on scuba diving in Monterey, then you already know it is one amazing place to dive!
Even if you are not PADI certified, you can dive with a divemaster. So if you have not tried it, now is as good of a time as any!
Guided tours range from shore dives to boat dives, depending on your skill level. You will get to dive into the world-renowned Monterey Bay National Marine Sanctuary, which is why it's one of the coolest things to do in Monterey.
Here, you will see the kelp forests first-hand from below the service. You may see seals or hear whale songs emerging from the depths. No matter what you see, you will certainly be blown away!
Make the most of your maritime adventure and go scuba diving in Monterey. It will be incredible.
Excite your senses with an excursion to Moss Landing.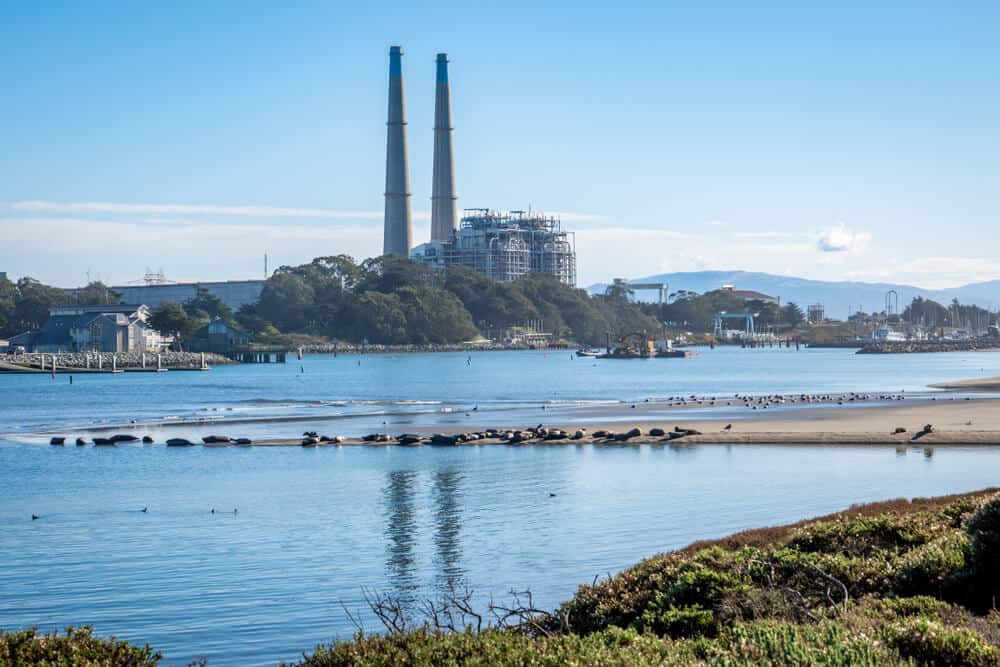 Moss Landing is a scenic seaside town just north of Monterey that just has a special vibe, complete with foggy ocean skies and lovely restaurants near the water.
We suggest eating at the Whole Enchilada for a fantastic seaside meal! There is also a fish market nearby if you want to cook your food.
Moss Landing State Beach is a great place to hit for surfing, as well as birdwatching and fishing. This state park does not offer camping, but there are a few choices nearby.
There are quite a few campgrounds in Moss Landing, including multiple KOA campgrounds. One of these KOA campgrounds is a KOA express, which means there is no tent camping or cabins available, as it's for RVs only.
Appreciate water conservation and visit Elkhorn Slough.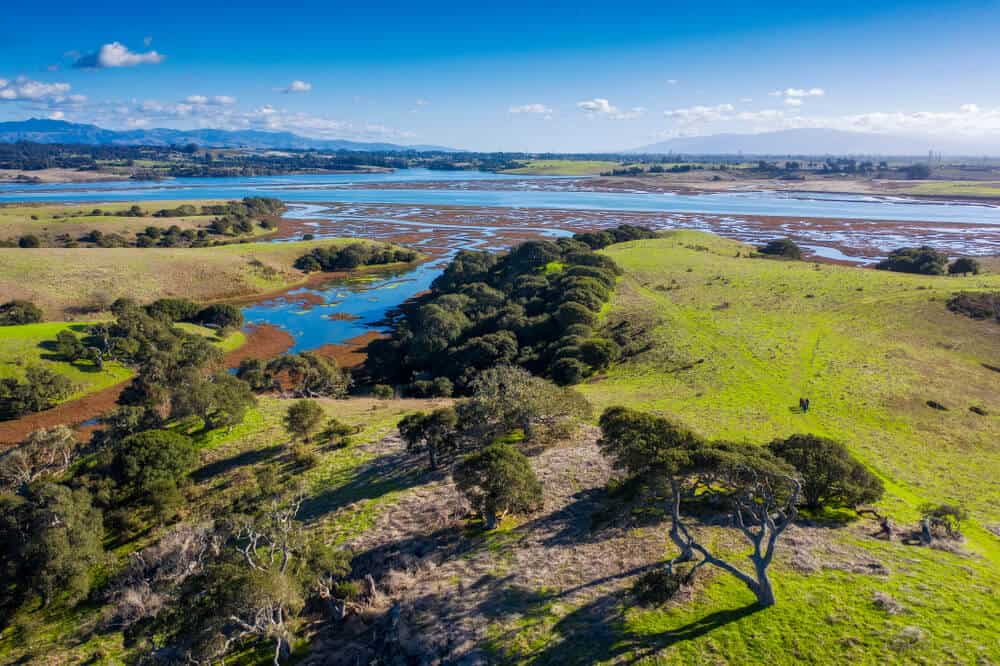 The beautiful Elkhorn Slough National Estuarine Research Reserve is a protected area where conservation of the watershed is most important: a crucial thing for both us and the ocean.
They not only protect and study the waters but also protect the environment around them. You can find many birds in this oasis, as well as other marine wildlife.
There are 5 miles of hiking trails, bringing about the opportunity for strolls amongst oak forests, creeks, and marshland.
Note: Pets, biking, hunting, fishing, boating, and horseback riding are prohibited to ensure the integrity of this ecosystem.
You can rent kayaks nearby and explore Elkhorn Slough. There are also a couple of companies that do boat tours of the area.
These are great ways to further connect with the water in this mecca for ocean conservation!
Illuminate your experience further with a journey to Jacks Peak Park.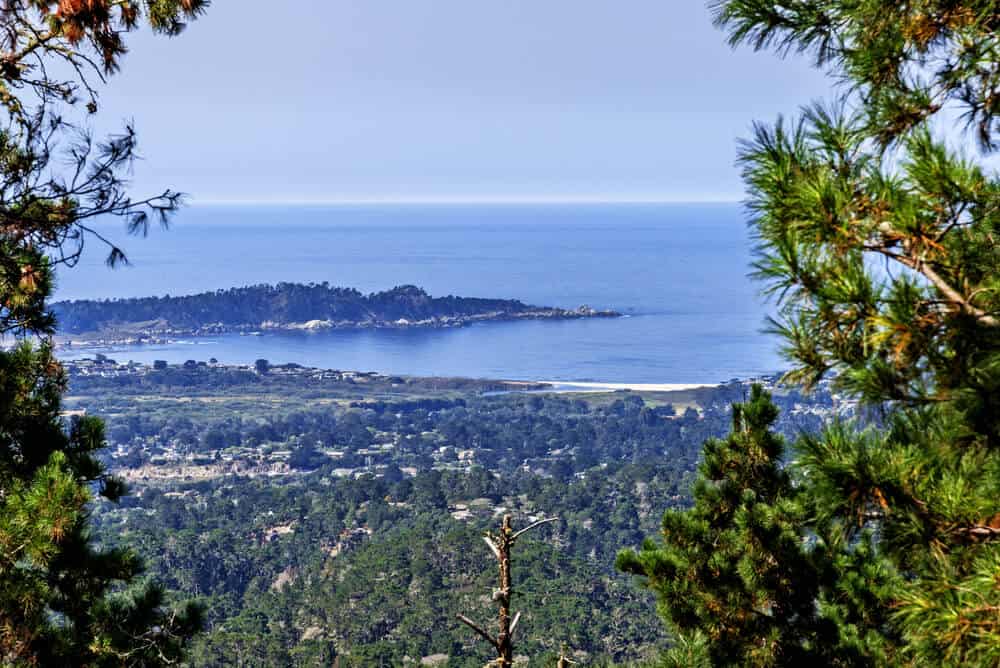 Head inland to Jacks Peak Park for this hiking adventure, where you will find yourself looking out onto the Monterey Bay Peninsula!
Your view will stretch from Monterey to Santa Cruz, making it an excellent spot to see the entirety of the entire area in which you are exploring.
Bask beneath Monterey pines while exploring their 8.5 miles of hiking trails. Archaeology geeks rejoice: you can see fossils along their self-guided nature tour!
There are many awe-inspiring vista points along the path as well, plus you can enjoy seasonal wildflowers. Please honor the land and respect this natural area: pack out what you bring in and do not take anything from the land that you are not permitted to.
Appreciate the art and music.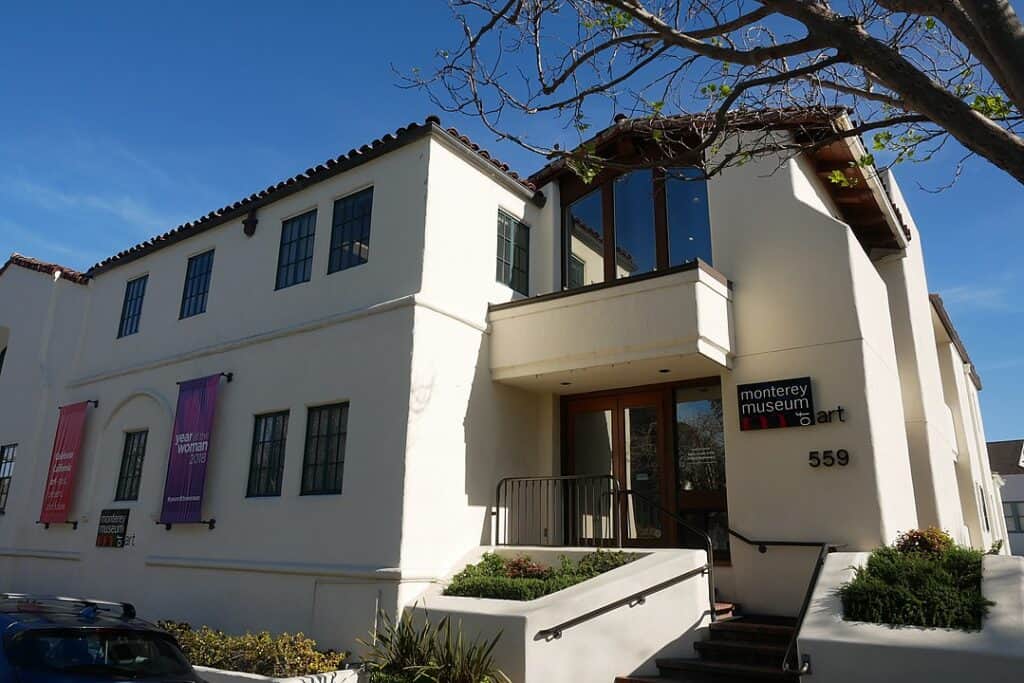 There are many chances to explore art appreciation in Monterey, with a ton of lovely galleries strewn about the town, plus a few glass blowing studios.
You can spend an entire day on an "art walk" touring the many galleries, including The Monterey Museum of Art.
You may also want to experience music culture with the Monterey Symphony! They put on fabulous concerts, sometimes with a nautical theme.
You can also see great jazz at various restaurants and venues throughout Monterey.
The Monterey Jazz Fest is also a beloved event in the city, and it usually happens in September. This year it will be from Friday, September 24 to Sunday, September 26, 2021.
Grab a camera and head to Pebble Beach.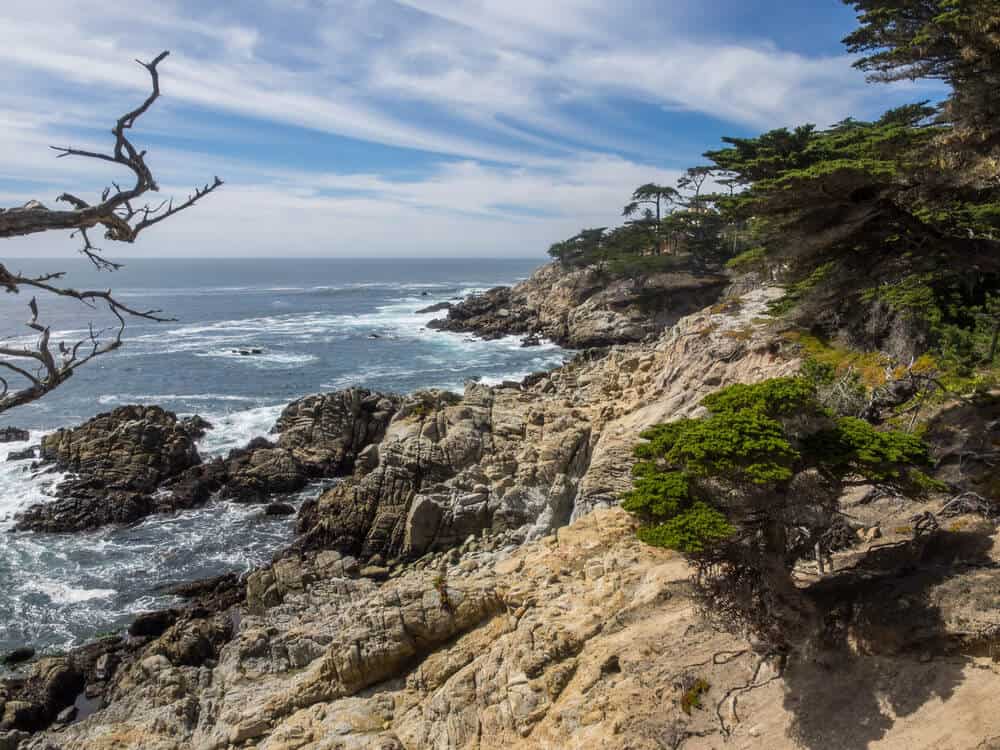 This is considered one of the most photogenic neighborhoods in Monterey!
You will definitely find a beautiful spot with an awe-inspiring view, so be sure to bring your camera along. Rocky bluffs and surely some sunshine are a great combination for any travel day.
One of the best ways to see the beauty of the bluffs and beaches is along 17 Mile Drive. It will take you straight through Pebble Beach!
It starts near the Inn at Spanish Bay in Pacific Grove, winding alongside the ocean and past golf courses into Pebble Beach.
Along the way, there are scenic attractions like Lone Cypress and the Del Monte Forest of Monterey cypress trees.
It is important to note that there is a fee to drive on 17 Mile Drive, as it is a private road. Entrance per vehicle costs $10.50; however, if you eat at a restaurant along the way, this can be deducted from your meal.
Coast into Carmel-by-the-Sea.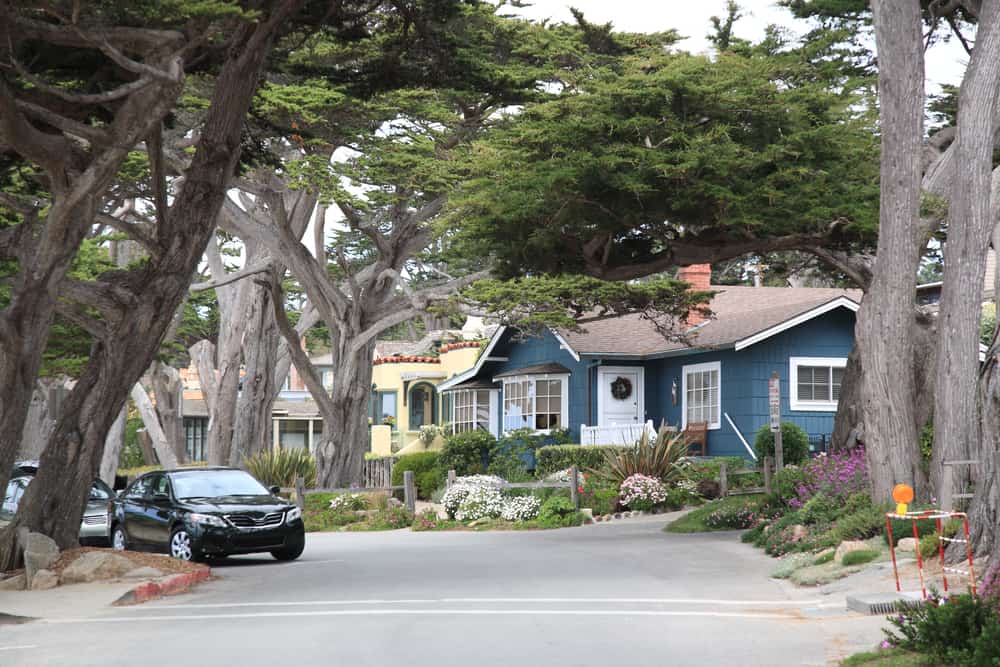 If you should choose to take 17 Mile Drive, you will end near Carmel-by-the-Sea.
This charming town will bring all the vibes of a quaint beachside village!
Carmel is a favorite weekend getaway from San Francisco, with excellent galleries, restaurants, and boutiques to visit, plus so many other great things to do.
The architecture is especially worth noting: a true fairytale town vibe, reminiscent of European architecture, but with a Californian twist.
It is home to the Carmel Mission, which is a gorgeous building with an impressive library and museum in the mission, built in the Spanish Colonial style.
The charming cottages in the city center are to die for. They look like something from Hansel and Gretel! They are a really special part of this little town.
Additionally, you can spend some time on the beach in Carmel-by-the-Sea at Carmel State Beach.
Bring a blanket and relax with a spectacular sunset view — best enjoyed with a local bottle of wine!
Wow yourself with some whale watching.
There are numerous outfitters offering whale watching tours in Monterey and the surrounding area.
Depending on the time of year, you can see killer whales, blue whales, humpback whales, grey whales.. plus, sea lions, dolphins, and more! This is an absolute must on your list of things to do in Monterey.
The opportunity to see these majestic beings is a blessing, and Monterey is one of the best places in the world to do so in an ethical way that doesn't harm or frighten the whales and has their wellbeing at the forefront of everything they do.
There are multiple vendors of whale watching tours on the Old Fisherman's Wharf, where the majority of the whale watching companies are headquartered in Monterey.
Want more time on the water? You can also hire a boat for fishing or go sailing.
Spend some time appreciating John Steinbeck.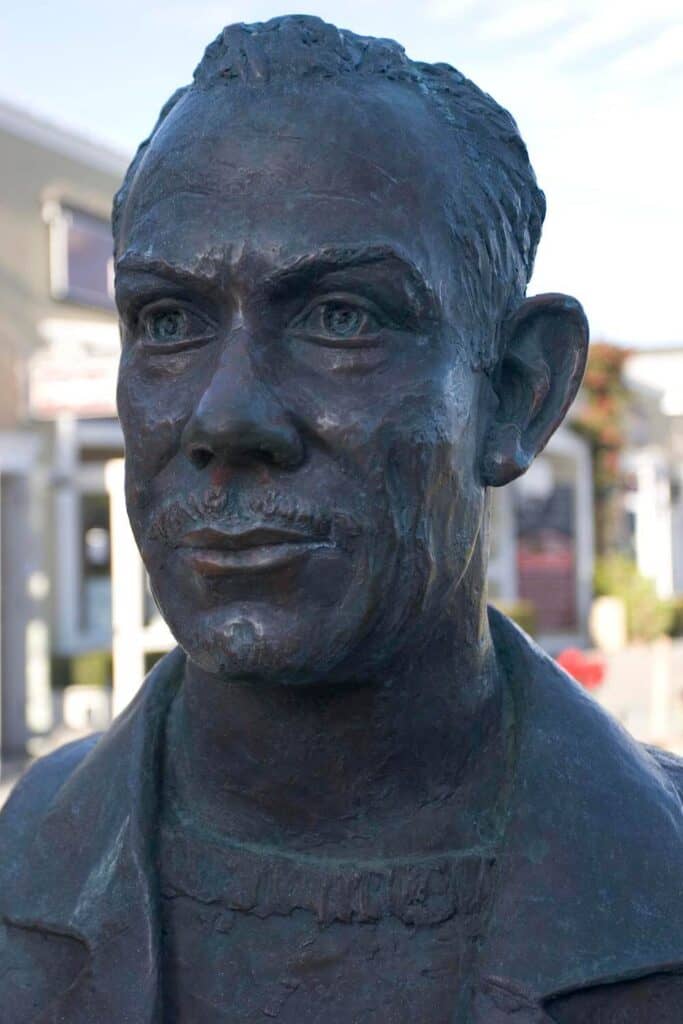 John Steinbeck is one of the most celebrated authors of the 20th century American literature.
In particular, much of his literature was centered around cities in this area of California, as he was from Monterey.
He famously wrote the American classics Of Mice and Men, The Grapes of Wrath, and East of Eden.
As previously mentioned, he wrote Cannery Row, which depicts life in Monterey during the Great Depression. There is a Steinbeck statue on Cannery Row you can visit!
In addition to the statue, you can visit the homes Steinbeck lived in during his stints in Monterey, or you can even dine at The Steinbeck House!
The writer's former home is now part of this highly-rated restaurant. Think comfort food, tea, and scones in a lovely homey setting!
Take some time to reflect on the beach.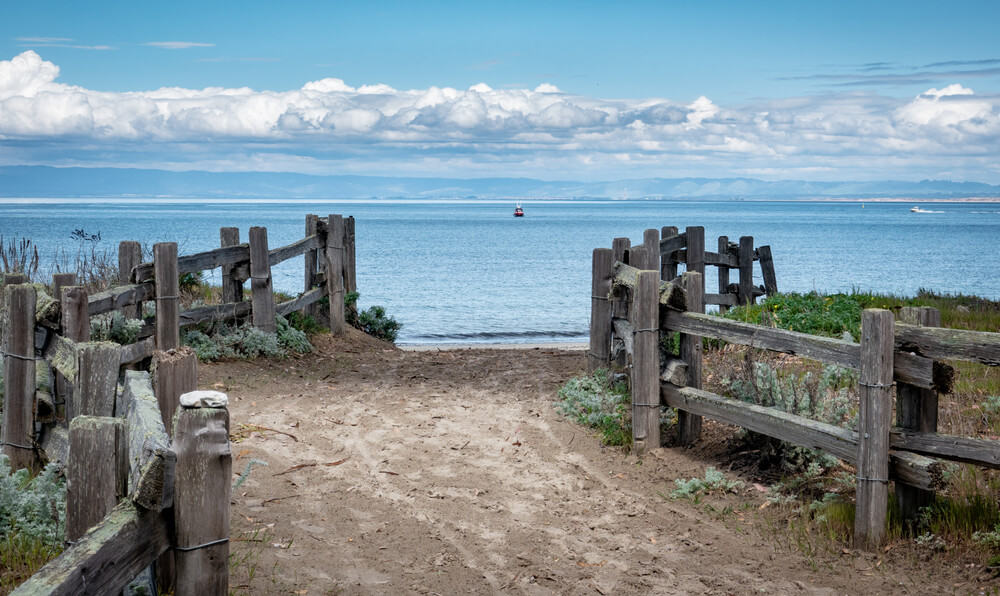 There are several excellent beaches to seek respite and reflection on in Monterey. This includes Del Monte and Mc Abee.
They are free to enter and are just right for viewing wildlife or sitting in meditation. Whatever you choose, you'll leave satisfied, as the beaches of Monterey are a true beauty!
There are several state-protected beaches in the Monterey area, including the Carmel River, Asilomar, Monterey, Marina, and the little-visited Zmudowski State Beach in the area. All are within a 20-minute drive of Monterey!
If you want to camp on the beach, you can go north and camp at Sunrise State Beach in Watsonville or head south to Pfeiffer Big Sur State Park amongst the redwoods. There are many private campgrounds in the area as well, but they do not necessarily provide beach camping.
Collide with maritime history at Point Sur State Historic Park
This park is particularly photogenic!
Here, the lighthouse sits atop a large volcanic rock, suspended above the ocean. It stands on what appears to be an island on land. It perfectly depicts the loneliness a lightkeeper may have felt while looking after this isolated lighthouse.
The Point Sur Lighthouse has been in operation since 1889 and hosted many lightkeepers (and their families) until 1974. It was also a naval facility that monitored sound waves in the ocean.
Now, it is a historical landmark for all to enjoy. Even if you just observe it from the road, it is quite a sight to see. It can also be visited via tour.
There are many more excellent places within a short drive of Monterey: here are just a few of our favorites.
Take an excursion to Pinnacles National Park.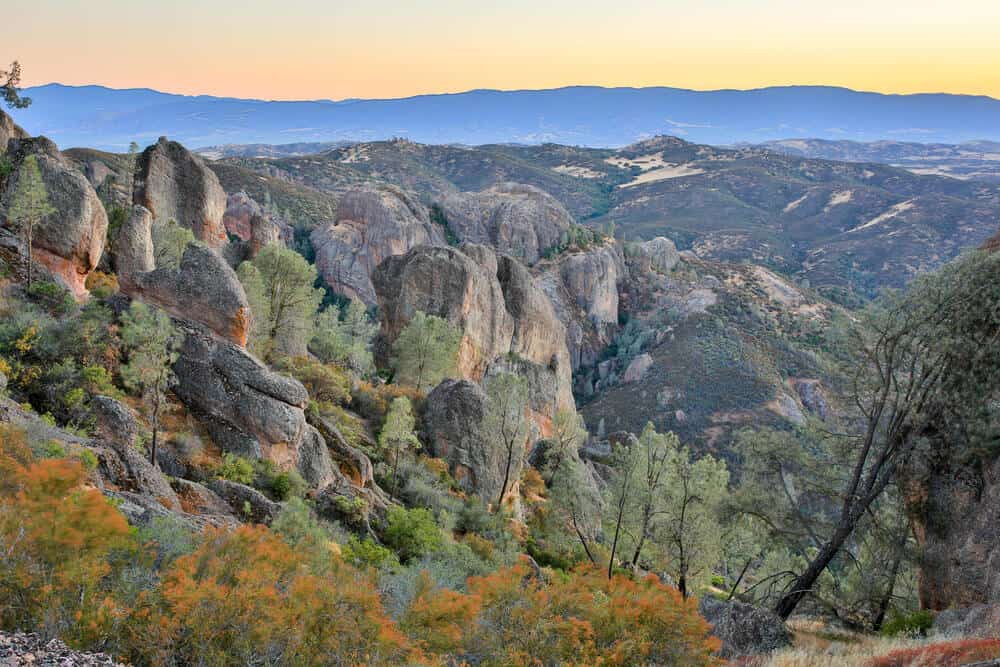 This park is not one you hear of often, though it should be! This is one of California's nine national parks, and it is exquisite!
Hiking in Pinnacles National Park, you will find yourself hiking along chaparral and talus rock.
One of the main focal points of this park is the access to caves and rock climbing. There are miles of hiking and camping available.
You can enjoy bird watching while basking in the sun — you might even spot the rare California condor, which was extinct in the wild but has been reintroduced to the wild through sucessful breeding and conservation programs.
When you're hiking, you can observe or climb the spires that make up the namesake "pinnacles" of this national park. This is a desert-like environment with scarce water, though technically the landscape is considered coastal inland chaparral. No matter what it is, the views are spectacular!
You can explore the caves if they are open. Check the seasonal openings and closures list on the National Park Service website. These caves are monitored and protected largely because of the presence of Townsend's big-eared bats in the Bear Gulch Cave.
It is a little over an hour drive to get to this beautiful park from Monterey.
Tip: please note that there is no water available along trails or cell service at Pinnacles National Park.
Reward yourself with a jaw-dropping drive down to Big Sur.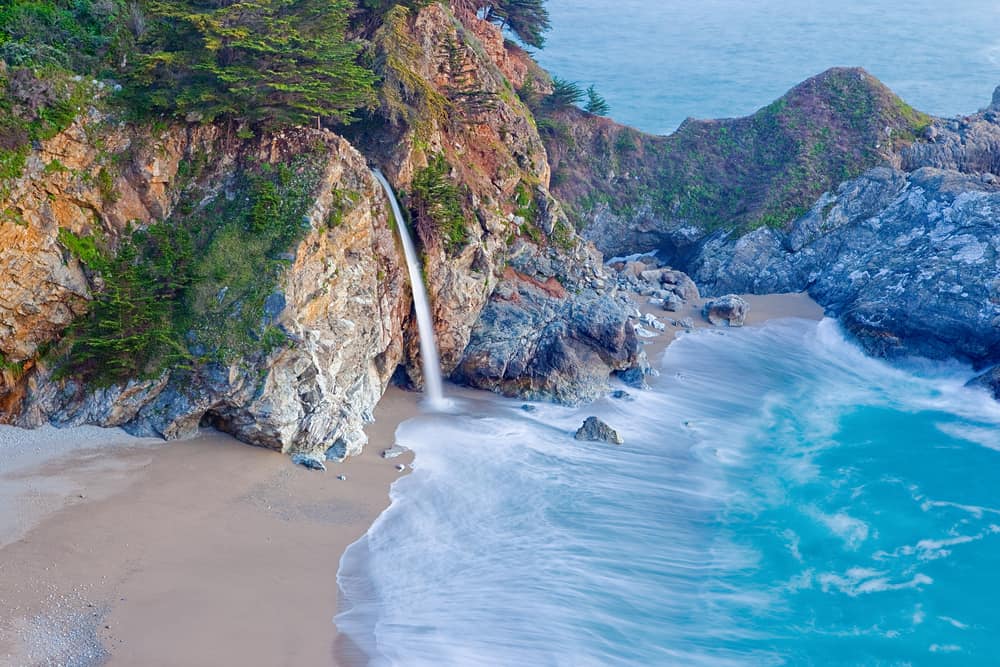 Monterey's proximity to Big Sur makes a road trip day trip absolutely necessary!
Big Sur is one of the most scenic places you can imagine. From winding coastal roads and rocky bluffs to the mountain views of the Carmel Highlands, get lost in this most epic of California destinations.
The views are insane — just absolutely stunning. Taking a drive may even be enough for you, with so many beautiful views at your fingertips just by looking out the window along the Pacific Coast Highway.
But never fear, there are plenty of places to get out and take a hike. One favorite stop-off point is McWay Falls. It is one of only two waterfalls in the state that flows into the ocean (the other being Alamere Falls in Point Reyes).
It is easily accessible with a short hike and provides a great view of the falls. Note that you cannot hike down to the beach.
Another fabulous way to spend time is hiking on the bluffs at Andrew Molera State Park or Pfeiffer Big Sur State Park.
There are lots of places to camp at the parks, though they are filled fairly quickly for the year, so plan ahead if you want to camp in Big Sur.
It is important to note cell service is minimal and sometimes completely zero in this area. It truly is a wilderness area!
There are also not many options for food or gas, and when you find it, it is very expensive. We recommend packing a cooler and using a grill to have a barbeque at one of the picnic areas. Remember, please pack out what you pack in.
Note: Winter storms washed out a portion of Highway 1 about 15 miles south of Pfeiffer Big Sur State Park. You can visit all of the places on this list, but you won't be able to drive anywhere past Rat Creek. The highway is expected to reopen in early summer 2021.
Monterey Travel Tips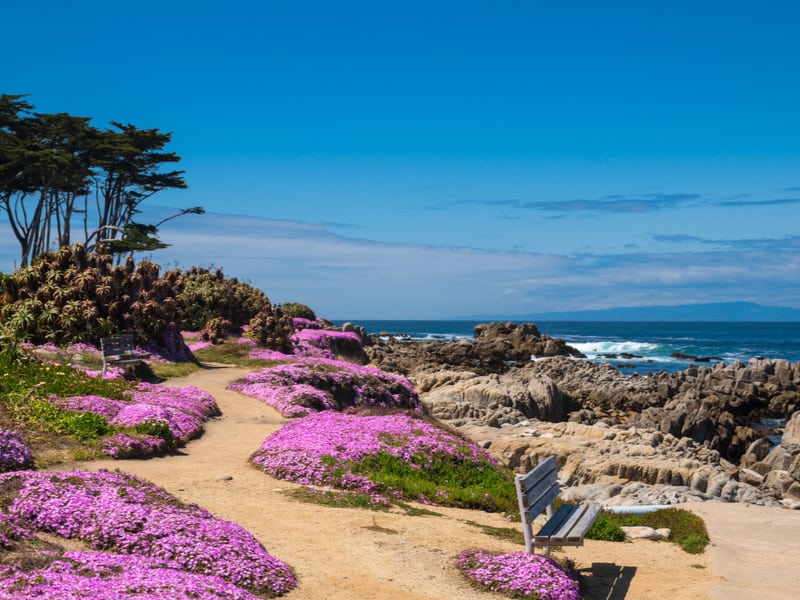 Budget
Monterey is a wonderful city with much to offer! However, Monterey can be an expensive city for some. A little ingenuity and wise spending will still provide you the opportunity to explore this city.
Many of the parks and beaches are free to visit. Plus, camping is a great way to save money. So is cooking food of your own! Take advantage of the delicious local fish markets and enjoy a seafood feast cooked by campfire or in the kitchen of your Monterey apartment rental.
Preservation
Remember it is incredibly important to respect the destinations you visit with your actions and how you treat the landscapes around you.
Monterey is especially earth-conscious and fragile due to its marine preserves and the nearby Salinas River Delta, which feeds Monterey Bay.
Please pack out what you pack in when hiking, camping, or enjoying the beach. Small actions can lead to big change, so do your part in helping keep this area safe for marine and earth ecosystems.
Enjoying
When you come to Monterey the incredible views and misty ocean skies will embrace you, and you will understand the color blue on a new level.
This beautiful blue is what one thinks of when reminiscing about Monterey. Being so intimately connected to the ocean during your visit will impart reverence and awe for the beauty of the earth.
Monterey is a place where oceanic, cultural, and outdoor activities collide. You will find the best of the best everywhere in Monterey.
The winding hills and wine country will captivate you, and you can easily connect with the land around you, whether that be the forest or the sea.
The beaches are divine. The wine is over-flowing. The whales are waiting.
Be well and be safe on your trip to Monterey!
Pin This Guide to Things to Do in Monterey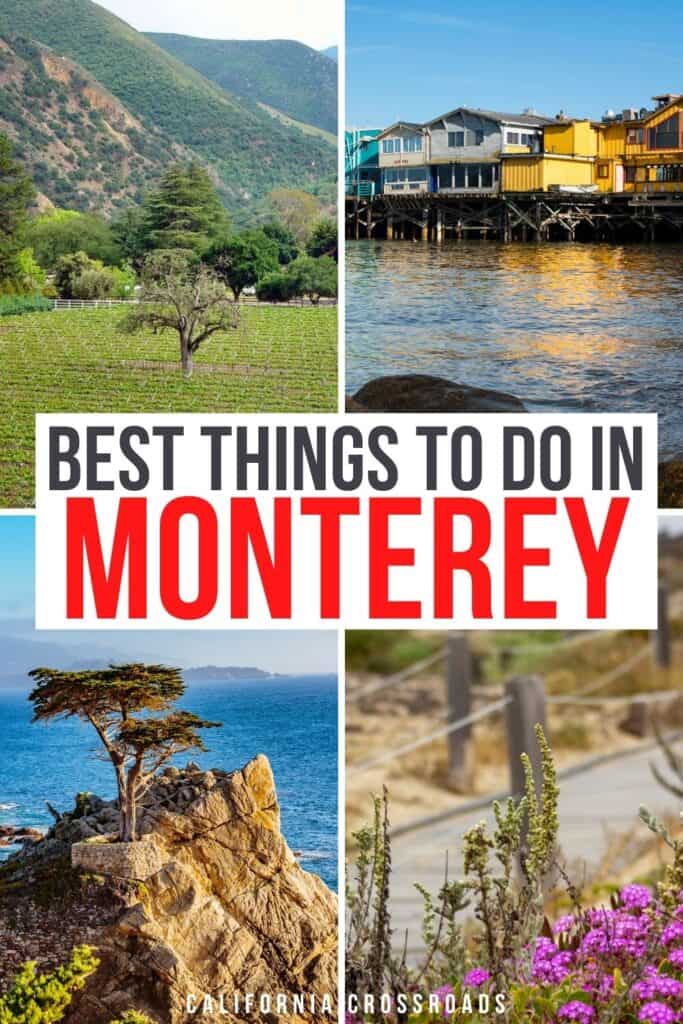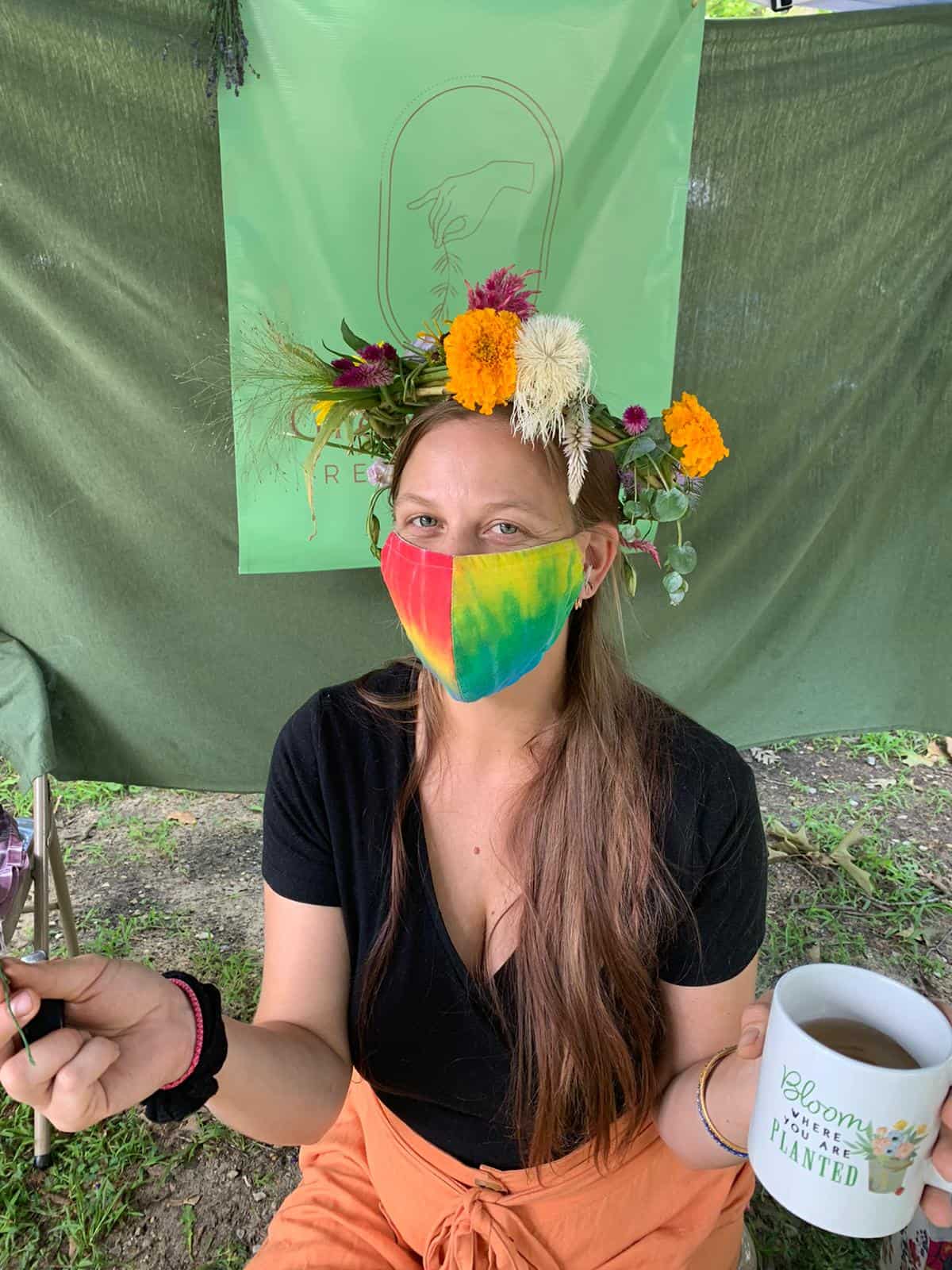 Allison is a writer, herbalist, musician, and lover of nature. She is an avid traveler and backpacker, having traveled throughout most of the United States and through parts of Asia and Europe. She has lived in Hawaii, Philadelphia, New Jersey, Boston, and of course, California. Allison has lived in California for 5 years, working on farms and in Yosemite National Park. She has been all over the state, enjoying many cities and of course, the many amazing outdoor wonders California offers. She currently resides in Aptos, Santa Cruz County, CA.