While most of California enjoys a relatively mild winter, spring in California is a true joy, with beautiful flower fields in California erupting nearly everywhere you look!
Whether we're talking desert superblooms of California wildflowers, brilliant mustard flowers erupting between vineyards in wine country, gorgeous fields of purple lupine, or of course California's signature fields of orange poppies, there is no shortage of beautiful places to find wild spring flowers in California.
Besides the spring wildflowers, there are also a handful of planned flower fields in California such as in Carlsbad, as well as blooming cherry, apple, and almond blossoms!
Follow this guide to see just about every color of the rainbow in the flowers of California in spring.
Spring in California: Best Spring Flower & Wildflower Destinations
Napa
Note: This post contains affiliate links, which earn me a small commission at no extra cost to you if you make a purchase using one of these links. Thank you for supporting this free content!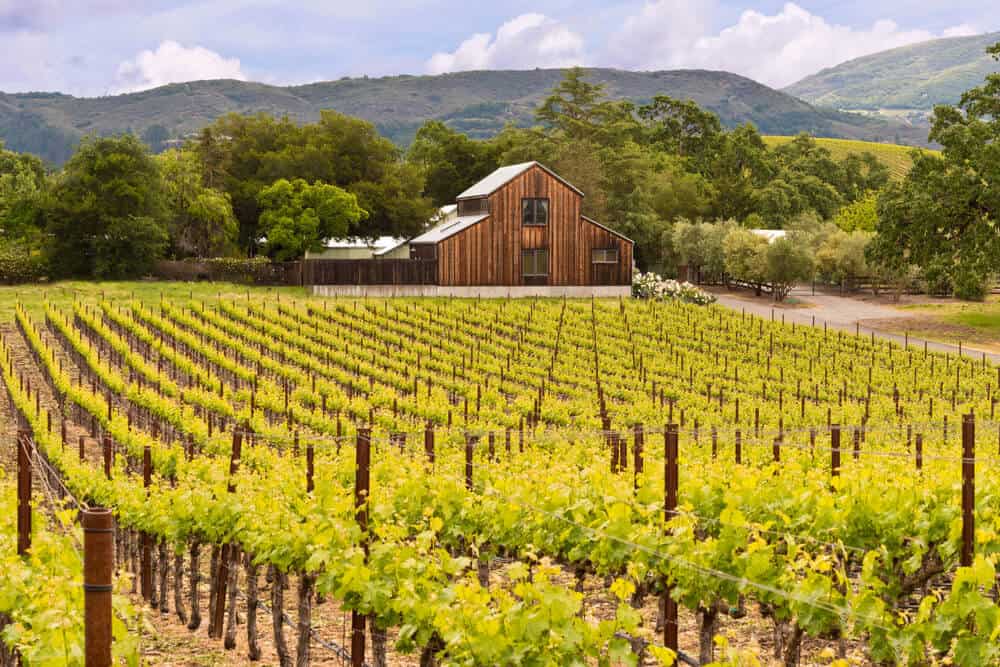 Come springtime in California, you'll find beautiful baby grapevines emerging from the winter frosts with delicate green tendrils.
Adding color to the beautiful landscape of baby grape vines are the mustard wildflowers which pop up all over the state, but especially in Napa and Sonoma county wine country.
Mustard flower season is one of the earliest spring blooms in California, with flowers emerging in brilliant fields of yellow as early as the end of February.
Mustard flowers aren't indigenous to California — supposedly, a Jesuit priest introduced it as a way of retracing his footsteps to find his way back home! — but they serve an important function.
Mustard plants help control the rain flow and irrigation of the vineyards, especially in places like Napa and Sonoma which can occasionally get deluged with torrential rain showers. The roots of the mustard help prevent soil erosion, and better yet, the fragrance of the mustard flower is a natural pest repellent!
Diamond Valley Lake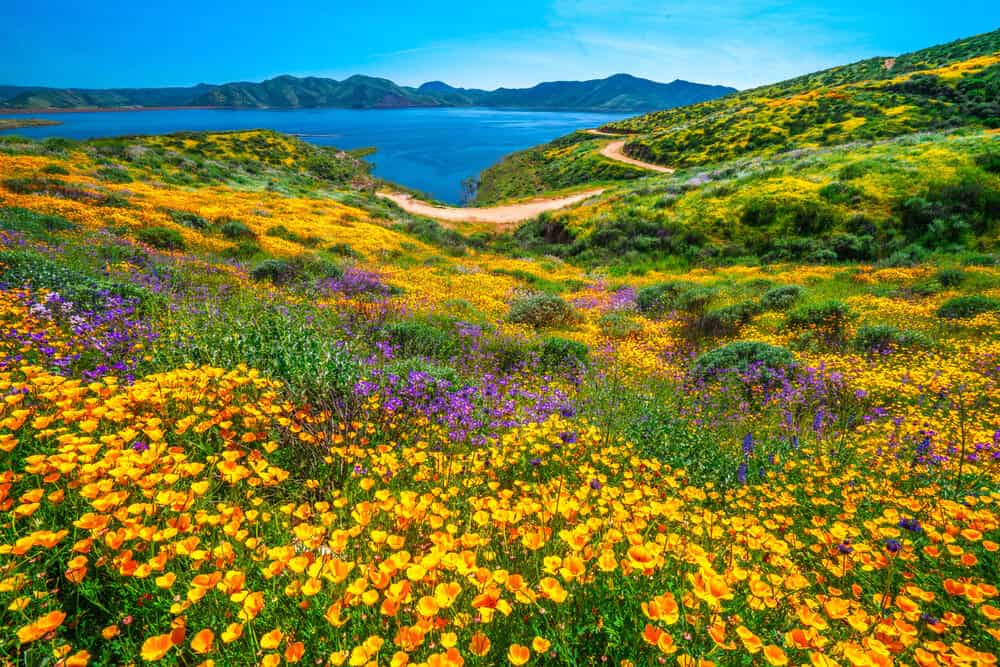 Diamond Valley Lake is located in Hemet, California. It is in the Inland Empire region of California, not far from the lovely wine country getaway town of Temecula and larger cities like Riverside and San Bernardino.
One of the best places to find spring wildflowers in California is on the banks of the beautiful Diamond Valley Lake! There is a specified Wildflower Trail (1.3 miles long, and open only in wildflower season).
This is where typically you can find some of the most brilliant spring wildflowers in Southern California!
Diamond Valley Lake is the largest drinking reservoir in Southern California, and you can find wildflowers in nearly every color of the rainbow: pink owl's clover, red Indian paintbrush, orange California poppy, yellow brittlebrush, green grass, indigo baby blue eyes, and violet Canterbury bells, among others.
Parking costs $10 and trail access is $3 per person, so come prepared with some cash — but it's entirely worth it!
Big Sur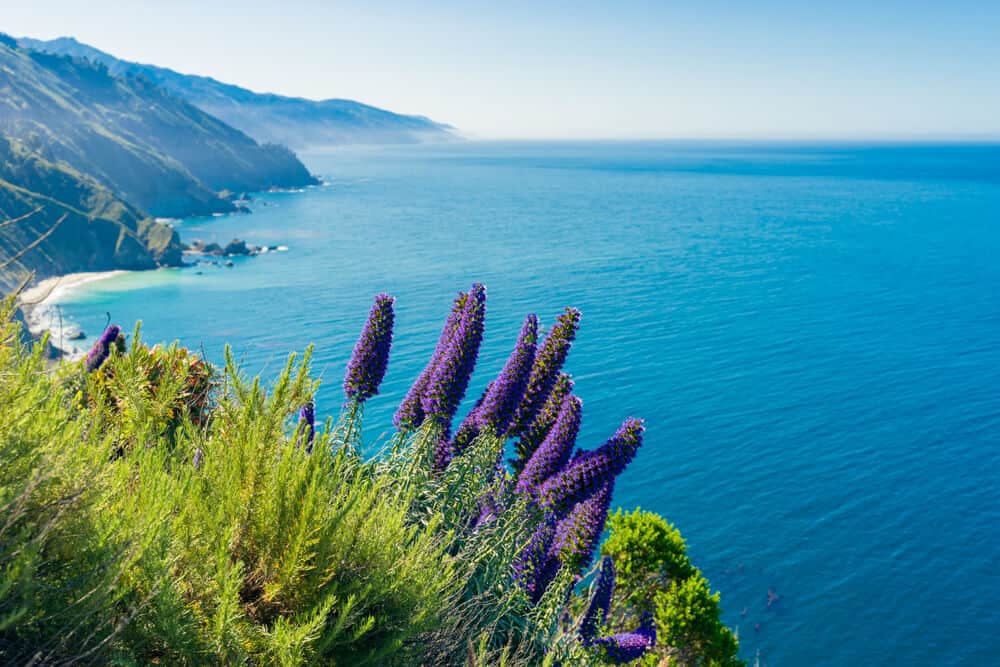 Big Sur's dramatic coastline is home to countless California wildflowers each spring, and as you drive down the PCH, you're likely to see everything from bursts of purple lupine to entire fields of orange California poppy.
Big Sur is a huge region with so many different areas to find wildflowers, so I'll list just a few. Frankly, nearly any place you stop and are allowed to hike, you'll likely find wildflowers in spring in Big Sur!
Andrew Molera State Park, Pfeiffer Big Sur State Park, and Los Padres National Forest are listed on AllTrails as having the best wildflower hikes in Big Sur.
The best month to explore Big Sur, California in spring is April, when the California poppy truly shines. You'll also find all sorts of other beautiful flowers, including lupine, at this time.
Death Valley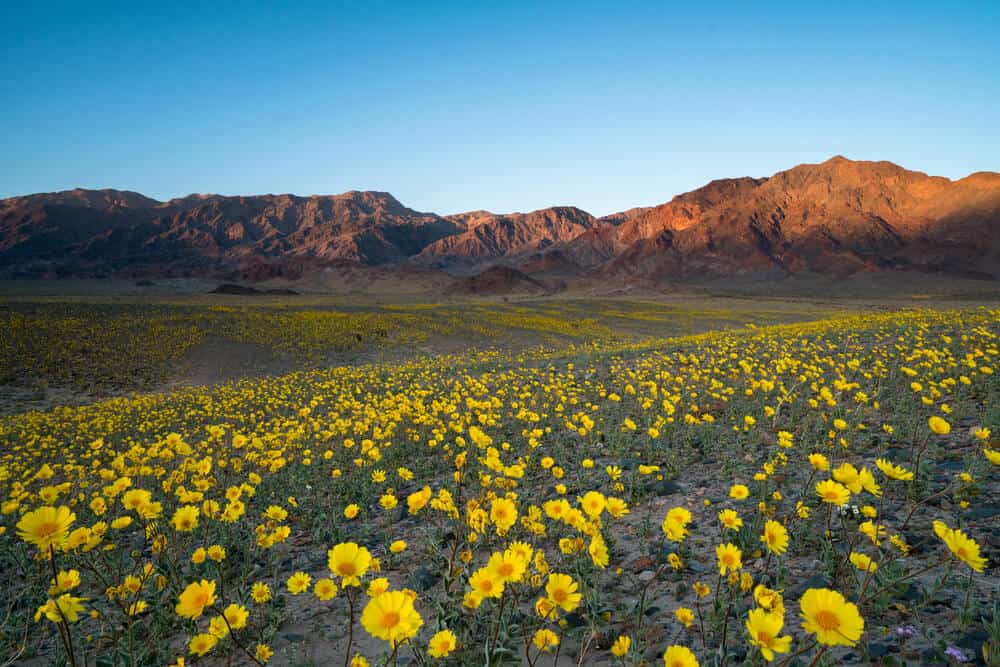 For a place with a name as foreboding as Death Valley, you may be surprised to find out that there is really quite a bit of life in Death Valley, California: in spring, especially!
Superblooms in Death Valley are very rare, typically a once-in-a-decade type occurrence, but that doesn't mean you won't get beautiful wildflowers in your average year: just not the same volume as during a big bloom. So if you're trying to figure out the best things to do in Death Valley in spring, definitely check to see on the wildflower situation!
To find wildflowers in Death Valley, visit between mid-February and mid-May, though of course, this being a desert environment, a lot is dependent on how much rain Death Valley has gotten over the winter. Here's a little information on Death Valley wildflowers.
At lower elevations, you'll find desert star, poppies, verbena, evening primrose, and cacti flowers — among others — blooming from about halfway through February through the middle of April. A good place to look is Jubilee Pass, near Furnace Creek.
From April through May, the Panamint Mountains are fantastic for mid-elevation flowers that thrive between 2,000-4,000 feet, such as paintbrush, Mojave desert rue, lupine, and Panamint daisies.
Even after May, the wildflower season continues above 4,000 feet elevation, where the high elevation keeps the wildflowers alive. You might find mariposa lilies, Mojave wildrose, or rabbitbrush during this time in the High Panamint mountains.
Lake Tahoe
There are so many places to find wildflowers in Lake Tahoe, but in spring, California's largest lake has its best blooms surrounding the lake rather than at high elevation hikes (those will still be covered in snow, and likely won't bloom until June or even July!).
There are countless Tahoe hikes to take, but here are a few of the best for wildflowers.
Big Meadow Trail is a great hike, and about 1.5 miles in, you'll find a gorgeous wildflower-strewn meadow. If you want to continue your hike to see even more wildflowers, you can head up to Round Lake and Dardanelles Lake as well, though this will add 8 miles to your hike.
Meiss Meadows is also a good spot for wildflowers, a stretch along the PCT with gorgeous blooms that sometimes reach above your head. You'll find lupine, paintbrush, wild iris, and mule's ear, in colors of purple, red, blue, and yellow respectively.
But perhaps the biggest draw to Tahoe for spring flowers in California is gorgeous lupine that will make you feel transported to New Zealand or Iceland! These flowers couldn't be easier to spot along the shores of Lake Forest Beach in Tahoe City.
You'll typically find them at their peak in mid-July through mid-August, but if it's been a dry year, they tend to pop up in May or June for some beautiful late spring blooms.
Remember, even the base altitude of Lake Tahoe's water level is 6,000 feet above sea level, so the California wildflower season will be a little later, more like late spring and early summer than in other places in the state.
Anza-Borrego State Park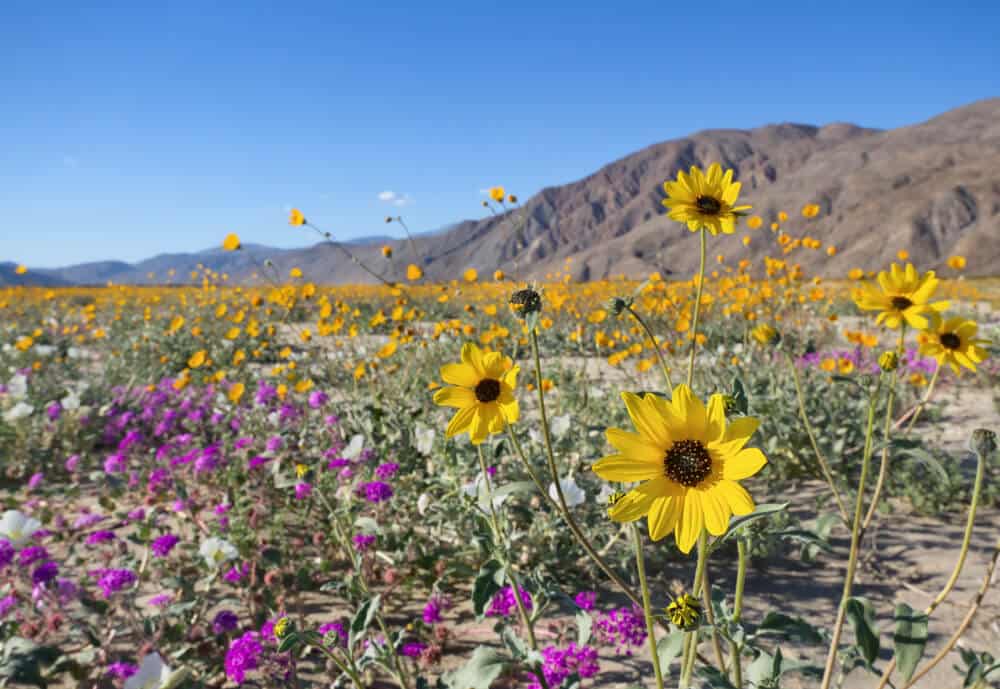 Anza-Borrego Desert State Park near San Diego is another place for beautiful wildflowers in California early in the spring season. This is another place where you'll find stunning wildflower fields in California's desert.
There are literally hundreds of species of different desert wildflowers that you'll find each year in Anza-Borrego, but each blooms at different parts of the year and at different altitudes.
While this is unpredictable, the park reports that the second week of March is typically the best time for wildflowers in Anza-Borrego. However, this also means crowds!
Your best bet may be to come at the end of February or the end of March to see the best of the blooms without the accompanying people. Want more specific California wildflower intel? Call their Wildflower Hotline at 1 (760) 767-4684!
San Francisco
Spring in San Francisco is a delight, with lots of sunny days after many months of gloomy fog and gray skies.
There are several great places to spot flowers in California, most of them of the planted variety but there are also a handful of spots to find wildflowers as well.
Most of the best flowers you'll find in San Francisco are in Golden Gate Park. Of course, the Conservatory of Flowers is a great bet, with its brilliant pink and red flowers that form beautiful rows that strike out against the green grass and white conservatory building. These are at their best in April and May.
Another spot is the Japanese Tea Garden, where you'll find gorgeous cherry blossoms blooming! These blooms can be mercurial based on how the weather has been, but they tend to be at their best bloom from early to mid-Aprill.
For stunning tulips, check out the Queen Wilhelmina Tulip Garden (complete with its two beautiful Dutch windmills). The best blooms are by the North windmill in April.
For wildflowers, check the Presidio as well as the hike to Land's End.
Carlsbad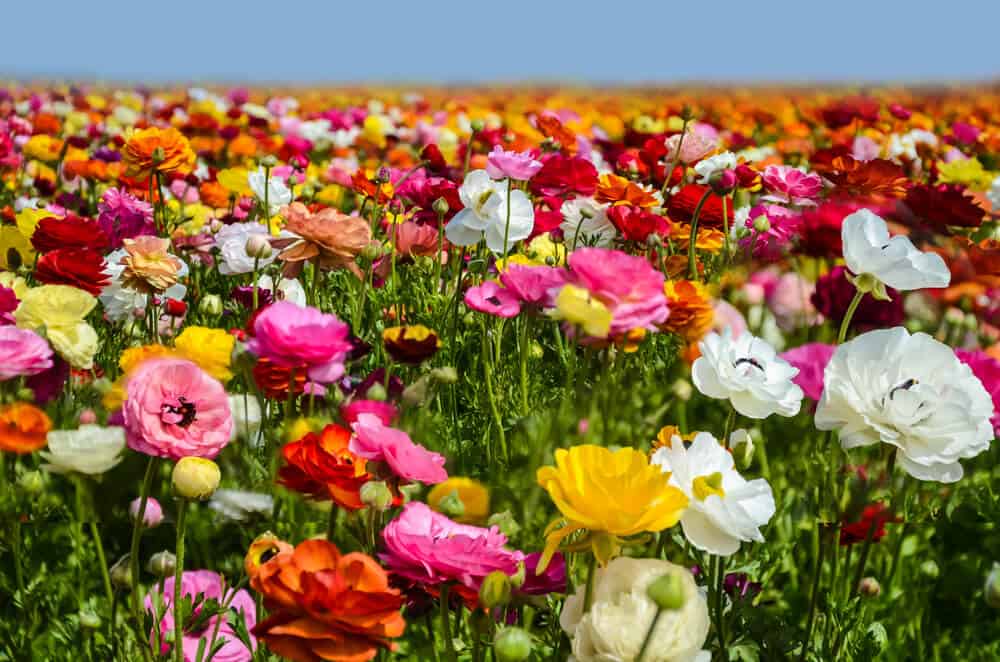 For some of the most brilliant flower fields in California, don't miss the Flower Fields at Carlsbad Ranch in Southern California in spring!
Not far from San Diego, these beautiful flower fields cover 50 acres with beautiful multicolored ranunculus flowers.
Generally, the season runs roughly from the first of March through mid-May, about 10 weeks, and they are at their best from mid-March through mid-April.
Parking is free, and admission to the flower fields is about $18 per adult, $9 for children under 10, and free for children under 3.
Los Angeles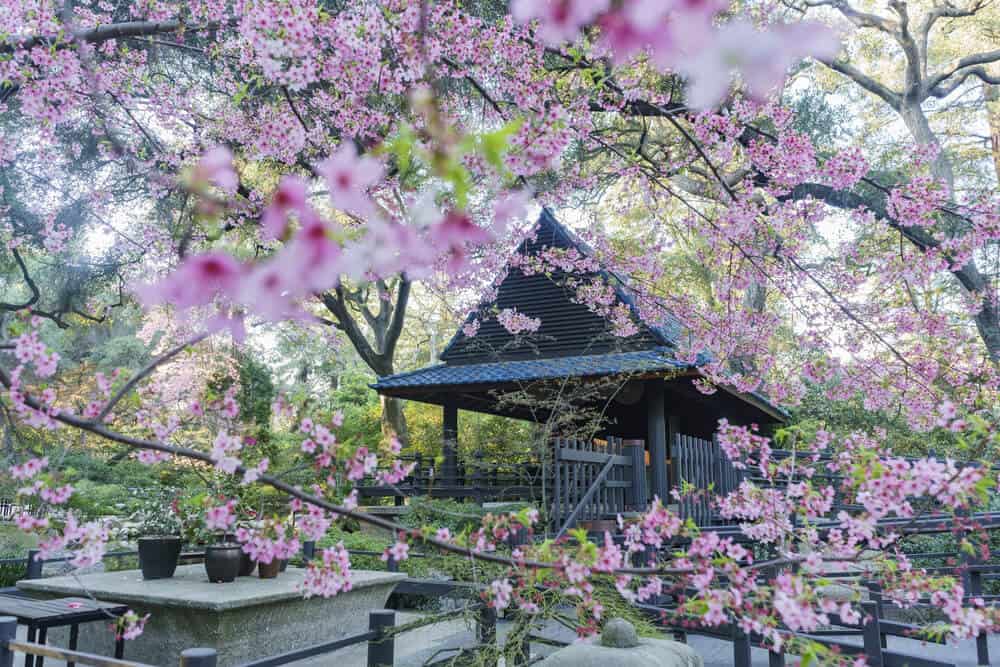 While Los Angeles itself may not seem like the most obvious destination to celebrate spring in California, there are several places where you can find beautiful spring flowers.
For stunning cherry blossoms in April, head to the Japanese Garden of Descanso Garden. You can buy tickets online in advance, which are available in limited quantities to ensure proper distancing.
For wildflowers, you'll want to head a bit north up the PCH to Malibu, where you're sure to find some gorgeous flowers at Point Mugu State Park and Corral Canyon.
Popular Los Angeles hiking trails will also likely have some wildflowers starting in March or April, such as Runyon Canyon.
Julian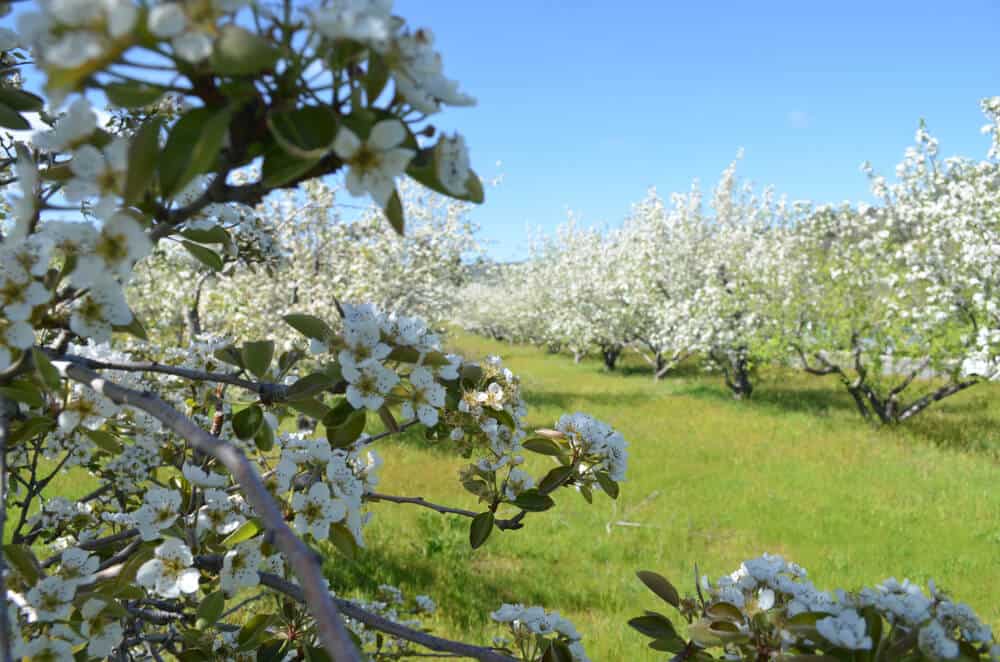 Julian is considered the apple capital of Southern California, and visiting in spring when the apple trees are blossoming with beautiful white flowers is a fantastic way to celebrate the California spring!
There are tons of great things to do in Julian any time of year, but visiting while the white apple blossoms make the trees look almost covered in snow is unbeatable.
Typically, the blossoms are at their best in April, though of course, everything is dependent on the kind of winter the trees experienced. In March, you'll also find brilliant yellow daffodils.
Want to see apple blossoms but you're based up in Northern California? Sebastopol is NorCal's equivalent "apple capital" and has beautiful apple blossoms in spring as well.
Yolo County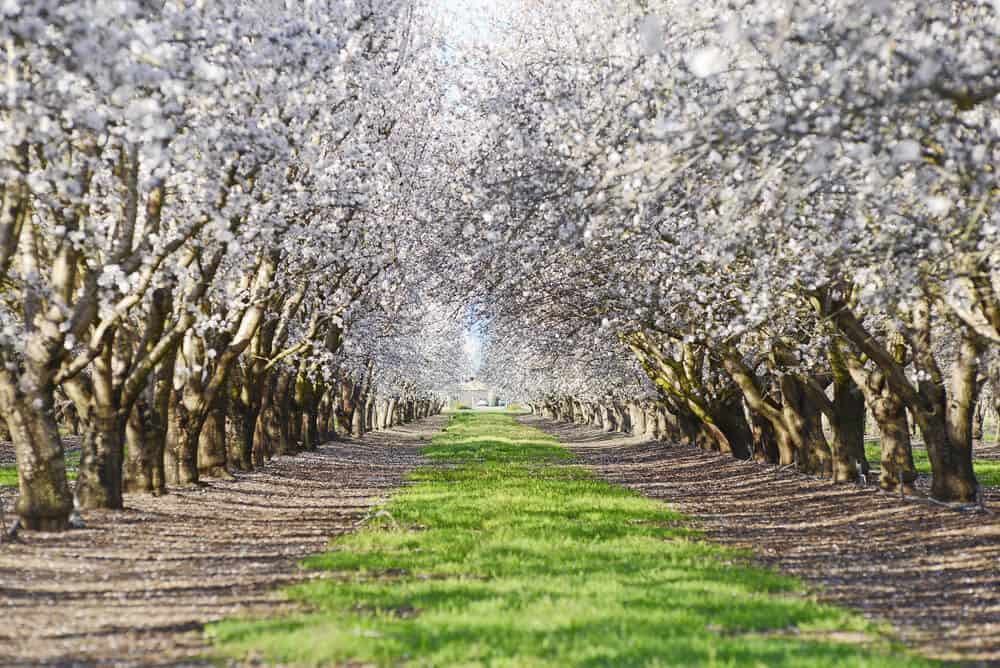 Snow-white blossoms aren't only limited to apple trees, however! Head to the gorgeous almond orchards in California in spring for a brilliant spectacle of blooming trees.
Yolo County is the best place for spotting almond blossoms, and typically the orchards around Woodland and Williams are the best. Both aren't far from Sacramento, but Woodland is a little closer.
The best time to go is early March, before all of the blossoms fall to the ground.
Be mindful when visiting the orchards, as these are private property and the owners of the orchards are rightfully upset when people trespass, so do not trespass for a selfie. Visit and take photos from a distance and park safely. Read some guidelines here.
San Diego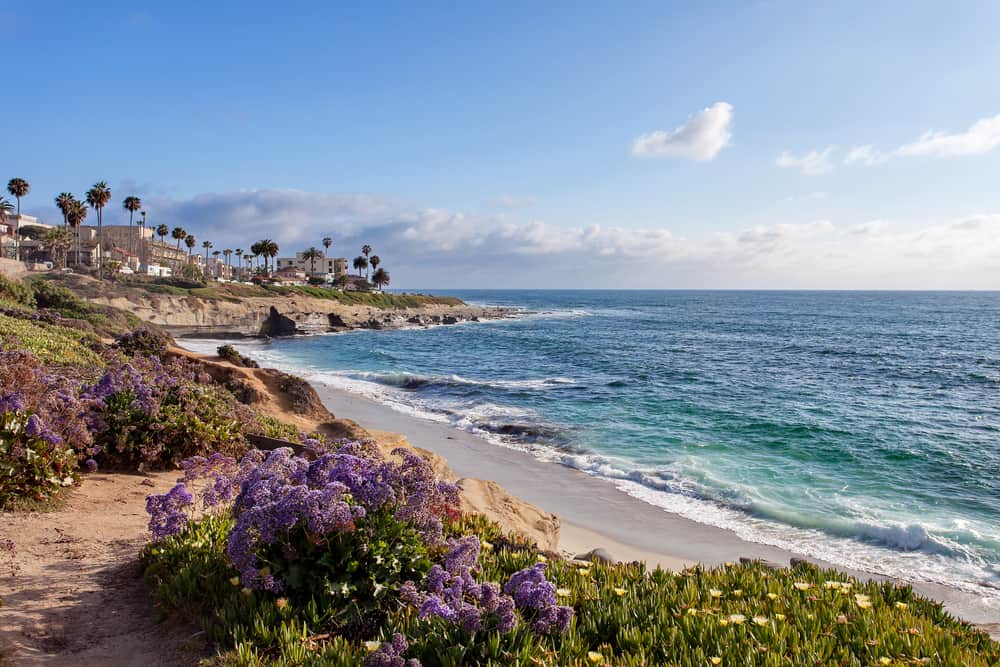 San Diego is another great destination for spring in California!
It's close to several other great flower field and wildflower destinations on this list, such as Anza-Borrego, Carlsbad, and Julian.
But you can find lots of spring blooms even closer to home!
The best place to start is Balboa Park, which has brilliant flowers every spring. You can find cherry blossoms at the 11-acre Japanese Friendship Garden of San Diego as well as other beautiful spring blooms, at their best in March and early April. There's even a cherry blossom week yearly that occurs at this garden, typically around the last week of March.
The Inez Grand Parker Memorial Rose Garden also has stunning roses, and the Marston House Formal and Primitive Gardens has beautifully manicured gardens that are perfect for strolling around in spring.
Carmel-by-the-Sea and Garrapata State Park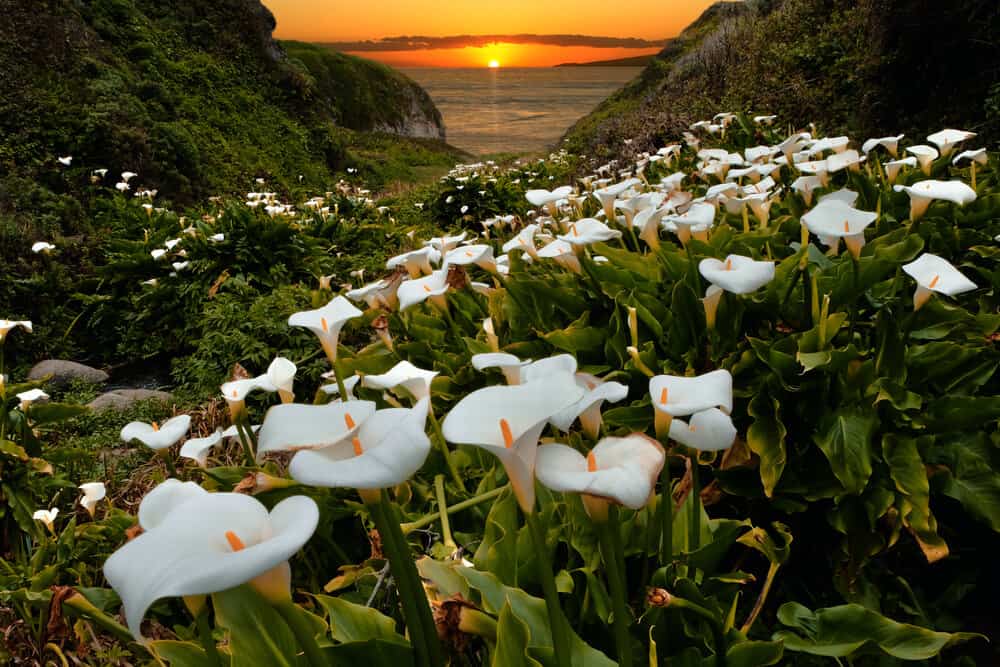 One of the more rare but beautiful spring blooms in California is the lovely white calla lily, with its distinctive orange 'tongue' which is used to pollinate.
You won't find this spring flower in many places around the state, but Garrapata State Park, just south of Carmel-by-the-Sea, is a sure bet.
Take its beautiful Calla Lilly Canyon Trail early in the spring season: blooms are usually at their best between mid-February and April, as they are quite delicate and tend to wither away when the sun gets too hot in the late spring.
Carrizo Plain National Monument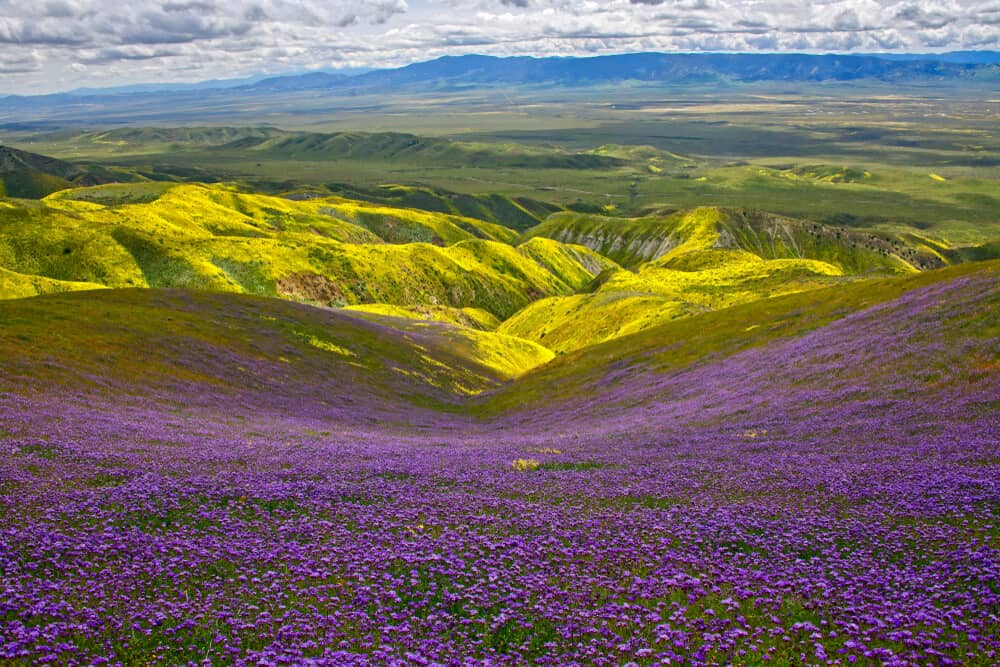 This hidden gem in Southern California is located just a hundred miles from Los Angeles but feels a world away, and it's one of the best hidden gem superblooms in California.
Whereas Antelope Canyon and Diamond Valley can get quite crowded with visitors, Carrizo Plain is much more sedate. Part of this is its remoteness: GPS doesn't function here, nor do cell phones, so you'll have to be comfortable navigating partly off-grid. Check the BLM website here for tips.
This article also has helpful tips on visiting. Expect blooms to be at their best from mid-March to mid-April.
Lake Elsinore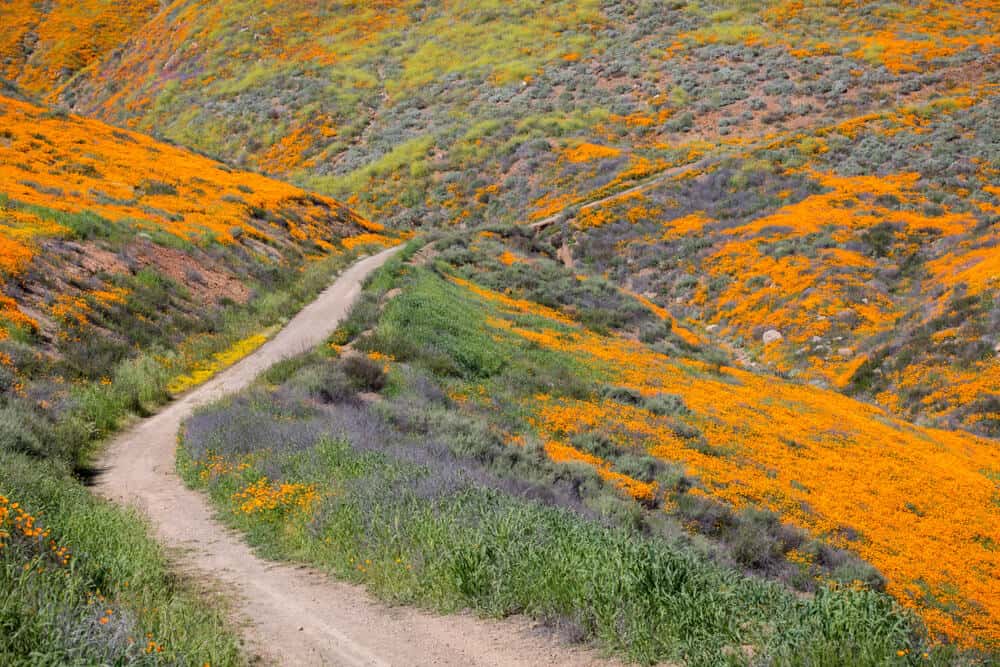 Depending on the year, Walker Canyon at Lake Elsinore can become a fantastic place for orange California poppies with the occasional superbloom like you see above.
The poppies are unpredictable and depend on the rain conditions, so it's best to check the website for updates.
When the bloom happens, it tends to be in March through May.
Antelope Valley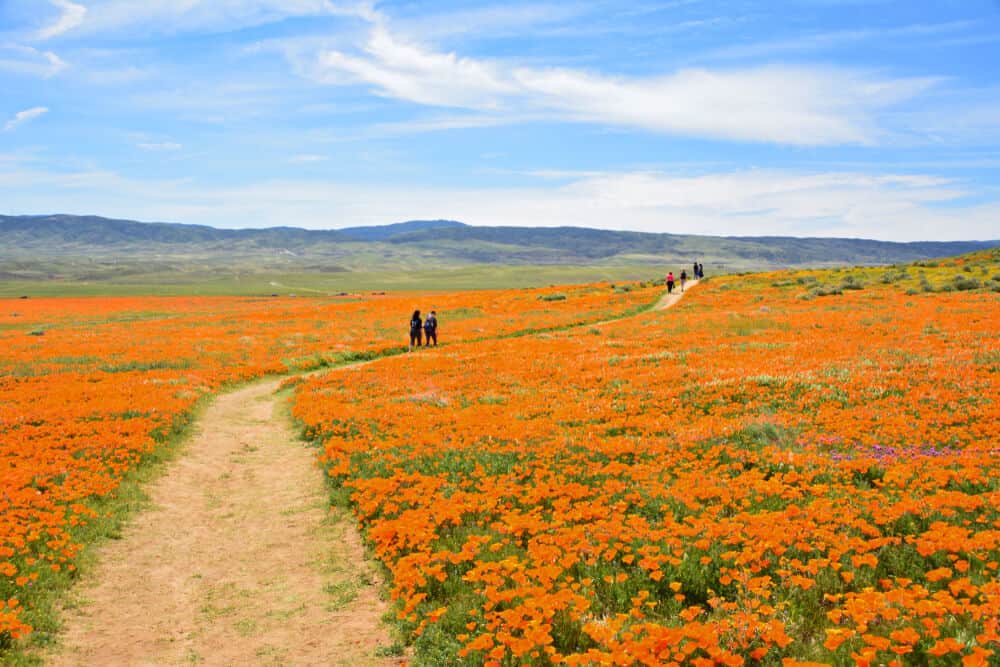 Another great place to find beautiful spring flowers in California is in Antelope Valley California Poppy Reserve, one of the most consistent places to find orange poppies in spring!
The poppies tend to appear at the end of February or beginning of March and continue throughout late April or May, depending on the weather.
Parking fees are $10 and the park is only open from 8 AM to 5 PM. Check the website for current restrictions and updates.
Pin This Guide to Spring in California: Wildflowers & Flower Fields!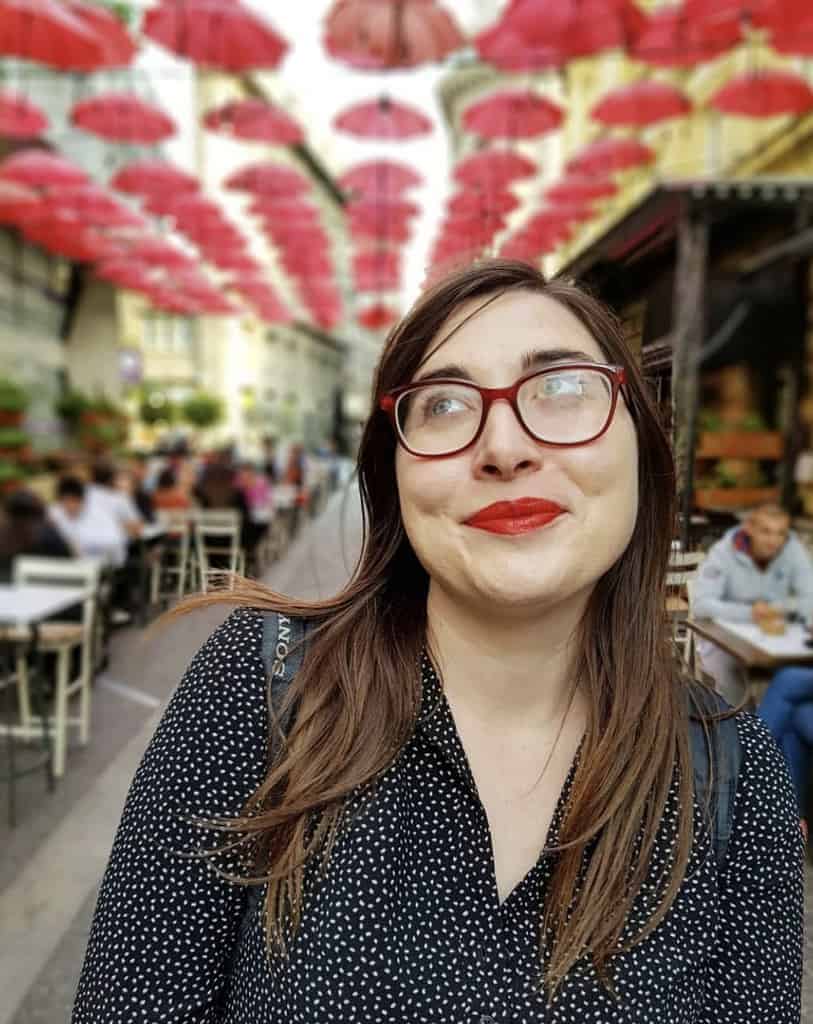 Allison Green is a travel blogger, writer, and podcaster who grew up in the Bay Area of California. She has spent time living in New York, Prague, and Sofia, but has returned to live in the East Bay. She has traveled to 60 countries before the age of 30 while running several digital travel publications. Her writing and podcast have been featured in Forbes, CBC Canada, National Geographic, the Huffington Post, and CNN Arabic, amongst others. She's obsessed with bouldering, houseplants, other people's pets, and anywhere she can see the ocean.