When you say lavender fields, most people imagine the purple fields in Provence, France, but there are several beautiful lavender fields in California much closer to home!
Plan a summer weekend getaway or a Saturday afternoon to stroll through the fragrant purple lavender fields in Northern and Southern California. These fields are usually open to visitors throughout the summer.
During the late spring and early summer, enjoy frolicking in Aguanga's Fork and Plow, Los Olivos' Clairmont Lavender Farm, or Keys Creek Lavender Farm in Valley Center fragrant fields. For those who enjoy the festival atmosphere, try Ojai Valley Lavender Fest or the Paso Robles Lavender Festival.
Take time to peruse the information below to find a variety of lavender fields and festivals throughout California. Then get busy planning that aromatic trip for this summer!
Lavender in California FAQs
Note: This post contains affiliate links, which earn me a small commission at no extra cost to you if you make a purchase using one of these links. Thank you for supporting this free content!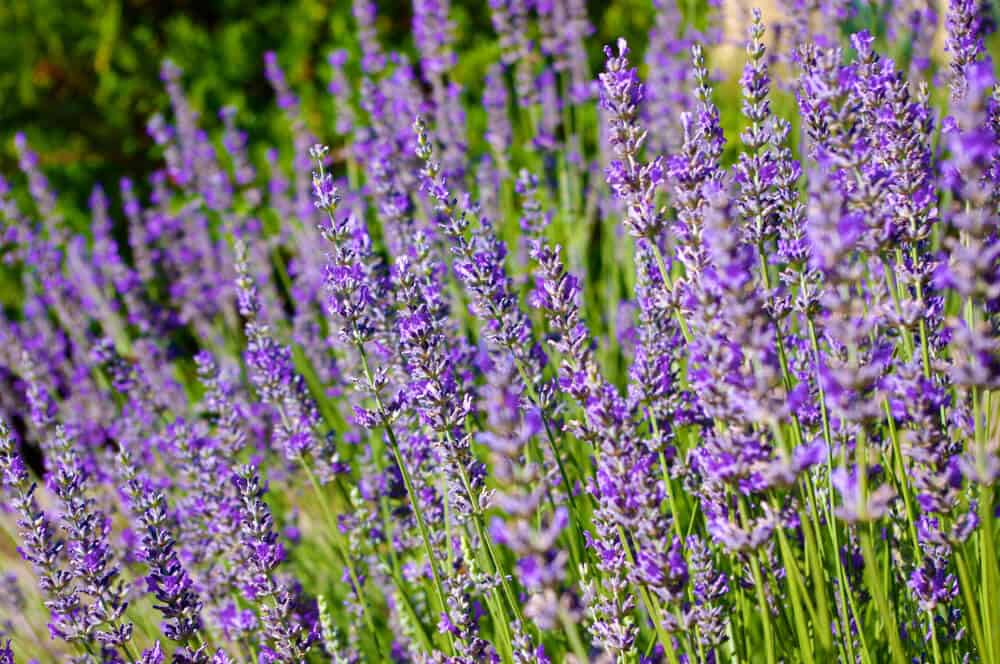 When does lavender bloom in California?
The fields are usually in bloom during June and July, though several varieties of lavender begin to bloom in the later parts of may.
What will I find at a California lavender farm?
Besides beautiful lavender fields, many of the farms have shops where they sell various lavender products made with lavender from their farm. 
These products include soaps, candles, lotions, lip balm, eatable lavender, and much, much more.
Additionally, some "U-Pick" farms permit you to pick bouquets of lavender straight from the field!
What should I wear and bring to a lavender field?
You'll want to bring a sunhat, sunscreen, a water bottle, a picnic lunch, and allergy medicine or an EpiPen if anyone is allergic to bees — bees love lavender farms.
If you're picking your own lavender, you will want to bring a basket or bucket for your lavender, cutting shears (though some California lavender farms provide this), and gardening gloves.
How do I get the best photos in lavender fields?
For the best photos, wear white or bright colors that complement the purple. A white dress stands out beautifully amongst the purple lavender. 
Take your pictures in the early morning or late afternoon when the sun is not as harsh. Try angling some photos both down the rows and across the rows, with a variety of standing and kneeling postures — but watch for bees and not to step anywhere you are not allowed to!
Are there lavender festivals in California in 2021?
For now, several lavender festivities are planned in California in 2021. However, due to the pandemic and potential for local restrictions, be prepared for disruptions and don't make any plans you can't cancel!
Lavender Festivals in California
Ojai Valley Lavender Fest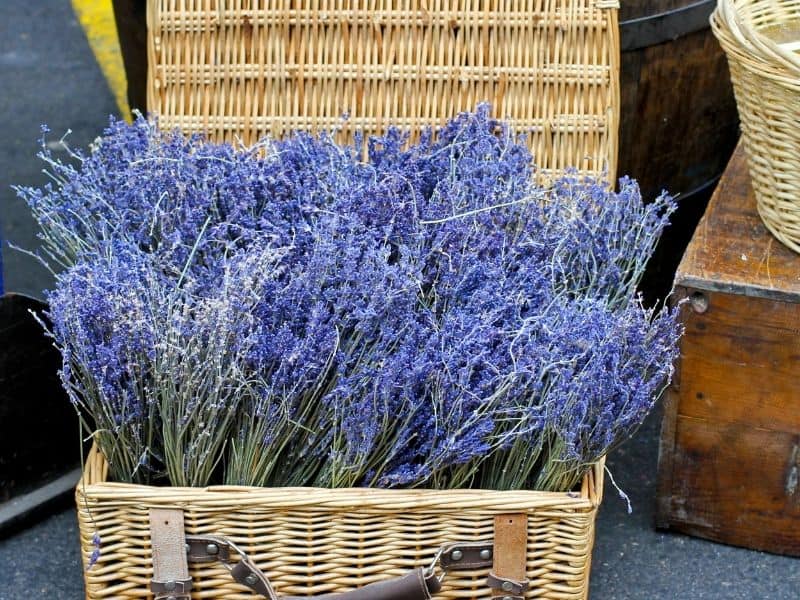 Location: Libby Park, Ojai, CA
Date: Saturday, June 26, 2021
Time: 10:00 AM to 5:00 PM
Cost: Free
Website
This one-day festival allows visitors to discover the many uses for lavender!
Vendors will be selling both fresh and dried lavender along with a variety of lavender products and delicious lavender flavored food and drinks.
There will be live music, speakers, and informational sessions that will cover a wide variety of lavender topics.
Paso Robles Lavender Festival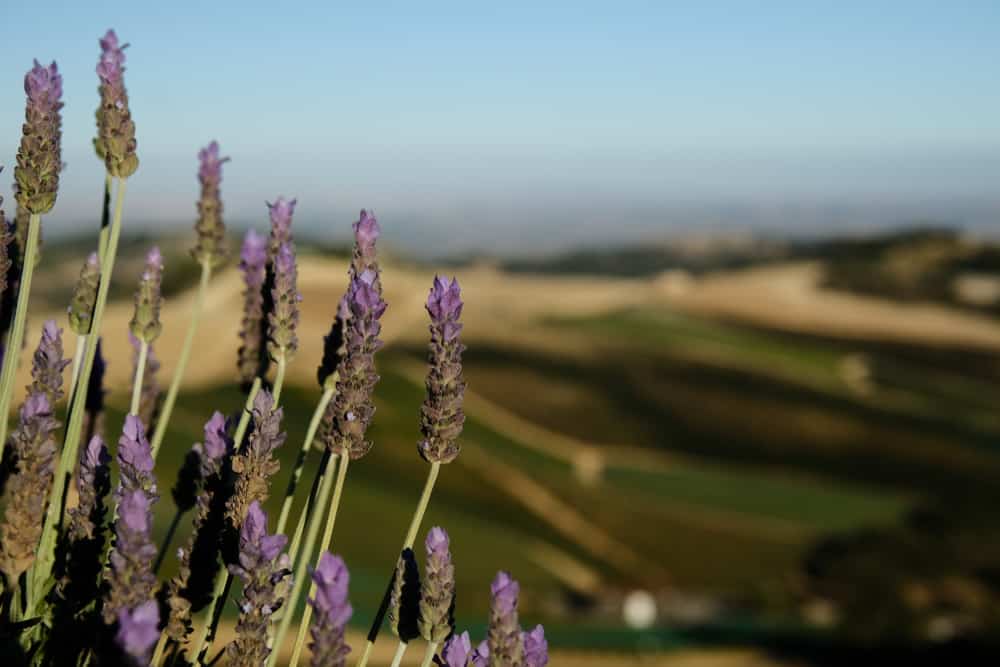 Location: Downtown City Park, Spring Street and 12th Street, Paso Robles, CA
Date: TBD
Time: TBD
Cost: Free
Website
Spend the day that is all about lavender to learn more about this beautiful plant!
Visit with the many Paso Robles lavender farmers to learn more about ways to use lavender, then browse through their display and products for something that intrigues you.
There will also be a variety of lavender-flavored food and drinks to keep hunger and thirst at bay!
Highland Springs Resort Annual Lavender Festival (123 Farm)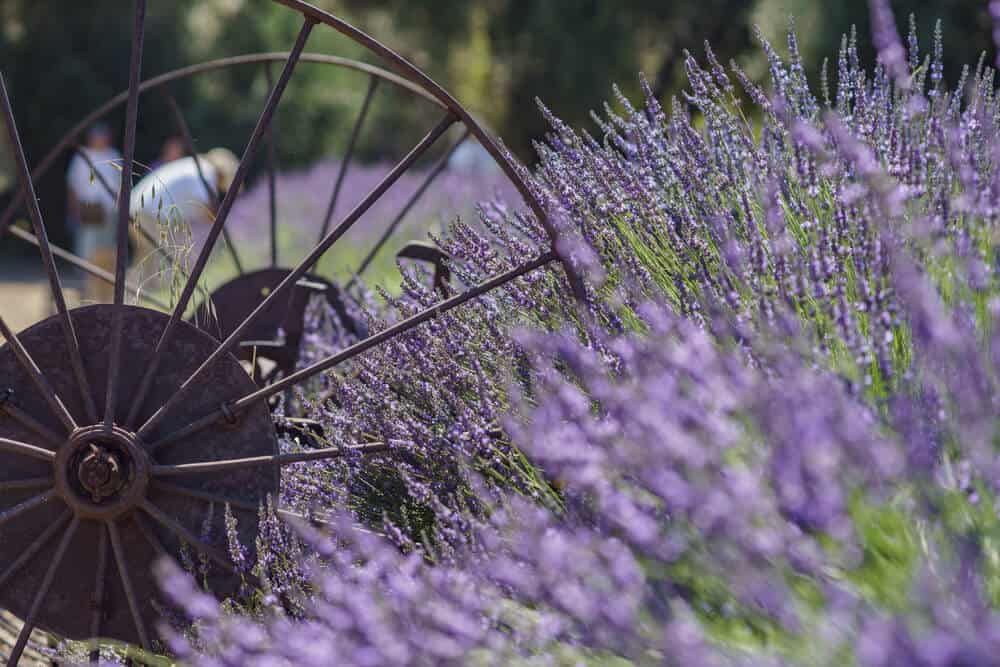 Location: 10600 Highland Springs Ave., Cherry Valley, CA 92223
Dates: Mid-May – Mid-July
Time: Thursdays 10:00 AM – 6:00 PM, Fridays 10:00 AM – 8:00 PM, Saturdays 10:00 AM – 8:00 PM, Sundays 10:00 AM – 6:00 PM
Cost: $8.00
Website
This family-friendly California lavender festival invites you to stroll through the organic lavender fields or take a guided tour on a horse-drawn hay wagon.
You will be able to taste delicious lavender dishes, learn how to extract the lavender essential oil, peruse the organic products vendors are showcasing, and participate in various workshops.
Sit back and relax listening to the live classical music while you cool down, eat a lavender ice cream cone, or drink a refreshing glass of lavender lemonade!
Cache Creek Lavender Festival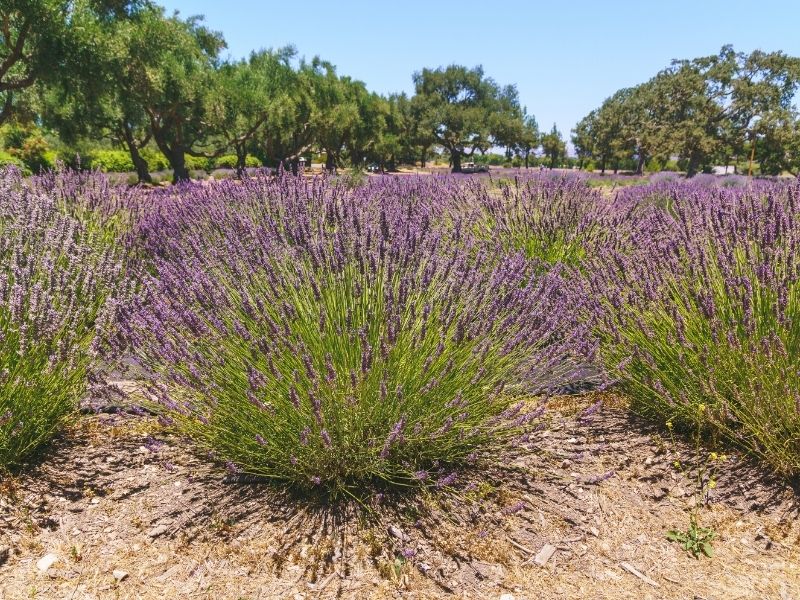 Location: Cache Creek Lavender, 3430 Madrone Street, Rumsey, CA 95679
Dates: June 12 – 13, 2021
Time: 10:00 AM – 4:00 PM
Cost: Free
Website
This two-day lavender festival Northern California is an annual event that includes live music, Capay Valley Vineyards wine, opportunities to stroll through the purple fields to pick a bouquet of lavender and enjoy lavender flavored ice cream and lemonade.
Learn a little about lavender from the field talks, and then purchase a lavender plant to start your very own lavender garden!
Lavender Blue Festival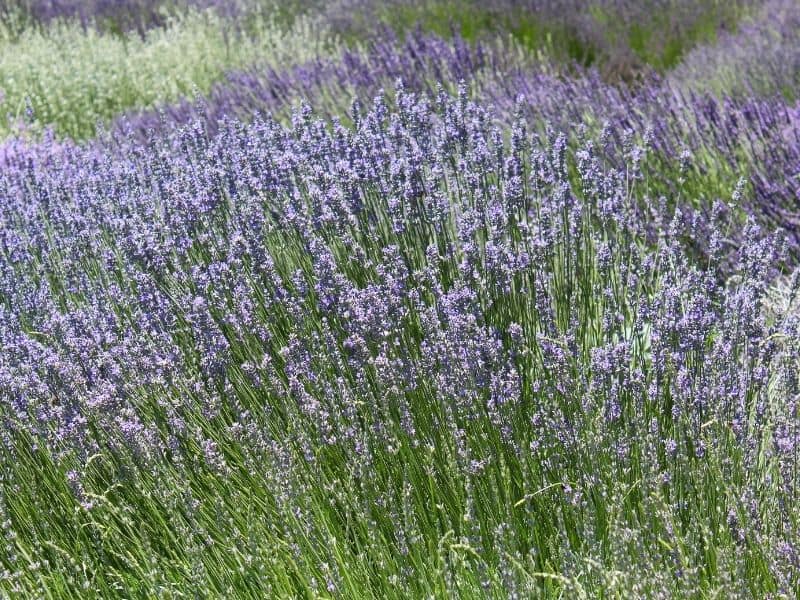 Location: Bluestone Meadow, 2025 Carson Road, Placerville, CA 95667
Dates: June 19-20 and June 26 -27, 2021, times TBD
Cost: Free
Celebrate the start of summer with the Apple Hill Growers! During their two weekend celebrations, take part in various activities and stock up on all the delicious local products like lavender, strawberries, wine, baked goods, and blueberries.
On the Bluestone Meadow Lavender Farm, there will be live music, train rides, and lavender seminars on de-budding and distilling. Don't leave before heading to the field for your very own lavender bouquet.
Lavender Farms in California
123 Farm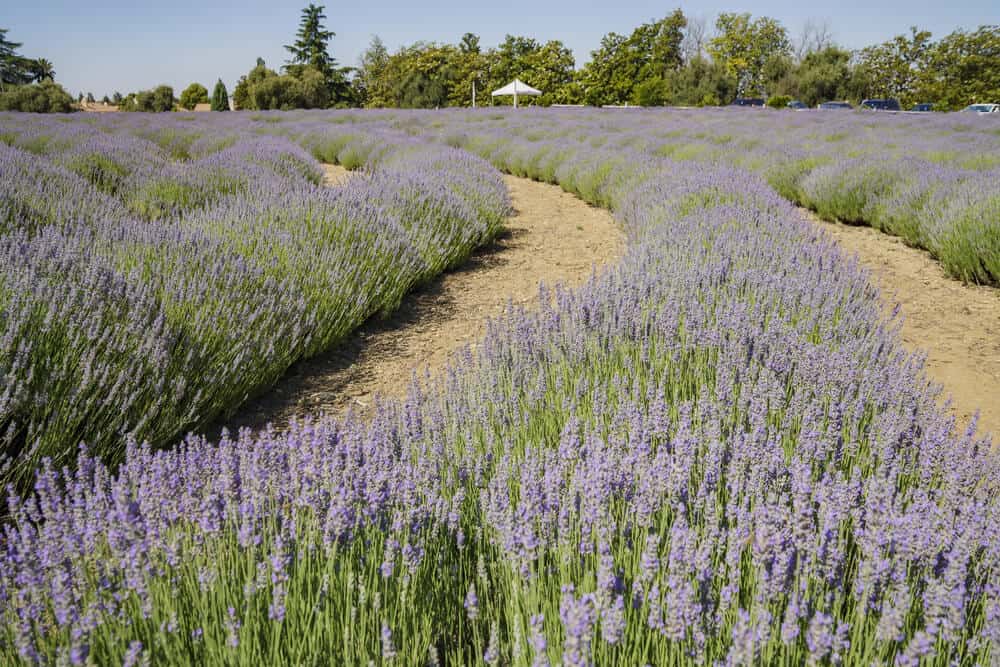 Location: 10600 Highland Springs Ave, Cherry Valley, CA 92223
Dates: TBD in 2021
123 Farms is the largest organic lavender farm in Southern California, with over 20 acres of beautiful blooms emerging late May every year.
They have a festival as well every year, as mentioned above!
Everything at 123 Farms is certified organic and grown from non-GMO heirloom lavender seeds, and they serve delicious lavender-flavored goodies on the farm like lavender hot cocoa for chilly days and lavender lemonade for hot days!
All produce grown on the property is certified organic and comes from heirloom, non-GMO seed, and there is also an organic animal farm on-site where the animals are raised humanely and allowed access to the pasture, fresh air, and sunshine.
Araceli Farms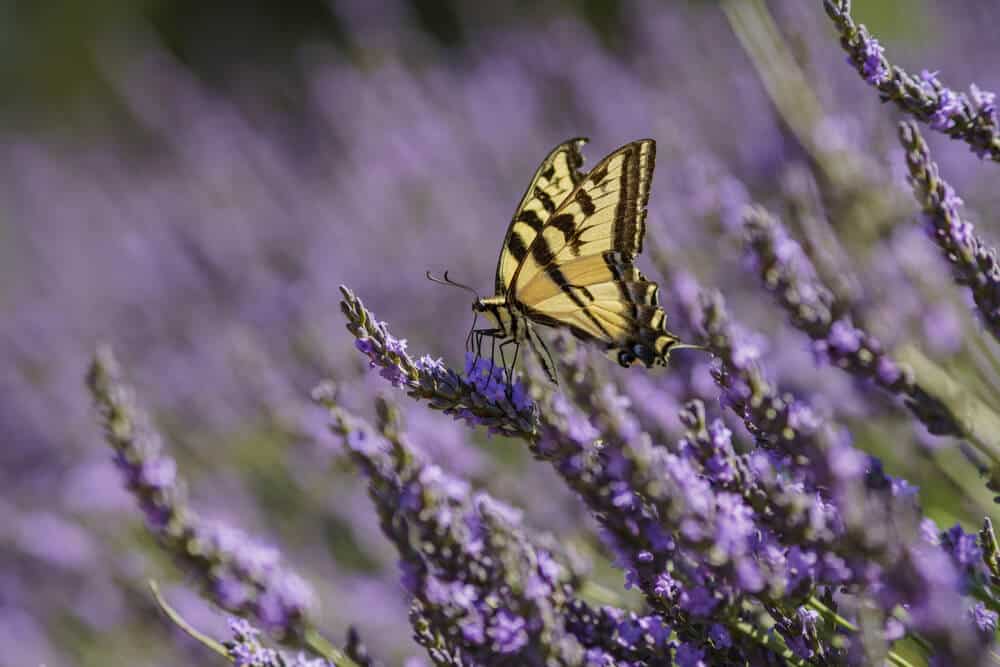 Location: 7389 Pitt School Rd, Dixon, CA 95620
Admission Cost: $5
Website
This lavender farm in Northern California, between San Francisco and Sacramento, is definitely worth a day trip from the Bay Area.
It offers visitors a chance to explore seven different lavender varieties (Folgate, Grosso, Melissa, Provence, Royal Velvet, Violet Intrigue, and White Spike) and colors of purples and pinks.
For those who would like professional photos taken in the lavender fields, book your time online for sunrise and sunset times!
While at the farm, be sure to pack a picnic lunch and enjoy a lavender ice cream cone for dessert. Then check out owner Justina Salinas's lavender products to take home like perfume, lotions, essential oils, and edible lavender.
If you visit during the end of June, you can also enjoy seeing the sunflowers blooming around the area — the yellow sunflowers side-by-side with the purple lavender is absolutely gorgeous.
Bluestone Meadow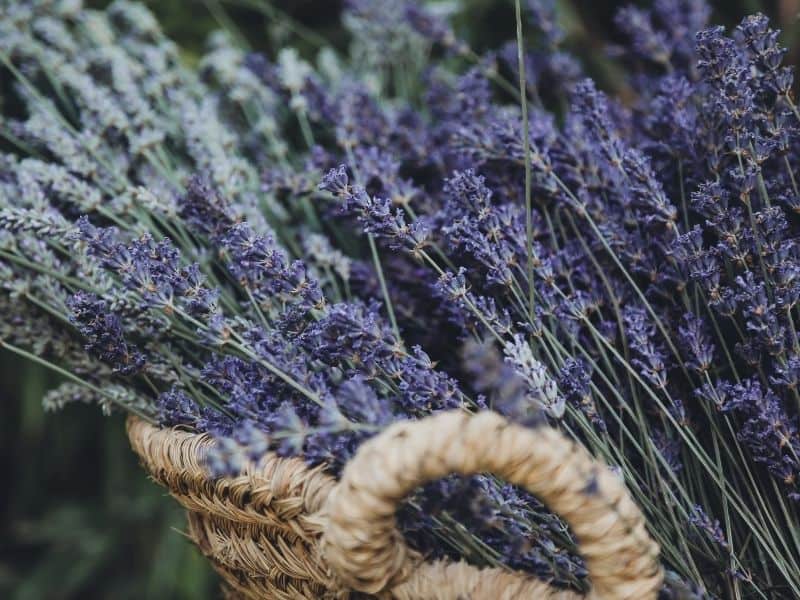 Location: 2025 Carson Rd, Placerville, CA 95667
Dates: Last two weekends in June; times TBD
Website
This 5-acre lavender farm in Northern California produces over 20 varieties of English and French Lavender. Their fields contain about 2,500 plants of pink, purple, and white flowering lavender.
During the last two weekends of June, these meadows are open for you to stop and pick your own lavender out of the fields.
For those who wish to do something special with their bouquet of lavender, the Bluestone Meadow staff will help you create wreaths, wands, or sachets from your lavender.
Before leaving the farm, check out their lavender products, like face cream, lotions, and soaps.
Cache Creek Lavender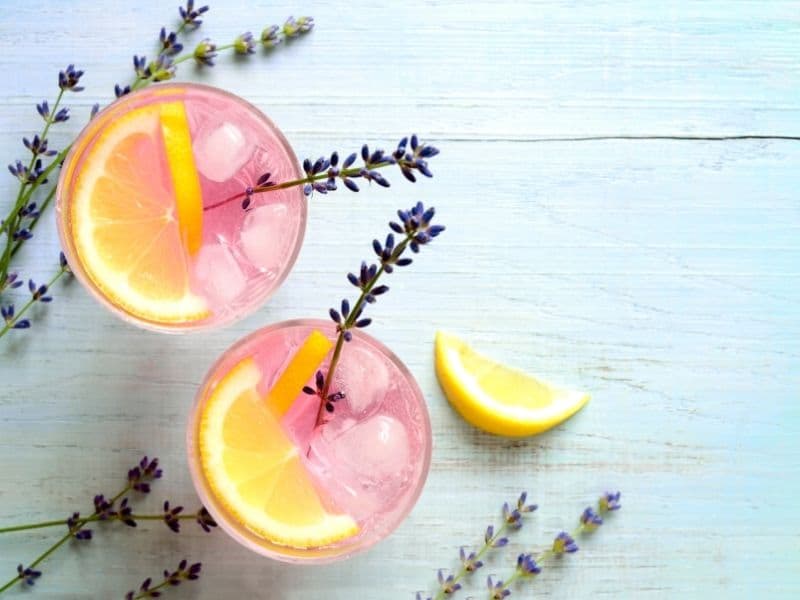 Location: 3430 Madrone St, Rumsey, CA 95679
Dates: Late May through July
Hours: Weekdays 10:00 AM – 4:00 PM
Website
This small 2-acre farm of Charley Opper and Linda Barrett offers wine tastings, U-Pick options, and a variety of organic handmade lavender products like bath salts, creams, soaps, eye pillows, and hand sanitizer. They also sell lavender ice cream and lemonade.
In need of a wedding venue? Cache Creek makes a beautiful spot for an intimate wedding when the lavender is in full bloom! Inquire well in advance, though, as the bloom time is limited each year and spots are coveted!
Clairmont Lavender Farm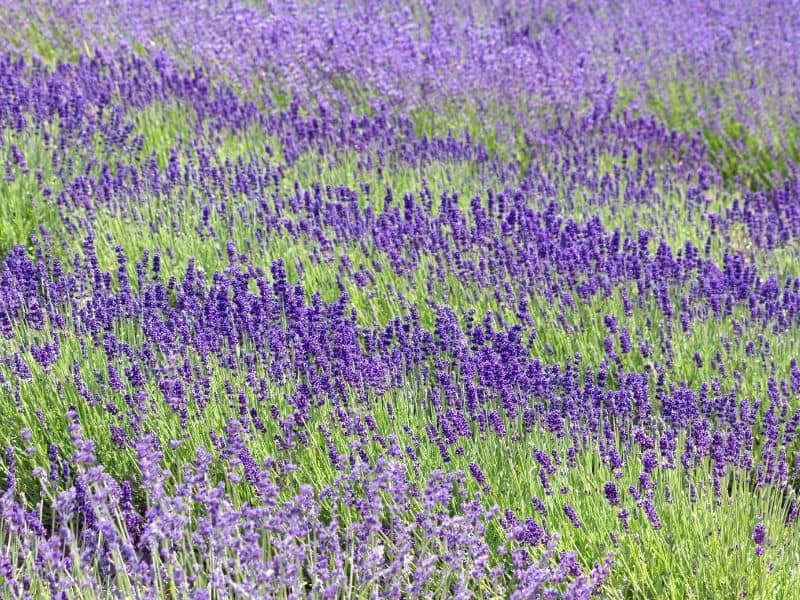 Location: 2480 Roblar Avenue, Los Olivos, California, 93441
Dates: June through mid-August
Hours: Wednesday to Monday 11:00 AM – 5:00 PM, Closed on Tuesdays
Cost: Free
Website
Meryl Ann Tanz and Sean Everett Crowder invite you to stroll through their organic lavender farm featuring Grosso and Provence lavender with the Santa Ynez Mountains backdrop, in the beautiful wine country of Santa Barbara.
Take time to eat lunch or relax at one of the picnic tables in the fields and enjoy the sweet lavender fragrances before heading to their boutique shop at the edge of the farm.
Their fields are all hand-cut to produce the essential oil, lip balm, soaps, and lotions that they sell in their shop. They also offer lavender lemonade and lavender honey.
Bonus: this Southern California lavender farm is dog-friendly!
Fork & Plow Lavender Farm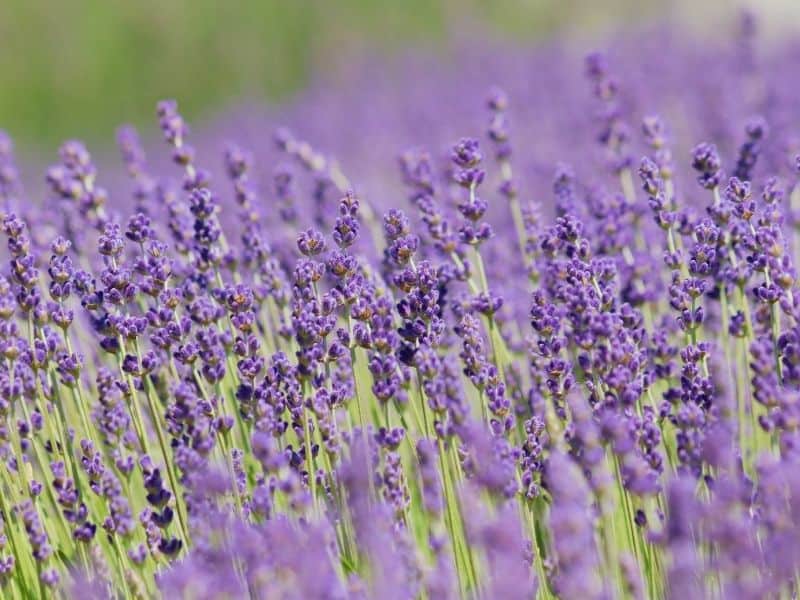 Location: 43601 Sorensen Road, Aguanga, CA 92536
Dates: June 12, 2021 through end of June
Cost: $10 Farm Pass – Purchase Online; $4 – $25 Picnic Basket Foods; $50 – $100 – Lavender Field Photograph Reservations
Website
When visiting the Temecula Wine Country, take a 30-minute detour and visit the rustic lavender farm filled with French and English lavender.
Be sure to purchase your Farm Pass before arriving at the farm. The pass entitles you to cut a fresh bouquet of lavender from the field!
Take time to enjoy the lavender-scented air and a picnic lunch at one of the tables throughout the farm. Nothing could be better than sitting amongst the beautiful California lavender fields, sipping a lavender lemonade, and watching the bees buzz from fragrant bloom to bloom.
There is also a farm shop with local products for you to peruse.
Keys Creek Lavender Farm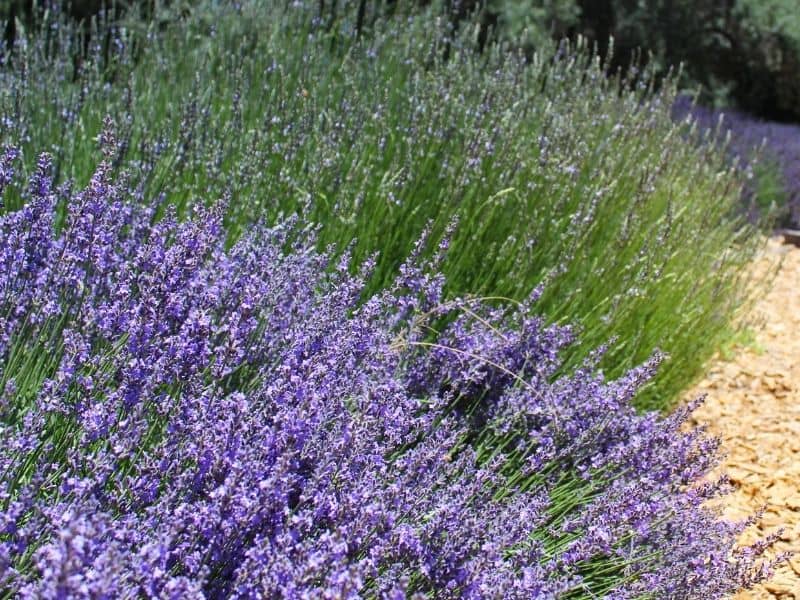 Location: 12460 Keys Creek Road, Valley Center, CA 92082
Dates: Wednesday – Sunday during May and June's high bloom season
Website
This privately-owned 8.5-acre organic lavender farm's 20,000 plants showcase a dozen varieties.
During the blooming season, they offer guided tours and high teas featuring lavender scones and cookies. After wandering through the fields, enjoy relaxing in the meditation garden, plant a lavender plant in the peace garden.
Be sure to check their calendar for yoga retreats, workshops, and getaway opportunities throughout the year. Occasionally you can even go glamping on the farm through Airbnb!
 Pin This Guide to Lavender Farms, Fields, & Festivals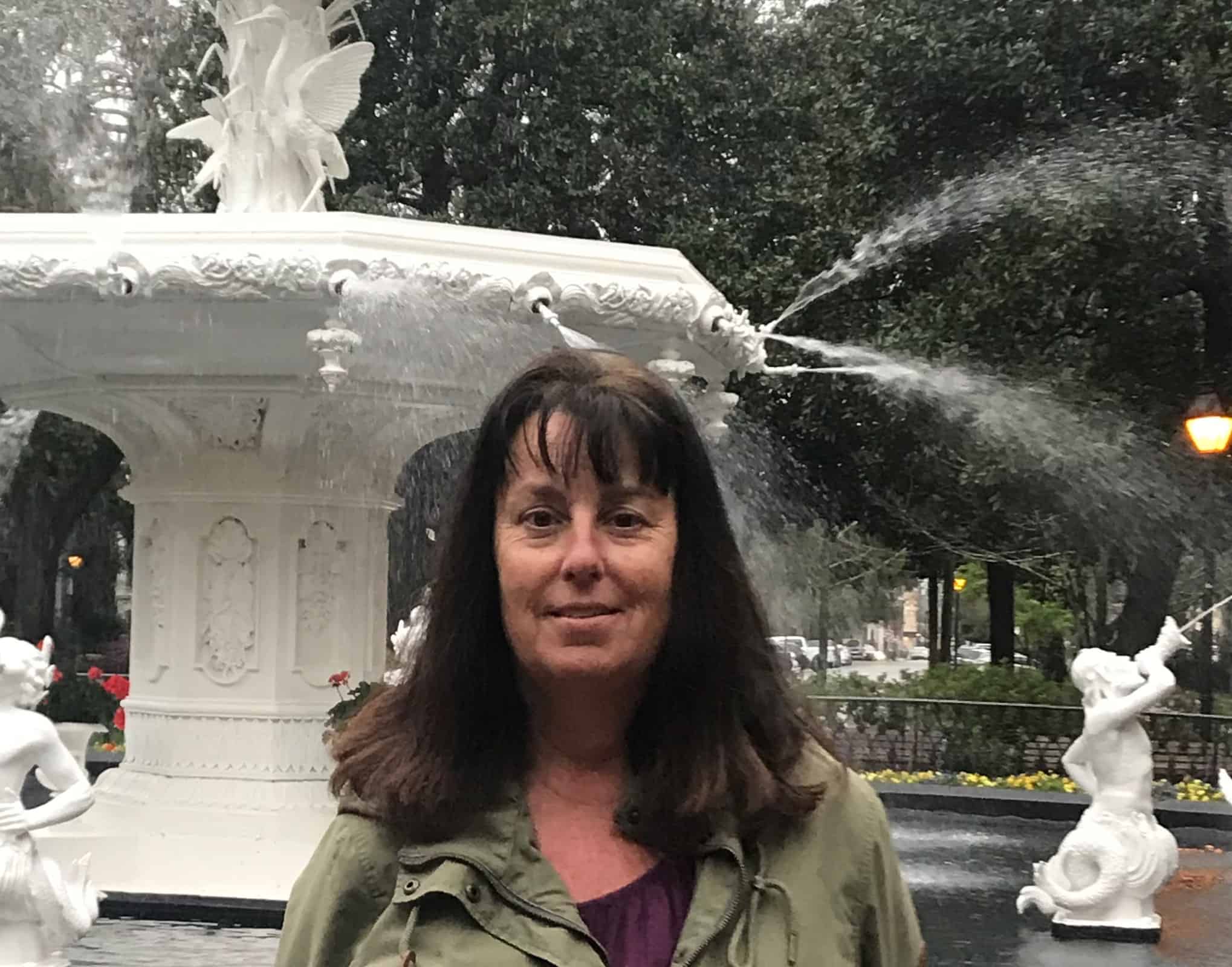 Laura Gray is a freelance writer and retired elementary teacher based in Norfolk, VA.  She spends her summers enjoying the shores of the Chesapeake Bay, traveling the world, and exploring the beautiful United States. Her favorite places to visit are National Parks, waterfalls, and lighthouses.