Along the rugged California coastline, 30 lighthouses shine a beacon out to the Pacific Ocean.
These California lighthouses range from the state's oldest lighthouse, Point Pinos Lighthouse, constructed in 1855 to those with unique purposes like Point Bonita Lighthouse's guiding light to the San Francisco Bay and the historical Old Point Loma that sits within the clouds.
Of the 30 lighthouses, 16 are open to the public, and six have overnight accommodations in case you want a unique way to stay the night in California.
Here are my favorite lighthouses in California — and notes on if lighthouse accommodation, tours, etc. are available for each!
Battery Point Lighthouse
Note: This post contains affiliate links, which earn me a small commission at no extra cost to you if you make a purchase using one of these links. Thank you for supporting this free content!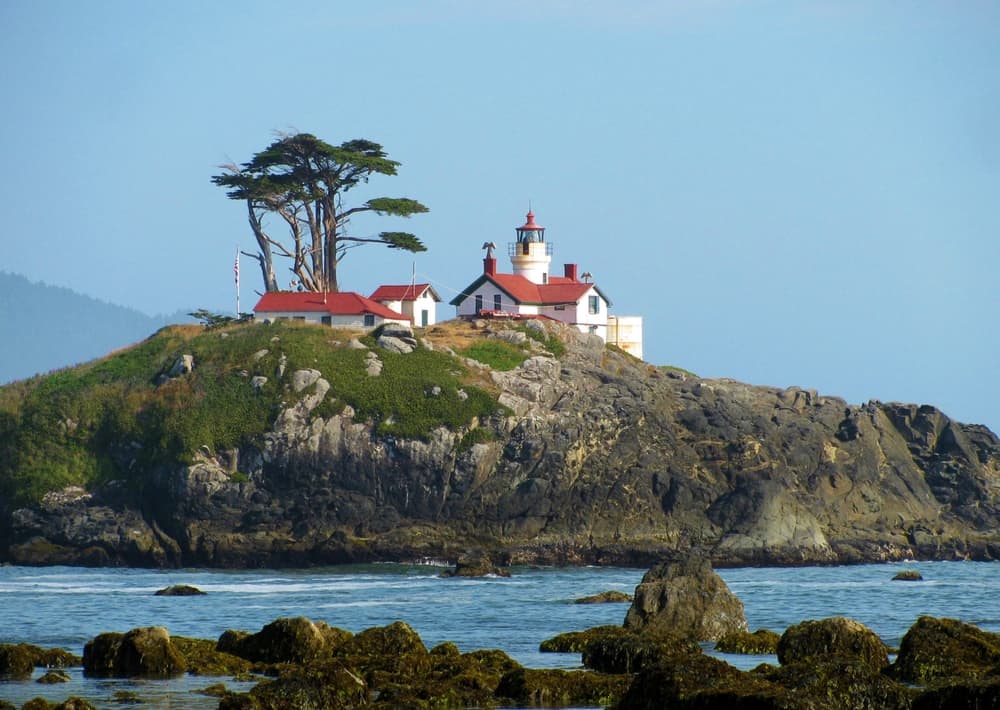 Located in Crescent City, this lighthouse sits just offshore from Battery Point Beach and can be accessed only around low tide when the beach and island connect.
Between the mainland and the lighthouse's rocky island is surf that is full of driftwood and huge rocks. The picturesque lighthouse offers guided tours that are available between 10 AM and 4 PM when tides permit access. Before going, call (707) 464-3922 or check the tides.
If it is not accessible due to high tide or due to closure, the lighthouse can be seen and photographed from Battery Point Beach and Park area.
Point Cabrillo Lighthouse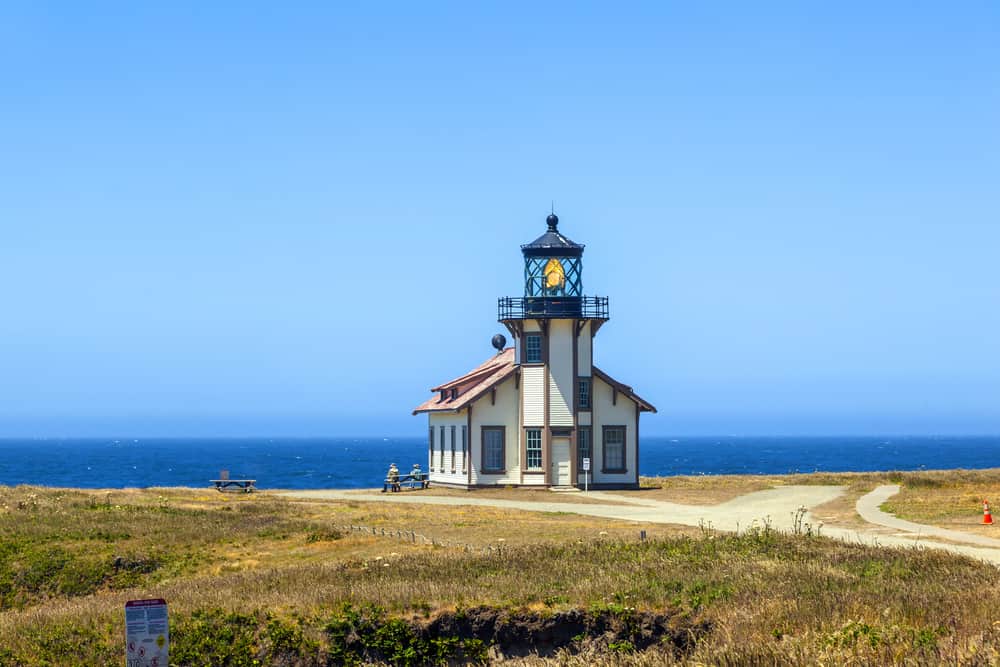 This 1906 lighthouse is located in Mendocino and is on the grounds of Point Cabrillo State Historic Park. You can enjoy a free tour of the lighthouse keeper's home and the museum.
Take time to watch gray whales migrating through from December through April — it's a fantastic time of year to plan a visit to this special California lighthouse
Spend the night at the lighthouse in either of the lightkeeper's houses or a nearby cottage! Rental information can be found here.
Point Arena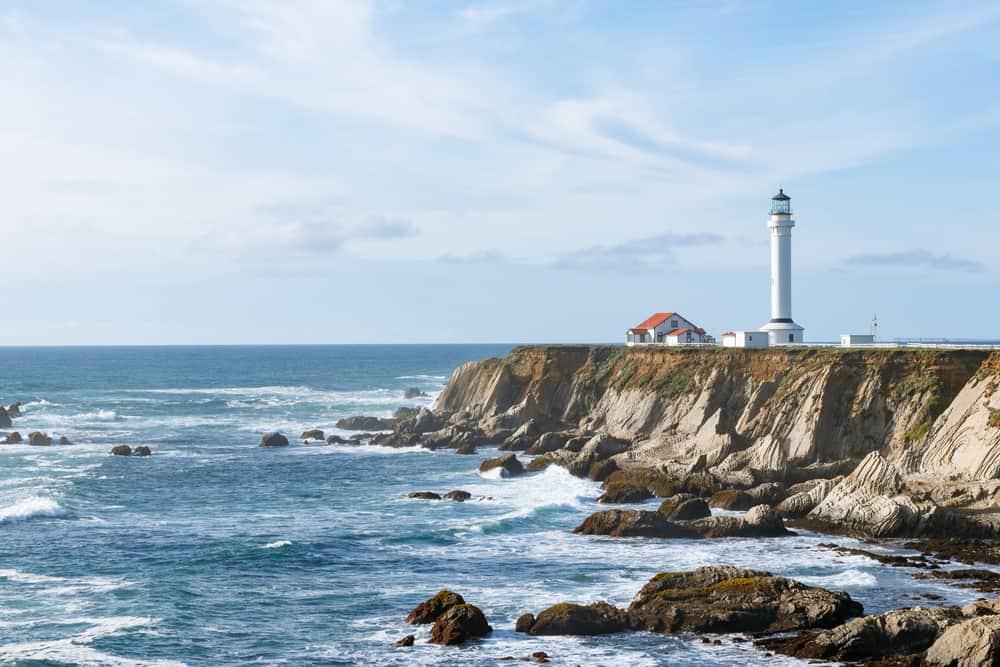 This 115-foot-tall lighthouse is one of the tallest lighthouses in California! It is also located in the Mendocino area.
While here, you can enjoy a guided tour of the tower, browse the museum, and take a self-guided tour of the grounds.
For a special way to experience this California lighthouse, spend the night at this lighthouse in one of the historic Keeper's Quarters. Book your room online here — and do it quickly, as it often books up well in advance!
Point Reyes Lighthouse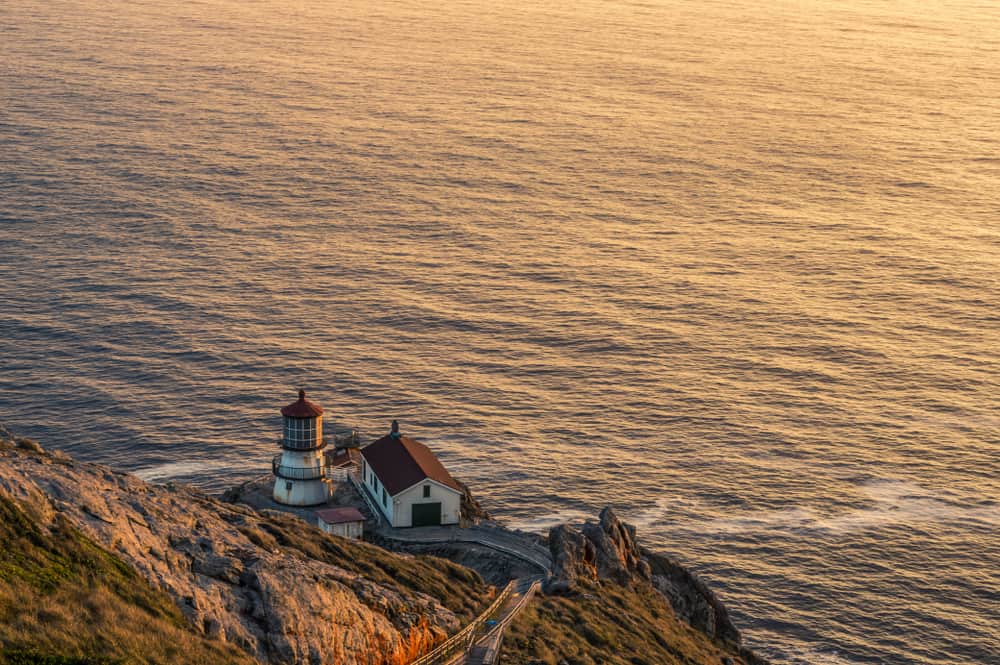 Located at the southern tip of the Point Reyes National Seashore, this lighthouse offers guests some of the best Northern California scenery.
This lighthouse is only accessible when you walk down the 308 stairs to the lighthouse area… which means you must also walk back up those same stairs!
Note that the lighthouse is only open Friday through Mondays. However, if the winds exceed 40 miles per hour, the stairs to the lighthouse are closed for visitor safety.
Once in the area, plan on spending the day exploring the seashore — here are 13 great things to do in Point Reyes if you need more inspiration.
Point Bonita Lighthouse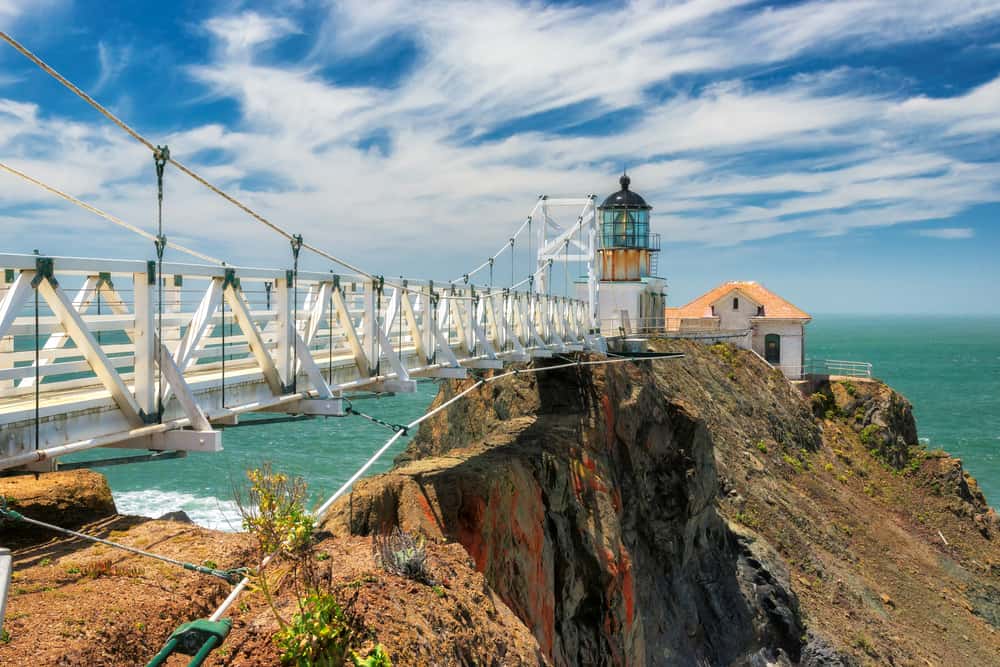 Located on the tip of Marin Headlands, across the bay from San Francisco, this lighthouse guides the way for ships entering the foggy San Francisco Bay. (So it's job is basically to outsmart Karl the fog).
Enjoy the scenic ½-mile walk that includes a bridge. This lighthouse is one of California's most photogenic, so bring your camera and Instagram away!
Alcatraz Lighthouse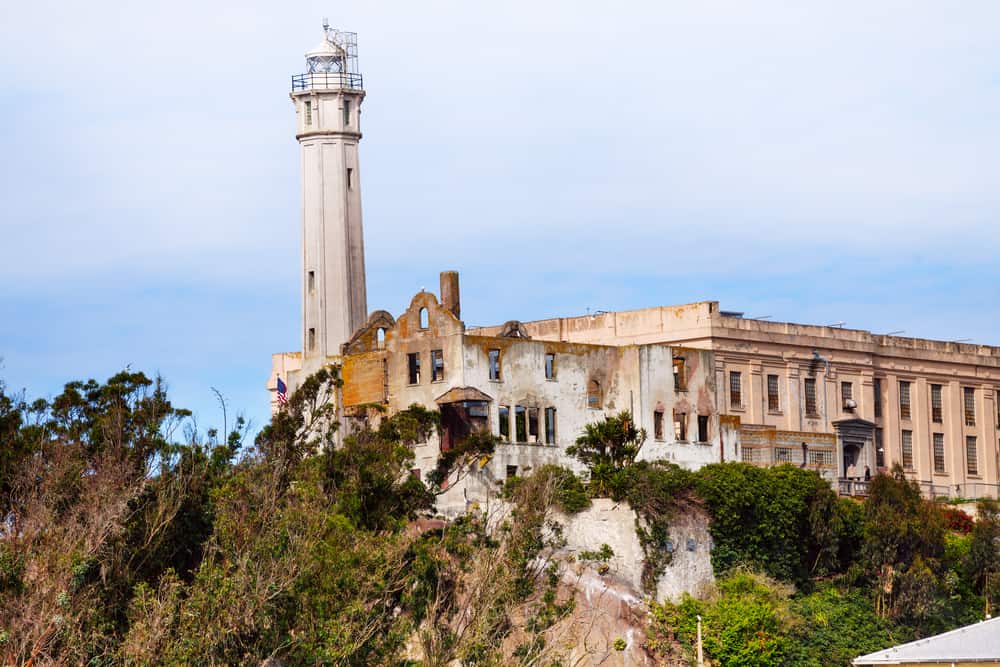 The lighthouse on Alcatraz Island was originally built in 1852 and was the first in California.
This lighthouse, situated in the middle of the San Francisco Bay, is on the island that housed the infamous Alcatraz prison.
If you plan on seeing this lighthouse up close, you will need a reservation. Even though the lighthouse is not open, you can get a close look at the tower if you take a National Parks tour to Alcatraz Island.
SF Local Tip: There is a ticket booth at Pier 33, but generally tickets are sold out up to a week in advance. While you may get lucky showing up and buying your tickets in person, it's far better to buy it online in advance to avoid disappointment.
I've used Get Your Guide as my primary method of booking tours while traveling for 3 years, and I'm a huge fan of the company — their cancellation policy is generous, their tours are reasonably priced, and the reviews are transparent and only left by verified guests (not like Yelp or TripAdvisor where anyone can leave a review).
I recommend this 7-hour City + Alcatraz tour which includes a 3.5-hour city walking tour with a 3.5-hour tour of Alcatraz, complete with an entrance ticket and transfer to Alcatraz. Do note, you must book well in advance — when I checked, tickets were booked for 3 weeks!
Not a big walker? This Alcatraz tour includes a hop-on, hop-off bus tour and optional Chinatown walking tour.
Point Montara Lighthouse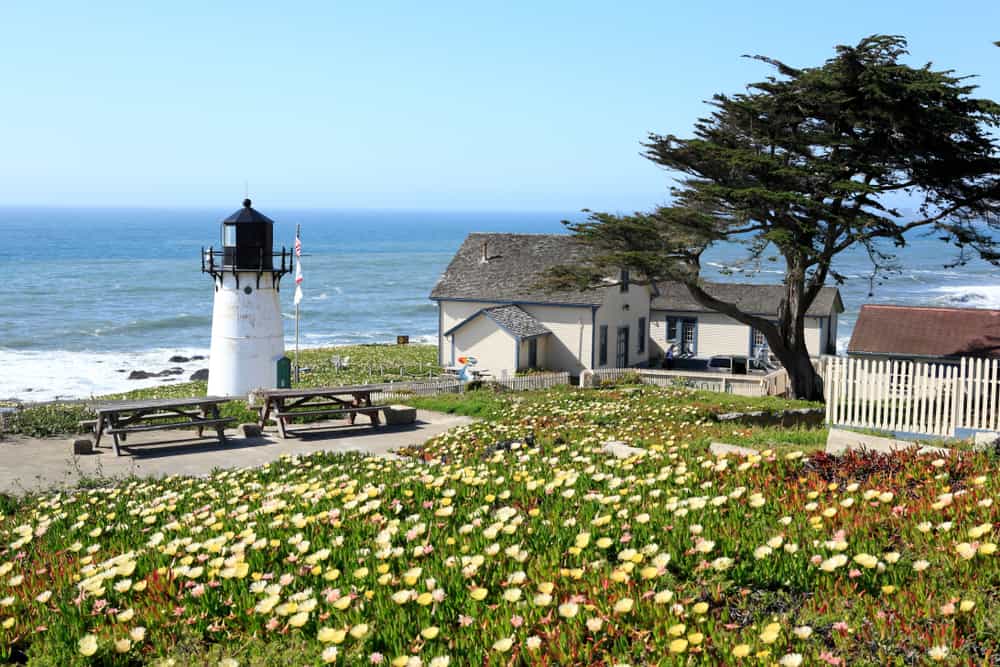 Just off Highway 1 south of San Francisco, this lighthouse offers visitors spectacular views from the bluffs above the Pacific Ocean.
For those who would like a relaxing vacation where you could wake up to the sound of the ocean waves, a view of the lighthouse, and a nearby cove beach, enjoy a stay at the HI Point Montara Lighthouse Hostel. Book your room online here — and again, it's a coveted spot, so do it as quickly as you can!
The grounds are open for guests and visitors; however, the tower is closed.
Pigeon Point Lighthouse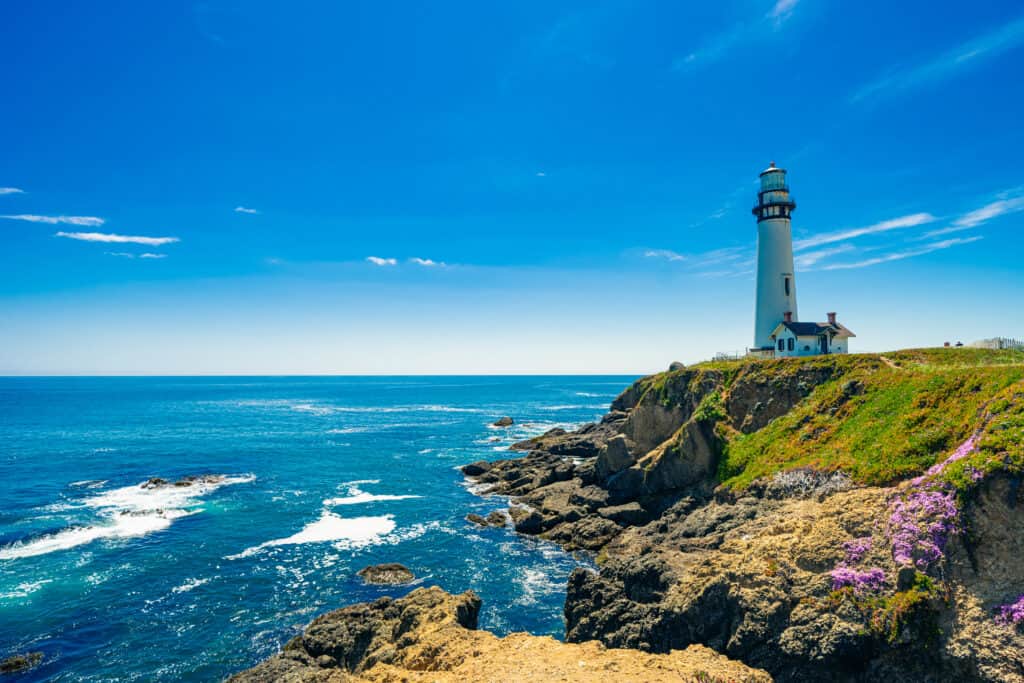 Halfway between San Francisco and Santa Cruz through Big Sur, travelers will pass the West Coast's tallest lighthouse. It sits 118 feet high along Highway 1, also known as the Pacific Coast Highway.
The tower is closed, but the magnificent grounds are open with a wide variety of things to do. For example, you can enjoy the 270o views of the Pacific Ocean, or take the ½-hour guided history tour of the grounds. Tours only run when staffing is available: Friday through Sunday from 10 – 4, or call and request a tour at (650) 879-2120.
If you are there in the winter, it is a great place for whale watching.
Enjoy watching the sunset and then rise by staying in one of the former lighthouse keepers and assistant's homes. Reserve your stay at HI Pigeon Point Lighthouse Hostel.
Point Pinos Lighthouse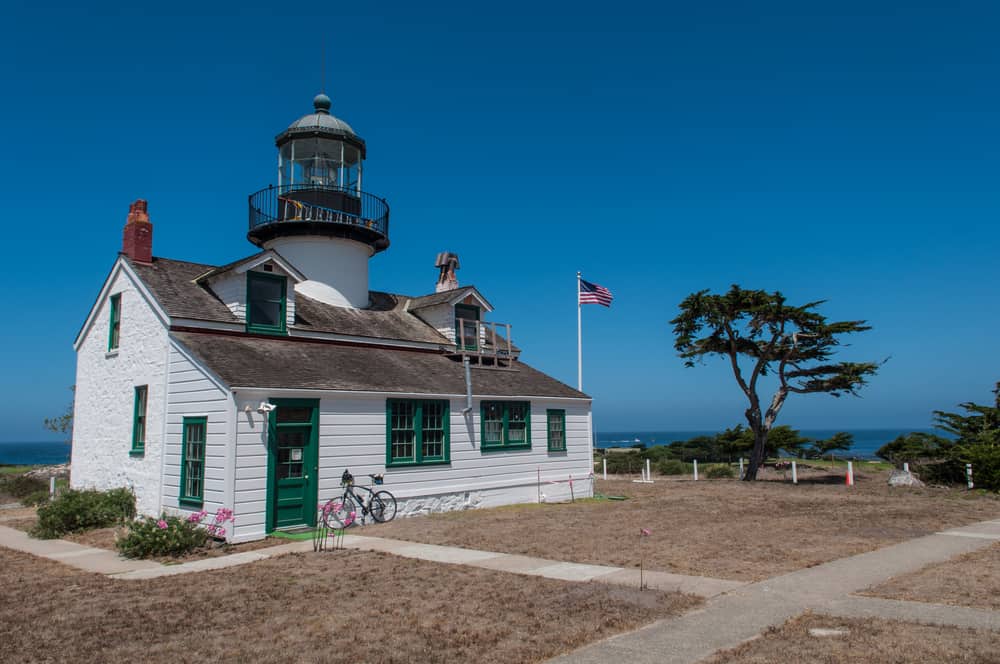 A visit to this lighthouse near Monterey means seeing a Cape Cod-style lighthouse on the West Coast, along with visiting a National Historic Landmark. This lighthouse has continuously been in operation since 1855, which makes it the West Coast's oldest active lighthouse.
The lighthouse is open year-round Sunday, Monday, Thursday, and Friday from 1-4 PM, and Saturdays from 10 – 4.
Don't miss the historical collection of photos documenting the Monterey Peninsula's dangerous rocky shores.
Point Sur Lighthouse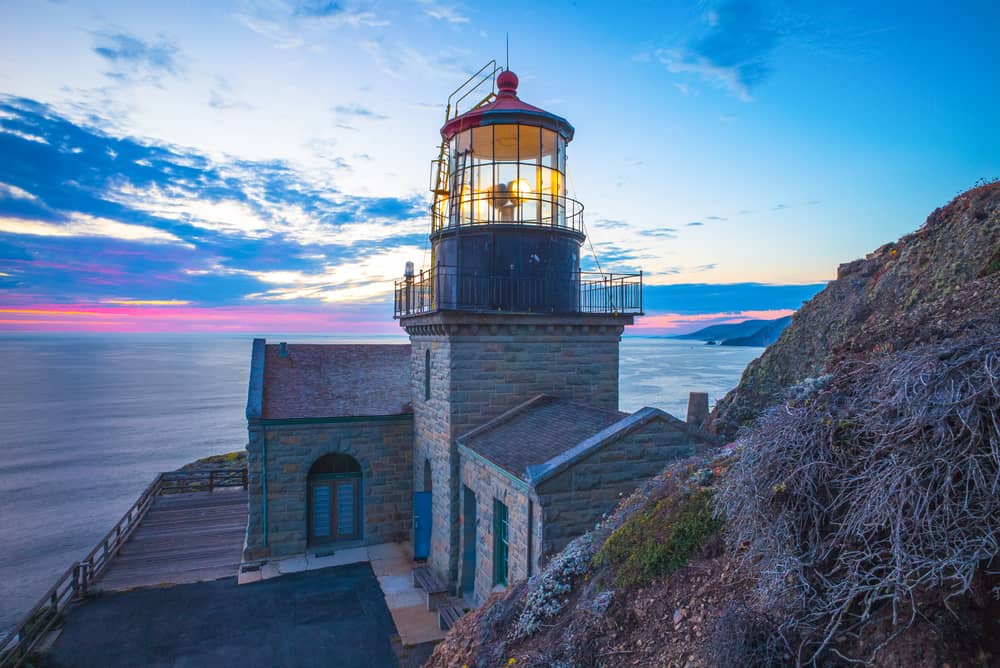 Sitting atop a volcanic rock peninsula to the south of the super-famous Bixby Bridge, this California landmark is easy to spot as you travel from Monterey to Big Sur.
The lighthouse grounds are the perfect place for watching gray whales migrating throughout the winter.
Volunteers provide a 3-hour tour of the area on Saturdays, Sundays, and Wednesdays throughout the year. They also offer moonlight tours, ghost hunts, and Halloween tours.
For more information, visit www.pointsur.org or contact them at 831-625-4419.
Piedras Blancas Lighthouse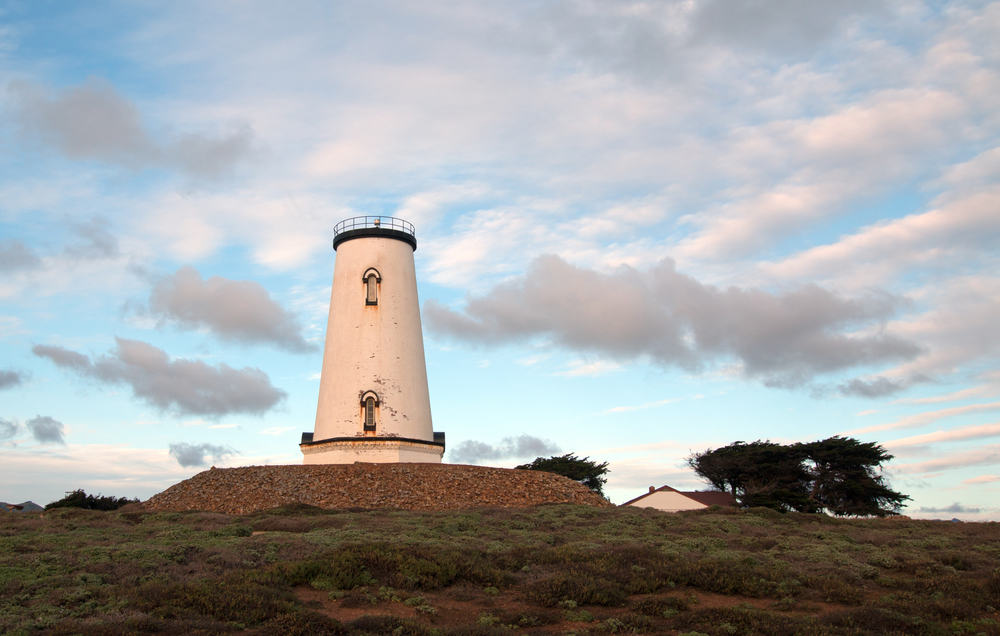 Along California's central coast, this lighthouse can be seen from the elephant seal overlook north of Cambria. From here, you will see the tower with the top section removed.
The Fresnel lens is on display beside the Lawn Bowling Club on Main Street in Cambria.
Two-hour tours are offered on Tuesday, Thursday, and Saturday mornings year-round from the Piedras Blancas Motel. From July 15 – August 15, there are also tours on Monday and Friday mornings.
On the last Wednesday of each month during the summer, volunteers will be at the lighthouse for Walk-in Wednesday. Take the 4-mile hike from the elephant seal parking lot to the lighthouse.
Point San Luis Lighthouse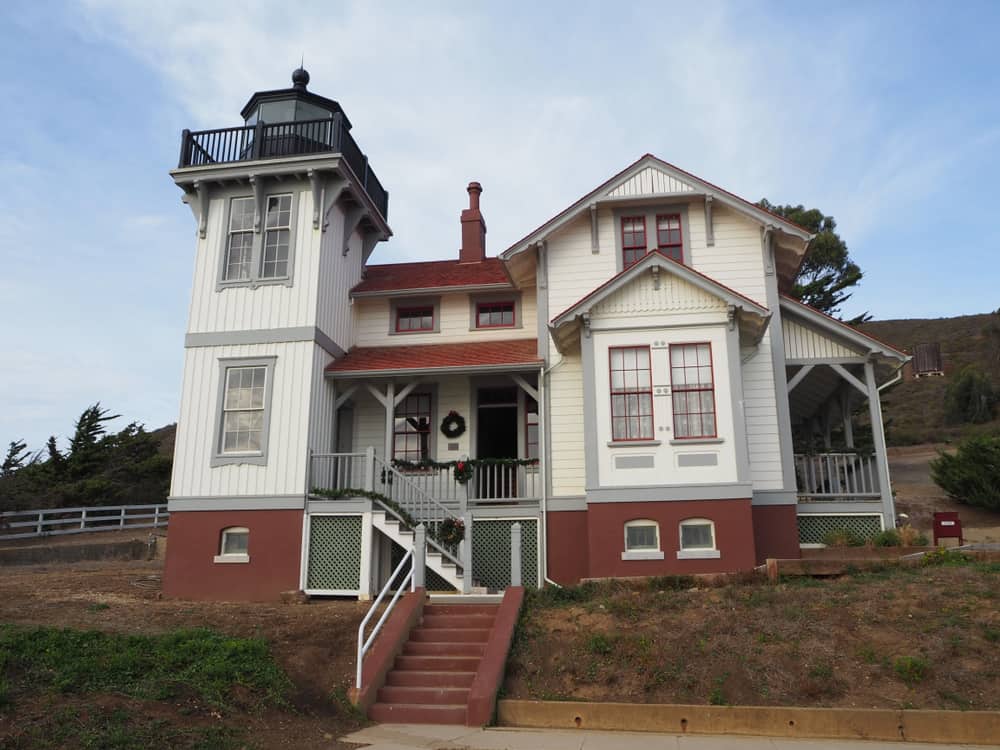 This Victorian-style lighthouse with the 40-foot-tall tower is near San Luis Obispo and the Diablo Canyon Nuclear Power Plant. The lighthouse was constructed in 1890 and is currently owned by PG&E.
There were only three lighthouses built using this style, and this is the only one that remains.
To see and tour the lighthouse grounds, you will need to schedule a guided tour. Tour groups meet near Avila Bay, or you can join a 1-hour, 2-mile organized hike along the Pecho Coast Trail to the lighthouse for a 1-hour docent-guided walking tour.
On your way to and from the lighthouse, enjoy the amazing views of San Luis Bay. The road sits at an elevation of 600 feet above the Pacific Ocean — so that means views, views, views!
Point Vicente Lighthouse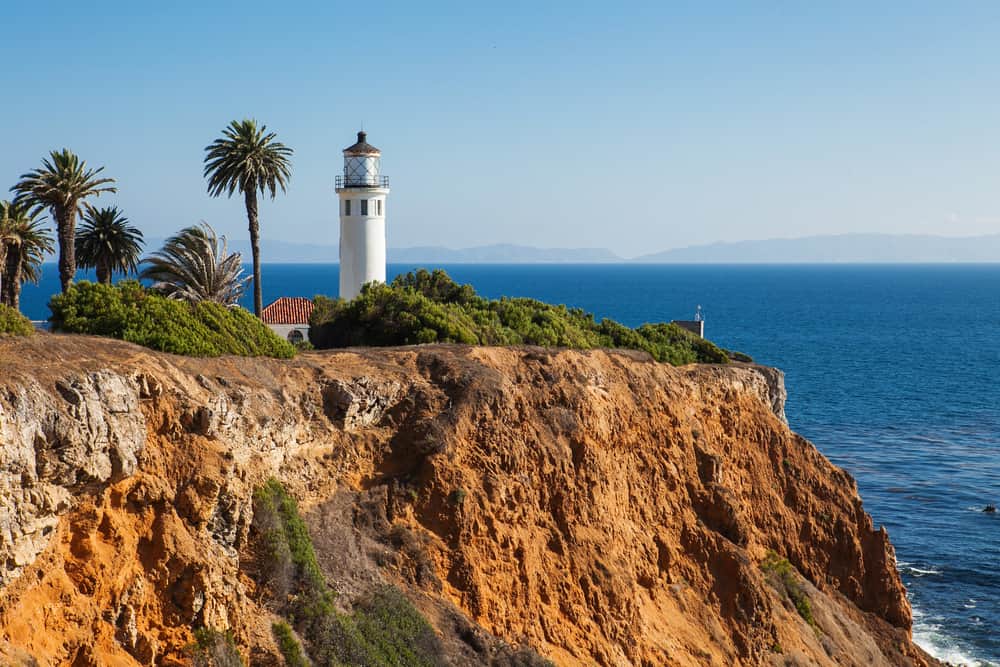 This active lighthouse's 67-foot tower is featured in a variety of movies and TV shows as it sits on the Palos Verdes Peninsula in Los Angeles.
The tower is open once a month on the second Saturday from 10 AM – 3 PM except in March, when it is open the first Saturday from 10 AM – 4 PM.
This is a great location to watch the whales migrate from December to May or to catch a sunset any time of year!
The Point Vicente Interpretive Center is nearby and provides lighthouse history and exhibits.
Point Fermin Lighthouse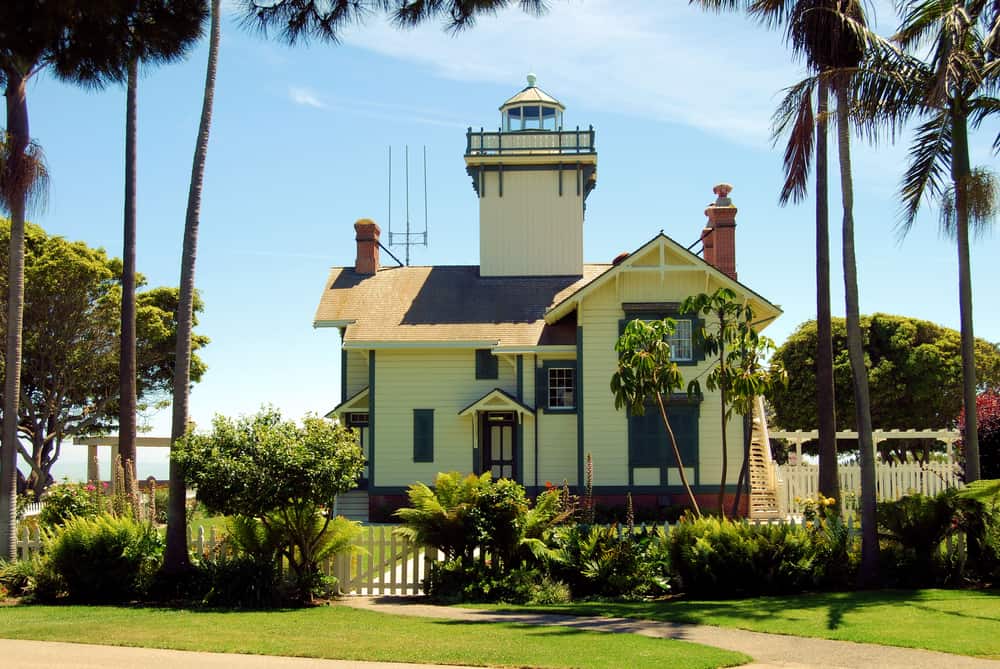 Just south of Los Angeles, this California lighthouse was the first light to help sailors navigate the San Pedro Bay.
The Point Fermin Lighthouse showcases a unique stick style wooden construction you won't find in many other lighthouses around the world.
A visit to the lighthouse is free and open Tuesday through Sunday afternoons from 1 PM – 4 PM, with comprehensive guided tours departing on the hour at 1 PM, 2 PM, and 3 PM.
Old Point Loma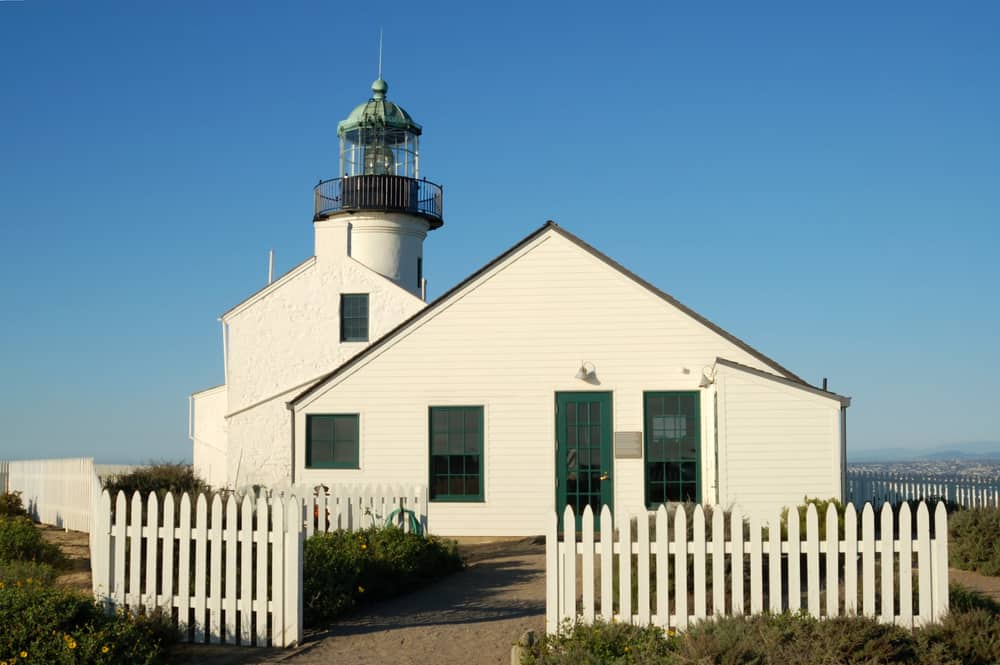 Built in 1855 and only used for 36 years, this lighthouse is open daily except for December 25.
Due to its high location, it often was covered in clouds and fog blocking its light — likely why it's no longer in use.
On sunny days, enjoy the magnificent views overlooking San Diego and visit the lighthouse that has been restored to its original looks.
East Brother Light Station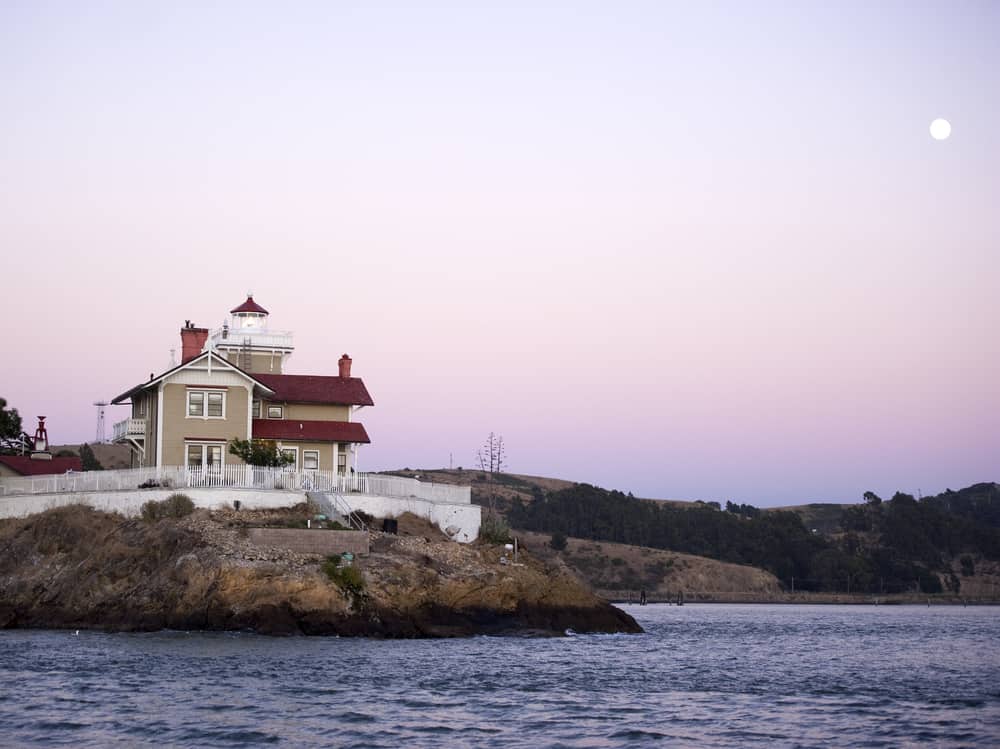 Just off the Richmond coastline in the San Rafael Bay sits a romantic Victorian B&B. Built as a lighthouse in 1874, the East Brother Light Station Inc. restored the lighthouse in the 1980s.
The bed-and-breakfast is open all year. Day visitors are permitted on the island Saturdays throughout the summer. They have access to the tower for a tour and the grounds during their stay.
Your tour begins with a 10-minute boat ride from the Point San Pablo Yacht Harbor — offering amazing views on the way!
Fort Point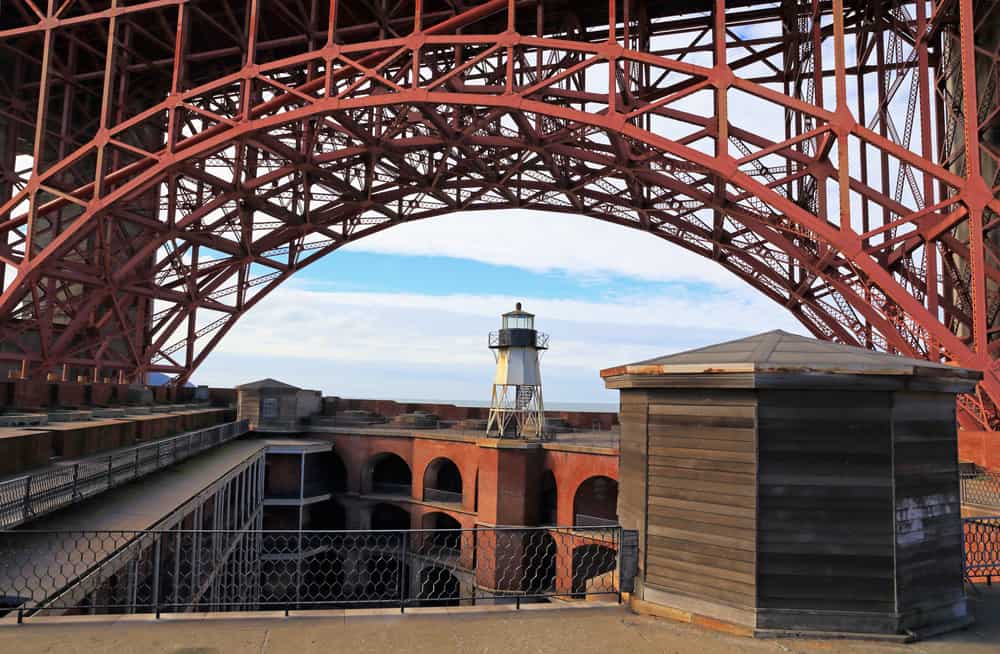 Hidden under the south end of the Golden Gate Bridge, Fort Point is accessible from the Presidio or a short walk from the Golden Gate Bridge Visitor Center.
This light was built in 1864 on the fort but decommissioned in 1934 when the finished Golden Gate Bridge blocked its light.
The Fort Point National Historic Site is open Fridays – Sundays from October through May from 10 AM – 5 PM
The iron skeleton lighthouse offers an amazing backdrop featuring the San Francisco lights!
Anacapa Island Lighthouse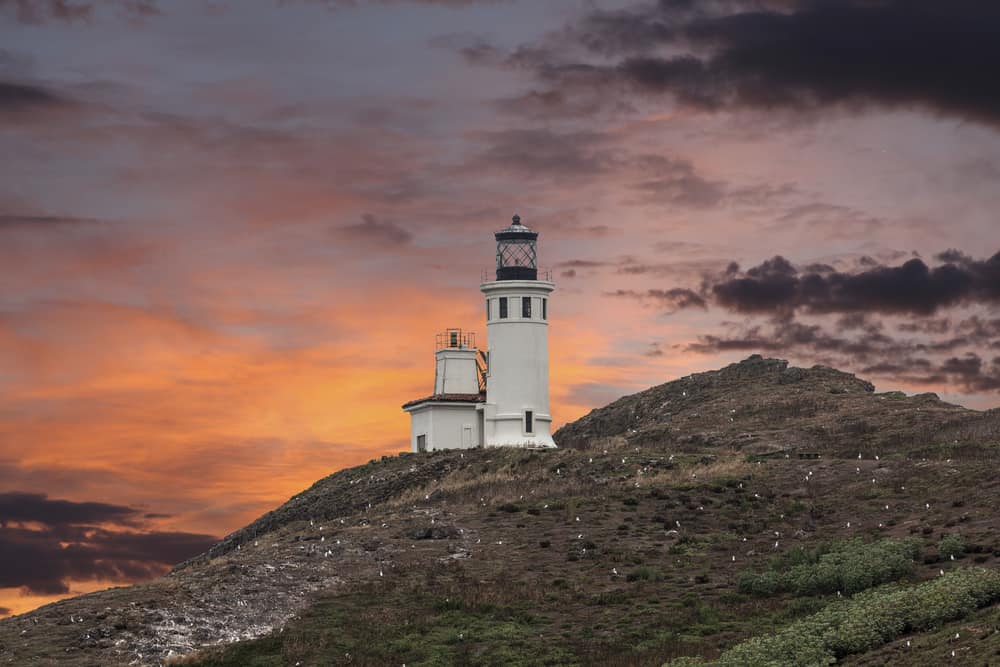 Since constructed in 1932, the Anacapa Island Lighthouse on East Anacapa Island's highest point has been aiding mariners through the Santa Barbara Channel.
The 39-foot cylindrical tower is home to one of the world's most advanced beacons.
To see the lighthouse, reserve a Channel Islands boat tour! I recommend this one day Channel Islands private sailing tour or this 3-day luxury eco-cruise! Prices are a bit steep, but they are a price per group of up to 4, so split between friends, it's a bargain for a private, catered-to-you experience in America's least-visited national park.
Pin These California Lighthouses for Later!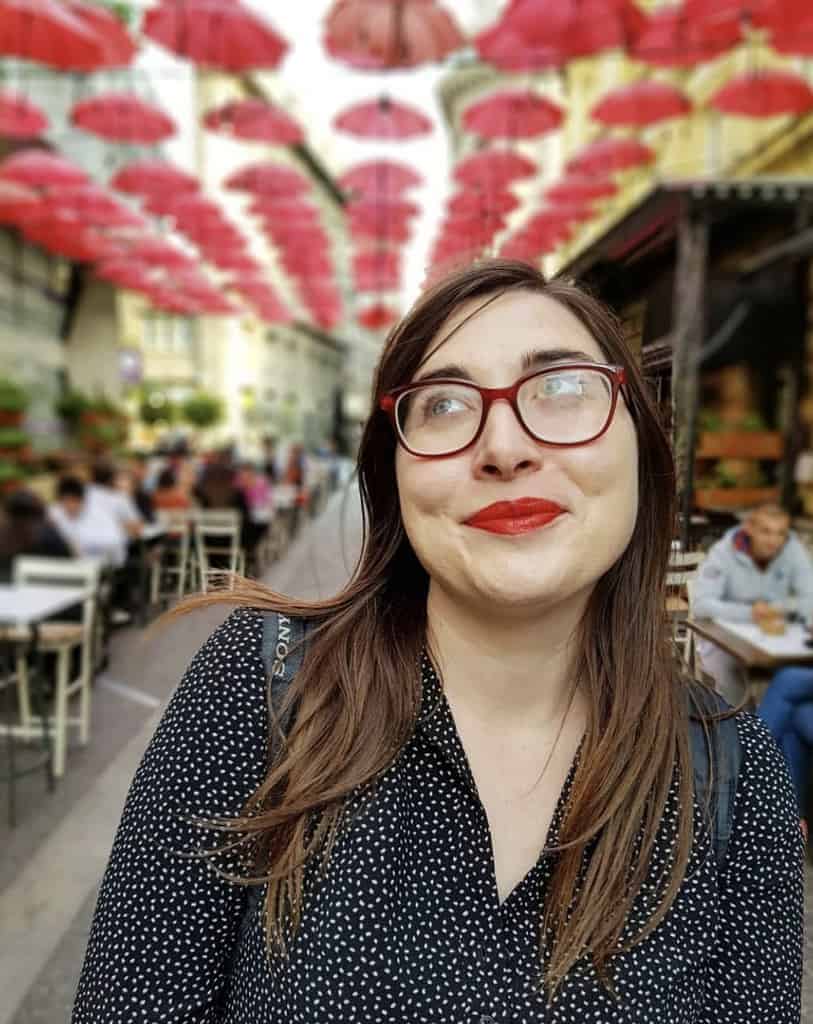 Allison Green is a travel blogger, writer, and podcaster who grew up in the Bay Area of California. She has spent time living in New York, Prague, and Sofia, but has returned to live in the East Bay. She has traveled to 60 countries before the age of 30 while running several digital travel publications. Her writing and podcast have been featured in Forbes, CBC Canada, National Geographic, the Huffington Post, and CNN Arabic, amongst others. She's obsessed with bouldering, houseplants, other people's pets, and anywhere she can see the ocean.